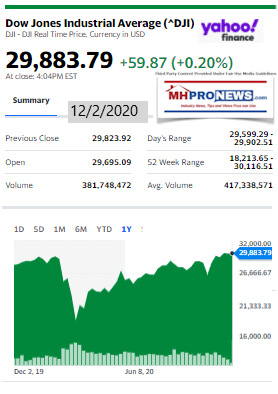 "A Wells Notice is a notification issued by regulators to inform individuals or companies of completed investigations where infractions have been discovered," said Investopedia on 11.11.2020.
The Cornell University Law website definition is more pointed: "A "Wells Notice" is a letter sent by a securities regulator to a prospective respondent, notifying him of the substance of charges that the regulator intends to bring against the respondent, and affording the respondent with the opportunity to submit a written statement to the ultimate decision maker."
It will be recalled that Joseph "Joe" Stegmayer recently left Cavco Industries. He was previously the subject of a subpoena from the Securities and Exchange Commission (SEC). When Cavco (CVCO) announced that subpoena, Cavco's stock tumbled. A corporate insider called the matter "a debacle."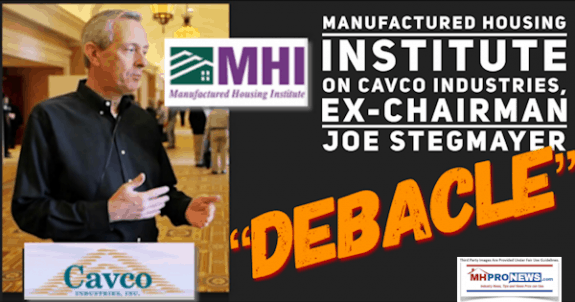 More recently, another corporate executive has stepped down, as Cavco has reportedly spent millions of dollars in legal and special insurance costs as they prepared for the next phase of the SEC investigation.
Cavco Industries, SEC Issues Notice to CVCO – Plans Enforcement Action Against Cavco's Dan Urness, plus Joe Stegmayer Insider Trade History, More Insider Insights
Quoting from a Cavco Industries (CVCO) 8K filing on 11.24.2020:
Item 8.01 Other Events.
SEC Investigation Update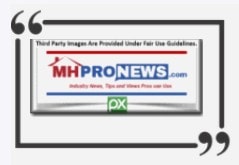 "Cavco Industries, Inc. (Cavco, or the Company) is providing an update on its involvement in the ongoing Securities and Exchange Commission (SEC) investigation being conducted by the staff of the SEC's Los Angeles Regional Office involving trading in the securities of other public companies directed by the Company's former Chief Executive Officer, Joseph Stegmayer, which the Company first disclosed in November 2018. Since that time, the Company has disclosed, among other things, its ongoing cooperation with the SEC staff, the departure of Mr. Stegmayer and the completion of an independent investigation of the Audit Committee of the Company's Board of Directors, whose results were shared in early 2019 with the SEC staff, the Company's listing exchange and its auditors. On September 25, 2020, the Company also disclosed that it had begun settlement negotiations with the SEC staff in connection with this matter, though not pursuant to any formal recommendation.
On November 20, 2020, the SEC staff issued a Wells Notice to the Company in connection with its investigation, noting its preliminary intent to recommend a related enforcement action against the Company. A Wells Notice is not a formal complaint or adjudication, or a finding by the SEC of any wrongdoing by the Company. The Company's discussions with the SEC staff on a possible settlement are ongoing, and it remains hopeful that an agreeable resolution can be reached in the coming months."
##
MHProNews contacted Joe Stegmayer as well as Cavco's media contact directly, to see if they would answer a simple question. Did Stegmayer also get a Wells Notice?  Since Stegmayer has departed the firm, Cavco would not be obliged to include that in their 8K filing.
Neither Stegmayer nor Cavco's crisis media relations professional offered a comment.
As MHProNews has periodically reminded readers, Stegmayer remained on as the Manufactured Housing Institute (MHI) chair following the "debacle" disclosure.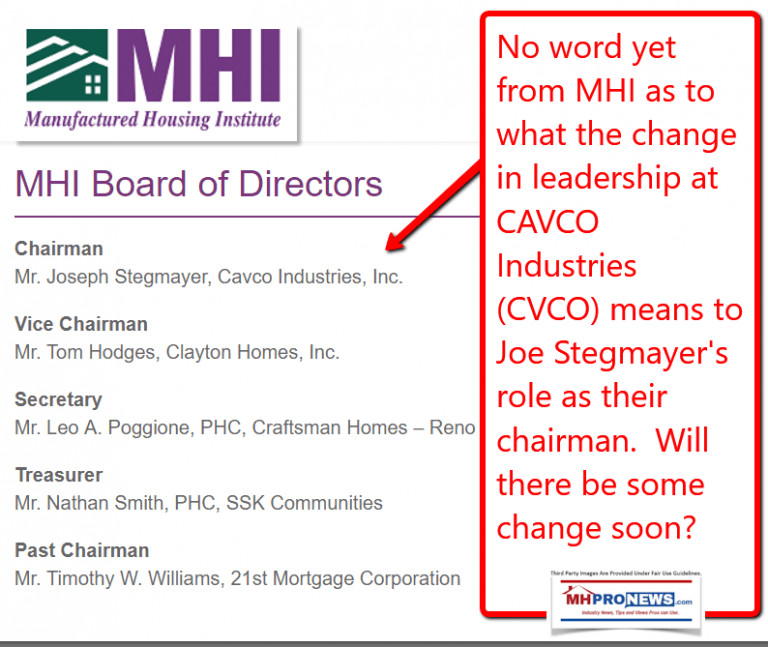 On this date and time, no mainstream media site had any news coverage of this latest development at publicly traded Cavco.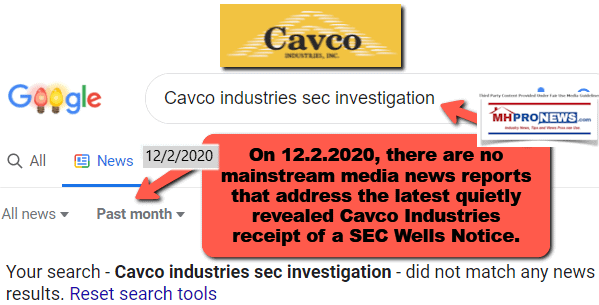 As MHProNews recently reported, "It is not over." See that below, but note that there is more reporting on Cavco ahead, stay tuned.
It Is Not Over; Cavco Industries Update, plus Manufactured Housing Investing, Stock Updates
 MHProNews will continue to monitor and report as warranted.  With the Cavco portion of our headline addressed, the feedback from various attorneys that have been involved in the manufactured housing industry in various capacities regarding the 2020 Trump-Biden election controversies will be our featured focus tonight.  For newcomers, the featured focus follows the quotable quotes, left right headline bullet summaries for today, and two of our three market graphic summaries.
One more notice. Economist and prolific author and media personality, Walter E. Williams, has died. Some of his quotable quotes are shown below. May Walter Williams rest in peace.
 Quotes That Shed Light – American Social, Industry, National Issues…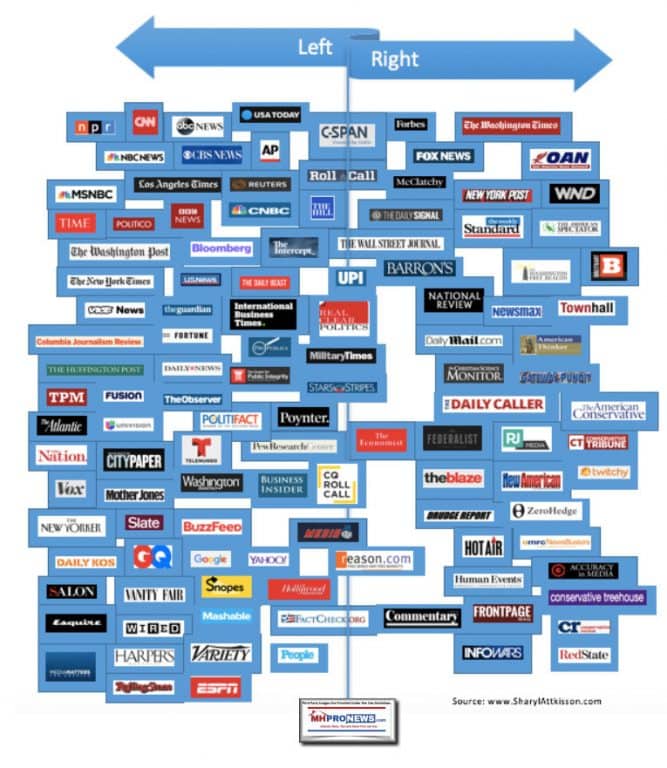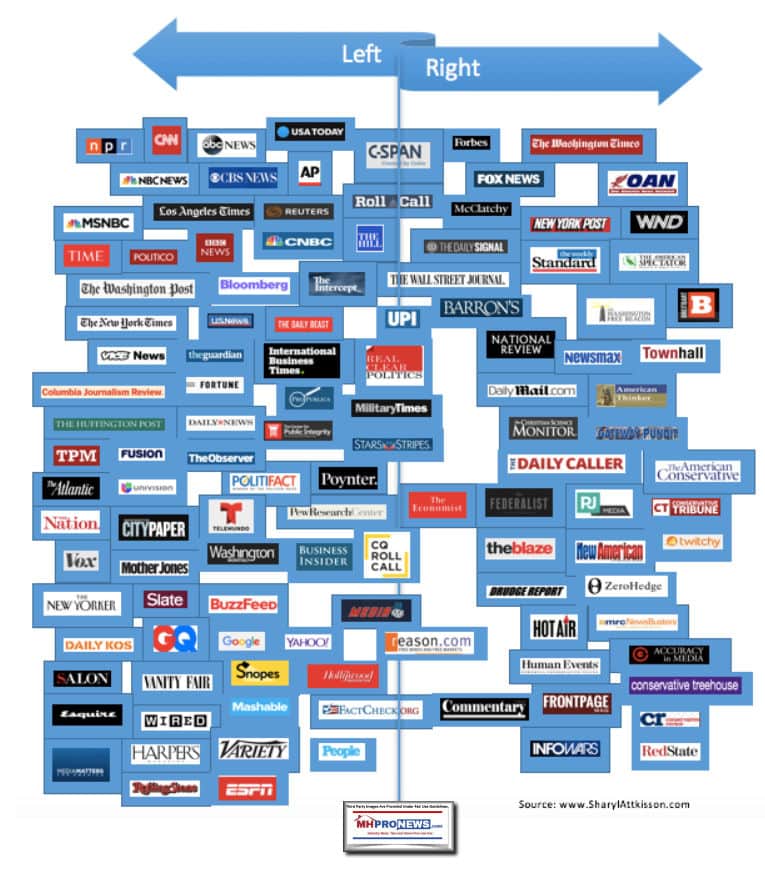 Headlines from left-of-center CNN Business

A warning from Elon
FUERSTENWALDE, GERMANY – SEPTEMBER 03: Tesla head Elon Musk arrives to have a look at the construction site of the new Tesla Gigafactory near Berlin on September 03, 2020 near Gruenheide, Germany. Musk is currently in Germany where he met with vaccine maker CureVac on Tuesday, with which Tesla has a cooperation to build devices for producing RNA vaccines, as well as German Economy Minister Peter Altmaier yesterday.
Tesla CEO tells employees its stock could 'get crushed like a soufflé under a sledgehammer'
The company that literally started Silicon Valley is moving to Texas
Tech companies are cutting deals left and right to prepare for a post-pandemic world
LIVE UPDATES US stocks are flat after setting records
Opinion: After the pandemic recovery, we must tackle the national debt
MISINFO WATCH Facebook blasted over anti-vax content by UK lawmaker
The oil industry is showing signs of life again
Exxon faces $20 billion hit from 'epic failure' of a decade ago
Walmart+ drops shipping minimum
Stein Mart is being relaunched online
NBC had to decide between football and lighting a Christmas tree. It chose the tree
Rolls-Royce's new Ghost: Still plenty posh, but more laid back
The number of Black female founders in the million dollar club just doubled
In this photo provided by the New York Stock Exchange, trader Ashley Lara uses her handheld device as she works on the trading floor, Tuesday, Dec. 1, 2020. U.S. stocks rose broadly in morning trading Tuesday, sending the S&P 500 toward another record high, as investors focus on the possibility that coronavirus vaccines could soon help usher in a fuller global economic recovery.
Big Tech's stock market reign may finally be about to end
Ram 1500 TRX named MotorTrend Truck of the Year
MARKETS
IN THE WORKPLACE
Meet the pandemic-friendly office holiday shindig
Unilever is testing a four-day work week in New Zealand
Is this the office of the future?
How Tony Hsieh pioneered a new culture at Zappos
Why Reddit will pay workers the same salary no matter where they live
THE BUSINESS OF BEAUTY
Sephora is opening up mini shops inside Kohl's stores
Ulta is opening up mini shops inside Target stores
How Ulta and Sephora are handling the pandemic
TikTok turned this skincare brand into a cult favorite
Clarisonic is shutting down. Its devoted fans are panicking
Headlines from right-of-center Newsmax
Pennsylvania Republicans Say Supreme Court Could Yet Upend Vote
Roger Stone: AG Barr 'Blocking for the Deep State' on Vote Fraud
Crenshaw: GOP Has to 'Hold the Line' in Georgia
Trump Attorney Jenna Ellis: Barr Denial of Voter Fraud 'Bizarre'
Wisconsin Governor Calls Trump Lawsuit an 'assault'
Trump Steps Up Pressure on Kemp: 'Do Something'
GOP Rep. Garcia Wins by 333 Votes in California-25
Arizona Gov. Ducey Defends Himself Against Attacks by Trump
Trump Lawsuit: Wisconsin Absentee Ballot Abuses Affected 220K Votes
The Trump Presidency
Congressional Negotiators Agree on Massive Defense Bill Despite Trump Veto Threat
WH: FDA Commissioner Not Called in to Answer for Vaccine Delay
Trump Backs GOP COVID-19 Package After McConnell Rejects Bipartisan Proposal
Kudlow: Congress Probably Won't Pass 'Gigantic' Stimulus Bill
Trump Demands Repeal of Section 230 Tech Liability Shield
Trump Teases 2024 Run at White House Christmas Party
Barr Appoints Durham Special Counsel in Russia Probe Investigation
Giuliani Denies NY Times Report He Discussed Pardon With Trump
Top Democrats Swing Behind Bipartisan Virus Aid Bill
Democratic leaders swung behind a bipartisan COVID-19 relief effort Wednesday, cutting their demands for a $2 trillion-plus measure by more than half in hopes of breaking a monthslong logjam and delivering much-sought aid as a coda to a tempestuous congressional.
Lou Holtz to Receive Medal of Freedom From Trump
President Donald Trump will award the Presidential Medal of Freedom
Finance
Michael Busler: Biden Wrong, Deficits & Public Debt Matter
Recently a panel of distinguished economists who will likely advise Joe Biden, met virtually at the Brookings Institute to discuss the impact of annual government budget deficits and the total public debt.
Adobe: Women Earn 99% as Much as Men
Fed: Little to No Growth in 4 of 12 Regions as Virus Spikes
BofA: Small-Business Confidence Drops to 4-Year Low
PayPal CEO: Digital Currencies Set to Go Mainstream
Market Indicator Closing Summaries – Yahoo Finance Closing Tickers on MHProNews…
Featured Focus –
Where Business, Politics and Investing Can Meet
As millions know, the 2020 presidential race is still being contested. Some attorneys involved in our industry, some for decades, provided their legal take on the state of the post-election efforts by President Trump.
All of the comments are as provided by the sender, without edits. One lawyer that might be described as a POTUS Trump supporter simply said,
Another attorney wrote this regarding the various legal challenges:
"Off the record-this outcome is already certain-the challenges never had a chance of success b/c there were never any material facts to support it. Just smoke & mirrors. No need to add to the chaos."
An attorney with a Manufactured Housing Institute (MHI) connected operation sent these comments to MHProNews.
"A month ago six million more votes were cast for Biden than Trump.  Some of the states were close, but not as close as last time.
Trump lost, using pretty much the same process that elected him in 2016.  The majority believes the process was fair and all courts, including courts with republican judges, concur.
For our industry, Biden's platform is good news.  Higher income for our customer base is a good thing.  And the prospect of $15,000 down payment assistance for our customers is a good thing.  When our customers win, we win."
There are those who would dispute those bullet points, but they and the other comments shown are the views of the sender, not MHProNews.
A widely known attorney humbly sent this statement.
"I have not focused on this enough to make an intelligent comment."
That certain is fair enough.
The following attorney said he wanted his first name used in his comments to MHProNews. He emailed the following. But later, "on second thought," he asked that his name not be used and that he be referred to as "a conservative 40+ year litigation attorney."
"Tony, my personal view (not on behalf of the firm) is that these multiple election challenges are an embarrassing train wreck – read the Pa. Federal Court opinion by the Trump appointed Justice  describing the meritless, incompetent effort of the Trump campaign to void 6MM votes w/o any material evidence of fraud! If it continues he will seriously damage the Republican Party for years to come. He needs to 'man up" & accept the result w/ some class w/o delay."
Last for now are these thoughts from a longtime industry lawyer, who as his comments reflect, has practiced law for years.
"Having had first-hand experience with courts, judges, and they way that they view the world, I'd say — unfortunately — that the chances are slim to none, despite the fact that there is a valid constitutional argument regarding changes to the voting laws in key states that were not made by the state legislatures which constitutionally have the sole power to make any such changes."
For those who were looking for legal corroboration of their hopes for a Trump victory, not one of those comments provide that encouragement.
Bomb from Trump Admin AG Barr – No Widespread Fraud – Examined, plus Manufactured Housing Investing Stock Updates
But as the last comment reflected, some made it clear they would prefer four more years of a Trump Presidency, even though they are not counting on it.
Left-Wing Now This Demo 1 Minute Voting Machine Hack, Black Friday State Biz Reports, Bartiromo-POTUS Trump Interview Transcript, plus Manufactured Housing Investing, Stock Updates
That said, the above and the following should be taken as counterpoints from attorneys fighting the fight that stand as a different vantagepoints to the beliefs quotes above.
PATRIOT ALERT:

Information being received NOW that Communist China purchased Dominion Voting in October 8 for $400M.

Efforts underway to verify. If true, this confirms other evidence that Communists intend to overthrow our government to get our precious land.

NOT ON OUR WATCH.

— Lin Wood (@LLinWood) December 1, 2020
Sidney Powell @SidneyPowell1 is a truth-giver.

When she speaks, listen carefully.#FightBack for Truth https://t.co/YnzQnJ3vRP

— Lin Wood (@LLinWood) December 2, 2020

For over 90 minutes today, famous attorneys L. Lin Wood and Sidney Powell held their "Stop the Steal" rally in Georgia.

Yes, Georgians, you must vote. But demand that your vote be cast in an election process that is not corrupted by massive fraud.#FightBack for an Honest Election https://t.co/60qShfbvMS

— Lin Wood (@LLinWood) December 2, 2020

Wood was on fire, alluding to or recalling 1776 numerous times.

We are circling the Walls of Jericho.

Keep praying for our country. https://t.co/EbsRxBODaR

— Lin Wood (@LLinWood) December 2, 2020

— Lin Wood (@LLinWood) December 2, 2020

He challenged Georgia Republican Governor Brian Kemp and Secretary of State (SOS) Brad Raffensperger to task for their purported profiting off the deal that caused the Dominion voting system to be used and that a special session of the legislature be called.  Update: This reply was posted to L. Lin Wood via Twitter. It comes from a satire website. That noted, Last Week Tonight with John Oliver is also a satirical site from the political left, as is the People's Cube, on the right.

Dominion connection maphttps://t.co/NK6GOa6lRn

— yamato (@meshiya12) December 1, 2020

The not yet verified connect the dots graphic points to Georgia Gov. Brian Kemp. But it also connects dots between the Tides Foundation, Carlyle, Bill Gates, George Soros, and the Clinton Foundation, among other points of interest to manufactured housing professionals.

To see this illustration about Dominion Voting Systems and their 2020 connections, click here.

Related, Recent, and Read Hot Reports

RBG, New York Times, BLM-Chinese Communist Bombshells Rock Democrats – Industry Impacts – plus Sunday Weekly Headlines Review

Cuomo's Covid1984 – Independent Businesses Threated, Limbaugh Urges POTUS to Hold GA Rallies, plus Manufactured Home Investing, Stock Updates

Can the Many Defeat Big Money, Big Media, and Major Tech Masters? Plus, Sunday Weekly Headlines in Review

https://www.manufacturedhomepronews.com/masthead/facts-or-evidence-dont-matter-for-those-who-will-not-see-or-hear/

Manufactured Housing Industry Investments Connected Closing Equities Tickers

Some of these firms invest in manufactured housing, or are otherwise connected, but may do other forms of investing or business activities too.

NOTE: The chart below includes the Canadian stock, ECN, which purchased Triad Financial Services, a manufactured home industry lender
NOTE: Drew changed its name and trading symbol at the end of 2016 to Lippert (LCII).

"More Punitive Regulatory" Regime Looms Warns New Manufactured Housing Industry Insider

Fall 2020…
Berkshire Hathaway is the parent company to Clayton Homes, 21st Mortgage, Vanderbilt Mortgage and other factory built housing industry suppliers.
· LCI Industries, Patrick, UFPI, and LP each are suppliers to the manufactured housing industry, among others.
· AMG, CG, and TAVFX have investments in manufactured housing related businesses. For insights from third-parties and clients about our publisher, click here.
Enjoy these 'blast from the past' comments.

MHProNews. MHProNews – previously a.k.a. MHMSM.com – has celebrated our 11th year of publishing, and is starting our 12the year of serving the industry as the runaway most-read trade media.

Sample Kudos over the years…

Learn more about our evolutionary journey as the industry's leading trade media, at the report linked below.

Correcting the Manufactured Housing Industry Record – Looking Back, Looking Ahead – Plus Manufactured Home Investing, Stock Updates

· For expert manufactured housing business development or other professional services, click here.
· To sign up in seconds for our industry leading emailed headline news updates, click here.

Disclosure. MHProNews holds no positions in the stocks in this report.

Evidence-Based State of the Manufactured Housing Industry, Fall 2020 Report – plus, Sunday Weekly Manufactured Home Headlines Review

We recommend that news tips NOT use company, nonprofit or organizational emails or cell phones. To report a news tip, click the image above or send an email to iReportMHNewsTips@mhmsm.com – To help us spot your message in our volume of email, please put the words NEWS TIP or COMMENTS in the subject line.

That's a wrap on this installment of "News Through the Lens of Manufactured Homes and Factory-Built Housing" © where "We Provide, You Decide." © (Affordable housing, manufactured homes, stock, investing, data, metrics, reports, fact-checks, analysis, and commentary. Third-party images or content are provided under fair use guidelines for media.) (See Related Reports, further below. Text/image boxes often are hot-linked to other reports that can be access by clicking on them.)

By L.A. "Tony" Kovach – for MHLivingNews.com.
Tony earned a journalism scholarship and earned numerous awards in history and in manufactured housing. For example, he earned the prestigious Lottinville Award in history from the University of Oklahoma, where he studied history and business management. He's a managing member and co-founder of LifeStyle Factory Homes, LLC, the parent company to MHProNews, and MHLivingNews.com. This article reflects the LLC's and/or the writer's position, and may or may not reflect the views of sponsors or supporters.