What did Andy Gedo reveal? In a word, 'volumes.'
Some articles and statements are so packed with information and insights that they merit at least two careful readings. In the instance of Andy Gedo's presentation on behalf of MHI, Clayton Homes, Cavco Industries and Skyline-Champion HUD Code home builders – all of whom he specifically named – a more detailed look at the claims made in the online public debate are worthy of attention by industry investors, affordable housing advocates, investors and investigators alike.
While we don't have a crystal ball, it won't be a surprise if this online 'debate' will be read for years to come.
Those who are on LinkedIn can see the original discussion at this link here, or for preservation and easier reading, anyone can see the entire debate along with a post discussion analysis at this link here or below.
Debate! Current, Former Manufactured Housing Institute Members Battle Over Clayton Homes, MHI, Other Key Member Activities and Industry Performance
Let's first emphasize that as with all media outlets, there are any numbers of things that MHProNews doesn't know. The business of investigating, reports and analysis is routinely an evolutionary process. Had Patti Boerger and/or others at the Manufactured Housing Institute (MHI) accepted the invitation in 2017 to participate in a public discussion at the Tunica Manufactured Housing Show, their trade group's argument could have been made by MHI far easier than then than today. Why? Because so many documents and news tips have occurred since that timeframe.
Numerous revelations have been made since the Tunica Show in 2017 about Clayton Homes, 21st Mortgage Corporation, Cavco Industries, Skyline Champion, MHI and other 'big boy' members of that Arlington, VA based nonprofit trade group.
Put differently, every day that goes by, the possible arguments Omaha-Knoxville-Arlington axis and their allies can make are intellectually weaker. Who made that point?
A close reading of the facts is that Andy Gedo has demonstrably made that point.
In trying to 'defend' MHI – who Gedo himself admits his company supports – and by throwing in the proverbial towel on Sunday afternoon after inviting additional follow up questions to his comments, it is akin to admitting he had nowhere to go with his arguments, based upon the evidence presented by MHProNews.
That evidence that has flowed into MHProNews has often come in the form of documents, forwarded emails, tips, leaks, and insider insights. When compared to other reports from outside of the industry's trade publishers and bloggers, a picture emerges that only MHProNews has published. Others have either sat silent, supported MHI and/or have attempted to attack or undermine this publication and/or the Manufactured Housing Association for Regulatory Reform (MHARR). MHARR's steadfast reliance of facts and points-of-law that could or should advance manufactured housing has been another steady true north in an otherwise convoluted narrative spun by others.
It is entirely possible that in the wake of Gedo's debate surrender on Sunday, that more tips and leaks will come into MHProNews to add to the growing collection of documents, news tips, evidence and insightful revelations about purported failures of MHI to perform, which are either tolerated or desired by their 'big boy' masters.
More on that and the next point further below.
Additionally, on- and off-the-record comments and/or reports by professionals inside and outside of manufactured housing are being accumulated. This has resulted in a substantial body found on MHProNews and also on MHLivingNews. Several of those items are so significant that they are attracting thousands of views or 'hits' months or years after they were initially been published. To underscore the significance of that, while pro-MHI trade publisher MHInsider has without fanfare quietly removed their viewer statistics from their website (embarrassingly small?), enough data was already collected to prove that many of their articles never got to 1000 total views. By contrast, a relatively weak MHProNews article might get that many hits in the first few hours it is online. The variety of efforts made by the powers that be in the MH Industry have time and again proven to backfire on their creators. MHInsider has at various times arguably been proven more useful to us as sources for critical analysis than it has to MHI and big boy members as their slickly packaged propaganda attempts.
Gedo is an intelligent and informed personality, as his background and his own statements in the big online debate said. Gedo attempted a variety of methodologies that reflects his understanding of psychology, which he studied at prestigious Brown University.
In Gedo's attempts to influence readers of the discussion, he used various ploys that formal debaters might refer to as red herrings, the straw man, the smear, artful dodge, and so forth. Yet time and again, that intelligent, experienced, able and motivated defender of MHI failed to make his points.
That could over time spell trouble for the big boy companies behind MHI and the Arlington, VA based trade group itself.
Industry readers and those peering into MHVille for investing, investigating, employment or other reasons must be puzzled at best if they are intellectually honest. Why doesn't MHI, Kevin Clayton, Tim Williams, Eric Hamilton, Tom Hodges, or other senior officials stand up publicly and do what Gedo attempted? What do they have to hide or lose by the effort?
There is simply no comparison between the resources of the Omaha-Knoxville-Arlington axis, their allies and surrogates collectively compared to MHProNews. They are Goliath, and metaphorically we aren't even David. We would be like a Lilliputian. They are veritable giants compared to tiny people – when measured in terms of resources.
So why do the powers that be in MHVille suffer foolish efforts like one of their surrogate bloggers to act as their stand in?
Why do the feudal lords of MHVille stand up or allow a state executive now and again to attempt to defend their actions, behaviors or outcomes?
Isn't it obvious that by using surrogates that the Omaha-Knoxville-Arlington axis and their allies are hoping to minimize their risk in losing a public debate?
Isn't it increasingly obvious that they are arguably guilty of many or all of the various allegations that have been leveled against them?
Hold those inquiries in mind. Does these topics matter to industry professionals and others peering into manufactured housing? The metrics behind website data clearly indicate that the answer is yes. Because months – sometimes years – after a report is initially published, they can be found among the top articles 250 out of 20,000+ articles and reports being accessed on MHProNews.
See for yourself. This data is produced by third-party Webalizer, "Generated 21-Apr-2020 07:17 CDT." Keep in mind that manufactured housing, per Cavco Industries, has only some 75,000 full time workers. To have an article top 10,000 is quite an accomplishment. As MHInsider data revealed, they have a hard time getting 1,000 views on a single article.
As some explanation of the data above, the # rank is among the top 250 most visited pages or URLs on the MHProNews website; and that is based upon only one cPanel. Our website has over 20,000 articles online, has a dozen cPanels that each individually collect site data that ought to be combined to achieve the true total ranking, hits and/or pageviews.
As the above noted, reports from months or years ago often surge based on some event or reasons for reader/researcher interest.
Each of the five reports above have this point in common. Insiders provided news tips, leaked an email(s) or document(s) and/or otherwise provided insider information that would not been public knowledge. The "Case Against Clayton Homes" likewise has near its core documents provided to MHProNews by a tipster that is found online originally or still only on MHProNews and MHLivingNews.
The Edward Snowdens of MHVille? Citizen Journalists Matter
Whatever one thinks of Edward Snowden, he has for years to come redefined American understanding of what the NSA is doing through the leaks and statements he made to mainstream media. That said, some leaked documents and important revelations are made by those who opt never to be widely known.
Gedo made several interesting points and admissions during the course of the online debate. Examples of pull quotes are below.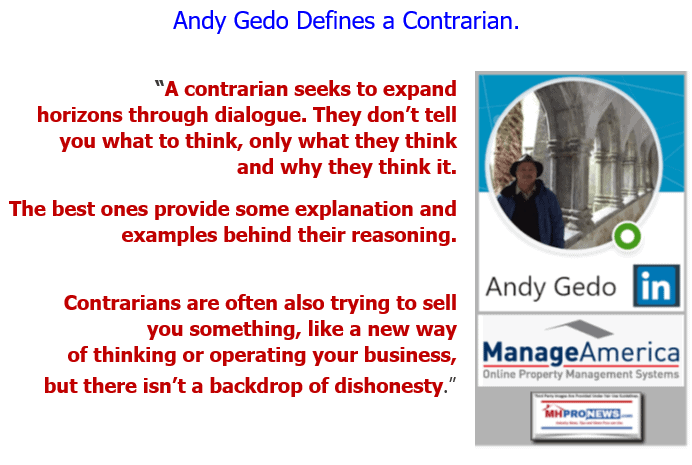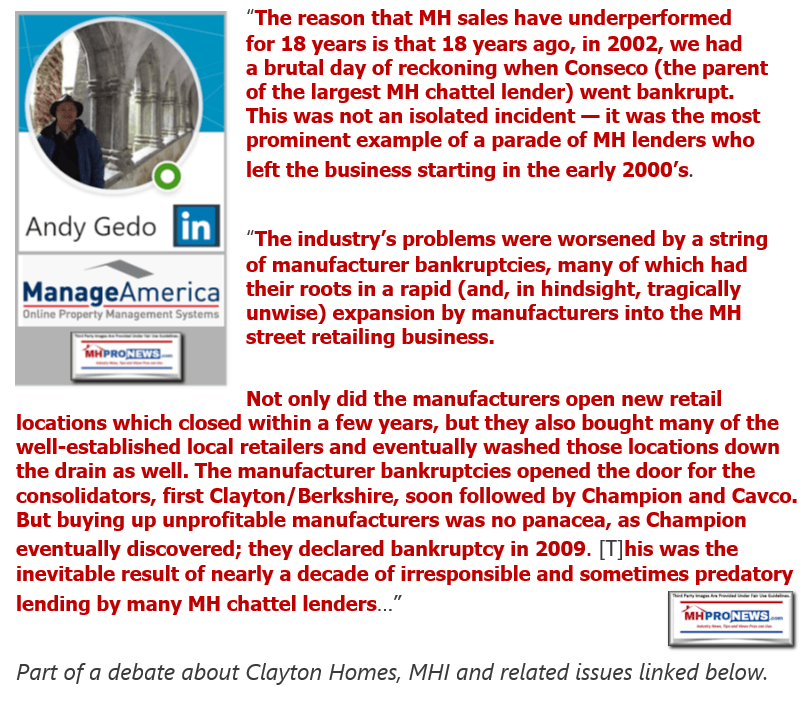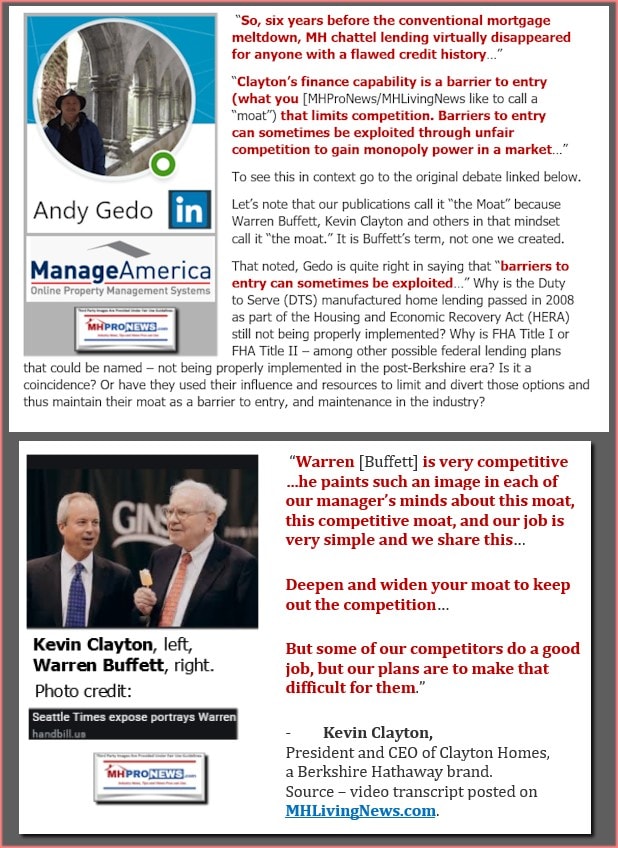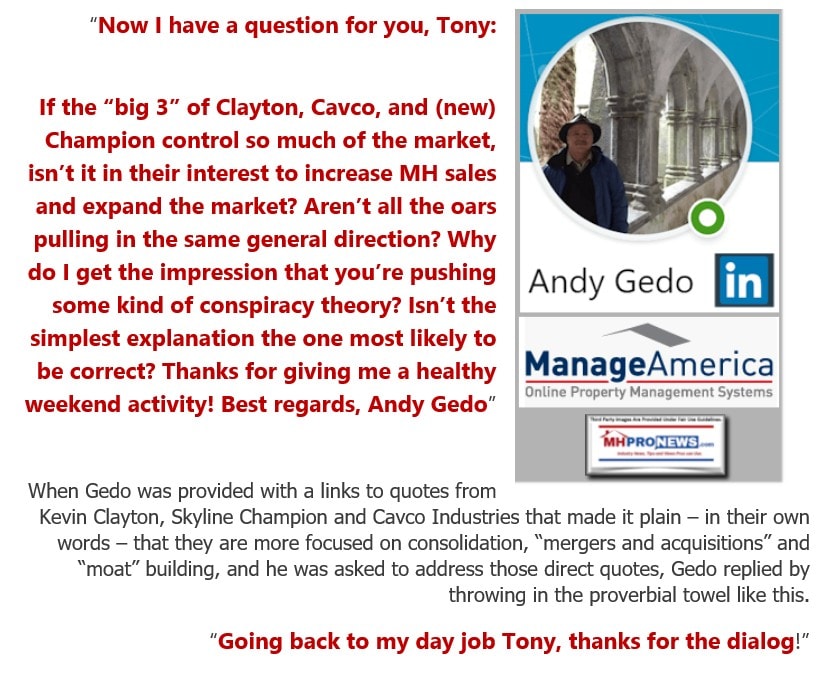 The bottom line?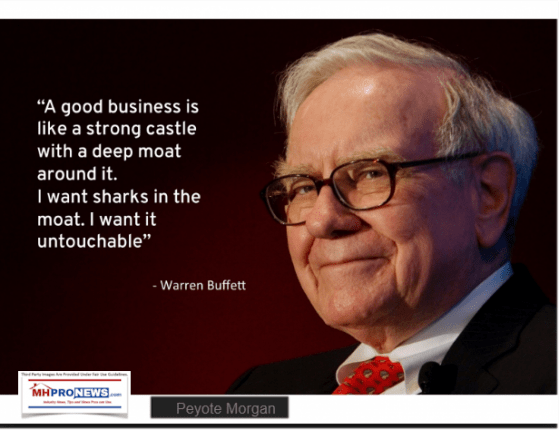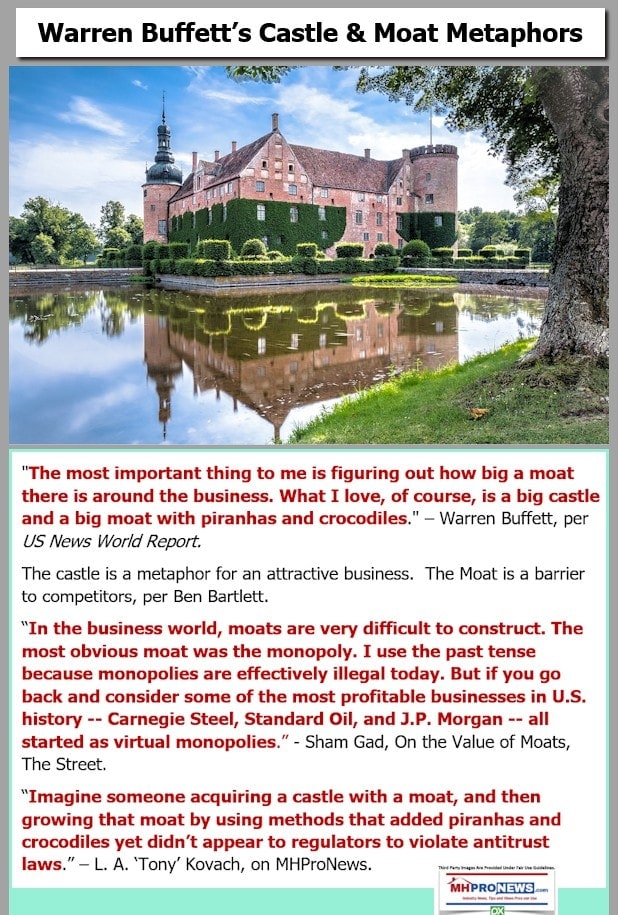 A fair characterization of the outcome is that Gedo – an able debater and an informed an intelligent self-proclaimed supporter of MHI was not able to overcome the logic presented by MHProNews. He apparently set out to debunk what he called a 'conspiracy theory,' but in the end – when confronted with the quotes by Kevin Clayton, Warren Buffett, Cavco Industries and Skyline Champion realized that his point about "contrarian" was precisely what MHProNews has been doing for years. Namely, we present information, we look at the evidence, provide an analysis and then let intelligent people draw conclusions that if the lessons are applied could benefit their operation.
Barriers to Entry, Persistence, and Exiting in Business, Affordable Housing, and Manufactured Homes
Our thanks again for this unplanned, impromptu debate with Gedo. He made several relevant points, all of which when objectively approached support the contention or 'thesis' of MHProNews. That is possible in good measure due to the sources, insights and support provided that make such evidence-based analysis possible.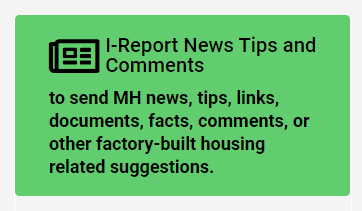 Stay tuned for more from your #1 source for the most-read manufactured housing "Industry News, Tips, and Views Pros Can Use" © where "We Provide, You Decide." © (Affordable housing, manufactured homes, reports, fact-checks, analysis, and commentary. Third-party images or content are provided under fair use guidelines for media.) (See Related Reports, further below. Text/image boxes often are hot-linked to other reports that can be access by clicking on them.)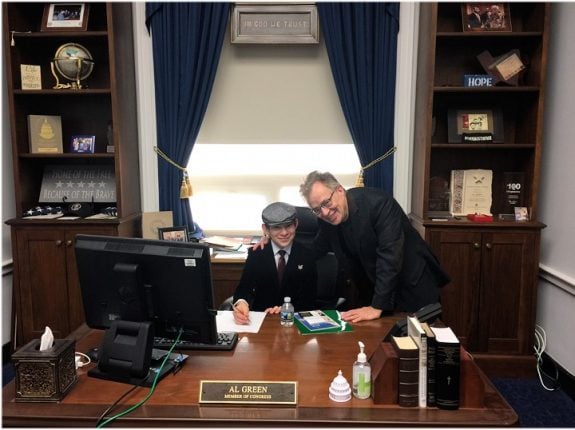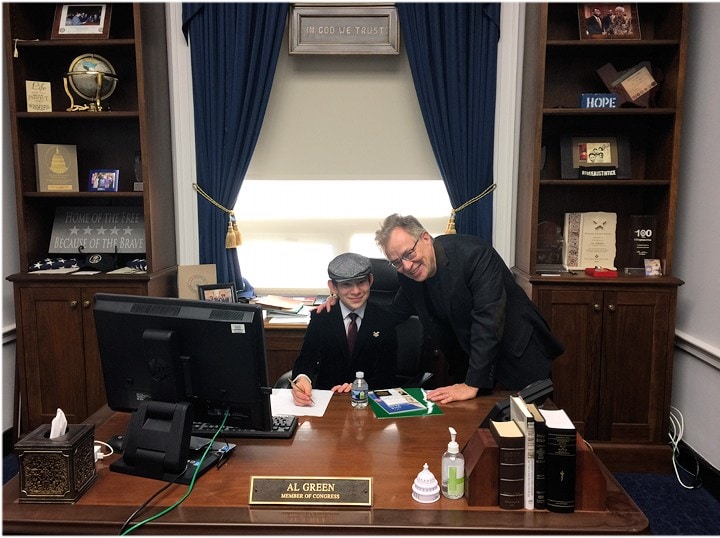 By L.A. "Tony" Kovach – for MHLivingNews.com.
Tony earned a journalism scholarship and earned numerous awards in history and in manufactured housing. For example, he earned the prestigious Lottinville Award in history from the University of Oklahoma, where he studied history and business management. He's a managing member and co-founder of LifeStyle Factory Homes, LLC, the parent company to MHProNews, and MHLivingNews.com. This article reflects the LLC's and/or the writer's position, and may or may not reflect the views of sponsors or supporters.
Connect on LinkedIn: http://www.linkedin.com/in/latonykovach
Related References:
The text/image boxes below are linked to other reports, which can be accessed by clicking on them.
Historic Insights; Legacy Housing, Franklin Homes, Other HUD Code Builders and 2020 Tunica Show Cancellation Impact
Bias Confirmation, MHI's SBA PPP Funding Effort, plus Sunday Manufactured Home Headlines Review 4.19.2020
Tax-Non-Filer in 2018, 2019? Free Sign up IRS Stimulus Payment$; Will Bulls Run Again? Manufactured Home Investor, Stock Updates
Clayton Homes (CMH) Plant Ordered Closed, Clayton Homes Headquarters Hit by COVID19-Coronavirus Outbreak
Legacy Housing's "Kenny and Curt" COVID19 Document Leak, "World Class "Shuckers-and-Jivers"- Skyline Champion Revelation
Clayton Update; Pro-Trump Independents vs Anti-Trump MH Communities Green Courte Partners CEO David Lentz? Plus, Manufactured Housing Headlines in Review 3.22 to 3.29.2029
February 2020, Latest National Manufactured Housing Production Data, MHI and MHARR Comparisons
$20 Trillion COVID19 Suit Against China, Distinct Congressional Reps Letter Blames China, plus Manufactured Home Stock, Investing Updates
'Fundamentally Good Businesses Will Have Terrible Year,' Private Equity Moving for Bargains, plus Manufactured Housing Investing, Stock Updates
Looming Wave of Loan Delinquencies Sparks MBA Warning, MHI Member Community Leader Sounds Off, plus Manufactured Housing Investing, Stock Updates
Closures for Manufactured Housing, Others Announced, More Pending, plus Sunday Weekly Headline News Review 3.15 to 3.22.2020
Are Manufactured Housing Supply Chains in China Threatened by Coronavirus?
Wrongful Death COVID19 Case Alert to Landlords, Producers; News Tips, AG Barr Warns Christian Rights Violations on Easter – Sunday Headlines Review 4.5 to 4.12.2020