On February 1, 2021 a legal research report about allegations of "felony" market-rigging involving manufactured housing and manufactured home communities was published at this link here. While that groundbreaking and insightful research report at Knudson Law has numerous strengths, if there was an area that perhaps merited more detail, it was the manufactured home land-lease community sector. This news analysis in conjunction with the Knudson Law research document will aim to round out that need to paint a more refined picture of what is occurring in manufactured home communities for independent owners and residents.  Is a steady monopolization underway? See what prominent Manufactured Housing Institute (MHI) member Frank Rolfe said.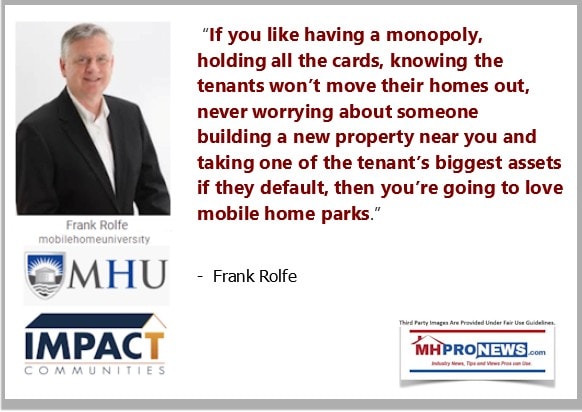 Or what Flagship Communities, a new REIT that was cofounded by a former MHI chairman and current MHI board member, Nathan Smith said.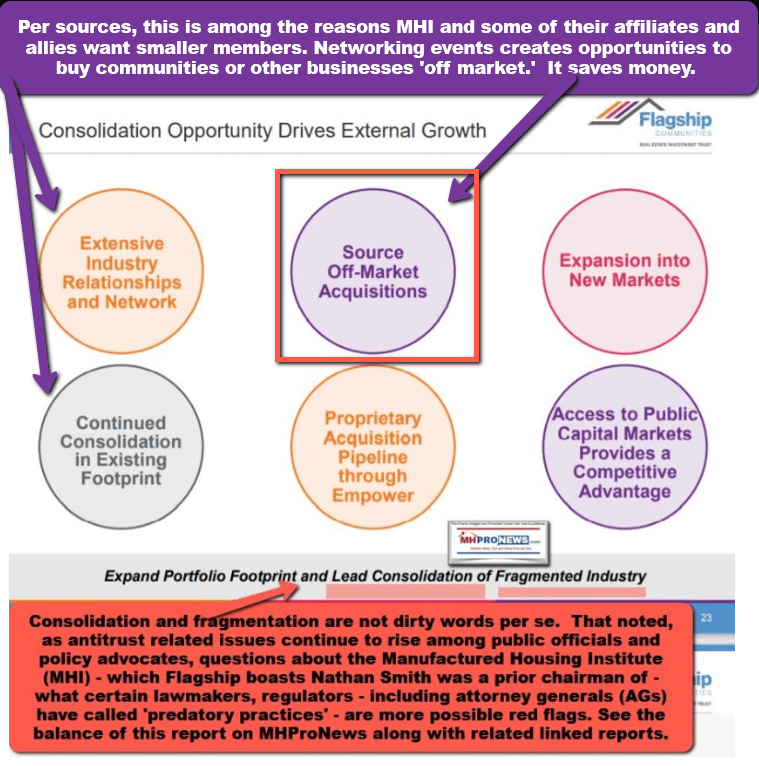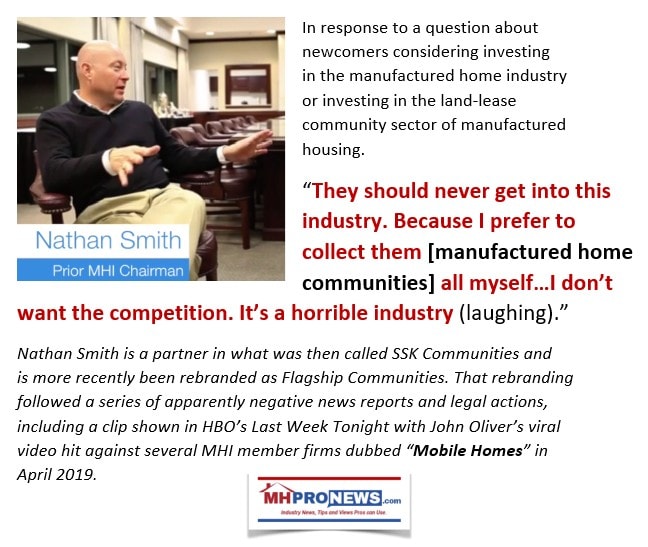 This MHProNews report and analysis will feature content from JDSupra's legal website on pending legal changes, as well as from The Progressive, NBC, Yahoo, and other news/views/social media/info sites.
This report will take a step-by-step approach that will reveal how the manufactured home land-lease communities sector is being steadily aggregated by various firms. It will, of necessity, be detailed. The mainstream news articles cited herein – by accident and/or design – are arguably fostering the trend toward consolidation, even if they seem to be arguing against it.
Additionally, as the Knudson Law research report related, several of those companies that articles or videos by mainstream media happen to have reported about have direct ties to the Arlington, VA based Manufactured Housing Institute (MHI). Two examples are spotlighted in the quotes above. Some others, like FostoriaReserve cited by NBC News have membership or other ties to MHI "state affiliates."
Over the years, this writer has sat with and listened to community operators who were in the profession often for decades. Some, with a bewildered look after a seminar, would ask or wonder out loud, 'what happened to make this once-easy business so complex?'
Who benefits from the intricacies?
Who is harmed by what at times might seem like innocent specifics?
The Devil is in the Details.
Overview:
Before getting to the JDSupra report by an attorney on manufactured home community legislation, or The Progressive article that rips so-called "predatory" community operators while praising nonprofits like MHAction, some foundational information is useful.
On this date several of the top news articles on Google desktop and mobile searchers are about manufactured home communities. Each of the reports mentioned or linked herein are among the top reports.
The case can be made that the NBC News report about Kirsten Brokaw, Chris Larson and their children benefited. See the screen capture further below.

That noted, the case can be made that:
So called 'white-hat' manufactured home community operators and other ethical operators may be tainted by association with the 'black hat' featured in their report.
The NBC News article will likely be used by legislators that are pushing for the kinds of laws that might 'prevent' such behavior.
Current manufactured homeowners are arguably harmed when they are community residents who might want to sell their home at some point. How so? Because reports like this Miranda's for NBC make living in a land-lease see unwise. As Miranda wrote for NBC News, ""You're selling [a manufactured home] under a fire sale," [Kristin] Slonski said. "I've seen people sell their [manufactured] homes on Facebook Marketplace for $1,000." Without appropriate journalistic balance, what may be 'true' can also become problematic and harmful for others.
Legislation that is passed will disproportionately impact smaller communities that are run by a mom-and-pop type business. What once was a relatively simple business model when those communities were developed has become a relative difficult, one as was alluded to above. The fewer the home sites, the lower the revenues, the more the regulations, the less appealing such an enterprise becomes.
Despite praise by bipartisan lawmakers on the affordable housing value of manufactured homes and communities, developing new manufactured home communities has slowed to a crawl. Part of the reason for that is arguably the steady drum beat of negative media.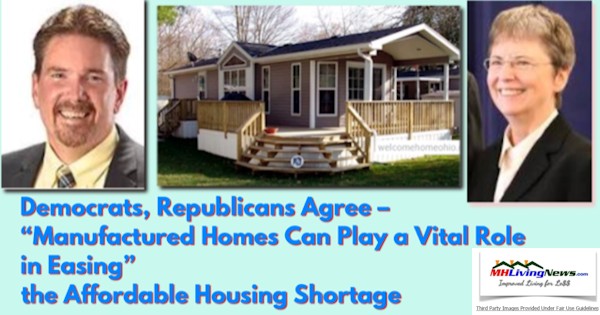 Summing up, barriers of entry, persistence, and exit are created by such reports that harm the majority but stealthily benefit a minority.
Ironically, often the very 'black hat' operations that are spotlighted indirectly benefit from the troubling dynamic that exists.
Coincidentally or not, nonprofits like MHAction and MHI – which seem to be on opposite sides of these issues, are both the beneficiaries of funding from Warren Buffett or Berkshire Hathaway.
Additionally, Berkshire brands and their allies can benefit from these trends while it simultaneously harms independents, potentially millions of manufactured home owners, and also those who never consider this option because the media narrative is so routinely negative.
One must keep in mind that Berkshire owned dozens of newspapers. Berkshire had the financial and media resources to flip-the-script on what their own papers all too often improperly described as "trailer park" living.
Or as Kevin Clayton put it, "Warren" told him they have plenty of money to do whatever it is they wanted to do.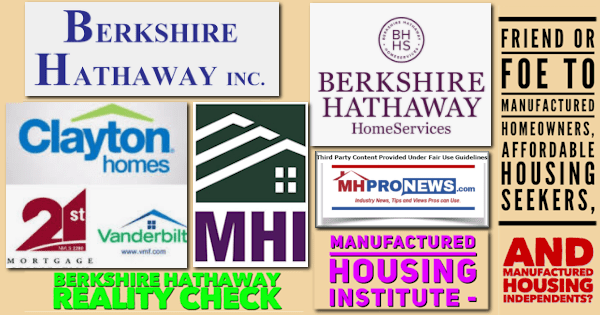 To illustrate some of the above, consider the following before we dive into the JDSupra legal report and The Progressive's narratives.
New York State, MHAction, and MHI Member RHP Properties
In New York State, following a campaign involving MHAction and others, rent control was passed after years of efforts that previously thwarted its passage. In the mix of that successful effort to enact rent control were media reports and videos about the allegations against certain predatory corporations. The supposed bad behavior of some was used to create a new regime that impacted all.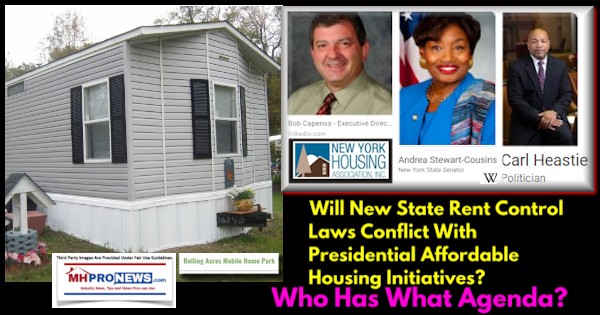 Not long after rent control passed, RHP Properties essentially challenged the law. It is worth noting that in Delaware, rent control advocates admit that the passage of the law has not provided the consumer protections that they thought it would.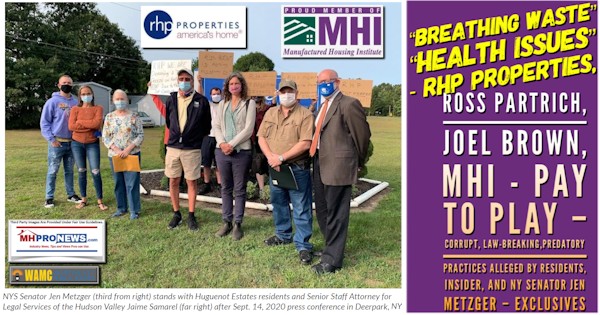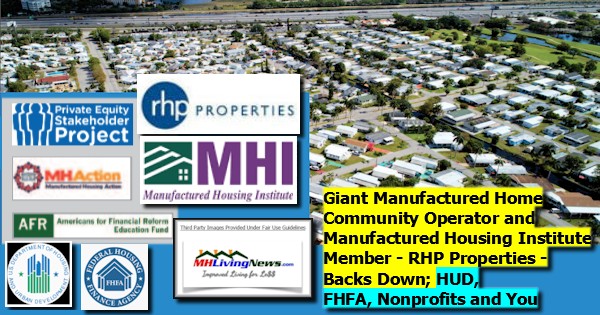 All of that drama not surprisingly created media buzz. That buzz made manufactured home living in a land lease look problematic.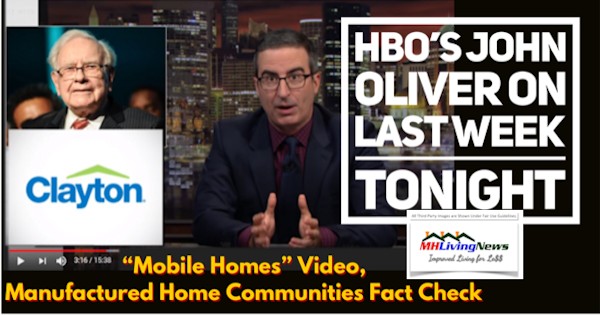 Is it any wonder that for the past two years there had been a year-over-year decline in new HUD Code manufactured homes production and shipped?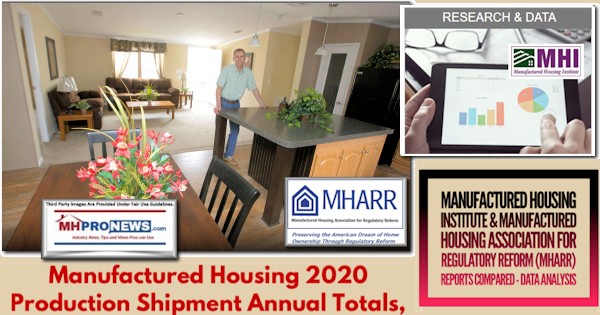 As new laws are enacted, additional hoops are generated for operation of a land lease community. Applying Carol Roth's principle cite below, those extra steps weigh disproportionately harder on smaller mom and pop operations.
In the wake of Dodd-Frank, a similar principle applied. Thousands of smaller lenders vanished, despite the claim that the law targeted banks and companies that were "too big to fail" and had put the U.S. financial system at risk. Big banks got bigger. Roth's principle noted above proved right.
In a similar fashion, that has been and still is playing out in manufactured home communities, as well as in other sectors of our industry. While this report will focus on those land lease properties, it should be stressed that the principles and dynamics involved go into other sectors too.
To be as objective as possible, this particular story by NBC News posted on 2.14.201 has apparently benefited Kirsten Brokaw and her fiancé Chris Larson. The GoFundMe graphic shown above makes that point.
That noted:
what has this NBC article by Leticia Miranda done for others living in manufactured home communities?
What has Miranda's story done for those who are 'white hat' businesses that routinely do what is right?
How does this impact the public perception of manufactured homes, particularly manufactured home community living?
With that foundation, let's move ahead to JDSupra, and then turn on to The Progressive's article on manufactured home community living.
On 2.11.2021 from the Davis Brown law firm, is the following.
February 11, 2021
Bill Negatively Impacting Manufactured Home Community Landlords Introduced in the Iowa House
On February 9, 2021, HF442 was introduced in the Iowa House. This bill would negatively impact landlords of manufactured housing communities by adding numerous prejudicial changes for landlords into Iowa law. Many of the provisions in this bill were also contained in bills from the last legislative session; those bills did not pass.
The bill would make several substantial changes to Iowa Code Chapter 562B, Iowa's Manufactured Housing Community law. Many landlords fear that similar amendments may be proposed in the future for all Iowa landlords under Iowa Code Chapter 562A (Iowa's Uniform Residential Landlord-Tenant law).
Some of the more controversial and objectionable portions of the bill are listed below. The full text of the bill can be found on the legislature website.
Substantial changes to a landlord's current right to choose whether to renew a tenancy through implementation of various restrictions on the reasons for which a landlord can terminate (i.e., not renew) a tenancy and enlargement of the notice period for non-renewal from 60 to 90 days
Increase of the notice period for rent changes from 60 days to 120 days
Restriction that rent could only be increased once a year
Imposition of a 90-day prior notification requirement to residents when a manufactured home community is be sold
Mandate that all landlord violations of Iowa Code Chapter 562B are considered consumer fraud
Restrictions on a landlord's right to impose utility charges and increase such charges
Restrictions on a landlord's right to deny applicants
Additional restrictions on allowable provisions within rental agreements
Changing the retaliation provision within 562B to enlarge the presumption period from 6 months to one year, matching the time element used in 562A
Eliminating the current parameters of the Manufactured Housing Revolving Loan Fund, which would allow the fund to be used for real estate, not exclusively for manufactured homes in leased communities. Manufactured housing, converted to real property, is already eligible for all housing programs.
The Iowa Manufactured Housing Association, including its executive director-lobbyist, Joe Kelly; general counsel Jodie McDougal; lobbying team, Tim Coonan and Sydney Gangestad; and the Association Board, have been diligently working on these legislative matters since before session began and will continue to do so, as the Association expresses their opposition to this bill.
HF442 has been assigned to the House Judiciary Committee. All landlords and companies affected by this bill should make their opinions known by contacting the House Judiciary Committee members.
Manufactured housing communities with questions about contacting legislators or managing the rules of Iowa Code Chapter 562B should consult an attorney.
## End of JDSupra legal brief. ##
The video below is not part of the JDSupra brief.

There were numerous news and video reports that highlight the issues that have led to this legislation.
Those issues were not limited to Iowa. Nor where they limited to MHI member Havenpark.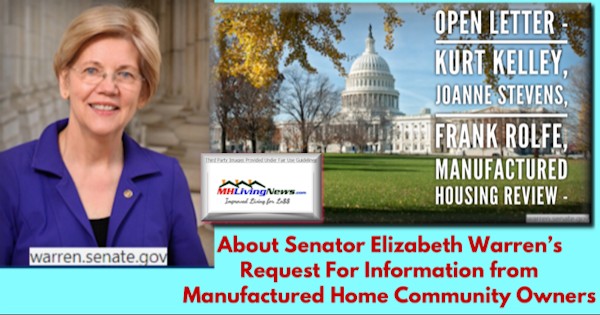 MHI and numbers of state association have a code of ethical conduct. Why is it that sources inside MHI and by state association sources say that said code has not been enforced?  Are those ethical standards mere window dressing for regulators, media, or others?
With that backdrop, is yet another report – this one dated 2.18.2021 – from the left-of-center The Progressive. It is written by Mike Kuhlenbeck. He is a freelance journalist and National Writers Union member based in Des Moines, Iowa. Notice that The Progressive acknowledged our request for feedback for this report. But as of 2:27 PM ET on 2.18.2021, Kuhlenbeck has not directly responded to our inquiries. More on that further below.
For decades, manufactured homes (a.k.a. mobile homes) have provided a more affordable housing option for individuals and families with lower or fixed incomes. But the residents of these homes routinely face predatory landlords and threats of eviction—prompting some to organize to fight back.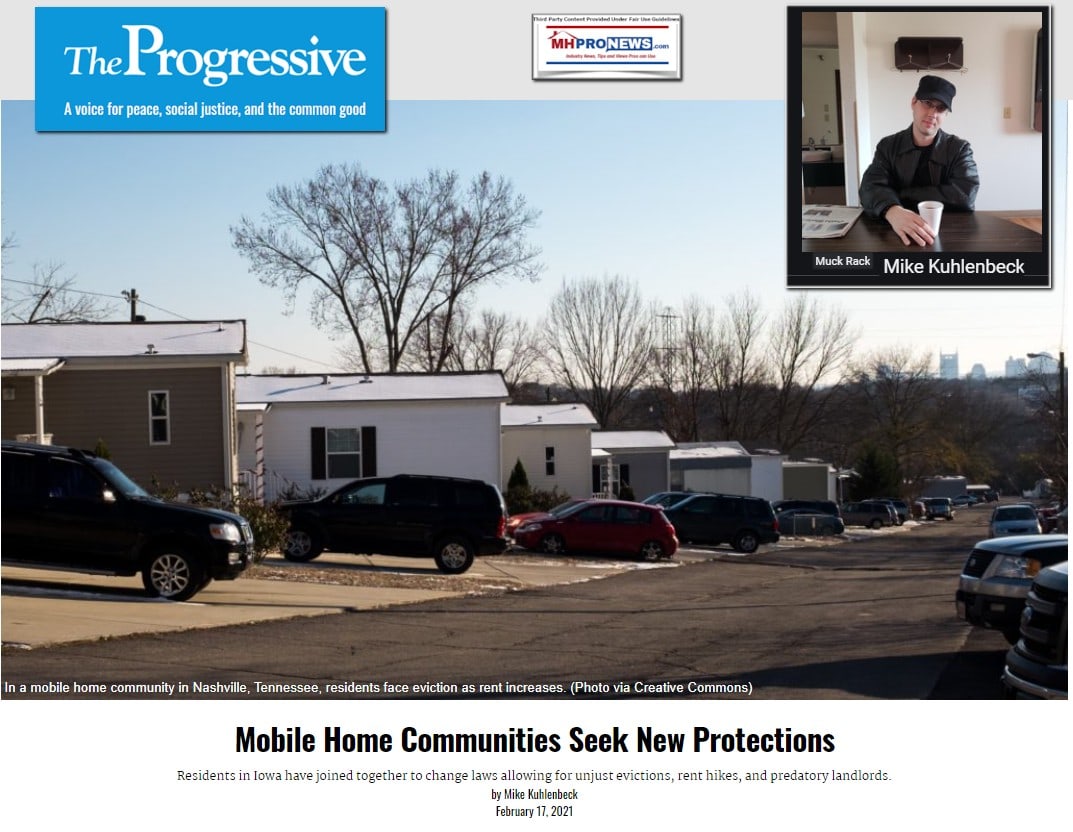 Mobile Home Communities Seek New Protections
Residents in Iowa have joined together to change laws allowing for unjust evictions, rent hikes, and predatory landlords.
by Mike Kuhlenbeck
For decades, manufactured homes (a.k.a. mobile homes) have provided a more affordable housing option for individuals and families with lower or fixed incomes. But the residents of these homes routinely face predatory landlords and threats of eviction—prompting some to organize to fight back.
Kevin Borden, executive director of MHAction, a national grassroots organization representing manufactured home community residents, says in an email to The Progressive that residents of these homes face threats to their health, income, and food security, "with no assistance from, and in some cases further abuses by, corporate landlords." With greater demand for rural housing expected after the pandemic, he says problems for residents will only worsen.
In recent years, according to a 2019 report, private equity firms, real estate firms, and trillion-dollar institutional investors have "converged" on the manufactured home sector, relying on residents' "limited mobility" to "ensure steady revenues, squeezing fast profits out of low-income families and seniors."
"Many of the private equity firms and institutional investors that have recently invested in manufactured housing communities have been major investors in apartment buildings and single family homes," the report states. "As housing costs have increased in other types of housing, investors have looked to manufactured homes as a relatively untouched sector."
In many cases, manufactured home landlords live out-of-state, which can lead to neglected maintenance and repairs, poor management, and a lack of communication. This also allows them to impose higher rents or serve eviction notices without having to witness the harm caused by their actions.
Without protections in place, residents are not treated as human beings but as mere speculative investments.
"They are certainly vulnerable to all the same perils as everyone else with likely higher risks due to lower incomes, higher likelihood of unemployment, less access to medical care," National Housing Law Project senior attorney Lisa Sitkin says in an email to The Progressive. "Even if they own their homes," she adds, "they are not accumulating wealth since manufactured housing generally depreciates like a car."
According to the Manufactured Housing Institute, there are roughly twenty-two million people living in manufactured homes in the United States. The pandemic has elevated the importance of housing justice to new levels, as government inaction toward corporate greed allows people to be pushed out of their homes during the current economic crisis.
But residents of manufactured homes have long been subject to exploitation. Take, for instance, what happened to Candi Evans, a resident of a manufactured home community in North Liberty, Iowa.
"There are also concerns over arbitrary and excessive fees as well as harassment through new and unnecessarily restrictive rules."
In 1998, Evans and her husband bought their home in Golfview Mobile Home Court. In 2002, Evans's husband died of cancer, and she continued operating the roofing company they owned. After paying off their home, their vehicles, and medical bills, Evans was debt-free before retiring in 2017.
Evans, in an email to The Progressive, says she thought her future was secure, having saved a "small nest egg,"  living where lot rent was "reasonable," and feeling "content with my life."
"I knew my neighbors," Evans writes. "The man next door that was born with no hands and no feet, the retired vet that travels through the community on his motorized wheelchair, the young families with young children and those children that gather at the end of the street to shoot basketball on a summer evening, and like me, my retired neighbors. Our community is made up of these people."
But then, in 2019, a Utah-based private equity firm, Havenpark Capital Partners, LLC (now rebranded as Havenpark Communities), began buying up manufactured home communities throughout Iowa.
In March that year, Evans wrote a rent check for $295. About a month afterward, Evans found a notice taped to her door, informing her that the park had been sold and was under new ownership. There was no information provided on who bought the park or how to get in touch with these new owners, she says. A few days later, she received another notice alerting her that her rent would rise to $475 by the first of June.
Havenpark purchased the properties of Golfview Mobile Home Court, Midwest Country Estates (Waukee), North American Mobilehome Park (Indianola), Sunrise Mobile Home Village (Iowa City), and West Branch Mobile Home Village (West Branch). After acquiring ownership of these residences, Havenpark imposed 60 to 80 percent rent hikes.
Though often called "mobile homes" or "trailers," these names are misleading for manufactured homes, which are more difficult to relocate in the case that a resident can no longer afford the lot rent.
"Many of the homes are too old to move," Evans says. "Many cannot be moved and even those that can, it is too expensive for most. My home cannot be moved because it is too large due to an addition we built on when we bought it. Most of the homes in this park [Golfview] are manufactured homes, not what some visualize as 'mobile.' "
If evicted from a space in the community, some owners of manufactured homes are forced to sell their home for well below its value or even lose it altogether, facing a potential domino-effect of debt and homelessness.
"Something had to be done," Evans says.
And so, in April 2019, the Golfview Residents Association was created, with Evans serving as the group's vice president. By the end of the year, these residents started converging to facilitate statewide coordination. This led to the creation of the Iowa Manufactured Home Residents' Network, a statewide coalition of local residents' associations and residents from parks across Iowa.
"Bringing to the forefront of people's minds that safe, affordable housing is a right, the necessity for organizing was imperative," Evans says. "Iowa has no protections for residents of manufactured home parks. Apartment dwellers have more rights and they have not invested near the amount of money that a manufactured home park resident has. The highest percentage of residents own their own home."
The network points to out-of-date laws such as Iowa Code Chapter 562B for creating an imbalance where the rights of park owners are favored over those of residents. To prevent such abuses in the future, its representatives and allies supported HF 2351/SF 2238, which would have been an important first step in helping to secure the rights of manufactured home owners and renters. The bill received bipartisan support from thirty legislators, fifteen Democrats and fifteen Republicans, but met with opposition from the Iowa Manufactured Housing Association.
Iowa House of Representatives Speaker Pat Grassley, grandson of U.S. Senator Charles Grassley, Republican of Iowa, refused to advance the pending bills and removed them from the committee agendas. Grassley and other Republican lawmakers had also received financial contributions and reelection funds from the Iowa Manufactured Housing Association, a group representing landlords. Pat Grassley received $30,000 from the group's political action committee on September 8, 2020.
The failed leadership from Governor Kim Reynolds and other elected officials allowed the pandemic to spread at devastating rates across the Hawkeye State over the last year. Having provided inadequate relief and protections for Iowans, manufactured home residents have been placed in greater danger due to continued abuses.
Evans says many residents are worried about rent increases, no-fault evictions, and intimidation. At Golfview, the rent was increased by $35 last April, in the midst of the pandemic.
"There are also concerns over arbitrary and excessive fees as well as harassment through new and unnecessarily restrictive rules," Evans adds.
On February 9, HF 442 was introduced in the Iowa State House. This bill, according to Evans, "does not cover the needs as was proposed to legislators in 2020."
Members of the Iowa Manufactured Home Residents' Network and their allies are calling for the creation of a "Residents' Bill of Rights," comprising five pillars: rent protection, good cause eviction standards, fair fees, fair and legal leases, and resident-first right of refusal when parks are put up for sale.
Evans says the goal is to create or maintain a safe and affordable community so "residents feel comfortable once again with their neighbors and enjoy a life they had planned on when they moved to these parks. The only clear way to ensure this can be implemented is through legislation. Ensuring that protections are solid, clear laws."
## End of The Progressive report. ##
Our report and analysis on 2.15.2021 about Leticia Miranda's NBC News report on a similar topic is linked below. It includes her entire article, sans some photos.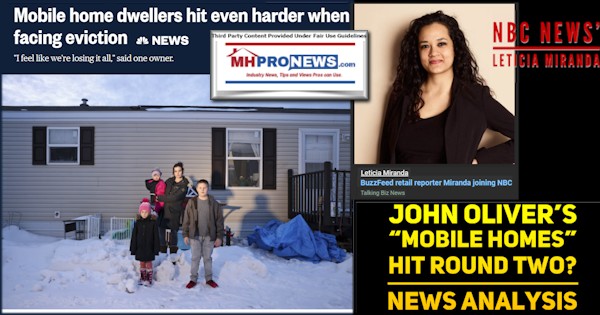 MHProNews Inquiries to The Progressive and NBC News Management
With that foundation, starting on 2.14, 2021, and continuing on 2.15.2021, MHProNews engaged with NBC's Miranda as well as their editorial management.
On 2.15.2021, Miranda responded. "Thanks for reaching out. I'd be happy to hear specific concerns you have about the story."
MHProNews sent her specifics, starting on 2.15.2021. Several messages back and forth ensued. As of Thursday morning, 2.18.2021, no changes or notice of updates have been posted. The most recent follow up had had no reply.
So, MHProNews sent the following message on 2.18.2021 to NBC Universal editorial management and Miranda.

NBC News Editors and Leticia Miranda,
Among those in the BCC line of this email are attorneys active in our profession, some of whom do not always like what we publish as the largest and runaway most-read trade media in our highly misunderstood industry. As Leticia and some of you know, it is our contention that her report linked herein below arguably fails to make certain essential disclosures. Additionally, by not making certain terminology and relationships clear, the case can be made that what Ms. Miranda published for NBC is already being used by some as a cudgel against ethical community owners – and by extension – the very "vulnerable" residents of manufactured home land-lease communities it seems to be superficially defending.
https://www.nbcnews.com/business/business-news/mobile-home-dwellers-hit-even-harder-when-facing-eviction-n1257497
Also among the BCC's are contacts with the Media Research Center, Project Veritas, the Society for Professional Journalists, potentially interested parties in the media that cross the left-right divide, some in Washington, in D.C., and beyond. Ron Olson with MTO law is also in that BCC mix.
Leticia and presumably her editor(s) know what our ask is, based on our mutual emails. That ask is clearly in line with what the Society of Professional Journalists (SPJ) Code of Ethical Conduct arguably specifies. See that herein below.
I do not envy your situation.
If you fail to make the stated requests for edits and disclosures, we will so report. Our reports stay online, and for years to come, this will be accessed by some. Who knows? Perhaps another Sam Strommen from Knudson Law will come around and use it to spotlight or act.
Obviously, if the suggested changes are made, we will report that too. But in the latter case, perhaps Warren Buffett, others at Berkshire Hathaway, and their allies wouldn't be so happy about it?
As of 9:07 AM ET on 2.18.2021, none of the disclosures have been added to Miranda's article.
It seems to me that a plausible reason our manufactured home industry is misunderstood is because Buffett and others obviously like it so. During an affordable-housing crisis, new HUD-Code manufactured homes are selling at a lower rate today than when Berkshire began buying up pieces of our industry some 17 years ago. In classic castle-and-moat style, as the industry has struggled, Berkshire's brands and market share rose. Coincidences?
Put differently, the argument can be made that:
failure to report properly is costing taxpayers billions annually. Why? Because the most affordable form of free market solution to the affordable housing crisis has been artificially hobbled. Part of that is based on half-truths and misinformation that has been weaponized.
That puts millions like Chris Larson and Kirsten Brokaw at risk because they do not fully understand the why behind what has been and/or is happening to them.
 These ills have cost untold thousands of routinely white-hat mom-and-pop operations to sell out at discounted values to what are often black-hat operations. Those sales and business closures obviously benefit consolidators. But how many are residents and others are shortchanged in the process? How many lost their slice of the American Dream?
As I spelled out to Leticia, many of those in her report are apparently connected to Buffett/Berkshire bucks directly or through so-called dark money channels. Your firm's chairman has sat on the Berkshire Hathaway board of directors. Where are those disclosures? That is what the SPJ and others should be asking. That is what NBC should be addressing, isn't that right?
After decades of work and reporting in our troubled industry, it seems that Miranda's story makes a different point than what some might think. Isn't her article an example of how subtly Peter Buffett mentioned Philanthro–Feudalism can be deployed? Isn't this the weaponization of nonprofits to achieve a vulture capitalist endgame?
So, when Ms. Miranda's article is inevitably used as a cudgel to pass laws that will only make it harder for mom-and-pop operations that do not do what FostoriaReserve.com purportedly does, who should be one of those held responsible? How much of that blame should fall on NBC News, Miranda, Berkshire, Buffett, the nonprofits they fund, or others?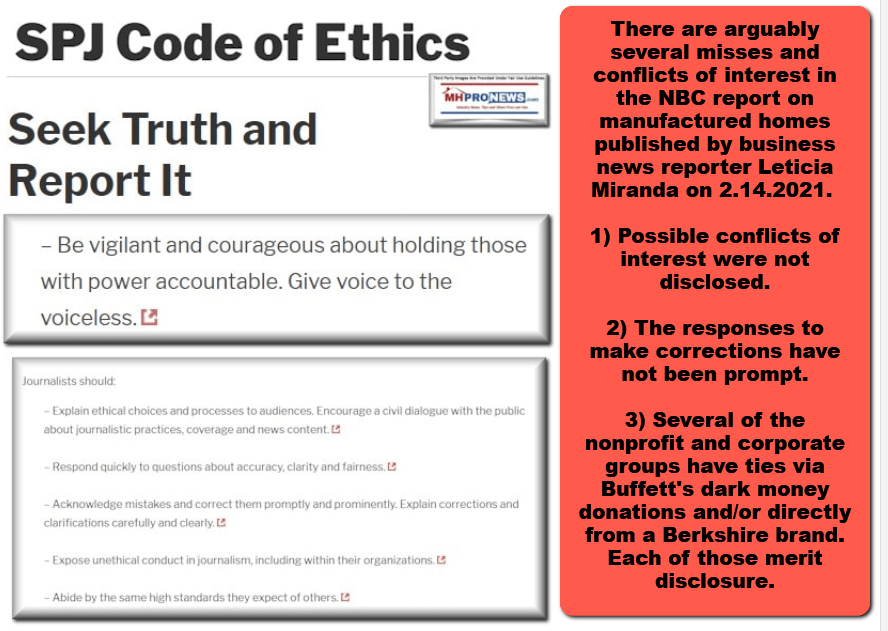 Shame on all those who fail to do what is right and just. Thank God, there is a Judgment Day.
NBC News' Leticia Miranda Report – "Mobile Home Dwellers Hit Even Harder When Facing Eviction" John Oliver's "Mobile Homes" Hit Round Two? News Analysis
Bombshell! Buffett, Berkshire, Clayton Homes, 21st, Vanderbilt, Specific MHI Members Ripped – "Felony" "Monopolization of the American Manufactured Home Industry" "REITs" – Knudson Law's Sam Strommen Research
Sincerely,
Tony
## End of both of email. ## 
That message above was forwarded to the Progressive as well as this message below for their feedback. As was noted further above, The Progressive acknowledged both messages. As of 2:48 PM ET, neither NBC nor the Progressive's writer Mike Kuhlenbeck have replied to the above and what follows.
Mike and The Progressive editors,
About this new report:
https://progressive.org/dispatches/mobile-communities-seek-protections-kuhlenbeck-210217/
Are you aware of the dark money ties between Warren Buffett and MHAction via the Tides and the Novo Foundation supported by Buffett bucks?
Do you realize how philanthro-feudalism is arguably being subtly deployed in a way that creates the very issues you are writing about?
Bombshell! Buffett, Berkshire, Clayton Homes, 21st, Vanderbilt, Specific MHI Members Ripped – "Felony" "Monopolization of the American Manufactured Home Industry" "REITs" – Knudson Law's Sam Strommen Research
Buffett bucks and their nonprofit allies are apparently involved in several ways. And this is arguably related to your topic.
NBC News' Leticia Miranda Report – "Mobile Home Dwellers Hit Even Harder When Facing Eviction" John Oliver's "Mobile Homes" Hit Round Two? News Analysis
Please do tell if you have connected these dots?
Thanks,
Tony
=== End of body of email ===
Summing Up
There are apparent winners and losers from this process.  In no specific order of importance:
Media and writers that for whatever reason fail to properly reflect the nuances of what is occurring in the marketplace are by accident or design arguably making matters worse for several groups noted at the top.
Media and writers that fail to make corrections or disclosures may or may not suffer much impact if mainstream news watchdogs fail to shed light on how this subtle process harms millions.
Certainly, millions have come to look at what news outlets report as questionable or "fake news." That noted, many tend to believe such reports, not realizing how subtle the harms may be.
The connections between Warren Buffett, Berkshire Hathaway, several of the BRK-owned brands, MHI, MHAction and other nonprofits are arguably part of process of weaponization that slyly benefits those who may be routine bad actors.
To learn more, see the reports linked below and above.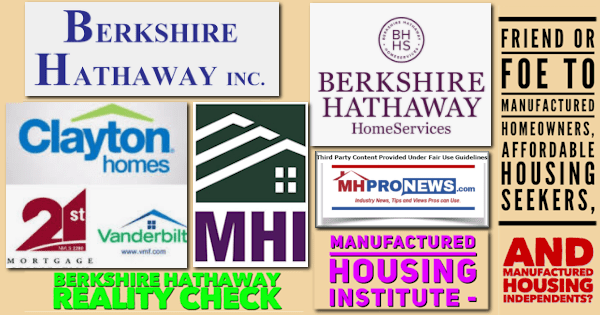 If the devil is in the details, who are those devilish players?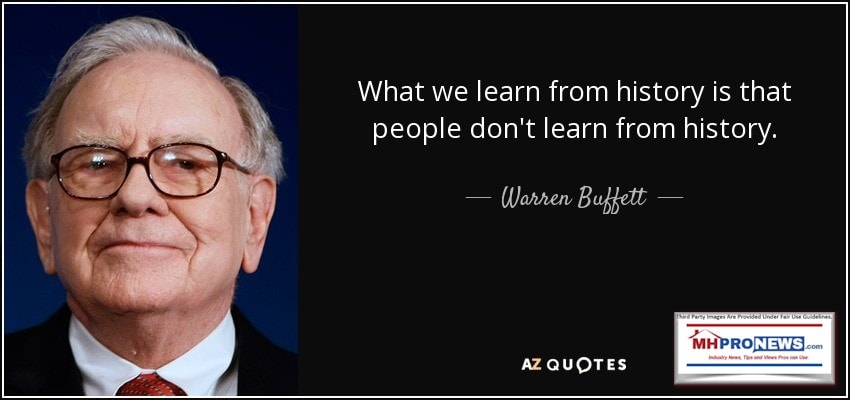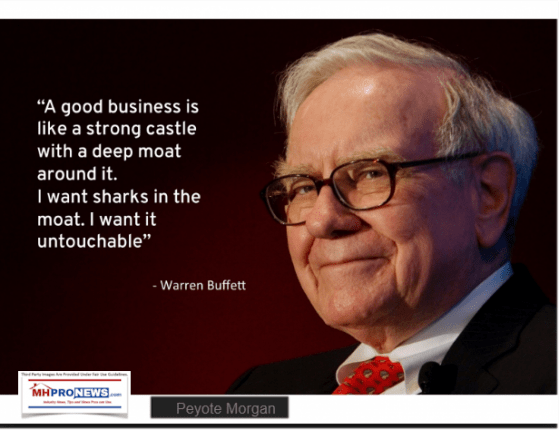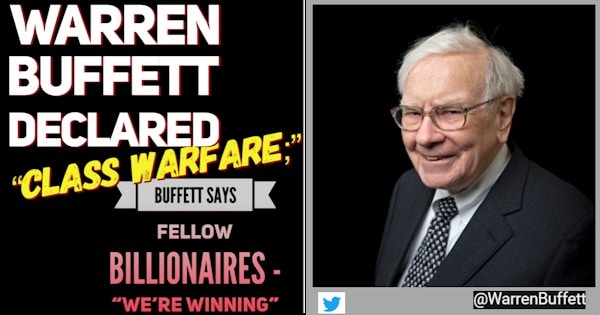 If there is good news in this vexing saga it is that others who are going beyond a headline and are doing serious research, as Sam Strommen did, may well discover our reporting on this topic via. Some mobile search results from various test searches are shown below.
If the media outlets named in this report follow up, MHProNews may well publish related information. Until then, researchers can dive into what they find here and linked from this report.
This is now the more complete tale of what is occurring in the manufactured home community sector. Instead of half-truths, paltering, or spin, this report will give objective researchers something to sink their teeth into.
MHProNews will continue to monitor and report on issues that impact professionals, investors, manufactured homeowners, taxpayers, and others as warranted.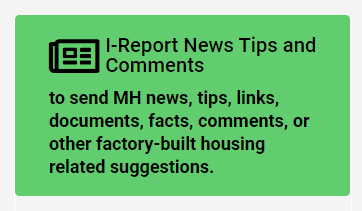 Stay tuned for more of what is 'behind the curtains' as well as what is obvious and in your face reports. It is all here, at the runaway largest and most-read source for authentic manufactured home "Industry News, Tips, and Views Pros Can Use" © where "We Provide, You Decide." © ## (Affordable housing, manufactured homes, reports, fact-checks, analysis, and commentary. Third-party images or content are provided under fair use guidelines for media.) (See Related Reports, further below. Text/image boxes often are hot-linked to other reports that can be access by clicking on them.)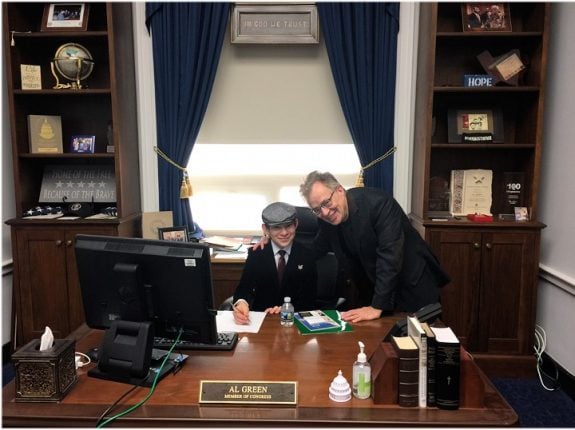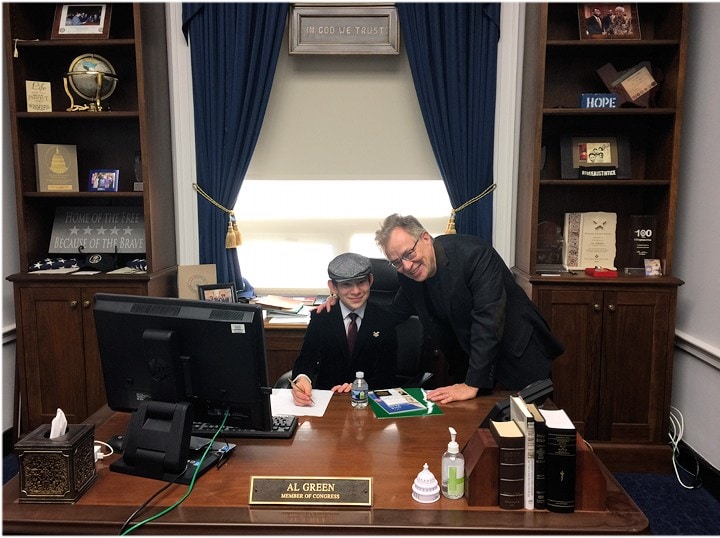 By L.A. "Tony" Kovach – for MHProNews.com.
Tony earned a journalism scholarship and earned numerous awards in history and in manufactured housing.
For example, he earned the prestigious Lottinville Award in history from the University of Oklahoma, where he studied history and business management. He's a managing member and co-founder of LifeStyle Factory Homes, LLC, the parent company to MHProNews, and MHLivingNews.com.
This article reflects the LLC's and/or the writer's position, and may or may not reflect the views of sponsors or supporters.
Connect on LinkedIn: http://www.linkedin.com/in/latonykovach
Related References:
The text/image boxes below are linked to other reports, which can be accessed by clicking on them.