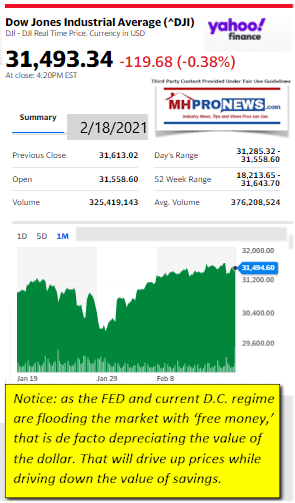 Mammoth Nation noted in an email to MHProNews today the following, which may make an apt pivot to the second part of our headline topics.
"Falsus in Uno, Falsus in Omnibus."
Per Mammoth Nation, "This was a legal phrase invoked by President Trump's lead attorney in his second impeachment trial before the U.S. Senate in February 2021. The prosecuting team of "House Managers" had been caught doctoring written evidence and presenting tailored video evidence of the capitol riot on January 6th, the date when the Senate was counting the electoral votes for the 2020 presidential election.
His point was that if those Representatives of the U.S. Congress (House Managers) were being deceptive in any of those things, in a legally binding prosecution, their entire presentation could be considered deceptive/invalid as well. The prosecution's presentation took over 14 hours over two days, while the defense took about 2.5 hours in one day. President Trump was judged not-guilty in both of his impeachment trials during his four years in office.
Time to put a stop to this Democrat/Socialist/Communist plot against our country, including the degradation of one of the greatest President's who ever served this country. We still stand with President Trump.
Remember, everything we have (our rights, desires, possessions, and life) are God's. There will never be a time when it's okay to let anyone take that away."
MHProNews featured an item from the Mammoth Nation organization some weeks ago, at this link here.
That noted, the Mammoth Nation message above is provided as a matter of humorous timing. Their message came in at about the same time as the Manufactured Housing Institute (MHI) item below.  That from MHI will be our featured focus tonight.
For our growing numbers of new readers, a few quick evening/nightly market report insights.
Every business evening, MHProNews provides a bullet list of left-right news headlines from CNN and in a matter of moments, savvy professionals can see at a glance news headlines and views across the political spectrum.
This is a time saving and insightful way to quickly grab insights from across the left-right divide for those who are hooked on this market-nightly feature.
Our featured focus follows the quotable quotes, periodic political cartoons, those left-right headlines, and two of our three market summary graphics as reported at the closing bell.
After the featured focus, are some recent/related report links and the third manufactured housing focused stock equities graphic. There are some additional items that include the free signup for the manufactured housing industry's x2 weekly emailed news to the most-read trade publication in our profession:
On a day that saw mixed manufactured home connected equities today, with more that dropped than rose, let's press ahead toward our other business-nightly features and tonight's focus on the MHI's de facto admission on the issue of manufactured housing finance.
Quotes That Shed Light – Industry, American, Social, National Issues…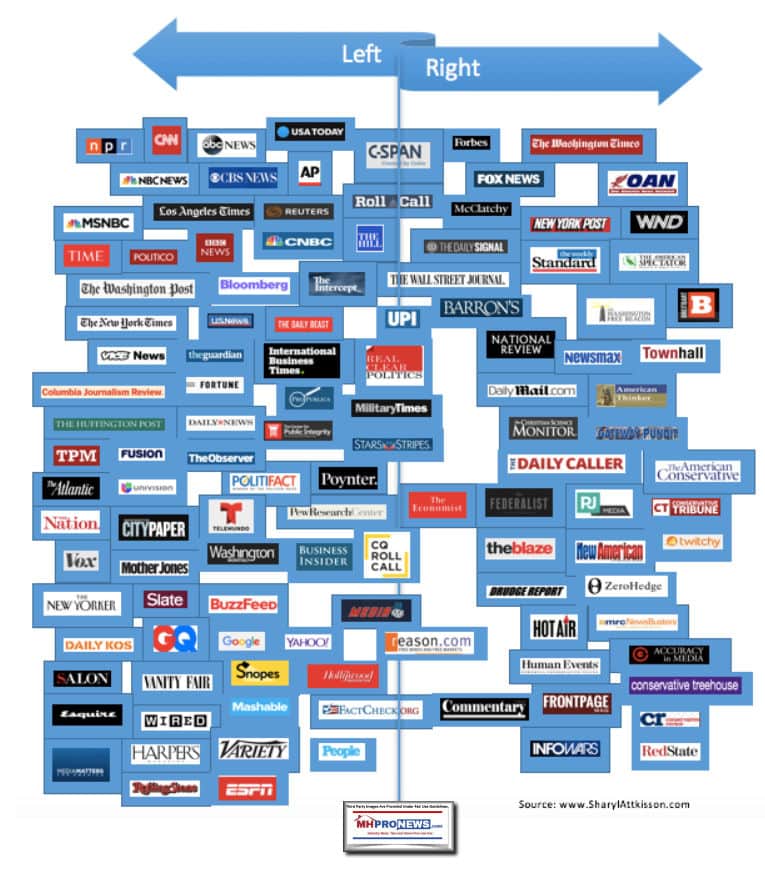 Headlines from left-of-center CNN

In the spotlight
San Francisco, California, USA – January 29, 2021: GameStop stock rally on Robinhood app due to Reddit wallstreetbets subreddit.
LIVE UPDATES Congress grills CEOs of Robinhood and Reddit about GameStop frenzy
We'll get back to you: Robinhood CEO doesn't know if its customers have made any more money than if they invested in the S&P 500
Surprise: DeepF***ingValue didn't think GameStop could soar so high
Troubling: Robinhood CEO addresses suicide of one of its day traders
Melvin Capital founder: Redditors sent me anti-Semitic messages. Reddit CEO: We couldn't find it
Buzzy phrase of the day: Payment for order flow. Here's what that means
GameStop investor on why he's still holding on
Keith Gill: My videos on GameStop were for 'educational purposes only'
'I am not a cat:' Reddit day trader assures House Committee
Citadel Securities' Ken Griffin: Firm 'had no role' in Robinhood trading restrictions
Reddit CEO: Bots and foreign agents did not play 'significant role' in GameStop saga
Melvin Capital CIO: We were not 'bailed out' during GameStop surge
Diversify: Here's what we can learn from the GameStop craze
An employee gathers shopping carts at Walmart, July 22, 2020 in Burbank, California. – The country's most populous state reported a record 12,807 new coronavirus infections in the past 24 hours. (Photo by Robyn Beck/AFP/Getty Images)
Walmart just boosted pay to $15. It's not what you think
Kroger will close more stores over hazard pay laws for workers
Grocery store workers struggle to get vaccinated
McDonald's links executive pay to diversity targets
Why Corporate America is jumping for joy while millions of workers remain jobless
Accenture to hire 150 moms for 'highly coveted roles'
Exclusive: Christine Lagarde says countries must not 'brutally' pull stimulus
Citi made a $500 million mistake. Here's how that would play out for regular people
Henrik Fisker's first car company flamed out. He's sure this one will work
Opinion: The US government must end its war on the American economy
Do these 5 things if you want to improve your credit score
What's next for Rush Limbaugh's show?
FACEBOOK'S NUCLEAR OPTION
Facebook CEO Mark Zuckerberg listens during a joint hearing of the Senate Commerce, Science and Transportation Committee and Senate Judiciary Committee on Capitol Hill April 10, 2018 in Washington, DC. Facebook chief Mark Zuckerberg took personal responsibility Tuesday for the leak of data on tens of millions of its users, while warning of an "arms race" against Russian disinformation during a high stakes face-to-face with US lawmakers.
Facebook bans news in Australia as fight with government escalates
Google and Facebook's vastly different approaches
Facebook blocks news sharing in Australia
Key services blocked in Facebook's Australia news ban
Why practically everyone in media and tech is monitoring Facebook's Australian blockade
CHICKEN SANDWICH WARS
Wendy's is heating up the chicken sandwich wars with this new item
McDonald's is selling chicken hoodies for $5
Burger King will upgrade its chicken sandwich
Popeyes' launches new chicken sandwich … with fish
Here are the new entrants in the chicken sandwich wars
Headlines from right-of-center Newsmax
Biden Unveils Plan to Give 11 Million Illegals US Citizenship
The Biden Presidency
Democrats' Fears Mount Over Overhauling Immigration
Biden Unveils Plan to Give 11 Million Illegals Citizenship
Biden Cancels Appearances, WH to Hold Briefing by Phone Amid Snowstorm
WH Revokes Trump Order Limiting Climate Change in Federal Reviews
Muddled Promises on Schools Pose Political Problem for Biden
Israel's Netanyahu, Joe Biden Discuss COVID, Iran
Blinken: US to Pay $200 Million in WHO Obligations
Newsfront
News Corp Signs News Partnership Deal With Google
News Corp struck a global news deal with Alphabet Inc's Google, the Rupert Murdoch-controlled media company said on Wednesday, in one of the most extensive deals of its kind with big tech. The companies will develop a subscription platform, share advertising revenue through…
Senate Panel to Hold Feb 23 Hearing on 'SolarWinds' Hack
The Senate intelligence committee will hold a hearing next week
Donald Trump to Newsmax TV: 'We Lost a Great One' in Rush Limbaugh
Dick Morris to Newsmax TV: Trump-McConnell Feud Symptom of Elite GOP Vs. Membership
ACLU Pressures AG Nominee Garland to Commit to 'Racial Injustice' Reforms
House Holds Hearing on GameStop Rally, Robinhood
NY State Assembly Republicans Move to Begin Cuomo Impeachment Process
Oil Slides With U.S. Refinery Outages Boding Poorly for Demand
Nikki Haley: Liberal Media Wants to Stoke 'Nonstop Republican Civil War'
Mace: No More Troops, Wire Fencing at Capitol
Planned Parenthood Sues to Block South Carolina Abortion Ban
Vatican Walks Back No Vaccine, No Job Decree After Criticism
Liz Cheney: Both Parties Have White Supremacists
Scalise Met With Trump at Mar-a-Lago This Week
Steve Scalise, R-La., the House GOP Whip, paid a visit
Bill Gates: Trump 'Probably Should Be Allowed Back on' Social Media
Finance
US Weekly Jobless Claims Unexpectedly Rise Despite Labor Market Recovery
US Steps Up Heat on Container Carriers to Ease Port Congestion
Anheuser-Busch Signs Record $10.1B Sustainability-Linked Loan
Facebook Expands Climate Change Center in Push for Credible Information
Airbus Lost $1.3B Amid Pandemic; Expects Better 2021
Mom's Heart Health Affects Child's for Years
Study: States With Tougher Gun Laws Have Less Teen Gun Violence
Fertility Treatments Affect Kids' Growth in Early Years
Study: Drivers Inhaling Dangerous Chemicals in Car
Market Indicator Closing Summaries – Yahoo Finance Closing Tickers on MHProNews…
Featured Focus –
Where Business, Politics and Investing Can Meet
As part of tonight's news analysis on today's tip on MHI's latest email, was this commentary about the announcement of a new hire at the Arlington, VA based trade group. That new person "Indicates…that [Lesli] Gooch is not especially popular among D's, [Mark] Bowersox is worthless, and they need help in dealing with the "new order." Meaning, the new Democratic – i.e. D's – Biden-Harris team and related.
As longtime detail-oriented readers know, MHI has in recent years avoided direct responses.  That noted, there are times that MHI seems to indirectly reply to MHProNews reports that involve them – even if only in an attempt to deflect – via their own emails to their members.
A recent example of that phenomenon is our report on Lesli Gooch and MHI's purported "Backstab" by CEO Lesli Gooch, Ph.D..
Our website data tells us that our report linked above was published on February 17, 2021 @ 11:21:31 AM ET. MHI sent out an email to their members on Wednesday, February 17, 2021 2:01 PM. In it was the following item.
"MHI Participates in FHFA Listening Session
In remarks before the Federal Housing Finance Agency (FHFA), Fannie Mae and Freddie Mac (the Enterprises), MHI emphasized the need for Fannie Mae and Freddie Mac to meet their statutory duty to serve manufactured housing and urged FHFA to continue to hold the Enterprises' responsible for meeting these obligations. MHI also focused its remarks on the Enterprises' appraisal-related policies, practices and processes, specifically as it relates to Fannie Mae's and Freddie Mac's new programs – MH Advantage and CHOICEHome, respectively."
Put differently, MHI oddly confirmed that they put their emphasis on CrossModTM homes! That despite the fact that sources with MHI confirmed on 2.17 that there is still "no traction" on the program.
But let's unpack or 'fisk' the above from MHI in more detail.
"

In remarks before the Federal Housing Finance Agency (FHFA), Fannie Mae and Freddie Mac (the Enterprises), MHI emphasized the need for Fannie Mae and Freddie Mac to meet their statutory duty to serve manufactured housing and urged FHFA to continue to hold the Enterprises' responsible for meeting these obligations

."
How much good has MHI's supposed "emphasized" advocacy been to "to meet their statutory duty" if a dozen years after the law is passed they still fail to do what the law and MHI themselves clearly implies?
Furthermore, it is interesting that MHI does NOT use Lesli Gooch's name in this part of their message. Why not? She was the one that the FHFA source said delivered those remarks.
That noted, MHI admits – de facto confirms – the thrust of the MHProNews analysis. "MHI" said that they "focused" on "MH Advantage and CHOICEHome." What they did not say is that those are Fannie and Freddie's names for what MHI calls CrossModTM.
Here is how Gooch said it on 2.11.2021. "Qualifying home features for the MH Advantage program, which is Fannie's program, and the ChoiceHome program, which is Freddie's program, align closely with the industry's CrossModTM home."
Rephrased, MHI answered MHProNews by confirming the core claim but by doing so with a series of incomplete statements, perhaps that could be called 'artful dodges.'
MHI member lenders, producers, and retailers have all told MHProNews – in their own phrasing – that CrossModTM has "no traction." As if to confirm that point, are the concerns and complaints that Gooch raised on 2.11.2021. Further underscoring that claim from a range of sources is the point that if CrossModTM sales were strong, they would obviously come out and say so. No doubt, so would Clayton Homes or any other producer building and retailing CrossModTM.
Which gets back to one of several points made in our deep dive yesterday. Namely, this.
Why is MHI and their 3 largest producers pushing and pushing a program that has no market traction?
Additionally:
How good is MHI's so-called market research which claims that the public love the name CrossModTM, but in fact has exceptionally low levels of sales?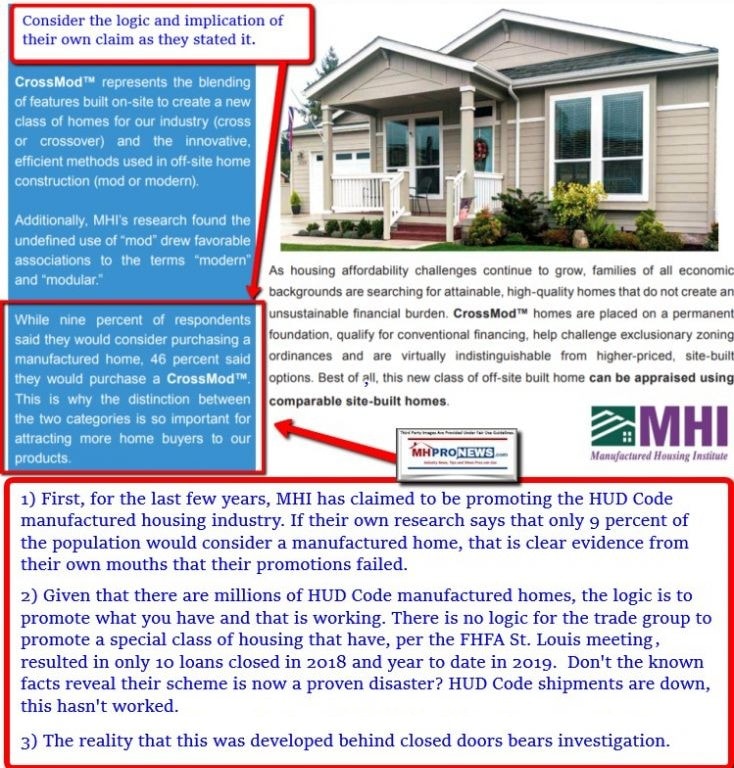 Last but not least, and to the ironic timing of the "Falsus in Uno, Falsus in Omnibus" phrase. On topic after topic, MHI proves to be wrong. It would be inaccurate to say that they are wrong about everything. But they are mistaken so often that their credibility logically should be questioned on any significant claim.
While more could be said, that is more than enough to cause investors and others to look carefully at our report yesterday. If MHI could prove otherwise, they would do so, right?
ICYMI, see the deep dive into Gooch and MHI's 'backstab' of manufactured home consumers, independents, taxpayers, and other impacted groups in the report linked below.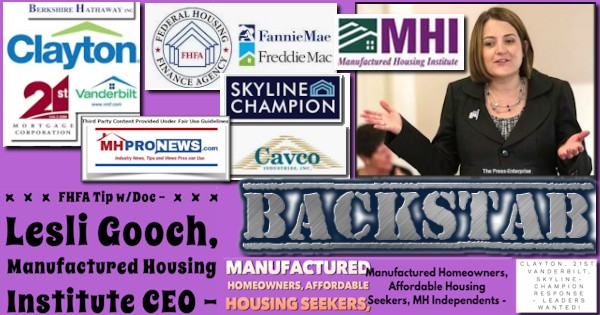 Related, Recent, and Read Hot Reports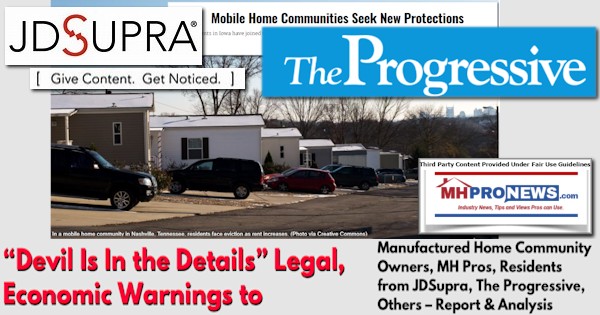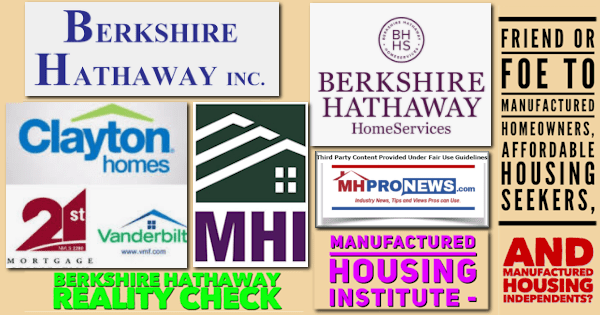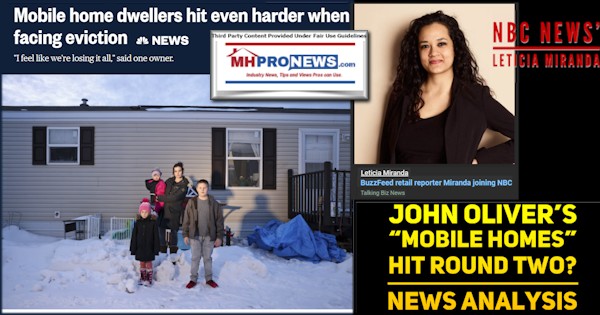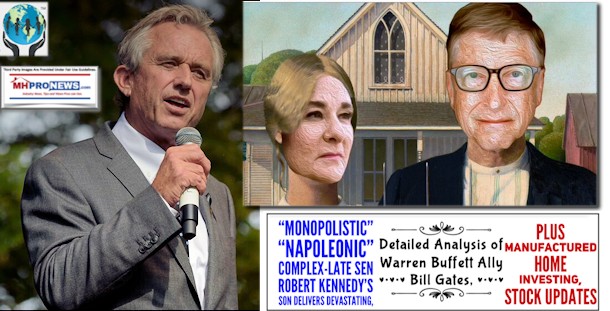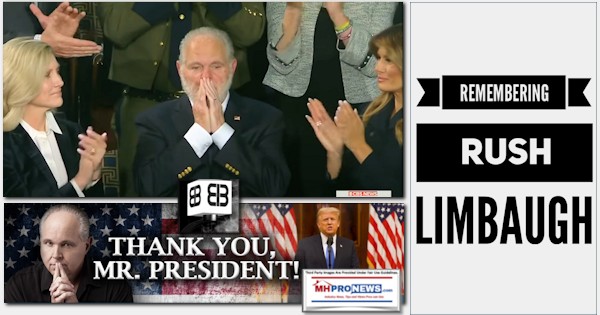 Manufactured Housing Industry Investments Connected Closing Equities Tickers
Some of these firms invest in manufactured housing, or are otherwise connected, but may do other forms of investing or business activities too.
NOTE: The chart below includes the Canadian stock, ECN, which purchased Triad Financial Services, a manufactured home industry lender
NOTE: Drew changed its name and trading symbol at the end of 2016 to Lippert (LCII).
NOTE: Deer Valley was largely taken private, say company insiders in a message to MHProNews on 12.15.2020, but there are still some outstanding shares of  the stock from the days when it was a publicly traded firm.  Thus, there is still periodic activity on DVLY.
Winter 2021…
Berkshire Hathaway is the parent company to Clayton Homes, 21st Mortgage, Vanderbilt Mortgage and other factory built housing industry suppliers.
· LCI Industries, Patrick, UFPI, and LP each are suppliers to the manufactured housing industry, among others.
· AMG, CG, and TAVFX have investments in manufactured housing related businesses. For insights from third-parties and clients about our publisher, click here.
Enjoy these 'blast from the past' comments.
MHProNews. MHProNews – previously a.k.a. MHMSM.com – has celebrated our 11th year of publishing, and is starting our 12the year of serving the industry as the runaway most-read trade media.
Sample Kudos over the years…
It is now 11+ years and counting…and Williams, who praised our accuracy and other services to manufactured housing for years, then said this.
Learn more about our evolutionary journey as the industry's leading trade media, at the report linked below.
· For expert manufactured housing business development or other professional services, click here.
· To sign up in seconds for our industry leading emailed headline news updates, click here.

Disclosure. MHProNews holds no positions in the stocks in this report.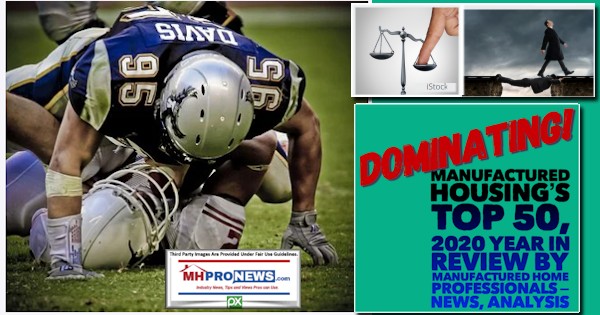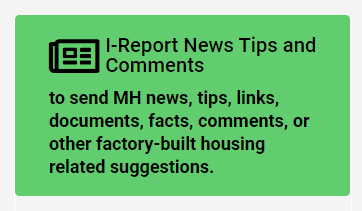 That's a wrap on this installment of "News Through the Lens of Manufactured Homes and Factory-Built Housing" © where "We Provide, You Decide." © (Affordable housing, manufactured homes, stock, investing, data, metrics, reports, fact-checks, analysis, and commentary. Third-party images or content are provided under fair use guidelines for media.) (See Related Reports, further below. Text/image boxes often are hot-linked to other reports that can be access by clicking on them.)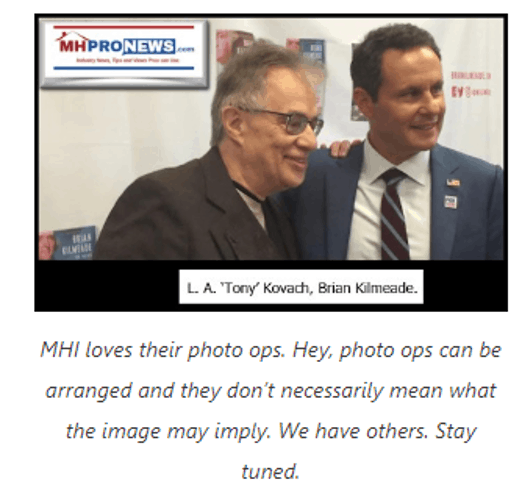 By L.A. "Tony" Kovach – for MHLivingNews.com.
Tony earned a journalism scholarship and earned numerous awards in history and in manufactured housing. For example, he earned the prestigious Lottinville Award in history from the University of Oklahoma, where he studied history and business management. He's a managing member and co-founder of LifeStyle Factory Homes, LLC, the parent company to MHProNews, and MHLivingNews.com. This article reflects the LLC's and/or the writer's position, and may or may not reflect the views of sponsors or supporters.