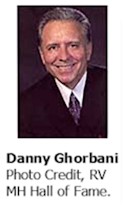 What the RV/MH Hall of Fame Says About Danny Ghorbani
Danny D. Ghorbani then President and CEO of the Manufactured Housing Association for Regulatory Reform (MHARR) in Washington DC was inducted into the RV/MH (Mobile and Manufactured Home) Hall of Fame in 2004.
Ghorbani's career has spanned over 5 decades. Per the RV/MH Hall of Fame, Danny Ghorbani is an "industry veteran with a background in structural engineering, he served first as chief of design services and then Director of the Supplier Division of the Mobile Homes Manufacturers Association. While in the land development division of MHMA, he is recognized as having, with his team, planned, designed and engineered over 200,000 residential sites for manufactured homes in less than 4 years. He also served as a Vice President of the Manufactured Housing Institute where he was the institute's marketing representative in U.S. and international markets and he also produced and managed the association's shows and conventions.
He is recognized as a long time champion of manufactured housing causes on technical, regulatory, legislative and policy matters. As the CEO of MHARR for the past 20 years, he has been instrumental in leading the way for improvement to the National Manufactured Housing Construction and Safety Act, (known as the HUD code) and was instrumental in the development and passage of the Manufactured Housing Improvement Act of 2000."
##
MHProNews Question 1:
DUTY to Serve
March 9th, 2020
MHProNews. It's now been roughly 12 years since the "Duty to Serve" (DTS) mandate was passed by Congress as part of the Housing and Economic Recovery Act (HERA) of 2008. HERA's DTS mandate required that Fannie Mae and Freddie Mac make financing affordable housing preservation, rural, and for HUD Code manufactured homes. Can you provide our readers some insight into the history of this matter and specifically how it relates to the ongoing failure of the GSEs to fully implement that law in accordance with its terms. In framing your reply, let's set aside community financing and FHFA's role in this for now, and focus on the what some call posturing and confusion which we've seen from the GSEs instead
This may or may not come as a surprise to you and your readers, but in my opinion, the two Government Sponsored Enterprises (GSEs) i.e., Fannie Mae and Freddie Mac, don't have very much interest in the Manufactured Housing industry, and I doubt they would ever get involved in manufactured housing in a market-significant way (i.e., large volume), securitizing loans for mainstream affordable HUD code manufactured homes. And, more specifically, they are even less interested in securitizing the industry's most affordable homes that are financed through personal property (chattel) loans and represent nearly 80% of our industry's homebuyers — mostly moderate and lower income American families.
To be sure, they continue to go through the motions. They've "engaged" with the industry, attending and sponsoring industry events, shows, seminars and meetings on top of meetings, sweet-talking the industry and even some consumer organizations. They've provided targeted programs for the high-end/expensive homes built by the industry's largest conglomerates. They've done endless public relations, pushing all the right buttons, etc., etc., etc. — anything and everything except securitizing loans (be it mortgage type, but more importantly chattel) for mainstream, affordable HUD Code manufactured homes in a market-significant way for moderate and lower income American homebuyers — which, incidentally, is the main reason for their (i.e., Fannie and Freddie) existence…as stated in their respective charters.
My long held belief and opinion regarding their outlook and lack of interest in manufactured housing is based on personal observations and experience in dealing with them going back nearly forty years. There is a history here that not very many stakeholders (especially the newcomers and "wanna-be"-experts) are aware of, and cannot be ignored going forward if Fannie and Freddie are to be held accountable in full and complete compliance with their statutorily-mandated duty to serve the manufactured housing industry and the moderate and lower income families who rely on manufactured housing as the only means to own a home of their own. This history goes way back before we formed the Manufactured Housing Association for Regulatory Reform (MHARR) in 1985, when I was with Manufactured Housing Institute (MHI) for nearly two decades, and my many responsibilities included the management of the industry's Annual National Show and Exposition in Louisville, KY every January. We used to bring GSE personnel to the show to see the new model homes, attend meetings and seminars, talk to industry folks, answer their questions…any and all relevant matters that would engage them with the industry in the hope that they would initiate some type of market-significant securitization of manufactured home loans. Again, and as usual, they did all the right things, as noted earlier, but nothing substantive ever happened.
Now, fast forward to the mid-2000s when the lack of an aggressive, independent National Post Production Association resulted in major set-backs for the industry in consumer financing for its homes (not to mention failures on such critical matters as SAFE Act and Dodd-Frank, which continue to haunt the industry to date), thus drawing MHARR into the consumer finance arena. The Association's collective knowledge of the relevant consumer finance history, institutional memory and experience with Fannie and Freddie became quite effective in demonstrating to both Houses of Congress that they had to mandate an end to Fannie Mae and Freddie Mac's discrimination against the Manufactured Housing Industry and its consumers, and start serving this industry as a "DUTY" — thus the enactment of "Duty to Serve Underserved Markets" (DTS) as part of the Housing and Economic Recovery Act of 2008 (HERA). Unfortunately, though, nearly twelve years after the passage of DTS, because of the continuing absence of an aggressive, dedicated and independent national association representing the interests of retailers, communities and finance entities, coupled with the deployment of multiple schemes, excuses and creative methods of dodging by Fannie and Freddie, and given their very weak and ineffective regulator, the Federal Housing and Finance Agency (FHFA), the two GSEs have been able to stymie the full and proper implementation of the law, thus, once again, depriving moderate and lower income American families of homeownership, while forcing them into what former Congressman Barney Frank used to refer to as "predatory lending."
Based on all of this, do Fannie Mae and Freddie Mac really look like two organizations that are truly interested in securitizing market-significant volumes of affordable loans for moderate and lower income American homebuyers in accordance with their own charters and the mandate handed to them by DTS law? The simple answer is a resounding "no."
Fannie Mae's and Freddie Mac's ongoing behavior vis-a-vis the Manufactured Housing Industry and consumers of affordable housing is a disgrace. Their unreasonable and expensive proposals that are only favorable to the largest conglomerates in this industry is a ruse and an insult to the hardworking Americans who cannot afford to purchase those more expensive homes. All of this is unacceptable and must be rejected not only by the industry and consumers, but by the Administration, Congress and FHFA…and the sooner the better." ###