The Washington, D.C. based Manufactured Housing Association for Regulatory Reform (MHARR) trade association provided Manufactured Home Professional News (MHProNews) with the following report. Their statement will be followed by additional information, plus an MHProNews analysis and commentary.
FHFA REPORT EXPOSES BLATANT DECEPTION REGARDING DUTY TO SERVE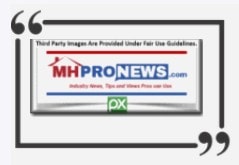 A report recently submitted to Congress by the Federal Housing Finance Agency (FHFA) — the federal regulator for mortgage giants Fannie Mae and Freddie Mac – reveals, for the first time, how those entities have been certified by FHFA as allegedly being "in compliance" with the statutory Duty to Serve Underserved Markets (DTS) mandate regarding manufactured housing when, in fact, they are only serving a tiny fraction of the mainstream manufactured housing market. Specifically, the report reveals that this "in compliance" determination is the result of a deceptive fiction, whereby an entire category of manufactured home consumer lending – representing nearly 80 percent of the entire manufactured home consumer loan market — is totally excluded from FHFA's compliance evaluation.
Nearly 13 years after enactment of the DTS mandate by Congress, neither Fannie Mae nor Freddie Mac have securitized a single manufactured housing personal property loan – and have no current plans to provide any DTS support for such loans for the foreseeable future – despite the fact that personal property loans comprise (and have historically comprised) nearly 80 percent of the manufactured housing market, according to U.S. Census Bureau data. This lack of DTS support has helped to perpetuate a less-than-fully-competitive manufactured housing consumer lending market, with consumers effectively forced to rely on higher-cost loans originated by a small handful of dominant lenders affiliated with the industry's largest corporate conglomerates. Thus, as acknowledged by Freddie Mac itself, "More than 90% of the personal property loans reported in the 2018" Home Mortgage Disclosure Act (HMDA) data were "higher-cost originations."
The impact of this total lack of DTS support for the vast bulk of the mainstream manufactured housing market and the overwhelming majority of manufactured housing consumers is (and has been) harshly negative. First, it subjects better-qualified borrowers to unnecessarily high interest rates. Second, it totally excludes from the market qualified consumers who could afford market-competitive, DTS-supported interest rates, but not the higher interest rates currently being charged without DTS support for mainstream manufactured housing personal property loans. Third, it has artificially suppressed the production of mainstream, affordable manufactured homes, with industry production levels over the past decade-plus well below historical norms and 2019 and 2020 production levels that have fallen even further.
Against this backdrop, and despite Congress' clear intention and mandate to include mainstream manufactured housing personal property loans within the scope of DTS to ensure full-scale, market-significant support for the manufactured housing market as a remedy for decades of neglect, Fannie and Freddie – with FHFA's de facto consent and approval — have totally ignored and avoided manufactured home chattel lending.  And now, in its latest report to Congress, FHFA finally – after being "smoked out" by persistent MHARR pressure – acknowledges that its certification of Fannie and Freddie's alleged DTS "compliance," is based on a complete fiction that excludes the entire chattel sector of the market.
Thus, in relevant part, the FHFA report states:
"For manufactured homes titled as personal property, or chattel loans, both Enterprises submitted infeasibility requests on their chattel pilot initiatives, requesting that FHFA exclude these objectives from consideration during the annual Duty to Serve performance evaluation for 2019. An Enterprise may submit an infeasibility request if underserved market conditions or other extenuating circumstances outside of its control substantially interfere with its accomplishment of an objective. FHFA approved these infeasibility requests on February 27, 2020."
In regard to this so-called "feasibility" assertion, it is beyond dispute that the private finance companies which currently offer higher-rate personal property (or chattel) loans for manufactured home purchases are earning profits and prospering, while Fannie Mae and Freddie Mac incredulously claim that securitizing such loans within a more competitive would somehow be "infeasible." This claim, on its face, is either wholly speculative or totally divorced from fact.  In either case, however, it is the obligation and duty of FHFA – as the federal regulator for Fannie Mae and Freddie Mac – to not only call-out this spurious assertion, but to stop and put an end to such claims as well.
Beyond this, it is apparent from the foregoing report that FHFA's DTS compliance certification is based solely on the real estate segment of the HUD Code manufactured housing market which, according to U.S. Census Bureau data, comprises only a small fraction of all manufactured home sales. This, in turn, has restricted DTS support to only 4-5 percent of the entire HUD Code market since the initial implementation of the DTS program in 2018. Conversely, some 94-95 percent of the mainstream manufactured housing market, as maintained by MHARR, has gone completely unserved under DTS over the same period – despite FHFA's phony and misleading certifications.
This deception and gamesmanship – by entities that nearly crashed the U.S. economy during the 2008 housing crisis – is a disgraceful manipulation of the moderate and lower-income Americans that Congress meant to serve through DTS. Ultimately, the remedy for this travesty must be for Congress and the Administration to hold FHFA, Fannie and Freddie accountable for the full and faithful implementation of DTS within the mainstream manufactured housing market."
##
Additional Information, MHProNews Analysis and Commentary
Eric Belsky, while he was a fellow at Harvard's Joint Center on Housing Studies, succinctly explained the importance of this issue in this manner.
MHARR routinely ends its emailed updates and memorandums with the following phrase. "MHARR is a Washington, D.C.-based national trade association representing the views and interests of independent producers of federally-regulated manufactured housing."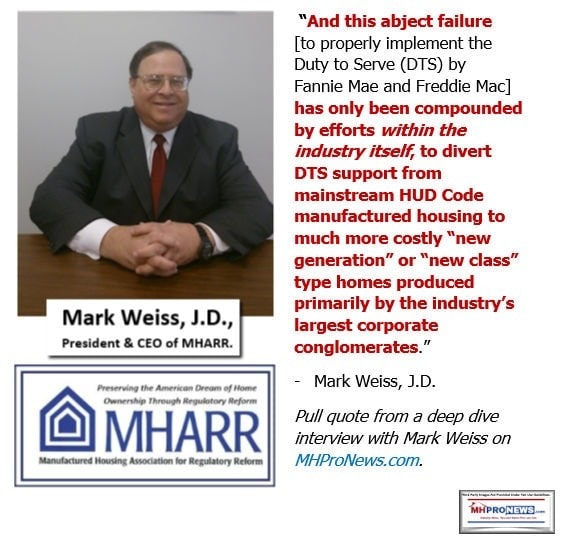 That MHARR description is a useful distinction in the organization's mission, which sets it apart from the Arlington, VA based Manufactured Housing Institute (MHI). MHI describes itself in various ways, which includes the following: "The Manufactured Housing Institute (MHI) is the only national trade organization representing all segments of the factory-built housing industry. MHI members include home builders, retailers, community operators, lenders, suppliers and affiliated state organizations." MHI also sometimes refers to itself in similar language, but instead of 'factory-built' may substitute "manufactured housing."
"MHI is the only national organization representing all segments of manufactured housing industry." – That example is per the MHI Suppliers Division page.
That noted, a look at the MHI mission summary on IRS form 990 said what follows below in response to the question, "Briefly describe the organization's mission or most significant activities."
"Improve the overall operating environment for the manufactured housing industry and expand the demand for manufactured homes by seeking fair and equitable treatment in the marketplace and the regulatory and legislative arenas." While the original was in 'all caps' – see below – the text above for MHI's sworn statement above is accurate.
For newcomers or occasional readers, it is worth noting that the Modular Home Builders Association Executive Director Tom Hardiman publicly ripped MHI for what he called misleading and deceptive practices.
Hardiman also tore into MHI for essentially undermining the interests of millions of manufactured homeowners with their promotion of "CrossModTM homes" instead of promoting all of manufactured housing.
Holding those thoughts in mind, a look at that IRS Form 990 statement, which was repeated for several years and is signed under penalties of perjury, is significant. By its own stated standards, MHI has failed in expanding the demand for manufactured homes for the last two years, when shipments declined or where flat while far more costly mainstream conventional housing kept growing.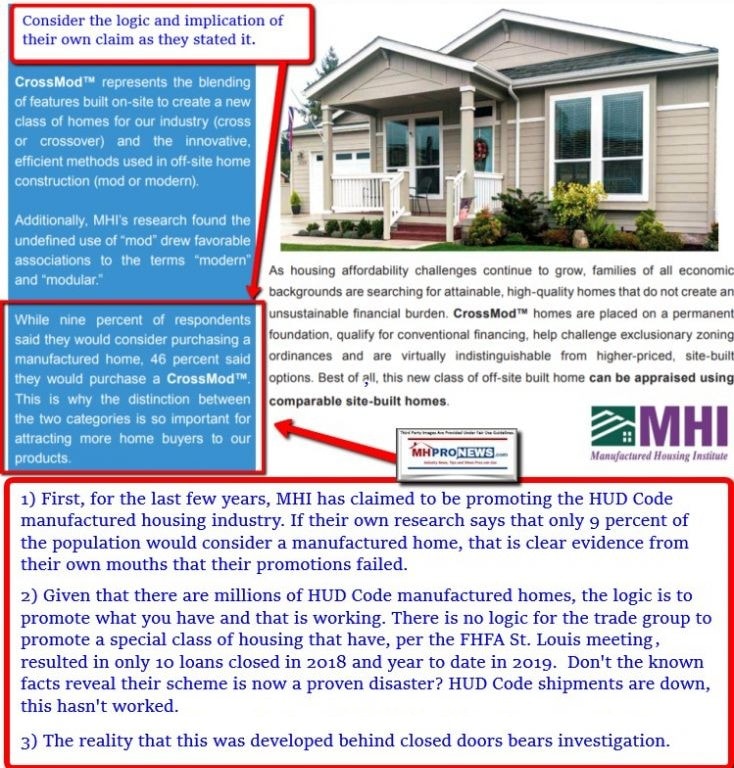 Perhaps in response to what Tim Williams, Executive Director of the Ohio Manufactured Home Association (OMHA) referred to as the "scorched earth" analysis by MHProNews of MHI, this publication routinely points to what MHI members, leaders, and other insiders – past and present – have said themselves. If laying out statements accurately seems like "scorched earth," that is more about the effectiveness or lack thereof of MHI at their stated mission than it is a glancing blow at us as the industry's largest and runaway most-read trade media. It is Hardman, for instance, who aptly made a point much like MHProNews did in his independent analysis of MHI's clearly failing "CrossModTM homes" initiative.
Or as MHARR's Mark Weiss told MHProNews some time ago, "Facts are stubborn things."
It is the other Tim Williams, former MHI Chairman and the president and CEO of Berkshire Hathaway owned 21st Mortgage, who reportedly said to several MHI members the following. Williams stated that he was glad that the Government Sponsored Enterprises (GSE or Enterprises) pilot project for personal property lending had failed. That pilot was supposed to be in response to the Duty to Serve mandate that MHARR's report above addressed.
That may surprise some, but once understood in the context of certain prior comments – which MHProNews is wont to do, see what was said and done previously – the Williams comment is a continuation of arguably over a decade of misdirection and stall tactics, much like what MHARR alluded to in their report above. The quote below was provided to MHProNews directly from Williams.
See that detailed look in greater context in the article linked above.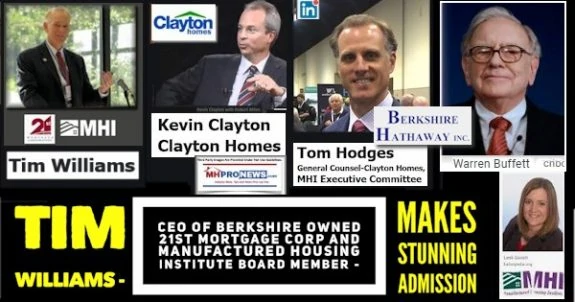 MHProNews has used several analogies for describing what is occurring in manufactured housing, in order to help industry professionals and outsiders looking in alike to get a sense of magnitude of what MHARR referred to above as "deception." In a previous, and popular, prior "Issues and Perspectives," MHARR's Weiss dubbed what was occurring at MHI as the "Illusion of Motion."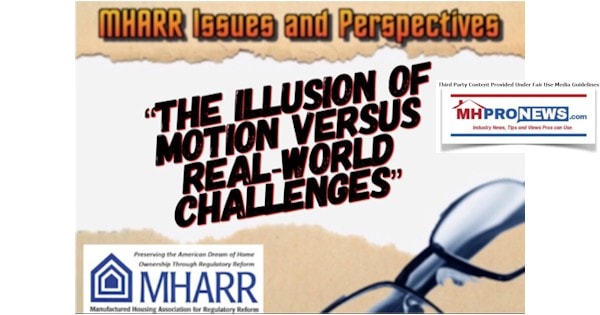 When facts, evidence, and history are all dispassionately examined, they can speak loudly. It is impossible to dispute the point in the graphic below. Namely, that manufactured housing is smaller today than it was when Buffett-led Berkshire entered the manufactured housing field by acquiring Clayton Homes, Oakwood Homes, and their associated lending, such as 21st Mortgage Corp and Vanderbilt Mortgage and Finance (VMF).
Despite numerous useful third-party research studies published in the past 2 decades, which go unmentioned or are difficult to find on the MHI website, MHI instead publishes their own research. There is nothing wrong, per se, with doing one's own research work. But every seasoned marketer or seller knows that it is better to have someone endorse your product or service than to have the seller praise himself and his product or service. The honest third-party endorsement is routinely more compelling, precisely when it is objective.
In an affordable housing crisis, when millions could buy a manufactured home that are currently renters, financing is clearly a key issue. MHARR and their members grasp that reality keenly. DTS was supposed to solve that a dozen years ago. The fact that it hasn't been solved in practice when the law is there to be utilized either speaks to massive ineptitude, or arguably to corruption.
Which brings us back to that MHI Form 990 statement above made under penalty of perjury. If MHI is sincere in that effort, how is it that they have failed so badly at making that a reality?
Given that MHI's staff takes its guidance from the MHI board, and more specifically, from the MHI Executive Committee, it is no great investigative discovery to come to the realization that MHI's board must approve of the status quo.
Then, when a closer look is made at the MHI chairman since Don Glisson Jr. of Triad Financial Services abruptly stepped down from that role, what one sees is a series of leaders that have had significant media and regulatory embarrassments attached to themselves and/or their business.  When one objectively consider what follows, and then connects the dots to the Arlington, VA based Manufactured Housing Institute (MHI) it is an embarrassment and disgrace for the white hat brands that operate in manufactured housing.
Facts, evidence, and trends combined with objective thought are stubborn things.
An argument could be made – based on the facts and over a decade of history – that MHI staff are ignorant and inept, but they are educated professionals. It seems difficult to imagine that someone could be as educated and yet poor in their performance as measured by production and sales as MHI has proven to be as the 'umbrella' or post-production/production manufactured housing trade group.
The other possibility is that MHI's dominating corporate leaders who have and/or do sit on their board of directors are pleased with the status quo. It allows them to consolidate the industry slowly, steadily, while posturing through what MHARR called "The Illusion of Motion."
"Witch's Brew" of Predatory Practices – Longtime MHI Member/Attorney Marty Lavin Rips Manufactured Housing Institute, Exposes Duty to Serve Financing Stonewall
Quotes from manufactured home industry professionals – including MHI members – like the ones found in the reports linked above and below arguably support that second bullet.
Skyline Champion President, CEO Mark Yost and Manufactured Housing Institute CEO Lesli Gooch, Ph.D, in White House Photo Op Featuring President Trump and VP Pence
Facts are stubborn things. After years of polite efforts, perhaps the best way to change the status quo is to challenge it directly and publicly. The infographic collage below was first created by MHProNews some years ago as an oblique but factual illustration.
The fact that neither Tim Williams, nor their staff or surrogates are willing to debate their own performance lends credence to the contention laid out herein. Or as an old English and Persian maxim said, "Silence betokens consent."  In ancient Latin, that adage was rendered as "Qui tacet consentit."
It is difficult for MHI and their key members to admit to something publicly and openly that might be viewed as a violation of antitrust and other federal/state laws. But therein lies the value of Kevin Clayton of Clayton Homes freely made statement in the video below that includes the following pull quote.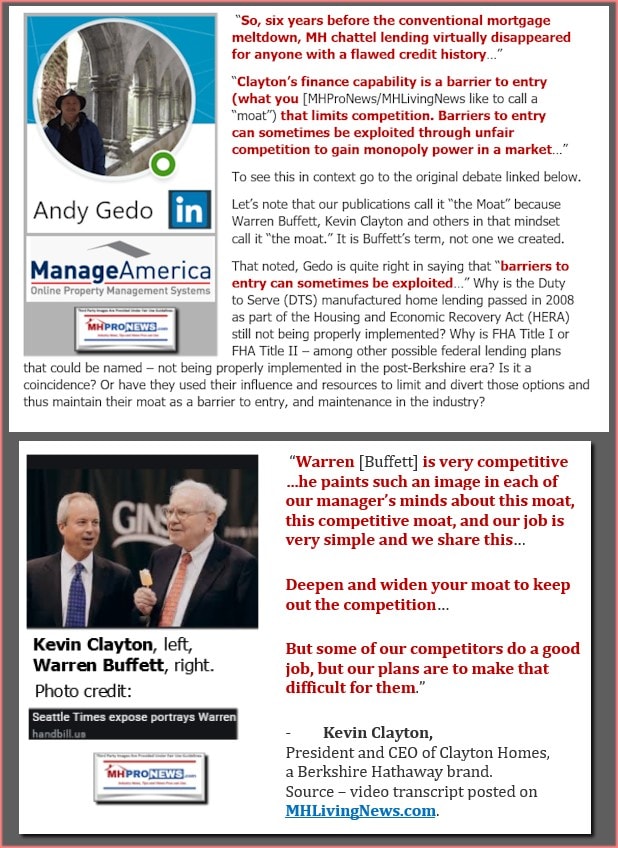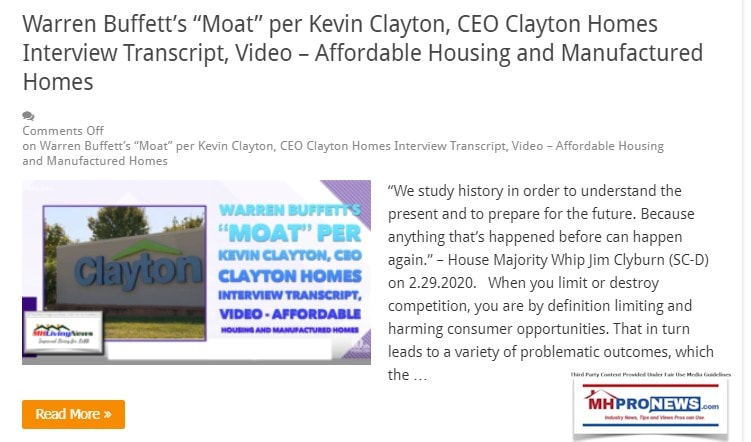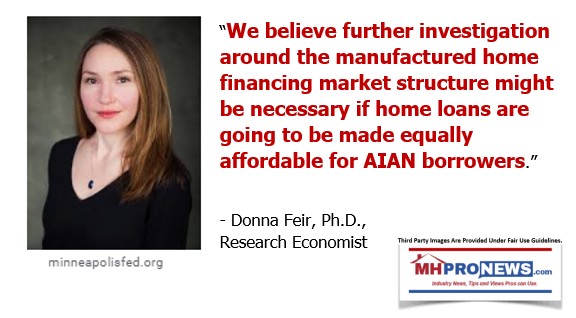 Facts are stubborn things, but only for those willing to look at the evidence, the history, and the money motivations behind it.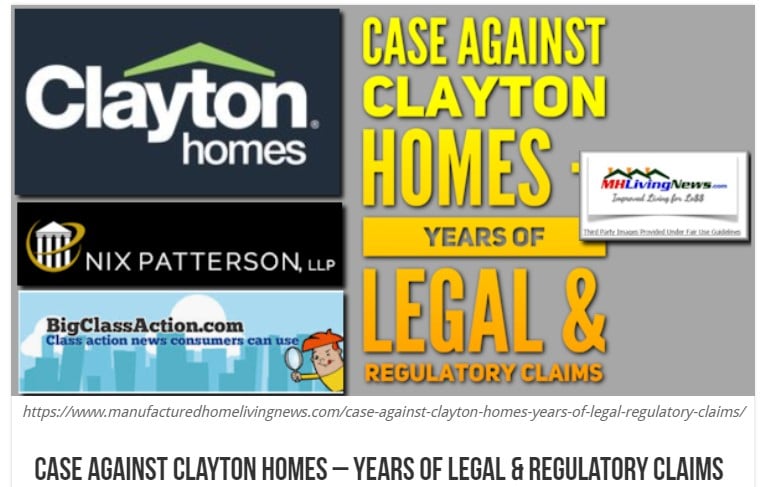 It is worth noting that month after month, the report linked above on Manufactured Home Living News routinely draws tens of thousands of hits, even though it was published months previously. There have been hundreds of thousands of collective hits on that report, which speaks loudly in an industry of modest size.  Indeed, that one report draws more readership than all of the reports our would be trade competitors that arguably are MHI toadies get combined in a month. Professional people can smell BS, and no matter how perfumed it may be, and they normally shun BS. By contrast, people may not always like the truth, but if it is intelligently laid out, professionals routinely respect it enough to give it their attention.
To learn more, see the related reports above and those that follow the byline and notices.
Postscript
For those who don't realize it, or who might get the wrong impression from a troubling report like this one, there are thousands of honorable manufactured home industry professionals. One of several such interviews on our MHLivingNews sister site that makes that point is linked below.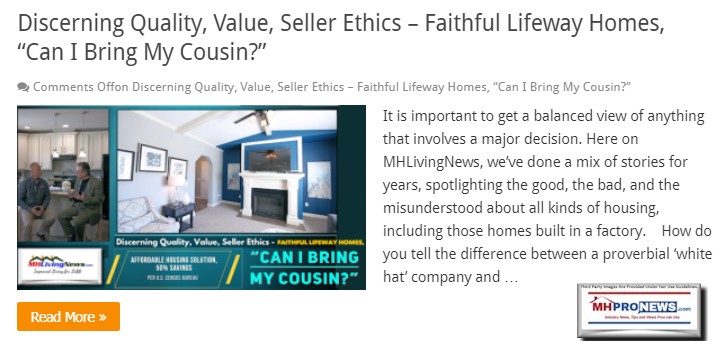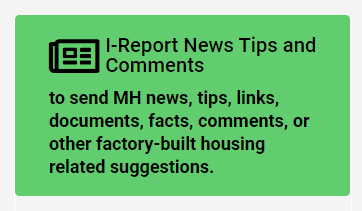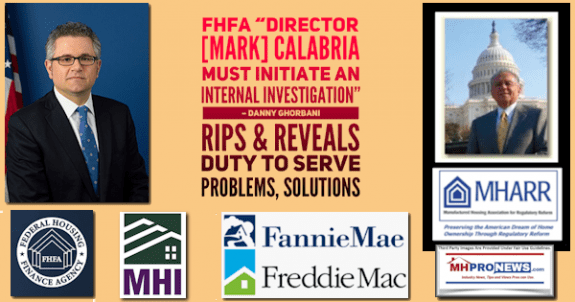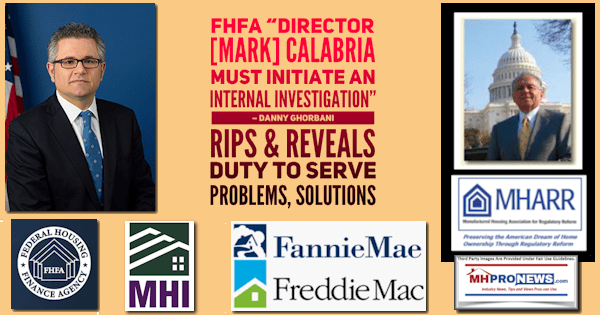 There is always more to read and more to come. Stay tuned with the runaway number one source for authentic "News through the lens of manufactured homes and factory-built housing" © where "We Provide, You Decide." © ## (Affordable housing, manufactured homes, reports, fact-checks, analysis, and commentary. Third-party images or content are provided under fair use guidelines for media.) (See Related Reports, further below. Text/image boxes often are hot-linked to other reports that can be access by clicking on them.)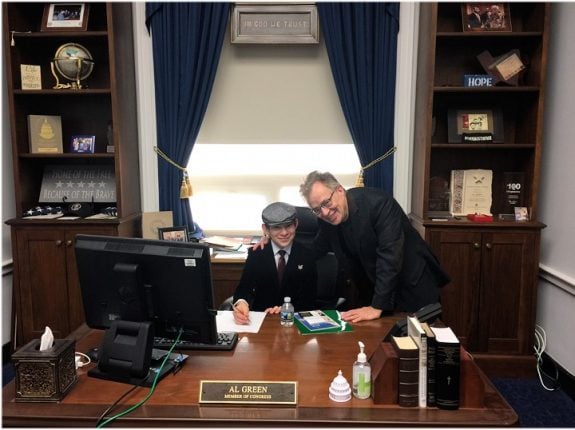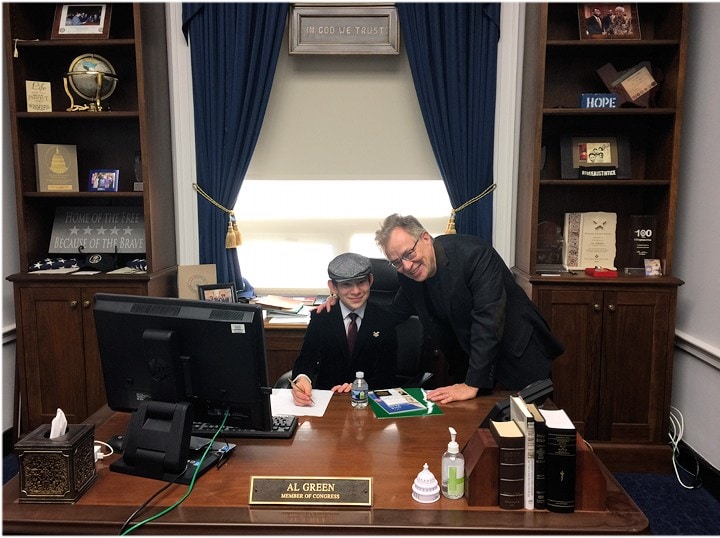 By L.A. "Tony" Kovach – for MHProNews.com.
Tony earned a journalism scholarship and earned numerous awards in history and in manufactured housing.
For example, he earned the prestigious Lottinville Award in history from the University of Oklahoma, where he studied history and business management. He's a managing member and co-founder of LifeStyle Factory Homes, LLC, the parent company to MHProNews, and MHLivingNews.com.
This article reflects the LLC's and/or the writer's position, and may or may not reflect the views of sponsors or supporters.
Connect on LinkedIn: http://www.linkedin.com/in/latonykovach
Related References:
The text/image boxes below are linked to other reports, which can be accessed by clicking on them.
Evidence-Based State of the Manufactured Housing Industry, Fall 2020 Report – plus, Sunday Weekly Manufactured Home Headlines Review
Manufactured Home Production, Shipments Rise September 2020, HUD Manufactured Housing Data, Manufactured Housing Association for Regulatory Reform Statement, plus Weaponized Agenda-Driven News
Warren Buffett–Joe Biden Spotlight, "Great American Recovery," 3rd Q GDP Blows Past Expectations, plus, Manufactured Home Investing, Stock Updates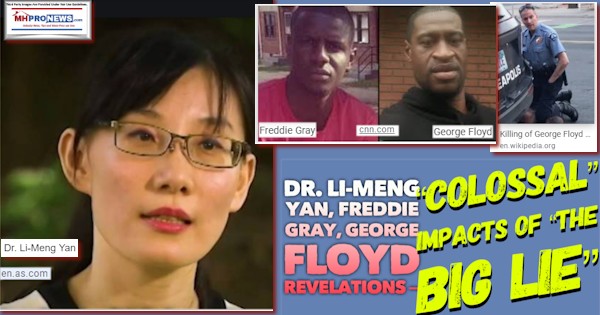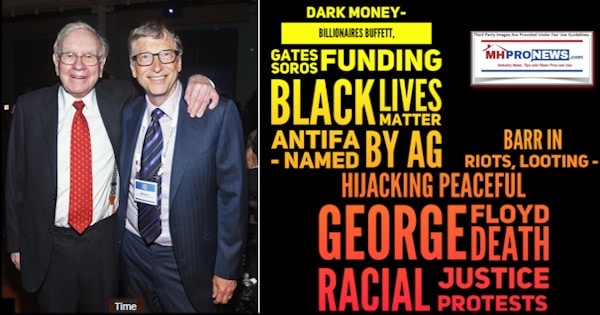 Saturday Satire and Executive Summaries for Manufactured Housing Professionals, Investors, Advocates, Researchers, Public Officials, and Investigators
New Data Surfaces on Buffett Family, Foundation Funding Sources Which Attacked Manufactured Housing, plus Manufactured Home Stock, Investing Updates
Complaints to State and Federal Officials, Agencies About Corrupt Practices in Manufactured Housing Industry Growing
Epic! Creating 200,000 New MH Homesites in 4 Years; Allegations of Corruption by Fannie, Freddie, Others in Duty to Serve Manufactured Housing Law
HUD Manufactured Housing Update, Housing Bubble? More 2020 Election Uproar, plus Manufactured Housing Investing Stock Updates