Leticia Miranda is a business reporter for NBC News. Miranda is a journalistic veteran, as will be shown further below. On Valentine's Day, 2.14.2021 at 6:00 AM, she shared an unloving look at manufactured home living wherein NBC asserted that "Mobile home dwellers hit even harder when facing eviction," with the subtitle "I feel like we're losing it all," per one owner they interviewed.
As part of Miranda's article, NBC posted the video below which reported how evictions in rental housing are faced by an estimated 30 to 40 million Americans in the wake of the post-COVID19 lockdowns and economic disruption.
One of those interviewed in that video report told NBC's reporter that she was facing living out of her vehicle with her family. Note that is a topic that MHLivingNews explored yesterday in a report linked here.
It would be difficult to question the notion that eviction is difficult for most anyone: be it for those living in conventionally built housing who are in foreclosure, those behind on payments in rental housing, or those living in manufactured homes, which are often sited in a land-lease community.
Prior to publishing this report, MHProNews contacted reporter Miranda and then NBC's media relations to clarify issues their report raised and to possibly open the door to additional insights and follow up. A day and hours later, as of this time, neither have responded.
There are some similarities in Miranda's report with what the Washington Post and then HBO's Last Week Tonight with John Oliver produced in 2019 in their viral "Mobile Homes" video.  That will be explored as part of our fact check and news analysis.
To tee that up, what is not in Miranda's report is perhaps as or maybe noteworthy than what is in it.
MHProNews will present the text of her NBC News report, sans a few of their photos which can be seen in their report at this link here. Their report will be followed by additional related information about Miranda, elements of their subject, plus more MHProNews insights and commentary.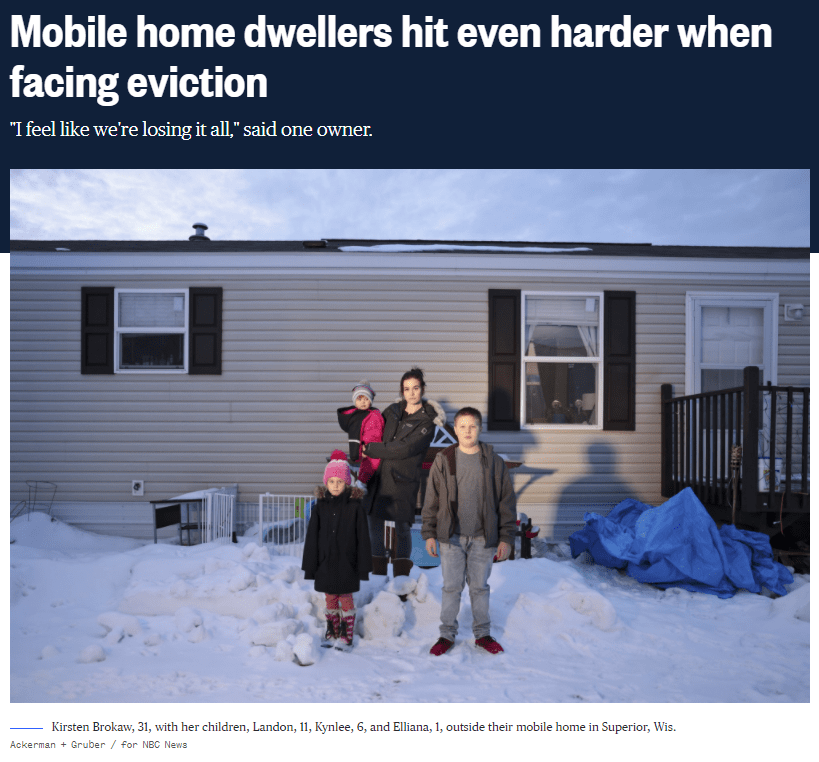 NBC News – BUSINESS NEWS
Mobile home dwellers hit even harder when facing eviction
"I feel like we're losing it all," said one owner.
Feb. 14, 2021, 6:00 AM EST
By Leticia Miranda
Chris Larson was preparing lasagna for Christmas Eve dinner last year when someone knocked on the door of the mobile home he owns with his fiancée, Kirsten Brokaw, and three kids in Superior, Wisconsin. An apologetic man dressed in jeans and a jacket stood at the door, handed him a stack of papers and said he was being evicted. He said the family had to leave by Jan. 20.
"We were using up all the money we had to pay down our lot rent," Larson said. "We tried to keep up the best we could until then."
Like hundreds of thousands of other people nationwide, Larson and his soon-to-be wife fell behind on rent last year as the coronavirus ripped across the country. The family's financial troubles began when Brokaw suffered a stroke in March, leaving her unable to work. A couple of months later, Larson lost his job as a truck driver. By December, the family had fallen four months behind on rent and owed more than $4,700 in overdue lot payments, taxes and late fees to the mobile home park's owner, called Homecroft Mobile Home Park, according to court documents reviewed by NBC News.
"I'm going to lose my home over a few months of lot rent," Brokaw said. "I feel like we're losing it all and all the hard work we did that got us to this point."
Homecroft Mobile Home Park, which is listed on the website FostoriaReserve.com as one of its three communities in Ohio and Wisconsin, declined to comment on the case.
Affordable housing advocates have celebrated the Biden administration's extension of the Centers for Disease Control and Prevention's moratorium on evictions as a critical move that could help people fight to stay in their homes as the pandemic continues to gut the economy. But the order includes loopholes that financially stretched landlords have been able to use to remove tenants who fall behind on rent. Housing advocates say one of the hardest-hit groups has been mobile home park dwellers like Brokaw and Larson, who were already surviving with a limited safety net to fall back on. Before the pandemic, many mobile home residents, like Brokaw and Larson, had juggled paying for their mobile homes and for the lots they sat on. When they find themselves facing eviction, they risk losing not only the lot but also their home equity.
"In many cases, the tenant has 30 days to leave the lot. But how do you expect someone to pay a tow company $5,000 to $10,000 to detach their home from the property and reinstall it somewhere else?" said Stuart Campbell, a staff lawyer at Legal Aid of NorthWest Texas, who has been working on a steady stream of mobile home eviction cases through the pandemic. "Oftentimes when they are evicted for lot rent, they're forfeiting the equity on the home. You could lose your home for $1."
Starter homes
Before the pandemic, manufactured homes, the modern term for mobile homes, had become increasingly popular housing options for families with limited means who were looking for the amenities of the suburbs on small budgets, Campbell said. For an average of less than $1,000 a month in most parts of the country, a family can live in a 1,400-square-foot, pet-friendly home with a driveway, a yard and, maybe, a community swimming pool or a park, according to the Manufactured Housing Institute, an industry trade organization. With long backlogs for affordable housing, many families struggling financially have found manufactured homes to be compelling alternatives.
"You get more bang for your buck," Campbell said.
There are 8.5 million manufactured homes in the U.S., nearly 10 percent of the country's housing stock, according to the Manufactured Housing Institute. The median household income of a family living in a manufactured housing park is $30,000 a year, according to the institute.
"There are many determinants on where you live — I want to be close to family, I want to be close to my job," said Kevin Borden, executive director of MHAction, a nonprofit that advocates for manufactured housing tenants. "And there also all those non-aspirational determinants — suppressed wages, lack of access to credit for women and women of color. Manufactured home communities really are this unique affordable landing spot no matter what fuels your decision."
Finding space
The Superior home marked a new beginning for Larson and Brokaw. The couple had been living in a three-bedroom apartment with their children in Carlton, Minnesota. But Brokaw was determined to find a bigger home for the family. She worked 100 to 120 hours a week as a home health aide until she was 38 weeks pregnant with her youngest daughter to save money.
When Brokaw and Larson found the Fostoria Reserve Homecroft Mobile Home Park, they were hopeful. They moved into a four-bedroom, two-bath home in a safe and convenient neighborhood in a solid school district. The lot payment was about $525 a month, and the park offered financing to buy the $52,000 home through 21st Mortgage at $525 a month.
But what seemed like a stable financial path to own their home quickly unraveled in the pandemic-stricken economy. If they are evicted, they will have little recourse to recover the roughly $12,000 they have already invested in paying for their home.
Buyers Market
The fate of their homes is typically one of the first concerns among manufactured home tenants facing eviction, said Kristin Slonski, litigation director for the nonprofit law firm Wisconsin Judicare.
"It's a huge, huge downside of owning a mobile home," she said. "They're not actually mobile. They're hooked into all kinds of utilities and cables."
Wisconsin law allows tenants to sell the homes to new tenants and requires landlords to act "reasonably" in reviewing new owners. But the pandemic has dried up the market for manufactured homes in northwest Wisconsin as people fall deeper into poverty, Slonski said. If manufactured home owners cannot find buyers, they must leave the homes on the lots. After 30 days, the homes are considered abandoned property, and landlord can take over the titles and lease them to new tenants, she said.
"You're selling under a fire sale," Slonski said. "I've seen people sell their homes on Facebook Marketplace for $1,000."
Matt Webb, general counsel and compliance officer at 21st Mortgage, said in an emailed statement that the company "makes every effort to support customers in times of economic hardship so they can remain in their homes." He said it works "closely with customers facing eviction to find solutions to catch up on their lot rent and stay in their communities."
Increasing pressure
While most manufactured home parks, like Homecroft, are owned by small businesses, a growing number of park chains are owned by private equity firms. The practice of routinely evicting tenants in manufactured home parks has become more "aggressive" across private equity-owned lots, said Jim Baker, executive director of the nonprofit Private Equity Stakeholder Project.
"We've definitely seen certain circumstances where owners have substantially raised lot rents," Baker said. "It forces these difficult decisions for families between paying rent or putting food on the table or paying for prescriptions."
Since the 2008 financial crisis, private equity firms have piled into the manufactured home sector. Because manufactured homes are difficult and expensive to move, they are viewed as stable investments by private equity firms and shareholders. If a tenant is evicted, the property inherits the abandoned home and can rent it out again, producing a consistent source of revenue growth, said Linda Jun, senior policy counsel at Americans for Financial Reform.
"Tenants are really at the mercy of these PE owners when they take over parks, and they can charge whatever they want, because [tenants] can't afford to move somewhere else," she said.
Blackstone Group made its first investment in manufactured housing in 2018 when it acquired a $172 million portfolio of 14 communities from Ontario-based Tricon Capital Group. Carlyle Group, which has invested in manufactured home communities in Florida, Arizona and California, declined to comment.
Jillian Kary, a spokesperson for Blackstone Group, said the company has not conducted any evictions for nonpayment since the start of the pandemic.
Loopholes in CDC's eviction moratorium leave some mobile home dwellers homeless
Manufactured homes have become increasingly attractive investments as more commercial and retail real estate has fallen into distress during the pandemic. The homes require little capital upfront, and they can bring in high returns, said John Pawlowski, head of the residential sector with the real estate research and consulting firm Green Street Advisors.
Because homes themselves depreciate in value over time as land increases in value, the economics work in property landlords' favor, he said. In addition, as demand outpaces supply, landlords can increase rents "well above inflation," he said.
"Those are two dynamics that have led to fantastic returns over time," he said.
From August to January, the Private Equity Stakeholder Project has recorded 620 evictions across several manufactured home parks, many of which are owned by private equity firms.
"Folks living in mobile homes, especially, are facing high unemployment," Baker said. "It's extremely challenging right now for folks in mobile home parks."
Seeking changes
Housing advocates and lawyers, including Slonski of Wisconsin Judicare, have lobbied civil courts to encourage judges to follow a broader interpretation of the CDC's eviction moratorium order. Since last year, judges have had wildly disparate interpretations of the order. Some judges have interpreted it to suggest that the agency halts evictions as a public health measure to prevent the spread of the virus, while others have taken a narrower view, strictly following the order's five-point description of who is covered. In two Georgia counties, they refuse to acknowledge the order altogether.
"What people really need right now is rent forgiveness and direct payments to those landlords who have been struggling themselves," Slonski said. "It's impossible for low-income people to come up with half a year's rent with the drop of a hat. We need financing, and that's unfortunately only going to come through with congressional action."
The Biden administration's $1.9 trillion stimulus proposal includes $25 billion for direct rental relief to landlords and $5 billion to help cover energy and water costs for low-income households. House Speaker Nancy Pelosi, D-Calif., has said the House wants to pass the coronavirus relief bill in the next two weeks. The Senate this month approved a budget resolution that would fast-track the bill. While it is not a done deal, the bill is expected to pass in early or mid-March.
Moving Day
Brokaw, who is 21 weeks pregnant with their fourth child, and Larson found another manufactured home park in town that would accept them and help cover the cost to move their home — under the condition that they beat the eviction.
Over the last month, they have been packing up their home in case they lose their case. Some of their things are going into storage. But there is still so much more that they might lose — beds, a TV, a couch, curtains, a washer and dryer, closet racks, a new toolshed.
They represented themselves in another appeal hearing over Zoom on Monday arguing that they are protected from eviction by the CDC order. Homecroft Mobile Home Park was represented by an attorney named Michael Routh, who did not respond to a request to comment.
On Thursday, they received their judgment in the mail saying they had lost their case and have to move out by Feb. 28. They must also pay back more than $4,000 in rent and back fees.
For now, they are trying to raise money to move the home to a new lot that will take them. If that fails, they will squeeze into Larson's mother's basement in Minnesota until the family can save enough money to start over again.
"I'm praying," Brokaw said. "I'm just hoping for a miracle."
##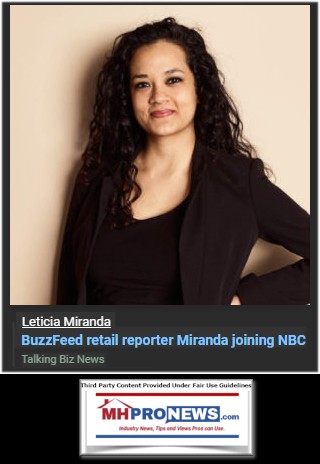 Leticia Miranda is a business reporter for NBC News.   
MHProNews notice: the photo at the left was not part of their report.
###
Additional and Related Information, plus more MHProNews Analysis and Commentary
MHProNews published several reports in 2020 about the looming eviction crisis, one of those is linked here. More recently is the report on how the Biden-Harris team turned down the Manufactured Housing Institute (MHI) "coalition" request, at least for the time being.
Unpacking Miranda's Report, Step by Step
It is useful to understand how reporters often approach a story to properly grasp what the above report might suggest.
"I spend a lot of my time doing research to see what other people have written about the subject I'm interested in," journalist Peter Smith said in Portrait of a Journalist, per ReadWorks. "Then I start contacting sources to see if they will agree to an interview. If they say yes, we usually talk over the phone. If necessary, and if I think they're a good character, I will travel to meet them in person."
Journalists "have in-depth conversations with an editor about what stories are current and unusual, suggesting a perspective on the world that should be brought to light." – "A Day in Life [of] Journalism." per Bright Network. 
With the above in mind, next, look at Miranda's credentials.
Notice that Miranda spent time at several of the media organizations that had previously reported on manufactured housing.
More specifically, those media outlets Miranda had previously served included focused stories on Clayton Homes and their related lending. That would include 21st Mortgage Corporation, which was clearly referenced in Miranda's NBC News report. As the above illustrates, one would think that Miranda would reference some of that history. Why was none of that mentioned in her article?
Next, some of the statements and quotes in the report by Miranda included the following, with MHProNews and/or MHLivingNews linked information following her statement/quote.
Miranda reported: "There are many determinants on where you live — I want to be close to family, I want to be close to my job," said Kevin Borden, executive director of MHAction, a nonprofit that advocates for manufactured housing tenants. "And there also all those non-aspirational determinants — suppressed wages, lack of access to credit for women and women of color. Manufactured home communities really are this unique affordable landing spot no matter what fuels your decision."
What Miranda failed to mention is that MHAction has apparently benefited from dark money funding from nonprofits associated with billionaire Warren Buffett. See a report that unpacks that contention – as yet unchallenged by Berkshire attorneys, MHAction, or MHI – in the linked below.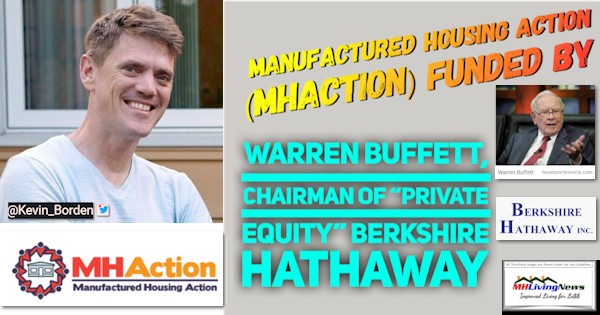 Miranda for NBC News wrote: "Matt Webb, general counsel and compliance officer at 21st Mortgage, said in an emailed statement that the company "makes every effort to support customers in times of economic hardship so they can remain in their homes." He said it works "closely with customers facing eviction to find solutions to catch up on their lot rent and stay in their communities."
MHLivingNews carefully unpacked the HBO Last Week Tonight with John Oliver hit video inaccurately entitled, "Mobile Homes."  That report connected the dots, among other points, that MHI was a common denominator among all of the "predatory" firms in that report. Additionally, that report connected the dots between MHAction, and the Private Equity Stakeholder Project. Why didn't Miranda raise those or other possible items in her story above? To learn more, see the report linked below.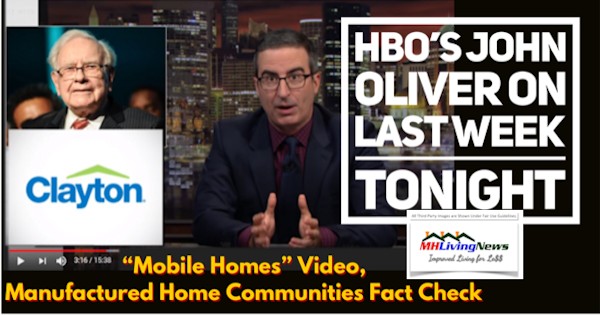 A source with the Wisconsin Housing Alliance (WHA) said that Fostoria Reserve is a member of that state's trade group.  That source told MHProNews that Fostoria Reserve are operated by "Bad people."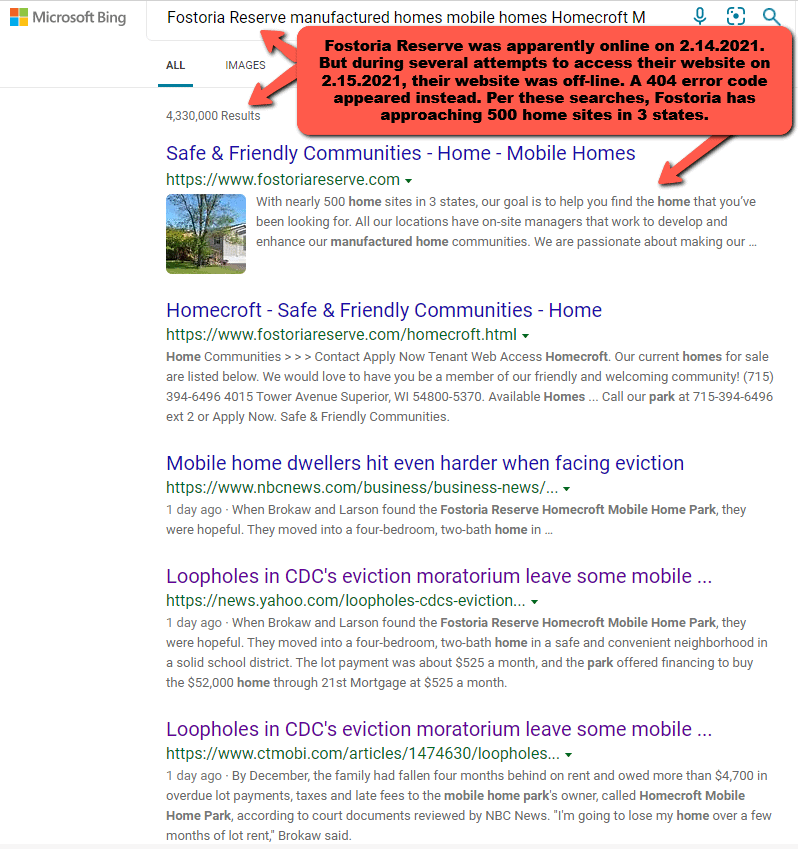 The Fostoria Reserve website has been down today, as the screen capture below reflects. However, Google's ratings reflect the point that they have an overall 3.1 star rating out of 5. That noted, several of those are 1 star ratings. As MHProNews has previously reported, the Google rating system can and has been purportedly been gamed. Indeed, the allegation of "deceptive trade practices" by a prominent MHI member firm was raised by a mainstream media source in the report linked below.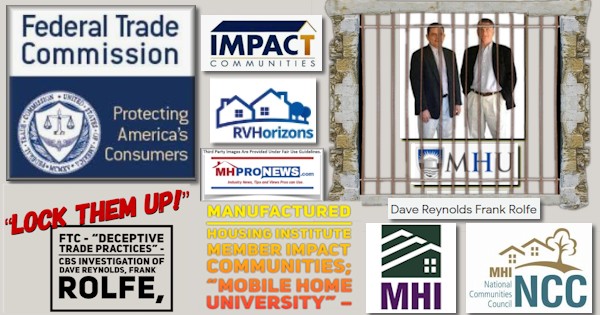 The WHA in turn is a member of MHI. MHI has a code of professional and ethical conduct for members. Per insiders, that has reportedly not been enforced, even though there are several apparent examples reported by MHI members and/or mainstream media.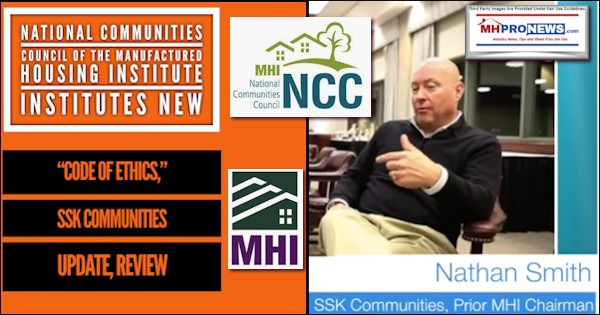 That noted, in this story, it is oddly not the big companies that seem to draw the ire of NBC's report. Rather, it is a smaller firm, Fostoria Reserve.  Where is the balance to this report? Why are there no examples of community operators that have happy residents and a good relationship with them?
It is unknown at this time if Fostoria Reserve is directly involved with MHI, as the trade group has begun to mask their membership directory on their website.  But neither MHI, Matt Webb (specifically named in the NBC report above), Tom Hodges (Clayton Homes general counsel and currently MHI's chairman), nor their outside attorney responded to the question if MHI had engaged with NBC News following the publication of their report.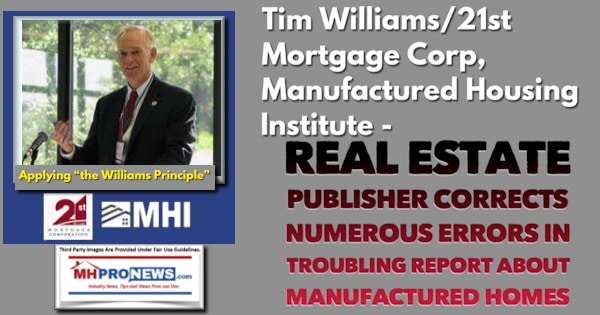 Among the noteworthy takeaways is that Melinda connected none of the dots, for whatever reason, that links Buffett and Berkshire Hathaway bucks connect dots between Buffett supported nonprofits and attacks on the manufactured home industry that makes the industry as a whole look bad. Nor did Melinda disclose that Berkshire has had as a board member, Stephen Burke, chairman of NBC Universal. 
That possible conflict of interest should have been disclosed, should it not? There seems to be several apparent conflicts of interests and misses in this report.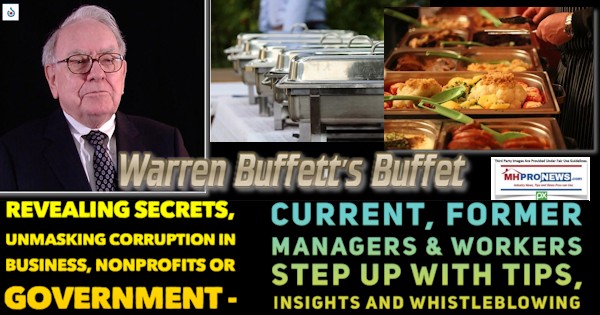 For a business writer, in an report filed under the business section of NBC News, it may seem odd that there is no mention of how manufactured home industry underperformance has benefited Berkshire brands and their allies who are consolidating the industry as a steady clip.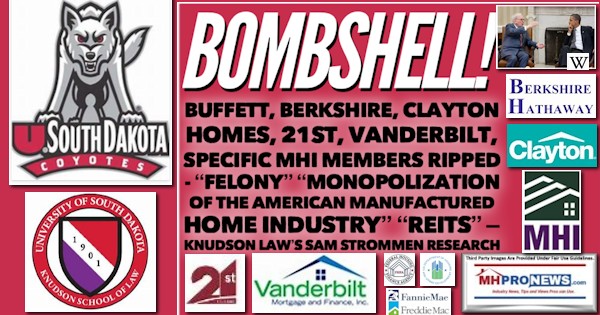 Coincidences?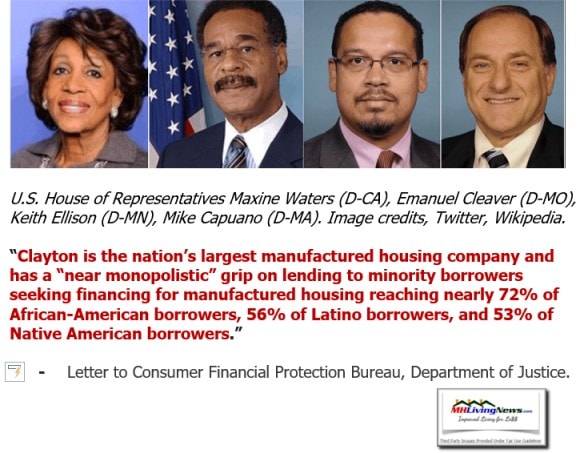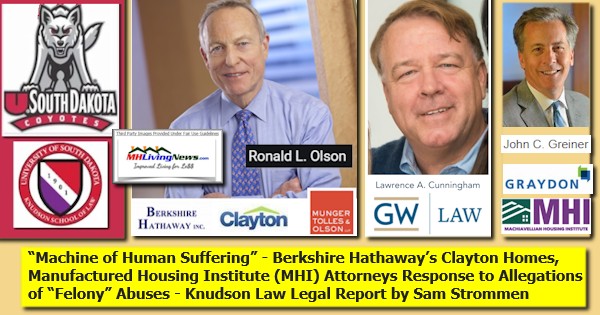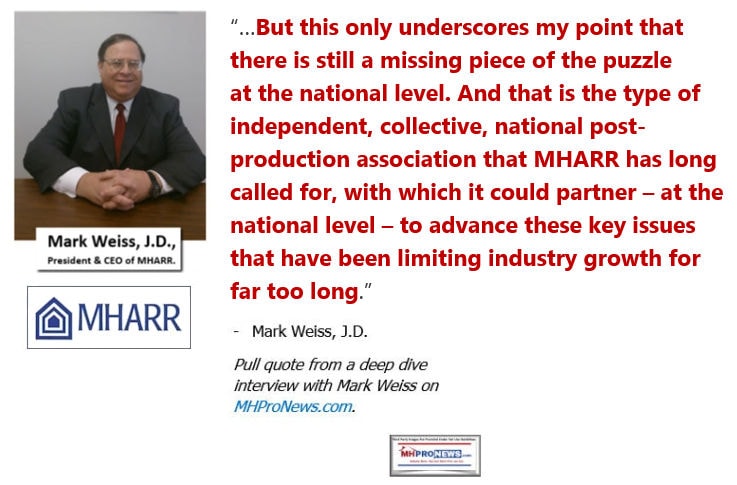 MHProNews may return to this topic based on any developments, including possible replies and feedback from Miranda, NBC, Clayton Homes, 21st Mortgage, MHI, and their respective counsels.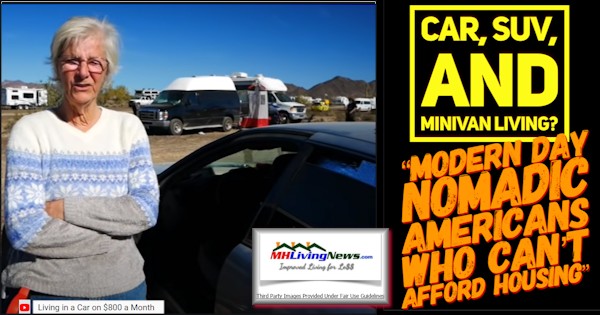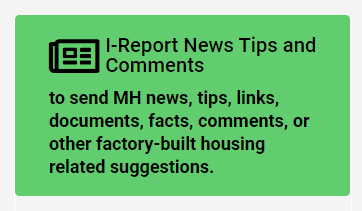 Stay tuned for more of what is 'behind the curtains' as well as what is obvious and in your face reports. It is all here, at the runaway largest and most-read source for authentic manufactured home "Industry News, Tips, and Views Pros Can Use" © where "We Provide, You Decide." © ## (Affordable housing, manufactured homes, reports, fact-checks, analysis, and commentary. Third-party images or content are provided under fair use guidelines for media.) (See Related Reports, further below. Text/image boxes often are hot-linked to other reports that can be access by clicking on them.)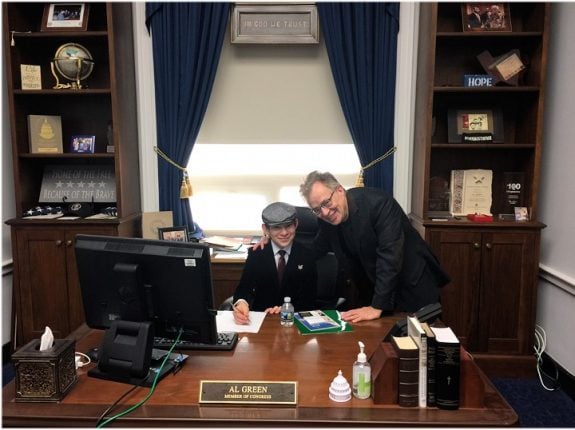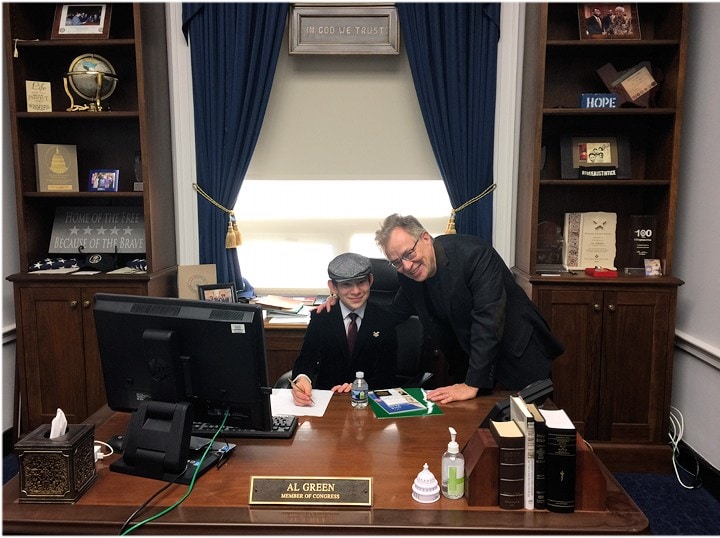 By L.A. "Tony" Kovach – for MHProNews.com.
Tony earned a journalism scholarship and earned numerous awards in history and in manufactured housing.
For example, he earned the prestigious Lottinville Award in history from the University of Oklahoma, where he studied history and business management. He's a managing member and co-founder of LifeStyle Factory Homes, LLC, the parent company to MHProNews, and MHLivingNews.com.
This article reflects the LLC's and/or the writer's position, and may or may not reflect the views of sponsors or supporters.
Connect on LinkedIn: http://www.linkedin.com/in/latonykovach
Related References:
The text/image boxes below are linked to other reports, which can be accessed by clicking on them.