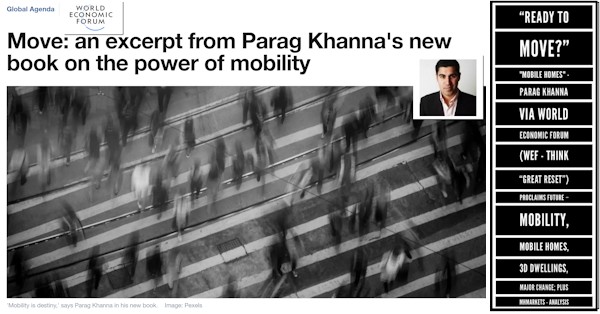 "Are you ready to move? Is your welfare at risk from political and economic crises, technological disruptions, or climate change?" Parag Khanna continued, "…you will need to get over it. For billions of people, perpetual mobility is becoming the norm." Who is Parag Khanna? Why should you care? Because the World Economic Forum (WEF) says he is a "Young Global Leader," and they think him important enough to feature his brief published on October 6, 2021 on their website. Khanna is a researcher, author, and a CNN global contributor too. "Move – the Forces Uprooting Us" is Khanna's new book, and the WEF except obtained by MHProNews and shown below was picked up as 'news' today that specifically mentions "mobile homes," 3D printed housing, and the coming world of mass migration and social/economic disruption. These are not posited by Khanna's brief as something troubling. Rather, Khanna sees the disruptions he describes as something that all should embrace. For those already familiar with the WEF and Biden's "Build Back Better" backed "Great Reset," this is just one more piece of evidence, straight from the WEF. But for those who are still unaware, this is just the latest that the global elites who back the WEF openly support – their previously revealed plan outlining a world where – the WEF said – "you will own nothing and be happy." Perhaps the brilliance of this, from the WEF viewpoint, is that it is boldly out in the open. It is their 'truth' and goals hiding in plain sight. But look at their map, provided below. You may be living or doing business in a part of the U.S. that is earmarked for a climate mandated "move."
Those who ignore this thesis by Khanna would be ignoring what the WEF and their emissaries openly proclaim as their plans, hopes, and dreams that will upend the U.S. and the rest of the world with it.
According to his WEF bio, Parag Khanna (PK) is the "Senior Research Fellow at the Centre on Asia and Globalization at the National University of Singapore. CNN Global Contributor and a member of the World Economic Forum's Global Agenda Council on Geoeconomics." Once more, think "The Great Reset." Globalization is here and is about to increase, says Khanna. You better decide you like it, "embrace it" rather than fear it, Khanna said.
The WEF clearly likes PK's "Move" thesis or they wouldn't have published it so favorably. Note that erasing borders – think the U.S.-Mexican border – as part of mass migrations that may include – like it or not – you, is all part of Khanna's WEF supported pitch.
That brief as published on the WEF website by Khanna is below. After that, there will be additional information, an MHProNews analysis in brief. That will proceed our business daily left-right headline bullets, macro- and manufactured housing specific market insights.
Under the heading of "Global Agenda" on the WEF website is the following, published on 10.6.2021.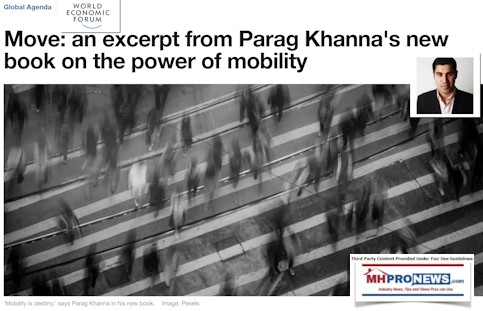 Move: an excerpt from Parag Khanna's new book on the power of mobility
Chapter 1: Mobility is Destiny
Children of the twentieth century know the adages "Geography is destiny" and "Demography is destiny." The former implies that location and resources determine our fate, while the latter suggests that population size and age structure are the most important factors. Together, they tell us that we're stuck where we are—better hope it's a well-populated and resource-rich country. Should we continue to buy into such determinism? Of course not. Geography is not destiny. Geography is what we make of it.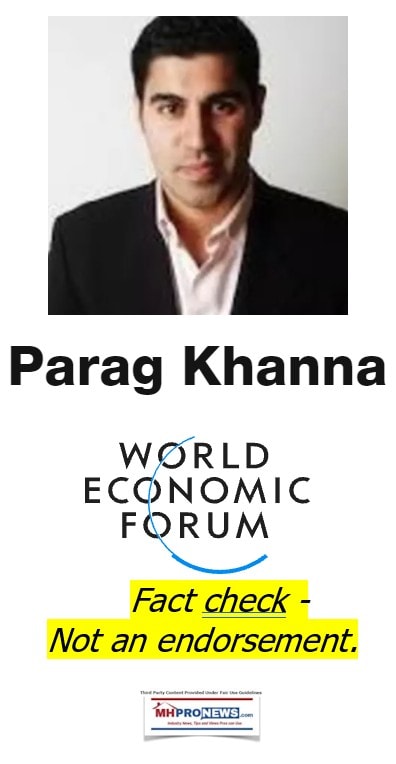 In my 2016 book Connectography I proposed a third axiom to explain the arc of global civilization: "Connectivity is destiny." Our vast infrastructure networks—a mechanical exoskeleton of railways, electricity grids, Internet cables, and more—enable the rapid movement of people, goods, services, capital, technology, and ideas on a planetary scale. Connectivity and mobility are complementary, two sides of the same coin, and together they give rise to a fourth axiom that will define our future: Mobility is destiny.
So what's stopping us from using our connectivity to the fullest? The root of our collective inertia lies in borders—physical, legal, and psychological. The world's political map looks the way it does mostly for contingent reasons: where ancient civilizations settled, where European empires conquered and divided, and where natural features separate populations. Borders are where they are because that's where they've been.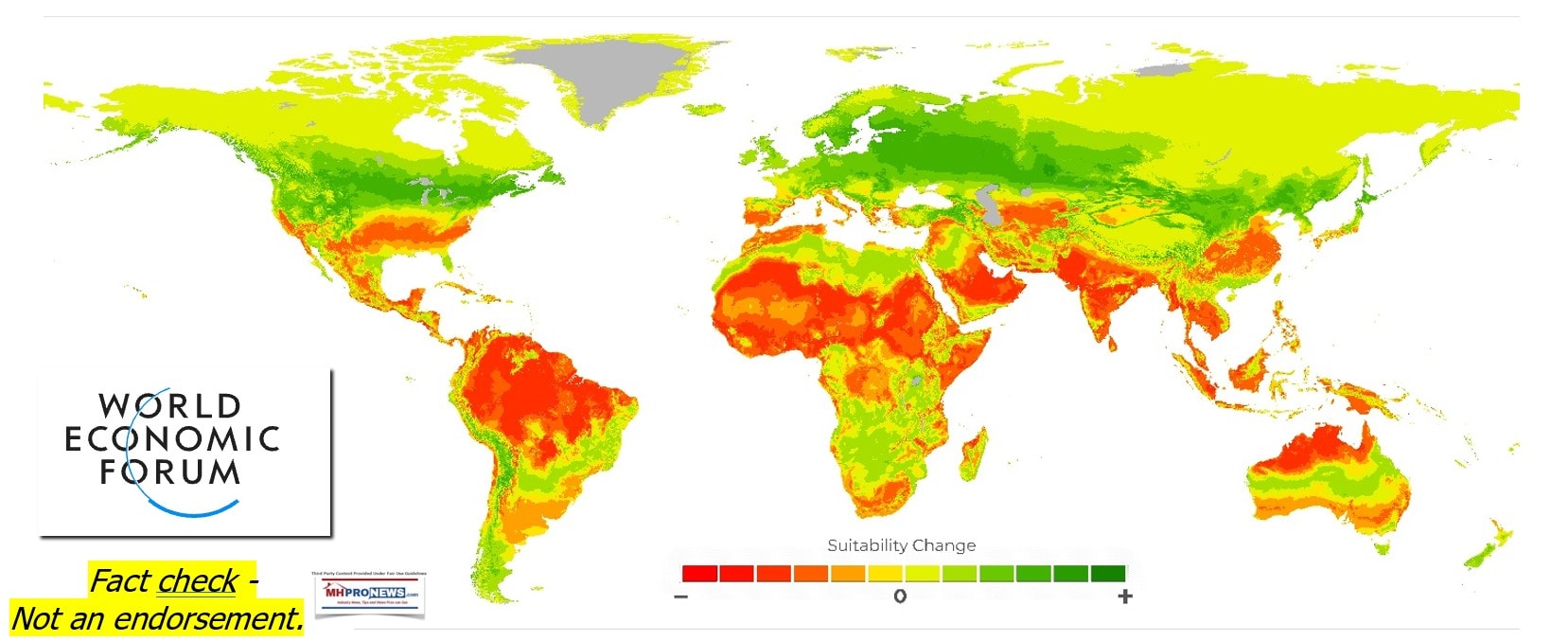 But the Earth is ours—not America's or Russia's or Canada's or China's. The question is: Can we discover a new cartographic pragmatism that brings political geography more in line with today's needs?
The management guru Peter Drucker warned that "the greatest danger in times of turbulence is not the turbulence itself but to act with yesterday's logic." We can no longer afford to be passive observers of how human geography unfolds. Instead, we must actively realign our geographies, moving people and technologies where they are needed while keeping livable places habitable. This requires an epochal shift in the organization of global civilization, a collective resettlement strategy for the world population. But if we get this right, we'll strengthen our odds of survival as a species, revitalize floundering economies, and forge a more sensible map of humanity.
Mass migrations are inevitable, and more than ever, they are necessary. In the coming decades, entire overpopulated regions of the world might be abandoned, while some depopulated territories may gain massively in population and become new civilizational centers. If you are lucky enough to be someplace from which you do not have to migrate—such as Canada or Russia—then chances are that migrants are coming your way. To paraphrase Lenin: You may not be interested in migration, but migration is interested in you.
The world of tomorrow is not only full of mobile people but is defined by the mobility of everything. Everyone has a mobile phone, meaning communications, Internet, medical consultations, and finance are all accessible anywhere; nobody goes to a "bank." Both work and study have migrated online; the ranks of digital nomads have exploded. Ever more people are living in mobile homes and other movable dwellings. Even "fixed" investments have become fungible: We can 3D print buildings, set up factories and hospitals anywhere, generate electricity from solar or other renewable sources, and have drones deliver us anything we need. As we move, so does the supply chain: Labor and capital can perpetually shift to new land, generating fresh geographies of productivity. Mobility is the lens through which to view our future civilization.
The concept of mobility blends the material and philosophical. It raises questions such as: Why are we moving, and what do those shifts reveal about our needs and desires? Then there are political and legal questions to explore: Who is allowed to move? What restrictions do we face on movement and why? And last but not least, there are normative questions: Where should people go? What is the optimal distribution of people around the world? Mobility is also an intangible and spiritual experience. Pause and appreciate how fluidly our anatomy carries us. Moving stimulates creativity, the process of witnessing ways of life coming together. Philosophers such as John Dewey meditated on the aesthetics of moving freely both in nature and the social milieu, eloquently arguing that such interaction imbued life with meaning. Walter Benjamin spent a decade reflecting on the significance of the glass-covered arcades built in mid-nineteenth-century Paris and the wandering flâneurs they invited. To move is to be free.
Are you ready to move? Is your welfare at risk from political and economic crises, technological disruptions, or climate change? Would circumstances be better for you and your family somewhere else? What is stopping you from going there? Whatever it is, you will need to get over it. For billions of people, perpetual mobility is becoming the norm. Movement may become an end in itself: One won't just move; one will always be moving. But perhaps, as we move, we will rediscover what it means to be human." ##
###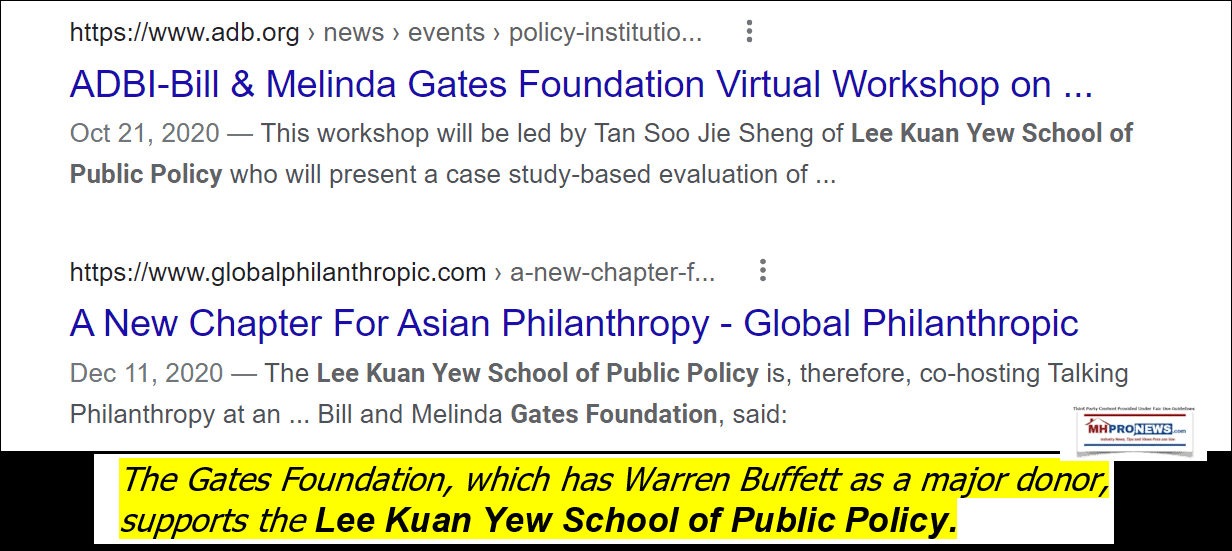 Additional Information, MHProNews Analysis and Commentary in Brief
 Consider just a few quick, recent statements from America's political class.
Joe Biden (D) recently said that the $3.5 trillion dollar package Democrats propose will cost "zero."
House Speaker Nancy Pelosi (CA-D) doubled down on that, saying the plan would cost "zero" because it will be paid for by corporate and other 'taxes on the rich.'
Sheila Jackson Lee (TX-D) said that our border is "sovereign and secure." Pardon me? Doesn't she watch TV news?
Having ordered companies of 100 or more to mandate an experimental vaccine, the next idea Biden has floated is to require a vax passport to cross state lines within the U.S.
This follows on the travesty of the Biden Afghanistan withdrawal, the Biden border, the Biden budget, and Biden policies that are disrupting American life that is doing anything but returning to normal. Wasn't that another part of what he pledged?
Stop and think, says Damani Bryant Felder, a.k.a. thedamanifelder.
"I'm not a victim. I defy the narrative. I think for myself. Try it. America 1st," said Felder.
Not just "America First," which makes far more sense that "globalist" first. If it is difficult to get Washington, D.C. to listen, how much harder would it be to get some global elitists government to listen? What's gone wrong is that the limits on government were breached decades ago. Federal treachery have all too often seeped into state and local treachery too.
Blatant violations of basic math, not to mention breaches of constitutional law, are in the open. These are all openly plugged by what amounts to propaganda videos by the WEF. If you rent everything, you will own nothing. But if you rent everything, one should ask, who will own everything? By looking at the flip side of that propaganda, this is a pitch for elites owning all, while you and others own nothing. That's logic 101. That's what the WEF is saying, only in their own words where they hope to persuade people to accept their globalist scheme. Khanna's missive above is just the latest part of their pitch.
The videos were produced by the World Economic Forum (WEF).
Such blinding nonsense and breathtakingly bold lies should be enough to make anyone still thinking objectively that something is terribly wrong in Washington, D.C.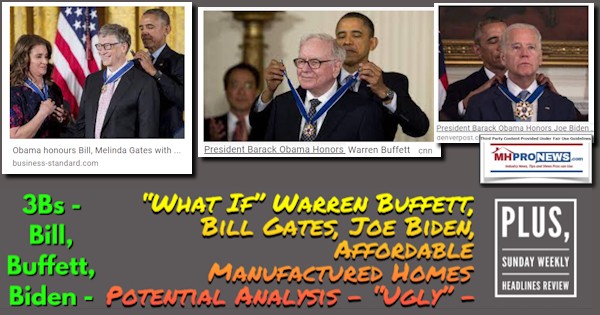 Biden pledged to bring Americans together during his campaign. But he has governed along lines of racial, gender, class, and other divisions. For those who believe that 'taxing the rich' only impacts those who are earning over $400,000, just think about rising fuel, food, and other prices, and the disruption of supply chains that can be traced back to governmental and corporate elitist policies.
For those who may have forgotten, or never learned, when a corporation gets taxed, that is a cost of business. Those costs have to be covered in their selling prices. Translated, corporate taxes are always passed onto consumers. When the income tax, or the withholding tax where passed, they were 'only on the rich' and the later where 'temporary.' Over 100 years later, the slow motion method of transforming society becomes clear. Lie up front, and hope that the lie takes root. Anyone that things that Biden is going to bite the hands that put him in office is not paying close enough attention.
Per move: "Ever more people are living in mobile homes and other movable dwellings. Even "fixed" investments have become fungible: We can 3D print buildings, set up factories and hospitals anywhere…" If you read Move carefully, it does not contradict the Great Reset "you will own nothing and you will be happy" propaganda line. Rather, Khanna's Move thesis fits into the Great Reset.
Clearly, owners, employees, investors have to do the basics to keep their business and career interests going. But one must not lose site of the big picture that has swept America and dozens of other 'western' nations globally. Canada, Australia, England, France, New Zealand, and other 'western' nations are suffering under their version of these same issues. Socialism has always come to power by lying to the people. Socialism has always created a worse class divide, not a more equitable one. Look at Cuba. Look at Venezuela, once among the wealthiest Latin American countries and the people there are now starving. Look at the difference between North and South Korea. That doesn't mean that South Korea, or the U.S. for that matter, is or was perfect. They never has been.  But the blizzard of lies is part of a century-old playbook that swept Bolsheviks to power in Russia, Nazis (National Socialists) to power in Hitler's Germany, or socialists/communists to power in China, Vietnam, Cuba, or Venezuela, to name a few. Individuals who came to the U.S. from those countries are warning Americans that what is occurring here is a modern version of their all-too-well known tragic tales. But it is avoidable here.
Some deception is subtle. Case in point, how MHI has talked about "enhanced preemption" but failed to do something meaningful to get enhanced preemption from words on a paper into a reality that could cause manufactured housing to boom. Accessory Dwelling Units (ADUs) are booming in California. Why? Because of state preemption of local zoning. Well, manufactured housing leaders pre-the Warren Buffett led Berkshire-era of manufactured housing enacted national federal "enhanced preemption." There is widespread agreement – on paper – among industry pros what that means. Democrat lawmakers agreed. So, why has MHI – including a recent example of one of their state association affiliates ignoring a chance to do something about preemption?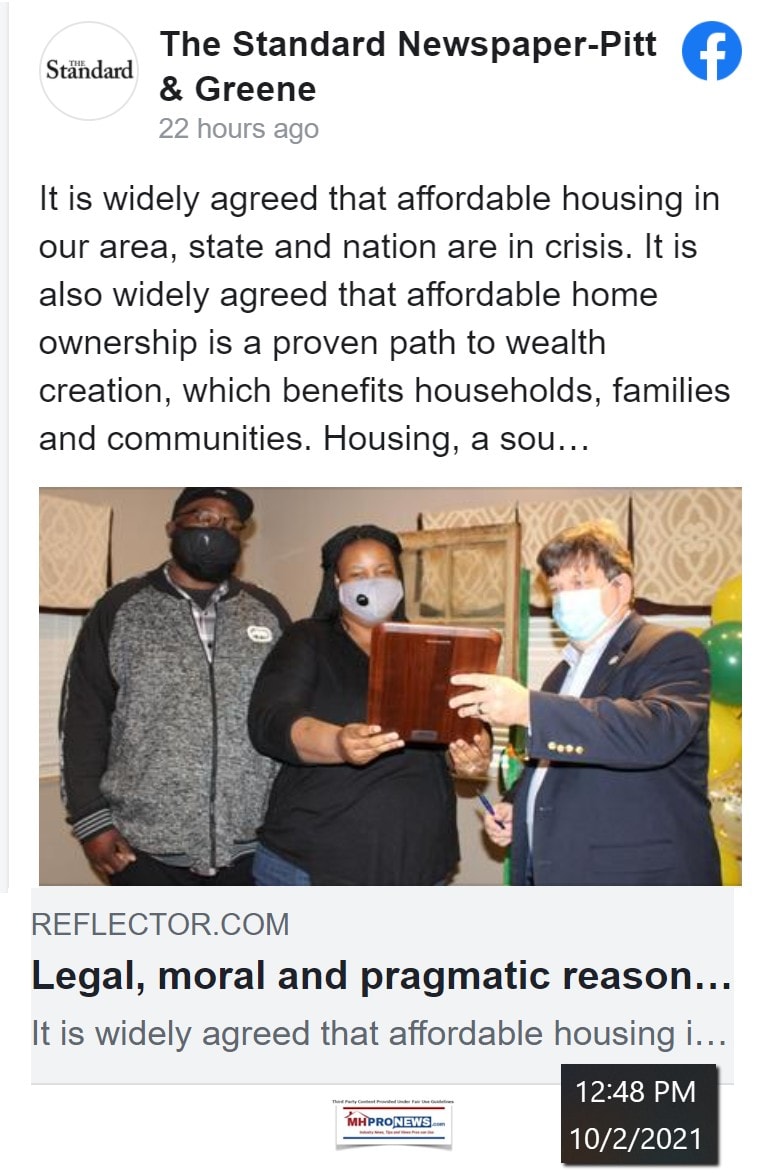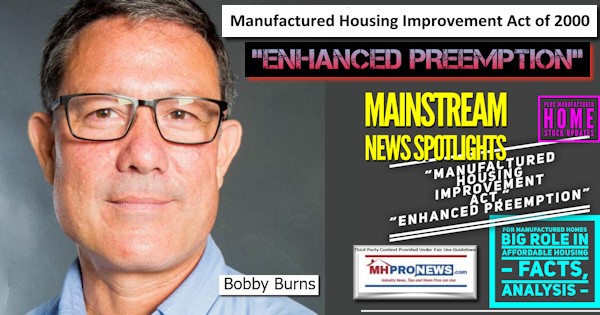 Look carefully at who is doing what. Some of the same people behind the "Great Reset" are also backers of MHI. This is just factually accurate. Ignore these facts at your own peril.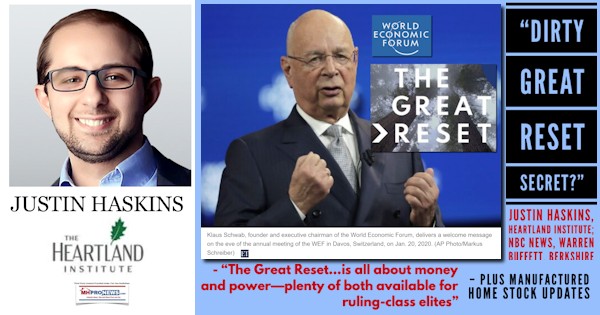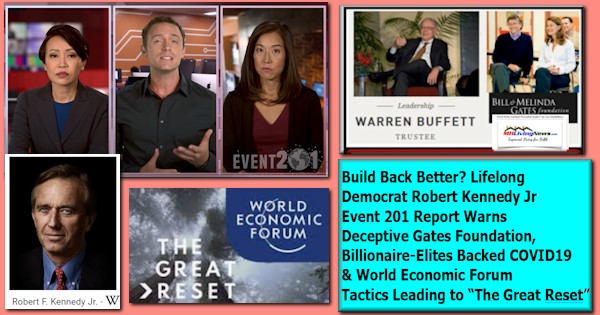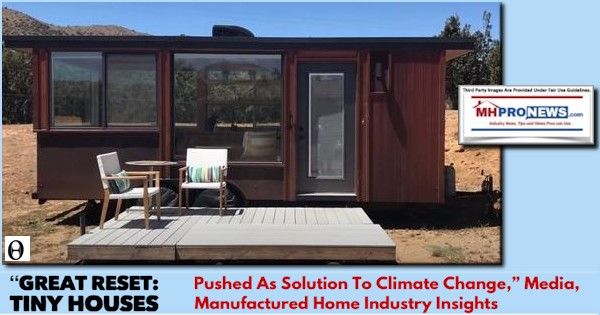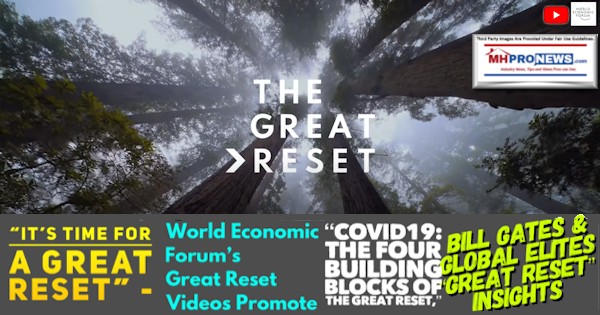 What to do about the powers that be? Stay tuned. But the words can come down to investigation at the state/federal levels coupled with law enforcement.
##
Next up is our business daily recap of yesterday evening's market report, related left-right headlines, and manufactured housing connected equities.
The Business Daily Manufactured Home Industry Connected Stock Market Updates.  Plus, Market Moving Left (CNN) – Right (Newsmax) Headlines Snapshot. While the layout of this daily business report has been evolving over time, several elements of the basic concepts used previously are still the same. For instance. The headlines that follow below can be reviewed at a glance to save time while providing insights across the left-right media divide. Additionally, those headlines often provide clues as to possible 'market-moving' news items.
Market Indicator Closing Summaries – Yahoo Finance Closing Tickers on MHProNews…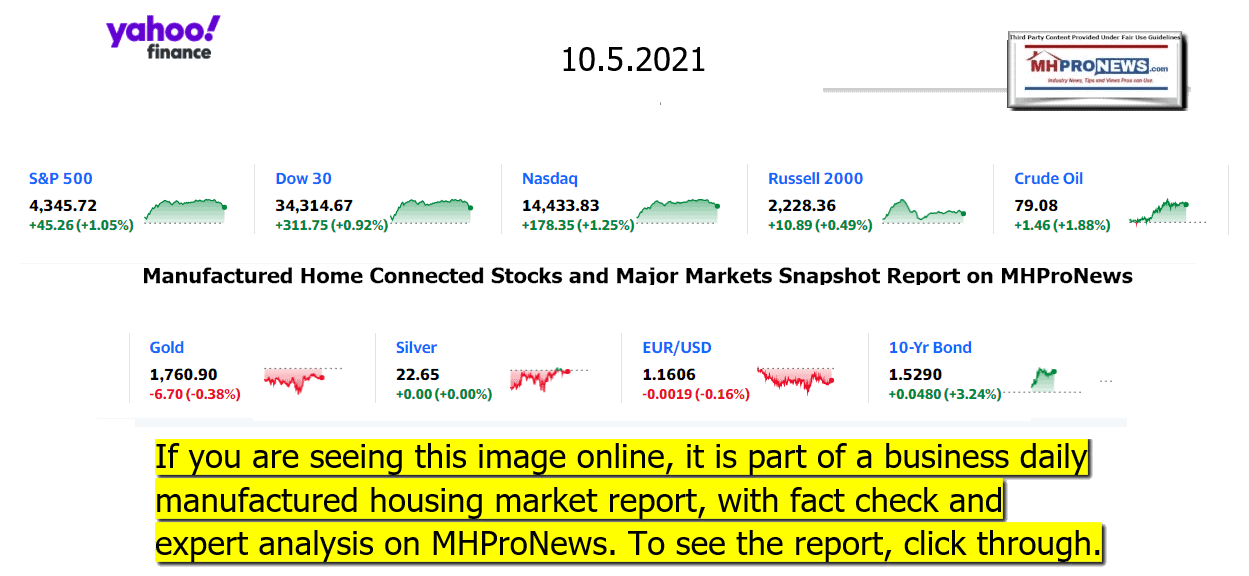 Headlines from left-of-center CNN Business – from the evening of 10.05.2021
'Toxic' effects
WASHINGTON, DC – OCTOBER 5: Former Facebook employee and whistleblower Frances Haugen testifies during a Senate Committee on Commerce, Science, and Transportation hearing entitled 'Protecting Kids Online: Testimony from a Facebook Whistleblower' on Capitol Hill, October 05, 2021 in Washington, DC. Haugen left Facebook in May and provided internal company documents about Facebook to journalists and others, alleging that Facebook consistently chooses profit over safety.
These are the key things the Facebook whistleblower told a Senate panel today
HIGHLIGHTS Senators were gripped by Haugen's powerful testimony
Facebook breakup: Why it's a bad idea
Cruelty: Bullying on Instagram follows kids home
Analysis: Facebook revelations are shocking. But nothing will change until Congress acts
National security concerns: Site is used by 'authoritarian or terrorist-based leaders'
Missing CEO: Where is Mark Zuckerberg?
Section 230: What it is
The threat: Facebook 'weakens our democracy'
Retribution: Whistleblower believes company could 'destroy' her
Star witness: Here's what we know about Frances Haugen
Teens: Instagram promoted pages glorifying eating disorders
Watch: Late-night lampoons Facebook after colossal outage
MORE TOP STORIES
A Tesla Model 3 is seen on the body line at the Tesla factory on Wednesday, July 18,  2018 in Fremont, Calif.
Ex-Tesla contractor awarded $137 million in racial harassment suit
T-shirts and jeans may get more expensive as cotton prices hit 10-year high
Don't worry (too much) about an October market crash
US default would trigger 'significant volatility' and 'breakages' in financial system, SEC Chairman warns
Dow jumps more than 300 points
Oil nears $79 a barrel after OPEC rejects calls for more output
Manhattan apartment sales hit a 30-year high
Bitcoin tops $50,000 for the first time in a month
Microsoft begins rollout of Windows 11
Elizabeth Warren demands insider trading investigation of the Fed
Here's who owns the pipeline that caused the Southern California oil spill
Chinese developer Fantasia can't pay its debts. That's stoking real estate fears
Grey Poupon wine now exists
Wendy's is turning its Frosty into a cereal
Amazon starts Black Friday deals early. Like, now
HOLIDAY SHOPPING
National Tree Company.
Holiday bummer: Prices are soaring for Christmas trees and decorations
Amazon is starting its Black Friday deals now
How America ruined Christmas
These stores are in for a tough holiday season
Why authors and booksellers want you to order holiday gifts now
CLIMATE CRISIS
Discarded mobile phones are collected for recycling at the electronic waste recycling plant of Total Environmental Solutions (TES) in Bang Pa-in Industrial Estate, Ayutthaya province, Thailand, 03 July 2020.
Want to help the environment? Don't toss your old iPhone, fix it
Big Oil is fighting climate rules in Build Back Better
OPINION How companies can reduce carbon emissions
This gin made from peas is good for the climate
Ford making its biggest manufacturing investment to build EV factories
Headlines from right-of-center Newsmax – evening of 10.05.2021
Arizona AG: There's a Border Agent Purge at Biden's Pro-Immigrant DHS
President Donald Trump speaks with Border Patrol Chief Rodney Scott as they participates in a ceremony commemorating the 200th mile of border wall at the international border with Mexico in San Luis, Arizona, in June 2020.
The Department of Homeland Security appears to be "purging" leaders who speak the truth about the Biden administration's immigration crisis at the southern border, Arizona Attorney General Mark Brnovich wrote in a letter to Homeland Security Secretary Alejandro Mayorkas on Tuesday. [Full Story]
Newsmax TV
Braun on Biden's Agenda Roadshow | video
Meuser: Worry About Reconciliation Bill's Content, Not Just Cost | video
Hinson: Dems Wanted Combined Spending Bills All Along | video
Luetkemeyer: Biden's Agenda Push 'Too Little, Too Late' | video
Wittman: Bill Calls for Accountability From China on COVID | video
Johnson: Lower-Priced Spending Bill Still Too Much | video
Fired Texas Nurse: I Lost My Job, Livelihood Not Getting Vaccine | video
T. McFarland: China Aims to Intimidate, Not Attack, Taiwan | video
More Newsmax TV
Newsfront
Col. Scheller Released, Pending Court-Martial
Col. Stuart Scheller has been given a conditional release from the brig Tuesday, the military jail at Camp Lejeune, North Carolina, pending a court-martial, lawyers for the family confirmed to Newsmax…. [Full Story]
Arizona AG: Border Agent Purge at Pro-Immigrant DHS
The Department of Homeland Security appears to be "purging" leaders [Full Story]
Biden Pushes Plans as Key to Keep US From 'Losing Our Edge'
Calling opponents of his plans complicit in America's decline," [Full Story]
Sinema Bathroom Harassment Downplayed by Biden, Progressives
President Joe Biden on Monday appeared to downplay liberal activists' [Full Story] | platinum
No, Arizona Can't Use COVID Money for Anti-Mask Grants, Feds Say
No, Arizona Can't Use COVID Money for Anti-Mask Grants, Feds Say
The Biden administration on Tuesday ordered Arizona Gov. Doug Ducey [Full Story]
Related
Pfizer Vaccine 90 Percent Effective Against Hospitalization For 6 Months: Study
Ohio COVID Patient Dies, Wife Sued to Force Ivermectin Treatment
Wall Street Ends Sharply Higher as Big Tech Roars Back
Wall Street ended sharply higher on Tuesday, as Microsoft and Apple [Full Story]
New York Healthcare Mandates Put 'a Bullseye on Religious Beliefs'
Attorneys representing New York state healthcare workers faced with [Full Story] | platinum
Trial Begins to Assess Damages in 2017 Texas Church Massacre
A trial to assess damages owed to families of the victims of the [Full Story]
Facebook 'Operating in the Shadows,' Says Whistleblower as Lawmakers Demand Probes
Lawmakers pounded Facebook on Tuesday, accusing CEO Mark Zuckerberg [Full Story]
Macron to Meet Biden at G20, Hopes to Move On After Sub Dispute
French President Emmanuel Macron said on Tuesday he hoped to close a [Full Story]
Manchin: Immigration 'Too Big' for Biden's Social Spending Package
Joe Manchin, D-W.Va., says immigration reform is "too big"to fit [Full Story]
UN Report Warns of Global Water Crisis Amid Climate Change
UN Report Warns of Global Water Crisis Amid Climate Change
Much of the world is unprepared for the floods, hurricanes and [Full Story]
Seniors Under 86 Years Of Age Get Up To $50000 In Life Ins For $19/Mth
National Family Assurance
Nikki Haley: GOP Needs Trump
Former U.N. Ambassador Nikki Haley said Tuesday she would consult [Full Story]
Putin Calls for Smoother Transition to Green Technologies
Russian President Vladimir Putin said Tuesday that "the hysteria" [Full Story]
Judge Refuses to Toss Weapons Charge Against Rittenhouse
A judge refused to dismiss a weapons charge Tuesday against an [Full Story]
CIA Admits Dozens of Informants Killed Over Years
The Central Intelligence Agency admitted in a top secret cable to [Full Story]
Texas Board Recommends Posthumous Pardon for George Floyd in 2004 Drug Conviction
The Texas State Board of Pardons and Paroles is recommending a full [Full Story]
Senate Republicans Want Bipartisan Committee to Investigate Afghan Exit
Senate Republicans on Tuesday introduced legislation aimed at [Full Story]
DNC Orders Its Workers to Get Vaccinated
Unvaccinated workers for the Democratic National Committee have been [Full Story]
Army Probing Raising of Confederate Flag at US Base in Germany
Military police areinvestigating an incident earlier this week at a [Full Story]
Arizona Barred From Using Federal Funds to Undermine School Mask Requirements
Deputy Treasury Secretary Wally Adeyemo told Arizona Governor Douglas [Full Story]
Pentagon Orders Civilian Workers to Be Fully Vaccinated by Nov. 22
The Department of Defense is mandating that all civilian workers get [Full Story]
Famous Author Refuses to Sell Novel on Amazon: 'I Don't Like Bullies'
Author Dave Eggers is taking a stand against Amazon by refusing to [Full Story]
Texas Supreme Court Denies Planned Parenthood Request to Resume Abortion Law Challenge
The Texas Supreme Court on Monday denied Planned Parenthood's request [Full Story]
DOJ Reviews Decision to Not Prosecute Agents in Nassar Case
The Justice Department said Tuesday that it is reviewing an earlier [Full Story]
'Bridgerton' Emmy Winner Marc Pilcher Dies of COVID at 53
Marc Pilcher, the award-winning hairstylist and makeup designer who [Full Story]
Chicago Mayor, State's AG Clash Over Deadly Shootout After AG Declines to File Charges
Chicago's mayor and a top prosecutor are at each other's throats over [Full Story]
New York Bars Sole Unvaccinated Judge From Courthouse
One of New York state's most senior judges has refused to get [Full Story]
NY Gov. Hochul Halts Cuomo's $2.1B AirTrain Project
Kathy Hochul has decided not to continue with disgraced ex-Gov. [Full Story]
Capitol Police Arrest Man Who Parked Suspicious Vehicle Outside Supreme Court
S. Capitol Police said they were investigating a suspicious vehicle [Full Story]
More Newsfront
Finance
Facebook Engages in 'Counter Espionage': Data Scientist
In what has already been characterized as "powerful" and "courageous" testimony, Facebook whistleblower Frances Haugen testified before Congress on Facebook's underhanded practices to remain profitable at all costs. [Full Story]
Brady's Return Leads NBC to Strong Sunday Football Ratings
Dollar Edges Higher with Friday's Payrolls Data in Focus
The Freedom Phone: How Private Tech David's Can Beat the Goliaths
Workers at All of Kellogg's US Cereal Plants Go on Strike
More Finance
Health
Study Highlights Difficulty of Stopping Antidepressants
A study of British patients with a long history of depression highlights how difficult it can be to stop medication, even for those who feel well enough to try. Slightly more than half the participants who gradually discontinued their antidepressants relapsed within a year…. [Full Story]
What You Need to Know About Breast Cancer Prevention and Screening
Pfizer Vaccine 90 Percent Effective Against Hospitalization For 6 Months: Study
The Health Benefits of Hugging
How You Feel About Your Social Status Can Affect Your Health
Manufactured Housing Industry Investments Connected Equities Closing Tickers
Some of these firms invest in manufactured housing, or are otherwise connected, but may do other forms of investing or business activities too.
NOTE: The chart below includes the Canadian stock, ECN, which purchased Triad Financial Services, a manufactured home industry lender
NOTE: Drew changed its name and trading symbol at the end of 2016 to Lippert (LCII).
NOTE: Deer Valley was largely taken private, say company insiders in a message to MHProNews on 12.15.2020, but there are still some outstanding shares of  the stock from the days when it was a publicly traded firm.  Thus, there is still periodic activity on DVLY.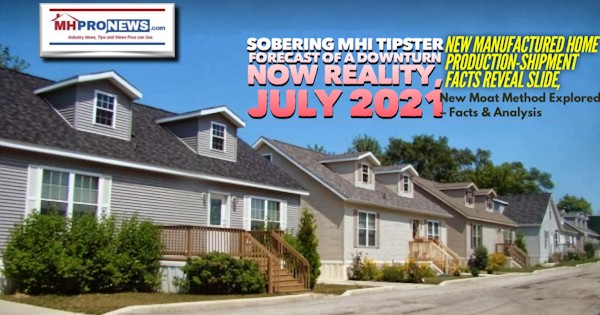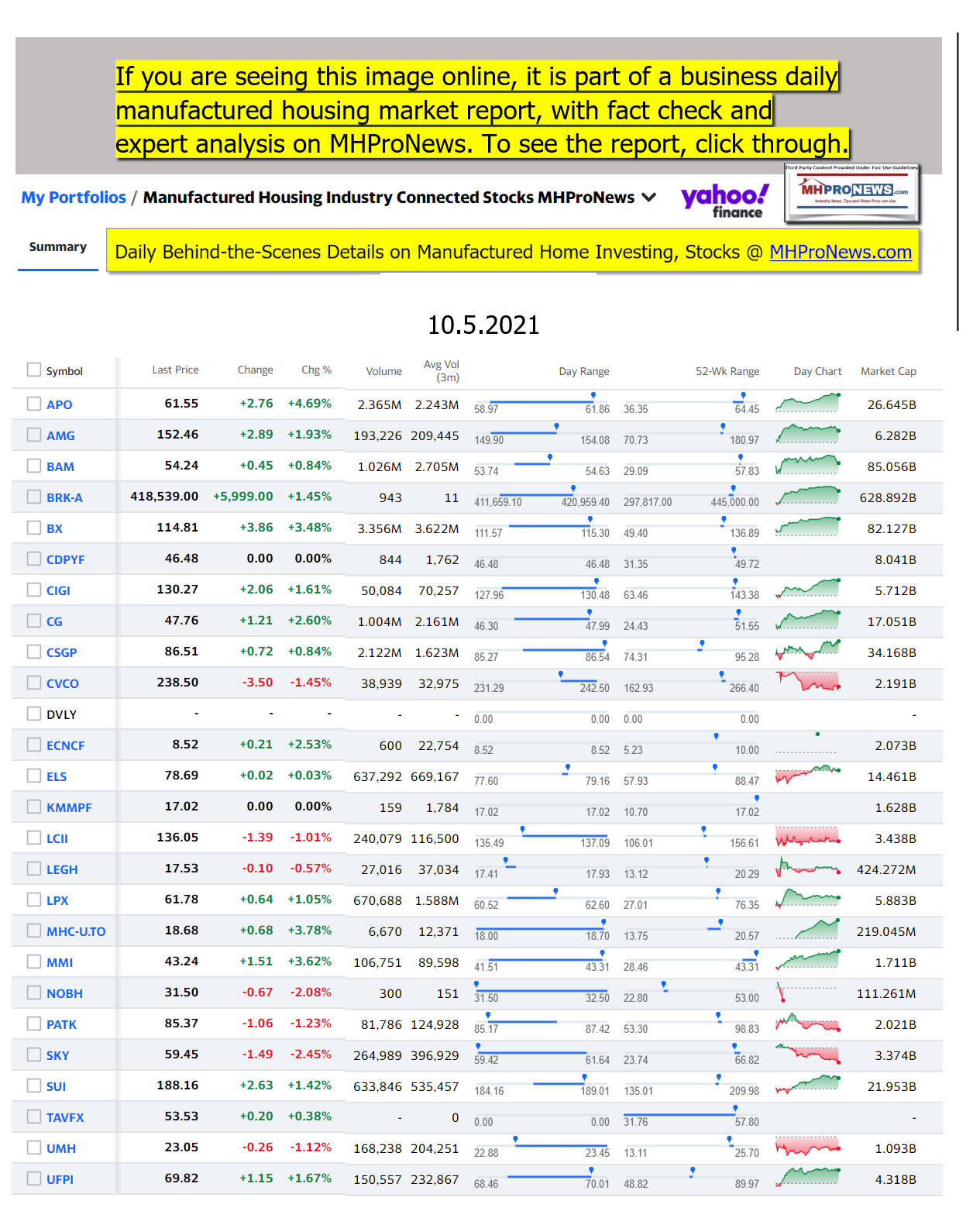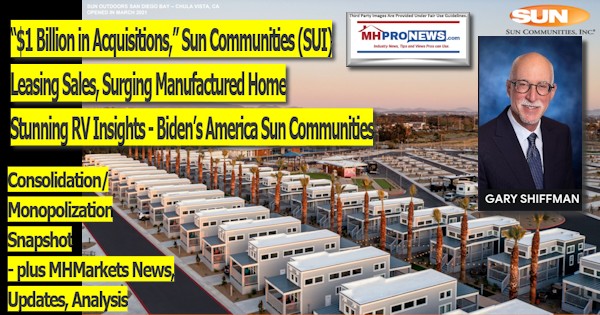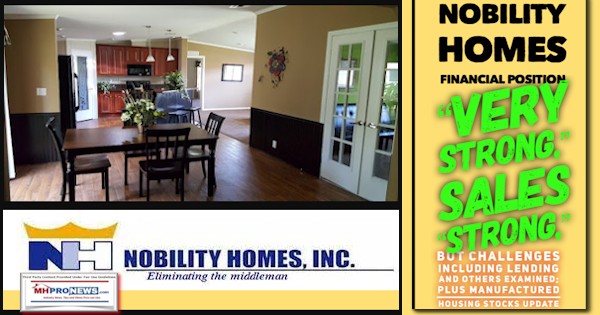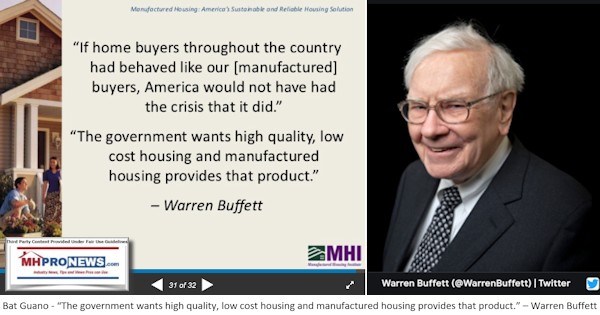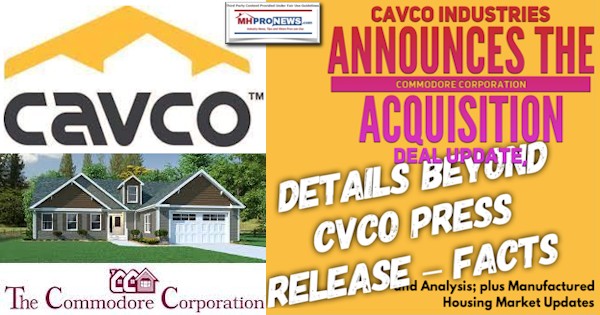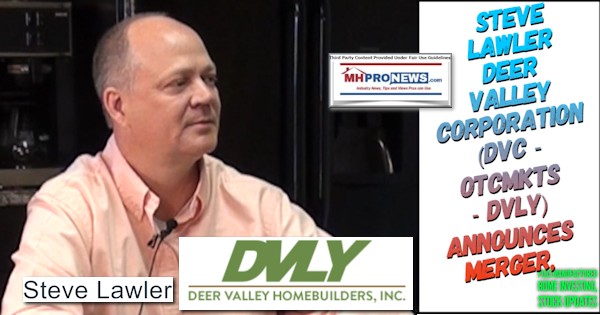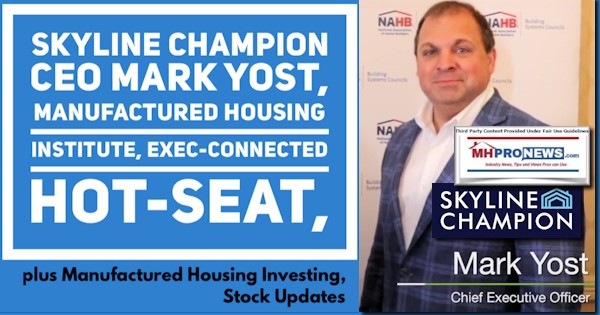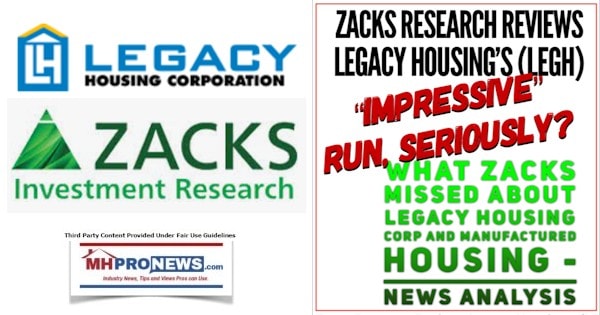 As the Summer of 2021 draws to a close…
Berkshire Hathaway is the parent company to Clayton Homes, 21st Mortgage, Vanderbilt Mortgage and other factory built housing industry suppliers.
· LCI Industries, Patrick, UFPI, and LP each are suppliers to the manufactured housing industry, among others.
· AMG, CG, and TAVFX have investments in manufactured housing related businesses. For insights from third-parties and clients about our publisher, click here.
Enjoy these 'blast from the past' comments.
MHProNews. MHProNews – previously a.k.a. MHMSM.com – has celebrated our 11th year of publishing, and is starting our 12th year of serving the industry as the runaway most-read trade media.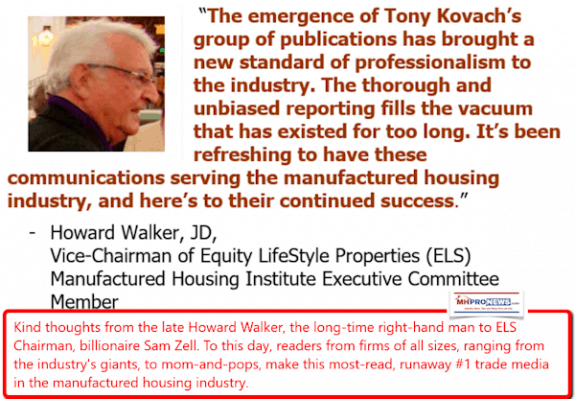 Sample Kudos over the years…
It is now 11+ years and counting…
Learn more about our evolutionary journey as the industry's leading trade media, at the report linked below.
· For expert manufactured housing business development or other professional services, click here.
· To sign up in seconds for our industry leading emailed headline news updates, click here.

Disclosure. MHProNews holds no positions in the stocks in this report.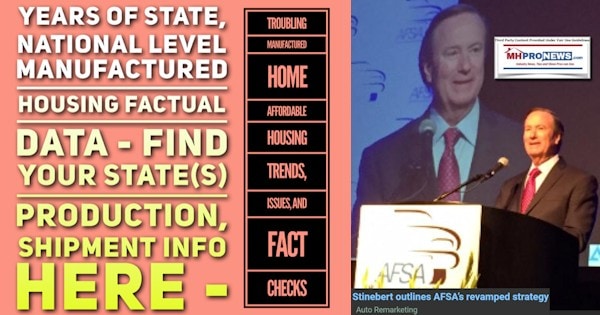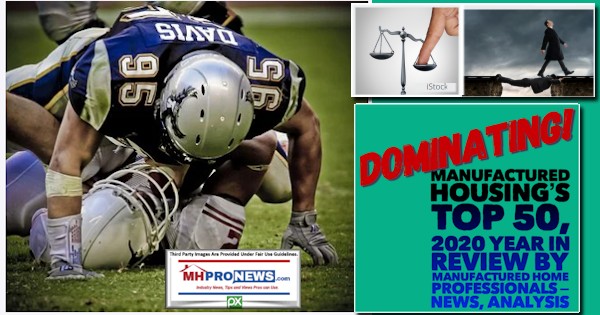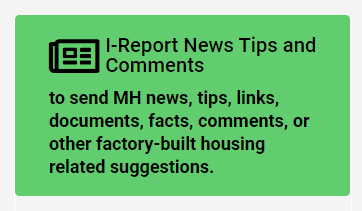 That's a wrap on this installment of "News Through the Lens of Manufactured Homes and Factory-Built Housing" © where "We Provide, You Decide." © (Affordable housing, manufactured homes, stock, investing, data, metrics, reports, fact-checks, analysis, and commentary. Third-party images or content are provided under fair use guidelines for media.) (See Related Reports, further below. Text/image boxes often are hot-linked to other reports that can be access by clicking on them.)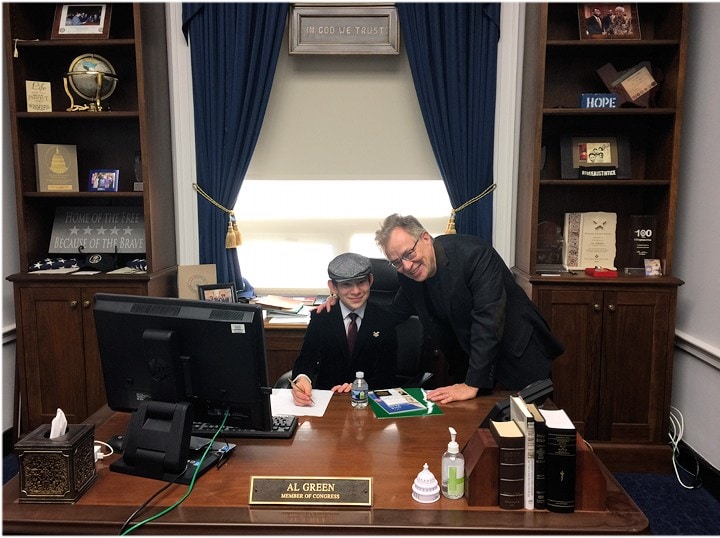 By L.A. "Tony" Kovach – for MHProNews.
Tony earned a journalism scholarship along with numerous awards in history. There have been several awards and honors and also recognition in manufactured housing. For example, he earned the prestigious Lottinville Award in history from the University of Oklahoma, where he studied history and business management. He's a managing member and co-founder of LifeStyle Factory Homes, LLC, the parent company to MHProNews, and MHLivingNews.com. This article reflects the LLC's and/or the writer's position, and may or may not reflect the views of sponsors or supporters.