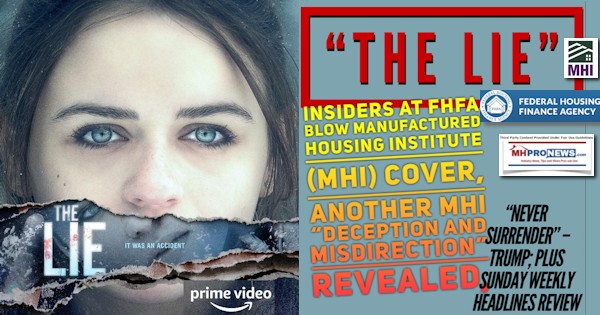 "The Lie" is a movie streaming on Prime video. As the name suggests, it is about a lie and how one lie leads to others with twisted, unexpected consequences. In manufactured housing there is not just one lie, there are several. While radically different than the Prime movie, lies in manufactured housing have led to several others. As in "The Lie" movie, the deceit deployed against unsuspecting producers, retailers, communities, consumers, or others also produced twisted, costly, and tragic outcomes. It is with that backdrop that our headlines for the week, revelations from insiders at the Federal Housing Finance Agency (FHFA), and the "Save America" rally by the 45th President of the United States (POTUS), Donald J. Trump are provided to MHProNews readers.
Why do people tell lies? Usually, because they want
something and they are afraid that the truth won't get it for them.
Lines from the classic video clip in Charade, shown below.
Insiders at FHFA "on background" provided MHProNews with recent tips. These relate to items that that Fannie Mae officials deliberately ducked on, see that among the headlines for the week that was, the later of which is shown below.
As newcomers need to know and regulars bear reminding, the FHFA is regulator and "conservator" of both Fannie Mae and Freddie Mac.  Fannie and Freddie are federally charted corporations. Fannie and Freddie are the 'mortgage giants' known as Government Sponsored Enterprises (GSEs or the "Enterprises").
As another report below that provides perhaps the most inclusive timeline for key events in the 21st century of manufactured housing published to date anywhere, Warren Buffett led Berkshire Hathaway had stock in both GSEs. The Enterprises are supposed to be operating under a "mandate" that requires them to provide access to competitive lending in manufactured housing. But as that report linked below reminds and/or informs industry readers and others, the lending that has been provided to manufactured housing under a mandated duty has by and large not flowed to single-family manufactured home lending. That statement is largely agreed to by the ubiquitous and self-proclaimed production and post-production – "all segments of" factory-built housing called the Manufactured Housing Institute (MHI). Their smaller national rival, which is focused on the interests of independent producers is the Manufactured Housing Association for Regulatory Reform (MHARR). MHARR has accused certain key officials at the FHFA, Fannie Mae, Freddie Mac, MHI, and the corporate powers behind MHI of engaging in a "shell game." That and more are among the timeline and or other headlines in the week that was, below.
No less an MHI member than Kevin Clayton is on record having told Congress on behalf of MHI that lack of lending in manufactured housing is keeping the industry at bay.
Then, Doug Ryan – an affordable housing and pro-manufactured home advocate at the CFED nonprofit which rebranded as Prosperity Now accused Clayton and MHI of essentially colluding to rig the market to limit lending and thus monopolize manufactured housing. While MHI's Lesli Gooch publicly denied that claim, third-party researchers and industry insiders – in their own words – have called BS.
While MHI keeps touting on the first item on their home page slider the obviously failed CrossModTM homes scheme, those FHFA insiders told MHProNews this past week just how pathetically deceptive MHI and their CrossModTM has been.
After years of hype, claims about third-party research that MHI paid well north of 6 figures for, per MHI's own insider documentation previously obtained by MHProNews, here is precisely what officials at the FHFA said to sum up the FACTS on Fannie and Freddie with respect to CrossMods. Newcomers should know that Fannie calls their loan program for CrossMod "MH Advantage ®." Freddie calls their loans on the Clayton (BRK)-Skyline Champion (SKY)-Cavco Industries (CVCO) supported MHI CrossMods scheme CHOICEHome®. All of the years of hype, all of the broken promises can be summed up in these two pull quotes from a longer revelation by FHFA exclusively to MHProNews provided on September 23, 2021, 3:19 PM.
"On background, based on the annual reports submitted by the Enterprises and published on the Duty to Serve website, Fannie Mae purchased 19 MH Advantage loans between 2018 and 2020, 6 of which were eligible for DTS credit.  All of these loan purchases were in 2020," said that source to MHProNews.

"Freddie Mac has not reported or sought DTS credit for any CHOICEhome loan purchases during the period 2018-2020."
Let's sum those facts, per the FHFA source, up and add some other known insights.
19 loans.
6 qualified for DTS credits.
All where from Fannie Mae, says FHFA sources.
None of those loans where from Freddie Mac, which Berkshire used to have quite the stake in, as is reported in one of our deep dive headlines for the week that was, further below.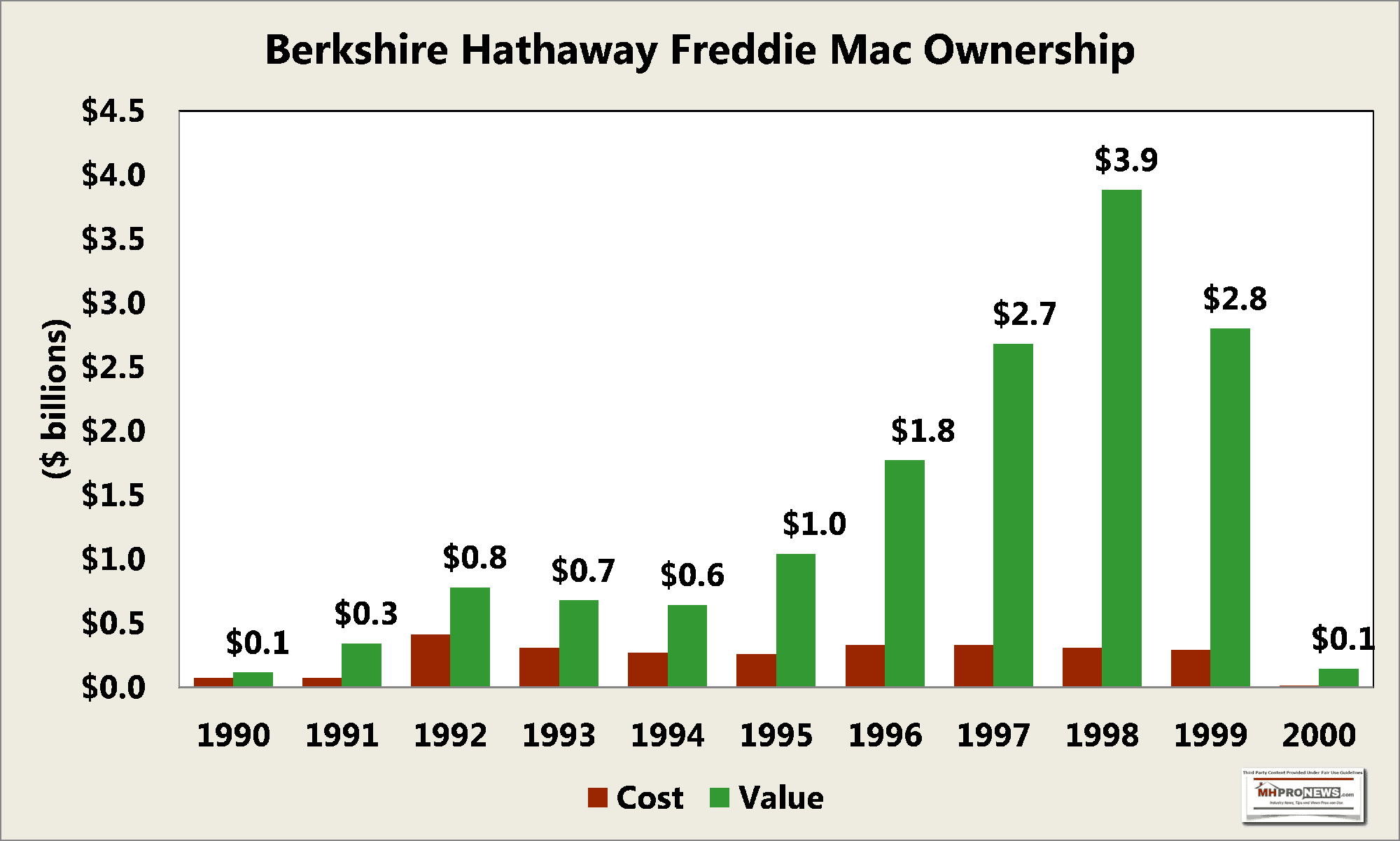 MHProNews plans to unpacked more information provided by those sources and others at FHFA in the near term. But the above is sufficient to make the point that the BIG LIE has been at work at MHI. It apparently involves several of their top brands. Fannie and Freddie, federally chartered entities or corporations, have been busily making living in manufactured home communities less affordable per NPR and other sources. Who says that this cabal is working to subvert manufactured home lending from within? How about Samuel Strommen for Knudson Law? Ryan for Prosperity Now? Mark Weiss, J.D., President and CEO at MHARR?
And to the broader point that manufactured home owners have been thwarted from even more value and appreciation, look to the Modular Home Builders Association (MHBA) Executive Director Tom Hardiman, who publicly ripped MHI for being deceptive.
19 stinking loans, only 6 got DTS "credits." And the former FHFA "Duty to Serve" (DTS) program director in his exit statement had the cajones to say that they have not made much progress?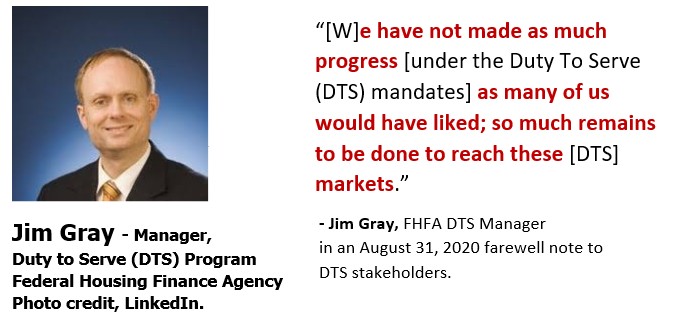 A Big Lie at MHI has per an array of sources led to others.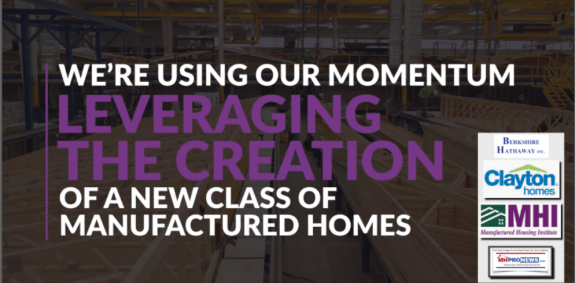 Yet, not any of the other trade publishers or bloggers that saddle up for drinks or meals with MHI leaders that revealed this and other such sobering FACTS to the industry. That's only found on MHProNews and/or our MHLivingNews sister site in FACTUAL and evidence-based reports link the one below.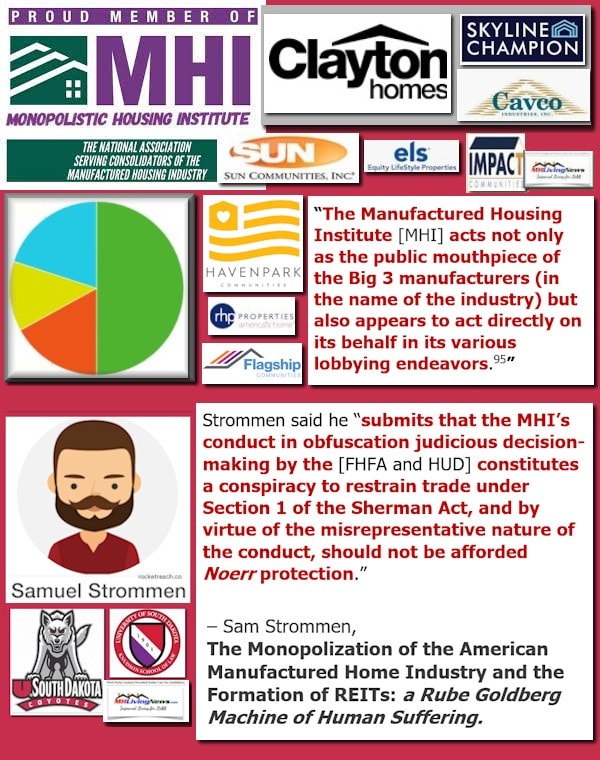 When an insider at MHI-member producer tipped MHProNews that another downturn was coming, it only took weeks for the first new manufactured home production and shipment data to reflect that claim.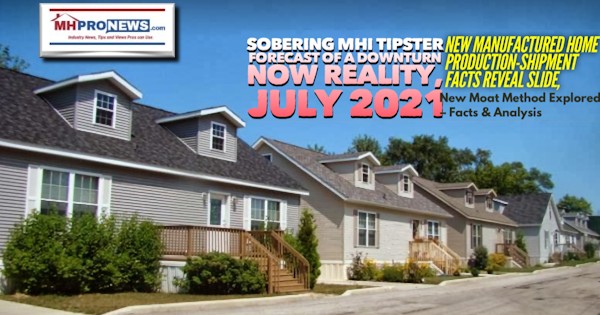 Keep in mind that it was MHProNews that projected 3½ years ago that what MHI was then calling a "new class of homes" before they finally renamed it CrossMods was a Trojan Horse for the industry.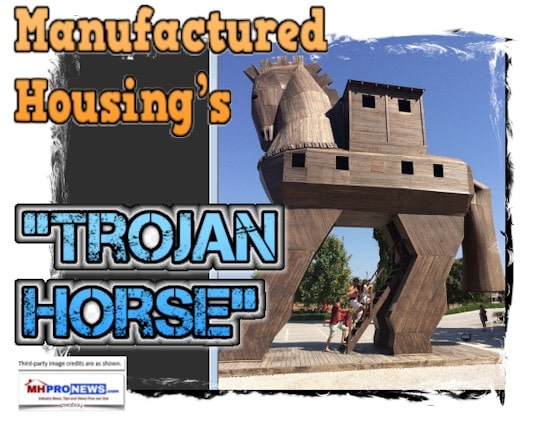 What was the goal of that "deception and misdirection" ploy? Per Strommen, Ryan, and others, the steady monopolization of manufactured homes. And the latest evidence comes straight from federal officials who cited official data supplied by Fannie and Freddie, who have paid MHI to sponsor meetings.
What a neat trick, if you happen to be in the consolidation business. But it is an arguably disastrous and diabolical lie straight from hell if you happen to be one of those who wanted to refinance a manufactured home, but could not do so for lack of a secondary market that makes it possible for conventional housing owners.
So, at 4.09 AM on September 26, 2021, MHI is still doing what con artists through the years have done when they are caught in a confidence game (con game, or con job). They have to maintain the con. To do otherwise is to then admit that they were engaged in illegal practices that are forbidden under various federal laws. Again, see Strommen's legal thesis for the details.
Strommen quote.
Among our readers are dozens of members of the Manufactured Housing Executives Council (MHEC), state associations that are routinely MHI affiliate members. Some of those are in the business of going along to keep their jobs. But some are among the occasional sources that tip MHProNews on this or that. It includes the MHEC member who said that MHI is guilty of "association malpractice."

Several of those state executives likely know collectively among them several thousand industry retailers that once were profitable businesses, but now are now more.
The lesson of history is that anything that has happened before can happen again. You do not have to be a Democrat or favor Democratic policies to have to nod your head in agreement with House Majority Whip James "Jim" Clyburn (SC-D) on that keen insight.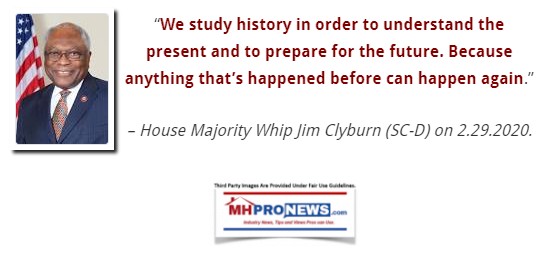 Why do independents of all kinds, MHI insiders, their attorneys, federal officials and others flock to MHProNews and MHLivingNews by the thousands day by day? Because they know that they will find FACTS, EVIDENCE, and applied COMMON SENSE in rational news and analysis found in reports like this one.
Do not miss the Postscript for the Trump Georgia Rally last night, where he made his "never surrender" comments and much more.
As a teaser, there are new revelations about Berkshire Hathaway, Warren Buffett, and one of the latest moves that are apparently underway to subvert HUD Code manufactured housing. That may be published as soon as this week.
There are several additional revelations ahead. These and the reports that follow are why industry pros, consumers, researchers, public officials and others continue to stream to MHProNews for the facts, figures, and in-your-face analysis that defies the MHI supported lies.
When a sizable and power-connected con job is ongoing, it is useful if not essential for the truth to be repeated, read, viewed, and discerned time and again. Otherwise, the Big Lie can over time, and through a variety of MHI supported channels risk buying into a lie, even after having been exposed to the truth.
As an MHI board member messaged MHProNews this week, the report on Cavco Industries and "Project Saturn" is packed with insights that come straight from the Securities and Exchange Commission (SEC) lawsuit. Another publisher mentioned the matter in a brief that was more of a bury of the lead than an actual report.
Some have known for years what is going on in our once far greater profession. But many were blind-sided by smiling faces at meetings they both attended. We believe in peaceful resistance. But it would not be a surprise if someone was tempted to take the law into their own hands and claim vengeance for those who stole their part of the American Dream. We caution against that strongly, and will show the better way in the next revelation from Washington, D.C. coming soon.
The FHFA insiders have helped document  just how duplicitous the apparent tall tales from the Clayton Homes- and "Big 3" producers-backed MHI has been when the carefully examined facts, history, and trends are laid out like puzzle pieces. Those puzzle pieces reveal telltale fingerprints of one deceit followed by other deceptions that are not based on conjecture or 'conspiracy theory,' but on evidence that others have said publicly and privately.
Select your analogy. The Lie, or Charade are just movies that can be streamed to divert the mind for a while, they are works of fiction.  But the methods aptly described by the Capital Research Center they've dubbed "deception and misdirection" appear to be at work in our profession.  The evidence strongly indicates that such deceptions are apparently quite real. It is the only thing that explains why once far greater manufactured housing a mere shadow of its former self. Meanwhile, in the RV industry – which also has Buffett-backed Berkshire as a major players – has per Sun Communities and others grown to the RV industry's highest levels in that profession's history.
In the movie streaming on Prime, those caught in "The Lie" keep repeating it and tell one after another to cover their tracks. That's a bit of insight that is insightful for human nature. Some, instead of admitting their lie, will simply tell others.
With no further adieu, here are the headlines for the news and reports for the week that was from 9.19 to 9.26.2021.
What's New on MHLivingNews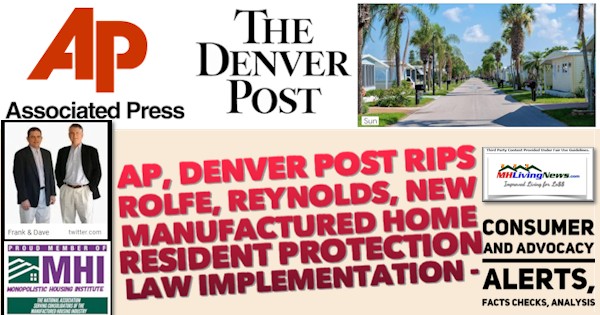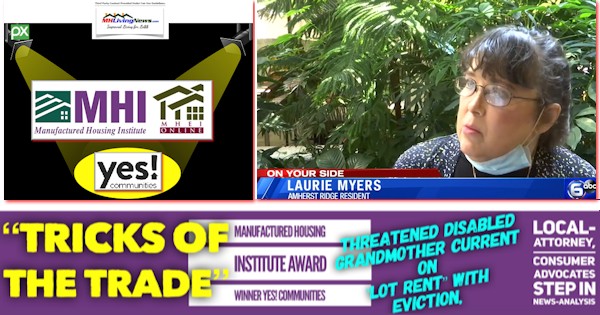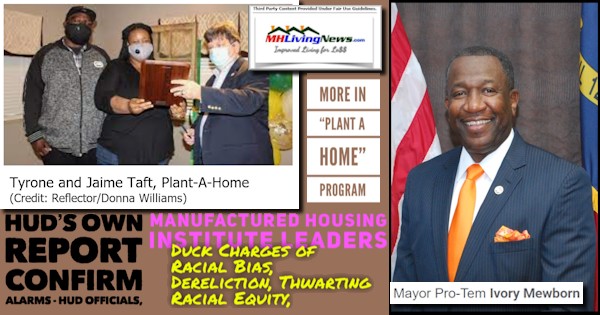 What's New on the Masthead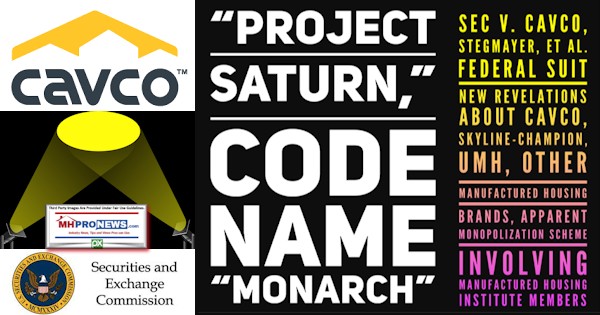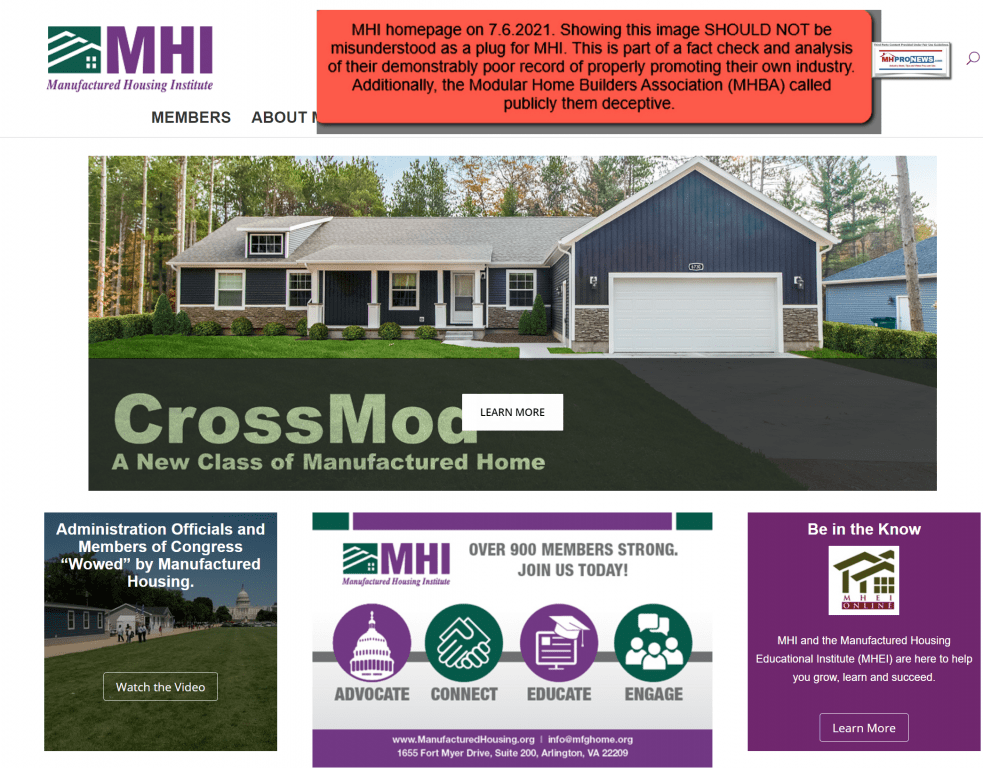 What's New from Washington, D.C. from MHARR.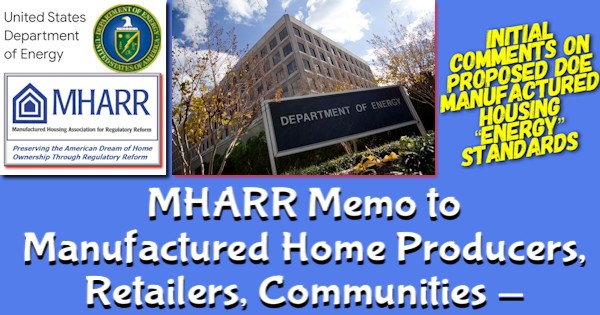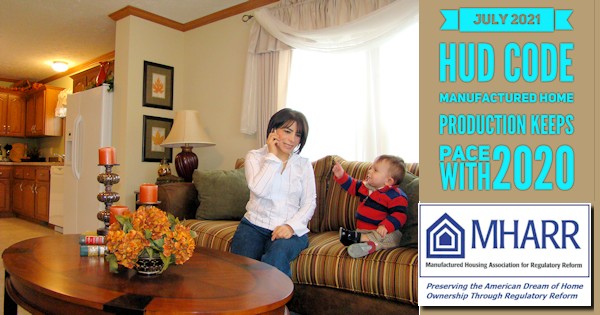 What's New on the Words of Wisdom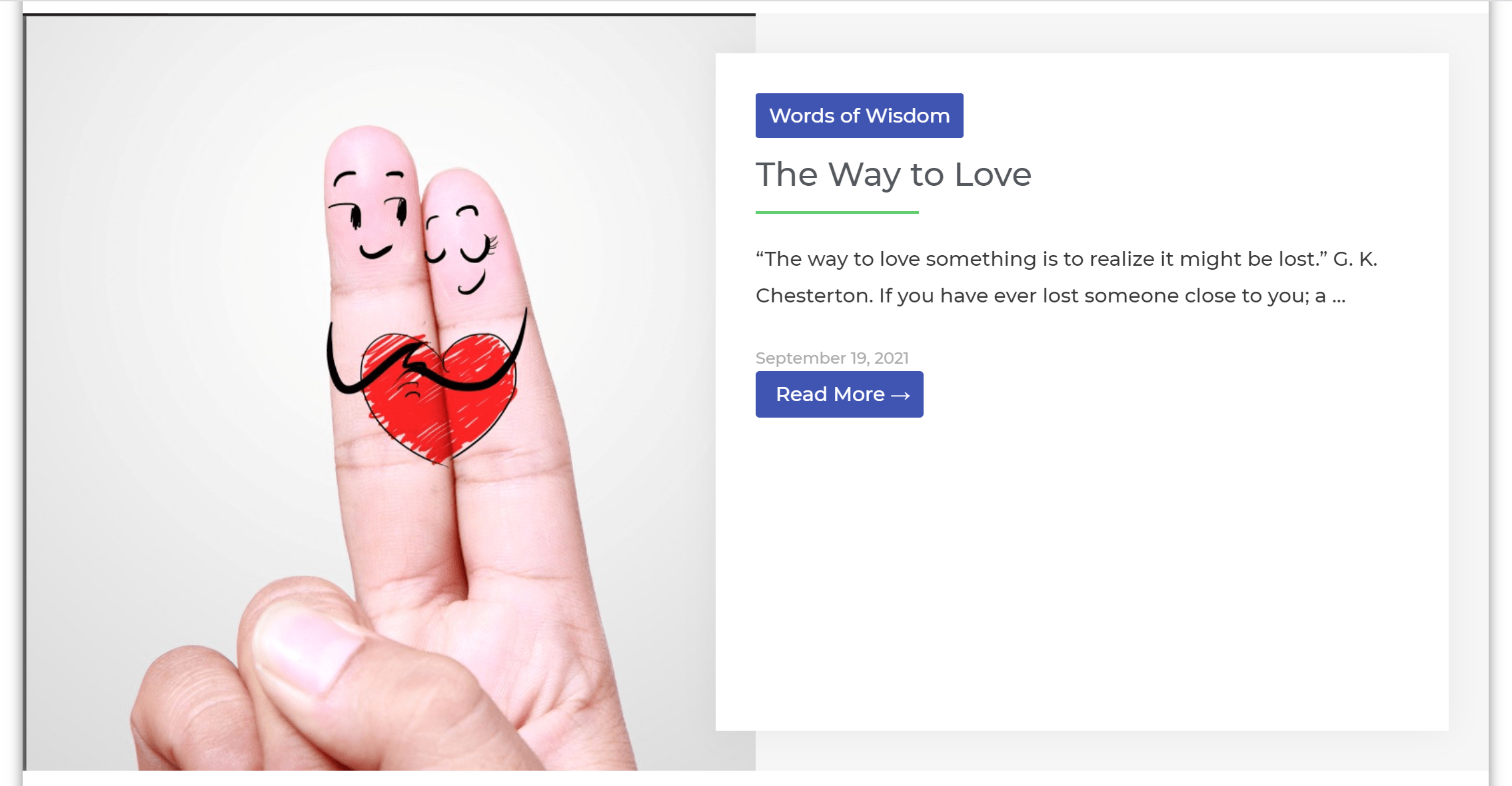 What's New on the Daily Business News on MHProNews
Saturday 9.25.2021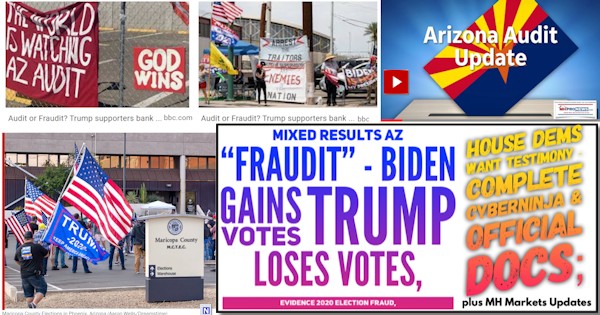 Friday 9.24.2021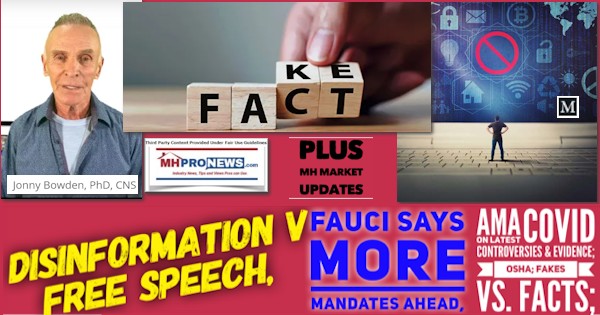 Thursday 9.23.2021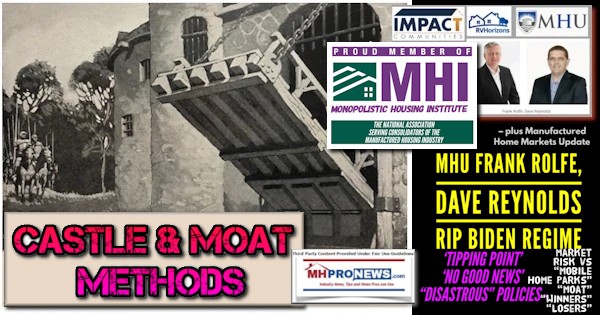 Wednesday 9.22.2021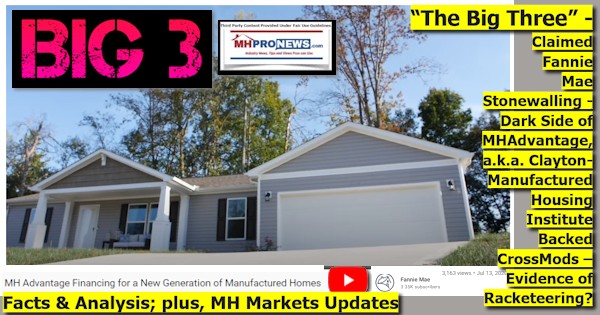 Tuesday 9.21.2021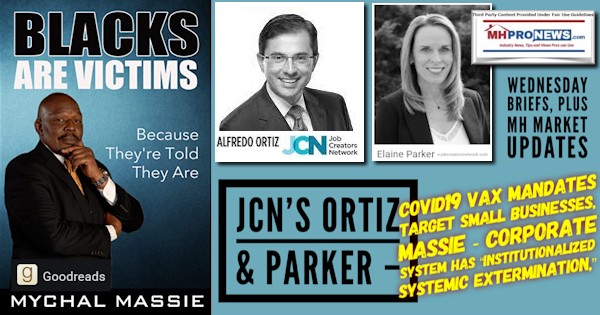 Monday 9.20.2021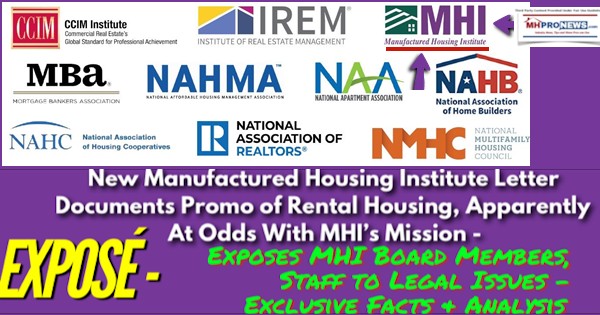 Sunday 9.19.2021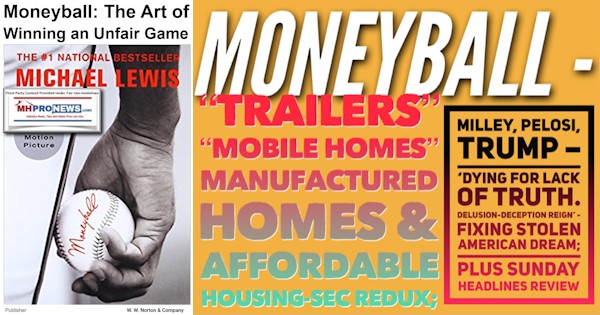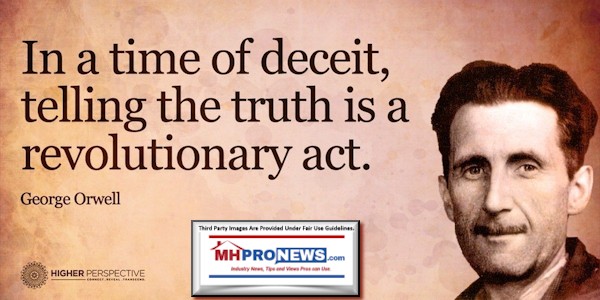 Postscript – The Trump "Save America" Rally and Transcript
Blacks for Trump and a growing number of women and minorities appeared to be in evidence at last night's "Save America" rally in Perry, Georgia. CSPAN carried it, as did Newsmax. Per Newsmax previous rallies – which are often blacked out by MSNBC, CNN, Fox or other major news networks – their very highest ratings in the millions of viewers have occurred in 2021 when they carry the Trump rallies live. Here is a snapshot report by a CBS affiliate.
Per WMAZ's YouTube page: "Thousands of people decked out in Make America Great Again hats and American flags came to the Georgia National Fairgrounds in Perry Saturday to see a pro-Trump slate of candidates and the former president in his first visit to Georgia since January. The candidates include the latest contender in the U.S. Senate race, former NFL star and Georgia Bulldogs Herschel Walker, who made his campaign debut."
Per CSPAN, among the lead-up speakers: "Former President Trump holds a rally in Perry, Georgia. In this portion of the event, activists and others give remarks before the former president takes the stage, including Representative Marjorie Taylor Greene (R-GA)."
The portion of the rally that had the ousted 45th President of the United States (POTUS), Donald J. Trump is provided by CSPAN below.
Note, we plan to bring an interesting part of the White House Resident Biden speech to the U.N. and other Biden comments in an upcoming report.
Going back in time just a year ago it may have been hard for most of the country to believe that someone could censor a sitting (or now, effectively former) president of the United States. But that is what has occurred.  But MHProNews readers have been exposed step-by-step to the facts, evidence, and the raw – often unpopular in certain circles – truth. In manufactured housing the truth is not popular among those who spin their version of the Big Lie.  The solution? It is in part what President Trump said last night, "never surrender." Americans has seen dark days before. Indeed, there have been numerous dark chapters for minorities, women, the poor, and even the white middle class at various times in U.S. history. Freedom is never free, said the late President Ronald Reagan, a Democrat turned Republican. Freedom is never more than a generation away from being lost, said Reagan. Reagan also noted that if facism ever comes to America it will come from the political left.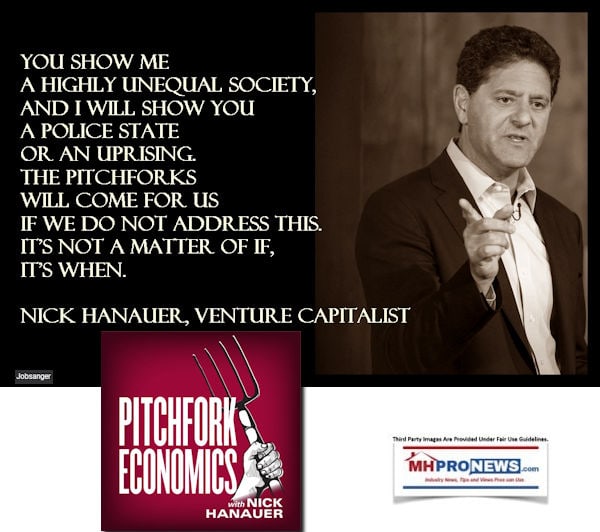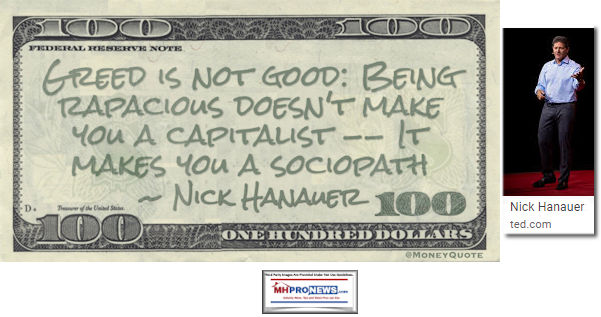 Glenn Greenwald is a progressive from the left, but he has the guts to report and unpack as an attorney and award winning journalist what is going on in our nation. Others across the spectrum have done so too. Perhaps never before has there been so much misinformation deployed against the masses. In a way, it is understandable – because if the powers that be told the truth, they are afraid of what billionaire Nick Hanauer told Politico during the Obama-Biden Administration. Namely, that the pitchforks are coming for oligarchs and plutocrats. Without a constant series of lies and cunning deceits, they would not have made it so long. Let's pray that those who try to divide and rule America on racial, religious, political, economic, or any other lines are brought to justice. Stranger things have happened before, and as the wise Solomon once opined with Divine Inspiration, there is nothing new (in human nature) found under the sun.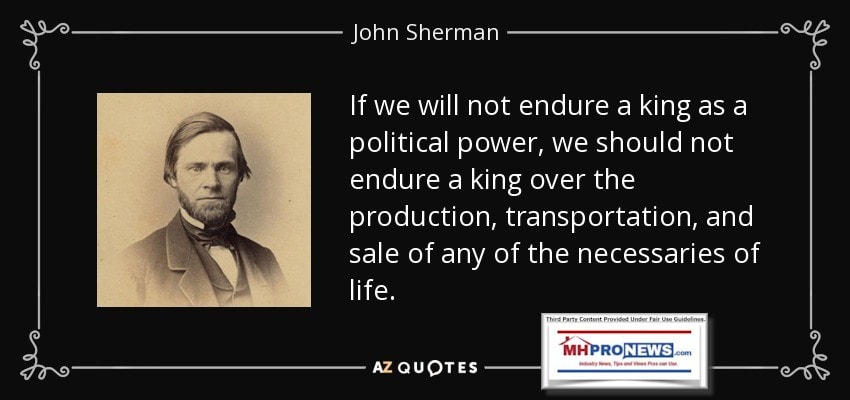 Don't just break up the monopolists. Break those colluding toward monopolization up, plus – where the law supports it – fine and/or imprison as possible. A few ten year sentences would do our industry and our nation a lot of good.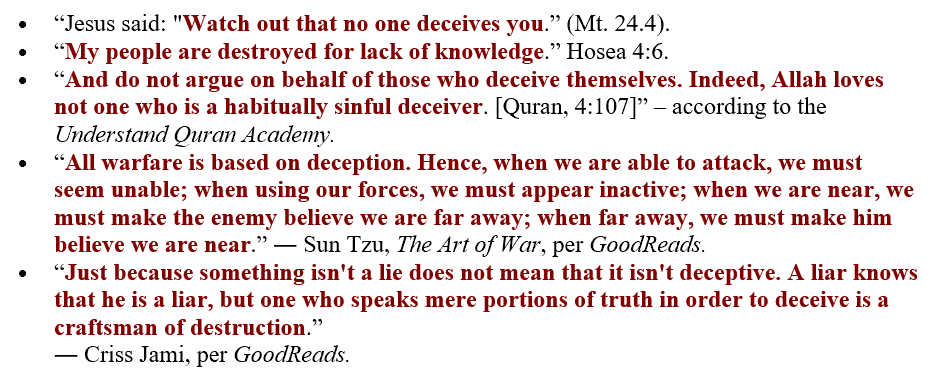 Joe Biden had a point in saying that capitalism without competition isn't capitalism. But as we've said then and since, that statement – however true it may be – can be mere window dressing. The sentiment for antitrust is growing in America. The time to break up the monopolization of the manufactured housing industry is now. Through tips, documents, insider insights, by using our services, or whatever means you can, join us in this fight to free "We the People" to give millions more opportunities to fulfill the American Dream.
##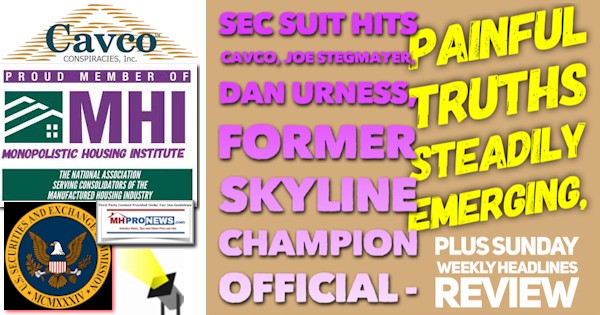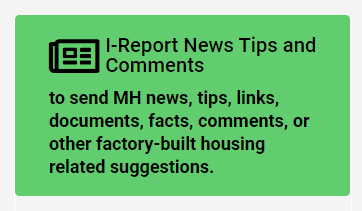 Our thanks to you, our sources, and sponsors for making and keeping us the runaway number one source for authentic "News through the lens of manufactured homes and factory-built housing" © where "We Provide, You Decide." © ## (Affordable housing, manufactured homes, reports, fact-checks, analysis, and commentary. Third-party images or content are provided under fair use guidelines for media.) (See Related Reports, further below. Text/image boxes often are hot-linked to other reports that can be access by clicking on them.)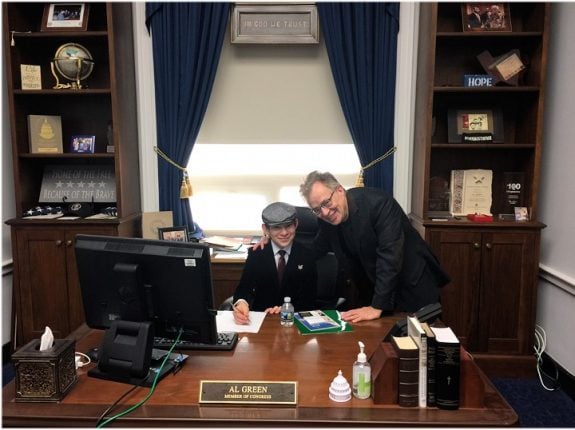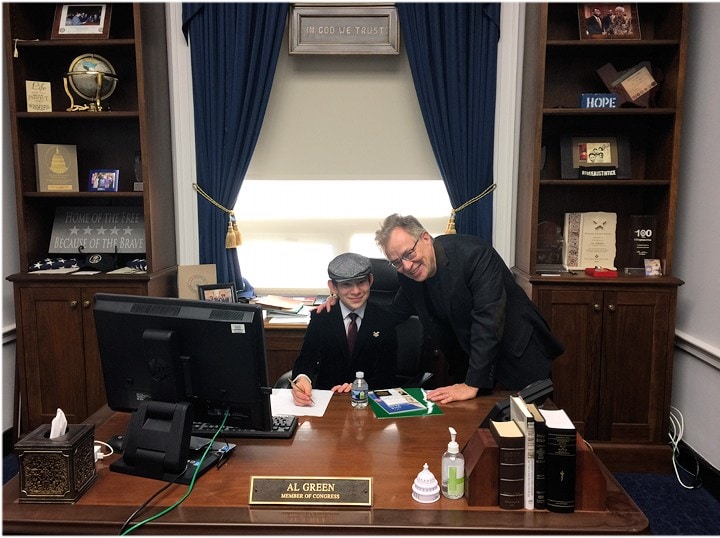 By L.A. "Tony" Kovach – for MHProNews.com.
Tony earned a journalism scholarship and earned numerous awards in history and in manufactured housing.
For example, he earned the prestigious Lottinville Award in history from the University of Oklahoma, where he studied history and business management. He's a managing member and co-founder of LifeStyle Factory Homes, LLC, the parent company to MHProNews, and MHLivingNews.com.
This article reflects the LLC's and/or the writer's position, and may or may not reflect the views of sponsors or supporters.
Connect on LinkedIn: http://www.linkedin.com/in/latonykovach
Related References:
The text/image boxes below are linked to other reports, which can be accessed by clicking on them.