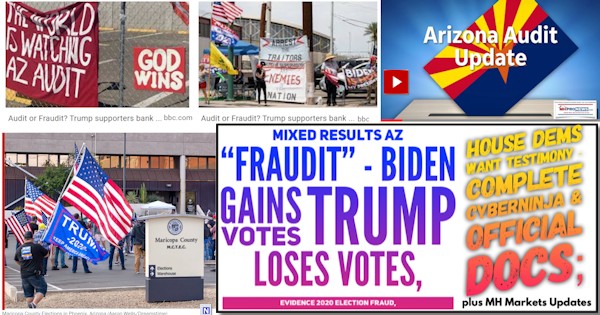 It's been called the AZ "fraudit" by Democrats, various RINO or other Republicans (see below). Or it has been called the 2020 AZ election forensic vote audit, an effort to restore confidence in the U.S. election process that has been tattered by years of complaints by members and supporters of both major parties going back to at least the 2000 presidential election year. Parsing the top lines can be used by supporters of 2020 Democrat presidential candidate, Joe Biden, or by 45th President Donald J. Trump. Indeed, both pro-Biden and pro-Trump media have done precisely that, which is why an objective look at the evidence is useful in a nation where evidence of corruption and seemingly inept behavior in several segments of business, media, and government is there for discerning eyes to see. Per the official report results cited by Newsmax on the right and others across the left-right divide, there are several officials documents which tell a tale of mixed results.  For instance. Joe Biden gained 99 votes. President Donald J. Trump lost 261 votes. But the facts and evidence do not stop there. That's why the ousted 45th president, either rightly or wrongly, is able to say there is evidence of massive fraud. Critics of the process have called it a waste of money. But what no media outlet surveyed by MHProNews has done – before now, in this report – is add some context, such as Peter Navarro provided months ago. Readers can access in this one report all the key documents you may not find anywhere else online before today. You can see pro- and con on what actually has been learned and thus what this may mean for other audits that are being planned, and/or are already authorized/underway. All that and more are in this exclusive fact check, analysis and commentary. Following this report will be our standard snapshot of the left-right headlines and market reports for 9.24.2021.
For a sense of what pro-Biden, anti-Trump media has to say, consider this from MSNBC – which began with ties to Microsoft (MS), founded by Bill Gates, a longtime Warren Buffett ally. Note: for a new report on MHLivingNews on Gates, Buffett, Frank Rolfe, Dave Reynolds, Fred Neil, Tim Sheahan, Ishbel Dickens, Bob Van Cleef, Cavco, the Manufactured Housing Institute (MHI) and more, click here.
Per the local ABC News affiliate, they provided this snapshot, which right or wrong, has an obvious pro-Biden framing.  That said, their report does bring out some of the issues that state official are going to be considering.
Per Reuters, this is the Cyber Ninjas presentation of the AZ 2020 election integrity audit.
255,326 early votes show without having been returned. Magic!!!

9,041 more ballots returned than sent

3,432 more cast votes than voters on VM55 list

397 mail-in ballots returned that showed as never sent pic.twitter.com/7BLze7p7aI

— Silent Majority (@PatrioticCougar) September 24, 2021
This 1st video below preceded the AZ audit, but sets it into a larger context.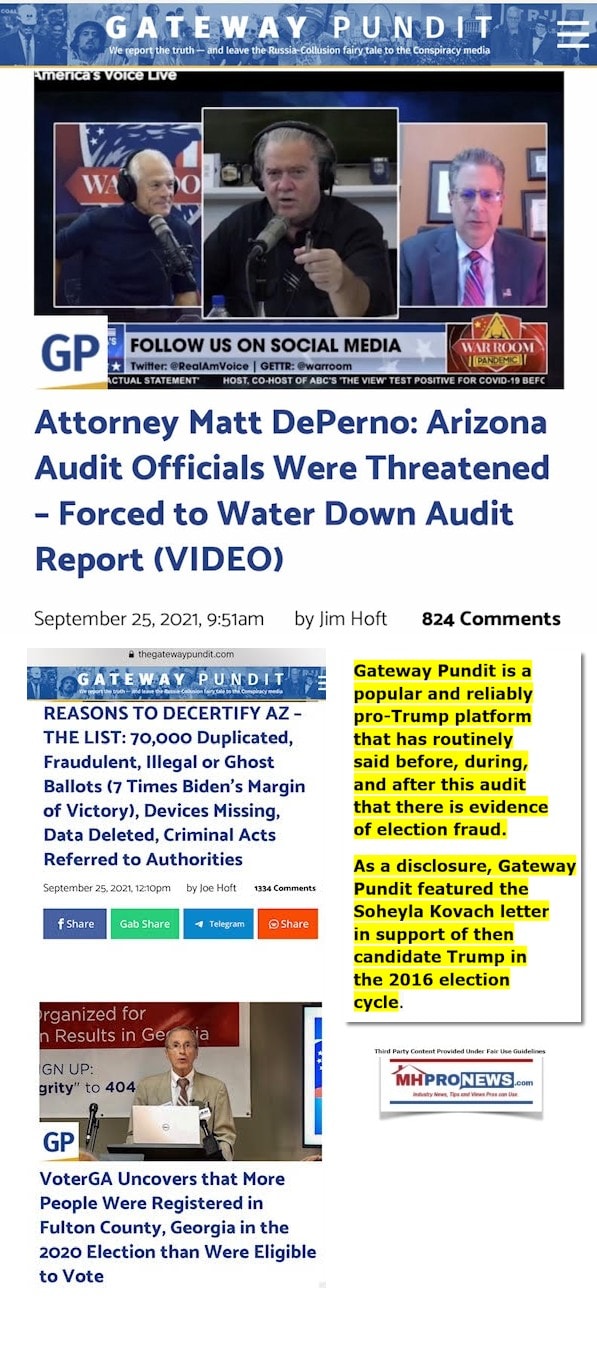 Per the Arizona Republic's video YouTube page: "The Arizona Senate has said that the presentation will consist of four reports: The Cyber Ninjas' findings, including presentations by CEO Doug Logan and Ben Cotton, founder of CyFIR, a digital security firm and an audit subcontractor. The results of a machine count, done on high-speed counting machines the Senate purchased. Randy Pullen, the Senate audit's spokesperson and a former state GOP chairman, is scheduled to present that report. A review of the signatures on envelopes voters use to mail their ballots produced by a known conspiracy theorist, Shiva Ayyadura, whose firm, EchoMail, did a review of the signatures on mail-in ballot envelopes. An overview of the county's election procedures, presented by Senate audit liaison Ken Bennett, a former Republican secretary of state." This presentation video is longer than the Reuters one, posted above. Though lengthy, hundreds of thousands of views of this video has occurred, per YouTube on 9.25.2021.
Newsmax, a generally pro-Trump and right-leaning media source, is being sued – as are Fox News and others – by firms involved in the 2020 election. How that may influence their reporting is a fair question.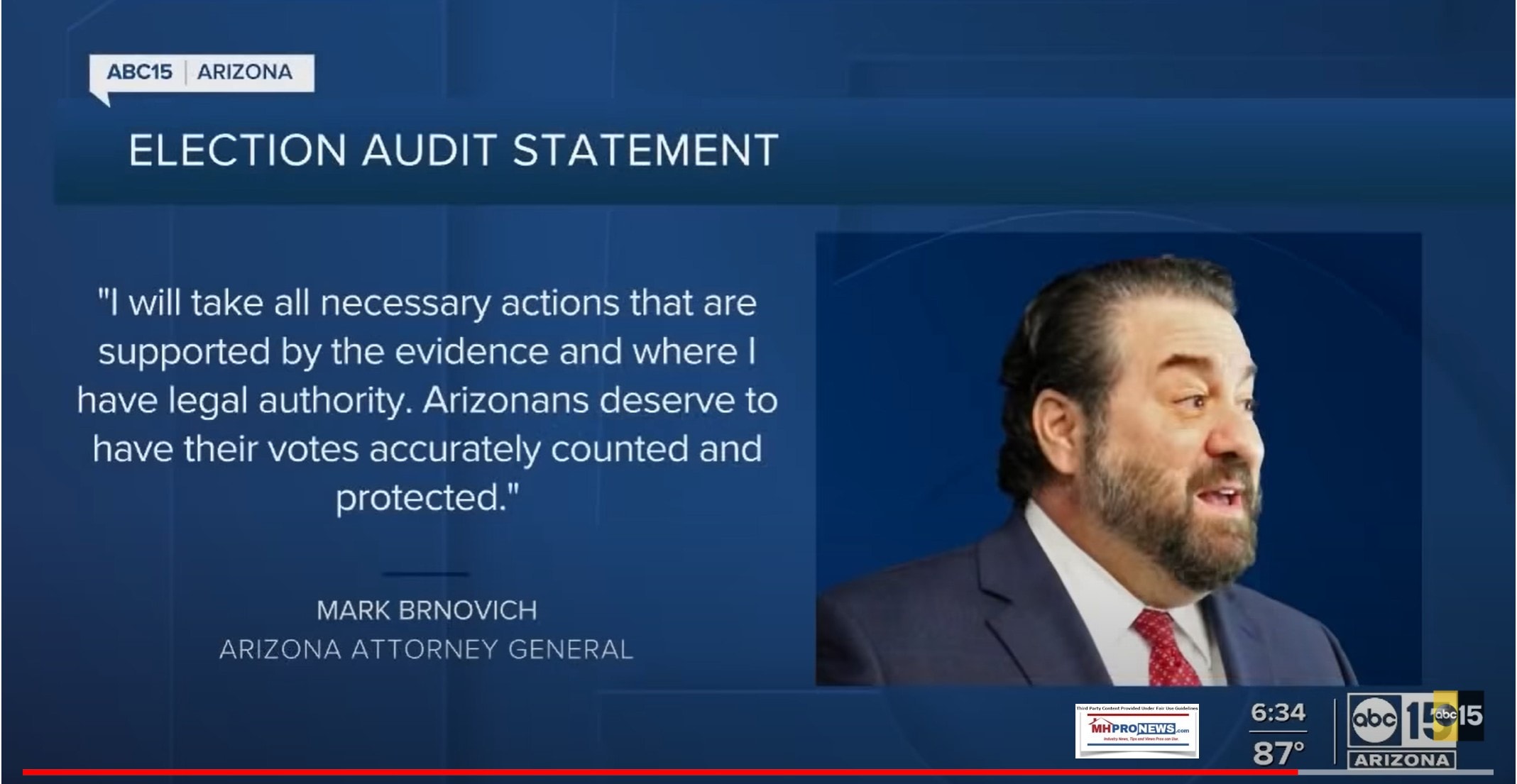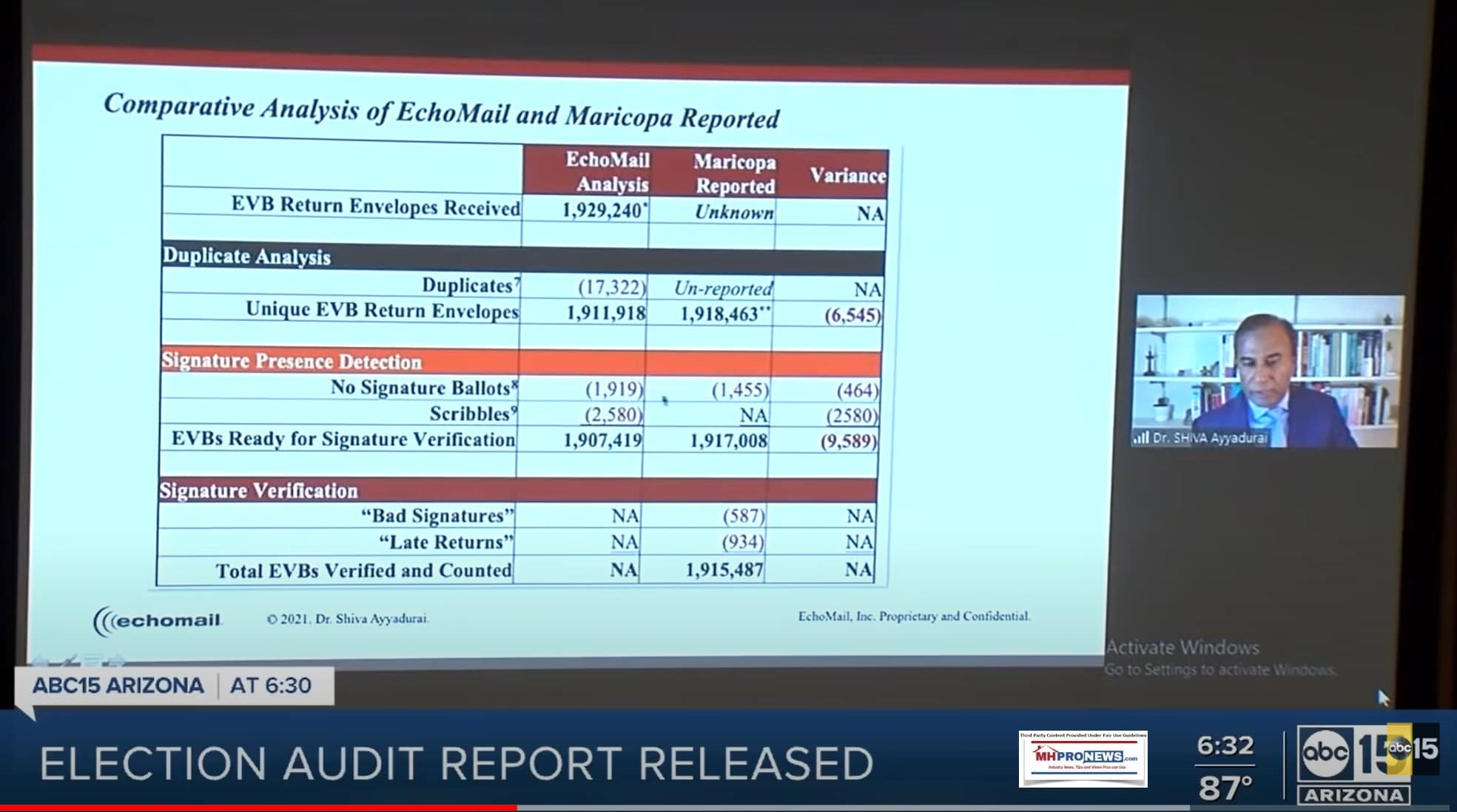 Per, the official documents obtained by MHProNews are the following.
Per part of the the Cyber Ninja executive summary (see documents above):
"Based on our other findings, however, we recommend that the Legislature tighten up the election process to provide additional certainty going forward, and that several specific findings of our audit be further reviewed by the Arizona Attorney General for a possible investigation. Such other findings include the following:
None of the various systems related to elections had numbers that would balance and agree with each other. In some cases, these differences were significant.
There appears to be many 27, 807 ballots cast from individuals who had moved prior to the election. • Files were missing from the Election Management System (EMS) Server.
Ballot images 284,412 on the EMS were corrupt or missing.
Logs appeared to be intentionally rolled over, and all the data in the database related to the 2020 General Election had been fully cleared.
On the ballot side, batches were not always clearly delineated, duplicated ballots were missing the required serial numbers, originals were duplicated more than once, and the Auditors were never provided Chain-of-Custody documentation for the ballots for the time-period prior to the ballot's movement into the Auditors' care. This all increased the complexity and difficulty in properly auditing the results; and added ambiguity into the final conclusions.
Maricopa County failed to follow basic cyber security best practices and guidelines from CISA
Software and patch protocols were not followed
Credential management was flawed: unique usernames and passwords were not allocated
Lack of baseline for host and network activity for approved programs, communications protocols and communications devices for voting systems"
As noted, there are reasons to believe that at least some Democrats are nervous about this process, because House Democrats have said that they will call Cyber Ninja's CEO to testify to Congress.  One might think that would be unnecessary if they didn't have a level of concern about their research.
As promised above, note the comparison between Peter Navarro's summary of he and his colleagues sources prior to January 6, 2021 on evidence of election fraud.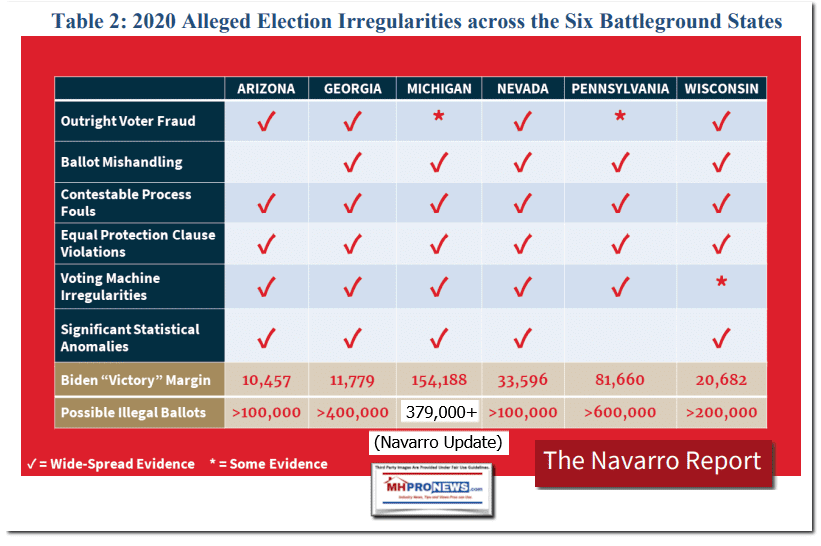 Trump-ally Peter Navarro's The Art of the Steal reports indicated months ago that they thought that fewer than 100,000 possible illegal ballots were cast in AZ.  Per the research released thus far from AZ, that was figure was reasonably close to what the auditors found.
Restated, there were and are evidence-based reasons for concern about the legitimate outcome of the 2020 election.  Political cartoonist Ben Garrison summed it up like this.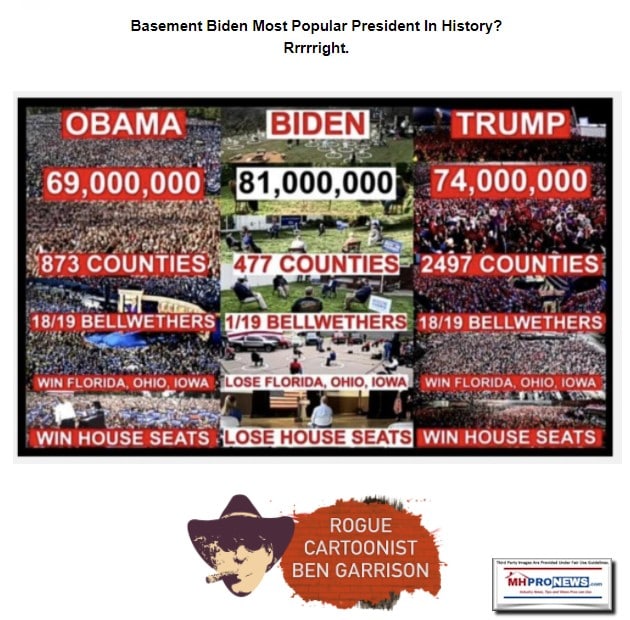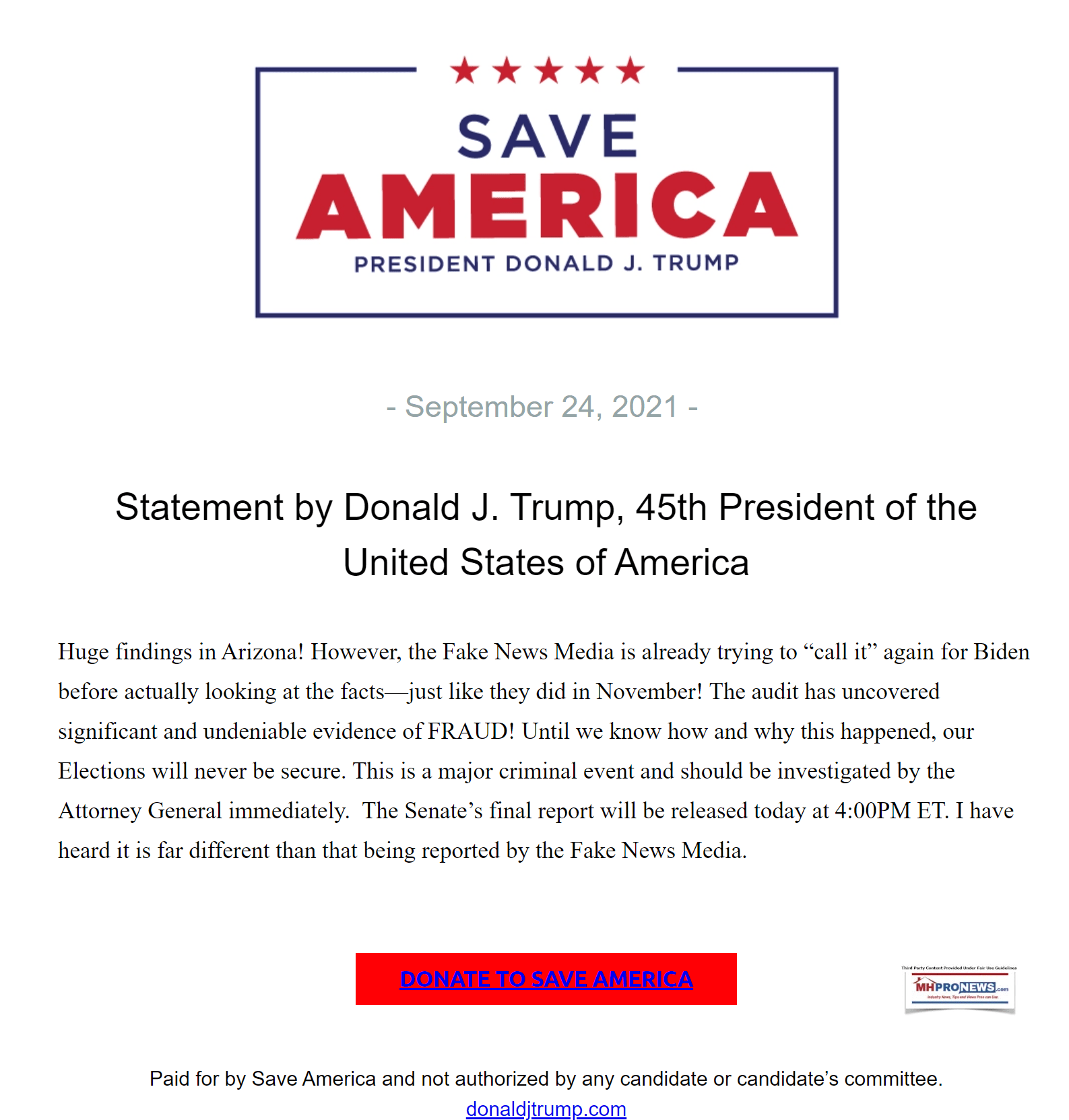 It will take several more steps in AZ and other states in order to potentially put President Trump in a position to successfully be able to make a Quo Warranto case.  He has signaled that it may happen in the foreseeable future, without using that phrase.  Stay tuned.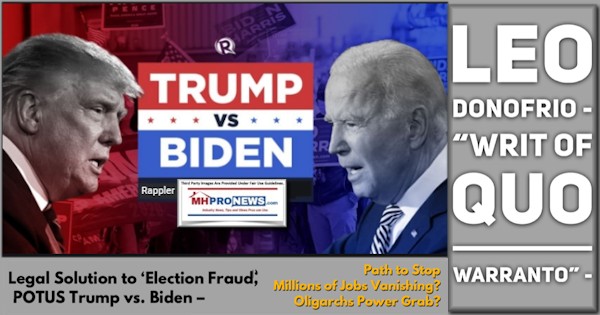 With the border crisis, the housing crisis, COVID handling, the botched Afghan withdrawal, and a host of other issues dogging Biden's popularity, this will be a fascinating, if vexing, process to watch.
Whatever the topic, whatever someone's personal or emotional feelings, it is prudent to seek and then share the truth.  To sum it up, based on this partial Maricopa County (partial because there were certain processes that auditor's say were thwarted) audit, there are reasons to think that Biden gained in the raw vote total. But that does not account for apparently fraudulent or "irregular" votes. In Texas along, there are some 500 cases of voter fraud that are being perused from the 2020 election. Justice in America all too often grinds slowly. But there are times that it works.
Per Newsmax on 9.25.2021 Related Stories
Per the Western Journal, a more conservative and pro-Trump source:  "AZ Audit Says 9,041 Mail-In Voters Returned More Ballots Than They Were Sent." That doesn't mean that there are 9000 votes too many, which would still leave the outcome as favoring Biden. Rather, it means that there is an obvious problem with the total number of ballots, which means that the numbers of ballots cast are obviously open to question.
As a matter of principle, MHProNews believes it should be easy to vote legally.  But it should also be nearly impossible to cheat, and when there is cheating, that should be a serious penalties. ##
Disinformation v Free Speech, Fauci Says More Mandates Ahead, AMA on Latest COVID Controversies & Evidence; OSHA; Fakes vs. Facts; plus MH Market Updates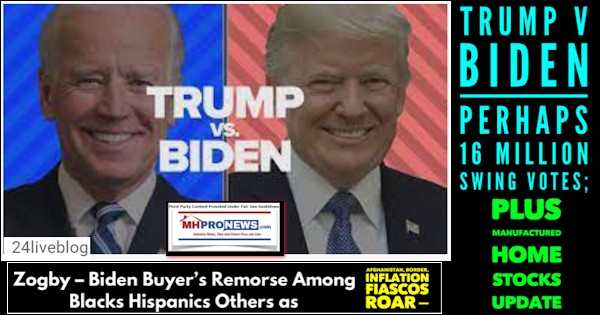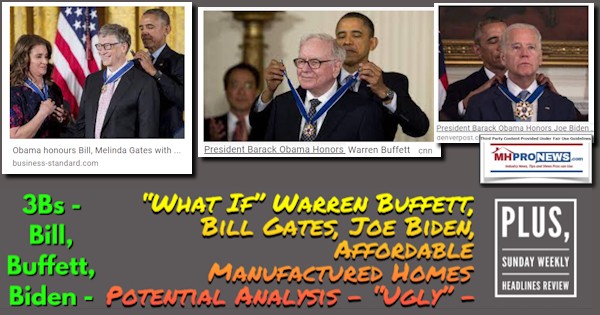 Next up is our business daily recap of yesterday evening's market report, related left-right headlines, and manufactured housing connected equities.
The Business Daily Manufactured Home Industry Connected Stock Market Updates.  Plus, Market Moving Left (CNN) – Right (Newsmax) Headlines Snapshot. While the layout of this daily business report has been evolving over time, several elements of the basic concepts used previously are still the same. For instance. The headlines that follow below can be reviewed at a glance to save time while providing insights across the left-right media divide. Additionally, those headlines often provide clues as to possible 'market-moving' news items.
Market Indicator Closing Summaries – Yahoo Finance Closing Tickers on MHProNews…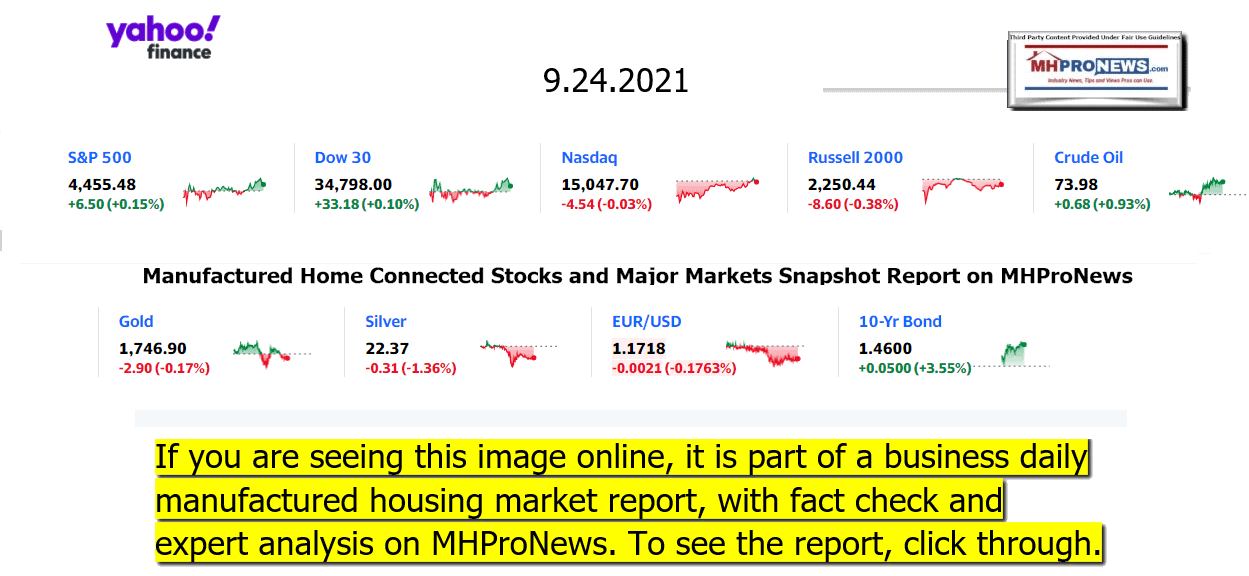 Headlines from left-of-center CNN Business – evening of 9.24.2021
Charges deferred
Meng Wanzhou, chief financial officer of Huawei Technologies Co., leaves her home to attend Supreme Court in Vancouver, British Columbia, Canada, on Monday, April 19, 2021. Meng's defense team will ask court to delay upcoming hearings on her U.S. extradition case, Reuters reports, citing the Canadian court and an unidentified person familiar with the matter.
Huawei CFO Meng Wanzhou made a deal with the US government to resolve fraud charges
China jails former chairman of liquor giant Moutai for life for corruption
Bitcoin plummets after China intensifies cryptocurrency crackdown
What's next for Evergrande: Bailout, breakup or default?
5 things to know about the Evergrande crisis: A simple breakdown
How bad are supply chains? Costco is renting ships
The airline recovery has been put on hold as Covid-19 strikes again
Biden official reveals the failure behind America's epic chip shortage
Why you should stop making employees turn on their webcams during meetings
Starting a new job is hard enough. Here's how to do it when you're remote
The iPhone 13 hits shelves
Alibaba was building a media empire. Now it's dumping Chinese TV shares
Europe will require USB-C chargers. Apple isn't happy
Why Netflix is holding its own version of Comic-Con
The U.S. Treasury Department building in Washington, D.C., U.S., on Tuesday, April 27, 2021. President Biden and House Democrats are clashing over how much to prioritize an extension of an expanded tax credit for parents.
The trillion dollar coin idea is back as a wacky way to prevent financial Armageddon
Shoppers pass the Nike Inc. store on the Champs Elysees in Paris, France, on Thursday, Sept. 16, 2021. France's sooner-than-expected economic recovery from the slump during the Covid-19 pandemic is reviving deep problems in the labor market that have long hobbled growth, the countrys central bank said. Photographer: Nathan Laine/Bloomberg via Getty Images
Nike's supply chain problems will hit holiday shopping around the world
People buy toilet papers and paper towels at a Costco Wholesale store as panic buying following the new coronavirus disease (COVID-19) outbreak in Alhambra, Calif., Nov. 21, 2020.
Costco is limiting how much toilet paper you can buy again
THE THERANOS TRIAL
US Secretary of Defense Jim Mattis attends the swearing-in ceremony of Robert Wilkie as Secretary of Veterans Affairs in the Oval Office of the White House in Washington, DC, July 30, 2018. (Photo by SAUL LOEB / AFP) (Photo credit should read SAUL LOEB/AFP via Getty Images)
Former Defense Secretary James Mattis invested $85,000 in Theranos
The rise and fall of Elizabeth Holmes: A timeline
Ex-employee describes being starstruck by Holmes
Former Theranos lab worker details testing concerns
Holmes moved ahead with Walgreens rollout despite internal concerns, former Theranos scientist testifie
IN THE AIR
A Boeing 737-800 jet aircraft of the low cost budget carrier Ryanair – Malta Air with registration 9H-QBI as seen departing from Athens International Airport ATH LGAV from the Greek capital travelling to Frankfurt Germany.
Ryanair and Boeing have fallen out in public. Here's why that matters
97% of United Airlines employees are now vaccinated
American Airlines and JetBlue sued by DOJ
How cargo has boosted African airlines
The climate can't wait
Headlines from right-of-center Newsmax – evening of 9.24.2021
Trump Calls Reports on Arizona Audit 'Fake News'
Cyber Ninjas owner Doug Logan on April 22 talks about overseeing the 2020 election ballot audit in Arizona. (Ross D. Franklin/AP)
Former President Donald Trump said Friday the election audit in Maricopa County, Arizona, "has uncovered significant and undeniable evidence of fraud." "Huge findings in Arizona!" he said… [Full Story]
Newsmax TV
Trump Attorney: Twitter Rule Doesn't Apply to Former President
Trump Attorney: Twitter Rule Doesn't Apply to Former President | video
Texas AG Paxton: Lawsuit Seeks Deadline for Remain in Mexico Return | video
Jordan: Administration Knows Migrant Numbers, Won't Tell | video
Walorski: House 'Abortion on Demand' Bill Too 'Extreme' | video
Tom Emmer: Unfolding Crises Are 'on the Democrats' | video
Jordan: 'Americans Are So Darn Frustrated' | video
Reschenthaler: Hypocrisy 'So Rich' on Hunter Biden's Stories | video
More Newsmax TV
Newsfront
Texas Orders Audit of 2020 Election
The Texas Secretary of State's Office has announced a full forensic audit of the 2020 general election in four of the state's counties. On Thursday, former President Donald Trump had urged Texas officials…… [Full Story]
Officials: All Migrants Are Gone From Texas Border Camp
No migrants remained Friday at the Texas border encampment where [Full Story]
Related
Crenshaw: Biden Lying Over Border Patrol's Actions at Del Rio
Cook Political Report: Virginia Governor's Race a Toss-up
The Virginia governor's race between Republican nominee Glenn [Full Story]
Biden Continues to Snub Press – This Week's Word Count: 10
Since entering the people's house, President Joe Biden hasn't made [Full Story] | platinum
Politico: Rudy Giuliani Banned by Fox News
Rudy Giuliani has been banned from appearing on Fox News for several [Full Story]
Cotton: 'Disgraceful' That Biden Blames Border Patrol for Controversy
It is "disgraceful" that President Joe Biden is blaming Border Patrol [Full Story]
Tenney Introduces Anti-BDS Bill After Progressives' War on Israel
After progressives in Congress launched their latest assault on [Full Story] | platinum
Judge Warns Trump Org to Follow Subpoenas
A New York judge has warned the Trump Organization not to delay in [Full Story]
Kelly's Fate Now in Jury's Hands in Sex Trafficking Trial
Kelly's fate is now in a jury's hands after weeks of lurid [Full Story]
Biden: Unvaccinated Americans 'Costing All of Us'
President Joe Biden hit out at unvaccinated Americans as hampering [Full Story]
Texas To 'Limit Business' With Ben & Jerry's Over Israel Policy
The state of Texas announced Thursday that it will be limiting [Full Story]
US House Passes Abortion Rights Bill, Expected to Fail in Senate
The U.S. House of Representatives approved legislation on Friday to [Full Story]
Trump Calls Reports on Arizona Audit 'Fake News'
Former President Donald Trump said Friday the election audit in [Full Story]
Gottlieb: CDC's Booster Decision Like Initial 'Byzantine' Rulings on Vaccines
The decisions from the Centers for Disease Control and [Full Story] | video
Ex-Trump Trade Chief Lighthizer to Lead Trade Policy Group
American First Policy Institute has added former President Donald [Full Story]
School Bus Drivers in Short Supply After Spike in COVID Deaths
A recent spike in deaths from COVID-19 among school bus drivers in [Full Story]
Rubio Reveals Bill Allowing Shareholders to Sue Over Corporate Boycotts
Marco Rubio has unveiled a bill targeting corporations who [Full Story]
Walorski to Newsmax: House 'Abortion on Demand' Bill Too 'Extreme'
The House is expected to pass an "abortion on demand" bill, but [Full Story] | video
Banks: Study Shows 'Tax Hypocrisy,' Biden Owes $500K in Taxes
President Joe Biden has repeatedly called on Americans to "pay their [Full Story]
Rick Scott Blasts Dems Over Murder Rate Increase
Rick Scott, R-Fla., is blaming Democrats' efforts to defund [Full Story]
Chuck Grassley, 88, Announces Campaign for 8th Term
Veteran Sen. Chuck Grassley announced early Friday he'll be running [Full Story]
2 Co-hosts of 'The View' Test Positive for COVID Before VP Harris Appearance
"The View" co-hosts Sunny Hostin and Ana Navarro tested positive for [Full Story]
RNC Chief McDaniel: Biden 'Putting America Last'
Republican National Committee Chairwoman Ronna McDaniel ripped into [Full Story]
Biden Hosts Indo-Pacific Leaders as China Concerns Grow
President Joe Biden on Friday is set to host the first in-person [Full Story]
CDC Director Breaks With Panel, Backs COVID Boosters for High-Risk Workers
The U.S. Centers for Disease Control and Prevention (CDC) on Friday [Full Story]
Trump Vows 'Executive Privilege' on Jan. 6 'Unselect Committee' Subpoenas
It did not take long for former President Donald Trump to denounce [Full Story]
Poll: Supermajority of Americans Wants EcoHealth Alliance Subpoenaed
A September poll found that a supermajority of American taxpayers [Full Story]
Texas AG Sues Biden WH Over 'Remain in Mexico' Policy
Texas Attorney General Ken Paxton is suing the Biden administration [Full Story]
House Jan. 6 Panel Subpoenas Trump Advisers, Staffers
A House committee investigating the Jan. 6 stormingof the U.S. [Full Story]
Dems Seek to Abolish Trump-Created Space Force
Democrats are introducing a bill to abolish the Space Force [Full Story]
Abortion Providers Ask Supreme Court to Weigh In on Texas Law
Abortion providers on Thursday asked the U.S. Supreme Court to weigh [Full Story]
More Newsfront
Finance
Disney Production Delayed as Delta Variant Spreads
Walt Disney Co Chief Executive Officer Bob Chapek said Tuesday the resurgence of the Delta variant of the coronavirus was delaying production of some of its titles. [Full Story]
Wall St Near Even, Dragged by Nike 6% Drop After Warning
The Inflation Train Is Still Gaining Speed
Three Creative Solutions to Minimize Preretirement Mortgage Debt
Drillers Add Oil and Gas Rigs for 14th Month in a Row
More Finance
Health
FDA Backs Pfizer COVID-19 Boosters for Seniors, High-Risk
The U.S. moved a step closer Wednesday to offering booster doses of Pfizer's COVID-19 vaccine to senior citizens and others at high risk from the virus as the Food and Drug Administration signed off on the targeted use of extra shots. The FDA authorized booster doses for… [Full Story]
Diabetes Drug Prolonged Pregnancy in Women With Preeclampsia
Saline Spray Could Slow COVID's Spread in the Lungs: Study
Study: Insulin Resistance Increases Risk For Depression
DNA Sensor Can Spot When COVID Is Contagious
Manufactured Housing Industry Investments Connected Equities Closing Tickers
Some of these firms invest in manufactured housing, or are otherwise connected, but may do other forms of investing or business activities too.
NOTE: The chart below includes the Canadian stock, ECN, which purchased Triad Financial Services, a manufactured home industry lender
NOTE: Drew changed its name and trading symbol at the end of 2016 to Lippert (LCII).
NOTE: Deer Valley was largely taken private, say company insiders in a message to MHProNews on 12.15.2020, but there are still some outstanding shares of  the stock from the days when it was a publicly traded firm.  Thus, there is still periodic activity on DVLY.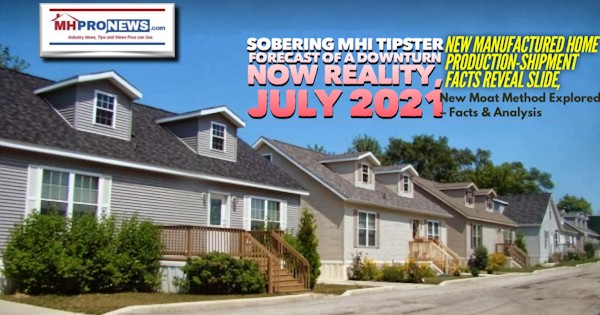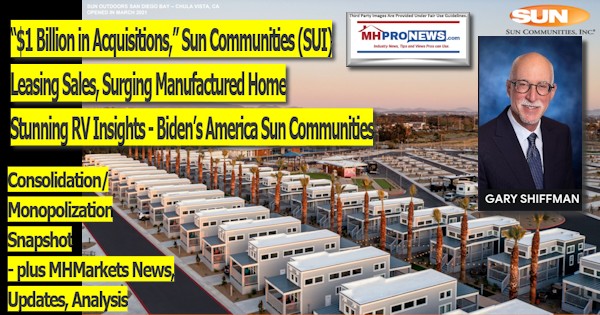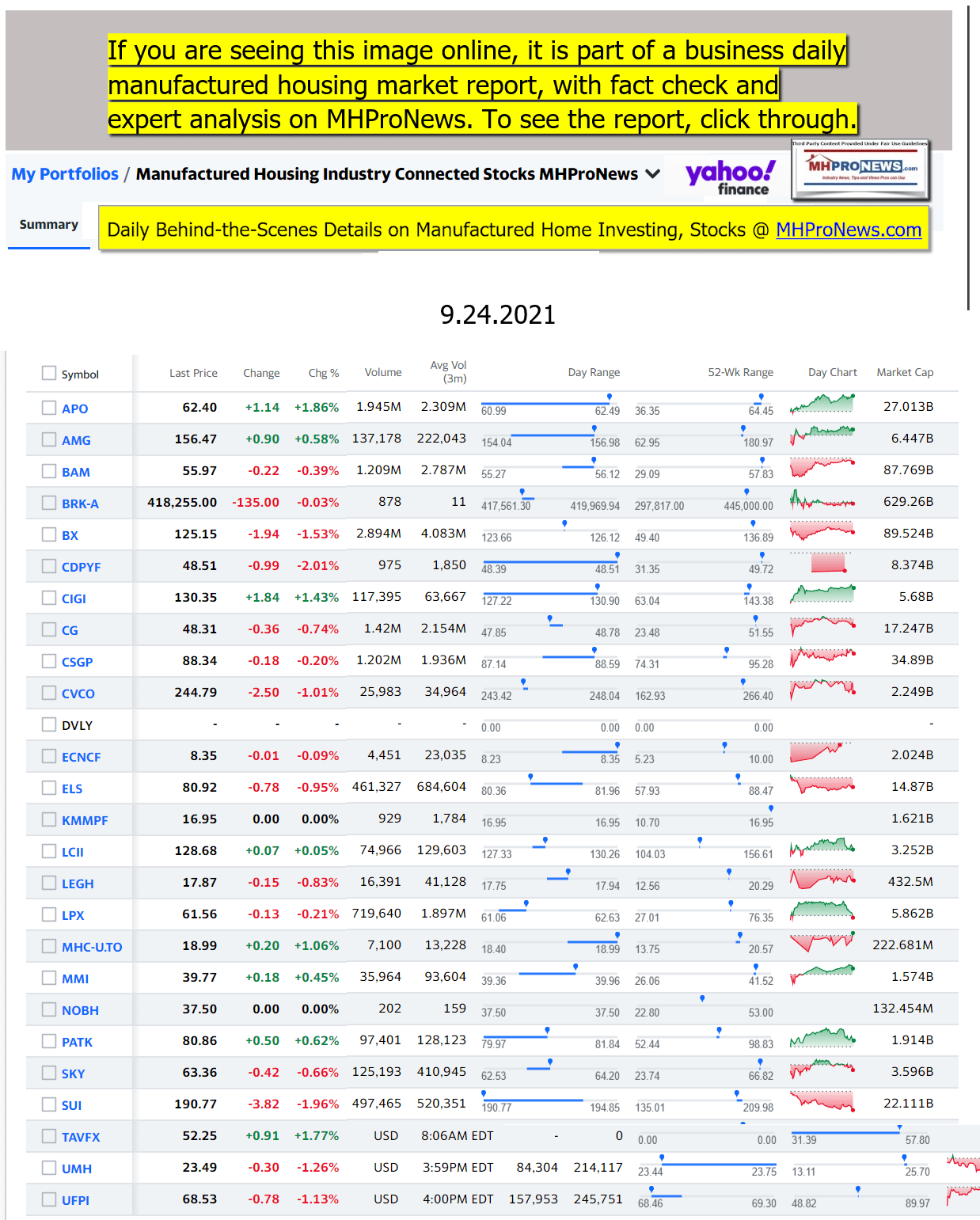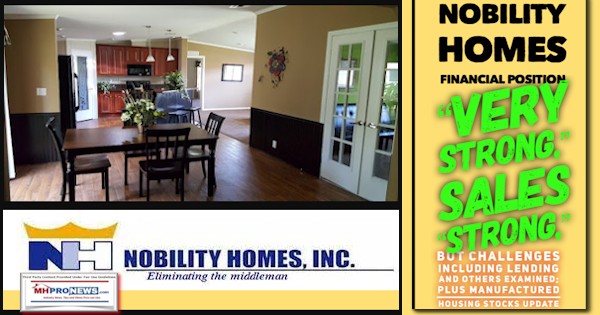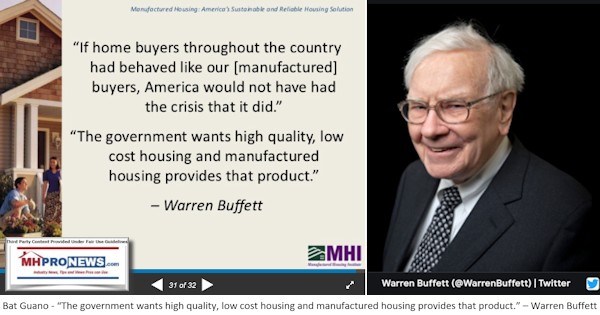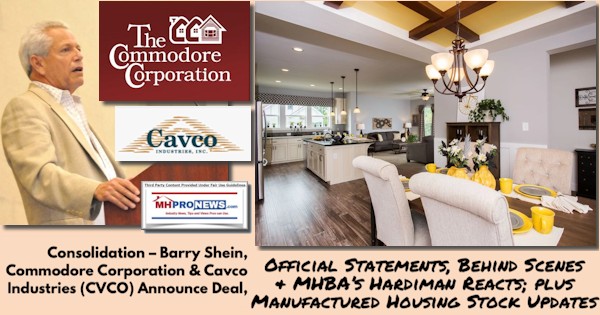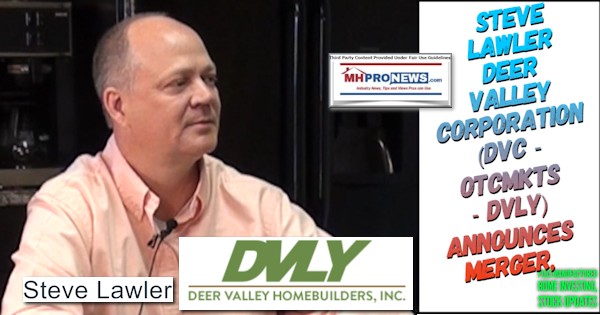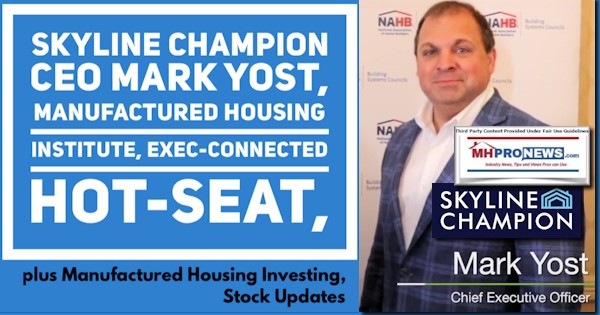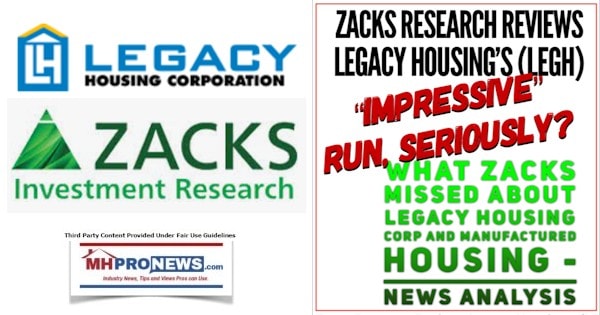 As the Summer of 2021 draws to a close…
Berkshire Hathaway is the parent company to Clayton Homes, 21st Mortgage, Vanderbilt Mortgage and other factory built housing industry suppliers.
· LCI Industries, Patrick, UFPI, and LP each are suppliers to the manufactured housing industry, among others.
· AMG, CG, and TAVFX have investments in manufactured housing related businesses. For insights from third-parties and clients about our publisher, click here.
Enjoy these 'blast from the past' comments.
MHProNews. MHProNews – previously a.k.a. MHMSM.com – has celebrated our 11th year of publishing, and is starting our 12th year of serving the industry as the runaway most-read trade media.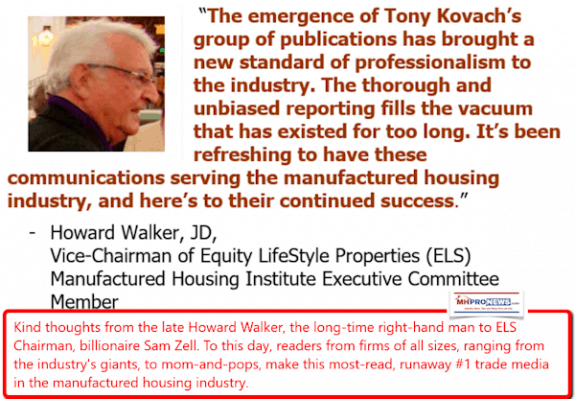 Sample Kudos over the years…
It is now 11+ years and counting…
Learn more about our evolutionary journey as the industry's leading trade media, at the report linked below.
· For expert manufactured housing business development or other professional services, click here.
· To sign up in seconds for our industry leading emailed headline news updates, click here.

Disclosure. MHProNews holds no positions in the stocks in this report.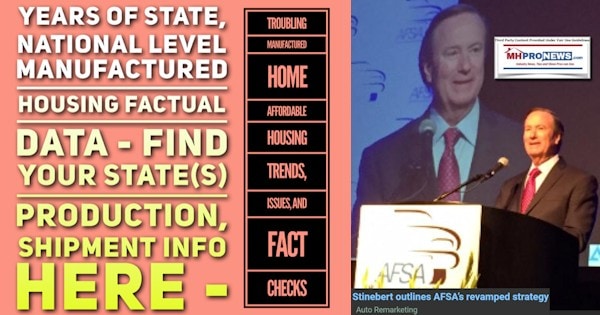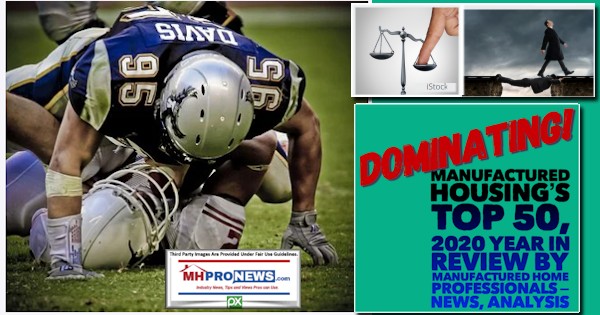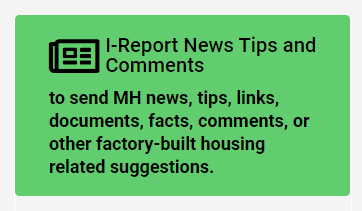 That's a wrap on this installment of "News Through the Lens of Manufactured Homes and Factory-Built Housing" © where "We Provide, You Decide." © (Affordable housing, manufactured homes, stock, investing, data, metrics, reports, fact-checks, analysis, and commentary. Third-party images or content are provided under fair use guidelines for media.) (See Related Reports, further below. Text/image boxes often are hot-linked to other reports that can be access by clicking on them.)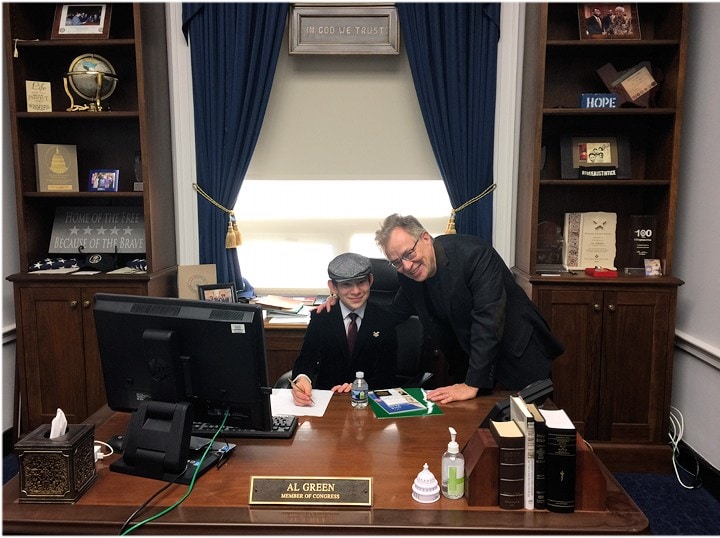 By L.A. "Tony" Kovach – for MHProNews.
Tony earned a journalism scholarship along with numerous awards in history. There have been several awards and honors and also recognition in manufactured housing. For example, he earned the prestigious Lottinville Award in history from the University of Oklahoma, where he studied history and business management. He's a managing member and co-founder of LifeStyle Factory Homes, LLC, the parent company to MHProNews, and MHLivingNews.com. This article reflects the LLC's and/or the writer's position, and may or may not reflect the views of sponsors or supporters.