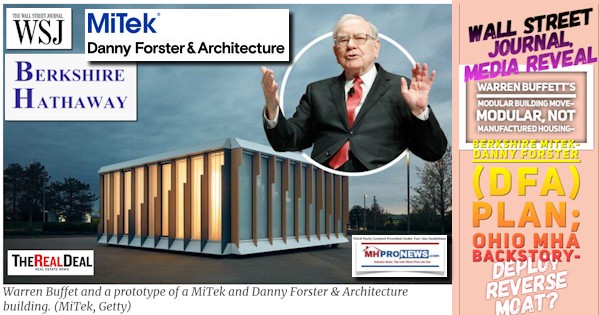 The Wall Street Journal, Architectural Digest, the Motley Fool's Millionaire Acres and an array of other mainstream and specialized media have reported on "MiTek, a Missouri construction company owned by Warren Buffett's Berkshire Hathaway, is launching a new modular building venture," as the Real Deal reported. As a Yahoo news report said, "The multibillionaire investor has partnered with Danny Forster & Architecture to clear away obstacles to widespread modular construction." Note that 'the reverse moat' will be revealed late into this report, but will be framed against an array of mostly mainstream sources that include Buffett, Berkshire, Clayton Homes, and Berkshire-owned MiTek.
24/7 Wall Street in a report on May 20, 2021 noted two different moves, each of which ought to cause manufactured housing professionals and other Buffett-watchers to sit up and take notice. One, per 24/7 Wall Street was Buffett-led Berkshire investment of "…$500 million in a Brazilian digital bank. Famously cool to the world of fintech and digital money, Buffett's investment took most people by surprise." That's a remind that what Buffett says is not always indicative of what Buffett does. As Marty Lavin, J.D., has periodically noted for MHProNews readers, "Pay more attention to what people do than what they say."
The other move that financial news media platform reported was about Berkshire's MiTek.
"Berkshire-owned MiTek, a building industry company specializing in modular construction, is launching a new business to design and build sub-assembly components for building projects at hospitality, health care, education and multifamily residential construction sites.
The idea, according to building industry publication Construction Dive, is to create a model "similar to the flat-packing and shipping of consumer products that are then assembled by the end user, would solve one of modular's biggest challenges — the transportation of factory-built units to jobsites where they are stacked together." Think Ikea for buildings," said 24/7 Wall Street.
It should go without saying that modular construction and manufactured housing have similarities and distinctions. Each are produced in a factory. Manufactured homes are designed as single-family homes that are built to the only national building code, the so-called HUD Code for manufactured housing.  While changes brewing could see more HUD Code manufactured homes produced for duplex or other multi-family style projects, the core use of manufactured homes has been for affordable single-family dwellings.
By contrast, modular construction can be, and is, used for commercial, residential, and multifamily projects. In modular building, the construction standards are to a local or state building code.
With that brief backdrop, the following points are worth noting from the various sources as cited in this report.
About Berkshire's MiTek – "The company plans to build entire rooms for hotels and apartment buildings in factories, and then send them to a construction site to be stacked…" Wall Street Journal.
Motley Fool's Millionaire Acres report on the MiTek initiative by Berkshire aptly noted that "Modular construction has been used for a while now. It's the process of building off-site in a factory and then shipping what's been built to the site. Modular buildings can be temporary and relocatable like for schools, construction site sales offices, and medical clinics. Or they can be permanent, like homes, hotels, and apartment and office buildings."
That same source said:
"A new modular building venture between MiTek and famous New York City architectural consortium Danny Forster & Architecture…"
"

The plan is for MiTek to ship parts to a construction site. A GC

[general contractor] will put the parts together, creating a module, and then the modules will be stacked atop each other."
Restated, these will be more like flat packed prefab units than traditional modular units. The notion seems to be to simplify transportation to a building site. An Ohio Manufactured Home Association (OMHA) connection to this building concept will be examined further below.
MiTek issued their own media release, which is part or all of where some sources obtained their information about the project. It is worth mentioning that instead of using Berkshire owned BusinessWire they used the Cison/PRNewswire press release service.
In their release, "MiTek's Modular initiative will look to innovate at every step of the process and, half a century after it was first touted as the next great thing, finally make modular mainstream."
According to the MiTek website, the firm was: "Founded in 1955 and a Berkshire Hathaway company since 2001, MiTek's track record consists of continuous growth and successful engagements for our customers over the last 60 years, on 6 continents, in 95 countries."
Put differently, the year before Buffett's Berkshire bought stock in the then bankrupt vertically integrated manufactured home company Oakwood (2002), and some 2 years before buying Clayton Homes outright (2003), Berkshire bought MiTek. Keep in mind that a well placed source told MHProNews that Buffett had his eyes on manufactured housing since the late 1980s, and that per Kevin Clayton, Buffett's vice chair and longtime partner at Berkshire – Charlie Munger – has had an interest in building. Several Berkshire holdings and investments are connected to housing, as well as notable positions in the RV and automotive, tech (eg: Apple), and other industries too.
Here is the entire MiTek release, which will be followed by additional information, more MHProNews analysis and commentary. Note that the yellow highlight is added by MHProNews, but the text is as in the original.
MiTek Launches Modular Initiative With Danny Forster & Architecture Partnership
Transforming the Building Industry by Making Modular Mainstream
NEWS PROVIDED BY
May 19, 2021, 10:00 ET
St. LOUIS, May 19, 2021 /PRNewswire/ — MiTek, a global provider of innovative construction-based software, services, and engineered building solutions that is owned by Berkshire Hathaway, and Danny Forster & Architecture (DF&A), a New York City-based architecture firm, announce the formal launch of their Modular Initiative, with the mission to help the construction industry answer the global demand for smarter, more affordable, and more sustainable buildings and communities. As part of the agreement, DF&A will lead the design, and research work alongside MiTek's R&D and New Market Growth team, as MiTek invests significant resources in to developing and evolving a modular enablement platform for decades to come. MiTek's Modular initiative will look to innovate at every step of the process and, half a century after it was first touted as the next great thing, finally make modular mainstream.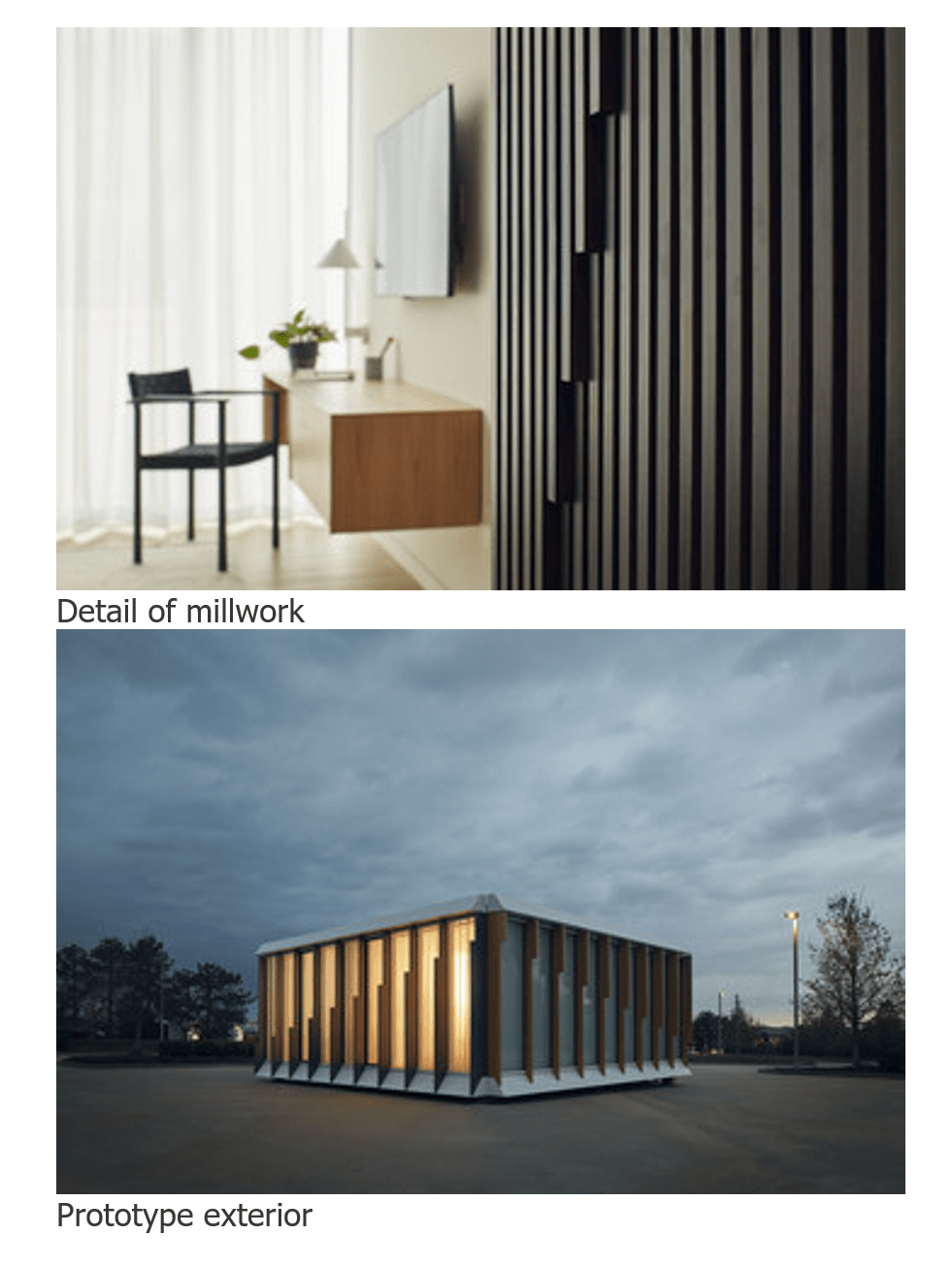 The core of MiTek's Modular initiative is the development of a Modular Activation Platform (MAP) that will simplify constructing a modular building, even for those who have no previous experience with modular. Developers, GCs, and Architects will be able to choose modular fearlessly, knowing that MiTek's platform will provide them everything they need to get it done: from specialized design software to hands-on guidance from beginning to end. " This will democratize modular–which means revolutionizing the building industry," says DF&A principal Danny Forster, whose own work in modular design attests to his belief in the technology. " Modular has such clear advantages, but for your average commercial builder, the risks are too high and the learning curve is too steep. Our activation platform will change that."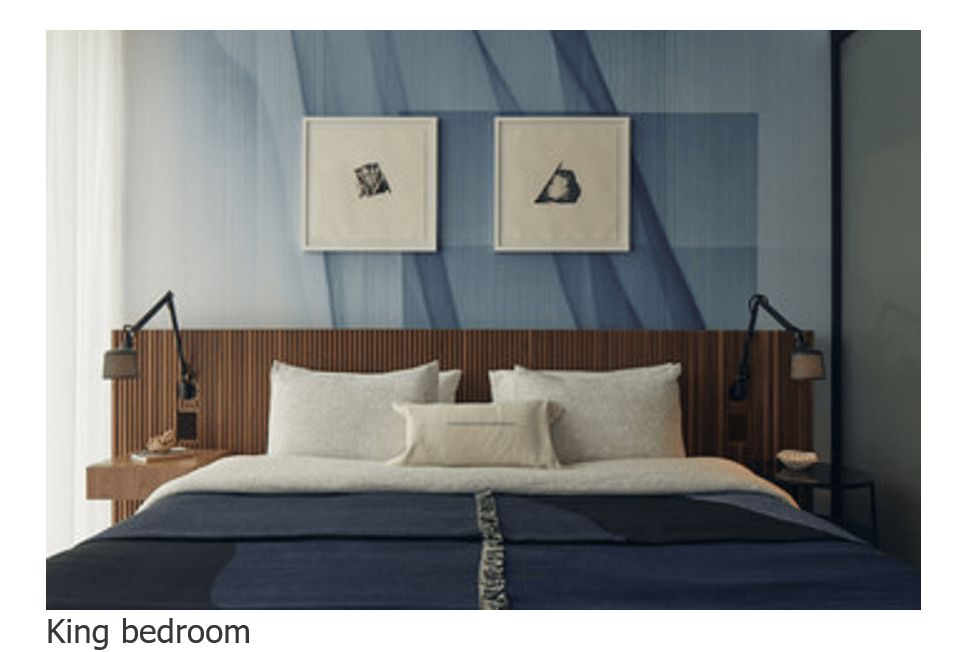 When every builder can make the choice to use modular, the methodology can apply to a wide range of sectors: hospitality, health care, education, multi-family residential. Every building type that has repeatable elements can benefit from the efficiencies of modular. Affordable housing is a perfect example. Todd Ullom, MiTek's VP for Modular, says " Communities across the country desperately need housing, and that is a need that modular can answer—and MiTek can help, collaborating with municipal authorities and MWBE-certified contractors to get it done."
In order to empower builders everywhere and enable widespread adoption of modular, MiTek is not just committing to guiding builders through the system; it is committing to transforming the modular methodology itself, by questioning and improving every step in the modular process. How can fabrication documents be easier to use? How can plumbing be faster to install? How can modules be cheaper to ship?
To answer these questions, MiTek set-up a Modular Laboratory to experiment with and ultimately improve the factory systems that produce modules. This lab will reinvent the manufacturing process using Sub-Assemblies for faster, error-free installation, as well as Time-Machine software that tracks every stage–an invaluable aid to project managers, inspectors, and future owners. This willingness to rethink the process–along with supporting material and technological inventions from a team of more than 400 software engineers–will make modular both more accessible and more reliable.
Although it has recently increased its focus on modular building, MiTek has been committed to building transformation throughout its 80-year history. It now comprises diverse worldwide capabilities that specialize in everything from the building envelope, to structural, mechanical, and electrical systems, to software solutions, as well as design and engineering services.
DF&A brings its modular design expertise to the initiative. The architect of award-winning modular projects (including an AC by Marriott that will be the tallest modular hotel in the world), DF&A is also a global proponent of modular construction: educating public officials and industry leaders, creating testing standards, and inventing new technologies to advance modular building.
About MiTek
MiTek is a platform innovator and enabler that exists to transform the building industry with better building solutions. In 1955, MiTek transformed residential construction with the invention of the Gang-Nail plate, providing an affordable and scalable way to manufacture wood trusses. Today, MiTek delivers software, services, engineered products, and automated solutions that enable the building industry to improve efficiencies by optimizing the balance between off-site and on-site. With nearly 5,600 team members worldwide, MiTek collaborates across the building industry to enable and accelerate transformational breakthroughs in design and construction, to transform the way the industry designs, makes, and builds. As a Berkshire Hathaway (NYSE: BRK-A,NYSE: BRK-B) company since 2001, MiTek has a record of continuous growth and innovation. Learn more at www.mii.com.
About DF&A
Founded by Danny Forster in 2007, DF&A is an award-winning, multi-faceted architecture firm based in New York City. DF&A works collaboratively with its clients to make great spaces that work–for occupants and owners alike–as well as tell great stories through corporate communication, branding, and film and television. Specialties include modular design and innovation, high-rise hospitality, high-end urban residential, and master planning. Founder Danny Forster is an architect, producer, speaker, and expert on modular design. His buildings make a lasting impression on the landscape and the practice of architecture; his talks inspire listeners to see the built environment differently; and his TV, from Discovery Channel's Build It Bigger to the Emmy-Award winning documentary series Rising: Rebuilding Ground Zero, tells the complex stories of transformative construction projects. Learn more at dannyforster.com.
Learn more about MiTek's modular initiative at https://mitekmodular.com/. ##
Note, none of the above should be construed as an endorsement of either MiTek, DFA, or Berkshire. MHProNews is on record opposing the apparent methods that several Buffett-associated operations have used that have undermined manufactured housing and other parts of the economy.
Additional Information, more MHProNews Analysis and Commentary
From The Real Deal (TRD) write up about this plan: "The Oracle of Omaha is making a contrarian bet on modular construction." Missing from their narrative were the words 'Clayton Homes.' But they did mention Softbank and prior ventures into modular construction that did not live up to their billing, sometimes in spite of hundreds of millions of dollars in direct investments and other support.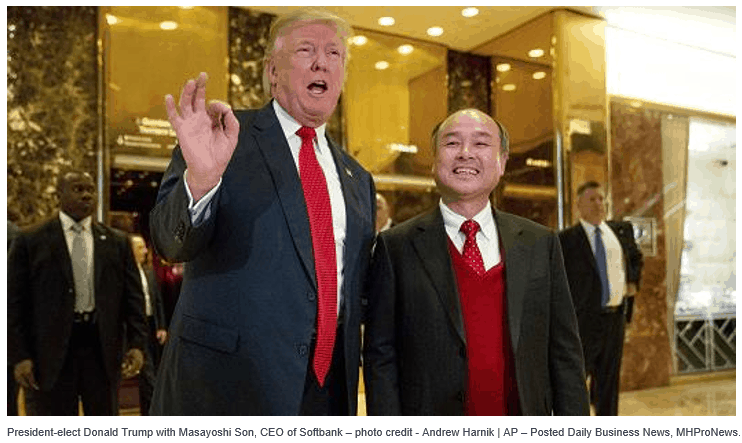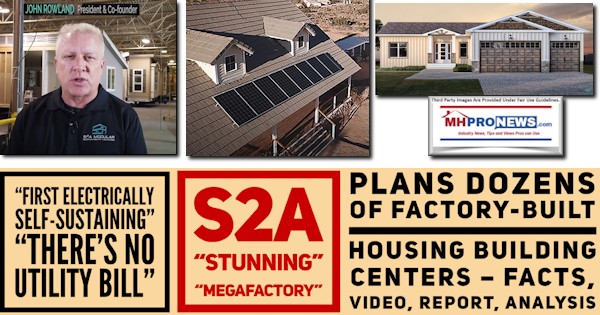 One must keep in mind that James A. "Jim" Schmitz and his colleagues with ties to the Minneapolis Federal Reserve and beyond, while they specifically wrote about manufactured housing and the "sabotage" monopoly tactics deployed in our profession, also at times mention modular building. Schmitz and his colleagues noted that those involved in the "sabotage" of manufactured (and modular) building includes builders, the National Association of Home Builders (NAHB), HUD, and others.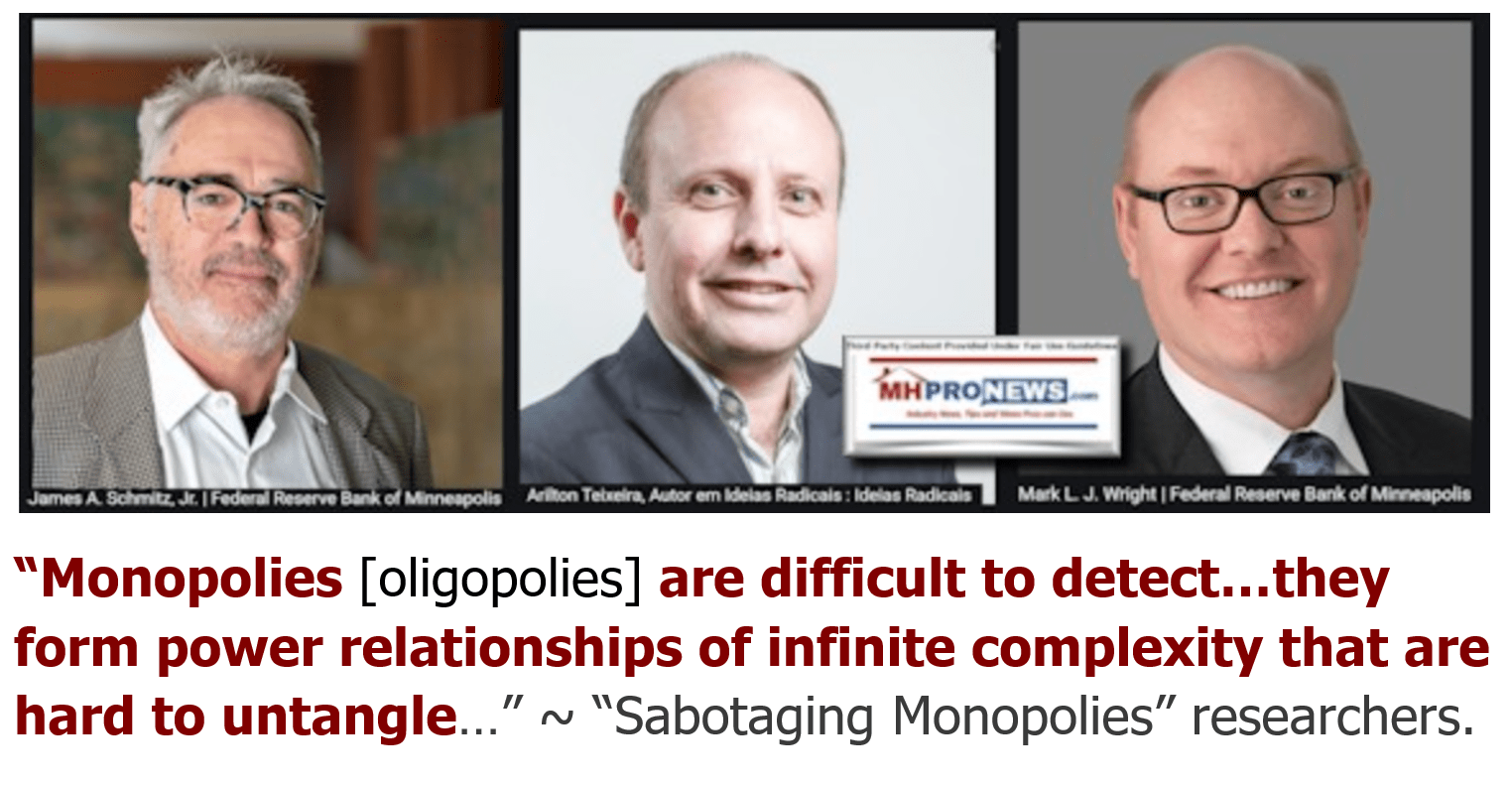 The NAHB is one of those housing focused trade associations that Berkshire and their allies dominated Manufactured Housing Institute (MHI) has been touting their involvement in. Note the NAHB logo below.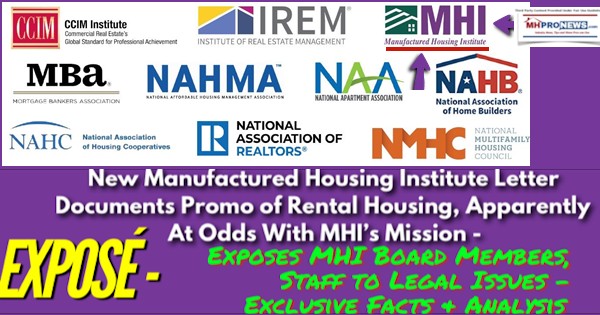 One must keep in mind what Schmitz et al have said about the methods of sabotaging monopolies. They are devious and deceptive. They have a variety of ways to mask their actual goals. Rephrased, what those researchers have said fits the definition of paltering. It fits what financial observers – such as Michael Lebowitz said about Buffett and his methods.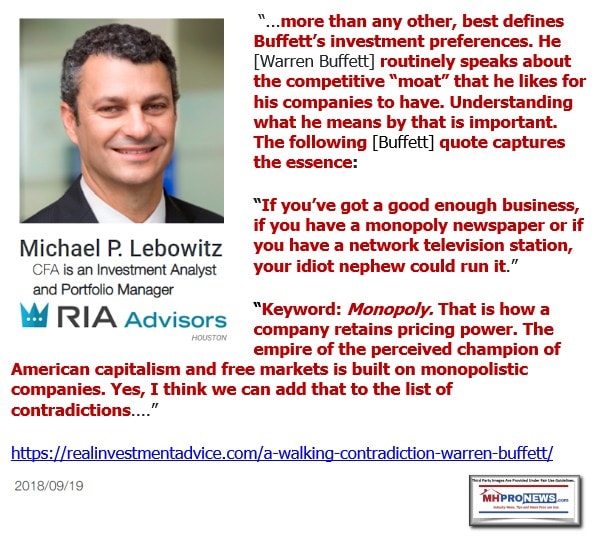 MHProNews has been in touch with various antitrust researchers and anti-monopoly advocates, including but not limited to the author of Goliath, Matt Stoller. More on Stoller another time. But suffice it to say for now that among those who have said off the record that they find the research performed by Samuel "Sam" Strommen at Knudson Law – and other research by MHProNews/MHLivingNews compelling are those in the anti-monopolization movement. There are reasons to believe that some of these will may in the future turn more attention to the role that MHI plays in the monopolization of manufactured housing, because per such source(s) that have examined the case, they believe that the evidence is solid.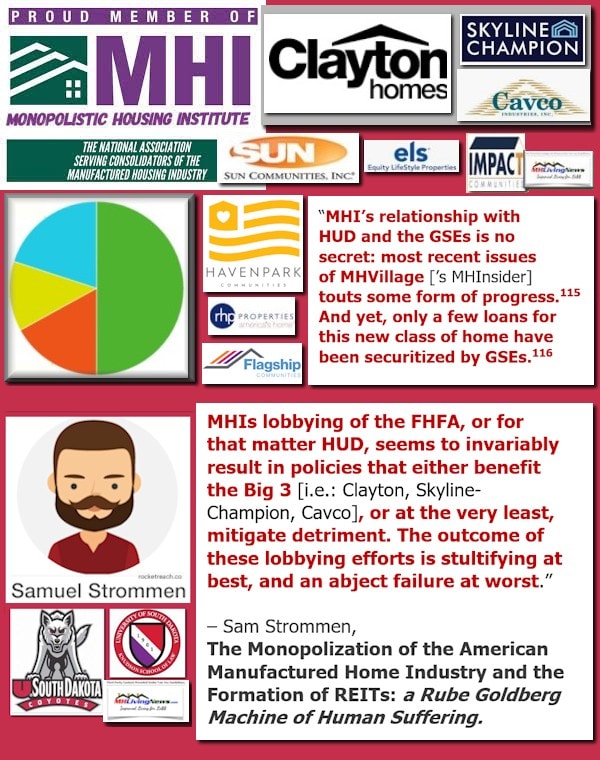 Construction Dive said this about Berkshire-owned the MiTek move with Danny Forster & Architecture (DF&A).
"But this also isn't Buffett's first foray into modular construction.  
Clayton Homes, once viewed as a low-brow manufactured housing company, was acquired by Berkshire Hathaway in 2003, and under its stewardship evolved to be named Builder of the Year by Builder magazine in 2019, putting single-family home builders on notice that some mix of offsite and onsite construction was the future of that industry."
Let's sum up what we know from years of experience probing these issues and the various sources. In no particular order of importance, the following.
Bill Gates, Buffett's longtime ally and whose foundation and investment firm are major shareholders in Berkshire stock, has said that Buffett finds weaknesses in markets. He then inserts himself into those markets in ways that are parasitic.
Parasites, per the CDC, feed off their host. As Gates admitted, this method is not 'value added.'
Joel Kotkin observed something similar about a broader range of billionaires who are undermining American society. Kotkin is a self-proclaimed former Democratic supporter. What Kotkin has described mirrors comments from former California Governor Jerry Brown (D).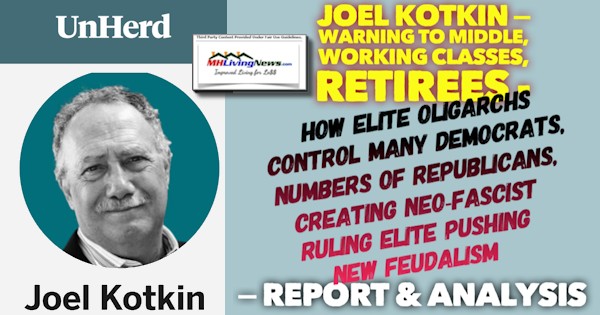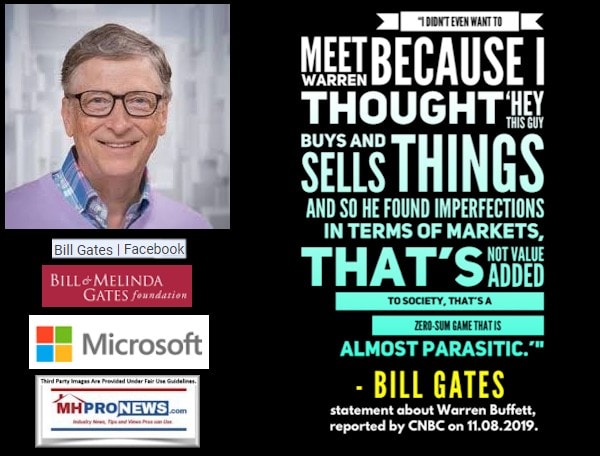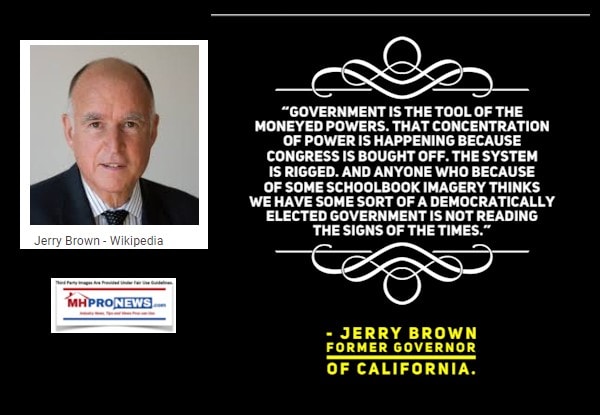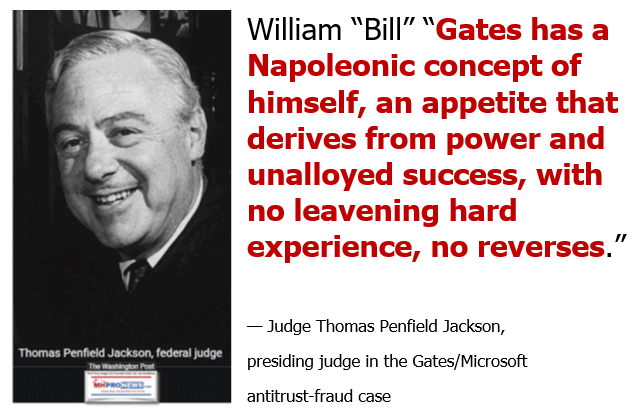 At least dating back to the 1990s, Buffett had made public references to "the moat" or "castle and moat" methodology. As the article above makes clear, Gates apparently grasped that and has deployed it himself.
Robin Harding, a self-described longtime Buffett admitted in an article in the Financial Times that Buffett was breaking American capitalism with this moat method. As Harding framed his look at the Buffett castle and moat methodology, if you have effective competitors, you are doing it wrong.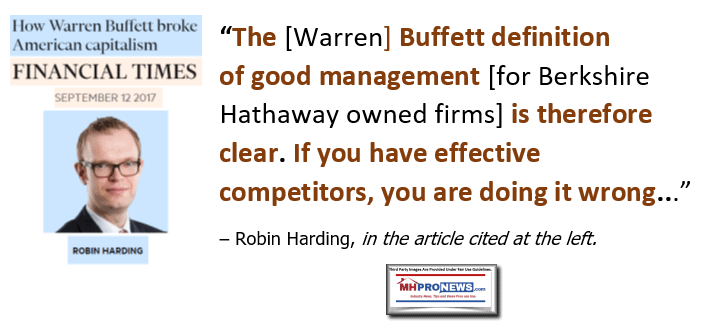 For any who may doubt Harding's, Strommen's, Schmitz, et al's concerns, ponder this. Kevin Clayton and pro-MHI member Andy Gedo have both spoken about the moat in manufactured housing.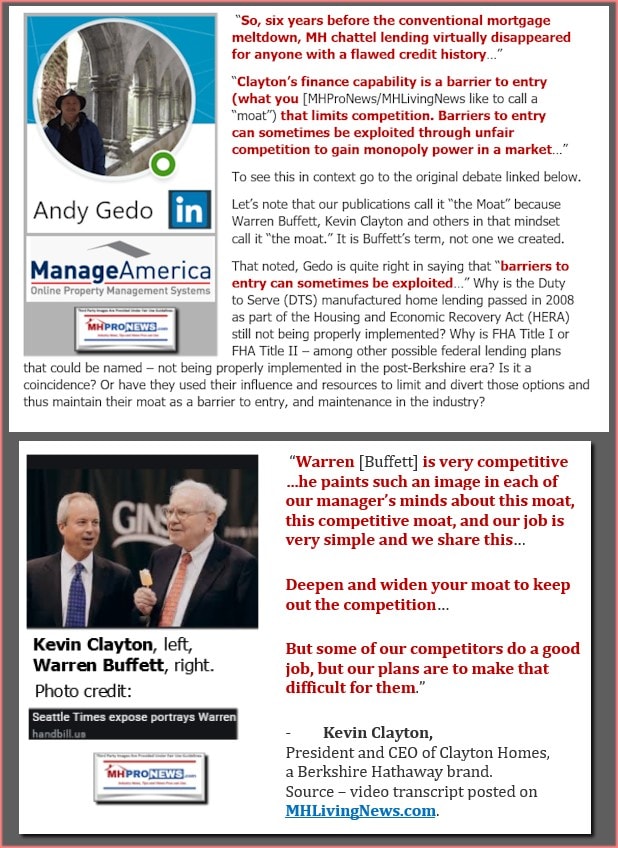 There are reasons to believe that the Claytons grasped the moat method prior to the Berkshire buyout. There may also be reasons to believe that former Clayton division president Joseph "Joe" Stegmayer, now under the cloud of an Securities and Exchange Commission legal action that involves Cavco Industries, understood the moat too.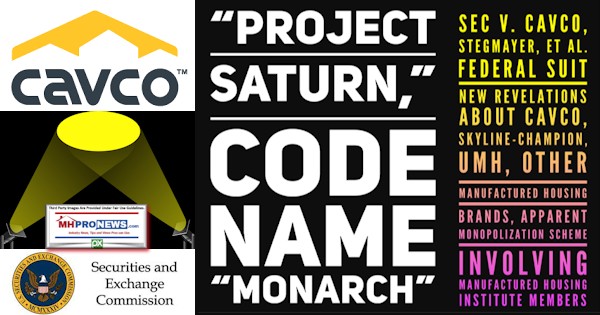 Manufactured and modular building have been well known building options for decades, as the sources above made clear. Their respective potential have been thwarted for decades too. When leaders at the Manufactured Housing Association for Regulatory Reform (MHARR) finally obtained support from then-new leadership at MHI, the Manufactured Housing Improvement Act (MHIA) of 2000 was passed in about 2 years. By contrast, MHI worked for years spending millions of dollars and never passed the various iterations of their so-called Preserving Access to Manufactured Housing Act (Preserving Act).
The Duty to Serve (DTS) Manufactured Housing was enacted as part of the broader Housing and Economic Recovery Act (HERA) of 2008. On paper, both MHARR and MHI have supported DTS being applied to all HUD Code manufactured homes. On paper, MHI has made various statements that support DTS for personal property lending, which makes up about 70 percent of all the single-family home lending on manufactured homes.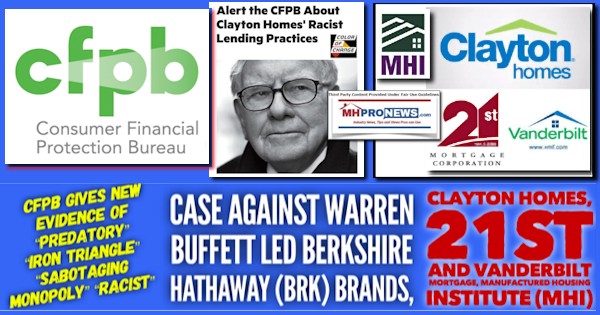 But so-called "sabotaging monopoly" tactics – think "Castle and Moat," or "the Moat" – have been at work for decades in manufactured housing. Who says? Among others, Buffett and his acolytes, that include Kevin Clayton, and groupies that have written articles or even book-length volumes on the Moat and may specifically mention manufactured housing and Clayton Homes.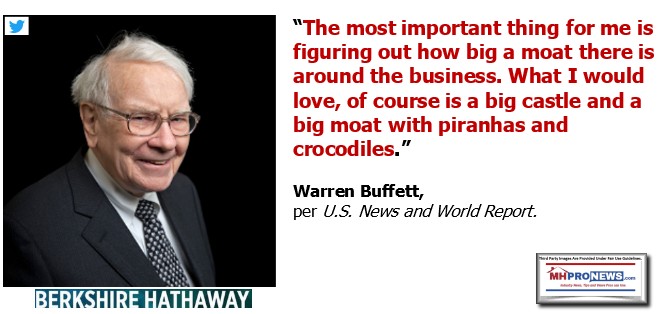 Much, but not all, of this outline are at least somewhat known to attentive readers of the fact- and evidence-based most popular trade publication, MHProNews, and our MHLivingNews sister-site. But in all candor, when Manufactured Home Marketing Sales Management (MHMarketingSalesManagement.com) first launched in mid-October 2009, the founders of this platform were largely clueless on notions such as the moat and "sabotaging monopoly" methods. In fairness to ourselves and others, it was only in recent years that Schmitz et al deployed their research, which probes not only housing but other sectors of the economy too. When bright people like Eric Belsky were seemingly misled by the "deception and misdirection" of those who undermine the economy for their own benefits. It was only years after we rebranded as MHProNews that the various pieces of evidence began to coalesce into an ever-more-coherent grasp of what has kept manufactured – or modular – housing underperforming.
What MiTek is calling "modular" is more precisely flat packed prefab construction. A prominent Ohio Manufactured Homes Association (OMHA) member was doing some of this in site building years ago. That OMHA-connected professional, per sources, went to Kevin Clayton and pitched it to him.
It was only after that pitch that Clayton Homes began its move into buying builders of conventional housing. Clayton made it clear over time that it would be blending off-site methods with site-building.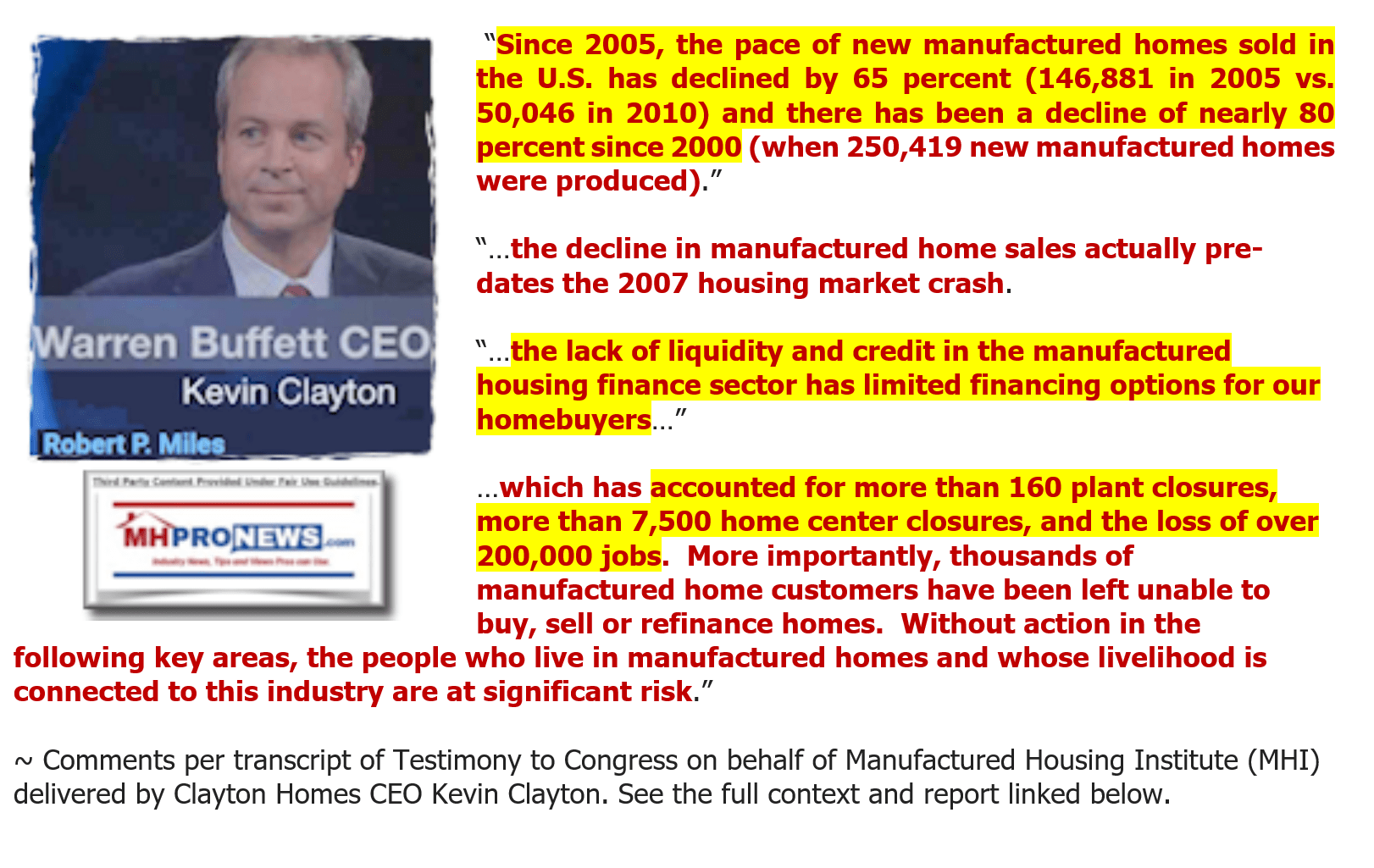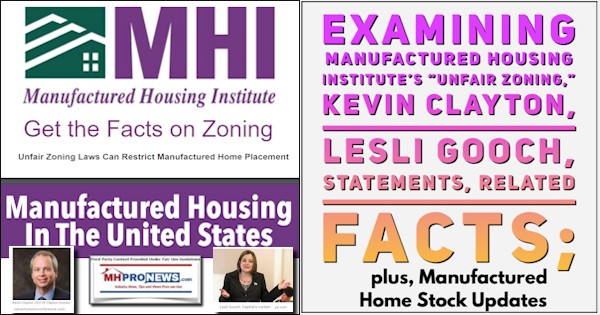 At each stage, there are nonprofits with apparent financial ties to Buffett and/or Berkshire and their allies that are deploying a mix of true, half-true, and deceptive information. That deception and misdirection – the mix of truth, half truth, and lies – are what makes unraveling the scheme time consuming. That's why detail is needed to lay out the evidence so that public officials can act. It is that deployment of paltering and other forms of "deception and misdirection" that complete the obscured picture that Schmitz and his colleagues, Strommen and his seminal research, MHARR and their respective efforts to expose the corruption that has harmed all of U.S. housing, not just factory building, can be summed up and tied together.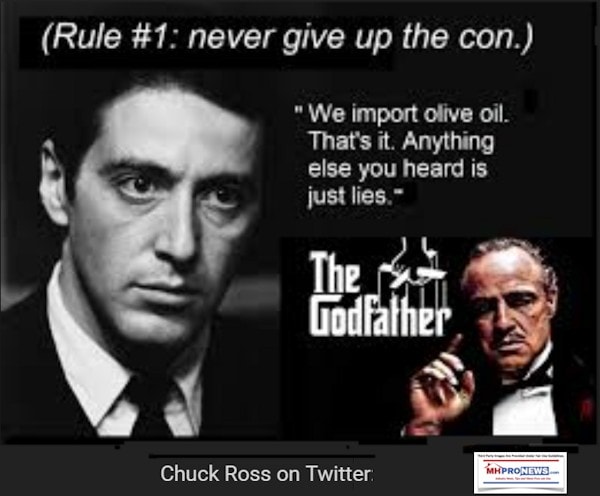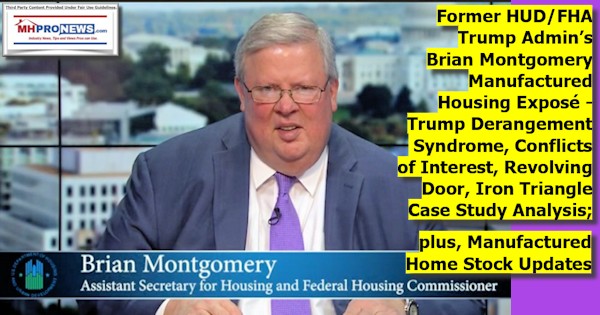 It is said that an essence of genius is to make the complex simple. It is with the above in mind that these pull quotes become crystal clear.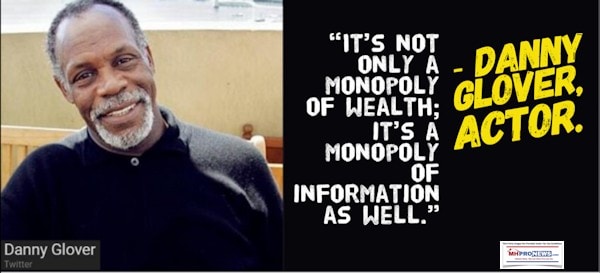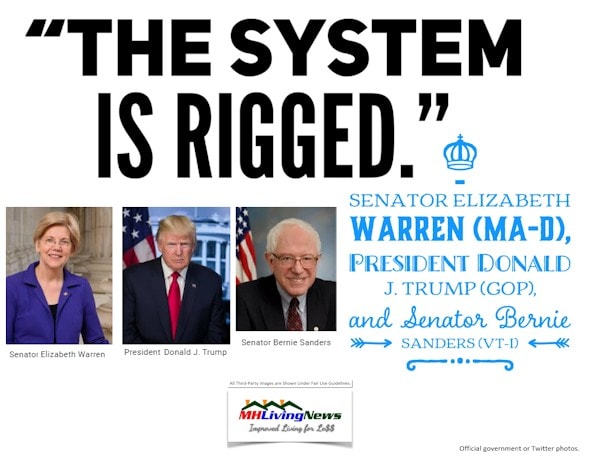 What we are witnessing is heartland
It is also long been said that America has been victimized by those who have "rigged the system." That system rigging includes what some have called the "deep state," the permanent bureaucracy, the revolving door, the Iron Triangle and an array of similar terminology that essentially points to a rigged system. Those observations are not just those of a conspiracy theorist – however well or ill intentioned this or that conspiracy theorist may be. Rather, those observations are often made by those who have seen the rigged system close up and personally. Some are arguably part of the rigged system, or used the rigged system themselves. Ironically, 2015-2016 candidate Donald J. Trump admitted to using the system for his benefit before running for the highest elective office in America. What Trump said struck a chord with millions as he ripped "Establishment" and "RINO" Republicans as well as Democrats. It must be recalled that Trump was a Democrat, for a time had involvement in minor political parties, and then finally ran as a Republican in the 2016 election cycle.
Effectively deposed President Trump was not and never will be a perfect man. But as Michael Savage, a Jew, author, and talk radio hall of fame icon said on Saturday 9.25.2021 to Newsmax, he (Savage) thinks that Trump is God's chosen instrument to break the stranglehold over America that has robbed untold millions of their rightful part of the American Dream.
Finding a weakness in a market and then exploiting that weakness to knee-cap or "sabotage" a competitor is what Buffett, Gates, and others have apparently been practicing for years. But these are all fancy terms that obscure that they are at their core monopolists.
Monopolization of a market is illegal. You do not have to have a monopoly, per federal law, to be guilty of efforts to conspire to monopolize a market.
There are an array of federal laws, as well as state laws, that those involved in manufactured and modular housing could be turning to in an effort to break up the monopolization of various aspects of the American Dream.  As a planned report will reflect, FTC Chairwoman Lina Khan has a reputation for being seriously antitrust. MHProNews cited those credential of Khan's years ago, in reports like the one linked below.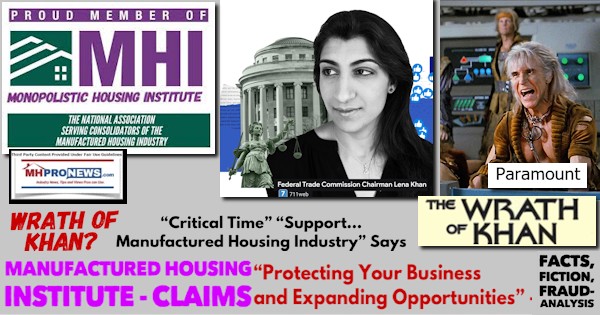 But what is not yet clear is this. Is Khan just another head fake? Or is she serious? After all, team Biden picked her. While Biden has said some pretty strong antitrust talk himself, there is no indication that those who put him into office – which includes prominent billionaires that make up the Civic Alliance – has any serious concern that Biden is in any way going to upset the applecart.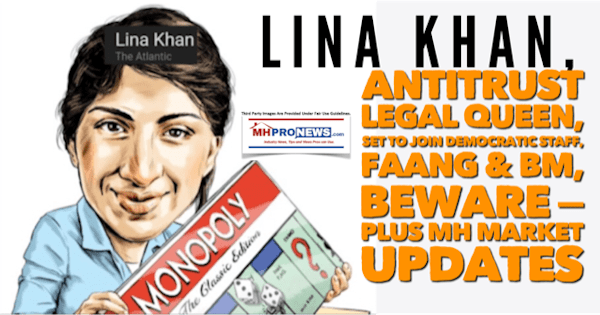 In fairness to Khan, people like author and antitrust researcher Stoller seem to think she is the real deal. Time will tell either way.
But regardless, the potential for what we can now begin to call a reverse moat exists regardless if Khan is authentic or merely another ruse.
Let's briefly ponder the reverse moat before drawing to a conclusion.
A key principle of the moat, as preached by Buffett and his fellow travelers is the "durable competitive advantage." That durable competitive advantage, per Buffett, can be almost anything. It can include deeper pockets. It can include a lower price. It can include a well known brand name. It may be some technology, media, nonprofit, political, or other advantages.
But the advantage that "We the People" have are – at least hypothetically – total numbers and the law. The monopolists in America have at various times been in the ascendency. The battle against monopolists goes back to before the time of the Revolutionary War against England that eventually made the 13 colonies the first in the United States of America (USA).
Each time, the monopolists have been thwarted by a combination of leaders and a sizable part of the population that resisted financial and market monopolization.
The durable competitive advantage – at least on paper – that We the People have are the U.S. Constitution, and enduring principles of truth over deceivers, and honesty over those who by hook or crook defraud others of what is rightfully due to others.
At least for now, America is still the wealthiest nation on earth. Yet, America's percentage of home ownership is lower than that of dozens of nations. Where else do you even see such facts being pulled together in a manner that makes sense?
The durable competitive advantage that we have – potentially – is God, Constitution, the Law writ large and the masses of the people, many of whom are not interested in being illicitly divided and ruled by a powerful oligarchy.
History does not repeat precisely. But in broad terms, history repeats in the sense that human nature has not changed since the Garden of Eden.
Buffett has made clear that he understands the lessons of history. The value of reading. That he can use the habits of people and the weaknesses of markets to exploit to his advantage and that of others.
We are witnessing – and are in the midst of – a return to a new feudalism or a new facism. All of these terms and more have been used by those who have in their own way attempted to sound the alarm while there is still time to stop what's occurring in the U.S.
Each of the items in the Bill of Rights, the first Ten Amendments to the U.S. Constitution are essential in our efforts to beat those who are arguably criminally manipulating America.
Nick Hanauer was arguably just engaged in yet another act of paltering when he warned his fellow 'plutocrats and oligarchs' in a column in Politico that the pitchforks are coming.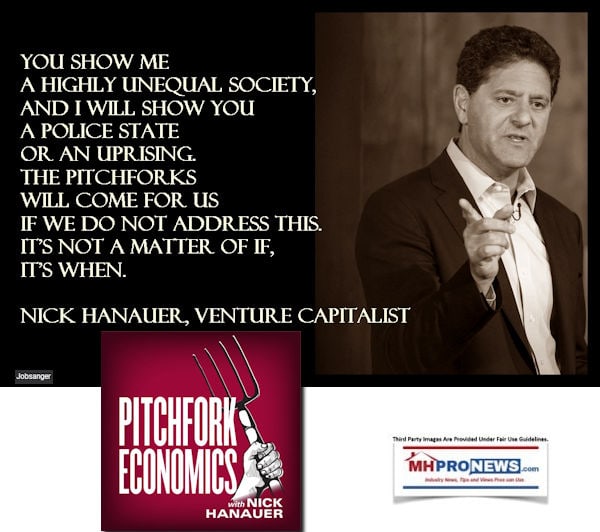 It should not be assumed that Hanauer was some hero. But using the principle of separating the wheat from the chaff, several of his statements are insightful.
For manufactured home professionals, there is absolutely a case to be made that MHARR has long advocated. First, those who are independent producers of HUD Code manufactured homes should be engaged in MHARR. There are some who are members of MHI and MHARR, per sources.
Next, MHARR has for over a decade advocated for the creation of a post-production trade group that they could work with to properly implement the good laws that benefit manufactured housing on paper, but which the "Iron Triangle" and "sabotaging monopoly" methods of the insiders at MHI have apparently thwarted.
MHI is merely a tool, just as MHAction is merely a tool, for Buffett-funded nonprofits and Berkshire bucks that are deployed to obscure reality in part by being on both sides of the apparent fight. It is a method straight out of the Soviet Communist playbook.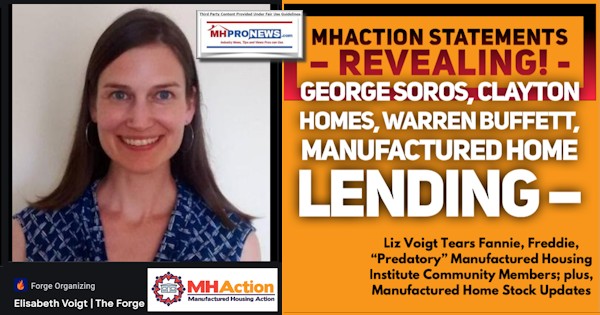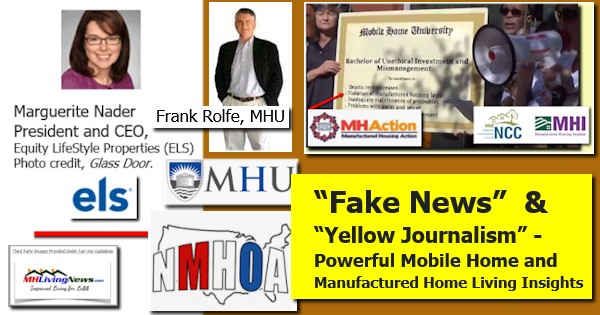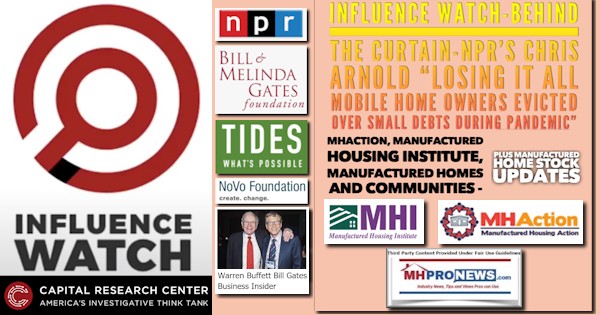 When confronted with these vexing realities, neither Berkshire attorneys, Berkshire board members, MHI and their leaders are willing to comment.
There were voices that told MHProNews from early on – years before we adopted that brand name – bits and pieces of what was occurring in manufactured housing. Not as a criticism, but as a statement of reality that matters, none of them ever sat down and laid out the case shown above or linked from the above. In fairness, how could they? It is – as Schmitz et al said – deliberately obscured.
MHProNews began to have occasional "aha! moments" – flashes of insights that began starting in 2014 when then MHI President Richard "Dick" Jennison made an outrageous statement on camera that undermined and contradicted their own claims.
Paraphrasing what Abraham Lincoln noted, the problem for liars is that sooner or later, they slip. The deception is exposed by their own words and deeds. Marty Lavin has been useful in this process, but odds are that Lavin did not grasp every bit of this either. But he and others saw that MHI and some of their dominating brands were saying one thing, but doing another.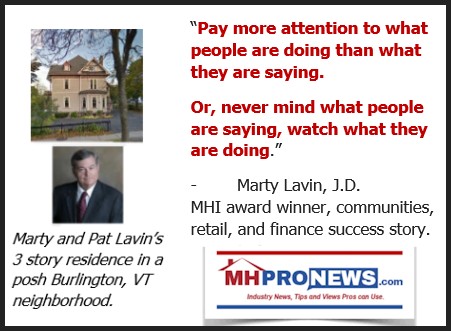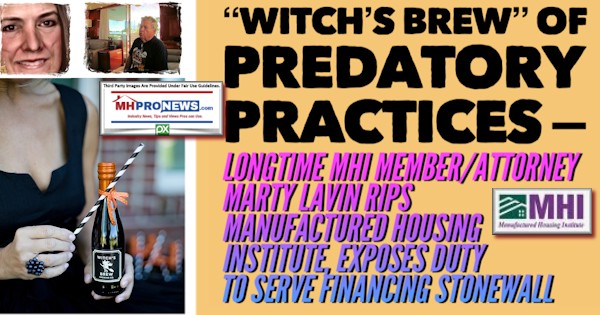 If some of this reads like a novel, sometimes truth is stranger than fiction. Note that most of this does not require large numbers of people who all grasp each and every item noted herein. All that the "oligarchs and plutocrats" – Hanauer's terminology – need is to have loyal employees and allies that do as they are told. When several hundred thousand are employed by some of those brands, the ripple effects are pronounced.
Let's not forget that in the 21st century alone, there have been several major scandals, each different, but each operated in plain sight until they were finally brought to justice.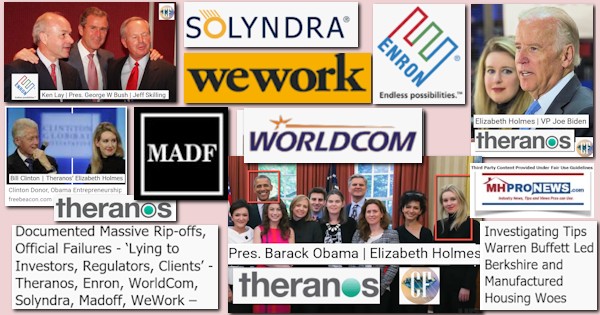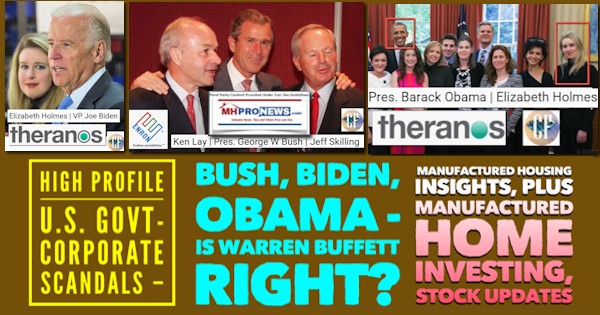 America is living through a new Gilded Age of contemporary Robber Barons. These forces were beaten back several times in U.S. history. That means that they can be stopped now too. Sometimes in the past, it was wealthy people who helped stop other wealthy people from harming millions of Americans. That's true starting with George Washington up to arguably 45th President Donald Trump in our own day.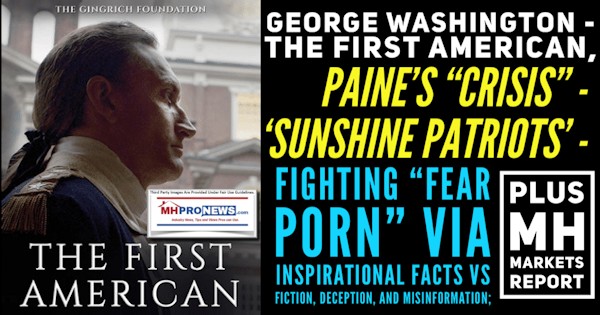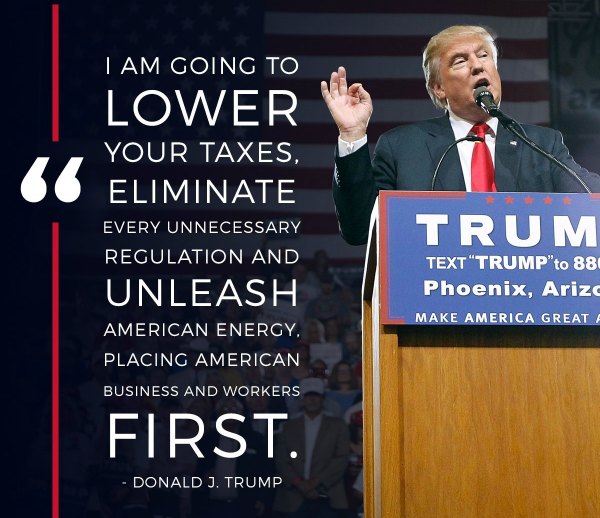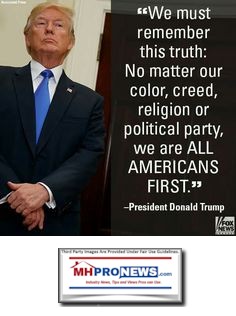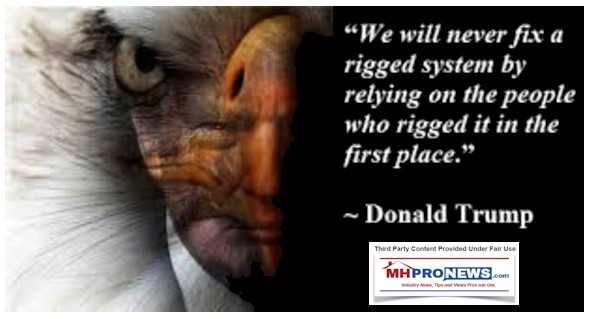 But to draw this to a conclusion, there are specific steps that manufactured housing pros and others impacted by these pernicious oligarchs moves, it could be summed up like this.
Enforce good existing laws. For manufactured housing professionals, that includes the MHIA and DTS. But it should also include various state and federal laws that at least on paper make crimes by those "too big to fail" capable of criminal charges that hopefully would belie the claim that they are "too big to jail."
That Buffett and Munger have jokingly referred to themselves as "partners in crime" is revealing.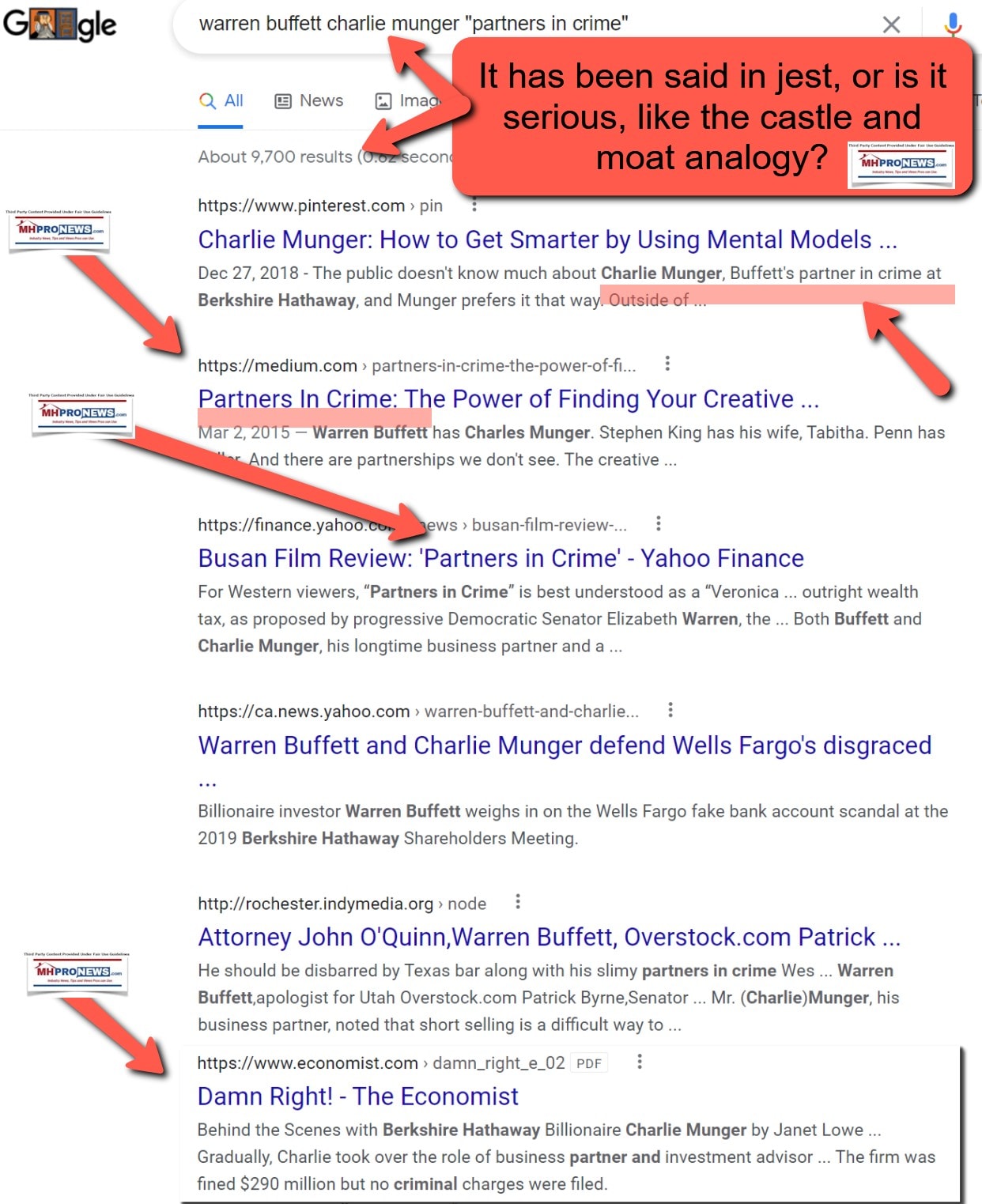 Information dominance is in the hands of the oligarchs and plutocrats. The capital dominance is in their hands too. In many ways, cultural influences – such as movies, songs, videos, fiction, etc. – are in their hands too. In a fascinating way, Danny Glover, who has sat on one of Buffett's nonprofit boards – has sat in a unique perch to witness and thus make the statement we've periodically shared in recent years. It is worth sharing the Glover quotation again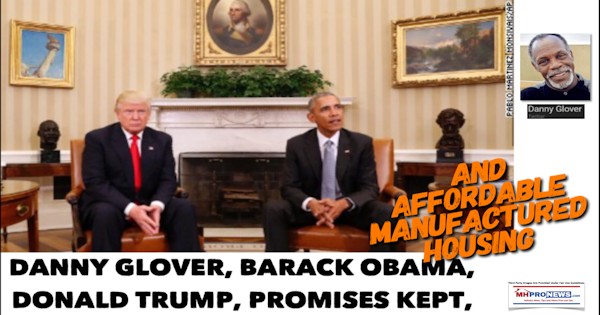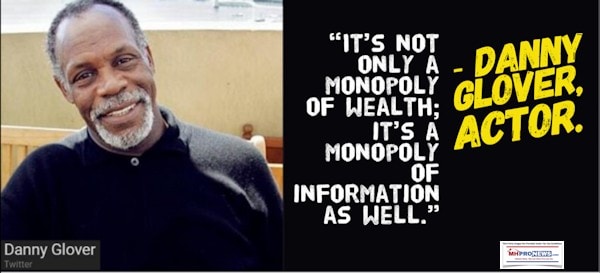 Sharyl Attkisson and Glen Greenwald come from different media backgrounds, and each uses a different style. But they have made useful insights that are instructive today.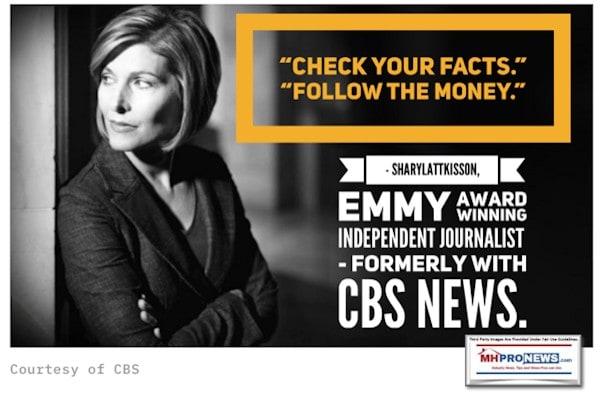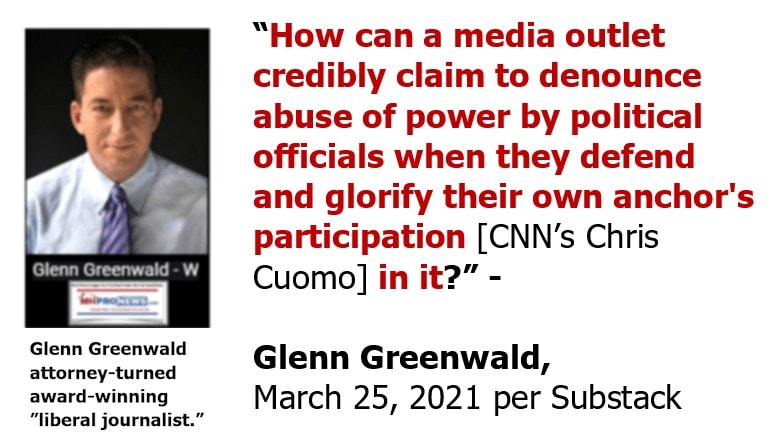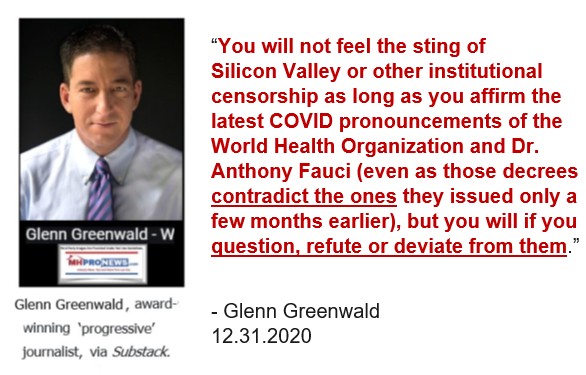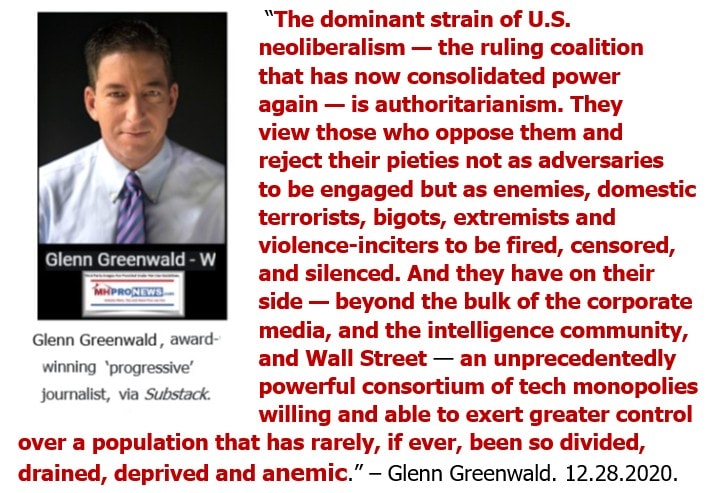 The essence of authentic news is not to be the stenographer of some corporation or politicians or government agency. That is easy to do. The essence of authentic news is to shed light on the truth.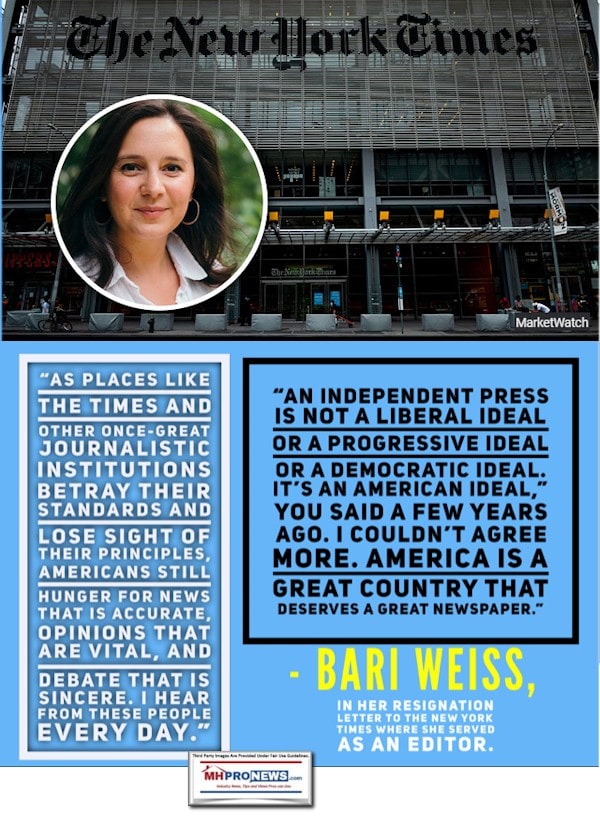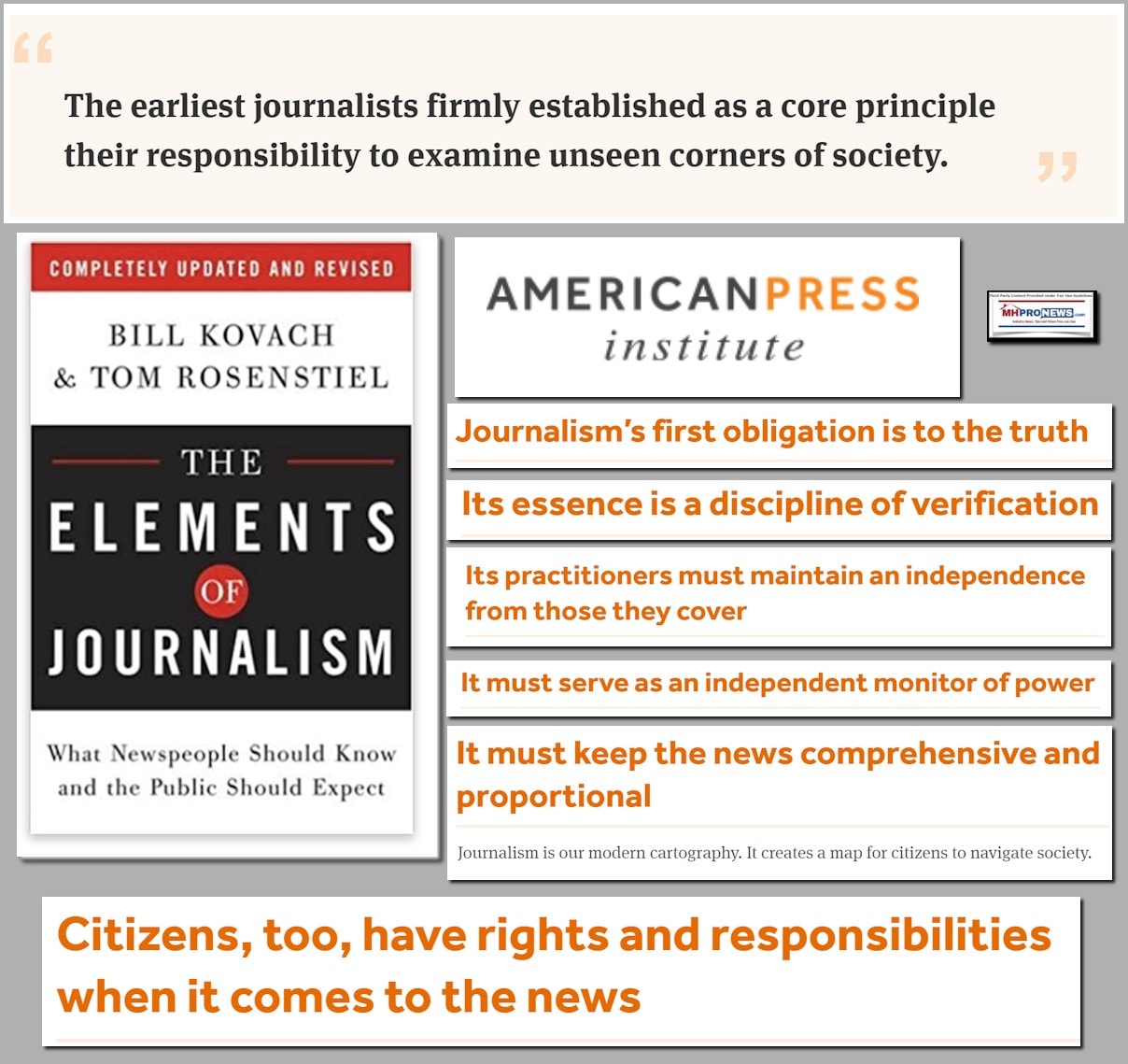 The truth is that we need God and Godly values. No one should be surprised by that, as from Washington, to Lincoln, to Kennedy, to Trump American presidents have called on God.
Imperfect but well-meaning humans who care not only about themselves, but for their children and the interests of others must be willing to do their part to challenge the corrupted and rigged system.  God can shed grace on those as needed.
At its core, what has happened in the U.S. has its parallels in other countries. It all comes down to a modern tower of Babel, where a few want to challenge God's Ways for their own benefit. Good luck with that one. The modern would be de facto billionaire rulers and their minions shed just enough rewards, and mete out enough punishment to keep many people in line and in check.
There have always been those willing to challenge corruption. With God's help, the laws exist to make that possible. We the People must continue to do the homework that keeps us informed. But we must also make the pivot toward the methods that could lawfully breach the Buffett-Gates et al moat.
Because there are apparently laws that have been broken, the 'durable competitive advantage' that we the people have are applying good laws with God's help.  As the ancient's said, Ora et Labora. Prayer and Work. We must pray like it all depends on God. Then we must work like it all depends on us. That's how past moats were breached and their evil nobility living in their castles were defeated. That is how the current moats can be breached, and those living in their castles could be hauled off to court and finally to prison. It happened to Madoff and others in the 21st century. It can happen again.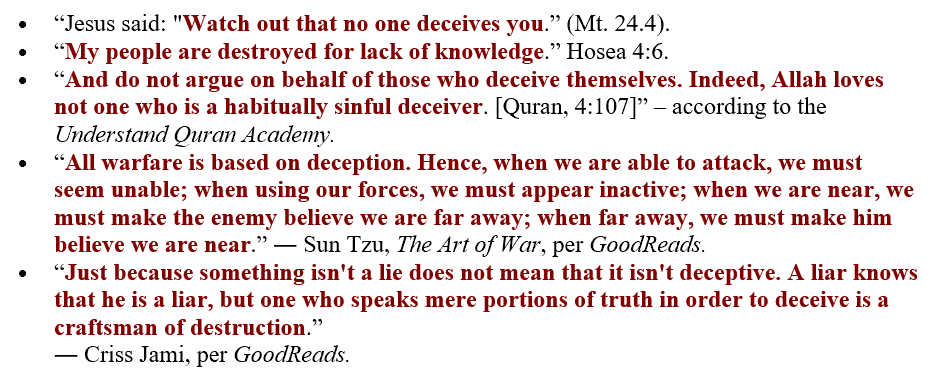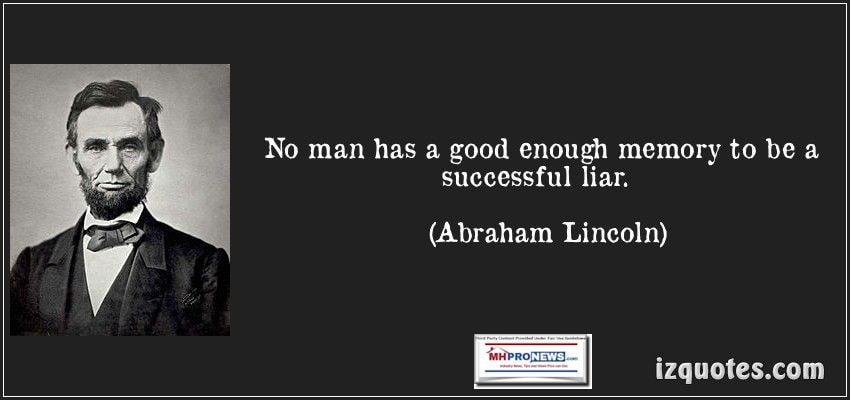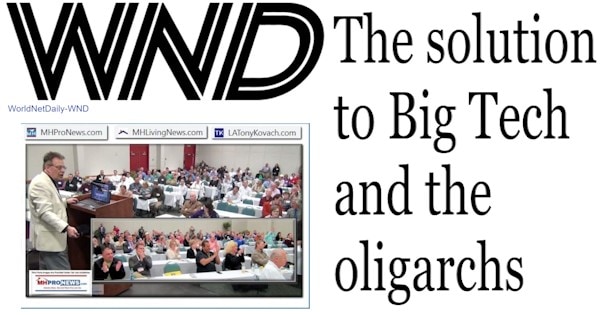 Joe Biden had a point in saying that capitalism without competition isn't capitalism. But as we've said then and since, that statement – however true it may be – can be mere window dressing. The sentiment for antitrust is growing in America. The time to break up the monopolization of the manufactured housing industry is now. Through tips, documents, insider insights, by using our services, or whatever means you can, join us in this fight to free "We the People" to give millions more opportunities to fulfill the American Dream. ##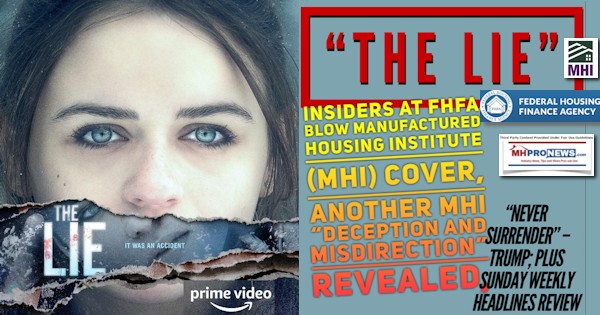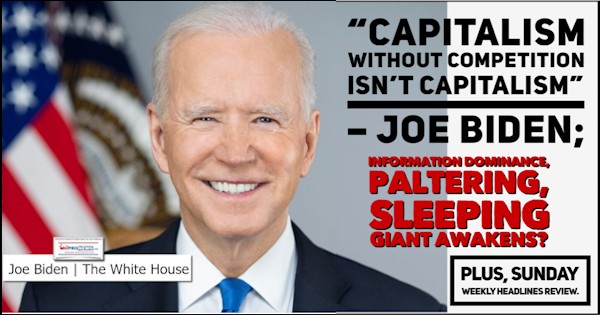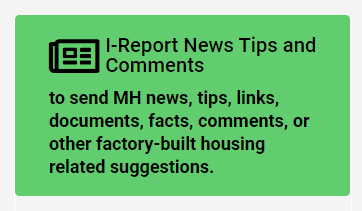 Our thanks to you, our sources, and sponsors for making and keeping us the runaway number one source for authentic "News through the lens of manufactured homes and factory-built housing" © where "We Provide, You Decide." © ## (Affordable housing, manufactured homes, reports, fact-checks, analysis, and commentary. Third-party images or content are provided under fair use guidelines for media.) (See Related Reports, further below. Text/image boxes often are hot-linked to other reports that can be access by clicking on them.)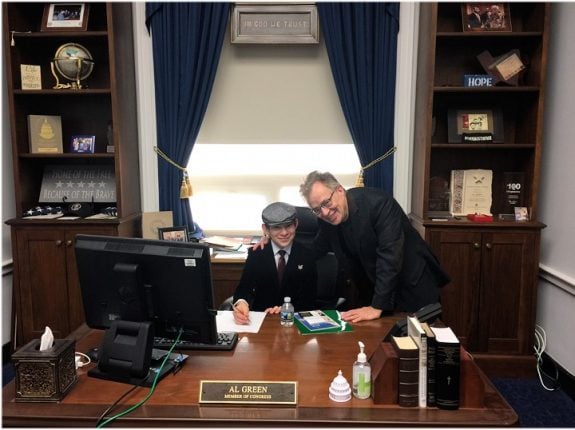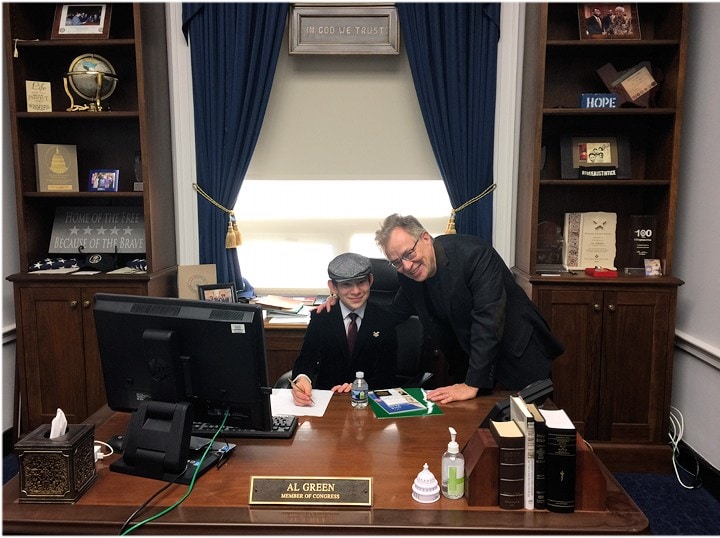 By L.A. "Tony" Kovach – for MHProNews.com.
Tony earned a journalism scholarship and earned numerous awards in history and in manufactured housing.
For example, he earned the prestigious Lottinville Award in history from the University of Oklahoma, where he studied history and business management. He's a managing member and co-founder of LifeStyle Factory Homes, LLC, the parent company to MHProNews, and MHLivingNews.com.
This article reflects the LLC's and/or the writer's position, and may or may not reflect the views of sponsors or supporters.
Connect on LinkedIn: http://www.linkedin.com/in/latonykovach
Related References:
The text/image boxes below are linked to other reports, which can be accessed by clicking on them.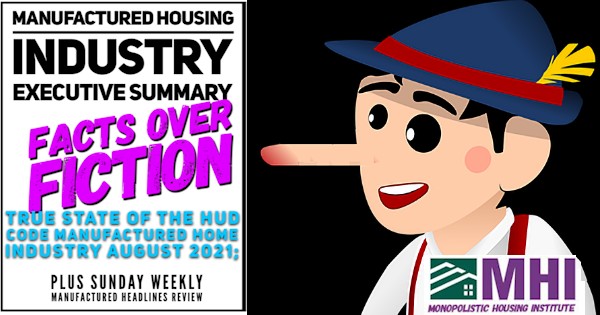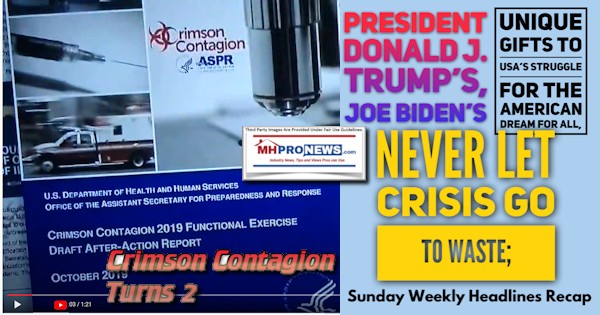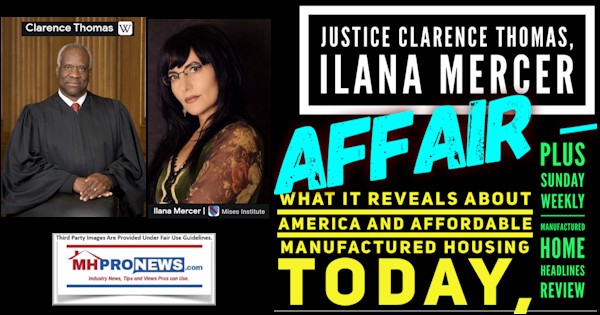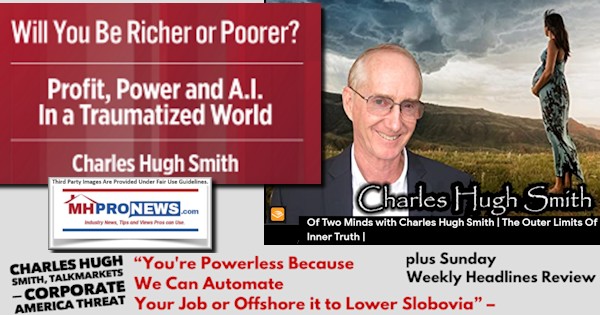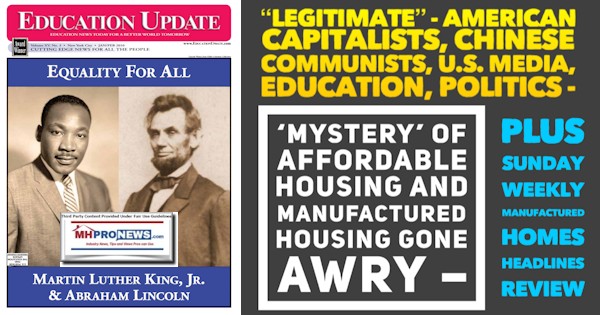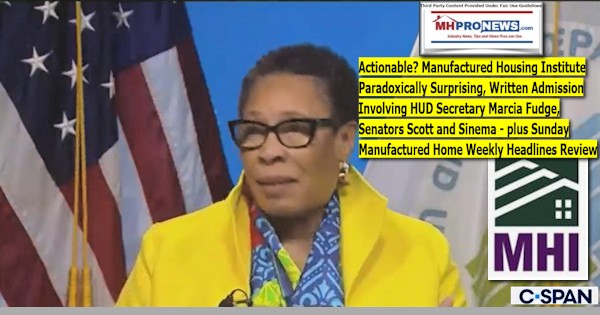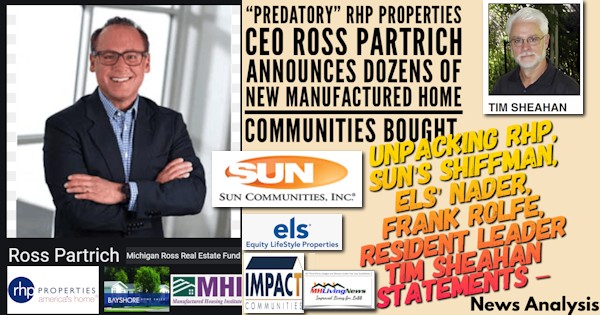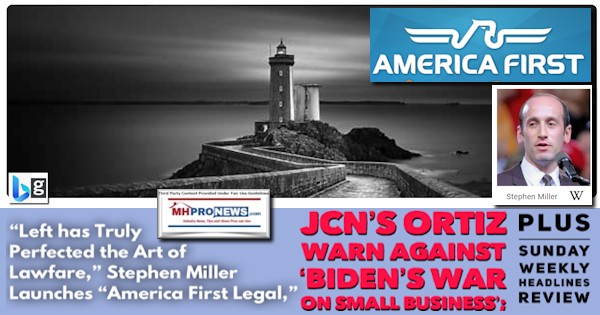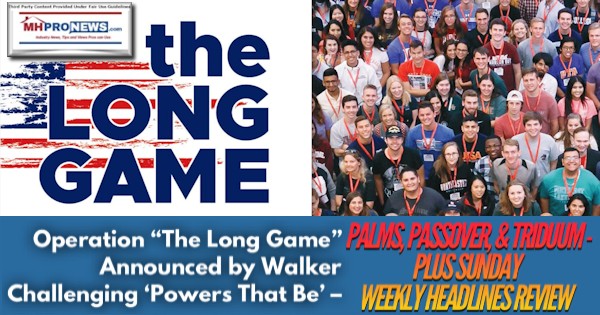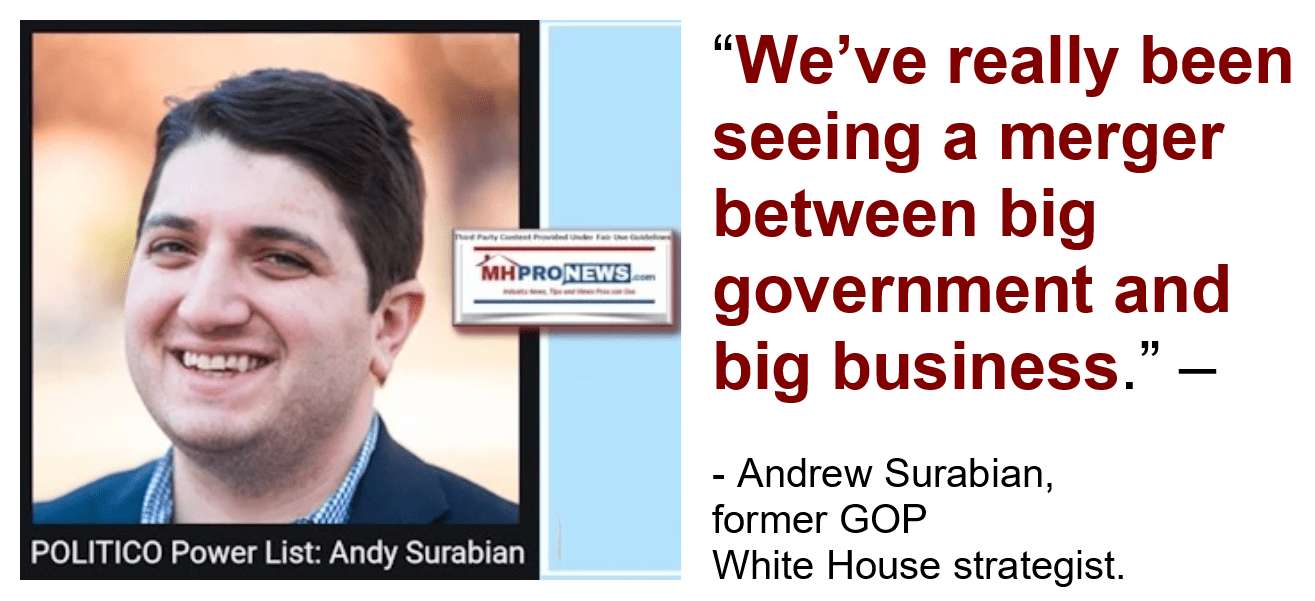 https://www.manufacturedhomepronews.com/weve-been-seeing-a-merger-between-big-government-and-big-business-andrew-surabian-naomi-wolf-warnings-plus-sunday-weekly-headlines-review/ [/capti