"National Public Radio [NPR] is an American privately and publicly funded non-profit membership media organization that serves as a national syndicator to a network of 900 public radio stations in the United States." That description is per Influence Watch's page on NPR. Influence Watch states that among the funding sources for the NPR nonprofit organization include, but are not limited to, the following:
Bill and Melinda Gates Foundation
Tides Foundation
Those two sources providing donations to NPR – and possible other sources as well – have clearly documented ties to donations from Warren Buffett, chairman of Berkshire Hathaway (BRK). Other than perhaps Gates himself, the largest donor to the Gates Foundation is Warren Buffett, who is also a trustee of the foundation.
Similarly, for several years, the largest donor to the Tides Foundation has been the Novo Foundation. The NoVo Foundation for years was solely funded by Warren Buffett and is run by Peter Buffett and his wife. Peter is Warren's son.
Influence Watch describes itself as follows. "Welcome to CRC's work-in-progress, InfluenceWatch.
Capital Research Center [CRC] conceived of this project after identifying a need for more fact-based, accurate descriptions of all of the various influencers of public policy issues." Their description also says that "CRC has a perspective on the public policy process as well, but this [InfluenceWatch] resource is more important than that. We're seeking the information to speak for itself—information that frequently is not cited in reports about these individuals and organizations." Let's briefly note that InfluenceWatch has proven time and again to be a valuable and reliable source of information in numbers of reports on MHProNews and MHLivingNews. 
That said, there are several reasons that brief, revealing, and evidence-based set of insights about NPR, The Gates Foundation, NoVo Foundation, Tides Foundation, the Manufactured Housing Institute (MHI) and MHAction should matter to manufactured home professionals, investors, and others.
On the surface, the latest NPR report by Chris Arnold seems to:
elevate Manufactured Home Action (MHAction).
Implies a darker side to Manufactured Housing Institute CEO Lesli Gooch and their odd defense of members that include Havenpark Communities
Clearly frames the account in a way that makes Havenpark Communities, and by implication, others like them in the manufactured home community sector – bad actors that behave in a predatory fashion.
Reflects the understandable concerns about the apparent injustice of Havenpark toward former resident Barbara Gaught, whom NPR asserts lost her debt-free manufactured home due to Gaught "…fell one month behind on the rent and owed just $621."
Routinely used improper terminology about manufactured homes and communities, which one might think that an objective journalist at NPR or elsewhere would want to avoid doing.
What is Missing? Analysis, Additional Information, and Commentary
In no specific order of importance, the following fact and observations are warranted.
On the date and time MHProNews examined the Arnold's report for NPR, there was no clearly evident disclaimers on the page that reflected possible media conflicts-of-interest in their report.
While on the surface, it may seem like the Arnold's report for NPR is harmful for MHI, which is clearly Berkshire backed and dominated, a closer look reveals that this is a repetitive pattern of a straw man style encounter that arguably benefits Buffett's brands, as well as their consolidating allies at MHI.
CRC's website has an entire category of reports that they do under the heading of "Deception & Misdirection." CRC has dozens of pages of reports of major firms and billionaires under their "Deception and Misdirection" heading.  For example, a CRC's prior report  on Arabella Advisors specifically named Buffett.
While it is our MHProNews analysis, not CRC's, that makes the argument that manufactured housing is being cleverly subverted from within in a fashion that fits the Buffett Moat mantra and acquiring assets at a discounted valuation. If so, then logically the "Deception and Misdirection" between MHAction and MHI are a kind of shadow boxing. The purpose? It would be part of a broader effort to deceive and mislead smaller firms that are targets of acquisition, as well as to deceive and mislead public officials, investors or others.
It is only a closer examination of years of trends and evidence that beings to reveal what has been occurring in manufactured housing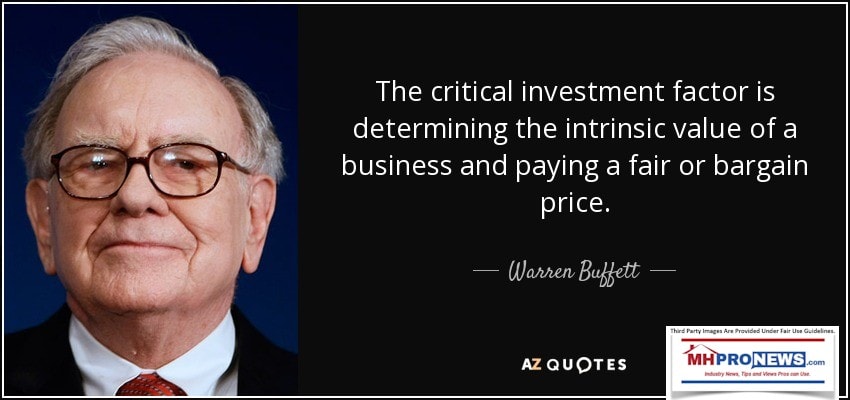 It is in that context above that the detail and evidence-oriented report linked below is important.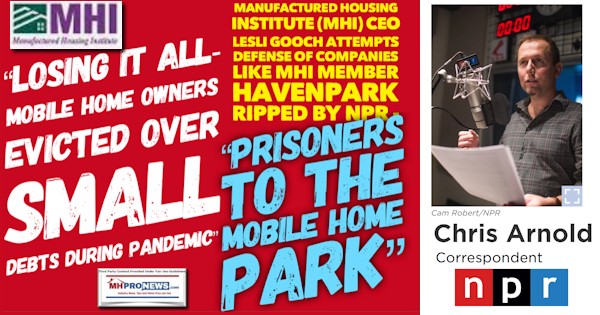 When the Berkshire brands, MHI, MHAction, and others are given repeated, documented opportunities to respond to the factual and evidence-based allegations lodged against them, the most common outcome is silence.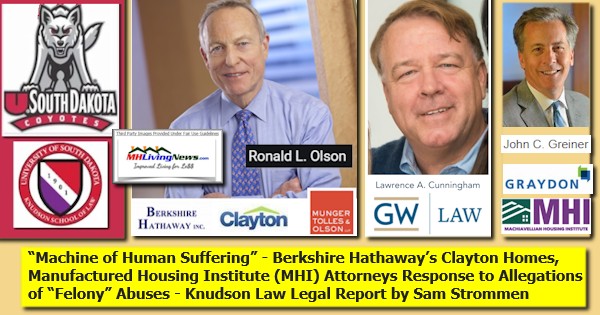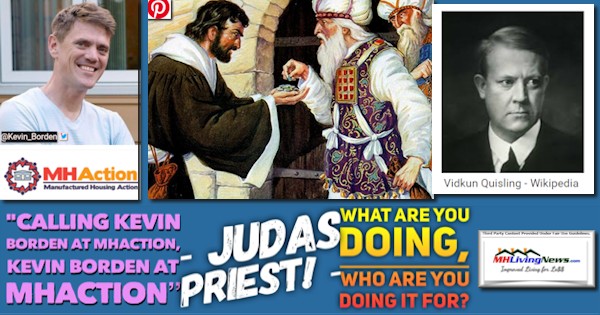 When someone like MHI member Dave Reynolds engages, it is often only briefly, and then they rapidly toss in the tower with what could be described as a red herring move – or "Deception and Misdirection" under a different name.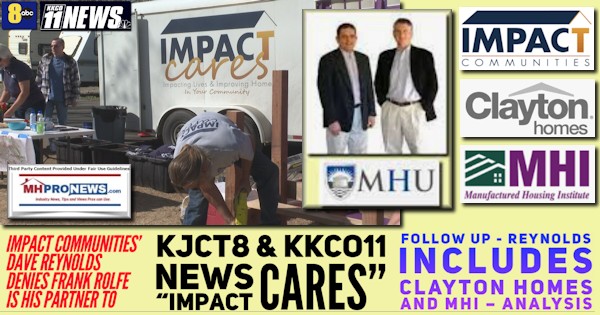 Some investors may think that this benefits the investments of those who are so manipulating the system. While the details may vary from case-to-case, the argument could be made that manufactured housing would be doing many times better in the absence of such market manipulation. So, while some might be helped on a short-to-mid-term run, are they potentially being harmed in the longer term?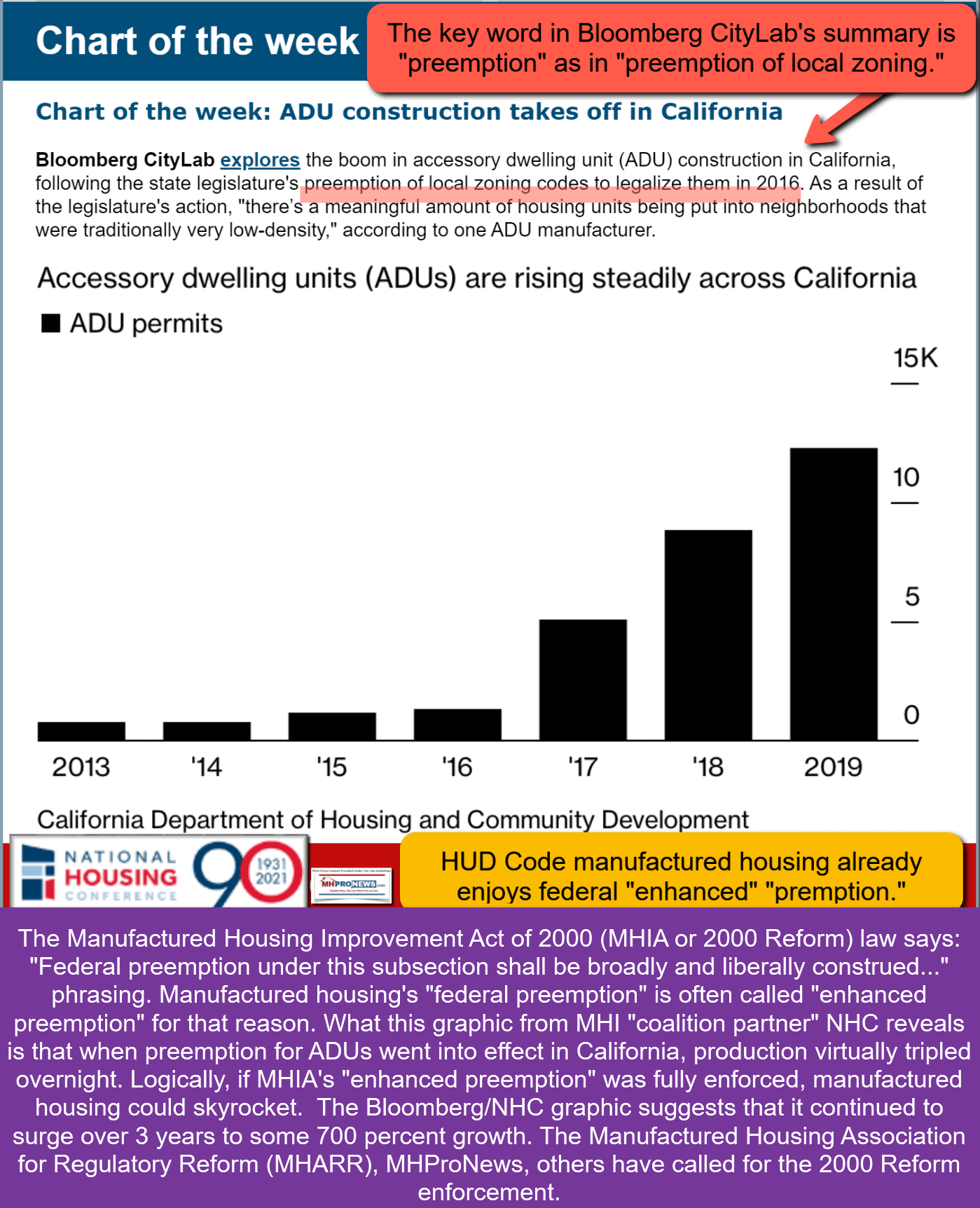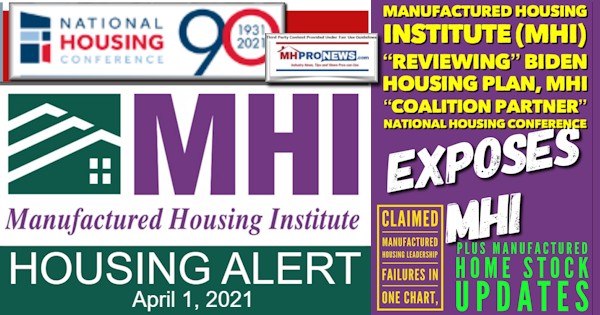 If For those who think that they may benefit for a while with Buffett and his allies purported web of deception, spin, paltering, mendacity, and misdirection to consolidate manufactured housing in a couple of decades, they should think twice. Do they lack a follow up plan to take out their oligarch allies once they feel their mission is accomplished? Historic examples in other nations suggests that once a group takes power, they often eliminate those who helped them obtain it.
No one report, especially one this brief, will cover all of the nuances of how "Deception and Misdirection" are at play in manufactured housing.  But a look at the report linked above and here, and then following the links from within that report, will being to paint an evidence-based picture that Buffett's henchmen and their minions have been unsuccessful in debunking to date. The MHI and National Housing Conference above and linked here will shed still more light. The two reports that follow are a more comprehensive look at what is occurring in manufactured housing, and how it impacts millions of Americans.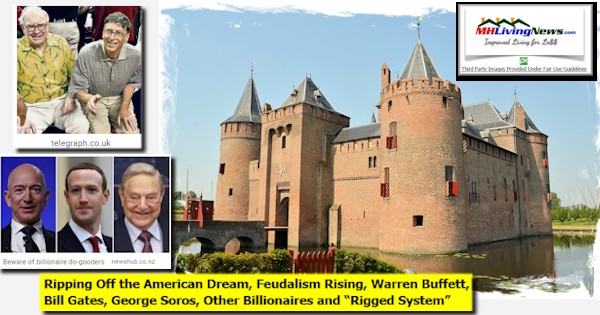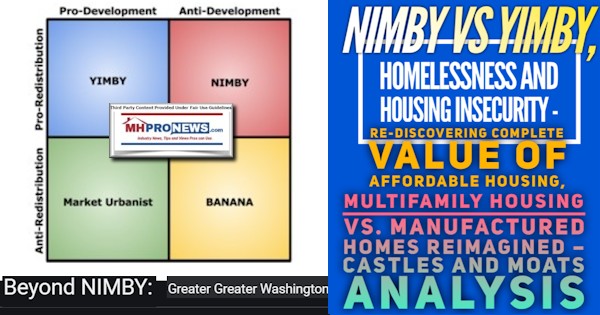 ###
Note to regular readers. MHProNews is testing a new way to provide some tried-and-true features in our evening market report. It will include our time saving, insight generating left-right headline bullet summary, plus the same market snapshot graphics at today's closing bell.  Feedback welcome.
Market Indicator Closing Summaries – Yahoo Finance Closing Tickers on MHProNews…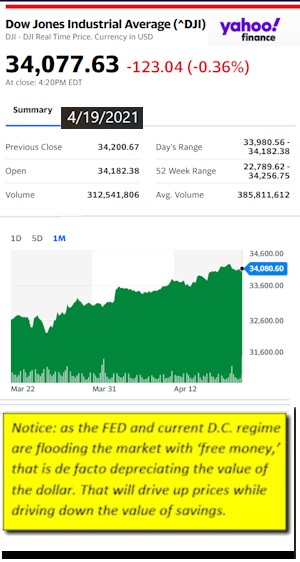 Headlines from left-of-center CNN Business
Tesla crash
Scene video following a crash involving a Tesla Saturday night in Spring, TX
Police say no one was in the driver's seat. Autopilot may have been in use
Trump wants you to stop drinking Coke. But his properties are still serving it
People are drinking Coke again, but Big Soda isn't out of the woods yet
LinkedIn billionaire: Cut off funding for politicians who limit voting rights
GameStop CEO is stepping down, sending the stock soaring
Trump said electing Biden would crash the markets. It didn't
Consumers have $5.4 trillion in savings. That could unleash a global spending boom
HSBC's CEO is swapping his office for a hot desk
4 things to ask before you hire a financial adviser
Amazon union election results should be set aside, union argues
What to expect at Apple's 'Spring loaded' event
Remote workers can get paid $12,000 to move to West Virginia
'Shang-Chi' debuts first trailer as Marvel aims to rebound from a lost year
Analysis: Minnesota has a First Amendment problem
This photograph taken on December 17, 2020 shows shows a physical imitation of a Bitcoin at a crypto currency "Bitcoin Change" shop, near Grand Bazaar, in Istanbul. – Leading virtual currency bitcoin on 16 December traded above $20,000 for the first time following a sustained run higher in recent weeks. Bitcoin reached a record-high $20,398.50 before pulling back to $20,145, which was still an intra-day gain of nearly four percent.
Bitcoin's attempt to bounce back from a dramatic selloff is fizzling out
The Peloton Tread+.
Peloton stock tumbles after refusing to recall Tread+ treadmill
South Korean boy band BTS arrives for the 62nd Annual Grammy Awards on January 26, 2020, in Los Angeles.
McDonald's new BTS meal is coming, featuring flavors you weren't able to get in the US
CRYPTO 101
Everything you need to know about bitcoin
Why bitcoin could triple over next year
Here's what you need to know about Dogecoin
What is an NFT? Non-fungible tokens explained
How to invest in bitcoin if you're afraid of buying bitcoin
BEYOND FACEBOOK AND TWITTER
NEW YORK, NEW YORK – DECEMBER 22: The Broadway theater district in Manhattan stands mostly empty and closed as Covid-19 restrictions keep performances closed on December 22, 2020 in New York City. The $900 billion coronavirus relief stimulus package offers some hope to beleaguered theaters and performers with the Save Our Stages Act. The act will provide $15 billion for independent venues as well as Broadway theaters, comedy clubs and other venues and will be included in the relief package.
Clubhouse rooms are the new Broadway shows
Clubhouse has Twitter on alert
Got a money question? There's a TikTok for that
People are turning to TikTok to find new apartments
TikTok took down some of their posts. They still don't know why
Headlines from right-of-center Newsmax 
Trump Urges Biden to Reinstate Travel Ban
The Biden Presidency
Trump to Hannity: All Biden Had to Do Was Leave Border Alone
House Republicans Ask for Meeting With Harris Over Border 'Catastrophe'
Biden Calls Situation at Southern Border 'Crisis' for 1st Time
WH Says It Is in Touch With Local Officials Ahead of Chauvin Trial Verdict
Tenney to Newsmax TV: AOC, Durbin Calling Shots Behind Scenes
Former FDA Chief Gottlieb: COVID Cases Will Drop Sharply Soon
ICE, CBP Drop 'Illegal Alien' and 'Assimilation' Terminology
The Biden Presidency
Trump to Hannity: All Biden Had to Do Was Leave Border Alone
House Republicans Ask for Meeting With Harris Over Border 'Catastrophe'
Biden Calls Situation at Southern Border 'Crisis' for 1st Time
WH Says It Is in Touch With Local Officials Ahead of Chauvin Trial Verdict
Tenney to Newsmax TV: AOC, Durbin Calling Shots Behind Scenes
Former FDA Chief Gottlieb: COVID Cases Will Drop Sharply Soon
ICE, CBP Drop 'Illegal Alien' and 'Assimilation' Terminology
More The Biden Presidency
Newsfront
High Court Punts on 2nd Amendment Cases Over Gun Ownership Ban for Life
The Supreme Court on Monday opted not to take up three challenges to a federal ban on gun ownership for people who've been convicted of nonviolent crimes.The decision reinforced the apparent inclination by the court to skirt Second Amendment questions. But it also surprised…
Related Stories
Supreme Court Doubts 'Green Cards' for Some Protected Migrants
US Supreme Court Tosses Another Republican Election Challenge
Cuomo's Pandemic Book May Get Review by NY Attorney General
New York State Comptroller Thomas DiNapoli called for a criminal
All Adult Americans Are Now Eligible for COVID-19 Vaccine
Related
COVID Vaccination Demand Slowing in Parts of US |
Officials Concerned Fraudulent Vaccination Cards Pose Danger to Public
COVID Protocols to Prevent NBA's Lakers From Visiting White House
Study: South African Variant May 'Break Through' Pfizer Vaccine Protection
Alaska Plans to Give Tourists Free COVID-19 Vaccines This Summer
MLB's Antitrust Shield Could Be Going, Going, Gone
In a feat more impressive than Joe DiMaggio's unassailable 56-game
Florida Gov. DeSantis Signs 'Strongest' Anti-Riot Bill in Country
Newt Gingrich: 'Nationwide Movement' Must Address Violent Protests
ICE, CBP Drop 'Illegal Alien' and 'Assimilation' Terminology
Supreme Court Suggests It Will Restrict Green-Card Applications
Prosecutor: Chauvin 'Had to Know' Floyd's Life Was in Danger
Related
Report: NBA Bracing for Impact of Derek Chauvin Verdict
WH Says It Is in Touch With Local Officials Ahead of Chauvin Trial Verdict
Vandal Leaves Pig's Head at Former Home of Chauvin Defense Witness
Europe Creates New Soccer League, FIFA Opposes
Former Texas Detective Wanted in Austin Triple Fatal Shooting Caught
Boehner's Pro-Pot, Anti-GOP Agenda Could Net Him $20 Million
Poll: Record Number of New Yorkers View Gov. Cuomo Unfavorably
Jewish Coalition May Expel ZOA Over Black Lives Matter
Texans Would Back Matthew McConaughey in Governor Run, Poll Shows
Matthew McConaughey could win the vote over Texas Gov. Greg Abbott if
Arizona to Start Major Audit of 2020 Presidential Election
The Arizona Senate will start a major audit of the 2021 presidential
Finance
Union Appeals Amazon Election, Claims Intimidation
Accusing Amazon.com Inc. of misconduct, the retail union that lost a hotly contested election at the company's Alabama warehouse has asked federal officials to set aside the results. In a complaint filed late Friday with the National Labor Relations Board, the Retail,…
Founder of Adobe and Developer of PDFs Dies at Age 81
GameStop CEO to Exit by End of July Ahead of Overhaul
Bitcoin Slumps 14@ as Pullback from Record Gathers Pace
Stephen Moore: US Will Eventually 'Pay the Piper' on Govt Spending
Health
COVID-19 Long Haulers Report Ringing in Ears Months After Illness
Another worrisome long-term side effect of COVID-19 appears to be tinnitus, or persistent ringing in the ears…
How to Naturally Prevent Prediabetes From Becoming Diabetes
Beware of Adverse Reactions With Prescription Drugs
Biden Administration to Spend $1.7 Billion to Track Variants
Study: Vaccines Carry Lower Risk of Blood Clots Than COVID-19
Manufactured Housing Industry Investments Connected Closing Equities Tickers
Some of these firms invest in manufactured housing, or are otherwise connected, but may do other forms of investing or business activities too.
NOTE: The chart below includes the Canadian stock, ECN, which purchased Triad Financial Services, a manufactured home industry lender
NOTE: Drew changed its name and trading symbol at the end of 2016 to Lippert (LCII).
NOTE: Deer Valley was largely taken private, say company insiders in a message to MHProNews on 12.15.2020, but there are still some outstanding shares of  the stock from the days when it was a publicly traded firm.  Thus, there is still periodic activity on DVLY.
Spring 2021…
Berkshire Hathaway is the parent company to Clayton Homes, 21st Mortgage, Vanderbilt Mortgage and other factory built housing industry suppliers.
· LCI Industries, Patrick, UFPI, and LP each are suppliers to the manufactured housing industry, among others.
· AMG, CG, and TAVFX have investments in manufactured housing related businesses. For insights from third-parties and clients about our publisher, click here.
Enjoy these 'blast from the past' comments.
MHProNews. MHProNews – previously a.k.a. MHMSM.com – has celebrated our 11th year of publishing, and is starting our 12the year of serving the industry as the runaway most-read trade media.

Sample Kudos over the years…
It is now 11+ years and counting…
Learn more about our evolutionary journey as the industry's leading trade media, at the report linked below.
· For expert manufactured housing business development or other professional services, click here.
· To sign up in seconds for our industry leading emailed headline news updates, click here.

Disclosure. MHProNews holds no positions in the stocks in this report.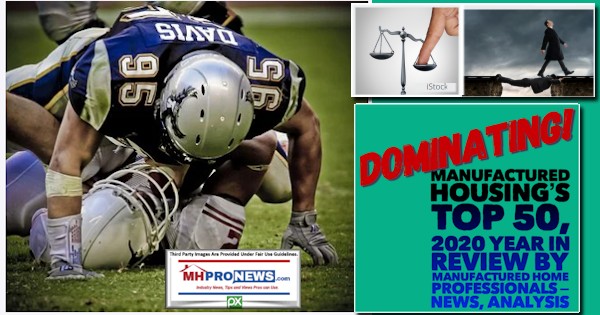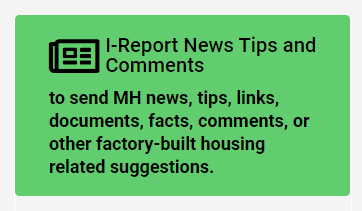 That's a wrap on this installment of "News Through the Lens of Manufactured Homes and Factory-Built Housing" © where "We Provide, You Decide." © (Affordable housing, manufactured homes, stock, investing, data, metrics, reports, fact-checks, analysis, and commentary. Third-party images or content are provided under fair use guidelines for media.) (See Related Reports, further below. Text/image boxes often are hot-linked to other reports that can be access by clicking on them.)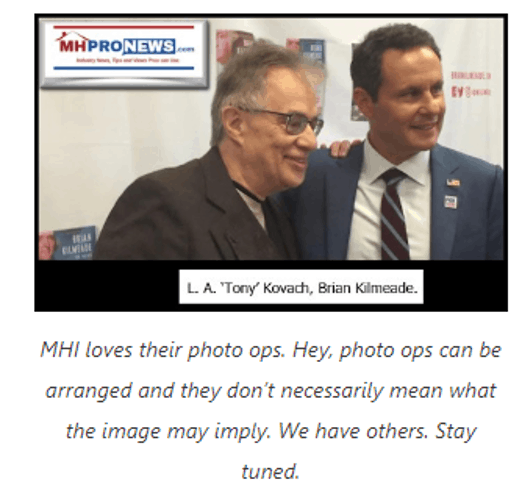 By L.A. "Tony" Kovach – for MHLivingNews.com.
Tony earned a journalism scholarship and earned numerous awards in history and in manufactured housing. For example, he earned the prestigious Lottinville Award in history from the University of Oklahoma, where he studied history and business management. He's a managing member and co-founder of LifeStyle Factory Homes, LLC, the parent company to MHProNews, and MHLivingNews.com. This article reflects the LLC's and/or the writer's position, and may or may not reflect the views of sponsors or supporters.