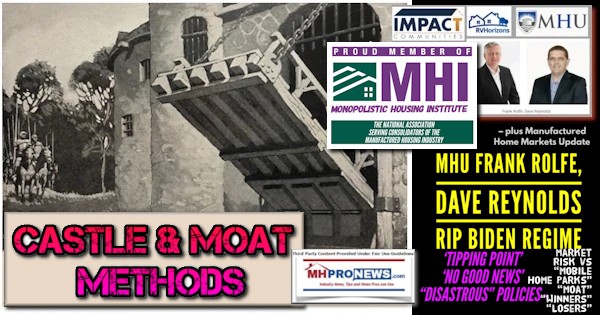 Give credit where it is due, using the principle of separating the wheat from the chaff – and motivation. Manufactured Housing Institute (MHI) members, Impact Communities leaders Frank Rolfe and Dave Reynolds apparently enjoy stirring the pot in a deceptively candid misdirection move that may seek to deflect from their own increasing legal risks. This fact check, analysis, and commentary will first look at precisely what Rolfe and Reynolds, a.k.a. Mobile Home University's "Frank and Dave" said on 9.23.2021. This report will then spotlight some of their own self-inflicted legal woes that are an ostensible part of their controversy-creating marketing and self-promotional methods. Why MHI continues to ignore their own so-called Code of Ethical Conduct in favor of "moat" builders that seek to consolidate the industry also should be answered by the leadership and/or attorneys for that Arlington, VA based trade group that as boldly as R&R claims to work for all segments of the industry (hah! ;-). That will be followed by MHProNews business daily left-right headline snapshots, macro-markets and manufactured home connected stock updates.
Per the notorious and they are loving it "Frank and Dave," the following.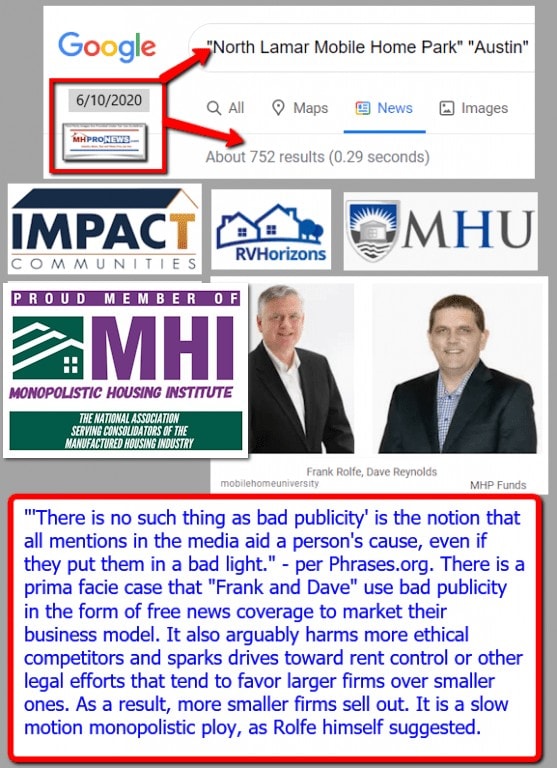 Evergrande, Market Risk, And Mobile Home Parks
The U.S. may currently be sitting at a tipping point. The border crisis, the disastrous Afghanistan withdrawal, the rise of inflation, the Evergrande failure in China, the "Great Resignation" (in which the work force is quitting), $4 trillion in new government program spending, the resulting rise in tax rates – you simply cannot come up with a single positive new story. And the stock market is starting to get worried, and the lemmings that propelled it to new heights may start stampeding for the exits. How will all of this translate into the mobile home park industry? There will definitely be some winners and losers.
Winners
The mobile home park business model will continue to shine as investors realize that, in the end, it truly is the combination of the "moat" and demand for affordable housing that allows parks to do well in good times and bad. Just as the pandemic made mobile home parks rise above retail, office and lodging sectors (just ask any banker) this new Recession/Depression (we don't know the magnitude yet) will definitely once again shine a spotlight on the one industry that wins no matter what happens (much to the chagrin of the mainstream media).
Higher lot rents for mobile home parks are inevitable as the collapse of the single-family home market (at prices already greater than 2007) will force more Americans from "owner" to "renter" status as they lose their homes, and this displacement will add to the already gigantic demand for less expensive places to live.
The inventory of mobile home parks for sale in the U.S. will multiply as all the depressing news convinces older American moms and pops to sell now and move to some happy place where there is no television news and no city crime and masking orders. In addition, moms and pops will see that higher taxes are potentially on the horizon and act accordingly.
Recessions keep interest rates low, and that benefits all owners and buyers of mobile home parks.
Losers
Mobile home parks that are in areas that are subject to the "Great Migration" – namely poorly located urban properties in undesirable neighborhoods. Americans are rapidly leaving big cities and moving to suburban and exurban locations. Just having a "trailer park" next to the ugly commercial areas of the big city is no longer going to be a good recipe.
A "flight to quality" with lenders will mean that parks that have not been turned around yet will probably find it harder to get financed except by lenders familiar with the business models. We saw this same impact in 2007/2008.
Greater challenges in filling lots with new homes as the combination of the pandemic supply chain issues and the "Great Resignation" means that manufacturers will continue to raise home prices and delay shipments.
The greatest casualty from the pending Recession/Depression will be the average American investor who will watch the market fall, interest rates remain low, and their savings go nowhere. Building wealth through traditional channels will become virtually impossible.
Conclusion
America is in a lot of trouble right now – and things appear to be getting worse daily. …
Sincerely,
Frank & Dave
##
Additional Information, MHProNews Analysis and Commentary
First, note that the ellipsis is their trademarked pitch for their next boot camp or whatever else they want to sell to possible investors.
Next, while it may be a bit of hyperbole that there is not a single piece of good news, granting their points for discussion's sake about Biden regime created trauma to the U.S. at home and abroad certainly has even some 20 percent of actual Democratic voters questioning their 2020 vote, per mainstream surveys previously reported by MHProNews.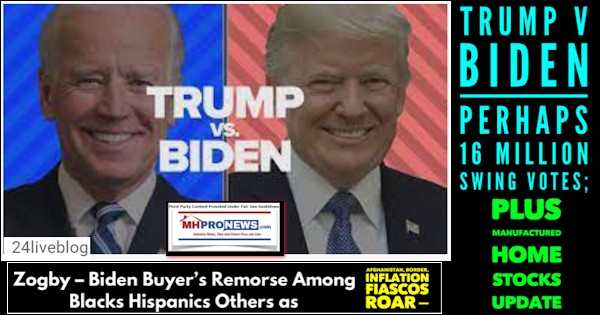 What Frank and Dave do not mention – of course – is what the Capital Research Center (CRC) has aptly called "deception and misdirection." Give Rolfe and Reynolds credit for their apparently diabolical cunning, because whatever authentic religious and ethical training they may have had in life clearly needs a refresher. The MHU and Impact Communities (along with who knows how many other business and manufactured housing industry connections or interests) buddies R&R, who at least on occasion denied they are partners, point fingers outward, while several are pointing back at themselves.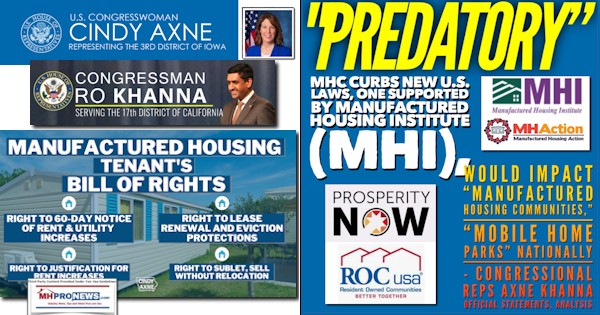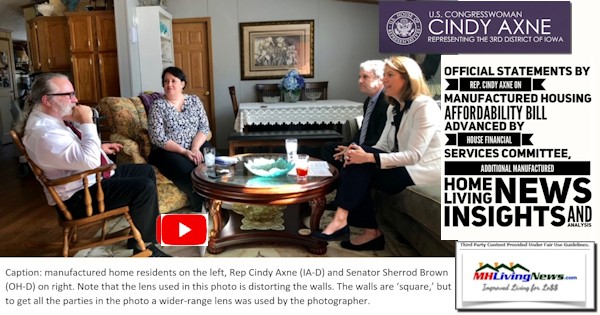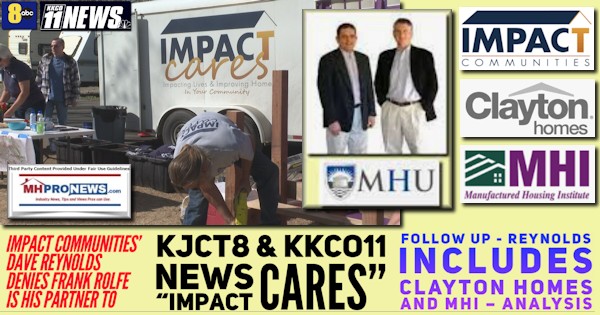 Legislation moving in state and federal levels are often advanced in part by various lawmakers and public officials specifically naming the duo for their "predatory" practices and potentially illegal practices.
That MHI's leadership has not acted in any public fashion, per their own apparent "deception and misdirection" tactics only serves to underscore that these are creatures that fit into the same pod. While posturing to represent all segments of the industry, MHI is demonstrably representing larger players that are consolidating the industry to the detriment of all smaller firms.
Consumers and Independents Beware – More Specifics from Rolfe and Reynolds Missive
Note the brazen technique the duo used to call attention to their desire to buy or broker numbers of manufactured home communities operated by mom and pops? Quoting from the pair above:
The inventory of mobile home parks for sale in the U.S. will multiply as all the depressing news convinces older American moms and pops to sell now and move to some happy place where there is no television news and no city crime and masking orders. In addition, moms and pops will see that higher taxes are potentially on the horizon and act accordingly.
Greater challenges in filling lots with new homes as the combination of the pandemic supply chain issues and the "Great Resignation" means that manufacturers will continue to raise home prices and delay shipments.
The greatest casualty from the pending Recession/Depression will be the average American investor who will watch the market fall, interest rates remain low, and their savings go nowhere. Building wealth through traditional channels will become virtually impossible.
Rolfe and Reynolds have long had ties with the Berkshire brands, or as Tim Williams/21st Mortgage Corporation told MHProNews, "We do business with those guys." Yes, they do.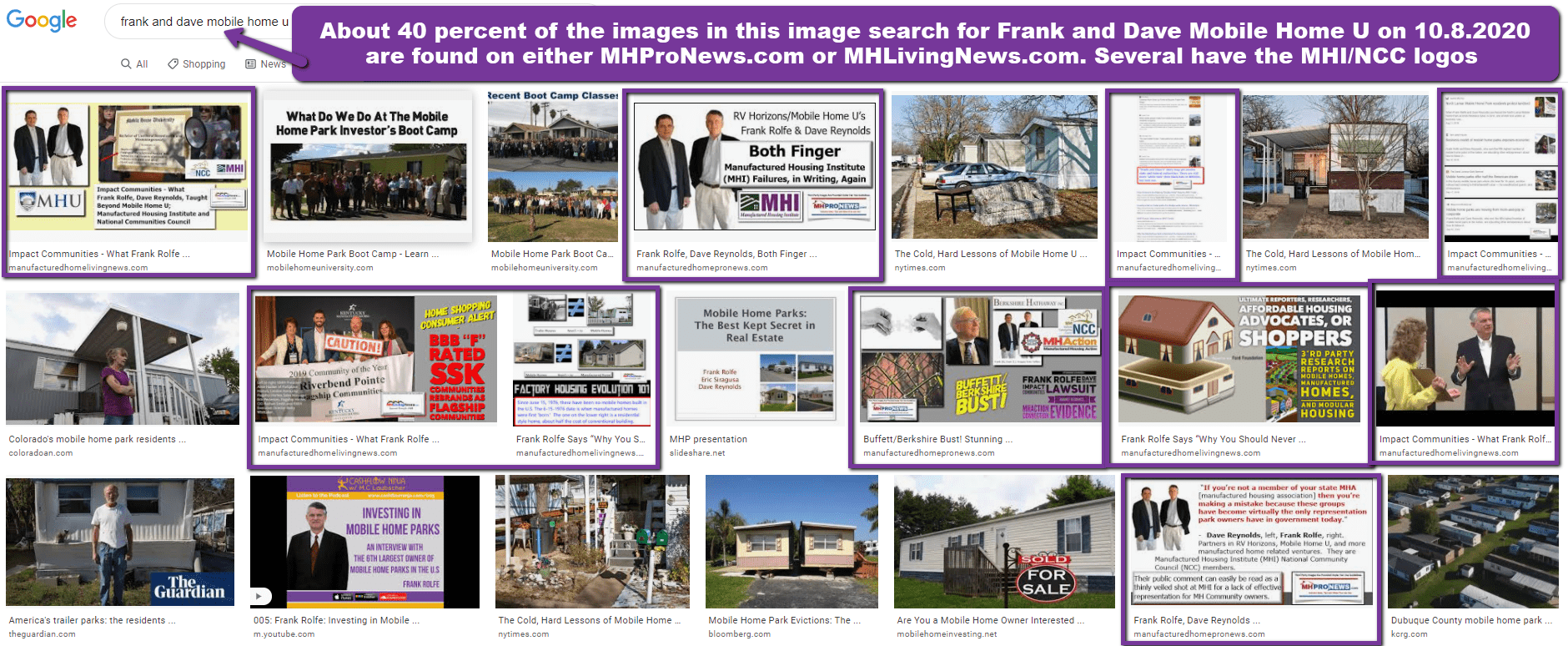 In one brazen pitch (the above quoted from the pair of decepticons is about 532 words, again, minus their most direct self-promotional closing plea for their fear porn tactics), they used numerous authentic issues and then turn them to their own advantage. By accident or design, albeit not quite so blunt a method as R&R do, are similar paltering, red hearing methods that that MHI and other 'moat builders" do too.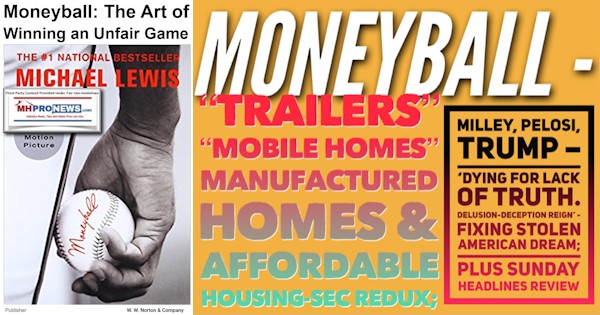 The manufactured home industry could be enjoying a hey day or record results and production, despite what Frank and Dave claim about producers. Yes, there are supply chain and labor issues. But for those watching the headlines, other producers of factory-built housing are planning and/or are already using this affordable housing crisis to open more production centers.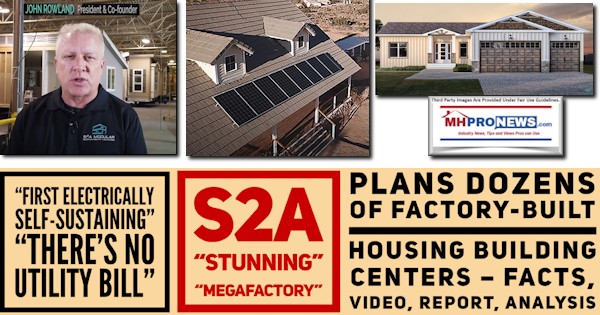 To be crystal clear, MHProNews does not endorse their devious methods, which using the rationale provided by Samuel Strommen of Knudson Law and other antitrust researchers into the industry may involve criminal violations.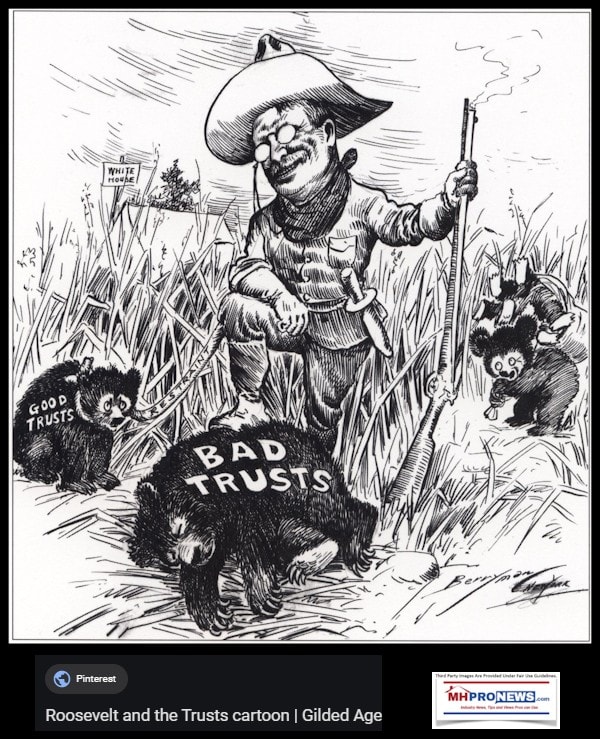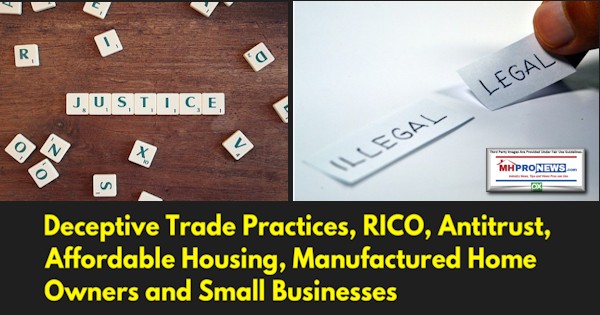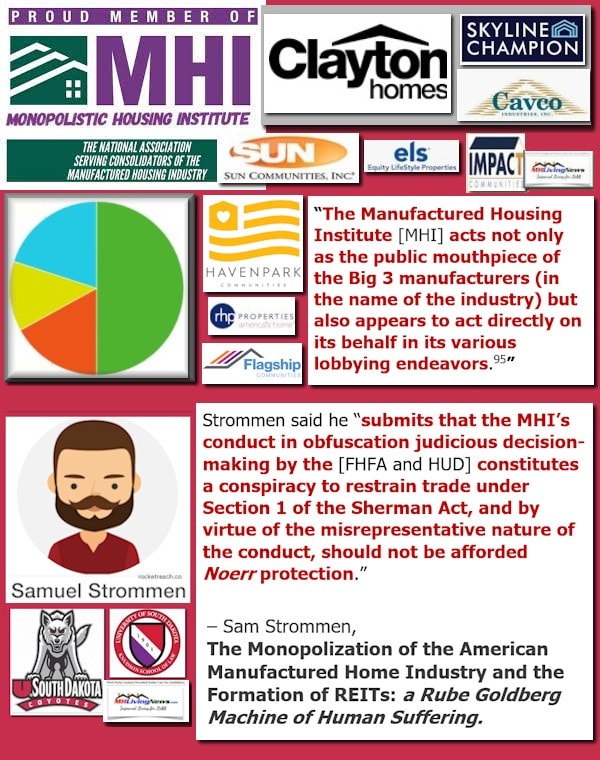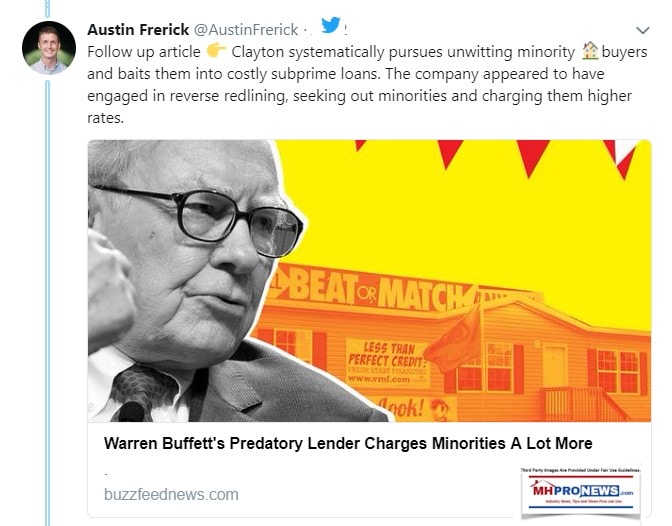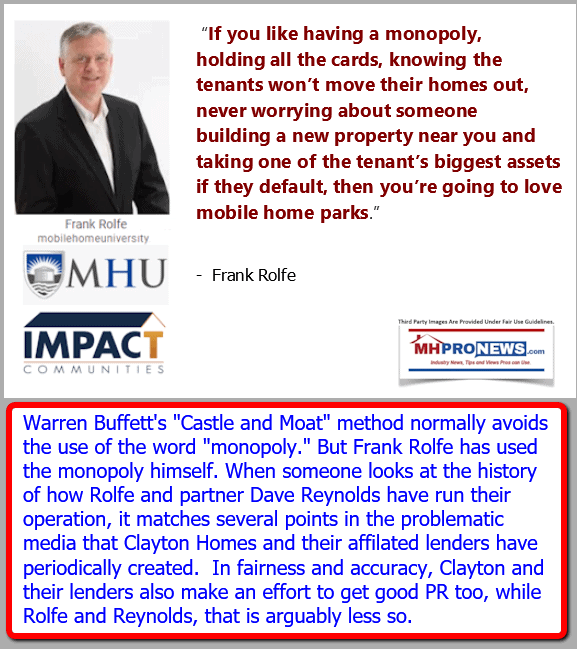 But the Big Lie methods of mixing truth with deception deployed by Hitler, Goebbels, Stalin, Lenin and American 'businessmen' – arguably including Warren Buffett, Bill Gates, Mark Zuckerberg, Jack Dorsey, Michael Bloomberg and others – use too. Buffett might smile at such a bold move as this missive today cited above.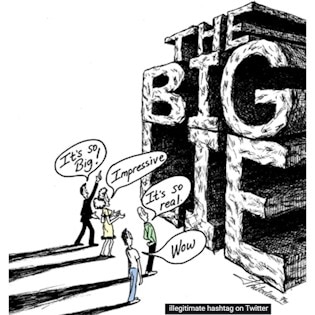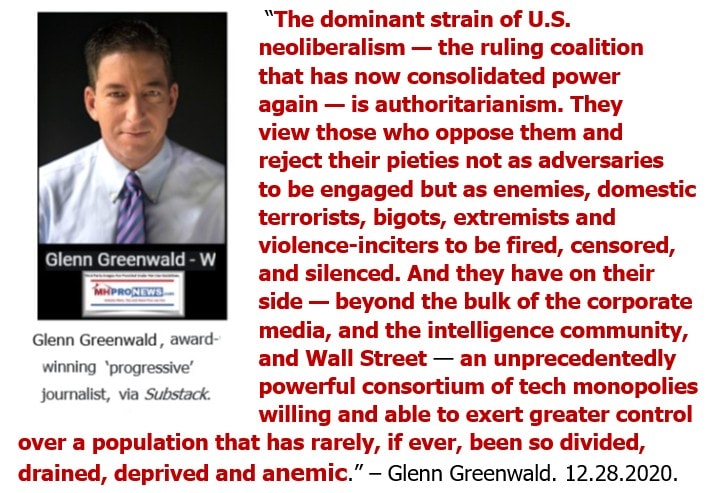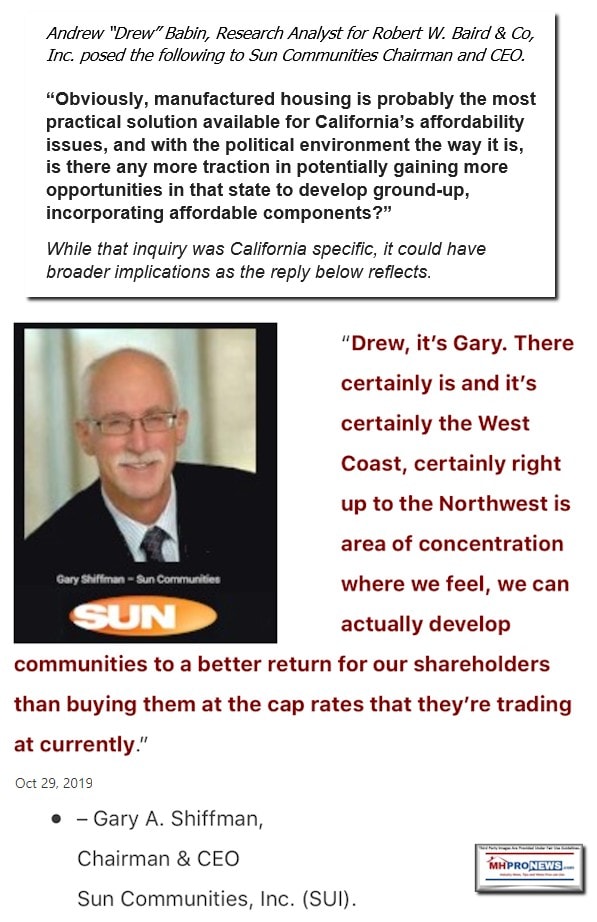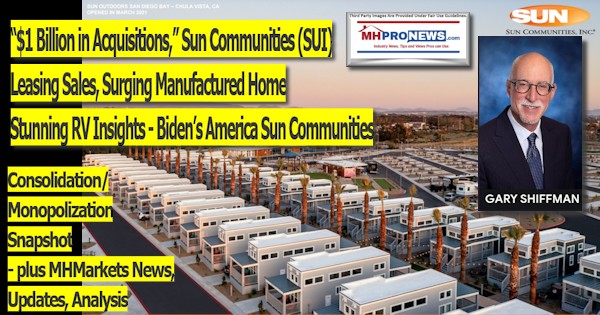 But what this does is reveal the glaring hypocrisy of MHI and their dominating brands. They are keeping manufactured housing underperforming by a steady diet of bad news created by the likes of Rolfe and Reynolds, and other MHI predators.
As a side note, an MHI allied publisher will be featured for a stunning comment made that supports that very claim. Stay tuned. Stay tuned as well for MHI's response to their latest 'who cares' if harmful manufactured housing misinformation comes from a media or corporate giant. The years of MHI and their corporate master's self-serving head fakes, deception and misdirection are not over. But the evidence that makes this glaring obvious may reach critical mass and cause enough professionals and consumers to band together and press public officials to enforce the laws that exist that could place several industry pros behind bars for possibly ten years (or more…) with hefty fines as a lagniappe.
from:
L. A. Tony Kovach for MHProNews
to:
David Goch wc-b Law MHI outside attorney

Hodges, Tom MHI Chair Clayton General Counsel
Lesli Gooch, MHI CEO
John Greiner Graydon Law MHI Outside attorney

cc:
info@mfghome.org
Others
date:
Sep 23, 2021, 10:38 AM
subject:
MHI leadership, media outreach about the Chase reports misstatements on manufactured housing
https://www.chase.com/personal/mortgage/education/buying-a-home/the-new-prefab-homes
The above article has several pieces of misinformation that are detrimental to the interests of the manufactured home industry.  As MHI has claimed to be representing all segments of the industry, and given that former MHI chair Tim Williams said that there is a good case to be made [for]  debunking every inaccurate story, has MHI made contact with Chase and asked them for prompt corrections?
Please email your response for our planned report.  While you are welcome to address other controversies cited below, this one above with Chase is our specific ask for comments.
Email for mutual accuracy, and thank you.
Tony
… ##
The email above was sent to MHI leaders a several select professionals to document the outreach.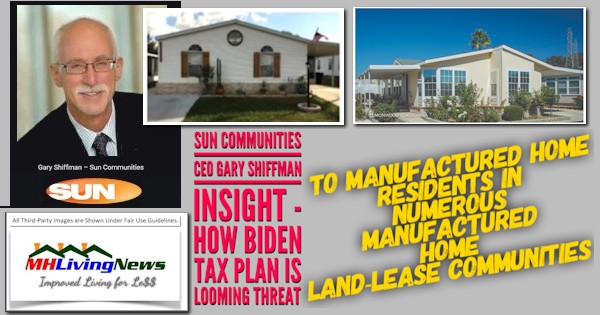 Summary and Conclusion
The manufactured home industry has the good laws it needs to grow to record levels.  Yet, an MHI insider told MHProNews a few weeks ago that another downturn in shipments is coming. It did not take long for that projection to be proven true.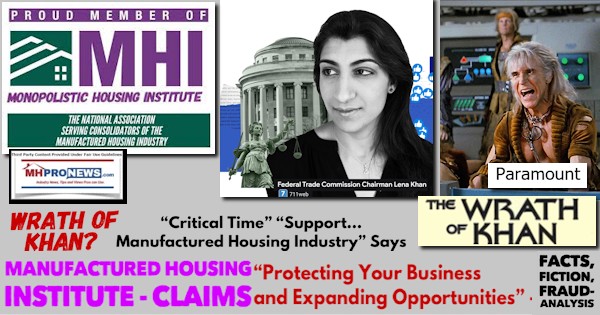 Everything coming out of MHI and their dominating brands needs to be sifted for what is real (too often, not much) and what is faked or weaponized news. Read the reports linked to learn more.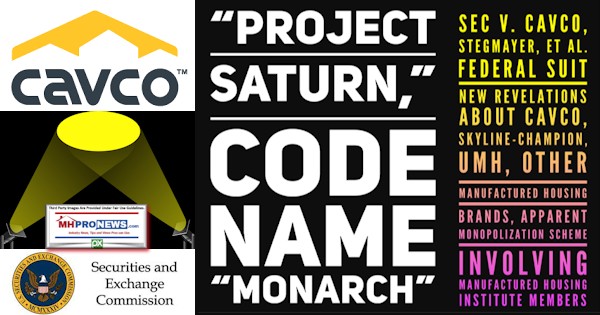 JCN's Ortiz & Parker – Covid19 Vax Mandates Target Small Businesses, Massie – Corporate System has "Institutionalized Systemic Extermination," Wednesday Briefs, plus MH Market Updates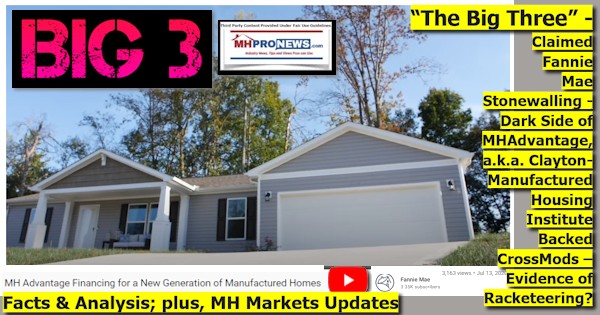 Next up is our business daily recap of yesterday evening's market report, related left-right headlines, and manufactured housing connected equities.
The Business Daily Manufactured Home Industry Connected Stock Market Updates.  Plus, Market Moving Left (CNN) – Right (Newsmax) Headlines Snapshot. While the layout of this daily business report has been evolving over time, several elements of the basic concepts used previously are still the same. For instance. The headlines that follow below can be reviewed at a glance to save time while providing insights across the left-right media divide. Additionally, those headlines often provide clues as to possible 'market-moving' news items.
Market Indicator Closing Summaries – Yahoo Finance Closing Tickers on MHProNews…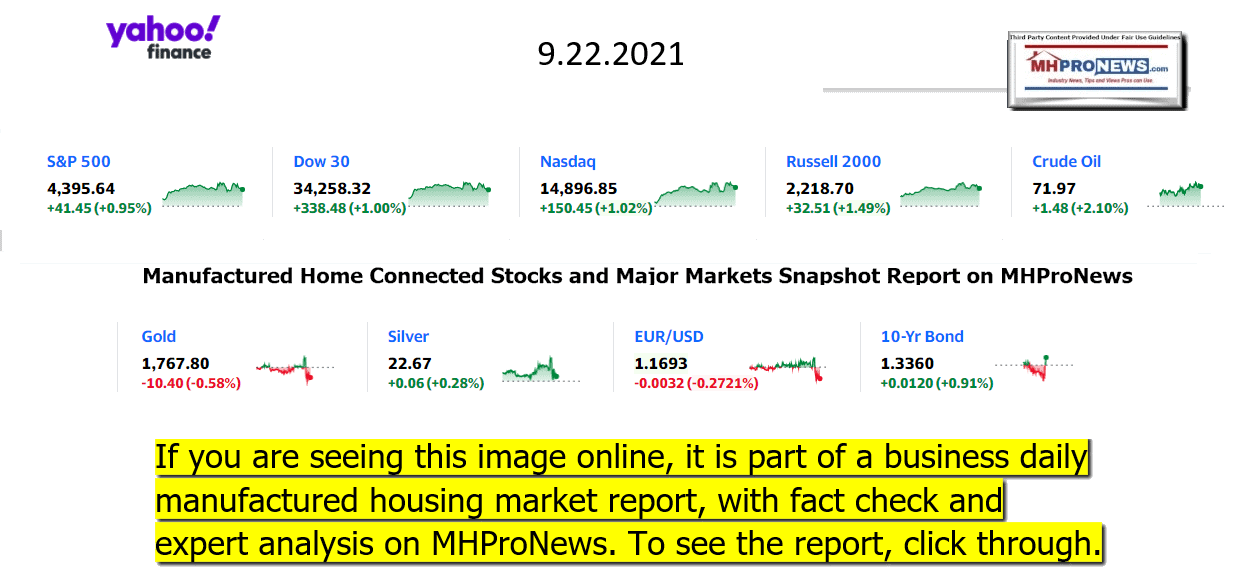 Headlines from left-of-center CNN Business – evening of 9.22.2021
Holding steady
Federal Reserve Board Chairman Jerome Powell testifies before the Senate Banking, Housing and Urban Affairs Committee July 15, 2021 in Washington, DC. Powell testified on the Semiannual Monetary Policy Report to the Congress during the hearing.
The Fed could roll back stimulus next year if the recovery continues to progress
LIVE UPDATES Stocks bounce back
Why everything changed for the Federal Reserve
US default would wipe out nearly 6 million jobs, Moody's says
Bitcoin for beginners: Here's what to know before you invest in crypto
China's Evergrande meets crucial debt deadline but another looms
Elizabeth Warren calls out SPAC creators and 'misaligned incentives'
Climate can't wait for electric planes. Sustainable fuel may be the answer
Russia urged to pump more gas to Europe as energy prices soar
Europe's gas crisis is also a renewables crisis, but there are ready solutions
UK bails out an American company to prevent food supply crisis
Salesforce's Indian rival Freshworks valued at $10 billion in Wall Street IPO
Ryanair and Boeing have fallen out in public. Here's why that matters
Stacey Abrams: 'Callous' leadership in these states has left millions of Americans without health coverage
This lipstick has been around for decades. Now stores can't keep it in stock
Homes in Hercules, California, U.S., on Tuesday, Sep. 21, 2021. California governor Gavin Newsom signed two bills that pave the way for "upzoning" within traditionally single-family neighborhoods, allowing for the creation of more housing units, reported CBS.
Home sales have slowed, but prices are still ludicrous
Employees load up Prime delivery vans at the Amazon Fulfillment Center in Portland, Ore., on December 11, 2019.
They took a stand against Amazon for their drivers. They say it cost them their businesses
Microsoft Surface Laptop Studio
Embargoed photos shared directly from Microsoft
How Microsoft built 'The Frankenstein' device during the pandemic
HOW WE WORK
Businesspeople having a video conference in office.
Think remote meetings are hard? Hybrid meetings are worse
The 5 industries affected most by the vaccine mandate
6 signs it's time to quit your job
How hotels capitalize on remote work
A startup says its software can spot racial bias within companies. Will this surveillance scare employees?
FAST FOOD
An employee hands a customer a happy meal at the drive-thru of a McDonald's Corp. restaurant in Peru, Illinois, U.S., on Wednesday, March 27, 2019. McDonald's, in its largest acquisition in 20 years, is buying a decision-logic technology company to better personalize menus in its digital push.
McDonald's is giving its Happy Meal toys a makeover
Chipotle is adding a new meat to its menu
Burger King copies McDonald's with celebrity meals
Wendy's is upgrading its french fries
Taco Bell wants you to send back your used sauce packets so it can reuse them
Headlines from right-of-center Newsmax – evening of 9.22.2021
Now, Even Mexico Is Prodding US : 'Enough Talking, It's Time to Act' on Migrant Crisis
Migrants, many from Haiti, are seen at an encampment along the Del Rio International Bridge, Wednesday in Del Rio, Texas. U.S. officials say many Haitian migrants camped in the small Texas border town are being released in the United States, undercutting the Biden administration's public statements that Haitians who enter the country illegally face immediate expulsion.(AP)
Mexican President Andres Manuel Lopez Obrador appealed to the United States on Wednesday to take urgent action to tackle the migrant crisis reverberating across the Americas. [Full Story]
Newsmax TV
Hinson: Low Biden Poll Shows Iowans Have Had Enough | video
Mark McCloskey: Wife, I Don't Deserve Law License Suspensions
Steube: Bill Will Stop US Dollars From Going to Terrorists | video
Mace: Biden Policies Have Incentivized Immigrants
Jim Jordan: Biden, Dems 'Crazy' for Pulling Israel's Iron Dome Funding | video
Lankford: China, Not US, Benefits From Corporate Tax Hike | video
Rand Paul: Dem Open Borders 'Insanity'
Jason Smith: US Turning Its Back on Israel | video
More Newsmax TV
Newsfront
Politico Reports Hunter Biden Laptop 'Genuine'; NY Post Mocks: 'Shocked'
The mainstream media is beginning to acknowledge the Hunter Biden laptop story is "genuine," drawing a mocking "color us shocked" editorial from the New York Post editorial board…… [Full Story]
Biden Meets With Democrats as $3.5T Plan Faces Party Split
Time growing shorter, President Joe Biden launched meetings Wednesday [Full Story]
Youngkin Takes Lead in Va Governor Race
Republican Glenn Youngkin has taken the lead in Virginia's [Full Story]
Mexico President Prods US: 'Enough Talking, It's Time to Act' on Migrant Crisis
Mexican President Andres Manuel Lopez Obrador appealed to the United [Full Story]
Mormon Church to Require Masks in Temples Amid COVID Surge
The Church of Jesus Christ of Latter-day Saints announced Wednesday [Full Story]
Timmerman: In US-France Submarine Flap, the (French) Lady Doth Protest Too Much
Shakespeare exalted fools who espoused secret wisdom and mocked those [Full Story] | platinum
Gallup Poll: Biden Approval Falls to Record Low 43 Percent
President Joe Biden's approval rating fell to a record low 43% in the [Full Story]
Ukraine Left Puzzled After Assassination Attempt on President's Top Aide
Ukrainian police are trying to work out who ordered unidentified [Full Story]
China Seeks to Influence Taliban in Afghanistan – But to What End?
The Chinese Communist Party wasted no time offering up a hefty $31 [Full Story] | platinum
Dem Senator: Talks With GOP on Police Overhaul Have Failed
Bipartisan congressional talks on overhauling policing practices have [Full Story]
The Award-winning Israeli Mask Everyone is Talking About in the US
Sonovia
CDC Panel Tackles Who Needs Booster Shot of COVID Vaccine
An influential panel of advisers to the Centers for the Disease [Full Story]
Mayim Bialik Says She Wants to Host 'Jeopardy!' Permanently
Mayim Bialik has admitted that she wants to host "Jeopardy" on a [Full Story]
After Fence-Mending Biden-Macron Call, French Envoy to Return to US
The U.S. and French presidents moved to mend ties on Wednesday, with [Full Story]
Federal Judge: Florida Immigration Law Racially Motivated
A federal judge has struck down portions of a Florida immigration [Full Story]
Meghan McCain's Mea Culpa: Biden 'Feckless, Unreliable Leader'
President Joe Biden's administration has gone so far off the rails, [Full Story]
Mark McCloskey to Newsmax: Wife, I Don't Deserve Law License Suspensions
Louis attorney Mark McCloskey told Newsmax Wednesday that he and [Full Story]
Fed Foresees a Potential Rate Hike as Soon as Next Year
The Federal Reserve signaled Wednesday that it may start raising its [Full Story]
US to Be World's 'Arsenal' for COVID Vaccines: Biden
President Joe Biden announced Wednesday the US plans to donate at [Full Story]
Virginia County Board Votes to Denounce Teaching of Critical Race Theory
A Virginia county board of supervisors this week voted on a [Full Story]
National Archives: Warning Label Remains on Documents That Are 'Difficult to Stomach'
The National Archives is not backing down from placing warning labels [Full Story]
Mayorkas: Horseback Border Patrol Agents Removed From Duty Pending Probe
Border Patrol agents seen on horseback confronting Haitian refugees [Full Story]
Uma Thurman Reveals She Had an Abortion as a Teen
Uma Thurman has shared her opposing views on Texas' controversial new [Full Story]
Big Tech Appeasing China, Russia Hurts Argument Against Potential Break-Up
Arguments against the potential break-up of Big Tech corporations are [Full Story]
Florida Lawmaker Files Texas-Style Abortion Bill
GOP Florida state Rep. Webster Barnaby on Wednesday filed a bill [Full Story]
Anti-Vax Sign Appearing to Threaten Violence Sparks Outrage
A controversial sign spotted in Tennessee that appears to threaten [Full Story]
Democrats Target 9 States to Retain Senate Control in 2022
Democrats have accelerated fundraising toward targeting nine states [Full Story]
Carlos the Jackal Seeks Shorter Jail Term at French Trial
Carlos the Jackal, who was behind some of the biggest terror attacks [Full Story]
Top US Military Officer Meets With Russian Counterpart
The top U.S. military officer met with his Russian counterpart [Full Story]
Texas School Mask Ban Sparks US Civil Rights Probe
The Biden administration has launched a civil rights investigation [Full Story]
Fred Fleitz to Newsmax: 'No One Respects Joe Biden'
The world's mocking reaction to President Joe Biden's address to [Full Story] | video
WH Aides Block Reporters From Asking Biden and Johnson Questions
Members of the White House press pool lodged a complaint with the [Full Story]
More Newsfront
Finance
Disney Production Delayed as Delta Variant Spreads
Walt Disney Co Chief Executive Officer Bob Chapek said Tuesday the resurgence of the Delta variant of the coronavirus was delaying production of some of its titles. [Full Story]
Treasury Prices Rally on Fed News
Stocks Rise Broadly on Wall Street after Fed Statement
Apple Bars Epic's 'Fortnite' Until All Court Appeals End
Activist Investor Bluebell Takes Stake in GSK
More Finance
Health
More Than 40% of Adults Have 'Silent' Heart Disease: Study
Many middle-aged adults with apparently healthy hearts have a "silent" buildup of fatty deposits in their arteries, a large, new study shows. Researchers found that of more than 25,000 50- to 64-year-olds, about 42% had signs of atherosclerosis – a buildup of "plaques" in… [Full Story]
How the COVID-19 Vaccines for Kids Differ From the Adult Shot
Pregnant Women Who Get COVID Vaccine Pass Antibodies to Newborns
Boost Heart Health With These 6 Natural Blood Thinners
Migraines, More Severe Hot Flashes Linked
Manufactured Housing Industry Investments Connected Equities Closing Tickers
Some of these firms invest in manufactured housing, or are otherwise connected, but may do other forms of investing or business activities too.
NOTE: The chart below includes the Canadian stock, ECN, which purchased Triad Financial Services, a manufactured home industry lender
NOTE: Drew changed its name and trading symbol at the end of 2016 to Lippert (LCII).
NOTE: Deer Valley was largely taken private, say company insiders in a message to MHProNews on 12.15.2020, but there are still some outstanding shares of  the stock from the days when it was a publicly traded firm.  Thus, there is still periodic activity on DVLY.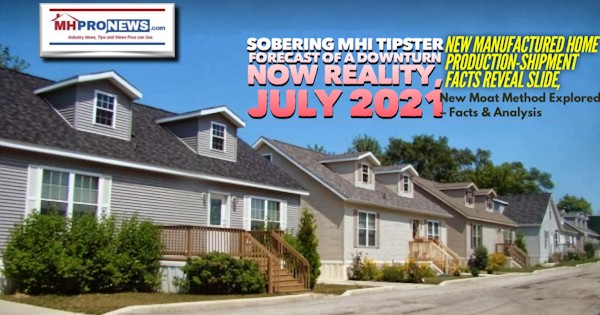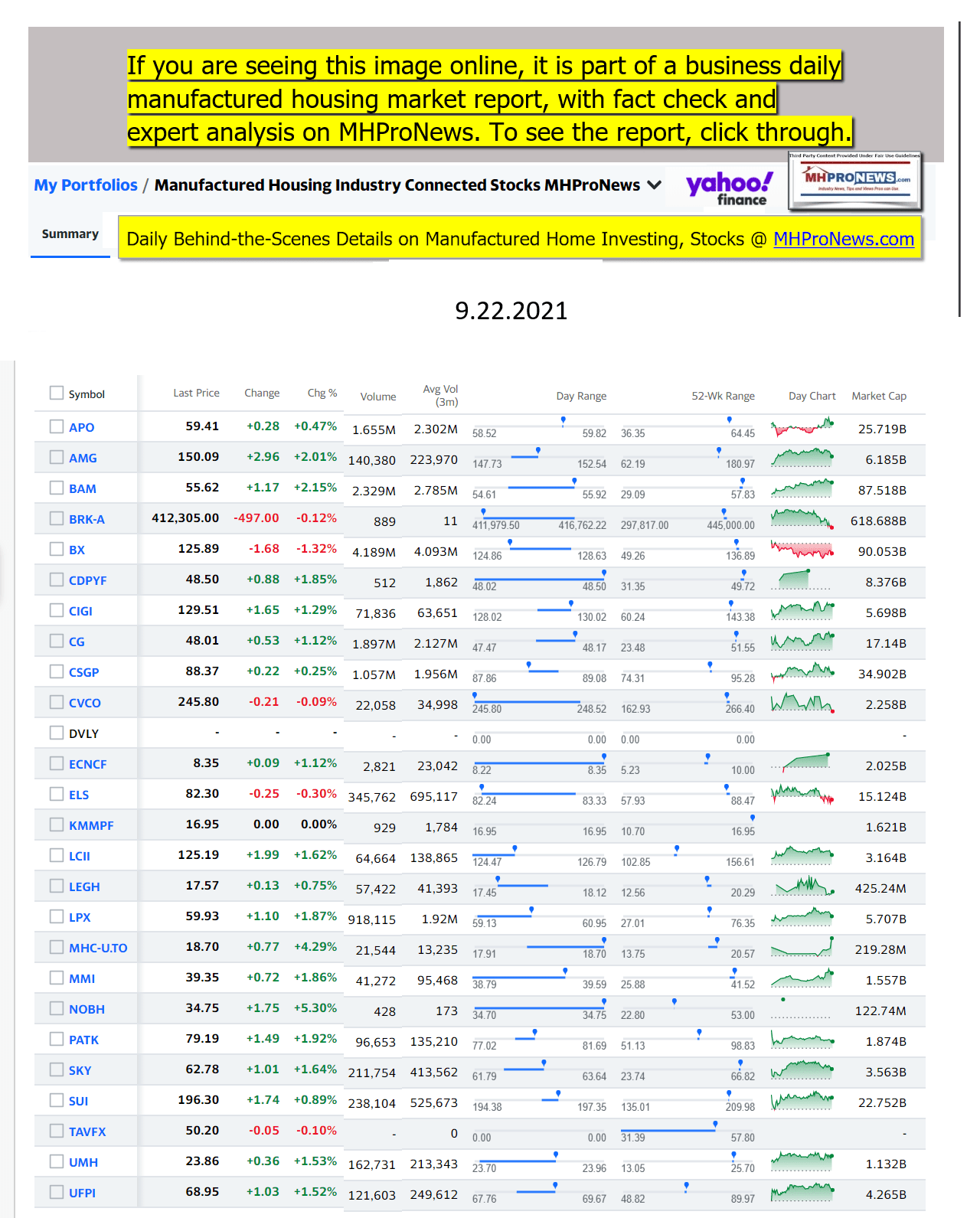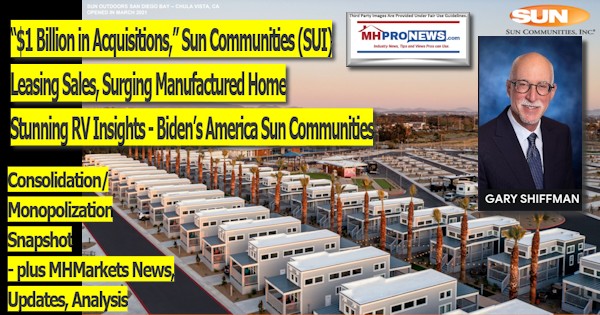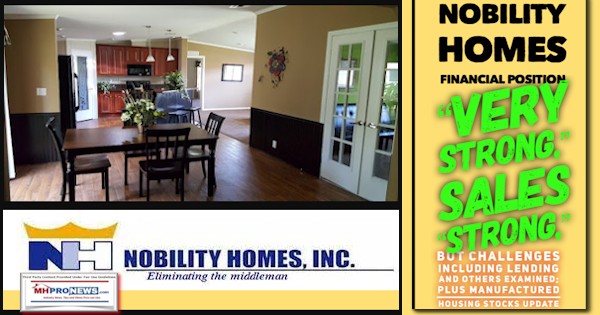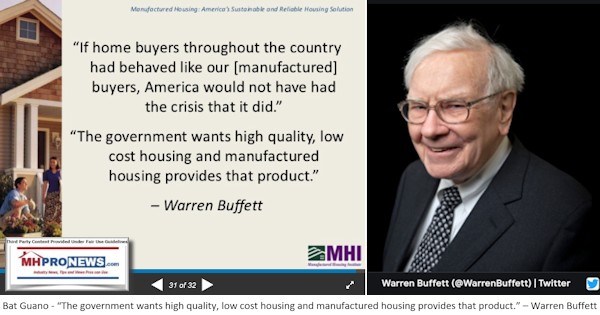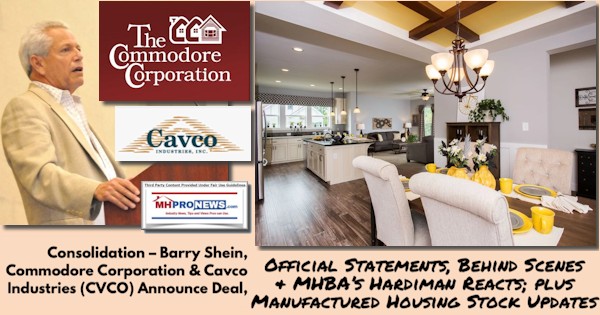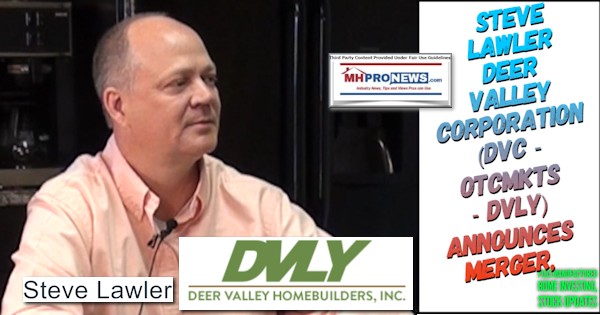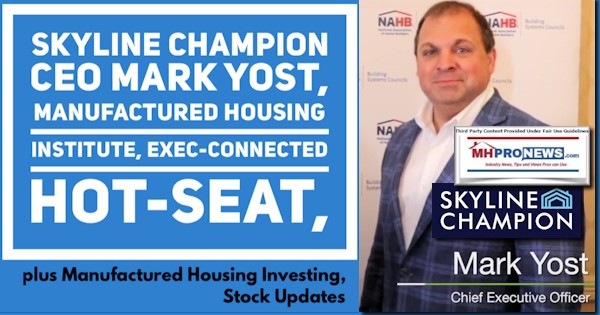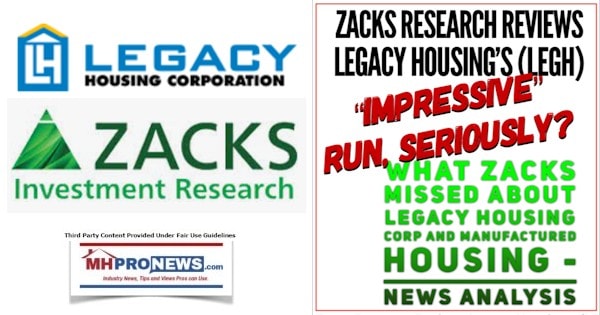 As the Summer of 2021 draws to a close…
Berkshire Hathaway is the parent company to Clayton Homes, 21st Mortgage, Vanderbilt Mortgage and other factory built housing industry suppliers.
· LCI Industries, Patrick, UFPI, and LP each are suppliers to the manufactured housing industry, among others.
· AMG, CG, and TAVFX have investments in manufactured housing related businesses. For insights from third-parties and clients about our publisher, click here.
Enjoy these 'blast from the past' comments.
MHProNews. MHProNews – previously a.k.a. MHMSM.com – has celebrated our 11th year of publishing, and is starting our 12th year of serving the industry as the runaway most-read trade media.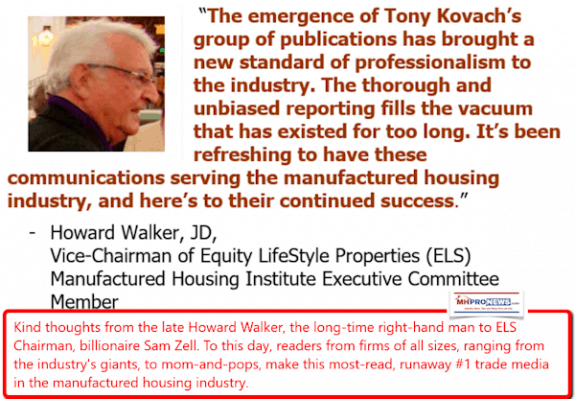 Sample Kudos over the years…
It is now 11+ years and counting…
Learn more about our evolutionary journey as the industry's leading trade media, at the report linked below.
· For expert manufactured housing business development or other professional services, click here.
· To sign up in seconds for our industry leading emailed headline news updates, click here.

Disclosure. MHProNews holds no positions in the stocks in this report.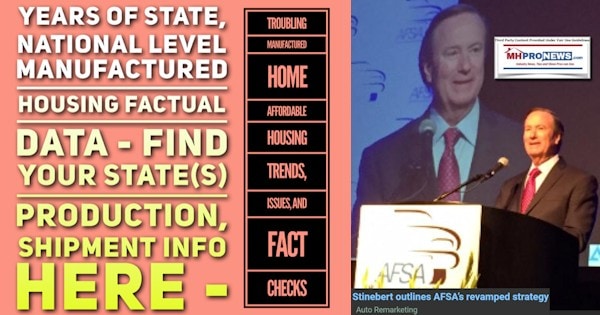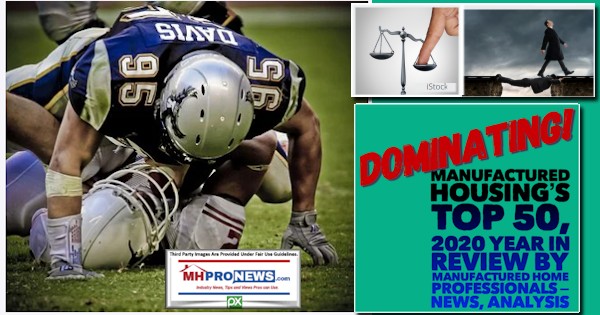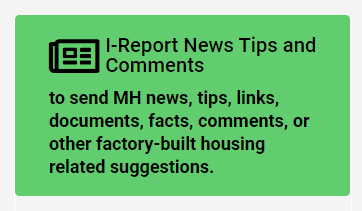 That's a wrap on this installment of "News Through the Lens of Manufactured Homes and Factory-Built Housing" © where "We Provide, You Decide." © (Affordable housing, manufactured homes, stock, investing, data, metrics, reports, fact-checks, analysis, and commentary. Third-party images or content are provided under fair use guidelines for media.) (See Related Reports, further below. Text/image boxes often are hot-linked to other reports that can be access by clicking on them.)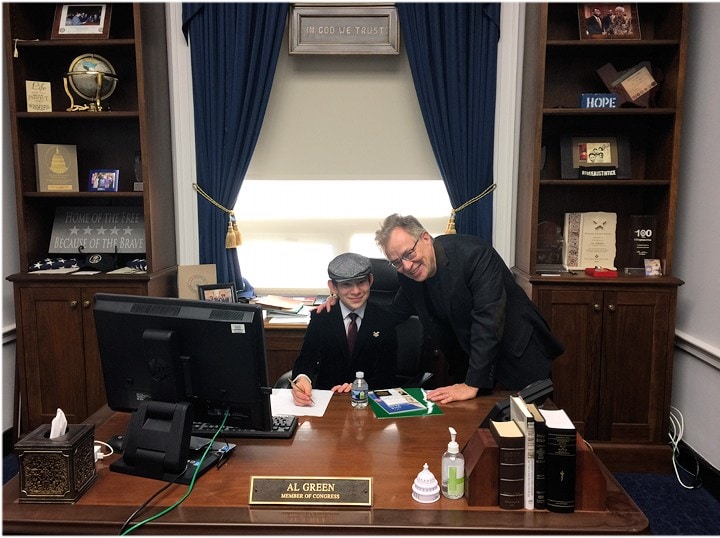 By L.A. "Tony" Kovach – for MHProNews.
Tony earned a journalism scholarship along with numerous awards in history. There have been several awards and honors and also recognition in manufactured housing. For example, he earned the prestigious Lottinville Award in history from the University of Oklahoma, where he studied history and business management. He's a managing member and co-founder of LifeStyle Factory Homes, LLC, the parent company to MHProNews, and MHLivingNews.com. This article reflects the LLC's and/or the writer's position, and may or may not reflect the views of sponsors or supporters.