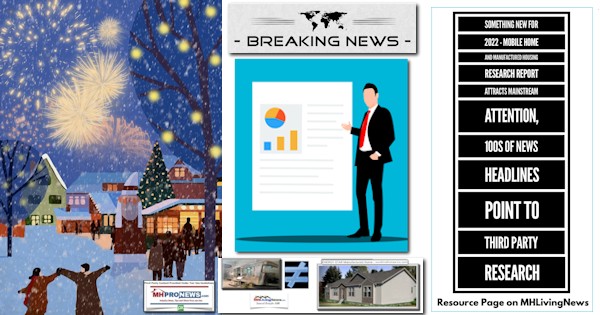 "I first saw this story in 1972 and it is repeated every year since, or at least the same general theme. A shame it never comes to pass." So said Marty Lavin in one of the last emailed comments to MHProNews for 2021. Lavin was referring to a what amounts to a de facto marketing pitch posted on a mainstream website. While the article Lavin shared the link to looked like a news report, a close look apparently reveals the reality that the post was instead a thinly veiled advertorial by a Manufactured Housing Institute (MHI) member company. That MHI member pitch – which has some merits to it – will be examined in a separate planned report. But for now, be such pitches an advertorial or straight news, Lavin's point remains. Articles that touted the benefits of mobile home (1972 until June 15, 1976) and later manufactured home living occur year after year. So why hasn't more of the public bought into it? That is a relevant issue every month when new HUD Code manufactured housing production data is released, as is the case for the latest data linked below for November 2021 manufactured housing monthly and year-to-date production totals. It is against the comment of Lavin's remarks and the latest production and shipment information that the headline topic is framed. Thoughtful manufactured housing professionals, investors, public officials, affordable housing advocates of all kinds, researchers – and yes, actual housing consumers! – should be wondering why manufactured housing has been underperforming for decades during an affordable housing crisis.
Note, heavy winter snows in the Washington, D.C. area are going to delay the Manufactured Housing Association for Regulatory Reform (MHARR) typical reporting on the third of every month for new manufactured housing shipment data.  Power is out in several areas, and road conditions are treacherous. So, their report could be delayed a day or two.
That noted, next up are insights on the headline topic.
For 2022, the parent company for MHProNews/MHLivingNews have launched the next phase for the campaign for manufactured housing leadership accountability that aims for robust growth of the 'white hat' manufactured home independents.
Facts matter. Evidence matters. And here are some facts about the first step in this plan for 2022.
On January 1, 2022 the parent company for MHLivingNews published a mainstream media release. It was picked up by Google and Bing, among other search engines.
At 9.23 AM ET on 1.2.2021, about 27 hours after it was first published, a focused Bing search produced 137 results. One day later, as of 9.45 AM ET, that same search on Bing yielded some 1830 results for a focused search that filters out the 'noise' (irrelevant) results.
The same search term used on Bing was also used on Google "Affordable Housing, Mobile Homes, Manufactured Homes, Manufactured Housing Research–Gov, Univ, Nonprofit Data & Studies." It yielded some 282 results under the news category at about 9:25 AM ET on 1.2.2022. But it also revealed "About 791 results" under the more common "all" tab search category yesterday. At about 9.48 AM ET on 1.3.2022, Google yielded "About 1,010 results" for that search today.
Per Google and Bing, that MHLivingNews media release is apparently spreading.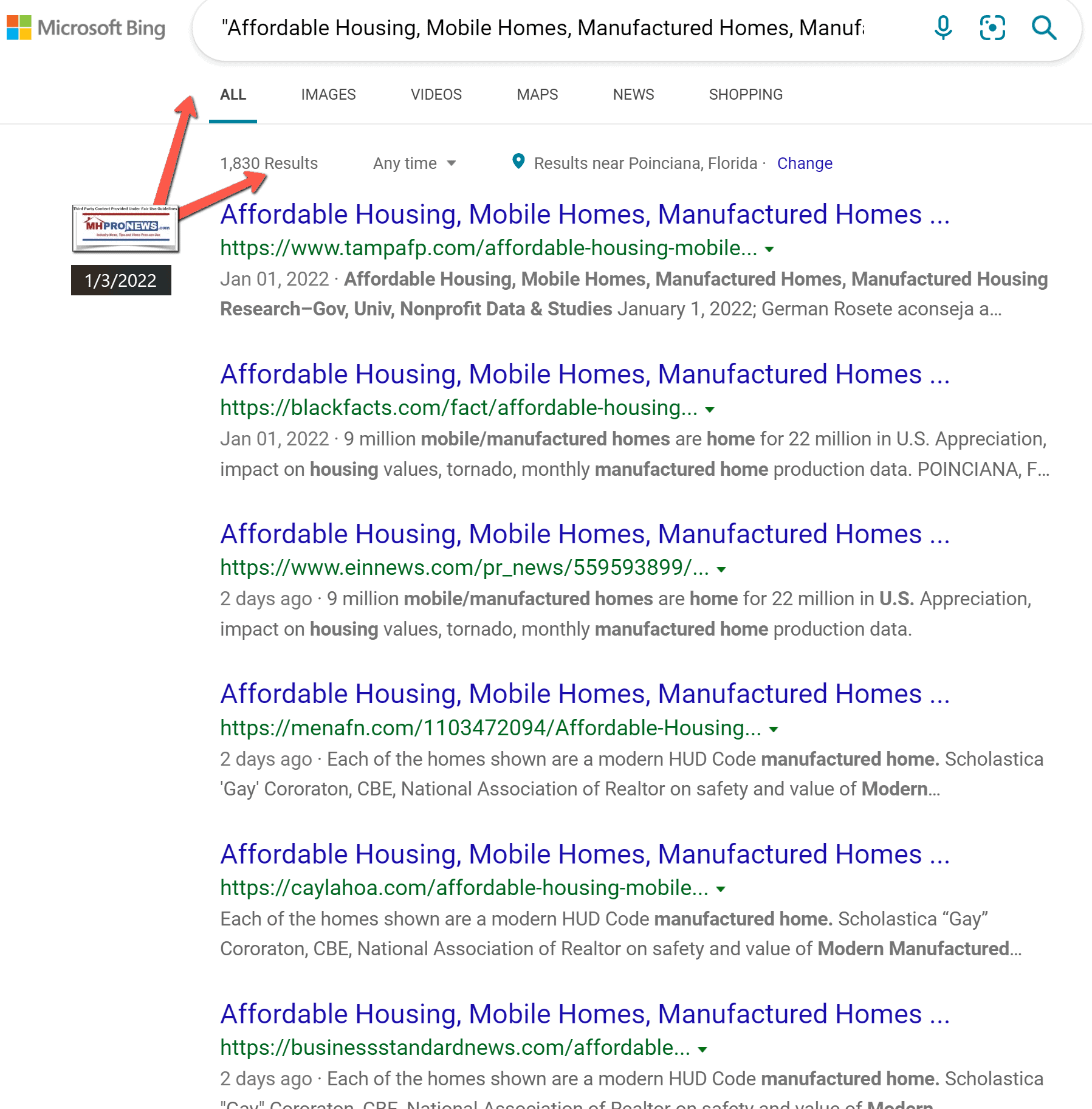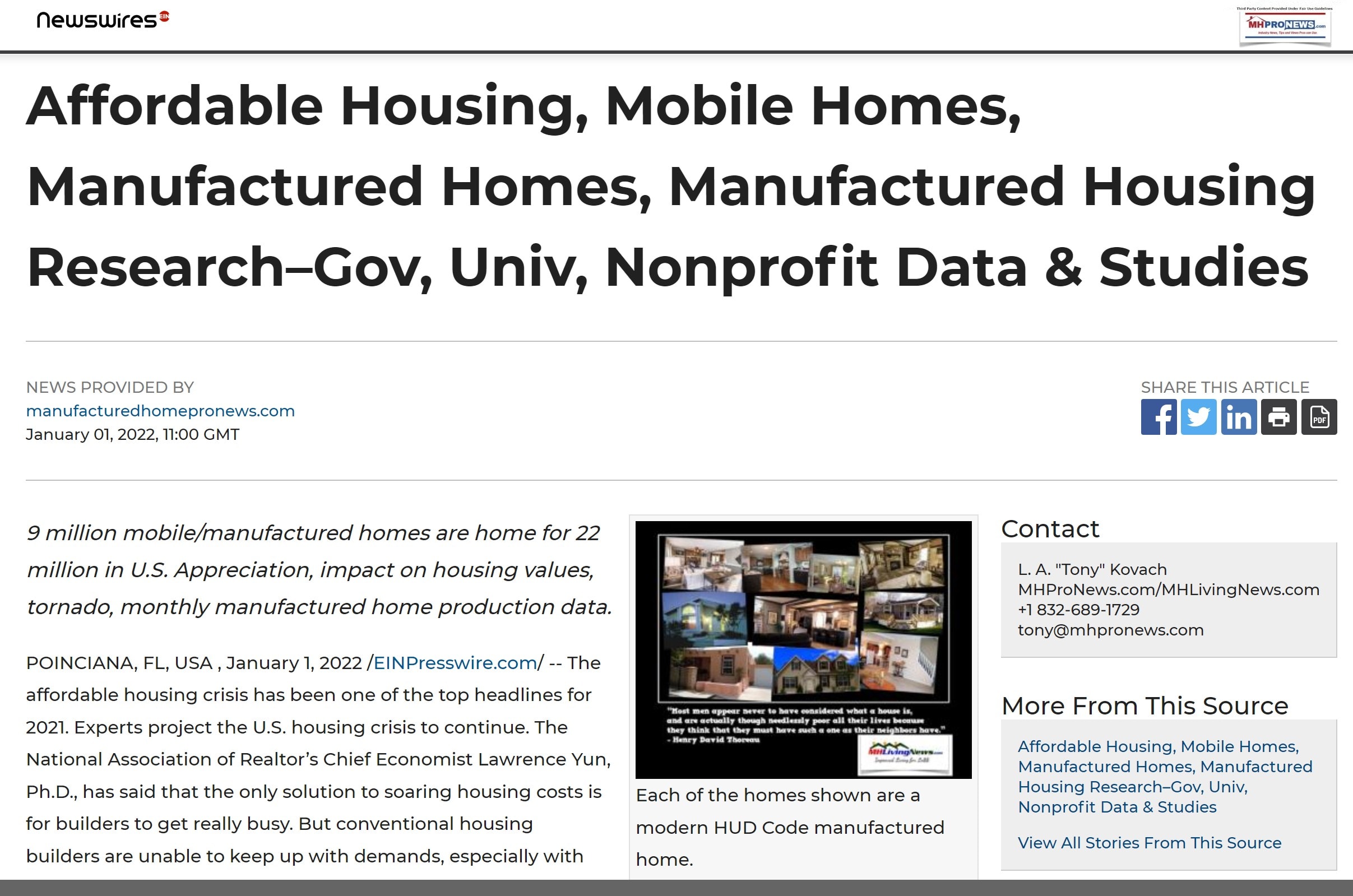 Danger and Opportunity – Additional Information, More MHProNews Analysis and Commentary
MHProNews and/or MHLivingNews have long reported the industry news, tips, and views on manufactured housing. But after years of a frustrating lack of progress in returning manufactured housing to its historic norms, increasingly in more recent years, our trade media platforms have provided factual and evidence—based reports and analysis that document the often-sobering realities of why manufactured housing is underperforming during a widely publicized affordable housing crisis.
That underperformance is both a problem and an opportunity in disguise for wise and willing white hat brands.
To the obvious takeaway from MHI award-winner Lavin's wryly shared point, glowing reports, articles, and even slick videos or 3D tours have not caused manufactured housing to recover to even its 1998 level. This is so even though MHI's prior president and CEO, Dick Jennison told dozens of industry professionals years ago that the goal should be 500,000 new HUD Code manufactured home shipments annually. That remark was captured on video and reported several times on MHLivingNews and MHProNews. It has been provided to public officials too. Those items will be shown and/or linked further below.
Additionally, MHProNews has documented the repeated outreach to corporate leaders, outside attorneys, and MHI CEO Lesli Gooch, Ph.D. that offered them the opportunity to refute or clarify any misstatement of facts or any lack of logic in the evidence-based concerns raised via our platforms reporting and analysis. Other than some recent remarks by MHI's new chairman, which failed to address several issues of concern, for the most part MHI has failed to respond to those documented outreaches.
Restated, the concerns published by MHProNews/MHLivingNews are publicly unchallenged.  MHI continues to spout their talking points, but the attempt to side-step or ignore their apparently growing critics. While MHI's leadership silence on the allegations against them is not the same thing as absolute proof, it is logical to presume that if MHI and/or their corporate leaders could refute the concerns they would have done so years ago. After all, it has now been over 3 years since the public debate by MHI defender Andy Gedo and L. A. "Tony" Kovach for MHProNews on related issues. Gedo, in a brisk online exchange that attracted thousands, ended up tossing in the proverbial towel. Gedo did so after confirming several of our concerns rather than refuting them.
What does new research resource initiative on MHLivingNews mean in a practical sense?
Time will tell. But several possibilities exist that could result in growth opportunities for white hat professionals who have the foresight and courage to draw a bright line distinction between their business and that of others that use so-called predatory business tactics which may in time be determined by the legal system to be illegal.
As an example of a manufactured housing brand that is seeking to do business the right way, the Masthead editorial blog on MHProNews recently featured Sunshine Homes.
While there are several issues that MHProNews and MHARR see much alike, and they are obviously an advertising client, MHProNews generates its own commentary and selects the topics we report on. MHARR is routinely clueless on what will be the next report our trade media plans to publish. That principle was previously true for MHI as well, because MHI was also an advertising client for MHProNews. So too where several MHI member brands. It is self-evident to those who check the history of our reports in recent years that MHProNews began its probe of apparent malfeasance by MHI leaders while MHProNews' parent company was an MHI member. We obviously did not fail to report concerns about MHI, and later certain MHI brands, despite advertising dollars. That is how authentic media is supposed to behave.
50th Anniversary Celebration Year – Sunshine Homes 1971-2021 – From Mobile Homes to HUD Code Manufactured Homes and Modular Homes – A Romp Through Key Phases in Manufactured Home History
That disclosure said adds context for the following remark from former MHI VP and MHARR's founding CEO/president, Danny Ghorbani. Ghorbani is still a senior advisor to MHARR. He sent this emailed comment after he read the report linked above.
"Tony,
I just read your article about Sunshine homes' 50th Anniversary and its founder, John Bostick…it is a very nice and most deserving write-up. If anybody in our industry deserves recognition, praise and accolades like these on his/her company's 50th anniversary, it is John Bostick. I say this not only because of the continuing success of his company with its fine products and services, but because he was and continues to be one of the truly noble individuals who unselfishly have made sacrifices and worked hard for nearly four decades, and succeeding with their collective fights in preserving and advancing the very existence of our federally-regulated industry in crisis after crisis in Washington, DC.
As an aside, our industry's Hall of Fame Foundation should pay more attention to such industry folks in its annual life achievement recognition and induction program. And while John [Bostick] has already been inducted into the Hall, I dare to say that there are tens, if not hundreds of such individuals in our industry that the Hall should seek-out, on a bipartisan basis, for recognition.
Thanks,
Danny [Ghorbani]"
Facts, Facts, Evidence, and More Facts – What They Mean About the Threats and Future of Opportunities in Manufactured Housing
It should be clear that the status quo will not be changed until it is challenged.
It should also be clear that despite good laws that favor manufactured housing growth, that MHI has failed to actually implement those laws. Given that MHI has described itself as representing "all segments" of manufactured housing, that means that they are accountable.
MHProNews was essentially alone among trade media in documenting the importance of clear examples in late 2021 that MHI is posturing rather than doing what they claim to be supporting. Those articles are linked below.
Objective thinkers and truth-seekers should wonder. Why would MHI fail to do what they claim?
The evidence from their own publicly traded members' investor information routinely reflects that they are focused on consolidation (mergers and acquisitions or M&A). The reasoning was once again provided by Lavin why MHI would posture behaviors without doing what they claim.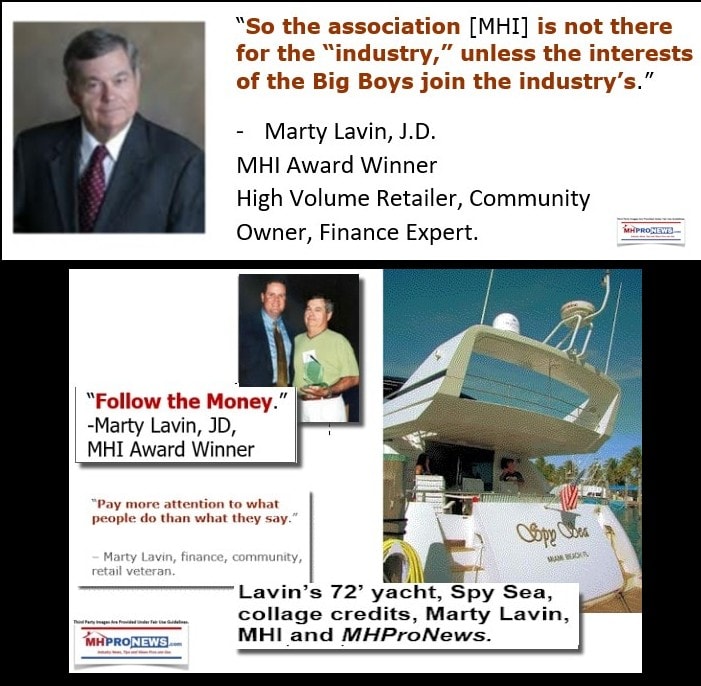 Let's briefly note that there is one publicly traded MHI member firm that the evidence suggests does not fit the consolidator pattern, at least not yet. It is Legacy Housing (LEGH). Legacy has focused on organic growth rather than consolidation, or M&A. Try to find another MHI member brand that is publicly traded, other than Legacy (LEGH), which has followed their lead? This despite the fact that some brands, such as Cavco Industries, claims they want organic growth.
Is it any surprise that Cavco (CVCO) is in hot water with the SEC over a range of issues? Is it any surprise that the concerns raised in the SEC lawsuit against Cavco align with the reporting of MHProNews/MHLivingNews?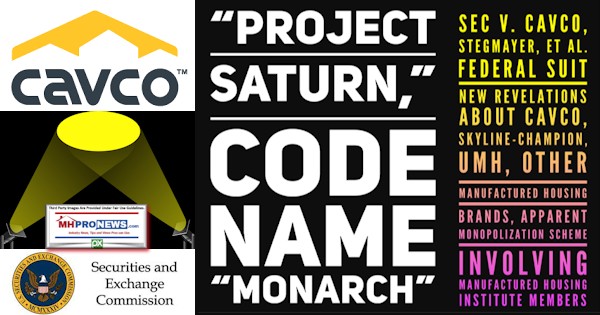 Additionally, while MHI has a new chairman, the facts revealed in the report below demonstrate that Cavco effectively 'owns' Leo Poggione's most visible manufactured housing business interests. Given that reality, is he likely to buck up against Cavco and their allies' at MHI's goals and desires? The facts and evidence speak loudly.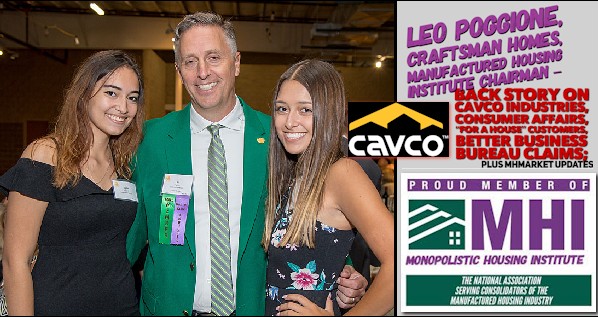 A prima facie case exists that MHI is de facto acting for the interests of a few and against the interests of the many.
That pattern has resulted in steady consolidation of the industry.
Such consolidation would not be practical if the industry was robustly growing. The evidence for that is found from longtime MHI members Fleetwood and Champion homes in the late 1990s and early 2000s.
Fleetwood and Champion went on a buying spree of independent retailers during those years. They were attempting to buy manufactured housing market share by buying those once independent retail locations. But both Fleetwood and Champion ended up in bankruptcy before the first decade of the 21st century was completed.
Neither bloggers, trade publishers, or association leaders – such as Brad Nelms, Darren Krolewski, Frank Rolfe, George Allen, Tim Williams, Elizabeth Birch, or others – have been willing to debate at length publicly their own behavior and performance as it relates to MHI's apparent failure to perform. In fairness, from time to time, Allen has taken pot-shots at MHI and a similar occasional slam of the behavior of some of MHI's dominating brands. But Allen has yet to exhibit a sustained and evidence-based campaign of reporting that the facts and evidence merit. Perhaps that is because of the love-hate relationship he has with this platform, plus the 'gatekeeper' driven motives caused by his own ego?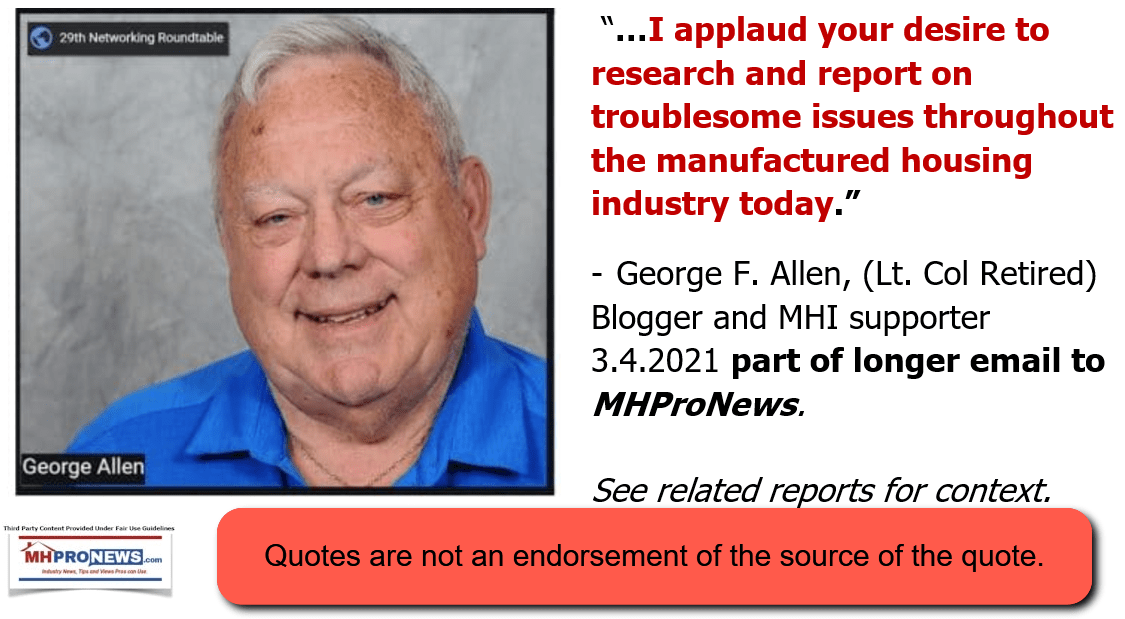 Allen, for instance, was known to attempted to subvert efforts to form a post-production trade association that might supplant MHI. The facts and evidence are what they are. So, Allen's lack of consistency given his own voiced concerns are problematic for his 'coverage' of the issues.
That noted, in a formal response from OMHA attorney Birch to MHProNews, she admitted that the manufactured housing industry faced serious concerns about the industry's survival. What? Manufactured housing industry survival? During an affordable housing crisis? Birch's comments about the "viability" and "perception" are a backhanded indictment of MHI too.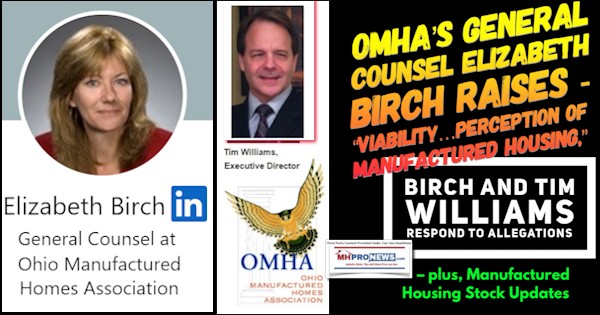 Birch is hardly alone in oblique slam of MHI, even if it was unintentional. Something similar could be said of Jim Ayotte at the Florida Manufactured Housing Association (FMHA).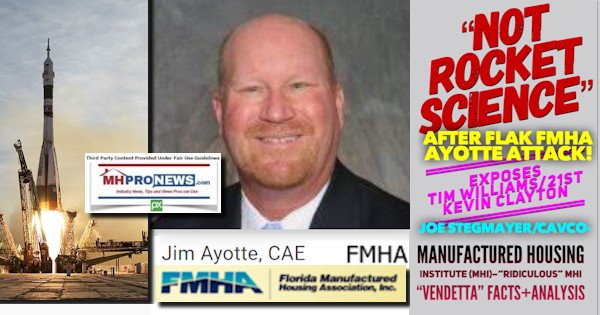 Other state association leaders have said the quite part out loud too.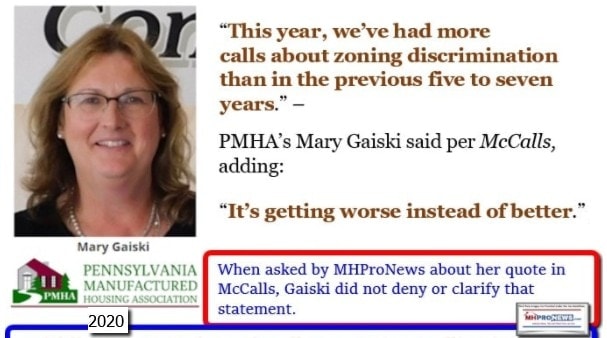 That flies in the face of what MHI's mouthpieces and cheerleaders preach. Krolewski publicly said – prior to formally launching what they now call MHInsider – that the problem that the manufactured housing industry faces is that it has more negative news than positive news. Agree or disagree, there is a logic to his contention.
Then there is Rolfe's comment at during that same timeframe that clearly stated that MHI was failing to promote both the good news about the manufactured home industry or properly respond to bad news. MHI was silent about that allegation, just as they have been largely silent about those published here or on MHLivingNews.
Not to be ignored are formal remarks previously provided to MHProNews by former MHI chairman Tim Williams, still President and CEO plus MHI board member. Williams/21st said that there is a good case to be made that every report and story merits a response. In that same statement, Williams announced they would once again hire a PR person for MHI. Well, what has that PR role accomplished in the last 5 years?
Nature Abhors a Vacuum
There is a vacuum of 'white hat' leadership in the post-production sector of manufacutred housing. This has been the contention of MHARR for well over a decade. MHARR, as a reminder, is a production-focused trade body. That means they work for independent producers of HUD Code manufactured housing. While MHARR has for some years spotlighted post-production issues such as zoning and finance, it is not strictly speaking 'their job' to do so. That is MHI's job, as Danny Ghorbani argued in a Q&A with MHProNews last year.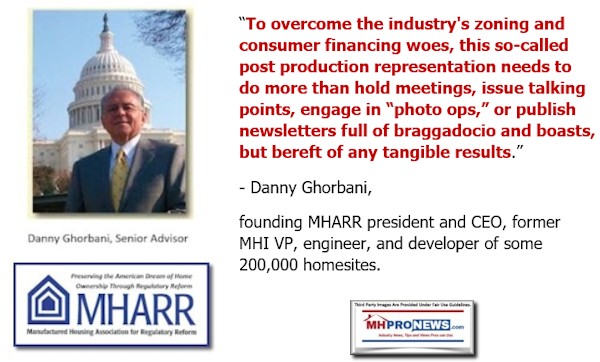 The time has come for MHI's leaders to put up or shut up. Let them debate their own performance. Or, in the alternative, let them finally do the job that they claim to be doing.
In the absence of that, to the extent that a trade publication can create the bright line distinction necessary for outsiders looking in to see the apparent failures of MHI's self-described leadership, our MHProNews/MHLivingNews platforms will begin to now focus increasingly on outreaches to groups and platforms.
This process of exposing the failures and disconnects between MHI statements and behavior to the broader public will take some time. But the press release on the new research resource page is an obvious step in that direction. It will be followed by others. Compare, for a few moments, what MHI has on those same research reports topics on their website vs. what is found in the MHLivingNews resource. MHLivingNews is hands-down more useful and has the actual third-party research, which MHI lacks.
Dare to compare what MHI offers in the way of third-party research vs. what MHLivingNews' new resource center provides.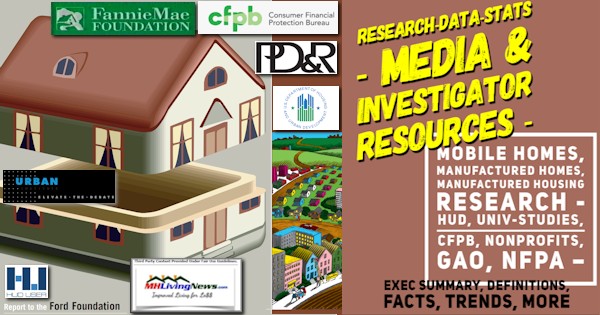 Let's return to Lavin's point in the quote at the top, which is buttressed by those of Krolewski, Rolfe, and Williams/21st when they made an honest comment, even if the later three were posturing and paltering when doing so.  Pure fluff reports have been proven over the course of decades about manufactured housing. Those fluff-puff pieces have routinely proven to be insufficient to seriously move the needle in manufactured housing. They may not hurt, but they have yet to cause manufactured housing to achieve the landmark statement that former Harvard Joint Center of Housing Studies (JCHS) fellow Eric Belsky said was possible around the turn of the century. Namely, that the quality and value of manufactured housing was so good that it could surpass conventional housing by 2010. MHI once touted that, pre-Berkshire. But that has since disappeared from the MHI website, as an insider pointed out to MHProNews. 
That the opposite of what Belsky forecast occurred – manufactured housing sales and thus production plunged despite good laws designed to boost sales of inherently affordable manufacutred homes – the actual outcomes only serve to highlight the dismal performance of MHI.
But in fairness, associations do what their corporate masters want. MHARR does what it does because their members make it possible. The bright-line difference between MHARR and MHI is MHARR's corporate leaders make it possible for MHARR senior staff to do what they say.  Why can't MHI make the same claim without crossing their fingers behind their backs?
MHI does – and fails to do – what it they do because their dominating members clearly must desire the status quo. That is true even though the status quo harms the interests of consumers, white hat independents, taxpayers, and others.
That key MHI members want the status quo is an almost inescapable conclusion based upon the years of evidence and largely unchallenged research. MHI's approach has been to prop up surrogate voices that spin a different narrative. MHI then puts out its 'news and updates' that brag about how grand they are, without providing any tangible evidence that their grandness has lifted all the boats in manufactured housing, as MHI's marketing misleading claims.
Risks to Millions, Including Remaining Manufactured Housing Independents, Investors and Taxpayers
Given sufficient public exposure of the facts, several possibilities come into focus. Before exploring those, let's briefly examine the downside and risks.
Absent a surge in new housing production, a variety of voices are warning that a U.S. housing bubble will eventually burst. Everyone that reads this that is or wants to be a homeowner should pause and consider those reasonable concerns.
Absent a surge in new manufactured housing production, America will increasingly be moving toward a nation of renters. Because a growing number of Americans can't afford conventional housing, only HUD Code manufactured homes at this point in time can fill the bulk of that void.
Public officials, media, advocates, and others will at some point be faced with such facts. They will have to answer why they didn't report better, sooner, or more precisely connect the dots between predatory brands focused on consolidation and their apparent ties to MHI and/or MHI affiliated state associations.
As 2022 is an election year, these issues may find oxygen that has previously not occurred in the first year of the Biden White House.
The need for more affordable housing is apparent.
The laws needed to make that more affordable housing in the form of modern manufactured homes already exist.
MHI has obviously failed to get those laws enforced.
Meanwhile, others with less favorable legal arguments have been making moves that should be embarrassing to MHI.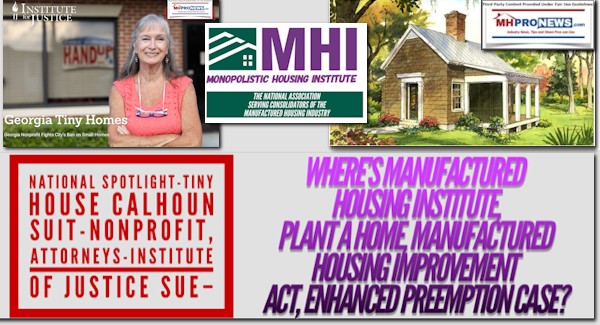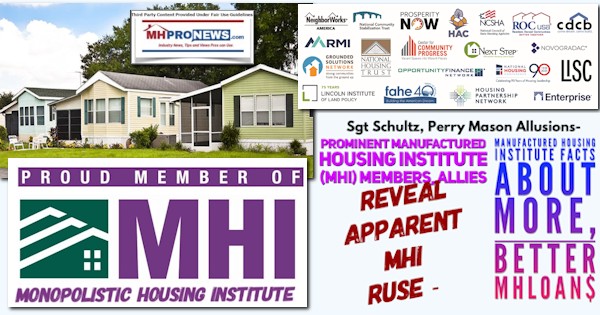 Additionally, MHI has failed to report on the significant developments with regard to the looming Department of Energy (DOE) rule, that they admit is harmful to the industry's and consumers interests. If they are a source of authentic news, and if they are a source working for the interests of consumers and white hat independents, how could MHI fail to warn their readers of this development reported below?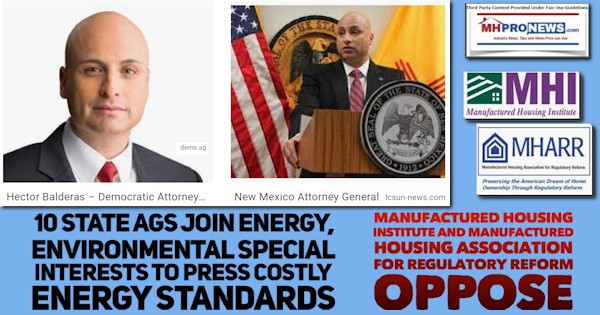 Additionally, as tipsters made clear, MHI's history on the DOE energy rule underscores their betrayal of the industry. See the documents that illustrate that point below.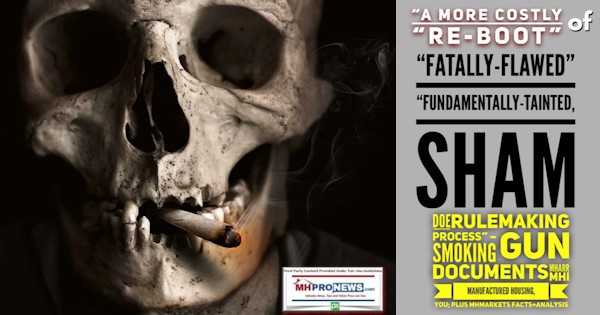 Nature abhors a vacuum. No one can undo past mistakes or missteps. But anyone can look at reality, reassess their choices, and make new ones that open the opportunity for robust sales.
The case can be made that white hat brands can by themselves and/or in conjunction with others create the bright line distinctions that will help them grow despite what MHI's consolidators desire.
Another case can be made that MHI members could sue MHI and/or turn to state or federal officials with complaints about MHI's apparently misleading claims if MHI fails to do their job.
The path ahead is well known to numbers of manufactured housing professionals. Ironically, MHI and their own leaders have said what must occur.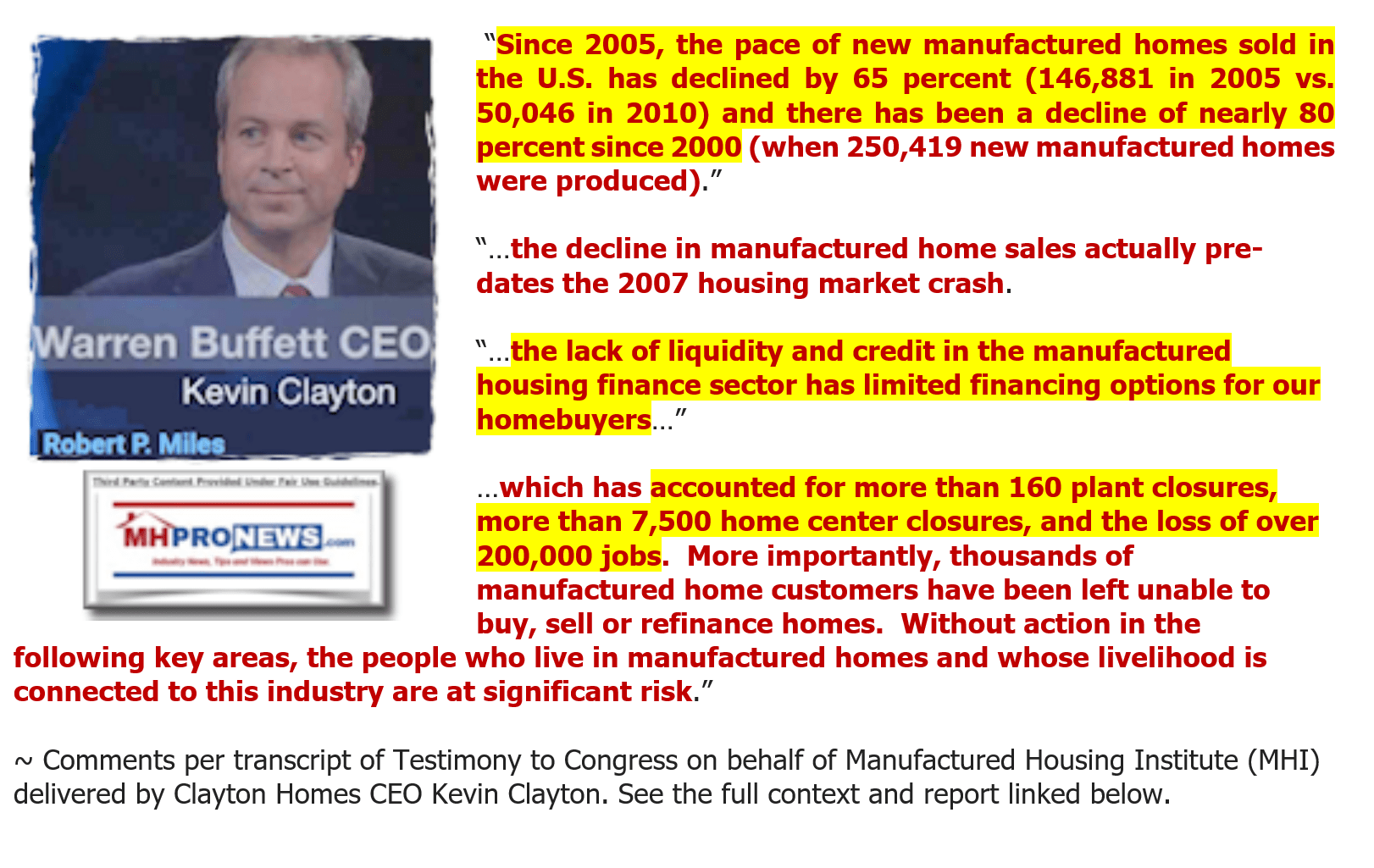 But those words must be viewed in the context of other statements and behaviors.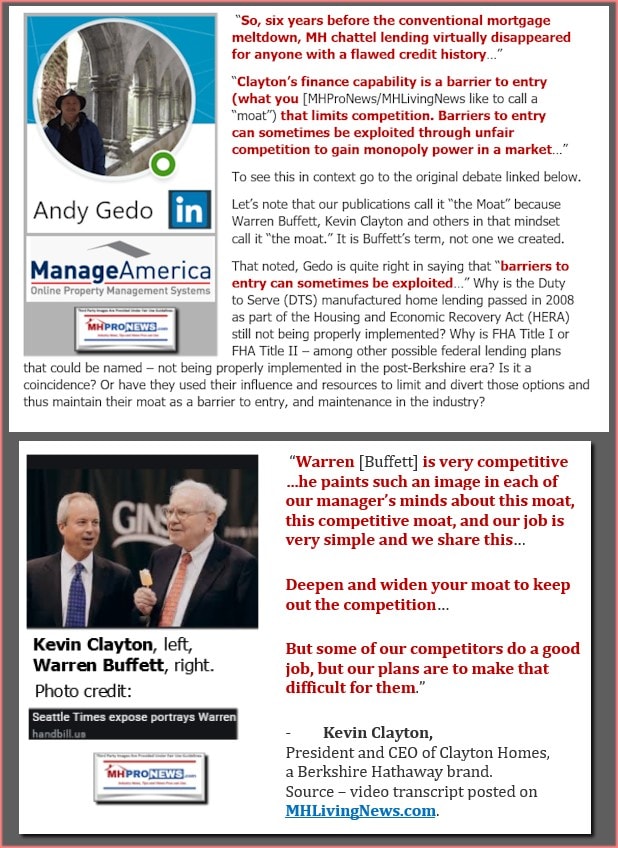 Here is the bottom-line summary for this report. White hats have an opportunity to turn MHI and their dominating brands failures and self-centered behaviors into an opportunity. This can be done at the location level, even though there is an obvious case that it could be easier and faster if done in conjuction with other white hat brands.
Our parent company is going to keep the factual-, evidence- and logic-based accountability reporting coming. But in addition, we will build on outreaches like those linked below to make the case to the broader public.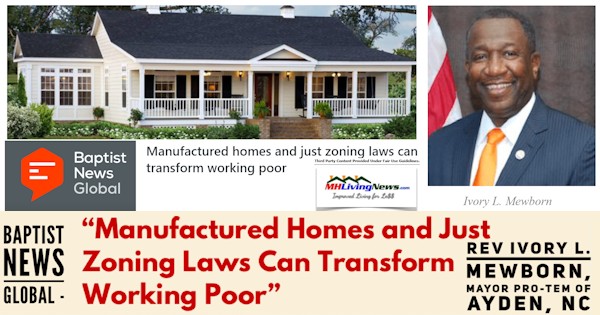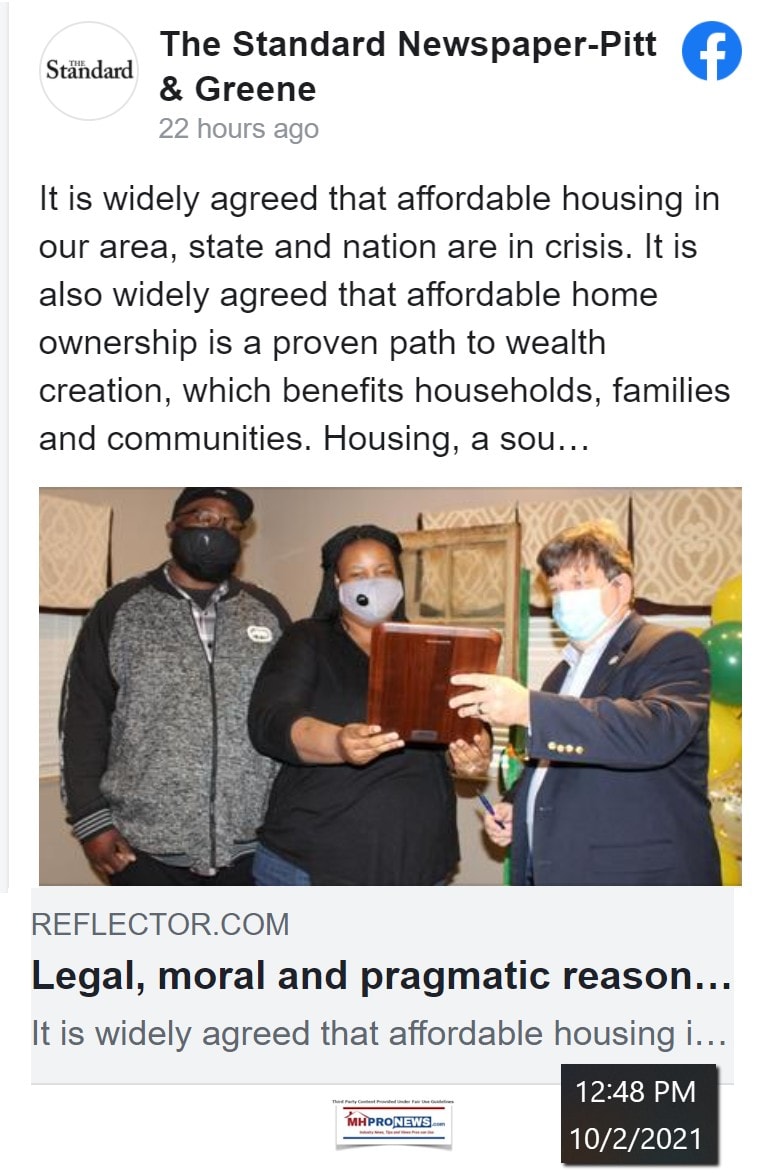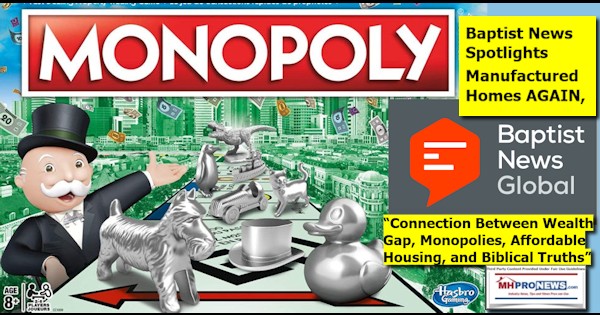 https://www.fhfa.gov/Media/Documents/Kovach-statement.pdf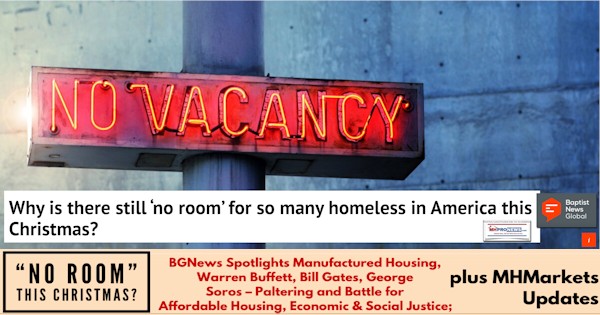 There are others, but that is enough to make the point. Facts are stubborn things so long as they are stubbornly reported and eventually acted upon. 2021 was an important year in documenting the disconnects between MHI statements and behavior. 2021 was also an important year for our platform's outreach to public officials and other media outlets beyond manufactured housing. This will obviously increase the awareness of third-parties of the investigative and research reports and analysis that uniquely shed light on why manufactured housing is underperforming and steadily consolidating.
Failure to act is a risk.
While there are risks in challenging the status quo, the case can be made that it is better and safer to fight for what is right than to roll over and play dead for those who have been gobbling up the manufactured housing industry for roughly the past 20 years. Danger or opportunity. That's the choice that 2022 and beyond brings to all who read this report.  See the linked and related reports that follow, which document the concerns made and provide examples of how this breaching of the consolidator's moat can occur. ##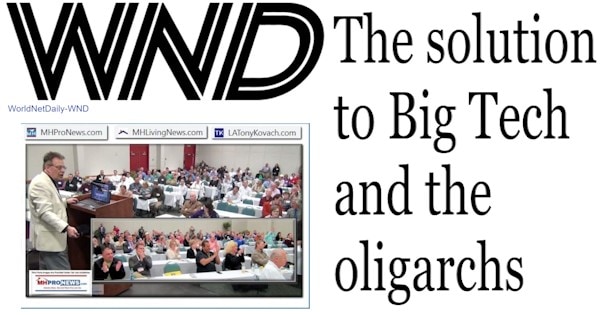 What Your Manufactured Home Industry Peers Want to Know; 2021 Proved Much (not all) of Mainstream Media is "Propaganda" for Corporate, Government Interests; Plus Sunday Weekly MH Review
Friend and foe alike have flocked here by the millions of visits annually to see how that struggle is being reported and how it will play out in 2022. ##

William Wade "Bill" Matchneer III, J.D., Died – Celebration of Life Provided by Bill's Wife Laurie Matchneer, Classic Video Interview with Matchneer Touting Manufactured Housing, Additional Career Insights
NPR Investigation "How the Government Helps Investors Buy Mobile Home Parks, Raise Rent and Evict People" – Facts, Hits & Miss Analysis – plus Sunday Weekly Manufactured Home Headlines Recap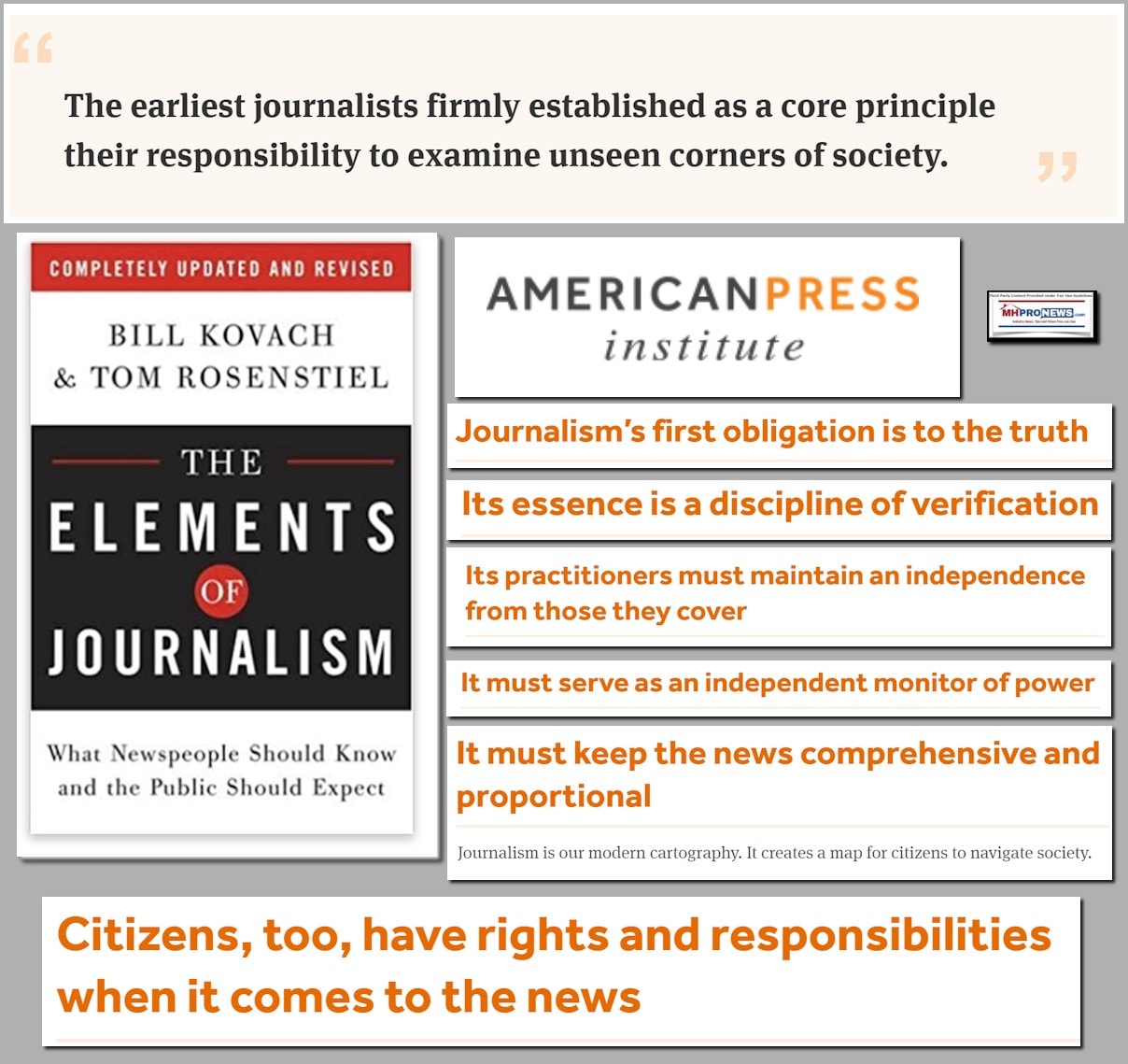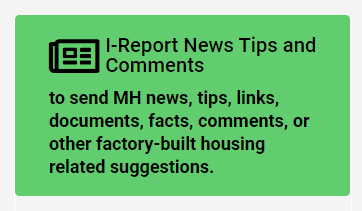 Our thanks to you, our sources, and sponsors for making and keeping us the runaway number one source for authentic "News through the lens of manufactured homes and factory-built housing" © where "We Provide, You Decide." © ## (Affordable housing, manufactured homes, reports, fact-checks, analysis, and commentary. Third-party images or content are provided under fair use guidelines for media.) (See Related Reports, further below. Text/image boxes often are hot-linked to other reports that can be access by clicking on them.)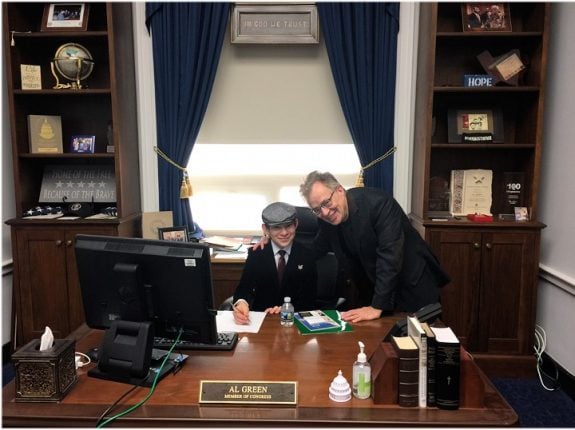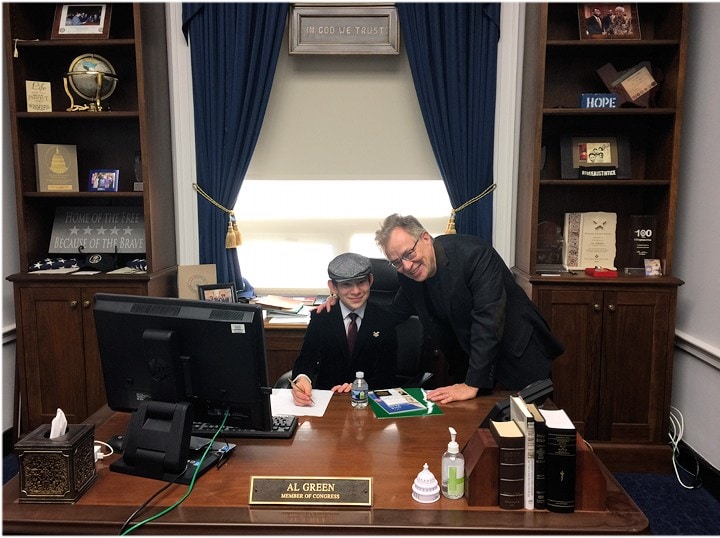 By L.A. "Tony" Kovach – for MHProNews.com.
Tony earned a journalism scholarship and earned numerous awards in history and in manufactured housing.
For example, he earned the prestigious Lottinville Award in history from the University of Oklahoma, where he studied history and business management. He's a managing member and co-founder of LifeStyle Factory Homes, LLC, the parent company to MHProNews, and MHLivingNews.com.
This article reflects the LLC's and/or the writer's position, and may or may not reflect the views of sponsors or supporters.
Connect on LinkedIn: http://www.linkedin.com/in/latonykovach
Related References:
The text/image boxes below are linked to other reports, which can be accessed by clicking on them.