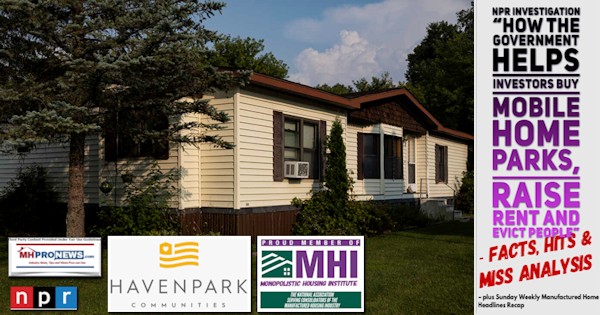 On December 18, 2021, National Public Radio (NPR) reported on "How the Government Helps Investors Buy Mobile Home Parks, Raise Rent and Evict People." It opens with the story of Mary Hunt who has for "more than 30 years," lived "in a mobile home park [sic] in Swartz Creek, Mich." NPR tells the all-too familiar tale of Hunt and others like her who have become the 'victims' of a 'predatory' manufactured home community consolidator, in her case Havenpark Communities. "She [Hunt] owns her home outright. But she needs to pay monthly "lot rent" to the park for the little patch of land that it sits on." Common terminology errors aside, the broad claims made by NPR are backed up by research and anecdotal evidence.

Said NPR, "A generation of mom-and-pop owners of mobile home parks [sic] are retiring and looking to sell. And investors and companies are swooping in to buy up these parks. They raise fees and rents for the land under the homes and evict people who can't pay. Housing advocates say it's a disturbing trend that's happening across the country.
What's more, these companies are getting help doing that from billions of dollars worth of low-interest-rate loans backed by the federal government. And the volume of that financing has risen sharply in recent years.
This trend is hurting the homeowners who can least afford it. For millions of Americans, owning a home in a mobile home park has been an affordable way to keep a roof over their heads. Families living in them make around $32,000 a year."
Note terminology errors by NPR or others cited herein are in the original.

What NPR and others have reported on in 2021 is part of a pattern that MHLivingNews documented in 2019 in a report that is as relevant today as it was then.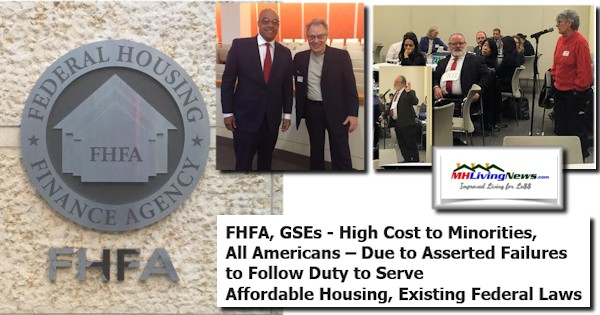 Prior to proceeding, MHProNews will note here that today's Postscript will include some history, facts, bias research and funding sources for NPR's parent, the Corporation for Public Broadcasting. The reasons to do so include the point that one of those sources of funding is the Bill and Melinda Gates Foundation, which for years had Warren Buffett and William "Bill" Gates III are major donors and foundation trustees.
That noted, NPR's report on how the Government Sponsored Enterprises (GSEs) of Fannie Mae and Freddie Mac are providing the capital the corporate takeover of and financing of once independently owned manufactured home communities.
Per NPR, the following.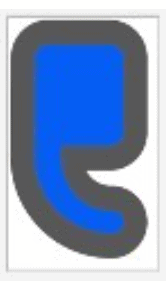 In Hunt's case, the new owner is a real-estate investment firm named Havenpark Communities. Since 2017, it has raised her rent and fees have risen, from less than $350 per month to more than $480.
And, just as problematic for Hunt, Havenpark is quick to file for eviction. She says the company wouldn't be flexible with her and take partial rent payments the way Stan and Nancy would. She says, instead, when she fell behind on the lot rent, Havenpark filed an eviction case against her.
People in mobile home parks are very vulnerable to losing their homes this way. Older homes like Hunt's can't physically survive being moved to another park. And even when that's possible, it costs upwards of $5,000 — money people don't have if they're having trouble paying lot rent.
So, over a relatively small sum, her $480 in lot rent and fees, Hunt could quickly lose the home she owns and has lived in for decades.
Havenpark actually has now filed to evict Hunt three times. The first two she says she borrowed money from friends and worked through weekends and managed to catch up in time.
But then, earlier this year, Hunt got sick with COVID-19 and fell behind. Havenpark sued to evict her again, and this time, she wasn't able to catch up.
Sitting in her dining room over the summer, with court documents spread out on the table, Hunt broke down in tears, afraid of what was going to happen next.
"I could be out next week without a place to live," she said.
A federal eviction moratorium was about to expire, and Hunt was running out of options. She took care of her parents here before they died. The bookcases are full of family pictures, her parents' dishes and keepsakes.
"What's going to happen is I'm going to go with what I have on my back pretty much," she worried. "Everything will go to the road, and there won't be anything I can do about it."
Havenpark declined an interview but said in a statement that starting last year, the company adopted a new policy that it won't raise monthly lot rent more than $50 in a year. The company says it charges the fair market rent for an area.
Havenpark was within its legal rights to file eviction against Hunt. And it is not alone. Other companies are buying up mobile home parks, too. And, one might think, this is just part of life in a competitive housing market. Landlords are entitled to their rent.
But there's something else at play here, too — when mobile home park investors like Havenpark put the squeeze on residents like Hunt, they're getting help from an unlikely source: federally backed companies with a core mission of helping to make homeownership affordable.
…
"When private investors come to buy parks, [they] raise the rent, sometimes 20, sometimes 50, sometimes 70%" says economist George McCarthy, president of the nonprofit Lincoln Institute of Land Policy.
And, he says — what's really troubling to him — is that the government is basically turbocharging this trend.
Several industry insiders tell NPR that this is the way it works: When a company raises the rents and fees in a park, that increases the cash flow and makes the park more valuable on paper. So the company can then borrow more money against the property.
It's similar to refinancing your house if it has risen in value and pulling cash out with a new mortgage.
So the company borrows another, say, $3 million and, cash in hand, repeats the cycle at a different mobile home park, potentially displacing more of the nation's poorest homeowners.
And the companies do that again and again — it's a cascade of borrowed money used for buying up mobile home parks.
The loans often have very low interest rates because they're guaranteed by Fannie Mae and Freddie Mac — the government-backed entities at the heart of the U.S. mortgage market.
"They provide very, very low cost debt for these investors to … get enough cash out to go buy additional parks," says McCarthy.
To be clear, this practice is not illegal. In fact, a Havenpark executive touted the benefit of these government-backed loans for his company in a Fannie Mae online brochure. Havenpark Communities President and CEO Robbie Pratt said the Fannie Mae-backed loans have "supercharged our asset acquisitions." Pratt said the loans allowed the company to buy more than $100 million worth of mobile home parks in a single year.
"What's ironic about it is that one of the missions of Fannie Mae and Freddie Mac is to help preserve affordable housing," says McCarthy. "And they're doing exactly the opposite by helping investors come in and make the most affordable housing in the United States less affordable all the time."
The company acknowledged to NPR that some of its manufactured home parks are financed with such loans but declined to offer any other specifics. Havenpark says it's important to note that sometimes when it buys a park, it prevents it from being turned into, for example, a shopping mall.
The company said in a statement, "Havenpark's business model and goal is to preserve affordable housing by purchasing manufactured home communities."
But that claim raises the eyebrows of affordable housing advocates. "How can that be their goal?" asks Elisabeth Voigt with Manufactured Housing Action. Her nonprofit group helps organize residents and pushes for better protections for them at the state and federal level.
"If [Havenpark's] goal was to preserve affordable housing, they would be working with tenants," Voigt says, "to come up with a payment plan, to accept partial payments."
"The last thing they would be doing," she says, "is immediately filing for eviction as soon as a family falls a little bit behind, especially in the middle of a global pandemic."
NPR previously reported on a family with a 5-year-old son who lost their home of 16 years during the pandemic after Havenpark evicted them. The company filed for eviction after the family fell just one month behind on lot rent and owed $621.
The government could be helping mobile home residents
While Havenpark and other investors are buying up mobile home parks with help from these government-backed loans, the residents of mobile home parks themselves aren't getting that sort of help. But they could be.
McCarthy and Voigt both say the Biden administration can fix that situation. Without an act of Congress, it could direct Fannie and Freddie to make it easier for residents to buy their own communities.
These days, more residents are trying to buy up their own parks, as co-ops, so they can determine the rents and fees for themselves.
Help from Fannie and Freddie would be welcome news for park residents like Charlie Smith who retired to the Brookside Village mobile home park in Plainville, Mass., in 2013.
Smith, 80, has a nice yard with a garden, a hammock for naps and a parking spot for his Yamaha Royal Star motorcycle. And he's proof of what's possible.
A few years ago, he received a letter. It said the local family business that owned his park was selling it to an investment firm for roughly $4 million. He and especially his neighbors on lower fixed incomes feared the worst.
"They weren't just concerned," he recalls. "They were actually terrified, saying — they would turn to me and say, 'Charlie, if they force us out, where would I go? We couldn't afford an apartment. We couldn't afford, you know – like, what the hell would we do?' "
When corporate ownership loomed over the mobile home park where Charlie Smith had retired to, he took the lead in helping the residents set up a co-op.
…
But in Massachusetts, there's a law that gives mobile home park residents a chance to buy their park when it goes up for sale. It's called the right of first refusal. Only a handful of states have such laws. And with the help of a nonprofit, they were able to pull it off.
It wasn't easy. They had to match the $4 million offer the investor had on the table. To do that, the residents had to agree to a sizable increase in their lot rent, so their new co-op park could pay back the loan.
Andy Danforth works with the nonprofit ROC USA helping residents buy their own parks and was the point person on the ground at Brookside Village. And he says it's frustrating that when residents try to buy their own park like this, they have to do that without any help from the federal government, from Fannie and Freddie. That means the residents have to pay much higher interest rates — and therefore pay a lot more money over time — when they buy their own park.
"I've done over 50 [co-op] conversions, over a quarter-billion dollars, and not a cent of it [was backed by] Fannie Mae or Freddie Mac," Danforth says.
Voigt with MHAction says Fannie and Freddie should stop backing low-interest-rate loans to the investors buying up mobile home parks unless there are much stronger protections and should "figure out a path that preserves communities and protects residents."
She and McCarthy of the Lincoln Institute of Land Policy both say Fannie and Freddie could be directed to back low interest rate loans to residents to help them buy their own parks and form co-ops.
"The U.S. government could tell Fannie and Freddie what to do and how to do it," McCarthy says. "Actually make them honor their original mission, to use innovative financing to preserve this really, really critical, affordable housing stock."
Technically, there is already a way for co-ops to get loans backed by Fannie or Freddie — but they can rarely qualify, McCarthy says, often because the down payment requirement is too high.
"I could be out next week without a place to live," Mary Hunt worried when an NPR reporter visited. Hunt doesn't own the piece of land, making Havenpark Communities free to tell her to get out.
…
Fannie Mae alone for example backed more than $5 billion just last year in loans to mobile home parks, or manufactured home communities, and none of that was for parks that were being turned into co-ops like Smith's.
McCarthy's nonprofit is leading a new coalition of 20 affordable housing groups that are pushing the federal regulator overseeing Fannie and Freddie to do more to help residents of mobile home parks.
An official with the regulator, the Federal Housing Finance Agency, said that similar calls for Fannie and Freddie to find ways to make more loans to residents forming co-ops were raised through the public comment process: "We heard those appeals and are taking them into serious consideration."
NPR reached out to Fannie Mae and Freddie Mac, and Freddie Mac said in a statement that more recently, it has been requiring more protections for tenants in mobile home parks and that it is "committed to supporting resident-owned communities."
As for Mary Hunt in Swartz Creek, Mich., it looks like she's going to be OK for now. She had applied for pandemic rental assistance money. When NPR pressed Havenpark, the company said it wouldn't evict her or other residents waiting for that rental assistance help. And, now, Hunt says the payments were approved and her back rent has now been paid.
But Hunt is still in a vulnerable situation. Her lot rent and fees are still much higher than they were a few years ago. So she's hoping she doesn't wind up facing eviction again. ##
##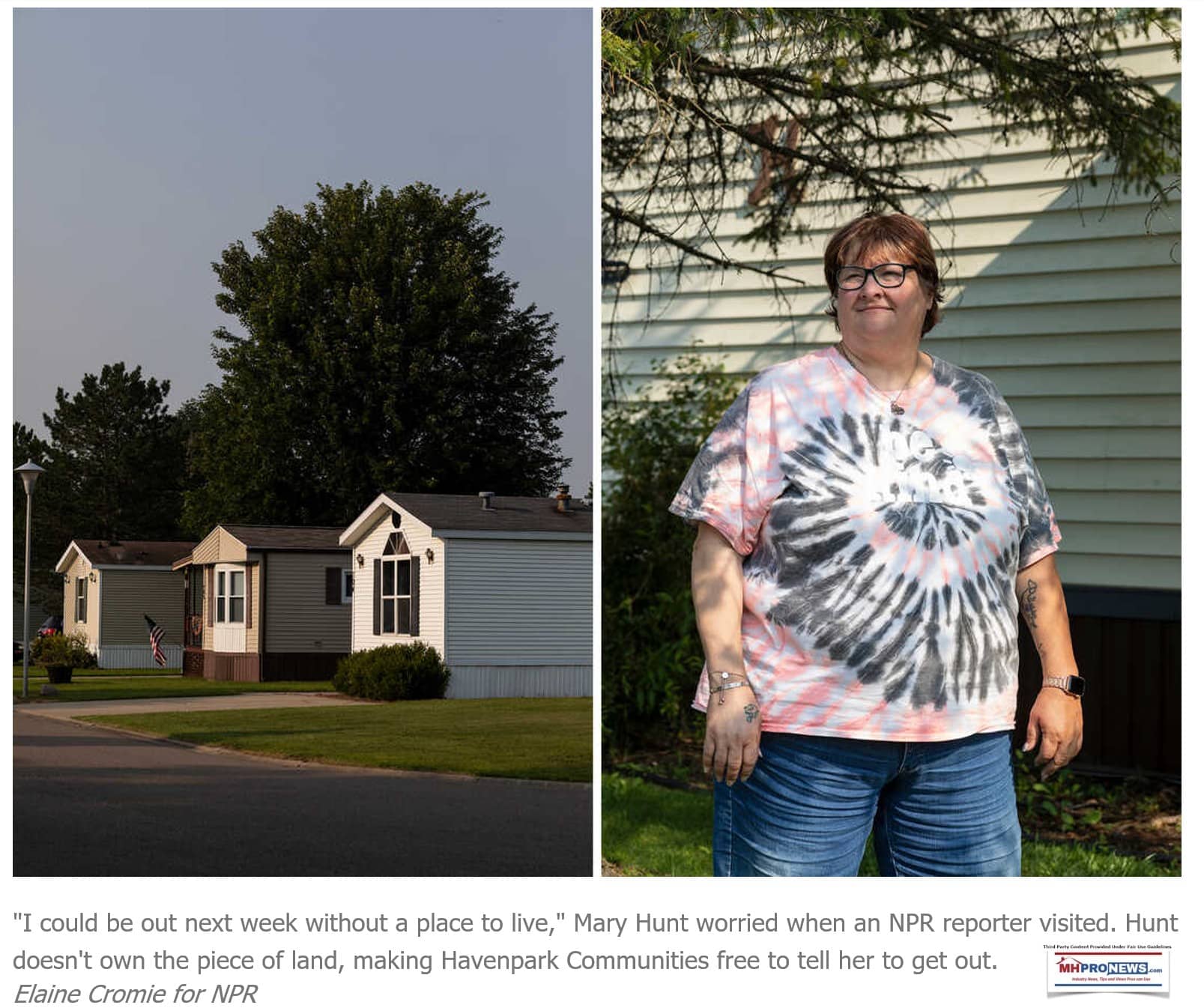 Note that there are some additional statements and illustrations in the NPR report cited at length above. Their full report is linked here. In fairness, Havenpark is far from the only brand that has attracted scandal and scorn toward the manufactured housing industry's community sector. NPR did not note that Havenpark is an MHI member brand, as are several of the others who routinely draw negative attention toward manufactured home living.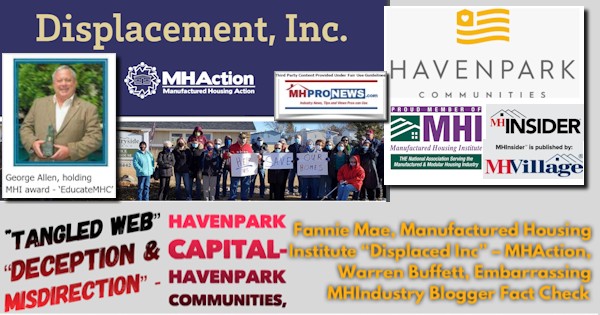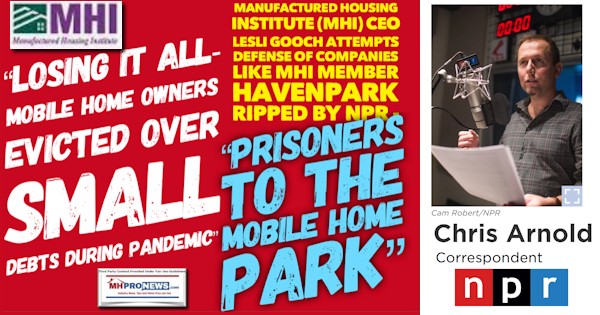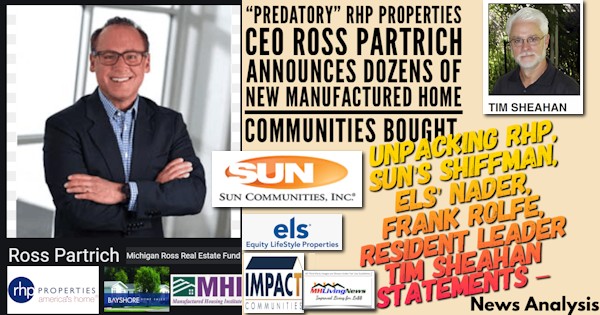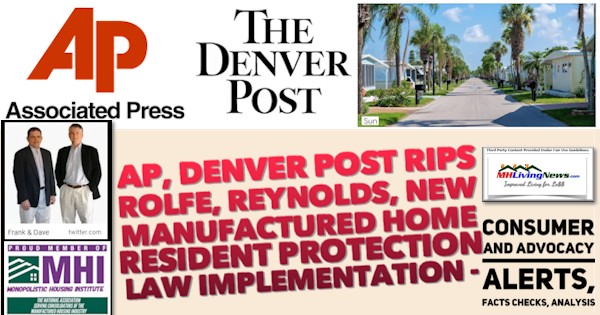 NPR and others in mainstream media have been doing periodic reports on the manufactured home community sector. For whatever reasons, these rarely pull back the veil on the funding for organizations such as MHAction, which has previously been identified by MHProNews/MHLivingNews as including the left-leaning Tides nonprofit.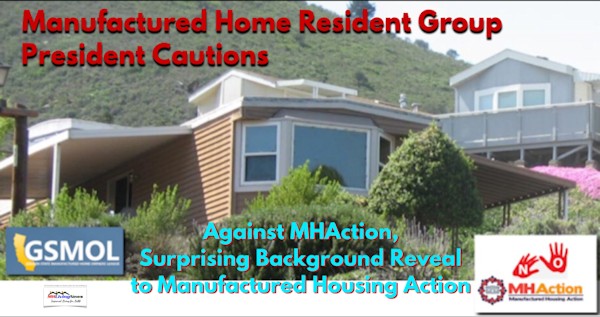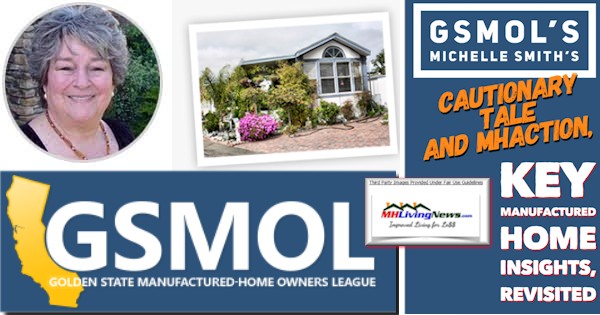 After our initial report on MHLivingNews was published, MHAction's own website added a notice at the base of their home page that simply says: "Tides Center, P.O. Box 29907, San Francisco, CA 94129-0907."
Nor are there known reports by NPR on the history of MHAction's Liz Voigt.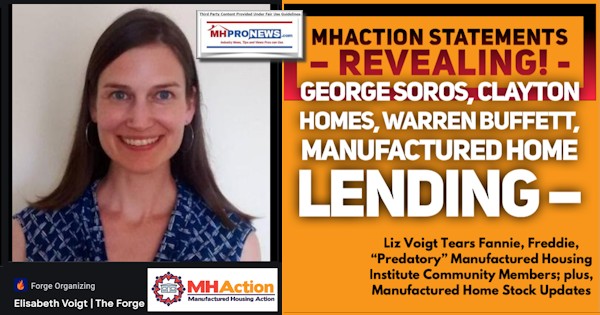 As MHProNews and MHLivingNews have also reported, the Tides has had millions in financial support from Warren Buffett and George Soros.

Right or wrong, left-leaning advocacy and reporting has several touch-points in reports such as NPR's examined above. Stop and consider the implications of now businesses and nonprofits that have ties to Buffett and others that wield outsized influence on manufactured housing are often lurking in the financial background of media reporting.  Buffett-bucks are on both sides of 'the debate' in the public mind over manufactured housing. Since Buffett formally entered the industry in 2002 and 2003, the manufactured housing industry has never recovered to those once higher levels of production and sales.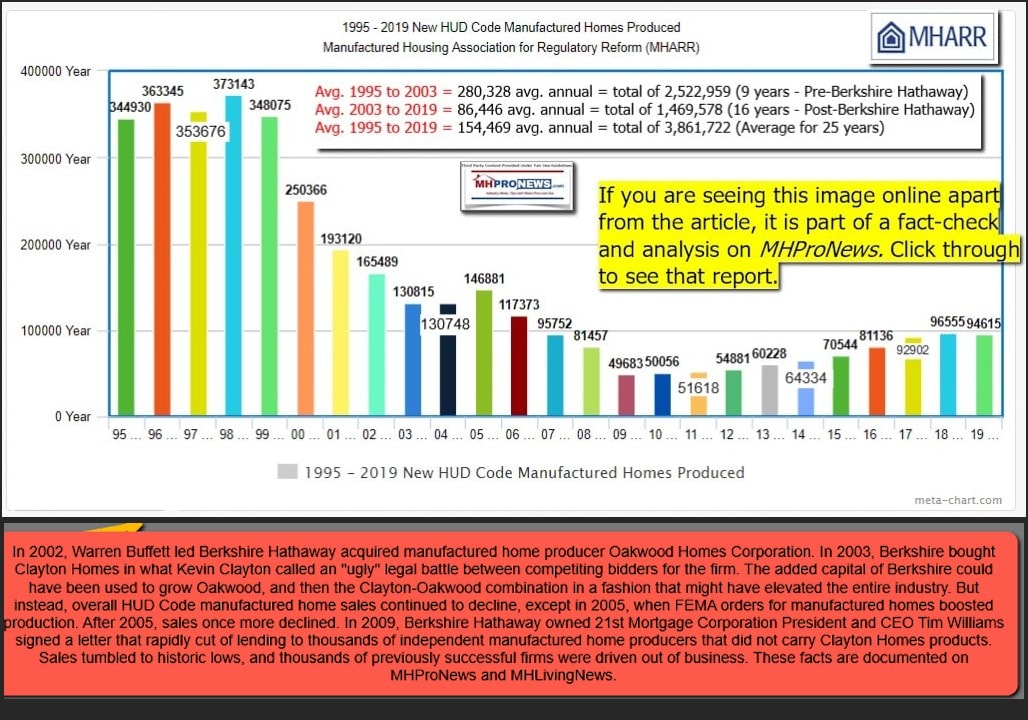 Facts matter. For those who recognize the importance of bias, history, and following the money-trail, do not miss today's postscript.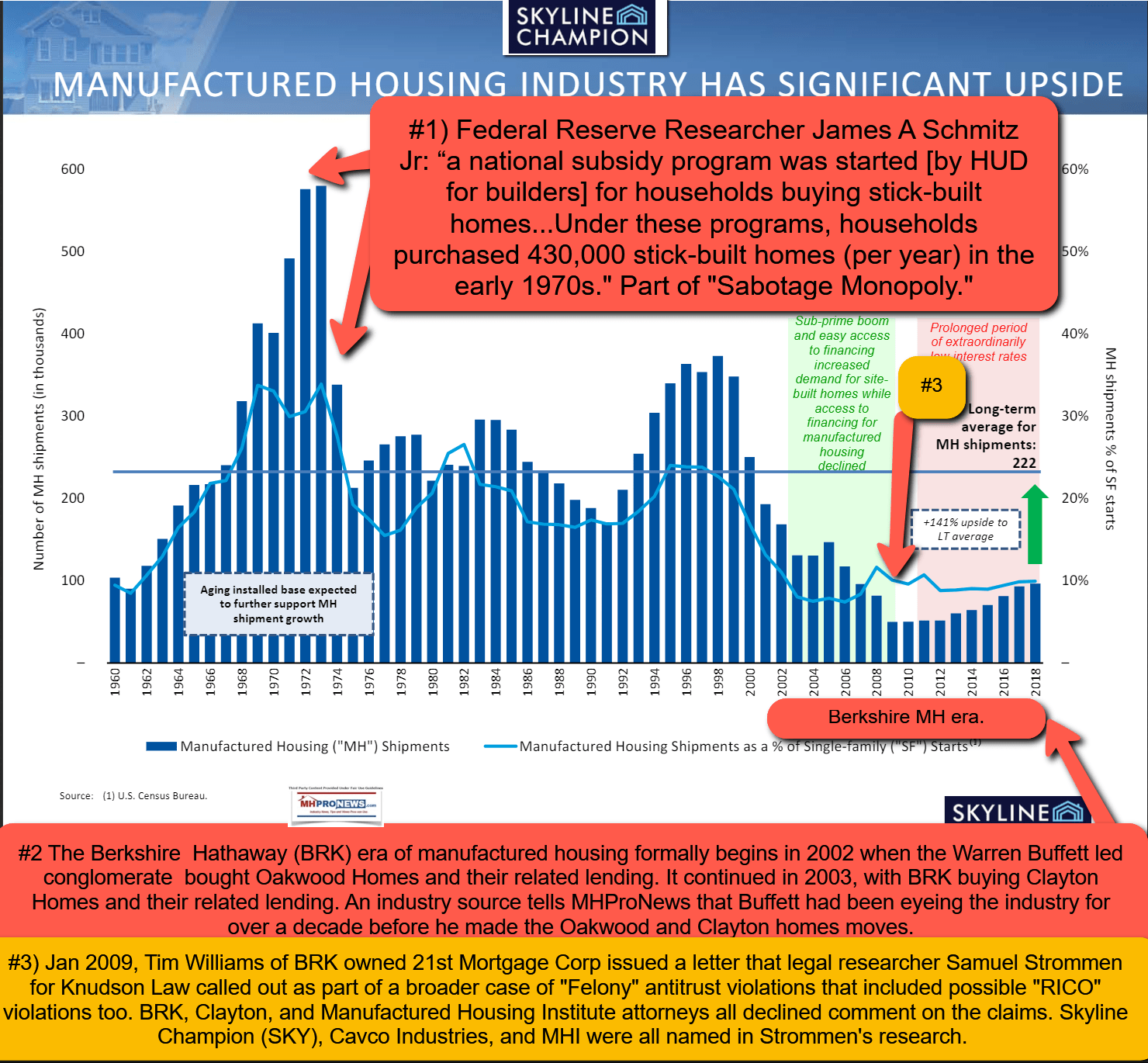 With no further adieu, let's turn to the linked headlines and reports from 12.12.2021 to 12.19.2021.
What's New on MHLivingNews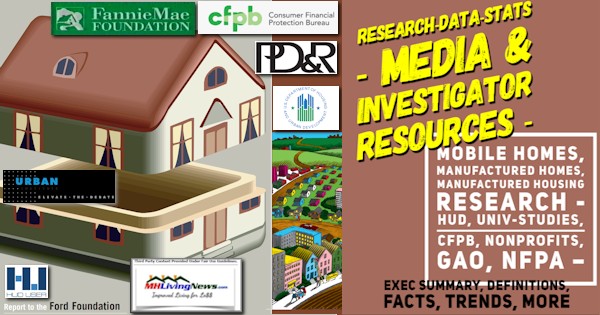 What's New from Washington, D.C. from MHARR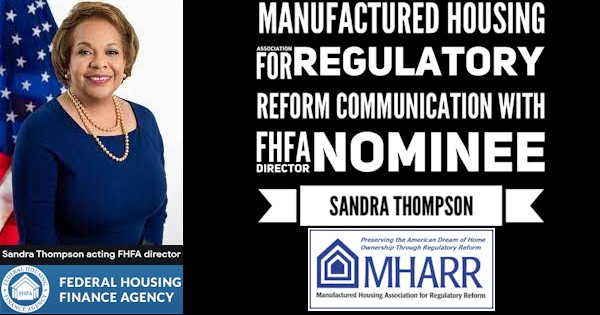 What's New on the Masthead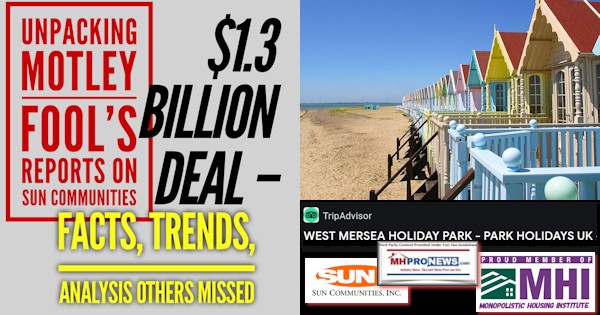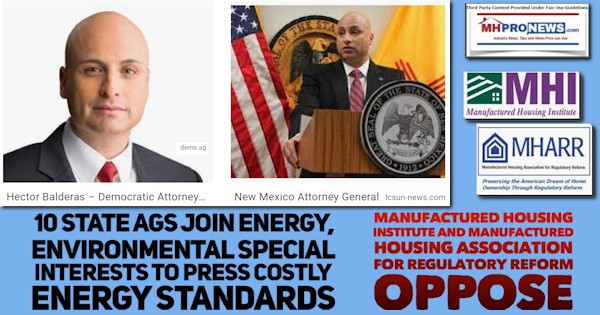 What's New on the Daily Business News on MHProNews
Saturday 12.18.2021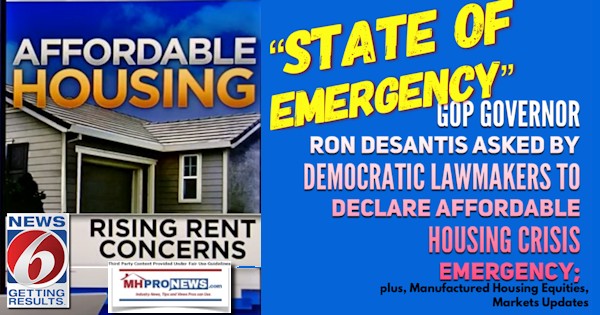 Friday 12.17.2021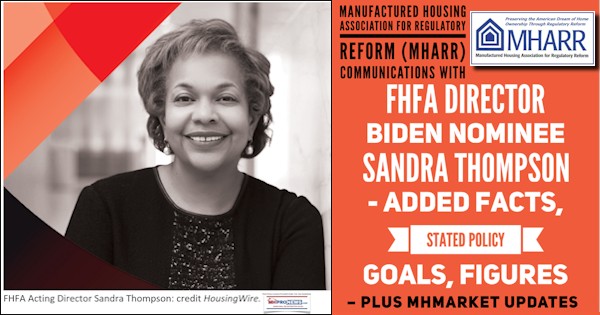 Thursday 12.16.2021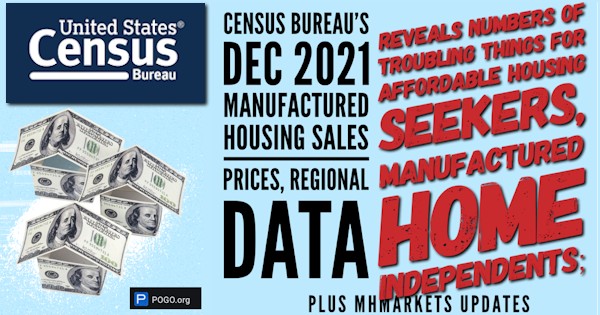 Wednesday 12.15.2021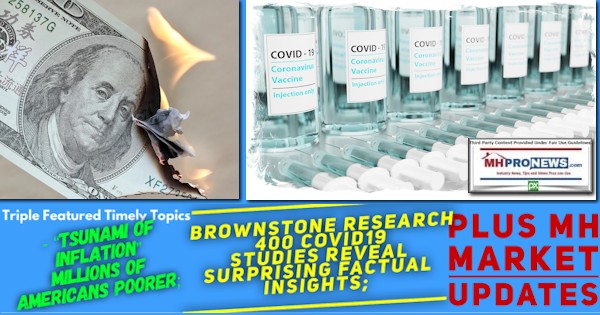 Tuesday 12.14.2021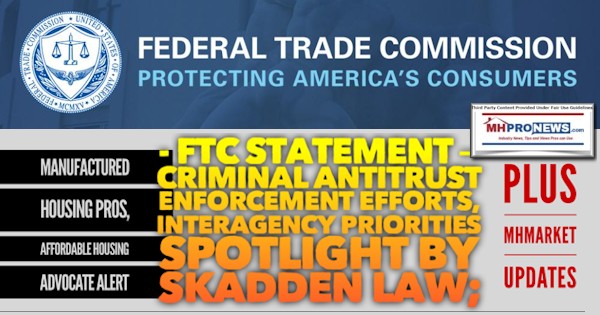 Monday 12.13.2021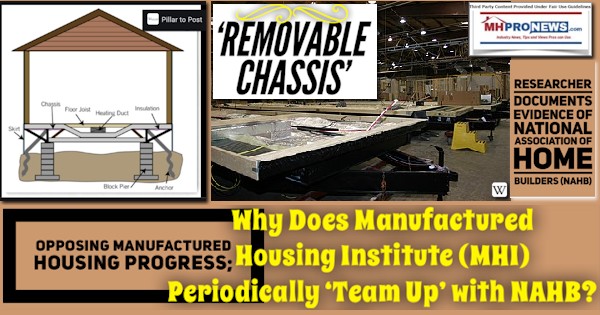 Sunday 12.12.2021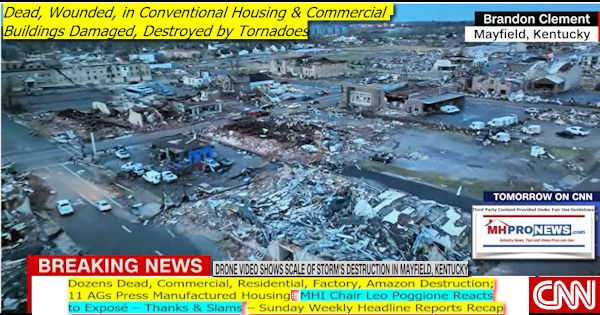 What's New on the Words of Wisdom by Best Selling Author, Tim Connor CSP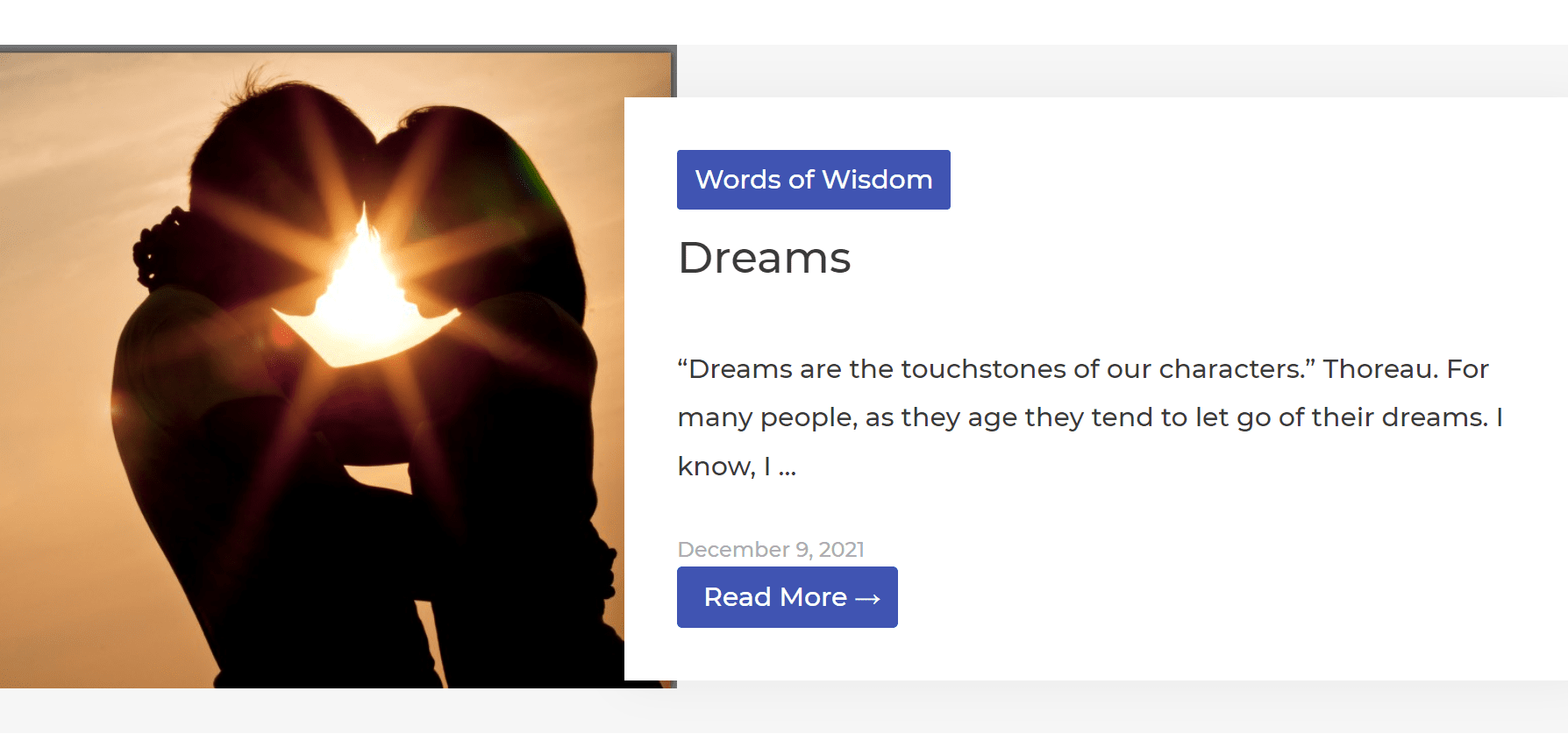 Postscript
Disclosure. It was on one of our family's trips to visit Marty Lavin and his wife on their custom Italian cruiser berthed in Miami Beach that this writer was first introduced to Newsmax TV.  That may seem to have nothing to do with what follows, other than it was a new source of information. Newsmax leans right, NPR and its parent Corporation for Public Broadcasting leans left. Note that in Sharyl Attkisson's useful left-right media bias chart below, NPR is nearly at the far end of the left-leaning bias. By contrast, Newsmax is to the right of Fox News, but not as far right as OAN. It would be fair to say that Lavin sources across the left and right, and so has MHProNews from its early days in publishing.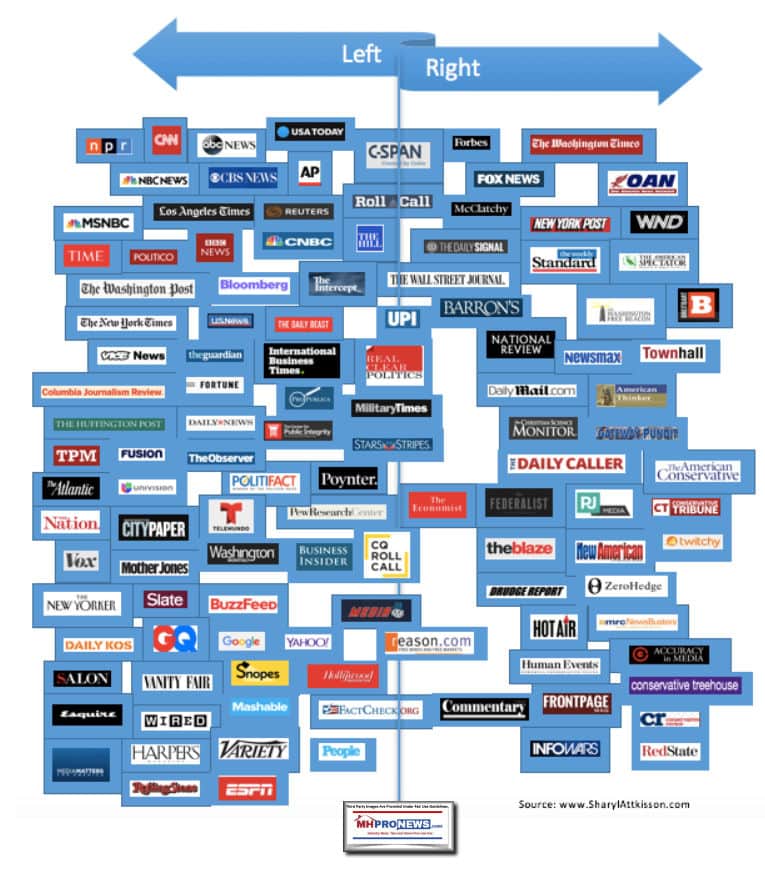 Trends. History. Sources of influence such as capital, nonprofits, media and of course government itself. Keeping these things in mind are useful to navigating what is occurring in our profession specifically and in America more broadly. Agree or disagree with President Donald Trump's style, one ought to agree with his insightful quotable quotation shown below.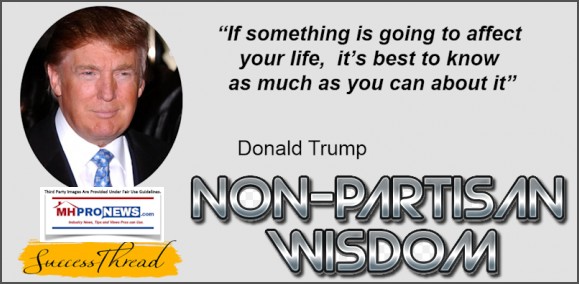 According to Influence Watch, associated with the Capital Research Center (CRC) and who tend to be quite thorough in documenting the sources of their statements and findings, are the following insights on NPR's parent company, the Corporation for Public Broadcasting.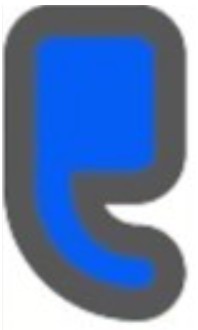 "In operation since 1968, the Corporation for Public Broadcasting (CPB) is a non-profit corporation funded by the U.S. government that is the main support for the nation's network of public television and radio stations. [1] The Public Broadcasting Service (PBS) – the national public television network – was incorporated in 1969, and National Public Radio (NPR) in 1970. [2] The federal subsidy for CPB – $445 million for Fiscal Year 2018 – is approximately 15 percent of total funding for public television and radio stations, with private foundations, corporate sponsorships, and donations from audience members providing the rest. [3] "
LEFT-OF-CENTER FINANCIAL SUPPORT
CPB and two related foundations connected to PBS (the PBS Foundation) and NPR (the NPR Foundation) have received a combined total of more than $50 million since 2001 from seven foundations with a history of giving to left-of-center advocacy organizations: the Annenberg Foundation ($32.7 million), Ford Foundation ($5.2 million), John D. and Catherine T. MacArthur Foundation ($4 million), John S. and James L. Knight Foundation ($3.5 million), Gruber Family Foundation ($2.5 million), WK Kellogg Foundation ($2.3 million), Bill and Melinda Gates Foundation ($945,000). [37]
Audience
NPR and PBS audiences skew strongly to the political left and have higher than average incomes.
A 2014 Pew Research Center survey revealed 60 percent of the PBS audience identified as either "mostly liberal" (25 percent) or "consistently liberal" (35 percent), versus 15 percent identifying as some variant of "conservative." The NPR audience skewed 67 percent "consistently" or "mostly" liberal, versus only 12 percent "conservative." [38]"
Additional sources of funding for CPB and NPR have ties to companies that are members of the Civic Alliance.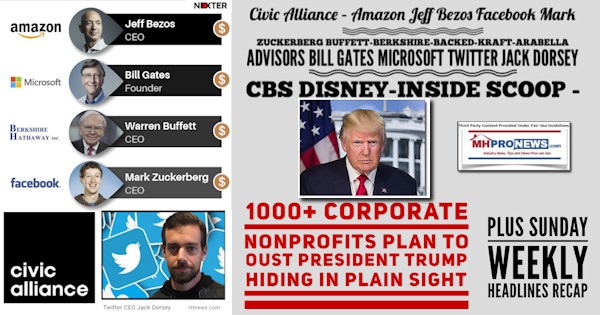 Facts are what they are. Bias is what it is. Awareness of such insights are useful for several reasons, including, but not limited to the troubling but keen quote shown below.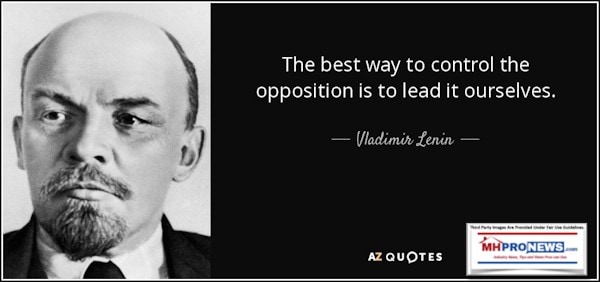 Manufactured housing has been underperforming since Warren Buffett led Berkshire Hathaway (BRK) entered the industry. Berkshire, as well as several other amply financed brands that dominate membership at the Manufactured Housing Institute (MHI) could readily educate the public, media, and officials in a thorough manner that could completely remove the limiting stigmas that are part of what has dogged manufactured housing potential for decades.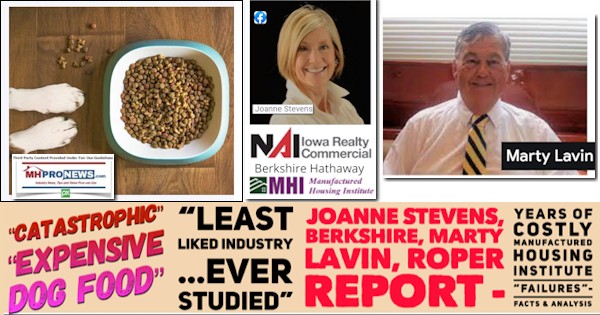 MHI award-winner Lavin and Berkshire unit leader Joanne Stevens called attention to the troubling issues that have long kept the industry underperforming.
That may depress some, but all sales in some ways are local, just as all politics are local. There are opportunities to turn the tables on those who have arguably undermined and limited manufactured housing for far too long. More on that in the report below and in the days ahead. Stay tuned to the only source for well researched manufactured housing "Industry News, Tips, and Views Pros Can Use." © where "We Provide, You Decide." ©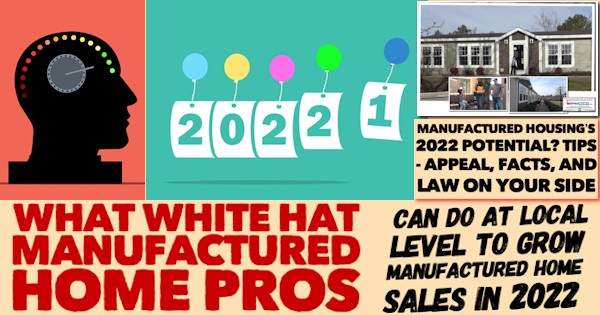 ###
The 500,000 new HUD code manufactured home sales per year is the metric that MHI's prior CEO and President, Richard "Dick" Jennison publicly set. That statement was prompted by an inquiry and communications between MHProNews and Tim Williams at 21st Mortgage Corporation, MHI's prior chairman who is still an MHI board member. When will MHI and its dominating brands recognize and live up to their own statements, purported aims and claims? Still and quote are from the video posted on this page. https://www.manufacturedhomepronews.com/we-need-to-remove-the-shackles-on-our-industry-mhi-ceos-historic-call-for-cfpb-feds-to-unleash-manufactured-home-industry-growth-via-more-lending-marty-lavin-in/

"Trailers," "Trailer Parks," "Mobile Homes" and Associated Press "Not Aware…This Request [About Manufactured Housing] Before" – How Did Manufactured Housing Institute Miss This? Plus, 12th Anniversary Celebration Kudos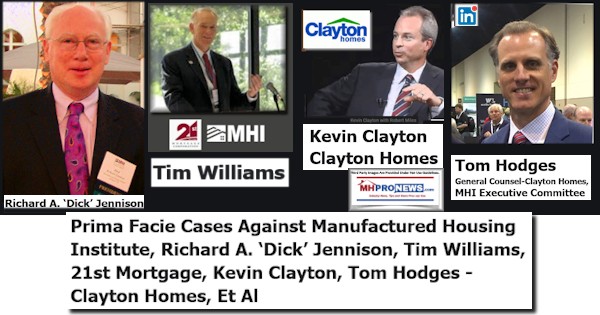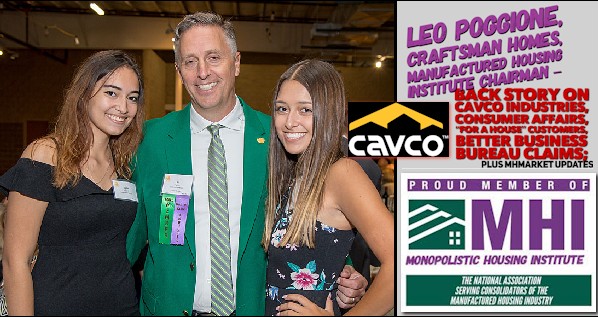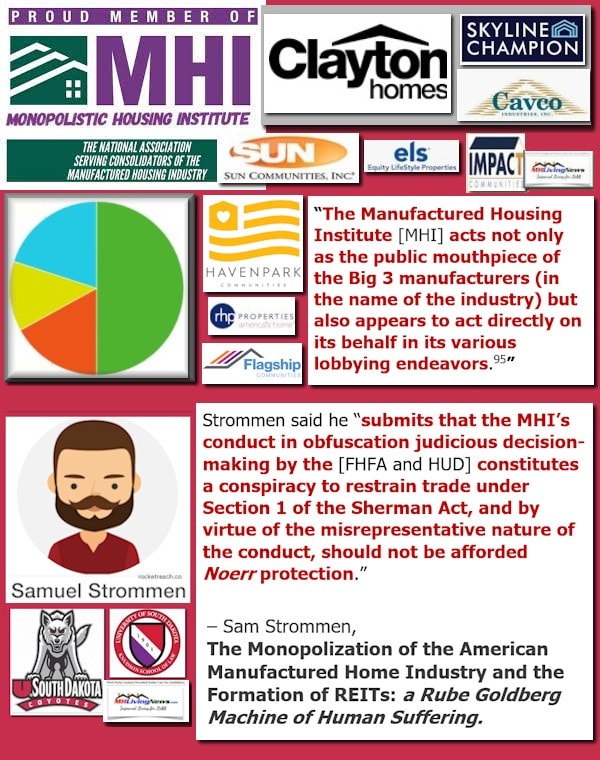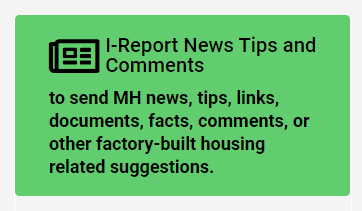 Our thanks to you, our sources, and sponsors for making and keeping us the runaway number one source for authentic "News through the lens of manufactured homes and factory-built housing" © where "We Provide, You Decide." © ## (Affordable housing, manufactured homes, reports, fact-checks, analysis, and commentary. Third-party images or content are provided under fair use guidelines for media.) (See Related Reports, further below. Text/image boxes often are hot-linked to other reports that can be access by clicking on them.)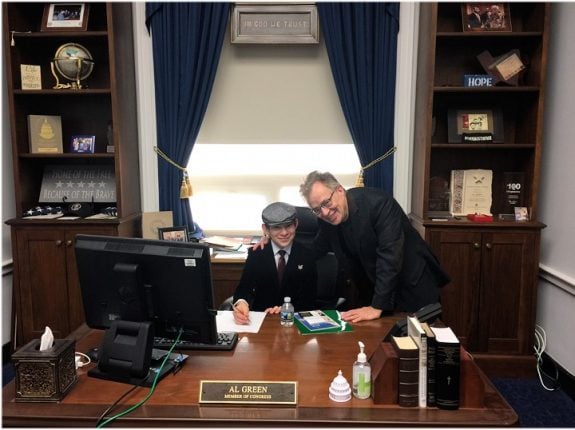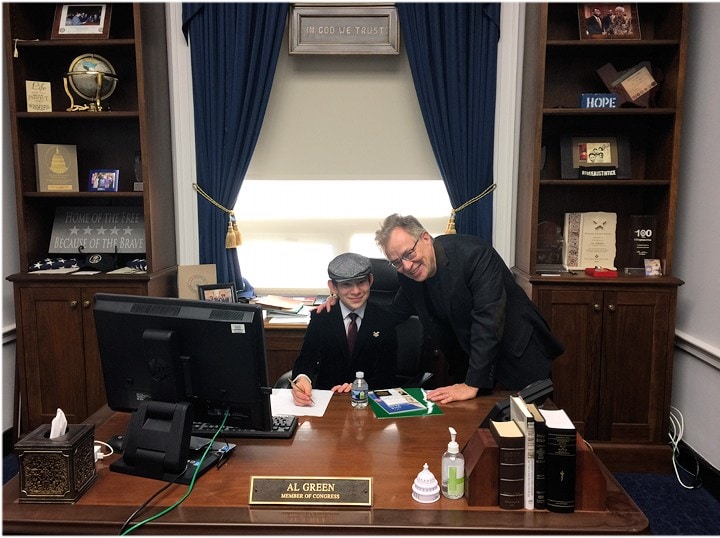 By L.A. "Tony" Kovach – for MHProNews.com.
Tony earned a journalism scholarship and earned numerous awards in history and in manufactured housing.
For example, he earned the prestigious Lottinville Award in history from the University of Oklahoma, where he studied history and business management. He's a managing member and co-founder of LifeStyle Factory Homes, LLC, the parent company to MHProNews, and MHLivingNews.com.
This article reflects the LLC's and/or the writer's position, and may or may not reflect the views of sponsors or supporters.
Connect on LinkedIn: http://www.linkedin.com/in/latonykovach
Related References:
The text/image boxes below are linked to other reports, which can be accessed by clicking on them.