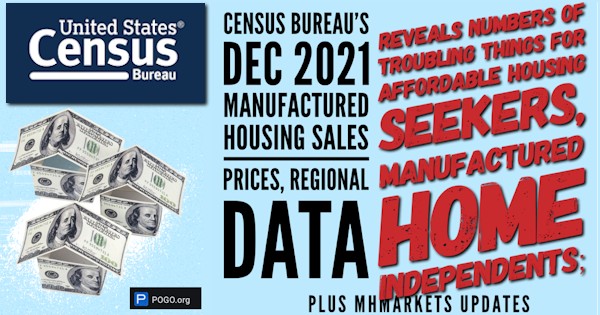 Affordability has long been a big draw for HUD Code manufactured homes. Indeed, dating back to the mobile home era of the industry, significantly lower purchase prices when compared to conventional 'site built' housing have been part of the magnet that attracts customers. Certainly, other factors such as consumers safeguards established by federal standards are a plus. The additional consumers protections provided by the Manufactured Housing Improvement Act (MHIA) of 2000 are value-added claims too. It is with that affordability in mind that the latest Census Bureau data on manufactured housing reveals troubling insights that could prove problematic in the foreseeable future for the millions who must have a low-cost home and those who sell them.
Facts matter. Evidence matters. Trends Matter. All of the following data will be unpacked following the latest to MHProNews provided by the U.S. Census Bureau's official research.
The following is research released by the Census Bureau in December 2021, but reflects figures for July 2021.
DECEMBER 2021
Latest Data
July 2021
Average Sales Price (thousands of dollars)
$118.7
Total Shipped (thousands of units)

Sold or Leased for Residential Use

Placed

Not Yet Placed

Intended for Sale or Lease for Residential Use

Placed

Not Yet Placed

For Non-Residential or Other Use

7.6

4.4

4.3

0.2

3.0

0.8

2.3

0.1
Average Sales Price of New Manufactured Homes by Region and Size of Home
By Month of Shipment
(Dollars) 
United States
Total1
Single
Double
2021
 
 
 
July
118,700
76,000
137,800
June
106,800
70,200
128,100
May
106,500
69,900
128,300
April
100,200
66,700
122,500
March
98,100
63,300
123,200
February
98,300
65,400
122,500
January
95,000
64,100
118,500
Northeast
Total1
Single
Double
2021
 
 
 
July
98,500
74,100
125,700
June
101,600
73,700
124,200
May
98,400
69,900
121,500
April
95,900
73,800
113,300
March
91,400
58,600
121,300
February
88,300
59,400
113,800
January
102,600
67,900
116,200
Midwest
Total1
Single
Double
2021
 
 
 
July
110,500
79,100
139,300
June
94,900
65,600
125,800
May
94,300
67,500
128,200
April
85,400
61,800
125,400
March
86,400
60,800
119,100
February
87,300
62,400
118,100
January
83,000
62,100
112,700
South
Total1
Single
Double
2021
 
 
 
July
119,200
74,500
137,100
June
107,500
70,700
128,000
May
109,900
70,600
129,200
April
100,400
67,700
122,200
March
98,100
63,700
122,400
February
98,100
67,100
121,800
January
94,000
64,600
117,300
West
Total1
Single
Double
2021
 
 
 
July
131,100
81,700
142,800
June
116,400
72,200
131,500
May
104,400
70,300
125,500
April
118,400
65,000
125,000
March
113,000
67,300
130,800
February
116,900
60,900
131,900
January
113,400
62,300
129,500
According to the Census Bureau: "The methodology used beginning in August 2014 involves contacting the dealer four months after the unit was shipped to ask about the status of the unit. The dealer is asked to report a sales price if the unit is already sold and placed for residential use or to report an intended sales price if the unit is intended for sale and for residential use. The dealer is no longer contacted each month until the unit is placed. Estimates of average sales price include both actual sales prices and intended sales prices."
Another change that should be noted, which is not in the Census Bureau methodology description, is that they are now showing 'for sale or lease.' For years, this data was sales data with no mention of rental or leased units.
Additional Information, More MHProNews Analysis and Commentary 
These Census Bureau facts published on 12.7.2021 have several implications that forward-looking manufactured home professionals ought to be aware of, such as the following.
FHA Maximum Loan Amounts.
The Pending DOE "Two Tiered" Energy Rule Plan
Loss of Prospective Customers (and thus sales) caused by the "Priced Out" effect documented by the National Association of Home Builders.
Manufactured Home Trade Advocacy Implications
Each of those will be examined by providing the following facts.
According to HUD/FHA is the following on FHA Title I lending limits.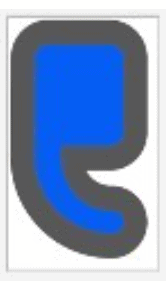 Purpose of the Loan
A Title I loan may be used for the purchase or refinancing of a manufactured home, a developed lot on which to place a manufactured home, or a manufactured home and lot in combination. The home must be used as the principal residence of the borrower.
Manufactured Homes Placed on a Leased Lot
For Title I insured loans, borrowers are not required to purchase or own the land on which their manufactured home is placed.  Instead borrowers may lease a lot, such as a site lot within a manufactured home community or mobile home park.  When the land/lot is leased, HUD requires the lessor to provide the manufactured homeowner with an initial lease term of 3 years.  In addition, the lease must provide that the homeowner will receive advance written notice of at least 180 days, in the event the lease is to be terminated.  These lease terms are designed to protect homeowners in case the lessors sell the land or close the park.
Maximum Loan Amount
Manufactured home only – $69,678
Manufactured home lot – $23,226
Manufactured home & lot – $92,904
Maximum Loan Term
20 years for a loan on a manufactured home or on a single-section manufactured home and lot
15 years for a manufactured home lot loan
25 years for a loan on a multi-section manufactured home and lot" ##
Manufactured housing already had very low totals being financed via FHA Title I lending. But the latest data reveals that the maximum loan on FHA Title I is now lower than the average sales price for a new HUD Code manufactured home single section. Unless FHA/Ginne Mae addresses this and other pending issues, the already minimal (reportedly perhaps a few dozen annually) levels of manufactured homes being financed by FHA Title I will drop further. Why are these facts not brought forward and dealt with by MHI?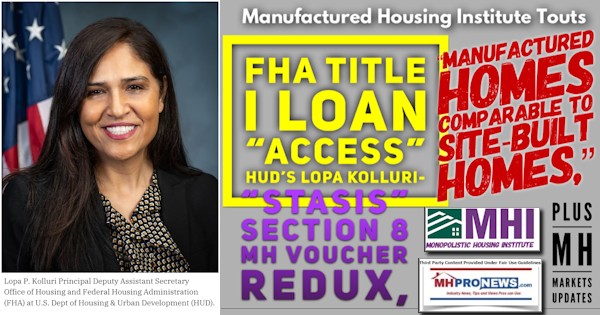 2) As Utility Dive said about the pending Department of Energy (DOE) two-tiered energy rule for manufactured housing in on 12.2.2021: "The proposal's "tiered" approach would leave manufactured homes priced below $63,000 subject to less stringent requirements."  The Manufactured Housing Association for Regulatory Reform (MHARR) rejected the entire proposal, based on information they've provided linked below. But as MHProNews previously noted, the lower tier is essentially a head fake. At the recent record rates of inflation in Biden's America, the proposed 'lower tier' is an illusion.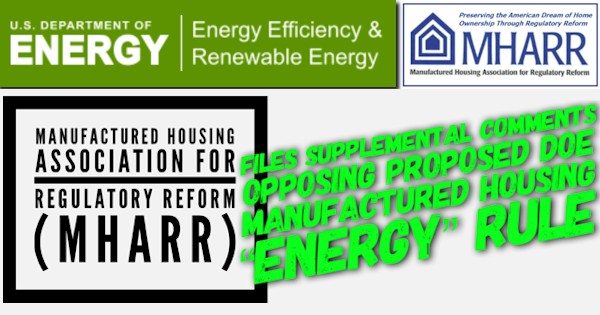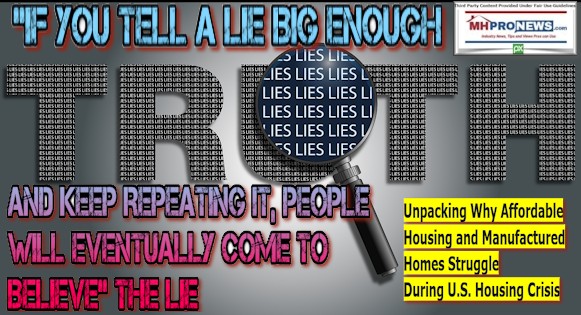 3) Loss of Prospective Customers (and thus sales) caused by the "Priced Out" effect documented by the National Association of Home Builders.
The National Association of Home Builders (NAHB) is hardly an ally of manufactured housing. So, when NAHB says that every thousand dollars of price increase costs large numbers of potential customers, manufactured housing pros should sit up and take notice.
Look at the top lines for the same U.S. data shown above per the Census Bureau for 2020 and 2019, shown below.
United States
Total1
Single
Double
2019
December
86,400
54,400
105,700
November
81,600
52,100
107,100
October
81,700
53,900
103,800
September
81,500
55,600
101,800
August
84,100
49,200
107,900
July
82,000
54,000
106,500
June
84,400
52,800
103,800
May
78,100
53,800
98,100
April
78,900
55,700
100,700
March
78,900
50,400
102,100
February
85,000
52,600
107,600
January
81,800
53,400
103,400
United States
Total1
Single
Double
2020
December
90,200
62,600
110,800
November
92,600
63,500
112,800
October
89,400
57,200
110,000
September
87,300
58,300
107,800
August
88,200
57,700
109,300
July
84,200
59,800
102,700
June
85,600
52,900
109,800
May
85,900
55,200
109,100
April
86,900
53,300
108,200
March
82,900
53,800
106,900
February
83,400
55,600
107,500
January
86,400
55,300
107,900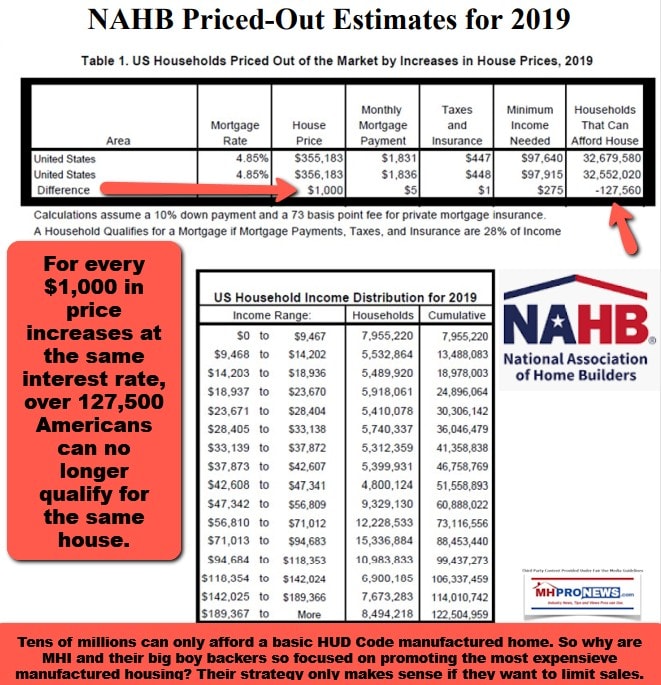 So, applying the data per the NAHB, every 1000 price hike cost the industry some 127,500 possible buyers. From January 2019 to July 2021 the $10,300 jump in price of a single section manufactured home has knocked out 1,364,250 households from buying manufactured housing.  These are individuals who in many cases would only qualify for a manufactured home, due to their income.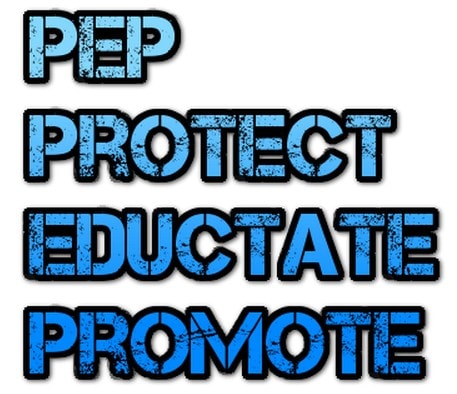 4) Manufactured Home Trade Advocacy Implications
One job of all genuine journalism is to hold the powerful to account and to act as a watchdog. The fact that these data-driven insights are not coming from the Manufactured Housing Institute (MHI) is just one more example of how weak their P.E.P. approach apparently is. "Protect, Educate, Promote" – P.E.P. is aptly said by a veteran MHI affiliated Manufactured Housing Executives Council (MHEC) to be the guideposts for a good trade group. But as our new report, linked below, on Sun Communities reflects, there are a range of issues that MHI is apparently not acting on behalf of all in the industry, but are instead apparently working for consolidation. That's not just troubling, it arguably raises a range of legal issues.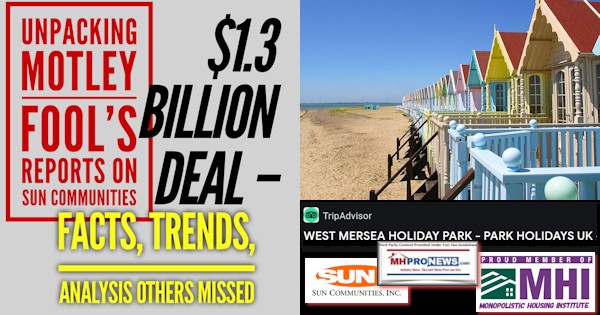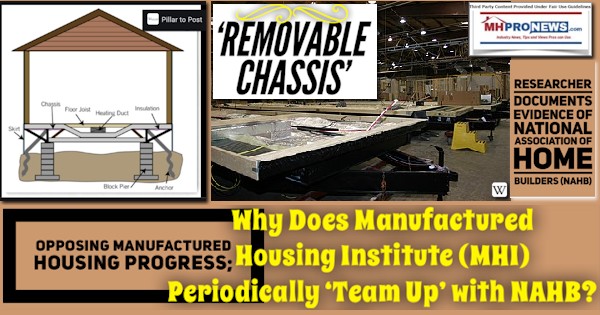 Additionally, there are a range of 'good news' stories about manufactured housing that have not been, or are not being, properly spotlighted and advanced by MHI.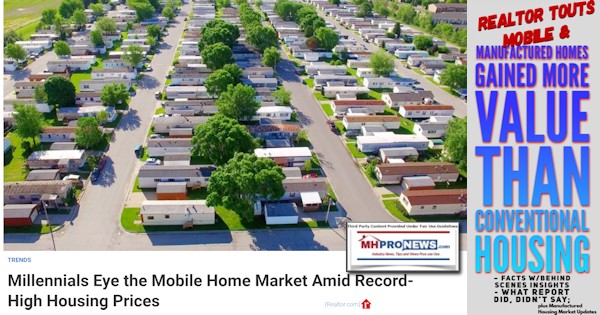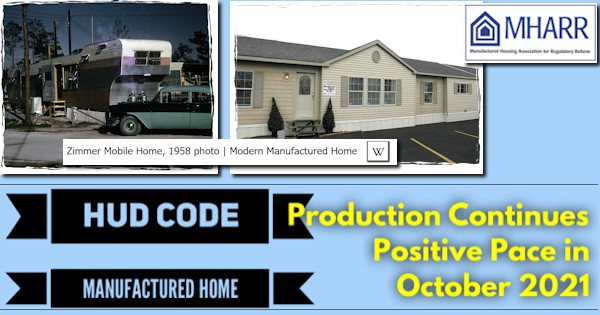 These are evidence-based points – a.k.a. facts – that MHI does not publicly debate. Why not? Could it be that they have no good answers?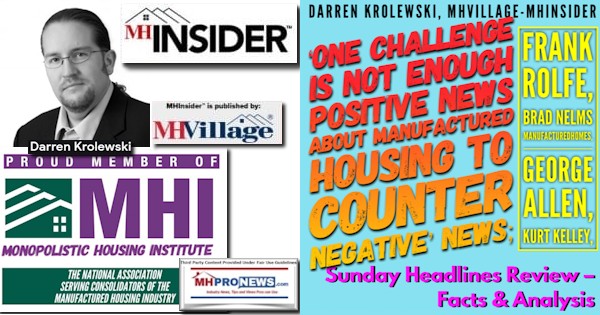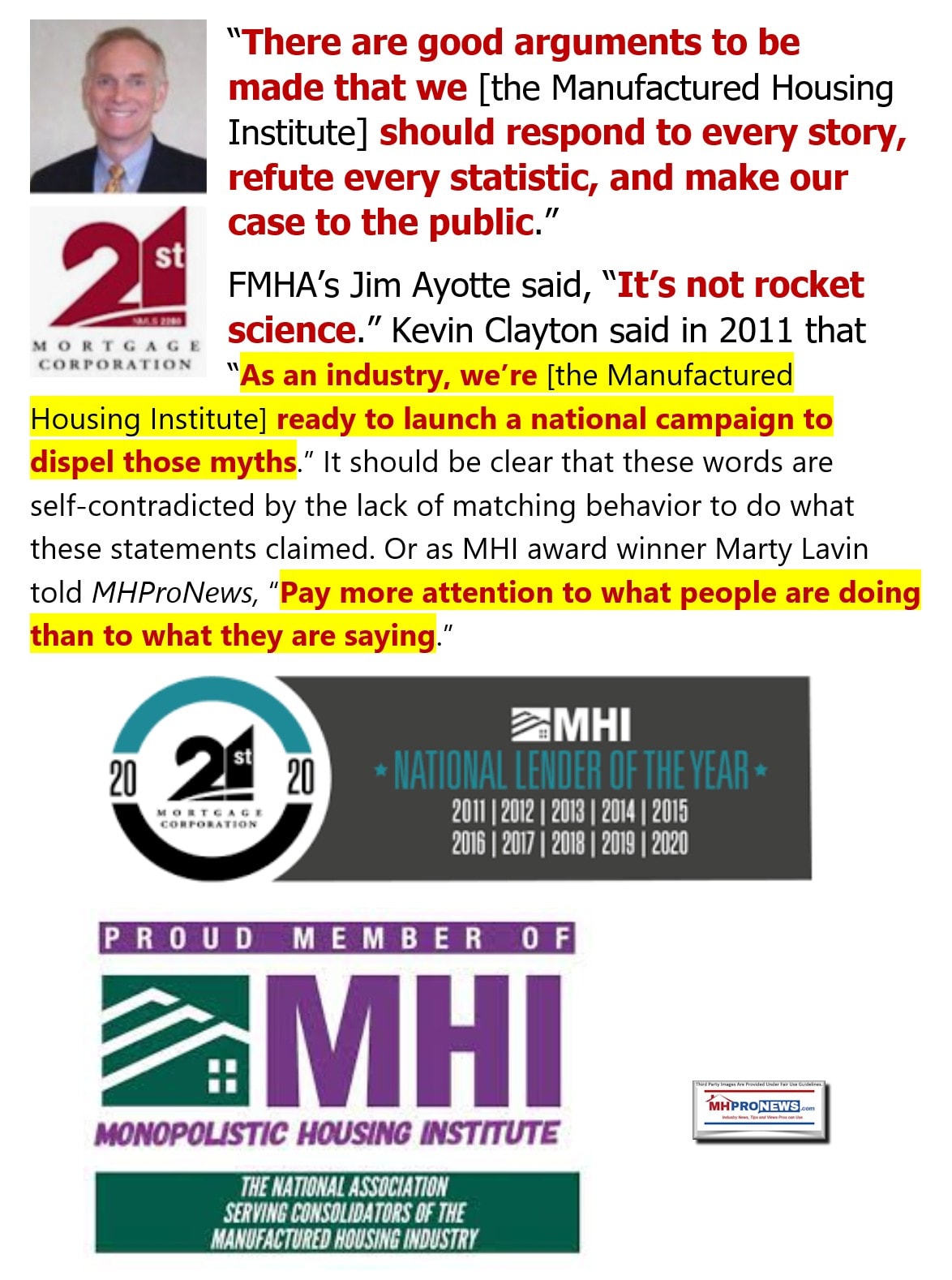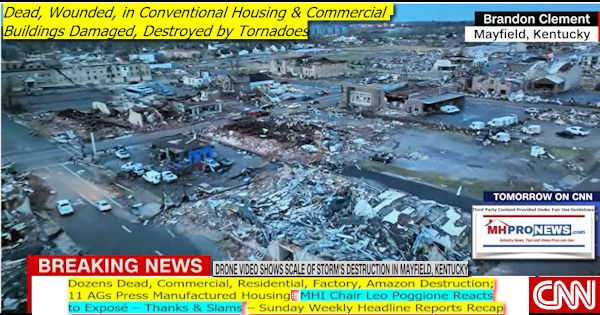 ##
Next up is our business daily recap of yesterday evening's market report, related left-right headlines, and manufactured housing connected equities.
The Business Daily Manufactured Home Industry Connected Stock Market Updates.  Plus, Market Moving Left (CNN) – Right (Newsmax) Headlines Snapshot. While the layout of this daily business report has been evolving over time, several elements of the basic concepts used previously are still the same. For instance. The headlines that follow below can be reviewed at a glance to save time while providing insights across the left-right media divide. Additionally, those headlines often provide clues as to possible 'market-moving' news items.
Market Indicator Closing Summaries – Yahoo Finance Closing Tickers on MHProNews…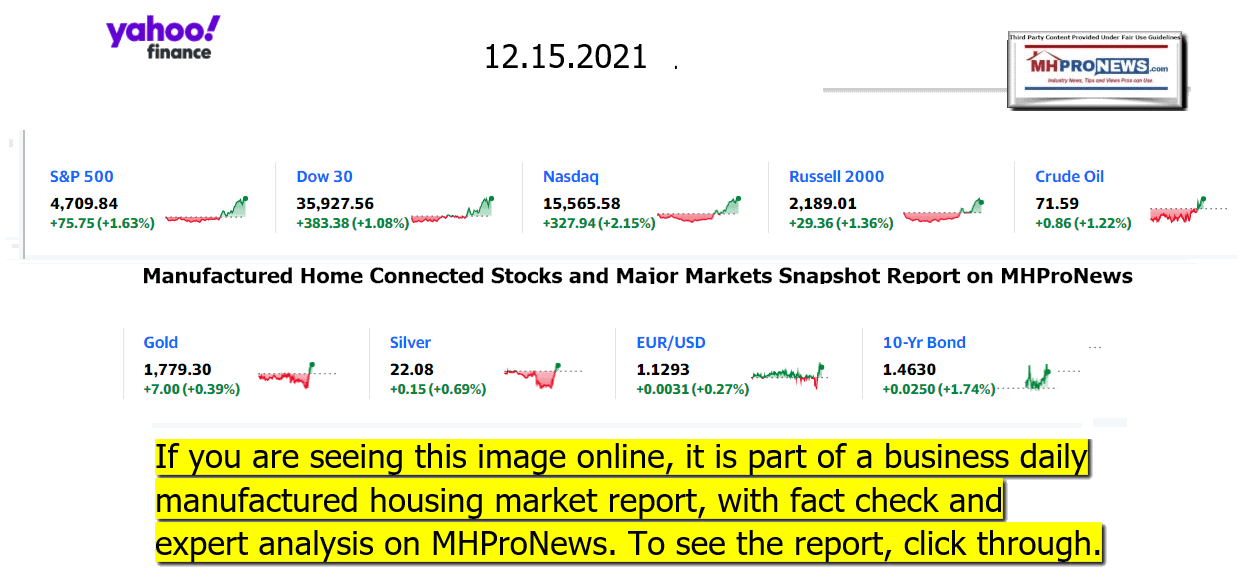 Headlines from left-of-center CNN Business – from the evening of 12.15.2021
Picking up the pace
Jerome Powell, chairman of the U.S. Federal Reserve, listens during a House Financial Committee hearing in Washington, D.C., U.S., on Wednesday, Dec. 1, 2021.
The Federal Reserve signals multiple rate hikes are coming in 2022 to fight inflation
LIVE UPDATES Stocks pop after Fed signals rate hikes in 2022
The Fed's huge challenge: Taming inflation, without starting a recession
How millions of jobless Americans can afford to ditch work
Wall Street has fallen in love with bowling
The Log4j security flaw could impact the entire internet. Here's what you should know
Britain's nightmare economy of the 1970s may be making a comeback
Apple faces Labor Department investigation as tensions with employees escalate
Pfizer CEO: Big mistake to think Covid-19 pill will replace vaccines
Paris taxi firm suspends Tesla fleet after fatal accident
Harley-Davidson is spinning off its electric motorcycle brand
China was already facing a slowdown in 2022. Now here comes Omicron
'Diet' soda is disappearing from store shelves
A woman walks by a Dollar General store on December 11, 2018 in the Brooklyn borough of New York City.
Dollar General is putting workers' safety at risk, Labor Department says
Elon Musk calls Elizabeth Warren 'Senator Karen' in fight over taxes
Kraft Foods Group Inc. Philadelphia cream cheese tubs are arranged for a photograph in Fog Hill Market in San Francisco, California, U.S., on Tuesday, Feb. 5, 2013.
Kraft will pay you $20 not to make cheesecake for Christmas
YOUR MONEY
The backdoor Roth IRA may be on the chopping block. What you can do now
5 to-do items if you want to retire in 10 years
Why the yuan is doing better than the USD
Gas prices could fall below $3 soon, govt. forecasts
Are you having trouble affording holiday gifts? Share your story
OPINION
Travelers wear masks as they wait in a line for a TSA security check, Friday, Dec. 10, 2021, at Seattle-Tacoma International Airport in Seattle.
Omicron and Delta be damned: Americans won't stop flying
A chance to help low-income Americans with inflation
Intel CEO: The best way to fix America's chip shortage
3 jobs trends to look out for next year
3 reasons it's so hard to hire — and what to do about it
Headlines from right-of-center Newsmax – evening of 12.15.2021
Politico Poll: 67 Percent of Independents Don't Want Biden to Run Again
President Joe Biden walks away from the podium at the White House back in August after delivering remarks on the chaotic troop withdrawal from Afghanistan. (AP)
It's been less than a year in the Oval Office for Joe Biden, and a new poll is reinforcing notions that support for him is waning. The poll points to growing weakness among all-important independent and moderate voters. [Full Story]
Newsmax TV
'Miracle on Ice' Capt. Eruzione: Send Athletes to Beijing Games | video
Dick Morris: If Putin Is Hitler, Tucker Carlson Is Neville Chamberlain | video
Tenney: Victims Fund Should Get Andrew Cuomo's Book Proceeds | video
Ron Johnson: 'Democrat Governance Has Been a Disaster' | video
Mark Meadows: Text Leak Exposes Witch-Hunt, Not Trumps | video
Marshall: Unvaccinated Military Won't Get 'Dishonorable Discharge' | video
Buck: Build Back Better Hinders Freedom from Government | video
More Newsmax TV
'Christmas in America'
Donald Trump to Newsmax: Despite 'Woke' Cancel Culture, 'America Loves Christmas' | video
Trump: Christmas, Energy Cost More Thanks to Biden | video
Trump: NY a 'Very Different Place; Changed a Lot' | video
Trump: Biden Broke Our Now 'Very Dejected' Troops' Spirit | video
Mike Huckabee Hosts Christmas Special Featuring Trump
More 'Christmas in America'
Newsfront
Senate Sends Biden Big Defense Bill, Plans New War Memorial
Congress sent President Joe Biden a $768.2 billion defense bill on Wednesday that makes landmark changes to the way the military handles sexual assaults, keeps women out of the draft and lays the groundwork for a new war memorial on the National Mall.The annual bill, which…… [Full Story]
Politico Poll: Independents Don't Want a 2024 Biden Run
In the all important independent and moderate sections of the [Full Story]
NYC Weighs Cutting Off Natural Gas Hookups for New Buildings
New York City lawmakers are poised to decide Wednesday whether to [Full Story]
Former Acting DNI Ric Grenell Tapped as Newsmax VP, Analyst
Newsmax Media Inc. announced Wednesday that Richard Grenell, former [Full Story]
Fauci: Vaccines Don't Need to Be Changed to Target Omicron – For Now
COVID-19 vaccines don't currently need to be changed to target the [Full Story]
Related
WHO: COVID-19 Vaccines May be Less Effective Against Omicron
Court Revives Biden's COVID-19 Vaccine Mandate for Healthcare in 26 States
Biden Ramps Up Fight Against Drug Traffickers With Fresh Sanctions
President Joe Biden signed two new executive orders intended to fight [Full Story]
Cure for Smash-and-Grab Crime Epidemic Is 'Aggressive Proactive Policing'
Law enforcement officials say the most effective way to curb the [Full Story] | Platinum Article
Ted Cruz: Biden, Democrats Pouring Gas on 'Inflation Fire'
Ted Cruz slammed President Joe Biden and Democrats on Wednesday [Full Story]
Progressives Slam Musk as Time's Person of the Year, Praise Biles as Athlete of the Year
Despite a 12-month run during which he launched ordinary people into [Full Story] | Platinum Article
Fed Sees Three Rate Hikes in 2022 as Inflation Battle Begins
The Federal Reserve, signaling its inflation target has been met, [Full Story]
Ex-Clinton Adviser Says Economy Will Determine Midterms
An ex-adviser to former President Bill Clinton wrote a memo, which [Full Story]
Matthew McConaughey on Running for Office: 'I'm Never Going to Say Never'
Twitter Cracks Down On Vaccine Tweets
Twitter is getting tough on misleading vaccine tweets.The social [Full Story]
Commerce Secretary Raimondo's Husband Top Exec With China-Backed Company
Commerce Secretary Gina Raimondo appears to have a conflict of [Full Story]
NFL Donates Money to Groups That Support Defunding the Police
The National Football League has pledged $250 million in donations to [Full Story]
Trump: New York AG's 'Witch Hunt' Resumes After 'Complete Failure' Gubernatorial Campaign
Former President Donald Trump said Wednesday that New York State [Full Story]
Amazon's Cloud Down Briefly — Affecting Netflix, Slack, DoorDash
com Inc said Wednesday that its cloud service, Amazon Web [Full Story]
Chauvin Pleads Guilty to Federal Charges in Floyd's Death
Former Minneapolis police Officer Derek Chauvin pleaded guilty [Full Story]
US Shelving Plans to Reopen Pro-Palestinian Consulate in Jerusalem: Report
The Biden administration has "effectively shelved" plans to reopen [Full Story]
Duncan Seeks to Stop Federal Funding for Cities Allowing Noncitizens to Vote
Jeff Duncan planned to introduce a bill to stop federal funding [Full Story]
Rubio Questions Biden Over 'Downgrading' of Taiwan
Marco Rubio on Wednesday sent a letter to President Joe Biden [Full Story]
LAPD Releases Video to Public, Tries to Stymie Follow-Home Robberies
The Los Angeles Police Department has released a video of an armed [Full Story]
Democrats Split Over How Hard to Push Manchin With Social Spending Bill
Joe Manchin continues to pose a problem for fellow Democrats [Full Story]
Biden Administration Set to Release More Secret JFK Documents
The Biden administration is expected to release some secret documents [Full Story]
Lawmakers Call for Sanctions Against Israel's NSO, Other Spyware Firms
A group of U.S. lawmakers is asking the Treasury Department and State [Full Story]
US Airlines to Defend $54B COVID-19 Government Lifeline
Major U.S. airlines Wednesday will defend a $54 billion COVID-19 [Full Story]
US Navy Fires Laser Weapon in Mideast Amid Drone Boat Threat
The U.S. Navy announced Wednesday it tested a laser weapon and [Full Story]
Congress Votes to Increase Debt Limit to $31.4T
The U.S. Congress on Tuesday approved raising the federal [Full Story]
House Votes 222-208 to Hold Meadows in Contempt
The House voted Tuesday to hold former White House chief of staff [Full Story] | video
Schumer Wants Weekend Votes on Biden Nominees
Senate Majority Leader Chuck Schumer, D-N.Y., said Tuesday he will [Full Story]
House Passes Measure Clamping Down on Products From China's Xinjiang
The House of Representatives passed legislation on Tuesday to ban [Full Story]
More Newsfront
Finance
Fed Sees Three Rate Hikes in 2022 as Inflation Battle Begins
The Federal Reserve, signaling its inflation target has been met, said on Wednesday it would end its pandemic-era bond purchases in March and pave the way for three quarter-percentage-point interest rate increases by the end of 2022…. [Full Story]
Stocks Rise on Wall Street After Fed Dials Back Stimulus
Airbus Wins Order to Renew Qantas Fleet
Metropolitan Opera to Require Booster Shots for Audiences as COVID Concerns Grow
US Treasury Yields Rise, Curve Flattens After Fed Statement
More Finance
Health
Fauci: Vaccines Don't Need to Be Changed to Target Omicron – For Now
COVID-19 vaccines don't currently need to be changed to target the omicron variant, Dr. Anthony Fauci said Wednesday…. [Full Story]
FDA Approves First Drug for Graft vs. Host Disease Prevention
Many Seniors on Medicare Falling Into Medical Debt
Israel to Tax Sugared Drinks Starting January
CDC Warns of Coming Omicron Wave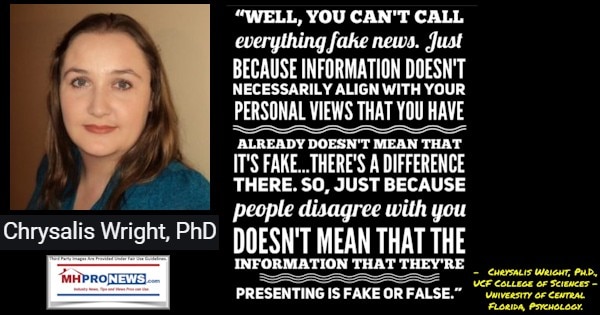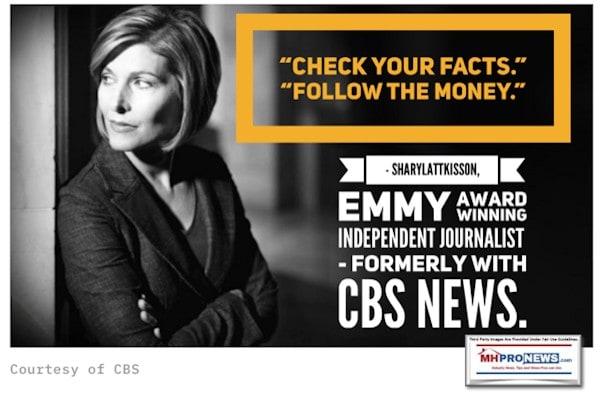 Manufactured Housing Industry Investments Connected Equities Closing Tickers
Some of these firms invest in manufactured housing, or are otherwise connected, but may do other forms of investing or business activities too.
NOTE: The chart below includes the Canadian stock, ECN, which purchased Triad Financial Services, a manufactured home industry lender
NOTE: Drew changed its name and trading symbol at the end of 2016 to Lippert (LCII).
NOTE: Deer Valley was largely taken private, say company insiders in a message to MHProNews on 12.15.2020, but there are still some outstanding shares of  the stock from the days when it was a publicly traded firm.  Thus, there is still periodic activity on DVLY.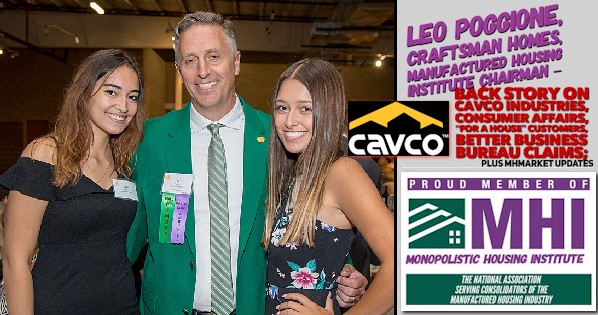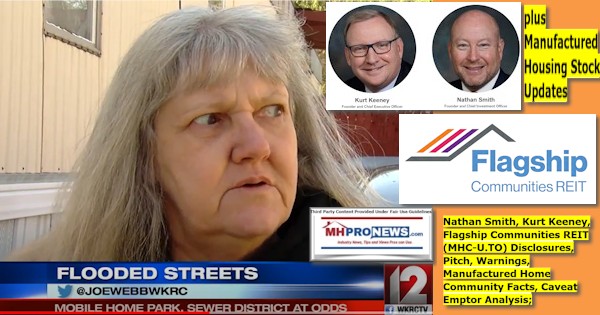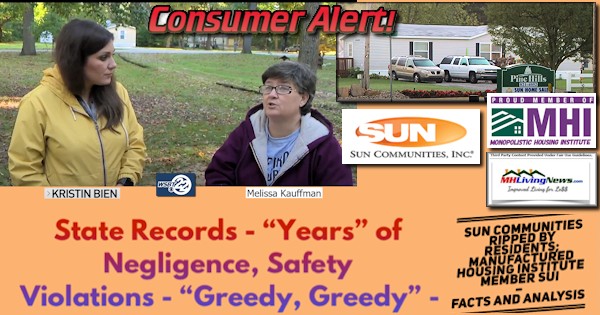 https://www.manufacturedhomepronews.com/masthead/project-saturn-code-name-monarch-sec-v-cavco-stegmayer-et-al-federal-suit-revelations-about-cavco-skyline-champion-other-manufactured-housing-brands-apparen/

https://www.manufacturedhomepronews.com/steve-lawler-deer-valley-corporation-dvc-otcmkts-dvly-announces-merger-plus-manufactured-home-investing-stock-updates/

https://www.manufacturedhomepronews.com/nobility-homes-financial-position-very-strong-sales-strong-but-challenges-including-lending-and-others-examined-plus-manufactured-housing-stocks-update/

As 2021 draws to a close

…

Berkshire Hathaway is the parent company to Clayton Homes, 21st Mortgage, Vanderbilt Mortgage and other factory built housing industry suppliers.


·

LCI Industries, Patrick, UFPI, and LP each are suppliers to the manufactured housing industry, among others.




·

AMG, CG, and TAVFX have investments in manufactured housing related businesses.

For

insights from third-parties and clients about our publisher

, click here.


Enjoy these 'blast from the past' comments.

MHProNews. MHProNews – previously a.k.a. MHMSM.com – has celebrated our 11th year of publishing, and is starting our 12th year of serving the industry as the runaway most-read trade media.

Sample Kudos over the years…

It is now 11+ years and counting…

Learn more about our evolutionary journey as the industry's leading trade media, at the report linked below.

· For expert manufactured housing business development or other professional services, click here.
· To sign up in seconds for our industry leading emailed headline news updates, click here.

Disclosure. MHProNews holds no positions in the stocks in this report.

https://www.manufacturedhomepronews.com/years-of-state-national-level-manufactured-housing-factual-data-find-your-states-production-shipment-info-here-troubling-manufactured-home-affordable-housing-trends-issues-and-fact-checks/

https://www.manufacturedhomepronews.com/dominating-manufactured-housings-top-50-2020-year-in-review-by-manufactured-home-professionals-news-analysis/

To get our x2 weekly industry-leading emailed news headlines, click here. http://eepurl.com/bl-9t5

We recommend that news tips NOT use company, nonprofit or organizational emails or cell phones. To report a news tip, click the image above or send an email to iReportMHNewsTips@mhmsm.com – To help us spot your message in our volume of email, please put the words NEWS TIP or COMMENTS in the subject line.

That's a wrap on this installment of "News Through the Lens of Manufactured Homes and Factory-Built Housing" © where "We Provide, You Decide." © (Affordable housing, manufactured homes, stock, investing, data, metrics, reports, fact-checks, analysis, and commentary. Third-party images or content are provided under fair use guidelines for media.) (See Related Reports, further below. Text/image boxes often are hot-linked to other reports that can be access by clicking on them.)

All on Capitol Hill were welcoming and interested. But Congressman Al Green's office was tremendous in their hospitality. Our son's hand is on a package that included a copy of the Constitution of the United States and other goodies. Tamas has grown considerably since this photo was taken. 

By L.A. "Tony" Kovach – for MHProNews.
Tony earned a journalism scholarship along with numerous awards in history. There have been several awards and honors and also recognition in manufactured housing. For example, he earned the prestigious Lottinville Award in history from the University of Oklahoma, where he studied history and business management. He's a managing member and co-founder of LifeStyle Factory Homes, LLC, the parent company to MHProNews, and MHLivingNews.com. This article reflects the LLC's and/or the writer's position, and may or may not reflect the views of sponsors or supporters.