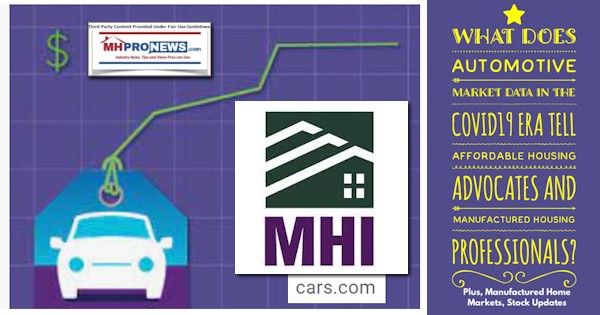 What can the automotive market tell affordable housing advocates and manufactured housing professionals?  To answer that question, a focused survey of automotive reports from a range of media sources will be followed by an MHProNews analysis and commentary that will draw some parallels and factual insights. "Used Cars And Trucks Command High Prices: High Demand, Low Supply · Average New Car Price Tops $45,000, Used Car Price Over $25,000," said Forbes on 11.30.2021. "Used car prices up 37% year-over-year as supply constraints bite," said CNET's Road Show on Nov. 18, 2021. CNET said, "The car market, in general, continues to suffer from major supply issues and the crux of the used car problems still comes from new car inventories. Automakers are churning out fewer new cars, leaving dealers with smaller stocks, so many buyers are turning to used cars instead. In turn, wholesale auction prices climb as demand rises for used cars, and the prices dealers charge also climb." They added that "JD Power foresees prices remaining high while automakers continue to work through supply chain woes into next year."
Focus2Move said on 20 December 2021 that the "USA's car market in November 2021 is still unable to recover effectively and has kept falling in double-digits for several months. In fact, 1.04 million units have been sold in November (-13.3%), leading Year to Date sales at 13.78 million units (+5.4%). Hyundai reported the best performance, gaining 22% YTD."
From that same source are these pull-quotes (bullets added by MHProNews):
"In November 2021 USA's market is still unable to recover effectively after reporting a 25.6% decrease in the previous month. In fact, 1.04 million units have been sold, falling 13.3% and leading Year to Date sales at 13.78 million units, a 5.4% increase in sales compared to 2020.
Following the sharp 2008 crisis which created a collapse to the US vehicles market, with Chrysler group saved by the merge with Fiat and General Moors rescue by the government credit, in 2011 the market has taken a long recovery way and grew up from 10.5 million (2010) to the all-time new record, hit in 2016 with 17.5 million.
However, the change in the White House guest and the new protectionist policy, with initial economic boom due to the sharp tax cut, did not benefit the sector and in the last three years, the market has moderately lost, down to 17.23 million in 2017, at 17.34 million in 2018 while ending 2019at 17.02 units sold.
Due to the COVID-19 pandemic sales fell in 2020. In fact, sales have been 14,665,787, reporting a decline of 13.8% compared to 2019.
In 2021 the year started positively for the USA market, in fact, in Q1 3.97 million units have been sold, reporting a 13.2% increase in sales compared to Q1 2020."
Reuters reported on December 16, 2021 that "U.S. new car sales to rise in 2022 on pent-up demand – Edmunds." That Reuters report also said: "Data firm IHS Markit on Thursday said that U.S. new car sales in 2022 will rise to 15.47 million vehicles from an estimated 15.07 million in 2021. It also said it sees mainland China new car sales rising to 26.92 million in 2023 and 28.99 million in 2024." The widely touted chip shortage is reportedly a factor. "Shortages of semiconductor chips that control everything from heated seats to infotainment systems have caused major automakers such as General Motors to cut production or, in some cases, build vehicles without certain features." Hedges said that there are an estimated "289.5 million…cars are on the road in the US." A closer look at the chip shortage is perhaps merited another time, but certainly manufactured housing has its reported supply chain issues too.
Let's note that unlike the automotive industry, data is not as easy to come by in the manufactured housing industry. More specifically, facts, figures and third party research are generally not available from the self-proclaimed trade association leader, the Manufactured Housing Institute (MHI). Even MHI member Sun Communities made that point last year when they stated that there is no source for general information on the manufactured home community sector. That lack of hard facts and third-party research information begs the question – when other trade groups routinely provide free information to the public, media, officials, and investors – why not MHI?
As publicly traded Sun Communities (SUI) Chairman and CEO Gary Shiffman put it during an earnings call, "there is no national repository of information" and there is a "scarcity of available manufactured housing communities.
MHI claims to represent "all segments" of manufactured housing. But unlike parallel trade groups in other professions such as the National Association of Realtors (NAR), the National Association of Home Builders (NAHB), automotive or recreational vehicle (RV) trade associations, providing monthly data is no longer something that MHI provides on their website to non-member visitors. That failure by MHI to communicate actual data misses the opportunity to get the industry's products into the news on a monthly basis.
Fortunately, the Manufactured Housing Association for Regulatory Reform (MHARR), which is a fraction of the staff and budget of MHI, does provide a monthly report on new home production officially compiled on behalf of the U.S. Department of Housing and Urban Development (HUD).  MHARR has been providing that report monthly for years, with several recent years available on their website at the link here.  MHARR also provides that report to MHProNews, which has been publishing that information, and used to publish MHI's monthly data and other reports until MHI suspended that practice.
Put differently, MHI's leadership apparently made a conscious decision to not provide professionals and the general public (who are not MHI members) the hard facts about manufactured housing production and shipment data.
Even MHI's touted 'research' on CrossModTM homes or another consumer research claim they've made are not publicly available. Instead, MHI provides a graphical snapshot and apparently expects others to 'trust' that information without seeing the methodology or more granular details, as is the case with other such research. Reasons to dispute and doubt MHI research claims ironically come from federal, university, and at times from their own members published data.
As a brief aside, it is worth noting that it is precisely that vacuum of information from MHI which inspired the new research resource effort on MHLivingNews which has been reported on hundreds of news media sites, per Google. See that report below.
Something New for 2022 – Mobile Home and Manufactured Housing Research Report Attracts Mainstream Attention, 100s of News Headlines Point to Third Party Research Resource Page on MHLivingNews
Additional Information, more MHProNews Analysis and Commentary
This graphic from Wolf Street and this quote from above tell the dramatic tale of the difference in the leadership of the automotive industry vs. those at MHI. In the automotive industry, from a low of "10.5 million (2010) [cars, trucks, SUV units] to the all-time new record, hit in 2016 with 17.5 million."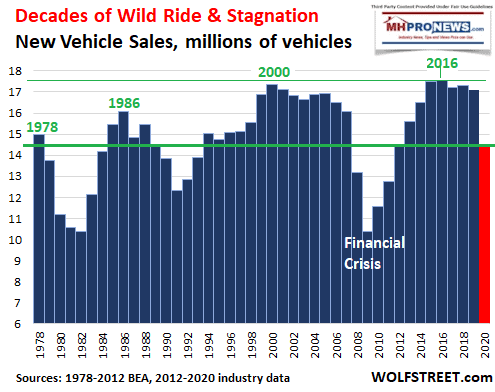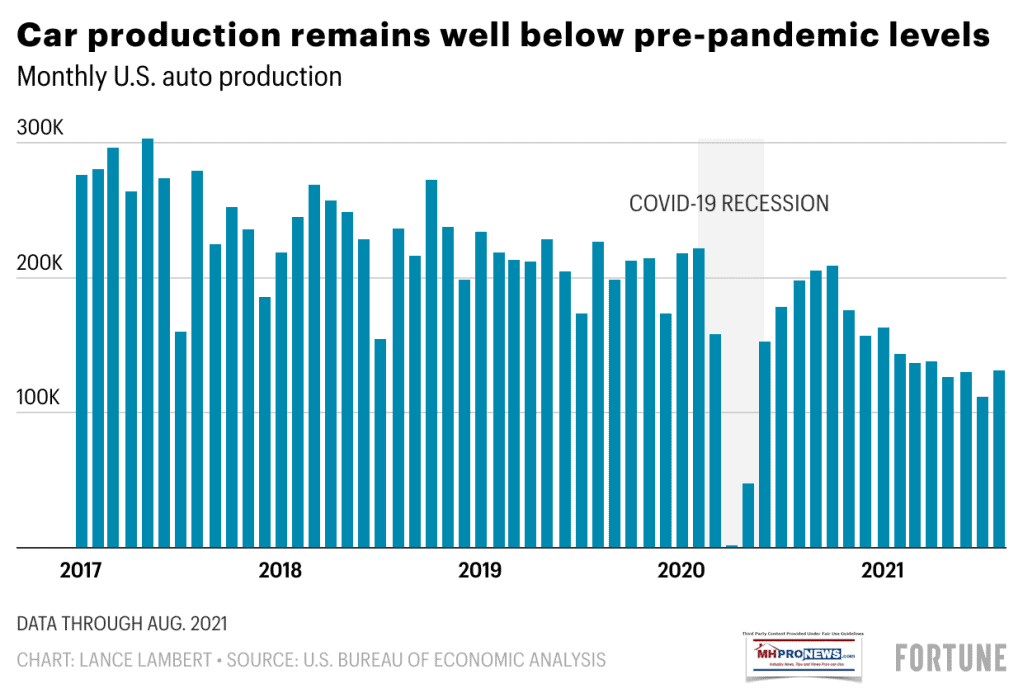 That recovery in automotive sales in 2010 to 2016 is a 66.67 percent growth in just 6 years. Automotive sales didn't crash as hard as manufactured housing during the financial crisis. Following the sharp dip in automotive sales that followed the financial crisis, all types of automotive sales recovered to an all-time high.
By contrast, manufactured housing went on a steady slide following the last peak in 1998 with a blip upward widely attributed to FEMA orders in 2005. From there, manufactured housing kept sliding until the notorious letter from Tim Williams at 21st Mortgage Corporation in 2009 cut off lending to thousands of non-Clayton retailers. 2009 and 2010 where the manufactured housing industry's 'bottom.' Now over a dozen years in the rear-view mirror, and the industry is projected to finally re-cross the 100,000 unit level of production, and manufactured housing is still only about 30 percent of the prior highwater mark of 1998.
These are obvious evidence-based indictments of MHI's performance, given their own claims, some of which MHI leaders have been made under oath.
The comparison between automotive production and sales vs. manufactured housing production and sales in terms of its 21st century peaks and valleys ought to be an embarrassment to MHI. Perhaps that's one of the reasons why MHI hides that data?
There is another reason that emerges with sufficient research and reading. There was an apparent sabotage of manufactured housing in 2009 by Berkshire Hathaway owned 21st Mortgage, an MHI member brand. Neither 21st, Clayton Homes, Berkshire Hathaway – which owns Clayton and 21st – nor MHI, nor outside attorneys/board members for them have attempted to respond to inquiries on evidence-based allegations of antitrust and RICO violations.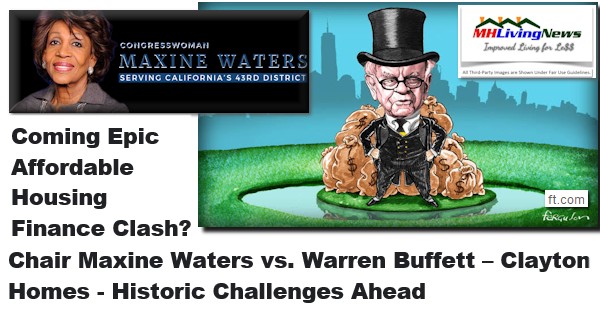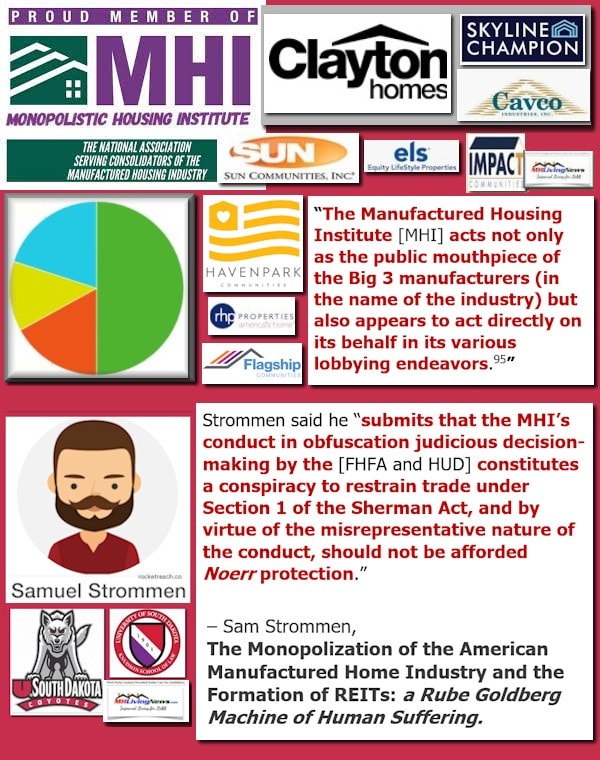 That statement is not to imply that there haven't been shenanigans in other industries that may have had cover from their respective trade groups. The 'based on a true story' movie Tucker recalls the dramatic manner that big business, politicians, and regulators ganged up on behalf of Detroit to orchestrate a takedown of a nascent competitive brand.
Apart from the big screen, the Masthead on MHProNews reported that conventional housing builders reportedly admitted to 'throttling' new construction, as reported by Marketplace and detailed as part of our report linked below.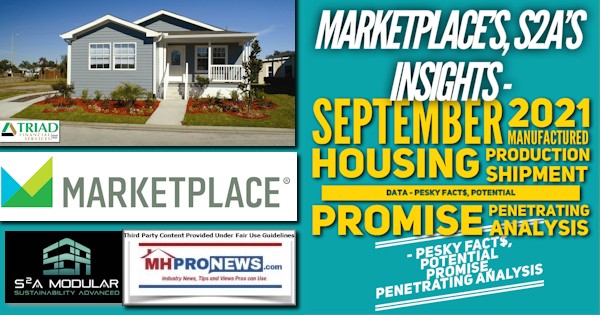 Is it any surprise that MHI surrogates, mouthpieces, and generally loyal trade media fail to bring such facts and evidence forward?
But possible improprieties by other professions only increases the reasons to question the validity of MHI's leadership and claims. After all, former U.S. Chamber of Commerce Chief Economist Richard Rahn, Ph.D, and other industry groups have been accused of dirty dealings on behalf of larger brands as opposed to smaller ones. Why should there be any surprise if something similar is occurring in manufactured housing at MHI? Indeed, manufactured housing has its own parallels on that too. There are several examples of former MHI members questioning the integrity, or lack thereof, of MHI and performance. As but one bright-line example, in his exit message before his non-disclosure presumably kicked in, former MHI President and CEO Chris Stinebert politely but pointedly publicly pointed out several areas that he felt needed to be changed.
That outline above – roughly 6 minutes of reading for the average person – is sufficient to cause independently minded people to doubt MHI's results, leadership, and motivation in the Berkshire era of manufactured housing history.
But let's note another point that becomes clear when Tom Hardiman, executive director of the Modular Home Builders Association (MHBA) is compared to MHI's parallel statements. Hardiman publicly ripped the Biden regime's legislative plan as a political payoff to allies. Hardiman said that the Biden backed bill turned the American Dream into the American nightmare. Why didn't MHI raise similar alarms?
In 2022, MHProNews will continue to spotlight areas of legal, moral, economic (lost profits for white hat independents) concerns, given that a traditional role for media is to shine a light into dark places and for holding the powerful to account. But as our report linked here illustrates, there will be something new in 2022. Note: this graphic below will be updated after the totals for 2021 are available.  Until then, this is arguably one of the useful trends and data graphics, precisely because it is based on obvious facts and evidence.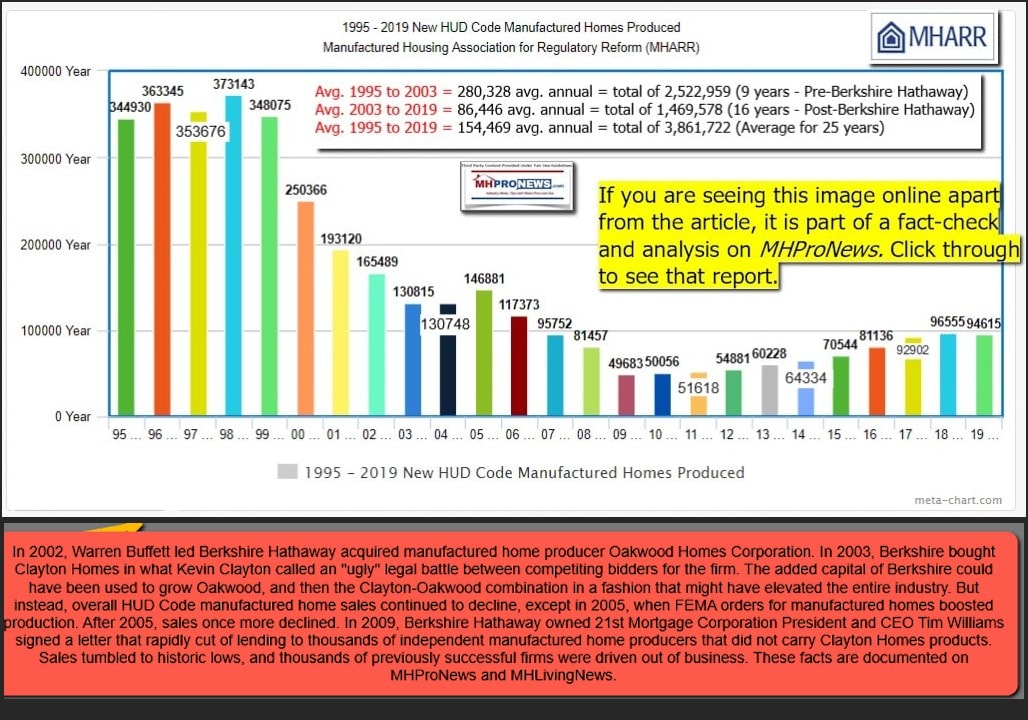 Summary and Conclusion
Manufactured housing has been demonstrably underperforming for over 20 years. This is despite the fact that the industry has had two important pieces of federal legislation enacted that were specifically designed to support more affordable housing in general by supporting manufactured housing specifically.
MHI itself says that the Housing and Economic Recovery Act (HERA) "Duty to Serve" (DTS) provision that is supposed to support more affordable manufactured housing lending and thus manufactured housing sales has not been implemented. They claim they are working to get DTS enforced. But in 2015, Doug Ryan at what is now Prosperity Now pointedly accused MHI of giving cover for the lack of enforcement of DTS. Per Ryan, MHI was protecting Clayton Homes related lending by not getting DTS fully and properly enforced.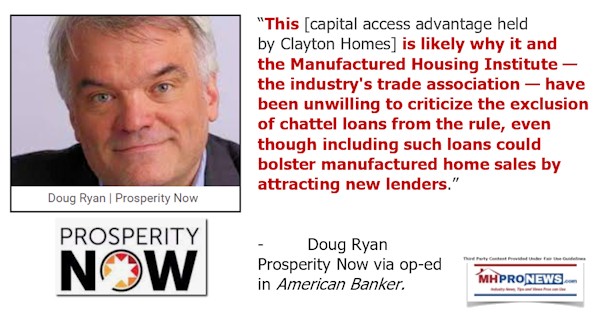 Additionally, MHI admits that the Manufactured Housing Improvement Act (MHIA) of 2000 has not been properly enforced. Lesli Gooch, Ph.D., MHI's CEO has said that MHI specifically wants the so-called "enhanced preemption" provision enforced. Really? If so, why hasn't MHI used their inside and outside attorneys to sue HUD – and/or a city/town that fails to honor federal zoning/placement preemption of modern HUD Code manufactured homes – to get preemption enforced? Why is there no known evidence that MHI has pressed a HUD Secretary live and in person?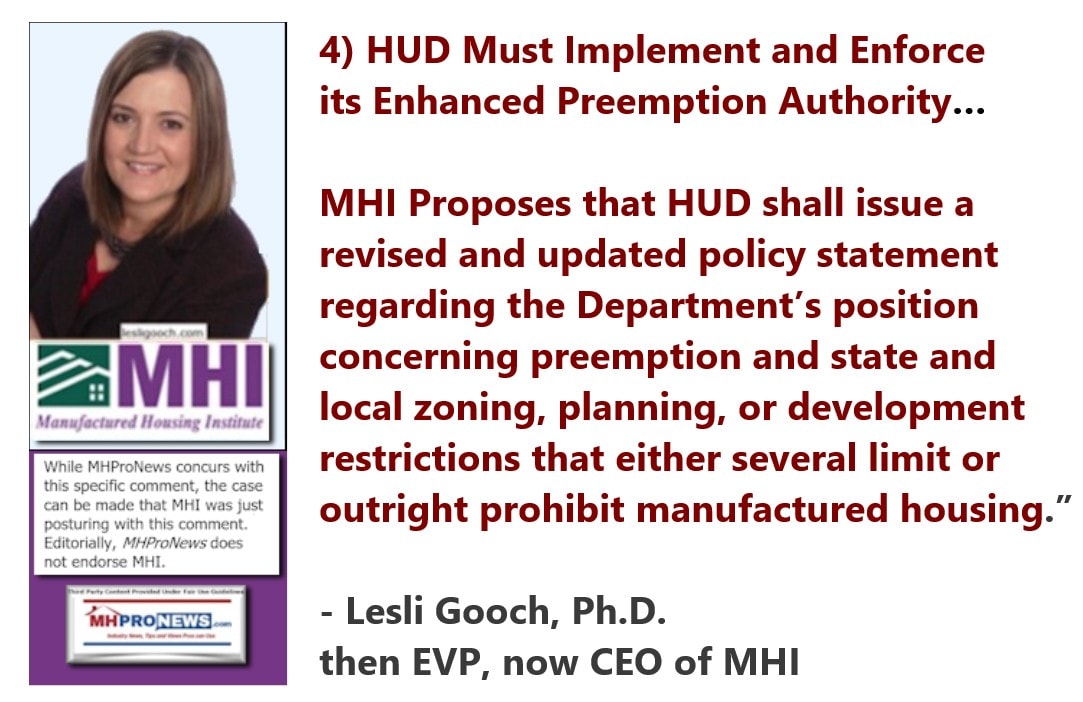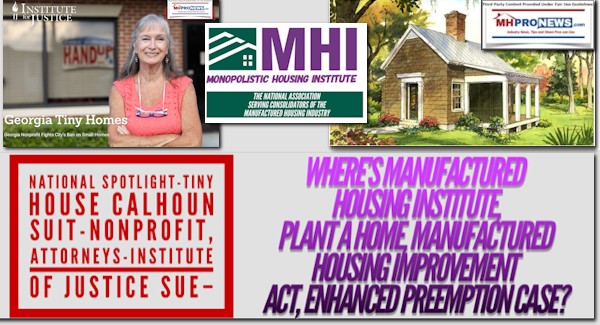 On that same theme, is it any surprise that MHI has apparently 'missed' recognizing the death of William "Bill" Matchneer, given that Matchneer was for a time essentially an MHI member? In fairness, MHARR didn't mention his passage either formally, but he was never a MHARR member.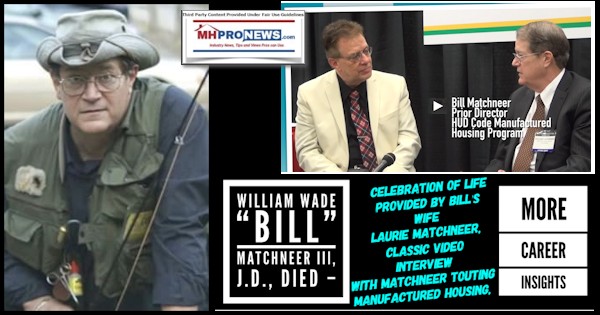 Why would MHI fail to mention in their emails the death of Matchneer? Could it be because Matchneer, not long before he died, provided a public statement regarding inside information on HUD's Office of General Counsel?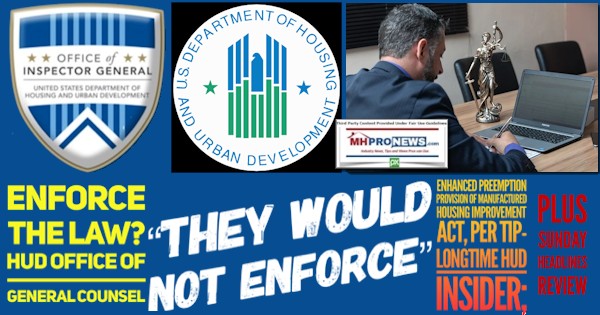 There are maxims which often provide keen insights into the human experience. The ones below ought to be considered with MHI in mind. In 2022, after years of documenting the apparent failures of MHI to oversee anything more remarkable than the steady consolidation of the industry into ever fewer hands that often magically happen to be MHI board members.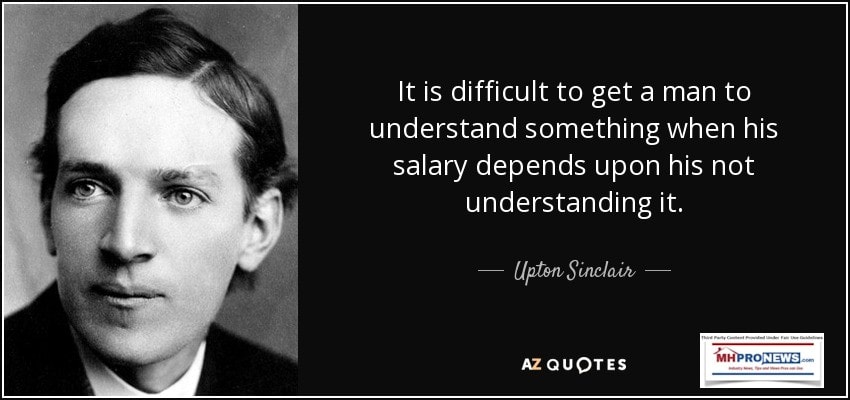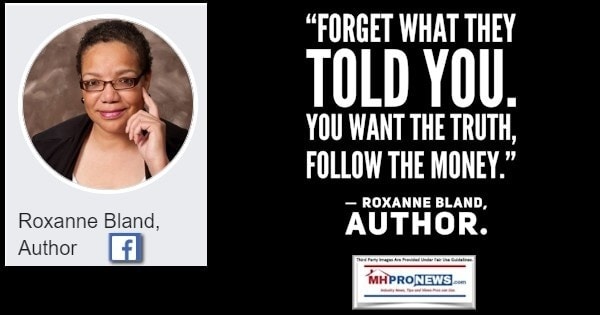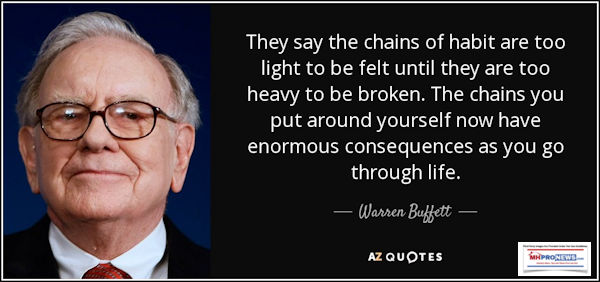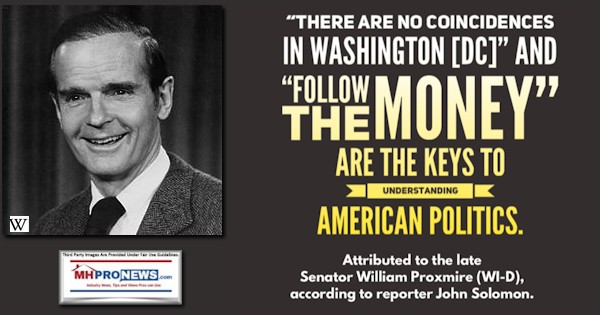 In about 7½ minutes of reading above, insights are laid out – with more available from linked reports – that outline and document specific reasons why manufactured housing is obviously underperforming compared to other professions. During an affordable housing crisis, despite MHI's talking points and cheerleading by their mouthpieces, the industry is crawling instead of galloping past conventional housing, as former Harvard's fellow Eric Belsky projected some 2 decades ago. MHI used to tout that statement…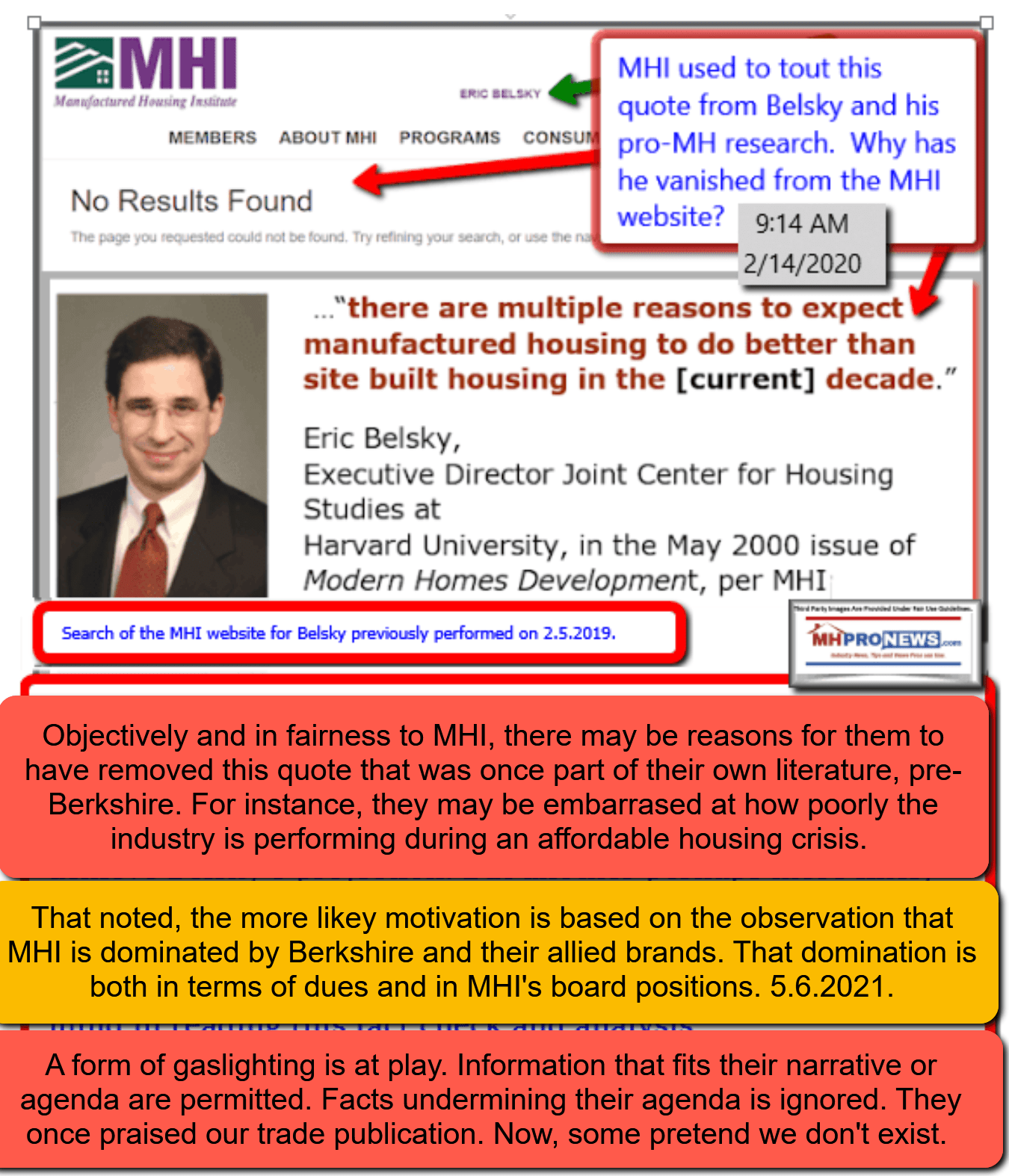 …but that was before the Berkshire era of manufactured housing. Now, that statement is not to be found on MHI's website. Is it any surprise?
##
Next up is our business daily recap of yesterday evening's market report, related left-right headlines, and manufactured housing connected equities.
The Business Daily Manufactured Home Industry Connected Stock Market Updates.  Plus, Market Moving Left (CNN) – Right (Newsmax) Headlines Snapshot. While the layout of this daily business report has been evolving over time, several elements of the basic concepts used previously are still the same. For instance. The headlines that follow below can be reviewed at a glance to save time while providing insights across the left-right media divide. Additionally, those headlines often provide clues as to possible 'market-moving' news items.
Market Indicator Closing Summaries – Yahoo Finance Closing Tickers on MHProNews…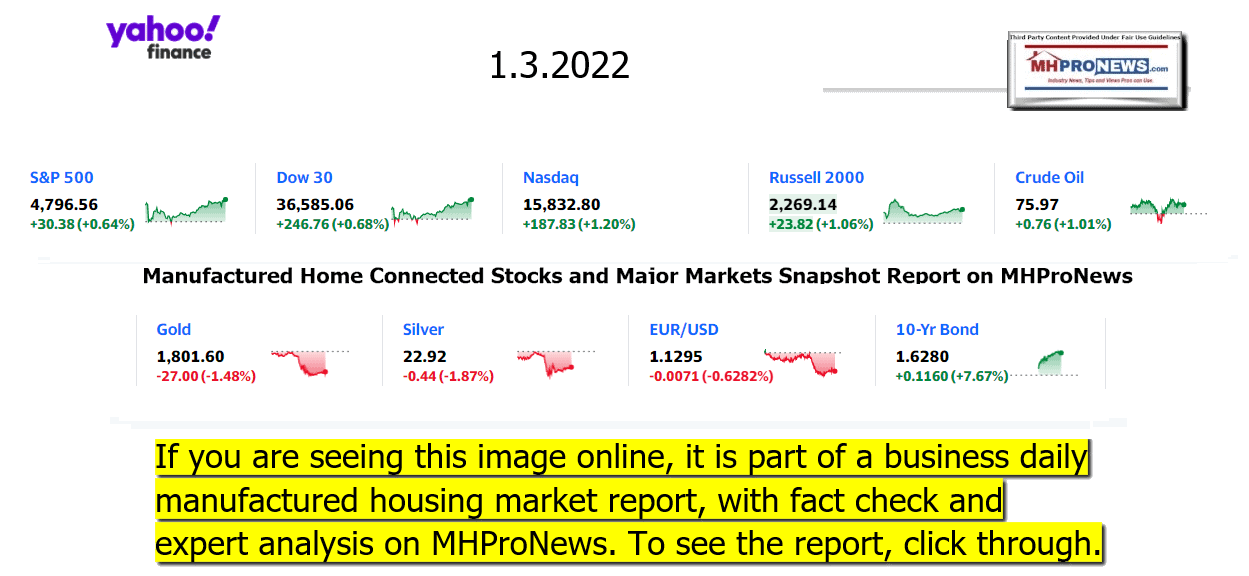 Headlines from left-of-center CNN Business – from the evening of 1.3.2022
Apple sets a new record
An aerial view of Apple Park is seen in Cupertino, California, on October 28, 2021.
It just became the world's first $3 trillion publicly-traded company
Elizabeth Holmes Trial: Jury is deadlocked on three counts, is told to continue deliberating
GM was America's largest automaker for nearly a century. It's about to be dethroned by Toyota
AT&T, Verizon CEOs say they won't further delay 5G rollout near airports
Wall Street is getting greedy again
AMC CEO vows on Twitter to refinance movie theater chain's debt load
Disney needs a comeback year. Will it get it?
Wired's top editor: Metaverse 'feels like a terminological land grab'
India is investigating a fake website that offered Muslim women for sale
Tech's biggest event starts this week. Here's what to expect
5 ways to nail a financial negotiation
Opinion: We can't afford to let Build Back Better fail
The most pressing questions about media, Covid and democracy in 2022
A rendering of the Mercedes-Benz Vision EQXX.
Mercedes says its electric concept has 620 miles of range and seats made with mushrooms
A barista pours frothed milk into a drink inside a Starbucks Corp. coffee shop in New York, U.S., on Monday, Jan. 18, 2016.
Starbucks unveils its new vaccine policy
Little Caesars HOT-N-READY
Little Caesars' Hot-N-Ready pizza no longer costs $5
MARKETS
TIKTOK
Signage for ByteDance Ltd.'s TikTok app is displayed on a smartphone in an arranged photograph taken in Arlington, Virginia, U.S., on Monday, Aug. 3, 2020.
TikTok sued by content moderator who claims she developed PTSD
Real estate agents are selling homes on TikTok
Parents of the social media generation are not OK
TikTok rival reshuffles its leadership
Watch TikTok's top videos of 2021
WHAT TO WATCH
The top 10 business stories of 2021
Starved for content? New Japanese TV offers 'lickable' screen
American Girl reveals its first Chinese American 'Girl of the Year'
Where Big Tech is taking us in 2022
The top ten media stories of 2021
SUCCESS
5 ways to nail a financial negotiation
A for sale sign stands in front of a house, Tuesday, Oct. 6, 2020, in Westwood, Mass.
Home prices jumped 19.1% in October from a year earlier
Looking for a financial New Year's resolution? These ideas may help
A home, available for sale, is shown on August 12, 2021 in Houston, Texas.
The housing market was on a wild ride this year. Here's what to expect in 2022
TECH
Former Theranos CEO Elizabeth Holmes leaves federal court in San Jose, Calif., Thursday, Dec. 23, 2021.
Elizabeth Holmes Trial: Jury says it is deadlocked on three counts
People visit the 2020 Consumer Electronics Show in Las Vegas on Jan. 8, 2020.
Tech's biggest event starts this week. Here's what to expect
Mandatory Credit: Photo by FAROOQ KHAN/EPA-EFE/Shutterstock (12250706o)
Kashmiri Muslim women offer Friday congregational prayers at Jamia Masjid, the grand mosque of Srinagar, the summer capital of Indian Kashmir, 06 August 2021. The government allowed the reopening Jamia Masjid following their closure after the second wave of coronavirus but urged the people to wear masks and maintain social distancing norms.
Jamia Masjid in Kashmir reopened after the second wave of coronavirus, Srinagar, India – 06 Aug 2021
India is investigating a fake website that offered Muslim women for sale
Elizabeth Holmes, founder of Theranos Inc., left, arrives at federal court in San Jose, California, U.S., on Thursday, Dec. 23, 2021.
Jury in Elizabeth Holmes trial will resume deliberations Monday
Headlines from right-of-center Newsmax – evening of 1.3.2022
Paul Quitting YouTube; Dubs It 'Worst Censor of All'
"Today I begin my exodus from Big Tech, starting with the worst censor of all, YouTube," Paul said in a statement. "As a libertarian-leaning senator, I think private companies have the right to ban me if they want to, however, those of us who believe that truth comes from disputation and that the marketplace of ideas is a prerequisite for innovation should shun the close-minded censors and take our ideas elsewhere, which is exactly what I'm doing." [Full Story]
Newsmax TV
Perez: AOC's Fla. Jaunt Exposed Her 'Hypocrisy' | video
Gohmert: Marjorie Taylor Greene's Ban on Twitter Orwellian | video
Tenney: AOC 'Better-Looking, Latina Version of Bernie Sanders' | video
Malliotakis, Fleischmann: Biden Policies Worsened Pandemic's Effects
Cardinal Dolan: 'Religion Is the Glue' to Fix Society's Crises | video
Retired Gen. Holt: Vaccine Mandate 'Creates Division' in Military Ranks | video
Murphy: AOC, Pelosi in 'Fantasy World' Over Tax Plans
More Newsmax TV
Newsfront
Pence Group Files Amicus Brief With SCOTUS Against Vax Mandate
Former Vice President Mike Pence's political advocacy group on Monday filed an amicus brief with the Supreme Court over the Biden administration's "unconstitutional" COVID-19 vaccine mandate for businesses…… [Full Story]
DC Snowstorm Shuts Down Senate Vote
The Senate delayed its first vote of 2022 as a snowstorm hit [Full Story]
DeSantis: Biden HHS Blocks Antibody Treatment Access
In addition to blasting liberal media's fake news attack on his [Full Story] | video
More People Getting Unapproved Additional COVID Shots
Many Americans with compromised immune systems have skirted [Full Story]
Related
Starbucks US Workers Must Get COVID-19 Vaccine or Tests
FDA Approves Pfizer Boosters for Children Ages 12 to 15
Study:Omicron Evades Immunity Better Than Delta
Omicron Clouds Pandemic Endgame Forecasts
Paul Quitting YouTube: 'Worst Censor of All'
Rand Paul, R-Ky., says he won't be posting to YouTube anymore [Full Story]
The 2022 Political Cheat Sheet: 5 Key Calendar Markers
The previous 365 days saw a U.S. president sworn into office, a trio [Full Story] | Platinum Article
Holmes Jury Says It's Deadlocked on 3 of 11 Criminal Charges
The jury weighing fraud charges against former entrepreneur Elizabeth [Full Story]
Iran Vows Revenge for Soleimani Killing If Trump, Pompeo Not Put on Trial
Iranian President Ebrahim Raisi, speaking on the second anniversary [Full Story]
South Dakota Gov. Noem Extends Deadline for Child Support Commission Report
South Dakota Gov. Kristi Noem on Friday granted a three-month [Full Story]
Rick Scott Slams AOC for Gov. DeSantis Diss but Expects Her to Move to Florida
Rick Scott has predicted that Democrat Rep. Alexandria [Full Story]
This Documentary Has the Church on the Ropes
Trending Reports
Apple Becomes World's First Company Valued at $3 Trillion
Apple Inc. on Monday topped $3 trillion in market value after hitting [Full Story]
Related
Apple's $3 Trillion Market Value Follows 5,800 Percent Gain Since iPhone Debut
Better Masks to Fight COVID Required at Capitol
The U.S. Capitol's attending physician Monday strongly urged members [Full Story]
Australian Man Lights Himself on Fire After Ranting About Vaccine Mandates
A man in Melbourne, Australia, on New Year's Day set himself on fire [Full Story]
NYC's Schools Will Stay Open, New Mayor Adams Insists
New York City Mayor Eric Adams Monday insisted the city's schools [Full Story] | video
Thousands More Flights Canceled or DelayedThousands More Flights Canceled or Delayed
A winter storm moving into the mid-Atlantic combined with the [Full Story]
New York Pushing 'Unethical' Race-Based COVID-19 Treatment Policy
New York physicians will now have to take a patient's race into [Full Story]
Bridgewater CEO McCormick to Leave for Senate Run
Bridgewater Associates Chief Executive Officer David McCormick plans [Full Story]
Biden, Harris To Speak at Capitol on Jan. 6 Anniversary
President Joe Biden and President Kamala Harris will speak at the [Full Story]
New York AG Subpoenas Ivanka, Don Jr. in Trump Business Probe
New York's attorney general has issued subpoenas to former President [Full Story]
Replace CRT in Schools With Classical Education: Heritage Foundation President
Classical education should replace critical race theory (CRT) in [Full Story]
Cruz Slams Biden's Border Policy as Fentanyl Crisis Surges
Ted Cruz harshly criticized the Biden administration for its [Full Story]
Trump Endorses Right-Wing Hungarian Prime Minister Snubbed by Biden
Former President Donald Trump on Monday endorsed a candidate outside [Full Story]
Newt Gingrich Predicts 'Disastrous Result in November for the Democrats'
Former House Speaker Newt Gingrich told Fox News on Monday that he [Full Story]
Schumer: Senate to Vote on Filibuster Change to Boost Voting Bill
Days before the anniversary of the Jan. 6 attack on the Capitol, [Full Story]
Capitol Police Chief: '400 Officers Short of Where We Need to Be'
Reforms have made the Capitol Police better equipped to deal with a [Full Story]
Paleoanthropologist Richard Leakey Dies at 77
Paleoanthropologist Richard Leakey, known for his fossil-finding and [Full Story]
Drone Attack on US Base Foiled: Iraqi Security Sources
Two armed drones were shot down on Monday as they approached an Iraqi [Full Story]
Man Who Crossed DMZ Was Previous Defector From NKorea, South Says
A man observed crossing the heavily fortified border from South Korea [Full Story]
Snow Moves Into Mid-Atlantic: Federal Offices Closed in DC
A winter storm packing heavy snow was expected to roll into the [Full Story]
$29,000 for Average Used Car? Would-Be Buyers Are Aghast
A couple of months ago, a woman paid a visit to Jeff Schrier's used [Full Story]
Fauci: CDC May Change Recent COVID Isolation Guidance
Top U.S. infectious disease expert Anthony Fauci said there was still [Full Story]
This All-natural "Lung Cleaning" Device Helps Anyone Breathe Easier
ProductHunter
More Newsfront
Finance
Thousands More Flights Canceled or Delayed
A winter storm moving into the mid-Atlantic combined with the pandemic to continue frustrating air travelers whose return flights home from the holidays were canceled or delayed in the first few days of the new year…. [Full Story]
Bob Ciura on AbbVie: A Healthcare Stock for Long-Term Growth
Is Apple Worth $3 Trillion? Bulls, Bears Examine the Case
Apple's $3 Trillion Market Value Follows 5,800 Percent Gain Since iPhone Debut
Gold in a Strong Rebound Position in 2022
More Finance
Health
FDA Approves Pfizer Boosters for Children Ages 12 to 15
The U.S. is expanding COVID-19 boosters as it confronts the omicron surge, with the Food and Drug Administration allowing extra Pfizer shots for children as young as 12. Boosters already are recommended for everyone 16 and older, and federal regulators on Monday decided…… [Full Story]
Telemedicine as Effective as In-Person for Certain Conditions: Review
Omicron Evades Immunity Better than Delta, Danish Study Finds
Start Your Year With a Free Memory Screening
Omicron Causes Less Damage to Lungs, Animal Research Shows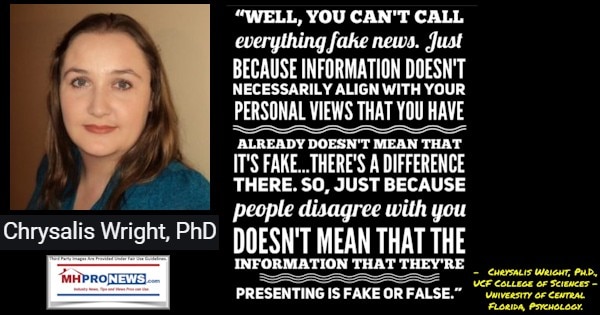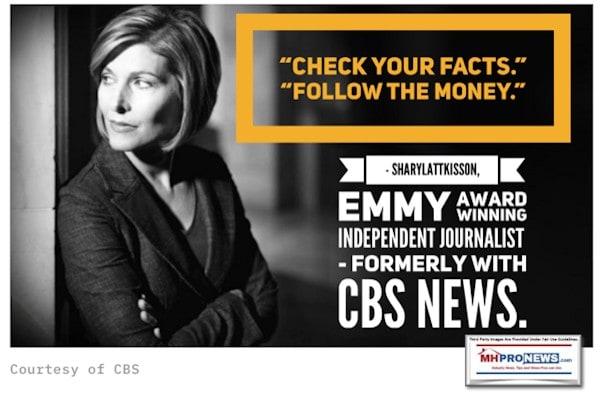 Manufactured Housing Industry Investments Connected Equities Closing Tickers
Some of these firms invest in manufactured housing, or are otherwise connected, but may do other forms of investing or business activities too.
NOTE: The chart below includes the Canadian stock, ECN, which purchased Triad Financial Services, a manufactured home industry lender
NOTE: Drew changed its name and trading symbol at the end of 2016 to Lippert (LCII).
NOTE: Deer Valley was largely taken private, say company insiders in a message to MHProNews on 12.15.2020, but there are still some outstanding shares of  the stock from the days when it was a publicly traded firm.  Thus, there is still periodic activity on DVLY.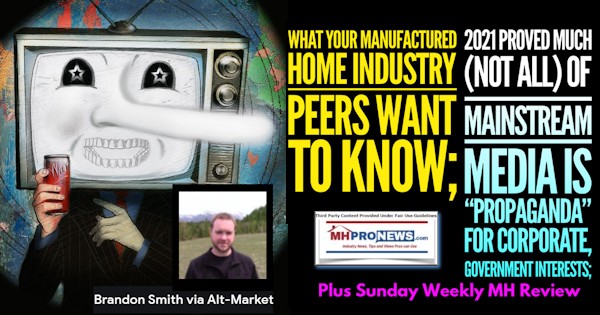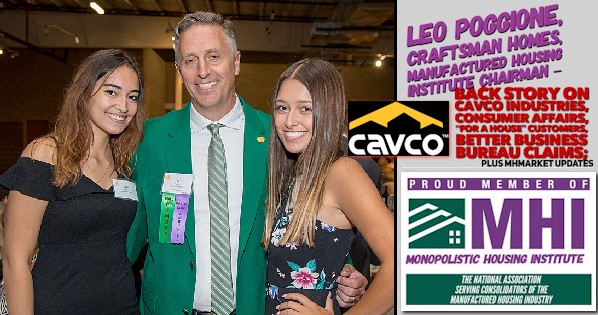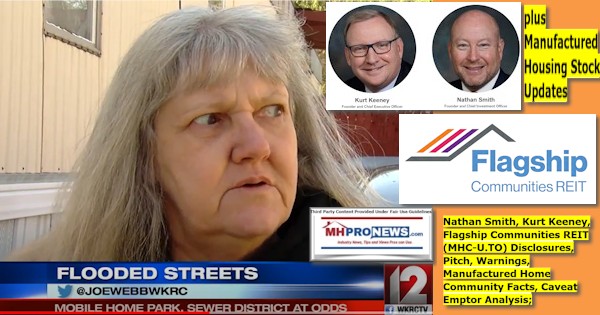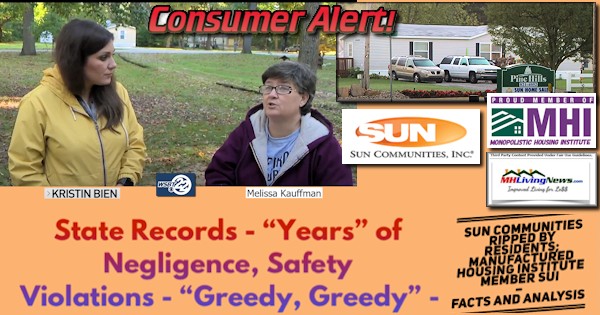 Note: depending on your browser or device, many images in this report can be clicked to expand. Click the image and follow the prompts. To return to this page, use your back key, escape or follow the prompts.
https://www.manufacturedhomepronews.com/steve-lawler-deer-valley-corporation-dvc-otcmkts-dvly-announces-merger-plus-manufactured-home-investing-stock-updates/

https://www.manufacturedhomepronews.com/nobility-homes-financial-position-very-strong-sales-strong-but-challenges-including-lending-and-others-examined-plus-manufactured-housing-stocks-update/

As 2021 draws to a close

…

Berkshire Hathaway is the parent company to Clayton Homes, 21st Mortgage, Vanderbilt Mortgage and other factory built housing industry suppliers.


·

LCI Industries, Patrick, UFPI, and LP each are suppliers to the manufactured housing industry, among others.




·

AMG, CG, and TAVFX have investments in manufactured housing related businesses.

For

insights from third-parties and clients about our publisher

, click here.


Enjoy these 'blast from the past' comments.

MHProNews. MHProNews – previously a.k.a. MHMSM.com – has celebrated our 11th year of publishing, and is starting our 12th year of serving the industry as the runaway most-read trade media.

Sample Kudos over the years…

It is now 11+ years and counting…

Learn more about our evolutionary journey as the industry's leading trade media, at the report linked below.

· For expert manufactured housing business development or other professional services, click here.
· To sign up in seconds for our industry leading emailed headline news updates, click here.

Disclosure. MHProNews holds no positions in the stocks in this report.

https://www.manufacturedhomepronews.com/years-of-state-national-level-manufactured-housing-factual-data-find-your-states-production-shipment-info-here-troubling-manufactured-home-affordable-housing-trends-issues-and-fact-checks/

https://www.manufacturedhomepronews.com/dominating-manufactured-housings-top-50-2020-year-in-review-by-manufactured-home-professionals-news-analysis/

To get our x2 weekly industry-leading emailed news headlines, click here. http://eepurl.com/bl-9t5

We recommend that news tips NOT use company, nonprofit or organizational emails or cell phones. To report a news tip, click the image above or send an email to iReportMHNewsTips@mhmsm.com – To help us spot your message in our volume of email, please put the words NEWS TIP or COMMENTS in the subject line.

That's a wrap on this installment of "News Through the Lens of Manufactured Homes and Factory-Built Housing" © where "We Provide, You Decide." © (Affordable housing, manufactured homes, stock, investing, data, metrics, reports, fact-checks, analysis, and commentary. Third-party images or content are provided under fair use guidelines for media.) (See Related Reports, further below. Text/image boxes often are hot-linked to other reports that can be access by clicking on them.)

All on Capitol Hill were welcoming and interested in manufactured housing related issues. But Congressman Al Green's office was tremendous in their hospitality. Our son's hand is on a package that included a copy of the Constitution of the United States and other goodies. Tamas has grown considerably since this photo was taken. 

By L.A. "Tony" Kovach – for MHProNews.
Tony earned a journalism scholarship along with numerous awards in history. There have been several awards and honors and also recognition in manufactured housing. For example, he earned the prestigious Lottinville Award in history from the University of Oklahoma, where he studied history and business management. He's a managing member and co-founder of LifeStyle Factory Homes, LLC, the parent company to MHProNews, and MHLivingNews.com. This article reflects the LLC's and/or the writer's position and may or may not reflect the views of sponsors or supporters.