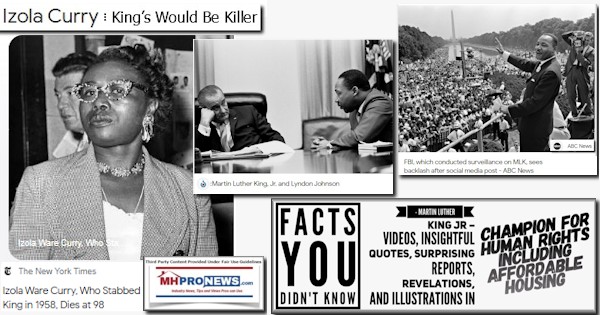 Martin Luther King Jr (MLK Jr) was an advocate for fair pay, good housing, civil and voting rights for blacks, minorities, poor whites – for all. When the Federal Bureau of Investigation (FBI) wire tapped the black Baptist minister King, among the things they learned is that he was a womanizer. The FBI's then Director J. Edgar Hoover thought the agency could use his adultery as a possible way of manipulating Dr. King. In the light of leading Fox News host Tucker Carlson's claims that the Central Intelligence Agency (CIA) was involved in the assassination of President John F. "Jack" Kennedy (D-JFK), it raises the questions by critics who for years have claimed that the FBI or other federal agencies may have played a role in Dr. King's death by assassination. Some claimed King was a Communist, but he pointed to the Declaration of Independence and the U.S. Constitution while calling on America's leaders to live up to those principles that made the American Dream a promise not to some, but to all. King is a controversial yet popular figure with an array of insightful quotable quotes, a powerful oratory style, and a complex history tied up with the challenges of powerful corporate and wealthy figures using the American political and economic system for their own purposes instead of for the common good. Like all of us humans, King was an imperfect man in an imperfect world. He is a fine example of why the principle of separating the wheat from the chaff must be prudently applied to all people, organizations, and nations. The bad and good alike are found in a candid look at that history which are sources for lessons to be learned by one of the few Americans who has a national holiday named after him.
Left-leaning Wikipedia devotes a page to debunking the "conspiracy theories" about Dr. King. That said, King's own family reportedly doubted the claim that James Earl Jones, who was convicted of being King's assign, acted alone or that he may not have even been the trigger-man, states History. King's final speech is the one linked below, in which he frankly and emotionally foreshadowed his own death.
Whatever his weakness, King's influence on U.S. history is significant. For example. He sat in this famous photo with the demonstrably bigoted President Lyndon Banes Johnson (D-LBJ). King doubtlessly grasped the kind of man LBJ was. Yet he met with the reportedly bigoted Democratic President LBJ as part of his multifaceted campaign for human rights and the fulfillment of the promise of the American Dream for all. It is also a reminder that Republicans, the party of assassinated President Abraham Lincoln who freed the slaves and re-united the Union by force of arms, played a far bigger role in passing the Voting and Civil Rights Acts than did Democrats.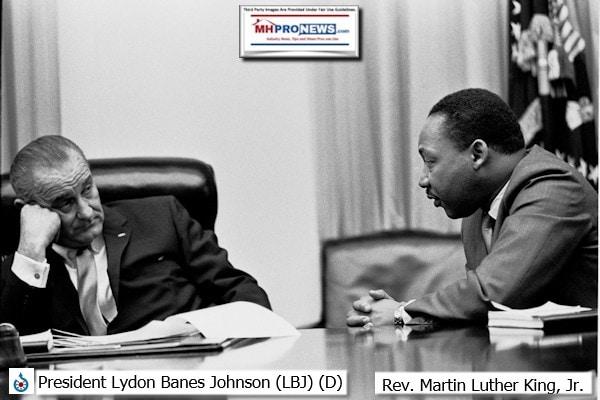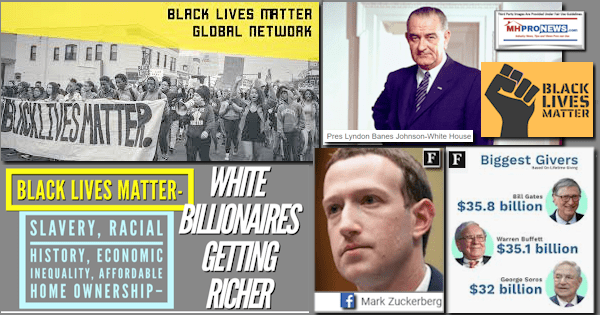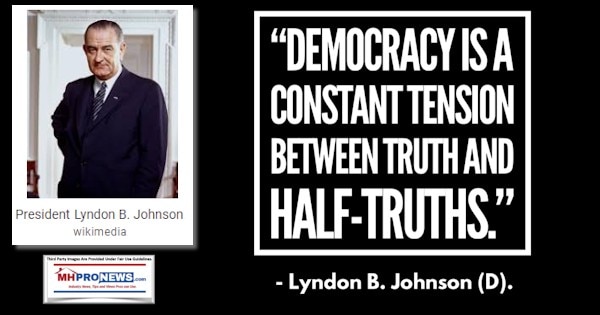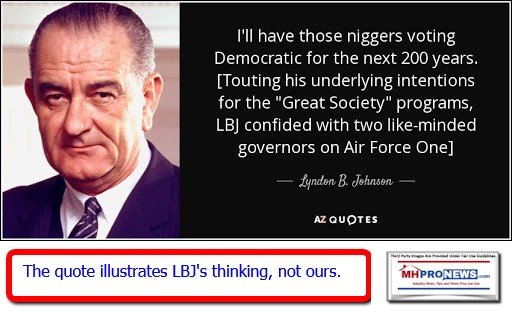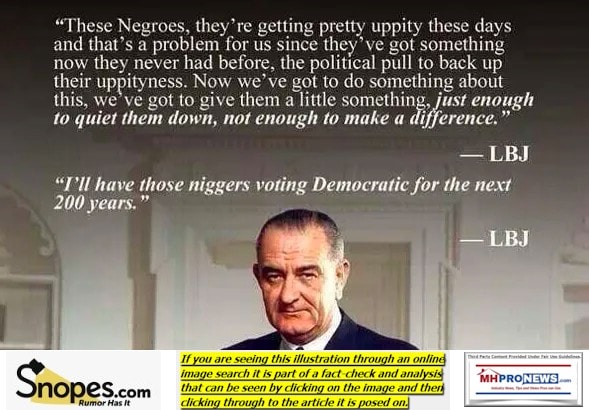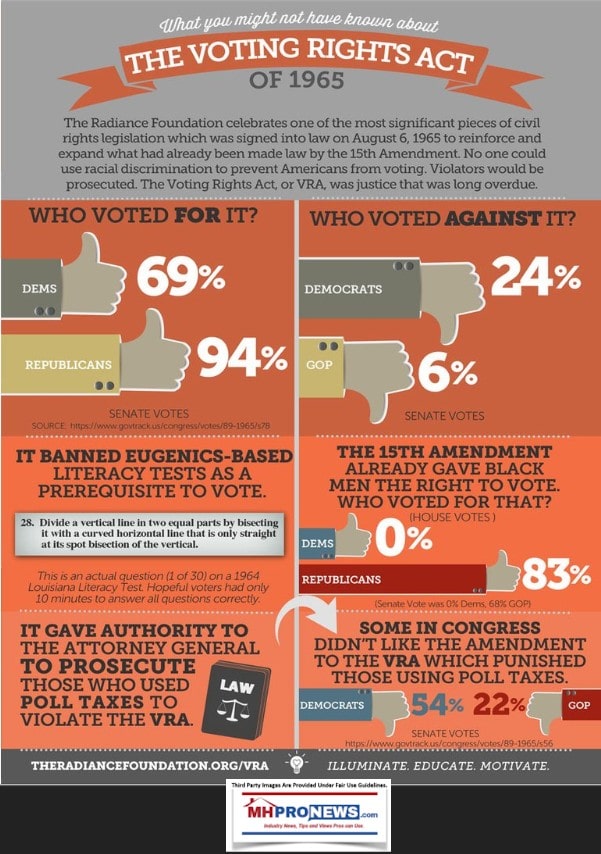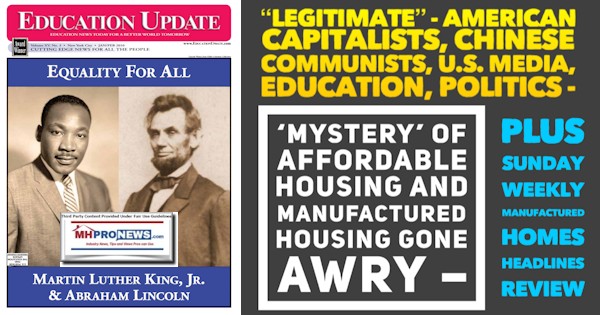 King's famous March in Washington, D.C. near the Lincoln Memorial was not his first time to speak from that spot, says History. Years earlier, King addressed a far smaller crowd at that same location. That is but one of several possible reminders that big things often start modestly and build over time. King entered college at age 15, so he was clearly intelligent, but was also motivated and focused. Those qualities are more inspirational lessons needed for our profession and difficult times.
That locale at the Lincoln Memorial in the Washington Mall and "I Have a Dream" speech are among several inspirational points from King's words and work that have been cited by this publication and our MHLivingNews sister-site over the years.
King preached non-violence. That set him apart from some members of the black rights movement, like Malcom X, who were prepared to or did embrace violence in their press for true equal justice under law.
King's Would Be Killer
Whoever the true killer of MLK Jr may have been, nearly a decade earlier, another nearly fatal attack was made by Izola Ware Curry, a black woman, said the New York Times in a report filed upon her death at age 98. Curry used a knife as her weapon of choice, but the New York Times is more focused on gun control than knife control.
The following 'fascinating facts' you didn't know are courtesy of the source noted.
From the Stanford University King Institute page on the Assassination of Martin Luther King Jr is this insight. Note it presents 'both sides' of the question of who killed Dr. King, and what role, if any, the federal government may have played in the matter.
"During the years following King's assassination, doubts about the adequacy of the case against Ray were fueled by revelations of the extensive surveillance of King by the FBI and other government agencies. Beginning in 1976 the House Select Committee on Assassinations, chaired by Representative Louis Stokes, re-examined the evidence concerning King's assassination, as well as that of President John F. Kennedy. The committee's final report suggested that Ray may have had co-conspirators. The report nonetheless concluded that there was no convincing evidence of government complicity in King's assassination."
"Even after Ray's death, conspiracy allegations continued to surface. In 1999, on behalf of King's widow and children, Pepper won a token civil verdict of wrongful death against Lloyd Jowers, owner of Jim's Grill, a restaurant across the street from the Lorraine Motel. Although the trial produced considerable testimony that contradicted the original case against Ray, the Justice Department announced in 2000 that its own internal investigation, launched in 1998 at the King family's request, had failed to find sufficient evidence to warrant a further investigation."
From History.com's "10 Things You May Not Know About Martin Luther King Jr." under the subtitle of "Explore 10 surprising facts about the civil rights leader" are the following.
"Baptist minister and social activist Dr. Martin Luther King Jr. (1929-1968) dedicated his life to the nonviolent struggle for justice in the United States. King's leadership played a pivotal role in ending entrenched segregation for Black Americans and to the creation of the Civil Rights Act of 1964. …"
·      King's Birth Name Was Michael, Not Martin
King was born Michael King Jr. on January 15, 1929. In 1934, however, his father, a pastor at Atlanta's Ebenezer Baptist Church, traveled to Germany and became inspired by the Protestant Reformation leader Martin Luther. As a result, King Sr. changed his own name as well as that of his five-year-old son.
·      King Entered College At the Age of 15
King was such a gifted student that he skipped grades nine and 12 before enrolling in 1944 at Morehouse College, the alma mater of his father and maternal grandfather. Although he was the son, grandson and great-grandson of Baptist ministers, King did not intend to follow the family vocation until Morehouse president Benjamin E. Mays, a noted theologian, convinced him otherwise. King was ordained before graduating college with a degree in sociology.
·      King Received His Doctorate in Systematic Theology
After earning a divinity degree from Pennsylvania's Crozer Theological Seminary, King attended graduate school at Boston University, where he received his Ph.D. degree in 1955. The title of his dissertation was "A Comparison of the Conceptions of God in the Thinking of Paul Tillich and Henry Nelson Wieman."
·      King's 'I Have a Dream' Speech Was Not His First At the Lincoln Memorial
Six years before his iconic oration at the March on Washington, King was among the civil rights leaders who spoke in the shadow of the Great Emancipator during the Prayer Pilgrimage for Freedom on May 17, 1957. Before a crowd estimated at between 15,000 and 30,000, King delivered his first national address on the topic of voting rights. His speech, in which he urged America to "give us the ballot," drew strong reviews and positioned him at the forefront of the civil rights leadership.
·      King Was Imprisoned Nearly 30 Times
According to the King Center, the civil rights leader went to jail 29 times. He was arrested for acts of civil disobedience and on trumped-up charges, such as when he was jailed in Montgomery, Alabama, in 1956 for driving 30 miles per hour in a 25-mile-per-hour zone.
·      Members of King's Family Did Not Believe James Earl Ray Acted Alone
Ray, a career criminal, pled guilty to King's assassination but later recanted. King's son Dexter met publicly with Ray in 1997 and argued for the case to be reopened. King's widow, Coretta, believed the Mafia and local, state and federal government agencies were deeply involved in the murder. She praised the result of a 1999 civil trial in which a Memphis jury decided the assassination was the result of a conspiracy and that Ray was set up to take the blame. A U.S. Department of Justice investigation released in 2000 reported no evidence of a conspiracy.
·      George Washington, Abraham Lincoln and Cesar Chavez are the Only Other Americans to Have Had Their Birthdays Observed as a National Holiday
In 1983 President Ronald Reagan signed a bill that created a federal holiday to honor King. The holiday, first commemorated in 1986, is celebrated on the third Monday in January, close to the civil rights leader's January 15 birthday.
Additional Videos
Dr. Martin Luther King Jr. speak at Detroit's Freedom March in 1963
I Have a Dream speech by Martin Luther King .Jr HD (subtitled) (19+ million views)
The Last Sunday Sermon of Rev Dr Martin Luther King Jr
Quotable Quotes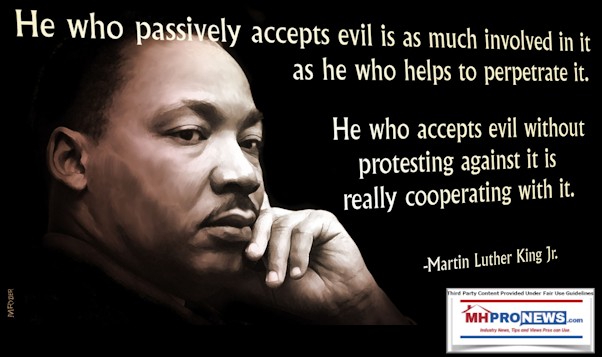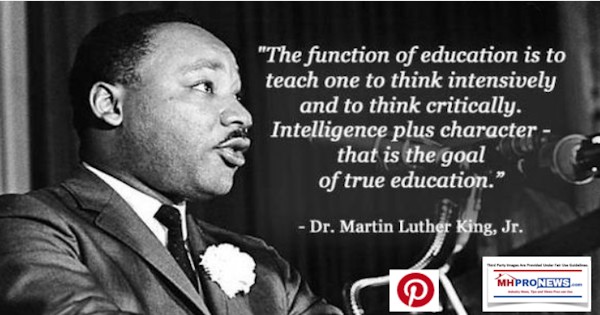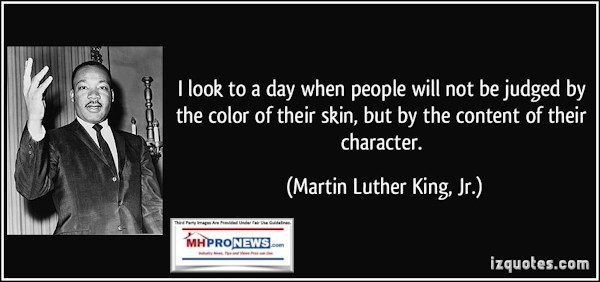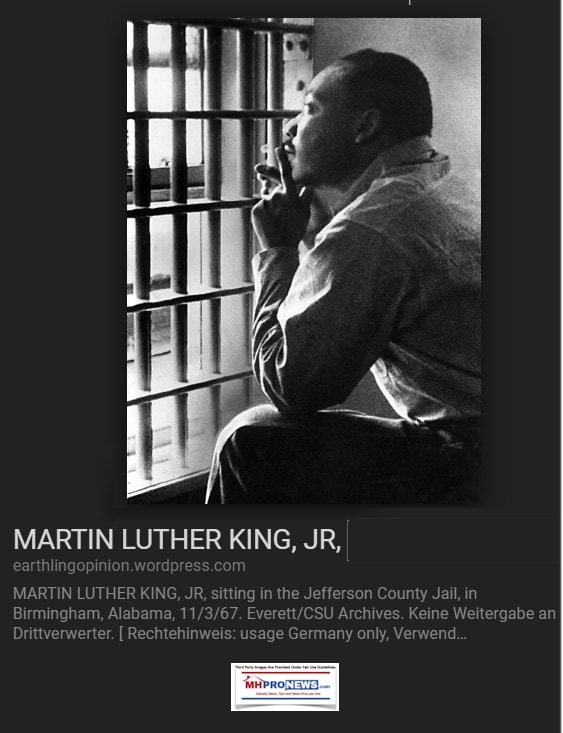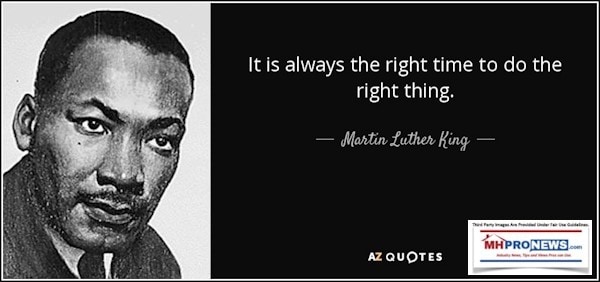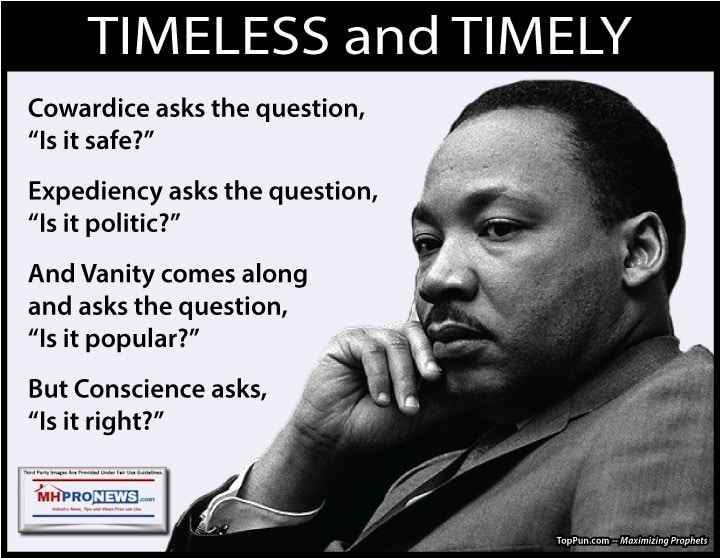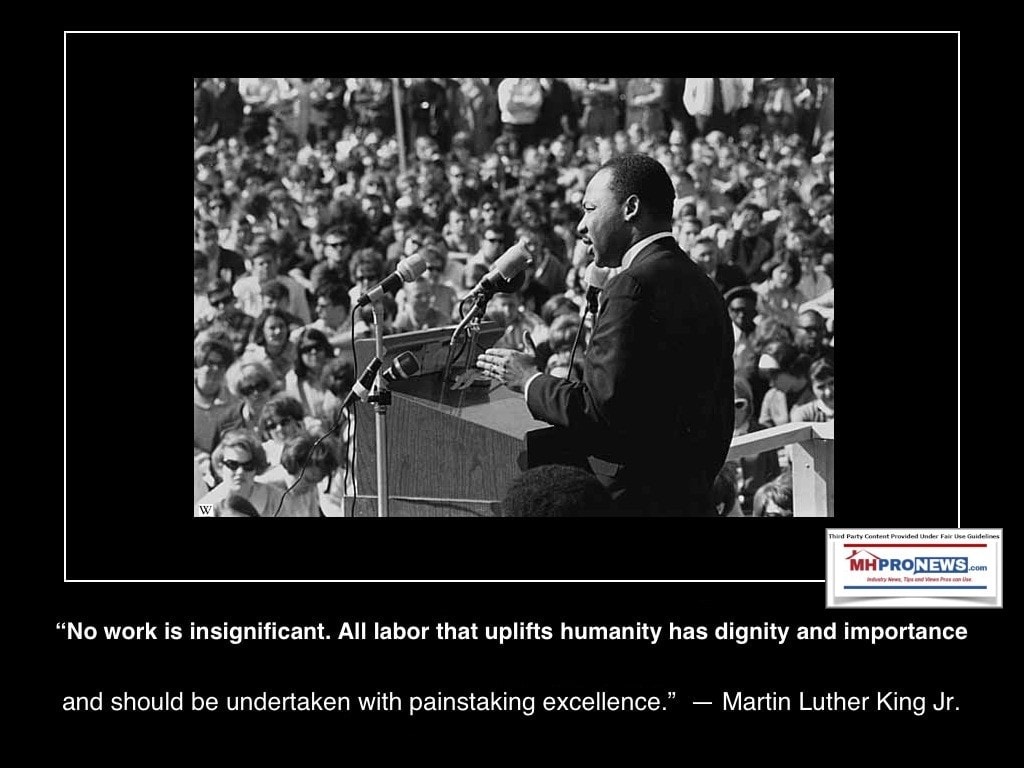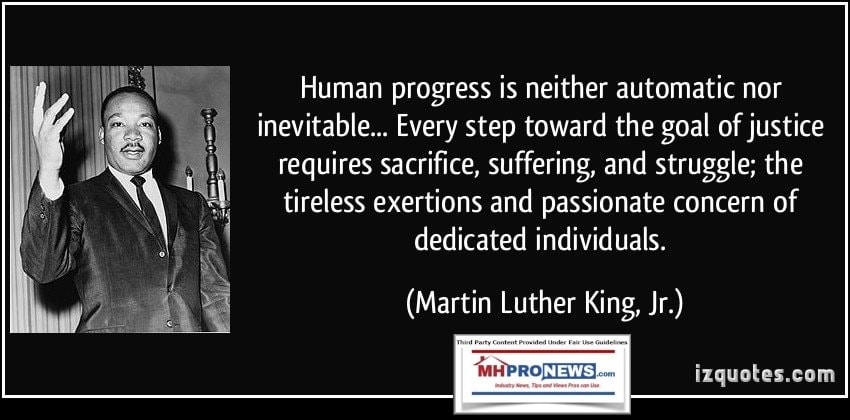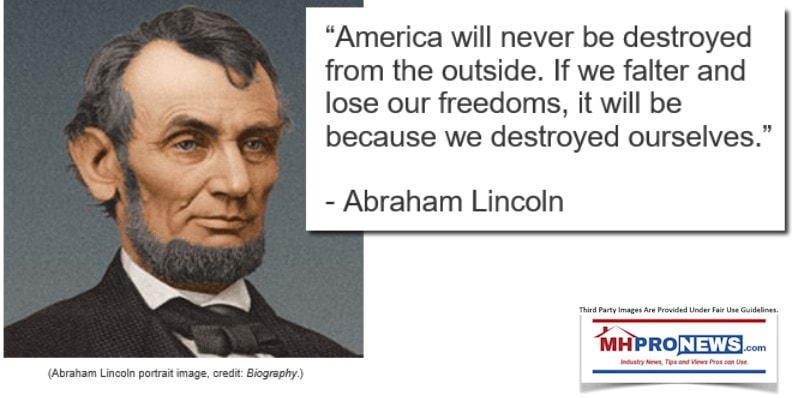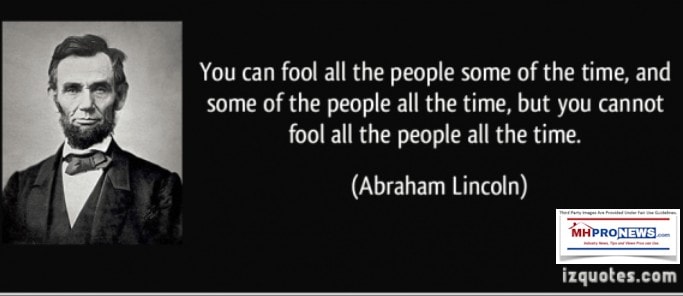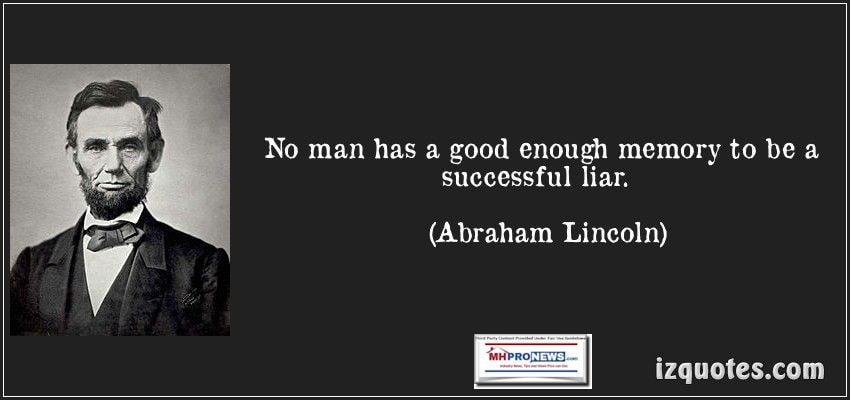 More Linked Reports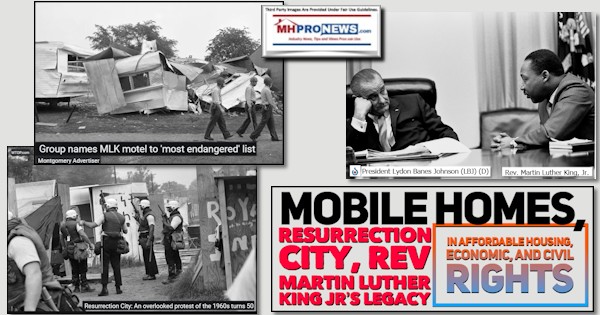 Was Clayton Homes, Their Manufactured Housing Institute, Racially Tone Deaf on Martin Luther King, Jr. Day?
Clayton Homes' "Racist" Lending-Credit Unions, ABA React–MHI Mute on Manufactured Home Loan Exposé-Greater Risks to "Black, Indigenous, and Hispanic families, as well as rural and lower-income families of all races and ethnicities" – CFPB's Uejio
White Billionaires vs Blacks, Minorities, "Uncle Tom" "Gaslighting" "Misdirection and Deception" – "Uncle Tom" Videos Review, plus Sunday Headline Recap
"We are trained Marxists." – Black Lives Matter (BLM) co-founder Patrisse Cullors, "Deception and Misdirection" – Capital Research Center
The odds are excellent that even someone who believes they 'know' quite a bit about Dr. King will find several facts in this report, and even more in the articles linked from this report, that they didn't know before starting it.  In terms of takeaways?
1) What we may think of as history is often distorted, usually to suit those in power who have influence or a degree of control over the mainstream media.
2) It can take time to accomplish a worthwhile goal.
3) King's dream was rooted in the American Dream.  It is a reminder that it is a noble task to be HONORABLY involved in any aspect of the manufactured home industry.
Check out the linked items to learn more. It is a fine way to spend part of Martin Luther King Jr. Day, or any other day. ##
President Bill Clinton-Curing What's Wrong by What's Right in America, Coalition Building, Wildly Potent Quotable Quotes, Profitable Liberty Lessons-Gonzo Journalism; plus MHVille Markets Updates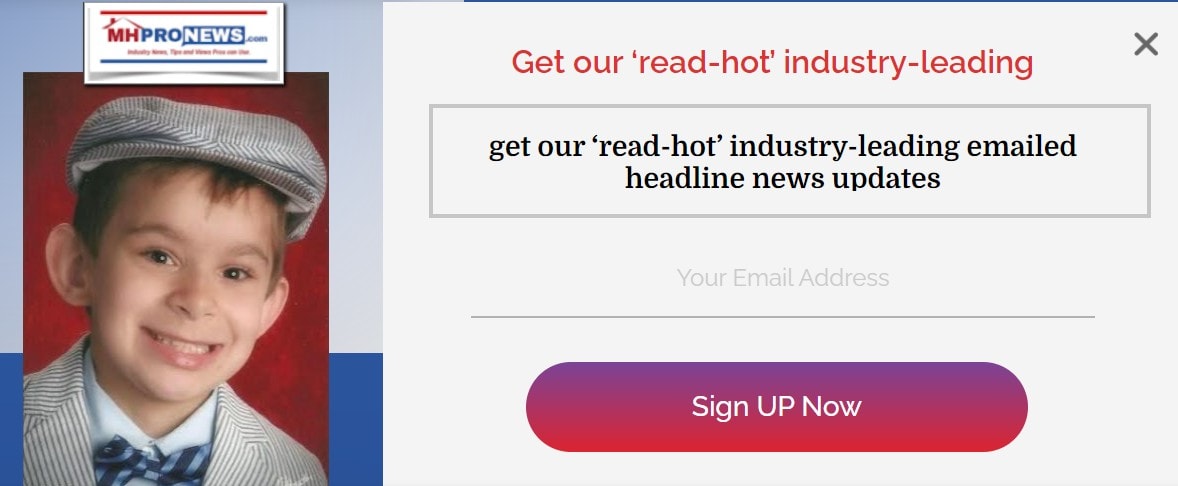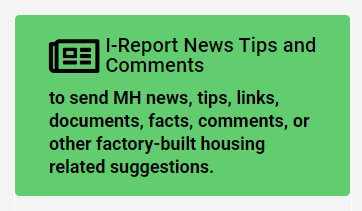 Again, our thanks to free email subscribers and all readers like you, our tipsters/sources, sponsors and God for making and keeping us the runaway number one source for authentic "News through the lens of manufactured homes and factory-built housing" © where "We Provide, You Decide." © ## (Affordable housing, manufactured homes, reports, fact-checks, analysis, and commentary. Third-party images or content are provided under fair use guidelines for media.) (See Related Reports, further below. Text/image boxes often are hot-linked to other reports that can be access by clicking on them.)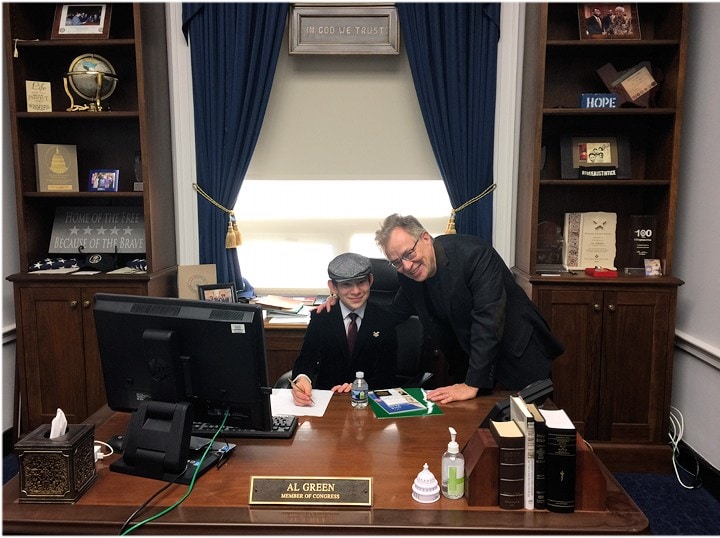 By L.A. "Tony" Kovach – for MHProNews.com.
Tony earned a journalism scholarship and earned numerous awards in history and in manufactured housing.
For example, he earned the prestigious Lottinville Award in history from the University of Oklahoma, where he studied history and business management. He's a managing member and co-founder of LifeStyle Factory Homes, LLC, the parent company to MHProNews, and MHLivingNews.com.
This article reflects the LLC's and/or the writer's position, and may or may not reflect the views of sponsors or supporters.
Connect on LinkedIn: http://www.linkedin.com/in/latonykovach
Related References:
The text/image boxes below are linked to other reports, which can be accessed by clicking on them.'
'Everyone Needs Deadlines' 'First Things First' and '7 Habits of Highly Successful People' – Pre-Christmas Preview of Manufactured Housing Year in Review; plus Sunday Weekly MHVille Headlines Recap
'Affordable Homes for Low Income Must Produce in Factory,' 'Years to Unravel Sabotage,' Grad Students Interest in Manufactured Housing, Factory-Home Solutions; plus Sunday Weekly Headlines Recap
Has the Manufactured Housing Industry Become a Target-Rich Environment for Plaintiffs' Attorneys? Facts, News & Views; plus, Sunday Weekly Manufactured Home Industry (MHVille) Headlines Recap
'In the Business World, the Rear-View Mirror is Always Clearer than the Windshield'–Warren Buffett MHVille Leader Showcases Efforts to Renew American Dream; plus Sunday Weekly Headlines Recap
Russian Disinformation? CNN and WND Report on "World Government Summit," Joe Biden Address to Business Roundtable on "the New World Order;" plus Sunday Weekly Headlines Review