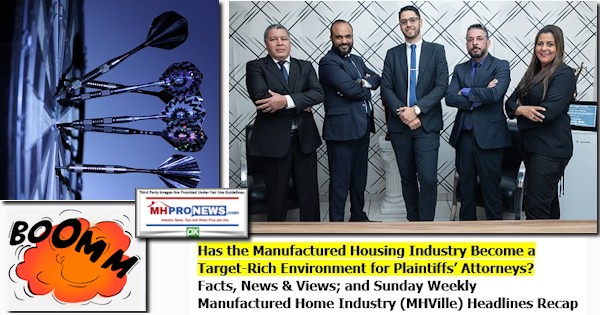 The answer to the headline question "Has the Manufactured Housing Industry Become a Target-Rich Environment for Plaintiffs' Attorneys?" objectively speaking should be 'it depends.' There are clearly several examples of current and pending litigation over issues both well-known as well as opportunities (from a legal standpoint) that are less obvious but also potentially fruitful.  But beyond current cases, could there be a wave of other suits ahead? Arguably, based on known evidence, the answer should be 'yes.'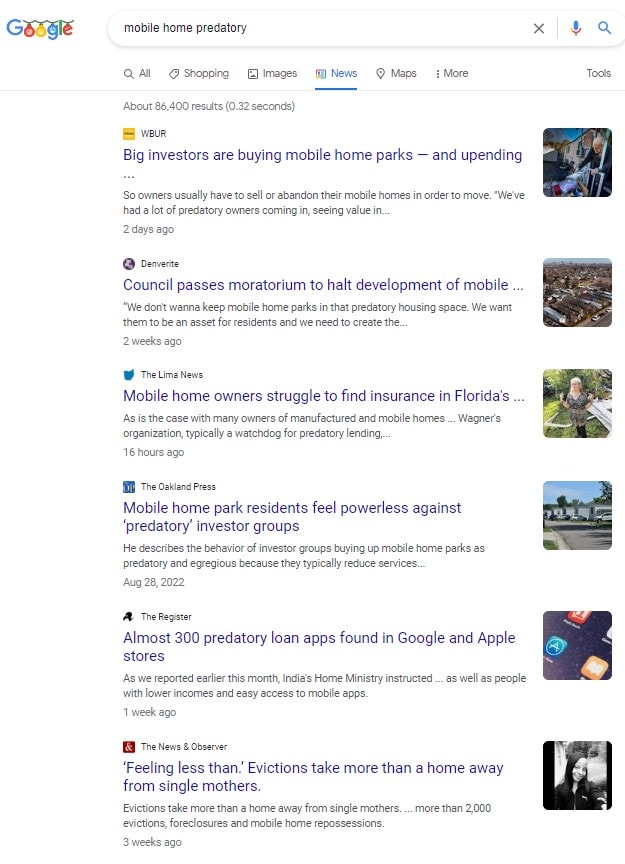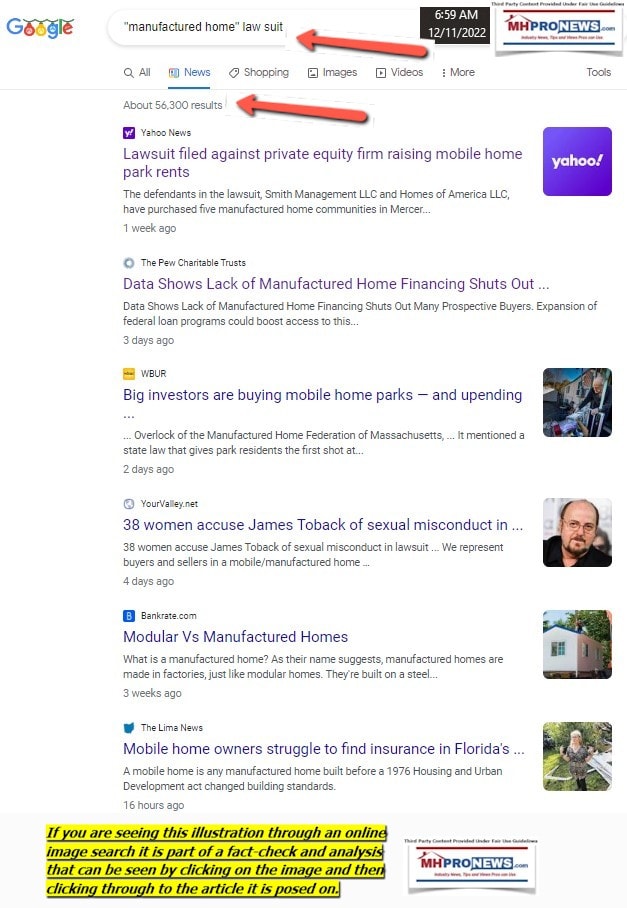 For example, if someone is a Manufactured Housing Institute (MHI) member and depending on which firm(s) are named, the odds that they could be a target for serious and potentially successful litigation against them is arguably higher than it might be for a member of the Manufactured Housing Association for Regulatory Reform (MHARR). Some of the reasons for that thesis are explored in the various reports for the week that was that are found further below. But among the reasons for headline topic are simple. There has been an increase in inquiries from both plaintiffs and defense attorneys to MHProNews in 2022, with the pace picking up recently.
Anecdotally, there also appears to be a growing number of law firms signing up for and interacting with the MHProNews/MHLivingNews twice weekly emailed news updates.
Furthermore, the pace of engagement by public officials, educators, nonprofit organizations in or beyond MHVille (the fond name given to the arguably artificially modest by historic standards of the contemporary manufactured housing industry) appears to be steady or increasing in 2022.
To top those points off, the core audience of manufactured home professionals that flock to MHProNews is obviously deeply engaged with the articles, news, analysis, and expert commentary found here. While our pages per visit have long been significantly higher than the reported averages for mainstream news media sites, roughly 3 times that average, per a fact-check a few months ago.  Those pages-per-visit metric has shot up to impressive levels in comparison to previous years.
Some of that increased reading per visitor is obviously attributable to the cross-linked articles routinely found in any report, serious and/or satirical, in 2022. But MHProNews and MHLivingNews have long cross-linked articles. So, what else may explain that increased engagement here?
Why the Manufactured Housing Industry Could be Several Times Bigger Than It Currently Is, and Why It Isn't Already
Some visitors/readers may have a sort of luxury that allows them to indulge their subjective emotions to influence their reading habits. But attorneys are trained to think as objectively and as rigorously as possible. Beyond law school, if an attorney is to be successful, they must be able to grasp the evidence for and against a position that they themselves might be asked to defend or make a case for in the legal or regulatory arenas. Circling back contrast with an example of a hypothetical pro-MHI brownnoser: it is easier for someone in the 'black hat' camp of MHVille to try to ignore, downplay or tune out certain realities than an attorney (defense or plaintiffs) who is doing research for understanding and in order to prepare for an actual case.
That rigorous preparation might be particularly true for paralegals, attorneys and others who sincerely are trying to wrap their minds around certain issues.
During an affordable housing crisis, manufactured housing – and perhaps to a lesser extent, modular homes too – ought to be soaring. While there has been 'growth' in HUD Code manufactured homes, the industry is nevertheless demonstrably operating at historically low level. That's factually indisputable.  That begs the question: what are the causes for that low ebb? Before jumping into that, one should first note that manufactured housing may be up from the bottom of 2009-2010. But over a dozen years later, manufactured housing production has still only attained about 30 percent of the last high achieved in 1998. Those are evidence-based concerns that attorneys and other outsiders looking in that are earnestly searching for reality will grasp as relevant, even if some associated with 'black hat' type firms that are members of MHI and/or one of their state trade association affiliates would rather avoid.

That's brief outline sums up precisely why manufactured housing could be a target rich environment in 2023 and beyond. One should never think that there are no white hats left in the industry, they are still well represented, as MHProNews/MHLivingNews has often noted. But there has developed what could be described as a rather bold arrogance among the black hats who are often associated with consolidators of the industry who are thrilled with the status quo and the kabuki theater that the trade groups and bloggers/publishers they support have propped up for show purposes.
Thus, the potential for a comeuppance, so to speak, of some of the larger brands may be drawing closer. That is based upon indications observed from our journalistic, editorial, manufactured housing industry expert perch.
When tens of billions of dollars in harm annually are being caused to millions of Americans, and the cumulative harm reaches staggering levels, at some point in time attorneys and others with the cojones and chutzpah to challenge the status quo will sooner or later step forward. That's part of the mechanisms that can make America 'great' for visionaries seeking opportunities.
Facts have always mattered to a serious journalist. And while there are all types of journalism – including good, bad, meh, fake, paltering, posturing, projecting, spinning, and marvelous – the combination of evidence and sound reasoning that stands up to scrutiny is revealing. Serious researchers will check out the range of sources, and when they compare content and theses (if others in trade media have an operating philosophy beyond mere cheerleading and/or deflecting roles for the industry's black hat consolidators), they will not find any worth following other than MHProNews/MHLivingNews. That's not hubris, that's reality. Who says so? Those who have made those comparisons and have said as much to this publication.
Don't Miss Today's Postscript
With no further adieu, here are the headlines for the week that was from 12.4 to 12.11.2022.
What's New in Washington, D.C. from MHARR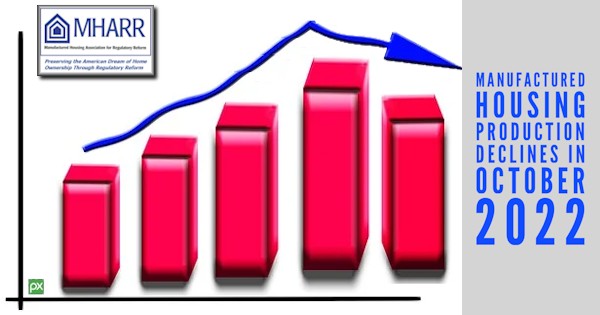 What's New and Recent on MHLivingNews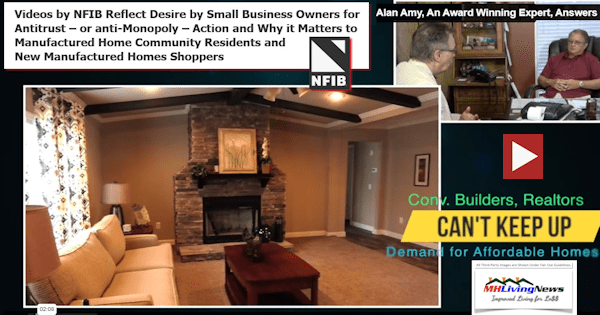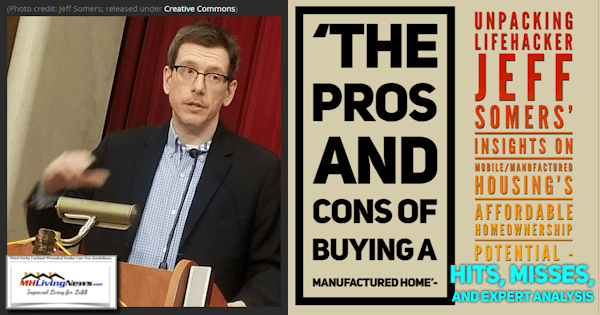 What's New and Recent on the Masthead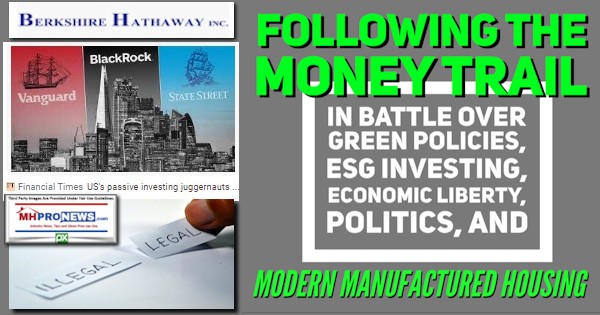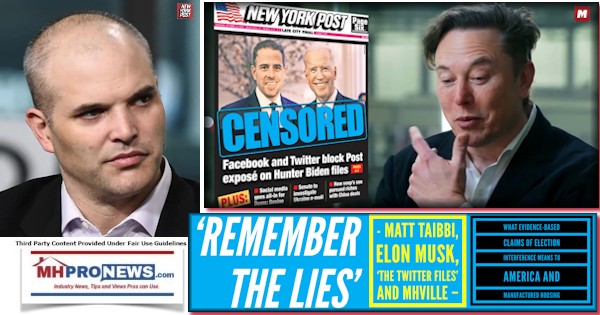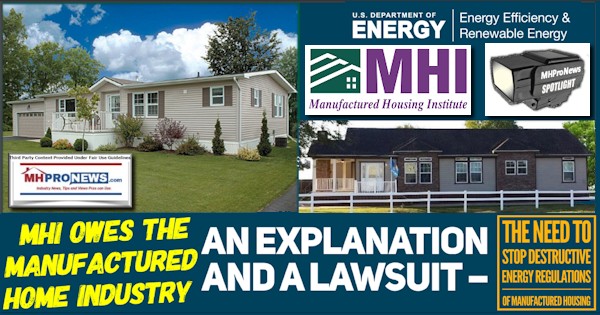 What's New on the Daily Business News on MHProNews
Saturday 12.10.2022
Has MHVille Reporting Forced Pivots? TRERC, TMHA, Manufactured Housing Institute Each Change Tune Following MHARR, MHProNews Reports – Fact Check, Analysis; plus Manufactured Home Community REITs, Stocks Update
Friday 12.9.2022
Consumers 'Fears for the Future'-Mortgage Payments Surge Since 2021, Buyers Get Priced Out–Conventional Housing Woes are Manufactured Home Pro Opportunities; plus MHVille REITs, Stocks Update
Thursday 12.8.2022
How Long a Prison Term May Some Manufactured Housing Execs Get from Successful Prosecution? Law360 Clue-11 & 13 Year Prison Terms for Convicted Corp Criminal Fraud; plus MHVille REITs, Stocks Update
Wednesday 12.7.2022
Manufactured Housing Properties-Results for Three and Nine Months Ending September 30.2022–Exploring 'Mobile Home Park' Manufactured Home Community Investing; plus MHVille REITs, Stocks Update
Tuesday 12.6.2022
'Not About Hunter Biden, Not About Laptop, Totally About Joe Biden' – Connecting 'Team Biden,' FBI, Twitter, Facebook=Govt-Corp Collusion, Election Rigging; plus MHVille REITs, Stocks Update
Monday 12.5.2022
Telling Manufactured Housing Story Honestly, Persuasively, Beneficially and Profitably with Facts, Evidence, Bright Line Distinctions – plus Sunday Weekly Manufactured Home Recap
Sunday 12.4.2022
Manufactured Housing's Next BIG Regulatory Battle That MHARR's Spotlighted and Which MHI Conveniently Ignored in Recent 'Manufactured Housing Institute News;' plus Sunday Weekly Headlines Recap
Postscript
It has been over 2½ years since a Masthead column ran the theme, the party is over.
It has been over 2½ years since a Daily Business News on MHProNews article on the topic of the heads they win, tales you lose business model that has been operating for years in MHVille was published.
There is a laugh-out-loud (LOL) item from MHI in their latest email that ought to be grounds for termination of whoever wrote it and authorized it. But termination of embarrassment or cause would presume that MHI's board cared about accuracy, integrity, documented conflicts of interest, or potentially embarrassing admissions. As longtime readers of MHProNews know, MHI's board appears to be absolutely willing to pay bonuses to staff (per IRS Form 990) who produced substandard results.
Those factoids and others like them seem to imply that MHI's board accepts and/or wants those substandard advocacy and production results for "all segments" of MHVille, save one. The one segment that 'the big boys' care about could broadly be called the consolidation segment.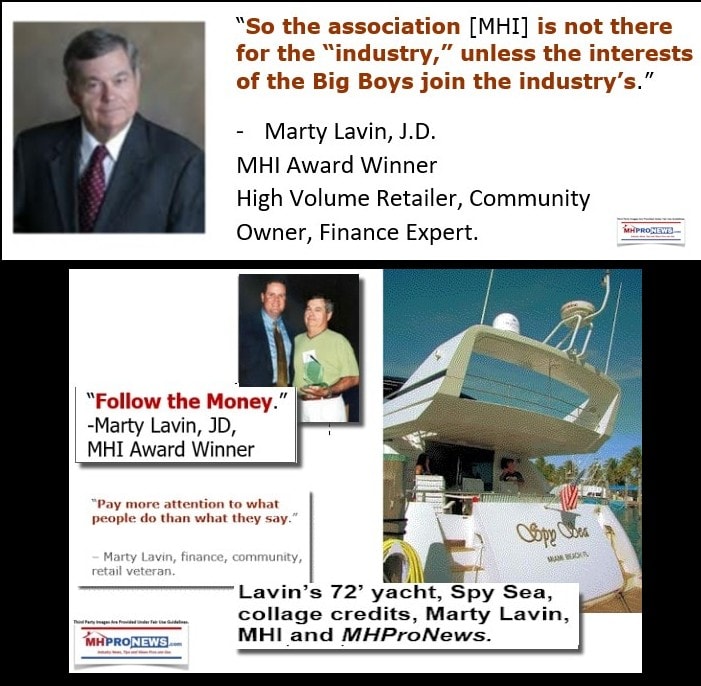 Seemingly strange or odd behaviors in manufactured housing, and perhaps to some extent in the modular home building profession, can only be explained and brought into an understandable focus if consolidation, "the moat," and the various ways market manipulation ploys occur.
One reason to refer to the manufactured housing industry as MHVille is because our industry is a bit like parts of Detroit or the Rust Belt. Dozens of once proud manufacturers in the automotive industry and their suppliers are gone. Something similar has been occurring in the 21st century in MHVille.
Beyond dozens of producers that have vanished, literally thousands of once independent manufactured and modular home retailers are history too. No less a figure than Kevin Clayton has said so to Congress under 'Truth in Testimony' certification.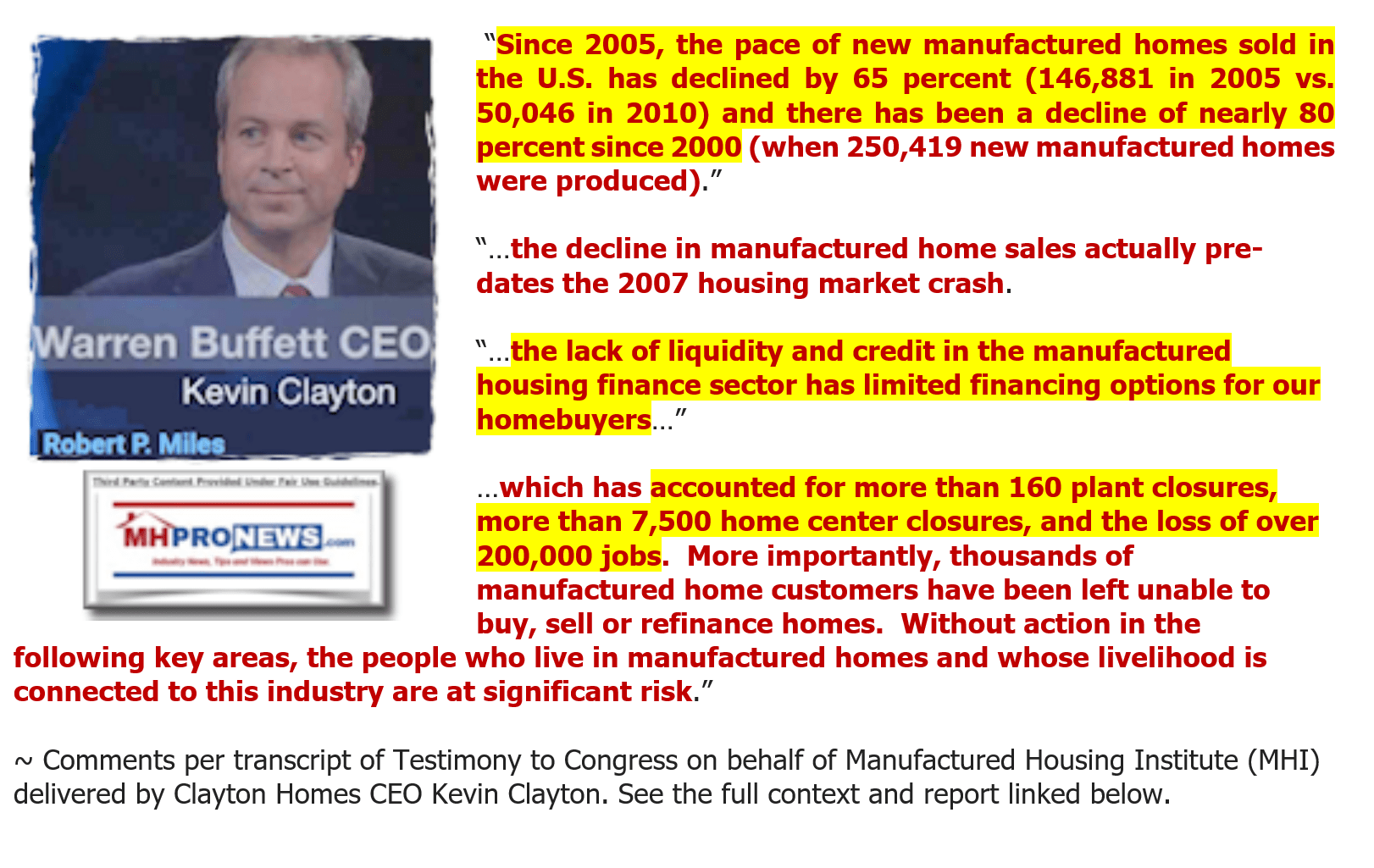 While Kevin Clayton's stated facts on the numbers of firms lost in the first decade of the 21st century are largely true (the number of lost retailers is likely thousands of locations greater than he said, per some sources), what Clayton failed to say to Congress is what he said on a video interview that oddly has been ignored in the 'reports' and posts by the pro-consolidators, pro-MHI wing of MHVille bloggers and trade publishers.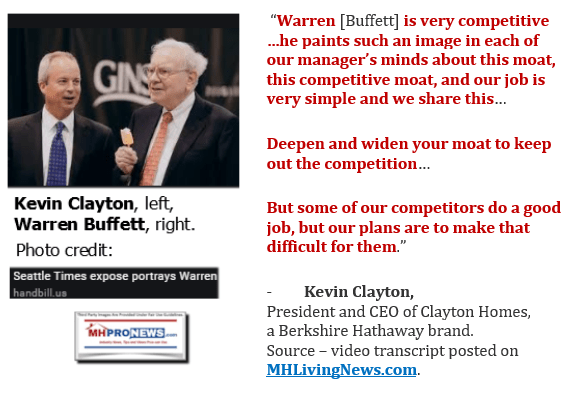 Clayton's statements and admissions in that video could be red meat for savvy and hungry plaintiffs' attorneys, once they grasp the facts and then once they find the expert witness(es) they need.  Someone has to be able to articulate to a prospective jury or judge what's actually happened in to the once far larger and promising manufactured housing industry as it was at the dawn of the 21st century. Furthermore, someone has to be able to articulate why such things matters to people that may think they have little or no interest in manufactured housing.  In fact, this topic has broad implications.
Near the end of the 20th century and at the dawn of the 21st century, some believed that manufactured housing would soar past conventional housing. The reasoning should be apparent. If you could buy a new home for about half the cost of a conventional house, and they both functioned and could appreciate in a similar fashion, why wouldn't you at least consider the manufactured home?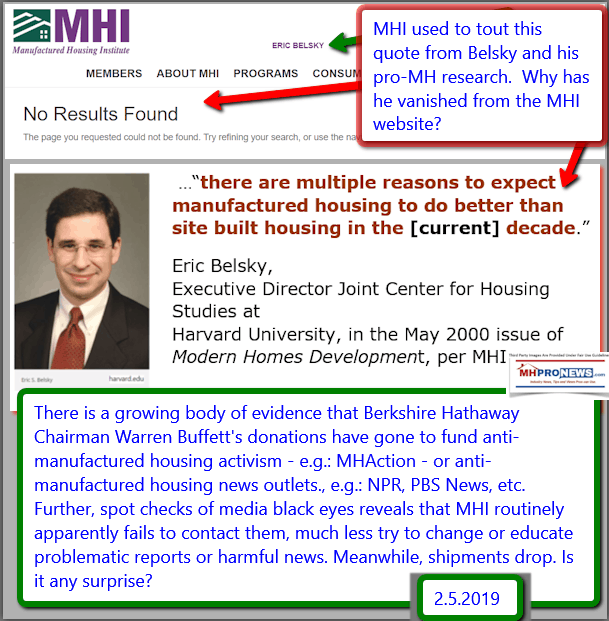 Belsky's statement above proved incorrect. But the operative question is why? When brand new homes can be purchased for about half the cost of conventional housing on a per square foot basis, and those new homes are federally certified and have consumer protections not found in often far costlier conventional built housing, why aren't hundreds of thousands – perhaps a million or more – manufactured homes built annually?
Cavco Industries (CVCO) corporate leader has, wittingly or not, added to the Belsky notion in the remark below.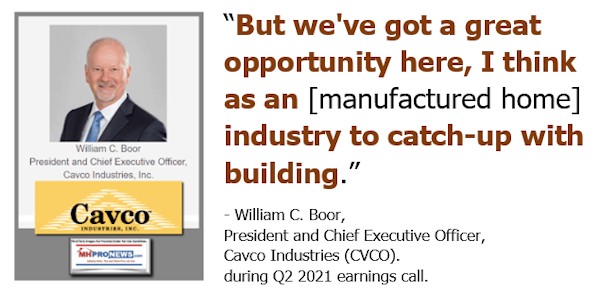 Those remarks by Belsky and Boor should be explored by plaintiffs' attorneys for shareholders, but also by affordable housing advocates. Belsky, the manufactured housing outsider, and Boor, the MHVille insider.
While some may not have had 'deep pockets' needed to press the existing federal (and/or state) laws that could have made manufactured housing soar in the 21st century (instead of slip, slide and snore), others did have the resources. Furthermore, MHI is supposed to exist to do collectively for 'all segments' of the industry what individual retailers, smaller producers, vendors, service providers, etc. could not do for themselves individually. ICYMI, or need the refresher, take a close look at the evidence and arguments asserted by Samuel Strommen with Knudson Law in his research into manufactured housing.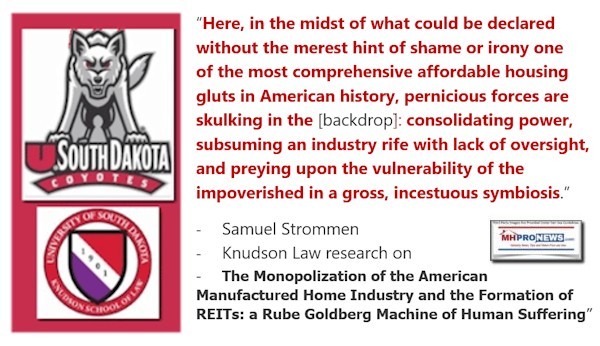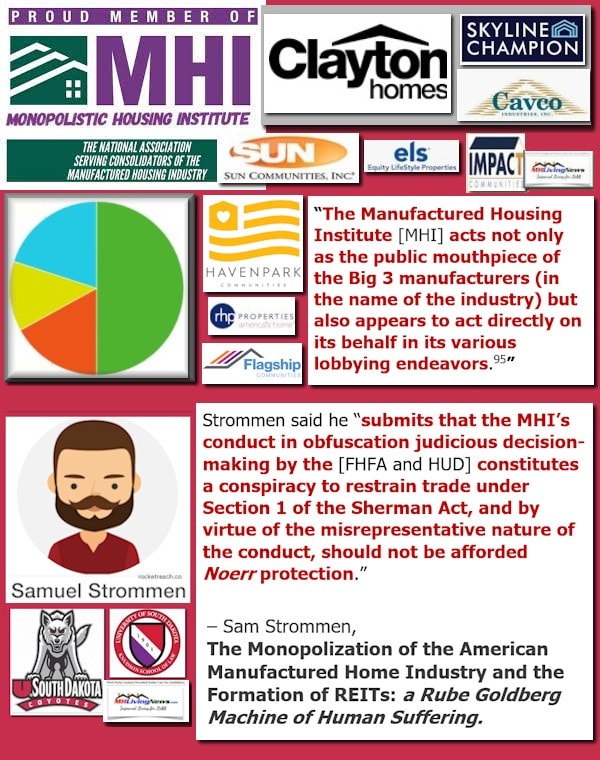 Strommen uses the legally correct disclaimers, and then named names, took aim, and fired away.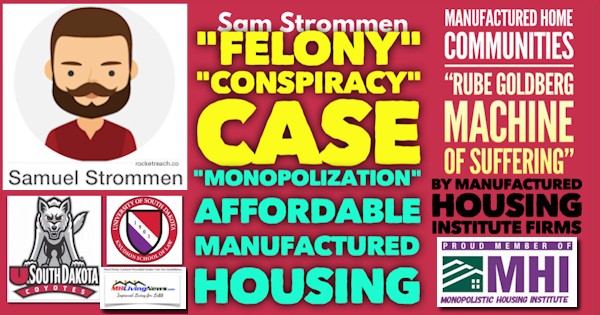 If that wasn't enough, James A. "Jim" Schmitz Jr and his colleagues, from a completely different starting point, come to surprising similar conclusions about why manufactured housing has been underperforming for decades. They use different language and examples than Strommen, but their concerns and points are telling in their own unique ways.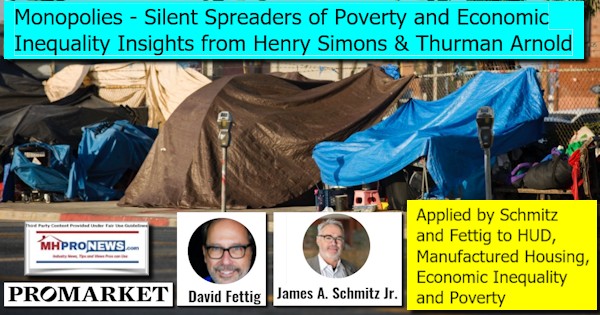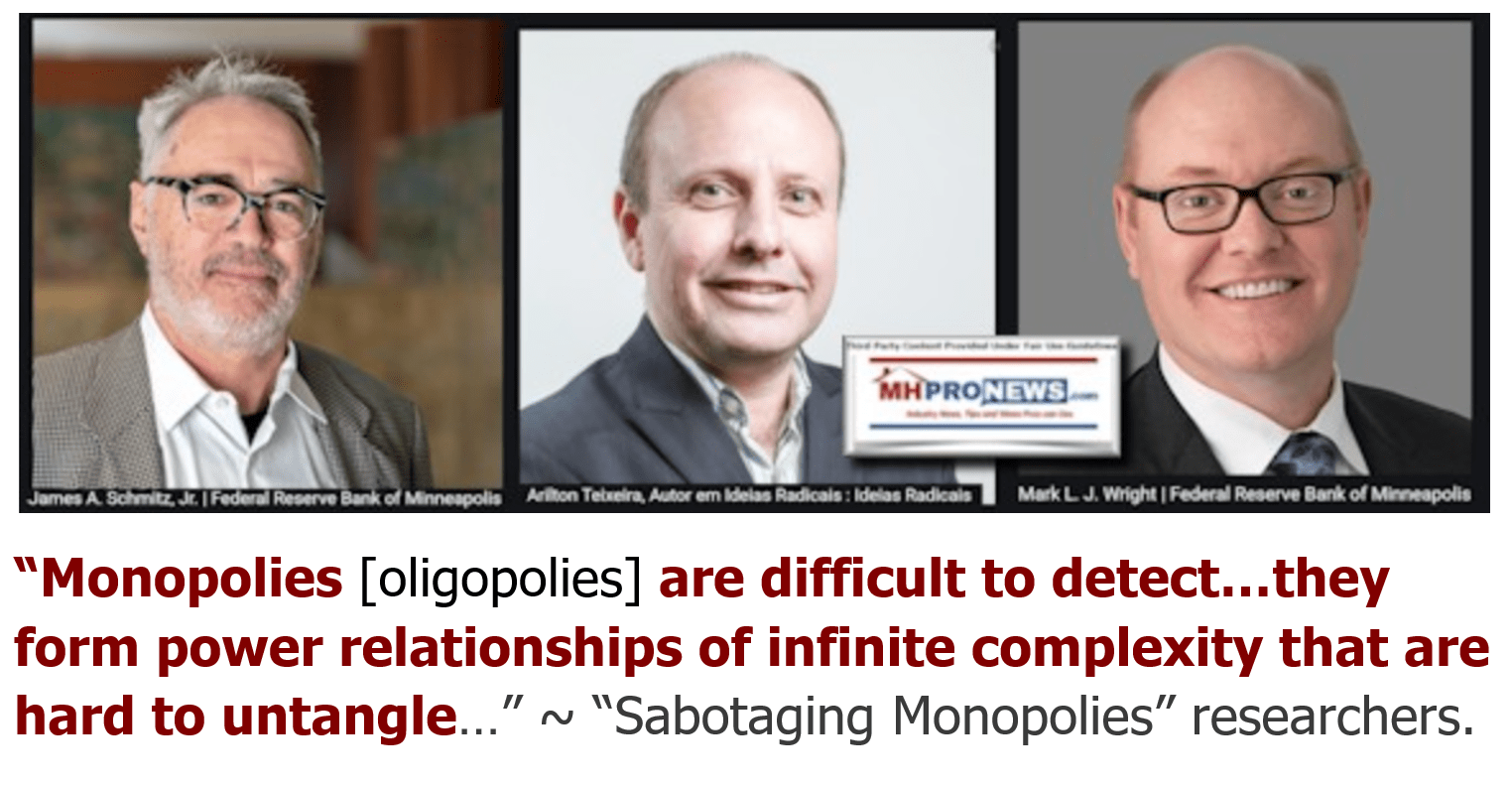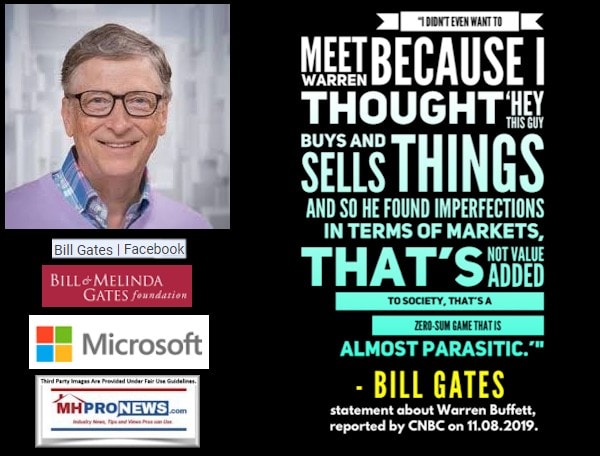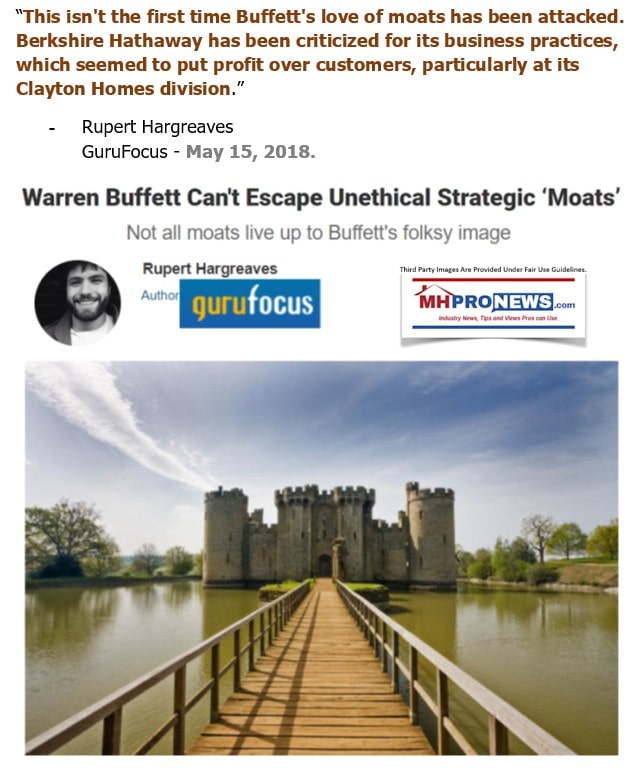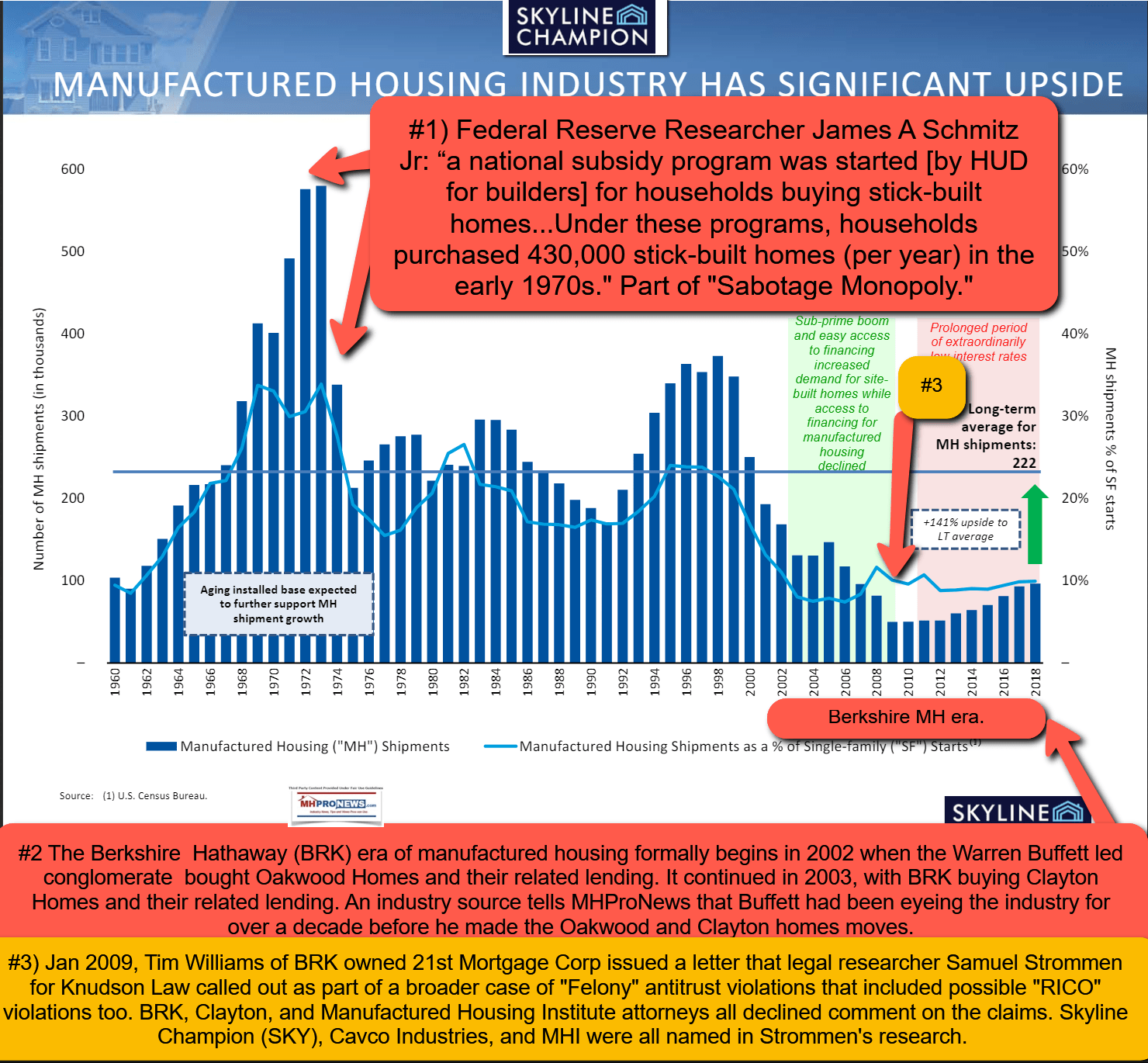 Circling back for a few moments to the thousands of smaller (and some larger) firms that have vanished in the 21st century after supportive federal legislation was enacted.
For decades, numbers of those firms had principles and sales staff that made a good living in manufactured housing before the apparent market manipulations of the 21st century brought them to their knees.
Market manipulation is not a victimless crime.
That manipulation of the manufactured housing industry can best be seen by carefully examining the rearview mirror. It can best be understood by those willing to look the cold, hard facts in the eye and call things as they are, rather than as cheerleaders working for a black hat brand might wish things to be.
If non-aligned or non-MHARR member manufactured housing production brands were forward looking, and carefully considering the tea-leaves of mood changes in America, MHARR might quietly double in size. Matt Stoller, anti-monopoly advocate and author, claims the mood is now decidedly bipartisan for action to occur.
Some in that antitrust or consumers' rights camp have specifically called out problems involving several firms in the manufactured housing industry.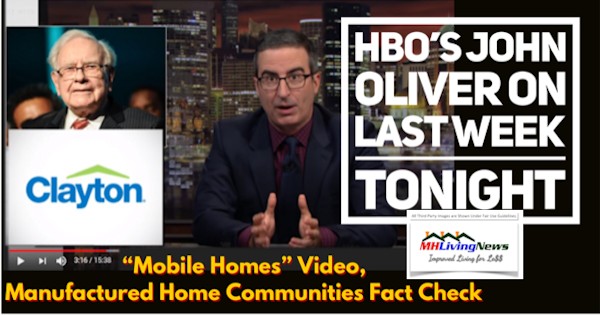 But they would be mistaken to think that Clayton alone is a possible target. There are smaller brands that nevertheless have deep enough pockets to make it worth the time for plaintiffs' attorneys operating on contingency. Since what has occurred in MHVille is arguably, based on the evidence, an oligopoly form of market manipulation and monopolization, some attorneys might find it useful to pick as a target a different MHI member than Clayton first. Once the supportive evidence (and the potential for a tidy sum in a legal victory occurs) and testimony are in hand from that type of case, going after Clayton and other Berkshire Hathaway owned brands could follow.
But some might rather go for big #1 first. That's the glory of America, it takes all kinds, and some will want the thrill of taking on Goliath and beating him.
Strategic Alliances
If the remaining white hat independent and post-production: retailers, community operators, and other service providers – including attorneys – were both gutsy and smart, they could forge a new post-production trade group. The case could be made (pun intended) that attorneys ought to take the lead in creating a new post-production trade group in MHVille.
Why?
Because just as MHI has apparently been acting as a meet and greet venue for consolidators anxious to buy out others at the best terms possible, attorneys might find that a post-production manufactured housing trade group that acts in a white hat fashion could pay multiple dividends.
A new post-production trade group may be a strong, steady source for new legal business, as black hat MHI members get targeted by independents and/or consumers in a range of possible legal actions.
For lawyers and law firms with money to invest, a new post-production trade group could also yield a handsome return on investment (ROI) while providing quality shade and shelter to potentially millions of more Americans.
Because the good laws needed already exist, and it is to some degree the apparently corrupt behavior of MHI that keeps them from being properly enforced, honest and ethical attorneys could go to sleep every night with the comfortable notion that they are helping the masses while they increasingly are living themselves with the classes in an honorable way.
The habits, foibles, and fears of those in the post-production sector – which are often unstated, but which are nevertheless there – are to a certain extent understandable. To borrow from an expression used by Paul Bradley of ROC USA fame, no one wants to be the next in line to be eaten by a lion.
It has become the editorial contention of MHProNews that based on solid evidence and trends that the following statements have merit.
There are black hearts in MHVille that can look an industry colleague in the eye at an event, smile, and seemingly applaud them while they buy that person a drink or dinner.
There are dark minds in MHVille that can take a person or their top people on a trip, give them an award, or otherwise make someone feel important.
Yet in so doing, the black hearts and dark minds can nevertheless be undermining that person's operation and someone's professional life's work every step of the way.
Those black hearts and dark minds are willing to probe your weaknesses with private detectives. Who says? Insiders to MHProNews.
Those black hearts and dark minds in MHVille are willing to research independents for vulnerabilities in ways that some may never suspect until they have fallen into a trap, seemingly sweet or otherwise. There are numbers of ways that has occurred, per insiders to MHProNews.
Manufactured housing has its share of white hats, that is not to be misunderstood or downplayed.
But borrowing from and paraphrasing Warren Buffett, bad guys know more tricks and games. By definition, the white hats aren't playing those games.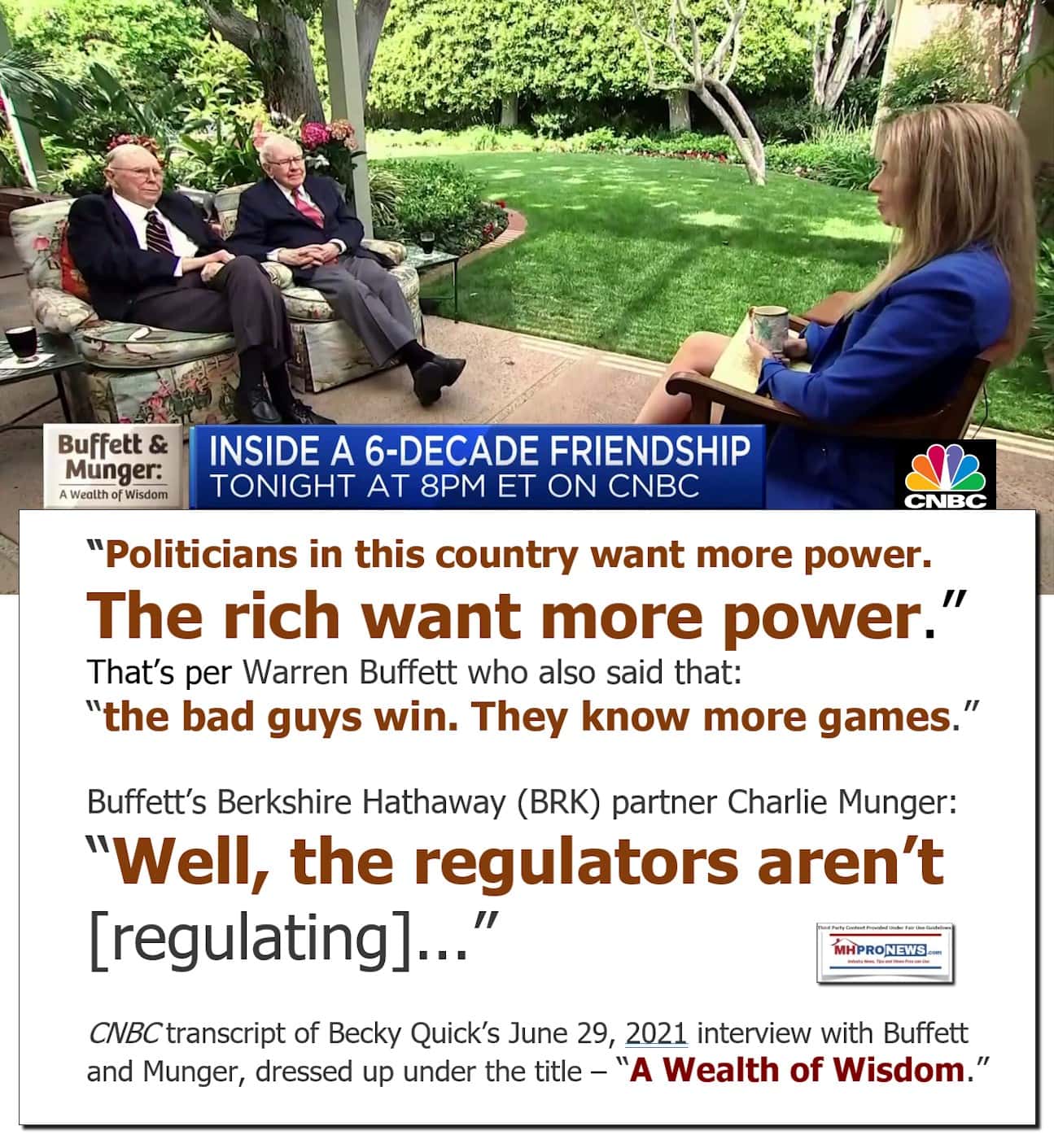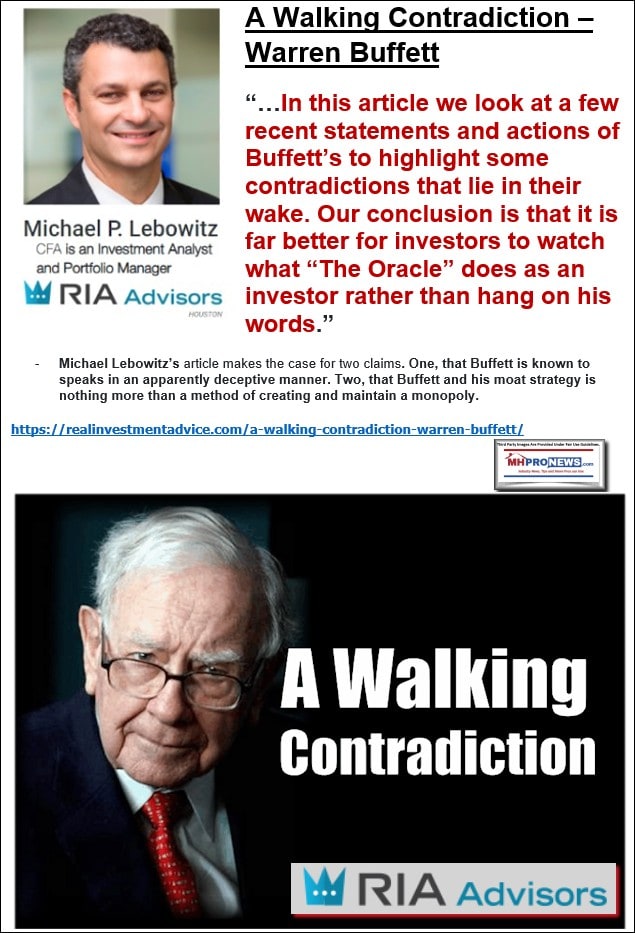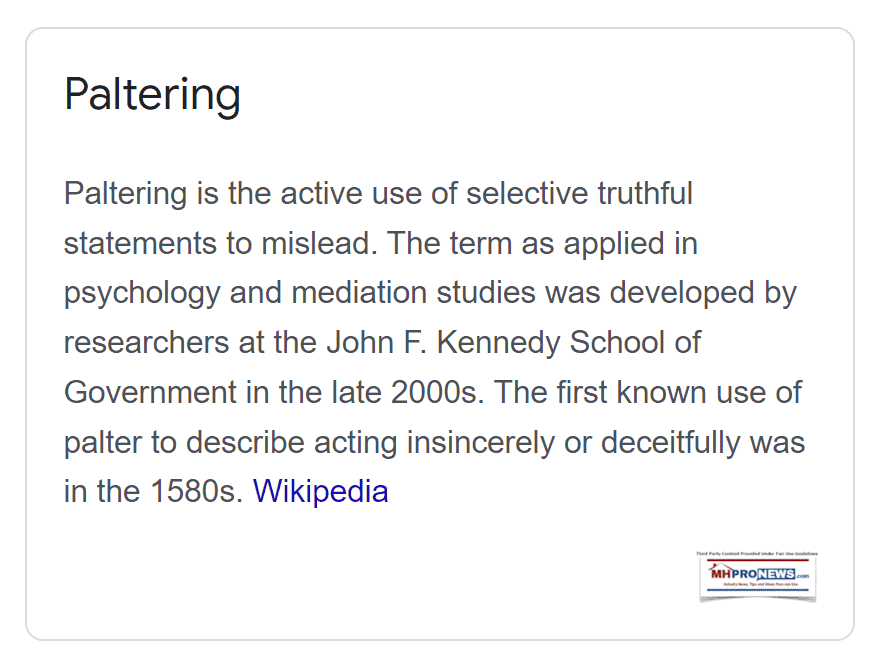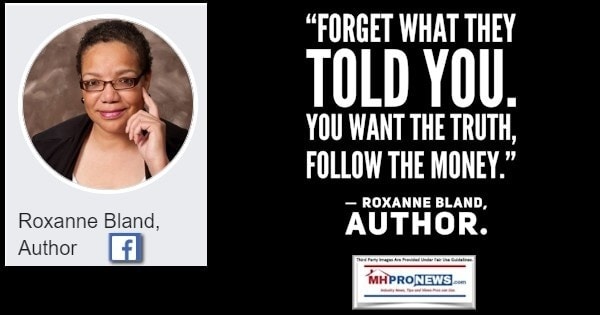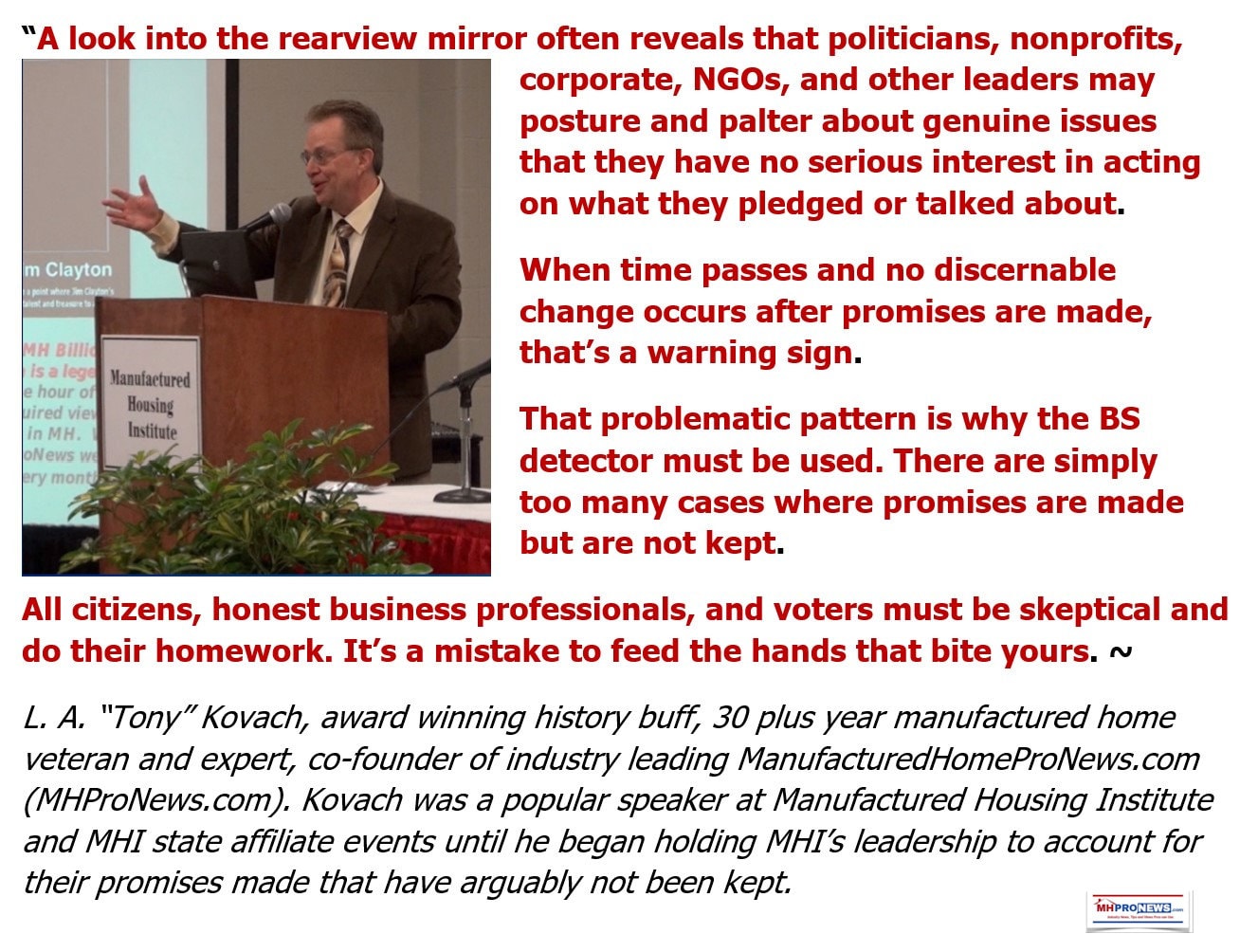 In the sometimes-troubling world of MHVille, some woman (or man) may initiate an outreach that may seem innocent. It may seem to have nothing at all to do with manufactured housing. It is better to play it safe than sorry.
Never forget that a clever half-truth, the first example of paltering in history, apparently occurred in the Garden of Eden. The forked tongue devilishly slippery serpent tempted Adam and Eve with what they already possessed into doing the one and only thing that was forbidden to them! That's epic trickery!
Additional Reflections
For those who have allowed their prayer life and religious devotion to grow lax during COVID19 or for any other reason, it is time to look anew at the reasons why sincerely and deeply embracing the spiritual life are every bit as important as
exercise,
a good diet,
staying informed,
and doing all the right and proper things routinely in professionally.
The wise are humble.
The wise can be more successful than the seemingly powerful and wealthy. How so? Because the moment that certain corrupt souls die, the brevity of their life and its fleeting 'rewards' will become apparent as the torture of hellish eternity begins. That's not this writer's opinion, that's what God Almighty has said time and again.
The world is in some sense a moral stage. Doing what is right, day by day, has its own rewards. For "as it is written: "What no eye has seen, what no ear has heard, and what no human mind has conceived" — the things God has prepared for those who love him—" (1 Cor. 2:9).
But the opposite is true, Jesus said. At the end, "The angels will come and separate the wicked from the righteous, and throw them [those condemned to hell] into the fiery furnace, where there will be weeping and gnashing of teeth." (Matthew 13:49-50).
There are times that justice will come during this life to wrongdoers.
But if someone through vast wealth, corrupt connections, and armies of attorneys willing to work for black minds and hearts seem to escape justice in this life, never, never, never doubt that justice will come the instant after such an unrepentant soul dies.
One need not be perfect to be redeemed. Someone can posture philanthropy and being jovial but could still burn for eternity. That said, either heavenly or hellish outcomes depend on what we do in this life. We may not 'be saved' by our own hands, but we will not be saved unless we cooperate with God's will.
Jesus allowed people to turn away after they saw miracles, wonders, and heard the Good News.
Due to common notions about the number 666, some are understandably concerned about it. Hmm…
Well, if so, check this out from John 6:66 and on to verse 71.
"66From that time on many of His disciples turned back and no longer walked with Him.
67So Jesus asked the Twelve, "Do you want to leave too?"
68Simon Peter replied, "Lord, to whom would we go? You have the words of eternal life. 69We believe and know that You are the Holy One of God.f"
70Jesus answered them, "Have I not chosen you, the Twelve? Yet one of you is a devil!" 71He was speaking about Judas, the son of Simon Iscariot. For although Judas was one of the Twelve, he was later to betray Jesus."
There are biblical verses some cite in their belief that someone is 'once saved always saved." Really? Seriously? Then why are those words 'once saved, always saved' not found anywhere in the Bible?
The passage above (John 6:66-71) is just one of several that by contrast to the myth of 'once saved, always saved' when there is evidence for numerous biblical passages and verses that stress both grace and cooperation with the Divine will (i.e.: doing good vs. evil deeds) to achieve heaven.  Galatians 5:4. James 5:19, 20. 2 Peter 2:20-22. 1 Corinthians 10:12. Hebrews 3:12. That said, God is merciful to the last moment, as Jesus mercifully forgave the 'good thief' on the cross near the Crucified Christ.
This life isn't all peaches and cream, that is obvious. Good and evil both have consequences. Judas and other disciples were 'saved' during two storms at sea. Yet Judas who walked and lived with Jesus, who saw the miracles, wonders, and heard the inspirational words and deeds nevertheless literally sold the Lord of Life out for 30 pieces of silver. Be it 30 pieces of silver or 30 billion of them, it isn't worth eternity in hell for unrepentant souls.
Those important moral and spiritual points aside, the battle for MHVille has been underway for some 2 decades.
As Edmund Burke aptly said, "The only thing necessary for the triumph of evil is for good men to do nothing."
Could the powers that be that have undermined manufactured housing for years face at some point the consequences of their actions? Count on it. That process might begin to be more visible in 2023 (actually, it has started already, for reasons noted and linked herein).
Until that time, don't succumb to the temptation that following after the evil and wrongdoers in MHVille (or other professions) is the answer. Some of the richest people on earth can't hold their own marriage together. Some of the great talents, while still wealthy, have taken their own lives, or overdosed on drugs. Even in this life, there is a cost for evildoing.
Time will tell when the inquiries turn from curiosity, or initial investigations into what may in future hindsight appear to be the inevitable wave of suits, regulatory, and legal actions that follow a corrupted business or profession. Enron, WorldCom, Madoff, and Theranos. Each rode high for a time, until their respective falls from public praise to public condemnation occurred. Don't be surprised if and when that occurs in MHVille. When that day arrives, the white hats in our profession will celebrate. The black hats may weep and proverbially gnash their teeth. Because an honest buck could be earned, perhaps (if not certainly) more honest bucks than dishonest ones. Patience and persistence in exposing the corruption that is harming millions of would-be American Dreams will pay off. ##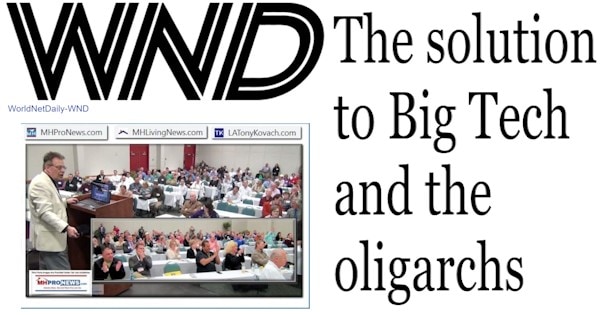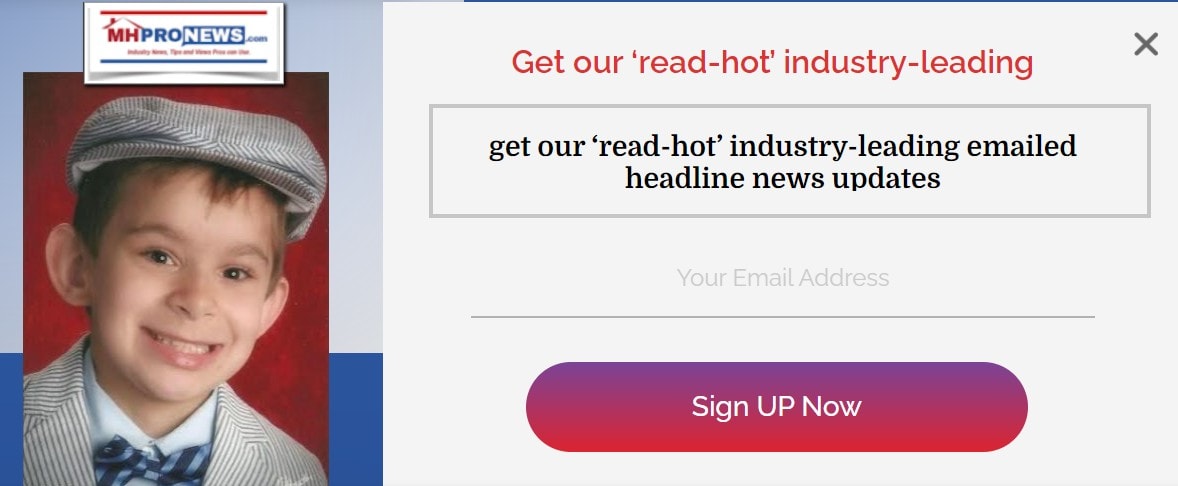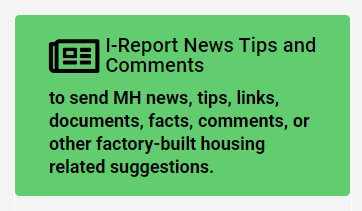 Again, our thanks to free email subscribers and all readers like you, our tipsters/sources, sponsors and God for making and keeping us the runaway number one source for authentic "News through the lens of manufactured homes and factory-built housing" © where "We Provide, You Decide." © ## (Affordable housing, manufactured homes, reports, fact-checks, analysis, and commentary. Third-party images or content are provided under fair use guidelines for media.) (See Related Reports, further below. Text/image boxes often are hot-linked to other reports that can be access by clicking on them.)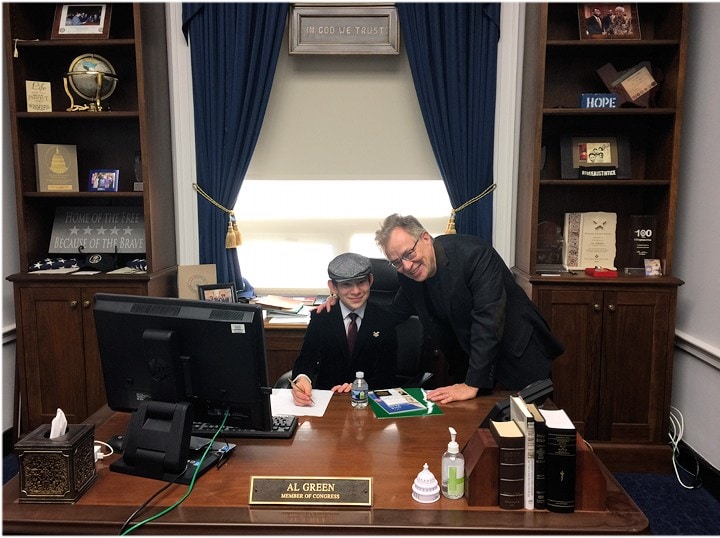 By L.A. "Tony" Kovach – for MHProNews.com.
Tony earned a journalism scholarship and earned numerous awards in history and in manufactured housing.
For example, he earned the prestigious Lottinville Award in history from the University of Oklahoma, where he studied history and business management. He's a managing member and co-founder of LifeStyle Factory Homes, LLC, the parent company to MHProNews, and MHLivingNews.com.
This article reflects the LLC's and/or the writer's position, and may or may not reflect the views of sponsors or supporters.
Connect on LinkedIn: http://www.linkedin.com/in/latonykovach
Related References:
The text/image boxes below are linked to other reports, which can be accessed by clicking on them.
'Affordable Homes for Low Income Must Produce in Factory,' 'Years to Unravel Sabotage,' Grad Students Interest in Manufactured Housing, Factory-Home Solutions; plus Sunday Weekly Headlines Recap
'In the Business World, the Rear-View Mirror is Always Clearer than the Windshield'–Warren Buffett MHVille Leader Showcases Efforts to Renew American Dream; plus Sunday Weekly Headlines Recap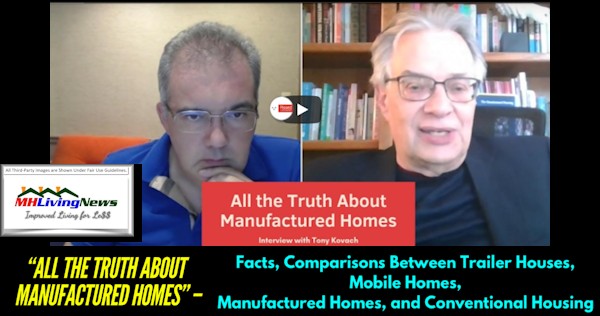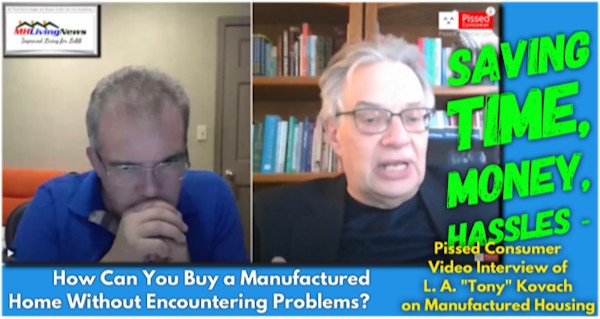 Washington D.C. Updates on DOE 'Energy Assault' HUD is 'Already Moving' on DOE Standards MH Financing MHARR White Paper 'Validated' Again and More – MHI Side of Story, Facts & Analysis
Russian Disinformation? CNN and WND Report on "World Government Summit," Joe Biden Address to Business Roundtable on "the New World Order;" plus Sunday Weekly Headlines Review
Telling Manufactured Housing Story Honestly, Persuasively, Beneficially and Profitably with Facts, Evidence, Bright Line Distinctions – plus Sunday Weekly Manufactured Home Recap