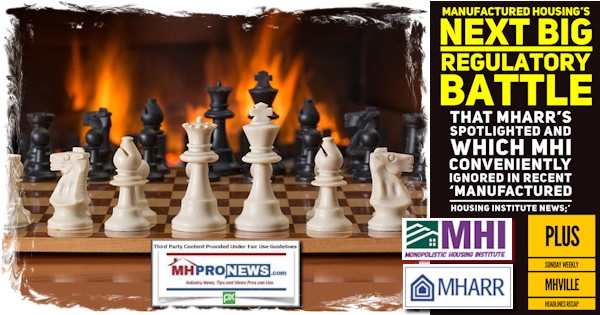 In recent years, among the typical issues that one hears or reads about manufactured housing tends to involve the following.
A) zoning/placement,
B) financing,
C) news involving some variation of 'predatory behavior' that often involves a manufactured housing sector consolidator,
D) about a publicly traded firm and their stocks,
E) acquisitions/mergers,
F) the occasional 'new' location or facility being planned, developed, or opened,
G) a community closure,
H) the DOE energy rule (or other regulation discussion),
I) real or bogus 'research,'
J) weather, fire, crime, or some 'tragedy' involving manufactured housing,
…and not necessarily in that order of importance. What is not specifically mentioned in that listing above is the periodic revival of the so-called "voluntary" fire sprinkler discussion involving the U.S. Department of Housing and Urban Development (HUD), or at times a local jurisdiction that wants to press manufactured housing to install a fire sprinkler system in a new home that is planned for installation.
As an informed source recently told MHProNews, there are large, million-dollar-plus conventional houses built that do not have fire sprinkler systems.
But some want to see far lower cost manufactured housing have fire sprinklers – or at a minimum, to adopt a 'voluntary standard' for fire sprinklers – which the Manufactured Housing Association for Regulatory Reform (MHARR) has strongly opposed as unnecessary and needlessly costly given manufactured housing's fine post-HUD Code fire safety record.
Informed sources are telling MHProNews that this issue is soon to heat up again. Which begs the question, what will MHI do? What will MHARR say about this topic next time?
MHARR has already given the industry a strong clue because they simply came out and told the industry their position.
MHI v MHARR Pushback on HUD 'Unnecessary' 'High Cost' Fire Sprinkler Plan Since Data Says Manufactured Homes 'As Safe or Safer Than Site-Built Housing'–Multi Unit Drama; plus MHVille REITs, Stocks Update
In a WORD search for "fire" in MHI emailed news, there has been only one mention of that term in about 18 months, and it was not related to the fire sprinkler issue. Which begs the question. Why is it that MHI mentions little or nothing, while MHARR, a fraction of the size and budget of MHI, has brought the issue forward as a once-more looming threat to a new and costly regulatory scheme?
MHProNews is told by informed sources that unique types of liability issues could arise from even a 'voluntary' fire sprinkler standard. Part of the reasoning, per legally informed sources, is due in part because numbers of manufactured home communities won't have the necessary water pressure for a fire sprinkler system to operate. But there may be other forms of liability that flow to retailers and producers if fire sprinklers are mandated, or a 'voluntary' standard is put in place.
MHProNews has reached out for insights on this and expects to get an update in the near term. Until then, the prior memorandum from MHARR on the topic is linked here.
A search of the Manufactured Housing Institute (MHI) website reveals ZERO references on 12.3.2022 for 'fire sprinklers.'

A similar search of the MHARR website on this same date reveals two pages of results for a search for "fire sprinkler' related articles. The first full page of those is shown on the illustration found at this link here, the full list is available on their site at this link here, but a partial listing is shown below.

Five of those articles on the MHARR site that address the fire sprinkler issue are from 2022.
MHProNews has pages of reports on the fire sprinkler issue dating back to 2010, by far the most of any known manufactured housing specific information resource online.
According to the National Fire Protection Association (NFPA), "Manufactured homes have a lower rate of civilian fire injuries per 100,000 occupied housing units than other one- or two-family homes, because manufactured homes have not only a lower fire rate per 1,000 housing units but also a lower injury rate per 100 fires."
Lower cost housing that is also safer in the rate of fires and the rate of injuries from fires – that's part of the impressive legacy modern manufactured homes compared to other single or two-unit conventional housing construction.
But for whatever reason, some are not satisfied with that third-party reported safety record. And the apparently feckless, inept, corrupt, or MIA MHI is not able to successfully deal with this issue with federal or other regulators in a decisive fashion? That should be unacceptable to those who pay dues and expect what MHI advertises to be their role to advocate 'for all segments' of the industry to be properly fulfilled.
That's just part of the troubling history of Manufactured Hypocrisy Institute (MHI). But there is more that is found among the reports for the week that was that follow below.
As to MHI's willingness to debate or discuss their inept, feckless, corrupt, posturing without performing properly history, that is something that they have ducked for years, as the report linked below demonstrated. When asked to comment on that report or others, MHI and their attorneys have repeatedly declined comment.
See the evidence for that last claim in the article linked below.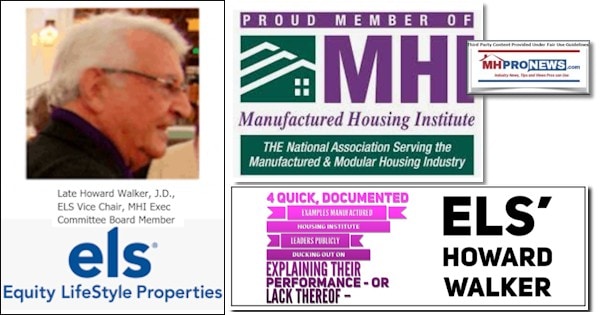 Don't miss today's pithy editorial postscript.
With no further adieu, let's dive into the headlines for the reports for the week that was from November 27 to December 4, 2022.
What's New and Recent on MHLivingNews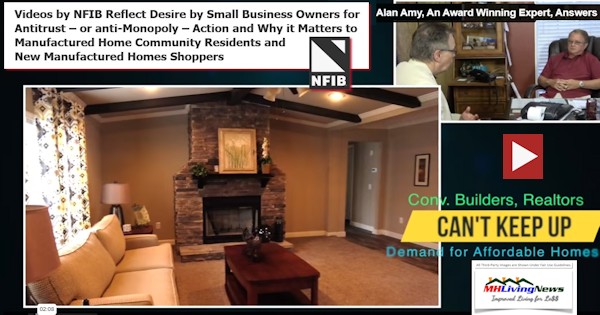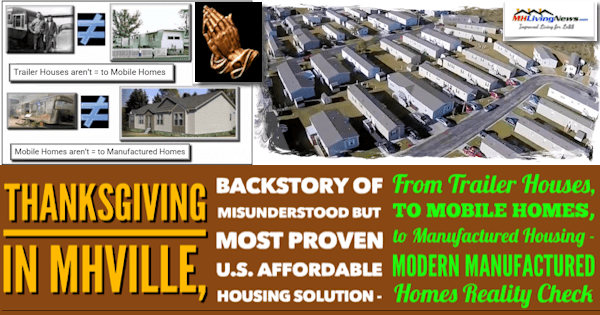 What's the Latest from Washington, D.C. from MHARR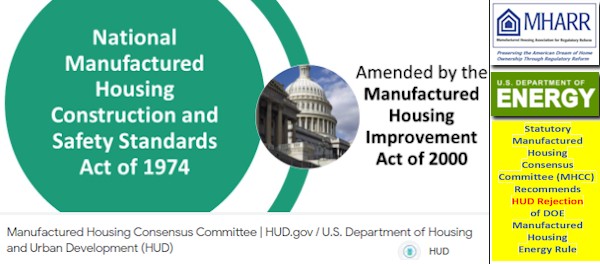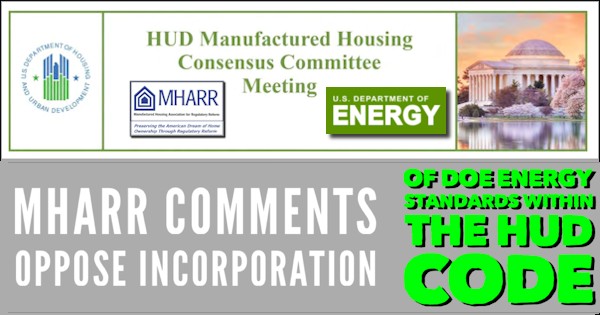 What's New and Recent on the Masthead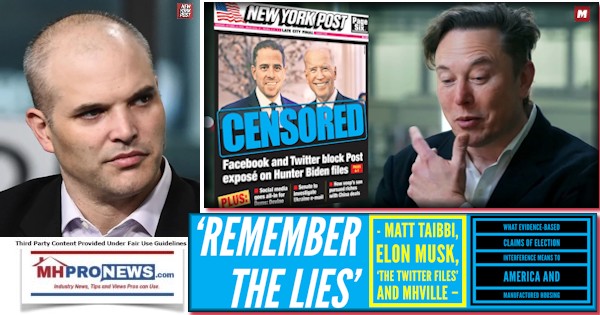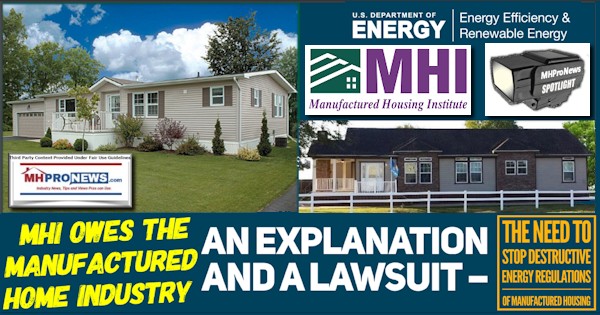 What's New on the Daily Business News on MHProNews
Saturday 12.3.2022
Pondering Hits-Misses in Your Business Plan, Grasping Contemporary Professional Realities, Regulations and Related Struggles – Epic Insights from History Can Revive American Dream; & MHStocks Update
Friday 12.2.2022
Regarding Gaslighting-'MHI News'–Manufactured Housing Institute, Monopolistic Housing Institute, Machiavellian Housing Institute, Manipulative Housing Institute? Friday Facts, Follies, Stocks Update
Thursday 12.1.2022
Gaslighting and Oligarch Top the List, What Research Can Reveal to Manufactured Housing Industry Pros, Affordable Housing Advocates, Investors, All Truth-Seekers; plus MHVille REITs, Stocks Update
Wednesday 11.30.2022
Riley Moore-Blackrock & Woke Capitalism 'Economic Extortion' 'Could Destroy U.S. Free Market Capitalism' May 'Violate Fiduciary Duty to Shareholders, Antitrust Laws;' Plus MHVille Stocks Update
Tuesday 11.29.2022
'Tiny Manufactured Homes' Form Eden Village's Planned Solution to Chronically Homeless, Videos and Analysis Peers Into Hope Aimed at Hand Up for Hopeless; plus MHVille REITs, Stocks Update
Monday 11.28.2022
Frank Rolfe, Gary Shiffman 5-Point Case for Properly Developing More Manufactured Home Communities–People, Profits, Performance, Perspectives, and Affordable Manufactured Housing Done Correctly
Sunday 11.27.2022
Flagship Communities – Hypocrisy, MHIndustry Corruption? 'Fragmented Industry with High Barriers to Entry and Imbalanced Supply and Demand Dynamics;' Plus Sunday MHVille Weekly Headlines Review
Editorial Postscript
The swamp. The deep state. Collusion between public officials, candidates, and big tech. The Elon Musk/ Matt Taibbi 'The Twitter Files' revelations unpacked on the Masthead confirm some of the more serious concerns by conservatives and objective thinkers about the weaponization of 'free' technology, corrupt public officials, and several possibly illegal behaviors by private companies. They illustrate how publicly traded companies and others acted in collusion with Democrats and anti-Trump public officials. What might have been dismissed just a few years ago (or a few weeks ago) as the ravings of unbalanced or mad conspiracy theorists has been shown to be plausible, evidence-based, and likely actionable. These sobering revelations have implications for every sector of our economy, society, and thus for the housing and manufactured home professions too.
What's happened to our country and industry that we feel we have to cheer and applaud those who actually do the job they are honestly supposed to be doing?
But what it also illustrated is that once again, MHProNews reporting at that time proved to be accurate and are evidence- and reason-based. That's not breaking our arm to pat our own back. Rather, it is to stress the obvious for those who may not yet be regular readers of MHProNews. It should be obvious that accurate information trumps paltering, deception, lies, and head fakes.
Someone doesn't have to like MHProNews reports, editorial stance, or analysis to realize that it is consistently supported by facts, evidence, and that they routinely stand the test of time.
That's clearly not true of many other often huge media brands.
So, while it is to your advantage to stick like glue to MHProNews, you should also make sure that your trusted circle are regular readers here too. Having the truth is far superior to buying into lies, half-truths, or paltering any day of the week. ###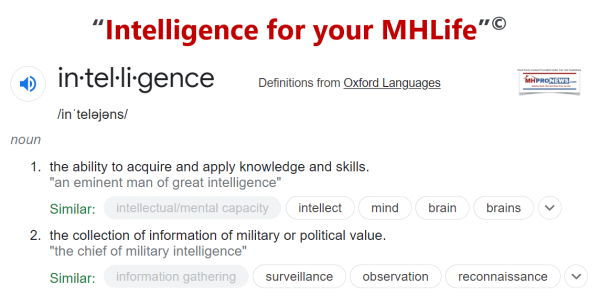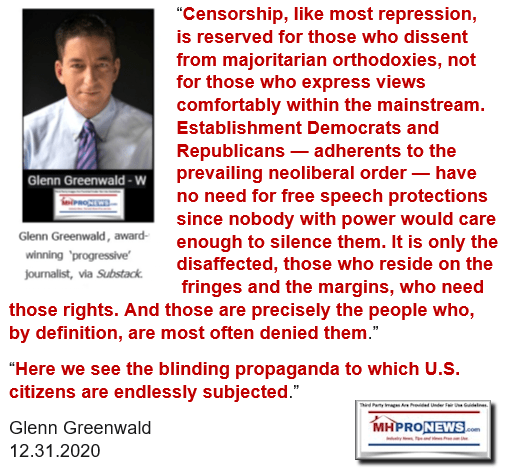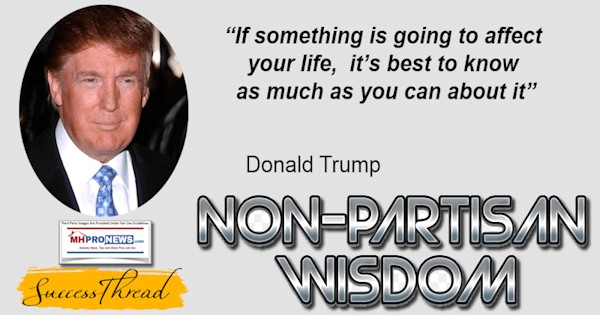 Despite Biden Housing Promises, CNN, NAR Say 1st Time Homebuyers Fall to 'All Time Low' – MHI Input – Unpacking Info for MHVille Advocates & Pros; plus Sunday MHProNews Weekly MH Reports Recap
Apparently Misleading Statements Emerge in #1 Manufactured Home Producer Texas Report, Why Do Texas Manufactured Housing Survey Contradictions Go Unresolved? Plus, Sunday Weekly Headlines Recap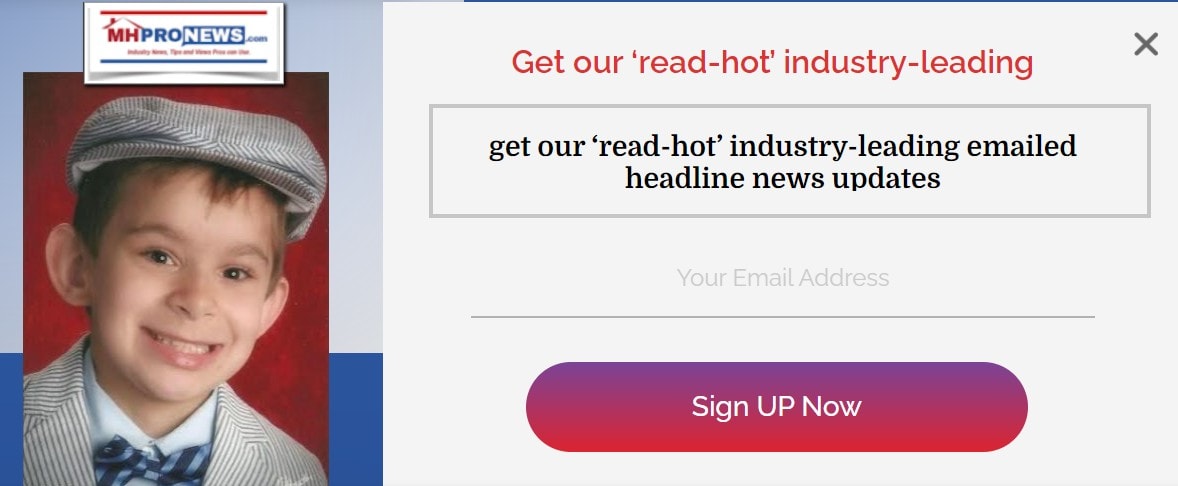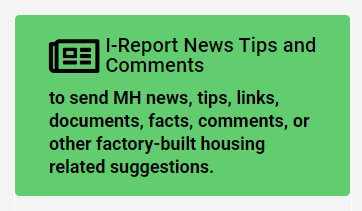 Again, our thanks to free email subscribers and all readers like you, our tipsters/sources, sponsors and God for making and keeping us the runaway number one source for authentic "News through the lens of manufactured homes and factory-built housing" © where "We Provide, You Decide." © ## (Affordable housing, manufactured homes, reports, fact-checks, analysis, and commentary. Third-party images or content are provided under fair use guidelines for media.) (See Related Reports, further below. Text/image boxes often are hot-linked to other reports that can be access by clicking on them.)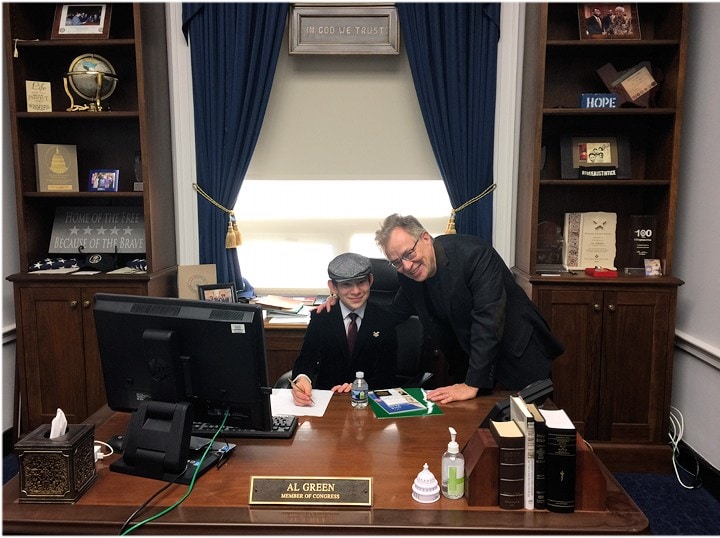 By L.A. "Tony" Kovach – for MHProNews.com.
Tony earned a journalism scholarship and earned numerous awards in history and in manufactured housing.
For example, he earned the prestigious Lottinville Award in history from the University of Oklahoma, where he studied history and business management. He's a managing member and co-founder of LifeStyle Factory Homes, LLC, the parent company to MHProNews, and MHLivingNews.com.
This article reflects the LLC's and/or the writer's position, and may or may not reflect the views of sponsors or supporters.
Connect on LinkedIn: http://www.linkedin.com/in/latonykovach
Related References:
The text/image boxes below are linked to other reports, which can be accessed by clicking on them.
'Affordable Homes for Low Income Must Produce in Factory,' 'Years to Unravel Sabotage,' Grad Students Interest in Manufactured Housing, Factory-Home Solutions; plus Sunday Weekly Headlines Recap
Straight from Top Democrat's Lips to Your Eyes, Ears – 'We Knew Recovery Plan Would Cause Inflation' – Thank James Clyburn for Some Straight Talk – Sunday Weekly MHVille Headlines Recap
'In the Business World, the Rear-View Mirror is Always Clearer than the Windshield'–Warren Buffett MHVille Leader Showcases Efforts to Renew American Dream; plus Sunday Weekly Headlines Recap
Washington D.C. Updates on DOE 'Energy Assault' HUD is 'Already Moving' on DOE Standards MH Financing MHARR White Paper 'Validated' Again and More – MHI Side of Story, Facts & Analysis
Russian Disinformation? CNN and WND Report on "World Government Summit," Joe Biden Address to Business Roundtable on "the New World Order;" plus Sunday Weekly Headlines Review
Telling Manufactured Housing Story Honestly, Persuasively, Beneficially and Profitably with Facts, Evidence, Bright Line Distinctions – plus Sunday Weekly Manufactured Home Recap