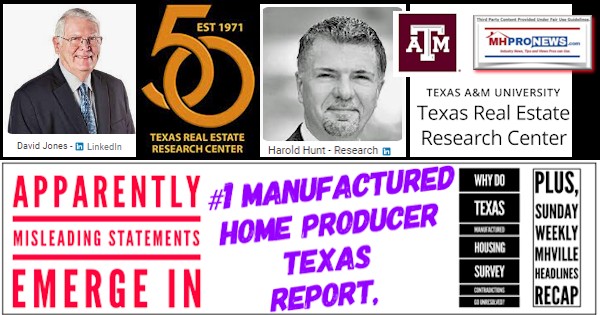 The cover message to the October edition of the Texas Manufactured Housing Survey (TMHS) opened with these words: "COLLEGE STATION, Tex. (Texas Real Estate Research Center) – General business activity cooled for the seventh consecutive month, according to the October edition of the Texas Manufactured Housing Survey (TMHS). But a review of the data generated on behalf of the federal U.S. Department of Housing and Urban Development (HUD) of tells a tale of peaks and valleys as opposed to "business activity [that] cooled for the seventh straight month."
Production
State
SW
MW
Total
Floors
22-Mar
Texas
1,333
1,257
2,590
3,858
22-Apr
 Texas
1,226
1,106
2,332
3,450
22-May
 Texas
1,219
1,097
2,316
3,424
22-Jun
 Texas
1,341
1,201
2,542
3,759
22-Jul
 Texas
1,015
810
1,825
2,645
22-Aug
Texas
1,453
995
2,448
3,457
22-Sep
Texas
1,181
911
2,092
3,017
The Texas Real Estate Research Center (TRERC) report introduction continued: "Sales and production continued to correct as higher interest rates chilled demand after a two-year pandemic boom. Decreased demand pulled the price of finished homes downward, but inflation and borrowing costs hindered affordability.
Attached press release has details."
As will be reflected after their full press release, TRERC previously admitted in writing to MHProNews that "our product is a series of sentiment indices that may not always match the hard data." The above example makes that point. TRERC is doing this 'research' "product" in conjunction with the Texas Manufactured Housing Association (TMHA), a state affiliate of the Manufactured Housing Institute (MHI). So what are industry professionals, investors, and public officials to make of the "sentiment" index that is contradicted by federal data and public statements of manufactured housing brands that are located in Texas?  That will be explored in the focused exchanged between TRERC and MHProNews that follows their October "product."
Rising interest rates, inflation hindering manufactured housing demand
COLLEGE STATION, Tex. (Texas Real Estate Research Center) – General business activity cooled for the seventh consecutive month, according to the October edition of the Texas Manufactured Housing Survey (TMHS).

Sales and production continued to correct as higher interest rates chilled demand after a two year pandemic boom. Decreased demand pulled the price of finished homes downward, but inflation and borrowing costs hindered affordability.
"Mortgage rates have elevated significantly as a result of the Federal Reserve's rate increases," said Dr. Harold Hunt, research economist for the Texas Real Estate Research Center (TRERC). "The result has been a real hit to affordability across the housing sector. Although interest rates are typically higher for manufactured homes compared with site-built product, the much lower purchase price still gives manufactured housing a strong advantage in the affordable-housing niche."
While long-term fundamentals remain favorable to the manufactured housing industry, the fourth quarter is poised to be painful. The TMHS employment index declined for the fourth straight month, illustrating how companies have adjusted to decreased activity. For employees still on payroll, the average hours worked has declined for the past two quarters. These movements held labor costs constant after at least 28 consecutive months of increases (the TMHS was launched in June 2020).
"After reducing their headcount and total hours of operation, manufacturers have slowed production to better match their current order flow," according to Rob Ripperda, vice president of operations for the Texas Manufactured Housing Association. "The four-month stretch from November through February is typically the seasonal low for retail sales, but manufacturers are hoping orders start picking back up with the start of the March selling season."
The TMHS expected-sales index reflected this sentiment, inching positive for the first time since April. Moreover, respondents believe business activity, economic uncertainty, and the overall outlook will stabilize in the spring. This optimism may be in anticipation of looser financial conditions, but the risk of a U.S. recession by the end of 2023 remains a forceful headwind. … ##
Additional Information and MHProNews Analysis
MHProNews contacted TRERC media relations professional David Jones about their monthly report shown above. After some words of introduction, recapping prior communications, the MHProNews email to Jones said the following.

Good morning David,
Touching base on your PR …
To simplify this for you, recall your prior forward from your researcher.
"He [Kovach for MHProNews] is referring to our August TMHS, but the data he references only runs through July. The TMHS production index decreased in July and in August.
Moreover, our product is a series of sentiment indices that may not always match the hard data. One example of this is that we tell manufacturers to compare production month to month after adjusting for seasonal factors (the latter of which may be interpreted differently by each respondent).
That said, first, the hard, official HUD production data for Texas, per the official contractor – IBTS – that gathers this data for HUD.
Production
State
SW
MW
Total
Floors
22-Apr
 Texas
1,226
1,106
2,332
3,450
22-May
 Texas
1,219
1,097
2,316
3,424
22-Jun
 Texas
1,341
1,201
2,542
3,759
22-Jul
 Texas
1,015
810
1,825
2,645
22-Aug
Texas
1,453
995
2,448
3,457
22-Sep
Texas
       1,181
911
2,092
3,017
Then, publicly traded Legacy Housing (LEGH) is predominantly a Texas based HUD Code builder.
https://www.manufacturedhomepronews.com/changes-will-benefit-customers-boost-sales-legacy-homes-ceo-duncan-bates-legh-delivered-22-5-return-on-equity-in-1-yr-corp-q3-2022-insights-analysis/
To focus briefly on labor, mentioned in your report, here is what Legacy's Exec Chairman Curt Hodgson said (more above, but this is a significant area that speaks to labor at the corporate and broader industry context).
Curtis Hodgson
Labor continues to be a challenge. We're now — we track it per square foot. Our labor cost on the two factories that are running normally is approximately $9 per square foot all-in. That's up from $4 a square foot pre-COVID and it wasn't because so much a doubling of labor as it was, I don't know, productivity slippage. We're now using more people to build the same number of houses that we did pre-COVID all at higher wages. We have had a lot more applicants the last 60 days than, say, the last year. And I don't know if that's caused by our industry or the housing industry or whatnot. These are carpenters that know how to use tools and as regular housing slows down, those people have come inside to get a job in our factories. Because this might be a good thing, housings slowing down, lumber's down in the 400s today, which is not quite pre-COVID levels, but close to it, steel's down 30% from its peak. So, if the housing slowdown is real, that should help us with labor. It's just beginning to show up at our plants."
While it is true that manufactured home production and sales are cyclical and seasonal, the indicators are that at the Texas state and national level, manufactured housing is rising still, not falling.
https://www.manufacturedhomepronews.com/manufactured-home-production-growth-continues-in-september-2022-per-manufactured-housing-association-for-regulatory-reform-added-facts-analysis-plus-mhville-reits-mh-connected-stocks-update/
MHProNews/MHLivingNews tracks and routinely reports on site-built trends as well as manufactured housing, for clues and insights not unlike the remarks made by Dr. Harold Hunt.
That said, mindful that these are 'sentiments' it is odd that the 'sentiments' are often at odds with facts from sources that should be deemed reliable (public firms are not supposed to wittingly put forth incorrect information, for instance).
To illustrate that it isn't just Legacy that is providing a counter-information, from Cavco's 10Q:
While it is difficult to predict the future of housing demand, employeeavailability, supply chain and Company performance and operations, maintainingan appropriately sized and well-trained workforce is key to increasingproduction to meet increased demand, and we face challenges in overcominglabor-related difficulties in the current environment to increase home
production.
https://www.manufacturedhomepronews.com/no-assurance-inflation-will-not-affect-our-future-profitability-financial-positioncavco-industries-10-q-solitaire-deal-more-cvco-data-supreme-court-ruled-sec-regs-on-false-omitte/
The trends at present are that production is up year over year and that the larger producers that are publicly traded are reporting information that are seemingly at odds with what TRERC and TMHA are reporting.
How do you explain these disconnects, please? As before, kindly email your response. We may publish on this as soon as tomorrow, so a reply today is valued. To underscore, our goal at MHProNews is to make sure that industry professionals, investors, and public officials, (etc.) have the most accurate possible information. Kindly confirm you have this inquiry and provide an ETA on a reply, okay?
Thank you.
Tony …"
Jones acknowledged the inquiry to TRERC about their October TMHS article. After reportedly checking with his colleagues involved in their October account of supposed Texas production realities, Jones said the following via email.

Tony:
I checked with the staff. No one here has anything to add to the story.
David …"
Part of that "staff" includes Dr. Harold Hunt. In short, despite the information provided by TMHA and TRERC being contradicted by federal data and manufactured housing producers based in Texas, they had nothing to change – nothing to add "to the story."
While conventional housing is stalling and slowing due to ever higher prices and interest rates that are keeping potentially millions of more Americans from buying a home, manufactured housing has continued to rise. Affordability is a key. That pattern could continue, but will it? And if that pattern of manufactured housing rising fails to hold, that begs the question, why? Headline reports linked in our weekly recap below deal with those mainstream and manufactured housing trends, dynamics, and more.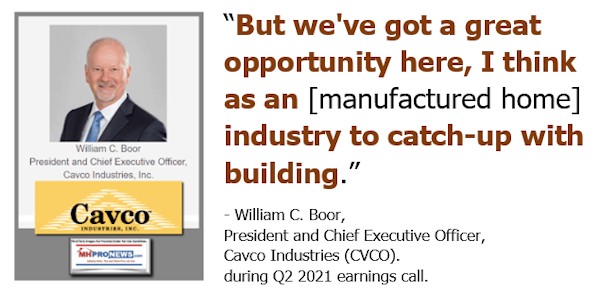 More with Possible Takeaways
Jones use of the phrase "to the story" is interesting. A story per Oxford Languages can have two different meanings: one can be fictional and the other meaning one can be about events based in reality. Specifically, here is how Oxford Languages defined the phrase:
an account of imaginary or real people and events told for entertainment.
"an adventure story"
Similar:
tale
narrative
account
recital
anecdote
chronicle
history
yarn
spiel
an account of past events in someone's life or in the evolution of something.
"the story of modern farming"
An additional follow up from MHProNews with TRERC drew no more information.
TMHA is an MHI state affiliate. There are several possibilities that might be speculated. For instance, perhaps TRERC is the victim of MHI affiliate TMHA GIGO? But if so, why? Perhaps MHI and their dominating brands may be seeking to prepare the industry for an arguably avoidable manufactured home downturn.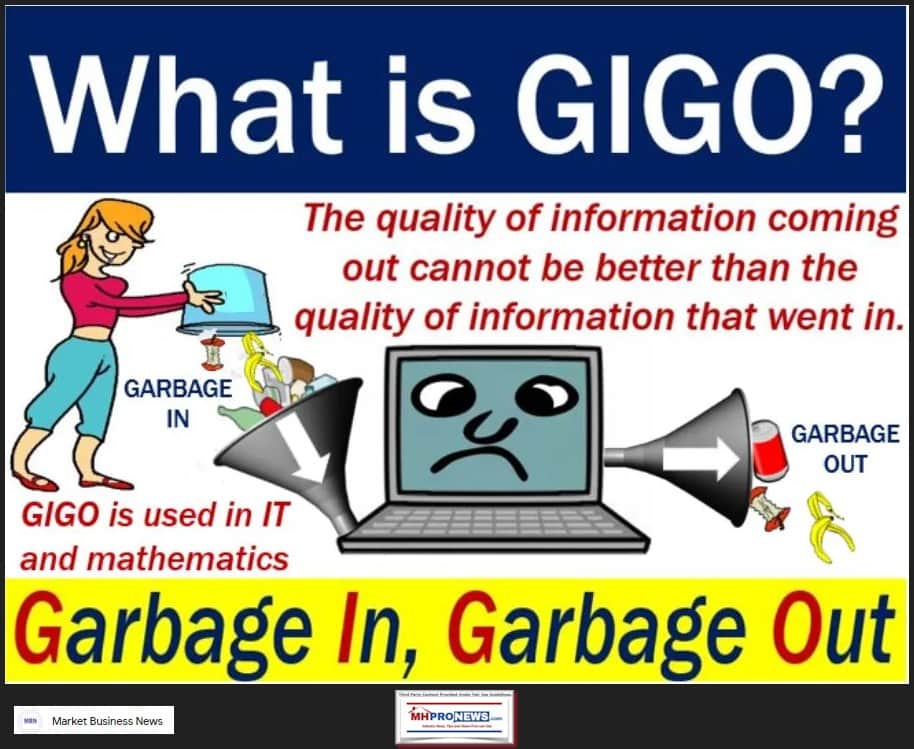 Why an avoidable downturn? To grasp that in robust detail, see the latest report linked below on MHLivingNews, along with other articles packed with facts and expert analysis for the week that was which follow below. Because time and again, what is said by a supposedly authoritative group in or relating information about manufactured housing – when carefully examined against a body of known facts – often turns out to be a mirage. A narrative rather than 'the truth, the whole truth, and nothing but the truth, so help me God.'
To give a specific example from a supposedly authoritative website in our industry of paltering at its finest, don't miss today's postscript.
With no further adieu, here are the headlines for the week that was 11.13 to 11.20.2022
What's New on MHLivingNews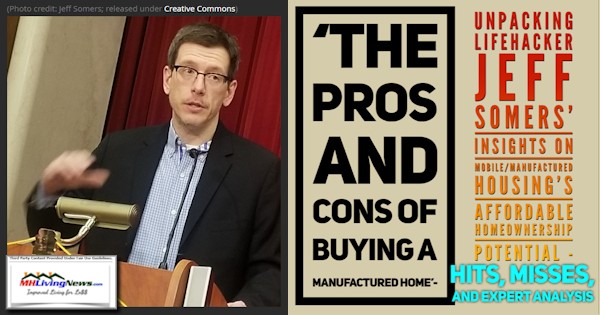 What's New from Washington, D.C. from MHARR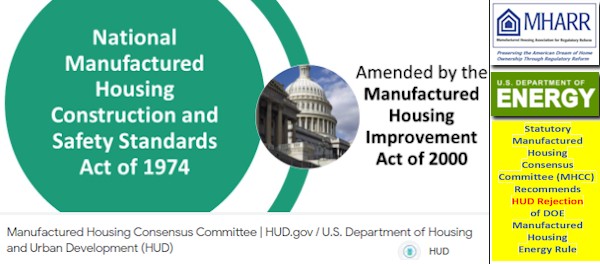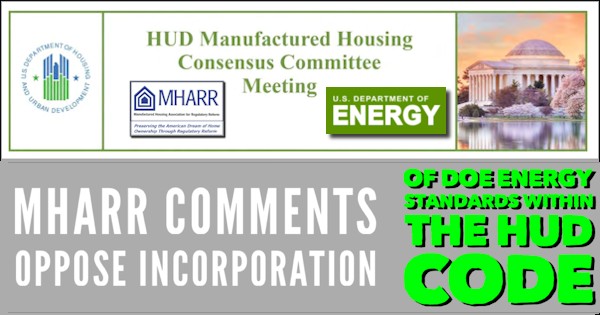 The Latest on the Masthead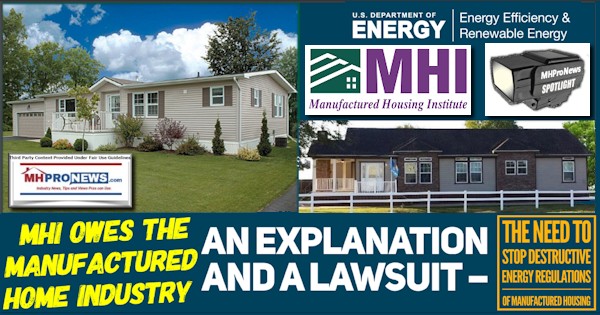 The Latest on the Words of Wisdom by Tim Connors, CSP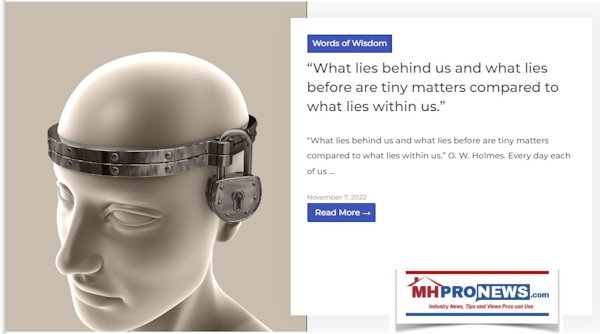 What's New on the Daily Business News on MHProNews
Saturday 11.19.2022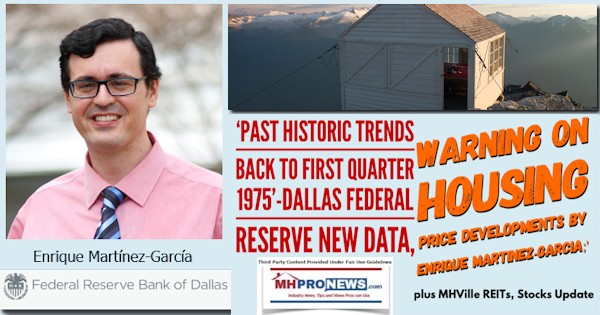 Friday 11.18.2022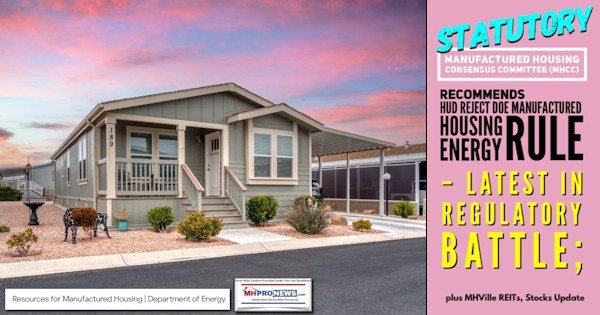 Thursday 11.17.2022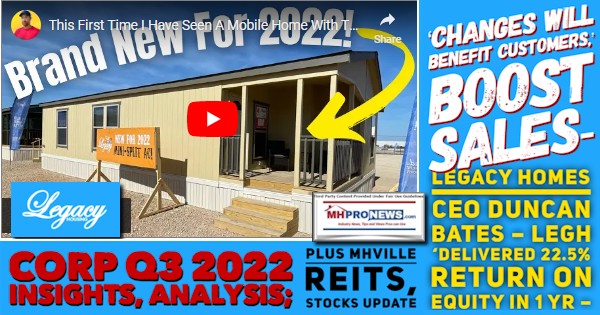 Wednesday 11.16.2022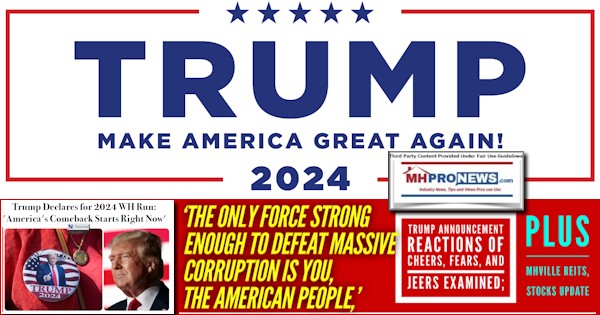 Tuesday 11.15.2022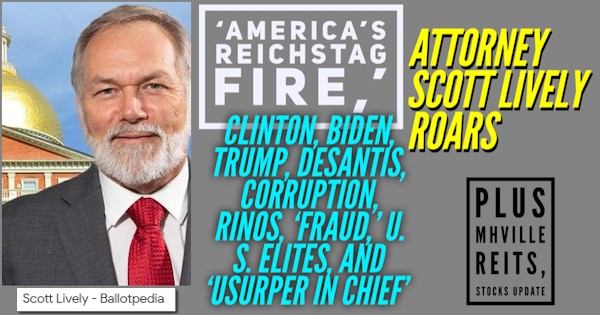 Monday 11.15.2022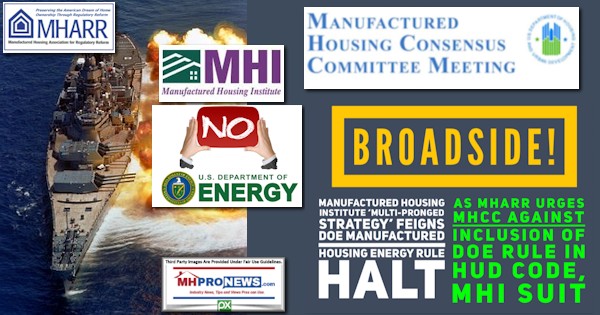 Sunday 11.14.2022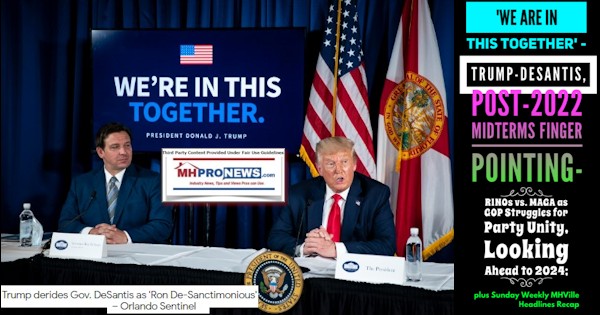 Postscript
Google search algorithms may produce 'local' information – such as the sections in the search result shown below that are links to discussion of Florida law about manufactured housing zoning (this search is being made from a device in central Florida) – as well as national info. On this day and at the time as shown, MHI's website has the top ranked link on the topics of manufactured homes and zoning. So, a relevant question should be, how good is MHI's article about zoning? Does MHI's zoning article help advance the interests of "all segments" of the industry, which ought to include those who want to see manufactured housing grow in a robust and sustainable fashion?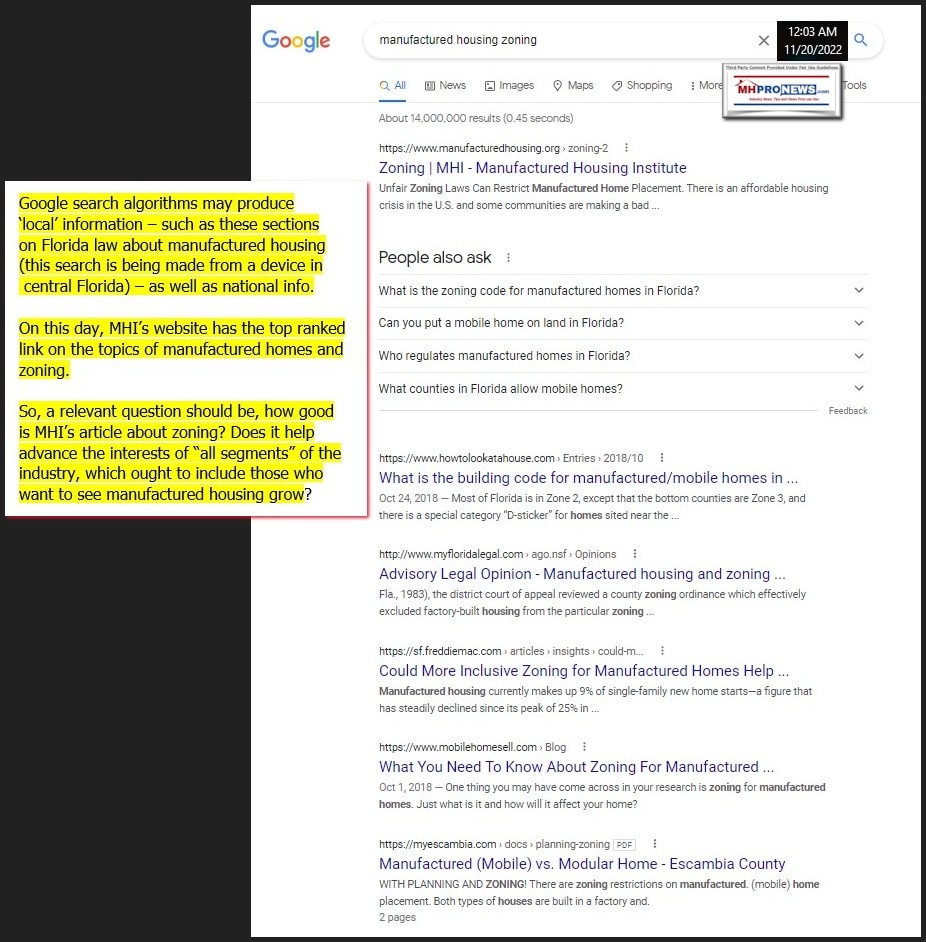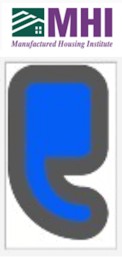 Unfair Zoning Laws Can Restrict Manufactured Home Placement
There is an affordable housing crisis in the U.S. and some communities are making a bad situation worse.
There is a growing trend of municipalities trying to use zoning and other land use regulations to restrict or eliminate manufactured housing in their jurisdictions. These actions could reduce the supply of critically-needed affordable housing for working families across the country and may be discriminatory under the Fair Housing Act.
The attempts at cities discriminating against manufactured housing are wide ranging. Some cities now restrict community owners from replacing units when someone moves, others are looking at banning them altogether, and some are segregating them at locations far out from local amenities such as schools, transportation, doctors and jobs.
Local city and county government's use a variety of land use planning devices to restrict the use of manufactured homes as an available source of affordable housing. Interestingly, these devises are often in conflict with the entity's comprehensive plan. These cases often involve zones within a community where manufactured housing fits the character and ascetics of the zone.
Outright Bans
This past year, Huntsville, Texas, passed an outright ban on the placement of manufactured homes in the community, including on private property. This change in the law came despite the presence of manufactured homes and multi-family homes in the community. After an outcry from residents living in manufactured homes, the council overturned the ban.
Lot Size
Rural Harrison County, Kentucky is attempting to pass a requirement that manufactured homes may only be placed on lots of 10 acres or more.  These types of ordinances are found in other communities and can range from 1 to 10 acres.
Lot size is not just a rural issue. In a community in South Carolina, the Georgetown council required minimum lot size in a zone predominated by older mobile homes whereby the practical effect would be to require the accumulation of several lots to build any new home. As this case involves a zone containing a majority of African American residents, HUD is investigating for possible Fair Housing violations.
Layering of Multiple Ordinances
When a Mississippi Supreme Court decision disallowed Pearl's method of excluding manufactured housing, the city undertook changes to multiple land use planning devices (density, occupancy, setbacks) which allowed the placement of a home in a land-lease community, but made it illegal for anyone to occupy the home.
Density
Changes to density and setback requirements cause land-lease communities to provide homes on every other lot.
Restriction to Manufactured Home Communities (Parks) only
An affront to private property rights is where a government restricts the placement of manufactured homes to manufactured home parks only. An ordinance in Kentucky like this was passed in London, and following a lawsuit, reversed.
Age
A trend in western states (Kansas and Arizona for instance) is the adoption of ordinances where there is an age restriction on manufactured homes, disallowing the placement of a home more than 5- or 10- years old. These local laws basically place expiration dates on homes, and artificially kill resale values.
Non-conforming Uses
The Village of Lodi, Ohio, changed its interpretation of non-conforming use such that when a home would be removed from a land-lease community, the entire park would become a non-conforming use. The Ohio Supreme Court struck down the interpretation.
No Reason Whatsoever
The most frustrating cases come when a city or county denies the placement of a home for no reason whatsoever. In Washington Township, Ohio, it took a court order to force a zoning panel to issue a permit for the replacement of an older manufactured home with a new one. ##
MHProNews Notes and Expert Viewpoint on MHI's Narrative Above
Paltering is defined as being a mixture of true statements that omit or slants (i.e.: 'frames') information in a manner designed to mislead or deceive.
A Word search of the MHI text above reveals "No matches" for this phrase: "Manufactured Housing Improvement Act" on this date.
A Word search of the MHI text above produces "No matches for this phrase: "enhanced preemption" on this date.
MHI claims to be in favor of HUD enforcing its enhanced preemption authority under the Manufactured Housing Improvement Act of 2000 (MHIA or what MHARR sometimes refers to as the 2000 Reform Law). Yet on their own website on an article specifically focused on zoning, they fail to mention either the MHIA or "enhanced preemption?"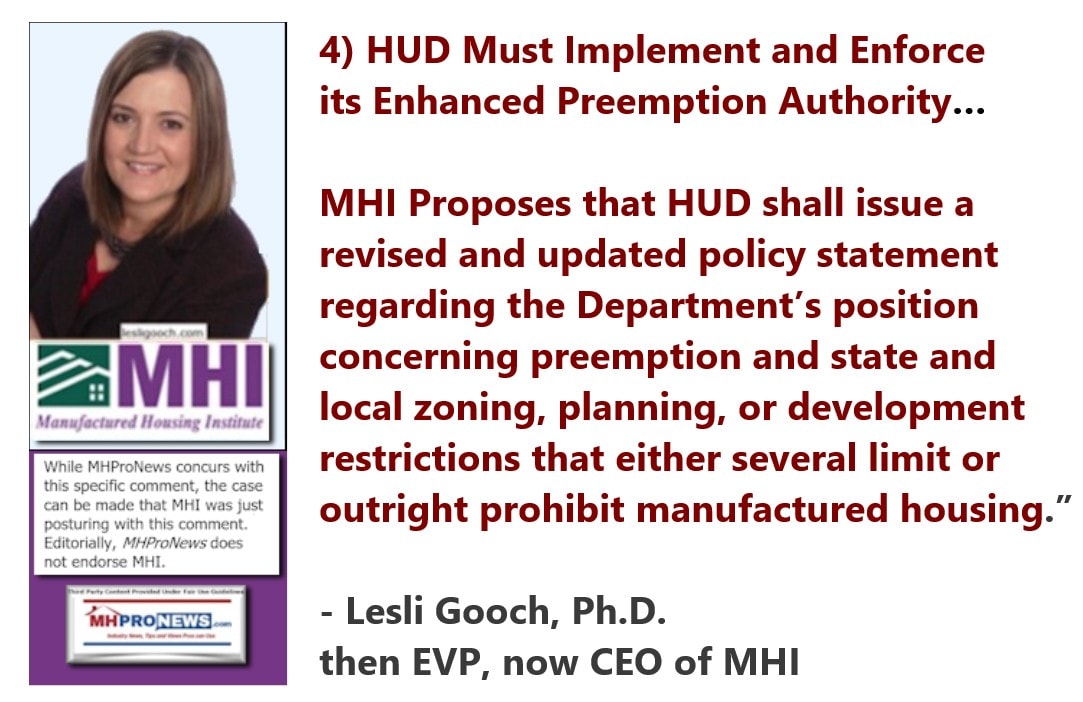 A) MHI is demonstrably negligent at best at doing what they claim they want. But if they are paltering, posturing, and projecting without any serious intention of acting as needed, then a different reality begins to emerge.
B) MHI is arguably civilly and/or criminally supporting supportive of the consolidation of the manufactured home industry into ever fewer hands which routinely are their member brands. Who says?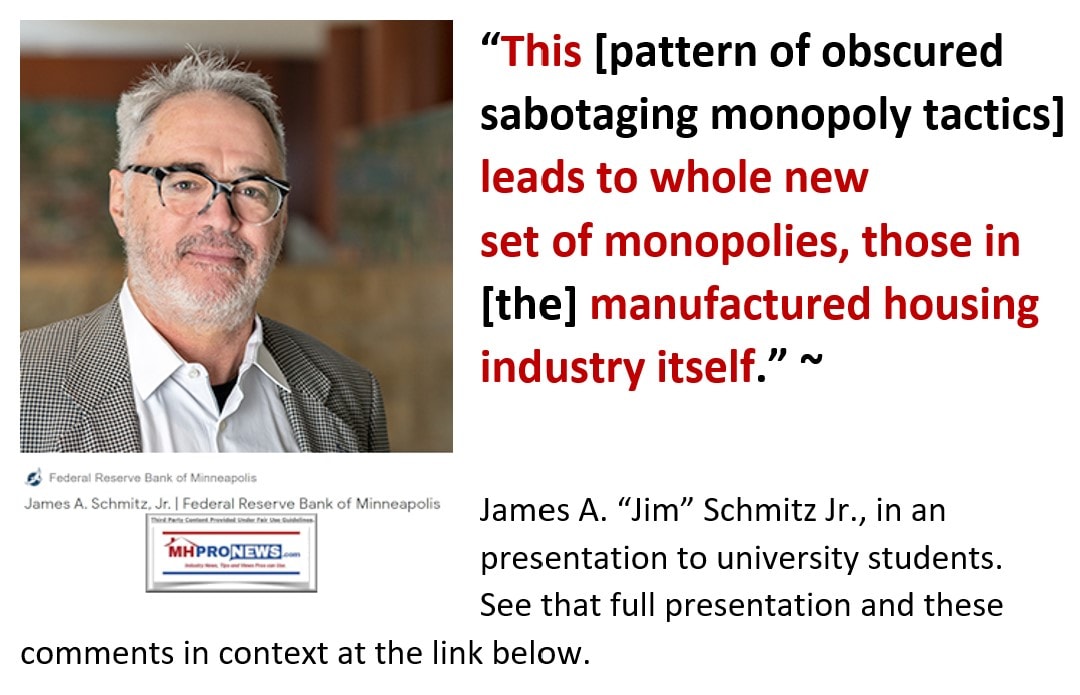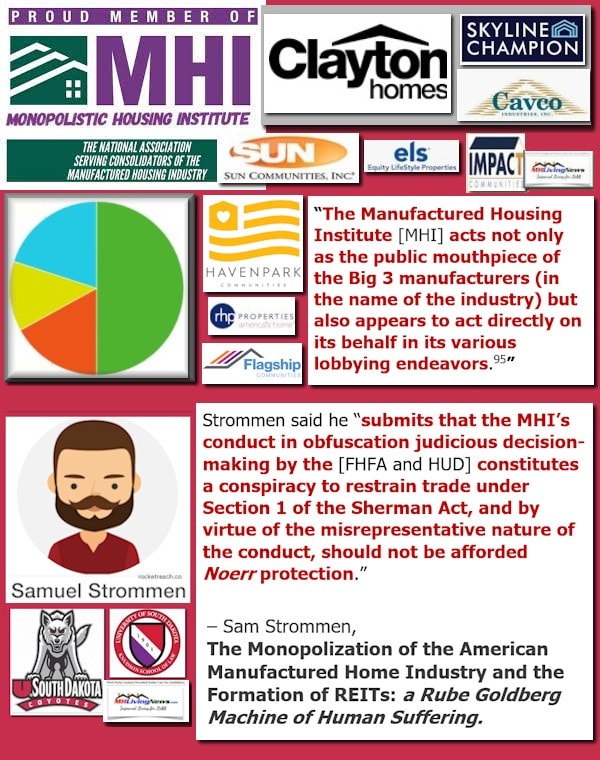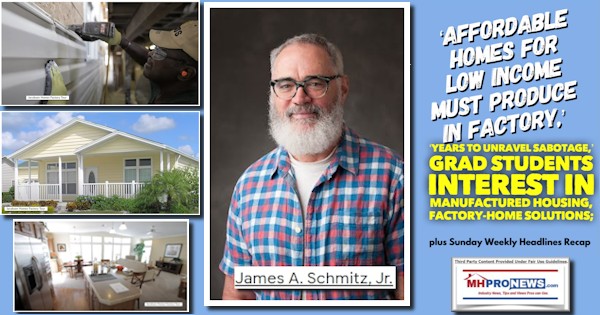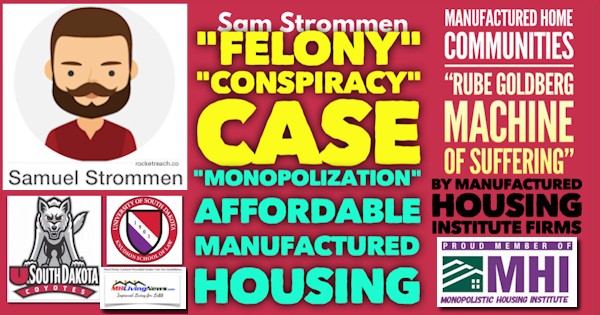 Those claims fit evidence-based allegations made on the MHProNews Masthead from a few years ago, while Richard "Dick" Jennison was still MHI's president and CEO.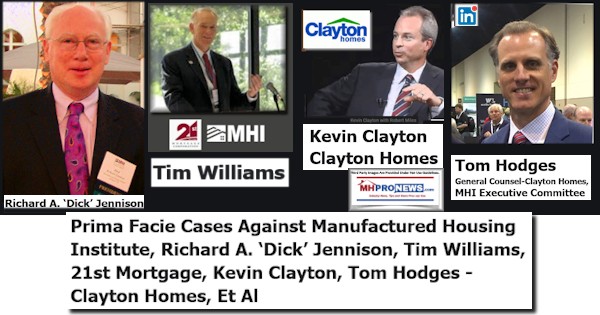 Schmitz and Strommen approach the issue of the impact of oligopoly version of monopoly power on manufactured housing from different starting points and different disciplines. Both outside researchers looking in are supportive of manufactured housing in their respective research reports.
MHI has had their legal team advise MHProNews' leaders that they actively monitor our website. There is other evidence that MHI leaders monitor what is published on MHProNews and MHLivingNews. MHProNews has been doing this web search for enhanced preemption periodically on the MHI website for years. If MHI's outside counsel David P. Goch is to be taken at his word, apparently what MHProNews/MHLivingNews publish about MHI must not be disparaging?  Then, logically, what we publish on this issue is accurate and based on facts, trends, evidence, and applied common sense.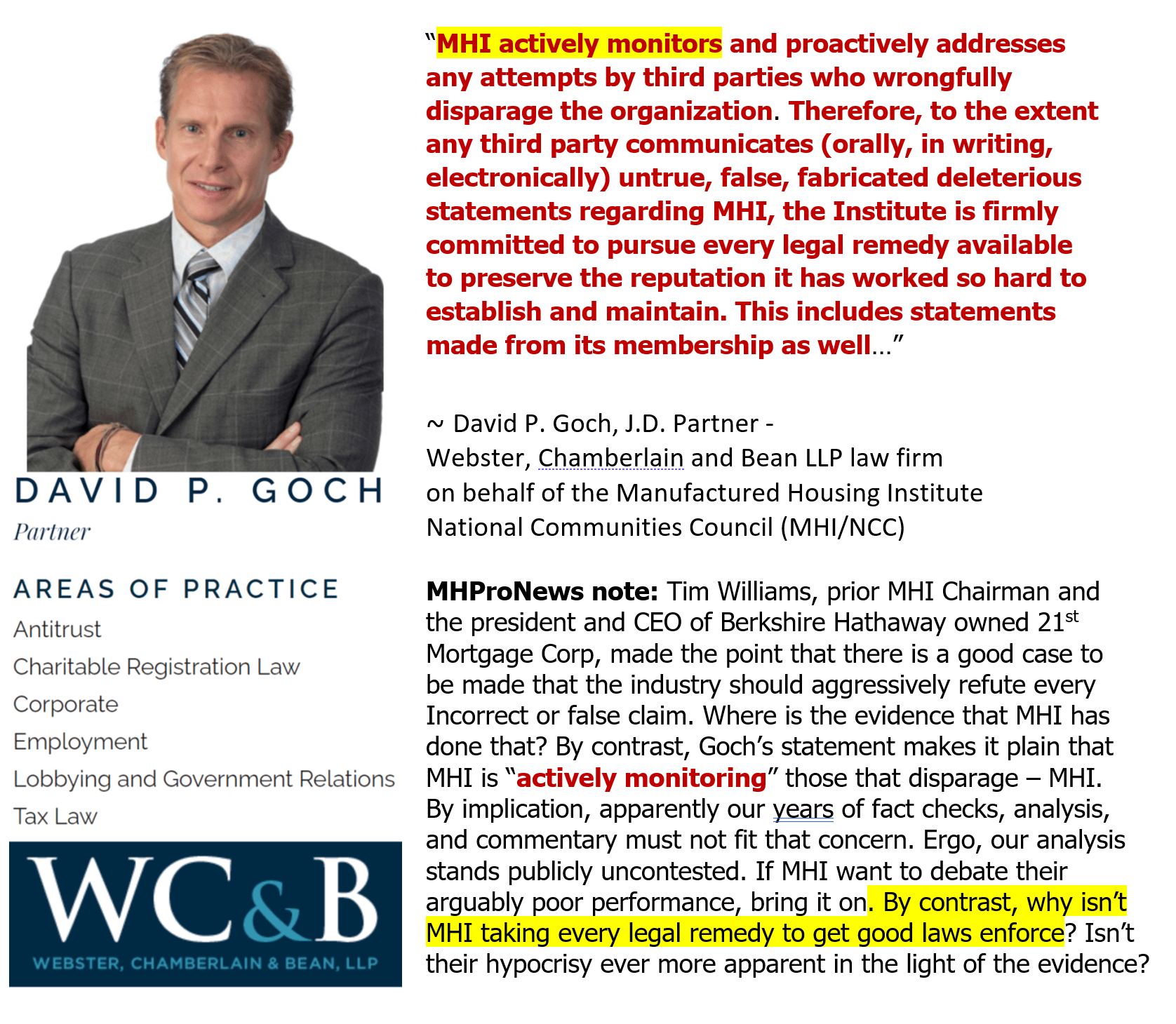 Clearly, there is direct evidence that MHI is paltering when it comes to several key issues.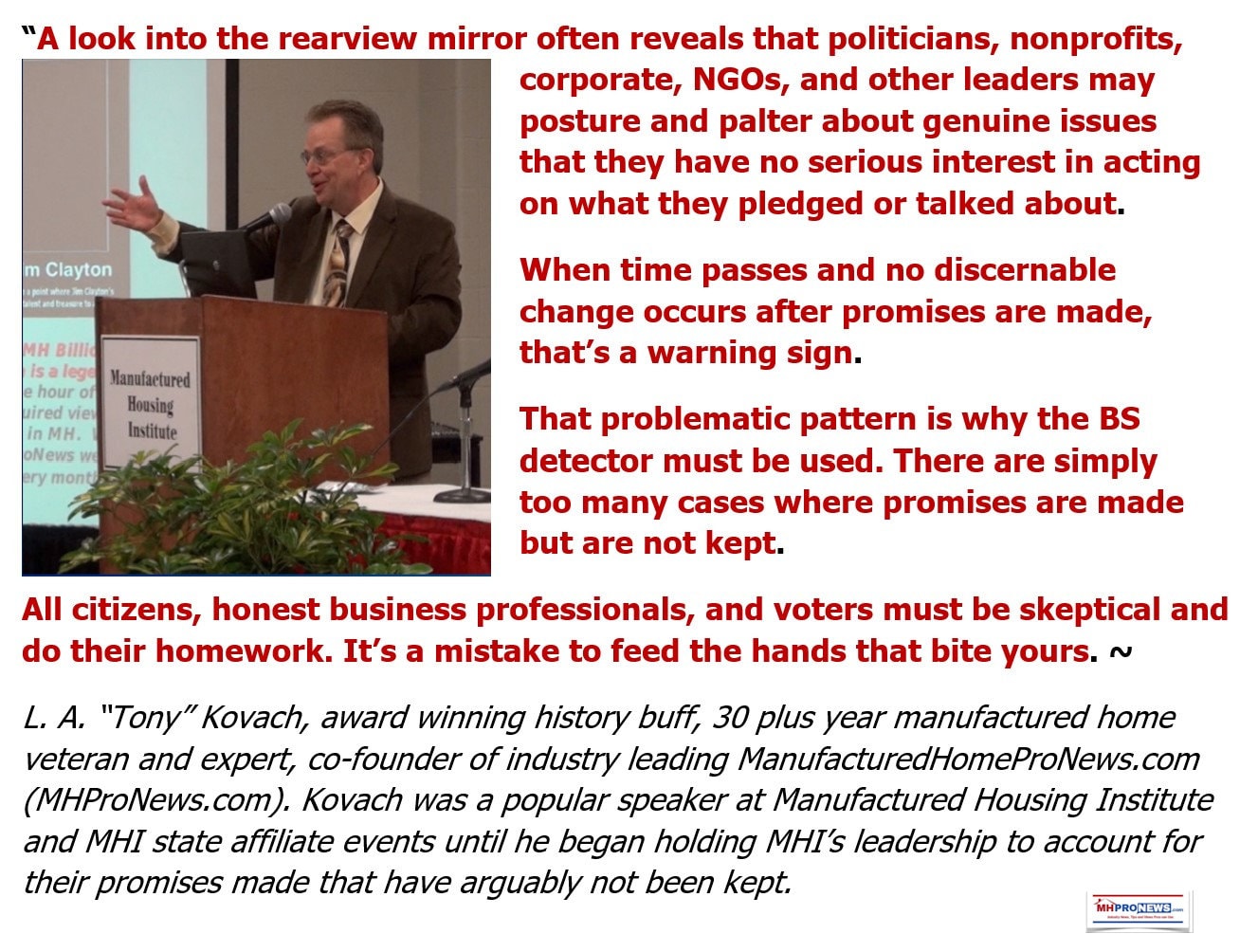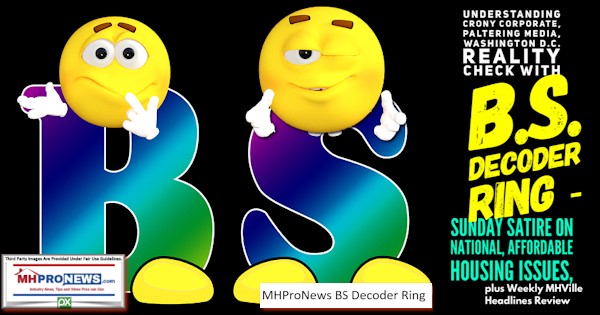 Though the MHARR website is newer (younger) than MHI's, MHARR has numbers of articles on the topic of the MHIA that use the phrase "enhanced preemption."
MHARR is demonstrably doing what MHI claims to do.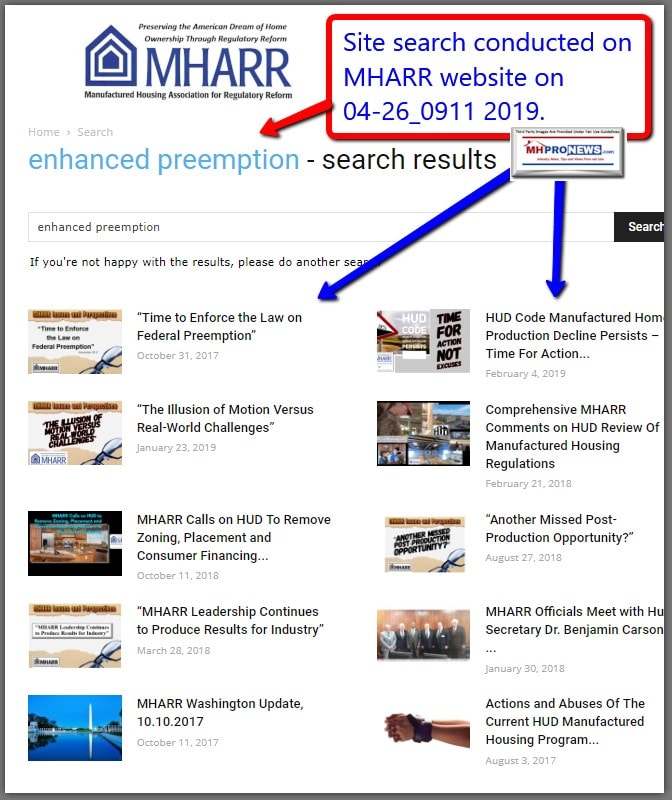 Manufactured housing has several factors that are keeping it operating at a level that is only 30 percent of what it was at the last highwater mark achieved in 1998. Zoning/placement and finance are among them.
The looming DOE energy rule could be slamming the manufactured home industry in about 6 months. Before then, factories that intend to comply will have to start making plans to do so, which means that there is actually very little time for much needed litigation.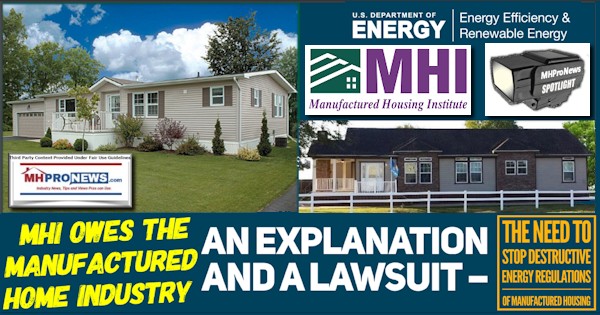 Why does MHI have a 21st century history of fumbling on issue after issue that is keeping the manufactured housing industry underperforming? Follow the money trail, as any good investigator should do in searching for potential explanations. Consolidation is what has been occurring since Warren Buffett led Berkshire Hathaway has entered the industry.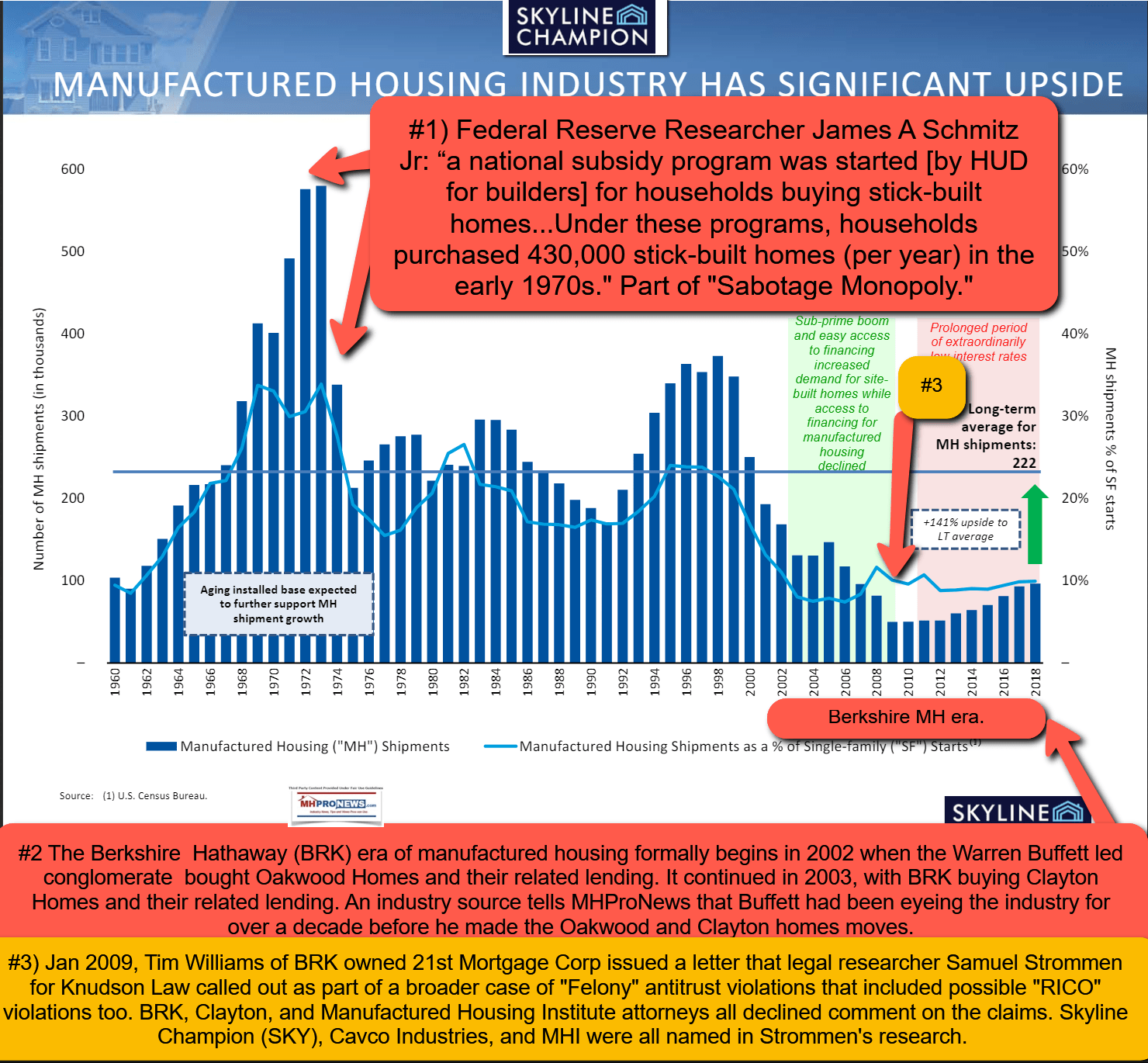 With that backdrop, read what Strommen and Schmitz have written in the detailed reports and analysis linked above. If you've read them before, do so again. Where is MHI's performance? Why is it that the MHI board tolerates that lack of performance if they truly intend to see the industry grow in a robust and sustainable fashion? With these insights, look again (or for the first time) at this video clip from then MHI president and CEO Richard "Dick" Jennison.
It is only by looking into the rearview mirror and comparing what MHI and their dominating organizations say vs. what actually occurs that the troubling truth begins to emerge.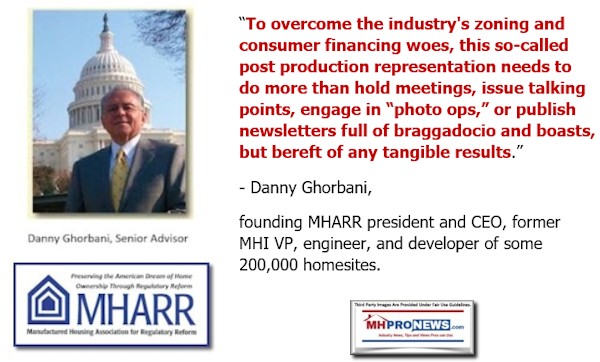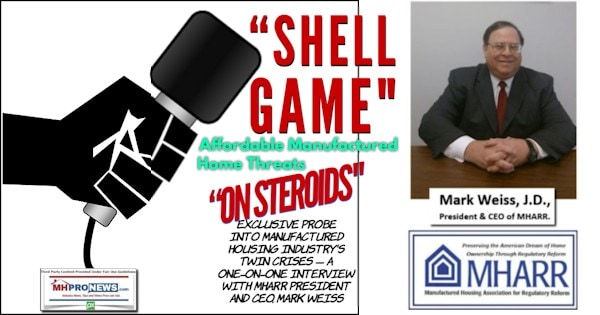 It has taken years of careful, step-by-step, example-after-example reporting and analysis to obtain the body of evidence now available on the apparent oligopoly style of monopolization that has been deployed in manufactured housing. To learn more about why this harms taxpayers, citizens who thirst for affordable home ownership, and most other Americans who are not benefiting from this pattern of "sabotaging monopoly" tactics, see the linked reports. Because deception and misdirection are the tools of those who would de facto pick the pockets of our fellow citizens. ##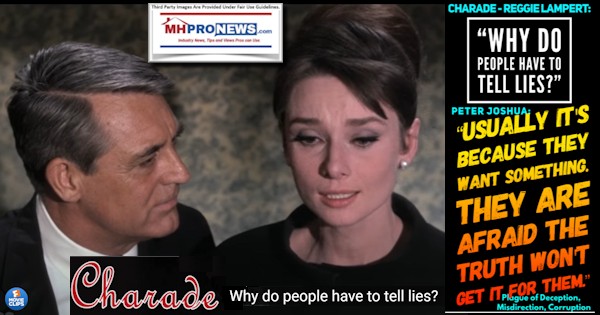 Despite Biden Housing Promises, CNN, NAR Say 1st Time Homebuyers Fall to 'All Time Low' – MHI Input – Unpacking Info for MHVille Advocates & Pros; plus Sunday MHProNews Weekly MH Reports Recap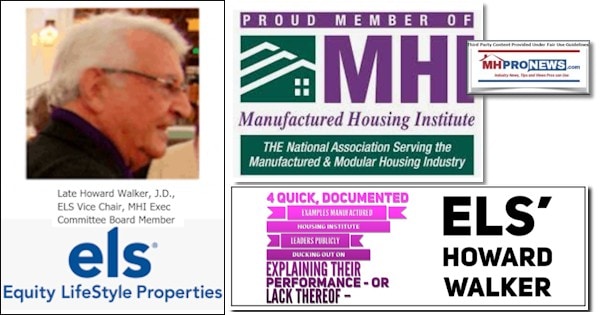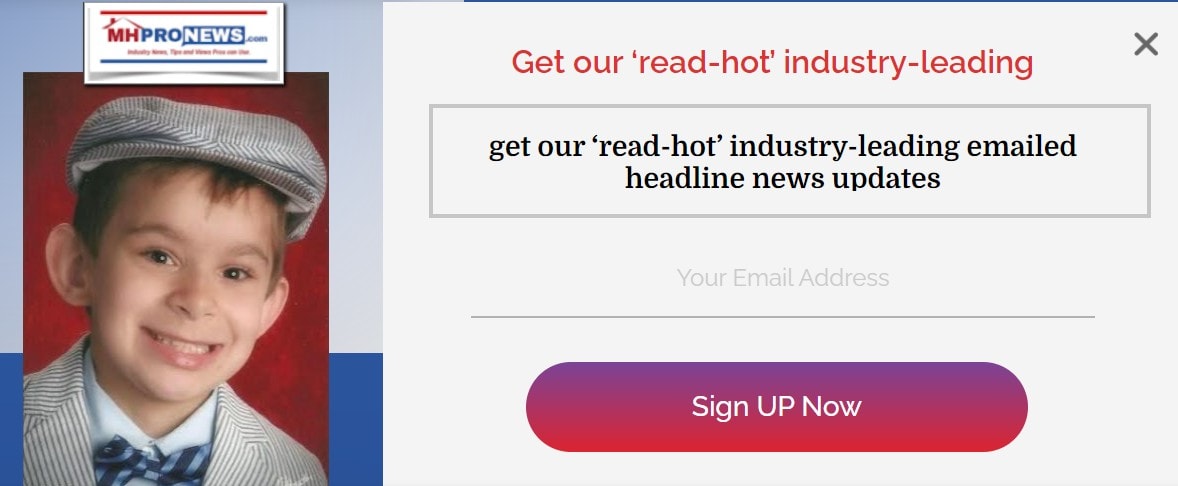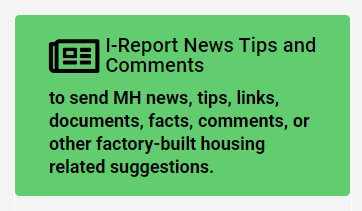 Again, our thanks to free email subscribers and all readers like you, our tipsters/sources, sponsors and God for making and keeping us the runaway number one source for authentic "News through the lens of manufactured homes and factory-built housing" © where "We Provide, You Decide." © ## (Affordable housing, manufactured homes, reports, fact-checks, analysis, and commentary. Third-party images or content are provided under fair use guidelines for media.) (See Related Reports, further below. Text/image boxes often are hot-linked to other reports that can be access by clicking on them.)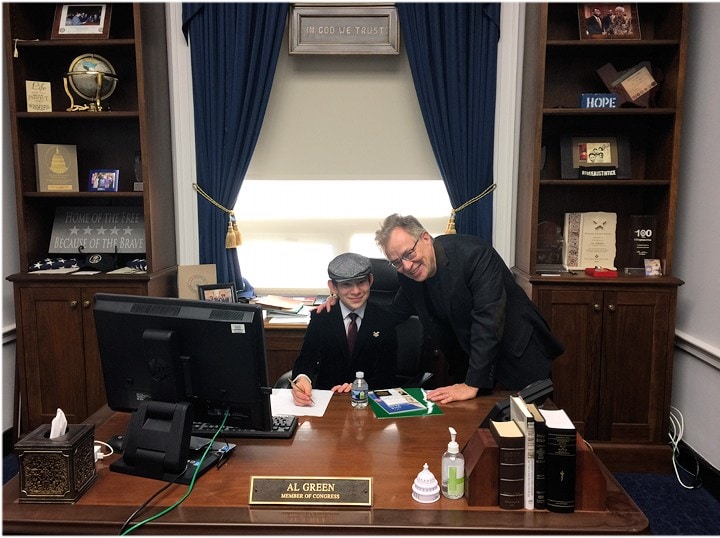 By L.A. "Tony" Kovach – for MHProNews.com.
Tony earned a journalism scholarship and earned numerous awards in history and in manufactured housing.
For example, he earned the prestigious Lottinville Award in history from the University of Oklahoma, where he studied history and business management. He's a managing member and co-founder of LifeStyle Factory Homes, LLC, the parent company to MHProNews, and MHLivingNews.com.
This article reflects the LLC's and/or the writer's position, and may or may not reflect the views of sponsors or supporters.
Connect on LinkedIn: http://www.linkedin.com/in/latonykovach
Related References:
The text/image boxes below are linked to other reports, which can be accessed by clicking on them.
Washington D.C. Updates on DOE 'Energy Assault' HUD is 'Already Moving' on DOE Standards MH Financing MHARR White Paper 'Validated' Again and More – MHI Side of Story, Facts & Analysis
Russian Disinformation? CNN and WND Report on "World Government Summit," Joe Biden Address to Business Roundtable on "the New World Order;" plus Sunday Weekly Headlines Review
Telling Manufactured Housing Story Honestly, Persuasively, Beneficially and Profitably with Facts, Evidence, Bright Line Distinctions – plus Sunday Weekly Manufactured Home Recap