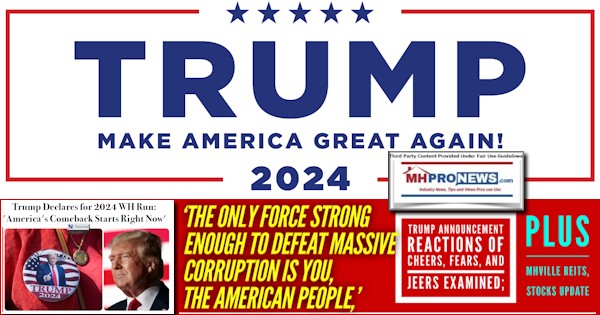 As has been anticipated for months, deposed 45th President Donald J. Trump announced Tuesday night his plans to take on 'the Swamp' and 'Rigged System' by engaging the American people in a broad coalition he said would attract a record number of minorities, independents, disaffected Democrats and Republicans. Following the WND NewsCenter report to MHProNews will be tweets, social media posts, and linked reactions that reflect what must be navigated in order for Trump to be successful in his pledge to "Make America Great Again" and to make the U.S.A. "Wealthy and Strong" by restoring the American Dream, which Trump said has suffered badly under Biden's and 'the radical left's' agenda. Our Daily Business News left-right headlines recap and industry-connected stocks update will be, as usual, the concluding segment for this column.
WND
WATCH: Trump announces presidential run for 2024
'America's comeback starts right now'
By Joe Kovacs
Published November 15, 2022 at 9:10pm
PALM BEACH, Florida — President Donald Trump late Tuesday made the announcement that he had been teasing his supporters with for months – his plans for the 2024 presidential race.
He's in.
"In order to make America great and glorious again, I am tonight announcing my candidacy for president of the United States," Trump said to loud cheers by supporters at his Mar-a-Lago residence in Palm Beach.
"This will not be my campaign. This will be our campaign together because the only force strong enough to defeat the massive corruption is you, the American people."
"America's comeback starts right now," he added. "Unlike other presidents, I kept my promises."
"I am running because I believe the world has not seen the true glory of what this nation can be."
"First, we have to get out of this ditch."
"We are Americans and we do not have to endure what has taken place in Washington, D.C."
"Inflation is the highest in over 50 years, gas prices have reached the highest level in history, and expect them to go higher."
"Now we have a president who falls asleep at global conferences."
"We are here tonight to declare it does not have to be this way."
"Soon we will be a great nation again."
"I believe the American people will reject the left's platform of national ruin and will embrace our platform of national greatness and glory."
"I will fight like no one has ever fought before. We will defeat the radical left Democrats who are trying to destroy our country from within."
"Joe Biden is the face of left-wing failure and Washington corruption."
"I will ensure that Joe Biden does not receive four more years" in the White House.
"Our country could not take that. And I say that, not in laughter. I say that in tears."
"This was an absolutely brilliant speech," former Arkansas governor and one-time Republican presidential candidate Mike Huckabee told Sean Hannity of Fox News. "If he keeps on like this tonight, he is unbeatable."
The decision to run was not a surprise to most, as he has been rallying his troops, fundraising, keeping himself in the center of the legacy media maelstrom, holding rallies, most of this year.
And he consistently has been expressing that his fans would be very happy with his decision.
With Joe Biden's claims that, of course, he's going to run for re-election in 2024, it would set up a rematch of the 2020 race.
Biden won then, but his victory likely will carry an asterisk mark for many people because of two outside influences that polls and surveys confirm almost without a doubt took the victory from Trump.
One was that the FBI interfered in the election by calling on social media companies to suppress what it called "Russian disinformation" about the curious income – millions of dollars – the Biden family got from sources in Russia and China.
It wasn't disinformation, however. It was accurate reporting, and polls suggest that enough Democrats would have fled his camp if they had known that Trump would have been re-elected.
The second factor was Mark Zuckerberg's distribution of $400 million plus, through foundations, to various local election officials. They often used it to recruit voters from Democrat districts, perhaps explaining why Biden got so many millions more votes than the very popular Barack Obama had years earlier.
Mike Pence, the former vice president under Trump, told Fox News ahead of Trump's announcement: "I honestly believe that we're going to have better choices."
"I hear people saying that they would like us to move forward with leadership that will unite our country around our highest ideals and reflect the kind of respect and civility that the American people demonstrate to each other every day."
Pence noted he is giving a 2024 presidential run for himself "prayerful consideration."
Regarding the midterm election results, Pence said, "Candidates that were focused on the past, on re-litigating the last election, did not fare so well."
"There's a real affirmation here that the Republican Party needs to be focused on the future."
MSN said that Trump had said on Truth Social early Tuesday, "Hopefully TODAY will turn out to be one of the most important days in the history of our Country."
ABC reported Republicans were not in the mood immediately to talk about 2024, as they still have a runoff election pending for the Senate seat from Georgia.
"Well, the 2024 election is in 2024," Sen. John Kennedy of Louisiana said in the report, "And the most important election, I think for the American people, is in Georgia. And that's the one I'm worried about right now. We will have plenty of time to talk about 2024."
There have been others who have been mentioned as possible presidential candidates, including Gov. Ron DeSantis in Florida and former Defense Secretary Mike Pompeo.
The Washington Examiner said a "source" confirmed Trump would talk about the failing economy under Biden, the energy crisis Biden has created, surging crime, and more.
"He's going to deliver a fairly lengthy second term agenda of what he could do if he were elected again," said Dick Morris, a former Clinton strategist, longtime Trump family friend, and informal adviser to the ex-president who is in Florida to attend the 9 p.m. announcement at Trump's Mar-a-Lago estate," the Examiner reported.
The southern border crisis also is on the agenda.
"It's a list of the stuff he began and initiated but was interrupted — complete the border wall, 'Remain in Mexico,' no lockdowns or vaccinations," said Morris. ##
Additional Information with More MHProNews Analysis and Commentary
From Trump's Truth Social is this post which linked to Rumble for the video of the announcement, which begins a few minutes into that Rumble post.
President Trump announces his '24 Presidential run.

He has my complete and total endorsement! pic.twitter.com/XwQoOOT1ei

— Kari Lake (@KariLake) November 16, 2022
. @ElonMusk, there is a declared candidate for President of the United States who has been banned from Twitter, while the incumbent Joe Biden is allowed to tweet every day. Will Twitter allow the challenger to use the platform as well in the 2024 election?

— Jack Posobiec 🇺🇸 (@JackPosobiec) November 16, 2022
Does former VP Michael "Mike" Pence – who declined on January 6th, 2021 to consider the pleas of millions to wait until 2020 election results were properly certified and is considered a traitor by many MAGA supporters – have himself in mind? Good luck with that, given Pence's poor polling compared to Trump?
Pence says Republicans 'have better choices' than Trump https://t.co/3KbixkxOrz

— Fox News Politics (@foxnewspolitics) November 16, 2022
Another anti-Trump voice is that of "RINO" – and soon to be exiting the Congress, Rep. Adam Kinzinger (IL-R).  This is a small taste of the pushback that lies ahead that Trump himself admitted was coming during his announcement last night.
Trump is an abuser and a conman: pic.twitter.com/tONDLqaIps

— Adam Kinzinger #fella (@AdamKinzinger) November 16, 2022
Tom Fitton leads Judicial Watch, a conservative nonprofit that often engages in legal actions. Is his tweet a signal of what lies ahead?
Especially that now he is a presidential candidate, @ElonMusk should restore Trump's @Twitter account ASAP. How can a top candidate for the presidency be denied access to this platform?

— Tom Fitton (@TomFitton) November 16, 2022
Based on this post, it would be no surprise if Governor Greg Abbot (TX-R), who recently won re-election comfortably with Trump's support, would be in the pro-Trump camp.
I invoked the Invasion Clauses of the U.S. & Texas Constitutions to fully authorize Texas to take unprecedented measures to defend our state against an invasion.

I'm using that constitutional authority, & other authorization & Executive Orders to keep our state & country safe: pic.twitter.com/2Jt5HEMgp5

— Greg Abbott (@GregAbbott_TX) November 15, 2022
It's all about BALLS.

Only one man has proven he has the balls to do what has to be done.

— Sebastian Gorka DrG (@SebGorka) November 16, 2022
President Trump: "In order to make America great and glorious again, I am tonight announcing my candidacy for president of the United States." pic.twitter.com/z95oHYjWwF

— Donald Trump Jr. (@DonaldJTrumpJr) November 16, 2022
Communist China expert Gordon Chang had this one-word tweet.
Pray.

— Gordon G. Chang (@GordonGChang) November 15, 2022
From an anti-Trump Democratic backer:
He's back. He'll win the GOP primary.

Only 721 days til Election Day 2024.

We beat him before, together.

We can beat him again, together.

— Rick Wilson (@TheRickWilson) November 16, 2022
In the 2022 contest:
Election machines reported more votes than actual number of ballots in two Va. precincts: report | Just The News https://t.co/zkVSDitWMc

— John Solomon (@jsolomonReports) November 15, 2022
Popular Republican senator challenges Mitch McConnell as Senate GOP leader
The man on the left is America's next President pic.twitter.com/hqs8xIhvBB

— TheLeoTerrell (@TheLeoTerrell) November 15, 2022
Breaking: Twice-impeached, disgraced former President Donald Trump, who led a terrorist attack against the U.S. Capitol to try to overthrow our government, has announced he is running for president from the crime scene in which he stole and hid our nation's top secret documents.

— MeidasTouch (@MeidasTouch) November 16, 2022
Almost as a reply to some of the concerns raised in the tweet above is this factoid.
BREAKING: Chris Wray, when asked twice, would not say whether FBI agents/informants dressed like Trump supporters were inside the Capitol before the doors were opened on January 6.

RELEASE THE TAPES.

— Julie Kelly 🇺🇸 (@julie_kelly2) November 15, 2022
Pennsylvania's next Democrat Senator, and her husband John. pic.twitter.com/6i2Or8RrJk

— The Columbia Bugle 🇺🇸 (@ColumbiaBugle) November 15, 2022
She brags about being an illegal alien, about trespassing into our country.

She's now effectively a US Senator.

We need to decide if we're a nation or not… pic.twitter.com/1hVRkG29hb

— Steve Cortes (@CortesSteve) November 15, 2022
President Trump took a chance on me… I'm a 31 year old son of Syrian immigrants who wanted to save our country and Trump supported and endorsed me.

I will be forever grateful. Thank you 45/47.

America is coming back. pic.twitter.com/I0S7tiADOs

— Abe Hamadeh (@AbrahamHamadeh) November 16, 2022
Donald Trump says he will abolish every Joe Biden covid mandate and re-hire all military who were fired for refusing the covid shot, provide full back pay, and apologize for their firing. Love this.

— Clay Travis (@ClayTravis) November 16, 2022
This is PINO Biden's Team's response to the announcement. Never mind that several of the 'details' are taken out of context, were denounced by the 45th President, etc. because millions will believe this at face value.
Wow. President Biden just came out swinging with this new ad. pic.twitter.com/O8919V790n

— MeidasTouch (@MeidasTouch) November 16, 2022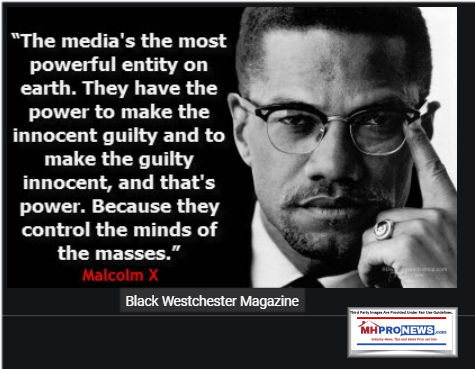 Mitch McConnell is the problem.

Not President Trump.

— Sebastian Gorka DrG (@SebGorka) November 15, 2022
TRUMP: The world was at peace, America was prospering, and our country was on track for an amazing future— because I made big promises to the American People and, unlike other Presidents, I kept my promises." pic.twitter.com/w07RxV39J4

— Benny Johnson (@bennyjohnson) November 16, 2022
It's nice hearing a living US President talk coherently for an extended period of time on live TV.

— Brigitte Gabriel (@ACTBrigitte) November 16, 2022
Newsmax carried the announcement event live. They reported some 5 million viewers of their 2022 election night coverage.
TRUMP: "America's comeback starts right now." pic.twitter.com/sjgRSDq5SZ

— NEWSMAX (@NEWSMAX) November 16, 2022
This will be a test of information dominance by the left vs. the tens of millions of Americans who believe that the nation is on the wrong track. That turn in the wrong direction occurred during "Biden's Watch." Clearly, there are plenty of hurdles ahead for the deposed 45th president. Some are within the Establishment wing ranks of his own party. For pre-announcement related background from the "News through the lens of manufactured homes and factory-built housing" see MHProNews/MHLivingNews see the linked reports that follow.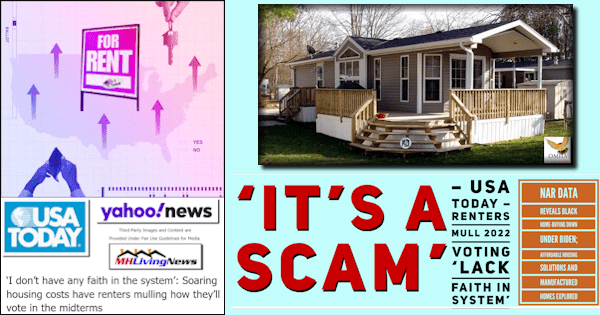 'We Are in This Together' – Trump-DeSantis, Post-2022 Midterms Finger Pointing-RINOs vs. MAGA as GOP Struggles for Party Unity, Looking Ahead to 2024; plus Sunday Weekly MHVille Headlines Recap
'America's Reichstag Fire,' Clinton, Biden, Trump, DeSantis, Corruption, RINOs, 'Fraud,' U.S. Elites, and 'Usurper in Chief' – Attorney Scott Lively Roars; plus MHVille REITs, Stocks Update
Consumers 'Fears for the Future'-Mortgage Payments Surge Since 2021, Buyers Get Priced Out–Conventional Housing Woes are Manufactured Home Pro Opportunities; plus MHVille REITs, Stocks Update
Note: it may be that DOE energy rules on manufactured housing could be reversed under President Trump, if the Manufactured Housing Institute (MHI) doesn't do what MHARR has asked. That is one more factor among numerous reasons to ponder and support "the return" of Trump to the White House for industry pros to consider.
Broadside! Manufactured Housing Institute 'Multi-Pronged Strategy' Feigns DOE Manufactured Housing Energy Rule Halt as MHARR Urges MHCC Against Inclusion of DOE Rule in HUD Code, MHI Suit
Daily Business News on MHProNews Markets Segment
The modifications of our prior Daily Business News on MHProNews recap of the recap of yesterday evening's market report are provided below. It still includes our signature left (CNN Business) and right (Newsmax) 'market moving' headlines. The macro market moves graphics will provide context and comparisons for those invested in or tracking manufactured housing connected equities.
In minutes a day readers can get a good sense of significant or major events while keeping up with the trends that are impacting manufactured housing connected investing.
Reminder: several of the graphics on MHProNews can be opened into a larger size. For instance: click the image and follow the prompts in your browser or device to OPEN In a New Window. Then, in several browsers/devices you can click the image and increase the size. Use the 'x out' (close window) escape or back key to return.
Headlines from left-of-center CNN Business – from the evening of 11.15.2022
Buyer beware
Even if it's your favorite movie star selling the next big thing, think twice
These are the celebs impacted by the collapse of FTX

Note: depending on your browser or device, many images in this report and others on MHProNews can be clicked to expand. Click the image and follow the prompts. For example, in some browsers/devices you click the image and select 'open in a new window.' After clicking that selection, you click the image in the open window to expand the image to a larger size. To return to this page, X out (close) the window, or depending on the device, you may need to use your back key, escape key (Esc), or follow the prompts.

This billionaire sold his apartment to buy bitcoin. Now he runs the world's largest crypto exchange

FTX crash is eerily similar to the Bernie Madoff scandal: Ex-regulator
Bankrupt crypto exchange FTX may have over 1 million creditors as 'dozens' of regulators probe collapse
America's largest store is getting a boost from inflation
Yet another key economic report is showing inflation pressures are easing
Inflation is cooling, and Wall Street loves it
Twitter chaos spills into public view as Musk clashes with and fires employees on the platform
Jeff Bezos hints he's buying the Washington Commanders
Restaurant sales are going up. But dining out is on the decline
Kraft Heinz turns to gimmicks and nostalgia to revive its 'dusty' brands
Coors Light's new nail polish changes color if your beer is cold enough to drink
We tried Apple's new SOS tool for when you don't have cell service
Taylor Swift accepts an award onstage during the MTV Europe Music Awards 2022 held at PSD Bank Dome on November 13, 2022 in Duesseldorf, Germany.
There's some bad blood brewing between Taylor Swift fans and Ticketmaster
SAN RAFAEL, CALIFORNIA – NOVEMBER 15: Containers of Oatly frozen desserts are displayed on a shelf at a Whole Foods store on November 15, 2021 in San Rafael, California. Oatly reported third quarter earnings that fell short of analyst expectations with revenues of $171 million compared to expectations of $185.7 million. The company also forecast annual sales of $635 million instead of analyst expectations of $690 million.
Oatly plans jobs cuts after worse-than-expected quarter
In this Sept. 9, 2010 file photo, a store associate watches as a customer leaves with her purchases at Sam's Club in Jackson, Miss.
Sam's Club took a shot at Costco over its $1.50 hot dogs
MARKETS
EARNINGS
Traders work on the floor of the New York Stock Exchange (NYSE) in New York, US, on Wednesday, Nov. 9, 2022. US stocks declined following midterm elections that failed to yield a Republican sweep. Treasuries and the dollar caught bids in a sign of deteriorating risk sentiment.
5 biggest takeaways from earnings season
BP announces $2.5 billion share buyback after profit soars
Uber revenue jumps 72% on strong demand for rides
Tesla earnings rebound but will miss 50% growth target
Microsoft earnings hit by personal computing slowdown

"In the business world, the rear-view mirror is always clearer than the windshield." – Warren Buffett. That begs a key question. Why don't more people LOOK at the rearview mirror so they can learn more about the patterns that influence what's ahead? Note: depending on your browser or device, many images in this report can be clicked to expand. For example, in some browsers/devices you click the image and select 'open in a new window.' After clicking that selection, you click the image in the open window to expand the image to a larger size. To return to this page, use your back key, escape or follow the prompts.

ACROSS THE POND

LONDON, ENGLAND – OCTOBER 21: Shoppers walk down Oxford Street on October 21, 2022 in London, England. The Office For National Statistics announced that September's retail sales volumes have fallen by 1.4% much more than expected as households cut back spending in the face of rising borrowing and energy costs. The mourning period following Queen Elizabeth II's death was also considered a factor. Meanwhile, public sector borrowing hit £20 billion in September, compared with the £17.1 billion forecast.
The UK economy is sliding into recession and Europe is set to follow
British nurses to hold first ever strike over pay
Iran accused of plotting to kill two journalists in UK
Britain's economy gives Sunak only unpleasant choices
Moody's lowers UK's outlook to negative
Headlines from right-of-center Newsmax 11.15.2022
Reports of Russian Missiles Hitting Poland Raising NATO Alarm
A senior U.S. intelligence official says Russian missiles crossed into NATO member Poland, killing two people. Russian officials denied any such launch. And leaders of NATO nations were conferring on an appropriate response. [Full Story]
Related Stories
Russian Missiles Cross Into Poland for First Time, Killing 2
Russia's Defense Ministry Denies Missiles Struck Polish Territory
The 2022 Elections
GOP Votes McCarthy 188-31 in First Step to Be House Speaker
McCarthy Still Best to Lead GOP as Speaker
Trump-Backed Adam Laxalt Concedes to Nevada Dem Sen. Masto
-Elect Williams: Zeldin Boosted N.Y. Republicans | video
State Sen. Ugenti-Rita: Candidates Faltered | video
-Elect Lawler: 'Fed Up' Voters Led to N.Y. Republican Wins | video

In instances such as Apollo, Berkshire Hathaway, Blackstone or others, manufactured housing may only be part of their corporate interests. Note: depending on your browser or device, many images in this report and others on MHProNews can be clicked to expand. Click the image and follow the prompts. For example, in some browsers/devices you click the image and select 'open in a new window.' After clicking that selection you click the image in the open window to expand the image to a larger size. To return to this page, use your back key, escape or follow the prompts.

Travis Tritt Tells Kari Lake Not to Concede in Arizona

GOP 1 Shy of Majority, Lead 4 of 15 Races Too Close to Call
Newsmax TV
Fred Fleitz: Biden Didn't Confront China on Serious Issues | video
Fred Fleitz: Biden Didn't Confront China on Serious Issues | video
Marc Lotter: Trump GOP 'Champ' Until Beaten | video
Bob Good: McCarthy's Leader Vote Shouldn't Be a 'Coronation' | video
Former Border Chief: Chris Magnus 'Unqualified' | video
Gordon Chang: Biden Misses Mark With Xi | video
Fred Fleitz: Not Optimistic About Biden-Xi Summit | video
Tenney: Midterms Show Need for Election Reform | video
More Newsmax TV
Newsfront
With Dem Senate, Biden Eyes Overhauling Judiciary
With a Democrat Senate Majority, President Joe Biden is looking to confirm appointments to the federal bench that could overhaul the judiciary…. [Full Story]
Rick Scott Will Challenge McConnell to Lead Senate GOP
[Full Story]
Reports of Possible Russian Missiles Hitting Polish Village Raise NATO Alarm
Two people were killed in an explosion in Przewodow, a village in [Full Story]
Is Supreme Court About to End Affirmative Action in Education?
The U.S. Supreme Court on Halloween heard oral arguments for a pair [Full Story] | Platinum Article
FBI Identifies 'Tech Savvy' Juvenile In Bomb Threats at HBCUs
FBI Director Christopher Wray said Tuesday that the agency [Full Story]
Zelenskyy: Battle for Kherson Was D-Day-Like Watershed
Ukraine's president is likening the recapture of the southern city of [Full Story]
Related
Russia Held Off Announcing Kherson Retreat Until After Midterms: Report
Both Russia and Ukraine Tortured Prisoners of War: UN
Missiles Strike Kyiv as Russia Pulls Back
SPONSOR: Watch the video till the end and be shocked.
Biden Requests $9.25B for COVID, $37.7B for Ukraine From Congress
The Biden administration is asking Congress for $9.25 billion to [Full Story]
Stockman's 'The Great Money Bubble' Available Tuesday
David Stockman's "The Great Money Bubble" hits bookstores Tuesday, [Full Story]
Philly Mayor Claims Migrant Buses Coming From Texas
Another major East Coast city could soon get a taste of the [Full Story]
Blame McCain-Feingold for GOP Losses in Pa., Ex-state Chair Says
The outcome of last week's elections in Pennsylvania might have been [Full Story] |
Russian Missiles Cross Into Poland for First Time, Killing 2
A senior U.S. intelligence official says Russian missiles crossed [Full Story]
Pelosi Attack Suspect Pleads Not Guilty to Federal Charges
The man accused in last month's attack on U.S. House Speaker Nancy [Full Story]
Pence: 'Relitigating' 2020 Election Doomed Candidates
Former Vice President Mike Pence said Tuesday that Republican [Full Story]
GOP Votes McCarthy 188-31 in First Step to Be Speaker
Republican leader Kevin McCarthy cleared the first major step Tuesday [Full Story]
Texas Dem Rep. Cuellar Reportedly Resisted Pressure to Switch to GOP
House Minority Leader Kevin McCarthy's allies made several calls to [Full Story]
Rasmussen: Parental Majority Against 'Drag Story Hour'
A majority of American adults (60%) consider Drag Story Hour [Full Story]
FBI Had 8 Informants With Proud Boys, Oath Keepers on Jan. 6
The FBI has been found to have eight informants inside the Proud Boys [Full Story]
Ukraine: Sniper Kill Second Longest Ever
The Ukrainian Armed Forces said one of its snipers killed a Russian [Full Story]
Schumer Wants to Work With 'Non-MAGA' Republicans
Senate Majority Leader Chuck Schumer, D-N.Y., appealed to non-MAGA [Full Story]
Texas Gov. Abbott Invokes Invasion Clause to Deal With Border Crisis
Texas Republican Gov. Greg Abbott on Tuesday announced he had invoked [Full Story]
Judge Overturns Georgia's Ban on Abortion After 6 Weeks
A judge overturned Georgia's ban on abortion starting around six [Full Story]
'Living Informants' May Be Stalling Release of JFK Docs
The possibility that some "informants" and others involved in the [Full Story]
Russia Offers Rewards for Destroying Ukrainian Equipment
Moscow is reportedly offering cash rewards for mobilized soldiers who [Full Story]
Yellen Contradicts Biden: 'No Basis' to Probe Elon Musk's Purchase of Twitter
Treasury Secretary Janet Yellen said she doesn't see any basis for [Full Story]
Mooney Announces Run for Sen. Manchin's Seat in 2024
Alex Mooney, R-W.Va., said Tuesday that he will challenge Sen. [Full Story]
Cruz Chides McConnell for 'Abandoning' Arizona Senate Race
Ted Cruz, R-Texas, this week chided Senate Minority Leader Mitch [Full Story]
Senators Urge Pentagon to Uphold Military Tenants' Rights
In recent years, Congress has focused on improving the quality of [Full Story]
White Texas Teacher Told Students His Race 'Is the Superior One'
A white Texas school teacher has been placed on leave after he told [Full Story]
Dems Meddled in GOP Senate Recruitment to Create Election Chaos
Democrats carried out a plan to discourage strong potential [Full Story]
Lame-Duck Congress Facing Shutdown Showdown
A lame-duck Congress is facing a showdown on funding the government [Full Story]
Erdogan, Biden Discuss Trade, Security at G20 Summit Meet: Turkish Presidency
Turkish President Tayyip Erdogan and U.S. President Joe Biden [Full Story]
Finance
US Wholesale Inflation Eases to 8%
Prices at the wholesale level rose 8% in October from 12 months earlier, the fourth straight decline and the latest sign that inflation pressures in the United States are easing from painfully high levels…. [Full Story]
Peter Reagan: Housing Market Looks Bad, and It's Going to Get Worse
Ford Must Bring More Work In-house to Preserve Jobs: CEO
Kraft Heinz Turns to Hot Dog Popsicle, Velveeta Martini Gimmicks
Activist Investor Urges Google to Cut Headcount, Costs
More Finance
Health
Best Foods to Boost Your Defenses Against the Tripledemic
Healthcare experts are warning that COVID-19 isn't the only virus that will challenge our immune system this year. We will likely be hit with a "tripledemic" that includes a severe cold and flu season, as well as COVID-19. On top of this trio, we have an uptick of RSV… [Full Story]
FDA: Opioid Overdose Reversal Drug Likely Safe for OTC Use
Nick Jonas Shares 4 Signs That Led to Diabetes 1 Diagnosis
Study: Exposure to Nighttime Outdoor Lighting Linked to Increased Diabetes Risk
Significant Rise in Children in ER After Drinking Cough Suppressant
===================================
NOTE 1: The 3rd chart above includes the Canadian stock, ECN, which purchased Triad Financial Services, a manufactured home industry lender
NOTE 2: Drew changed its name and trading symbol at the end of 2016 to Lippert (LCII).
NOTE 3: Deer Valley was largely taken private, say company insiders in a message to MHProNews on 12.15.2020, but there are still some outstanding shares of the stock from the days when it was a publicly traded firm.  Thus, there is still periodic activity on DVLY.
Note 4: some recent or related reports to the equities named above follow.
'No Assurance Inflation Will Not Affect Our Future Profitability Financial Position'=Cavco Industries 10-Q, Solitaire Deal, More CVCO Data; Supreme Court Ruled-SEC Regs on False-Omitted Remarks
Skyline Champion Provides Quarterly Results, Adding Retail Centers, Improved Delivery Times-CEO Mark Yost Says 'Can Outperform Conventional Housing' Explored; Plus MHVille REITs, Stocks Update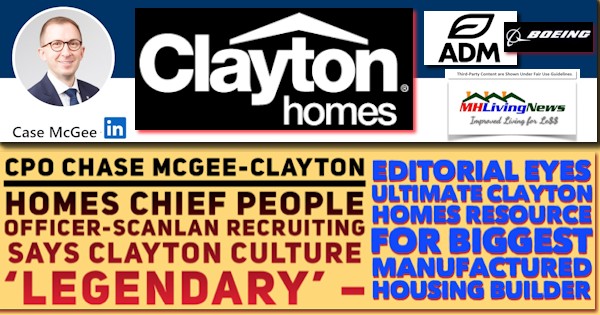 Triad Financial Services Q2-2022 FINANCIAL RESULTS, per ECN Capital – Several Bright Spots in Manufactured Home Market Highlighted, Including Communities, Retail, Land-Home, Floor; MHStocks Update
'Blackrock Weaponizing ESG'– State AGs Probe MHCommunities Owner, Private Equity Giant Blackrock on Possible Antitrust, Securities, Fiduciary Violations, See AGs' Document; plus MHStocks Update
Truist, Other Investors Increase Multi-Million Dollar Stakes in Legacy Housing Corporation (LEGH), Corp Update by CEO Duncan Bates, with Added Facts, Analysis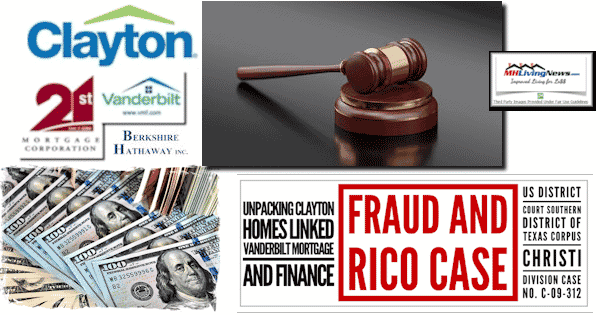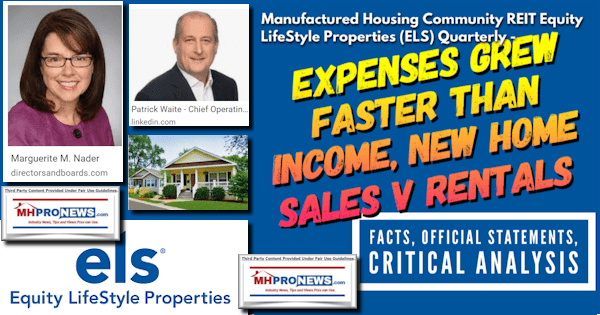 Manufactured Home Communities (a.k.a. 'Mobile Home Parks' – SIC) – Exploring UMH Properties; Fellow Manufactured Housing Institute Member Yes! Communities Suits and Settlements; plus MH Markets Updates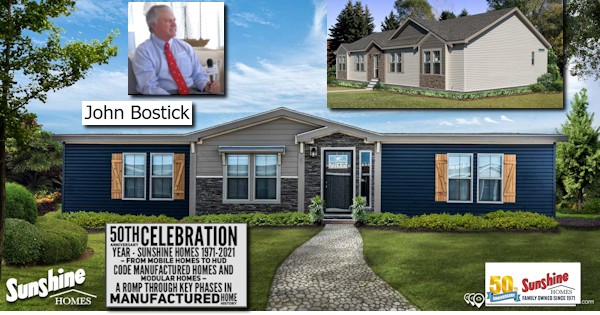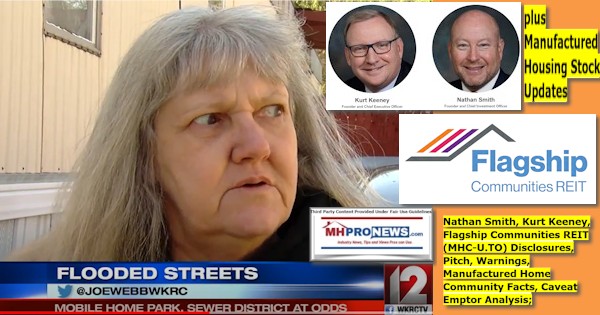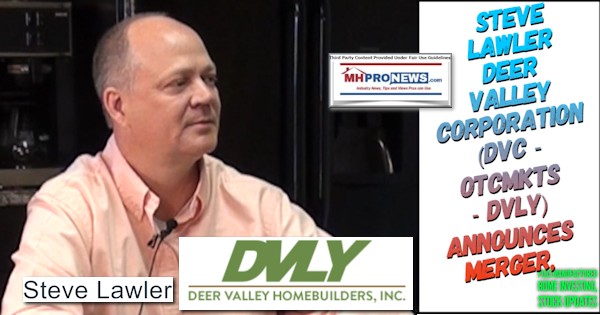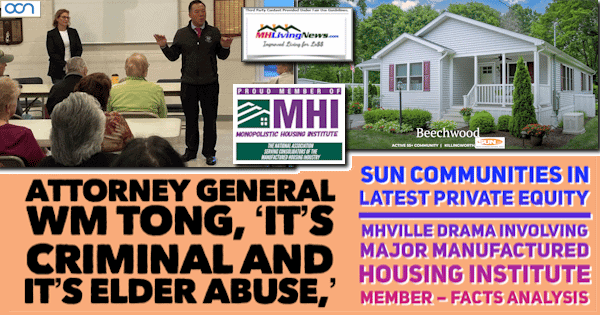 2022 …Berkshire Hathaway is the parent company to Clayton Homes, 21st Mortgage, Vanderbilt Mortgage and other factory-built housing industry suppliers.
· LCI Industries, Patrick, UFPI, and LP each are suppliers to the manufactured housing industry, among others.
· AMG, CG, and TAVFX have investments in manufactured housing related businesses. For insights from third-parties and clients about our publisher, click here.
Disclosure. MHProNews holds no positions in the stocks in this report.
· For expert manufactured housing business development or other professional services, click here.
· To sign up in seconds for our industry leading emailed headline news updates, click here.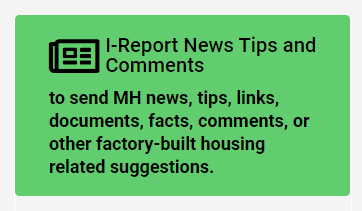 That's a wrap on this installment of "News Through the Lens of Manufactured Homes and Factory-Built Housing" © where "We Provide, You Decide." © (Affordable housing, manufactured homes, stock, investing, data, metrics, reports, fact-checks, analysis, and commentary. Third-party images or content are provided under fair use guidelines for media.) (See Related Reports, further below. Text/image boxes often are hot-linked to other reports that can be access by clicking on them.)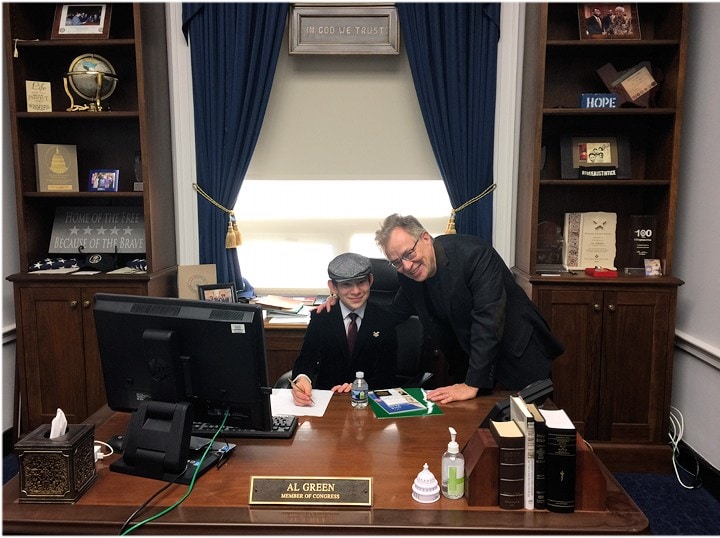 By L.A. "Tony" Kovach – for MHProNews.
Tony earned a journalism scholarship along with numerous awards in history. There have been several awards and honors and also recognition in manufactured housing. For example, he earned the prestigious Lottinville Award in history from the University of Oklahoma, where he studied history and business management. He's a managing member and co-founder of LifeStyle Factory Homes, LLC, the parent company to MHProNews, and MHLivingNews.com. This article reflects the LLC's and/or the writer's position and may or may not reflect the views of sponsors or supporters.
Factual and Viewpoint Insights from August 2022 in MHVille Manufactured Housing Pros, Public Officials, Investors, and Curious People Seeking Affordable Manufactured Home Knowledge and Trends