"First-time homebuyers are being shut out of the market like never before," said left-leaning CNN, via MSN and their own news website reported the item below on 11.3.2022. After the CNN report, which apparently contradicts Democratic and their supporters' talking points about making more affordable housing and manufactured homes accessible, will be additional information with an MHProNews analysis and commentary in brief. The Sunday weekly MHVille headlines in review follow the CNN report and analysis.
But first, some pull quotes from the Manufactured Housing Institute's (MHI's) latest email to members.
"MHI's access to Washington policymakers is as strong as ever due to our constant and comprehensive efforts with Congress and the Administration and the direct engagement from MHI members to their elected representatives." If so, then how does MHI explain the poor outcome of policies that where supposed to help blacks, other minorities, and the manufactured housing industry's professional? After all, their own statement above and their touted access, input, and support since the outset of the Biden regime has yielded what?
A DROP in first time homebuyers to the lowest level on record.
A FALL in the percentage of Blacks who have been able to access the housing ladder to the American Dream.
Thanks Biden, Democrats, and MHI.
Note that this represents a reversal of the gains being made by minorities and others during the Trump Administration. Why didn't MHI join hands with the Manufactured Housing Association for Regulatory Reform (MHARR) to press a pro-manufactured housing Secretary Ben Carson and other officials by then-President Donald J. Trump appointed into fully implementing.
Hold those thoughts while reading the following from CNN.
First-time homebuyers are being shut out of the market like never before
By Anna Bahney

If you bought your first home during the past year, consider yourself one of the fortunate few.
Skyrocketing home prices and climbing interest rates pushed the share of first-time homebuyers to an all-time low, according to a new report from the National Association of Realtors. And those first-time buyers were the oldest they have ever been, as the growing lack of affordability forced people to wait longer to reach life milestones like buying a home.
First-time buyers made up just 26% of all homebuyers in the year ending June 2022, down from 34% the year before, according to NAR's 2022 report on homebuyers and sellers. That was the lowest in the survey's 41-year history. The share of buyers purchasing a first home has sat between 30% and 40% over the past decade and reached as high as 50% in 2009.
The age of a first-time homebuyer also rose, with the typical age reaching 36 years old, up from 33 last year. The typical repeat buyer's age also climbed, reaching 59 years old, up from 56. Both are all-time highs.
As home prices soared and mortgage rates rose, buyers' income dropped, the report found.
The median household income for first-time buyers slipped to $71,000 during the year ended in June, down from $86,500 in the previous 12-month period. Meanwhile, repeat buyers had a median income of $96,000, down from $112,500 the previous year.
Buyers typically purchased their homes for 100% of the asking price, the research showed, with 28% paying more than the asking price.
"For first-time homebuyers, the lack of affordability is playing a key role in holding them back from homeownership," said Jessica Lautz, NAR's vice president of demographics and behavioral insights. "They don't have the equity that repeat buyers have for a down payment or to buy in cash. They have to save while paying more for rent, as well as student debt, child care and other expenses, and this year were facing increasing home prices while mortgage rates are also climbing."
The time period covered by the research, from July 2021 to June 2022, included some of the steepest home price increases, reaching a peak median home price of $413,800 this past June. Inventory, hampered by decades of underbuilding, was at record low levels, which kept the competition to buy a home frenzied and pushed prices higher. By April of this year, mortgage rates began to surge past the 5% mark. But, after the Fed embarked on a series of interest rate hikes in order to tame inflation, they climbed to as high as 7% by late October. On Thursday, mortgage rates dipped slightly to 6.95%.
Together these factors have made for one of the most challenging and least affordable housing markets in decades.
Fewer Black and Asian buyers
Economists and housing advocates have cautioned that the increasingly unaffordable housing market is locking many potential buyers, especially buyers of color, out of homeownership.
The research showed there were fewer Black and Asian homebuyers during the year studied, while the share of White and Hispanic buyers grew.
During the year ending in June, the overwhelming majority of buyers, 88%, were White, up from 82% the previous year. Of all home buyers, 8% were Hispanic, up from 7%. Meanwhile, 3% were Black and 2% were Asian, both dropping from 6% a year ago.
This is likely to exacerbate the racial homeownership gap, in which 72% of White Americans are homeowners while only 43% of Black Americans own a home, according to NAR.
"We have been talking about the impacts, but this year we are seeing it realized in the data," said Lautz. "Unless we have substantial homebuilding at affordable prices, we will continue to see first-time homebuyers held back."
Lautz said that prior NAR research has shown that would-be Black homebuyers have lower incomes, higher debt and less likelihood of family support for a down payment than other groups. The data also showed that Black renters are also more squeezed, with a larger share paying more than 30% of their income to their landlord.
"With the rise of rents and how that is hitting first-time homebuyers, it impacts Black buyers more than it would any other group," said Lautz.
Buying smaller homes, farther away
Because of the affordability crunch, homebuyers seemed less able or interested in buying in the area where they currently live. The median distance between a buyer's current home and their newly purchased home was typically 15 miles between 2018 and 2021. The typical distance during the year ending in June 2022 was 50 miles.
Lautz said the research showed buyers faced hard decisions to close the deal on a home they could afford.
The typical home purchased was 1,800 square feet, had three bedrooms and two bathrooms, and was built in 1986, the NAR report found. That is a smaller and older home than in previous years.
"For a lot of people something had to give in the equation: their location, the condition of the home or its size," said Lautz. ##
Additional Information with More MHProNews Analysis and Commentary
While manufactured housing is never mentioned by CNN, nevertheless, the array of facts and data they point to, often citing a 2022 research report by the National Association of Realtors (NAR) on Buyer and Seller trends ought to spell boom times for manufactured housing.
While MHI is bending over backwards to pat their own backs, their own emails, carefully read, reveal their obvious failures to deliver on their own claimed agenda. While MHI is busily touting their bipartisan engagement, which is 'true' in a paltering sort of sense, what they fail to admit is that for all of their engagement, dialogue and discussions, the case has been made numbers of times there are no measurable deliverables that can be attributed to MHI.
Neither MHI staff leaders, nor their corporate leaders, have bothered in recent years to directly engage in discussion with pro-growth industry members, such as MHARR, MHProNews, MHLivingNews, or those outside of the industry's professional ranks that also want to see growth occur.
Put differently,
MHI is engaging with the competitors of manufactured housing.
MHI is also engaged with the Biden regime Democrats that have produced a series of policies that have reversed several of the gains that were being made during the Trump Administration years.
Ample evidence for those remarks above and herein are found in the reports for the week that was found below.
Before diving into this Sunday's weekly headlines recap, let's see more from the core-data provided by NAR to MHProNews.

Housing Research Reveals Plunge of First Time Buyers to 'Lowest' Level 'Ever'
Characteristics of Home Buyers
First-time buyersmade up 26%, down from last year's 34%. This is the lowest share of first-time buyers since the data collection began.
The typical first-time buyerwas 36 years oldthis year, rising from 33 last year, while the typical repeat buyer age climbed to 59 years. Both are all-time highs.
61%of recent buyers were married couples, 17%were single females, 9% were single males, and 10% were unmarried couples. This is the highest share of unmarried couples recorded.
Among first-time buyers, 18%of buyers were unmarried couples, and 5%were other household compositions. Both are the highest shares recorded.
14%of home buyers purchased a multigenerational home, to take care of aging parents, because of children or relatives over the age of 18 moving back home, and for cost-savings.
88%of buyers were White/Caucasian, 8%were Hispanic/Latino, 3% were Black/African-American, 2% were Asian/Pacific Islander, and 3% identified as other. The share of White/Caucasian buyers and Hispanic/Latino buyers both grew this year, while the share of other racial and ethnic groups declined.
91%of recent home buyers identified as heterosexual, 2%as gay or lesbian, 2% as bisexual, and 5% preferred not to answer.
22%of recent home buyers were veteransand 1% were active-duty service members.
At 22%, the primary reason for purchasing a home was the desire to own a homeof their own. For first-time buyers, this number jumps to 62%.
Don't miss today's postscript
The insights and remarks above are routinely supported by the steady stream of factual, evidence based reports with common-sense analysis that are the hallmarks of reporting on MHProNews/MHLivingNews. Such reports makes monopolists, manipulators, other lawbreakers and their minions squirm. But they are apparently part of what has made and kept us the runaway #1 source for manufactured housing "Industry News, Tips, and Views Pros Can Use." © Our "News through the lens of manufactured homes and factory-built housing" © has in recent years steadily revealed the problems caused by and the posturing/paltering of 'sabotaging monopolies' and their de facto spokespeople in and beyond MHVille.
Evidence for such concerns are found in report after report found in the recaps for the week that are revealed below.
With no further adieu, here are the headlines for the week that was from 10.30 to 11.6.2022.
What's New on the Masthead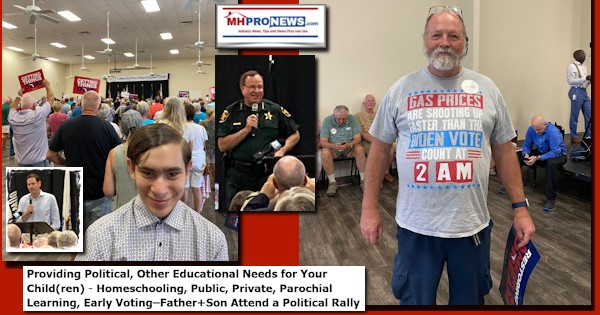 What's New from Washington, D.C. from MHARR
What's New on MHLivingNews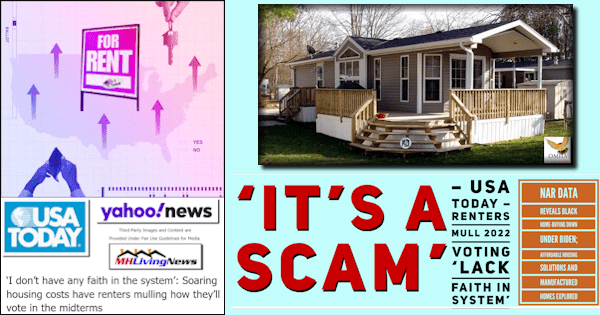 What's New the Daily Business News on MHProNews
Saturday 11.5.2022
Left-Backing Billionaires, Past-Upcoming Elections, Elitist Plainly Claims God-Like Status – Academics and Leaders Warn Americans; Fixing the American Dream; plus MHVille REITs, Stocks Update
Friday 11.4.2022
Manufactured Home Production Growth Continues in September 2022, per Manufactured Housing Association for Regulatory Reform-Added Facts, Analysis, plus MHVille REITs, MH Connected Stocks Update
Thursday 11.3.2022
Unpacking Bankrate '5 Year Housing Market Forecast by Real Estate and Housing Experts' Video, Housing Market Data Graphic, Recent, Current Facts-Predictions; plus, MHVille REITs, Stocks Update
Wednesday 11.2.2022
MHI's New Research, Stockholm Syndrome, Chains of Habit, Defining Insanity, You Can't Make This Stuff Up = Manufactured Housing's Wacky Wednesday; plus MHVille REITs, Stocks Update
Tuesday 11.1.2022
Conventional vs Manufactured Home 2022 Price Comparisons Per Gov-Data, MHVille Affordable Housing Opportunities, Manufactured Housing Institute History–per MHI, plus MHVille REITs, Stock Update
Monday 10.31.2022
Cavco Industries Announces Planned Buyout of Manufactured Home Builder and Manufactured Housing Retailer Solitaire Homes, Official Statement and Information Beyond the New Release
Sunday 10.30.2022
'Affordable Homes for Low Income Must Produce in Factory,' 'Years to Unravel Sabotage,' Grad Students Interest in Manufactured Housing, Factory-Home Solutions; plus Sunday Weekly Headlines Recap
Postscript
As political independents, MHProNews gets messages and email from an array of sources that span the left-center-right. Messages come from Democrats, Republicans, minor parties, and independents. As this is being drafted on Saturday afternoon, among the Democratic emails is one from Senator Elizabeth Warren (MA-D) communications and fundraising team.
During the 2019-2022 primaries, as longer time readers here may recall, MHProNews paid close attention to and reported in depth on Democratic debates.  Among the foci here was then Democratic candidate for her party's presidential nomination, Tulsi Gabbard (HI-D). Gabbard exposed the apparent disconnects and hypocrisy of then Democratic candidate Senator Kamala Harris (CA-D). Gabbard was poised and cool on stage. In an era where the media can play a role in making or breaking a candidate, Gabbard didn't find the traction needed to make her campaign attain its potential. That noted, this video obtained some 5 million views on YouTube, plus whatever the viewership was on CNN and other networks when it aired.
That same video clip reveals then-Senator Harris ripping Biden for working with racist Democratic segregationists.
But Harris failed to mention that those segregationists where in fact Democrats, as was and is Biden.
For those who pay close attention to the details and who have some sense of authentic history, the hypocrisy of those now in power are on full display in this CNN video clip.
The closing moments of that video includes Senator Michael Bennett (CO-D) talking about slavery, Jim Crow, redlining, segregation, and problems with the failing public school system. What Bennet didn't mention, but what former Washington, D.C. CNN report-turned WMAL pundit Chris Plante points out, is that the slave states were then Democratic states. The Jim Crow laws were Democratic laws, says Plante. The school systems are routinely operated by unions that back Democratic candidates.
That's not just Plante's insight into U.S. history, noting that he was a former Democrat for years. A similar view of history is that of black scholar and former Democrat, Professor Carol Swain. This Prager U video has had some 8.9 million views. It says, "Watch as Carol Swain, professor of political science at Vanderbilt University, shares the inconvenient history of the Democratic Party."
Hispanics have apparently 'awakened' by the hundreds of thousands to the realities of the Democratic Party's history of failing minorities. In a surprising upset, Mayra Nohemi Flores a Hispanic Republican became the first in her party to oust a Democrat in about 150 years in a heavily Hispanic district along the Texas-Mexican border during a special election last summer.
'4 Quotes Explain America's Loss of Liberty'- Success or Failure? Profit or Loss? Historic Lessons in Living, Business, Careers, Fair vs. Rigged Systems and Purposeful Living – MHIndustry News, Tips, and Viewpoints
While Hispanics seem to be taking the lead on leaving Democratic politics behind, another recent survey indicates that Blacks may be leaving the ranks of those voting Democratic in record numbers. The pitch by Trump in 2016 to minorities of 'what have you got to lose?' has begun to resonate as with more minorities in 2022.
That backdrop sets the stage for his message from the Tulsi Gabbard communications team to MHProNews.

Aloha Tony, it's Tulsi Gabbard.
I served as a former Democratic Congresswoman and former Vice Chair of the Democratic National Committee.
I left the Democrat Party because they are controlled by radical so-called woke activists who hate freedom and are undermining our Constitution at every turn.
Because the Radical Left is such an existential threat to America, I'm supporting Republicans in their fight to take back the House this November. And I want to personally ask you to join me.
I used to be a Democrat, but the party leaders have gone insane. That's why I'm supporting Republicans in their fight to take back the House this November. And I want to personally ask you to join me.
We don't need more fanatical ideologues in Congress. We need leaders who love this country and are willing to fight for it.  Leaders who will secure our borders, work toward energy independence, reduce crime, protect our children and bring about actual solutions that will make life better for the American people.
We don't have much time, but if we all step up and do our part, on November 8th, we will send the Radical Left a message that Americans are done with their insane agenda.
With aloha,
Tulsi Gabbard ##
Note Gabbard has not become a Republican. Like the team at MHProNews, she is now an independent. Gabbard still holds to some of the platform positions that the Democratic Party has embraced. Are any of these facts found in the MHI election briefing? Hah!
The prima facia case has been made that MHI too are a tool of the big corporate and billionaire elites that took over the Democratic Party and for a time held sway over numbers of Republicans too. MHI and MHI and their attorneys refuse to even attempt to refute this.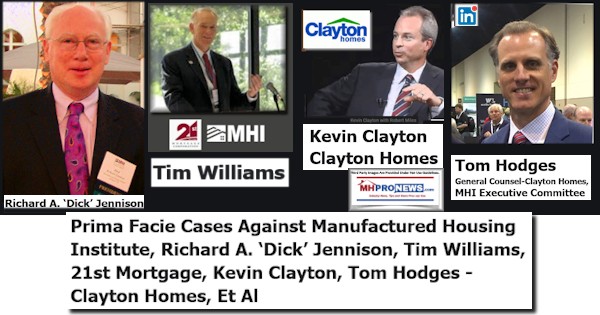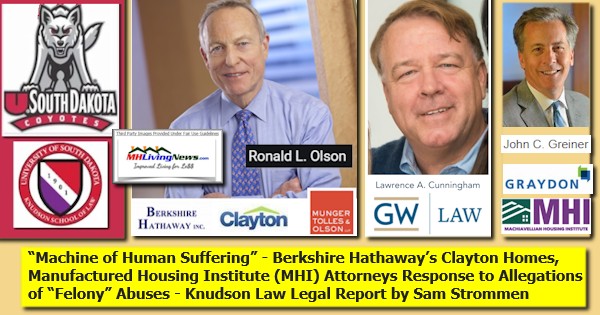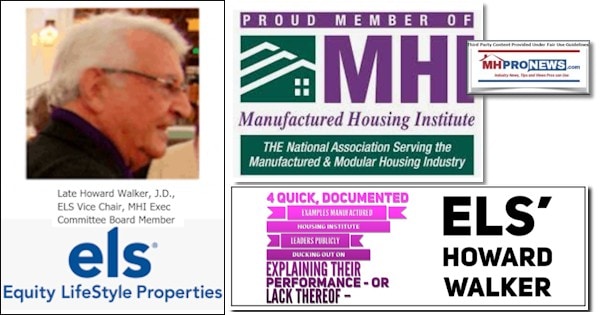 MHI has a card they often like play, and that is to create an echo chamber of 'amen' supporters that praise them, but when examined, they are also oftenthe ones benefiting from the status quo. Or as a longtime MHI member crassly put it to MHProNews, see those remarks below.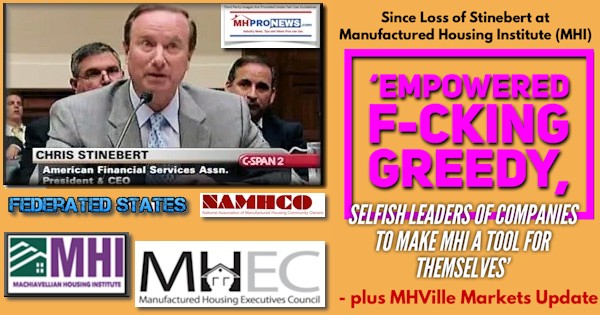 The case can and has been made that connects the dots between some of the same powerful corporate and billionaire interests that have subverted America has also subverted manufactured housing. They have often used MHI as one of their tools to do so.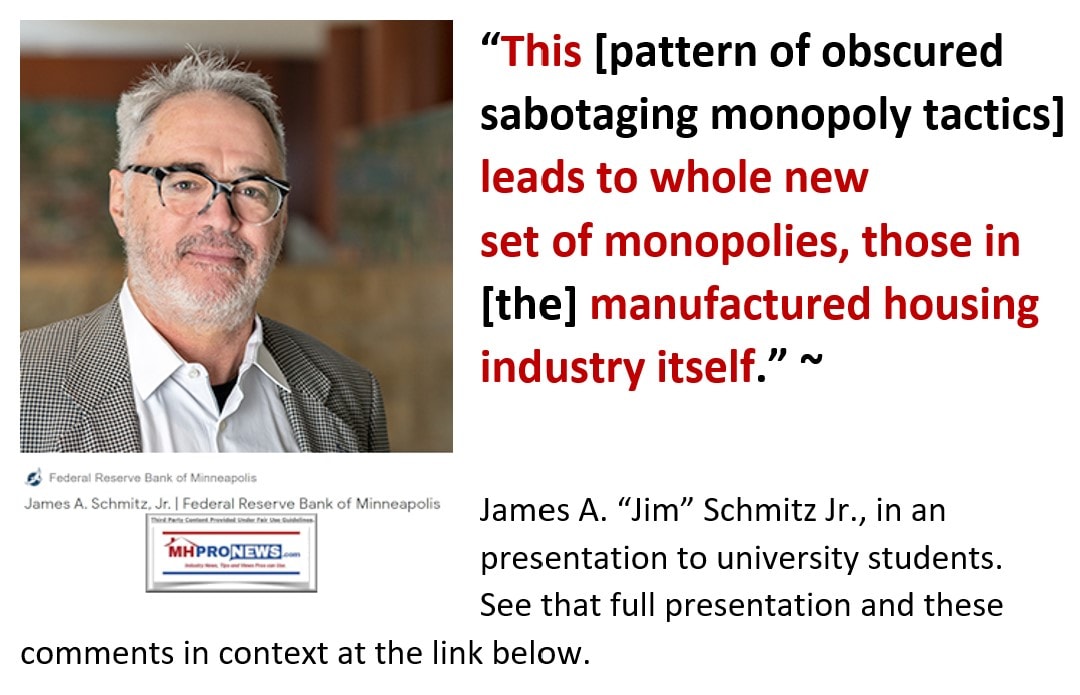 MHI erstwhile defenders are often deflectors or distractors. They can't disprove these allegations, because they are drenched in facts, evidence and common sense.

The need to hold MHI and their de facto bosses accountable for what Strommen called "felony" antitrust violations is only likely to progress if Democrats are turned out and replaced by MAGA or "America First, Americans First" Republicans. If you haven't already voted, do so on Tuesday and "vote R.E.D." As independents, who believe in bipartisan engagement, we did.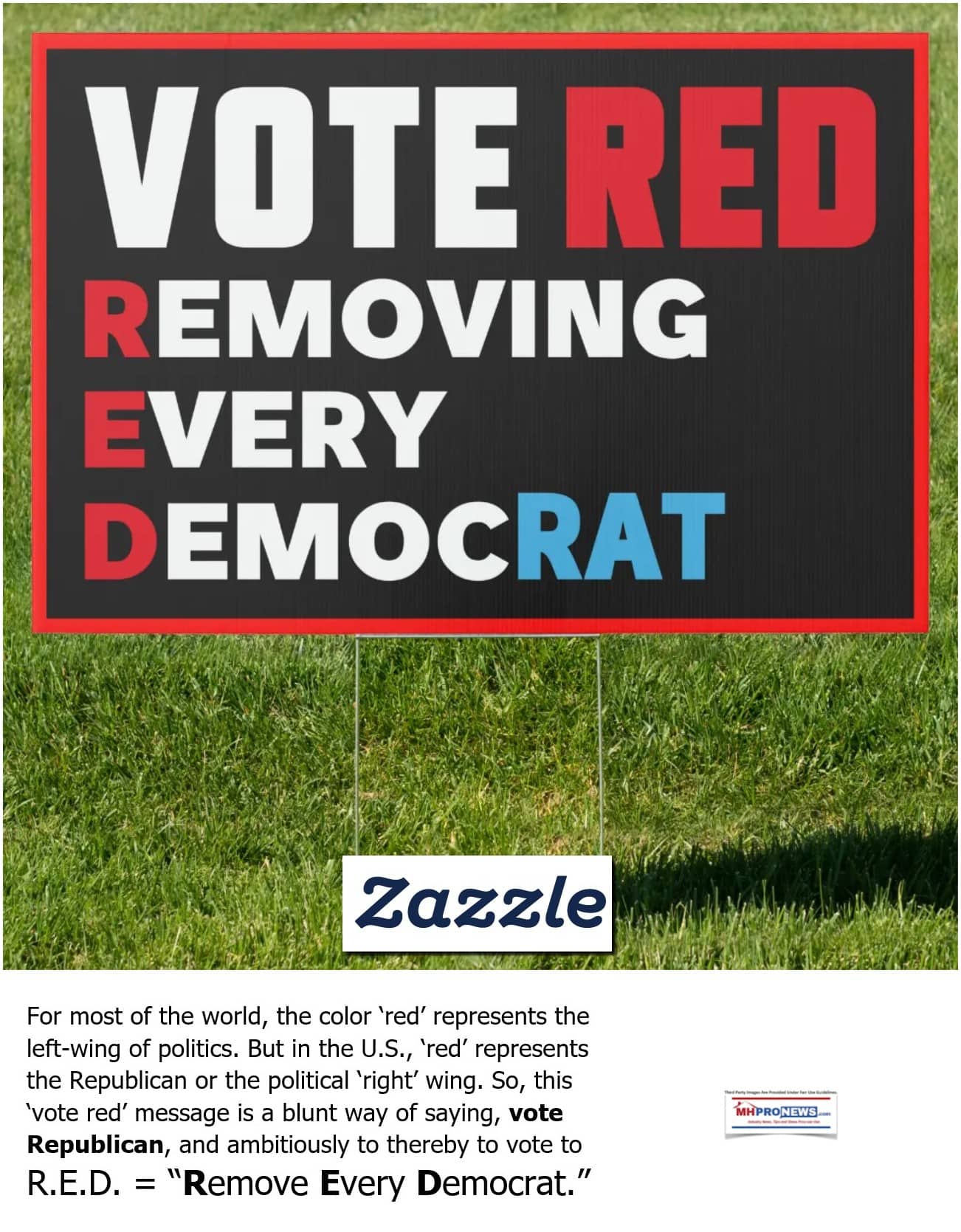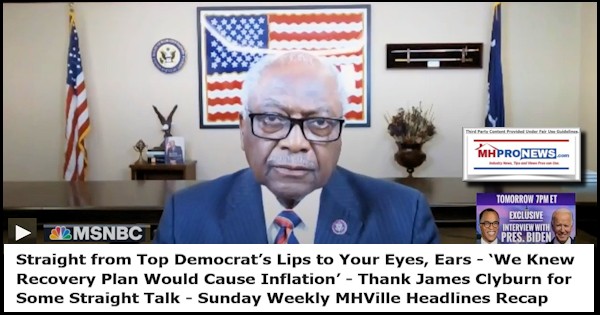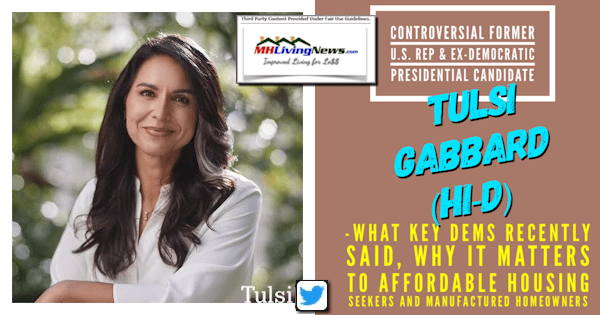 Joe Biden has publicly admitted that if his party loses, he will get impeached. That should hold true for Kamala Harris too. All who have caused the suffering and turmoil of the past 2 years need to be probed, prosecuted as warranted, and lawfully dealt with to the fullest extent the law permits. ###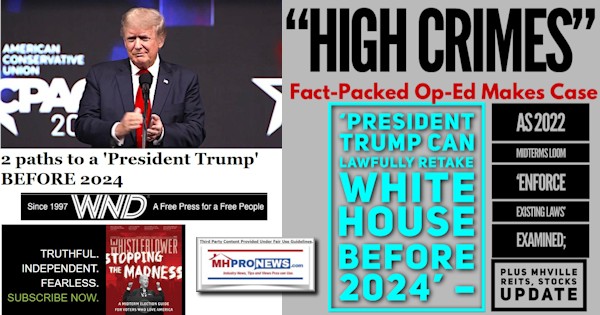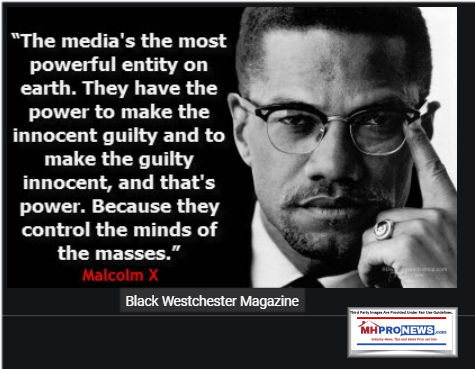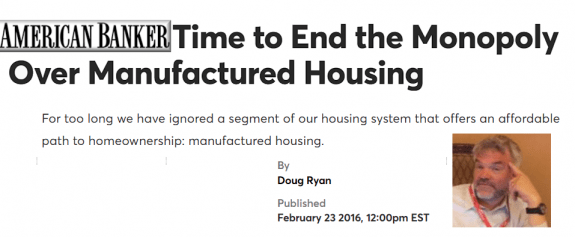 Understanding Crony Corporate, Paltering Media, Washington D.C. Reality Check with B.S. Decoder Ring – Sunday Satire on National, Affordable Housing Issues, with Weekly MHVille Headlines Review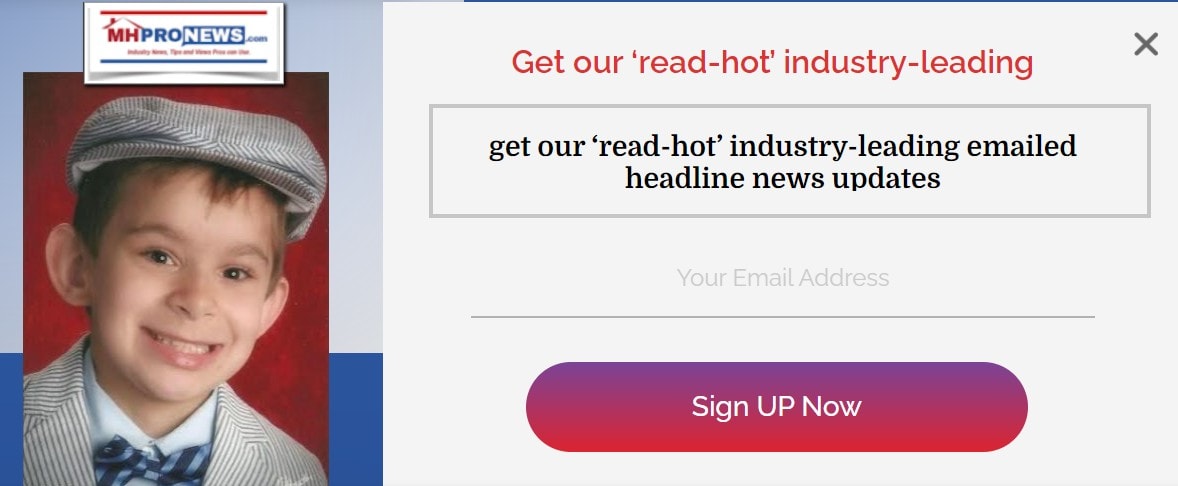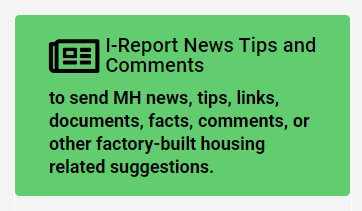 Again, our thanks to free email subscribers and all readers like you, our tipsters/sources, sponsors and God for making and keeping us the runaway number one source for authentic "News through the lens of manufactured homes and factory-built housing" © where "We Provide, You Decide." © ## (Affordable housing, manufactured homes, reports, fact-checks, analysis, and commentary. Third-party images or content are provided under fair use guidelines for media.) (See Related Reports, further below. Text/image boxes often are hot-linked to other reports that can be access by clicking on them.)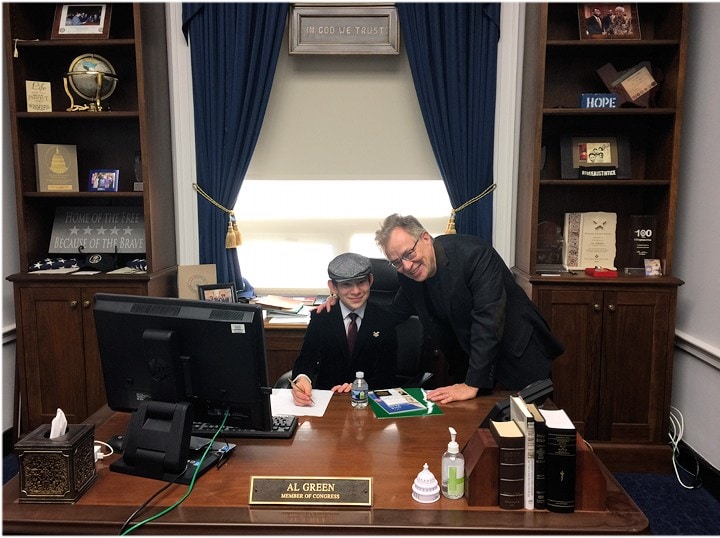 By L.A. "Tony" Kovach – for MHProNews.com.
Tony earned a journalism scholarship and earned numerous awards in history and in manufactured housing.
For example, he earned the prestigious Lottinville Award in history from the University of Oklahoma, where he studied history and business management. He's a managing member and co-founder of LifeStyle Factory Homes, LLC, the parent company to MHProNews, and MHLivingNews.com.
This article reflects the LLC's and/or the writer's position, and may or may not reflect the views of sponsors or supporters.
Connect on LinkedIn: http://www.linkedin.com/in/latonykovach
Related References:
The text/image boxes below are linked to other reports, which can be accessed by clicking on them.
Washington D.C. Updates on DOE 'Energy Assault' HUD is 'Already Moving' on DOE Standards MH Financing MHARR White Paper 'Validated' Again and More – MHI Side of Story, Facts & Analysis
Russian Disinformation? CNN and WND Report on "World Government Summit," Joe Biden Address to Business Roundtable on "the New World Order;" plus Sunday Weekly Headlines Review
Telling Manufactured Housing Story Honestly, Persuasively, Beneficially and Profitably with Facts, Evidence, Bright Line Distinctions – plus Sunday Weekly Manufactured Home Recap