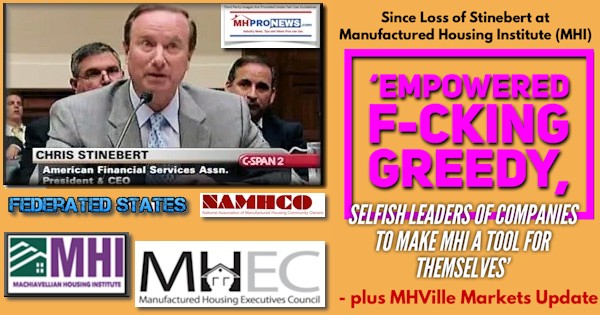 According to a well-placed source from the ranks of state associations and Manufactured Housing Institute (MHI) leadership, the loss of Chris Stinebert marked a new era for MHI and the industry's trade post-production and umbrella trade associations. In a telephone call to MHProNews that source said, "MHI has made inroads. We [MHI] had inroads with the Trump Administration. Did anything come from it? From the FHFA? Whatever?"
The rhetorical questions answered themselves. But for those who want the blanks filled in, the apparent answer is 'no.'
The caller pivoted to former MHI Chairman Joe Stegmayer, who was also the former chairman and CEO of Cavco Industries (CVCO). Once more in an apparent rhetorical quip, the caller said: "Did you ever read the indictment against [Joseph "Joe"] Stegmayer? I really misread him. Look what we've got [as an MHI executive committee member]. It's horrible."
That caller said that some of the major brands had made a "deal with the devil," i.e. Clayton Homes and their lending affiliates, "and they will not publicly fight" them. A flurry of four-letter words erupted as the caller spoke about Clayton and their affiliated financing. Stories were shared which won't be repeated here, as it may give away the source.
The caller said that there is an absolute need for a legitimate post-production trade group. But that source was dubious as to the resolve of industry professionals to make that move. 'Why is there such a lack of moxie from independents?' – MHProNews asked.
The caller said he thinks it is because of the possible exit strategy for mom-and-pop manufactured home communities or others in the industry.
Since the communities' sector was mentioned, MHProNews asked, but what about selling communities to the residents via the ROC process? Isn't that a viable exit strategy for independent community operators? Yes, came the reply, in many cases, it can be.
It is against that backdrop that the latest MHI messaging should be explored.
In an email dated 3.21.2022 emailed after 9 AM ET had NO mention of the court ruling regarding the DOE energy issue.
Nor did that MHI email mention the issues raised in the recent reports linked below.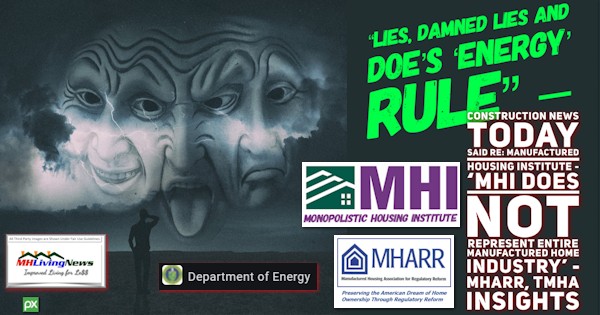 JDSupra-CFPB Announces Inquiry Manufactured Home Communities, Private Equity, Consolidation Issues, PLUS UDAAP Updates-Will 21st, VMF, ELS, Rolfe and Reynolds, MHI/NCC Strategies Prove Wrong?
To the MHI network connected caller's point – Stinebert, Danny Ghorbani for the Manufactured Housing Association for Regulatory Reform (MHARR), and the late Will Earle for the Texas Manufactured Housing Association were three industry leaders that collaboratively helped usher in the Manufactured Housing Improvement Act of 2000 (MHIA or 2000 Reform Law). MHI then was working to 'lift all boats.'
But in more recent years, several voices of concern have been raised that assert that MHI only pays lip service to independents. Their policies demonstrably benefit the consolidators. As an example of that from an on-the-record about MHI comments are the following.

Additional Information, More MHProNews Analysis and Commentary in Brief
Unlike that Stinebert era, the MHI of today no longer mentions MHARR, as if MHARR had somehow ceased to exist. It is a laughable method, as those who have a memory of the past 2 decades know the history. Even the MHI of the Richard "Dick" Jennison era would periodically speak about MHARR and the need to at least try to collaborate. In MHI 2.0, the Lesli Gooch, Mark Bowersox era of MHI, mention of MHARR has stopped.  The caller spoke about both Gooch and Bowersox, which may be the subject of a future report.
But to the caller and the recent announcement reported below.  The need for a genuine post-production trade group that represents the needs of independently owned businesses continues to be a topic of conversation in MHVille.
'Announcing!' 'Manufactured Community Owners' Association of America' 'Finally Bringing Fight To Manufactured Home Community Sector of the Industry' – plus Sunday Weekly Manufactured Housing Headlines Review  
As some MHEC members periodically tell MHProNews, there is frustration among those state executives that believe that the industry's advocacy and performance should be doing far better than it is.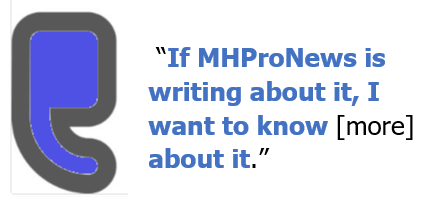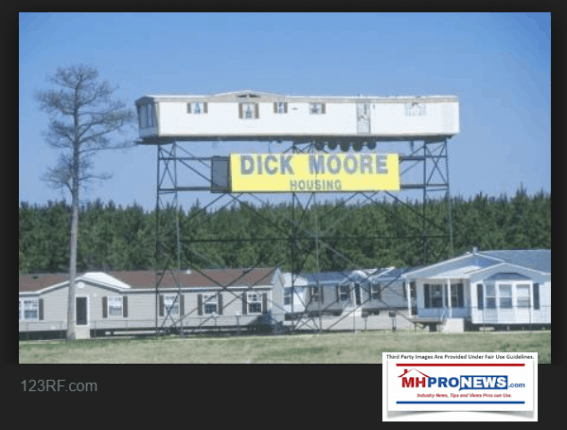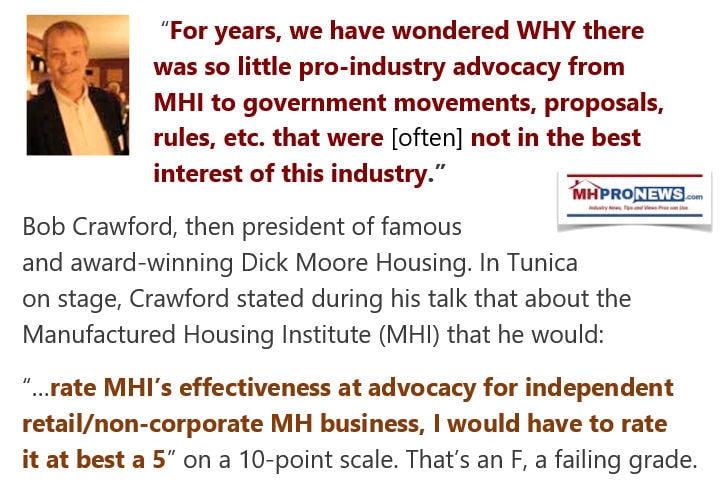 MHProNews will periodically report on such issues and concerns.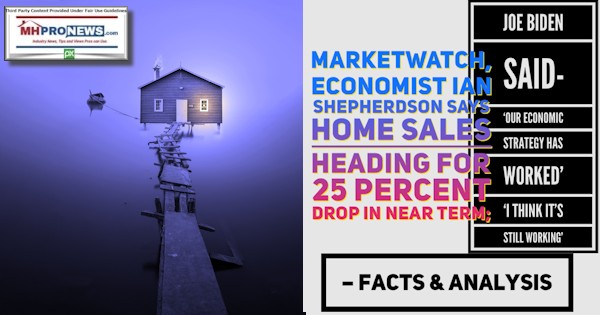 As to former MHI president and CEO Stinebert, MHLivingNews and MHProNews have periodically compared and contrasted MHI actions during his tenure there with what's occurred since. While certain points could perhaps have been better, Stinebert boldly made statements in his exit message that merit consideration today.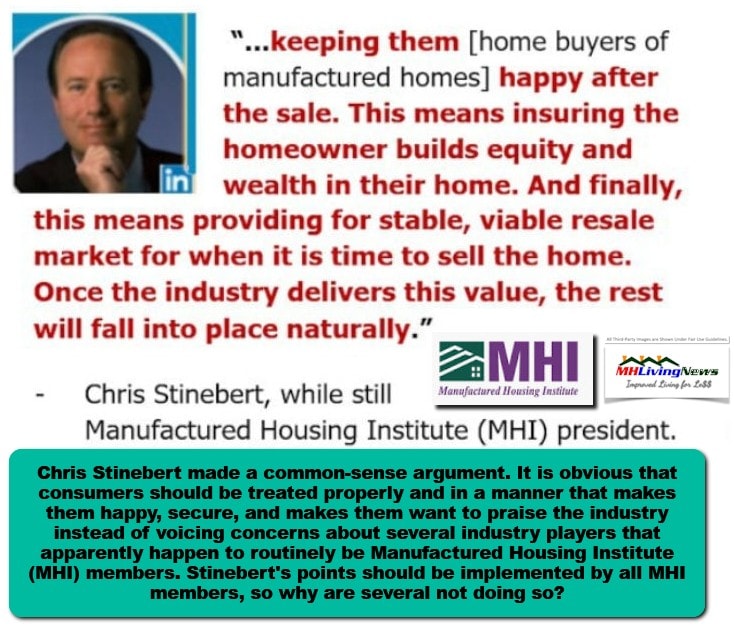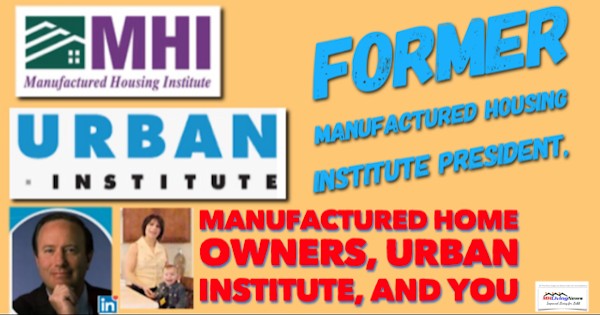 To the caller's point about several post-Stinebert MHI era corporations no longer caring about happy customers ("f-cking greedy"), that view is pressed by consumer and residential advocates too.   The caller spoke about several of those problematic brands by name.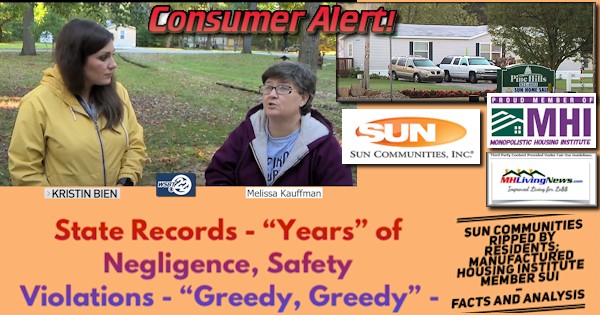 On a lighter note, is the first report linked below. On a serious note is the second report. The second on SEC-ESG was not mentioned by MHI in their recent email to members.
Manufactured Housing Institute of South Carolina (MHISC) Meeting Announcement, Another ROC Manufactured Home Community Deal; plus Manufactured Home Equities Updates
SEC on ESG-Risk Looms; 37 Percent of Democrats, 62 Percent of Independents say America on 'Wrong Track,' Discontent with Biden, Democrat Controlled Congress Ahead of Midterms; plus MHVille Markets
Next up is our daily business news recap of yesterday evening's market report, related left-right headlines, and manufactured housing connected equities.
The Business Daily Manufactured Home Industry Connected Stock Market Updates.  Plus, Market Moving Left leaning CNN and Right-leaning (Newsmax) Headlines Snapshot. While the layout of this daily business report has been evolving over time, several elements of the basic concepts used previously are still the same. For instance. The headlines that follow below can be reviewed at a glance to save time while providing insights across the left-right media divide. Additionally, those headlines often provide clues as to possible 'market-moving' news items.
Market Indicator Closing Summaries – Yahoo Finance Closing Tickers on MHProNews…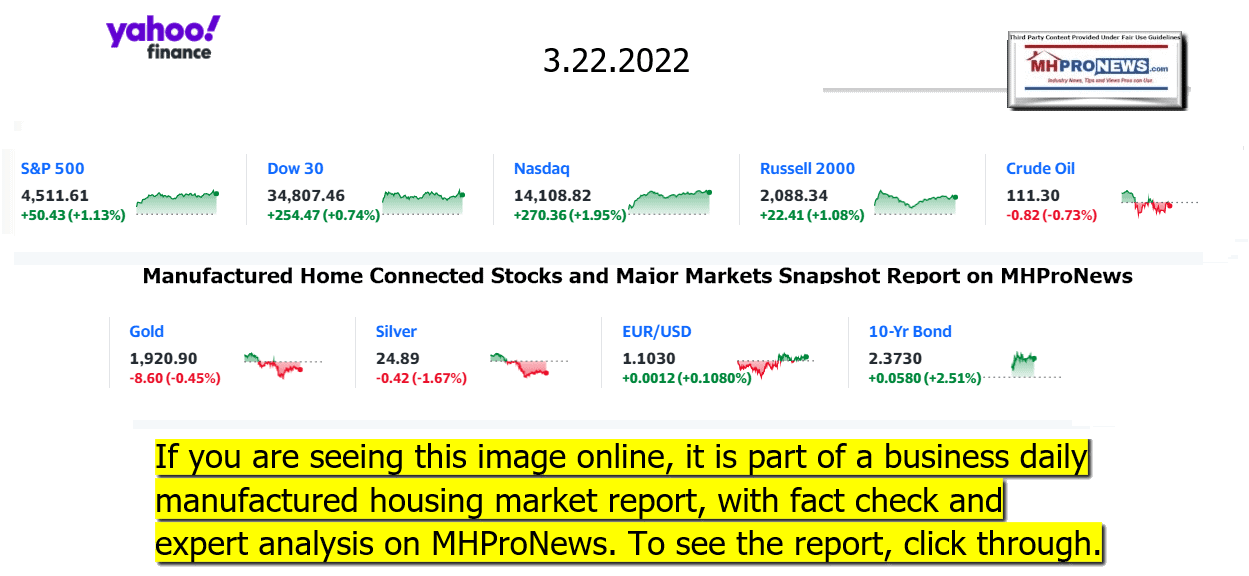 Headlines from left-of-center CNN Business – from the evening of 3.23.2022
Spiking prices
Drivers past a Shell station that is charging $6.09 per gallon for regular gas in Azusa, California, on March 22.
Here's why gas is $6 a gallon in California, even as prices fall elsewhere
This new union boss could start the biggest strike in decades
Airline CEOs urge Biden to end mask mandate, testing requirements
Russian journalist Oksana Baulina killed in shelling incident in Kyiv
Good news for the economy can be found in these 20 stocks
Investors beware: The West is going to hit Russia with more sanctions
Wall Street bonuses hit record high
March meme madness? GameStop and AMC soaring again
Arizona is the first state to accept digital driver's licenses on iPhones
Instacart wants to help grocers get in on the 15-minute delivery craze
Biden administration tackles racial bias in home appraisals
Rent jumped 17% since last year, hitting a new record
Microsoft confirms it was breached by hacker group
Watch: How the price of gas is determined
Mackenzie Scott has given $3.8 billion to 465 organizations since June
Amazon scores legendary broadcaster for 'Thursday Night Football'
A customer refuels a vehicle at a Costco gas station in Federal Way, Washington, U.S, on Thursday, March 10, 2022.
Oil climbs 5% after Russia warns of prolonged pipeline outage
Sections of steel pipe lie in a staging area before being inserted underground as part of the ETP-Sunoco Mariner East 2 pipeline in the Marchwood neighborhood of Exton, Pennsylvania on June 5, 2019. Once completed, the 350-mile Mariner East 2 pipeline will carry 275,000 gallons per day of liquid natural gas by-products from the Marcellus Shale and stretch across Pennsylvania ending at Marcus Hook, Delaware where the petroleum products will be exported to other states and overseas.
Jamie Dimon to Joe Biden: We need a 'Marshall Plan' for energy security
Pillsbury ready-to-bake items are displayed at a grocery store on November 7, 2013 in Chicago, Illinois.
Grocery stores are running out of Totino's and Pillsbury
BUSINESS IN RUSSIA
A Burger King cafe is seen at the food court of a shopping center in Moscow, Russia, on March 9.
Burger King and Papa Johns can't close all Russian locations
Zelensky calls out Nestlé over its ties to Russia
Should Americans boycott companies that won't exit Russia?
Koch Industries: Here's why we're staying in Russia
US franchise owners fear boycott over Russia
CHIP SUPPLY
Semiconductors manufactured by the Intel company are displayed during the 'Paris Games Week' on November 02, 2017 in Paris, France.
Intel will put $89 billion in Europe's chipmaking industry
Ukraine halts half of world's neon output for chips
The biggest chip deal in history has fallen apart
Ford will start shipping Explorers without all the chips
Ukraine crisis is now top risk to global supply chains
Headlines from right-of-center Newsmax – evening of 3.23.2022
NATO Warns Russia on 'Nuclear Saber-Rattling,' Prods China to Stop Backing Lies
Strongly worded statements, issued as Russian invasion of Ukraine grinds on and the fear of nuclear, chemical or biological attacks by Moscow's military hang heavy in the air. [Full Story]
Russian Invasion of Ukraine
WHO: 64 Attacks on Health Care Since War Started
NATO: 40K Russian Troops Killed, Wounded, Taken Prisoner or Missing
European Atom-Smashers Ponder Russia Response
Russia Bids to Host European Soccer Tournament Despite Ban
NATO Warns Russia Against 'Nuclear Saber-Rattling'
Poll: Most See Biden 'Conflict of Interest' in Russia-Ukraine War
Russia Targeting Civilian Supply Depots After Ukrainian Boast
Ivanka to the Rescue, Donates 1M Meals to Ukraine
Biden Warns Govs: 'Take Urgent Action' to Guard Infrastructure
Blinken: 'Russia's Forces Have Committed War Crimes'
Russia Duma Leader Threatens Poland With Attack
Zelenskyy Accuses Russia of Capturing Humanitarian Workers
More Russian Invasion of Ukraine
Newsmax TV
Buck: War Crimes Charge 'Changes World Opinion' | video
NATO Ex-Ambassador: Lavrov's Projecting Propaganda, Not Warnings | video
KT McFarland: 'Nervous' About Nuclear War for the First Time | video
Austin Scott to Newsmax: Biden Must Stress Humanitarian Aid for Ukraine | video
Johnson: Media Corrupt in Handling of Hunter Biden Story | video
Mace to Newsmax: Poland Could Be Next | video
Doug Collins: NYT Buried Hunter Biden Laptop Story for 'Political Purpose' | video
More Newsmax TV
Newsfront
Newsom Signs California Abortion Bill Which Removes Procedural Fees
California Gov. Gavin Newsom signed off on a new law that prohibits insurance companies from charging co-pays or deductibles for abortion procedures, a Tuesday news release from his office revealed…. [Full Story]
Related Stories
Idaho Governor Signs Abortion Ban Modeled on Texas Law
Madeleine Albright, 1st Female US Secretary of State, Dies at 84
Madeleine Albright, who fled the Nazis as a child in her native [Full Story]
Steube to Newsmax: Biden SCOTUS Nominee a 'Political Appointee'
Greg Steube, R-Fla., told Newsmax that Judge Ketanji Brown [Full Story] | video
7 Things the '1619 Project' Authors Say Are Racist
The writers behind The New York Times Magazine's "The 1619 Project" [Full Story] | Platinum Article
Ukrainian Troops Push Russian Forces Back Outside Kyiv, US Official Says
Ukrainian troops are holding off Russian forces in Kyiv and have [Full Story]
Report: Texas Superintendent Asked Librarians to Remove Books on LGBTQ
A superintendent in North Texas instructed librarians to remove books [Full Story]
In Ohio Senate Race, Who's the Real MAGA Candidate?
Angling to win an endorsement from the most consequential figure in [Full Story] | Platinum Article
Nikki Haley to Newsmax: China 'Working in Lockstep' With Russia
Former U.N. Ambassador Nikki Haley told Newsmax on Wednesday that [Full Story] | video
Thune to Newsmax: Russian Citizens, Not Putin, Bear Cost of Invasion Sanctions
John Thune, R-S.D., told Newsmax that it is Russian citizens, [Full Story] | video
NATO Estimates 40K Russian Troops Killed, Wounded, Taken Prisoner or Missing
Up to 15,000 Russian troops have been killed since Russian President [Full Story]
NATO Warns Russia Against 'Nuclear Saber-Rattling,' Demands China Stop Fostering Lies
NATO Secretary-General Jens Stoltenberg on Wednesday denounced Russia [Full Story]
NATO Secretary: Alliance to Bolster Ranks in Eastern Europe to Deter Russia
NATO will bolster its ranks in Eastern Europe to deter Russia from [Full Story]
SPONSOR: Brain enhancers improve focus, memory & prevent memory loss
'Memory Enhancer' For Senior Brains-Improve Memory & Clarity
SPONSOR: Brain enhancers improve focus, memory & prevent memory loss [Full Story]
Ken Buck to Newsmax: War Crimes Accusation 'Changes World Opinion'
Ken Buck, R-Colo., told Newsmax on Wednesday that the United [Full Story] | video
Congressional Republicans Preparing for Hunter Biden Laptop Investigation
Republicans in Congress are laying the groundwork to investigate [Full Story]
Supreme Court Pick Jackson Would Recuse From Harvard Race Case
Supreme Court nominee Ketanji Brown Jackson on Wednesday said that if [Full Story]
Ivanka to the Rescue, Donates 1M Meals to Ukraine
Former top White House adviser Ivanka Trump has donated 1 million [Full Story]
Wall Street Pulls Back, Treasury Yields Dip
Stocks and Treasury yields were down sharply on Wednesday after both [Full Story]
Biden Menu of Options to Lower Gasoline Prices Is Not Appetizing
S. President Joe Biden has few appealing policy options to get [Full Story]
Trafalgar Poll: Majority Sees Biden's 'Conflict of Interest' in Russia-Ukraine War
President Joe Biden's past dealings in Ukraine and Russia, including [Full Story]
Capitol to Start Phased Reopening Next Week
The U.S. Capitol building, which closed to the public two years ago [Full Story]
Jim Jordan: 'Pattern of Misconduct and Mismanagement Within the FBI'
Jim Jordan, R-Ohio, says FBI Director Christopher Wray needs to [Full Story]
Biden Warns Govs.: 'Take Urgent Action' to Guard Infrastructure
As President Joe Biden makes a trip to Europe to meet with NATO [Full Story]
State Dept.: WNBA Star Brittney Griner's Condition Good in Russian Custody
Detained American basketball player Brittney Griner was found to be [Full Story]
McConnell Warns: Jackson 'Evasive' on Court-Packing Questions
While Senate Minority Leader Mitch McConnell went into Judge Ketanji [Full Story]
Idaho Governor Signs Abortion Ban Modeled on Texas Law
Idaho on Wednesday became the first state to enact a law modeled [Full Story]
Pandemic Relief Money Spent on Hotel, Ballpark, Ski Slopes
Thanks to a sudden $140 million cash infusion, officials in Broward [Full Story]
Supreme Court Tosses Wisconsin Legislative Voting Maps
The Supreme Court on Wednesday threw out Wisconsin state legislative [Full Story]
Sarah Palin Seeks to Disqualify Judge in 'Contaminated' NY Times Defamation Trial
Sarah Palin called on the judge who oversaw her unsuccessful [Full Story]
Florida Gov. DeSantis Blasts NCAA for Allowing Trans Swimmer Lia Thomas to Compete
Florida Gov. Ron DeSantis blasted the NCAA on Tuesday for allowing [Full Story]
Trump Pulls Endorsement of Alabama's 'Woke' Mo Brooks
Former President Donald Trump on Wednesday withdrew his endorsement [Full Story]
Putin Is 'Most Dangerous Man in History': Sen. Angus King
Russia has a "different view" of the use of nuclear weapons than does [Full Story] | video
Trump Issues Free Concealed Carry Holster for All Supporters, Claim Yours Now!
More Newsfront
Finance
US Oil Production to Accelerate, With Prices Heading to $93/Barrel
Activity in the oil and gas sector accelerated in the first quarter as company outlooks improved, according to a survey of oil executives released on Wednesday by the Federal Reserve Bank of Dallas…. [Full Story]
'Meme Stock' Rally Redux? GameStop, AMC Shares Rocket Higher
Renault Suspends Moscow Plant, Adjusts 2022 Outlook
Russian Communications Regulator Blocks Google News
Bombardier Cancels Plane Orders Due to Russian Sanctions
More Finance
Health
Moderna Says Its Lower-dose COVID-19 Vaccine Works in Babies and Young Children
Moderna says its lower-dose COVID-19 vaccine works in babies and young children….. [Full Story]
FDA Approves Novartis Therapy for Advanced Prostate Cancer
Type 2 Diabetes Risk Rises After COVID, Transplant From COVID Donors Safe: Studies
Drinking Alcohol Weakens Your Immune System
Correcting Nutritional Deficiencies Could Ease Migraines
MHProNews has pioneered in our profession several reporting elements that keep our regular and attentive readers as arguably the best informed in the manufactured housing industry. Among the items shared after 'every business day' (when markets are open) is our left-right headline recap summary. At a glance in two to three minutes, key 'market moving' news items are covered from left-of-center CNN Business and right-of-center Newsmax. "We Provide, You Decide." © Additionally, MHProNews provides expert commentary and analysis on the issues that others can't or won't cover that help explain why manufactured housing has been underperforming during the Berkshire era while an affordable housing crisis and hundreds of thousands of homeless in America rages on. These are "Industry News, Tips, and Views Pros Can Use" © features and others made and kept us the runaway #1 in manufactured housing trade publisher for a dozen years and counting.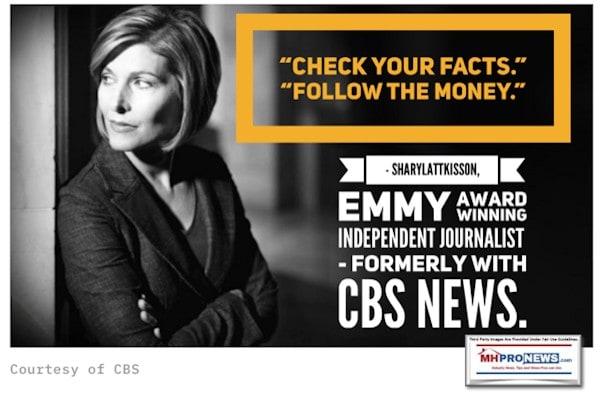 Manufactured Housing Industry Investments Connected Equities Closing Tickers
Some of these firms invest in manufactured housing, or are otherwise connected, but may do other forms of investing or business activities too.
NOTE: The chart below includes the Canadian stock, ECN, which purchased Triad Financial Services, a manufactured home industry lender
NOTE: Drew changed its name and trading symbol at the end of 2016 to Lippert (LCII).
NOTE: Deer Valley was largely taken private, say company insiders in a message to MHProNews on 12.15.2020, but there are still some outstanding shares of  the stock from the days when it was a publicly traded firm.  Thus, there is still periodic activity on DVLY.
Manufactured Home Communities (a.k.a. 'Mobile Home Parks' – SIC) – Exploring UMH Properties; Fellow Manufactured Housing Institute Member Yes! Communities Suits and Settlements; plus MH Markets Updates
Clayton-21st Storm Watch – Sinatra's Summer Wind Blows Early? – Manufactured Housing Moat Breach – Manufactured Home Values Increasing Faster than Site-Built – Case for Something New in 2022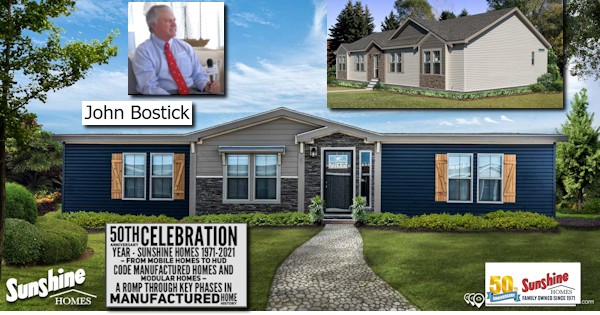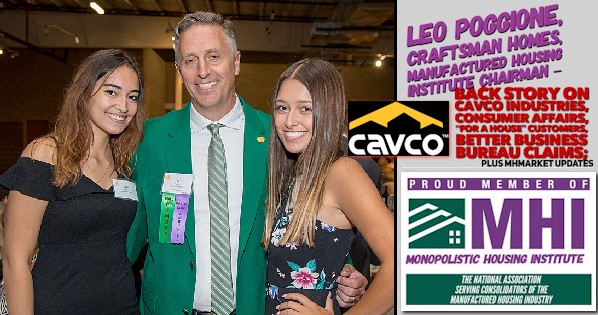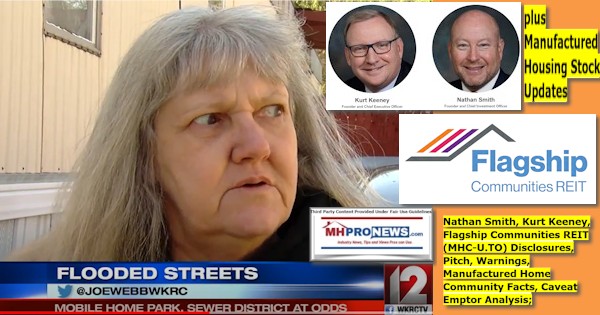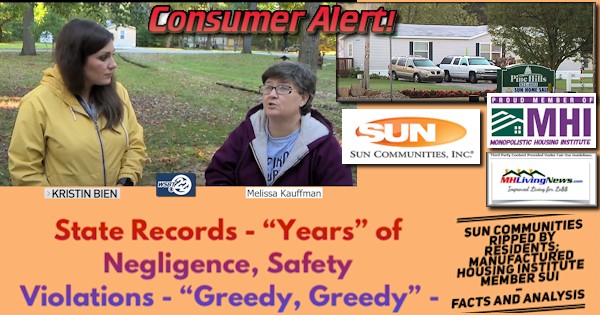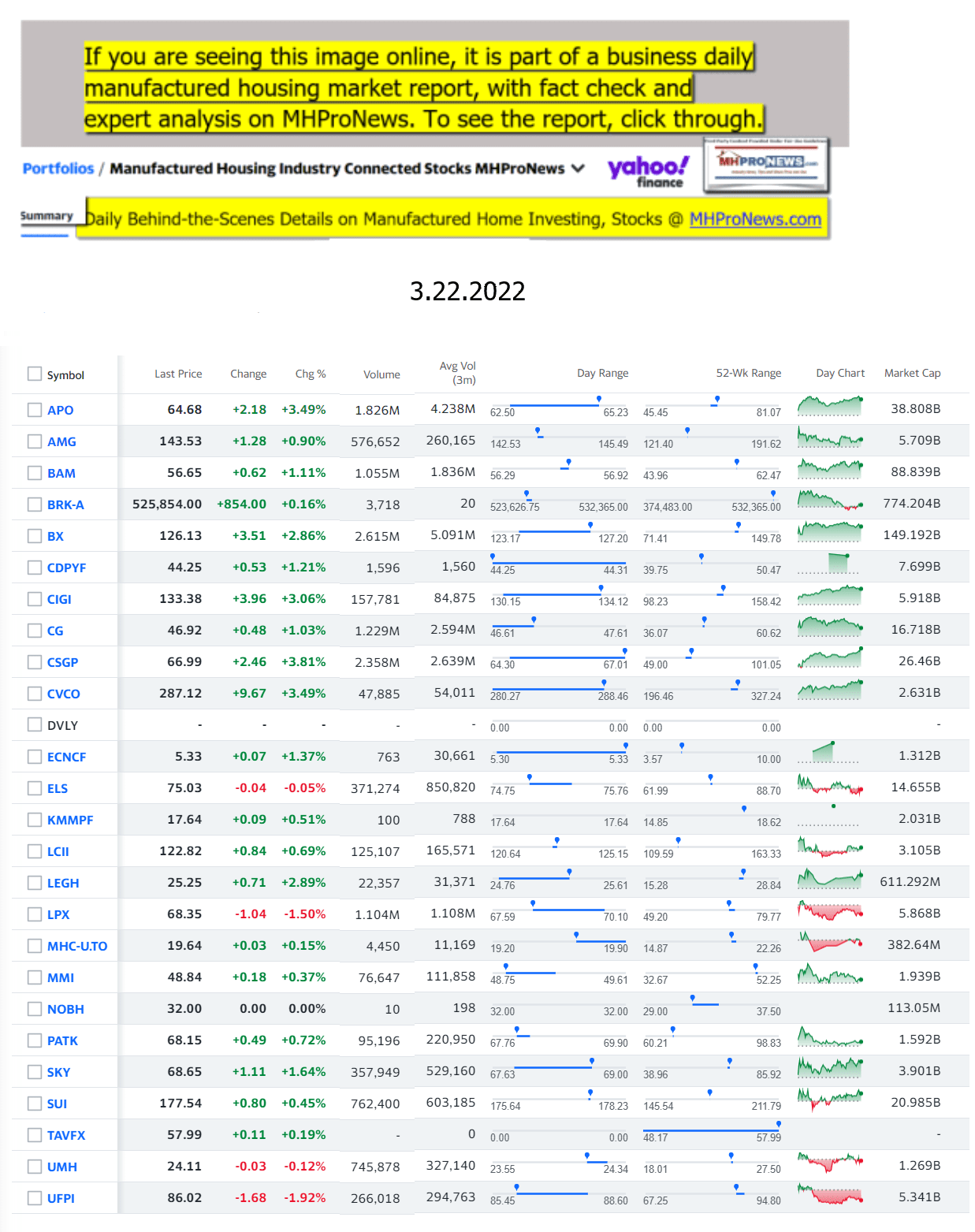 Sample Kudos over the years…
It is now 12+ years and counting…
Learn more about our evolutionary journey as the industry's leading trade media, at the report linked below.
· For expert manufactured housing business development or other professional services, click here.
· To sign up in seconds for our industry leading emailed headline news updates, click here.

Disclosure. MHProNews holds no positions in the stocks in this report.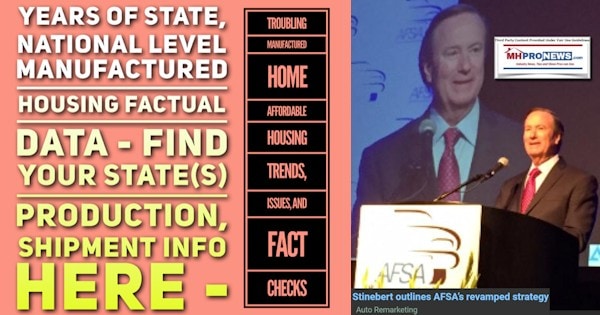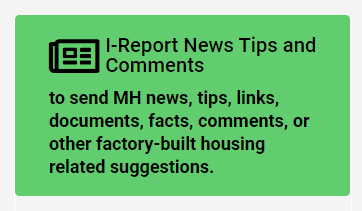 That's a wrap on this installment of "News Through the Lens of Manufactured Homes and Factory-Built Housing" © where "We Provide, You Decide." © (Affordable housing, manufactured homes, stock, investing, data, metrics, reports, fact-checks, analysis, and commentary. Third-party images or content are provided under fair use guidelines for media.) (See Related Reports, further below. Text/image boxes often are hot-linked to other reports that can be access by clicking on them.)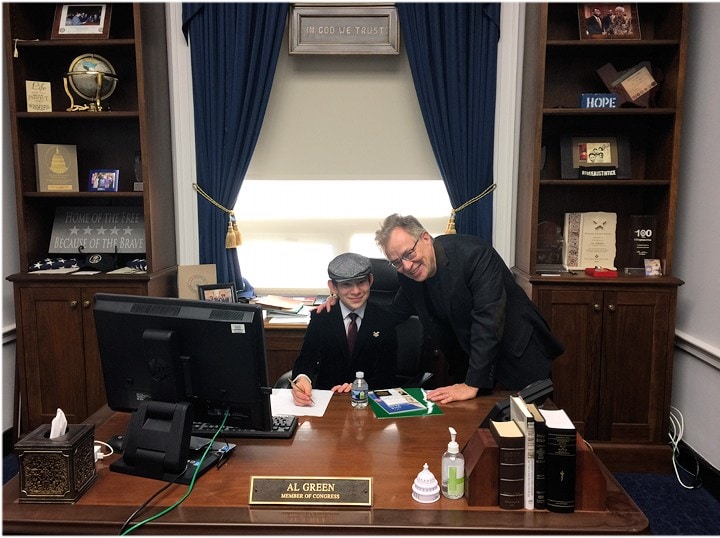 By L.A. "Tony" Kovach – for MHProNews.
Tony earned a journalism scholarship along with numerous awards in history. There have been several awards and honors and also recognition in manufactured housing. For example, he earned the prestigious Lottinville Award in history from the University of Oklahoma, where he studied history and business management. He's a managing member and co-founder of LifeStyle Factory Homes, LLC, the parent company to MHProNews, and MHLivingNews.com. This article reflects the LLC's and/or the writer's position and may or may not reflect the views of sponsors or supporters.