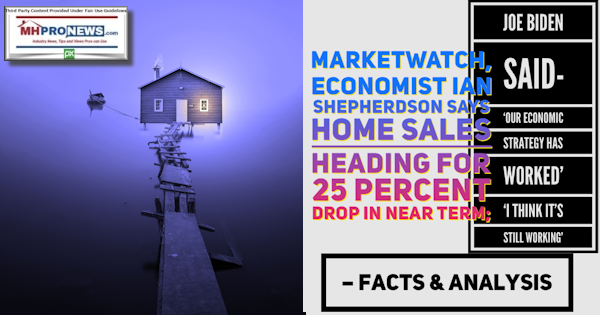 On 3.21.2022 the White House website quotes Joe Biden opening his address to the Business Round Table by jesting, "My name is Joe Biden, and I come from Delaware which has more corporations incorporated than all of the rest of the country combined.  (Laughter.) …You're a hell of an organization… And we've worked together on the American Rescue Plan, on COVID, on infrastructure, supply chains, innovation, on climate and clean energy, reducing costs and a whole lot more. And our strategy has worked, I believe, and I think it's still working." There are some things said in Washington, D.C. that are so bizarre, that they beg for attention. Then, there is the warning by MarketWatch via MSN, which will be addressed further below, that the housing market may be heading for a downturn.
Deeper into Biden's remarks to the business CEOs: "And we reduced the deficit, we reduced the deficit — I want to say it again: We reduced the deficit by $360 billion last year, notwithstanding all that I hear on some channels when I turn them on.  And we're on track to reduce it by over $1 trillion this year." Excuse me?
There were record post-World War II deficits in 2021. Those massive deficits of borrowed money have apparently fueled domestic inflation. Biden mentioned inflation, but not in those terms: "And that groundwork [the Biden-Congressional Democratic policies] has positioned our economy to deal with — with the global problem of inflation, which is real — a lot of people are being hurt by it."
On the Russia-Ukrainian-European tragedy, Biden talked to business leaders on that too. He summed up his thoughts on that evolving human tragedy by saying, "But because our response — because our response is working, because the Ukrainians are fighting so valiantly and using the equipment we've given them…" It is as if Biden is taking credit for Ukrainians fighting valiantly? Biden, who publicly said several times he knew that "Vlad the Impaler" would lead the Russian military to invade Ukraine. Then, why didn't Biden take steps that could have avoided the tragedies that led Biden to calling Vladimir Putin a war criminal? Without war, there are no war crimes.
"Politics is a dirty business," said author Will Shetterly, who added "but if you do not do politics, politics will be done to you." Says New Op-Ed on TampaFP. "There's class warfare, all right, but it's my class, the rich class, that's making war, and we're winning."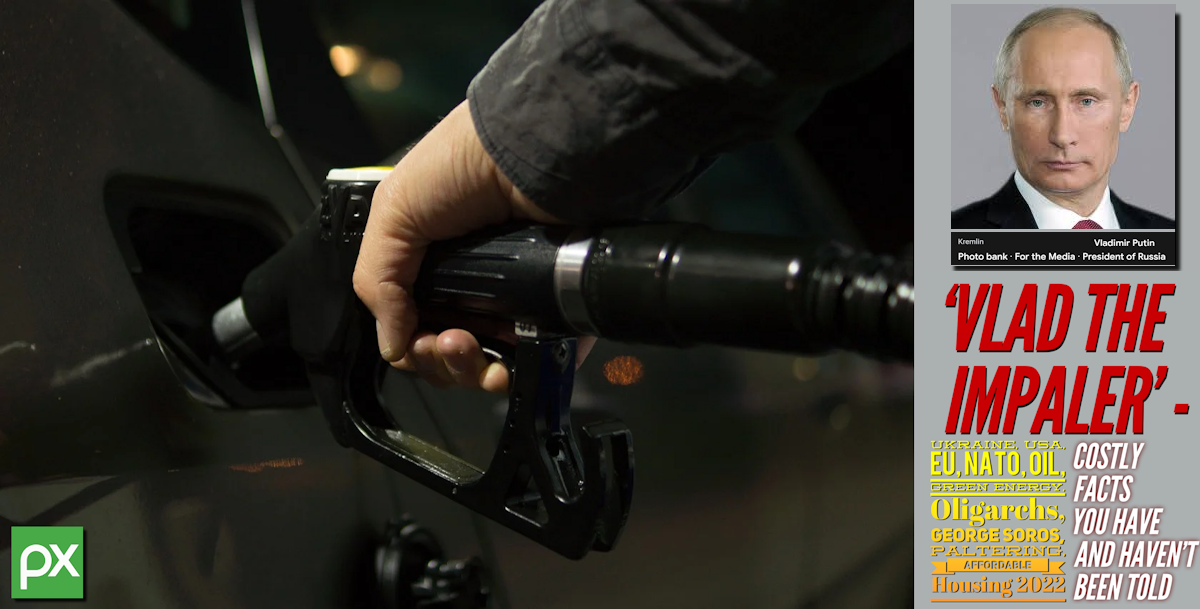 Biden told the Business Round Table about something he claims knowledge about, false flag operations. Speaking of Putin, per Biden's address: "We've seen it before.  He's run a lot of false-flag operations.  Whenever he starts talking about something he thinks NATO, Ukraine, or the United States is about to do, it means he's getting ready to do it.  Not a joke."
Biden warned, "And as I've said, the magnitude of Russia's cyber capacity is fairly consequential, and it's coming." He made it clear that in many cases businesses are on their own in dealing with that threat. "But under U.S. law, as you all remember, the private sector, all of you, largely decides the protections that we will or will not take in order to protect your sources." Thanks, Uncle Joe, for telling us that cyber attacks on American business "will not" be protecting you.
"But let me be absolutely clear about something: It's not just in your interests that are at stake with their potential use of cybersecurity, it is in — the national interest is at stake," said Biden. So, just as Biden is supposed to be cheered for warning us that Putin would invade Russia – and he did without the U.S. thwarting it – so now, Biden is asking for applause for telling American businesses that you too are at risk, better thank the man for the heads up.
Biden told the Round Table that in 2019, they said:  "America deserves an economy that allows each person to succeed through hard work and creativity, and to lead a life of meaning and dignity." Meanwhile, China – even under Trump trade tariffs – had high trade deficits with the U.S. Much of that is due to some of those Business Round Table member companies investing in that Communist Party  led nation.
In drawing to a conclusion, Biden oddly said: "As one of — as one of the top military people said to me in a secure meeting the other day, 60 — 60 million people died between 1900 and 1946.  And since then, we've established a liberal world order, and that hadn't happened in a long while.  A lot of people dying, but nowhere near the chaos." He added, "We're going to — there's going to be a new world order out there, and we've got to lead it.  And we've got to unite the rest of the free world in doing it. So, anyway, I'm going to hush up."
The Washington Post reminds us that in China, their Chairman "Mao launched more than a dozen campaigns during his rule, which began when he founded Communist China in 1949."
NYBooks said that "It is probably fair to say, then, that Mao was responsible for about 1.5 million deaths during the Cultural Revolution, another million for the other campaigns, and between 35 million and 45 million for the Great Leap Famine. Taking a middle number for the famine, 40 million, that's about 42.5 million deaths."
A university study noted that in Cambodia under the communists terror there, "Lasting for four years (between 1975 and 1979), the Cambodian Genocide was an explosion of mass violence that saw between 1.5 and 3 million people killed at the hands of the Khmer Rouge, a communist political group.
In Communist led North Korea, out of a total population of "approximately 22 million, somewhere between 240,000 and 3,500,000 North Koreans died from starvation or hunger-related illnesses, with the deaths peaking in 1997." It must be stressed that the 240,000 figure is supplied by the North Koreans, a number outsider researcher don't believe, while most say the loss of life was between 2.5 to 3.5 million North Koreans.
So, in just 3 communist-government led countries, there were some 51.5 million deaths since 1949.
Then, in the Vietnam and Korean conflicts the average of the total deaths is about 5 million souls. The total is thus about 56½ million lives lost in communist conflicts, genocide, and starvation. That's nearly the same as what Biden cited (perhaps wrongly) as the death toll from wars from 1900 to 1949, which covers both World War I and II. Then note that these totals don't count the conflicts and loss of life in Cuba, Venezuela, the Congo, and other nations in various parts of the developing world where millions of more lives have been lost at the hands of communists and 'socialists.'
To objective thinkers, the evidence is clear. The threat of communism obviously never ended. As if to prove Vladimir Lenin correct: "When it comes time to hang the capitalists, they will vie with each other for the rope contract." (Quote Investigator). Because it was U.S. investor dollars that helped prop up Communist China, which in turn supported communists in countries like North Korea, Southeast Asia, and elsewhere.
Biden is bragging to those who helped put him in office that their plan is working. That's not a conspiracy theory. That's the statement of the man who – rightly or wrongly – occupies the Oval Office. "our strategy has worked" and "it's still working."
These are the people that are 'leading' our nation, which just 18 to 26 months ago had a very different economy. Inflation was comparatively tame. The rate of home ownership was increasing, including for minorities. The income of working- and middle-class Americans were effectively increasing faster than the rate of inflation for the first time in years. Despite Biden's brazenly deceptive claim that they have reduced the deficit, the Trump era federal deficits were lower.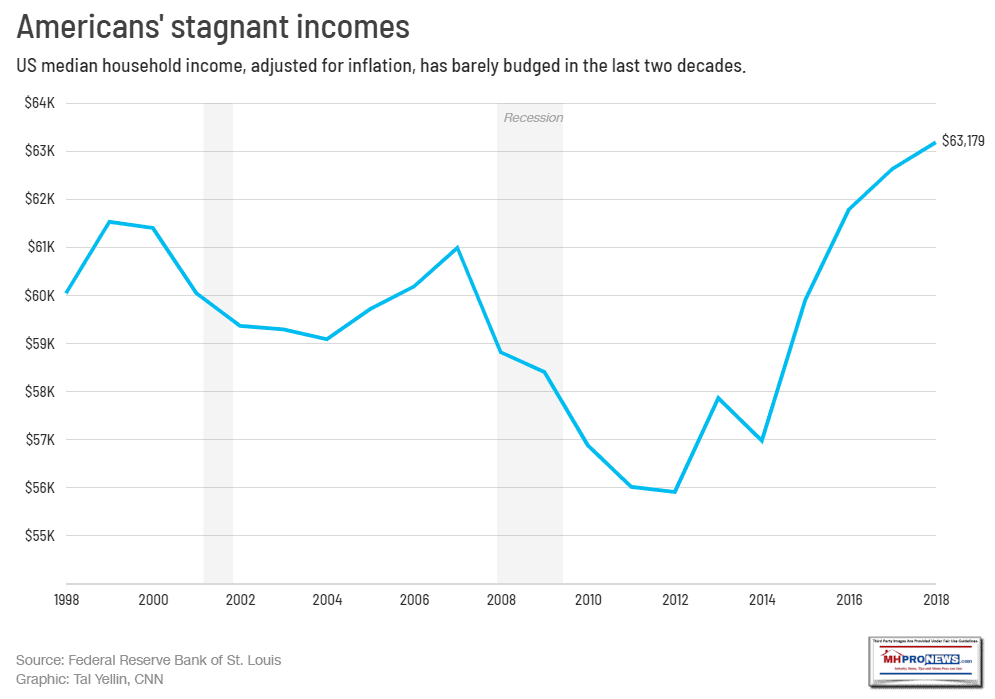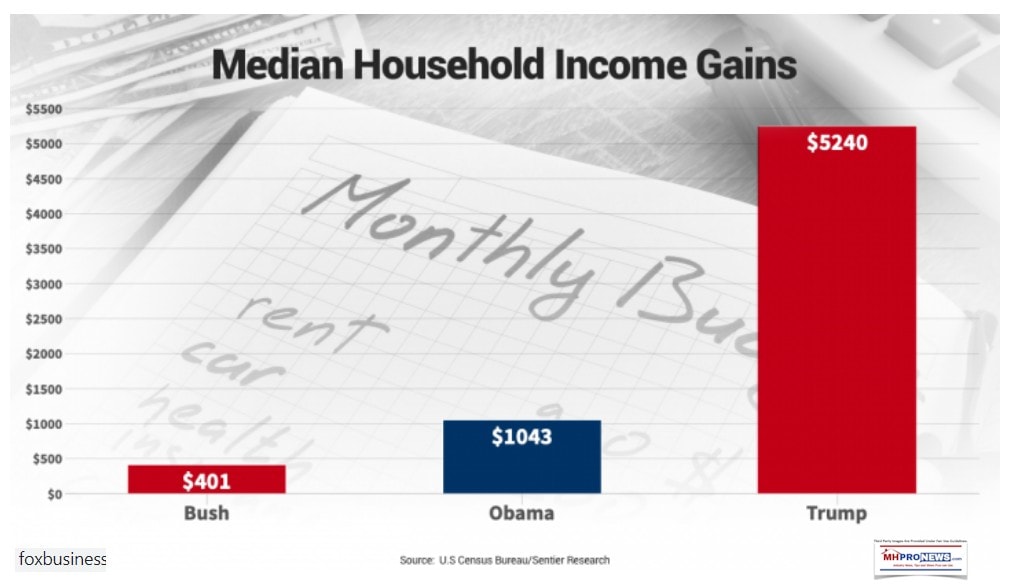 Against the backdrop of Biden palling around with the Business Round Table, is this threat reported today in the Daily Business News on MHProNews.
SEC on ESG-Risk Looms; 37 Percent of Democrats, 62 Percent of Independents say America on 'Wrong Track,' Robert Romano, Americans for Limited Government, Daily Torch, Discontent with Biden, Democrat Controlled Congress Ahead of Midterms, plus MHVille Markets 3.22.2022, REITs, mobile home park investing, communities, factories, production, suppliers, financing, brokers,
Keep in mind that MHProNews has quoted the AEI Housing Center's Tobias Peter who told Congress in testimony last year that federal policies have caused the housing crisis.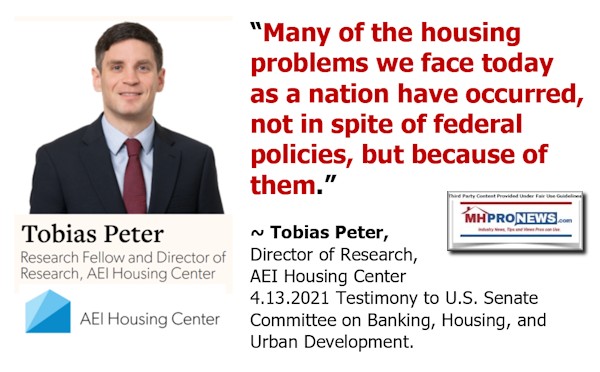 Hold that thought, as we pivot toward the MarketWatch reported concerns noted in today's Masthead headline.
On left-leaning MarketWatch via left-leaning Bill Gates affiliated MSN news (MicroSoft News) is one of numerous articles and issues that should routinely be page one for any manufactured housing industry focused publication. MarketWatch says "Ian Shepherdson, chief economist…of research consulting firm Pantheon Macroeconomics" says housing market sales could drop sharply between now and the end of the summer of 2022. To be sure, there are others who say differently. But it is a noteworthy topic for anyone employed in or investing in manufactured housing, right? But based on years of experience, the odds are that it will only appear here on MHProNews.
Their report is cited at length below and is founded in its entirety linked here.
That said, it should be viewed as an example of how government in the U.S. actually operates, as opposed to how it is supposed to work. It is fair to say that many if not most Americans are failed by government at various levels which are supposed to protect citizens and our rights, but when examined, often undermine the interests of those they claim to protect.
Stating such obvious points is not reported in terms by many in media or who work in nonprofits. These are ongoing signs of costly and irksome institutional failures in America by the very sources that are supposed to hold power to account.
Against that backdrop, the next up are those pull quotes involving economist Shepherdson's concerns, then the balance of this Masthead blog analysis and commentary will follow.
'The housing market is in the early stages of a substantial downshift': Home sales may drop 25% by the end of summer, according to this analyst
Jacob Passy – 3.22.2022 10:39 AM
Ian Shepherdson, chief economist and founder of research consulting firm Pantheon Macroeconomics, is predicting a dramatic fall in the pace of home sales this year. In a research note, he projected that existing-home sales will drop roughly 25% from the annual pace of 6.02 million set in February to a rate of 4.5 million by the end of summer.
"The housing market is in the early stages of a substantial downshift in activity, which will trigger a steep decline in the rate of increase of home prices, starting perhaps as soon as the spring," Shepherdson wrote in a research note distributed Sunday.
As evidence of this expected slowdown in home sales, Shepherdson pointed to mortgage demand. The most recent data on mortgage applications from the Mortgage Bankers Association shows that the number of applications for loans used to purchase homes is down more than 8% compared to a year ago. Comparatively, demand for refinancing has dropped nearly 50% versus last year.
A drop in mortgage demand could predict a downturn in home sales, since most buyers rely on financing to make sure a large purchase. Issues around affordability are likely to blame for the decline. As of Thursday, the average interest rate on the 30-year fixed-rate mortgage surpassed 4% for the first time since May 2019, according to Freddie Mac
Per Shepherdson's calculations, the rise in mortgage rates since September has increased the cost of a monthly mortgage payment for a median-priced home by more than $400, or 27%.
"That's a huge increase, even for households sitting on savings accumulated during the pandemic—a one-time increase in savings can't finance an increase in mortgage payments for the next 30 years—and it will push demand down a good deal further," he wrote.
Indeed, affordability is top of mind for today's home buyers. A recent survey conducted by U.S. News & World Report found that nearly half of buyers say affordability is their biggest concern, though a majority of those surveyed indicated that they were still optimistic they would be able to purchase a home in the next year…"
Note that all of the above ought to be reasons why inherently affordable manufactured housing ought to be roaring. While manufactured housing has finally broken back through the 100,000 annual production level, it is still apparently badly underperforming by historic norms. Meanwhile, conventional construction and existing home resales, which are high, may be poised for downturns.
Where is the manufactured housing industry's umbrella trade group on such disconnects? The Manufactured Housing Institute (MHI) has aid it represents "all segments" – all supposedly under one umbrella – of the manufactured housing industry. Hold that thought, and consider it in the context of the planned Thursday 3.24.2022 exclusive insight on MHI from an insider.
That noted, let's pivot back to Shepherdson and MarketWatch's report.
'A one-time increase in savings can't finance an increase in mortgage payments for the next 30 years.' — Ian Shepherdson, chief economist and founder of Pantheon Macroeconomics
The ripple effects of a shift in existing-home sales would be far-reaching, Shepherdson said, arguing that the pace of rent increases would eventually slow and perhaps even reverse. It also would spread to new-home sales, which he expects will likewise fall. A decrease in new-home sales would represent a downward drag on GDP, since that would implicate less demand for services tied to home-building and less spending on items like building materials and appliances. …
Shepherdson thinks these developments may not help Americans seeking affordable new home purchases. Why? Because listings may be pulled from the market if a downturn occurs. Why? Because, said Shepherdson "no one […] wants to be the last person trying to sell into a falling market." ##
Additional Information, More MHProNews Analysis and Commentary in Brief
Yahoo News has this housing headline today.
Government can be useful, but it can also prove to be harmful. This is a notion that the founders of the American Republic understood. Their notion of government was to strictly limit it. By strictly limiting the size and scope of authority given to the federal government, and reserving all other power to the people and/or states, the founders in our second and current Constitutional system wanted to encourage the opportunities of all. While it took time for rights to blacks and women to catch up, many of the more egregious problems were accomplished by the end of the 1800s. What remained in terms of black and minority voting rights were accomplished by the Civil and Voting Rights acts in the 1960s.
But the 1960s also witnessed a deliberate plan to create what was called the "Great Society." Note that this plan launched by President Lydon Banes Johnson (D) was supposed to create a social safety net. Medicare was launched in the 1960s too.  What has been the results of those initiatives?
Perhaps it is coincidence. But poverty in America is roughly the same now as then. Meanwhile, trillions of dollars have been spent on programs that failed to achieve their stated goals. Here is an example, insights since the "Great Society" programs were launched.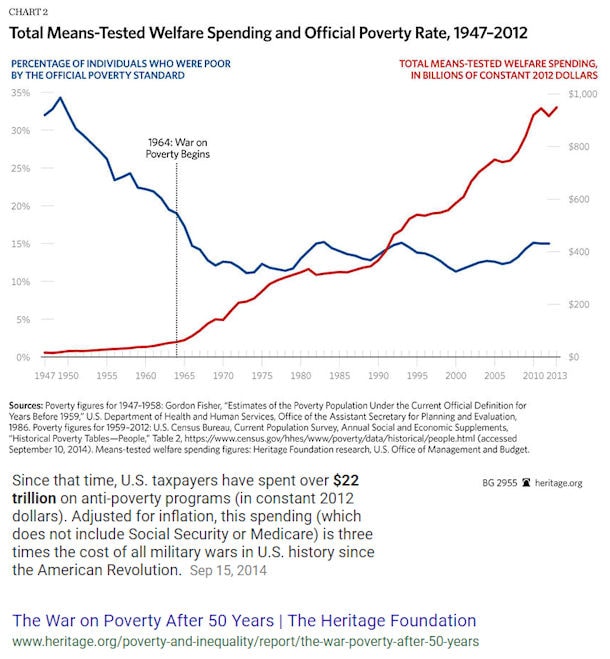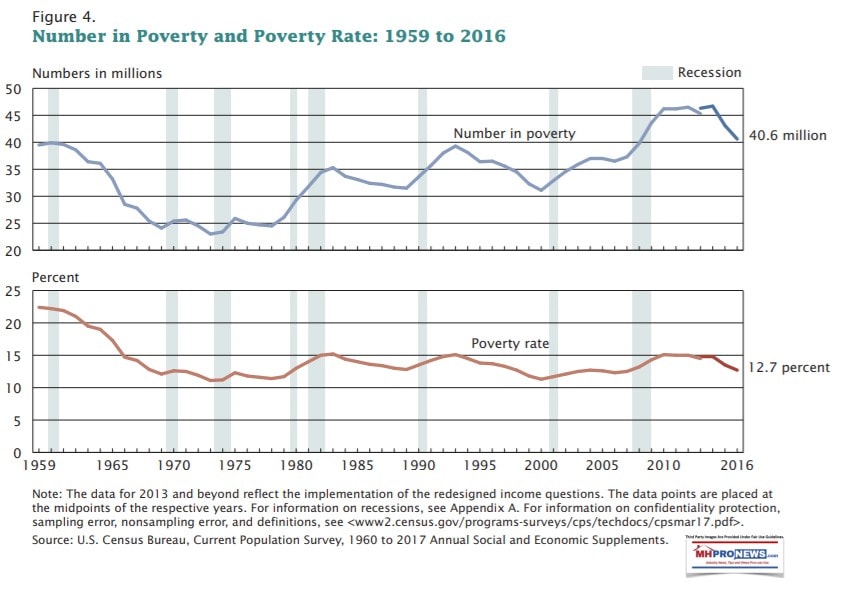 Since Medicare and Medicaid, Investopedia says: "Demand for medical services has increased because of Medicare and Medicaid, resulting in higher prices."
The next graphics reveal that healthcare costs have grown faster since Medicare and Medicaid were launched.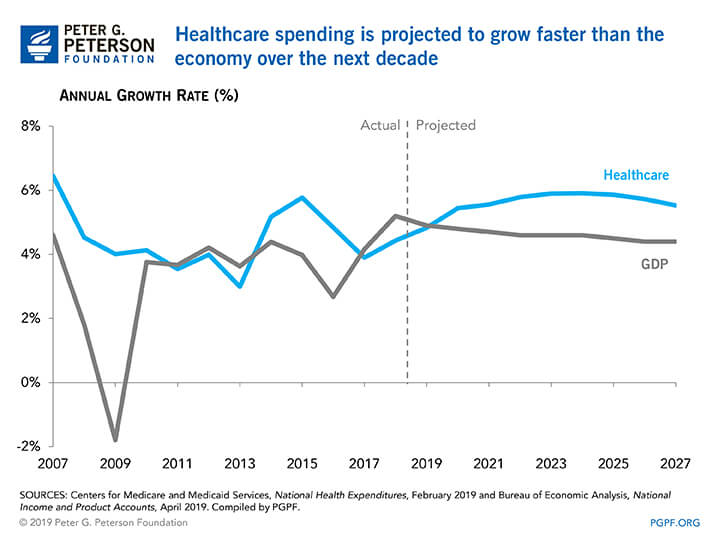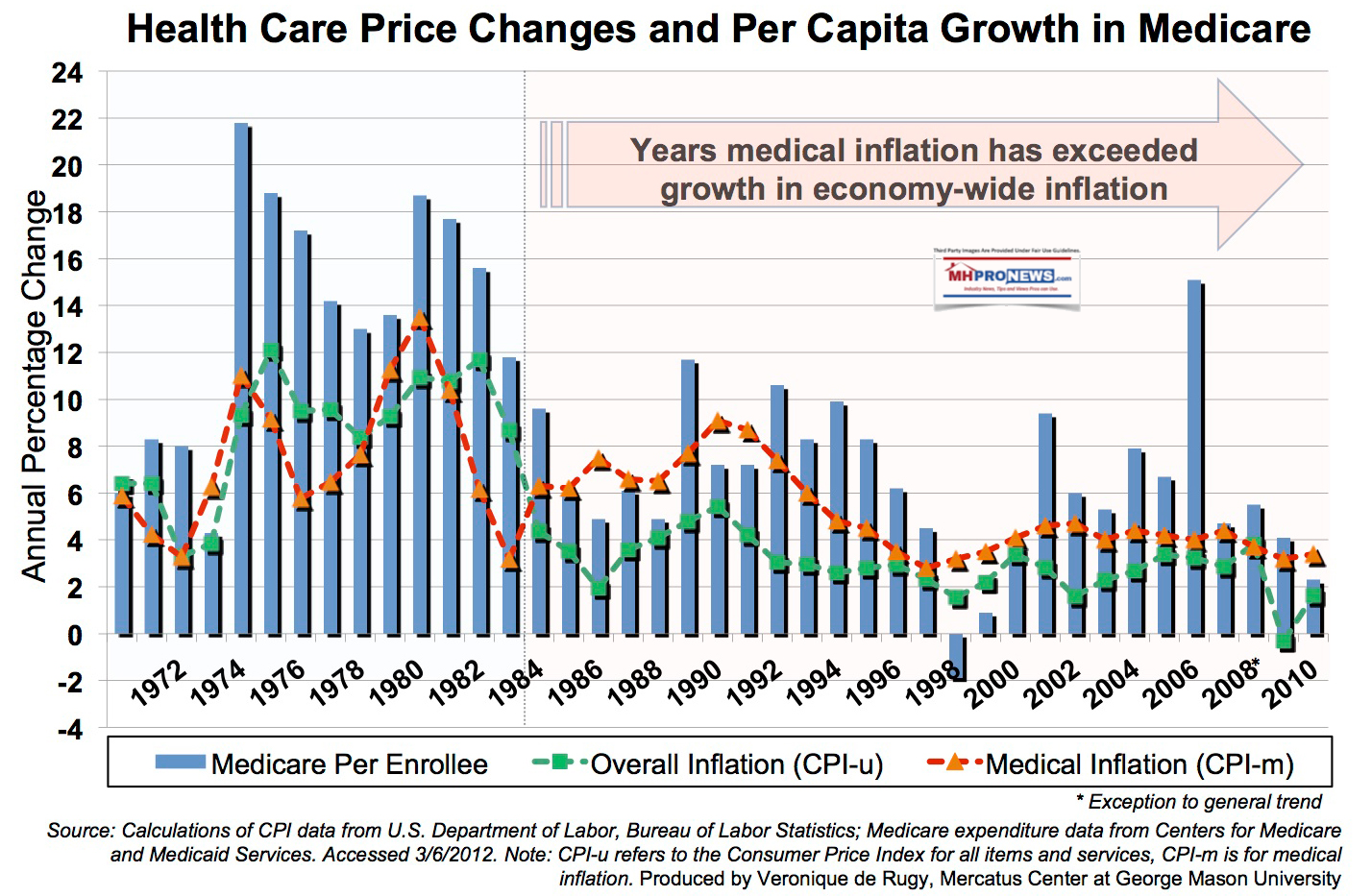 Having considered how often huge government programs failed to achieve their objective in the signals and segments of the economy just shown, let's pivot back toward recent housing data. From Zero Hedge in the last 24 hours are the following housing and mortgage data.  They point to the slowdown that Shepherdson said is coming before the end of summer 2022. Is it already starting?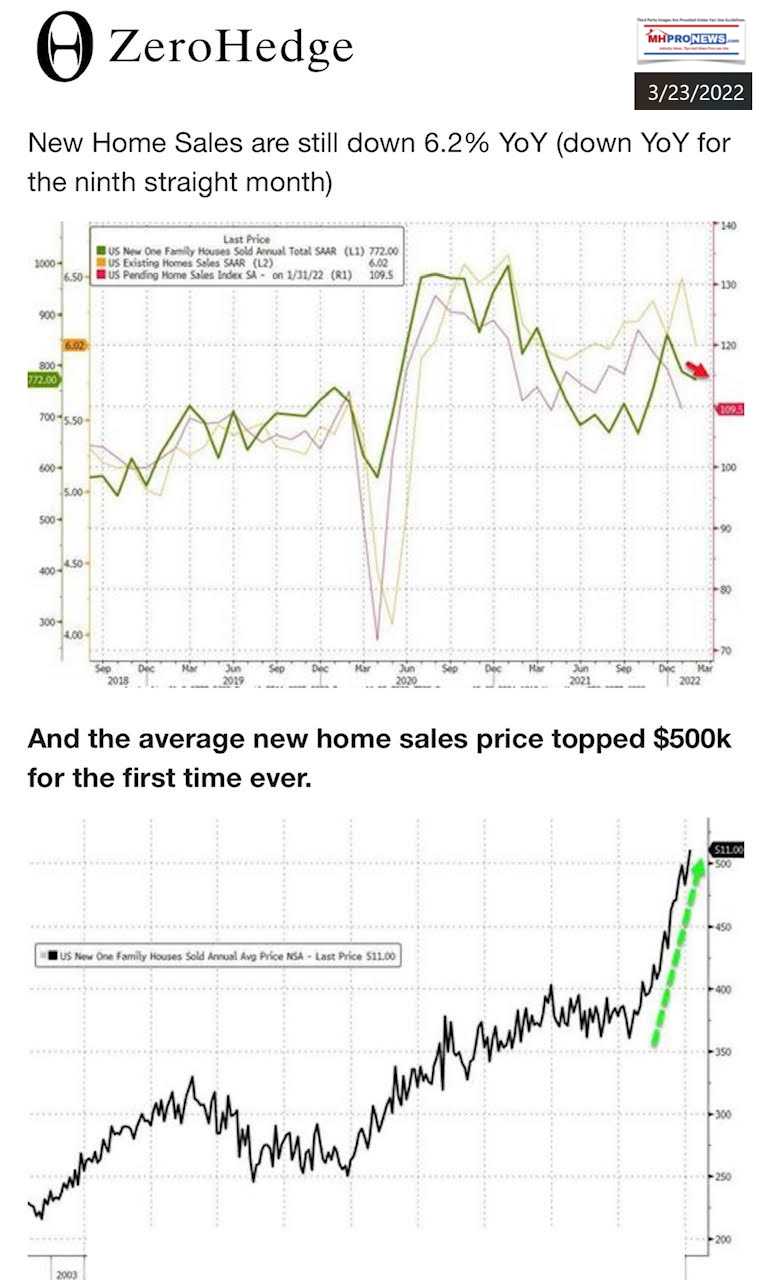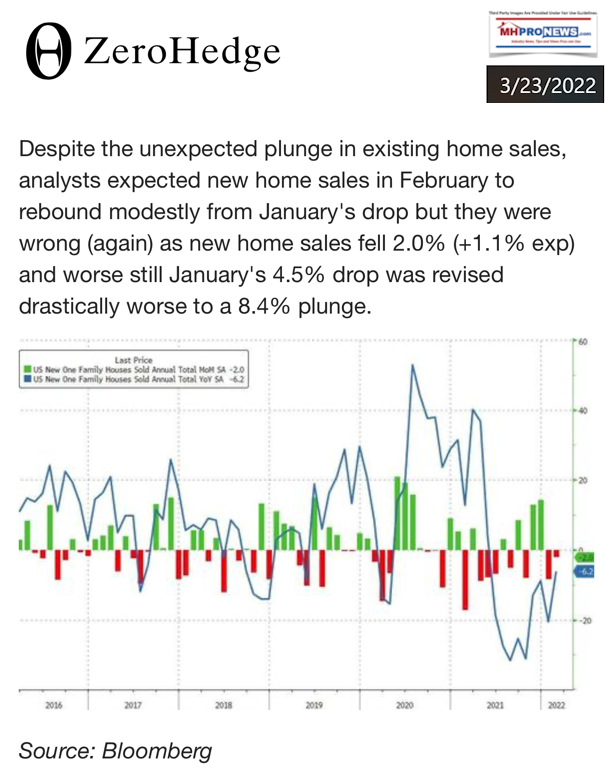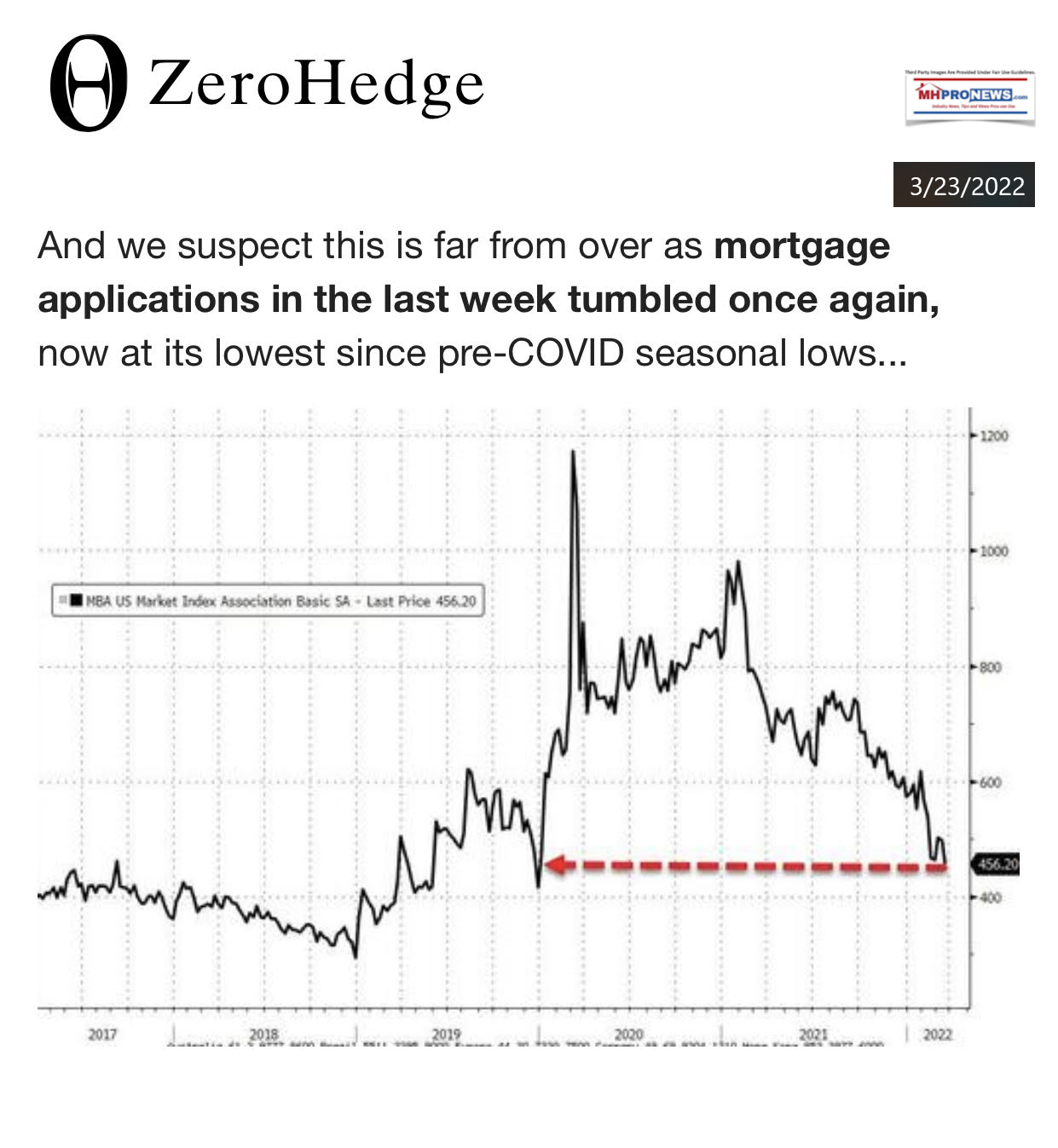 Let's sum up the above.
Biden has said things are going according to plan.
The U.S. plan under the Biden regime failed to head off the war in the Ukraine that some think could spread to other nations.
The housing market has worsened from the vantagepoint of millions of affordable housing seekers.
Debts and deficits are at record post-World War II levels.
Inflation is at a 40 year high, and may be higher than is being reported, per some analysts.
Despite trillions in spending on healthcare and poverty programs, there is evidence that these programs have proven to be failures at achieving their stated goals. But now, after decades of existence, those programs have become an accepted part of American life.
In manufactured housing, there is a clear disconnect between the massive opportunities and the industry's long-suffering underperformance.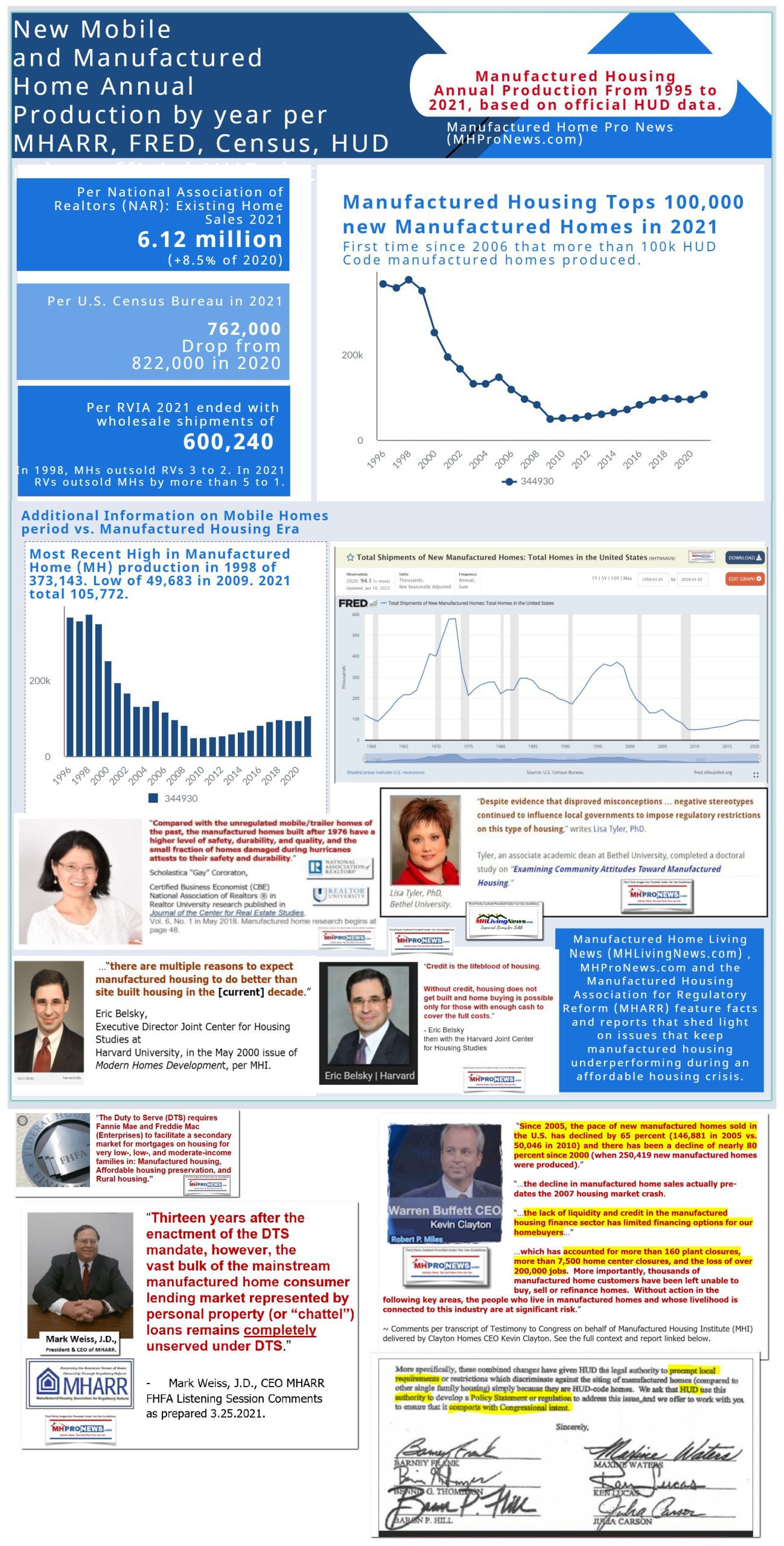 2022 is a midterm election year. There are many reasons to think that Republicans will recapture that House by a wide margin and may retake control of the U.S. Senate too.  While that may slow the Biden-Democratic agenda in Congress, that won't stop the economic and social harm being experienced by tens of millions of Americans.
Big government is demonstrably not working. It hasn't worked for over 50 years.
There should be a serious discussion among Republicans, Independents, Democrats and others about the effectiveness of government at all levels in the U.S. That should begin sooner than later. That discussion should help frame the debates that will occur in the post-2022 and pre-2024 election cycle.
Big government in the U.S. has not worked. The founders would be stunned how their experiment in limited government has ballooned out of control in the 20th and 21st centuries. In perhaps well intentioned efforts by some to 'fix' a problem, matters have either not improved, in some cases became worse, and meanwhile the rich who have pressed for these changes have gotten richer. Coincidences?
The need to reexamine where, why, and how the American system has gone off the rails is obvious.
A common feature is that social programs that supposedly were going to redistribute wealth and benefits have instead made the rich, who have sway over much of the economic and political processes, richer. That's not mere speculation. It is born out by the facts. See the graphic below as evidence.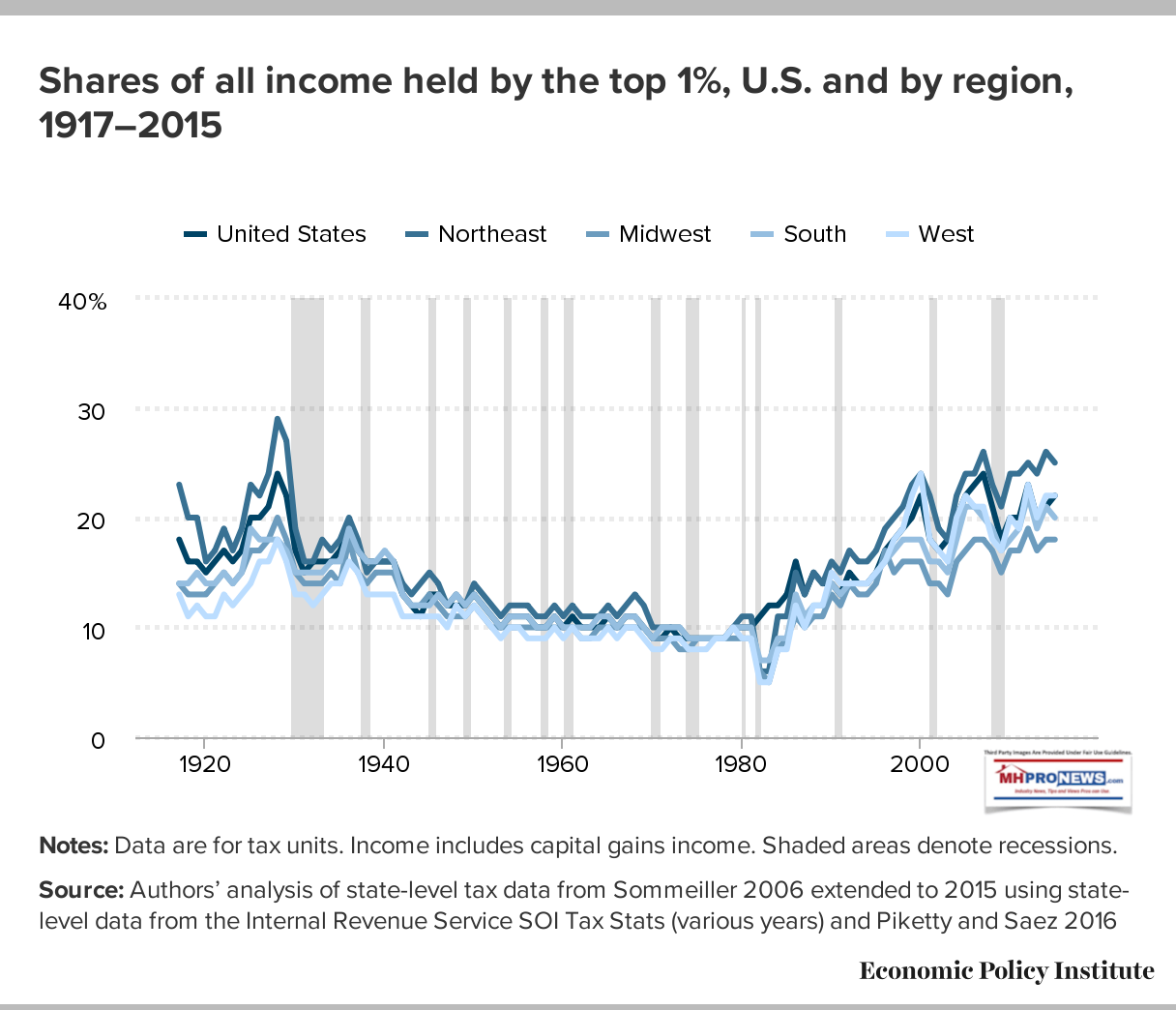 Facts are what they are. Former Democratic California Governor Jerry Brown warned about this trend some 25 years ago. That trend has only accelerated since Brown's observations.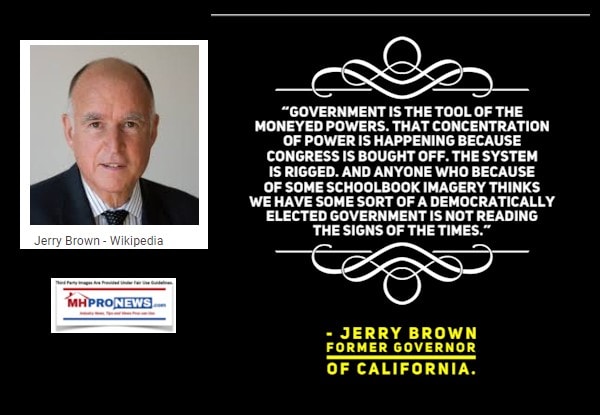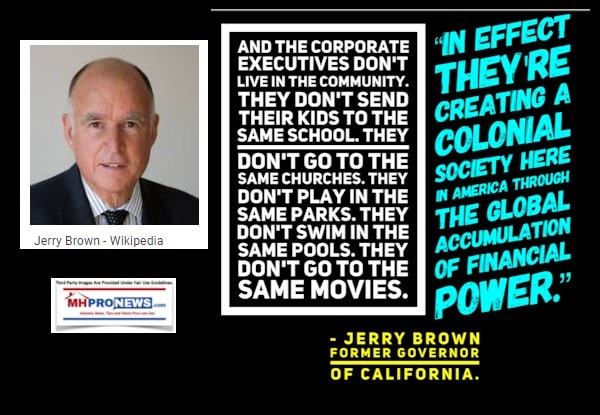 What Brown called colonial others have called the new feudalism. Interestingly, the feudal era was when we saw castles and moats, a Buffett term of choice.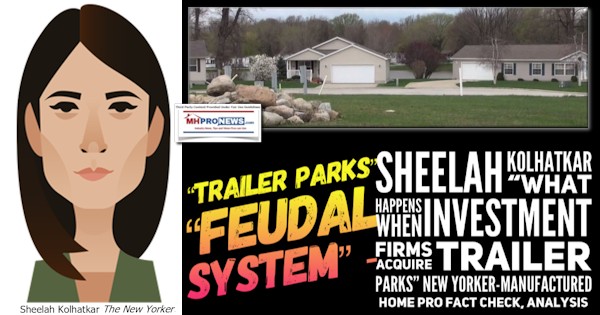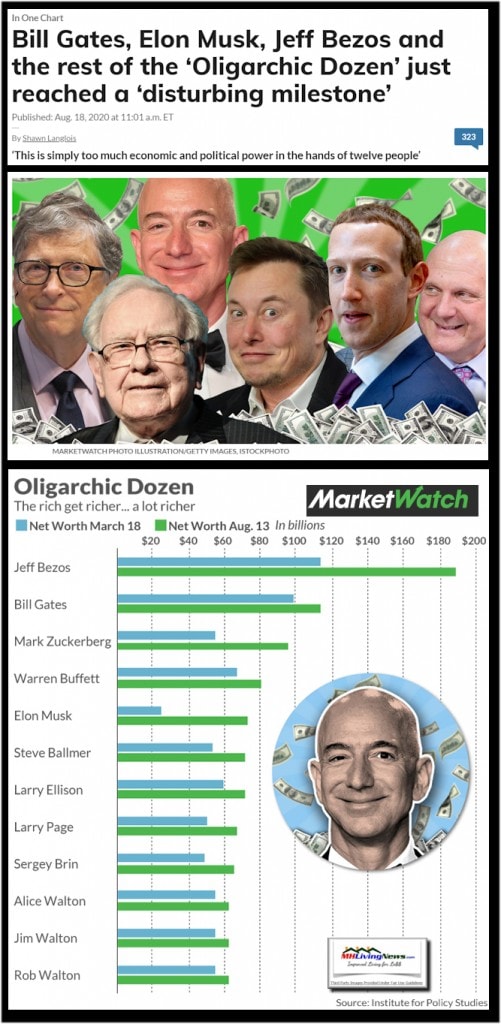 As inflation erodes the value of money of the bulk of the population, threats to the American Dream are growing, not receding. Thus, the report linked above and below are as relevant now as when they were first published.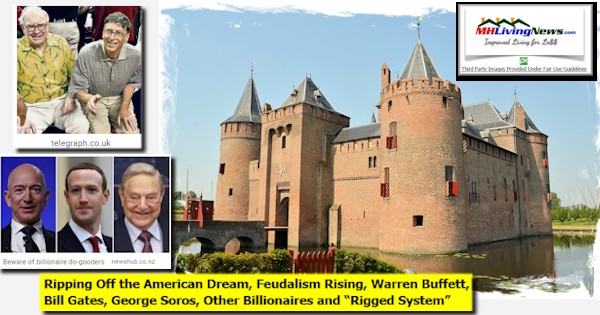 Manufactured housing ought to be roaring during this time of housing unaffordability.
Manufactured housing professionals ought to be engaged in sounding the alarm on policies that are undermining our profession. Indeed, some in factory-built housing, are sounding the alarm.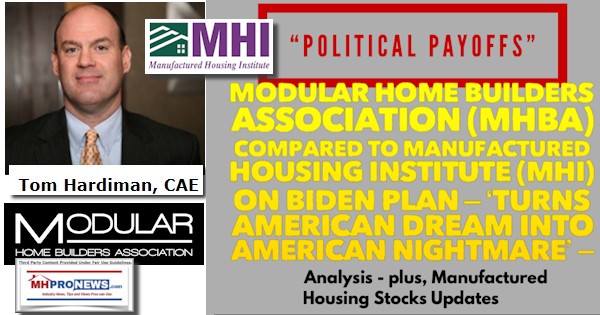 No Description
https://www.manufacturedhomepronews.com/political-payoffs-modular-home-builders-association-mhba-compared-to-manufactured-housing-institute-mhi-on-biden-plan-turns-american-dream-into-american-nightm/ 
Against that backdrop, the two reports linked below merit manufactured housing industry independents, employees, and other professionals' interest.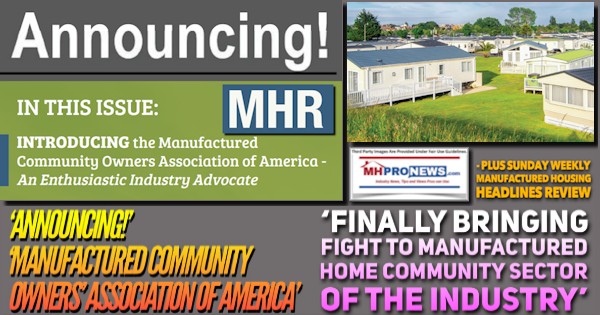 Monopolization effects workers and employees, not just companies and business leaders.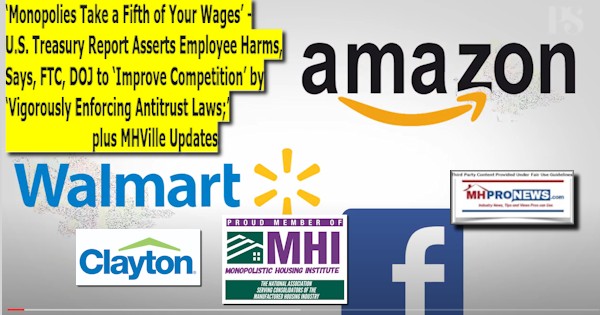 As if by magic, policies that are supposed to be spreading the wealth are instead concentrating wealth. How is this accomplished? That's done in part because government routinely pays money to corporate interests to implement this or that policy.
Robust antitrust action is needed in our profession and in many other segments of the economy.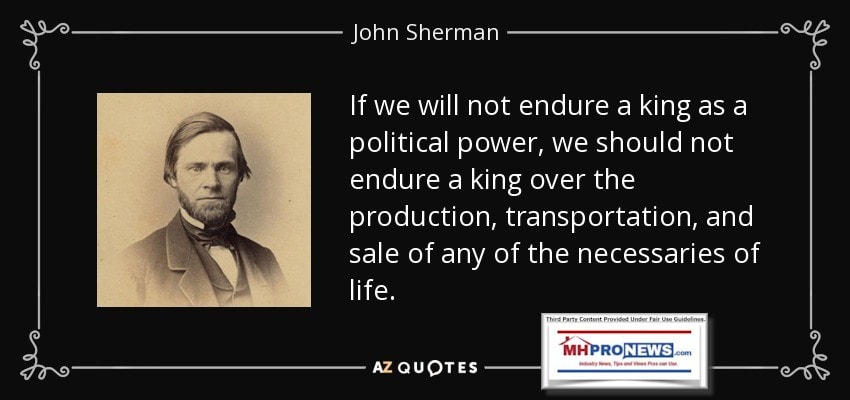 No Description
https://www.manufacturedhomepronews.com/jdsupra-cfpb-announces-inquiry-manufactured-home-communities-private-equity-consolidation-issues-plus-udaap-updates-will-21st-vmf-els-rolfe-and-reynolds-mhi-ncc-strategies-prove-wrong/ 
The trends and facts examined herein make this point. The evidence from the money trail reveals a relatively small cast of characters are steadily monopolizing aspects of the American economy. That is occurring in manufactured housing and in other markets too. That growing market concentration being so, of course 'the top 1 percent' are getting richer while most Americans are being undermined in their earnings. Democrats and Republicans alike are talking about these issues. But who will actually act by enforcing existing antitrust laws? An illustration of that growing concentration is made by this Wall Street Journal chart below.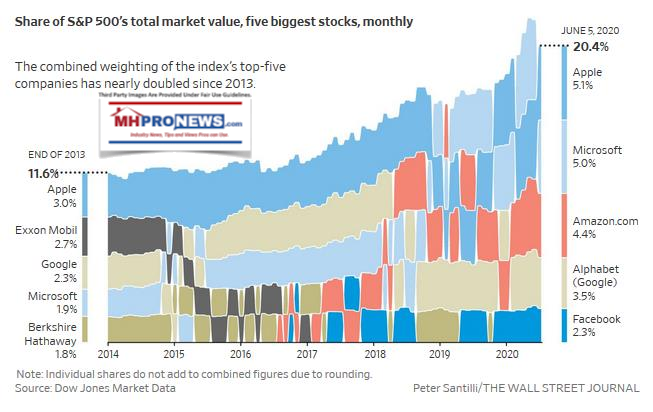 Note that Berkshire-led Warren Buffett and Microsoft founder Bill Gates have become considerably intertwined. As MHProNews recently reported, based on Buffett's annual letter, Apple has become one of Berkshire's four "giants" in BRK's investing.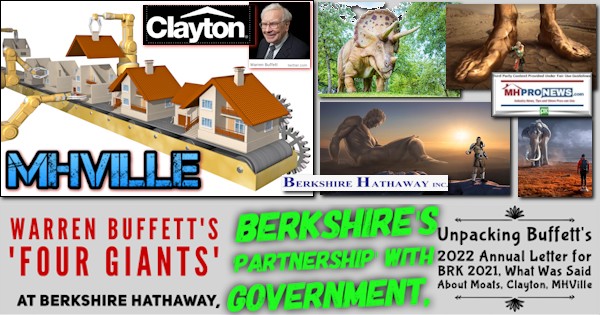 Awareness of this pattern is the first step. The next step is action that aims to undo the harms being caused by these problems. More on that action plan in the days ahead. ##
Shock! Manufactured Housing Institute Boldy Gives 'Unforced Error' Doc After Favorable Court Ruling, MHI Charged 'Throwing Lifeline' to DOE Energy Rule MHI Admits Harms MH – MHI, MHARR Analysis
ATR, AMAC Sign Coalition Letter on New IRS Funding – "Intelligence for your MHLife"© Making Sense of the News
###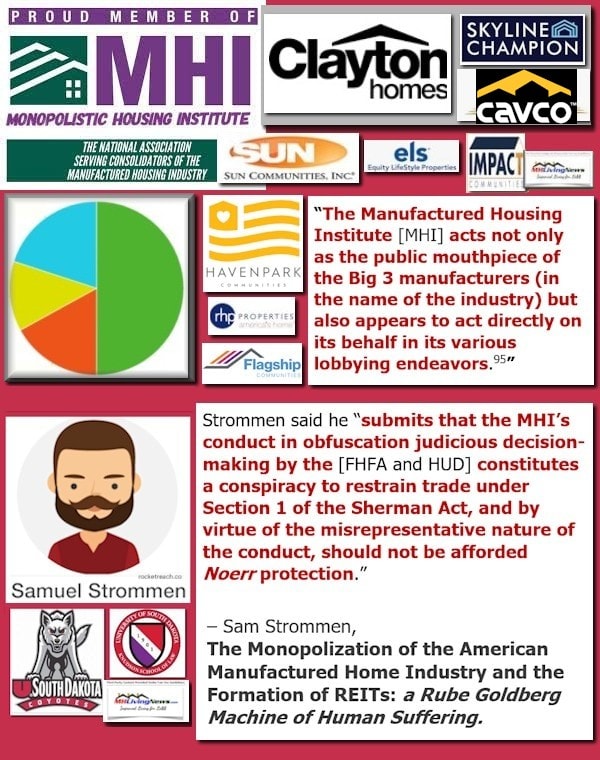 Now two years ago, but still relevant to this evolving DOE scenario is the prior Masthead linked below.
Stay tuned for more of what is 'behind the curtains' as well as what is obvious and in your face reporting that are not found anywhere else in MHVille. It is all here, which may explain why this is the runaway largest and most-read source for authentic manufactured home "News through the lens of manufactured homes and factory-built housing" © where "We Provide, You Decide." © ## (Affordable housing, manufactured homes, reports, fact-checks, analysis, and commentary. Third-party images or content are provided under fair use guidelines for media.) (See Related Reports, further below. Text/image boxes often are hot-linked to other reports that can be access by clicking on them.)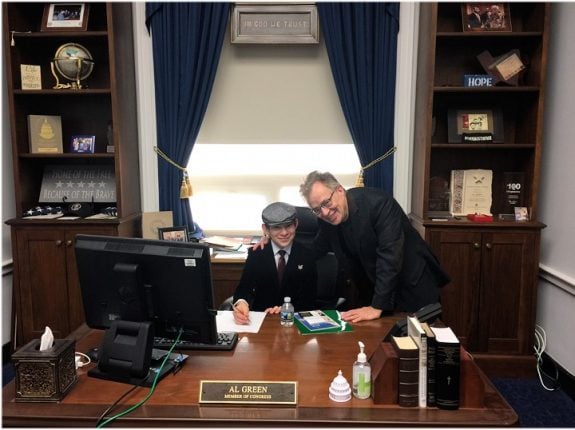 By L.A. "Tony" Kovach – for MHProNews.com.
Tony earned a journalism scholarship and earned numerous awards in history and in manufactured housing.
For example, he earned the prestigious Lottinville Award in history from the University of Oklahoma, where he studied history and business management. He's a managing member and co-founder of LifeStyle Factory Homes, LLC, the parent company to MHProNews, and MHLivingNews.com.
This article reflects the LLC's and/or the writer's position, and may or may not reflect the views of sponsors or supporters.
Connect on LinkedIn: http://www.linkedin.com/in/latonykovach
Related References:
The text/image boxes below are linked to other reports, which can be accessed by clicking on them.
"Where is the 'Equity' for Manufactured Homes and Consumers of Affordable Housing?" – Unpacking Manufactured Housing Association for Regulatory Reform CEO Mark Weiss "Issues and Perspectives"