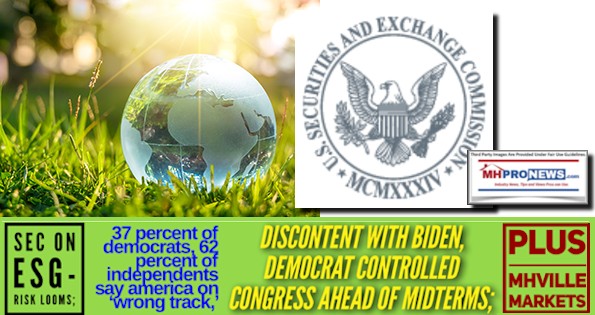 Two distinctive reports follow, both of which have significance for manufactured housing industry professionals which precede today's installment of the Daily Business News manufactured home connected equities report. The first featured report and analysis is arguably connected to second, which includes concerns about the hunt for 'green energy' underscored by the rising oil, gas and energy prices in the wake of the Russian invasion of Ukraine. The first item from the Daily Torch examined the focus on Environmental, Social and Governance (ESG) in the Biden era. The second feature is arguably influenced by the first. That is a widespread unhappiness with a range of issues, including inflation and the sharp rise in oil/fuel prices has proven to be a problem for Team Biden and Democrats in Congress ahead of the 2022 midterm election.
The Biden Administration's Securities and Exchange Commission (SEC) has a separate page on their website focused on ESG. It says in part that "As investor demand for climate and other environmental, social and governance (ESG) information soars, the SEC is responding with an all-agency approach. Below are some recent actions."
The first item below that SEC statement is the following. It was posted on 3.15.2022. If you wish to weigh in, you can email comments at this address: rule-comments@sec.gov or use the online portal linked here: https://www.sec.gov/cgi-bin/ruling-comments. Note someone could in their comments, for example, oppose this proposed SEC concept and question the validity of the foundation premise of this press for 'green energy.'
This is the SEC lead-in.
In light of demand for climate change information and questions about whether current disclosures adequately inform investors, public input is requested from investors, registrants, and other market participants on climate change disclosure.
It is with that backdrop that the following from the Daily Torch's Robert Romano thoughtfully made available to MHProNews readers. It will be followed by the second topic on polling.
Ukraine war, European dependence on Russian oil and gas prove ESG is a threat to national security
One of the facts being laid bare by Russia's invasion of Ukraine is that Europe has become highly dependent on Russian oil and natural gas for its economy, largely owing to green energy policies that have shut down coal and nuclear electricity generation in countries like Germany, thereby necessitating the importation of Russian natural gas through pipelines like Nordstream 1 that runs from Russia to Germany via the Baltic Sea.
In 2020, the European Union imported 9.1 trillion cubic feet of natural gas, according to Eurostat. And about 41 percent Europe's imports come from Russia, or about 3.73 trillion cubic feet a year, 24 percent from Norway at 2.2 trillion cubic feet and 11 percent from Algeria at 1 trillion.
The Nord Stream 2 was suspended by Germany because of the war and was built from 2018 and finished construction in Sept. 2021 at a cost of $11 billion, and would have doubled the current pipeline's distribution of 1.9 trillion cubic feet a year to 3.9 trillion cubic feet a year. In Nov. 2021, Germany delayed final regulatory approval of the pipeline project before the war. Germany already purchases about 55 percent of its natural gas from Russia before the new pipeline has even gone online.
Western dependence on Russian oil and gas as a main source has absolutely become a threat to national security to everyone paying attention. Now, after the invasion, Germany realizes the threat and is building two new liquified natural gas terminals to take in more imports, and is increasing military spending. They are pivoting.
But independence will not happen overnight. Germany is still so dependent on Russian oil and gas that German Economy Minister Robert Habeck told reporters on March 1 that Berlin opposes an embargo on Russian energy imports: "I wouldn't support an embargo on imports of fossil fuels from Russia… I would even speak out against it, because we would threaten the social peace in the republic with that."
President Joe Biden announced new sanctions on Russia, and is releasing 30 million barrels of oil from the Strategic Petroleum Reserve, but like Germany is also holding back on an embargo or even on more drilling. Is the U.S. lagging behind?
In a recent Morning Consult poll conducted on behalf of the American Petroleum institute on March 1, 84 percent of Americans agreed, with 63 percent strongly agreeing, with the statement "Producing natural gas and oil here in the U.S. helps make our country and allies more secure against actions by other countries such as Russia." That included 88 percent of Republicans, 83 percent of Democrats and 78 percent of independents.
What is less obvious to voters is that federal energy policy goes way beyond easy-to-understand permits allowing drilling on federal lands or agreements with Canada authorizing the Keystone XL Pipeline to be built. And these other policies play a far more influential role in hampering energy policy not just for the U.S., but advanced economies throughout the West.
The federal government the past seven years has opened the door for left-wing Environmental, Social and Governance (ESG) investing via private retirement funds regulated under the Employment Retirement Income Security Act (ERISA) via a regulation by the Obama Labor Department in 2015.
The Obama rule allowed pension plan managers to give additional weight to companies touting ESG goals that focus on green energy, cleaning up the environment, are anti-oil, anti-coal, anti-carbon, but also anti-tobacco, anti-guns, embracing critical race theory, implementing diversity and inclusion racial and gender hiring quotas and practices and other left-wing issues.
Suffice to say, having a high ESG rating gives a company weighted investments in ESG funds—and for companies focused on green energy at the expense of oil and coal, it has paid off handsomely, even while U.S. energy independence and security has suffered.
Financial incentives like this are why in part stocks like Tesla have recently rallied to more than $1,100 per share before the market's recent correction despite not generating much profits for years, because they are weighted so heavily by ESG funds. With ESG investing, profits are divorced from valuation and saving the world takes precedence.
Big ESG funds like BlackRock, a hedge fund with more than $9 trillion of assets under management, have placed green activists onto the board of Exxon to make it a "not-oil" company. And so forth.
Under President Joe Biden the $762 billion federal Thrift Savings Plan (TSP) for federal employee retirees will be investing in ESG funds as well going into effect in 2022, following state government employee retirement funds in California, New York, Colorado, Connecticut, Maine, Maryland and Oregon that have made similar investments for years. Those are tax dollars, paid into government employee retirement plans going directly to funding green energy, at the expense of particularly oil and coal.
Thanks to the combination of incentives and direct funds, ESG funds, which total $38 trillion out more than $100 trillion global assets under management, will grow to $53 trillion by 2025, according to Bloomberg News. And it will crush carbon-based energy, hampering the West economically and militarily by limiting options in the event of war.
The whole point of ESG is to restrict capital investment from flowing into proven carbon-based energies that the West now urgently needs, which is exactly what happened to Europe and the UK — and now Russia has them over a barrel. Congress should consider prohibiting the use of federal funds, including pensions, for implementing the ESG regulation incentivizing green investment at the expense of carbon-based energy including oil and coal.
Now, even Tesla CEO Elon Musk, whose company's market cap has increased by hundreds of billions of dollars because of ESG investing is calling for more oil and drilling, writing on Twitter on March 4: "Hate to say it, but we need to increase oil & gas output immediately. Extraordinary times demand extraordinary measures… Obviously, this would negatively affect Tesla, but sustainable energy solutions simply cannot react instantaneously to make up for Russian oil & gas exports."
Hate to say it, but we need to increase oil & gas output immediately.

Extraordinary times demand extraordinary measures.

— Elon Musk (@elonmusk) March 5, 2022
ESG is neutering the West, endangering national security and emboldening our adversaries by making the U.S. and Europe increasingly dependent on Russia.
In a world at war, energy independence equals sovereign freedom and independence. The question is: Does the West still want to be free? If so, then it's time to drill — and to defund ESG. ##
Robert Romano is the Vice President of Americans for Limited Government Foundation. ##
Notice: Comments have been submitted by this writer to the SEC on the proposed rule. Those federal SEC comments on disclosure standards related to ESG are linked here as a download. These pending standards could prove harmful or costly to several publicly traded manufactured home brands, but also to smaller to mid-sized investors, and the public at large. 
"In 2022, the SEC is likely to mandate ESG disclosures, and it intends to revise rules governing executive preplanned stock sales and corporate share buybacks. SPACs will face more regulation and also be targeted with enforcement actions." So said Skadden's law website. Even those who may believe in manmade climate change should consider submitting comments opposing these proposed standards for costs, legal, and other reasons the letter notes.
Per the SEC, you can submit comments electronically in these two ways.
Submit Input: Webform | E-mail
That noted, unease and concerns over inflation, gas (oil) prices, and a range of other issues that are routinely seen as having emerged and/or accelerated during the Biden occupation of the Oval Office. The following is also from the Daily Torch's Romano and has been provided to MHProNews for our reader's consideration.
37 percent of Democrats, 62 percent of Independents say America is on the wrong track, signaling discontent with Biden and Congress ahead of midterms
37 percent of Democrats and 62 percent of Independents say America is on the wrong track, according to the latest Reuters-Ipsos poll conducted from March 14 to March 15, signaling strong discontent among Democratic and Democratic-leaning voters headed into the Nov. 2022 Congressional midterms.
And that's bad news for President Joe Biden, who continues to languish with very low approval ratings—averaging just 40.8 percent approval and a whopping 54.8 percent disapproval in the latest average of polls taken by RealClearPolitics.com.
In the last two Congressional midterm cycles of 2018 and 2014, former Presidents Donald Trump and Barack Obama were similarly registering discontent in the Reuters-Ipsos poll on the question of right-track, wrong-track.
In March 2018, 26 percent of Republicans and 67 percent of Independents said the country was on the wrong track. Trump and Republicans went on to lose 42 seats in the House of Representatives, but picked up two seats in the Senate, keeping control there.
Similarly, in April 2014, 39 percent of Democrats—Independents were mentioned in this poll—said the country was on the wrong track. Obama and Democrats went on to lose 12 seats in the House of Representatives and nine seats in and control of the Senate.
So, what we are seeing in 2022 matches pretty well with prior administrations' performances in polls leading up to Congressional midterms. Whenever one party claims the White House, members of the opposite party will immediately begin telling pollsters that the country is on the wrong track. Republicans will generally oppose the direction of the country when a Democrat is in the White House, and vice versa.
Normally, in midterm elections dating back to 1906 through 2018, the party that occupies the White House usually loses on average 31 seats in the House, and about three seats in the Senate. If that happens, Republicans will easily reclaim Congress this year.
But where the difference is made in terms of Congressional midterms, certainly how passionate the opposition party is about voting certainly makes a difference, but also how disaffected members of the incumbent party are — which consistently results in them staying home when it comes time to vote. The degree of disaffection determines how badly the incumbent party tends to lose in the midterms.
And with 7.9 percent inflation that appears destined to go double digits, the disastrous U.S. withdrawal from Afghanistan that left hundreds of American citizens who are still stranded in the country and a failed legislative agenda that included not much else than trillions of dollars of too much spending, that disaffection will continue to cast a long shadow all the way to November. ##
Robert Romano is the Vice President of Public Policy at Americans for Limited Government. ## 
While distinctive, these observations by Romano fit neatly into the contention and takeaways from prior reports by MHProNews and/or in op-eds published on Tampa Free Press. They buttress each other.
'Tapestry of Lies' Putin-Led Russian Ukraine War – New Reports, Fact Packed TampaFP Op-Ed Reveal U.S. Woes & Opportunity
'Vlad The Impaler' – Ukraine, USA, EU, NATO, Oil, Green Energy, Oligarchs, George Soros, Paltering, Affordable Housing 2022 – Costly Facts You Have And Haven't Been Told
The roar of inflation has apparently undermined manufactured home community independents, as well as others.
Burying Lead? Manufactured Home Community (MHC) Research Reveals MHC Owners Losing Money While Roaring Biden-Era Inflation, Predatory Operators Pressure Residents; plus MHVille Markets
With respect to the Biden-Democratic agenda on climate, green energy, and the looming DOE energy rule, the following insights are significant and interrelated.
Construction News Today-'MHI Does Not Represent Entire Industry' Manufactured Housing Assoc Slams Manufactured Housing Institute on Energy Rule, Homestar's Jayar Daily Redux; MHVille Markets
Keep in mind that the latest iteration of the DOE energy rule for manufactured homes flowed from the litigation that is shown below.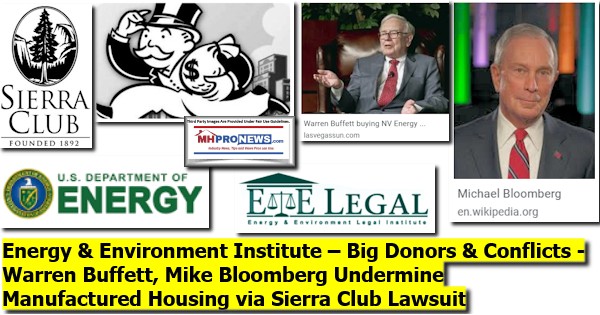 New developments and insights from a source inside the Manufactured Housing Institute (MHI) network will tend to confirm several concerns raised by this platform in a range of reports and analysis published in recent years. Insights from that MHI connected source are planned for a report later this week. Until then, just look at your MHI emailed 'news and updates' and see for yourself that the concerns raised in these reports are entirely absent from their 'reporting.'
Exploring New Congressional Push for More Affordable Housing, January 2022 Manufactured Housing Production Facts; plus, Sunday Weekly Manufactured Home Headlines Review
Until then, a simple question should be asked. What precisely has MHI accomplished in the last 15 years that completely aligns with their stated goals? As a follow up, if MHI were successful at their stated agenda, would Congressional issues like the above be raised?
Stay tuned for that exclusive report from an MHI connected source later this week.
Next up is our daily business news recap of yesterday evening's market report, related left-right headlines, and manufactured housing connected equities.
The Business Daily Manufactured Home Industry Connected Stock Market Updates.  Plus, Market Moving Left leaning CNN and Right-leaning (Newsmax) Headlines Snapshot. While the layout of this daily business report has been evolving over time, several elements of the basic concepts used previously are still the same. For instance. The headlines that follow below can be reviewed at a glance to save time while providing insights across the left-right media divide. Additionally, those headlines often provide clues as to possible 'market-moving' news items.
Market Indicator Closing Summaries – Yahoo Finance Closing Tickers on MHProNews…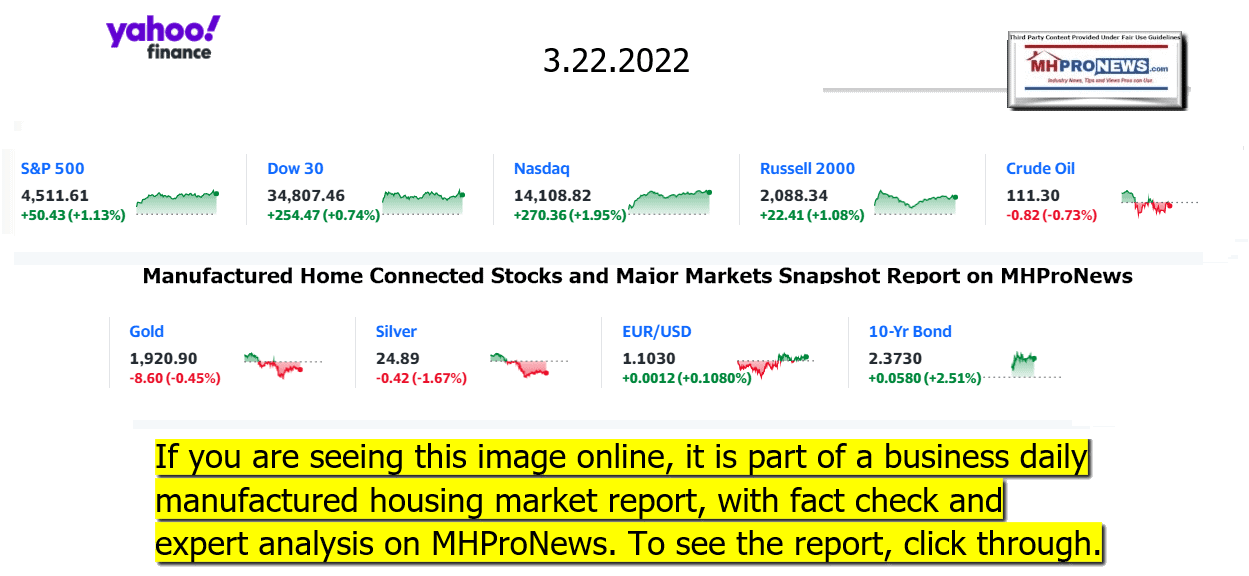 Headlines from left-of-center CNN Business – from the evening of 3.22.2022
Losing control
A Burger King cafe is seen at the food court of a shopping center in Moscow, Russia, on March 9.
Burger King and Papa Johns are struggling to close all their Russian restaurants. Here's why
The Fed is targeting a soft landing. Getting it wrong means recession
Evergrande's crisis continues: $2 billion seized, earnings delayed
New Russian asset tracker details the mansions and yachts owned by oligarchs linked to Putin
Wall Street is starting to believe in Alibaba again
Here's how thieves are stealing gas across the US
Opinion: 32% of US workers earn less than $15 an hour. How to fix that
This new union boss could start the biggest strike in decades
India's IPO boom has rapidly turned to bust
Tesla delivers first cars from Berlin factory
Disney workers plan to walk out, as ESPN and Disney+ back LGBTQ+ rights
A 737 crashed in China. What we know about the plane
Opinion: Countries around the world are slashing education budgets. Children will suffer most
Maserati reveals its first electric SUV
Buy this, not that: Pro tips to save at the grocery store
BuzzFeed News is offering buyouts and three top editors resign
DJ D-Sol at Casamigos Presents Sports Illustrated "The Party" at Fontainebleau Hotel on February 01, 2020 in Miami Beach, Florida.
Goldman Sachs' CEO will perform at Lollapalooza
The dark side of Discord
A wafer is processed in a single wafer diffusion mechanism inside the GlobalFoundries semiconductor manufacturing facility in Malta, New York, U.S., on Tuesday, March 16, 2021. Production plants for semiconductors have become a focal point as the economic recovery from the pandemic is held back in areas by a shortage of some of the critical electronic components necessary.
'It's absolutely critical.' Ex-Trump official backs Biden's computer chip push
INTEREST RATES
US Federal Reserve Chairman, Jerome Powell, testifies before the House Financial Services Committee on "The Semiannual Monetary Policy Report to the Congress," in Washington, DC, on March 3, 2022.
Fed Chairman Powell: We need to raise interest rates quickly
Rate hikes are here: What does that mean for you?
The Fed can't afford to move too slowly on interest rates
Here's how the rate hike will affect your wallet
Expert: Fed often struggles to engineer a soft landing
NETFLIX
The Adam Project (L to R) Ryan Reynolds as Big Adam and Walker Scobell as Young Adam.
This might be the end of sharing Netflix passwords
New Dr. Seuss series expands children's programming
Disney+ is bringing old episodes of Netflix Marvel series
Netflix says it won't air state TV channels in Russia
'Stranger Things' announces when it will end
Headlines from right-of-center Newsmax – evening of 3.22.2022
Ukraine Chaos, Surging Inflation Push Biden Approval Rating to New Low
At left, demonstrators at the White House this week protest Russia's invasion of Ukraine and to urge the Biden administration to take stronger steps to bring the conflict to an end. At right, a sticker of President Joe Biden on a gas pump in Pennsylvania faults him for the surge in fuel prices. (AP)
Russian Invasion of Ukraine
Russian Air Strikes Reducing Mariupol to 'Ashes'
Russian Ex-President Medvedev Hits Poland's Ukraine Support
Kremlin: Would Only Use Nukes If Existence Were Threatened
Biden to Announce New Russia Sanctions While in Brussels
US Condemns Russia's 'Sham Trial' of Navalny
Russian Space Chief: US Plans 'Genocide'
House Intel Committee: Declassify Russian War Crimes Data
Florida Weapons Maker Donates Arms to Ukrainians
Israel's Bennett: Russia No Longer Out to Oust Zelenskyy
Russia's Use of Hypersonic Weapons Was Message to US platinum
Biden: Putin Weighing Use of Chemical Weapons
Ex-Russian State TV Reporter: I Quit Over Ukraine War
Civilians Fleeing Mariupol Describe Street-to-Street Battles
More Russian Invasion of Ukraine
Newsmax TV
Burchett: Biden Brussel's Trip 'Way Too Little, Too Late' | video
Rand Paul: No Direct Ukraine Involvement Without Congress Vote | video
RNC's McDaniel: Voters Know Gas Prices Are Biden's Fault | video
Ernst: Must Send Humanitarian, Lethal Aid to Ukraine | video
Palin: I'd Be Honored to Replace Young | video
Ohio's Mandel, Gibbons to Newsmax: Not Backing Down After Debate Fight | video
Lankford: MiG Jet Senate Resolution 'Going Really Slow' | video
More Newsmax TV
Newsfront
Indiana GOP Gov Faces Pushback Over Vetoing Trans Sports Ban
Indiana's governor is facing criticism from fellow Republicans and calls for an override of his veto on legislation banning transgender females from competing in girls school sports, a decision that put him at odds with a conservative cause that has led to similar state…… [Full Story]
Kristi Noem Signs Bill to Prevent Critical Race Theory in South Dakota Colleges
South Dakota Gov. Kristi Noem signed legislation on Monday that aims [Full Story]
Wall Street Stocks, Treasury Yields Rise on Hawkish Fed Comments
Treasury yields marched higher on Tuesday, bringing U.S. stocks with [Full Story]
LA Becomes First Major US City to Hit $6 a Gallon Gas Average
The City of Angels is now the city of the most expensive gas in the [Full Story]
Is Ketanji Brown Jackson the Supreme Court's Barack Obama?
President Joe Biden's nomination of Judge Ketanji Brown Jackson to [Full Story] | Platinum Article
Ukraine Chaos, Surging Inflation Push Biden Approval Rating to New Low
President Joe Biden's public approval rating fell to a new low of 40% [Full Story]
Russia's Use of Hypersonic Weapons Was Message to US
The Pentagon downplays Russia's claims of using hypersonic Kinzhal [Full Story] | Platinum Article
US Condemns Russia's 'Sham Trial' of Navalny
The U.S. State Department on Tuesday that it "strongly condemns" what [Full Story]
Blunt: Eric Greitens Should Drop Out if Ex-Wife's Allegations Are 'True'
Disturbing allegations from the ex-wife of former Missouri Gov. Eric [Full Story]
Graham's Religious Questioning of Supreme Court Nominee Contrasts with Barrett Hearing
When Sen. Lindsey Graham, R-S.C., asked President Joe Biden's U.S. [Full Story]
Democrat Officials Consider Pushing Five States Before Iowa
Officials from the Democratic Party this week released a draft of a [Full Story]
Fauci: No Major Surge in US COVID Cases
Top U.S. infectious disease official Dr. Anthony Fauci said on [Full Story]
Ex-Russian President Medvedev Blasts Poland Over Ukraine Support
Dmitry Medvedev, the former president of Russia, is ripping into [Full Story]
Emerson Poll: GOP Ahead 5 Points for Midterms; Trump Ahead 3 for '24
Republicans continue to show promise for the 2022 November midterm [Full Story]
US and Australia Form Space Defense Partnership to Counter Threats
Australia will be partnering with the Pentagon for a Defense Space [Full Story]
Kid Rock: Trump Sought My Advice on ISIS, North Korea
Kid Rock says when Donald Trump was President, the commander-in-chief [Full Story]
Milwaukee, Nashville Vie to Host 2024 Republican Convention
Representatives from Milwaukee, Wisconsin and Nashville, Tennessee [Full Story]
Defaults Loom as US Student Loan Payments Resume: Fed
Nearly 40 million Americans will begin making payments on their [Full Story]
Defense Dept: Not Exactly Clear What Putin's Endgame Is Now
As President Joe Biden prepared to head to Brussels and Warsaw, [Full Story]
WH Officials: US Lacks Money to Buy Fourth COVID Vaccine Doses
The United States is out of money to buy a fourth dose of COVID-19 [Full Story]
California Teacher Leads Preschoolers in Anti-Biden Chant
A preschool teacher at a private school in Southern California led 4- [Full Story]
Cowboys for Trump Founder Guilty of Misdemeanor in Capitol Breach
A New Mexico county commissioner who founded a group called Cowboys [Full Story]
Russian Space Chief: US Plans 'Genocide'
The head of Russia's space agency is accusing Ukraine and the U.S.of [Full Story]
NYC Mask Mandate to Be Lifted for Kids 2-4
New York City is planning to lift its mask mandate in schools and day [Full Story]
Tipping Is a 'Legacy of Slavery,' Says 1619 Project Author
Nikole Hannah-Jones, author of the "1619 Project," who believes [Full Story]
Defense Department Skips Publishing Weekly COVID Numbers
The Department of Defense apparently has cut its update of COVID case [Full Story]
Trump Glories in Court Win Over Stormy Daniels
Former President Donald Trump gloried in his federal appeals court [Full Story]
House Intel Committee: Declassify Russian War Crimes Data
House lawmakers want the U..S. intelligence community to track and, [Full Story]
Poll: Almost Half Registered Voters Want Senate to Confirm Biden Supreme Court Pick
A new poll released Tuesday by Morning Consult/Politico found that [Full Story]
Supreme Court Nominee Jackson: I Will 'Stay in My Lane'
Ketanji Brown Jackson on Tuesday pledged to "stay in my lane" if [Full Story]
China Says Investigation Into Crashed Jet Faces Serious Difficulties
Investigations into the China Eastern Airlines crash face a "very [Full Story]
More Newsfront
Finance
COVID Budget Impasse Halts Aid to Test and Treat Uninsured
With an urgent funding request stuck in Congress, a federal agency says it can no longer cover COVID tests and treatments bills for uninsured people and will stop taking claims at midnight Tuesday…. [Full Story]
Leslie Beyer: Europe Looks to American Energy Producers Once Again
Biden to Announce New Russia Sanctions While in Brussels
Even With Baseball Opening Day on Horizon, NYC Mayor Won't Rush Vax Rules
WTO Trade Talks in Disarray Amid Ukraine Tensions
More Finance
Health
COVID-19 Cases Due to BA.2 Variant Expected to Rise in US
The BA.2 variant has caused a rise of COVD-19 cases in Europe and experts say a similar pattern may be coming to the U.S. And the most vulnerable group are those over 65. As many as 28 million seniors remain at risk of becoming severely ill, either because they are not…… [Full Story]
Low Folate Levels Linked to Dementia and Death in Older Adults
Knee Replacement Safe and Effective for Those Over 80: Study
Medical Marijuana Effective Alternative to Opioids for Back and Arthritis Pain
COVID Budget Impasse Halts Aid to Test and Treat Uninsured
MHProNews has pioneered in our profession several reporting elements that keep our regular and attentive readers as arguably the best informed in the manufactured housing industry. Among the items shared after 'every business day' (when markets are open) is our left-right headline recap summary. At a glance in two to three minutes, key 'market moving' news items are covered from left-of-center CNN Business and right-of-center Newsmax. "We Provide, You Decide." © Additionally, MHProNews provides expert commentary and analysis on the issues that others can't or won't cover that help explain why manufactured housing has been underperforming during the Berkshire era while an affordable housing crisis and hundreds of thousands of homeless in America rages on. These are "Industry News, Tips, and Views Pros Can Use" © features and others made and kept us the runaway #1 in manufactured housing trade publisher for a dozen years and counting.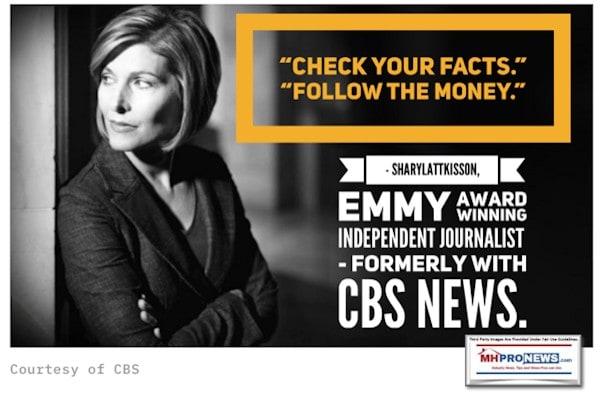 Manufactured Housing Industry Investments Connected Equities Closing Tickers
Some of these firms invest in manufactured housing, or are otherwise connected, but may do other forms of investing or business activities too.
NOTE: The chart below includes the Canadian stock, ECN, which purchased Triad Financial Services, a manufactured home industry lender
NOTE: Drew changed its name and trading symbol at the end of 2016 to Lippert (LCII).
NOTE: Deer Valley was largely taken private, say company insiders in a message to MHProNews on 12.15.2020, but there are still some outstanding shares of  the stock from the days when it was a publicly traded firm.  Thus, there is still periodic activity on DVLY.
Manufactured Home Communities (a.k.a. 'Mobile Home Parks' – SIC) – Exploring UMH Properties; Fellow Manufactured Housing Institute Member Yes! Communities Suits and Settlements; plus MH Markets Updates
Clayton-21st Storm Watch – Sinatra's Summer Wind Blows Early? – Manufactured Housing Moat Breach – Manufactured Home Values Increasing Faster than Site-Built – Case for Something New in 2022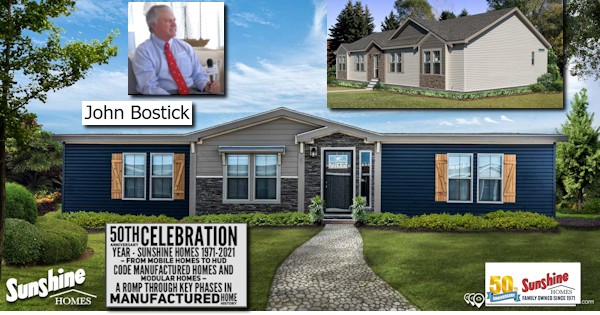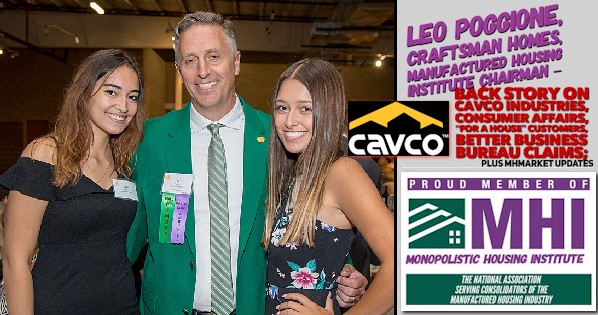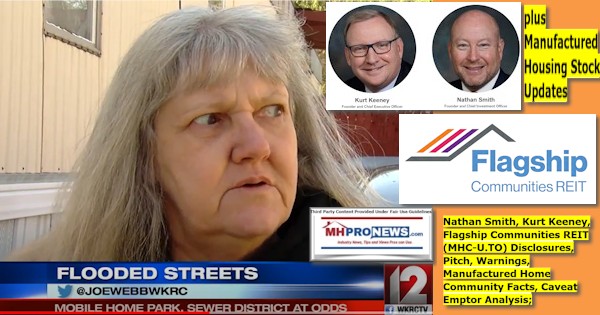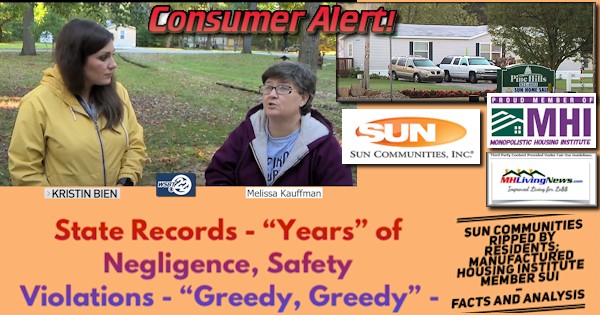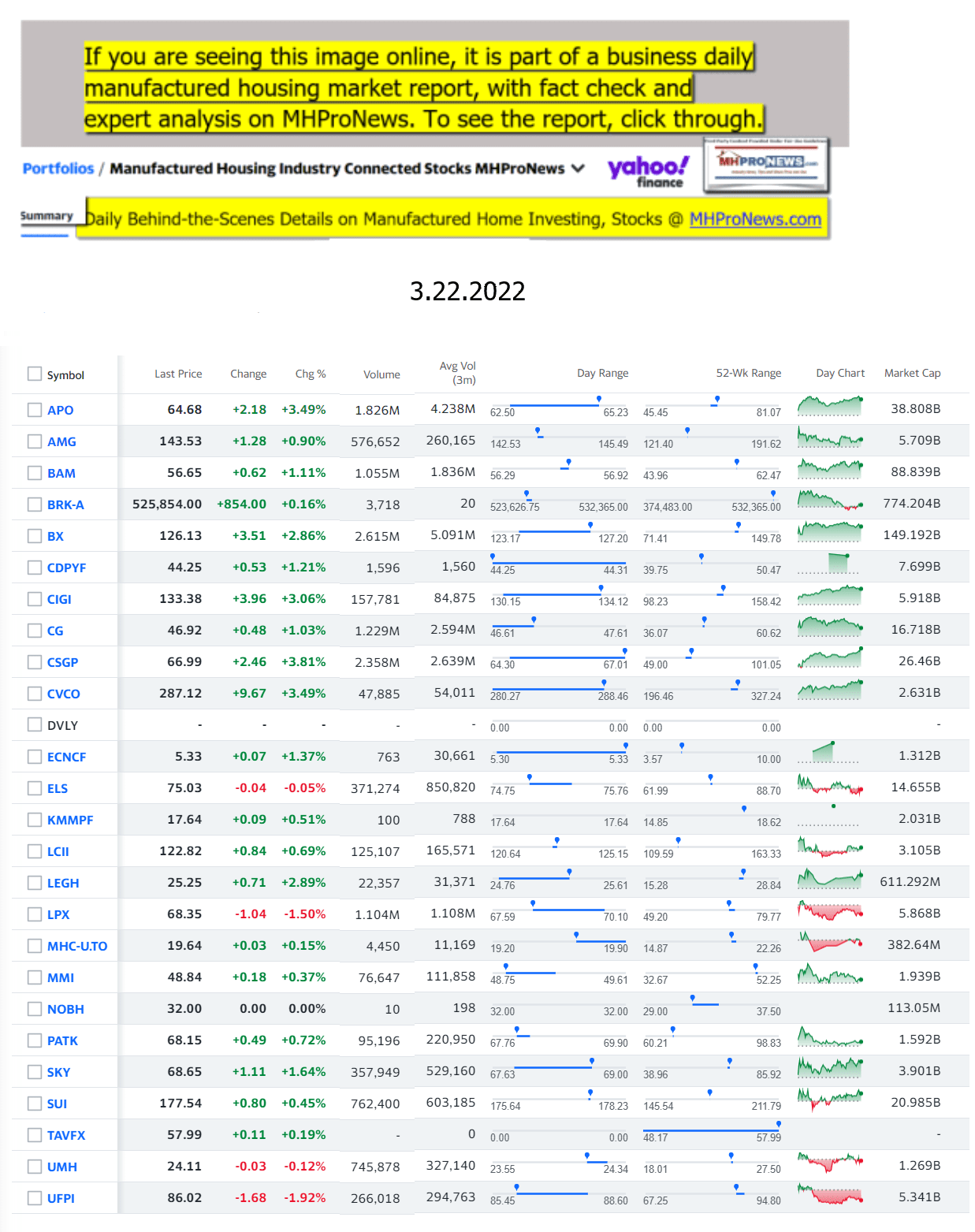 Sample Kudos over the years…
It is now 12+ years and counting…
Learn more about our evolutionary journey as the industry's leading trade media, at the report linked below.
· For expert manufactured housing business development or other professional services, click here.
· To sign up in seconds for our industry leading emailed headline news updates, click here.

Disclosure. MHProNews holds no positions in the stocks in this report.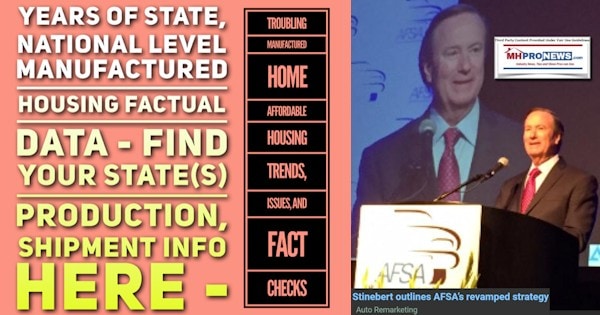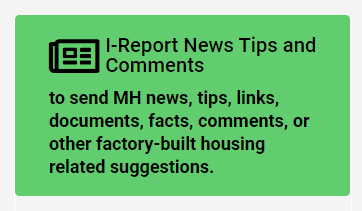 That's a wrap on this installment of "News Through the Lens of Manufactured Homes and Factory-Built Housing" © where "We Provide, You Decide." © (Affordable housing, manufactured homes, stock, investing, data, metrics, reports, fact-checks, analysis, and commentary. Third-party images or content are provided under fair use guidelines for media.) (See Related Reports, further below. Text/image boxes often are hot-linked to other reports that can be access by clicking on them.)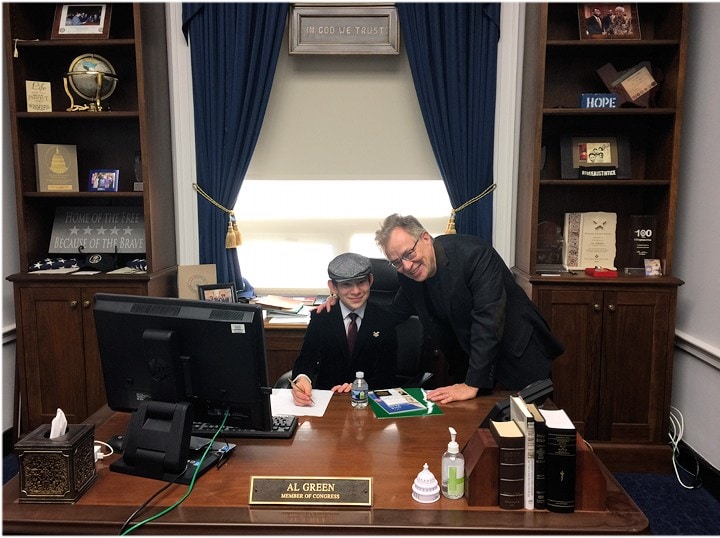 By L.A. "Tony" Kovach – for MHProNews.
Tony earned a journalism scholarship along with numerous awards in history. There have been several awards and honors and also recognition in manufactured housing. For example, he earned the prestigious Lottinville Award in history from the University of Oklahoma, where he studied history and business management. He's a managing member and co-founder of LifeStyle Factory Homes, LLC, the parent company to MHProNews, and MHLivingNews.com. This article reflects the LLC's and/or the writer's position and may or may not reflect the views of sponsors or supporters.