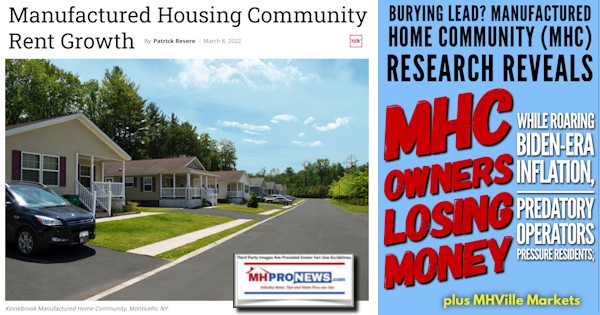 WFMZ carried a PRNewswire/PRWeb media release issued by Datacomp that presented some interesting data that will be unpacked below on the rise of 'rent growth' in a recently studied market. But as this MHProNews report, analysis, and commentary will demonstrate, their press release arguably buried or ignored their own lead. The news isn't limited to the point that 'Rent Growth in Northeast' is reportedly 3.3 percent. Rather, it is that rent growth of 3.3 percent isn't keeping up with raging Biden-ear inflation that one federal index claims is currently at 10 percent, or some say inflation is higher still. That corrosive impact of inflation has a range of troubling impacts that Datacomp/JLT Market reports fails to mention, because de facto when site fee hikes don't keep up with inflation, that is a loss of money to property owners.
There are ripples of impacts from the various pressure points and stressors. They include, but are not limited to, consumers, independent community operators, consolidators, housing affordability in general, and government policies that flow from those factors.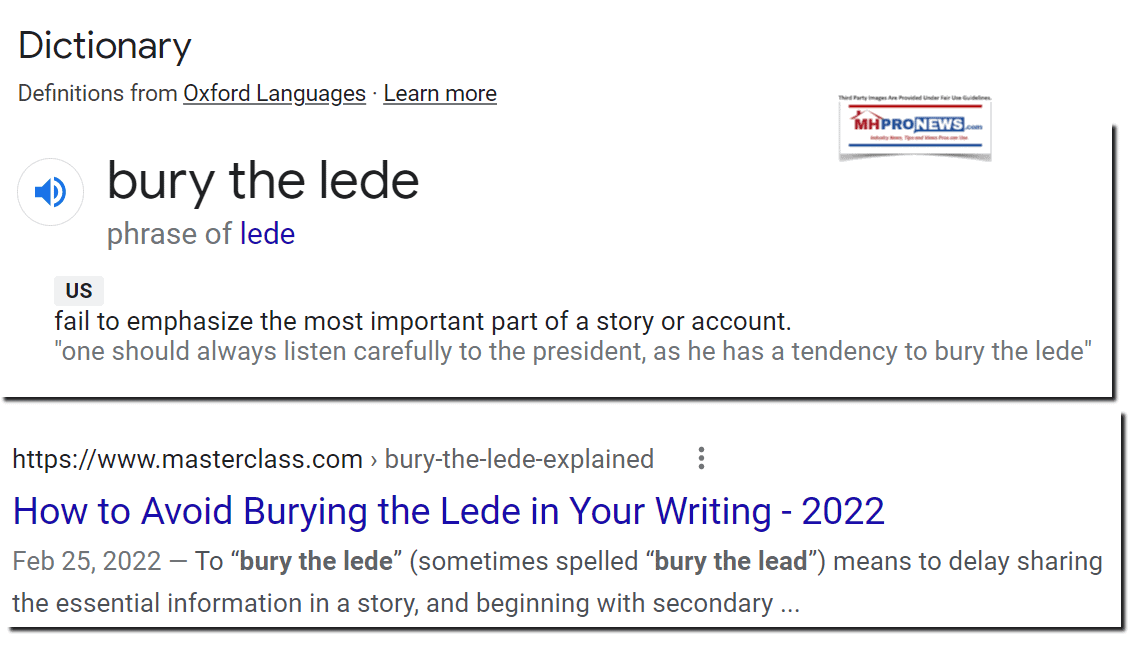 By way of background before examining their press release (PR), Datacomp is a sister company to MHVillage and MHInsider. They are "proud" Manufactured Housing Institute (MHI) members. Per their masthead, they are apparently allied with MHI, which is mentioned in the most recent issue, and more explicitly so in prior ones. Have you ever tried to find an article that is critical of MHI on MHInsider?  Good luck.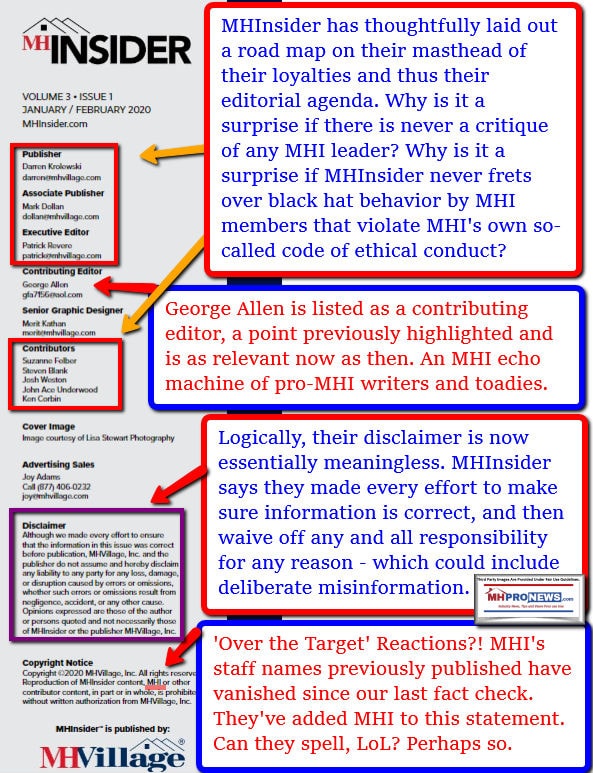 Oddly, given that Darren Krolewski, Co-President and Chief Business Development Officer of Datacomp, is a long-time manufactured housing industry veteran, the headline of their press release uses a term decried by MHInsider "contributing editor" George F. Allen, a retired Marine Corps officer who once owned a limited number of manufactured home communities. Allen has correctly noted that the better phrase would be "manufactured home community" not "manufactured housing community." But that is just one of several contradictions that occur in that MHI aligned segment of MHVille.
Here are key elements of the Datacomp release, which naturally touts their own service, while failing to mention that fellow MHI member Marcus and Millichap offers similar data that is periodically made available at no cost.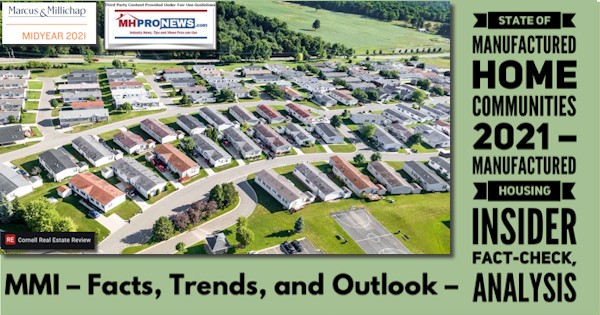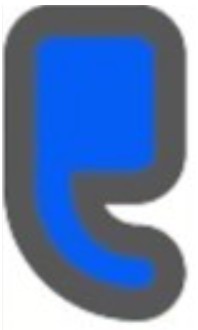 Manufactured Housing Community Rent Growth 3.3% in Northeast
GRAND RAPIDS, Mich., March 15, 2022 /PRNewswire-PRWeb/ — Manufactured home communities in the northeastern United States show sustained growth in rent and occupancy, according to updated reports published by Datacomp, the industry leader in manufactured home appraisal and market data.
Rent and occupancy trends for manufactured home communities in Maryland, New Hampshire, and New York are available for order, including immediate download.
JLT Market Reports provide detailed research and vital information on communities in 186 major housing markets throughout the United States. Along with the latest rent trends and occupancy statistics, the manufactured home community market reports include information on home types, amenities, community infrastructure, as well as other management insights.
Datacomp is the nation's top provider of manufactured housing data, and JLT Market Reports are recognized as the industry standard for manufactured housing community market analysis.
March 2021 JLT manufactured housing market data includes information on 229 "All ages" and "55+" manufactured home communities and 40,153 homesites in Maryland, New Hampshire, and New York.
Manufactured Housing Community Data in the Northeast
The Northeast region 55+ communities experienced an adjusted rent increase of 2.9% and an increase in occupancy of 0.5%
The Northeast region all-ages communities experienced an adjusted rent increase of 3.5% and an increase in occupancy of 0.6%
"Manufactured housing community rent and occupancy in the March 2022 publications showed continued steady growth, with only a single set of counties in New York experiencing a slight dip in occupancy rates," Datacomp Co-President and Chief Business Development Officer Darren Krolewski said.
…"
Let's interrupt the Datacomp PR's sales pitch-narrative at that point.
That dip in occupancy in part of New York state is yet another point of interest.
Why did occupancy drop during an affordable housing crisis?
Who are the dominant players in that market?
Is that area dominated, for example, by predatory MHI community operator members?
But let's further note that Krolewski and Patrick Revere have their names (i.e. content fingerprints) on this PR.
Reverse has been writing articles for that team for some years now. Writing is obviously not the same as hands-on industry knowledge and expertise which MHProNews' leadership has. But a good writer, if there is no agenda behind the words, can and should pick up the proper lingo long before the timeframe of this PR.
So, both Krolewski and Revere have made a terminology error in a release to mainstream media that might cause Allen to howl…
…if not for Allen's own apparent conflicts of interest in not exposing an allied voice that vocalizes the narrative generated by team MHI.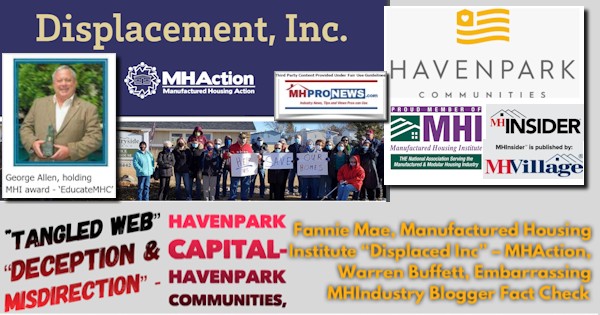 The Datacomp PR goes on to say that "In 2014, JLT & Associates merged its resources, skills, and expertise with Datacomp, the industry's oldest and largest national manufactured home appraisal company and number one provider of market data for the manufactured housing industry, and MHVillage, the premier website for advertising mobile homes for rent and sale nationwide and publisher of the MHInsider trade magazine for manufactured housing news." Restated, like other consolidators at MHI, Datacomp/MHVillage absorbed JLT.
But there are several questions about MHVillage and MHInsider that have been called into question by outsiders looking in, such as Samuel "Sam" Strommen at Knudson Law. Strommen has called what's occurring as a result of consolidation or monopolization "A Rube Goldberg Machine of Human Suffering." Colorful, sobering, and sadly apt.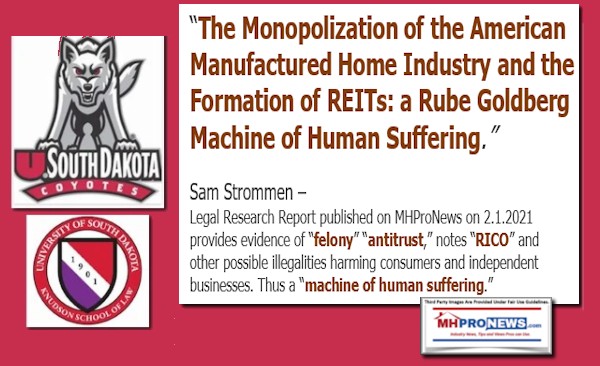 MHVillage has, per prior fact-checks and analysis by this pro-growth pro-consumer platform, been revealed to have their own glaring concerns about their claims. Even taking their data at face value, which is far from given, their conversion rates are terrible. That calls into question MHV et al are helping manufactured housing or are they hampering the profession?
MHVillage periodically updates this information from the graphic below, but the end result is the same. If you accept their claims of traffic at face value, what it obviously implies is a demonstrably terrible rate of conversion from looker to buyer.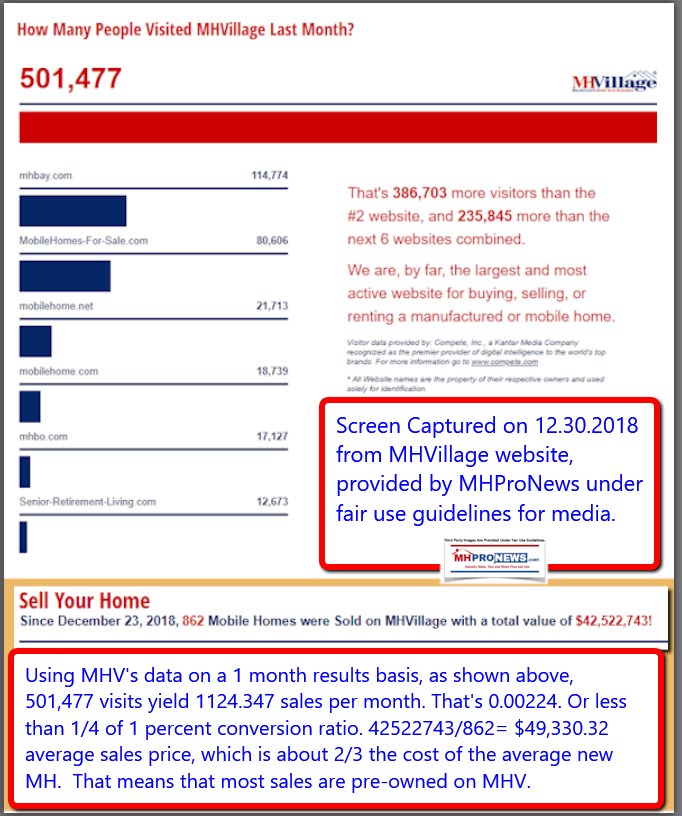 MHInsider has claimed certain things that they too have been unwilling or unable to defend publicly. But for their limited number of readers/fans, not to worry. In the happy circle fest that is the MHI amen corner, so long as they control the venues for discussion and avoid any discussion of MHI performance, they can appear to some to be credible. They can create to those who don't look beyond their glossy missives as if manufactured housing is doing just fine. But that is to ignore the words of their own co-president Krolewski.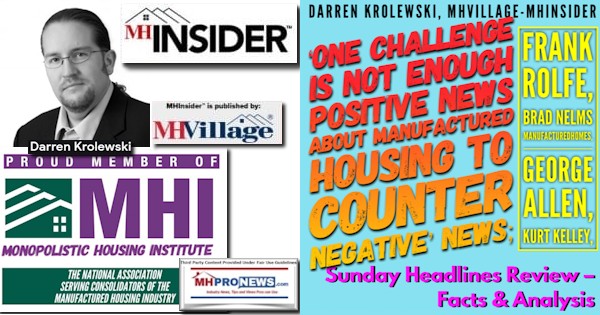 The use of media releases to promote their brand is, of course, their right. MHProNews has used such releases to mainstream media too.
"Half Price Homes" – New, Federally Certified, 3rd Party Inspected, Consumer Protection – in Affordable Housing Crisis, How Can This Miss? Probing Eye-Opening Research by Realtors, Walden University
Op-Ed: "State of Emergency" – Democrats, Gov. DeSantis And Competing Affordable Housing Crisis Plans And Solutions Examined
But our media releases and op-eds in other publications go towards facts that point toward the heart of manufactured housing industry underperformance.
By contrast, Revere and Krolewski have seemingly avoided that vexing issue of manufactured housing industry underperformance time after time.
To use an example from Revere in their most recent issue, which ought to relate to this recent PR, he said the following. "General inflation has persisted through two quarters and continues to threaten the stability of our organizations."  That is partially true. Inflation has been a constant in the U.S. economy for decades. But in Biden's America, it has roared to levels not seen in 40 years (or longer, depending on what source someone reads). But this level of inflation is destabilizing. Part of that instability is what this report, analysis, and commentary is focused on. Namely, the manufactured home community sector. MHProNews and our MHLivingNews sister site have led the charge for years on pulling back the veil on the tactics and events that caused even rival Allen to praise our efforts in that regard. Consumers living in manufactured home communities that are operated by a so-called predatory MHI member brand are harmed by this squeeze of higher ground rents vs. their resident's often fixed incomes that many of them live on.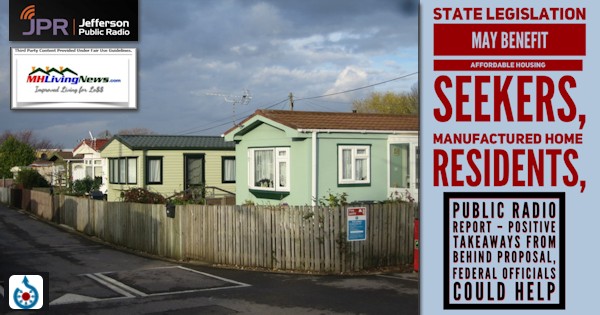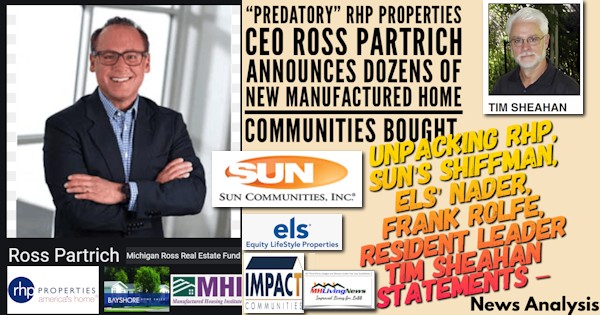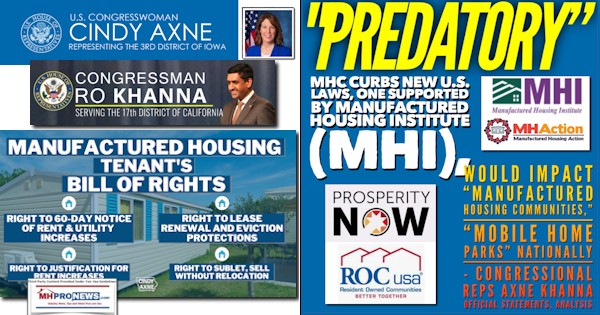 "Still, despite the uncertainty, and amid all this great change in business practice and expectation, the manufactured housing industry grows. Annual shipments in the manufactured housing industry landed above and beyond projections for the most part, and for the first time in 15 years, came in over the 100,000 mark, a major milestone for the many industry professionals who answer the call each day." This by Revere could be a classic case of paltering. Where is the graphic that shows the manufactured home production/sales trend line? By omitting a multi-year production trendlines graphic – see the example below – Revere's highbrow sounding missive lacks the context that would reveal that the industry is now still less than 30 percent of its 1998 high.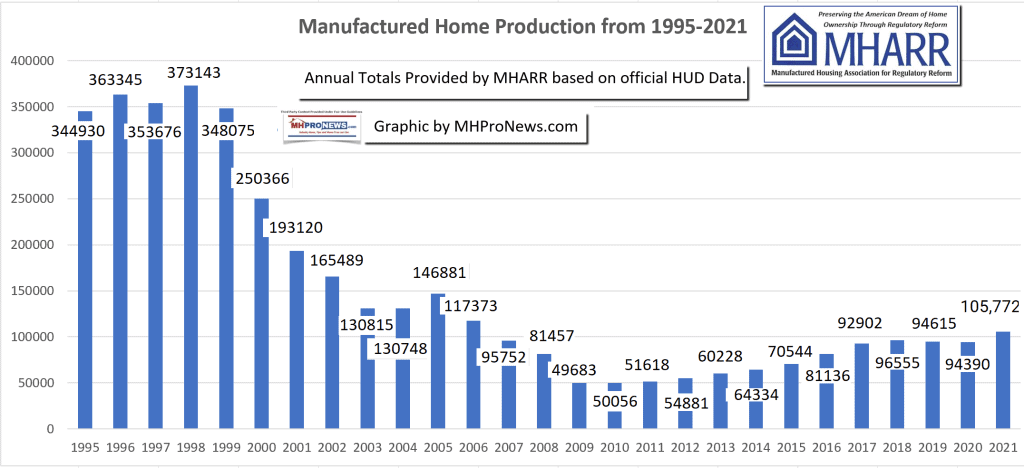 Additionally, Revere fails to mention that the Clayton Homes-backed and MHI branded CrossModTM scheme has fallen flat on its ample derriere. For 2½ years, starting in the later part of 2018, the industry struggled against a clearly self-contradictory product. Many if not most HUD Code manufactured home producers already built modular home coded products. Where was the need, or logic, in abandoning mainstream manufactured housing? MHI's own research, taken at face value, is a bizarre but in your face argument for buttressing the good name of manufactured homes. It isn't to run away from the names manufactured housing or manufactured home.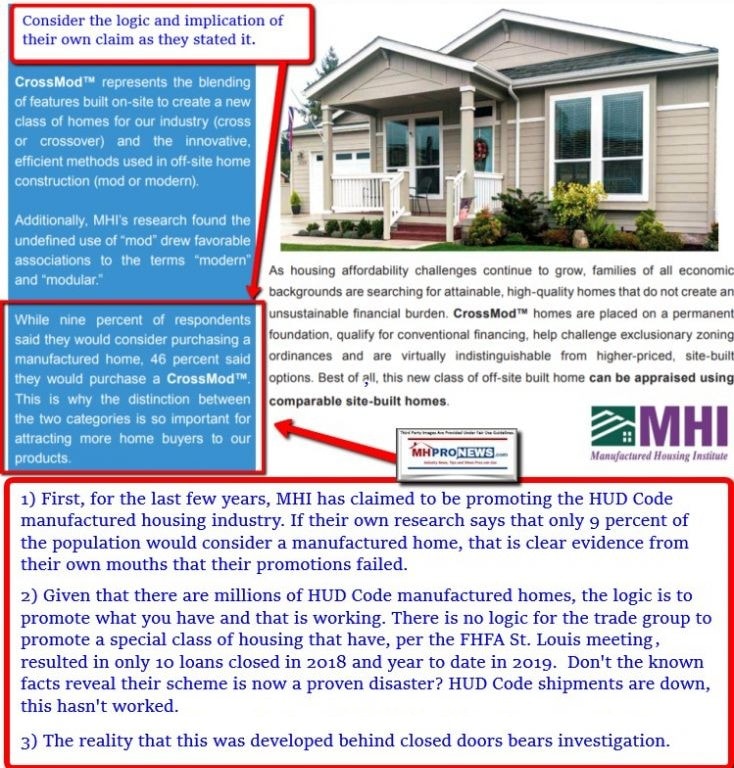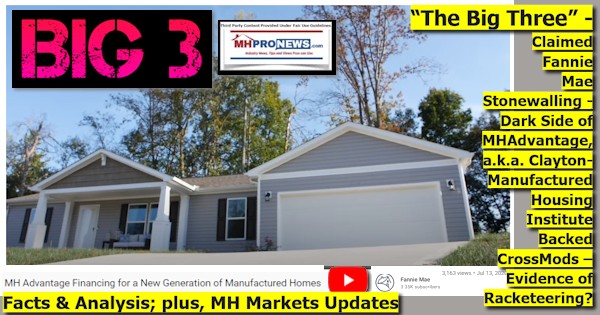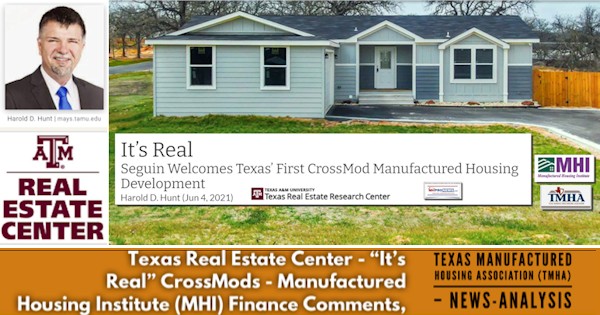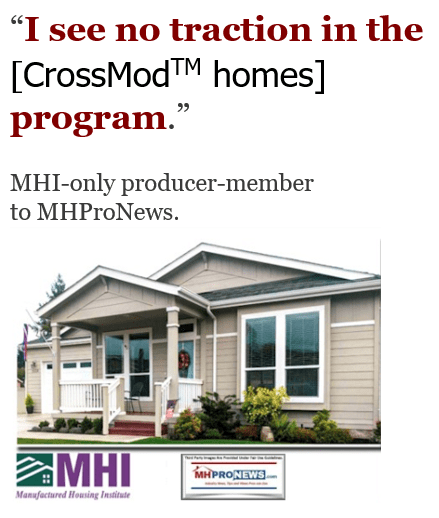 It is only MHProNews, our MHLivingNews.com sister site, and more recently our mainstream media outreaches that have shined a consistent and evidence-based news reporting light on why manufactured housing is underperforming. Revere ignores the fact that pre-Berkshire Hathaway influences on MHI, that MHI itself once touted Eric Belsky who said that manufactured homes could be expected to surpass conventional housing.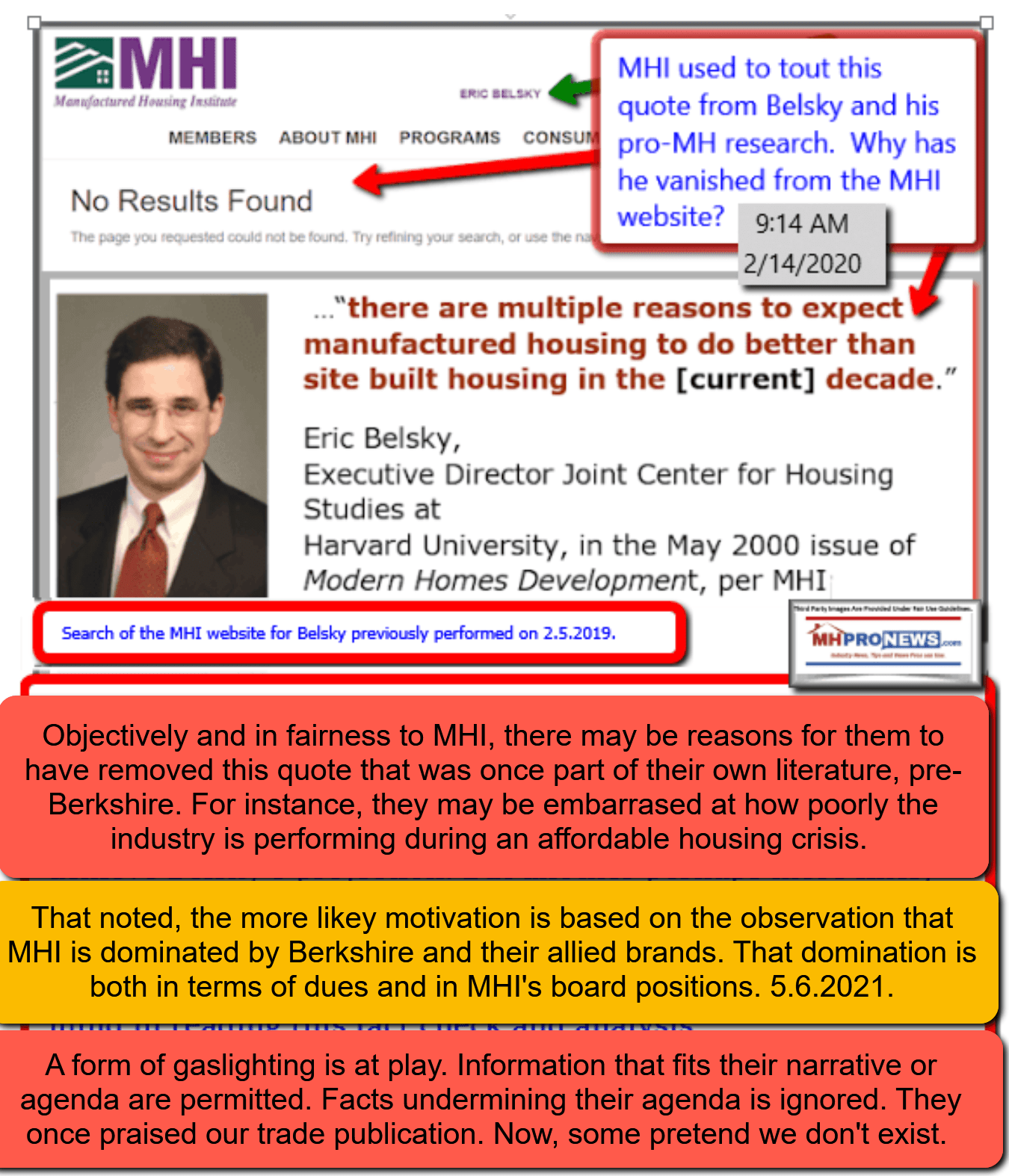 Yes, there are those who have apparently hobbled their own professions – deploying 'the moat' – in order to grow their own market share. Who said? How about Warren Buffett's longtime ally and self-proclaimed friend Bill Gates.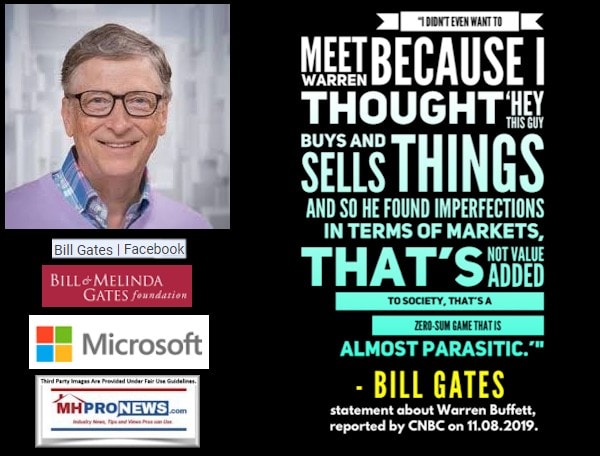 The industry has all too often been wounded and hobbled from missteps or worse that originate from the inside the industry. Who said? Sometimes MHI's own members.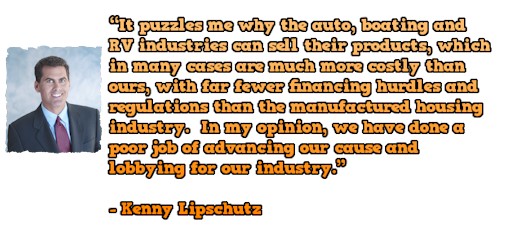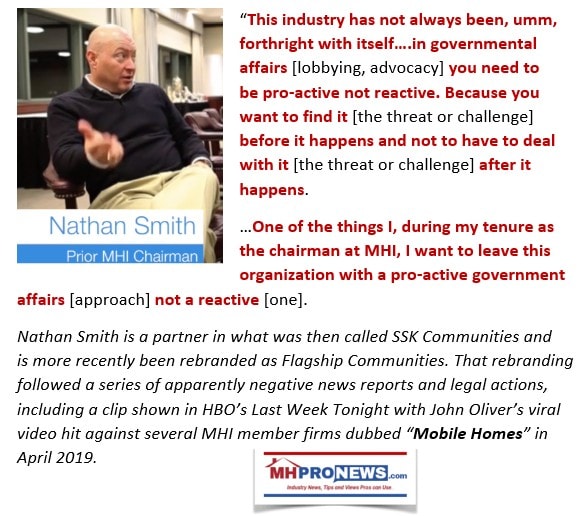 It is only MHProNews and our sister site that pressed blazingly foolish statement made by former MHI President and CEO Richard "Dick" Jennison above. But in hindsight, wasn't Jennison revealing? Why argue for slow growth, unless that was what Jennison's dominating board members wanted? The above was from 2014.  The next year, following pressure from MHProNews to Jennison  and his boss, Jennison said in front of an industry audience that manufactured how could be doing 500,000o new manufactured homes. See that video and report linked here.
Sometimes those critiques of MHI and their [lack of] performance come from rivals.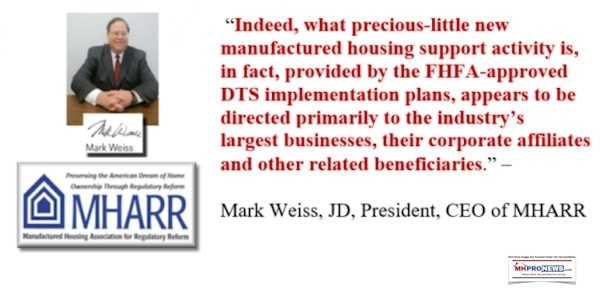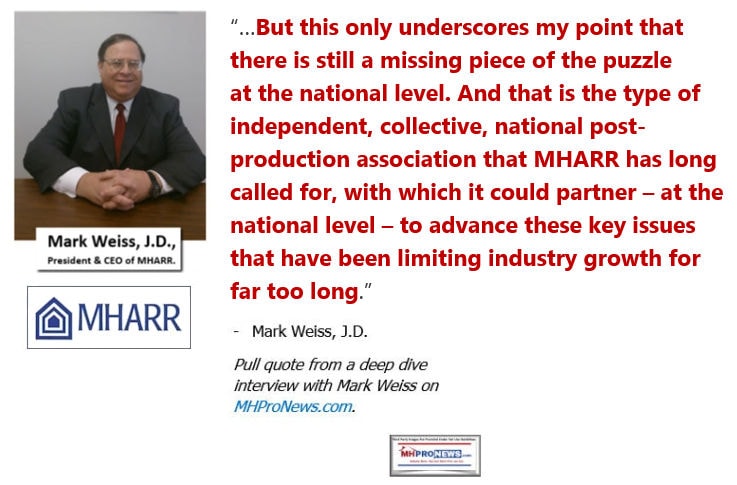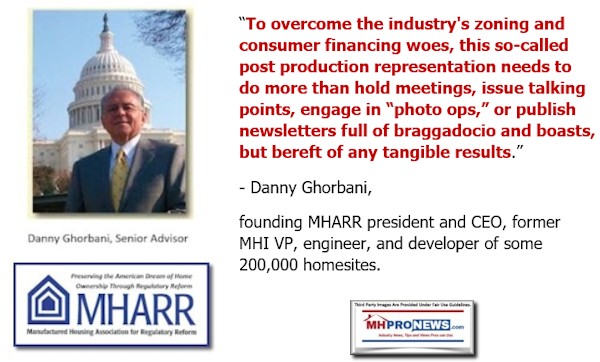 Periodically, including recently, MHI's own affiliates have by accident and/or design stepped on MHI's narrative. Did you learn this from MHInsider? Allen? Others? No, but you can learn it right here.
'Breaking the Law'-State Affiliate of Manufactured Housing Institute Accuses Community Operator-'They Take Advantage of Individuals in Communities, That Hurts Our Industry; Facts & Analysis
Texas Manufactured Housing Association (TMHA), Texas RE Research Center Make Surprising Admissions About Manufactured Housing Industry Risks – Facts & Analysis – plus MHVille Market Updates
These are the things that one won't find in sycophants and fluffers who are busy performing acts of oral or other verbal gratification of MHI. Yet it is MHI's code of ethical conduct and antitrust documents that ought to be front-and-center discussions.
The manufactured housing industry has crossed the 100,000 new home production threshold in 2021 for the first time in 15 years. That's a tragedy, not something to brag about. But don't look to MHVillage, Datacomp, or MHInsider as tools that will bring the industry roaring back to its true potential. If they wanted to do so, they could have…years ago!
Accountability appears to be coming Cavco Industries' way.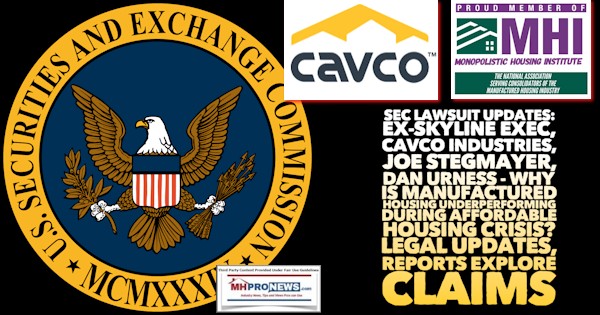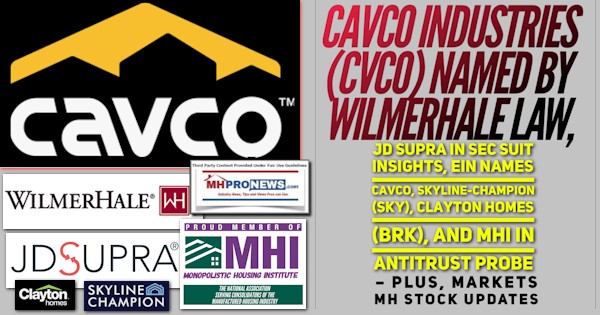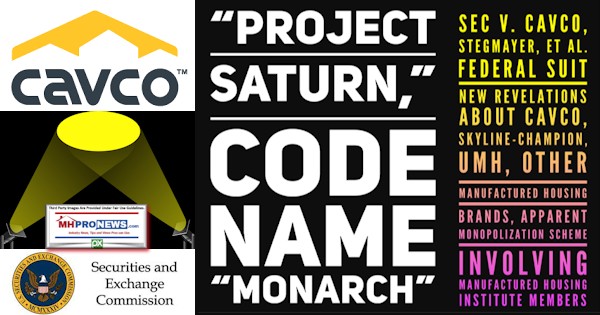 Accountability may be coming to MHI and/or MHI affiliate member brands. That seems to include brands in the community sector.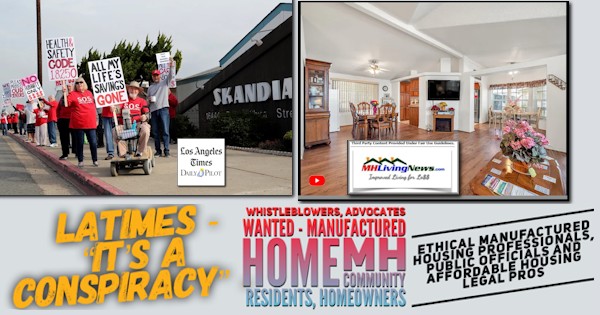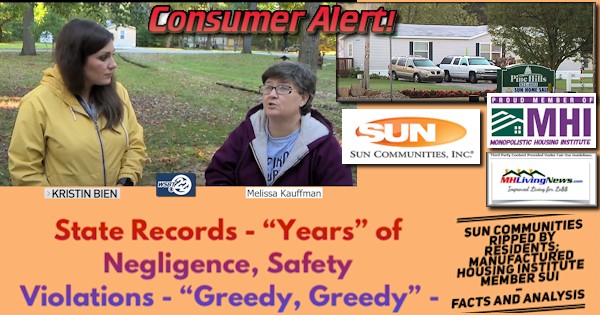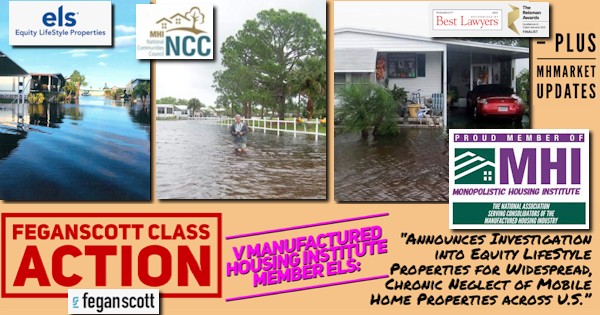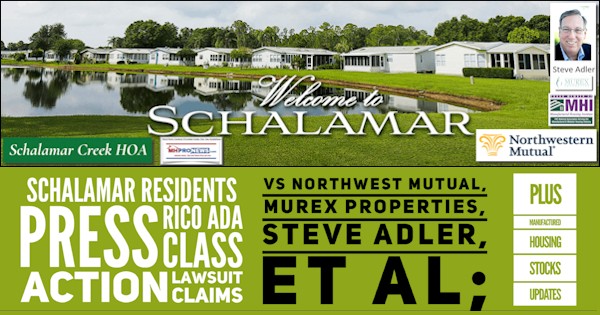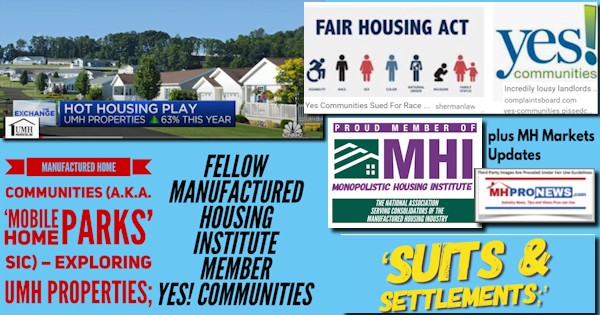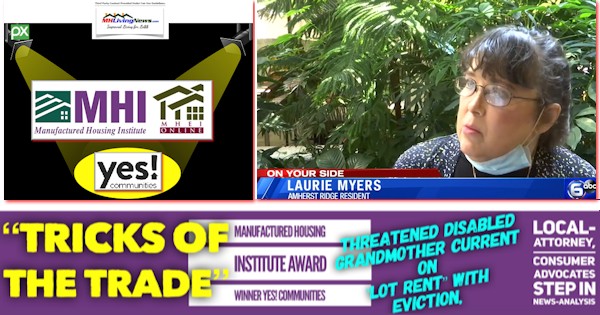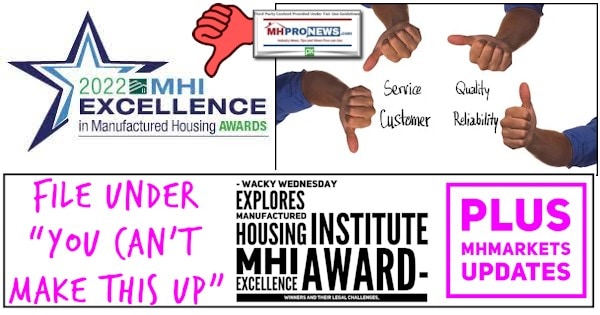 Kent & BERK – Municipal Research and Services Center "Manufactured Home Parks as a Local Source of Affordable Housing: A Case Study" – First Look at Significant Findings; plus MHMarkets Updates
The Party's 🎉 Over. Darkness v Light. Big v Millions of Everyday Americans. Truckers 'Peoples' Convoy' Comes to D.C. – Facts, Opportunities v Obstacles – MHVille Lessons; Plus MHMarkets Update
It may only be a question of time before a revolt of Americans against would-be oligarchic rulers will cause a way that will swamp several MHI brands, and MHI itself.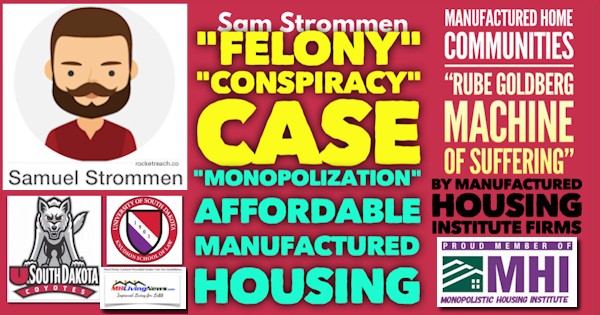 Until then, stay tuned to MHProNews and MHLivingNews as your only media source for "Intelligence for Your MHLife" ©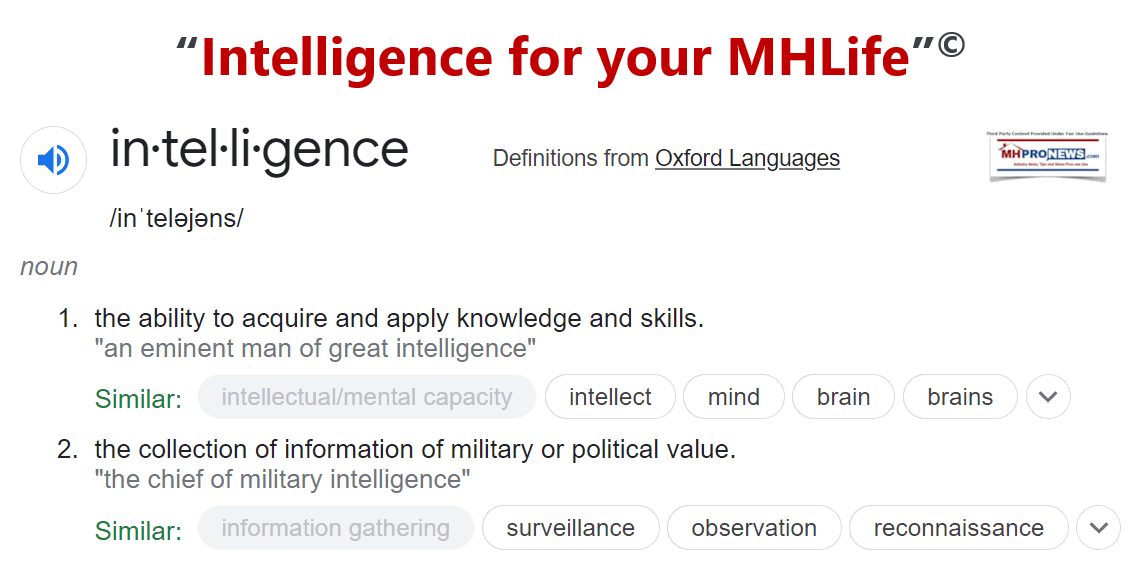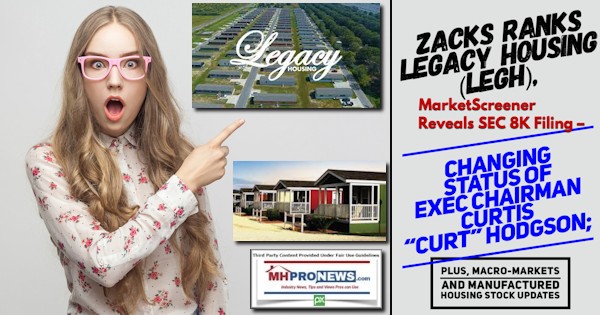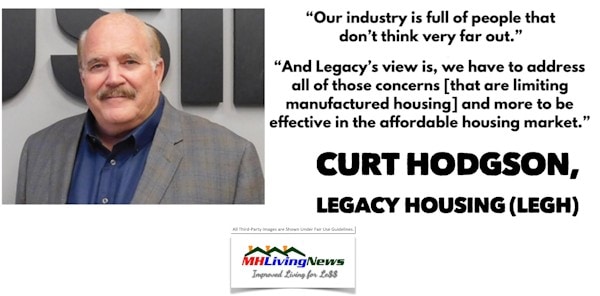 Because the data that Datacomp produced reveals a vexing pattern of how inflation has undermined the so-called 'rent growth' of the site fees in manufactured home communities from coast-to-coast, not just in the area that their report is focused upon.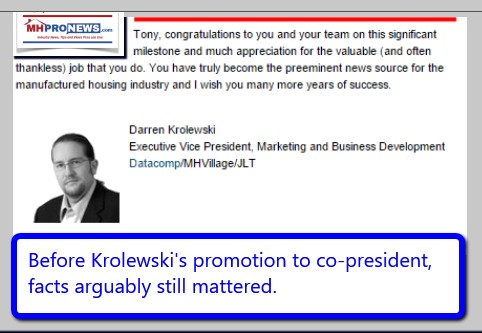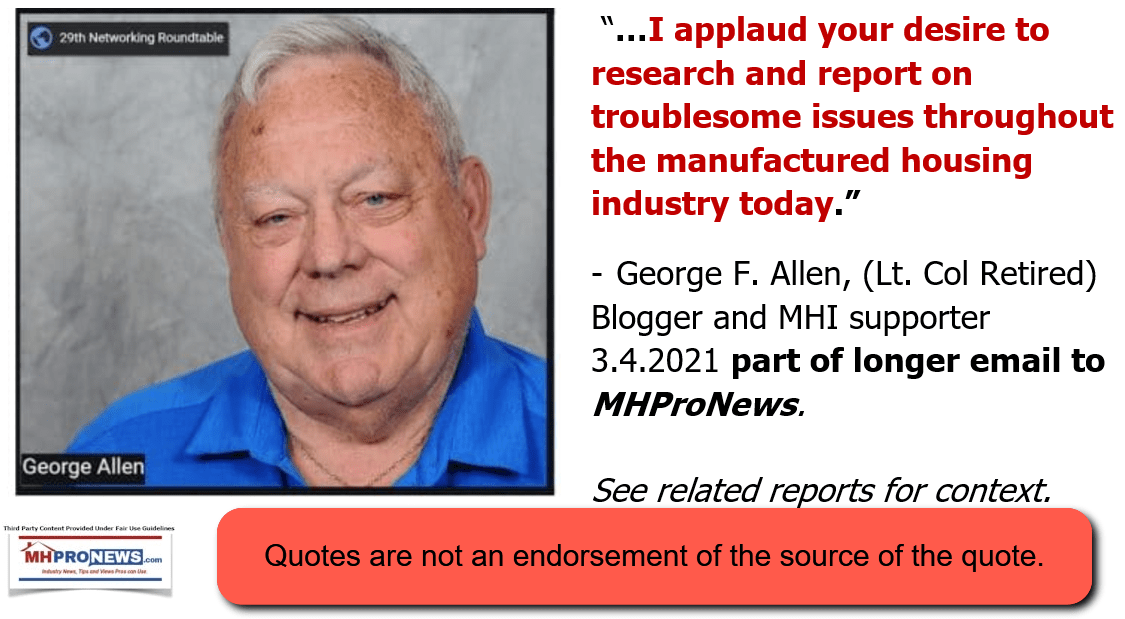 Construction News Today-'MHI Does Not Represent Entire Industry' Manufactured Housing Assoc Slams Manufactured Housing Institute on Energy Rule, Homestar's Jayar Daily Redux; MHVille Markets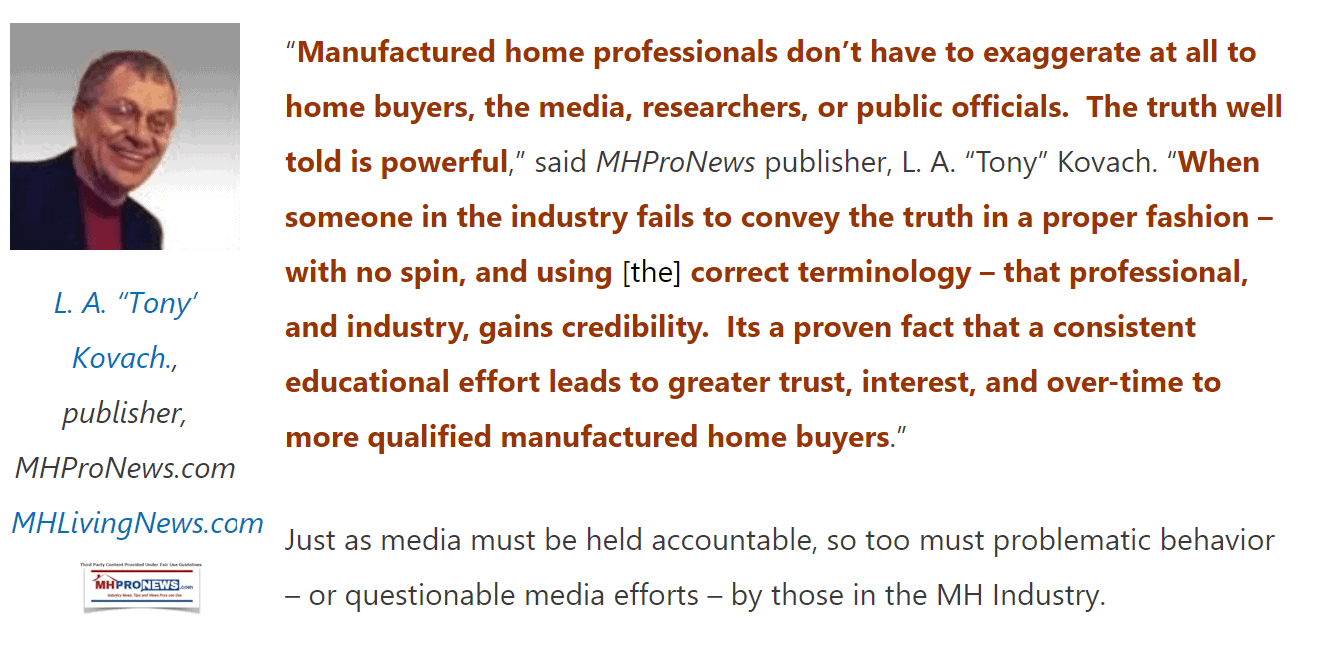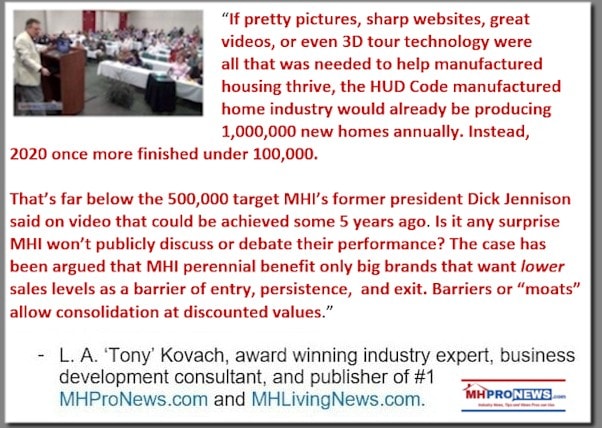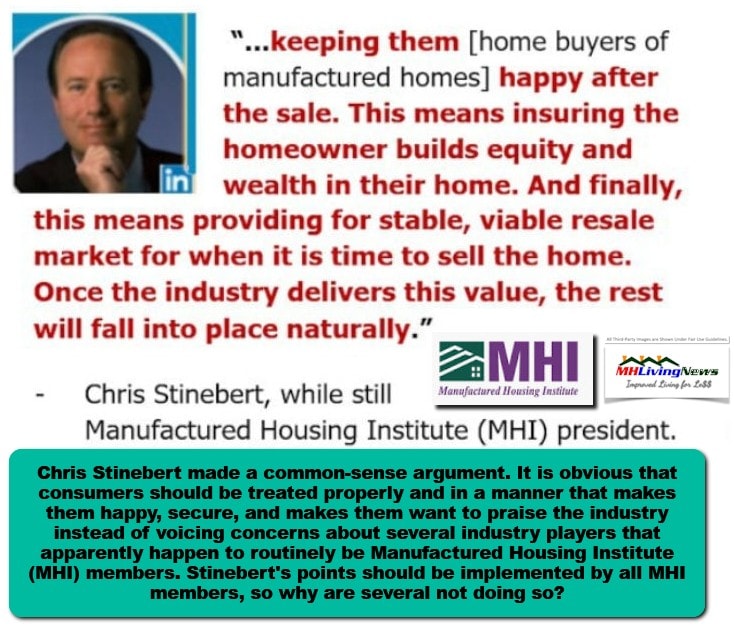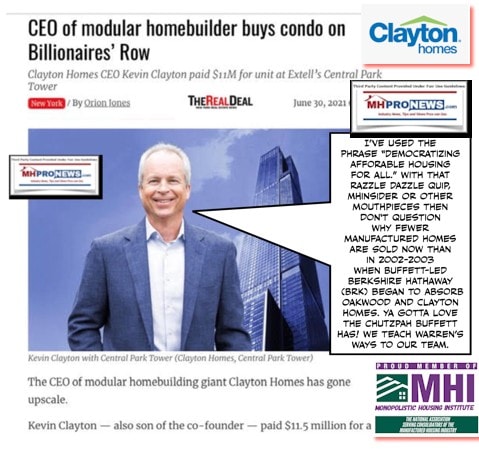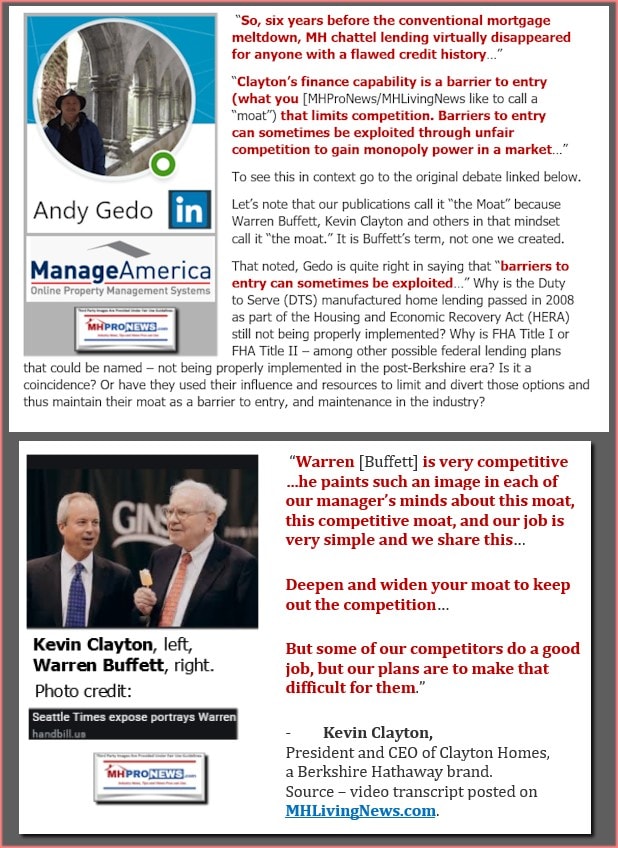 Next up is our daily business news recap of yesterday evening's market report, related left-right headlines, and manufactured housing connected equities.
The Business Daily Manufactured Home Industry Connected Stock Market Updates.  Plus, Market Moving Left leaning CNN and Right-leaning (Newsmax) Headlines Snapshot. While the layout of this daily business report has been evolving over time, several elements of the basic concepts used previously are still the same. For instance. The headlines that follow below can be reviewed at a glance to save time while providing insights across the left-right media divide. Additionally, those headlines often provide clues as to possible 'market-moving' news items.
Market Indicator Closing Summaries – Yahoo Finance Closing Tickers on MHProNews…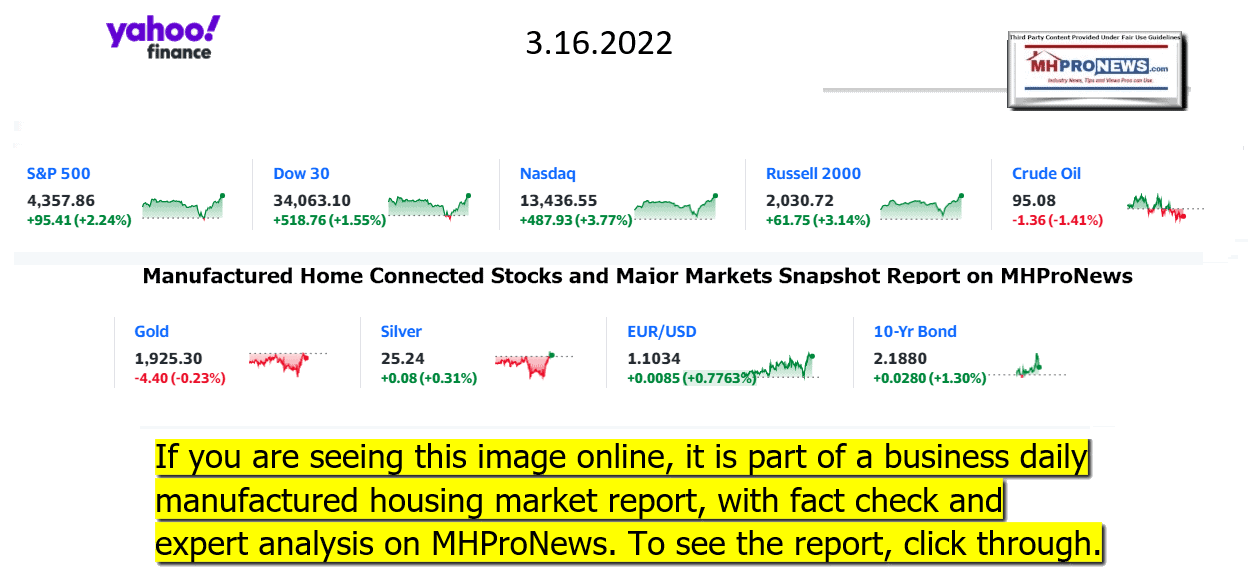 Headlines from left-of-center CNN Business – from the evening of 3.16.2022
Buying time
The headquarters of Bank Rossii, Russia's central bank, in Moscow, Russia, on Monday, Feb. 28, 2022. The Bank of Russia acted quickly to shield the nations $1.5 trillion economy from sweeping sanctions that hit key banks, pushed the ruble to a record low and left President Vladimir Putin unable to access much of his war chest of more than $640 billion.
Russia says it made a payment to avoid default. It still might
Uncertainty: 4 things Russia could do as default looms
Sign of challenges: Russia moves to seize hundreds of planes from foreign owners
Supply crisis: Russia could lose 30% of its oil output within weeks, IEA warns
Foreign debt: Here's how soon Russia could default
Gas: US prices fall — a little
Taking a stand: The journalist who protested on Russian state TV says it was 'impossible to stay silent'
Watch: Marina Ovsyannikova: 'My life has changed irrevocably'
Injured: Fox correspondent Benjamin Hall has left Ukraine after suffering injuries from deadly attack
Energy: Why are gas prices soaring when America barely uses Russian oil?
Nuclear fears: Why potassium iodide pills are in high demand
LATEST HEADLINES
A Tesla Model 3 vehicle on an auto carrier in front of a store in Rocklin, California, U.S., on Wednesday, July 21, 2021.
Tesla's cheapest Model 3 now costs $46,990
Federal Reserve boosts interest rates for the first time since 2018 to combat soaring inflation
Expert: Fed has 'poor track record' balancing inflation and recession
LIVE UPDATES Stocks climb after rate hike
War. Inflation. Stocks can't keep up
Evergreen container ship runs aground in Chesapeake Bay
Kohl's could soon have a new owner. The stock is rocketing higher
First on CNN: Biden demands faster drop in gas prices as oil tumbles
This might be the end of sharing Netflix passwords
Joe Buck and Troy Aikman are leaving Fox for ESPN's 'Monday Night Football'
HIGH PRICES
A pumpjack operates just outside of the Odessa Ector Power Partners natural gas power plant Wednesday, March 9, 2022 in Odessa, Texas.
Key inflation measure hits double digits for February
When will people get fed up with high prices?
How some Americans are impacted by rising prices
Why are gas prices soaring?
Mortgages rates are on the rise again amid inflation fears
LAW & ORDER
REFILE – ADDING COUNTRY Former Theranos President and COO Ramesh "Sunny" Balwani smiles after a hearing at a federal court in San Jose, California, U.S., July 17, 2019.
Holmes' No. 2 and ex-boyfriend is about to have his day in court
What's next for Elizabeth Holmes?
US charges two siblings in $124 million crypto fraud
Hollywood actor's Ponzi scheme, explained
Ben & Jerry's stops making ice cream in Israel. Its Israeli manufacturer is suing
Headlines from right-of-center Newsmax – evening of 3.16.2022
Zelenskyy: Third World War May Have Already Begun
(Getty, Dreamstime)
The Ukrainian president, in a TV interview, said "we've seen this 80 years ago, when the Second World War had started … nobody would be able to predict when the full scale war would start," emphasizing that the outcome of this current war has the "whole civilization at stake." [Full Story]
Russian Invasion of Ukraine
Ukraine Says Theater Sheltering Hundreds Hit; Moscow Denial
Kremlin: Biden's Calling Putin a War Criminal Unacceptable, Unforgivable
Deepfake Footage Purports to Show Ukrainian President Capitulating
UN Security Council to Vote Friday on Russia Move on Ukraine
Pew: Biden Administration Doing Too Little to Help Ukraine
Putin Makes Twitter Video Aimed at Oligarchs and 'Fois Gras'
Zelenskyy Invokes Pearl Harbor, 9/11 in Plea to Congress for Aid
Sanctioned Russia Teeters on Brink of Historic Default
Ukraine Official: Report of Draft Peace Accord Just Putin Position
Biden Sending $800 Million More Aid to Ukraine
Putin: Russia Won't Bow to West, Invasion 'Going to Plan'
Ukraine: Destruction of 40% of Russian Pre-Staged Forces
More Russian Invasion of Ukraine
Newsmax TV
Clyde: 'The World Has to Show Russia Its Steel' | video
Tenney: Biden 'Following From Behind' on Ukraine | video
Loudermilk: Biden Administration 'Failed' Ukraine
Blackburn: Not Sure If Biden Will Relent on Ukraine No-Fly Zone | video
Biggs: Care Must Be Taken to Avoid 'Broader General War' | video
Reschenthaler: Congress Must Authorize No-Fly Zone for Ukraine | video
More Newsmax TV
Newsfront
Citigroup to Cover Travel Expenses for Abortions as US States Curb Access
Citigroup Inc. has started covering travel expenses for employees who go out of state for abortions because of newly enacted restrictions in Texas and other places, becoming the first major U.S. bank to make that commitment…. [Full Story]
Kremlin Says Biden's Calling Putin a War Criminal Is Unacceptable and Unforgivable
Kremlin spokesman Dmitry Peskov on Wednesday said U.S. President Joe [Full Story]
Wall Street Closes Sharply Higher on Fed Hikes
The S&P 500 closed sharply higher on Wednesday after some choppy [Full Story]
Zelenskyy's Old Political Satire Is Back on Netflix
Netflix announced through Twitter on Wednesday that the comedy series [Full Story]
McCaul: Fears 'Worst Nightmare' That Putin Could Order Short-Range Nukes
History will judge the United States by how it helped or did not help [Full Story]
Mysterious 'Z' Emblem on Russian Tanks Becomes Symbol of Putin's War
Even though the letter "Z" isn't found in Russia's Cyrillic alphabet, [Full Story] | Platinum Article
Fed Hikes Rates, Signals Aggressive Turn Against Inflation
The Federal Reserve on Wednesday raised interest rates by a quarter [Full Story]
US Adversaries Test Biden as President Abandons 'Peace Through Strength'
With the U.S. focused on Russian forces in Ukraine trudging ever [Full Story] | Platinum Article
Zelenskyy: Third World War May Have Already Begun
World War III may have already started, Ukrainian President Volodymyr [Full Story]
Putin Makes Twitter Video Aimed at Oligarchs and 'Fois Gras'
Russian President Vladimir Putin on Wednesday released a video that [Full Story]
Pfizer Asks FDA to Allow 4th COVID Vaccine Dose for Seniors
Pfizer and its partner BioNTech asked U.S. regulators Tuesday to [Full Story]
Manchin: Create 'Superpower of the World' With Energy Alliance
Joe Manchin on Wednesday called for a North American alliance on [Full Story] | video
Pew: Biden Administration Doing Too Little to Help Ukraine
A plurality of Americans (42%) say the United States is not providing [Full Story]
9 Dead in Crash Involving University of Southwest Golf Team
A vehicle carrying members of the University of the Southwest's golf [Full Story]
Trump: I Won't Pick Pence in '24
Former President Donald Trump virtually ruled out former Vice [Full Story]
Biden Sending $800 Million More Aid to Ukraine
President Joe Biden said Wednesday the U.S. is sending more [Full Story]
Ukraine Official: Report of Draft Peace Accord Is Merely Russia's Position
Ukraine has denied a report that signaled a peace agreement with [Full Story]
John Kennedy: Biden Acting Like 'Bambi's Baby Brother' Against Russia
John Kennedy, R-La. on Wednesday slammed President Joe Biden as [Full Story]
Texas May Boycott Companies Over Fossil Fuel Divestment
Financial groups divesting from fossil fuels may face a boycott in [Full Story]
Trump: 'I Acted' to Rebuild NATO
As Ukrainian President Volodymyr Zelenskyy pleaded with Congress [Full Story]
Abbott Replaces Texas National Guard Leader
Greg Abbott, R-Texas, announced he had replaced the top officer [Full Story]
Report: Draft Peace Deal in Ukraine War
Ukraine and Russia made significant progress on a tentative 15-point [Full Story]
Ancient Sarcophagus Unearthed Underneath Fire-Damaged Notre Dame Cathedral
Archeologists have uncovered several tombs as well as an ancient lead [Full Story]
Hillary Clinton Trolls Putin, Says Thanks for Sanctions 'Award'
Former Secretary of State Hillary Clinton trolled Russian President [Full Story]
Dick Morris: Fox's Tucker Doubles Down on Ukraine
Carlson is sowing doubts, creating division, sending up false flag [Full Story]
Blinken: Sanctions Lifted Against Russia Only If Withdrawal Is 'Irreversible'
The United States demands that Russia not only halts the invasion of [Full Story]
Saudi King Leaves Hospital After Undergoing Medical Tests: State TV
Saudi Arabia's King Salman has left a hospital in Riyadh after [Full Story]
All Systems Go for Fed's Liftoff of Interest Rates
The Federal Reserve on Wednesday will close the door on its [Full Story]
DoorDash Paying Back Drivers to Offset High Gas Prices
Delivery company DoorDash said Tuesday it will refund its drivers for [Full Story]
IMF: Russia's War May 'Fundamentally Alter' Global Economic, Political Order
Russia's invasion of Ukraine will affect the entire global economy by [Full Story]
Hospitals Overwhelmed as China Registers Over 1,000 COVID Cases for Fourth Day
China reported 1,860 new local symptomatic COVID-19 cases on March. [Full Story]
More Newsfront
Finance
Fed Hikes Rates, Signals Aggressive Turn Against Inflation
The Federal Reserve on Wednesday raised interest rates by a quarter of a percentage point (25 basis points) and projected its policy rate would hit a range between 1.75% and 2% by year's end in a newly aggressive stance against inflation…. [Full Story]
All UBS Russian Clients 'Semi-Sanctioned': CEO
Many Oligarchs' Spoils Shielded in Shell Companies
Qualcomm Stops Selling Products to Russian Companies
More Finance
Health
Pfizer Asks FDA to Allow 4th COVID Vaccine Dose for Seniors
Pfizer and its partner BioNTech asked U.S. regulators Tuesday to authorize an additional booster dose of their COVID-19 vaccine for seniors, saying data from Israel suggests older adults would benefit. Currently the U.S. urges two primary shots followed months later by a…… [Full Story]
New Study Finds "Prehab" Doesn't Improve Knee Replacement Outcomes
Omicron Hospitalized 5 Times as Many Small Children as Delta
Mammograms Can Reveal Heart Risks: Study
Aduhelm Reduced Markers for Alzheimer's Disease in Long-Term Trial: Biogen
MHProNews has pioneered in our profession several reporting elements that keep our regular and attentive readers as arguably the best informed in the manufactured housing industry. Among the items shared after 'every business day' (when markets are open) is our left-right headline recap summary. At a glance in two to three minutes, key 'market moving' news items are covered from left-of-center CNN Business and right-of-center Newsmax. "We Provide, You Decide." © Additionally, MHProNews provides expert commentary and analysis on the issues that others can't or won't cover that help explain why manufactured housing has been underperforming during the Berkshire era while an affordable housing crisis and hundreds of thousands of homeless in America rages on. These are "Industry News, Tips, and Views Pros Can Use" © features and others made and kept us the runaway #1 in manufactured housing trade publisher for a dozen years and counting.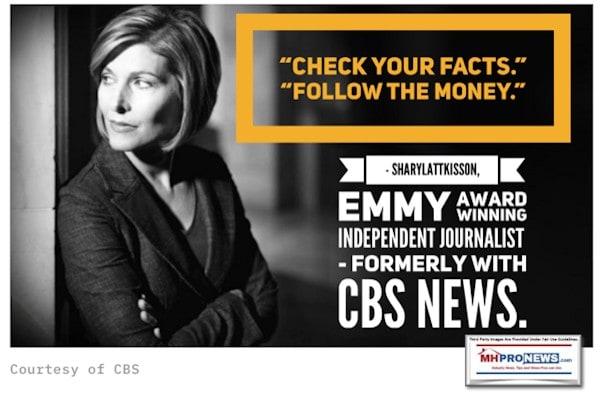 Manufactured Housing Industry Investments Connected Equities Closing Tickers
Some of these firms invest in manufactured housing, or are otherwise connected, but may do other forms of investing or business activities too.
NOTE: The chart below includes the Canadian stock, ECN, which purchased Triad Financial Services, a manufactured home industry lender
NOTE: Drew changed its name and trading symbol at the end of 2016 to Lippert (LCII).
NOTE: Deer Valley was largely taken private, say company insiders in a message to MHProNews on 12.15.2020, but there are still some outstanding shares of  the stock from the days when it was a publicly traded firm.  Thus, there is still periodic activity on DVLY.
Manufactured Home Communities (a.k.a. 'Mobile Home Parks' – SIC) – Exploring UMH Properties; Fellow Manufactured Housing Institute Member Yes! Communities Suits and Settlements; plus MH Markets Updates
Clayton-21st Storm Watch – Sinatra's Summer Wind Blows Early? – Manufactured Housing Moat Breach – Manufactured Home Values Increasing Faster than Site-Built – Case for Something New in 2022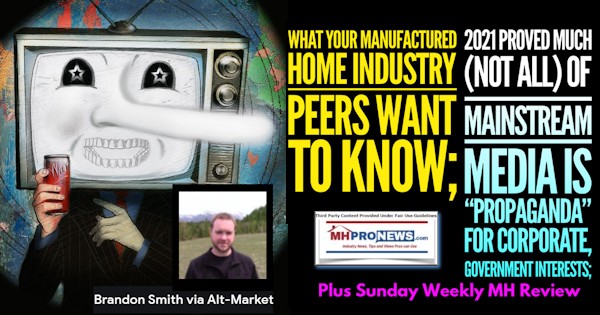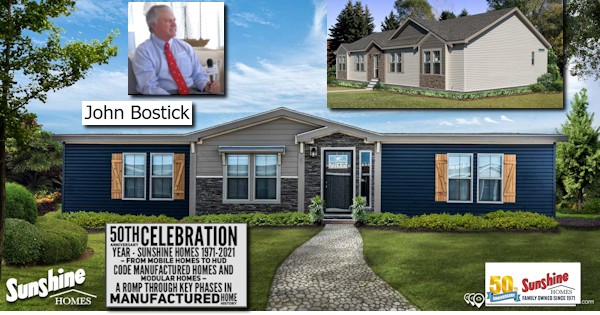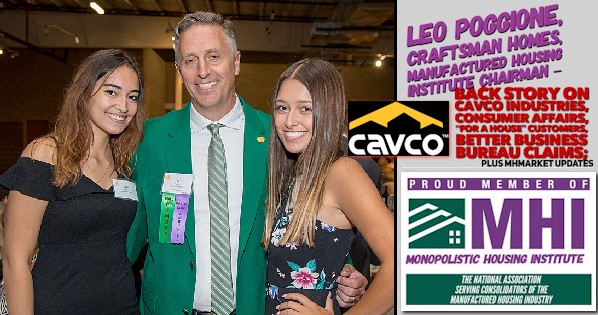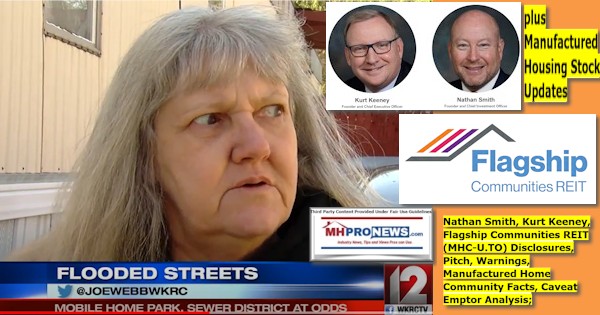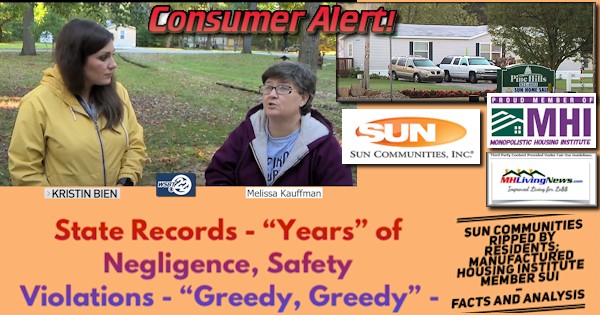 In cases such as Apollo, Berkshire Hathaway, Blackstone or others, manufactured housing may only be part of their corporate interests. Note: depending on your browser or device, many images in this report can be clicked to expand. Click the image and follow the prompts. To return to this page, use your back key, escape or follow the prompts.

https://www.manufacturedhomepronews.com/steve-lawler-deer-valley-corporation-dvc-otcmkts-dvly-announces-merger-plus-manufactured-home-investing-stock-updates/

https://www.manufacturedhomepronews.com/nobility-homes-financial-position-very-strong-sales-strong-but-challenges-including-lending-and-others-examined-plus-manufactured-housing-stocks-update/

2022

…

Berkshire Hathaway is the parent company to Clayton Homes, 21st Mortgage, Vanderbilt Mortgage and other factory-built housing industry suppliers.


·

LCI Industries, Patrick, UFPI, and LP each are suppliers to the manufactured housing industry, among others.




·

AMG, CG, and TAVFX have investments in manufactured housing related businesses.

For

insights from third-parties and clients about our publisher

, click here.


Enjoy these 'blast from the past' comments.

MHProNews. MHProNews – previously a.k.a. MHMSM.com – has celebrated our 11th year of publishing and have completed over a dozen years of serving the industry as the runaway most-read trade media.
Sample Kudos over the years…
It is now 12+ years and counting…
Learn more about our evolutionary journey as the industry's leading trade media, at the report linked below.
· For expert manufactured housing business development or other professional services, click here.
· To sign up in seconds for our industry leading emailed headline news updates, click here.

Disclosure. MHProNews holds no positions in the stocks in this report.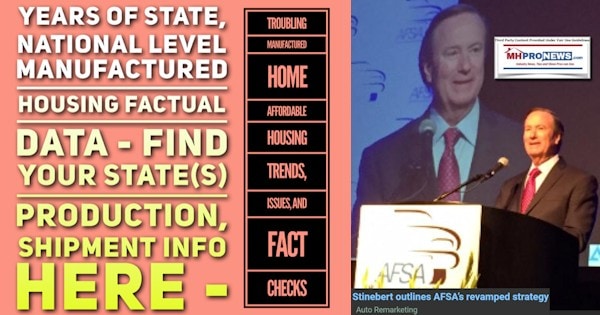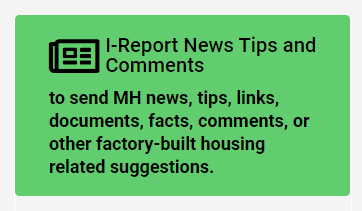 That's a wrap on this installment of "News Through the Lens of Manufactured Homes and Factory-Built Housing" © where "We Provide, You Decide." © (Affordable housing, manufactured homes, stock, investing, data, metrics, reports, fact-checks, analysis, and commentary. Third-party images or content are provided under fair use guidelines for media.) (See Related Reports, further below. Text/image boxes often are hot-linked to other reports that can be access by clicking on them.)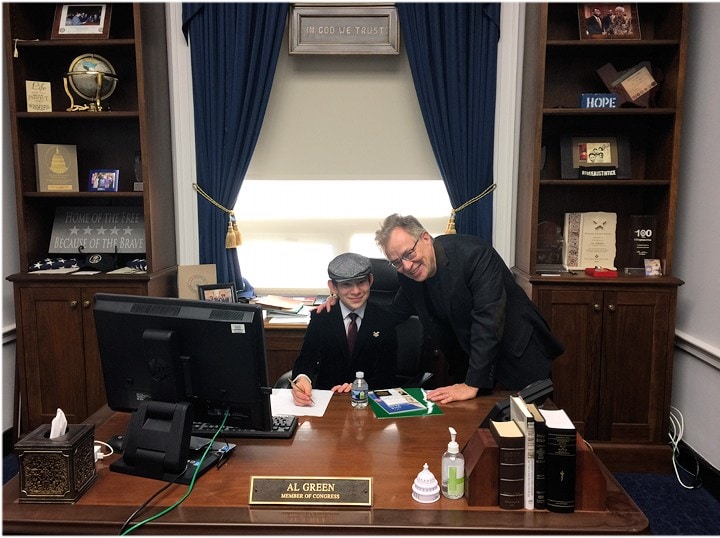 By L.A. "Tony" Kovach – for MHProNews.
Tony earned a journalism scholarship along with numerous awards in history. There have been several awards and honors and also recognition in manufactured housing. For example, he earned the prestigious Lottinville Award in history from the University of Oklahoma, where he studied history and business management. He's a managing member and co-founder of LifeStyle Factory Homes, LLC, the parent company to MHProNews, and MHLivingNews.com. This article reflects the LLC's and/or the writer's position and may or may not reflect the views of sponsors or supporters.