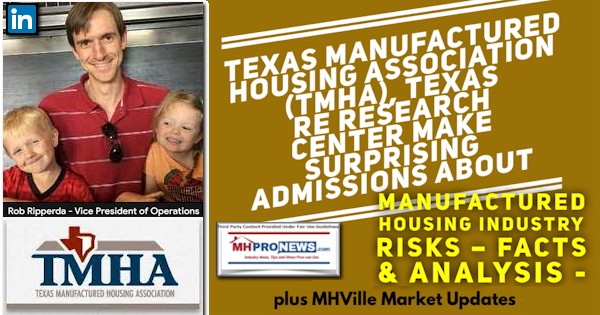 A sobering challenge exists for Manufactured Housing Institute (MHI) state association affiliates, such as the Texas Manufactured Housing Association (TMHA). That challenge is apparently how not to step on the various Manufactured Housing Institute (MHI) talking points when a state affiliate is making a statement to a third-party, even a friendly third-party. With that context, the TMHA has made an admission that trails MHProNews warning on a related point by over 6 months. Namely, the manufactured housing industry's producers and retailers – despite the current surge in sales – are at risk of a predictable downturn. Who said? TMHA's Rob Ripperda. The report below will be followed by a focused commentary and analysis.
Big MHI Member Leader Explains "Downturn" Looms, "Support" MHProNews "Efforts" "Appreciate" "Investigative Reporting" – Manufactured Housing Institute (MHI) Surrogate, More MHI Linked Reactions
The report that follows should be considered in the light of the report linked above, which focused on a news tip from an MHI member manufactured home producer. The highlighting is added by MHProNews and will be included in our analysis that follows their press release.

FOR IMMEDIATE RELEASE
March 8, 2022 News Release No. 12-0322
Search for housing affordability fuels manufactured-housing industry
COLLEGE STATION, Tex. (Texas Real Estate Research Center) – Despite a myriad of supply-side challenges, Texas' housing manufacturers are bullish as they enter the spring selling season.
According to the latest Texas Manufactured Housing Survey (TMHS), the industry's outlook has continually improved since the initial COVID-19 shock, and optimism remains high for the first two
quarters of 2022.
"In light of the strong run-up in site-built single-family housing, the demand for more affordable manufactured homes remains strong," according to Dr. Harold Hunt, research economist at the Texas Real Estate Research Center at Texas A&M University. "However, large backlogs have hampered the industry's ability to meet that demand for some time, prompting sales teams to stave off new orders until production catches up."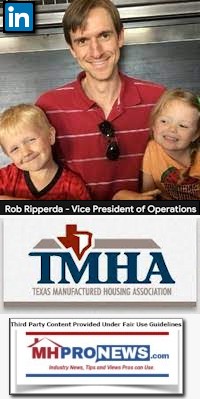 The TMHS production index increased for the ninth consecutive month with expectations of additional activity on the horizon.
"As infections from the COVID-19 Omicron variant wane, manufacturers are benefiting from a healthier, more productive workforce that can whittle down backlogs," said Hunt.
Manufacturers expanded payrolls and increased workweeks during February, but finding and attracting skilled workers remained a significant obstacle. Labor costs elevated substantially, contributing to broad-based inflation due to supply-chain disruptions.
"Home production increased during the first two months despite a host of headwinds from materials sourcing, labor availability, and large cost increases," said Rob Ripperda, vice president of operations for the Texas Manufactured Housing Association.
The TMHS panel unanimously reported higher prices paid for raw materials, much of which were passed on to retailers and consumers.
"Manufacturers believe they can pick up the pace of production even more, but every week brings another hurdle, and a final rule from the Department of Energy on energy efficiency requirements is set to drop in May that could add significant friction to getting new homes out the door," said Ripperda. "The factory-built model only works when you can source your materials at scale. If a standard product is no longer allowed because of a regulatory change and the mandated substitute isn't available at the necessary quantities, you've got the makings of a slowdown."
The TMHS reflected expectations of new federal oversight with the six-month regulatory index reaching its highest level since the survey launched in June 2020, but production projections held firm.
The overall outlook, however, remained favorable, and that confidence was corroborated by heightened capital expenditures and plant investment.
Funded by Texas real estate licensee fees, the Texas Real Estate Research Center was created by the state legislature to meet the needs of many audiences, including the real estate industry, instructors, researchers, and the public.
—30—
Tx RE RC Editor's note: As of Jan. 1, 2021, our official name is the Texas Real Estate Research Center.
##
Additional Information, More MHProNews Analysis and Commentary in Brief
MHLivingNews reported some 13 months ago that MHI had essentially painted themselves into a messaging corner.  The media release above essentially proves that point, though the MHI affiliate clearly did not intend to frame it that way.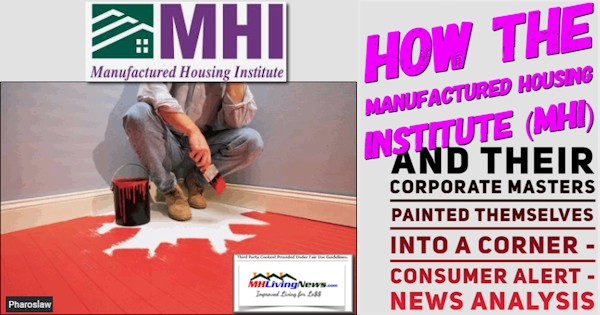 As an example to make the point that MHI, and by extension their affiliates and allies, have boxed themselves into a messaging corner consider the report linked below. It utilizes a Texas Real Estate Research Center media release that relates to a previous MHI claim that has been debunked by MHProNews and MHLivingNews.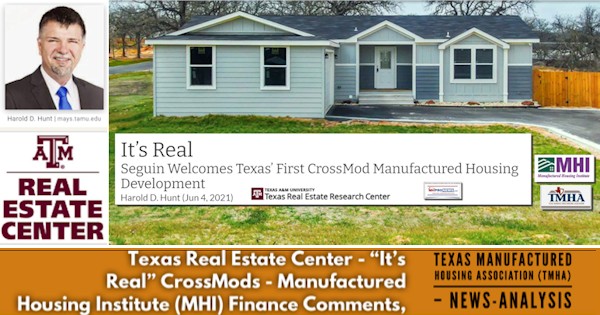 The data clearly reflects that Clayton Homes back and MHI branded CrossModTM has been a market failure. Could it pick up steam in 2022? Yes, but if so, it will be because of the headline above. The demand for single family conventional housing is so high that it is essentially dragging manufactured housing along. It is NOT because the public has bought into CrossMods themselves. Multiple MHI member producers told MHProNews that the plan made no sense from early on, as the historic report below illustrates.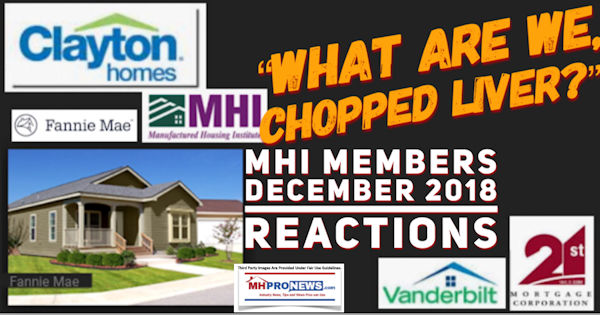 Later, another MHI member source told MHProNews that there was no traction on the plan.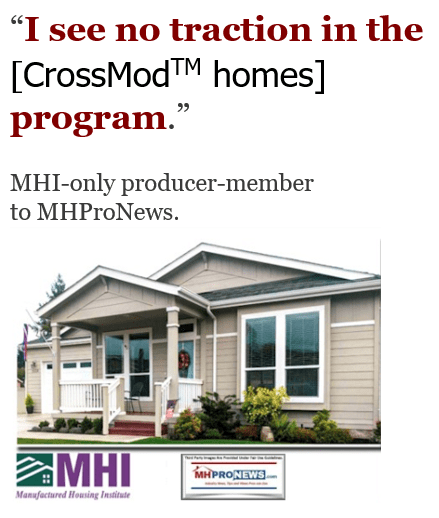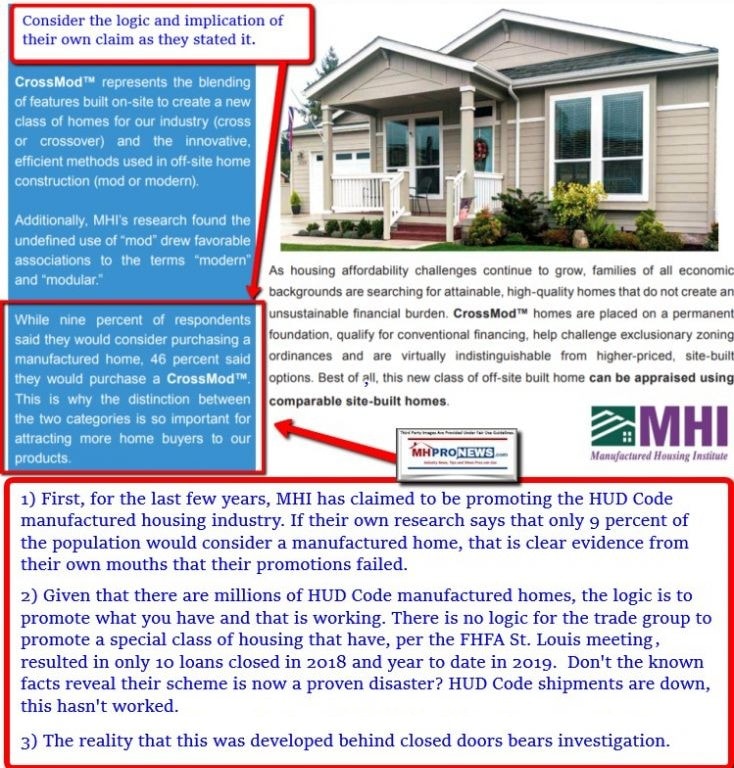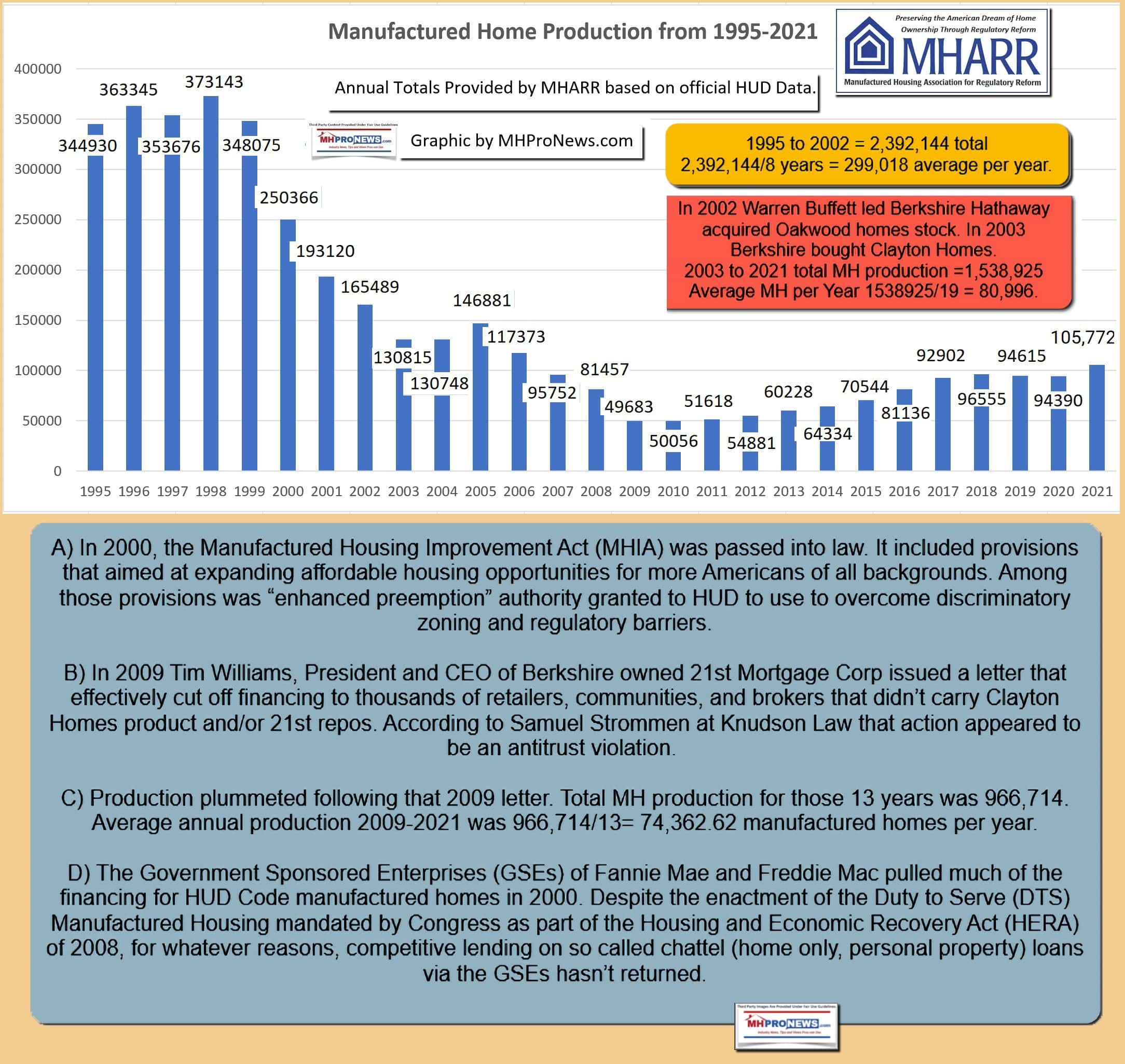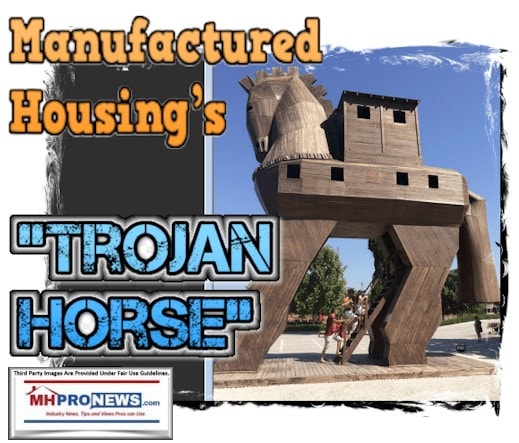 Instead of growing the industry, for 2½ years after the 'new class of manufactured homes' later rebranded as CrossModTM the industry's sales of HUD Code manufactured homes declined. Ouch, but that too was predicted by MHProNews, as the linked items above clearly demonstrates.
Manufactured Housing Institute "Walk Out," "Cover Up," and Shock at their Vegas Event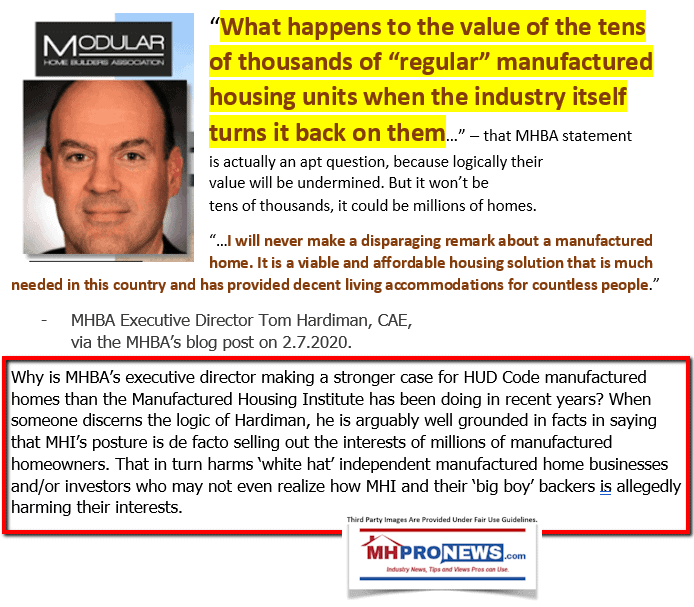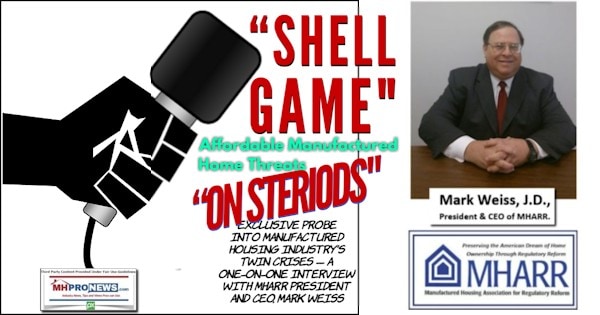 MHProNews was alone in reporting the walkout of MHI members from the MHI presentation that pitched what became CrossMod. That too was the result of a news tip from one of several sources inside MHI and/or an MHI state affiliate.  It is increasingly apparent to manufactured housing industry members that MHI leaders are ducking a candid discussion on their performance. Just days ago, MHProNews invited MHI leaders to a public discussion or debate of their effectiveness. 
from:
L. A. "Tony" Kovach for MHProNews/MHLivingNews
to:
Leo Poggione, MHI Chairman
Lesli Gooch, Ph.D., MHI CEO
Brad Lovin NC-MHA.org,
Tim Williams  21st Mortgage – CEO and a prior MHI chairman,
Matt Webb 21st Mortgage – attorney,
"Hodges, Tom" @ Clayton Homes, attorney and immediate past MHI Chairman,
David Goch WC-B Law, MHI outside attorney,
John Greiner @ Graydon Law, MHI outside attorney
cc:
Tim Williams @ OMHA-USA, Executive Director of the Ohio Manufactured Homes Association
date:
Mar 3, 2022, 7:54 AM
subject:
Leo, Lesli, Tim @ OMHA, MHI leaders and attorneys, Biloxi request for comment
Leo, Lesli, Tim at OMHA, other MHI leaders and attorneys,
MHProNews is hereby requesting your commitment to arrange a public discussion of Manufactured Housing Institute (MHI) performance at obtaining its own stated goals to be held at the 2022 Biloxi show.
The discussion should be held in front of a live audience that includes manufactured housing professionals. Media should be invited. I'm happy to volunteer to participate in the event with questions for MHI leaders and/or Tim Williams at OMHA, who has previously offered to participate in such a discussion.
Please advise, thank you.
Tony
##
So far, MHI leaders and attorneys have ducked a response.

A screen shot of that email above is as shown.  To the point that Ripperda made about a downturn being possible, the Ohio Manufactured Homes Association attorney Elizabeth Birch made a parallel comment. Perhaps Birch and her colleague Tim Williams wish they could take back such on-the-record remarks, but they said what they did of their own free will and without time pressures.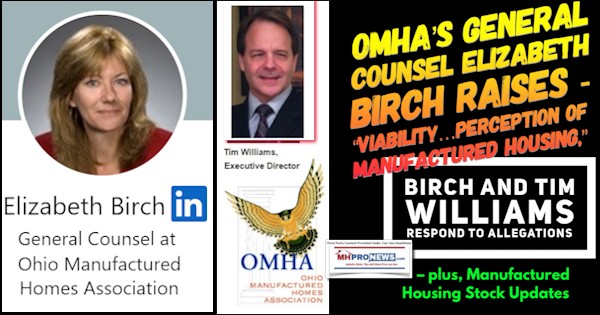 As a flashback to days when MHI leaders praised, instead of ducked, MHProNews is this one of several comments and other forms of public praise for our objective coverage.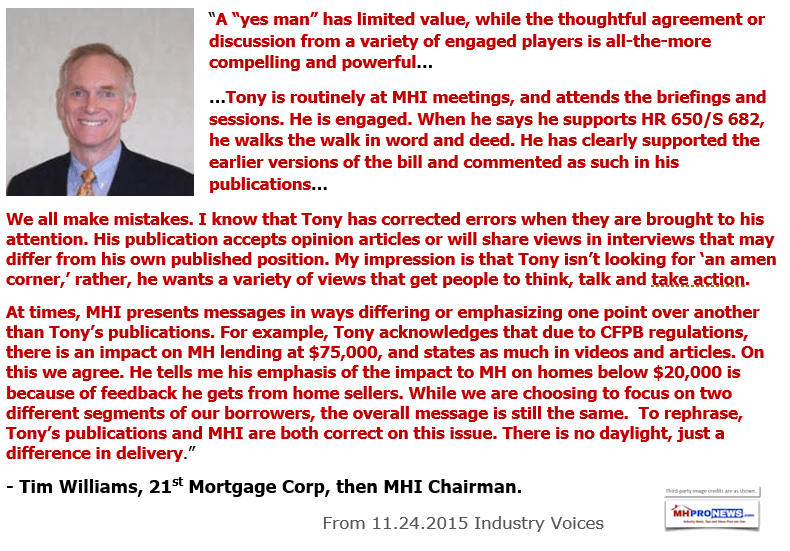 Among the issues that should be part of such a discussion or debate? Purported illegal behavior by several MHI corporate and/or staff leaders. If MHI ducks (again) such a public discussion, consider it one more prima facie example that something is quite obviously wrong at the Arlington, VA based MHI and with their dominating corporate brands. To learn more, see the report from yesterday and the one that follows.
Mandel Goes There – 'Big Tech' 'Oligarchs' Must be Criminally Investigated for 'Anti-Competitive Conduct,' 'Aggressively' 'Prosecuted' – Affordable Manufactured Housing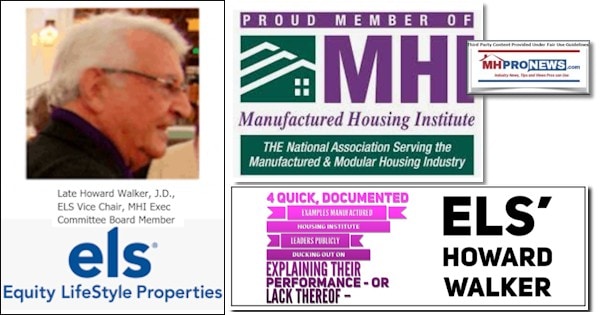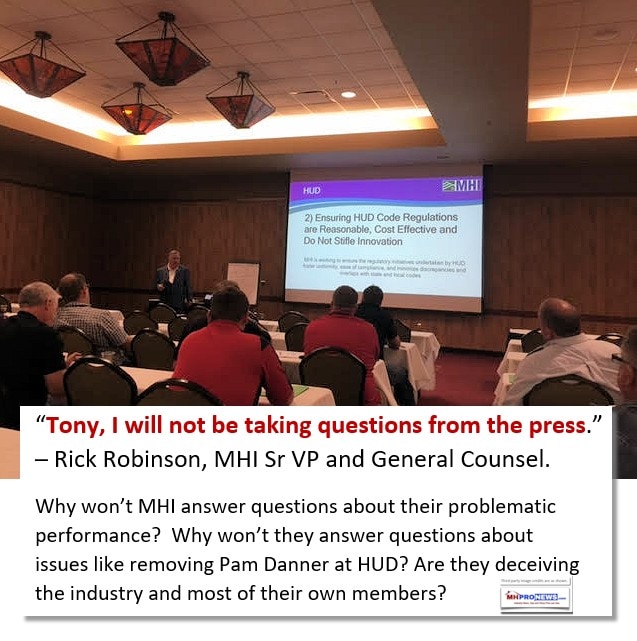 Watch for what's developing and next on the battle for authentic advocacy by MHI that should lead to robust growth.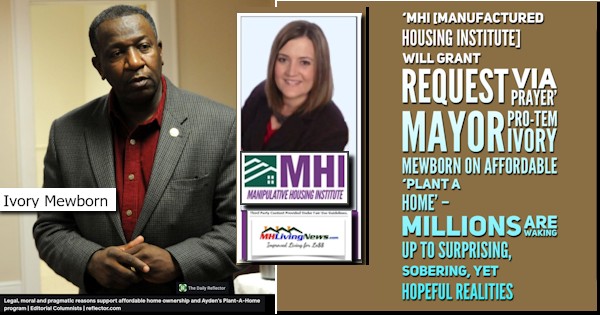 Next up is our daily business news recap of yesterday evening's market report, related left-right headlines, and manufactured housing connected equities.
The Business Daily Manufactured Home Industry Connected Stock Market Updates.  Plus, Market Moving Left leaning CNN and Right-leaning (Newsmax) Headlines Snapshot. While the layout of this daily business report has been evolving over time, several elements of the basic concepts used previously are still the same. For instance. The headlines that follow below can be reviewed at a glance to save time while providing insights across the left-right media divide. Additionally, those headlines often provide clues as to possible 'market-moving' news items.
Market Indicator Closing Summaries – Yahoo Finance Closing Tickers on MHProNews…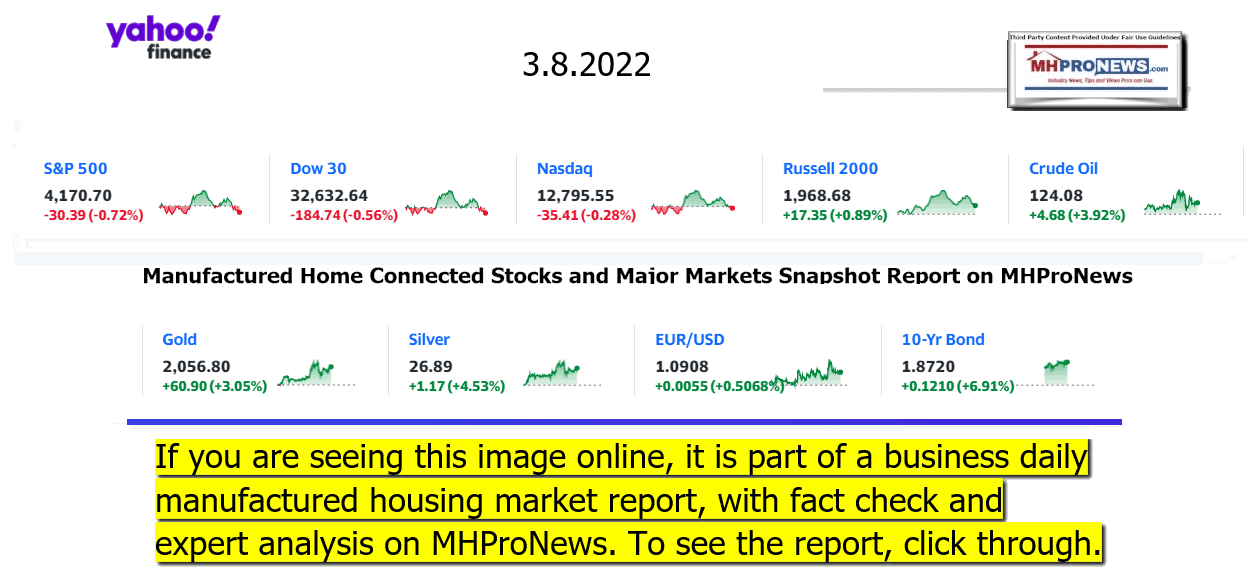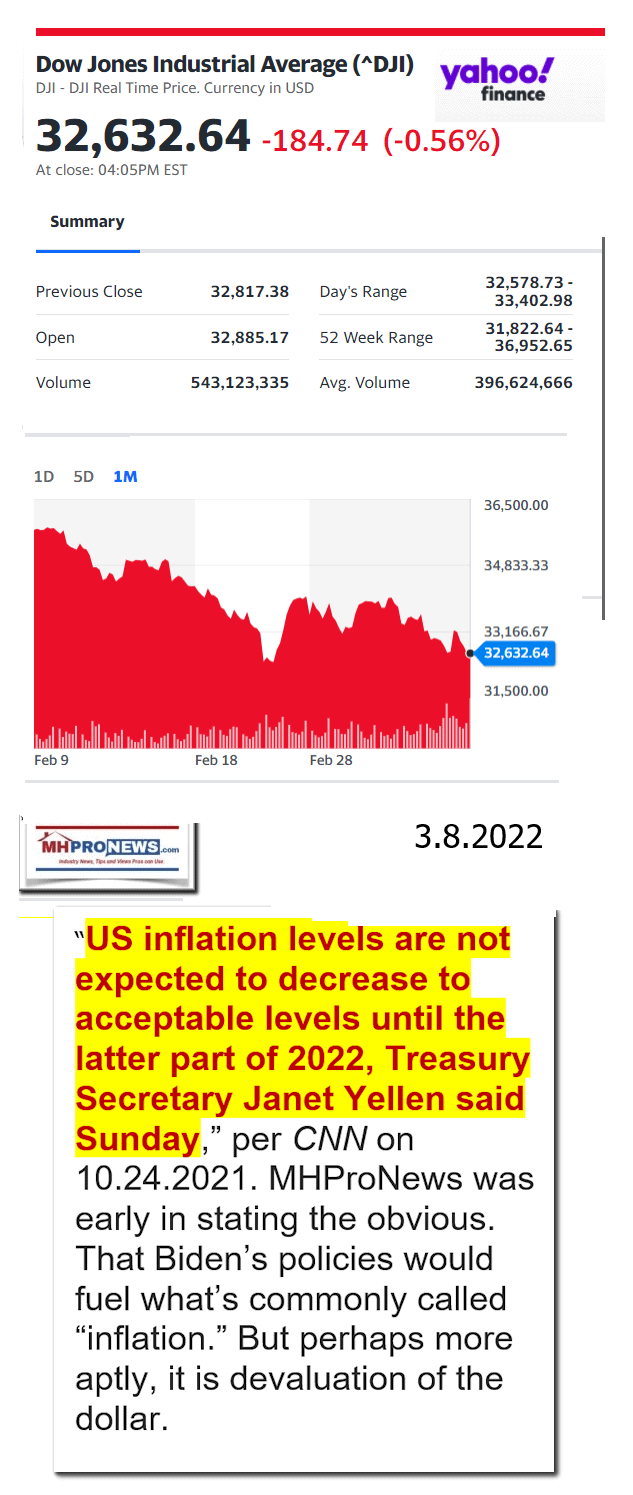 Headlines from left-of-center CNN Business – from the evening of 3.8.2022
A final lifeline
SAMARA REGION, RUSSIA – FEBRUARY 24, 2022: An aerial view of an oil tank battery at the Novokuibyshevsk Refinery, a subsidiary of Rosneft Oil Company, in the city of Novokuibyshevsk 20 km southwest of Samara. The enterprise's primary distillation capacity is 8.8 million tons per year. The Novokuibyshevsk Refinery is one of the major manufacturers and suppliers of the superior grade of fuel for jet engines of the brand RT, the most in-demand type in Russia.
The West is finally closing in on Russia's largest export: energy
Threat: Russia says oil prices will hit $300 if the West bans imports
Shell: Will stop buying Russian oil and gas
A new plan: Europe could slash Russian gas imports this year
Oil: It's up 60% this year. How high can prices go?
Danger ahead: How Russia's war could knock out Europe's economy
Departure: McDonald's to shut down its Russian restaurants
Cybersecurity: A rare bright spot in the stock market may be set to fizzle
Digital Iron Curtain: Russia's internet could start to look like China's
Iran: Its ally Russia may spoil nuclear talks to keep oil price high
Watch: What this former Russian tycoon has to say about Putin
Lukoil: Russia's second biggest oil company calls for an end to Putin's war
LATEST HEADLINES
Better, after firing 900 employees over Zoom, is laying off 3,000 more workers
LIVE UPDATES New iPhone SE is Apple's first budget 5G smartphone
Kohl's says it's no longer a department store
Your toilet paper roll is slimming down
Lululemon jumps into the footwear business
Record gas prices feel like a slap in the face. And there's more to come
US gas hits a record: $4.17 a gallon
Spotify, Discord experience widespread disruption
Soaring nickel prices could be the next major headache for automakers
Athleta CEO: Women are driving the economy. It's time for businesses to prioritize them
Joining a company remotely? Here's how to bond with your colleagues
CRYPTO
Coinbase, Binance refuse to kick Russians off platforms
India's young investors prefer bitcoin to gold
Bitcoin jumps as Russians switch to crypto
EU checks if cryptoassets are used to bust Russian sanctions
Bitcoin makes it easier for Russians to evade sanctions
RETAIL
The future of Best Buy: At-home gyms, e-bikes and outdoor grills
Why Wall Street is betting against the US consumer
Amazon is closing all of its physical bookstores
Pickleball and skydiving: How malls are luring shoppers
Liquor stores and supermarkets ditch Russian vodka. Importers say boycotts won't punish Putin
Headlines from right-of-center Newsmax – evening of 3.8.2022
Russia Underestimated Ukraine's Resistance, US Officials Say
A Ukrainian soldier holds a position earlier this week. At right is U.S. Director of National Intelligence Avril Haines. (AP)
The testimony, in a hearing before the House Intelligence Committee, amounted to the first public disclosure by the nation's most senior intelligence officials about how the 2-week-old war is proceeding, offering their insight into the thinking and motives of Russian President Vladimir Putin as his forces continue their march through Ukraine. [Full Story]
Russian Invasion of Ukraine
McConnell: Ukraine Aid Package Grows to $14B | video
Poland Set to Send Fighter Jets to US Air Base in Germany
Russia Underestimated Ukraine's Resistance, US Officials Say
Graham Doubles Down on Call to Assassinate Putin
Zelenskyy: Ukraine 'Will Fight to the End'
Starbucks Suspending All Business in Russia
30 Leading Foreign Security Experts Sign Bipartisan Letter for Ukraine No-Fly Zone
US Senators Move to Block Russia Gold Liquidation
China's Xi Calls For 'Maximum Restraint' in Ukraine
Big Brands in Russia as Boycott Threat Grows
Report: Russia Threatens to Cut West's Gas Supplies
Biden to Ban Russian Oil Imports Over Ukraine War
More Russian Invasion of Ukraine
Newsmax TV
Babin: Biden In 'Unreal World' With Oil Drilling Claims | video
Ric Grenell: US Can Be Dominant on Energy Production | video
Fallon: US Should Depend on Own Oil, Not Imports | video
Sessions: Biden's Claims That Companies Can Drill 'Not True' | video
Chris Smith: Commission Gathering Evidence on Putin, Russia | video
Rabbi Shmuley Boteach to Newsmax: US 'Appeasement' Led to Russia's Ukraine War | video
Franklin Graham: 'Samaritan's Purse' Helps Face Ukraine's 'Total Chaos' | video
More Newsmax TV
Newsfront
East Texas School District Lets Teachers Come to Class Armed
At Grand Saline Independent School District in East Texas, some teachers are now allowed to carry firearms to protect the students.The New York Post reports that the tiny Texas school district with an enrollment of about 1,200 started allowing teachers to carry concealed…… [Full Story]
Texas Man Guilty of All Charges in First US Capitol Attack Trial
A jury found a Texas man guilty Tuesday of all charges in the first [Full Story]
McConnell: Ukraine Aid Package Will Now Be $14 Billion
Senate Republican leader Mitch McConnell said on Tuesday that [Full Story] | video
Clinton Global Initiative Restart May Show 2024 Election Plans
Former President Bill Clinton's surprise announcement of the Clinton [Full Story] | Platinum Article
Graham Doubles Down on Call to Assassinate Putin
Lindsey Graham has doubled down on his suggestion that someone [Full Story]
Ilhan Omar: Sending Weapons to Ukraine Could Prove 'Disastrous'
Ilhan Omar, D-Minn., is warning the U.S. against "flooding" [Full Story]
Ukraine's Foreign Fighters Could Include Mercenaries, Terrorists
Some of the more than 16,000 foreign volunteers who answered [Full Story] | Platinum Article
Trump Calls Out 'Fake News' Over Reports He Did Nothing for Ukraine
Former President Donald Trump called out the "fake news"media [Full Story]
Biden Admin Appeals Lower Court Decision on Navy Vaccine Mandate
The Biden administration this week filed to appeal to the U.S. [Full Story]
Trump Slams Europe for Not Joining US in Banning Russian Oil
Former President Donald Trump criticized Europe on Tuesday for not [Full Story]
GOP Sen. Shelby: Spending, Ukraine Aid Bill Awaits Leadership Approval
S. Sen. Richard Shelby, the top Republican on the Senate [Full Story]
Apple Announces Low-cost iPhone SE With 5G, Friday Night Baseball
Apple Inc. on Tuesday announced a new version of its low-cost iPhone [Full Story]
Conservatives Warn Social Media Censorship of Russians Could Target Americans Next
The decision by social media giants to censor Russian content [Full Story]
Intel Agencies: Russia Doesn't Want to Engage Directly With US Military
Russia does not want to get involved in a direct conflict with the [Full Story]
Pence Not Ruling Out 2024 Presidential Bid
Former Vice President Mike Pence would not rule out running for [Full Story]
McDonald's to Temporarily Close 850 Stores in Russia
McDonald's said Tuesday it is temporarily closing all of its 850 [Full Story]
30 Leading Foreign Security Experts Sign Bipartisan Letter for Ukraine No-Fly Zone
More than two dozen foreign policy experts have signed a letter to [Full Story]
UN Prohibits Staff From Using 'Invasion' or 'War' to Describe Ukraine
The United Nations this week released a memo to staff members [Full Story]
Florida Senate Passes Bill Limiting LGBTQ Discussion in School
Florida's Senate on Tuesday passed a Republican-backed bill that [Full Story]
Stefanik's E-PAC Endorses 10 More GOP Women for House
Republican House Conference Chair Rep. Elise Stefanik, R-N.Y., on [Full Story]
Shooting Outside Iowa High School Leaves 1 Teen Dead, 2 Hurt
One teenager was killed and two others were critically wounded after [Full Story]
Johnson, Cruz to Meet With 'People's Convoy'
Republican Sens. Ron Johnson of Wisconsin and Ted Cruz of Texas will [Full Story]
Gold Prices Remain Above $2,000 per Ounce; Senators Move to Block Russia Liquidation
Gold prices remained above $2,000 per ounce Tuesday while investors [Full Story]
Virginia Judge Rules Cellphone Dragnet Unconstitutional
A federal judge last week ruled that a cellphone dragnet used to find [Full Story]
Moderna Will Develop Vaccines Against 15 Pathogens With Pandemic Potential
Moderna Inc said on Monday it plans to develop and begin testing [Full Story]
Minneapolis Teachers Set to Walk Off Job Tuesday
Teachers in the Minneapolis School District were set to walk off the [Full Story]
Oil Billionaire GOP Donor Sues Beto O'Rourke for Defamation
A Texas oil pipeline billionaire is suing Beto O'Rourke for [Full Story]
Study Finds COVID Infection Causes Brain Shrinkage, Memory Loss
COVID-19 can cause the brain to shrink, reduce grey matter in the [Full Story]
Poll: More Republicans Than Democrats Would Fight for US If Invaded Like Ukraine
Respondents of a Quinnipiac University Poll released on Monday [Full Story]
UK Defense Secretary: 'This Will Be Putin's End'
Russia's Vladimir Putin is a spent force in the world whatever [Full Story]
Construction Spotted at North Korea Nuclear Test Site for First Time Since 2018
Commercial satellite imagery shows construction at North Korea's [Full Story]
More Newsfront
Finance
Apple Announces Low-cost iPhone SE With 5G, Friday Night Baseball
Apple Inc. on Tuesday announced a new version of its low-cost iPhone SE that includes 5G connectivity.The $429 price point is a slight increase from the previous iPhone SE model, priced at $399. The new phone starts shipping March 18…. [Full Story]
UniCredit Says Full Russia Write-Off Would Cost $8.1B
Starbucks Suspending All Business in Russia
Walmart to Offer Its Walmart Plus Service to Its Workers for Free
Pepsi Explores Options for Russian Business
More Finance
Health
Omicron Infections Contagious for at Least 6 Days: Study
Patients infected with the omicron variant of SARS-CoV-2 remain contagious for just as long as patients infected with earlier variants, according to a small study. Researchers took blood samples from 56 newly-diagnosed patients, including 37 with delta infections and 19 with…… [Full Story]
The Healthcare Worker Shortage is Impacting Americans
Bob Saget's Tragic Death Explained
Are Home or Office Blood Pressure Readings More Accurate?
How to Protect Your Heart When Clocks 'Spring Forward'
MHProNews has pioneered in our profession several reporting elements that keep our regular and attentive readers as arguably the best informed in the manufactured housing industry. Among the items shared after 'every business day' (when markets are open) is our left-right headline recap summary. At a glance in two to three minutes, key 'market moving' news items are covered from left-of-center CNN Business and right-of-center Newsmax. "We Provide, You Decide." © Additionally, MHProNews provides expert commentary and analysis on the issues that others can't or won't cover that help explain why manufactured housing has been underperforming during the Berkshire era while an affordable housing crisis and hundreds of thousands of homeless in America rages on. These are "Industry News, Tips, and Views Pros Can Use" © features and others made and kept us the runaway #1 in manufactured housing trade publisher for a dozen years and counting.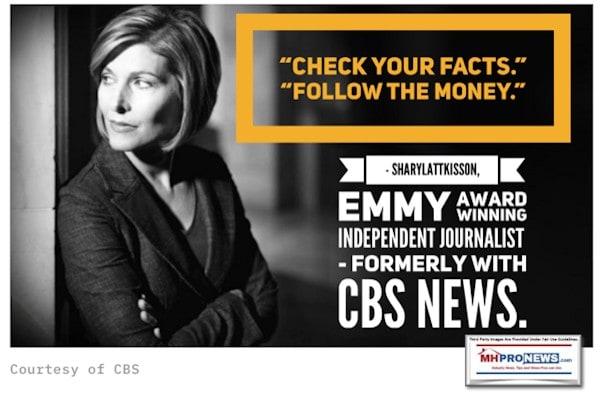 Manufactured Housing Industry Investments Connected Equities Closing Tickers
Some of these firms invest in manufactured housing, or are otherwise connected, but may do other forms of investing or business activities too.
NOTE: The chart below includes the Canadian stock, ECN, which purchased Triad Financial Services, a manufactured home industry lender
NOTE: Drew changed its name and trading symbol at the end of 2016 to Lippert (LCII).
NOTE: Deer Valley was largely taken private, say company insiders in a message to MHProNews on 12.15.2020, but there are still some outstanding shares of  the stock from the days when it was a publicly traded firm.  Thus, there is still periodic activity on DVLY.
Manufactured Home Communities (a.k.a. 'Mobile Home Parks' – SIC) – Exploring UMH Properties; Fellow Manufactured Housing Institute Member Yes! Communities Suits and Settlements; plus MH Markets Updates
Clayton-21st Storm Watch – Sinatra's Summer Wind Blows Early? – Manufactured Housing Moat Breach – Manufactured Home Values Increasing Faster than Site-Built – Case for Something New in 2022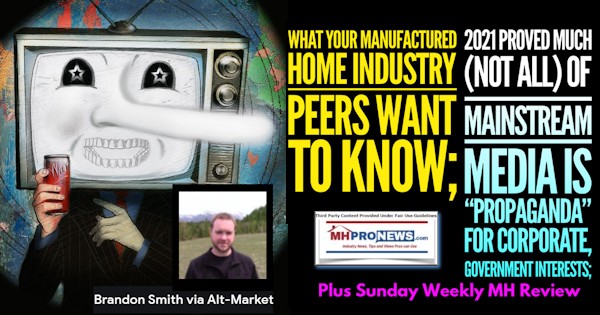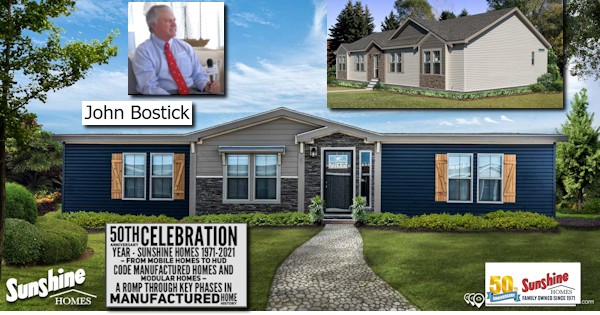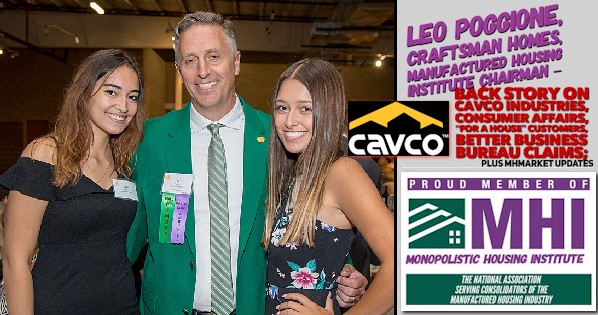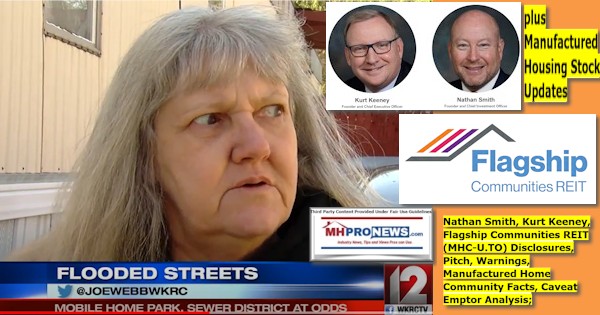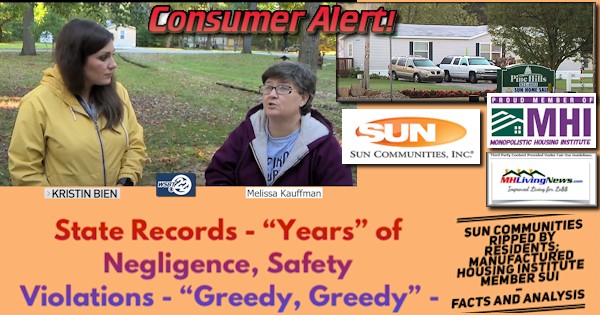 In cases such as Apollo, Berkshire Hathaway, Blackstone or others, manufactured housing may only be part of their corporate interests. Note: depending on your browser or device, many images in this report can be clicked to expand. Click the image and follow the prompts. To return to this page, use your back key, escape or follow the prompts.

https://www.manufacturedhomepronews.com/steve-lawler-deer-valley-corporation-dvc-otcmkts-dvly-announces-merger-plus-manufactured-home-investing-stock-updates/

https://www.manufacturedhomepronews.com/nobility-homes-financial-position-very-strong-sales-strong-but-challenges-including-lending-and-others-examined-plus-manufactured-housing-stocks-update/

2022

…

Berkshire Hathaway is the parent company to Clayton Homes, 21st Mortgage, Vanderbilt Mortgage and other factory-built housing industry suppliers.


·

LCI Industries, Patrick, UFPI, and LP each are suppliers to the manufactured housing industry, among others.




·

AMG, CG, and TAVFX have investments in manufactured housing related businesses.

For

insights from third-parties and clients about our publisher

, click here.


Enjoy these 'blast from the past' comments.

MHProNews. MHProNews – previously a.k.a. MHMSM.com – has celebrated our 11th year of publishing and have completed over a dozen years of serving the industry as the runaway most-read trade media.
Sample Kudos over the years…
It is now 12+ years and counting…
Learn more about our evolutionary journey as the industry's leading trade media, at the report linked below.
· For expert manufactured housing business development or other professional services, click here.
· To sign up in seconds for our industry leading emailed headline news updates, click here.

Disclosure. MHProNews holds no positions in the stocks in this report.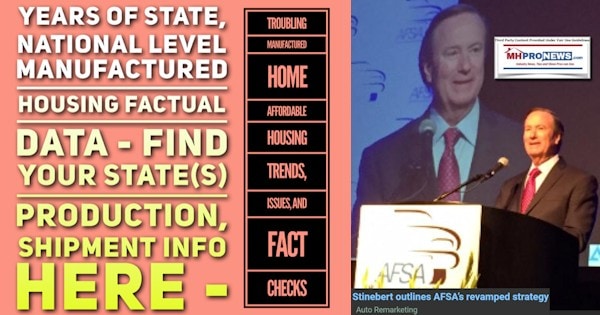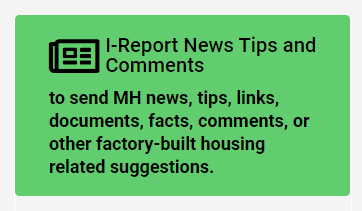 That's a wrap on this installment of "News Through the Lens of Manufactured Homes and Factory-Built Housing" © where "We Provide, You Decide." © (Affordable housing, manufactured homes, stock, investing, data, metrics, reports, fact-checks, analysis, and commentary. Third-party images or content are provided under fair use guidelines for media.) (See Related Reports, further below. Text/image boxes often are hot-linked to other reports that can be access by clicking on them.)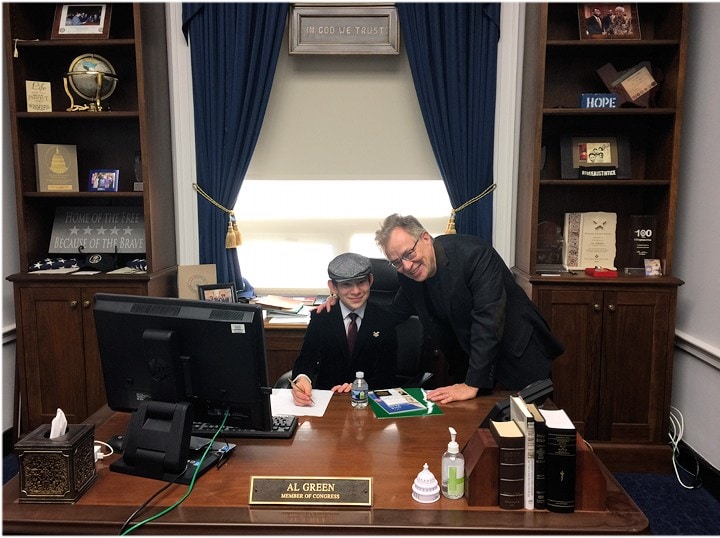 By L.A. "Tony" Kovach – for MHProNews.
Tony earned a journalism scholarship along with numerous awards in history. There have been several awards and honors and also recognition in manufactured housing. For example, he earned the prestigious Lottinville Award in history from the University of Oklahoma, where he studied history and business management. He's a managing member and co-founder of LifeStyle Factory Homes, LLC, the parent company to MHProNews, and MHLivingNews.com. This article reflects the LLC's and/or the writer's position and may or may not reflect the views of sponsors or supporters.