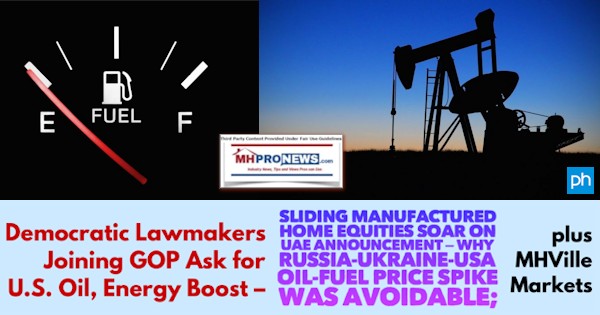 Senators Robert Menendez (D-NJ), Jon Tester (D-MT) and Joe Manchin (D-WV) in distinct statements joined numbers of Republican lawmakers and other leaders in calling on the Biden Administration to boost domestic crude oil production. Those individual statements via left-leaning CNN and MSNBC will be shown further below. Meanwhile, on 3.9.2022 as word that the United Arab Emirates (UAE) said they would favor producing more oil drove crude oil prices down, virtually all of the manufactured housing connected tracked equities rose. More on that connection shortly in this MHProNews "Intelligence for your MHLife" © fact-packed report and analysis.
"Global oil prices fell Wednesday by the most in nearly two years after OPEC member the United Arab Emirates said it supported pumping more oil into a market roiled by supply disruptions due to sanctions on Russia after it invaded Ukraine," reported right-leaning Newsmax.
"Brent crude futures settled down $16.84, or 13.2%, at $111.14 a barrel, their biggest one-day decline since April 21, 2020. U.S. crude futures ended down $15.44, or 12.5%, at $108.70, their biggest daily decline since November.
"We favor production increases and will be encouraging OPEC to consider higher production levels," Amb. Yousuf Al Otaiba said in a statement tweeted by the UAE Embassy in Washington," per Newsmax. "In this moment of crisis we need more supply," U.S. Energy Secretary Jennifer Granholm told attendees at an industry event in Houston. "Right now we need oil and gas production to rise to meet current demand." "They (UAE) can probably bring about 800,000 barrels to the market very quickly, even immediately," said Bob Yawger, director of energy futures at Mizuho.
As noted above, on 3.9.2022 as word that the UAE said they would favor producing more crude oil drove crude oil prices down, virtually all of the manufactured housing connected tracked equities rose. Possible takeaways?
Among them is that the manufactured housing industry, along with other sectors of the U.S. economy, are connected to and to a significant degree dependent on moderate and affordable energy prices.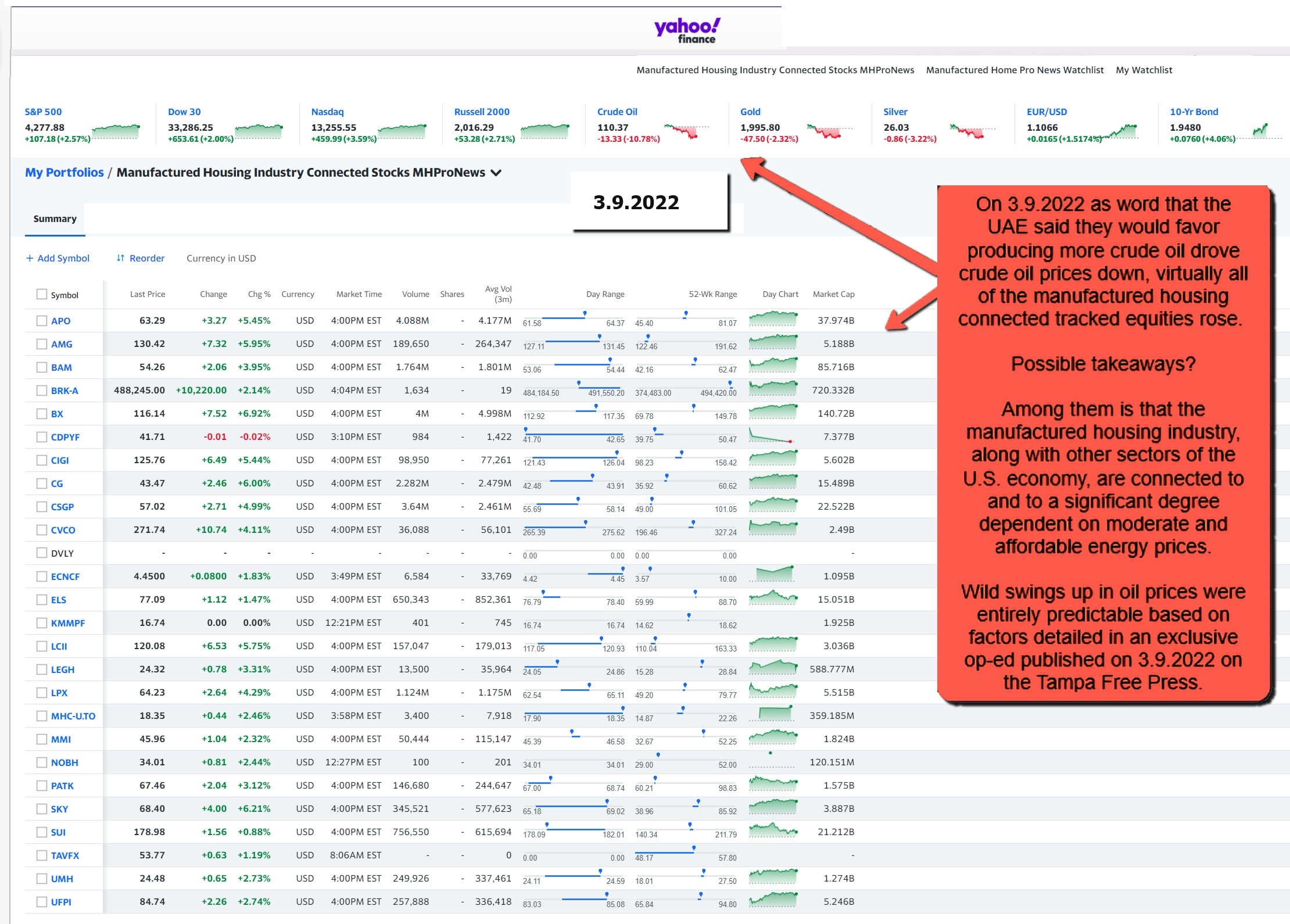 Wild swings up in oil prices were entirely predictable based on known factors detailed in an exclusive op-ed published on 3.9.2022 on the Tampa Free Press. That deep dive into behind the scenes and in your face facts and evidence is found via the linked report below.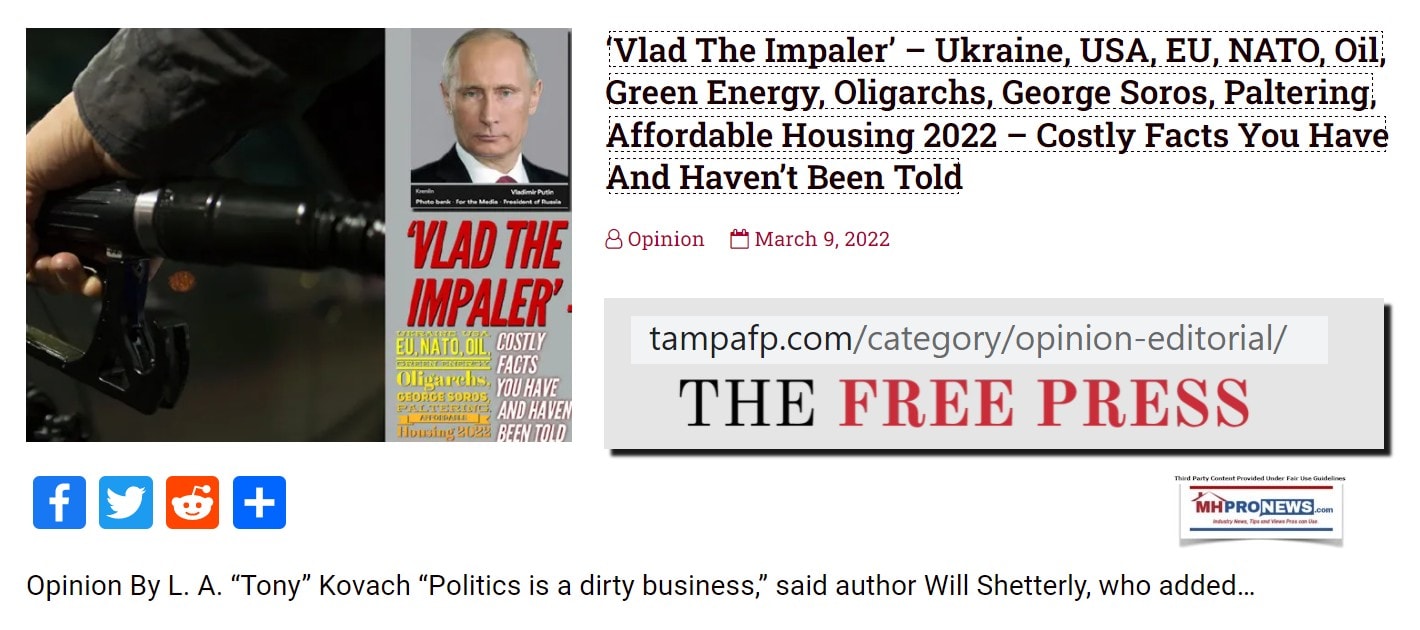 On 3.7.2022 as reactions to the Russian-Ukrainian War drove oil prices higher, virtually all of the tracked manufactured housing connected equities dropped.
While this was hardly unique, it illustrates several things.
Among the possible takeaways?
Manufactured housing, along with much of the U.S. economy, is highly energy dependent. Specifically, oil and fuel dependent.
Where was the Manufactured Housing Institute (MHI) in advocating for policies in Washington, D.C. that undermines independent businesses plus the interests of tens of millions of affordable housing consumers?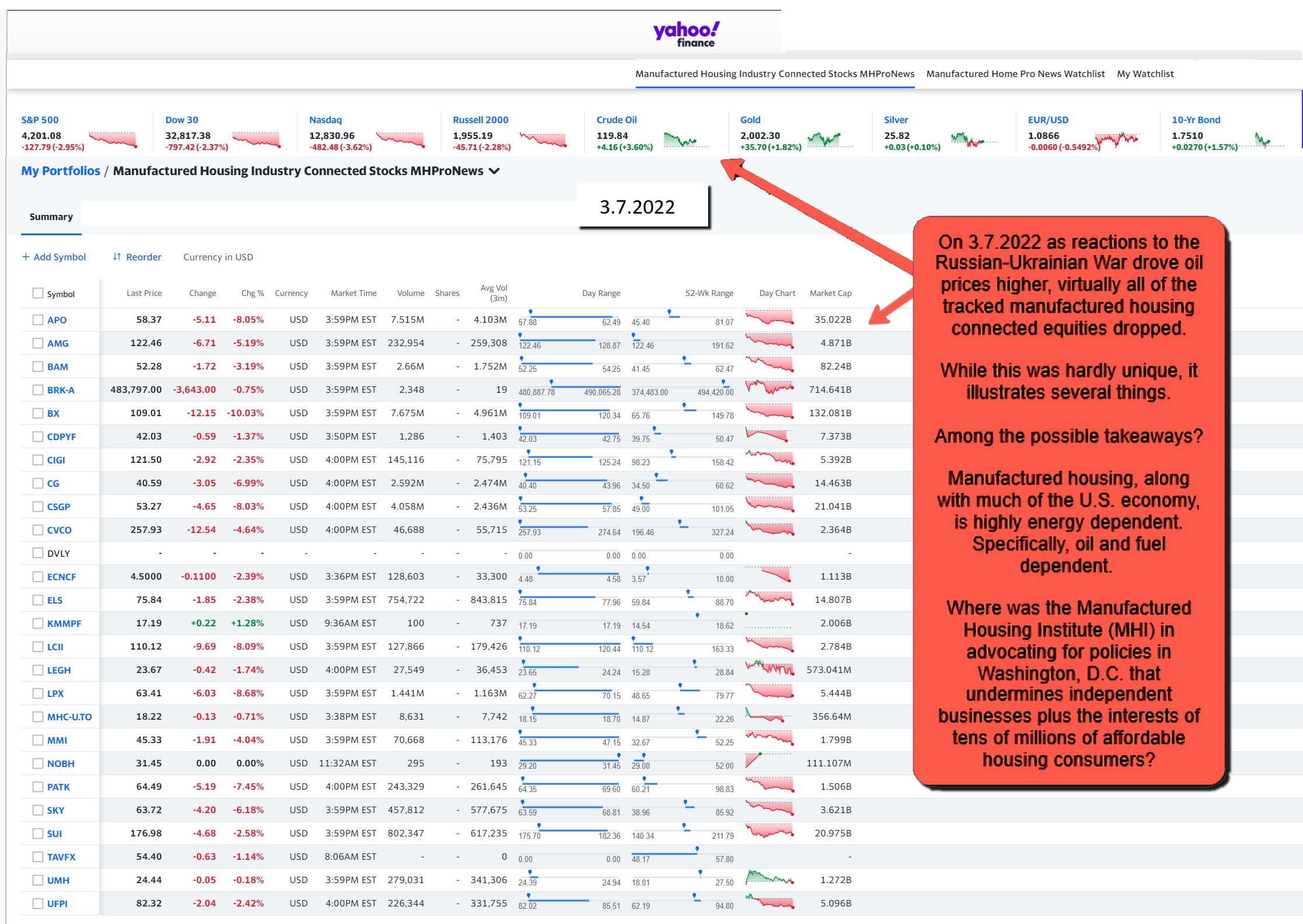 Information without sufficient context can be of fleeting or no value. This mainstream news from just days ago video mimics the headlines on so many news channels, publications, and websites. But it can all change rapidly, based upon factors lurking in the background.
Democratic Lawmakers Joining GOP Ask for U.S. Oil, Energy Production
Per CNN are the next two items.
Tester: 'We Shouldn't Be Advancing' Iran, Venezuela, We Can Create Energy Jobs Here
While speaking to reporters on Tuesday, Sen. Jon Tester (D-MT) reacted to the Biden administration reportedly looking to increase energy imports from Iran and Venezuela by stating that the United States shouldn't be helping out countries that don't share America's values and that there is an opportunity to boost American energy production and create jobs in America.
Tester said, "Well, we shouldn't be advancing other countries that don't share our values. So, I think that the opportunity here is to do it domestically, create jobs here, deal with it domestically, and also see if we can help Europe out, too."
Manchin on Boosting Iranian, Venezuelan Energy: 'Go Back' to Domestic Production Policies 'We've Had Before'
While speaking to reporters on Tuesday, Sen. Joe Manchin (D-WV) reacted to the Biden administration reportedly looking to increase energy imports from Iran and Venezuela by calling for a return to prior energy production policies to boost domestic energy production.
CNN Chief Congressional Correspondent Manu Raju asked, "So, should the administration ease restrictions on production?"
Manchin responded, "Go back to the policies that we've had before."
After referencing leases in the Gulf of Mexico and production on lands controlled by the Bureau of Land Management (BLM), He added, "All of this has to go back into production. That's all we're asking for. And if we're asking the rest of the world to step up, let's show that we're going to step up and any oil that's needed to our allies around the world, we produce it cleaner than anybody."
———– MSNBC ———-
Menendez: We Don't Need Venezuela's Oil, Biden Said Maduro Was a Security Threat Five Days Ago
On Tuesday's broadcast of MSNBC's "Jose Diaz-Balart Reports," Senate Foreign Relations Committee Chairman Sen. Robert Menendez (D-NJ) reacted to the Biden administration reportedly looking to increase oil imports from Venezuela by stating that there is no need to go to the Maduro regime in Venezuela that President Biden declared a national security threat five days ago for more oil when there are other nations the U.S. can get oil from and domestic production that is already licensed.
Menendez doubled down on his statement referring to Maduro as a "cancer" and arguing that "we should not breathe new life into his reign of torture and murder."
He continued, "Look, I understand the economic consequences that the president is trying to avoid for the American people. I share that concern. But there [are] places like Mexico, the United Arab Emirates, Canada, as well as domestic production that has already been licensed, that should be able to [offset] the consequences of the loss of Russian oil. You don't have to go to a dictator that, ultimately, has created enormous consequences for his people, that kills people, that imprisons them, and for which President Biden extended the decree that declared Maduro and his regime a national security threat."
These statements from left-leaning mainstream media sources were not cited in the Tampa Free Press expose, but they nevertheless underscore the logic found in the "'Vlad The Impaler' – Ukraine, USA, EU, NATO, Oil, Green Energy, Oligarchs, George Soros, Paltering, Affordable Housing 2022 – Costly Facts You Have And Haven't Been Told" report and analysis.
Indeed, whatever happens in the next few days arguably won't harm any of the factual and evidence based insights found in that linked TampaFP op-ed report. Why? Because authentic and objective media should seek insights from a range of sources that inform readers, which that op-ed diligently provided. 
As this CNBC video from 2018 illustrates, these issues were entirely predictable. The points then President Donald J. Trump raised foreshadowed by years what has unfolded in terms of energy and European geo-politics with respect to Russia, Ukraine and NATO.
Similarly, this April 10, 2019 video from the Associated Press (AP) illustrates President Trump's push for U.S. energy independence. When certain Democratic lawmakers, without necessarily mentioning Trump's name, say there needs to be a return to previous policies or domestic oil production, it is a back-handed acknowledgement to the 45th President Trump's pragmatism. One should keep in mind that before becoming a Republican, Trump was a Democrat and for a time supported a third-party. In this video, Trump touted an executive order that did the opposite of what Biden's "day one" and more recent executive order did. The Trump policies made the U.S. wealthier and more geo-politically independent because it made the U.S. less dependent on foreign oil supplies.
Editorially speaking, such policies could be done by any public official that is not tethered to special interests. This is less a pro-Trump 'rah rah' than it is an evidence-based analysis that what is occurring since he was ousted from the White House which demonstrates time and again the prudence of pragmatic policies that benefit the U.S. public at large. The lessons of those policies could be implemented by any politician of any political party, if they were motivated to do so.
Additional Information, more MHProNews Analysis and Commentary in Brief
Swinging back to manufactured housing, there are any number of commodities or other factors which influence the production and operations of manufactured home producers, sellers, communities, installers, transporters, vendors, financial services, and other professionals. If the Manufactured Housing Institute, which claims to represent "all segments" of manufactured housing were doing its job, it would be publicly lobbying the Biden White House on such issues. MHI should have done so weeks ago. But instead, it is busy promoting its newest hire, its next meeting, and so on. The TMHA, perhaps unintentionally, stepped on MHI's messaging as was illustrated by a report earlier this week.
Texas Manufactured Housing Association (TMHA), Texas RE Research Center Make Surprising Admissions About Manufactured Housing Industry Risks – Facts & Analysis – plus MHVille Market Updates
MHI has been exposed time and again as taking steps that benefit the few at risk or harm to the many. Those with deeper pockets can naturally weather short or longer market storms that are caused by policy decisions that may be problematic.  The purpose of a good trade group is to make sure that ALL of their members are playing on a level playing field and that their business interests are being protected when policies are made and then executed. Former MHI chairman Nathan Smith admitted that MHI had failed to be pro-active and was too often reactive. He then pledged to reverse that trend. How is that pledge worked out in practice? Isn't Smith still on key MHI board and policy forming positions?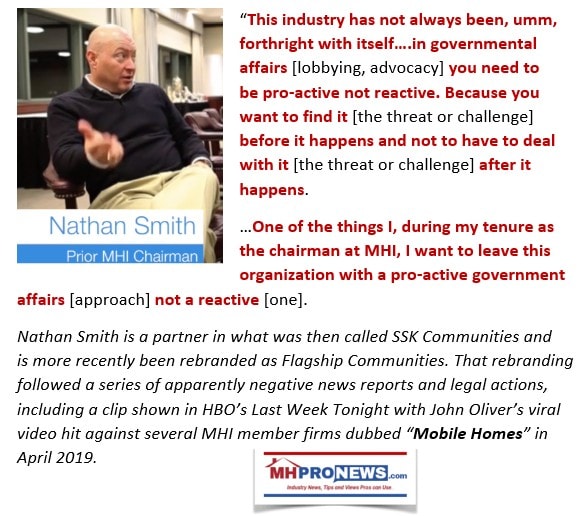 It isn't just crude oil, labor, lumber, etc. The Masthead report below on looming tax policies is another example that industry independents must grasp.
Mast
MHI must be called to account publicly. They could do so live, in front of an audience at an event such as Biloxi or Orlando. Or they could do so virtually. The longer they duck, the more flawed, feckless, or con-game style behavior they apparently exude with their false hubris.  The message is simple. MHI should do their job properly, not in a way that benefits a few insiders while harming or putting others at risk. Otherwise, MHI should be supplanted by a new post-production trade group that will work with MHARR, which has proven their reliability for their members throughout their history. See more linked here, here, and below. That report is as relevant today as it was when it was first published.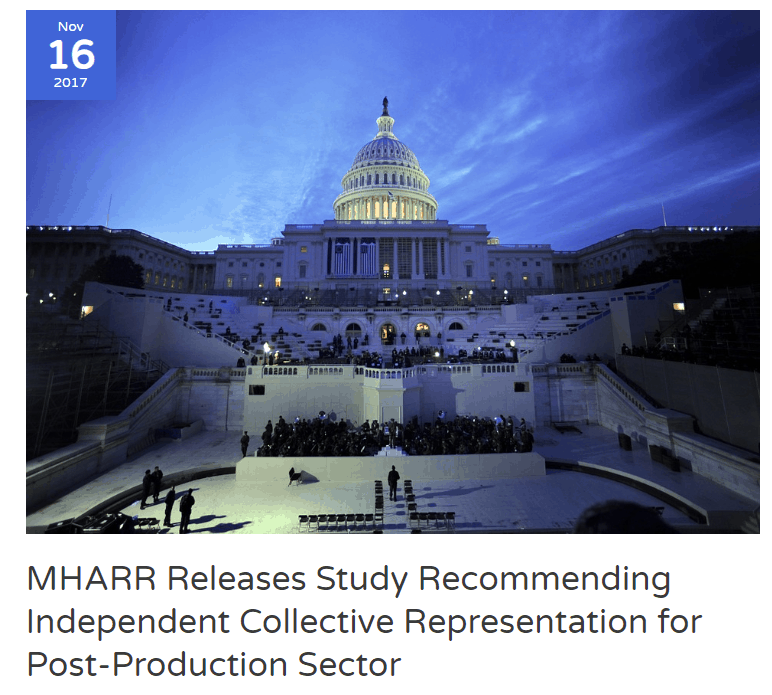 Manufactured housing thrives or dies to a large extent based upon public policies. That's a key takeaway from this oil, energy and fuel cost issue. Smith said the right thing, the industry should be pro-active and not reactive. But in fact, the industry's largest trade group is at times working against the interests of the industry's independents and consumers. A key job of media is to shine a light on the powerful who are abusing or failing in their use of authority or influence. Why is it that others who claim to be 'trade media' in manufactured housing continue to brownnose MHI when the emissions there are so routinely harmful or distasteful?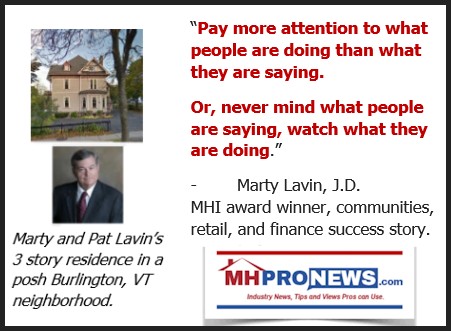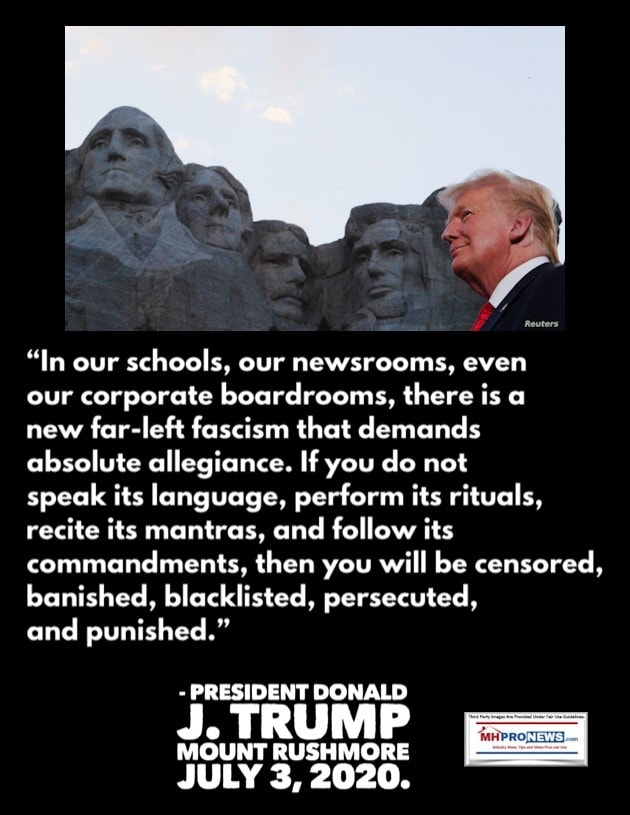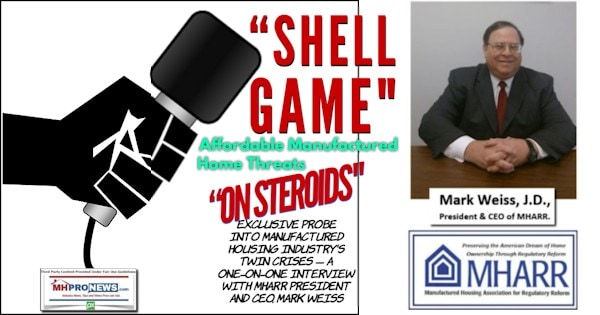 Next up is our daily business news recap of yesterday evening's market report, related left-right headlines, and manufactured housing connected equities.
The Business Daily Manufactured Home Industry Connected Stock Market Updates.  Plus, Market Moving Left leaning CNN and Right-leaning (Newsmax) Headlines Snapshot. While the layout of this daily business report has been evolving over time, several elements of the basic concepts used previously are still the same. For instance. The headlines that follow below can be reviewed at a glance to save time while providing insights across the left-right media divide. Additionally, those headlines often provide clues as to possible 'market-moving' news items.
Market Indicator Closing Summaries – Yahoo Finance Closing Tickers on MHProNews…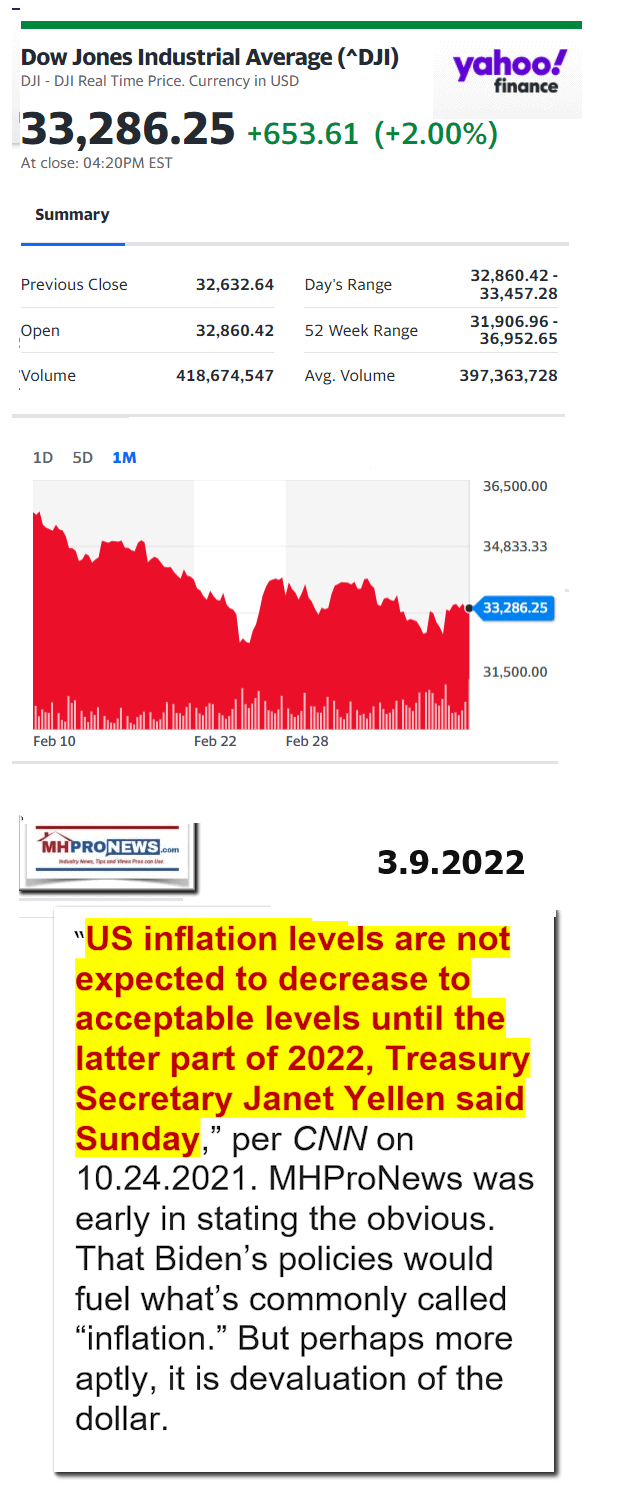 Headlines from left-of-center CNN Business – from the evening of 3.9.2022
A false claim
ANALYSIS Russia and QAnon have the same false conspiracy theory about Ukraine
A sign of relief: UAE says it wants OPEC to increase oil production to replace Russian barrels banned by the US
Isolation: How Putin 'destroyed' the ruble and brought Russia to the brink of default
Stocks: Investors nervously wait for Putin's next move
Anxiety: Record gas prices feel like a slap in the face. There's more to come
Watch: Economist explains the risks of recession and stagflation
Threat: Russia says oil prices will hit $300 if the West bans imports
Cuts: Fertilizer giant Yara slashes production in Europe
Stocks: China's amateur investors are betting big time on a boost to Russian trade
Difficult choices: News outlets try to navigate Russia's new media law
LATEST HEADLINES
SEATTLE, WA – MAY 20: The exterior of The Spheres is seen at the Amazon.com Inc. headquarters on May 20, 2021 in Seattle, Washington. Five women employees sued Amazon this week, alleging discrimination and retaliation.
Amazon's stock is about to get much, much cheaper
'Obi-Wan Kenobi' trailer brings Star Wars' iconic Jedi to Disney+
Why this tax season is extra frustrating
Dow jumps more than 600 points after four-day losing streak
The world may be facing one of the largest energy shocks ever, Goldman Sachs says
Why US gas prices are at a record and will stay high for a long time
3 reasons to not freak out about high oil prices, yet
Disney CEO says he will meet with Ron DeSantis to oppose 'Don't Say Gay' bill
As home values soar, the wealth gap grows
Volkswagen's bus is back. And now it's electric
Charles Entenmann, builder of the baked goods empire, has died
US charges two siblings in $124 million cryptocurrency fraud
EXITING RUSSIA
TV remote control and Discovery+ logo displayed on a laptop screen are seen in this illustration photo taken in Krakow, Poland on February 9, 2022.
WarnerMedia and Discovery join the stampede of businesses leaving Russia
Here are the companies pulling back from Russia
American Express suspends operations in Russia
McDonald's, Starbucks and Coca-Cola leave Russia
McDonald's suspends business in Russia. Here's why it's a big deal
AUTO
CHARLOTTE, VERMONT – NOVEMBER 5: A 2021 Toyota RAV4 Prime electric car recharges its batteries November 5, 2021 at a charging station next to the town hall in Charlotte, Vermont. The starting price for a RAV4 Prime plug-in hybrid is $38,350.
Gas prices are spiking. Take a look at plug-in hybrids
Soaring nickel prices will be a headache for automakers
Ford splits gas-powered and electric vehicle businesses
Sony and Honda to start a new electric vehicles company
Burned ship carrying luxury cars has now sunk
Headlines from right-of-center Newsmax – evening of 3.9.2022
Ukraine Accuses Russia of Genocide After Bombing of Children's Hospital
Ukrainian emergency employees and volunteers carry an injured pregnant woman from a maternity hospital that was damaged by shelling in Mariupol, Ukraine, on Wednesday. (AP Photo/Evgeniy Maloletka)
Ukraine's president accused Russia of carrying out genocide after officials said Russian aircraft bombed a children's hospital on Wednesday, burying patients in rubble despite a ceasefire deal for people to flee the besieged city of Mariupol. The attack, which authorities said injured women in labor and left children in the wreckage, is the latest grim incident of the 14-day invasion, the most massive assault on a European state since 1945. [Full Story]
Russian Invasion of Ukraine
Trump: Putin Emboldened After Our Chaotic Afghan Pullout | video
Vatican Official: Reported Bombing of Ukraine Children's Hospital 'Unacceptable'
Sheltering from Bombs, Ukraine's 'Cellar Violinist' Plays on
Calls to Suspend Gas Taxes Across US Grow as Prices Surge
Ukraine: Russian Strikes Children's Hospital, Maternity Facility
Russia Wants to 'Achieve Resolution Peacefully'
Zelenskyy: Ukraine No-Fly Zone Is World's 'Humanitarian Duty'
Marriott, Citi, Major Companies Still Do Business in Russia
Power Cut at Chernobyl Threatens Radiation Risk
Thousands Being Evacuated From Kyiv
Kremlin Vows Response to US 'Economic War' Actions
More Russian Invasion of Ukraine
Newsmax TV
Dershowitz: US Response Not Enough to Stop Putin | video
Blackburn: Time for 'Operation Warp Speed' on Energy | video
French Hill: Biden Must Not Negotiate With Dictators for Oil
Bill Johnson: Russia Paying Money to US Environmentalists | video
Braun: Biden Should Have Pushed for Energy Independence Like Trump | video
Oksana Baiul: Putin Has Ukraine Athlete 'Blacklist' | video
Ex-Russian Oligarch: Putin Will Forever Be Enemy to US | video
Ric Grenell: US Can Be Dominant on Energy Production | video
More Newsmax TV
Newsfront
com Notified Employees of Layoffs via Accidental Severance Checks
Online mortgage lender Better.com, which laid off 900 people during a Zoom call in December, laid off a "small number" of employees Tuesday morning by accidentally depositing severance checks into their payroll accounts before notifying them…. [Full Story]
Calls to Suspend Gas Taxes Across US Grow as Prices Surge
With gas prices at record highs across the U.S., an increasing number [Full Story]
Dems Drop COVID-19 Funds, Clear Way to OK Ukraine Aid, Avoid Federal Shutdown
Democratic leaders abruptly abandoned plans for a fresh infusion of [Full Story]
Will US Cave to Ukraine No-Fly Zone Pleas?
The Biden administration and most U.S. lawmakers remain staunch [Full Story] | Platinum Article
Ex-CNN Chief Zucker Settles With WarnerMedia for $10M: Report
Former CNN President Jeff Zucker has finalized a deal with [Full Story]
Pro-Putin NGO Pushed Green New Deal, Protested Keystone XL Pipeline
President Joe Biden's continued dismissal of domestic energy sources [Full Story] | Platinum Article
US Job Openings Near Record, Adding to Price Pressures
S. businesses posted a near-record level of open jobs in January, a [Full Story]
New Latino Conservative Network Launches, Worries Some Dems
The launch of Americano, the country's first Spanish-language [Full Story]
Trump Refinances $100 Million Mortgage on Trump Tower
Former President Donald Trump took out a $100 million loan in order [Full Story]
Houston Energy Club Predicts $180 Barrel Oil Soon
Francesco Stipo, President of the Houston Energy Club, said in [Full Story]
Trump: Putin, Dictators Got 'Sense of Power and Dignity' After Afghanistan
Vladimir Putin, as well as the leaders of other nations, got a "new [Full Story] | video
Hunter Biden Still Listed as an Owner of Chinese Firm
Hunter Biden was listed as an owner of a Chinese government-linked [Full Story]
First Patient to Receive Genetically-Altered Pig Heart Transplant Dies After 2 Months
The first person to receive a heart transplant from a pig has died, [Full Story]
Cruz to Introduce Bill Boosting Nonprofit Security Funding
Ted Cruz, R-Texas, plans to introduce a bill tripling funding [Full Story]
UK to Give Anti-aircraft Missiles to Ukraine
Britain is planning to supply Ukraine with anti-aircraft missiles to [Full Story]
Lawmakers Accuse Amazon of Possible Criminal Obstruction: WSJ
Amazon and its executives potentially committed criminal obstruction [Full Story]
Marriott, Citi, Major Companies Still Do Business in Russia
More than 300 companies have stopped doing business in Russia [Full Story]
Ukraine Military Using Stealth Drones to Hit Russian Supply Targets
Ukrainians are using a fleet of stealth drones to take out Russian [Full Story]
South Korea Presidential Election in Dead Heat as Polls Close
South Korea's presidential election was too close to call as voting [Full Story]
UN Investigators Urges US to Probe Attacks in Syria
N. war crimes investigators urged the United States on Wednesday to [Full Story]
Shackleton's Ship 'Endurance' Found After 100 Years Beneath Antarctic Ice
The wreckage of polar explorer Ernest Shackleton's ship "Endurance," [Full Story]
Tiger Woods' Daughter to Present Him at World Golf Hall of Fame
Tiger Woods has selected his daughter, Sam, to introduce him when he [Full Story]
Top US Lawmakers Reach Deal on Ukraine Aid, $1.5T Spending
Congressional leaders reached a bipartisan deal early Wednesday [Full Story]
Civil Rights Leader Andrew Young, Turning 90, Keeps Up Fight
As he approaches 90, civil rights icon Andrew Young is turning to his [Full Story]
Indiana Lawmakers Approve Repealing Gun Permit Requirement
Republican lawmakers pushed through a bill that would repeal [Full Story]
Australia Intelligence Boss: As Russia Attacks Ukraine, China Eyes the Pacific
A "troubling new strategic convergence" between Beijing and Moscow [Full Story]
US Charges Woman, 61, With Acting as Putin's Spy
The Justice Department has charged a duel citizen of Russia and the [Full Story]
Rosendale Leads Effort to Stop Ukraine Funding Without Border Wall Completion
A group of House Republicans, led by Rep. Matt Rosendale, R-Mont., is [Full Story]
Ukraine Aid Grows to Near $14B in $1.5T Govt Bill
A U.S. aid package for Ukraine and its Eastern European allies grew [Full Story]
US Intel Paints Putin as Aggrieved, Angry Over Ukraine War
S. intelligence chiefs on Tuesday branded Russia's Vladimir Putin [Full Story]
Education Secretary Threatens Florida Over 'Hateful' Gender Bill
Secretary of Education Miguel Cardona appeared to threaten Florida on [Full Story]
More Newsfront
Finance
Biden's Inflation Plan Upends Thinking on Jobs Sent Overseas
President Joe Biden has a solution for high inflation that seems counterintuitive: Bring factory jobs back to the U.S…. [Full Story]
Biden Presses Congress on Chip Funding
Tesla Will Pay Conscripted Ukrainian Employees up to 3 Months
Euro Surges as Oil Prices Ease and Investors Embrace Risk
Years of Low US Energy Costs Wane, Following Russian Invasion
More Finance
Health
Study: As Little as One Drink a Day Linked to Brain Changes
Even one drink a day can shrink your brain. That's the finding of a recent study of more than 36,000 men and women. While heavy drinkers had the greatest risk for reduced brain size, the link was evident even in moderate drinkers. This study refutes current guidelines that…… [Full Story]
Mouthguard Device as Effective as CPAP for Many With Sleep Apnea
Pfizer Testing COVID Pill in High-Risk Children Ages 6 to 17
More Transmissible Omicron Subvariant BA.2 Nearly 12 Percent of US Variants: CDC
The Healthcare Worker Shortage is Impacting Americans
MHProNews has pioneered in our profession several reporting elements that keep our regular and attentive readers as arguably the best informed in the manufactured housing industry. Among the items shared after 'every business day' (when markets are open) is our left-right headline recap summary. At a glance in two to three minutes, key 'market moving' news items are covered from left-of-center CNN Business and right-of-center Newsmax. "We Provide, You Decide." © Additionally, MHProNews provides expert commentary and analysis on the issues that others can't or won't cover that help explain why manufactured housing has been underperforming during the Berkshire era while an affordable housing crisis and hundreds of thousands of homeless in America rages on. These are "Industry News, Tips, and Views Pros Can Use" © features and others made and kept us the runaway #1 in manufactured housing trade publisher for a dozen years and counting.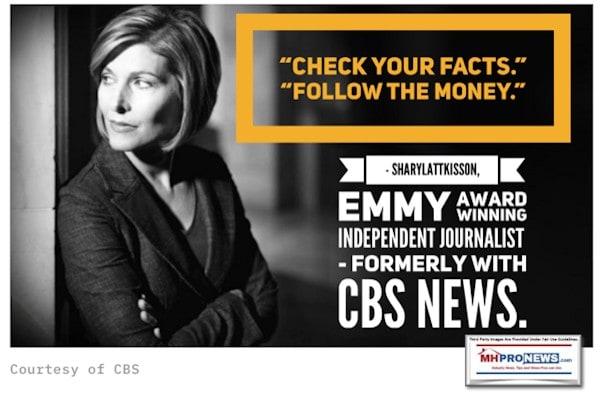 Manufactured Housing Industry Investments Connected Equities Closing Tickers
Some of these firms invest in manufactured housing, or are otherwise connected, but may do other forms of investing or business activities too.
NOTE: The chart below includes the Canadian stock, ECN, which purchased Triad Financial Services, a manufactured home industry lender
NOTE: Drew changed its name and trading symbol at the end of 2016 to Lippert (LCII).
NOTE: Deer Valley was largely taken private, say company insiders in a message to MHProNews on 12.15.2020, but there are still some outstanding shares of  the stock from the days when it was a publicly traded firm.  Thus, there is still periodic activity on DVLY.
Manufactured Home Communities (a.k.a. 'Mobile Home Parks' – SIC) – Exploring UMH Properties; Fellow Manufactured Housing Institute Member Yes! Communities Suits and Settlements; plus MH Markets Updates
Clayton-21st Storm Watch – Sinatra's Summer Wind Blows Early? – Manufactured Housing Moat Breach – Manufactured Home Values Increasing Faster than Site-Built – Case for Something New in 2022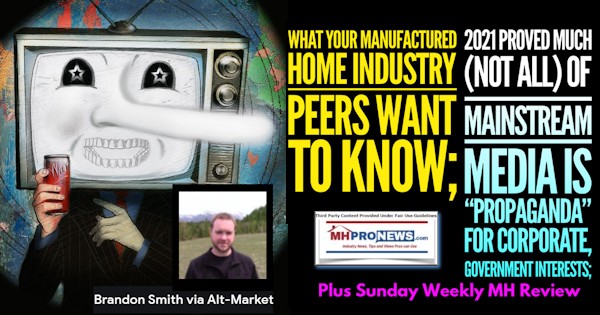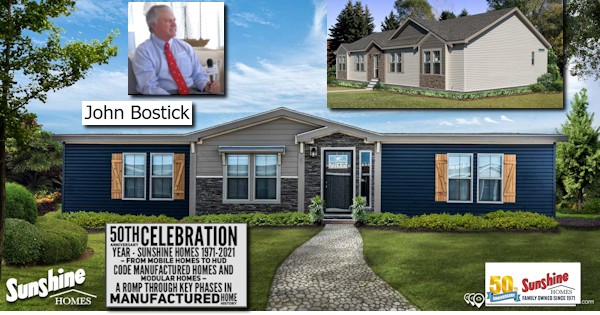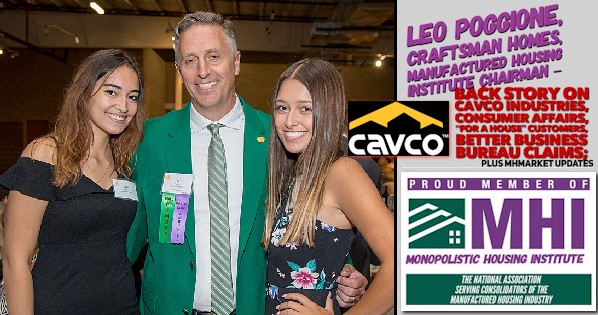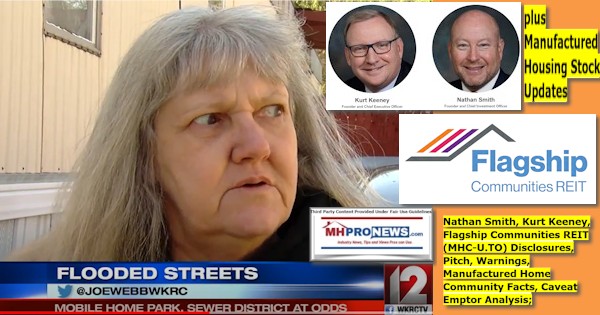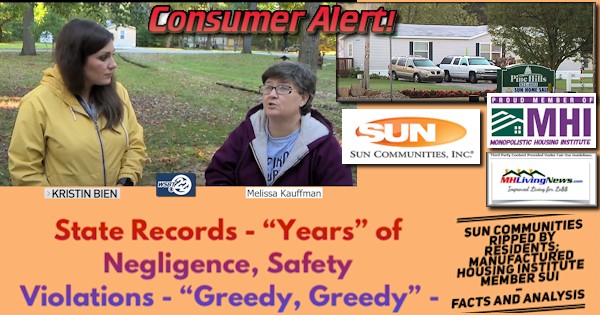 In cases such as Apollo, Berkshire Hathaway, Blackstone or others, manufactured housing may only be part of their corporate interests. Note: depending on your browser or device, many images in this report can be clicked to expand. Click the image and follow the prompts. To return to this page, use your back key, escape or follow the prompts.

https://www.manufacturedhomepronews.com/steve-lawler-deer-valley-corporation-dvc-otcmkts-dvly-announces-merger-plus-manufactured-home-investing-stock-updates/

https://www.manufacturedhomepronews.com/nobility-homes-financial-position-very-strong-sales-strong-but-challenges-including-lending-and-others-examined-plus-manufactured-housing-stocks-update/

2022

…

Berkshire Hathaway is the parent company to Clayton Homes, 21st Mortgage, Vanderbilt Mortgage and other factory-built housing industry suppliers.


·

LCI Industries, Patrick, UFPI, and LP each are suppliers to the manufactured housing industry, among others.




·

AMG, CG, and TAVFX have investments in manufactured housing related businesses.

For

insights from third-parties and clients about our publisher

, click here.


Enjoy these 'blast from the past' comments.

MHProNews. MHProNews – previously a.k.a. MHMSM.com – has celebrated our 11th year of publishing and have completed over a dozen years of serving the industry as the runaway most-read trade media.
Sample Kudos over the years…
It is now 12+ years and counting…
Learn more about our evolutionary journey as the industry's leading trade media, at the report linked below.
· For expert manufactured housing business development or other professional services, click here.
· To sign up in seconds for our industry leading emailed headline news updates, click here.

Disclosure. MHProNews holds no positions in the stocks in this report.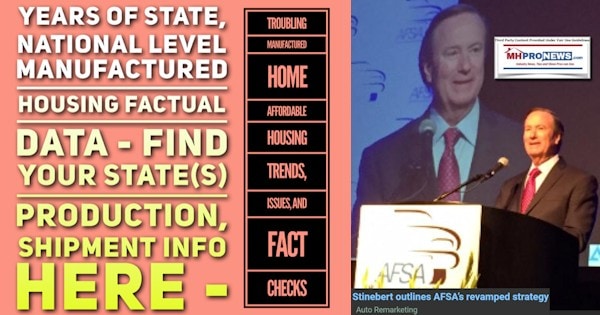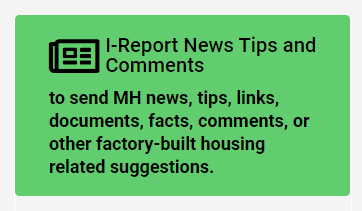 That's a wrap on this installment of "News Through the Lens of Manufactured Homes and Factory-Built Housing" © where "We Provide, You Decide." © (Affordable housing, manufactured homes, stock, investing, data, metrics, reports, fact-checks, analysis, and commentary. Third-party images or content are provided under fair use guidelines for media.) (See Related Reports, further below. Text/image boxes often are hot-linked to other reports that can be access by clicking on them.)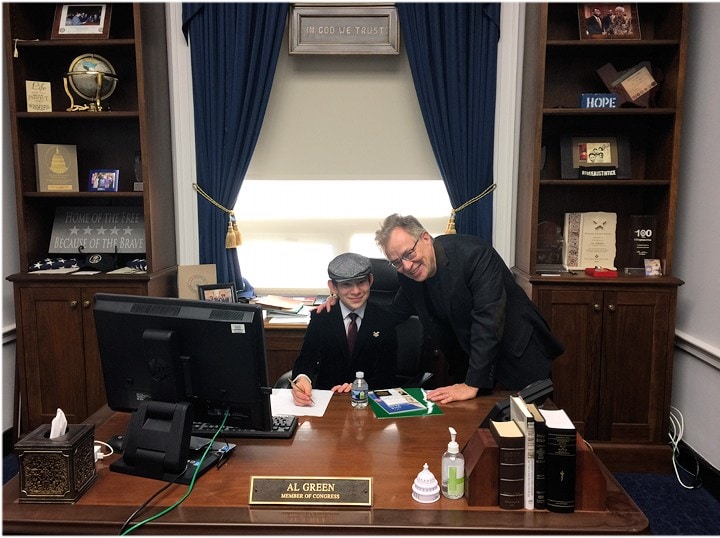 By L.A. "Tony" Kovach – for MHProNews.
Tony earned a journalism scholarship along with numerous awards in history. There have been several awards and honors and also recognition in manufactured housing. For example, he earned the prestigious Lottinville Award in history from the University of Oklahoma, where he studied history and business management. He's a managing member and co-founder of LifeStyle Factory Homes, LLC, the parent company to MHProNews, and MHLivingNews.com. This article reflects the LLC's and/or the writer's position and may or may not reflect the views of sponsors or supporters.