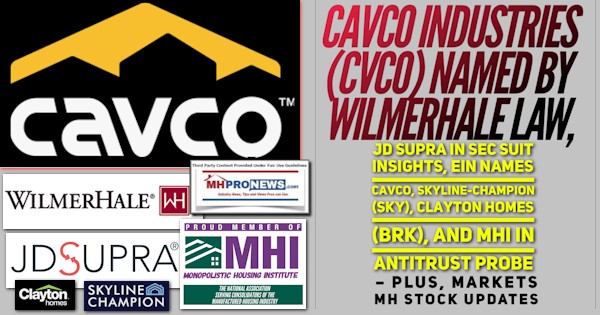 News can be marketing. Marketing can be news. Cavco Industries executives, alongside others that are involved in the Manufactured Housing Institute (MHI), are looking up from their coffee, tea or favorite beverage to a pairing of information from this review of recent JD Supra and Mondaq updates on Cavco's SEC suit against Cavco. That is bookended by the investigation of antitrust allegations in a news release that named Cavco Industries (CVCO), Skyline Champion (SKY), Clayton Homes (BRK), and MHI, among others.
First, JD Supra conveyed this from the Wilmer Hale law firm: "United States: SEC Insider Trading Enforcement Highlights From 2021" and "The Securities and Exchange Commission's (SEC or Commission) actions in 2021 demonstrate that insider trading remains a key enforcement priority." They specifically name Cavco Industries (CVCO) action as one of those highlights from 2021. This is information readers of other manufactured home industry blogs or trade media are unlikely to find, save on MHProNews and/or MHLivingNews. If they do find it, readers absolutely won't find the detail found here.
WilmerHale co-authors listed included Mark D. Cahn, Elizabeth Mitchell, Theresa Titolo and Brett Atanasio. At a glance, the JD Supra report (12.28.2021) and Mondaq article (12.30.2021) appear to be quite similar if not identical. Both are from members of the Wilmer Hale law firm,  and the key distinction seems to be the date of publication.
To tee up the content that follows, disclosures and background are useful.
Mondaq has a tag line that says, "Connecting Knowledge with People." Their about us page says:
"About Mondaq
Mondaq is an intelligent syndication platform providing world class content and insights from professional services firms. …"
One fair way of restating that is that Mondaq is content marketing that could be perceived as news. Indeed, in fairness, it may be news and marketing at the same time. JD Supra – or for that matter, MHProNews and MHLivingNews – can perform similar services and insights that may not be found as easily by professionals in any other way. Once more, it is a blend of news, analysis and actionable insights. This is quite similar to aspects of the MHProNews model.
That disclosure noted, here is what WilmerHale said via JD Supra:
…
Pursuing "Insider Trading" Through Internal Controls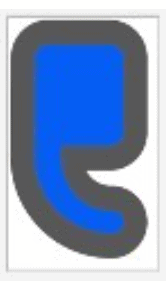 The SEC is continuing to leverage Section 13(b)(2)(B) of the Exchange Act—which requires public companies to devise and maintain internal accounting controls—in the insider trading context, this time in a litigated matter filed in September 2021 against Cavco Industries, Inc. This theory, which the SEC first employed in a settled action against Andeavor in late 2020, is not without controversy. Notably, Commissioners Hester Peirce and Elad Roisman had voted against the Andeavor settlement and objected publicly. At the time, they emphasized that Section 13(b)(2)(B) imposes not a general requirement of internal controls but a specific requirement to devise and maintain appropriate internal accounting controls.14 While Commissioners Peirce and Roisman noted that Andeavor's internal policies "left substantial room for improvement,"15 they questioned whether "it is our role under Section 13(b)(2)(B) to second-guess management's decision processes on matters that do not directly implicate the accuracy of a company's accounting and financial statements."16
The question raised by Commissioners Peirce and Roisman in that settled action—whether Section 13(b)(2)(B) is a proper tool to police compliance by public companies with internal insider trading policies—is now teed up in the litigated Cavco matter. As relevant here, the complaint alleges that Cavco violated Section 13(b)(2)(B) by failing to devise and maintain a system of internal accounting controls sufficient to provide reasonable assurance that its securities trading would be executed in accordance with its board's authorization, its corporate investment policy, and its securities trading policy.17 In particular, the complaint alleges that although Cavco had an investment policy that imposed certain requirements on corporate investments and an insider trading policy that prohibited employees from purchasing securities while in the possession of MNPI, Cavco's CEO caused the company to purchase the shares of four companies with which it was in ongoing direct merger or joint venture negotiations.18 This was possible, the SEC alleges, because Cavco did not have processes or controls in place to ensure that the investment policy and insider trading policy were being followed.19 Such gaps, the SEC argues, showed that Cavco lacked accounting controls "sufficient to provide reasonable assurances that transactions were executed in accordance with management's general or specific authorization."20
As the case proceeds through litigation, the courts may very well provide needed clarity on the scope of Section 13(b)(2)(B)'s application to securities trading by public companies. As indicated first in Andeavor and now in Cavco, though, the SEC has taken the position that failing to appropriately implement securities trading policies and procedures could be viewed as an accounting controls violation under Section 13(b)(2)(B). …"
Footnotes:
16) See Peirce & Roisman, supra n.14.
17) Complaint at 1-4, Sec. & Exch. Comm'n v. Cavco Indus., Inc., No. 21-cv-01507 (D. Ariz. Sept. 2, 2021).
18) Id. at 5-6, 9-10, 14, 17-18.
19) Id. at 22-23.
20) Id.
###
There are other legal developments emerging that are making headlines involving Manufactured Housing Institute brands that include Cavco, Skyline Champion and Clayton Homes, see the report linked below.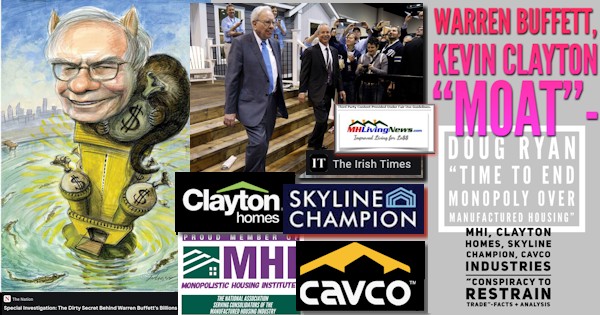 Not found in JD Supra or Mondaq are the details and insights found in the three Cavco related reports below. This is why those who cheer or jeer MHProNews are regular readers: because most everyone needs to know to the facts, evidence, and insights that are peeled back here and often no place else.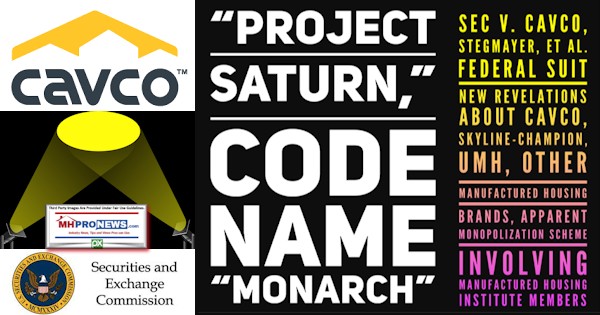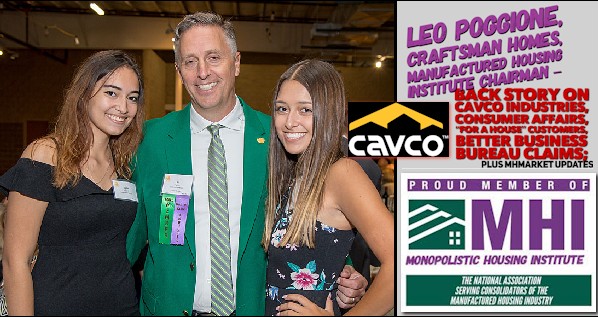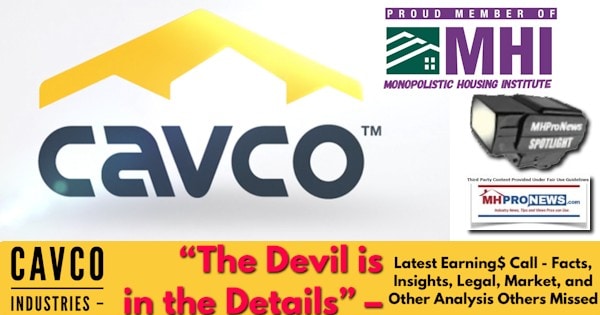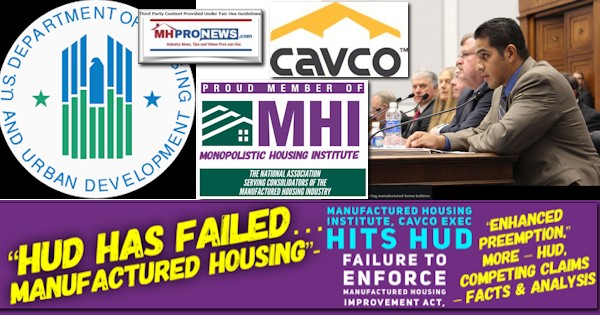 ##
Next up is our business daily recap of yesterday evening's market report, related left-right headlines, and manufactured housing connected equities.
The Business Daily Manufactured Home Industry Connected Stock Market Updates.  Plus, Market Moving Left (CNN) – Right (Newsmax) Headlines Snapshot. While the layout of this daily business report has been evolving over time, several elements of the basic concepts used previously are still the same. For instance. The headlines that follow below can be reviewed at a glance to save time while providing insights across the left-right media divide. Additionally, those headlines often provide clues as to possible 'market-moving' news items.
Market Indicator Closing Summaries – Yahoo Finance Closing Tickers on MHProNews…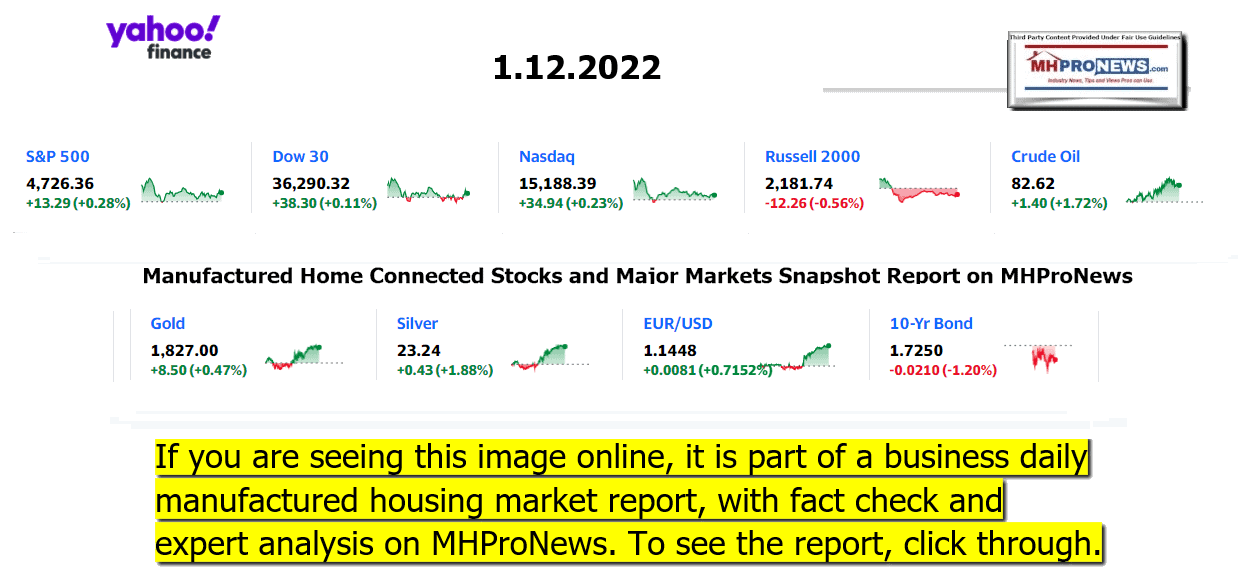 Headlines from left-of-center CNN Business – from the evening of 1.12.2022
Alarm bells are ringing
A shopper pushes a cart filled with candy at Hershey's Chocolate World in Hershey, Pennsylvania, U.S., on Thursday, Nov. 11, 2021.
If prices keep rising, a nightmare scenario for the US economy is a real possibility
Surging prices: Key inflation measure hits a 39-year high
The big test for inflation is 12 months away
This is the worst inflation in nearly 40 years. It was much worse back then
Here's why grocery stores are struggling to stock their empty shelves
Energy watchdog says Russia is undermining Europe's gas supply amid Ukraine standoff
Warren uses 'econ 101' to grill Jerome Powell
Another bank ends bounced check fees
Ryanair can't stop trolling Boris Johnson
Korean automakers outsold Honda in the US for the first time
Elizabeth Holmes sentencing may take place after Labor Day
Big Lots is opening 500 stores
Why Taco Bell will stop selling its wings
SHARE YOUR STORY Have you quit your job? We want to hear from you
Meat for sale at Harmons Grocery store in Salt Lake City, Utah, U.S., on Thursday, Oct. 21, 2021.
Meat is finally getting cheaper. But these other foods aren't
Hot buffalo wings from Domino's
Domino's is giving customers fewer wings as prices surge
Dawn introduced Dawn EZ-Squeeze, a new inverted bottle with a no-flip cap technology.
Dawn is changing its dish soap bottle with a wacky new lid
ENERGY
A section of the BP Eastern Trough Area Project (ETAP) oil platform is seen in the North Sea, about 100 miles east of Aberdeen in Scotland, on February 24, 2014.
Brits face a massive increase in energy bills. BP and Shell may have to pay
Opinion: Drivers, get ready for $4 gas
US becomes world's top exporter of LNG
The next front in fighting climate change: your home
Customers are furious after energy supplier tells customers to cuddle pets to keep warm
INVESTING
Biden regulators could rain on Trump's SPAC parade
Big banks are booming. Now here come earnings
Grand Theft Auto, meet FarmVille
Why shares of homebuilders just plunged
Goldman Sachs predicts bitcoin could hit $100K
Headlines from right-of-center Newsmax – evening of 1.12.2022
McConnell Tears Into Biden Speech on Filibuster, Voting Reforms: 'Beneath His Office'
Newsmax TV
Ferguson: Biden's Georgia Remarks 'Condescending' | video
Cammack: Blame White House for Record-High Inflation | video
Meuser: Build Back Better Is All Democrats Have | video
Kelly Loeffler: Abrams Didn't Want to Lend Biden 'Political Capital' | video
Murphy: Fauci's 'Arrogance' Makes Him an 'Embarrassment' | video
Paul: Fauci Blaming GOP for Death Threats Is 'Unfair' | video
More Newsmax TV
Newsfront
Biden to Meet Senate Dems Thursday to Push Voting Rights Reforms
Biden to Meet Senate Dems Thursday to Push Voting Rights Reforms
President Joe Biden is to meet with Senate Democrats on Thursday to discuss voting rights reforms and changing the rules of the chamber to sidestep Republican opposition.Biden will attend the Senate Democratic Caucus lunch to discuss the "urgent need to pass legislation to…… [Full Story]
Related Stories
McConnell Tears Into Biden Speech on Filibuster: 'Beneath His Office'
Politico Poll: Electoral Count Act Needs Reforms, Voters Agree
Trump Warns GOP to 'Solve the Problem' of Our Elections, or Risk Losing
US Consumer Prices Soar 7%; Biggest Spike Since 1982
Prices paid by U.S. consumer jumped 7% in December from a year [Full Story]
DeSantis States Support for Proposed Florida Bill to Ban Abortions After 15 Weeks
Biden Sending 10M COVID Tests to Schools to Keep Them Open
The Biden administration is increasing federal support for COVID-19 [Full Story]
Related
CDC Chief: Current Increase in US COVID Deaths Likely Due to Delta, Not Omicron
Pfizer Study: COVID-19 Booster Can be Given Along With Pneumonia Shot
DC Begins Saturday to Enforce Vax Mandates at Indoor Facilities Within City
US Posted Smallest Monthly Deficit in 2 Years in December
The U.S. last month posted its smallest monthly budget deficit in two [Full Story]
'Factually Bankrupt' Liberal Supreme Court Justices Should 'Alarm Every American'
Veteran observers of the Supreme Court were stunned Friday when, [Full Story] | Platinum Article
Pressures Mounting on Biden to Forgive Student Loans
Advocates are increasing the pressure on President Joe Biden to erase [Full Story]
Stacey Abrams' 'Embarrassing' Snub of Biden Shows He's 'Politically Toxic'
Georgia Democratic gubernatorial candidate Stacey Abrams has spent [Full Story] | Platinum Article
Related
Kelly Loeffler to Newsmax: Abrams Didn't Want to Lend Biden 'Political Capital' |video
New Mexico City Installing 'Baby Box' After Teen Allegedly Abandons Newborn in Dumpster
A New Mexico city is preparing to install a "baby box," where infants [Full Story]
Massachusetts Gov. Baker Approves Clemency Petitions for Convicted Murderers
Massachusetts Gov. Charlie Baker, a Republican, on Wednesday granted [Full Story]
$1M Payout for FBI Informant Who Exposed Abuse in LA Jails
An FBI informant whose reports of extensive abuse inside Los Angeles [Full Story]
Pipeline Spills 300,000 Gallons of Diesel Near New Orleans
A severely corroded pipeline ruptured and spilled more than 300,000 [Full Story]
Florida Will Cover the Cost to Install Solar if You Live in Kissimmee
Solar On Today
Former Sen. Harry Reid Lies in State at US Capitol
Former Sen. Harry Reid was recalled Wednesday as a "legendary leader" [Full Story]
Fauci: Omicron 'Will, Ultimately, Find Just About Everybody'
Anthony Fauci, who once convinced former President Donald Trump [Full Story]
New All-natural "Lung Cleaning" Device is Going Viral in United States
Steve Harvey Calls Out Cancel Culture
Steve Harvey is speaking out against cancel culture, saying that [Full Story]
New York Drops Contact Tracing as Omicron Overwhelms
Faced with a surge in COVID-19 infections from the Omicron variant, [Full Story]
West Virginia Gov. Justice Tested Positive for COVID, Feeling 'Extremely Unwell'
West Virginia GOP Gov. Jim Justice tested positive for COVID-19 and [Full Story]
Family Claims Malpractice in Las Vegas 'Jeopardy!' Champ's Death
The parents of five-time "Jeopardy!" champion Brayden Smith, 24, are [Full Story]
Biden: 'Price Increases Still Too High'
President Joe Biden admitted on Wednesday that his administration [Full Story]
Senate Republicans Raise Record $28M in Last Quarter
The Senate Republicans' campaign arm pulled in nearly $28.6 million [Full Story]
NYC Mayor Adams Demotes Brother Amid Nepotism Criticism
The brother of New York City Mayor Eric Adams had a short-lived stint [Full Story]
Trump: Politicians 'Gutless' for Lack of Candor on Boosters
Former President Donald Trump delivered the COVID-19 vaccines – and [Full Story]
Tampa Bay Rays Bullpen Catcher Jean Ramirez Dies at 28
Tampa Bay Rays bullpen catcher and former minor league player Jean [Full Story]
Texas School District Asks Parents to Substitute Teach as COVID Surges
As COVID-19 continues to surge across the country, the Hays [Full Story]
US Chamber of Commerce CEO: Higher Immigration Would Help Alleviate Inflation, Labor Shortage
Doubling the number of legal immigrants into the United States could [Full Story]
Year Later, Flint Water Criminal Cases Move Slowly in Court
Universal Healthcare Bill Advances in California Assembly
California Democrats on Tuesday took their first step toward [Full Story]
Pope Pleads for Fight Against Child Labor
Pope Francis on Wednesday urged governments to combat child labor, [Full Story]
Djokovic: Not Isolating After COVID Infection Was 'Error'
Novak Djokovic knew he'd tested positive for COVID-19 when he [Full Story]
White House Preparing for More Bad Inflation News
When the new data on inflation comes out Wednesday, the [Full Story]
Deaths of 17 People in Bronx Fire Due to Smoke Inhalation
The deaths of 17 people involved in a fire this week in a high-rise [Full Story]
More Newsfront
Finance
Morgan Stanley to Award Bonus Rises of 20 Percent-Plus on Thursday to Top Performers
Morgan Stanley will raise its annual bonus for top-performing staff on Thursday by more than 20%, people with direct knowledge of the matter said, with a dealmaking boom to usher in bumper payouts by it and other banks for this past year…. [Full Story]
Workers at Nearly 80 Kroger's King Soopers Go on Strike as Talks Stall
HR Software Company Justworks Delays US IPO Plans
US Criticizes China Over Canceled Flights
Fed Survey Finds Economy Growing Modestly Despite COVID
More Finance
Health
Omicron May be Headed for a Rapid Drop in US and Britain
Scientists are seeing signals that COVID-19's alarming omicron wave may have peaked in Britain and is about to do the same in the U.S., at which point cases may start dropping off dramatically. The reason: The variant has proved so wildly contagious that it may already…… [Full Story]
When Am I Contagious If Infected with Omicron?
CDC Chief: Current Increase in US COVID Deaths Likely Due to Delta, Not Omicron
Breastfeeding Protects Mothers Against Heart Disease Years Later
Fast Food May Be Behind Spike in Autoimmune Disease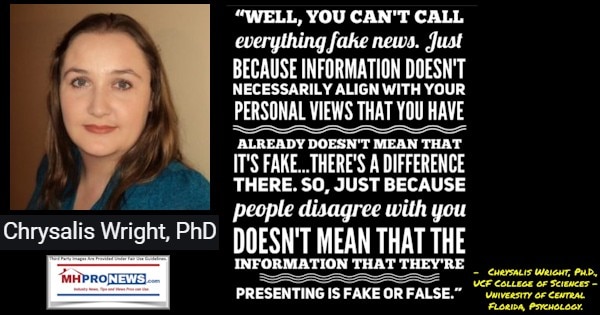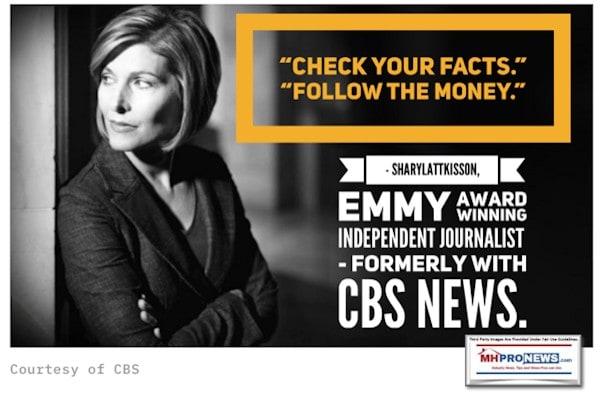 Manufactured Housing Industry Investments Connected Equities Closing Tickers
Some of these firms invest in manufactured housing, or are otherwise connected, but may do other forms of investing or business activities too.
NOTE: The chart below includes the Canadian stock, ECN, which purchased Triad Financial Services, a manufactured home industry lender
NOTE: Drew changed its name and trading symbol at the end of 2016 to Lippert (LCII).
NOTE: Deer Valley was largely taken private, say company insiders in a message to MHProNews on 12.15.2020, but there are still some outstanding shares of  the stock from the days when it was a publicly traded firm.  Thus, there is still periodic activity on DVLY.
Clayton-21st Storm Watch – Sinatra's Summer Wind Blows Early? – Manufactured Housing Moat Breach – Manufactured Home Values Increasing Faster than Site-Built – Case for Something New in 2022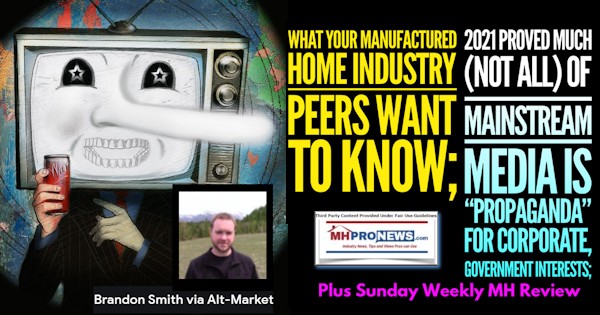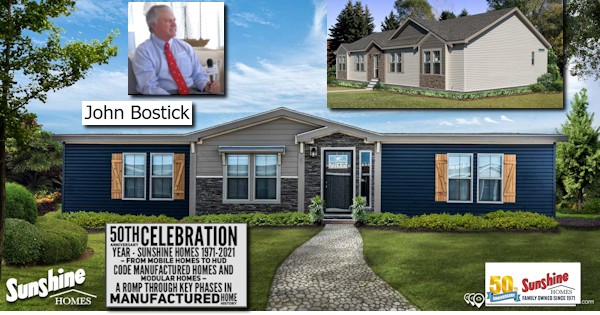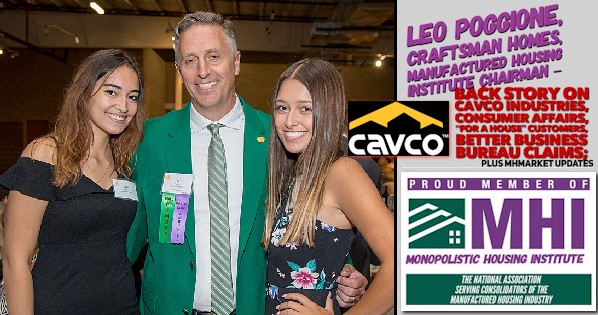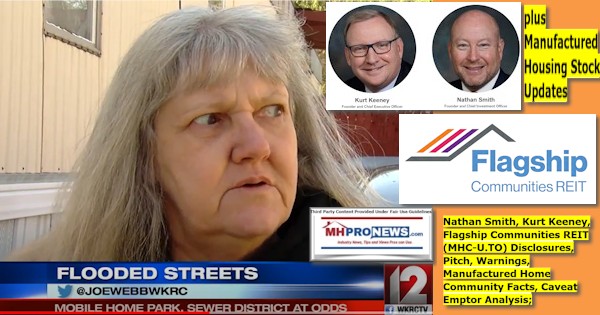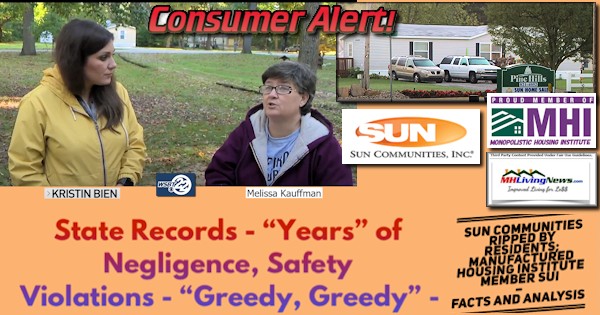 In cases such as Apollo, Berkshire Hathaway, Blackstone or others, manufactured housing may only be part of their corporate interests. Note: depending on your browser or device, many images in this report can be clicked to expand. Click the image and follow the prompts. To return to this page, use your back key, escape or follow the prompts.
https://www.manufacturedhomepronews.com/steve-lawler-deer-valley-corporation-dvc-otcmkts-dvly-announces-merger-plus-manufactured-home-investing-stock-updates/

https://www.manufacturedhomepronews.com/nobility-homes-financial-position-very-strong-sales-strong-but-challenges-including-lending-and-others-examined-plus-manufactured-housing-stocks-update/

As 2021 draws to a close

…

Berkshire Hathaway is the parent company to Clayton Homes, 21st Mortgage, Vanderbilt Mortgage and other factory built housing industry suppliers.


·

LCI Industries, Patrick, UFPI, and LP each are suppliers to the manufactured housing industry, among others.




·

AMG, CG, and TAVFX have investments in manufactured housing related businesses.

For

insights from third-parties and clients about our publisher

, click here.


Enjoy these 'blast from the past' comments.

MHProNews. MHProNews – previously a.k.a. MHMSM.com – has celebrated our 11th year of publishing, and is starting our 12th year of serving the industry as the runaway most-read trade media.
Sample Kudos over the years…
It is now 11+ years and counting…
Learn more about our evolutionary journey as the industry's leading trade media, at the report linked below.
· For expert manufactured housing business development or other professional services, click here.
· To sign up in seconds for our industry leading emailed headline news updates, click here.

Disclosure. MHProNews holds no positions in the stocks in this report.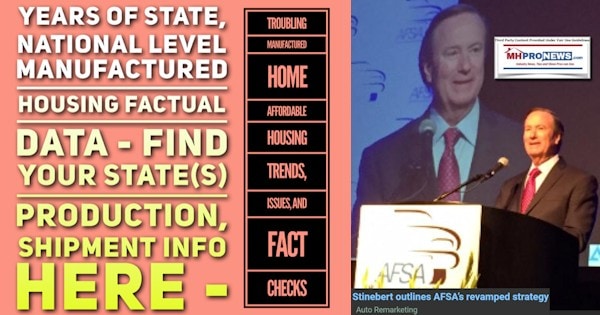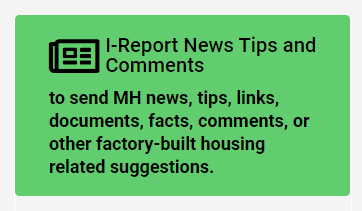 That's a wrap on this installment of "News Through the Lens of Manufactured Homes and Factory-Built Housing" © where "We Provide, You Decide." © (Affordable housing, manufactured homes, stock, investing, data, metrics, reports, fact-checks, analysis, and commentary. Third-party images or content are provided under fair use guidelines for media.) (See Related Reports, further below. Text/image boxes often are hot-linked to other reports that can be access by clicking on them.)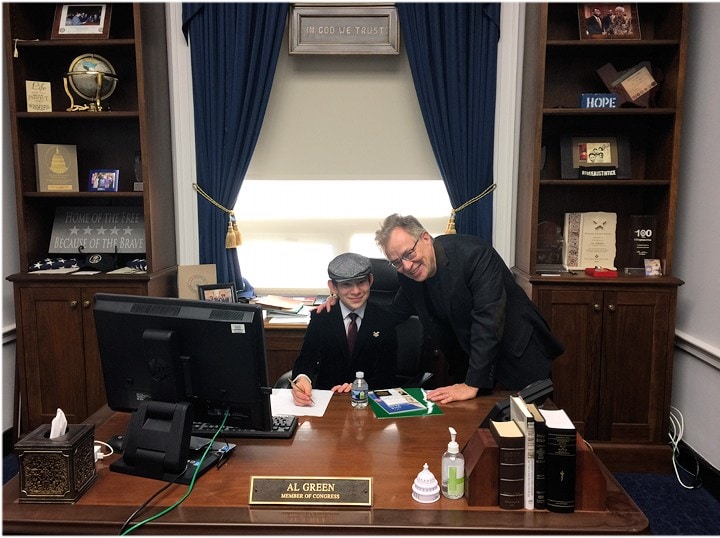 By L.A. "Tony" Kovach – for MHProNews.
Tony earned a journalism scholarship along with numerous awards in history. There have been several awards and honors and also recognition in manufactured housing. For example, he earned the prestigious Lottinville Award in history from the University of Oklahoma, where he studied history and business management. He's a managing member and co-founder of LifeStyle Factory Homes, LLC, the parent company to MHProNews, and MHLivingNews.com. This article reflects the LLC's and/or the writer's position and may or may not reflect the views of sponsors or supporters.