In a media environment that predicts that the housing world, and perhaps the American economy with it, are teetering on a risky edge, a new report by Dina Cheney for Bankrate presents a unique take with often uplifting thoughts, facts, and evidence. To set the stage for her report below, some background on the publisher and author are relevant.
A Bankrate homepage slogan proclaims: "Guiding you through life's financial journey." Deeper into their homepage, "Trusted news and reviews, published daily."
SimilarWeb states that Bankrate gets some 17.5M visits monthly, but some would question the accuracy of their traffic estimates unless they are directly connected to a specific website's server-data. That noted, SimilarWeb says Bankrate is ranked #10 in the U.S. finance category, keeping in mind that SimilarWeb stated: "Only data verified by Google Analytics will be displayed." To the extent that Google is 'trusted,' apparently, that's how trustworthy SimilarWeb's data is. Suffice it to say that Bankrate is an apparent go to site for millions of monthly visits.
The Bankrate author for the interesting and arguably well written report that is critiqued/reviewed below is Dina Cheney. Cheney's website says she has authored 6 books for publishers and has written "hundreds" of articles for an array of firms that include Realtor Magazine, Bankrate, and others not connected to housing or finance. Cheney's website also stated: "Over the past few years, I've transitioned mostly to content writing and copywriting for brands…" Cheney's pitch said: "For 447 of my recent by-lined clips (for 49 clients), visit my online portfolio." Her portfolio looks impressive.
The apparent target audience for this Bankrate article by Cheney are potential homebuyers who are thinking as many as five years into the future. MHVille marketers, take note.
The article, via MSN, is found at this link here. Additional information, with more MHProNews analysis and commentary will follow her report via Bankrate. The Daily Business News on MHProNews manufactured home communities REITs and industry connected stocks follow this segment of today's post.
Housing market predictions: the forecast for the next 5 years
Dina Cheney – 11.2.2022 11:17 AM
It's been a wild real estate ride over the last few years. After a red-hot market characterized by bidding wars, low interest rates and elevated prices, mortgage rates increased to the highest level in 20 years, leading to a slowdown of both buying activity and purchase prices. Yet, with inventory still low, home price tags remain high in many parts of the U.S.
There are plenty of predictions about where the housing market is going in 2023. But what about farther out?  After all, buying a home often requires long-term planning. We asked several residential real estate experts to peer into their crystal balls and give us a five-year forecast of the housing market. Here's looking at you, 2027.
The current housing market
But first, a a snapshot of the residential real estate scene, as of autumn 2022.
Home sales price: The median existing-home sales price rose 8.4 percent from one year ago, to  $384,800, according to September 2022 data from the National Association of Realtors (NAR). For new homes, the current average sales price nationwide is $470,600 — up around 14 percent from a year ago, says Danushka Nanayakkara-Skillington, assistant vice president, forecasting and analysis for the National Association of Homebuilders (NAHB).
Inventory: Though higher than it was in January 2022, the supply of homes remains historically low, says NAR Chief Economist and Senior Vice President of Research Lawrence Yun.  The inventory of unsold existing homes was at a 3.2-month supply in September 2022.
Days on the market: With inventory still tight, homes continue to sell quickly. In September 2022, the median number of days on the market for sold homes ranged from 13-23, depending on the price, according to the September NAR data. In a more typical market, it's 45 days, says Yun.
Homes sold: Fewer existing homes are selling nationwide. According to the September NAR data, during 2022, the seasonally adjusted total figure dropped from 6.49 million in January to 4.71 million in September. Meanwhile, sales of new single family houses in July 2022 were at a seasonally adjusted annual rate of 511,000—which is 29.6 percent lower than in July 2021, says the U.S. Census Bureau and the Department of Housing and Urban Development.
Thirty-year mortgage rates: According to Freddie Mac, the current average 30-year fixed mortgage rate was 7.08 percent, the highest it's been in 20 years.
New home starts: According to Nanayakkara-Skillington, the seasonally adjusted annual rate for new single family home starts is 892,000, which is down 18.5 percent compared to last year.
The forecast for mortgage rates and types
Mortgage interest rates could continue to increase for a few weeks or months, says Yun, adding that seven percent looks to be the level for the rest of this year and most of next year. Within two years, the rate should return to five-and-a-half or six percent, he adds. Nanayakkara-Skillington agrees, predicting rates will drop to about six percent by the middle of 2024.
Because the rates are high, Yun foresees a greater interest in adjustable-rate mortgages (ARMs) through next year. However, after that, he predicts 90 percent of Americans will return to the traditional 30-year fixed mortgage route. Greg McBride, CFA, Bankrate chief financial analyst, agrees, stating that the 30-year fixed rate mortgage will remain the dominant product. "It provides the certainty borrowers want, lenders can sell them to investors, and there is a vibrant secondary market of global investors eager to buy them," he says.
Predictions for home prices
Yun foresees zero or minor changes in purchase price tags on a nationwide basis next year, with increases or decreases of about five percent. The only exception is California, he says, where the market could see 10 percent declines: "Because it's so expensive, California is always the most vulnerable to changes in interest rates." Overall, in five years, he expects prices to have appreciated a total of 15-25 percent.
McBride has a similar perspective. He predicts home prices will average low- to mid- single digit annual appreciation over the next five years. This rate of appreciation, he says, is consistent with the long-term average of home prices increasing by a rate that' hovers a percentage point above the inflation rate.
Will the housing market crash?
Related video: Experts say housing market not as bad as it seems – for now
While it's been showing bubble-like properties, Yun does not expect the residential real estate market to violently pop. Although he predicts that sales will be at a low point next year, with only 5.3 million units sold, he foresees a gradual increase afterwards, up to an annual six million units by 2027. Despite the higher mortgage rates, home prices are still above what they were one year ago, he adds. Even if they decline five percent (or 10 percent in California) next year, that's not close to crashing — which is characterized by a one-third drop. "A 30 percent decrease will not happen because there isn't enough inventory," he explains. "A crash happens with oversupply." He believes the housing shortage will continue this year, with the supply balancing out by five years.
Will it become a buyer's market?
Yun expects the seller's market to continue, while housing inventory remains low. By five years, though, he foresees a balanced market, where neither the buyer or seller holds sway. Instead, the negotiating power between parties will be more equal and depend on the individual case.
Caroline Feeney, executive editor, HomeLight, feels the shift away from a seller's market has already begun. According to a recent survey the company conducted, only 51 percent of HomeLight agents described their current local market as a seller's market. She also expects a balanced market within a few years.
Where and what sort of homes will be built?
With hybrid work schedules becoming the norm and commuting no longer as relevant, Yun predicts the suburban market will continue to be strong. Meanwhile, 55 percent of top HomeLight agents believe the markets that heated up the quickest during the pandemic (including Austin, Phoenix and Boise) are likely to be the first to cool down and see the biggest decreases during a market correction, says Feeney. Yun expects growth in areas with rising populations, namely the Carolinas, Florida, Texas and Tennessee. Backing up his prediction, 50 percent of new single-family construction is in the South, notes Nanayakkara-Skillington.
The number of single-family homes under construction has decreased over the last four months. In contrast, the number of multi-family homes under construction has increased over the last few years, says Feeney, who credits this growth in part to their lower price tags — apartments tend to be cheaper than detached houses — and the pressure on municipalities to relieve shortages and provide more affordable housing. Still, with high mortgage rates and inflationary building material prices, Nanayakkara-Skillington expects the multi-family market's growth to stabilize within a few years, with the number of new starts decreasing eight percent in 2023, and another five percent in 2024.
Tips to save for a home
Since buying a home is such a major purchase, starting to save up five years in advance is perfectly reasonable. Here are some strategies to get your finances in shape for down payments — you want to be able to swing the usual 20 percent down, to avoid the extra cost of mortgage insurance — and of course for mortgage pre-approvals.
1. Think about earning power
Of course you work for love, not money. But money's important too. Figure out the right way to ask your employer for a raise, or be willing to look for other opportunities — that's usually the fastest path to a significant salary bump. Sixty percent of workers who switched jobs over the past year earned more money in their new roles, even accounting for the fast pace of inflation, according to a recent study from the Pew Research Center.
2. Decrease your debt
Being able to purchase a home isn't just about growing your bank account. It's equally important to focus on paying down the amount of money you owe on credit cards, student loans and car payments. By lowering your debt-to-income (DTI) ratio, you'll be in a better position to qualify for a mortgage down the line.
3. Keep hidden homebuying costs in mind
The purchase price is the big expense, but homebuying has other, less obvious expenses. You'll also need to be ready to pay closing costs — lender fees, property taxes, appraisal expenses and various other administrative and professionals' fees. These add up quickly. In 2021, the average closing costs were $6,905, according to ClosingCorp.
Because you'll be spending several thousand on closing costs, it's imperative to stay in a home long enough to break even (let alone make a profit). If you're buying a home and selling it a year or two later, you're probably not going to come out ahead. Five years is the usual amount of time.
4. Focus on local, not national, markets
Yes, plenty of publications (including ours) are full of generalizations about "the housing market." But real estate markets are hyper-localized, varying greatly not just from region to region, but from state to state, and even within states. Costs, prices and requirements are going to look much different in Pensacola than they will in Palm Beach, for example. As you think about budgeting for a house, bear the broader national trends in mind, but it's more helpful to focus on housing market conditions in the city and even the specific neighborhood where you're looking to buy or move to. Try to target the more affordable ones, where your dollars will bring the most bang for the housing buck. ##
Additional Information with More MHProNews Analysis and Commentary
To Cheney's and Bankrate's credit, they are both good at disclosing their business model. The information from Cheney's report routinely cited her source or linked to a related and supportive statement. In under 1650 words, or a roughly 6-minute read, someone who is peering into the currently turbulent-to-scary housing markets may find a measure of comfort from Cheney's narrative. The reasons include her own style which is buttressed by several experts she cited that included supporting evidence and facts. There is a pragmatism to some of her statements that housing shoppers could find useful. For instance, under her #4 suggestion: "Focus on local, not national, markets," that observation is quite apt. Within Florida, as she used the examples of "Pensacola" and "Palm Beach" those two markets in the same state but are hundreds of miles apart. More specifically, per Google Maps: it is about an "8 hr 42 min (609.5 mi) via I-10 E and Florida's Turnpike" from Pensacola to Palm Beach per a search performed at 4:04 AM on 11.3.2022.
Entirely missing from her analysis are any mention of manufactured homes, modular housing, or other forms of prefabricated, tiny, container or other alternative building options. Those are obvious misses, not only from the vantage point of our profession, but also from the lens of those perspective housing shoppers who may want or need a more affordable option.
According to a report yesterday from "The Hill," "Mortgage rates dipped slightly last week for the first time in more than two months amid the Federal Reserve's ongoing fight with inflation, according to data released Wednesday by the Mortgage Bankers Association (MBA).
MBA's weekly survey shows the 30-year fixed-rate mortgage rate falling to 7.06 percent, down from 7.16 a week earlier, and applications decreasing for the sixth-straight week. Rates, however, remained near the highest level in two decades." That's similar to one of her statements, but the Hill's comments included the nuance that rates had recently dipped.  In fairness, fisking that portion of Cheney's report merits the observation that there is only so much information one can pack into a 1600+ word article. Some facts are bound to be left on the proverbial cutting-room floor.
That said, a 35-year mortgage professional recently told MHProNews that a Federal Reserve interest rate hike is not a one-to-one corollary with a mortgage financing rate increase. They often rise or fall in a similar pattern, but that is not always so. That noted that mortgage professional pointed out that interest rates on a 30-year fixed mortgage today are under the claimed rate of inflation and have been all year. That factoid would be even more interesting when considering the claims of those who assert that the official inflation rate used by the federal government understates actual inflation and is different than it was calculated some years ago. Put differently, when inflation is considered, the interest rates are effectively a negative rate – with the caveats Cheney noted in mind, it can pay to buy a home and finance it within the context of the current environment. The information below when compared to current interest rates illustrates that point.
| | | | | | | | | | | |
| --- | --- | --- | --- | --- | --- | --- | --- | --- | --- | --- |
| Year | jan | feb | mar | apr | may | jun | jul | aug | sep | oct |
| 2022 | 7.480% | 7.871% | 8.542% | 8.259% | 8.582% | 9.060% | 8.525% | 8.263% | 8.202% | |
| 2021 | 1.400% | 1.676% | 2.620% | 4.160% | 4.993% | 5.391% | 5.365% | 5.251% | 5.390% | 6.222% |
| 2020 | 2.487% | 2.335% | 1.539% | 0.329% | 0.118% | 0.646% | 0.986% | 1.310% | 1.371% | 1.182% |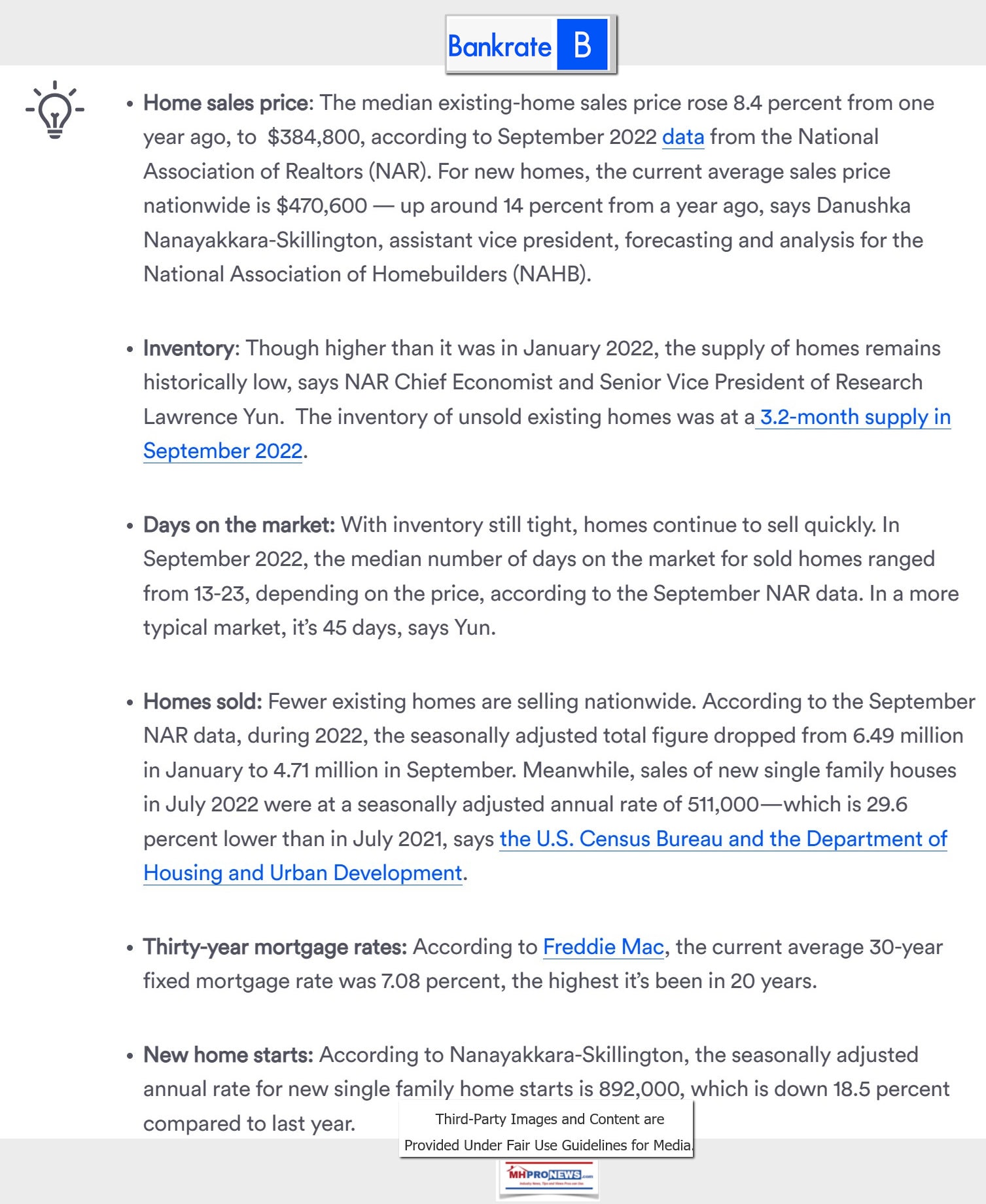 Predictions
Stating the obvious, it is folly to predict something 5 years out, as too many variables exist that could 'change the math.' Three examples will serve to illustrate.
What would happen to housing prices if another COVID19 style — or more deadly — 'pandemic' struck?
What would happen if tensions between Iran and Saudi Arabia resulted in an armed conflict and the shipping of oil through the Persian Gulf disrupted the global supply of crude? Similar examples could be made if North Korea attacked South Korea, or if China invaded Taiwan. Each of those would result in serious supply-chain and other disruptions.
Joe Biden has been musing about the increased risk of nuclear war. If so, depending on the extent of such a conflict, there may not be much of a real estate market left in the aftermath.
Other relevant points like those 3 above could be made about her report. For example. Cheney mentioned the housing shortage, which is a component in driving up housing costs. That ought to logically beg the question:  how great the actual U.S. housing market shortage in units needed to properly meet demand? In the past year, the number 3.8-million-unit shortage is often asserted by various 'experts,' perhaps influenced by the use of that data claim by mortgage giant Freddie Mac.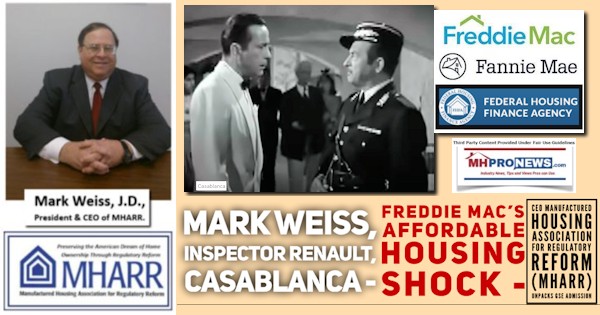 That noted, it was not so long ago that Rosen Consulting Group (RCG) in a report for the National Association of Realtors (NAR) put the count higher, and noted that there has been a steady undersupply in housing built vs. housing demand for years.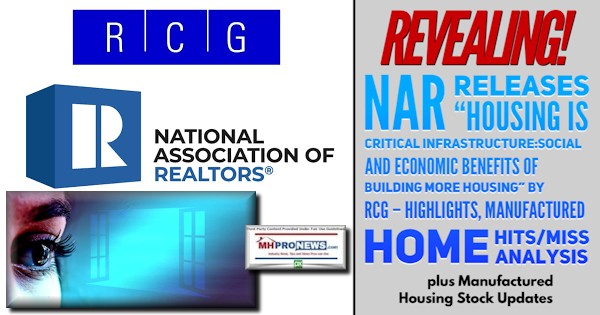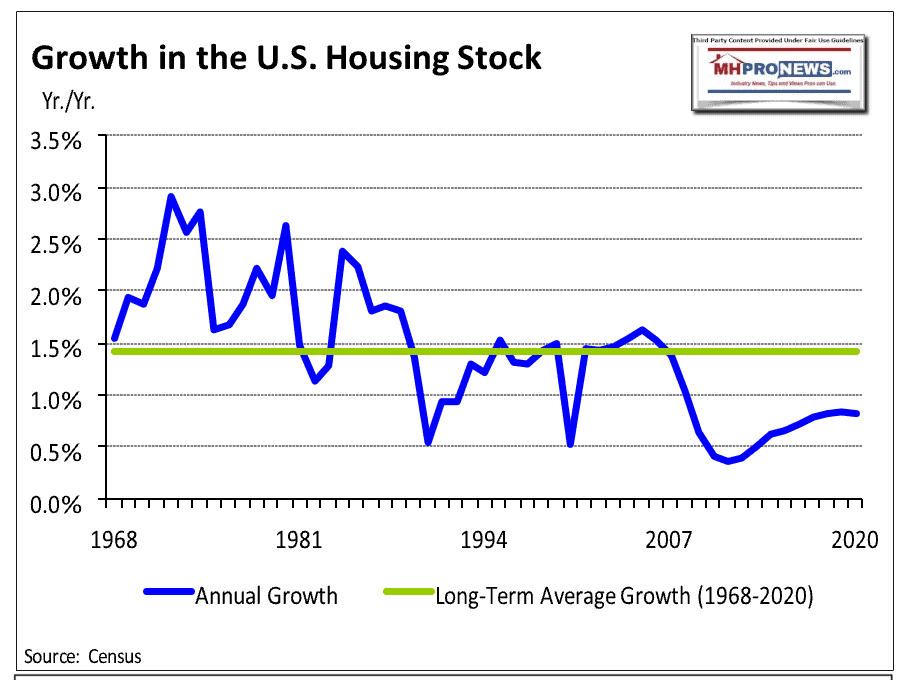 RCG's point about the lack of construction keeping up with demand is apt.  That noted, other sources, including NAR's Yun, put the undersupply in housing at some 8.3 million units just a few years ago. Which begs the question. How could that number of housing units needed to meet U.S. demand decline, when the production of housing has lagged for years? The obvious answer is that the math doesn't add up. It is one of several points routinely missed by mainstream media, but which has been periodically noted here on MHProNews.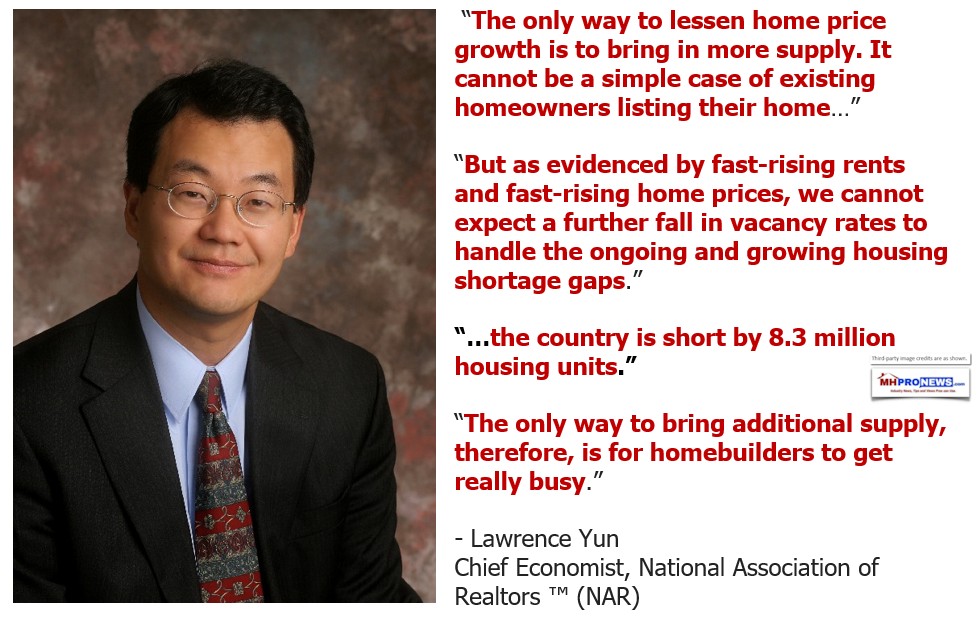 Additionally, beyond the U.S. birthrate and household formation adding to demand, there is an obvious surge in immigration to the U.S. That's especially noted in the estimates of illegal border crossers since the Biden White House era began. In an 10.25.2022 press release, "The Federation for American Immigration Reform (FAIR) said there has been 5.5 million illegal aliens that have crossed into the U.S.
Other factors not yet mentioned could impact the 5-year forecast for housing. Some examples will illustrate.
A) If the Manufactured Housing Institute (MHI) magically began doing their job properly, manufactured home sales could soar.
Conventional vs Manufactured Home 2022 Price Comparisons Per Gov-Data, MHVille Affordable Housing Opportunities, Manufactured Housing Institute History–per MHI, plus MHVille REITs, Stock Update
B) Or if Congress in its oversight role began prodding HUD, the FHFA, Fannie Mae, Freddie Mac, Ginnie Mae, the DOE, DOJ, the FTC, and other entities or agencies involved in manufactured housing to properly follow various applicable laws, manufactured home sales could skyrocket. That could happen in response to concerns such as those raised by third-party researchers like the Minneapolis Federal Reserve senior researcher James A. Schmitz Jr. and his colleagues.
'Affordable Homes for Low Income Must Produce in Factory,' 'Years to Unravel Sabotage,' Grad Students Interest in Manufactured Housing, Factory-Home Solutions; plus Sunday Weekly Headlines Recap
Cavco Industries Announces Planned Buyout of Manufactured Home Builder and Manufactured Housing Retailer Solitaire Homes, Official Statement and Information Beyond the New Release
C) Given that Americans don't yet know with certainty what will happen in the highly anticipated 2022 midterm elections, now less than a week away, it bears repeating that a 5-year prediction for housing may be useful for attracting the attention or clicks from those hoping and planning to buy a home during that timeframe. But even experts aren't God, Who alone knows the future, as perhaps spiritually-minded Cheney likely knows.
Such considerations noted, Cheney's report for Bankrate provided several useful insights in a relatively concise package of under 1650 words. She encourages would be buyers to prepare in a manner that makes sense (if either disaster is avoided or some massive economic boom doesn't occur that changes the housing/financial landscape). With the minuses noted, her report is arguably superior to some content reviewed by MHProNews generated by writers who are trying to gin up traffic in order for sponsors and others to get more eyeballs. An example is linked below.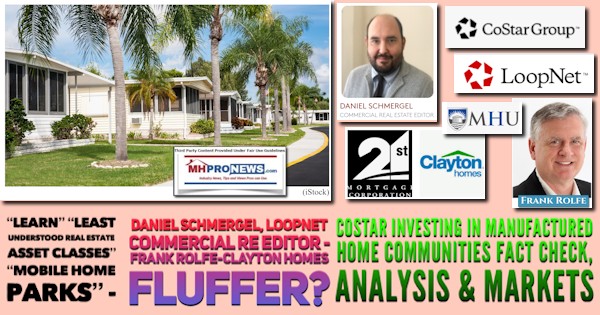 Programing Notice. The latest manufactured home production and shipment data is expected soon. Watch for it on your most popular and obviously reliable trade-media source for facts, analysis, and eye-opening commentary found at your home for manufactured housing "Industry News, Tips, and Views Pros Can Use." ©   
MHProNews Note 2. In about 1300 words, plus links and illustrations, this fact check, analysis, and commentary took an interesting topic and brought it to life by viewing this "News Through the Lens of Manufactured Homes and Factory-Built Housing" © where "We Provide, You Decide." ©
Note 3: This is thus also an example of "Intelligence for your MHLife" © that includes the full richness of the term "intelligence.' Those 3 shameless plugs are brought to you courtesy of the editorial team and sponsors of MHProNews' parent company, LifeStyle Factory Homes, LLC.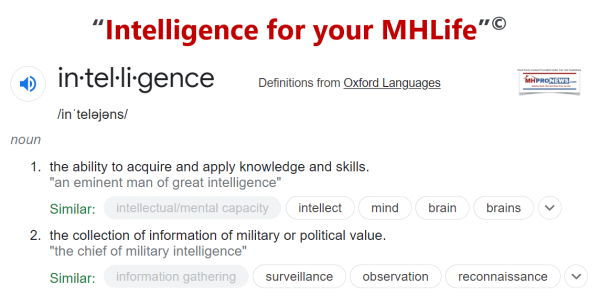 $200,000 'Starter Homes' Becoming 'a Myth' – Last 4 U.S. Cities Where Renters Can Buy a House, Other Higher Cost Housing Metro Data 'What a Difference 1 Month Makes' – plus MHVille Stocks Update
$13 Trillion in U.S. Wealth Lost Hit 401Ks, Retirees, Middle Class – 'For Suburbanites Making $100,000, Nation's Economy 'Not OK' per RealClear; 'Gaslighting;' plus MHVille REITs, Stocks Update
Manufactured Housing Institute Urges HUD, Federal Policy Support Preservation of Land-Lease Manufactured Home Communities – Explore MHI's 'Advocacy' for 'Mobile Home Parks' – Friday Facts and Follies
Daily Business News on MHProNews Markets Segment
NOTICE: Based on feedback, a modification of our Daily Business News on MHProNews recap of yesterday evening's market report is provided. It will still include our left (CNN Business) and right (Newsmax) 'market moving' headlines. The macro market moves graphics will provide context and comparisons for those invested in or tracking manufactured housing connected equities.
Reminder: several of the graphics on MHProNews can be opened into a larger size. Click the image and follow the prompts in your browser or device to OPEN In a New Window. Then, in several browsers/devices you can click the image and increase the size. Use the escape or back key to return.
Headlines from left-of-center CNN Business – from the evening of 11.2.2022
Historic hike
Federal Reserve Chairman Jerome Powell speaks at a news conference following a Federal Open Market Committee meeting, Wednesday, Nov. 2, 2022, in Washington.
Fed boosts interest rates by three-quarters of a percentage point for the fourth straight time

Note: depending on your browser or device, many images in this report and others on MHProNews can be clicked to expand. Click the image and follow the prompts. For example, in some browsers/devices you click the image and select 'open in a new window.' After clicking that selection, you click the image in the open window to expand the image to a larger size. To return to this page, use your back key, escape or follow the prompts.

What rising interest rates mean for you

Fed's Powell: 'Time for easing rate increases is coming'
Stocks fall on a volatile day as Powell disappoints
Why the Dow ended October in its best monthly gain since January 1976
Elizabeth Warren to Jerome Powell: Just how many jobs do you plan to kill?
Maersk CEO says shipping slowdown is signaling a recession
Thanksgiving dinner will be a lot more expensive this year, report finds
FCC commissioner calls for TikTok ban
Musk hints that Trump will not be back on Twitter before the midterms
RISK TAKERS These baristas are leading a nationwide campaign to unionize Starbucks. It came at a cost
This is what Starbucks' 25th anniversary holiday cups look like
Spotify goes to war with Apple after the App Store rejected its new feature
Traders work on the floor of the New York Stock Exchange (NYSE) on October 27, 2022 in New York City.
Powell admits soft landing may not happen
A view of the Twitter logo at its corporate headquarters in San Francisco, California, U.S. October 28, 2022.
Twitter's C-suite clears out as Musk cements his power
A worker packs avocados at a facility in Ciudad Guzman, Jalisco state, Mexico, on Friday, July 22, 2022. The US Department of Agriculture has approved the import of Hass Avocados from the Mexican State of Jalisco into US Continental ports, Hawaii and Puerto Rico.
Grocery prices are soaring. But this food favorite is getting cheaper
MARKETS
US ECONOMY
Job seeker fills out paperwork while other potential employers talk during during a job fair at the Wyandanch Community Resource Center, in Wyandanch, New York, on September 30, 2022.
Why the job market hasn't imploded
Hear what Shark Tank's Robert Herjavec thinks of Fed's aggressive rate hikes
Debt ceiling fights aren't new. The next one could unleash 'Armageddon'
US debt: Federal interest payments could soon exceed military spending

"In the business world, the rear-view mirror is always clearer than the windshield." – Warren Buffett. That begs a key question. Why don't more people LOOK at the rearview mirror so they can learn more about the patterns that influence what's ahead? Note: depending on your browser or device, many images in this report can be clicked to expand. or example, in some browsers/devices you click the image and select 'open in a new window.' After clicking that selection, you click the image in the open window to expand the image to a larger size. To return to this page, use your back key, escape or follow the prompts.

The number of job openings rose unexpectedly in September, despite the Fed's aggressive actions

UNIONS
NEWARK, NJ – JULY 01: United Airlines aircraft are seen at Newark Liberty International Airport (EWR) on July 1, 2022 in Newark, New Jersey. Hundreds of flights were canceled across the US ahead of July Fourth weekend.
United pilots reject contract as airline negotiations ramp up
These baristas are leading the union tsunami against Starbucks
300 business groups call on Biden to intervene in rail unions contract vote
Amazon workers in California withdraw petition for union vote after defeat in New York
Despite union wins, labor laws keep cards stacked against organizers
Headlines from right-of-center Newsmax 11.2.2022
com Shows You What Google Won't. Try It Now.
Parkland School Killer Nikolas Cruz Sentenced to Life in Prison
The 2022 Elections
GOP's Raffensperger: Abrams' Voter-Denial Claims 'Silly'
WSJ Poll: White Suburban Women Back GOP Over Dems by 15 Points
Phil: Wouldn't Fly With Fetterman as Pilot
Heidi Ganahl to Newsmax: Voters 'Tired' of 'Heavy Hand of Government' | video

In instances such as Apollo, Berkshire Hathaway, Blackstone or others, manufactured housing may only be part of their corporate interests. Note: depending on your browser or device, many images in this report and others on MHProNews can be clicked to expand. Click the image and follow the prompts. For example, in some browsers/devices you click the image and select 'open in a new window.' After clicking that selection you click the image in the open window to expand the image to a larger size. To return to this page, use your back key, escape or follow the prompts.

Jim McLaughlin to Newsmax: Dem Pollsters Skewing Results | video

Newsom: Dems Getting 'Destroyed' on Messaging
Dick Morris to Newsmax: GOP Won the Senate Today
Appeals Court Upholds N.Y.'s New Absentee Ballot Law
Pennsylvania Court: Ballots in Undated Envelopes Won't Count
GOP Candidate Diehl: Globe's Campaign Diss Wrong | video
Brian Andersson Exposes Pelosi Cover-Up, Chris Cuomo Fall | video
Peter Morici: Fed Must Raise Interest Rates More | video
Ted Cruz: Dem Panel Wants Trump's Taxes to Smear Him | video
JD Vance: Media Doesn't Decide Election, Voters Do | video
Cotton: American Decline 'Not by Accident' | video
Fred Fleitz: Putin Not Desperate Enough for Nukes | video
Newsfront
Bolsonaro Backers Call on Brazil Military to Intervene After Lula Victory
Supporters of Brazilian President Jair Bolsonaro on Wednesday held rallies to call for an armed forces intervention following the election of Luiz Inacio Lula da Silva, a move that military experts say is out of the question.The country's electoral authority on Sunday said…… [Full Story]
3 Women Arrested for Interrupting Supreme Court Arguments to Protest Abortion Ruling
Three women were arrested Wednesday and charged with violating two [Full Story]
Report: Russian Military Leaders Discussed Use of Nukes in Ukraine
Top level Russian military commanders recently held discussions about [Full Story]
Related
Russia Resumes Ukraine Grain Deal
Zelenskyy: 'I Hope Israel Will Help Us' Amid Russian-Iranian Cooperation
Unmonitored Capitol Police Cameras Caught Pelosi Break-In
Capitol Police cameras captured the break-in at the home of House [Full Story]
Related
Hillary Clinton: GOP Rhetoric a 'Threat to the Heart of Our Democracy'
Man Accused of Attacking Paul Pelosi on a 'Suicide Mission'
Capitol Police Chief Calls for Resources After Pelosi Attack
Parkland School Killer Formally Sentenced to Life in Prison
Parkland school shooter Nikolas Cruz formally received a sentence of [Full Story]
Tlaib Denounces Israel on Behalf of Terrorist Front Groups, Video Shows
Rashida Tlaib, D-Mich., endorsed several organizations that [Full Story] | Platinum Article
Dow Tumbles 505 Points, Yields Rise as Powell Sticks to Hawkish Stance
U.S. stocks ended a volatile session lower while Treasury yields were [Full Story]
Musk Praises Twitter Fact Check, Insists on Accuracy
Elon Musk praised a Twitter information box that provides context on [Full Story]
Related
Musk: 'Few More Weeks' Before Twitter Restores Banned Users
Drone 'Proxy War' Scrum Descends on Ukraine
The Predator and Reaper drones operated by the CIA and the Air Force [Full Story] | Platinum Article
Ukrainian Steel Company Saves American Jobs
When the first Russian troops showed up in their backyard, the [Full Story]
Ayatollah Khamenei: US 'Vulnerable' as East Rises
Iranian Supreme Leader Ayatollah Ali Khamenei declared Wednesday that [Full Story]
Study: Majority of Dry Shampoos Contain Cancer Causing Substance
Researchers at a Connecticut laboratory report that seven out of ten [Full Story]
Les Moonves, Paramount to Pay $9.75M for Sexual Misconduct
Former CBS chief Leslie Moonves and Paramount will have to dish out [Full Story]
Fitzgerald to Newsmax: Soft-on-Crime Dems Will Feel Election Day Pain
Scott Fitzgerald, R-Wis., says it's too late for the Democratic [Full Story] | video
Man Charged With Threatening Illinois GOP Gov. Candidate Bailey
A Chicago man has been charged with making threats towards a public [Full Story]
Fed Drops 4th Jumbo Hike, Hints at Pullback
The Federal Reserve pumped up its benchmark interest rate Wednesday [Full Story]
Monkeypox Public Health Emergency Renewed
Xavier Becerra, Department of Health and Human Services Secretary,on [Full Story]
Voters Evenly Split on Steve Bannon Jail Time: Rasmussen Reports
About half of Likely U.S. voters would approve if former White House [Full Story]
House GOP Calls for Border Patrol Chief's Ouster
House Republicans are calling for the resignation of Customs and [Full Story]
Israel's Netanyahu: 'On the Verge of a Very Big Victory'
Former Israeli Prime Minister Benjamin Netanyahu appeared headed [Full Story]
Related
Video Report: Benjamin Netanyahu Has a Historic Night |video
Dan Snyder Hires Bank to Help Sell Commanders
Dan and Tanya Snyder have hired BofA Securities to help with a [Full Story]
GOP Buys Ads to Target Blue House Seats in Illinois, New York
The Congressional Leadership Fund (CLF), the House GOP's top [Full Story]
United Pilots Reject Labor Deal, Holiday Strike Possible
United Airlines pilots overwhelmingly voted against a tentative [Full Story]
North Korea Fires 23 Missiles Amid Mounting Tension With South
North Korea fired at least 23 missiles into the sea on Wednesday, [Full Story]
Former GOP Sen. Scott Brown Hired as High School Hoops Coach
While deep-blue New England is seeking to pull off flipping some [Full Story] | video
Video Report: Parkland Shooter to Learn His Fate
Parkland shooter Nikolas Cruz will be formally sentenced after a [Full Story] | video
Biden to Speak on 'Value of Democracy'
President Joe Biden will deliver remarks Wednesday evening on threats [Full Story]
Payrolls Beat Expectations in October: ADP
S. private payrolls increased more than expected in October, [Full Story]
Yankees' Randy Levine Continues Steinbrenner Tradition
Randy has a reputation in sports for being a very tough individual, [Full Story]
CVS, Walmart, Walgreens Settle Opioid Suits for $13.8B
CVS Health Corp., Walgreens Boots Alliance Inc. and Walmart Inc. have [Full Story]
White House Announces $13.5B Aid for Home Energy Bills
President Joe Biden's administration will make $13.5 billion [Full Story]
Finance
Fed Drops 4th 0.75% Jumbo Hike But Hints at Pullback
The Federal Reserve pumped up its benchmark interest rate Wednesday by three-quarters of a point for a fourth straight time but hinted that it could soon reduce the size of its rate hikes…. [Full Story]
Germany Moves Ahead With Massive Energy Relief Package
Michael Busler: Fed Makes Another Jumbo Hike. More Aggressive Hikes to Come.
CBS, Moonves Settle Sexual Misconduct Claims for $9.75M
New Englanders to Pay Through Frozen Noses for Energy
More Finance
Health
Alcohol to Blame for 1 in 5 Young Adult Deaths in US
For anyone who thinks alcoholism isn't a deadly disease, a new government report shows alcohol abuse caused nearly 13% of deaths in American adults under 65 between 2015 and 2019. The statistics were even more grim among younger U.S. adults: In people aged 20 to 49, alcohol… [Full Story]
Shingles Raises Your Risk For Stroke
Science Proves Laughter Really Is the Best Medicine
Poll: Most Americans Admit to Driving While Drowsy
Poor Sleep Linked to Increased Risk for Glaucoma
===================================
NOTE 1: The 3rd chart above includes the Canadian stock, ECN, which purchased Triad Financial Services, a manufactured home industry lender
NOTE 2: Drew changed its name and trading symbol at the end of 2016 to Lippert (LCII).
NOTE 3: Deer Valley was largely taken private, say company insiders in a message to MHProNews on 12.15.2020, but there are still some outstanding shares of the stock from the days when it was a publicly traded firm.  Thus, there is still periodic activity on DVLY.
Note 4: some recent or related reports to the equities named above follow.
Cavco Industries Announces Planned Buyout of Manufactured Home Builder and Manufactured Housing Retailer Solitaire Homes, Official Statement and Information Beyond the New Release
Triad Financial Services Q2-2022 FINANCIAL RESULTS, per ECN Capital – Several Bright Spots in Manufactured Home Market Highlighted, Including Communities, Retail, Land-Home, Floor; MHStocks Update
'Blackrock Weaponizing ESG'– State AGs Probe MHCommunities Owner, Private Equity Giant Blackrock on Possible Antitrust, Securities, Fiduciary Violations, See AGs' Document; plus MHStocks Update
Truist, Other Investors Increase Multi-Million Dollar Stakes in Legacy Housing Corporation (LEGH), Corp Update by CEO Duncan Bates, with Added Facts, Analysis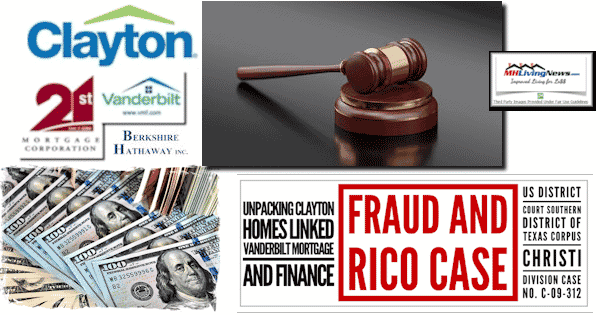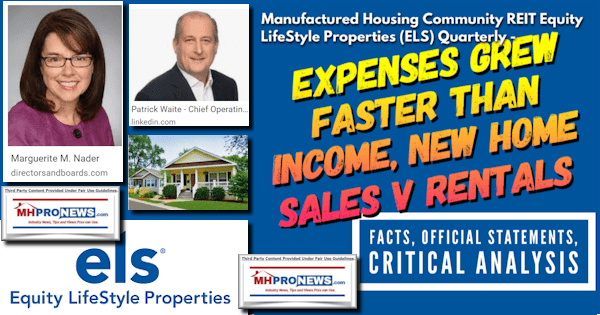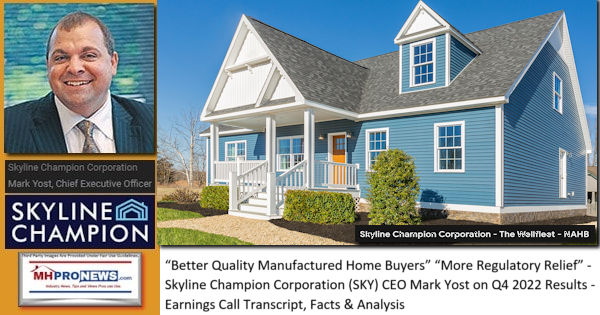 Manufactured Home Communities (a.k.a. 'Mobile Home Parks' – SIC) – Exploring UMH Properties; Fellow Manufactured Housing Institute Member Yes! Communities Suits and Settlements; plus MH Markets Updates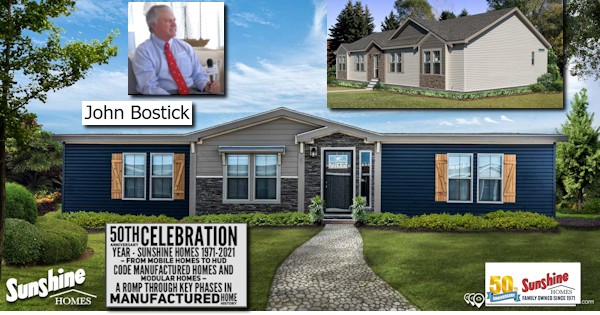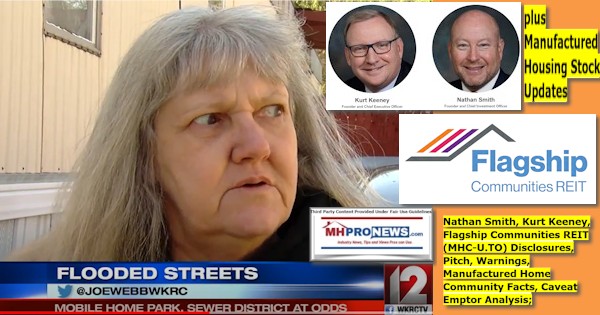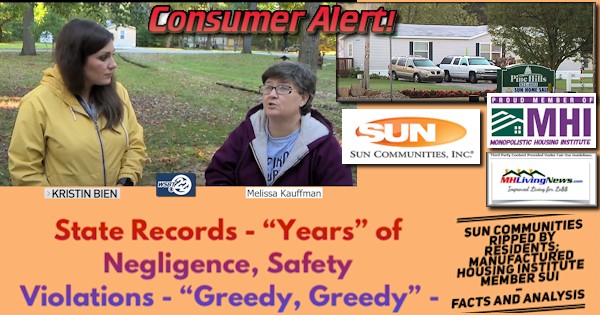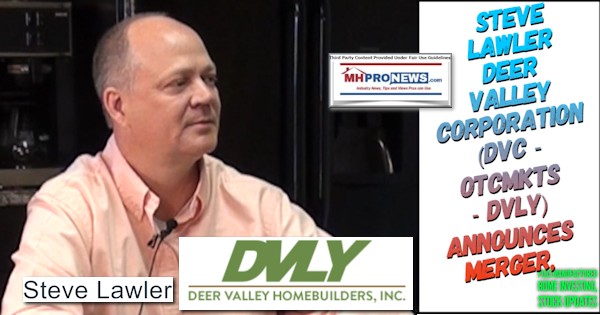 2022 …Berkshire Hathaway is the parent company to Clayton Homes, 21st Mortgage, Vanderbilt Mortgage and other factory-built housing industry suppliers.
· LCI Industries, Patrick, UFPI, and LP each are suppliers to the manufactured housing industry, among others.
· AMG, CG, and TAVFX have investments in manufactured housing related businesses. For insights from third-parties and clients about our publisher, click here.
Disclosure. MHProNews holds no positions in the stocks in this report.
· For expert manufactured housing business development or other professional services, click here.
· To sign up in seconds for our industry leading emailed headline news updates, click here.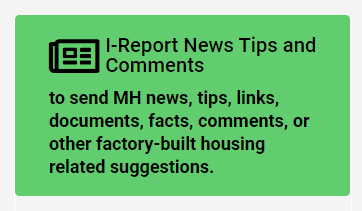 That's a wrap on this installment of "News Through the Lens of Manufactured Homes and Factory-Built Housing" © where "We Provide, You Decide." © (Affordable housing, manufactured homes, stock, investing, data, metrics, reports, fact-checks, analysis, and commentary. Third-party images or content are provided under fair use guidelines for media.) (See Related Reports, further below. Text/image boxes often are hot-linked to other reports that can be access by clicking on them.)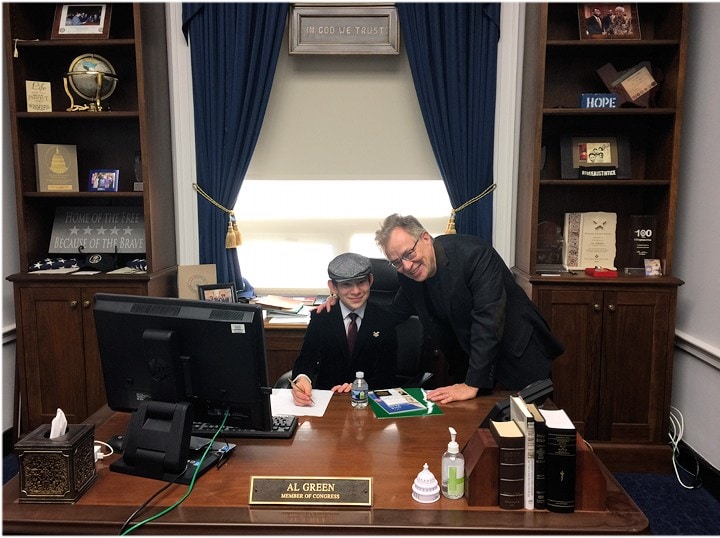 By L.A. "Tony" Kovach – for MHProNews.
Tony earned a journalism scholarship along with numerous awards in history. There have been several awards and honors and also recognition in manufactured housing. For example, he earned the prestigious Lottinville Award in history from the University of Oklahoma, where he studied history and business management. He's a managing member and co-founder of LifeStyle Factory Homes, LLC, the parent company to MHProNews, and MHLivingNews.com. This article reflects the LLC's and/or the writer's position and may or may not reflect the views of sponsors or supporters.
Factual and Viewpoint Insights from August 2022 in MHVille Manufactured Housing Pros, Public Officials, Investors, and Curious People Seeking Affordable Manufactured Home Knowledge and Trends