In a media release from the National Association of Realtors (NAR) is the June 2021 report entitled "Housing is Critical Infrastructure:  Social and Economic Benefits of Building More Housing." NAR's report was authored by Rosen Consulting Group (RCG). Following the release, along with some fascinating items drawn from the body of the NAR/RCG report "Housing is Critical Infrastructure: Social and Economic Benefits of Building More Housing" will be additional information, MHProNews analysis and commentary in brief.
As a tease, their premise is sound. What is missing is what's revealing and insightful.
From the NAR's media release is the following.
Highlights
This report, released by the National Association of Realtors® and authored by the Rosen Consulting Group, highlights the vast underbuilding gap in the U.S. and the consequences of underinvesting in housing. Following decades of underbuilding and underinvestment, the U.S. faces an acute shortage of available housing, an ever-worsening affordability crisis, and an existing housing stock that is aging and increasingly in need of repair—all to the detriment of the health of the public and the economy. The scale of underbuilding and the existing demand-supply gap is enormous and will require a major national commitment to build more housing of all types by expanding resources, addressing barriers to new development and making new housing construction an integral part of a national infrastructure strategy.
Policy Considerations
Measurable progress will require strategies that support housing of all shapes and sizes across the full income spectrum. Housing infrastructure investments should seek to:
Address large shortages in capital and lending for the development of affordable housing by expanding resources and maximizing the potential of existing programs.
Incentivize shifts in local zoning and regulatory environments to substantially increase the quantity and density of developable residential space. Additional recommendations for zoning and permitting policy reform can be found in a separate study unveiled by NAR earlier this year, State and Local Policy Strategies to Advance Housing Affordability.
Increase housing supply by promoting conversions of older or underutilized commercial space.
Expand capacity for residential construction by applying federal resources to help address construction capacity challenges such as rising construction costs and labor and materials shortages.
Perhaps most importantly, addressing the national underbuilding gap will require a coordinated approach to planning, funding and development of all forms of infrastructure to not only build more housing, but also build better housing that will be more inclusive and well-integrated into local communities. In particular, mechanisms to achieve these goals include strengthening and expanding the existing Affirmatively Furthering Fair Housing (AFFH) framework, a comprehensive recognition of the need for genuine community engagement in all types of infrastructure development and systematic adoption of planning tools such as fair housing and equity impact analyses."

 
From the Rosen Consulting Group (RCG) report itself, linked here, is the following purported data points.
Underbuilding Housing
While the total stock of U.S. housing grew at an average annual rate of 1.7% from 1968 through 2000, the U.S. housing stock grew by an annual average rate of 1% in the last two decades, and only 0.7% in the last decade.
The large gap in housing production contributed to an escalation in the cost of renting and rapid house-price increases—often the largest expense for households—exacerbating a growing affordability crisis in many parts of the country.
Even inclusive of the mid-2000s construction boom period, compared with the prior historical period (1968-2000) when housing completions averaged approximately 1.5 million housing units per year, the underbuilding gap in the U.S. totaled more than 5.5 million housing units in the last 20 years.
Alternatively, when the loss of existing units, through demolition, natural disaster or functional obsolescence is combined with the underproduction of new housing units relative to household formation, the implied cumulative housing demand supply gap totals 6.8 million units.
Comparing the last two decades of annual housing production with the prior historical period (1968-2000), every major region of the country heavily underbuilt housing.
In order to fill an underbuilding gap of at least 5.5 million housing units during the next 10 years, while accounting for historical growth, building would need to accelerate to a pace that is well above the current trend, to more than 2 million housing units per year. This would represent an increase of more than 700,000 units per year, or approximately 60%, relative to the pace of housing production in 2020 of less than 1.3 million units.
Negative Consequences of the Underbuilding Gap
Historically, from 1968 to 2020, the sector of economic activity that includes housing construction and renovation, residential fixed investment (RFI), accounted for approximately 5.0% of total GDP. However, during the past 12 years (since 2008), RFI accounted for only 3.0% of GDP, representing a significant decline in investment in housing infrastructure relative to the size of the national economy.
In terms of lost economic activity, this prolonged shortfall in residential fixed investment translated to a $4.4 trillion gap in housing investment during the past two decades (2001-2020), compared with a business-as-normal scenario in which residential investment remained at the long-term average of 5% of GDP (1960-2020).
Underbuilding and the growing affordability crisis dramatically limited the pace of household formation, particularly among millennials in the past decade.
In fact, the number of adults aged 25 to 34 years living at home with parents surged by 2.5 million since 2010 and more than doubled from 2000 to 2020, increasing by 4 million people.
The underbuilding gap dramatically shifted the age of the existing U.S. housing stock during the past two decades, increasing ongoing maintenance costs and making it more likely that these units will begin to reach the point of functional obsolescence in the coming years, a factor that would further reduce available housing.
Underbuilding placed a significant strain on the for-sale housing market in recent years, as the inventory of homes available for sale steadily declined prior to the pandemic.
More recently, the COVID-19 pandemic greatly exacerbated this issue. In January 2021, the months' supply of inventory plunged to 1.9 months, or 1.0 million homes available—the lowest level since tracking began in 1999—and one third of the historical average. Inventories remained extremely low through March.
Perhaps most critically, the extreme shortage of for-sale inventory contributed to an untenable scenario in which robust demand is competing for a limited supply, driving housing prices higher, reducing affordability and making homeownership less accessible for low-and-moderate-income households.
The demand-supply gap in housing during the last two decades, and a constrained supply of housing units generally, fueled rapid price increases that outstripped income growth across the country. The significantly more rapid pace of home-price growth meant that many households were no longer able to afford the monthly payments needed to purchase the median-priced home."
##
There are several interesting points from the above. One that is almost mind-blowing is that Rosen Consulting Group (RCG) having acknowledged the big need at the lower end of the housing cost scale utterly fails to mention manufactured housing at all.
MHProNews has reached out to RCG for a comment on that point yesterday afternoon. Time will tell if they respond or not.
That said, while the RCG insights in their report for NAR are interesting, it must be noted that several sources have published contradictory claims on matters of how much the housing shortfall is. For instance. Fannie Mae's research claimed on May 7,2021 that shortage: "Exhibit 1 shows the updated target housing stock numbers. As of the fourth quarter of 2020, the U.S. had a housing supply deficit of 3.8 million units."
By contrast, NAR's own Chief Economist, Lawrence Yun, Ph.D. said a few years ago that the need was over 8 million units. Given that the bulk of the sources that track construction vs. demand agree that there is an ever-widening gap each year, perhaps someone should do a study that examines the disparity between these various sources? Claims range from about 4 million to over 8 million housing units needed.
Note that per Statista, on Apr 8, 2021 "In 2020, there were approximately 43 million housing units occupied by renters in the United States." HUD Code manufactured home producers-sellers take note. There are potentially millions of possible prospects for affordable HUD Code manufactured home sales. If RCG is correct, "demand supply gap totals 6.8 million units" is certainly a market big enough to encourage a large boost in sales, so long as zoning/placement/finance/image issues are addressed.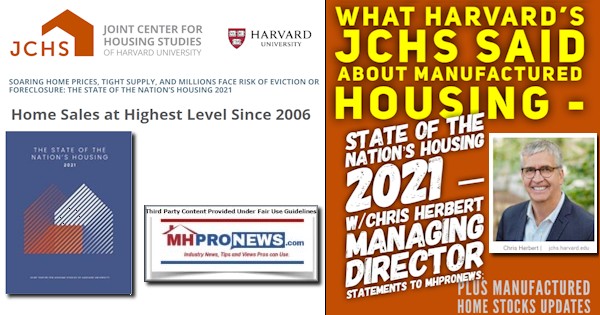 Following the Harvard Joint Center for Housing Studies (JCHS) "State of the Nation's Housing 2021," this is the second significant report in recent weeks that fail to properly engage on the obvious manufactured housing solution. How does someone who strains to believe the Manufactured Housing Institute's (MHI) claims explain two big misses by third party researchers? Are they not among the "millions" MHI claims engaged with their various 'media' efforts?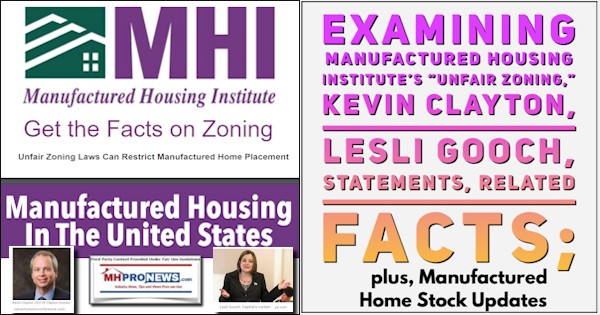 The embarrassment of MHI and their corporate masters is illustrated by such examples. For more, see the linked reports. Following those are the left-right headlines and manufactured housing market snapshot for June 28, 2021, further below.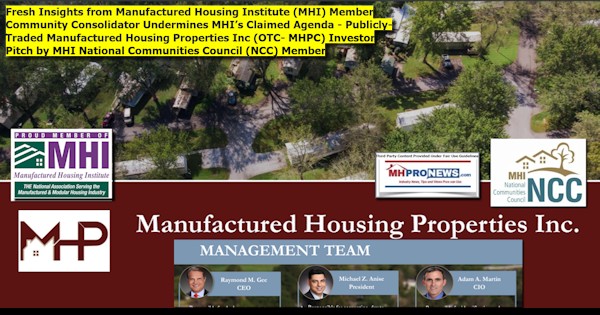 ###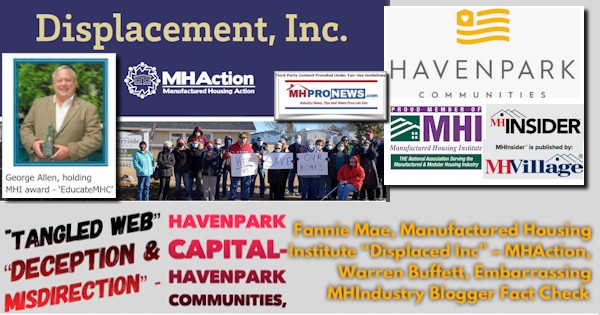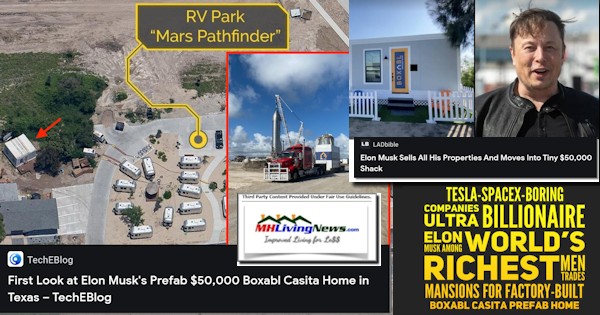 Next, is our evening market report and related left-right headlines.
The Business Daily Manufactured Home Industry Connected Stock Market Updates.  Plus, Market Moving Left (CNN) – Right (Newsmax) Headlines Snapshot. While the layout of this business daily report has recently been modified, several elements of the basic concepts used previously are still the same. The headlines that follow below can be reviewed at a glance to save time while providing insights across the left-right media divide. Additionally, those headlines often provide clues as to possible 'market moving' items.
Market Indicator Closing Summaries – Yahoo Finance Closing Tickers on MHProNews…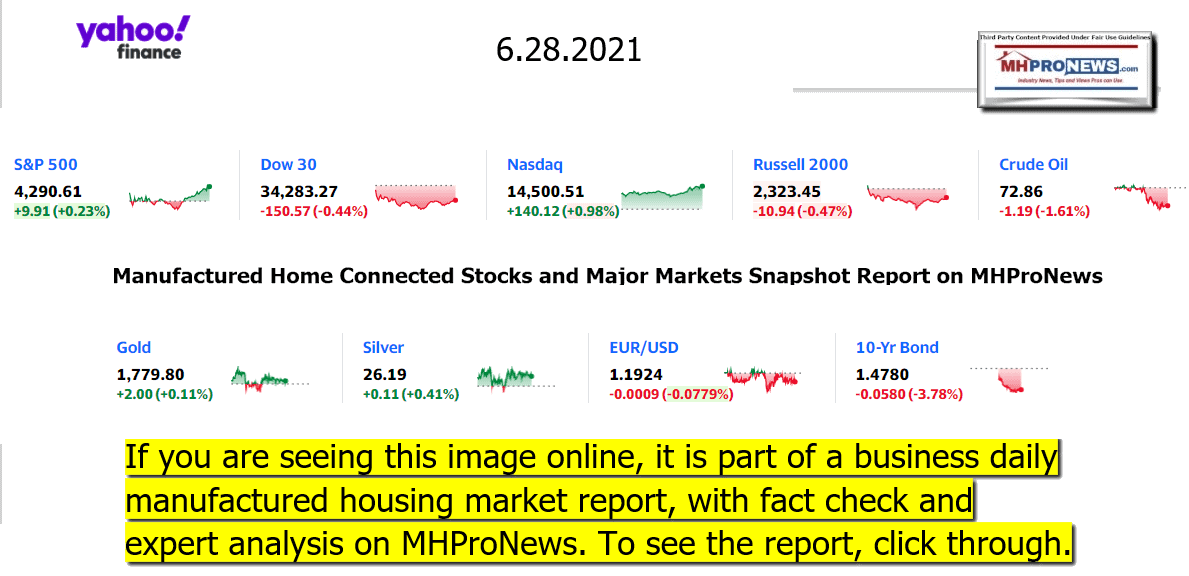 Headlines from left-of-center CNN Business = evening of 6.28.2021
Upbeat signs
People congregate in front of the decorations during the Macy's Flower Show at Macy's Herald Square amid the coronavirus pandemic on May 02, 2021 in New York City.
America's Covid-induced recession has been painful, but it may already be over
This Wall Street bank is bucking the back to office trend
Regulators are keeping a close watch on crypto as it attempts a comeback
UK financial watchdog bans crypto exchange Binance
Wall Street is bracing for a summer of record-breaking deals
Meet the short seller who hopes stocks crash and burn
Almost every Tesla made and sold in China is being recalled
Here's what employers can ask about your vaccination status — and what they can't
Opinion: CEOs have a responsibility to demand that the Senate pass the Equality Act
How to protect your nest egg from inflation
4 companies affected by security breaches in June
Content by LendingTree
Make the switch from a 30 to 15-year mortgage
Shoppers lining up at the Burberry store in Chadstone Shopping Centre during the Boxing Day. (Photo by Alexander Bogatyrev / SOPA Images/Sipa USA)(Sipa via AP Images)
Burberry shares tumble after CEO resigns to join rival
The Ford Bronco is finally here and Jeep should be worried
'F9' nabs the biggest box office opening since 2019
CONSUMER TRENDS
Weddings are making a huge comeback and couples are 'panic booking'
Gender neutral clothes are the next big thing in fashion
How luxury jewelry is bouncing back in Asia
There's a chicken wing shortage
America loves to-go cocktails. This state won't allow them anymore
THE BUSINESS OF FITNESS
A free Peloton membership could be your newest work benefit
Peloton's app is getting cheaper for millions of people
Virtual fitness classes aren't going anywhere
Inside Equinox's transformation
Equinox's executive chairman: Mask free has driven strong demand
Headlines from right-of-center Newsmax – evening of 6.28.2021
South Dakota Gov. Noem Visits Mount Rushmore, Blames Biden for No Fireworks
Fireworks at Mount Rushmore on July 3 last year. South Dakota Gov. Kristi Noem is displeased that there won't be a repeat of the spectacle under the Biden administration. (AP)
Newsmax TV
Mark Morgan: Trump Will Visit Border Epicenter, Not Like Harris
Surfside Mayor: More 'Luck' Needed in Collapse Rescue |
Alan Dershowitz: Giuliani Got No Due Process in Suspension |
Bolton: Israel's New Leaders May Give Biden 'Out' on Iran Deal |
Mark Meadows: VP Harris 'the Great Pretender' |
Ex-Rep. Doug Collins: DOJ's Georgia Lawsuit a 'Cover-Up' |
Ken Cuccinelli: Biden Border Plan a Plot to Add Dem Votes |
More Newsmax TV
Newsfront
Clarence Thomas: Federal Marijuana Laws Might Be Outdated
Justice Clarence Thomas on Monday said federal laws against the sale or cultivation of marijuana might be unconstitutional due to the federal government's inconsistent approach toward the drug…… [Full Story]
Chicago Data Appears to Contradict Lightfoot's Claim of Decline in Crime
Crime data compiled by the Chicago Tribune shows that more people [Full Story]
Mark Morgan to Newsmax: Trump Will Visit Border Epicenter, Not Like Harris
Former President Donald Trump's upcoming visit to the [Full Story] |
Supreme Court Hands Transgender Student a Win in School Bathroom Case
The U.S. Supreme Court on Monday declined to take up a major [Full Story]
Related
US Supreme Court Rejects Defense Contractor's Abu Ghraib Torture Appeal
Supreme Court Revives Excessive-Force Suit Against St. Louis Police
Supreme Court Rebuffs 'Number of the Beast' Religious Dispute
DeSantis 'Very Wary' of Trump Ahead of 2024
Florida Gov. Ron DeSantis is reportedly "very wary" that his [Full Story]
Tackling the Terror Groups That Love Bitcoin
Bitcoin and other cryptocurrencies are either a fad or the future of [Full Story] |
Newsmax Confronts Chicago Mayor: 'You've Lost Control' of City
Chicago's Democrat Mayor Lori Lightfoot got heated during a news [Full Story]
Acclaimed Host Eric Bolling Joins Newsmax Lineup
Boca Raton, Fla-Newsmax, America's fastest growing cable news [Full Story]
Bible of Pilgrims, the 1599 Geneva Bible, is Needed More Than Ever.
SPONSOR: Back in print after 422 yrs.: The Patriots Bible. [Full Story]
100 Firefighters Tackle Blaze Near London's Train Station
A big fire has broken out near the central London train station of [Full Story]
Law Enforcement Warns of 'Tinderbox,' More Riots This Summer
Law enforcement in major cities across the U.S. are bracing this [Full Story] |
Question of Breyer's Future Hangs Over Supreme Court
As the Supreme Court closes out its term in the next week, the [Full Story]
Surfside Mayor to Newsmax: More 'Luck' Needed in Collapsed Building Rescue
Charles Burkett, the mayor of Surfside, Florida, told Newsmax [Full Story] |
McLaughlin Poll: Biden Slipping, Trump Remains Strong – 80% GOP Primary Vote Support
The voter optimism of the past few months has stalled in the new [Full Story]
Pfizer, Moderna COVID Vaccines Might Protect Long-Term: Researchers
The Pfizer-BioNTech and Moderna COVID-19 vaccines could protect the [Full Story]
State TV: NKoreans Worried by Kim's 'Emaciated Looks'
Heartbroken North Koreans have been worrying tearfully about leader [Full Story]
China's Cyber Ability Decade Behind US: Study
China will be unable to equal the U.S.'s cyber capabilities for at [Full Story]
Police: Shooter Who Killed 2 Black People in Massachusetts Was White Supremacist
A man who rammed a truck into an empty house in Massachusetts, then [Full Story]
Blinken and Pope Hold Talks at Vatican in Wake of Bishops' Abortion Ruling
Pope Francis on Monday held talks with Secretary of State Anthony [Full Story]
Related
Blinken Urges Stronger Focus Against Islamist Groups in Africa
US Strikes Iran-Backed Militia in Iraq, Syria
The United States said on Sunday it carried out another round of air [Full Story]
Related
Iraqi Military Issues Rare Condemnation of US Air Strikes on Syria Border
ISIS Claims Responsibility for Rocket Attack on Iraqi Power Station
Bipartisan Senators Ask About Updated Mask Guidelines For Travelers
A group of Democratic and Republican senators has sent a letter [Full Story]
Hong Kong Police Arrest Former Apple Daily Journalist at Airport
Hong Kong police arrested a former senior journalist with the [Full Story]
Toyota Defends Donating to 2020 Election Objectors
Toyota on Sunday defended its donating to GOP lawmakers who voted [Full Story]
Jim Banks: Defund Police Efforts What 'Criminals Like'
Jim Banks, R-Ind., on Sunday said President Joe Biden's plan to [Full Story]
Stephen Miller: WH Forced Out Border Chief to 'Destroy Border'
Stephen Miller, the ex-adviser to former President Donald Trump, on [Full Story]
Arkansas' Hutchinson: As Hospitalizations Spike, Vax Incentives Not Working
Arkansas GOP Gov, Asa Hutchinson said Sunday incentives to get people [Full Story]
Allies Start Giuliani Freedom Fund Against 'Weaponized' DOJ
Allies of Rudy Giuliani have started a campaign to fund former [Full Story]
Israel Stresses to US There's Serious Problems With Any Iran Deal
Israel has serious reservations about the Iran nuclear deal being put [Full Story]
Asia Experts: Senate Bill's Taiwan Position Would 'Escalate' China Conflict
The Trump administration effectively pushed China enough that the [Full Story]
Portman: Bipartisan Infrastructure Bill Popular 'For All The Right Reasons'
Rob Portman, R-Ohio, on Sunday said he was pleased that [Full Story]
Confirmed Deaths at 9 as 'Deep Fire' Slows Rescue Effort at Collapsed Surfside Condo
Fire and smoke coming from deep inside the concrete and metal remains [Full Story]
More Newsfront
Finance
Juul to Pay North Carolina $40 Million Over Claims it Targeted Youth
Juul to Pay North Carolina $40 Million Over Claims it Targeted Youth
E-cigarette maker Juul Labs Inc. has agreed to pay $40 million to North Carolina to settle a lawsuit by the state accusing it of marketing its products to minors. [Full Story]
NBA Star Risks Billions for Failing to Diversify Executive Ranks
Airline CEOs Talk, Then Talk Some More, to Coax US Flyers Back
Fired by Bot at Amazon: 'It's You Against the Machine'
Tesla Dealt Big Blow as Almost All Cars in China Need Safety Fix
More Finance
Health
New Blood Test Can Detect 50 Different Cancers
Could a DNA Blood Test Spot a Range of Hidden Cancers? Could a new one-and-done blood test designed to detect as many as 50 different types of cancer become a diagnostic game changer? Yes, say researchers, who report the method appears accurate and reliable at identifying… [Full Story]
Delta Variant a Threat to These States
Heart Failure Patients May be at Higher Cancer Risk
Dementia in the US Underdiagnosed
Survey: 25 Percent Who Lost Job in Pandemic Rate Mental Health as Poor
Manufactured Housing Industry Investments Connected Equities Closing Tickers
Some of these firms invest in manufactured housing, or are otherwise connected, but may do other forms of investing or business activities too.
NOTE: The chart below includes the Canadian stock, ECN, which purchased Triad Financial Services, a manufactured home industry lender
NOTE: Drew changed its name and trading symbol at the end of 2016 to Lippert (LCII).
NOTE: Deer Valley was largely taken private, say company insiders in a message to MHProNews on 12.15.2020, but there are still some outstanding shares of  the stock from the days when it was a publicly traded firm.  Thus, there is still periodic activity on DVLY.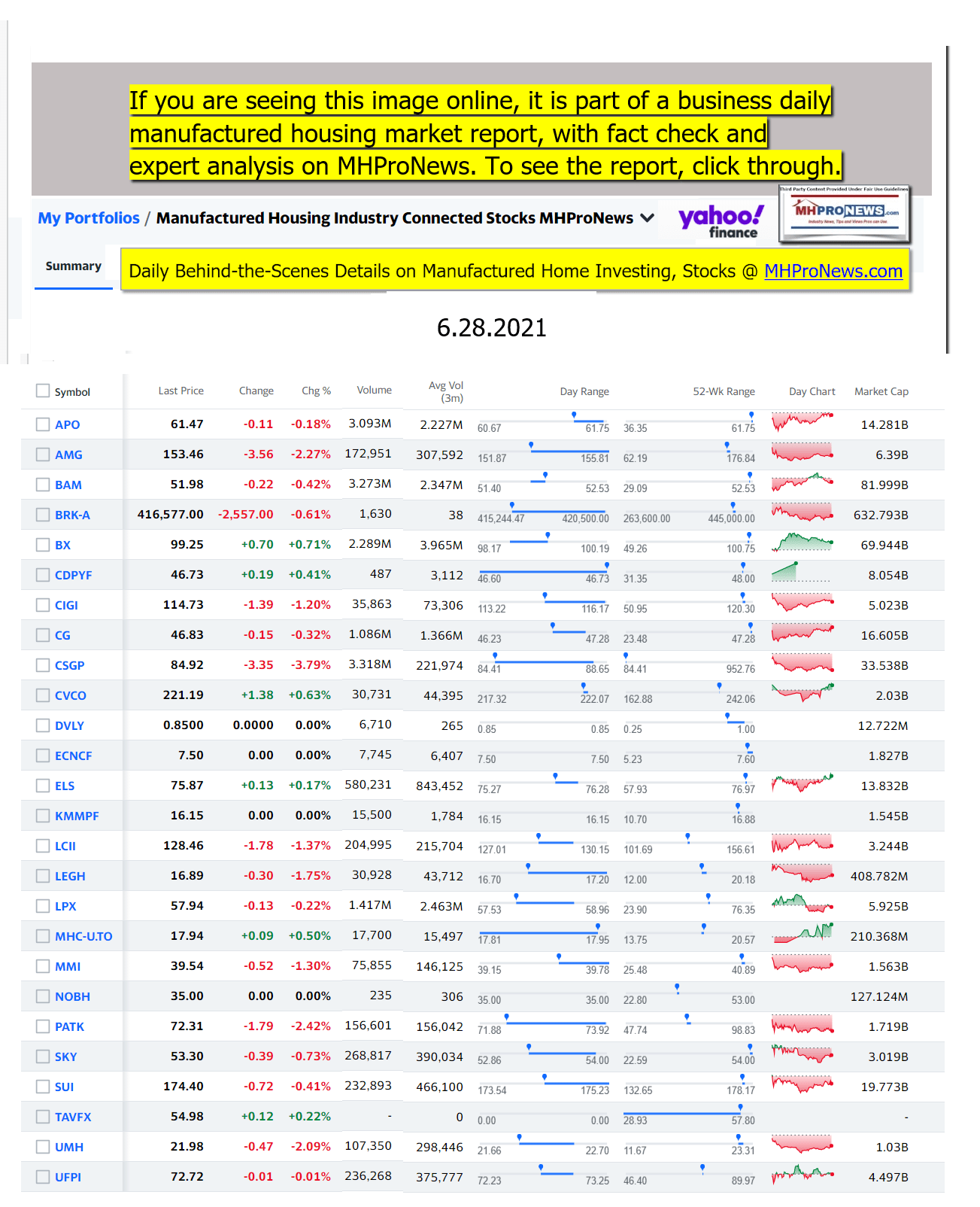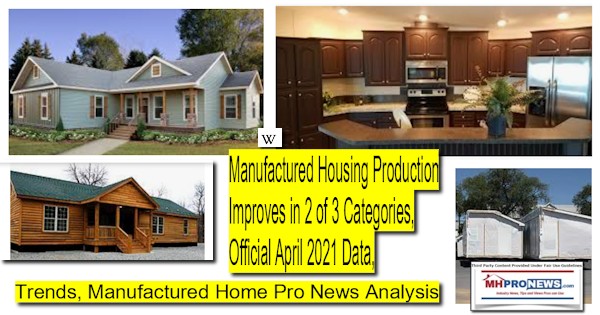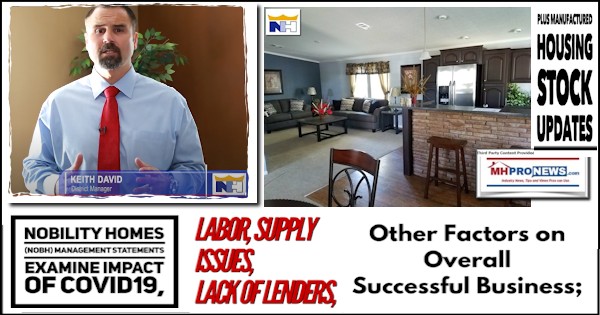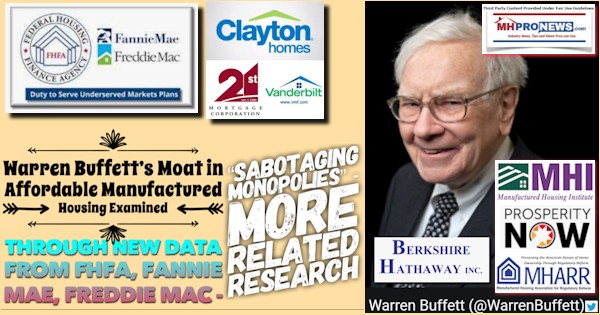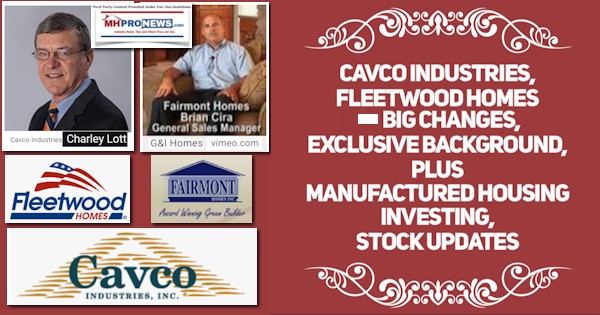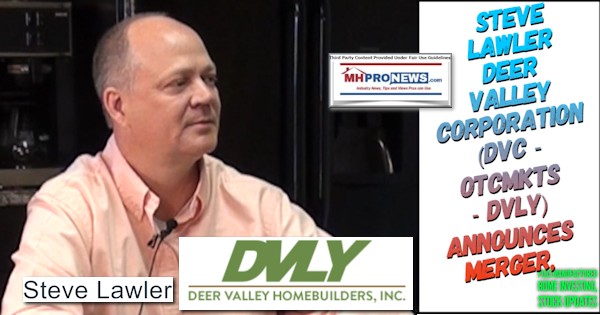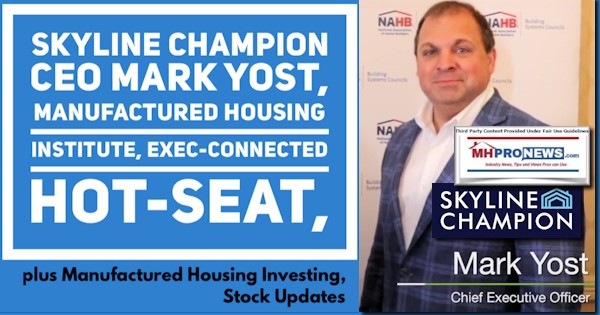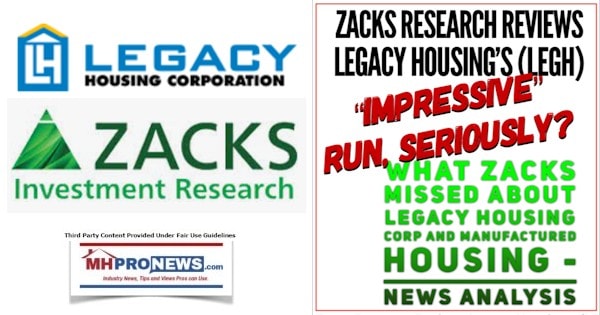 Spring 2021…
Berkshire Hathaway is the parent company to Clayton Homes, 21st Mortgage, Vanderbilt Mortgage and other factory built housing industry suppliers.
· LCI Industries, Patrick, UFPI, and LP each are suppliers to the manufactured housing industry, among others.
· AMG, CG, and TAVFX have investments in manufactured housing related businesses. For insights from third-parties and clients about our publisher, click here.
Enjoy these 'blast from the past' comments.
MHProNews. MHProNews – previously a.k.a. MHMSM.com – has celebrated our 11th year of publishing, and is starting our 12the year of serving the industry as the runaway most-read trade media.
Sample Kudos over the years…
It is now 11+ years and counting…
Learn more about our evolutionary journey as the industry's leading trade media, at the report linked below.
· For expert manufactured housing business development or other professional services, click here.
· To sign up in seconds for our industry leading emailed headline news updates, click here.

Disclosure. MHProNews holds no positions in the stocks in this report.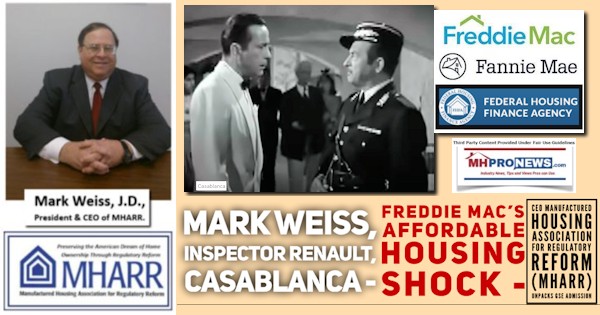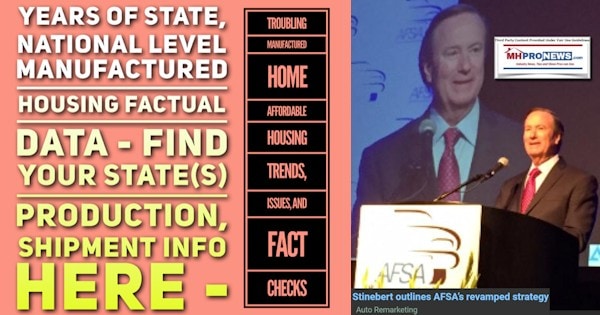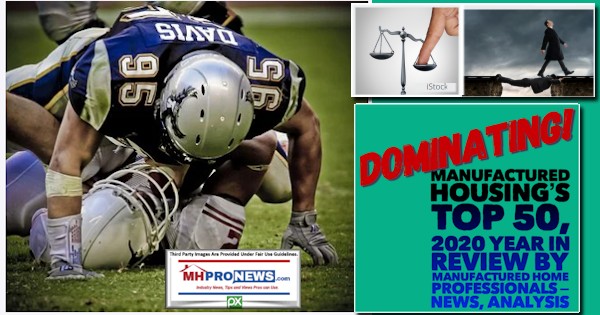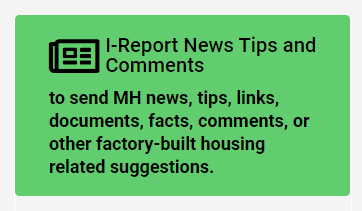 That's a wrap on this installment of "News Through the Lens of Manufactured Homes and Factory-Built Housing" © where "We Provide, You Decide." © (Affordable housing, manufactured homes, stock, investing, data, metrics, reports, fact-checks, analysis, and commentary. Third-party images or content are provided under fair use guidelines for media.) (See Related Reports, further below. Text/image boxes often are hot-linked to other reports that can be access by clicking on them.)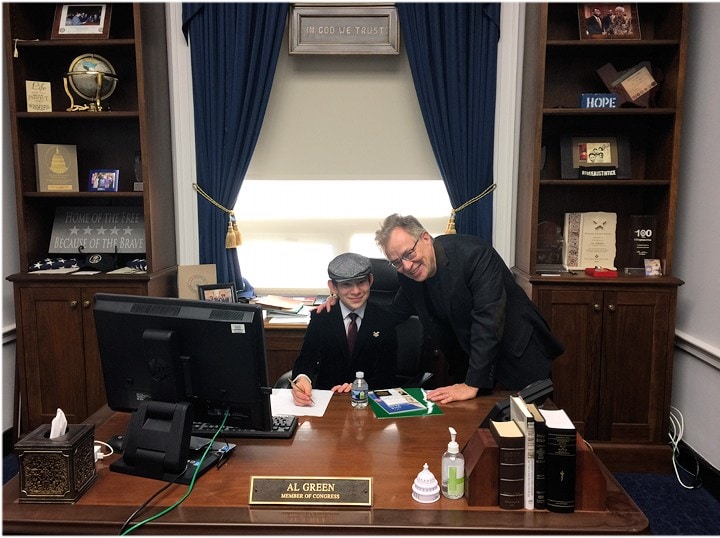 By L.A. "Tony" Kovach – for MHProNews.
Tony earned a journalism scholarship and earned numerous awards in history and in manufactured housing. For example, he earned the prestigious Lottinville Award in history from the University of Oklahoma, where he studied history and business management. He's a managing member and co-founder of LifeStyle Factory Homes, LLC, the parent company to MHProNews, and MHLivingNews.com. This article reflects the LLC's and/or the writer's position, and may or may not reflect the views of sponsors or supporters.