Fresh off their announced settlement with the Securities and Exchange Commission (SEC) over purported violations of federal law, Cavco Industries (CVCO) has announced a deal to buy independent vertically integrated manufactured home producer Solitaire Homes. Solitaire, with a headquarters in Duncan, Oklahoma, is one of the larger remaining independents in manufactured housing. Some of the implications of this planned acquisition for MHVille, Cavco shareholders, and beyond by Cavco will be unpacked following their press release.
Cavco Industries Announces Planned Acquisition of Manufactured Home Builder and Retailer, Solitaire Homes
October 27, 2022 16:05 ET | Source: Cavco Industries, Inc.

PHOENIX, Ariz., Oct. 27, 2022 (GLOBE NEWSWIRE) — Cavco Industries, Inc. (Nasdaq: CVCO) ("Cavco" or the "Company") announced today that it has signed a binding offer to acquire the business of Solitaire Homes, Inc. and other related entities (collectively "Solitaire Homes"), including its four manufacturing facilities, twenty-two retail locations and its dedicated transportation operations. Solitaire Homes is headquartered in Duncan, Oklahoma. For the calendar year ending December 31, 2021, Solitaire Homes had pro-forma earnings before taxes, depreciation and amortization of $16.5 million.
Solitaire has over 950 employees and operates manufacturing facilities in New Mexico, Oklahoma and Mexico. The New Mexico and Mexico facilities produced nearly 1,600 homes in calendar year 2021. The Duncan, Oklahoma facility was recently reopened in 2022. For its two Mexico facilities, a dedicated warehouse in Presidio, Texas acquires and stores raw materials, which are then assembled directly across the border in Ojinaga, Mexico. Retail stores are located in New Mexico, Oklahoma and Texas and exclusively sell homes built by Solitaire Homes manufacturing facilities. Solitaire Homes' transportation business enables them to control the delivery of its homes and reduces reliance on third parties.
The purchase price totals $93 million, before certain adjustments that will be determined upon close of the transaction. Cavco expects to fund the acquisition entirely with cash on hand. The transaction is expected to close early in the Company's fourth quarter of fiscal year 2023, subject to applicable regulatory approvals and the satisfaction of certain customary conditions.
Cavco's President and Chief Executive Officer Bill Boor said, "Pete Hogstad and the Elliott family have built a strong company with a well-deserved reputation for quality homes. The addition of Solitaire Homes to our existing manufacturing and retail system strengthens our position in the Southwest and expands our manufacturing capabilities into Mexico. We look forward to working with the Solitaire team to continue building on their record of success."
Solitaire Homes' President D.J. Hogstad commented, "We are very pleased to be joining Cavco. The combination of our companies will provide new and exciting opportunities to continue the growth we have experienced in recent years, not only for our appreciated customers, but also our valued employees."
Highlights of the proposed transaction:
Financial Impact: Cavco expects this proposed acquisition to be accretive to earnings and cash flow from operations.
Cross-Border Manufacturing: Solitaire Homes has successfully operated a cross border plant for over thirteen years, providing low cost production for the U.S. market.
Geographic Footprint and Complementary Product: The addition of the Solitaire Homes plants provides added coverage and scale in the Southwest with high quality products that complement our existing home offerings. The geographic and product positioning fits extremely well with our existing network.
Potential for operational and revenue synergies: Shared best practice implementation will create significant manufacturing cost and efficiency improvements. Additionally, product mix across the combined retail network will be optimized.
Capital Allocation: Following this strategic deployment of existing cash, Cavco will still maintain a significant cash position available for other strategic investments.
TN Capital Advisors LLC ("True North") acted as exclusive financial advisor and Polsinelli served as legal advisor to Cavco for the transaction. Hartzog Conger Cason served as legal advisor to Solitaire Homes.
Conference Call and Webcast Details
Cavco's management will hold a conference call and webcast to discuss the transaction tomorrow morning, October 28, 2022, at 9:45 a.m. (Eastern Time). Interested parties can access a live webcast of the conference call on the Internet at https://investor.cavco.com or via telephone. To participate by phone, please register via this link to receive the dial in number and your PIN. An archive of the webcast and presentation will be available for 60 days at https://investor.cavco.com.
About Cavco
Cavco Industries, Inc., headquartered in Phoenix, Arizona, designs and produces factory-built housing products primarily distributed through a network of independent and Company-owned retailers. We are one of the largest producers of manufactured and modular homes in the United States, based on reported wholesale shipments. Our products are marketed under a variety of brand names including Cavco, Fleetwood, Palm Harbor, Nationwide, Fairmont, Friendship, Chariot Eagle, Destiny, Commodore, Colony, Pennwest, R-Anell, Manorwood and MidCountry. We are also a leading producer of park model RVs, vacation cabins and factory-built commercial structures. Cavco's finance subsidiary, CountryPlace Mortgage, is an approved Fannie Mae and Freddie Mac seller/servicer and a Ginnie Mae mortgage-backed securities issuer that offers conforming mortgages, non-conforming mortgages and home-only loans to purchasers of factory-built homes. Our insurance subsidiary, Standard Casualty, provides property and casualty insurance to owners of manufactured homes. Additional information about Cavco can be found at www.cavcoindustries.com.
About Solitaire Homes
Solitaire Homes was founded in 1965 by Jerry and Helen Elliott. It operates manufacturing facilities in New Mexico, Oklahoma and Mexico, with retail locations across New Mexico, Oklahoma and Texas. Additional information about Solitaire Homes can be found at www.solitairehomes.com.
Forward-Looking Statements
Certain statements contained in this release are forward-looking statements within the meaning of Section 27A of the Securities Act of 1933, Section 21E of the Securities Exchange Act of 1934 and the Private Securities Litigation Reform Act of 1995. In general, all statements that are not historical in nature are forward-looking. Forward-looking statements are typically included, for example, in discussions regarding the expected benefits of the acquisition of Solitaire Homes. All forward-looking statements are subject to risks and uncertainties, many of which are beyond our control. As a result, our actual results or performance may differ materially from anticipated results or performance. Factors that could cause such differences to occur include, but are not limited to: the impact of local or national emergencies including the COVID-19 pandemic, including such impacts from state and federal regulatory action that restricts our ability to operate our business in the ordinary course and impacts on (i) customer demand and the availability of financing for our products, (ii) our supply chain and the availability of raw materials for the manufacture of our products, (iii) the availability of labor and the health and safety of our workforce and (iv) our liquidity and access to the capital markets; labor shortages and the pricing and availability of transportation or raw materials; increased health and safety incidents; our ability to negotiate reasonable collective bargaining agreements with the unions representing certain employees; increases in the rate of cancellations of home sales orders; our ability to successfully integrate past acquisitions or future acquisitions; involvement in vertically integrated lines of business, including manufactured housing consumer finance, commercial finance and insurance; information technology failures or cyber incidents; our ability to maintain the security of personally identifiable information of our customers, suppliers and employees; our participation in certain financing programs for the purchase of our products by industry distributors and consumers, which may expose us to additional risk of credit loss; our exposure to significant warranty and construction defect claims; our exposure to claims and liabilities relating to products supplied to the Company or work done by subcontractors; our contingent repurchase obligations related to wholesale financing provided to industry distributors; a write-off of all or part of our goodwill; our ability to maintain relationships with independent distributors; our business and operations being concentrated in certain geographic regions; taxation authorities initiating or successfully asserting tax positions which are contrary to ours; governmental and regulatory disruption, including prolonged delays by Congress and the President to approve budgets or continuing appropriations resolutions to facilitate the operation of the federal government; curtailment of available financing from home-only lenders and increased lending regulations; the effect of increasing interest rates on our customer's ability to finance home purchases; availability of wholesale financing and limited floor plan lenders; market forces, rising interest rates and housing demand fluctuations; the cyclical and seasonal nature of our business; competition; general deterioration in economic conditions and turmoil in the financial markets; unfavorable zoning ordinances; extensive regulation affecting the production and sale of manufactured housing; potential financial impact on the Company from the recently settled regulatory action by the SEC against the Company, including potential higher insurance costs as a result of such action, potential reputational damage that the Company may suffer and the Company's potential ongoing indemnification obligations related to ongoing litigation not involving the Company; losses not covered by our director and officer insurance, which may be large, adversely impacting financial performance; loss of any of our executive officers; liquidity and ability to raise capital may be limited; and organizational document provisions delaying or making a change in control more difficult; together with all of the other risks described in our filings with the SEC. Readers are specifically referred to the Risk Factors described in Item 1A of the Company's Annual Report on Form 10-K for the year ended April 2, 2022 as may be updated from time to time in future filings on Form 10-Q and other reports filed by the Company pursuant to the Securities Exchange Act of 1934, which identify important risks that could cause actual results to differ from those contained in the forward-looking statements. Cavco expressly disclaims any obligation to update any forward-looking statements contained in this release, whether as a result of new information, future events or otherwise, as required by law. Investors should not place undue reliance on any such forward-looking statements. … ##
The videos below were not part of their press release but are videos at or near the top of a search for video content from their respective brands.
Solitaire Homes Porch Model – Sid Blevins – 27K views posted 2 years ago.
Solitaire 266 Model 2 bedroom and 2 bath – Solitaire of Lufkin – 9.8K views posted 2 years ago.
Fleetwood Homes in Rocky Mount, VA, A Cavco Company, Builds House for Homes on the Hill in Washington, DC – Watch them Fleetwood – Rocky Mount team build the Pegasus model home to show public officials and private citizens at #MHI Manufactured Home Institute's #HomesontheHill 489 views Jun 5, 2022.
Additional Information with More MHProNews Analysis and Commentary
The three Cavco (CVCO) stock-track trend graphics for 5 days, 1 year and 5 years on the right column below tell an important tale at a glance. While the law of averages would suggest that some have doubtlessly made money, for buy and hold shareholders from a purely investment perspective, Cavco Industries has surprisingly not beaten inflation over the most recent years. Indeed, during an affordable housing crisis, the 1-year trend reveals that a buy and hold investor from a year ago has lost money, even before accounting for inflation.  For emphasis, how is that feat accomplished during an affordable housing crisis?
There is a wide array of agreement that affordable housing is a dire need for millions. Manufactured housing is the most proven form of permanent housing in modern U.S. history. Which begs the question, why are Cavco's leaders behaving in an arguably lame and tame fashion? Where are their moves to press issues in Washington, D.C. or in local markets to get favorable federal laws that have only been partially implemented years after being enacted to be fully and properly implemented? That is an issue that the Manufactured Housing Association for Regulatory Reform (MHARR) has pressed, which several from the Manufactured Housing Institute (MHI) have agreed stands unaccomplished, and yet Cavco and MHI leaders have proven through video and photo ops that the access has demonstrably been there.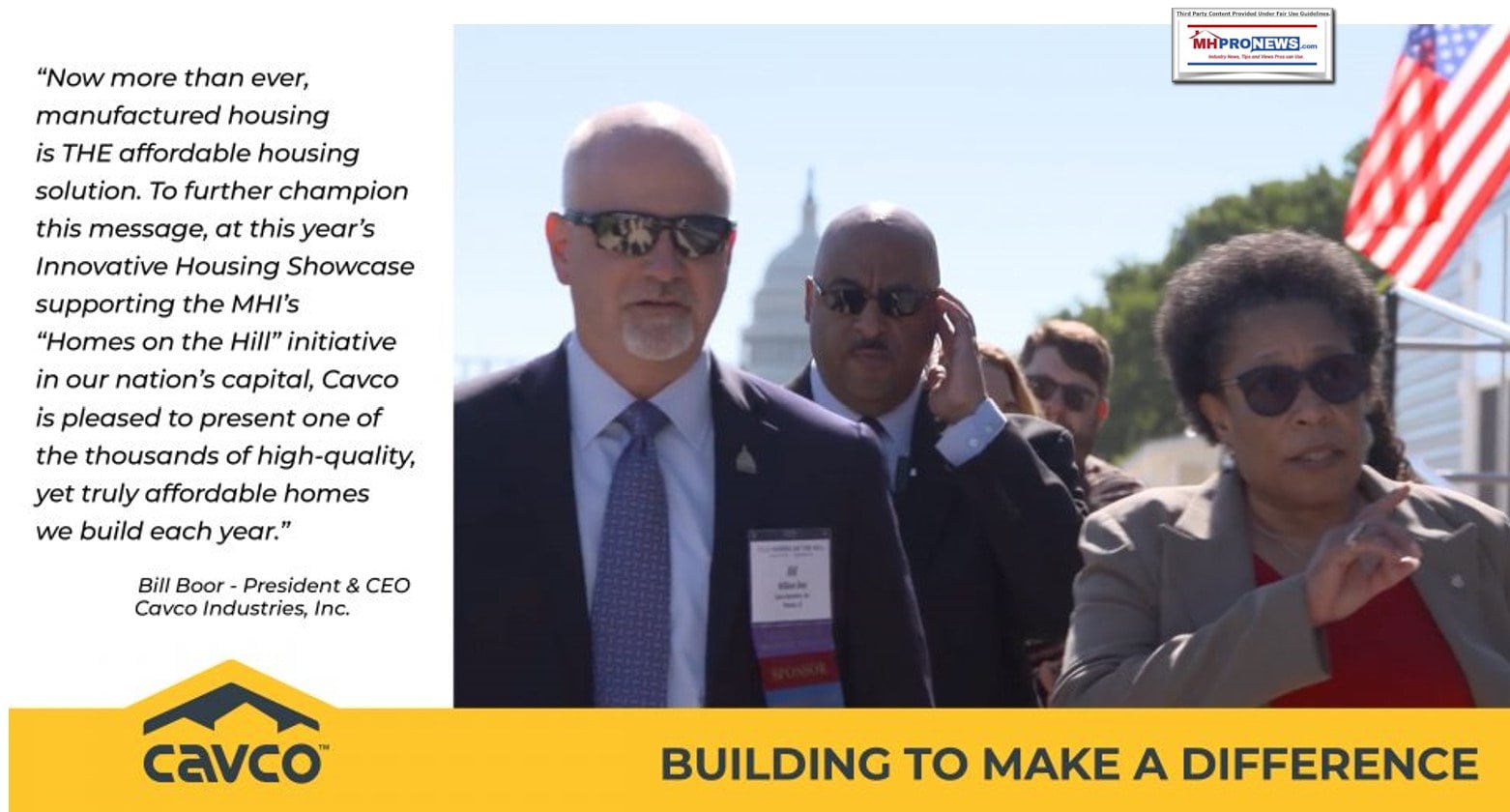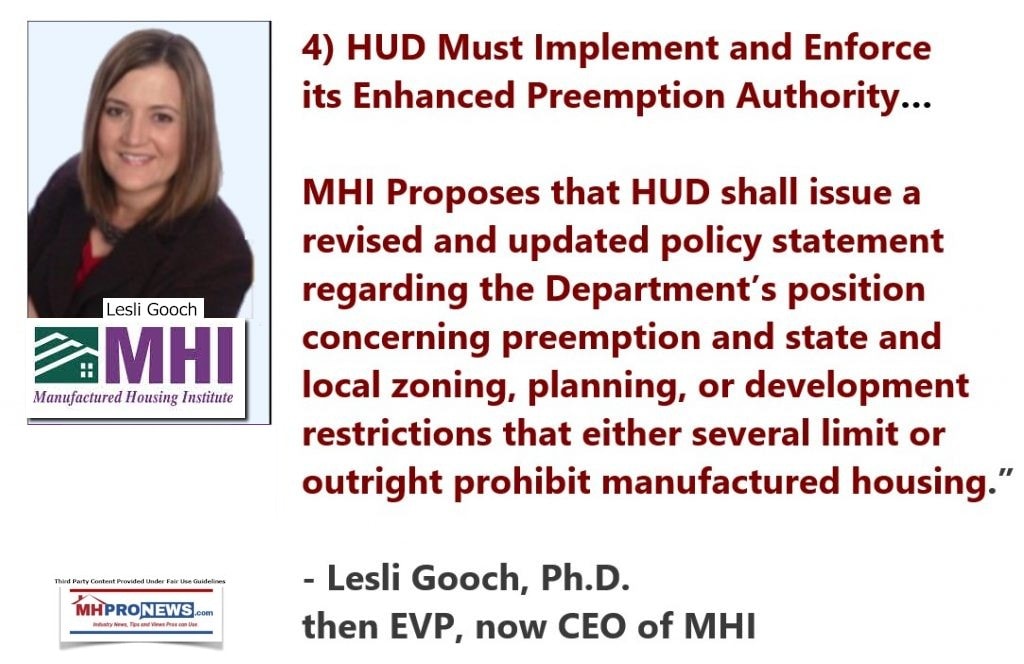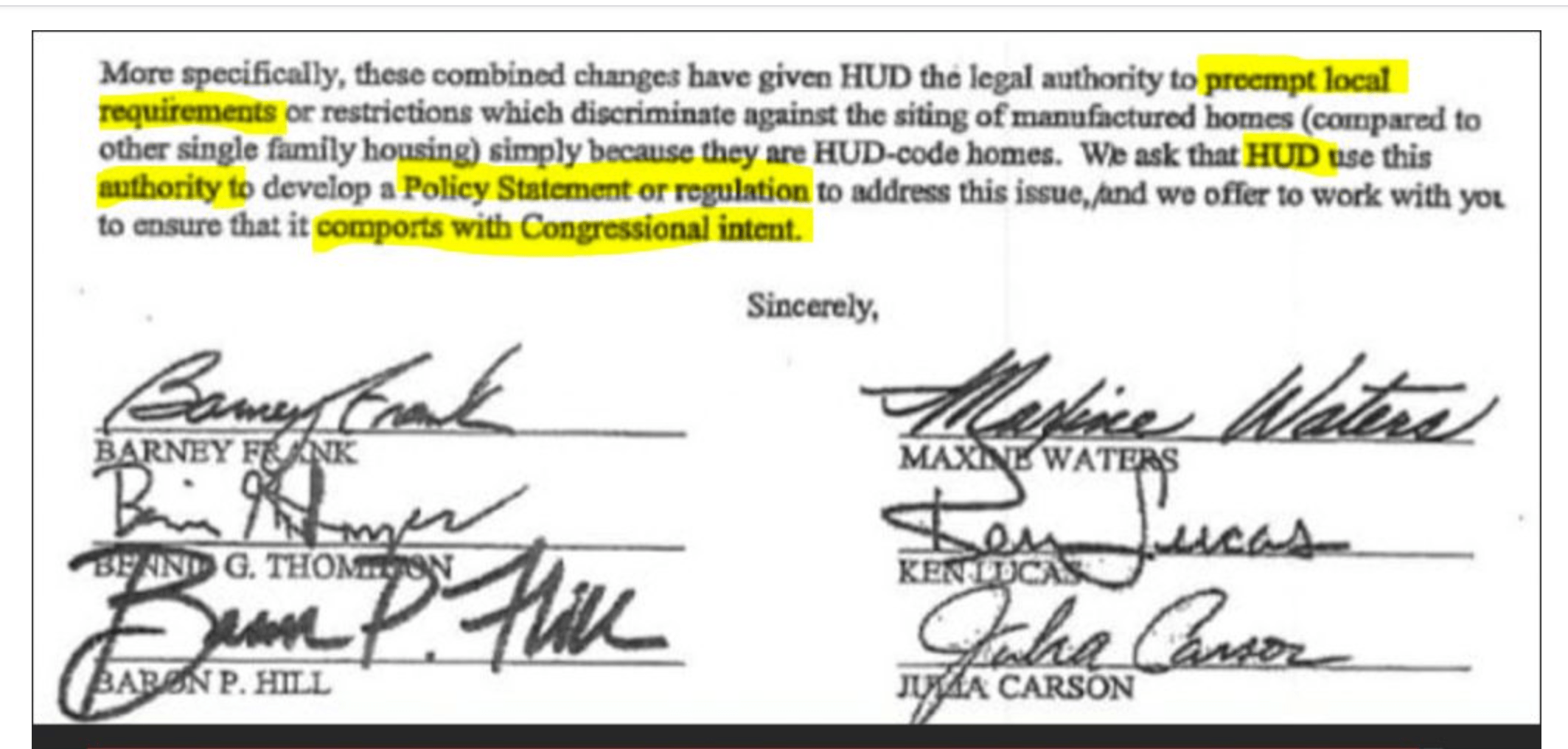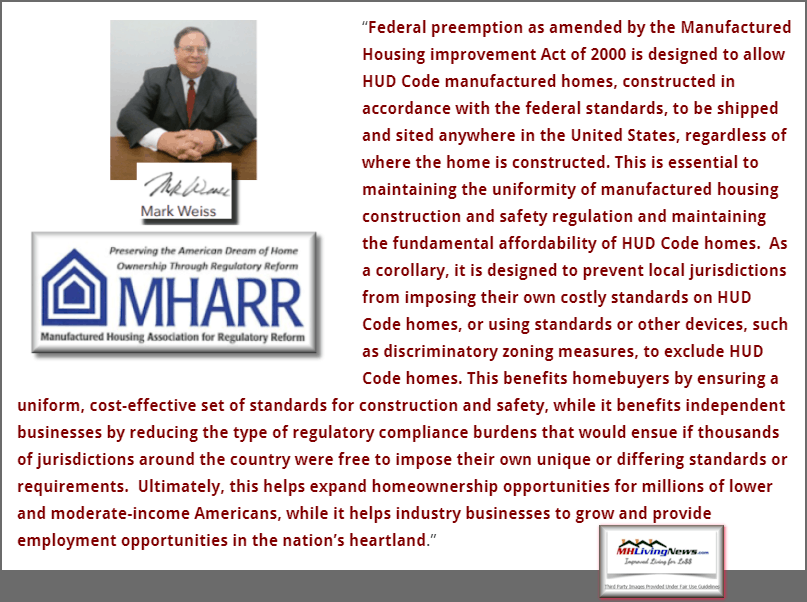 In the featured image for the article posted above, Cavco's William "Bill" Boor is walking and talking with HUD Secretary Marcia Fudge. Did they talk about the proper implementation of the "enhanced preemption" to overcome zoning barriers that HUD enjoys? If so, there is no known word about that conversation. Indeed, there is evidence from CSPAN video that Fudge won't budge. This is an issue that every Cavco shareholder should fully understand and then press that corporation's leadership for answers.  Because even Congressional hearings have probed this question. Which begs the question, what is actually occurring in the c-suites at Cavco and other top MHI member brands?
To answer that question and others related to it, consider the research performed by James A. "Jim" Schmitz Jr. Schmitz is a senior economist with the Minneapolis Federal Reserve. MHProNews has not asked him about his politics, because on one level, it should not matter. But he comes from the 'blue' state of Minnesota. He said in the comments found in the article below that the merger guidelines that are in place are a 'free pass' for corporate interests. He then he goes on to explain the concepts of how 'sabotaging monopoly' tactics are harming the poor and those with a lower income.  While true enough, Schmitz and his colleagues research also has implications for shareholders for a company that is apparently underperforming, save at consolidation which has not yet yielded after some years the type of stock value growth that it could or should.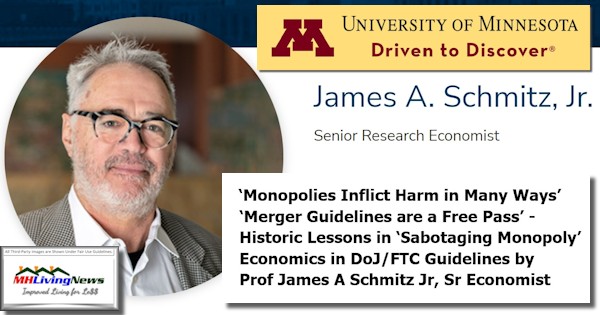 Schmitz and his colleagues have written about manufactured housing several times in recent years. Meaning, they have spent some time on industry issues. He certain appears to be a supporter of the manufactured home product as a good solution for the affordable housing crisis. More manufactured homes, applying his thesis, would benefit more people with lower incomes, that would include minorities, retirees, and all on a modest budget. But once more, that also ought to mean that shareholders could and should benefit too.
A recent presentation to university students of Schmitz's thesis was obtained by MHProNews and is posted below. It holds new wrinkles that arguably matter in this context.
'Affordable Homes for Low Income Must Produce in Factory,' 'Years to Unravel Sabotage,' Grad Students Interest in Manufactured Housing, Factory-Home Solutions; plus Sunday Weekly Headlines Recap
Once the 'sabotaging monopoly' notion is grasped, possible examples of apparent fumbles of legal issues by Cavco management and other leaders involved at an influential level at MHI become revealing. These Problematic Ps must be scrutinized.
Paltering – a statement that is a mixture of truth that upon examination is deceptive, because a 'factual' statement ignores or distracts from other facts that mitigates against the seemingly positive remark.
Posturing – the Innovative Housing Showcase (IHS 2022) that the Cavco video above and the photo opportunity with Boor and HUD Secretary Fudge are examples of posturing. The notion of the Innovative Housing Showcase (IHS 2022) is a good one. Unfortunately, for whatever reasons, that Cavco-Fleetwood video has had very little traction since it was posted. Where is the Cavco-MHI effort to broadly proclaim the benefits of manufactured housing and then connect that to implementation of the Manufactured Housing Improvement Act's so-called 'enhanced preemption' provision that could be used to overcome zoning barriers? Or where is the Cavco and/or MHI effort to sue localities and/or HUD to get enhanced preemption enforced?
Projecting – recall attempts by MHI leaders to blame others for their failure to get the Preserving Access to Manufactured Housing Act passed? Finger pointing is often (not always) another method to distract from the failure on the part of the one wagging their finger at others, when three fingers are pointing back at themselves. In hindsight, the Cavco-supported multi-year and multi-million dollar Preserving Access was absurd. Who said? Carefully consider what MHI's then government relations vice president, Jason Boehlert, had to say about the chances for the bill's passage. After making that statement, why was Boehlert eventually replaced with Lesli Gooch, who is now MHI's CEO?

The outcome of those 3 Ps is Failure to Perform as Promised or Indicated. As a result of that failure to perform, a steady consolidation of the industry has occurred in the 21st century.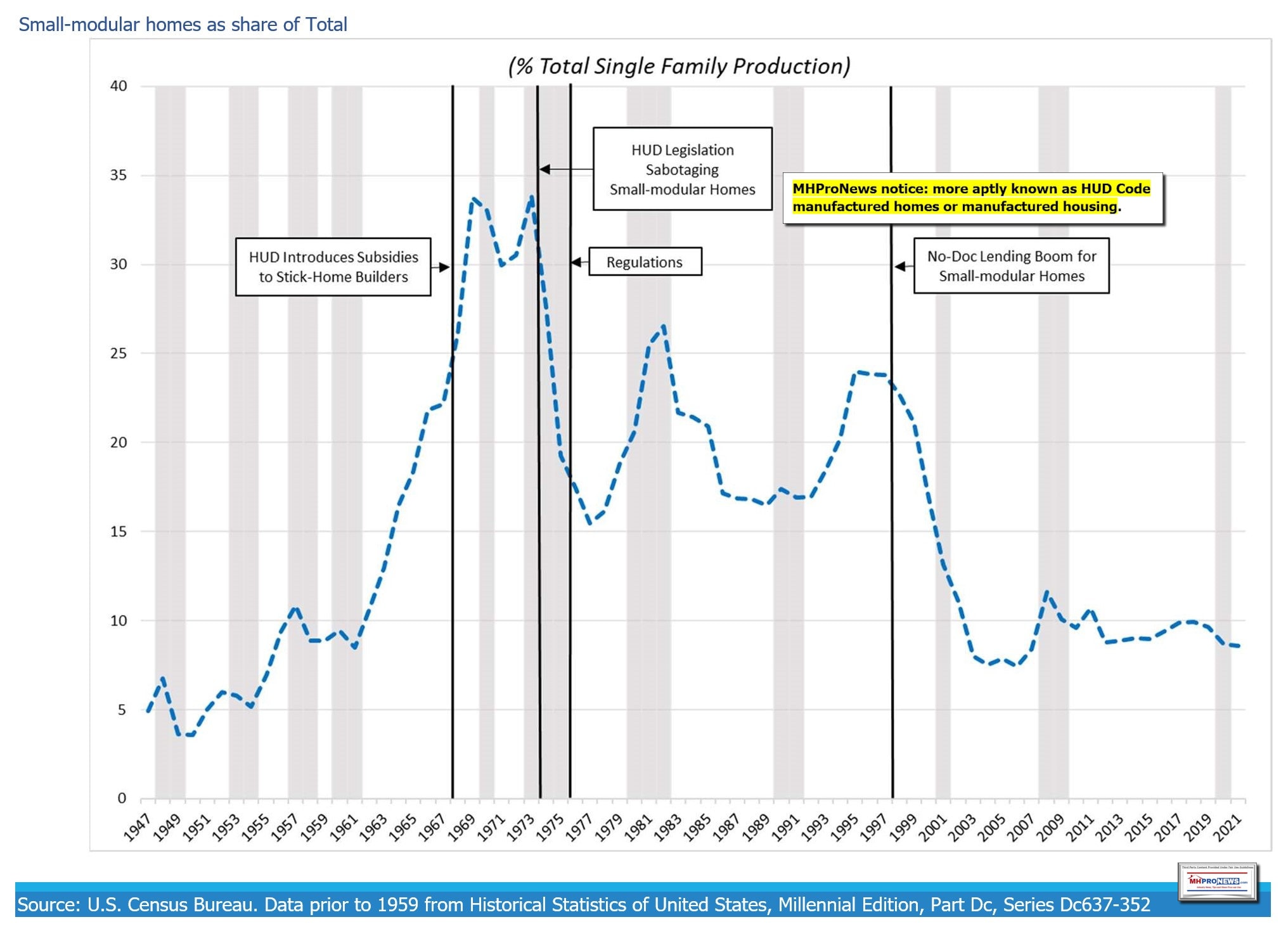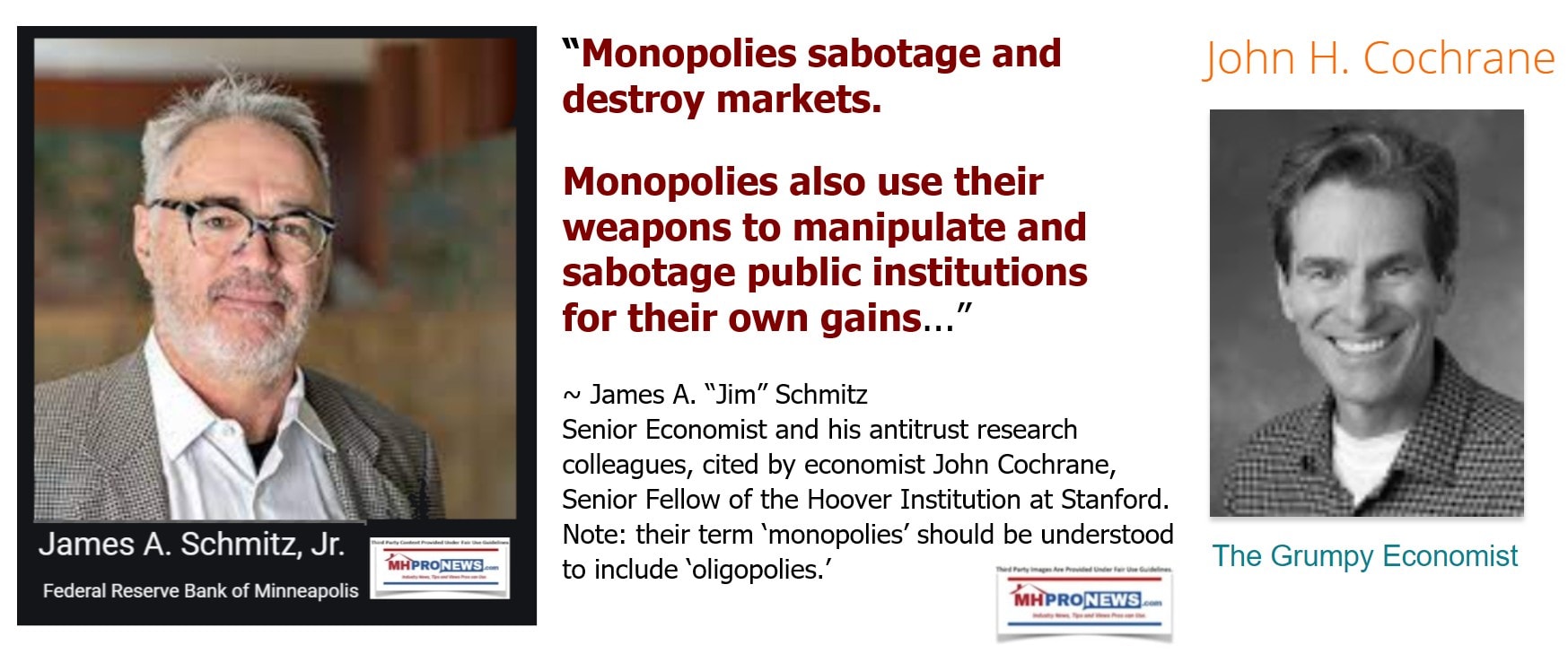 Will the outcome be any different than the goose egg that Preserving Access produced for the latest Cavco-backed MHI 'efforts' to stop the harmful Department of Energy (DOE) manufactured housing energy rule? Skopos Labs, which has no dog in the hunt, as reduced the odds of passage from 3 percent to 2 percent. Why does MHI never mention such facts? Do you see how paltering works?
Washington D.C. Updates on DOE 'Energy Assault' HUD is 'Already Moving' on DOE Standards MH Financing MHARR White Paper 'Validated' Again and More – MHI Side of Story, Facts & Analysis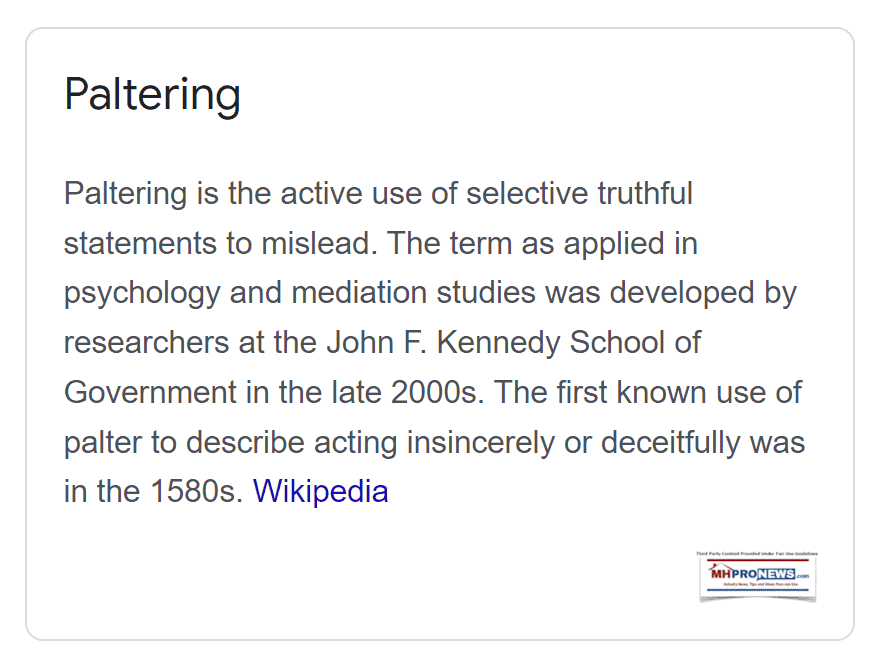 Understanding Crony Corporate, Paltering Media, Washington D.C. Reality Check with B.S. Decoder Ring – Sunday Satire on National, Affordable Housing Issues, with Weekly MHVille Headlines Review
The case can be made that the big three manufacturers that dominate MHI (Clayton Homes (BRK) – Skyline Champion (SKY) – and Cavco Industries (CVCO) have been playing rope a dope with independents for years. Failure to get good existing laws properly enforced cost the industry billions of dollars a year. One must keep in mind that Cavco's prior president, CEO, and chairman – Joseph "Joe" Stegmayer – was a Clayton Homes division president before coming to what today is Cavco.
Kevin Clayton made their philosophy clear and it is in alignment with that of Berkshire Hathaway chairman Warren Buffett. Clayton said the following during an apparent softball video interview.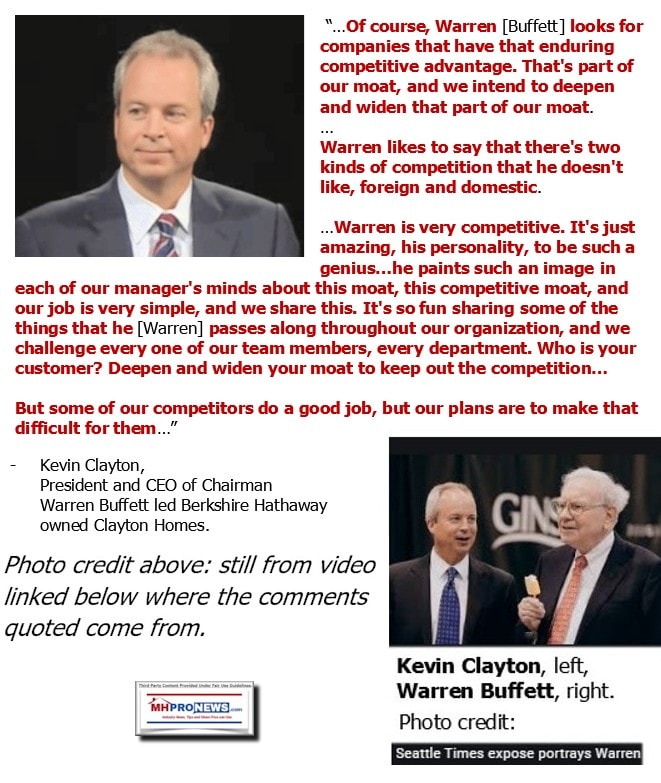 That remark by Clayton aligns with what Buffett said. To the point that Schmitz and his colleagues make about the weapons and tools of sabotage monopoly tactics, think of that in this context as the man-eating piranhas and crocodiles in Buffett's seemingly folksy remarks.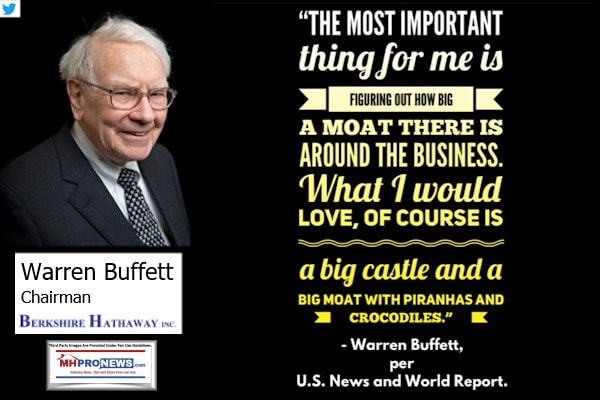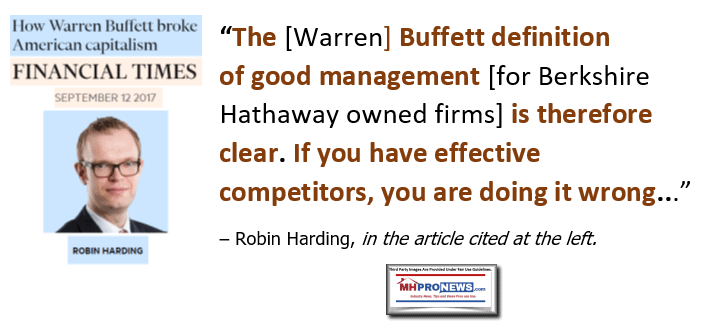 To the point of paltering and apparent head fakes by Buffett and those who follow his methods, recall these thoughts by an investment advisor. Given the insights herein, they too arguably matter to Cavco shareholders.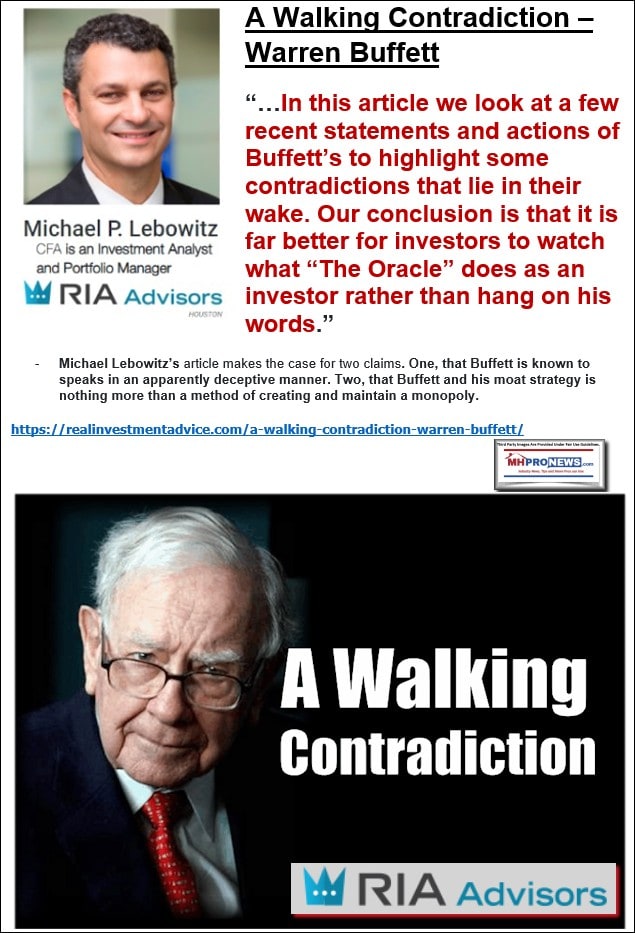 Outsider looking in Samuel "Sam" Strommen with Knudson Law made an evidence based and prima facie argument that specifically named Cavco, Skyline Champion, and Clayton Homes. In his legal view, there is evidence that the so-called "Big Three" (or "Big 3") at MHI are working in some sort of concerted effort, using MHI as cover, in a manner that is resulting in the consolidation of the manufactured home industry.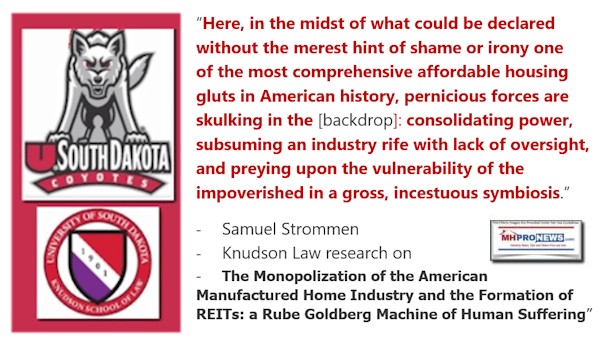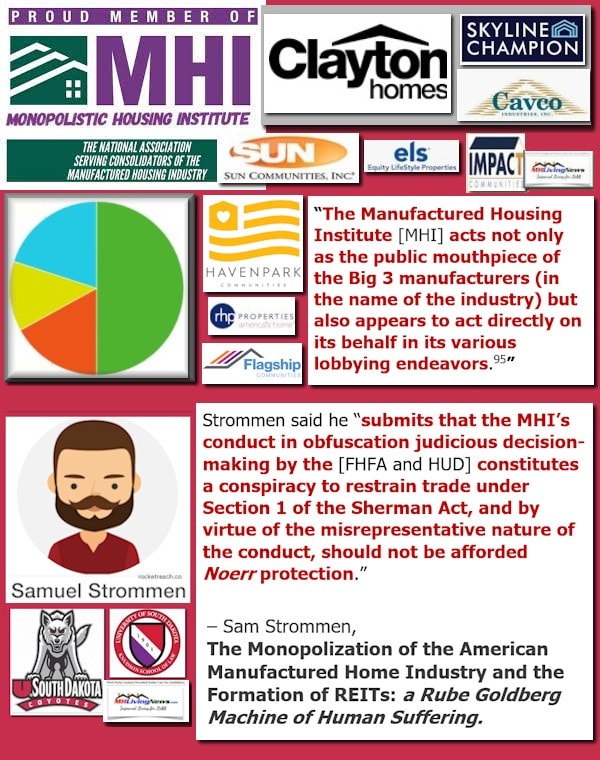 Strommen said there is evidence that this is garden variety antitrust with only a possible fine at stake, rather, he argued that this appears to be a case of "felony" antitrust violations.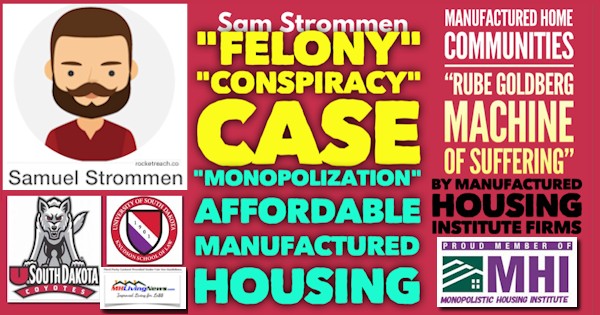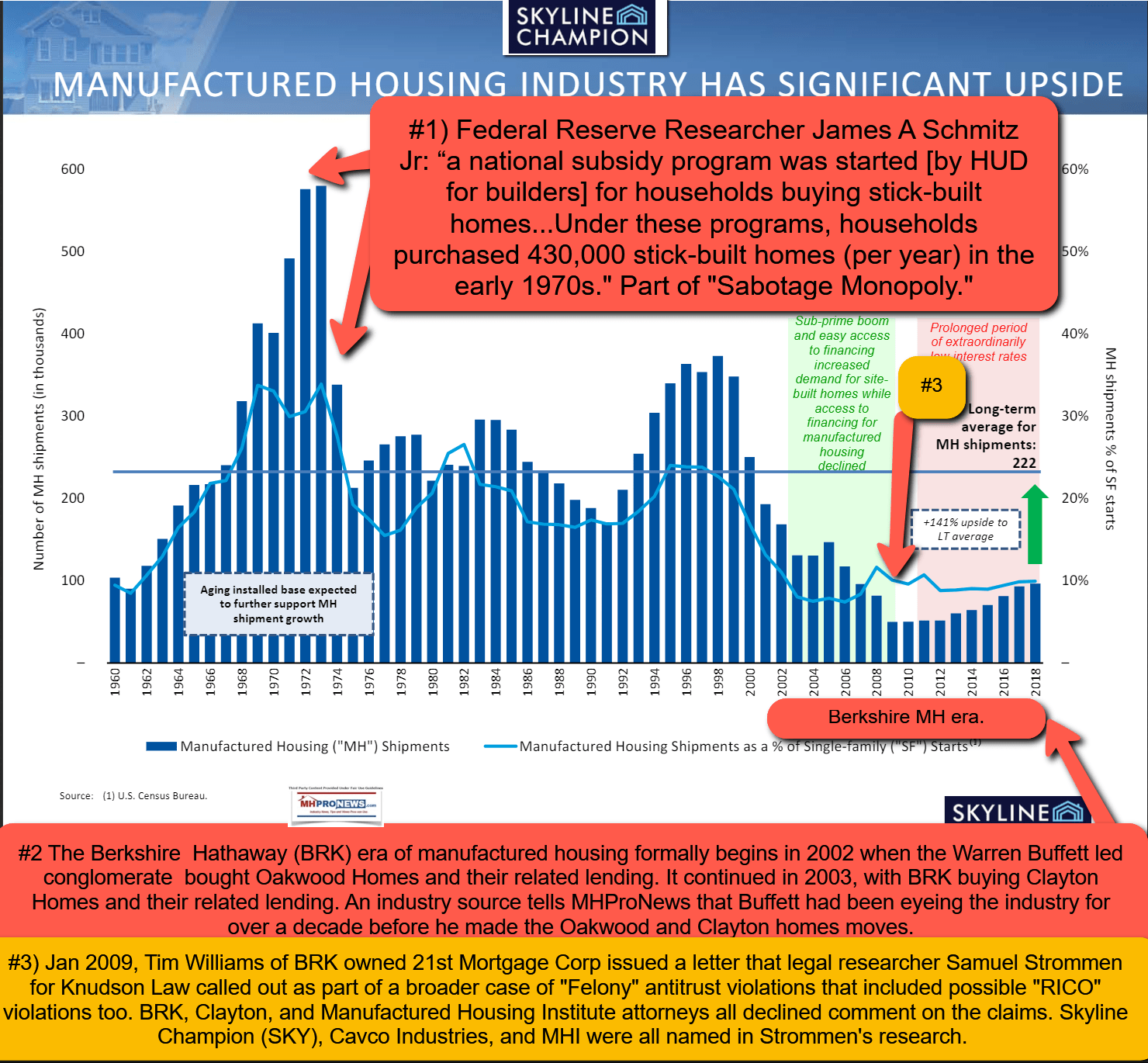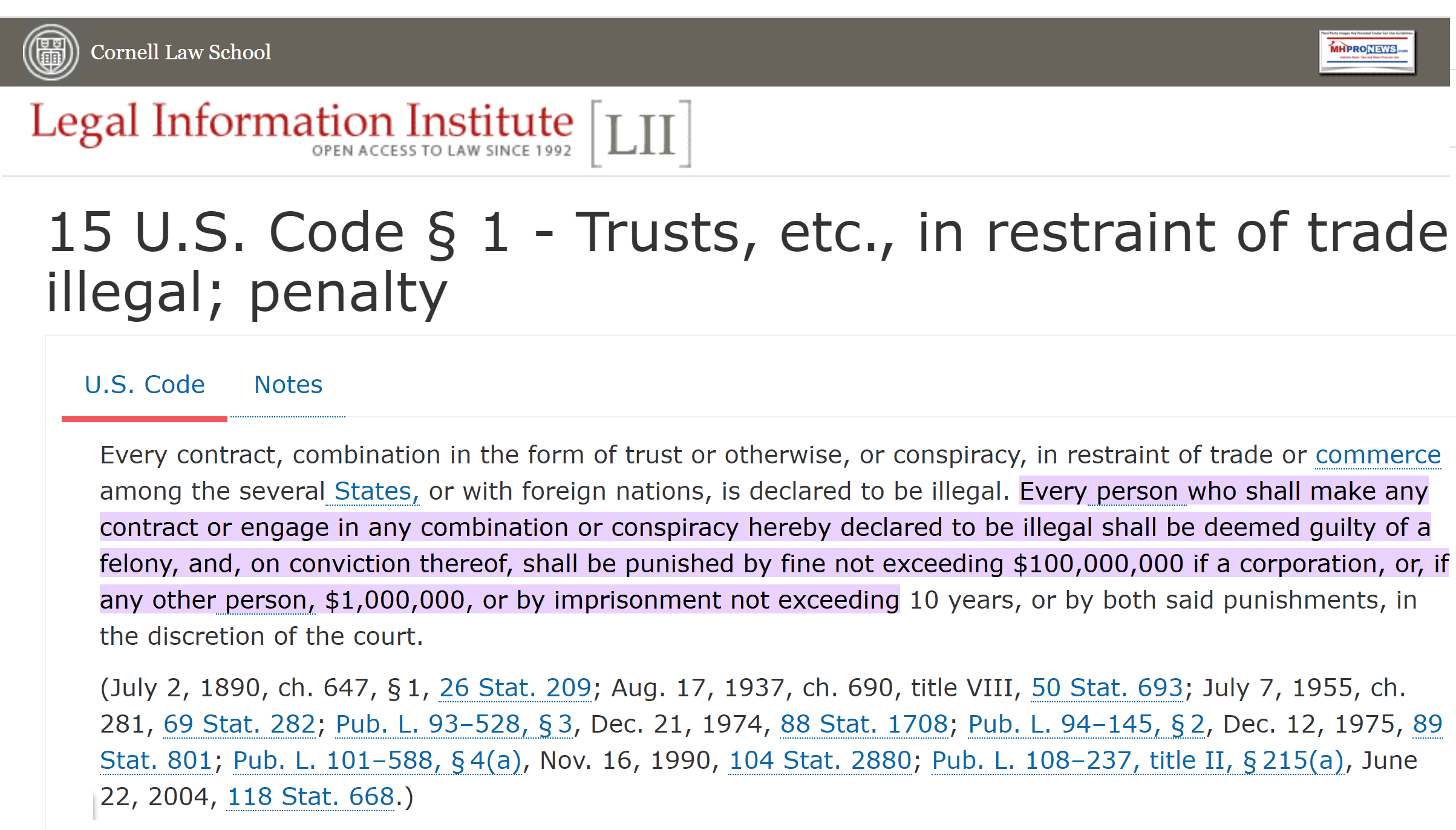 Keep in mind that Schmitz in his most recent presentation linked above and below said that this method of sabotage monopoly tactics: "…leads to whole new set of monopolies, those in manufactured housing industry itself."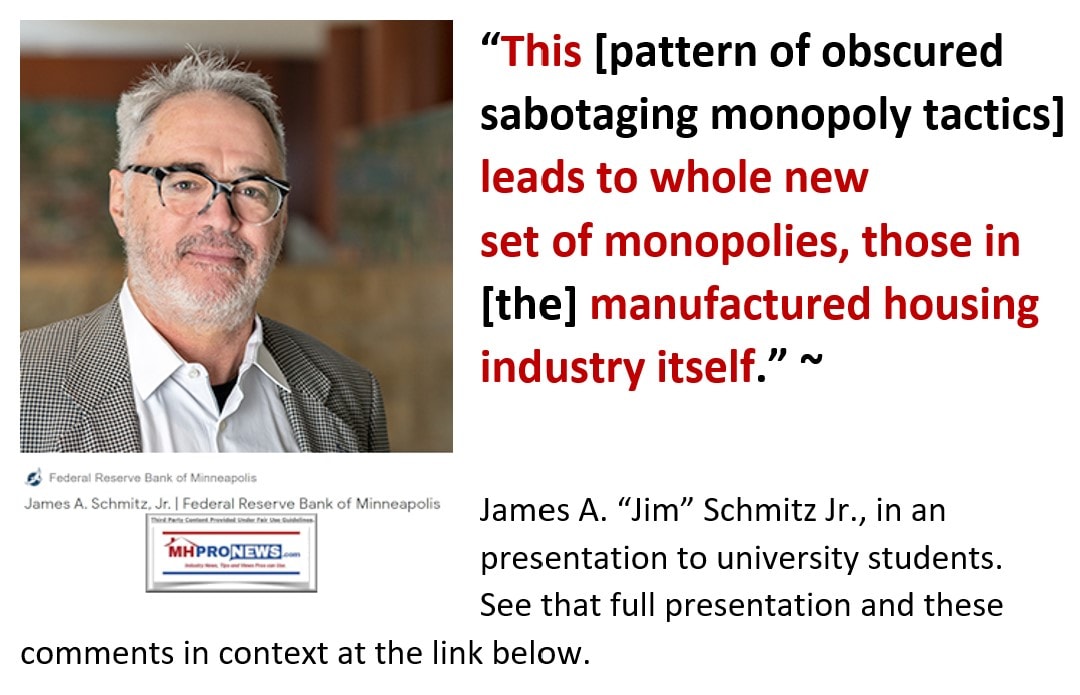 Schmitz and Strommen have no known ties other than their academic, third-party, and objective interest in seeing antitrust violations stopped for the benefit of Americans of modest means.
Strommen and Schmitz come from different states and are affiliated with different universities and have different professions. Yet the have come to complimentary conclusions, each using different facts and principles that arrives at the conclusion that antitrust violations are apparently at play involving businesses and nonprofits involved with the manufactured housing industry.
From inside MHVille are voices – including some within Cavco Industries – that quietly decry what is happening to manufactured housing in the 21st century.
Cavco appears to have gotten off relatively lightly with the Biden Administration's SEC.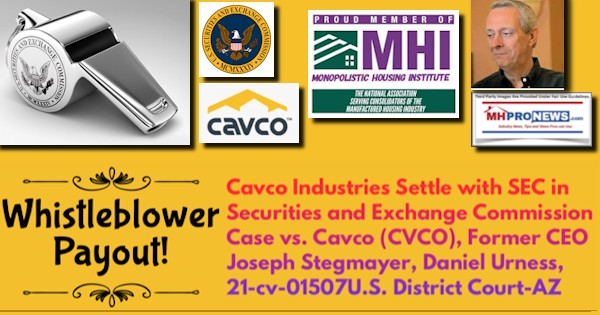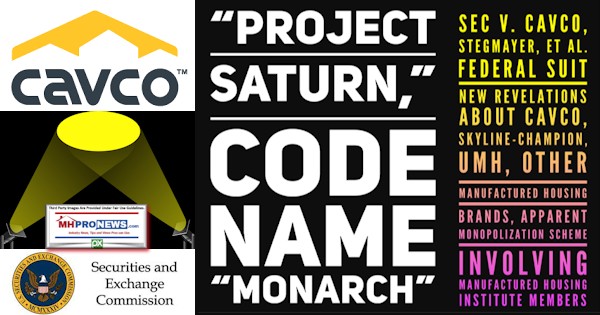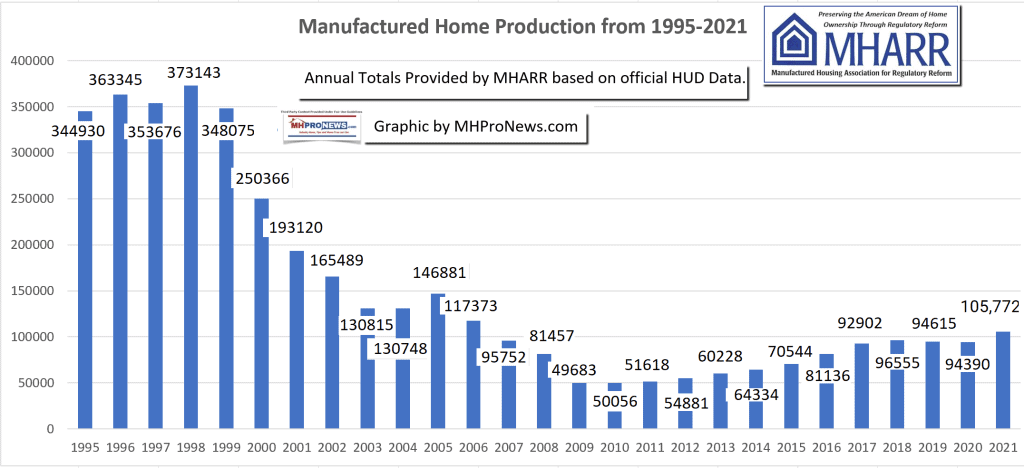 That outline and the linked and related reports can lead the objective thinker to the conclusion that shareholders and other public interests are not being properly served by Cavco leadership.  If Cavco was serious about 'catching up with conventional building,' why aren't they all in with supporting MHARR? Why aren't the pressing or openly debating MHI's corporate and staff leaders into joining MHARR in sincere and authentic litigation?  See more on that in the report linked below, but also in more items linked here that follow.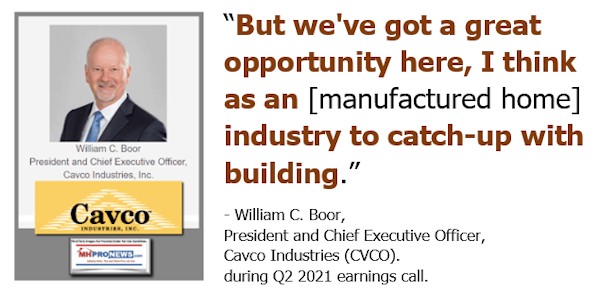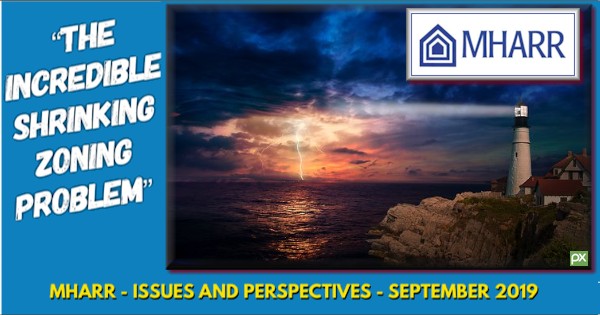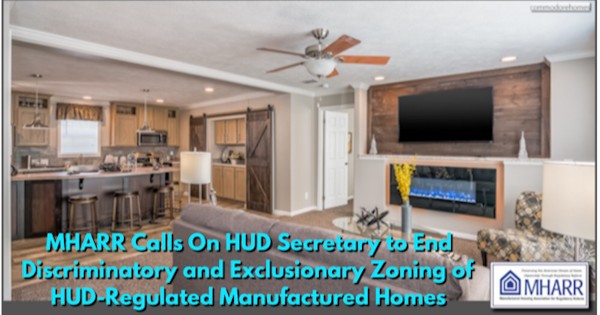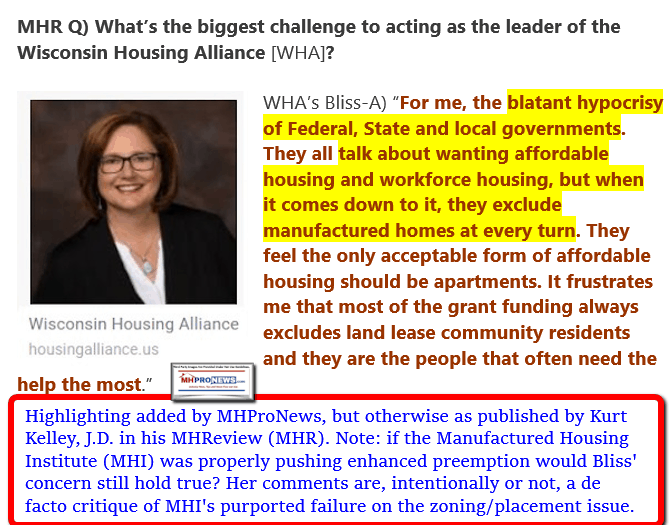 Thus, perhaps shareholders may find a contingency law firm that could press a new class action case against the firm for failing to live up to the true potential of Cavco for their dollars invested? Similarly, couldn't federal (or on antitrust, possible RICO, or other legal concerns, state attorneys general) officials probe and prosecute Cavco for their apparent failures?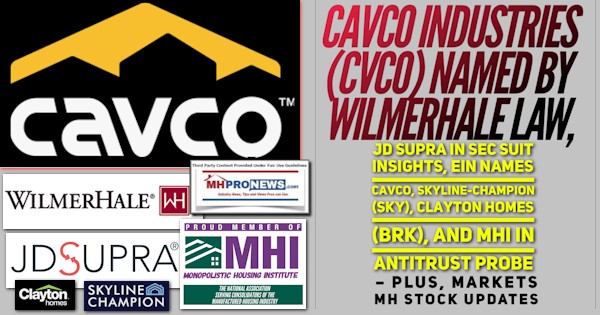 Time will tell.
But the case has been made that manufactured housing could be operating at several times its current level of performance.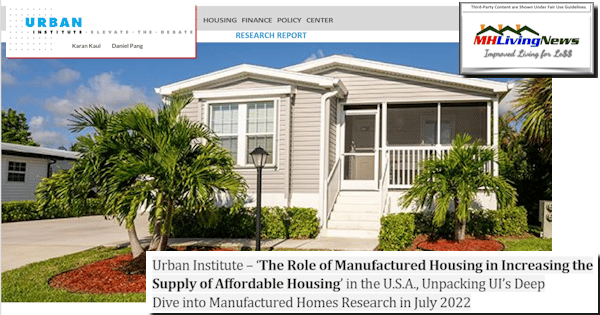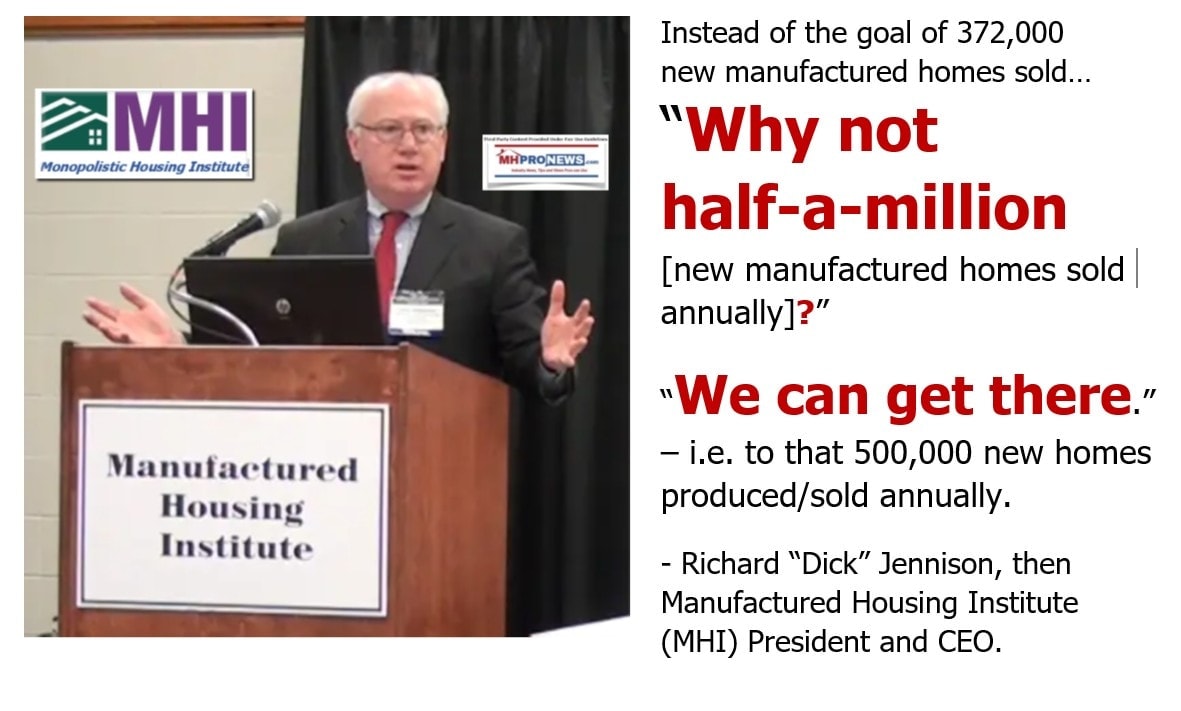 Cavco corporate leaders should press every legitimate avenue possible to get the most mileage for their shareholders. That would require more sales. Yet, Cavco has given the bulk of its support not to MHARR, but rather to MHI. Why? When outsiders looking into MHVille realize what some insiders – including, but not limited to MHARR – has been saying for years, serious issues demanding thorough, objective and rigorous regulatory and legal investigations emerge.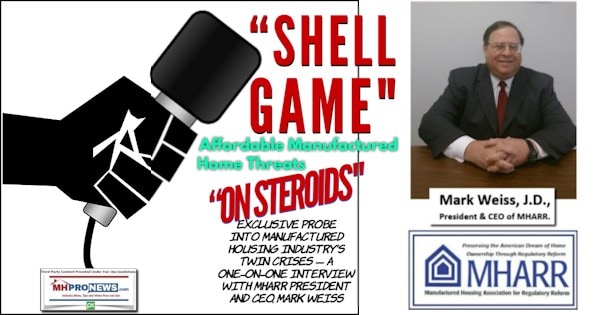 As a different example, the flashback report linked below is a reminder that Cavco bought Lexington Homes, only to later close it. Was Lexington purchased to close? If so, that's another possible antitrust violation that would also violate the fiduciary responsibility of Cavco's leadership.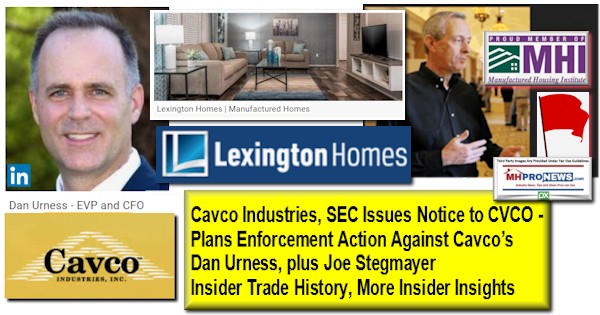 Cavco, Skyline Champion, and others at MHI have made it clear that consolidation is the name of their game. They have said as much in their public statements. Pursue attractive M&A, mergers and acquisitions, seems to take a back seat to organic growth, which gets only tepid support by comparison to M&A from Cavco.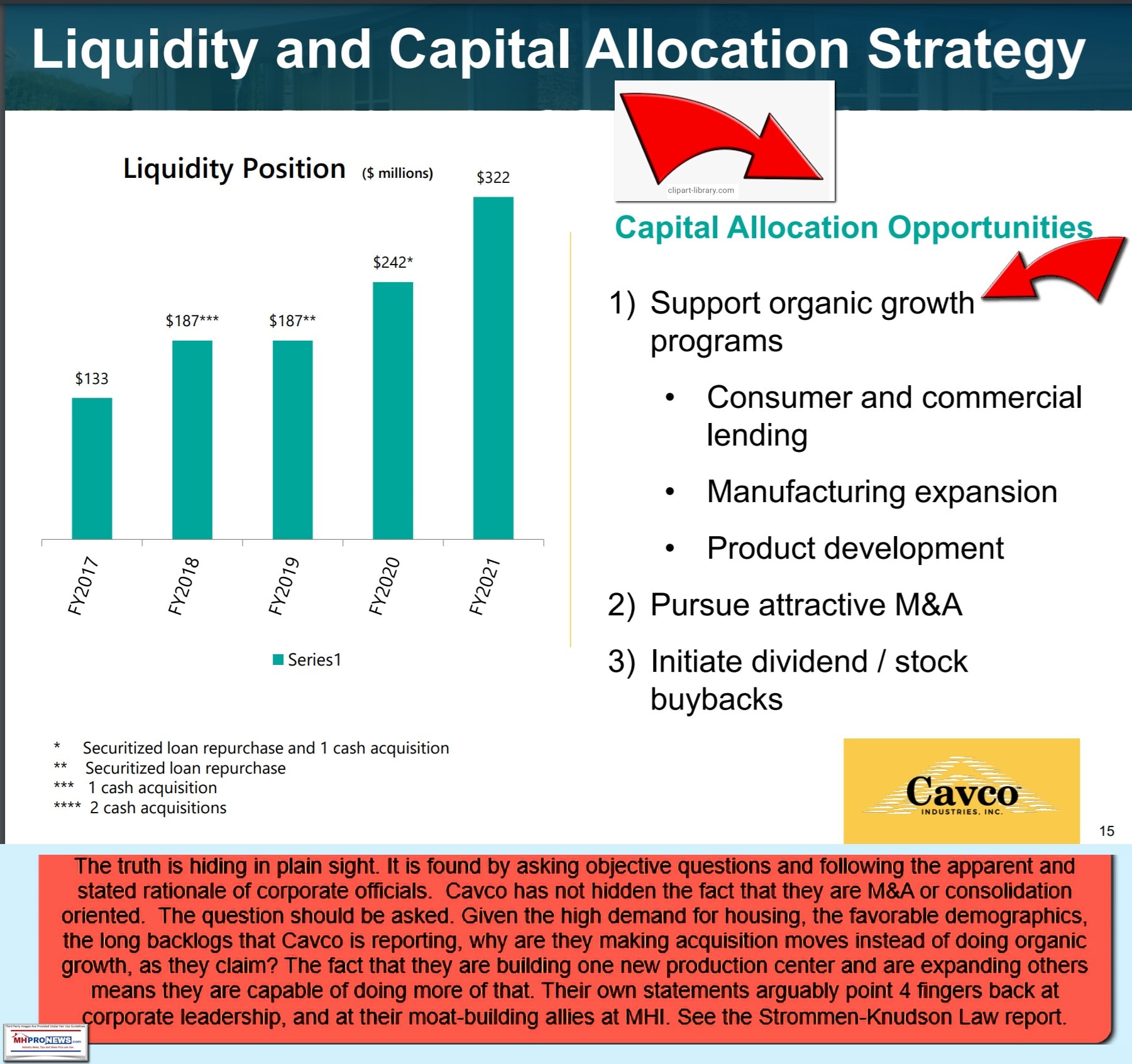 The collage of quotes and graphics that follow are routinely from MHI member brands that are publicly traded. Rephrased, despite MHI's so-called 'antitrust warning' there is ample evidence that antitrust violates are occurring in MHVille.  Notice: the graphic below, along with some others on this page, can be opened to a larger size for easier viewing. Depending on the device or browser, a common method for expanding or increasingly the size and readability of the image is to first click on it. A dialogue box may appear that offers to open the image in a new window. Click that open in a new window option. Then, in the new window, click the image again and click the plus sign to expand the image. One might also download the image onto your own computer and open it to the larger size option.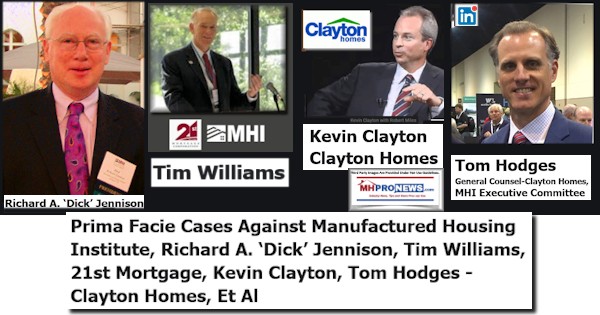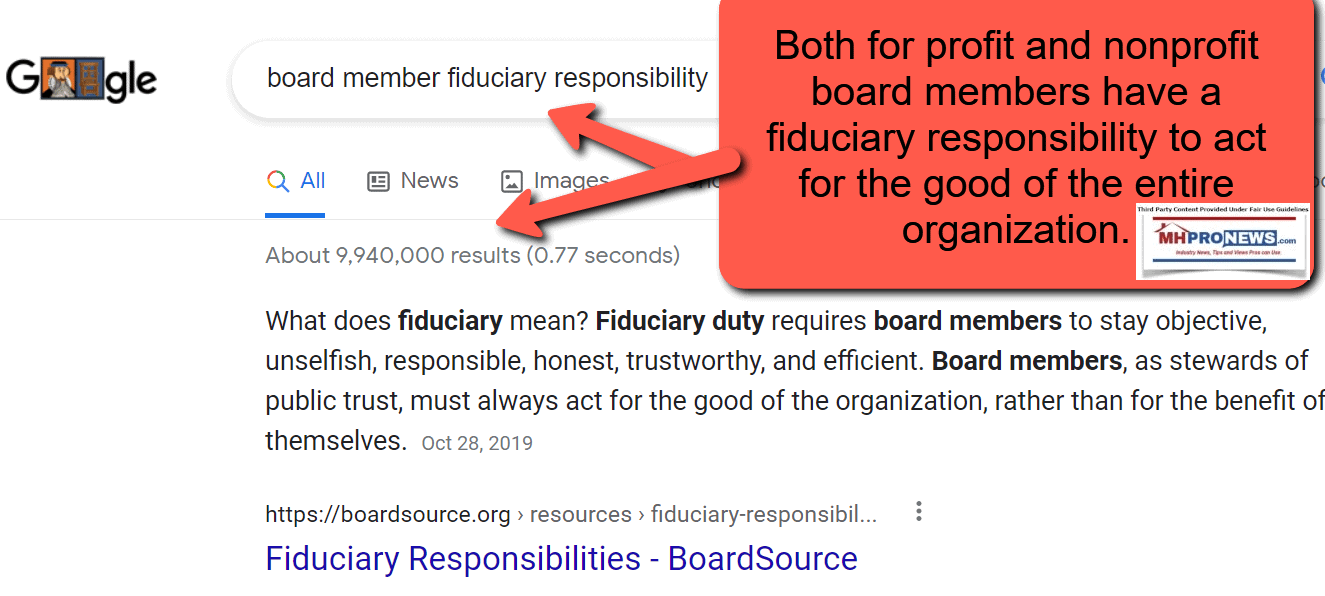 With the current regime in power in Washington, it is dubious if anything more serious than what occurred to Cavco in their settlement will occur. It is almost like a wink-and-a-nod green light that there is open season for such shenanigans that harm the interests of consumers and shareholders alike.
See the related reports to learn more. A possible follow up on this topic may follow in the near term, as more new and related information are coming and/or is already in hand.   Stay tuned. ##
A Recent and Relevant PS: given that the Institute for Justice (IJ) has demonstrated their willingness to sue and press local officials on behalf of tiny houses, which lack the favorable laws that manufactured housing has and which MHI could legally rely upon, what possible excuse does MHI – and leading companies like Cavco Industries – have for not following that IJ lead with their own lawsuits to defend and/or advance manufactured housing industry interests?
The powers that be in MHVille can't have it both ways. They can't be smart, savvy, degreed and seasoned business professionals and then miss the obvious solutions to the problems that they admit limit the industry. That contradiction demands investigation. Depending on the outcome, and given the scandalous history of Cavco and some others in recent years, heads should roll.
Institute for Justice (IJ) Prepares Litigation and Sues Jurisdictions to Protect Rights to Tiny Homes-Affordable Housing-Will Manufactured Housing Institute Follow Suit for Manufactured Homes?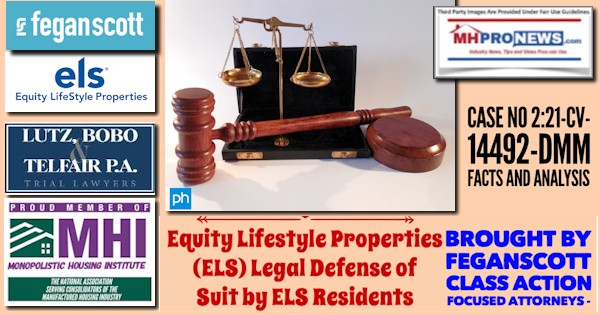 'Why I Am Suing Google and YouTube' – Lawfully Challenging the Status Quo – Facts, Insights, Reflections and Wealth Building Manufactured Housing Relevant Musings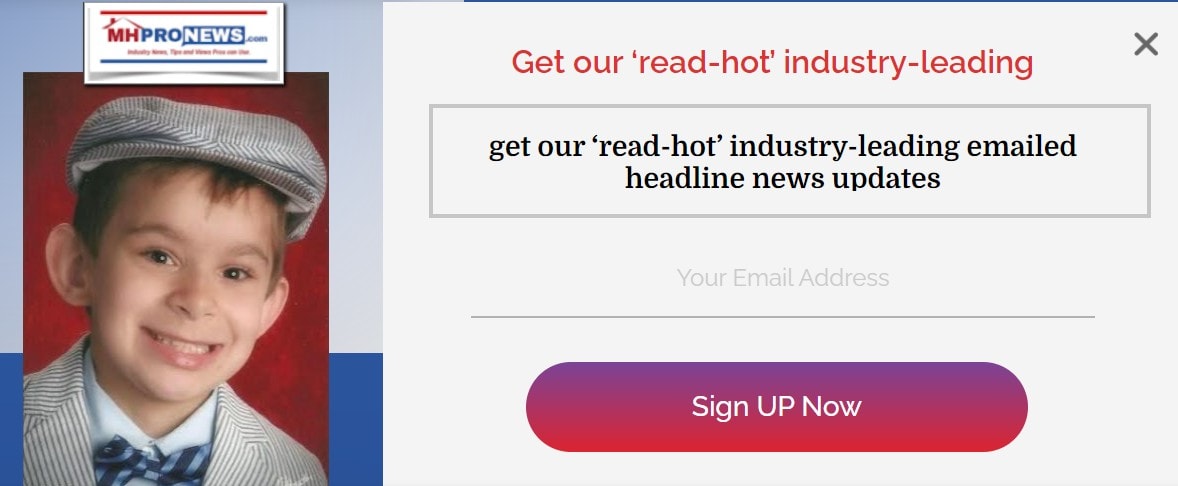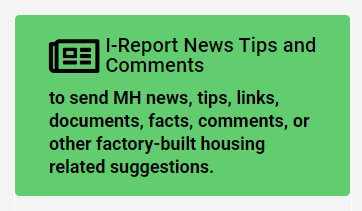 Again, our thanks to free email subscribers and all readers like you, our tipsters/sources, sponsors and God for making and keeping us the runaway number one source for authentic "News through the lens of manufactured homes and factory-built housing" © where "We Provide, You Decide." © ## (Affordable housing, manufactured homes, reports, fact-checks, analysis, and commentary. Third-party images or content are provided under fair use guidelines for media.) (See Related Reports, further below. Text/image boxes often are hot-linked to other reports that can be access by clicking on them.)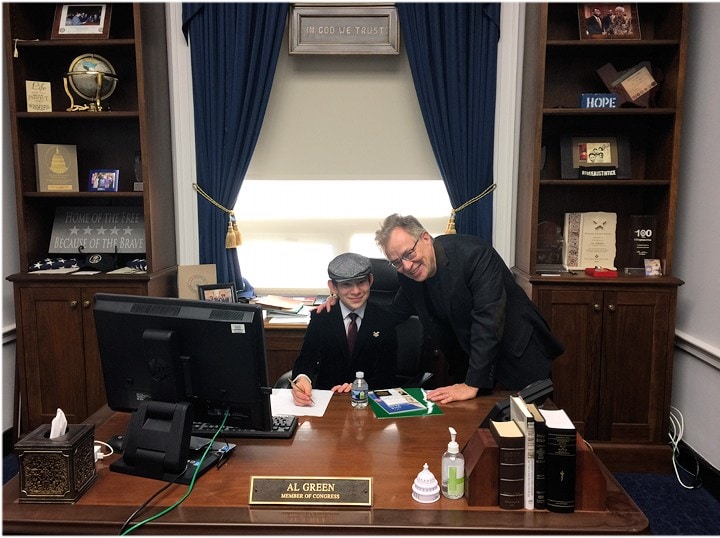 By L.A. "Tony" Kovach – for MHProNews.com.
Tony earned a journalism scholarship and earned numerous awards in history and in manufactured housing.
For example, he earned the prestigious Lottinville Award in history from the University of Oklahoma, where he studied history and business management. He's a managing member and co-founder of LifeStyle Factory Homes, LLC, the parent company to MHProNews, and MHLivingNews.com.
This article reflects the LLC's and/or the writer's position, and may or may not reflect the views of sponsors or supporters.
Connect on LinkedIn: http://www.linkedin.com/in/latonykovach
Related References:
The text/image boxes below are linked to other reports, which can be accessed by clicking on them.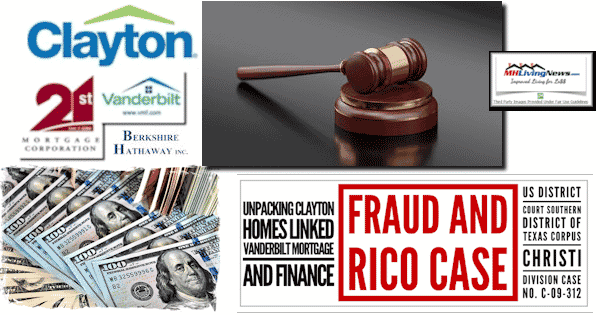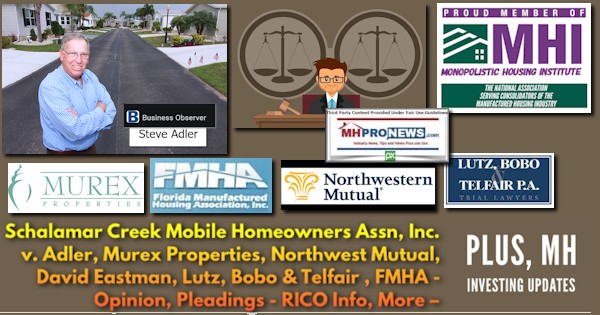 Fixing Errata – Lincoln Institute's George W. "Mac" McCarthy Corrects Manufactured Housing Industry Factual Record on Manufactured Home Communities, plus Sunday Weekly MHVille Headlines Recap
'Housing Overvalued' 'We are in a Housing Recession' – Reports by Moody's Mark Zandi, NAR's Lawrence Yun Conventional Housing Manufactured Home Concerns Probed; plus MHVille REITs, Stocks Update
Follow the Money Trail in Manufactured Housing, Recent Nonprofit Research Reports on MHVille Shed Light on Manufactured Housing Industry Potential and Woes; plus Sunday Weekly Headlines Recap