Mainstream media sources such as Newsmax have reported that Moody Analytics Chief Economist Mark Zandi told Fortune that home prices in some 183 of the top 413 housing markets are overvalued by more than 25 percent. That could translate into price drops of 5 to 20 percent in the foreseeable future.
Fortune Tweet's About Moody's Research:
🏘️ 183 housing markets could soon see home prices fall by 20%.@MoodysAnalytics has unveiled its downgraded U.S. home price forecast.🧵 https://t.co/XFjsNy3bgU pic.twitter.com/22fLOjRMSA

— FORTUNE (@FortuneMagazine) August 25, 2022
2) ➡️ Over the coming year, Moody's Analytics chief economist @Markzandi now predicts U.S. house prices will shift somewhere between 0% to -5%.

— FORTUNE (@FortuneMagazine) August 25, 2022
3) Heading into June, Moody's Analytics expected U.S. house prices to remain unchanged over the coming year.

— FORTUNE (@FortuneMagazine) August 25, 2022
4) That baseline forecast assumes the U.S. won't enter into a recession.

🔻If a recession hits, Moody's Analytics now predicts U.S. house prices will fall between -5% to -10%.

— FORTUNE (@FortuneMagazine) August 25, 2022
5) That's up from June, when Zandi told Fortune that a recession would see U.S. house prices fall by less than -5%.

— FORTUNE (@FortuneMagazine) August 25, 2022
6) 📊 At the latest reading, Moody's Analytics finds 183 of the nation's 413 largest regional housing markets are "overvalued" by more than 25%. https://t.co/XFjsNy3bgU pic.twitter.com/mc0bayy4Y5

— FORTUNE (@FortuneMagazine) August 25, 2022
7) That includes markets like:

👉Boise (overvalued by 72%)

👉Charlotte (overvalued by 66%)

👉Austin (overvalued by 61%)

— FORTUNE (@FortuneMagazine) August 25, 2022
8) Heading forward, Moody's Analytics expects the 183 markets overvalued by more than 25% to see home prices decline by -10% to -15%. https://t.co/XFjsNy3bgU

— FORTUNE (@FortuneMagazine) August 25, 2022
The American Enterprise Institute's AEI Housing Center recently reported data provided to MHProNews that indicates that home price appreciation has dropped. AEI's Edward Pinto, J.D., and Tobias Peter laid out the data in the graphics reported below that map out their near-real time data forecasting HPA – Home Price Appreciation – could go negative by September 2022.
National Home Price Appreciation (HPA) Index Drops Sharply, May Go Negative by September in Various States, Says AEI Housing Center's Ed Pinto, J.D.; plus Manufactured Home REITs, Stocks Update
Newsmax cited Fitch's and the National Association of Realtor's reports with additional supporting data. It paints a mixed picture. Per that source, the following.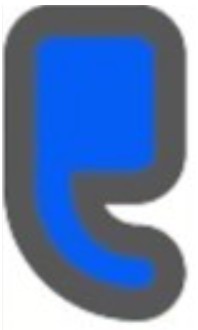 Fitch Ratings estimates prices falling by about 15% nationwide, and economist Robert Shiller, who predicted the 2008 housing crash, estimates a decline of around 10%, the report said.
The estimates come has the U.S. housing market experienced its sixth straight month of declining sales, the lowest level since 2020.
The National Association of Realtors reported Aug. 18 that existing home sales dipped 5.9% from June and 20.2% compared with last year, caused at least in part by rising interest rates.
"The ongoing sales decline reflects the impact of the mortgage rate peak of 6% in early June," said Lawrence Yun, the association's chief economist, in an Aug. 18 press release. "Home sales may soon stabilize since mortgage rates have fallen to near 5%, thereby giving an additional boost of purchasing power to home buyers."
The nation's total housing inventory increased in July 4.8% over June, with more than 1.3 million available units, and properties staying on the market for about 14 days, the fewest number of days since the organization began tracking it in 2011.
According to the organization, the median price of an existing home in July was $403,800, a 10.8% increase from the July 2021 median price of $364,600.
"We're witnessing a housing recession in terms of declining home sales and home building," Yun said. "However, it's not a recession in home prices. Inventory remains tight and prices continue to rise nationally with nearly 40% of homes still commanding the full list price."
The number of first-time buyers dropped from 30% in June to 29% in July, according to the [NAR] association. ##
Additional Information with More MHProNews Analysis and Commentary
The manufactured housing market picture has continued to show modest growth, following an accelerated pattern that pushed the industry upward since the COVID19 pandemic was proclaimed in the spring of 2020. The most recent data is shown below.
HUD Code Manufactured Housing Production Grows June 2022, per Official Data – Additional Facts, Analysis, Commentary; plus Manufactured Home Communities REITs, Manufactured Housing Stocks Update
A prior report by NAR's Yun noted that foot traffic in mainstream housing continues to drop.
Pros Say Housing 'Foot Traffic' Continues Drop, Plus Lawrence Yun, Ph.D., PowerPoint on Housing, Economic, Job, Construction Trends; plus Manufactured Home REITs, Stocks Update & Commentary
Two of the big three in manufactured housing recently announced details of their quarterly reports which routinely reflected records in their respective modern histories.
Cavco Quarterly Results, Facts, and Trends Include SEC Suit Update, Manufactured Home Production Volumes, Financial Figures, Corporate Data and Manufactured Housing Analysis
Skyline Champion (SKY) Provides Latest Quarterly Data, 'Kisses' the Berkshire Hathaway 'Ring' in Process, Manufactured Housing Pro News Analysis, Insights; plus MHC REITs, ManuHome Stock Update
But oddly, the Manufactured Housing Institute (MHI) connected Texas Manufactured Housing Association (TMHA) has reported that manufactured home builders have 'hit the brakes' as 'retailers cancel orders.'
Manufactured Housing Builders 'Hit Brakes' as Retailers 'Cancel Orders' But Some Bright Spots per University Research; plus Manufactured Home Community REITs, Manufactured Housing Stock Updates
Those claims seem to be contradicted in part by the broader national manufactured housing market data provided by the Manufactured Housing Association for Regulatory Reform.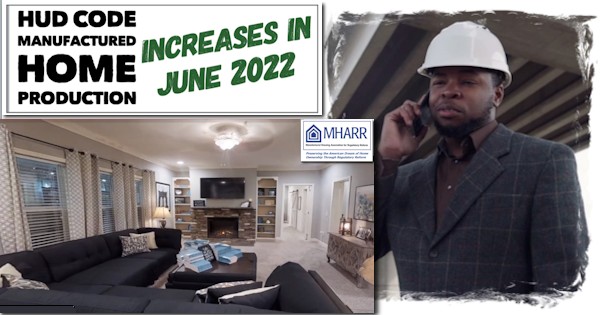 Two of the larger producers' public statements – linked from this report – make it clear that whatever slack is coming in from retailers are being absorbed by manufactured home land-lease communities. The MH REITs – the manufactured home Real Estate Investment Trusts – along with other larger portfolio operators, some of whom are publicly traded – are continuing to buy new homes from plants to fill vacant home sites.
However, it should be noted that in several of those manufactured home community scenarios, such as reported by REIT UMH Properties, those manufactured homes are largely being purchased as rentals. While modest numbers are sold, the bulk are rented. Because the post-production side of MHI fails to report granular data, as do other trade groups, it is unclear to the precise extent manufactured housing production growth is linked to units being rented.
'Just the Facts' UMH Properties, per SEC filings, MarketScreener Reports Growth via Opportunity Zone Fund, REIT's Manufactured Home Sales Reportedly Drop Sharply, Rental, COVID Impacts Assessed
Per several sources, over 30 percent of manufactured homes produced in recent years have gone into land lease communities. That begs the question: to what extent are retail sales actually rising? It also begs the question: once vacancies fill up in existing communities, and with so few new communities coming online, is the industry headed for a production wall?
Some sources within MHI have told MHProNews they expect that to occur. While the precise timing is open to speculation, the trends are clear that vacancies have continued to drop in MHCs. Nevertheless, MHI just weeks ago was bragging about their momentum in Washington, D.C.  MHProNews questioned that odd MHI assessment, based on the facts and evidence.
MHI Claims 'Momentum' in D.C. – HousingWire, MHInsider Showcase Manufactured Housing Institute CEO Lesli Gooch Op-Ed on DOE Energy Rule Sans Critique, Fact Check, Viewpoints; plus MHMarket Update
What seems certain to those who grasp the fundamentals of the manufactured housing market is this. There is always a demand for affordable housing. Manufactured homes could be providing a solid and steadily growing percentage of that demand. Indeed Cavco's President and CEO, William "Bill" Boor said as much, vindicating MHProNews' long standing editorial observations on that point.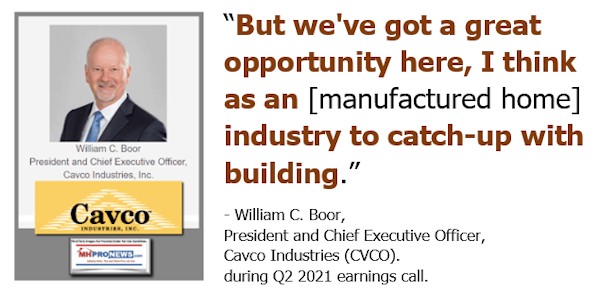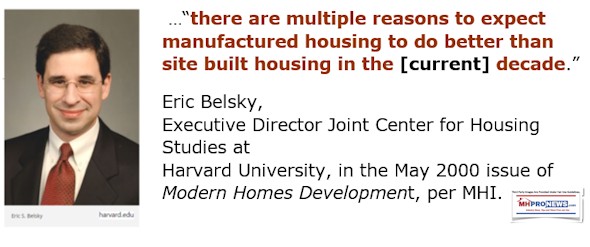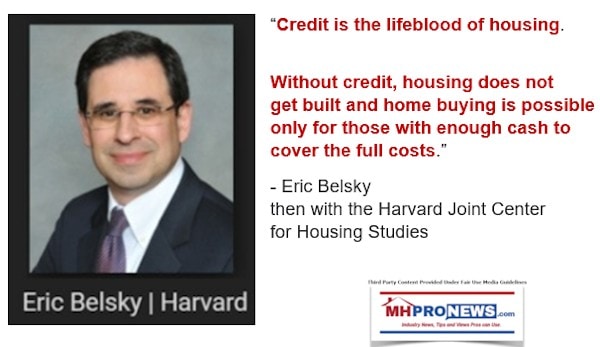 But as MHARR has pointed out for years, so long as MHI drags its feet on legal action that could press public officials to enforce existing federal laws that could boost access to more markets by removing zoning/placement barriers and providing more lending support, the manufactured home industry will continue to underperform with respect to its true potential.  Officials connected with MHARR have openly challenged MHI on its performance. MHI has remained silent, which may suggest that the allegations are well founded.  Two of MHI's outside attorneys have conveyed the point that they monitor this site and other's comments, including those by their own members. So, it is difficult for MHI to deny that they don't know what is being alleged about their behavior which appears to be leading to more industry consolidation by their dominating brands.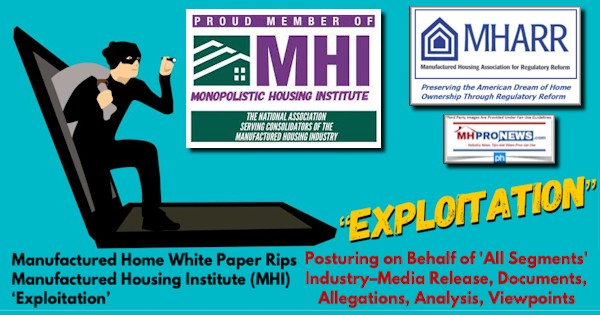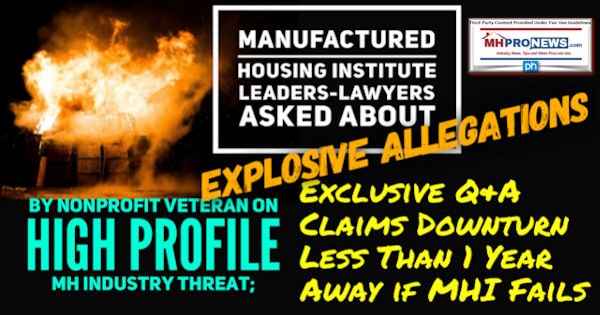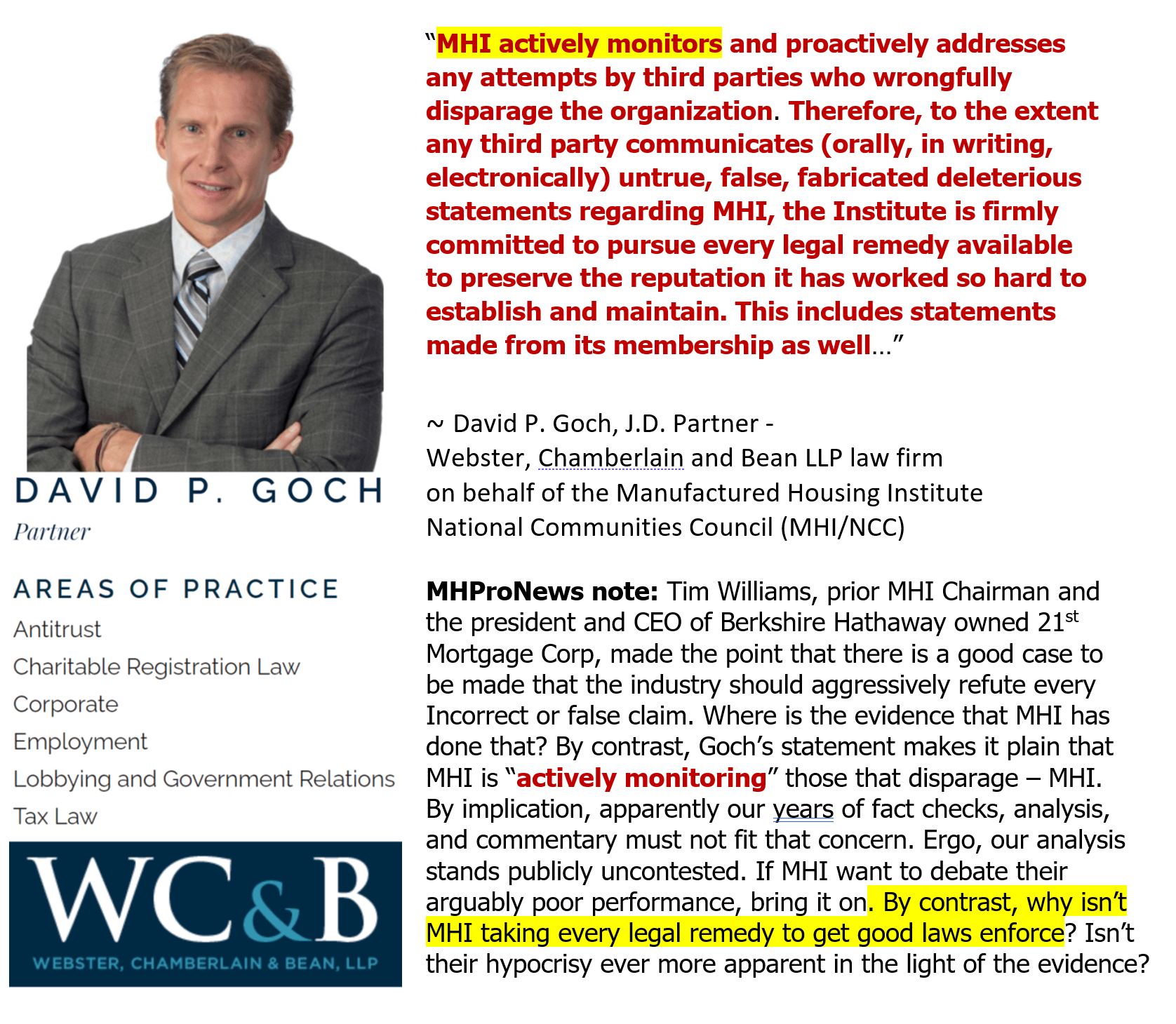 See the linked and related reports to learn more.
Additionally, as will be reflected in our broader and manufactured home specific Daily Business News on MHProNews markets report that follows, an announcement by the Fed was among the factors that sent stocks – including those tied to MHVille – broadly lower. For the left-right headline snapshot and markets graphics data, see the next segment of this business daily manufactured housing report.
Next up is our daily business news recap of yesterday evening's market report, related left-right headlines, and manufactured housing connected equities.
The Business Daily Manufactured Home Industry Connected Stock Market Updates.  Plus, Market Moving Left leaning CNN and Right-leaning (Newsmax) Headlines Snapshot. While the layout of this daily business report has been evolving over time, several elements of the basic concepts used previously are still the same. For instance. The headlines that follow below can be reviewed at a glance to save time while providing insights across the left-right media divide. Additionally, those headlines often provide clues as to possible 'market-moving' news items.
Market Indicator Closing Summaries – Yahoo Finance Closing Tickers on MHProNews…

Headlines from left-of-center CNN Business – from the evening of 8.26.2022
Dow plunges 1,000 points
Traders work on the floor of the New York Stock Exchange (NYSE) on September 30, 2021 in New York City. In afternoon trading the Dow was down over 250 points as investors continue to worry about inflation, wages and supply chain issues.
Jerome Powell issued a warning that the Fed's fight against inflation won't end anytime soon
People shouldn't pay too much attention to what Jerome Powell said today
Fed chair Jerome Powell warns fight against inflation will bring 'some pain'
This closely watched inflation measure showed some cooling in July
China and US sign deal that could avert mass stock delistings
Pilots from a bankrupt airline were just offered jobs by a competitor without a single interview
EPA wants to label certain 'forever chemicals' as hazardous substances
Pet owners, Maytag feels your laundry pain
SpaceX and T-Mobile want to eliminate 'dead zones' using satellites
What we learned from Mark Zuckerberg's 3-hour chat with Joe Rogan
Sandy Hook families ask judge to order Alex Jones to relinquish control of his company, alleging he transferred millions
Why United Airlines CEO puts some flight cancellation blame on the federal government
'Quiet quitting' is all the rage. Here's how managers should handle it
Russia is burning off millions of dollars in gas every day
Ford Mustang Mach-E GT
Ford is raising the price of its electric SUV as much as $8,000
MARKETS
SAVING MONEY
Customers shop at a Dollar Tree store on March 04, 2021 in Chicago, Illinois. Dollar Tree said that it will open 600 new stores this year, 400 under the Dollar Tree Name and 200 under the Family Dollar name, which the company also owns.
Rising prices are pushing shoppers to dollar stores
Dollar General hit with $1.3 million in safety fines
Discounts are back. Here's where to find them
Stores have too much stuff. Get ready for sales
This cheaper toy store is replacing Toys 'R' Us
VIRTUAL REALITY
A Meta Oculus Quest 2 virtual reality (VR) headset during a media preview of the Meta Store in Burlingame, California, U.S., on Wednesday, May 4, 2022. Facebook owner Meta Platforms Inc. is opening its first ever retail store in California, hoping to introduce people to virtual reality worlds with a try-before-you-buy approach.
Here's why you still look terrible in virtual reality
FTC drops Zuckerberg from lawsuit on VR acquisition
This mask makes breathing in VR more realistic
Mark Zuckerberg responds to metaverse memes
Harassment in VR is likely to get worse
Headlines from right-of-center Newsmax 8.26.2022
Alan Dershowitz: Affidavit Does Not Show Enough to Indict Trump
Despite the heavily redacted affidavit Friday showing "probable cause," there is not likely enough there for Attorney General Merrick Garland to justify indicting former President Donald Trump, according to legal expert Alan Dershowitz to Newsmax. [Full Story]
Raid on Trump's Mar-a-Lago
Trump Blasts Redacted Affidavit: 'Public Relations Subterfuge'
Read the Redacted Affidavit
Dershowitz: 'Probable Cause' for Subpoena, Not Raid | video
Navarro: Affidavit Shows Continued FBI Push on Trump | video
Video Report: Analyzing the Redacted Affidavit | video
Dick Morris: DOJ Didn't Care About Archives | video
Biden: Up to DOJ to Determine If National Security Harmed
NY Times Editorial Board: Prosecuting Trump Is 'Necessary'
Newsmax TV
Jared Kushner: Book Shares Doubts on Trump's First Campaign | video
Mast: Biden Is 'No Commander in Chief' | video
Napolitano: Biden's Debt Forgiveness Illegal, Unconstitutional
Tim Scott: Conservative Minorities Face 'Bigotry' From Left | video
Mike Tyson: Hulu 'Lied' About Support for Documentary | video
Stephen Moore: 'Mild Recession' Despite Report | video
Kathie Lee Gifford: Film, Book, Reveal Bible in New Way | video
Maria Mezentseva: Russia Ordering Rape to Intimidate | video
Newsfront
House Republicans Want Answers From Zuckerberg
House Republicans want to question Meta CEO Mark Zuckerberg after he told popular podcaster Joe Rogan that Facebook limited stories on the newsfeed related to the New York Post's story about President Joe Biden's son, Hunter Biden, and his laptop after warnings from the FBI…. [Full Story]
Related Stories
Zuckerberg: Facebook Suppressed Hunter Laptop Story After FBI Visit
State Department: US Citizen Died Recently in Ukraine
A U.S. citizen recently died in Ukraine, a State Department [Full Story]
Zelenskyy: Ukraine Has Exported 1 Million Tons of Food
Ukraine has now exported 1 million tons of agricultural products from [Full Story]
Would Putin Use Nukes to Turn Tide in Ukraine?
With an atomic stockpile rivaling all other nations and a war effort [Full Story] | Platinum Article
WH Econ Director: Biden's Debt-Reduction Plan on 'Very Strong' Legal Footing
The director of the White House's National Economic Council said [Full Story]
Ukraine Nuclear Plant Back Online as Inspection Prepared
Ukraine's Zaporizhzhia nuclear plant occupied by Moscow's troops came [Full Story]
Despite a career spanning five decades, Dr. Anthony Fauci's legacy [Full Story] | Platinum Article
Trump's NYC Golf Course to Host Saudi-Backed Women's Event
A New York City-owned golf course managed by former President Donald [Full Story]
Zelenskyy: Europe Is 'One Step Away From a Radiation Disaster'
The world narrowly avoided a radiation accident at the Zaporizhzhia [Full Story]
Related
IAEA Mission Seeks to Visit Zaporizhzhia Plant amid Concerns
Maria Mezentseva to Newsmax: Russia Ordering Rape to Intimidate, Humiliate |video
Biden Faces Call for Action on Ukraine Nuclear Plant
Mast to Newsmax: Biden's 'Idiotic' Evacuation to Blame for Deaths in Afghanistan
Brian Mast, R-Fla., on the anniversary of the Afghanistan [Full Story]
Oil Prices Rise on Signals OPEC Might Cut Output
Oil prices ended higher on Friday, boosted by signals from Saudi [Full Story]
Video Report: Redacted Affidavit to Raid Trump Analyzed
Newsmax Washington Correspondent Kilmeny Duchardt, on Friday's "John [Full Story] | video
Fed Chair: Expect Pain as Fed Works to Beat Inflation
Americans are headed for a painful period of slow economic growth and [Full Story]
Dow Plummets 1,000 Points as Powell Affirms Hawkish Stance
Wall Street slumped on Friday to close well down, as investors keen [Full Story]
DeSantis Suspends 4 Broward County School Board Members
Florida Gov. Ron DeSantis on Friday suspended four members of the [Full Story]
US Data Reveals Racial Gaps in Monkeypox Vaccinations
The Biden administration said Friday there's enough monkeypox vaccine [Full Story]
Warner: Intelligence Panel Needs Damage Assessment of Trump Materials
Mark Warner, D-Va., chairman of the Senate Select Committee on [Full Story]
Report: National Archives Requested Trump-Kim Jong Un Letters Via FedEx
The National Archives reportedly requested last year that one of [Full Story]
Accused Ringleader in NBA Healthcare Fraud Pleads Guilty
The accused ringleader of a scheme involving at least 19 former [Full Story]
LA Voters to Decide on Housing Homeless in Vacant Hotel Rooms
Voters in Los Angeles will cast a ballot in 2024 on a proposal to [Full Story]
Trump Blasts Redacted Affidavit Release: 'Public Relations Subterfuge'
Former President Donald Trump offered a brief, but visceral reaction [Full Story]
Meghan McCain Slams N.H. Libertarian Party for Celebrating Dad's Death
Meghan McCain, daughter of the late Sen. John McCain, R-Ariz., is [Full Story]
CBS: Russian Paratrooper Disgusted With War Has Defected
A Russian paratrooper disgusted with Russia's invasion of Ukraine has [Full Story]
Bernie Sanders Tops IPSOS/USA Today Poll for Democrat Nomination
Bernie Sanders, I-Vt., holds the highest favorability rating [Full Story]
Biden Calls Abortion Restrictions 'Beyond the Pale'
As Republican-led states continue to ban nearly all abortions, [Full Story]
Redacted Mar-a-Lago Affidavit Released
The Justice Department on Friday released a partially blacked-out [Full Story]
Poll: 83 Percent Say Local TV News Most Trustworthy
A full 87% of Americans say they are satisfied with the coverage of [Full Story]
Video Report: Russian Shelling at Zaporizhzhia Could Create Nuclear Disaster
Russian shelling at the Zaporizhzhia power plant could lead to a [Full Story] | video
Judge: Texas Can't Ban 18-20-Year-Olds From Carrying a Handgun
A federal judge has ruled that Texas can't prohibit 18-20-year-olds [Full Story]
Video Report: Ex-Marine Scheller Still Angry About Afghanistan Withdrawal
Former Marine Lt. Col. Stuart Scheller still is angry about the Biden [Full Story] | video
Zuckerberg: Facebook Suppressed Hunter Laptop Story After FBI Visit
Facebook founder Mark Zuckerberg admitted Thursday that his Meta [Full Story]
Finance
Powell: Fed Could Keep Lifting Rates Sharply 'for Some Time'
Federal Reserve Chair Jerome Powell delivered a stark message Friday: The Fed will likely impose more large interest rate hikes in coming months and is resolutely focused on taming the highest inflation in four decades…. [Full Story]
Etsy Says US Sellers Must Verify Bank Accounts
Court Upholds SpaceX Low-Orbit Satellite Plan
Christie's to Auction Paul Allen's Art Trove, Valued at $1B+
Peter Reagan: Historic US Economic Challenges Could Get Worse
More Finance
Health
US Monkeypox Cases May Be Peaking, Experts Say
Monkeypox cases in some large U.S. cities appear to be declining, matching trends seen in Europe, and experts are cautiously optimistic the outbreak may have peaked in places hit hardest hit by the virus. The World Health Organization earlier on Thursday said monkeypox cases…… [Full Story]
Don't Take These Medications in the Morning
USDA Scattering Vaccines for Wildlife in 13 States to Prevent Rabies Spread
Treat Your Furry Friends to a Doggy Doughnut for National Dog Day
EPA to Designate Toxic 'Forever Chemicals' as Hazardous Substances
MHProNews has pioneered in our profession several reporting elements that keep our regular and attentive readers as arguably the best informed in the manufactured housing industry. Among the items shared after 'every business day' (when markets are open) is our left-right headline recap summary. At a glance in two to three minutes, key 'market moving' news items are covered from left-of-center CNN Business and right-of-center Newsmax. "We Provide, You Decide." © Additionally, MHProNews provides expert commentary and analysis on the issues that others can't or won't cover that help explain why manufactured housing has been underperforming during the Berkshire era while an affordable housing crisis and hundreds of thousands of homeless in America rages on. These are "Industry News, Tips, and Views Pros Can Use" © features and others made and kept us the runaway #1 in manufactured housing trade publisher for a dozen years and counting.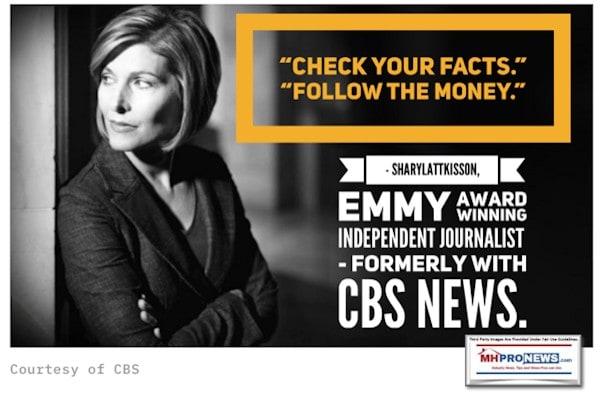 Manufactured Housing Industry Investments Connected Equities Closing Tickers
Some of these firms invest in manufactured housing, or are otherwise connected, but may do other forms of investing or business activities too.
NOTE: The chart below includes the Canadian stock, ECN, which purchased Triad Financial Services, a manufactured home industry lender
NOTE: Drew changed its name and trading symbol at the end of 2016 to Lippert (LCII).
NOTE: Deer Valley was largely taken private, say company insiders in a message to MHProNews on 12.15.2020, but there are still some outstanding shares of  the stock from the days when it was a publicly traded firm.  Thus, there is still periodic activity on DVLY.
Triad Financial Services Q2-2022 FINANCIAL RESULTS, per ECN Capital – Several Bright Spots in Manufactured Home Market Highlighted, Including Communities, Retail, Land-Home, Floor; MHStocks Update
'Blackrock Weaponizing ESG'– State AGs Probe MHCommunities Owner, Private Equity Giant Blackrock on Possible Antitrust, Securities, Fiduciary Violations, See AGs' Document; plus MHStocks Update
Cavco Quarterly Results, Facts, and Trends Include SEC Suit Update, Manufactured Home Production Volumes, Financial Figures, Corporate Data and Manufactured Housing Analysis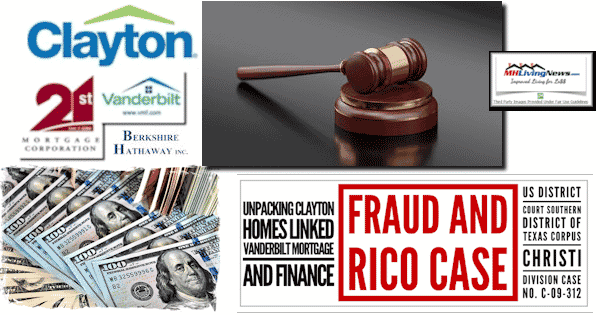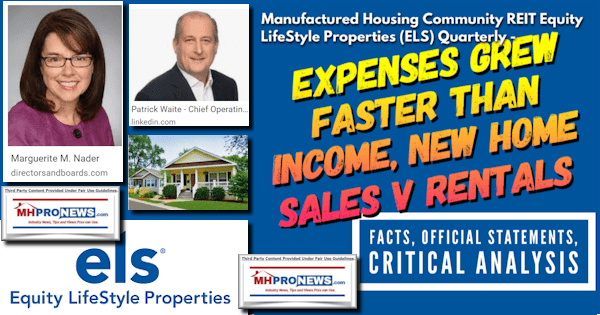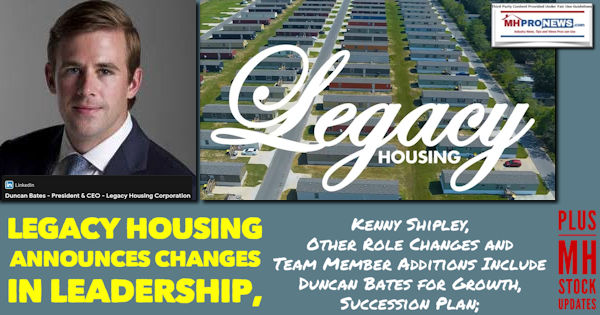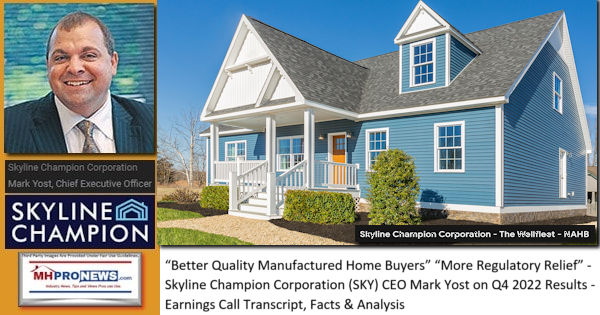 Manufactured Home Communities (a.k.a. 'Mobile Home Parks' – SIC) – Exploring UMH Properties; Fellow Manufactured Housing Institute Member Yes! Communities Suits and Settlements; plus MH Markets Updates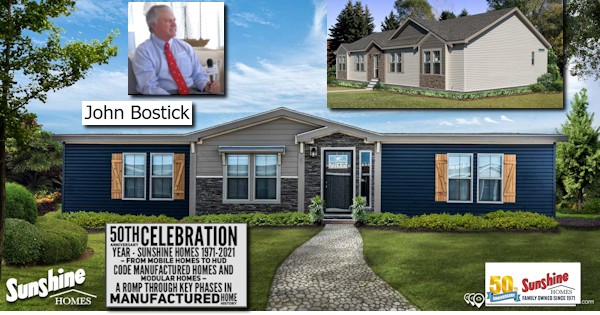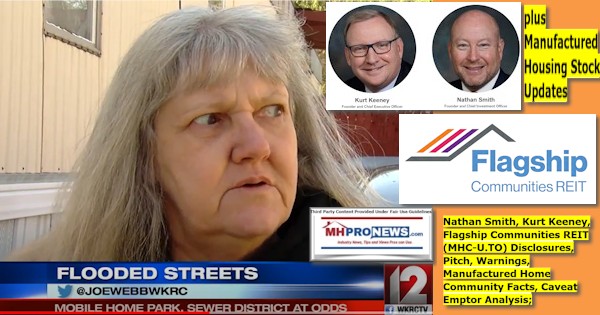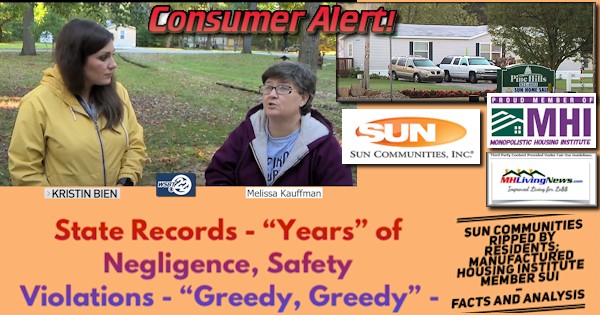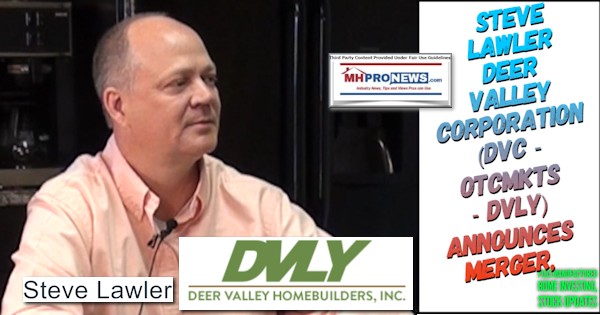 2022

…

Berkshire Hathaway is the parent company to Clayton Homes, 21st Mortgage, Vanderbilt Mortgage and other factory-built housing industry suppliers.


·

LCI Industries, Patrick, UFPI, and LP each are suppliers to the manufactured housing industry, among others.




·

AMG, CG, and TAVFX have investments in manufactured housing related businesses.

For

insights from third-parties and clients about our publisher

, click here.


Enjoy these 'blast from the past' comments.

MHProNews. MHProNews – previously a.k.a. MHMSM.com – has celebrated our 11th year of publishing and have completed over a dozen years of serving the industry as the runaway most-read trade media.
Sample Kudos over the years…
It is now 12+ years and counting…
Learn more about our evolutionary journey as the industry's leading trade media, at the report linked below.
· For expert manufactured housing business development or other professional services, click here.
· To sign up in seconds for our industry leading emailed headline news updates, click here.

Disclosure. MHProNews holds no positions in the stocks in this report.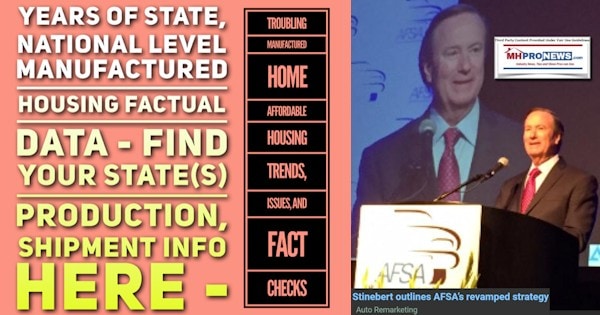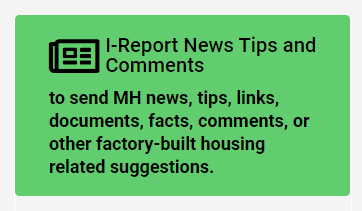 That's a wrap on this installment of "News Through the Lens of Manufactured Homes and Factory-Built Housing" © where "We Provide, You Decide." © (Affordable housing, manufactured homes, stock, investing, data, metrics, reports, fact-checks, analysis, and commentary. Third-party images or content are provided under fair use guidelines for media.) (See Related Reports, further below. Text/image boxes often are hot-linked to other reports that can be access by clicking on them.)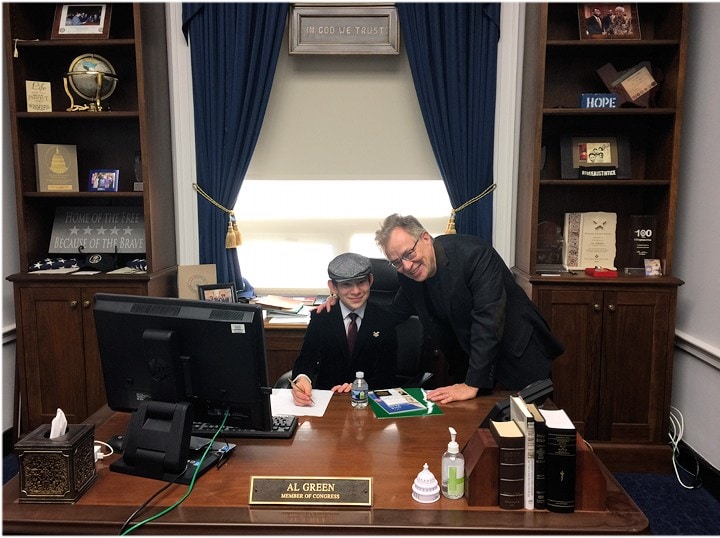 By L.A. "Tony" Kovach – for MHProNews.
Tony earned a journalism scholarship along with numerous awards in history. There have been several awards and honors and also recognition in manufactured housing. For example, he earned the prestigious Lottinville Award in history from the University of Oklahoma, where he studied history and business management. He's a managing member and co-founder of LifeStyle Factory Homes, LLC, the parent company to MHProNews, and MHLivingNews.com. This article reflects the LLC's and/or the writer's position and may or may not reflect the views of sponsors or supporters.
Triad Financial Services Q2-2022 FINANCIAL RESULTS, per ECN Capital – Several Bright Spots in Manufactured Home Market Highlighted, Including Communities, Retail, Land-Home, Floor; MHStocks Update
Cavco Quarterly Results, Facts, and Trends Include SEC Suit Update, Manufactured Home Production Volumes, Financial Figures, Corporate Data and Manufactured Housing Analysis