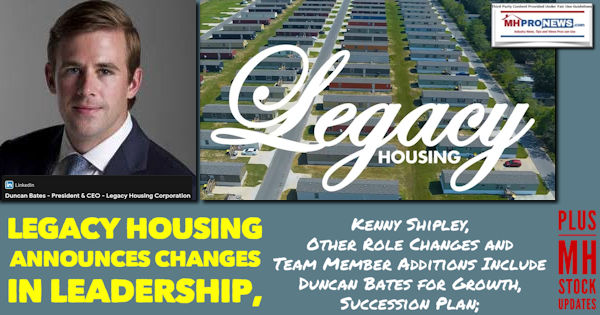 Legacy Housing Corporation (LEGH) Announced last week several changes to their leadership team.  Those shifts and additions were described in a press release which is posted below. It includes the addition of Duncan Bates as their new president and chief executive officer (CEO), with co-founder Kenneth "Kenny" Shipley moving into the executive vice president slot and retains his board position. Following the Legacy press release to MHProNews and others in media are additional linked and other information, analysis and commentary in brief. The business daily manufactured housing equities and our time-saving left-right headlines recap follow those items.
The photos below are not in the Legacy release but were added by MHProNews.
Legacy Housing Corporation Announces Appointment of Duncan Bates as President and Chief Executive Officer
June 08, 2022 17:00 ET | Source: Legacy Housing Corporation
BEDFORD, Texas, June 08, 2022 (GLOBE NEWSWIRE) — Legacy Housing Corporation (the "Company," NASDAQ: LEGH) today announced that Duncan Bates, a member of the Company's Board of Directors and Senior Vice President, Mergers & Acquisitions of Arcosa, Inc. (NYSE: ACA), has been appointed President and Chief Executive Officer, effective June 7, 2022.
Curt Hodgson, Executive Chairman of Legacy, stated: "I am thrilled to name Duncan as the President and CEO of Legacy. He brings a wealth of knowledge and experience in corporate finance and capital allocation that will assist us in operating as a public company and strategically growing our business. Duncan has a proven track record of leadership and is an important step in Legacy's succession plan."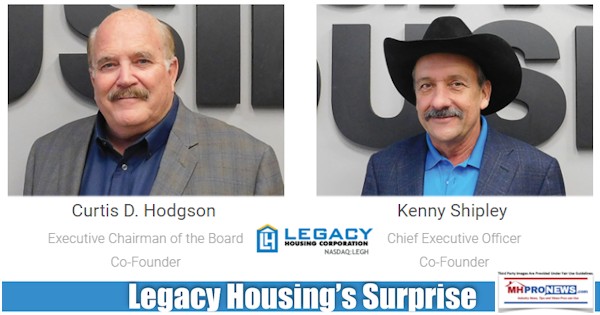 Mr. Bates replaces Kenny Shipley, who, as part of the management reorganization, will remain with Legacy as Founder and Executive Vice President. Mr. Shipley will also remain a member of the Company's Board of Directors (the "Board"). Mr. Bates resigned from the Company's Board effective June 7, 2022. Effective June 7, 2022, Francisco Coll was appointed to the Company's Board as an Independent Director and will also serve on the Audit Committee.
Mr. Hodgson added, "We are excited that Kenny remains a key part of our team, and I look forward to the new roles both Duncan and Francisco will play in the leadership of Legacy."
Duncan Bates Bio
Duncan (34) most recently served as Senior Vice President, Mergers & Acquisitions of Arcosa Inc., a publicly traded infrastructure products company, since August 2018. Under his leadership, Arcosa executed 16 acquisitions and 2 divestitures in a 3.5-year period to reposition its portfolio around growth-oriented, high-margin products. Previously, he served as a Vice President in the Industrials Investment Banking Group at Stephens Inc. from June 2015 to August 2018. From February 2012 to June 2015, he worked in the Energy Investment Banking Group at Seaport Global Securities, LLC. Mr. Bates began his career in New York at Willis Re Inc. in July 2010. Duncan received his B.S. Management degree with a double major in Finance and Legal Studies from Tulane University.
Francisco Coll Bio
Francisco (37) was appointed to our Board of Directors on June 7, 2022. He has served as the President of Universal Air Conditioner, Inc., a wholesale distributor of aftermarket auto parts, since March 2015. Previously, he was the US Head of Sales for BTG Pactual, a Brazilian investment bank and asset manager that operates throughout Latin America, from March 2011 until March 2015. Mr. Coll began his career at UBS Investment Bank in the sales & trading and wealth management rotational program in July 2007. Francisco received his B.S. degree in East Asian Studies with a minor in Financial Economics from Vanderbilt University.
About Legacy Housing Corporation
Legacy Housing Corporation builds, sells and finances manufactured homes and "tiny houses" that are distributed through a network of independent retailers and company-owned stores. The Company also sells directly to manufactured housing communities. Legacy is the sixth largest producer of manufactured homes in the United States as ranked by number of homes manufactured based on the information available from the Manufactured Housing Institute. With current operations focused primarily in the southern United States, we offer our customers an array of quality homes ranging in size from approximately 390 to 2,667 square feet consisting of 1 to 5 bedrooms, with 1 to 3 1/2 bathrooms. Our homes range in price, at retail, from approximately $22,000 to $140,000.
Forward Looking Statements
This press release may contain forward-looking statements within the meaning of the Securities and Exchange Act of 1934 and the Private Securities Litigation Reform Act of 1995. These forward-looking statements are subject to a number of risks and uncertainties, many of which are beyond our control. As a result, our actual results or performance may differ materially from anticipated results or performance. Legacy Housing undertakes no obligation to update any such forward-looking statements after the date hereof, except as required by law. Investors should not place any reliance on any such forward-looking statements.
Investor Inquiries:
Shane Allred, (817) 799-4900
investors@legacyhousingcorp.com
or
Duncan Bates, (817) 799-4837
duncanbates@legacyhousingcorp.com
Media Inquiries:
Kira Hovancik, (817) 799-4905
pr@legacyhousingcorp.com  ##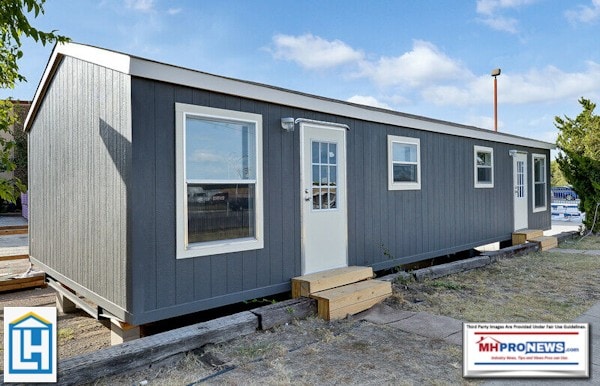 Additional Information, More MHProNews Insights, Analysis, and Commentary in Brief 
Regular MHProNews readers recall the recent Legacy Housing related headline and topic found in the report linked below.
Legacy Housing Responds to Notification of Deficiency from Nasdaq Related to Delayed Filing of Quarterly Report on Form 10-Q; plus Manufactured Home Industry Equities Updates
ICYMI or need a refresher, click the link above.
Legacy has long followed a unique path in MHVille. They are reportedly an MHI member but are apparently not part of the 'in' crowd there that routinely carries water for the consolidating industry insiders.
Curtis "Curt" D. Hodgson has made statements that when objectively considered are arguably a slam at the go along to get along path that many of his peers have followed.  For example, consider the following pull quotes by Hodgson.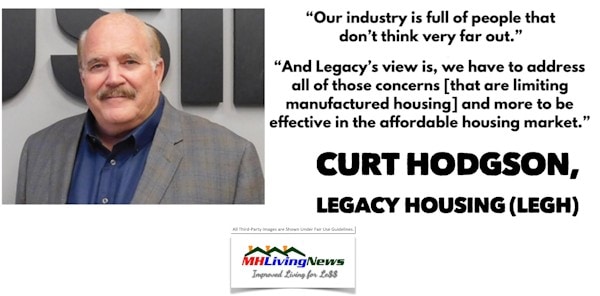 It isn't that Hodgson is alone in having made such remarks, but some of the others that have said something have quickly gone silent after they realized that their remarks were an ill reflection on MHI.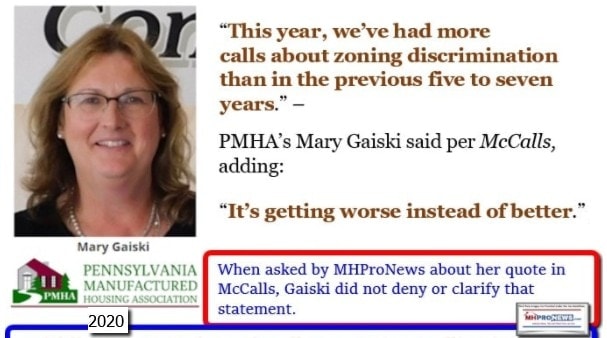 What are some of those limiting factors that Hodgson's quote above point toward? Hodgson has spelled it out along with Legacy's plan for dealing with it.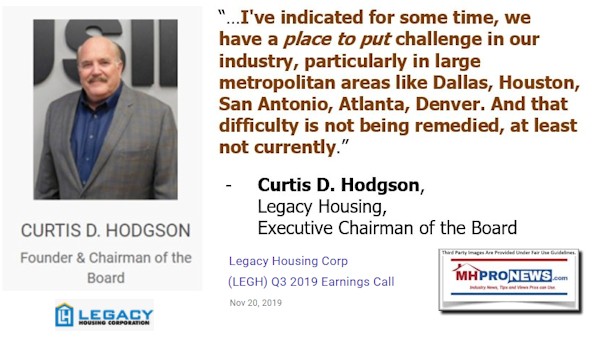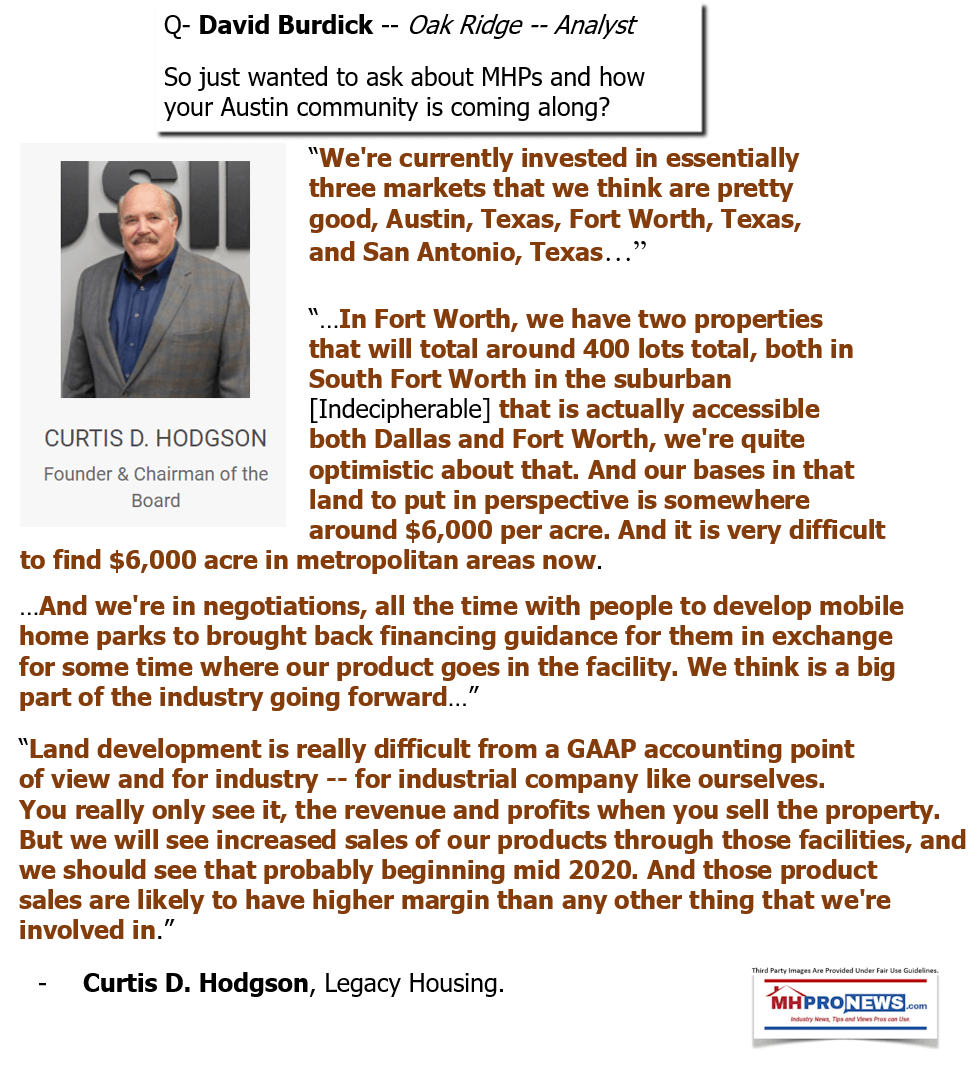 There are others in manufactured housing production who are vertically integrated – as is Legacy – that are doing development to address the 'place to put' issue. That said, one question that Legacy has not publicly addressed is connected to the issue of the Manufactured Housing Improvement Act of 2000 (MHIA) and its enhanced preemption clause. Given that Hodgson is an attorney, it seems likely that he understands the concept. Are he and Legacy's leadership waiting for some specific occurrence before coming out and making a public statement on this hot-button issue? Would Legacy be willing to lead on some of the issues that MHI may voice complaints about but in practice doesn't act legally to enforce?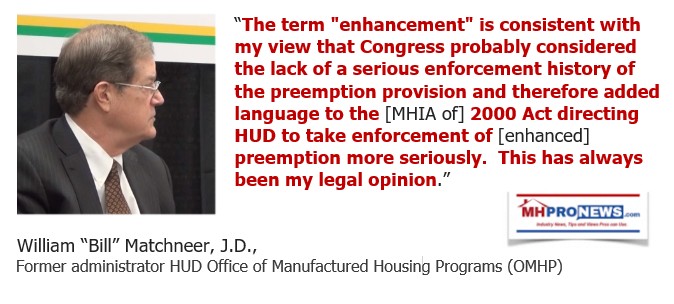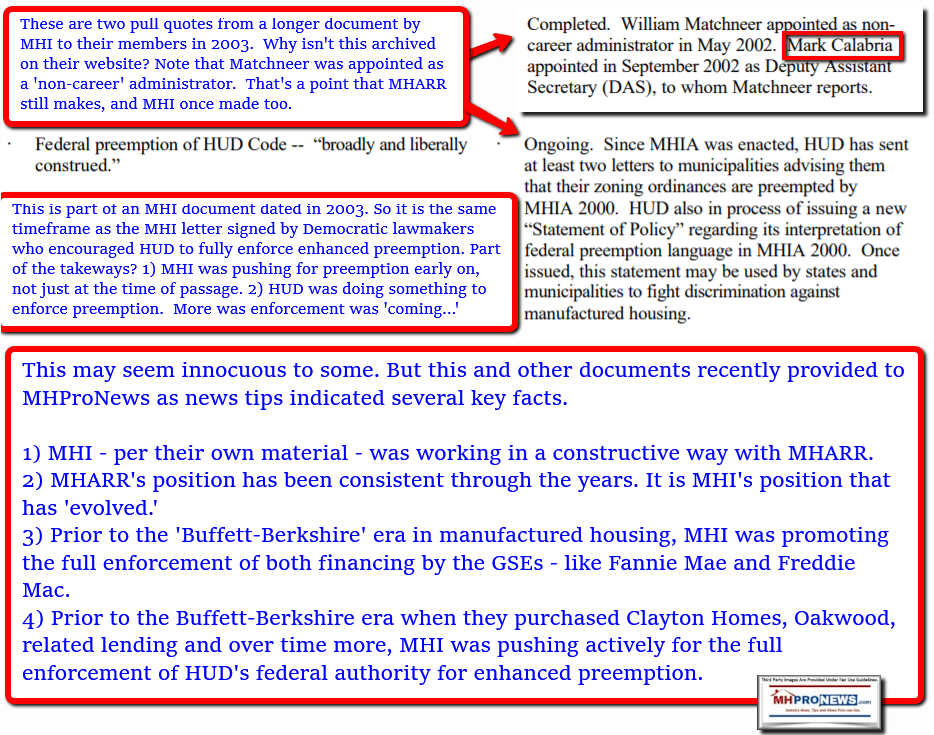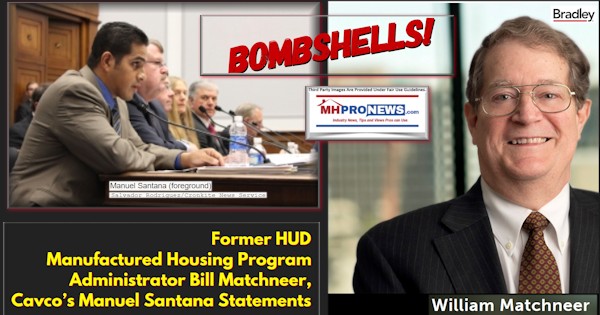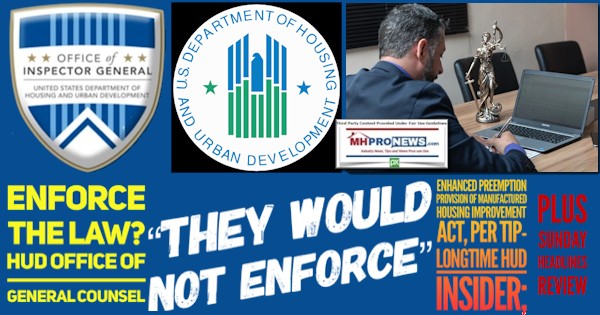 Perhaps time will tell. What change, if any, may occur with Bates in his new role will be worth monitoring. What is certain is that Shipley and Hodgson did not back down when confronted by the most potent and lethal rival in manufactured housing; namely, Clayton Homes.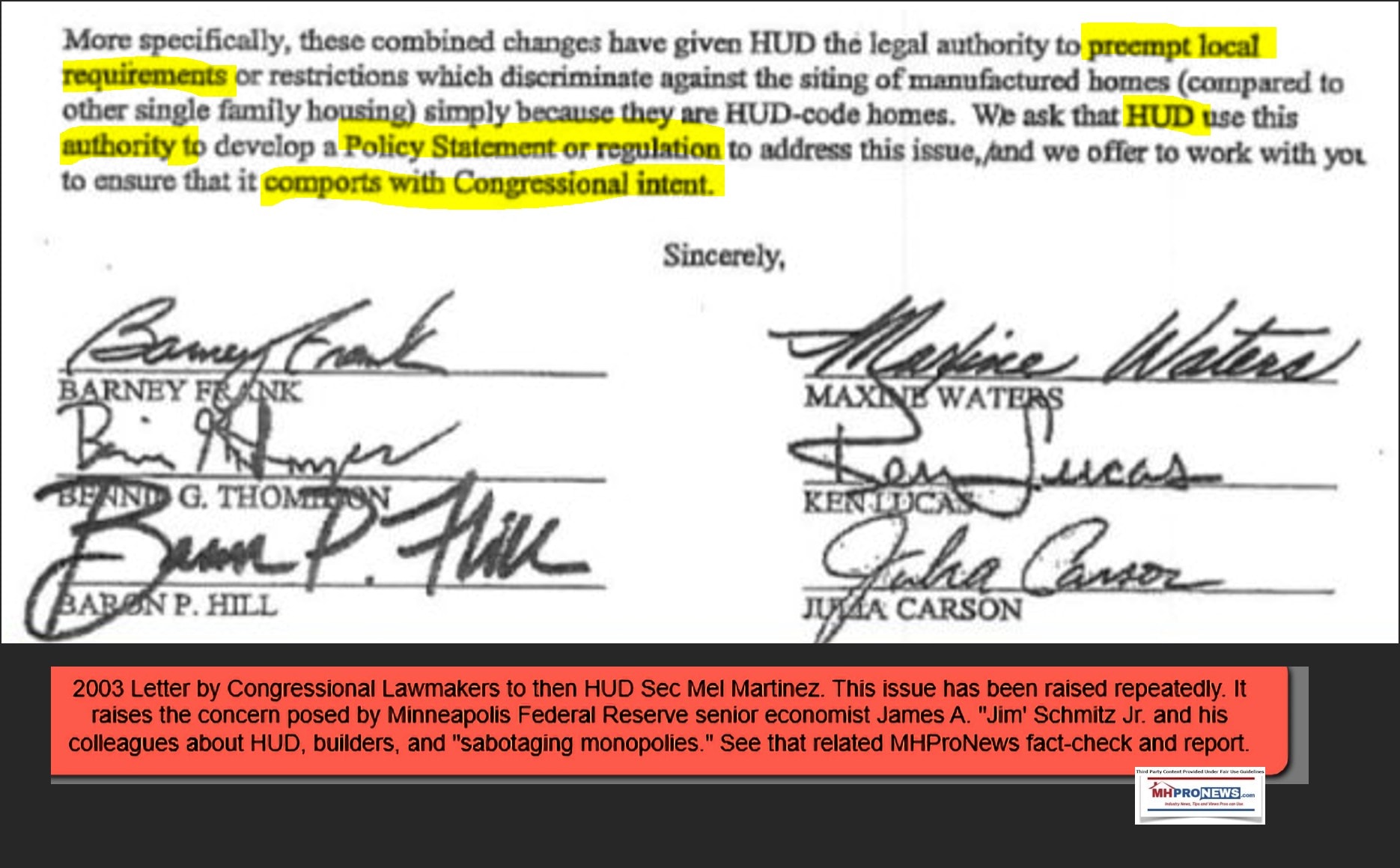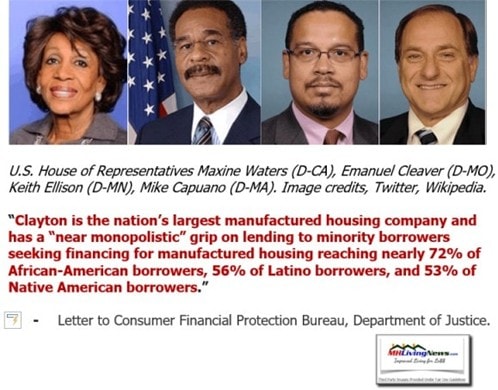 Meanwhile, in recent years, Cavco Industries and Skyline Champion have arguably played footsie with Clayton, working essentially in lockstep. Who says? Outsiders looking in and insiders willing to speak candidly about what they see.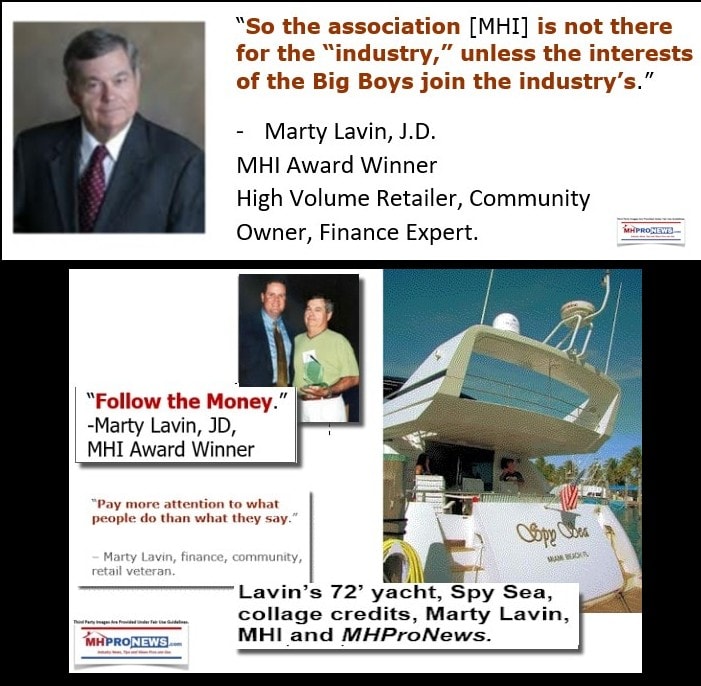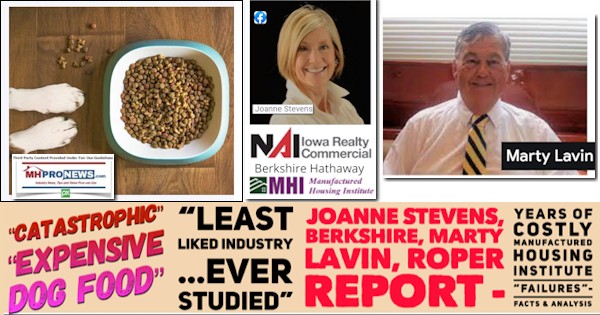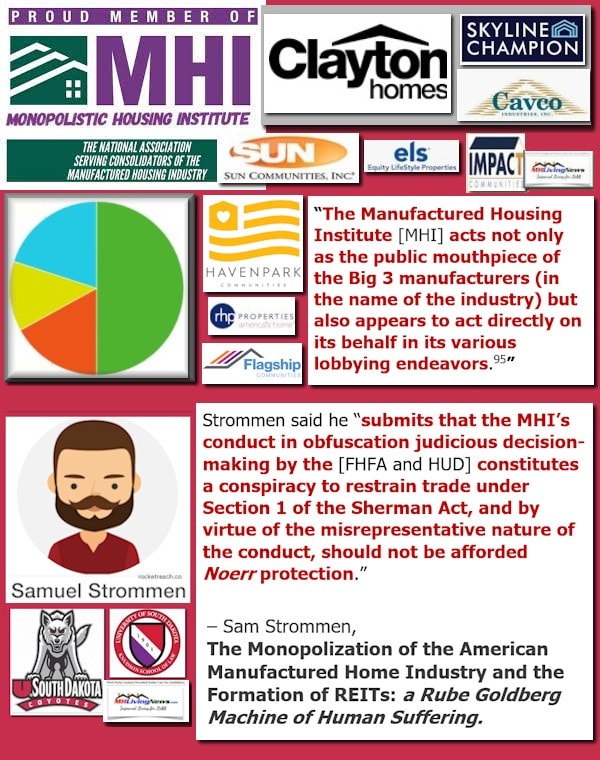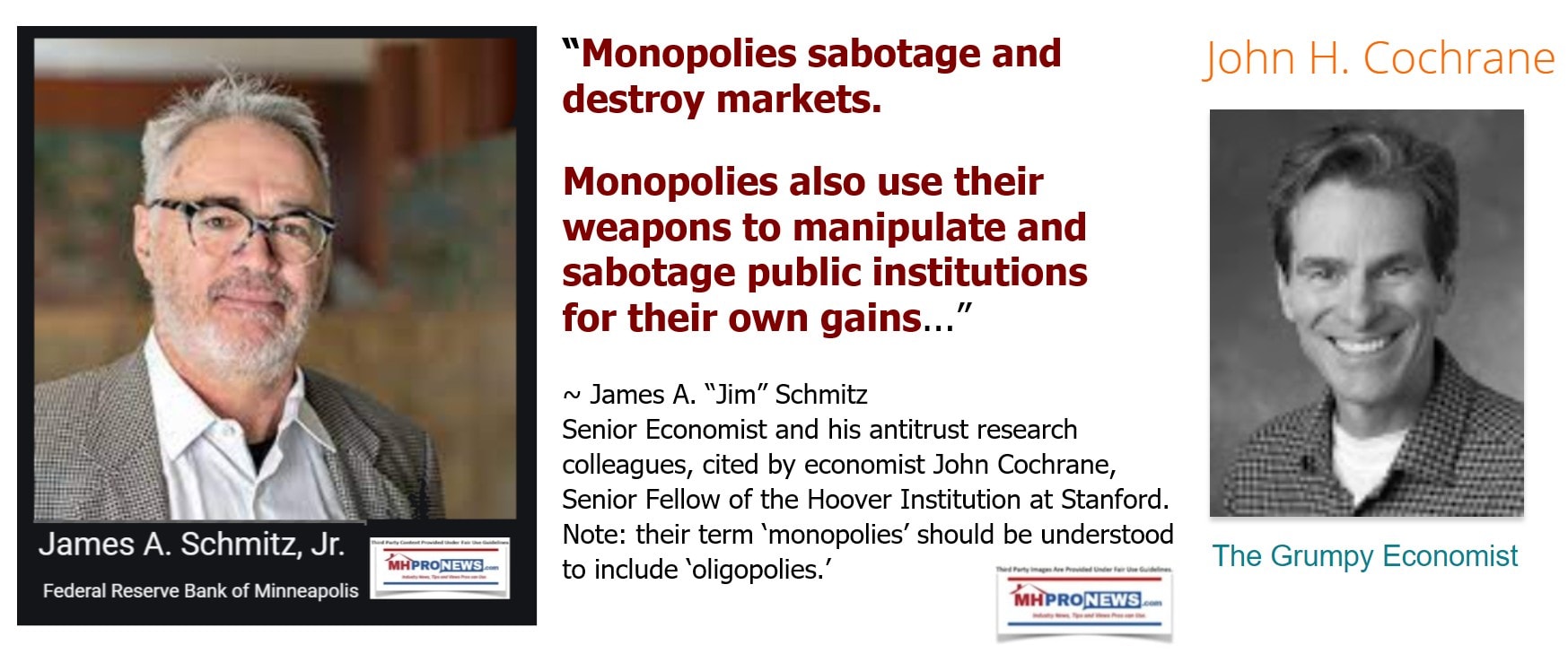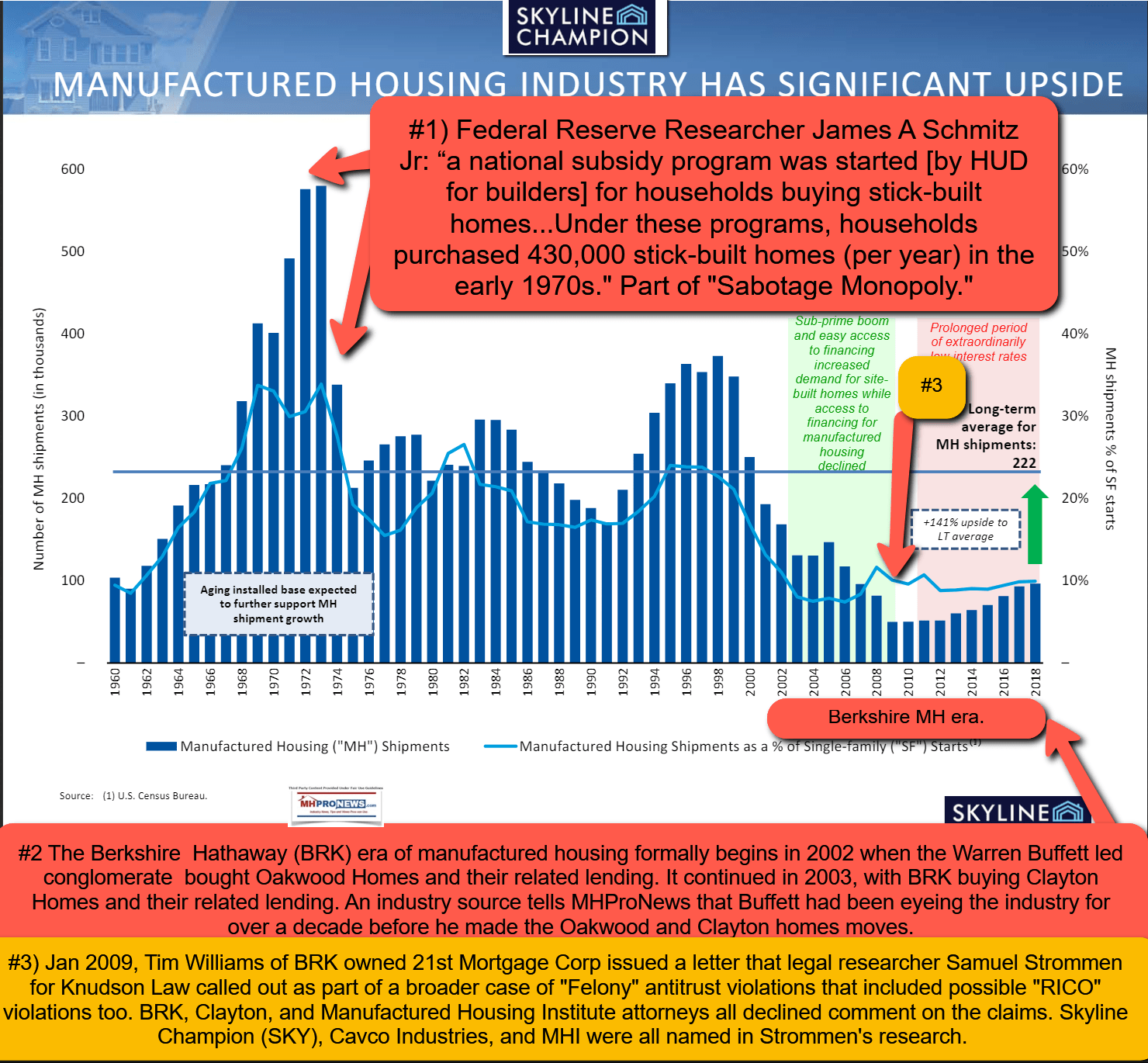 Stay tuned for more from your best source for objective, factual, cogent analysis and commentary found exclusively on MHProNews and MHLivingNews.
Programming NOTICEs: there will be special reports on the latest from MHI, their position on the "House on the Hill" event, and more on MHI's arguably bizarre behavior with respect to the DOE Energy Rule. The latest from MHARR in response to those moves are also on tap. Stay tuned for those and more in the days ahead.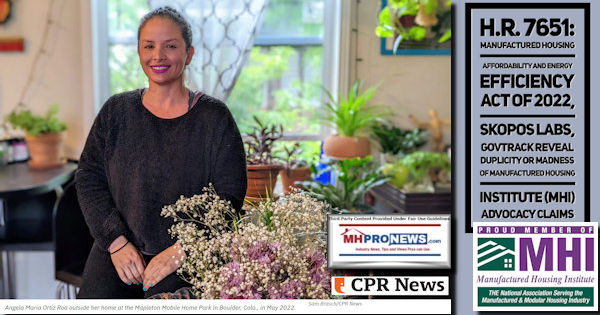 How Serious Is Climate Change? New Data from China, India Reveals Stunning Coal Production Facts; Meanwhile, Biden DOE Racing to Implement Costly Manufactured Housing Energy Rule; MHStocks Sour
U.S. Census Bureau Updated HUD Code Manufactured Housing Sales Price Data Nationally, by U.S. Regions – 'Elites Hate Lower Income Americans and Manufactured Homes, Which They Deny But Prove at Every Turn
State by State, National Totals on HUD Code Manufactured Home Production, Shipments for April 2022; plus, Sunday Manufactured Housing Headlines Week in Review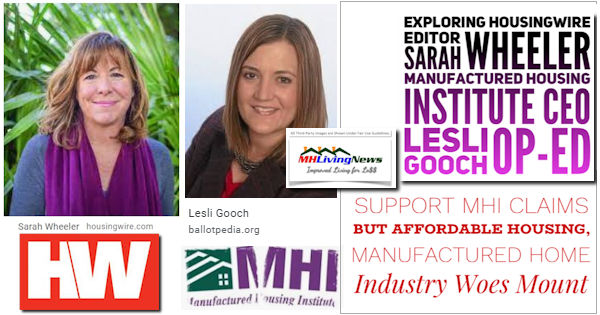 Next up is our daily business news recap of yesterday evening's market report, related left-right headlines, and manufactured housing connected equities.
The Business Daily Manufactured Home Industry Connected Stock Market Updates.  Plus, Market Moving Left leaning CNN and Right-leaning (Newsmax) Headlines Snapshot. While the layout of this daily business report has been evolving over time, several elements of the basic concepts used previously are still the same. For instance. The headlines that follow below can be reviewed at a glance to save time while providing insights across the left-right media divide. Additionally, those headlines often provide clues as to possible 'market-moving' news items.
Market Indicator Closing Summaries – Yahoo Finance Closing Tickers on MHProNews…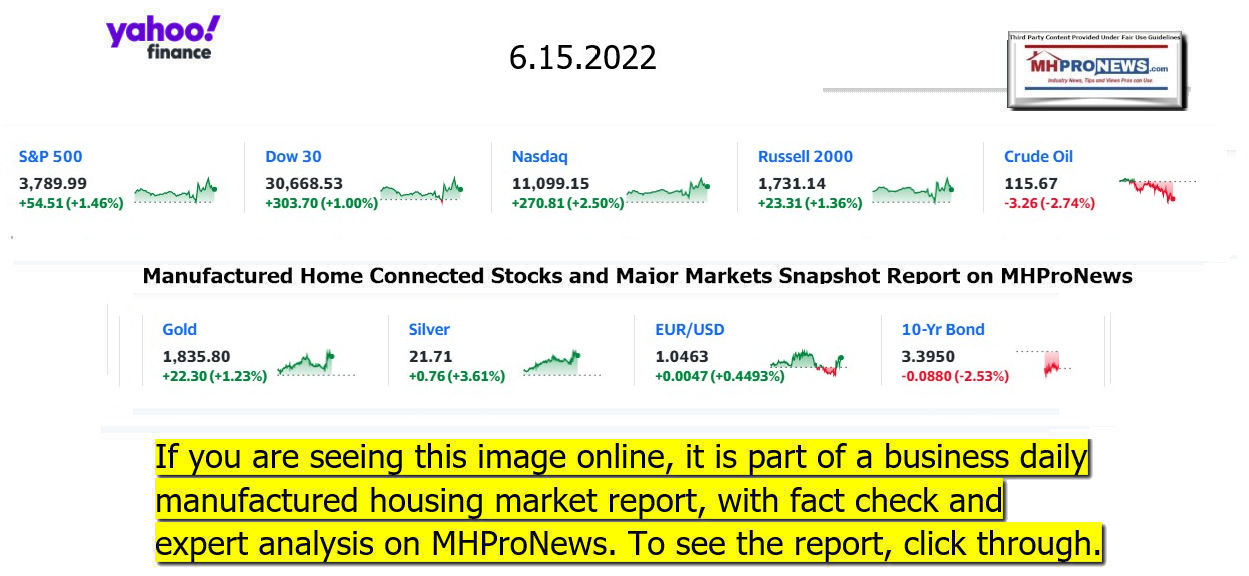 Headlines from left-of-center CNN Business – from the evening of 6.15.2022
Historic rate hike
Fed raises interest rates by three-quarters of a percentage point in boldest move since 1994
LIVE UPDATES And now the stock market LOVES the Fed news
Jerome Powell's transformation from dove to hawk is nearly complete
What the interest rate hike means for you
Consumers pull back spending due to high gas and food prices
Manufacturing CEOs are worried about a recession
Bitcoin has crashed more than 30% this week to $20,000
Here's why crypto experts are shrugging off the bitcoin crash
Triple-whammy for European gas supplies sends prices soaring
Fact-checking Biden's claim that Putin shares blame for inflation
End of an era: Microsoft retires Internet Explorer
Why gas prices always end in 9/10 of a cent
Teslas using driver-assist systems were involved in 273 crashes over the past 10 months, according to NHTSA
Ford recalls 2.9 million vehicles that could roll away when placed in park
Retiring into a bear market: What to do, what to avoid
An aerial photo made with a drone shows a house for sale in Round Lake Heights, Illinois, USA, 21 January 2021.
Here's how today's rate hike will impact you
Bill Gates says crypto and NFTs are a sham
RSVP NOW Fueling the next generation of Black leadership
Join our livestream discussion on Thursday with Walgreens Boots Alliance CEO Rosalind Brewer and CNN's Stephanie Elam
INVESTING
Tesla sign is seen at a store in Sunnyvale, California, United States on September 25, 2021. Tesla Inc (TSLA) Chief Executive Elon Musk announces the electric carmaker will move its headquarters from Silicon Valley's Palo Alto, California to Austin, Texas. Tesla joins Oracle, Hewlett Packard Enterprise and Toyota Motor in moving U.S. headquarters to Texas from California, which has heavier taxes, higher real estate price and costs of living.
Tesla stock is about to get much cheaper
Credit Suisse CEO blasts takeover rumor
Welcome to the year of the bear
Wall Street's blank-check boom has gone bust
Wall Street's top cop proposes massive changes to the stock market
RETIREMENT
Retiring into a bear market: What to do, what to avoid
How retirees are getting hit by inflation
Here's how to retire long before your 60s
Quit your job? Here's what to do with your 401(k)
These retirement bills let older workers put even more into their 401(k)s
Headlines from right-of-center Newsmax 6.15.2022
Federal Reserve Tackles Inflation With Biggest Rate Hike Since 1994
The Federal Reserve on Wednesday intensified its drive to tame high inflation by raising its key interest rate by three-quarters of a point – its largest hike in nearly three decades – and signaling more large rate increases to come. [Full Story]
Russian Invasion of Ukraine
Russia Claims Destruction of NATO Weapons Warehouse in Ukraine
White House Expected to Announce $1B in Weapons for Ukraine
France's Macron: Ukraine President Will Have to Negotiate With Russia at Some Point
Ukraine's Need for More Weapons Major Focus as Defense Ministers Meet
Russia Says It Rejects Ideology of Limited Nuclear War: RIA
Donbas Battle Will Determine Course of War: Zelenskyy
Russia Bans 29 British Journalists, Along With Defense Figures
Ukraine Dismantling Pro-Russian Political Parties
More Russian Invasion of Ukraine
Newsmax TV
Comer: Lawyer's $2M Loan to Hunter Biden Raising Concerns | video
Reschenthaler: Biden Deflecting From Failed Oil Policy | video
Mace: GOP Must Unify Behind Party Nominees | video
T. McFarland: Cutting Trump's China Tariffs the 'Wrong Thing' | video
Grassley: With Biden Energy Policy, 'What Would You Expect?' | video
Comer to Newsmax: Biden's Hoover-Trump Comparison for Job Creation 'Not True' | video
Warner: Invasion of Taiwan Would Disrupt Semiconductor Production | video
Newsfront
Trump Cheers Primary Wins in South Carolina, Nevada
Former President Donald Trump on Wednesday cheered wins by political candidates he endorsed in primary races…. [Full Story]
Related Stories
Trump-Endorsed Candidates Lombardo, Laxalt Take Wins in Nevada
Gizzi: Just 25 Percent Voted for Trump-Scorned Rice in SC
Trump Targets in South Carolina: Reps. Rice Gets Fry'd, Mace Holds Off Arrington
WHO Investigating Possibility Monkeypox is Sexually Transmitted
The World Health Organization (WHO) is looking into reports that the [Full Story]
Energy Execs: 2030 Too Soon to Go Green
Energy company officials on Wednesday urged using shorter-term [Full Story]
Megyn Kelly to Newsmax: Fox News Trans Kid Story 'Irresponsible' to Air
Former Fox News host Megyn Kelly ripped into her former network [Full Story] | video
Fox News Shocks Audience: Backs Trans Teenager, Parents
Fauci Tests Positive for COVID-19
Anthony S. Fauci, director of the National Institute of Allergy and [Full Story]
San Francisco Recalls Progressive DA in Warning to Others
San Franciscans voted decisively to recall progressive District [Full Story] | Platinum Article
Report: FBI Condemns Ex-Official's Conduct While Investigating Trump-Russia
The FBI reportedly commented on Michael Steinbach, the retired FBI [Full Story]
Are North Korea, Iran Better Positioned to Win Nuclear War?
Nuclear war may well be more "winnable" for a totalitarian state than [Full Story] | Platinum Article
What the Fed Rate Hike Means
The U.S. Federal Reserve's big interest rate hike on Wednesday — and [Full Story]
Gallup: 50 Percent Say US Has Poor Moral Values
A record-high 50% of Americans rate the overall state of moral values [Full Story]
Fed Raises Key Rate 0.75 Point, Largest Hike Since 1994
The Federal Reserve on Wednesday intensified its drive to tame high [Full Story]
Cathy McMorris Rodgers Blames Biden, Democrats for Energy Price Hikes
House Energy and Commerce Committee Republican leader Cathy McMorris [Full Story]
Woman Tracks Boyfriend With AirTag Before Running Him Over
A woman in Indianapolis, Indiana, ran over her boyfriend, killing [Full Story]
Poll: Biden's Approval Falls in Third Straight Week, Nears Record Low
President Joe Biden's public approval rating fell to 39% in its third [Full Story]
Abortions Increased in 2020, Reversing 30-Year Decline
Abortions increased in the United States in 2020, reversing a 30-year [Full Story]
China May Be Collecting Data Through Smart Coffee Machines
American researcher Christopher Balding claims he uncovered evidence [Full Story]
US Supreme Court Spurns GOP Bid to Defend Trump Immigration Rule
The U.S. Supreme Court on Wednesday dismissed a bid by Republican [Full Story]
Two Police Officers in California Killed in Ambush, Authorities Say
Two police officers in Southern California were shot and killed while [Full Story]
China May Have Detected Signals From Alien Civilization
Researchers in China recently detected "suspicious"space signals that [Full Story]
Buffalo Supermarket Gunman Hit With Federal Hate Crime Charges
The white gunman accused of killing 10 Black people in a racist [Full Story]
Presidents Xi, Putin Speak by Phone: Chinese State Media
Chinese President Xi Jinping spoke by phone with his Russian [Full Story]
Tesla, Honda Among Those to Report Advanced Driving Systems Vehicle Crashes
Tesla Inc. reported 273 vehicle crashes involving advanced driving [Full Story]
Floods Leave Yellowstone Landscape 'Dramatically Changed'
The forces of fire and ice shaped Yellowstone National Park over [Full Story]
US Vulnerable to Russia, China Nuclear Strike
Despite the common mantra that "a nuclear war cannot be won and must [Full Story] | Platinum Article
Report: Arizona, Texas Have Sent 79 Buses of Migrants to Washington
More than 2,500 migrants released from Border Patrol custody have [Full Story]
Taiwan: China Attacking Would Hurt Global Economy More Than Ukraine
Taiwan's top trade negotiator warned that if China were to attack the [Full Story]
Montana Governor Declares Disaster as Historic Floods Sweep Yellowstone
Emergency crews scrambled on Tuesday to reopen roads and restore [Full Story]
AG Sues Over Abortion Law Blocked by Federal Court
Kentucky's Republican attorney general went to court Tuesday claiming [Full Story]
Russia Destroyed Last Bridge to Key Ukrainian City, Says Regional Governor
The Ukrainian governor of Luhansk confirmed Tuesday that the Russian [Full Story]
NY High Court Nixes Trump Appeal, Clearing Way for Testimony
New York's highest court on Tuesday rejected former President Donald [Full Story]
US Extends Sanctions Exemption for Energy Payments to Russia
Washington said Tuesday it will continue to allow payments to Russia [Full Story]
Finance
Energy Execs: 2030 Too Soon to Go Green
Energy company officials on Wednesday urged using shorter-term solutions such as energy efficiency and conservation as the world makes the transition to renewable energy, saying companies must scramble to meet climate targets set for 2030…. [Full Story]
JPMorgan Raises Prime Lending Rate to 4.75%
Spotify to Slow Hiring by 25 Percent
Wall St Rallies After Dismal Week, as Fed Decision Looms
Inflation Latest Tough Dish for US Hospitality Industry
Health
Study: Over 14 Percent of World Has Had Lyme Disease
More than 14 percent of the world's population has had Lyme disease, the most common tick-borne illness, according to a major review of the available research published on Tuesday…. [Full Story]
Study: Optimistic Women More Likely to Live Past 90
Study: Taste Genes Explain Food Preferences and Aversions
FDA to Vote on COVID Vaccines for Children as Young as 6 Months
Lyme Disease is on the Rise: How to Protect Yourself
MHProNews has pioneered in our profession several reporting elements that keep our regular and attentive readers as arguably the best informed in the manufactured housing industry. Among the items shared after 'every business day' (when markets are open) is our left-right headline recap summary. At a glance in two to three minutes, key 'market moving' news items are covered from left-of-center CNN Business and right-of-center Newsmax. "We Provide, You Decide." © Additionally, MHProNews provides expert commentary and analysis on the issues that others can't or won't cover that help explain why manufactured housing has been underperforming during the Berkshire era while an affordable housing crisis and hundreds of thousands of homeless in America rages on. These are "Industry News, Tips, and Views Pros Can Use" © features and others made and kept us the runaway #1 in manufactured housing trade publisher for a dozen years and counting.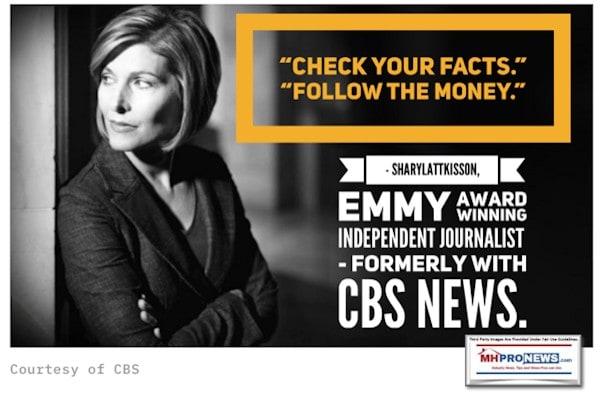 Manufactured Housing Industry Investments Connected Equities Closing Tickers
Some of these firms invest in manufactured housing, or are otherwise connected, but may do other forms of investing or business activities too.
NOTE: The chart below includes the Canadian stock, ECN, which purchased Triad Financial Services, a manufactured home industry lender
NOTE: Drew changed its name and trading symbol at the end of 2016 to Lippert (LCII).
NOTE: Deer Valley was largely taken private, say company insiders in a message to MHProNews on 12.15.2020, but there are still some outstanding shares of  the stock from the days when it was a publicly traded firm.  Thus, there is still periodic activity on DVLY.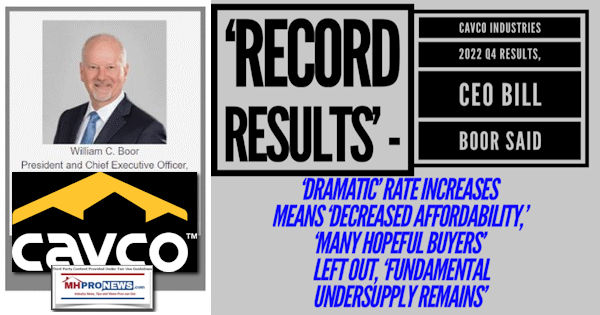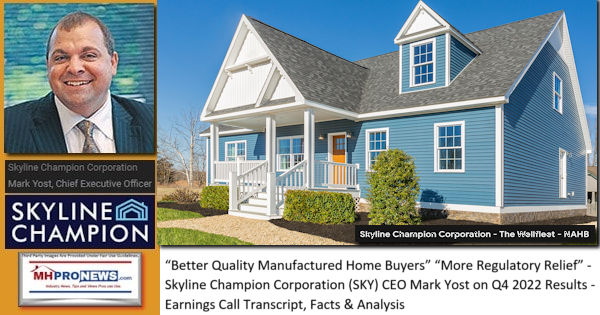 Manufactured Home Communities (a.k.a. 'Mobile Home Parks' – SIC) – Exploring UMH Properties; Fellow Manufactured Housing Institute Member Yes! Communities Suits and Settlements; plus MH Markets Updates
'Announcing!' 'Manufactured Community Owners' Association of America' 'Finally Bringing Fight To Manufactured Home Community Sector of the Industry' – plus Sunday Weekly Manufactured Housing Headlines Review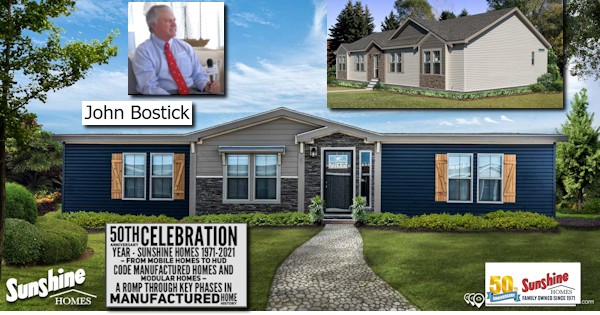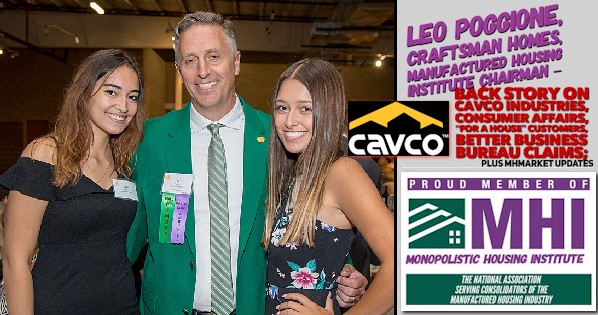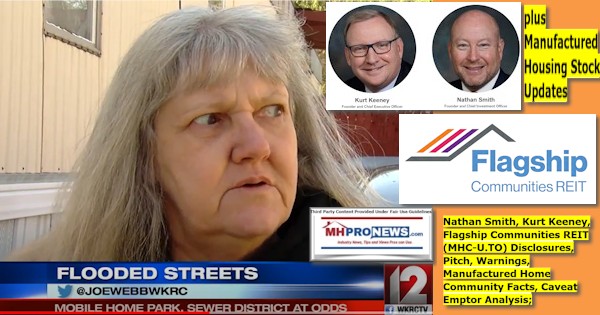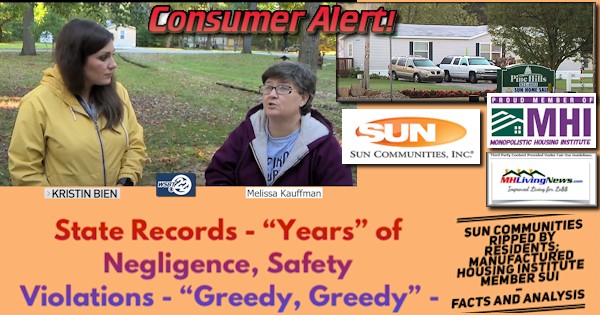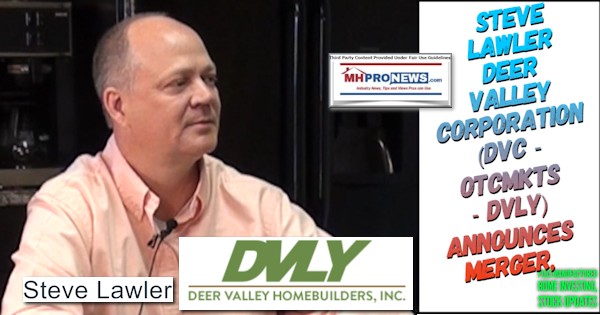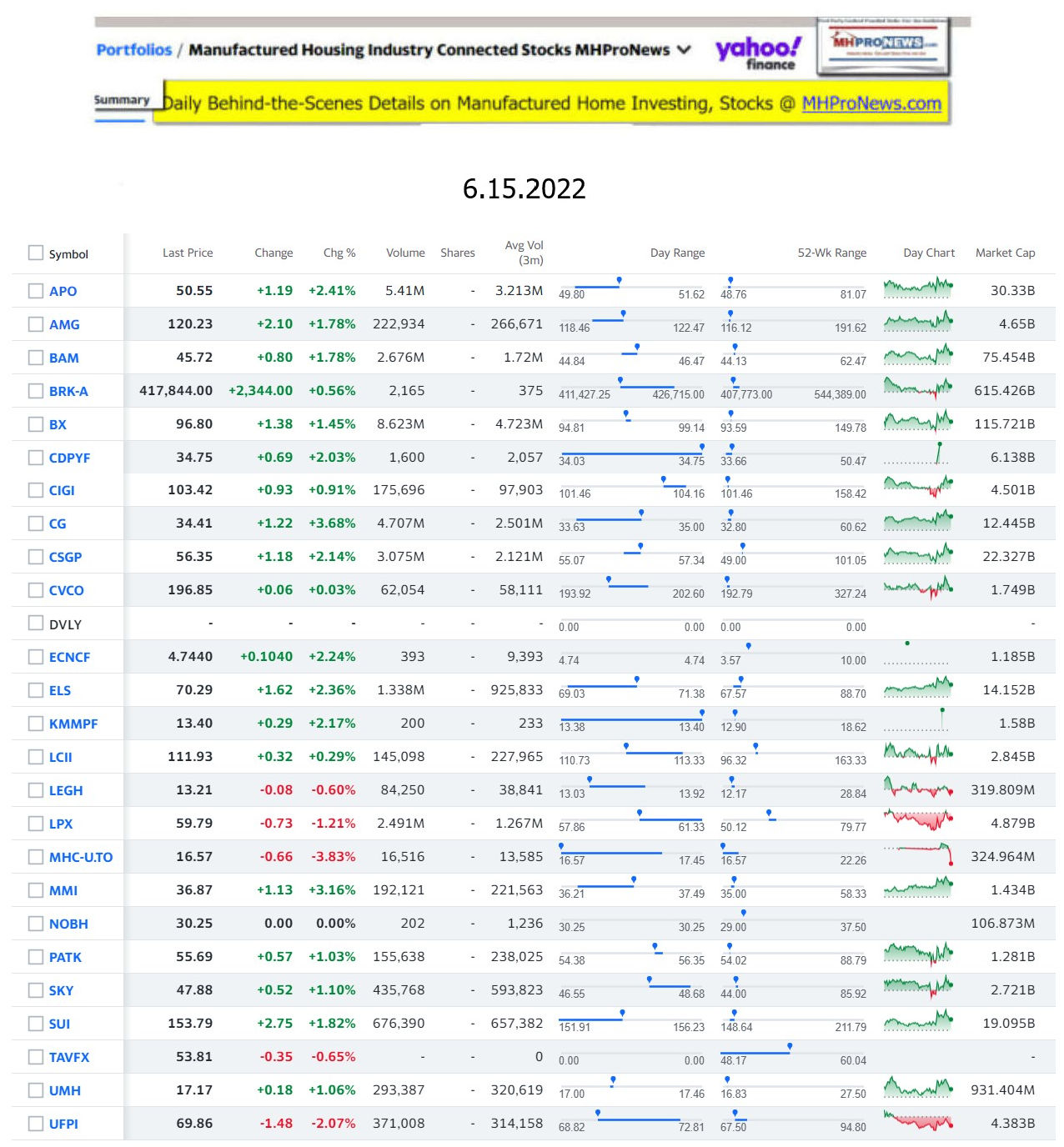 2022

…

Berkshire Hathaway is the parent company to Clayton Homes, 21st Mortgage, Vanderbilt Mortgage and other factory-built housing industry suppliers.


·

LCI Industries, Patrick, UFPI, and LP each are suppliers to the manufactured housing industry, among others.




·

AMG, CG, and TAVFX have investments in manufactured housing related businesses.

For

insights from third-parties and clients about our publisher

, click here.


Enjoy these 'blast from the past' comments.

MHProNews. MHProNews – previously a.k.a. MHMSM.com – has celebrated our 11th year of publishing and have completed over a dozen years of serving the industry as the runaway most-read trade media.
Sample Kudos over the years…
It is now 12+ years and counting…
Learn more about our evolutionary journey as the industry's leading trade media, at the report linked below.
· For expert manufactured housing business development or other professional services, click here.
· To sign up in seconds for our industry leading emailed headline news updates, click here.

Disclosure. MHProNews holds no positions in the stocks in this report.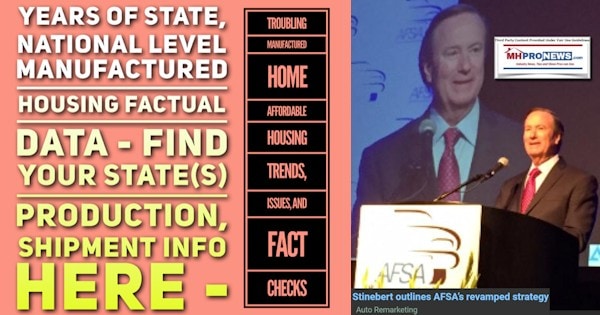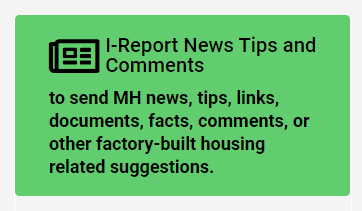 That's a wrap on this installment of "News Through the Lens of Manufactured Homes and Factory-Built Housing" © where "We Provide, You Decide." © (Affordable housing, manufactured homes, stock, investing, data, metrics, reports, fact-checks, analysis, and commentary. Third-party images or content are provided under fair use guidelines for media.) (See Related Reports, further below. Text/image boxes often are hot-linked to other reports that can be access by clicking on them.)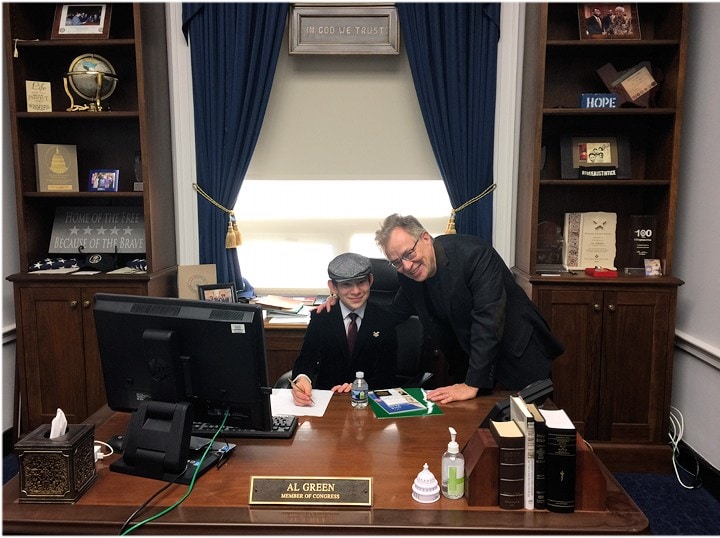 By L.A. "Tony" Kovach – for MHProNews.
Tony earned a journalism scholarship along with numerous awards in history. There have been several awards and honors and also recognition in manufactured housing. For example, he earned the prestigious Lottinville Award in history from the University of Oklahoma, where he studied history and business management. He's a managing member and co-founder of LifeStyle Factory Homes, LLC, the parent company to MHProNews, and MHLivingNews.com. This article reflects the LLC's and/or the writer's position and may or may not reflect the views of sponsors or supporters.