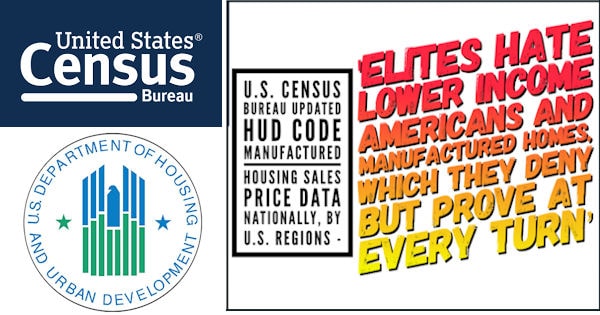 The source of the provocative paraphrase in the headline is found further below. It arrived after MHProNews had drafted this Monday morning report, which is based on U.S. Census Bureau information. The Census Bureau website says that data on the Manufactured Housing Survey was recently updated: "Last Revised: June 8, 2022." Their website also features the U.S. Department of Housing and Urban Development (HUD) logo, under the caption "sponsored by" and the HUD logo. The following information is the June 2022 table of the MHS Latest Data, "Manufactured Housing statistics at a glance."
Average Sales Price of New Manufactured Homes by Region
and Size of Home By Month of Shipment
(Dollars)
United States
Total1
Single
Double
2022
January
122,500
84,600
152,800
2021
December
123,200
80,900
150,300
November
111,900
76,400
139,900
October
112,000
81,700
138,200
September
118,300
78,800
141,300
August
112,000
80,000
138,000
July
118,700
76,000
137,800
June
106,800
70,200
128,100
May
106,500
69,900
128,300
April
100,200
66,700
122,500
March
98,100
63,300
123,200
February
98,300
65,400
122,500
January
95,000
64,100
118,500
2020
December
90,200
62,600
110,800
November
92,600
63,500
112,800
October
89,400
57,200
110,000
September
87,300
58,300
107,800
August
88,200
57,700
109,300
July
84,200
59,800
102,700
June
85,600
52,900
109,800
May
85,900
55,200
109,100
April
86,900
53,300
108,200
March
82,900
53,800
106,900
February
83,400
55,600
107,500
January
86,400
55,300
107,900
2019
December
86,400
54,400
105,700
November
81,600
52,100
107,100
October
81,700
53,900
103,800
September
81,500
55,600
101,800
August
84,100
49,200
107,900
July
82,000
54,000
106,500
June
84,400
52,800
103,800
May
78,100
53,800
98,100
April
78,900
55,700
100,700
March
78,900
50,400
102,100
February
85,000
52,600
107,600
January
81,800
53,400
103,400
2018
December
82,400
52,100
106,000
November
79,900
55,400
100,500
October
82,400
54,500
106,000
September
83,600
54,400
105,400
August
81,500
55,100
100,900
July
78,900
52,000
99,300
June
85,400
54,900
101,300
May
81,200
57,100
99,100
April
74,900
50,600
98,700
March
70,600
49,800
91,400
February
73,400
47,900
93,800
January
69,000
47,300
92,100
2017
December
72,900
53,400
91,800
November
71,800
46,600
99,100
October
68,300
46,400
95,500
September
71,800
47,100
93,800
August
73,800
47,600
94,300
July
75,300
47,900
93,800
June
75,600
49,500
97,400
May
71,800
49,100
87,900
April
73,300
47,400
89,900
March
70,100
50,800
88,000
February
71,000
48,700
92,500
January
68,100
44,900
89,700
2016
December
73,100
49,900
90,800
November
71,700
47,000
90,900
October
71,600
48,300
87,400
September
69,400
46,700
93,000
August
74,200
50,000
93,100
July
73,300
49,500
91,000
June
70,500
46,600
87,000
May
71,300
45,800
87,800
April
67,800
44,100
87,500
March
69,800
44,500
88,300
February
67,600
43,900
92,600
January
67,600
45,900
84,100
Northeast
Total1
Single
Double
2022
January
120,600
85,900
141,800
2021
December
104,700
73,900
127,200
November
100,900
71,600
133,500
October
110,300
74,400
138,700
September
102,100
76,100
124,100
August
105,000
86,000
117,000
July
98,500
74,100
125,700
June
101,600
73,700
124,200
May
98,400
69,900
121,500
April
95,900
73,800
113,300
March
91,400
58,600
121,300
February
88,300
59,400
113,800
January
102,600
67,900
116,200
2020
December
93,600
58,200
115,300
November
85,600
63,600
103,900
October
91,000
57,700
112,100
September
84,800
61,000
105,600
August
87,600
56,700
109,600
July
78,600
58,600
100,300
June
91,700
55,400
117,000
May
79,100
56,300
100,200
April
86,100
53,900
105,200
March
79,100
54,400
102,400
February
81,500
54,000
109,800
January
77,700
52,900
104,800
2019
December
79,500
54,000
98,500
November
79,200
49,400
113,100
October
80,600
61,200
101,600
September
84,100
59,600
103,700
August
81,900
45,700
101,200
July
88,000
51,600
129,500
June
84,800
57,800
109,100
May
76,400
49,200
105,200
April
82,000
59,300
109,000
March
74,500
48,000
98,400
February
74,100
52,300
97,500
January
86,600
60,100
109,000
2018
December
79,600
57,500
93,600
November
81,400
52,300
104,700
October
81,600
59,300
96,200
September
78,800
57,600
97,300
August
82,900
58,400
113,000
July
73,600
33,900
100,600
June
82,400
52,900
97,500
May
81,700
62,400
104,300
April
87,300
54,900
109,900
March
70,900
50,400
96,600
February
80,400
50,800
98,200
January
79,500
52,400
106,000
2017
December
76,900
49,200
100,300
November
75,300
49,400
107,000
October
76,300
45,100
96,900
September
72,400
50,800
92,700
August
70,400
50,400
88,700
July
80,700
52,500
102,100
June
84,800
57,300
95,500
May
78,800
55,500
93,300
April
79,600
53,800
100,200
March
76,900
56,700
100,700
February
86,500
48,700
96,300
January
84,700
59,900
99,600
2016
December
73,900
44,200
92,800
November
70,800
45,500
94,000
October
75,300
45,700
90,700
September
79,600
55,400
101,800
August
86,100
57,500
106,600
July
73,900
53,400
103,600
June
85,000
50,900
113,700
May
75,900
45,900
99,600
April
78,600
45,400
100,100
March
72,800
45,100
103,200
February
81,500
50,000
97,300
January
69,400
48,100
90,700
Midwest
Total1
Single
Double
2022
January
108,300
82,800
145,400
2021
December
103,300
88,200
129,400
November
107,300
78,100
143,800
October
101,000
81,000
132,600
September
109,300
80,900
142,300
August
100,000
77,000
132,000
July
110,500
79,100
139,300
June
94,900
65,600
125,800
May
94,300
67,500
128,200
April
85,400
61,800
125,400
March
86,400
60,800
119,100
February
87,300
62,400
118,100
January
83,000
62,100
112,700
2020
December
77,100
55,800
107,900
November
81,000
62,400
117,400
October
81,700
58,300
108,000
September
72,100
52,800
98,300
August
75,900
59,500
97,600
July
72,600
56,900
97,000
June
81,400
56,100
115,200
May
73,400
56,800
100,900
April
79,500
57,000
105,000
March
79,200
55,300
108,400
February
70,900
55,200
98,200
January
74,200
55,400
101,800
2019
December
70,200
54,400
96,100
November
73,400
50,600
104,000
October
72,100
53,800
100,200
September
71,900
55,900
98,400
August
75,700
52,500
99,800
July
74,400
53,900
105,700
June
72,600
52,700
97,100
May
72,300
56,000
98,100
April
70,800
56,700
91,900
March
71,300
49,900
96,300
February
72,500
56,000
97,200
January
68,000
54,200
98,000
2018
December
74,300
53,800
96,400
November
74,100
56,200
101,900
October
73,100
56,700
94,300
September
76,700
58,300
105,500
August
73,600
54,500
97,800
July
79,600
57,300
104,500
June
77,400
52,700
99,700
May
72,500
57,600
92,900
April
67,300
51,600
92,800
March
67,700
50,600
93,800
February
72,100
49,700
98,000
January
59,300
44,900
85,600
2017
December
64,900
48,700
84,500
November
68,100
48,500
90,500
October
65,600
48,600
88,600
September
62,800
45,500
87,200
August
65,300
48,200
88,600
July
70,900
48,200
89,400
June
69,400
49,900
94,300
May
64,600
45,200
84,400
April
63,900
47,800
84,500
March
64,500
49,600
83,900
February
61,500
46,800
84,700
January
59,800
45,800
85,100
2016
December
67,100
45,000
85,800
November
58,900
46,500
84,700
October
60,200
47,600
81,300
September
62,400
46,100
96,500
August
60,800
45,500
84,300
July
65,900
48,200
91,700
June
61,500
45,100
84,100
May
63,500
46,700
86,600
April
61,600
45,900
86,900
March
59,200
46,200
83,200
February
57,900
45,600
85,100
January
61,400
48,200
86,800
South
Total1
Single
Double
2022
January
122,700
85,400
153,300
2021
December
123,500
80,000
149,600
November
110,700
77,000
138,400
October
110,700
81,900
136,400
September
119,300
78,500
142,200
August
112,000
80,000
139,000
July
119,200
74,500
137,100
June
107,500
70,700
128,000
May
109,900
70,600
129,200
April
100,400
67,700
122,200
March
98,100
63,700
122,400
February
98,100
67,100
121,800
January
94,000
64,600
117,300
2020
December
90,100
64,500
109,900
November
92,600
64,200
109,700
October
87,400
56,500
107,900
September
86,900
58,400
105,700
August
87,900
56,800
109,100
July
83,700
59,500
101,300
June
82,700
51,700
106,800
May
85,200
54,100
108,500
April
84,000
51,600
106,100
March
82,000
53,300
106,900
February
82,000
55,300
105,600
January
86,200
55,200
108,100
2019
December
87,900
54,600
106,900
November
79,500
52,500
104,800
October
81,600
52,500
103,400
September
80,200
55,100
99,300
August
81,400
48,700
106,600
July
78,100
54,900
100,300
June
83,400
53,200
100,500
May
75,800
53,600
95,000
April
77,100
54,000
99,300
March
77,800
50,900
101,600
February
84,800
52,600
106,600
January
81,100
51,400
101,700
2018
December
80,100
51,500
104,900
November
77,100
54,600
97,800
October
79,800
53,500
105,900
September
81,600
51,900
104,500
August
79,800
54,500
98,100
July
74,900
51,300
94,000
June
83,200
55,100
97,100
May
79,000
56,300
97,000
April
71,100
48,600
95,300
March
68,900
50,000
88,900
February
70,600
46,700
91,200
January
64,400
46,300
85,900
2017
December
70,000
54,000
89,000
November
65,800
45,900
91,600
October
64,200
45,700
93,600
September
68,800
46,600
89,000
August
72,500
47,200
91,500
July
70,300
47,900
88,400
June
70,800
49,300
91,600
May
68,500
49,400
84,000
April
70,900
45,500
86,600
March
67,000
50,700
84,600
February
66,200
48,400
87,300
January
64,600
44,000
85,900
2016
December
71,400
50,100
89,000
November
72,100
47,100
88,000
October
71,300
47,500
84,700
September
65,300
45,400
89,300
August
71,600
46,100
91,300
July
70,200
47,700
87,100
June
66,800
44,900
81,500
May
69,800
45,000
84,600
April
64,900
42,500
85,000
March
69,600
44,100
86,300
February
65,300
43,000
89,700
January
65,200
44,600
80,200
West
Total1
Single
Double
2022
January
140,800
80,700
161,000
2021
December
145,200
76,900
170,600
November
128,800
68,400
145,500
October
131,600
85,000
150,400
September
132,100
76,200
141,600
August
135,000
79,000
143,000
July
131,100
81,700
142,800
June
116,400
72,200
131,500
May
104,400
70,300
125,500
April
118,400
65,000
125,000
March
113,000
67,300
130,800
February
116,900
60,900
131,900
January
113,400
62,300
129,500
2020
December
108,800
64,500
115,900
November
115,400
60,100
128,200
October
108,900
61,200
120,000
September
110,100
68,600
126,600
August
104,900
60,500
119,500
July
103,700
72,100
113,200
June
102,700
55,600
117,000
May
105,100
60,700
117,800
April
111,800
64,500
120,300
March
92,600
54,300
106,700
February
103,500
59,600
118,900
January
103,400
59,900
111,300
2019
December
97,700
52,100
107,600
November
101,400
54,100
114,700
October
96,600
58,800
109,100
September
99,500
55,300
113,000
August
107,500
48,200
120,700
July
108,400
45,700
121,000
June
100,600
47,000
118,800
May
96,300
55,000
106,800
April
95,400
63,600
109,100
March
92,900
49,100
108,500
February
103,100
43,500
119,400
January
95,800
59,000
110,400
2018
December
101,400
51,600
120,400
November
99,300
62,600
107,800
October
105,100
57,300
116,500
September
102,600
62,000
111,600
August
97,400
57,600
110,300
July
102,800
59,300
118,200
June
105,000
57,600
122,900
May
104,000
60,300
108,900
April
103,100
67,400
113,400
March
82,900
45,800
98,700
February
87,100
53,900
100,600
January
98,900
59,400
114,200
2017
December
96,400
58,600
103,900
November
114,500
49,800
130,300
October
95,200
50,900
106,900
September
95,600
51,700
116,700
August
91,600
46,600
110,900
July
99,700
44,500
111,900
June
106,300
46,600
125,000
May
94,900
47,800
104,500
April
93,000
57,200
104,300
March
89,800
49,400
99,400
February
104,200
59,000
115,100
January
93,600
45,800
107,100
2016
December
85,900
56,000
101,500
November
89,200
48,100
108,900
October
85,100
54,100
104,000
September
93,900
58,000
99,000
August
95,000
79,900
99,600
July
96,800
67,700
100,600
June
89,000
57,100
100,300
May
83,500
48,000
96,400
April
85,400
53,900
92,900
March
83,200
42,500
97,000
February
84,800
45,400
106,600
January
86,900
50,000
96,100
Additional Census Bureau Provided Facts
Wealth inequality between homeowners and renters is striking: Homeowners' median net worth is 80 times larger than renters' median net worth.
That's just one of the findings of a recent U.S. Census Bureau report and detailed tables on household wealth in 2015 that reveals wide variations across demographic and socioeconomic groups.
New household wealth measures became available with the release of the redesigned Survey of Income and Program Participation (SIPP). The SIPP's sample size enables comparisons of the assets of many populations and groups, such as low-income households and households with or without children.
Household Wealth Highlights
Biggest contributors: Just two assets — home equity and retirement accounts — accounted for 62.9% of households' net worth in 2015.
While many households owned these assets, others did not: 37% of households did not own a home and 47.1% of households did not have a retirement account. This gap in two key assets contributes to wealth inequality.
Bank accounts: Some commonly held assets make up a small portion of household wealth.
In 2015, 90.9% of households held accounts at a bank or credit union. However, the accounts were only 8.5% of total household net worth.
Health insurance: Households in which people were without health insurance all or part of the year had dramatically lower median wealth: $16,860, compared with $114,000 for households in which all members had health insurance for the entire year.
Age and gender: Unmarried female householders (the person who owns or rents the home) ages 35 to 54 had a median wealth of $14,860. That represented 39.5% of their unmarried male counterparts' wealth.
The difference disappeared at ages 55 to 64, when both unmarried women and men who were heads of households had a wealth of about $60,000.
Race and Hispanic origin: Non-Hispanic white and Asian householders had more household wealth than black and Hispanic householders.
Non-Hispanic whites had a median household wealth of $139,300, compared with $12,780 for black householders and $19,990 for Hispanic householders.
Asians had a median household wealth of $156,300, which is not statistically different from the estimate for non-Hispanic whites.
Education: Higher education is associated with more wealth. Households in which the most educated member held a bachelor's degree had a median wealth of $163,700, compared with $38,900 for households where the most educated member had a high school diploma.
Employment: The unemployed and those who work part-time have less wealth.
Households in which at least one person had a full-time job for the entire year had a median wealth of $101,000, compared with $61,690 for households where one or more members had a part-time job during the year, and $22,100 for households where one or more were unemployed. …##
As part of the broader context for the above ought to be a comparison between the U.S. rate of homeownership vs. that of the top nations by percentage of homeownership on earth. The U.S., per Reddit and Wikipedia trails over 40 nations in the rate of homeownership. Yet, the average household incomes in the U.S. are higher than many of these other nations.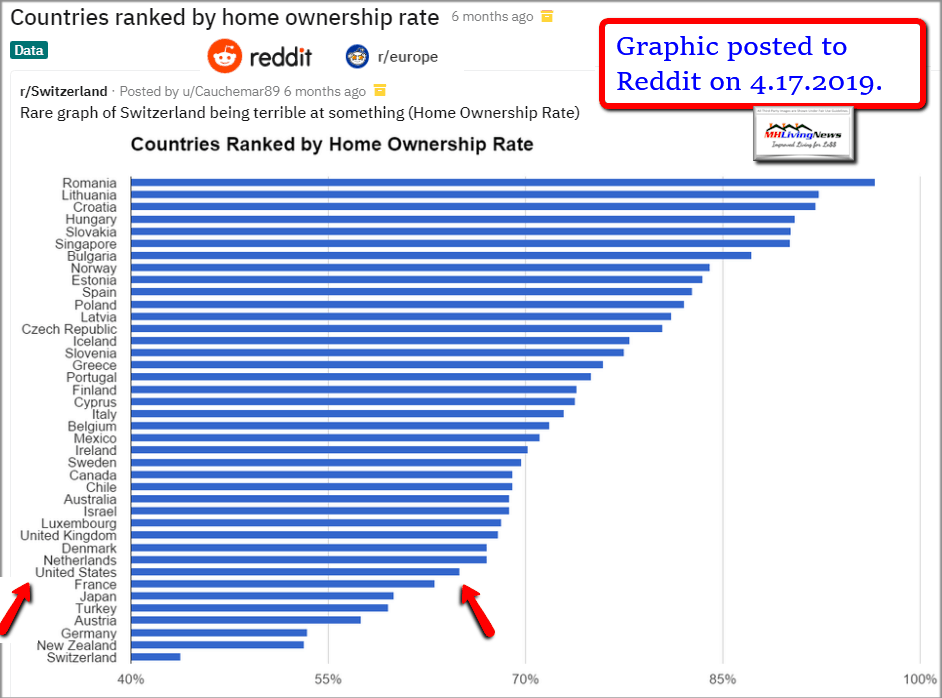 Jun 12, 2022 14:55 UTC
TOP 10 MOST POPULOUS COUNTRIES (JULY 1, 2021)
| | |
| --- | --- |
| China | 1,410,539,758 |
| India | 1,389,637,446 |
| United States | 332,838,183 |
| Indonesia | 277,329,163 |
| Pakistan | 242,923,845 |
| Nigeria | 225,082,083 |
| Brazil | 217,240,060 |
| Bangladesh | 165,650,475 |
| Russia | 142,021,981 |
| Mexico | 129,150,971 |
With the Census Bureau provided facts in mind, consider the following extended quotation from Mark Weiss, J.D., President and CEO of the Manufactured Housing Association for Regulatory Reform (MHARR). Said Weiss, speaking about the elite leaders "of the "woke" mob – inside government and out — will never admit that they actually oppose affordable housing and homeownership for millions of lower and moderate-income Americans, including inherently affordable manufactured housing. But they do, with every means available to them. Naturally, they deny the truth of what they do to undermine affordable homeownership for lower-income Americans. In fact, they will tell you just the opposite – that they really care about lower-income people and that, through their various efforts, they simply want what (supposedly) is best for them. The comments filed by various "consumer" and "housing" organizations in the recent U.S. Department of Energy (DOE) rulemaking concerning manufactured housing "energy conservation" standards – and the standards themselves — are a good example. But it's all a lie — a phony, fake narrative. The truth is that the "woke" elite hates affordable homeownership, at least for the lower and moderate-income Americans who they use as political pawns."
More from that MHARR Mark Weiss thesis will be published this week. Stay tuned. In the meantime, see the related reports for more current data and insights.
Tobias Peter – American Enterprise Institute Housing Center – Insights on Concerns Over Housing Bubble and Related New Data; plus Sunday Weekly Headlines Review
State by State, National Totals on HUD Code Manufactured Home Production, Shipments for April 2022; plus, Sunday Manufactured Housing Headlines Week in Review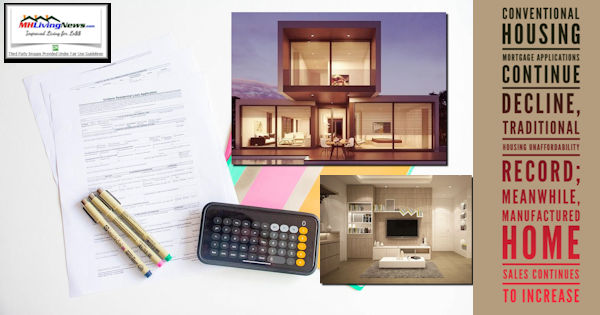 NAHB, HUD Preparing Innovative Housing Showcase June 10-12, 2022; Manufactured Housing on Display in Washington, D.C.'s National Mall – PRs, Facts, Analysis; Plus MHVille Equities Update
'Americans Deeply Pessimistic About Economy,' 'Sour Mood' Per Survey As Gas, Groceries, Housing Costs Soar; plus Manufactured Home Equities Market Update
MHI Claims 'Momentum' in D.C. – HousingWire, MHInsider Showcase Manufactured Housing Institute CEO Lesli Gooch Op-Ed on DOE Energy Rule Sans Critique, Fact Check, Viewpoints; plus MHMarket Update
'Better Quality Manufactured Home Buyers' 'More Regulatory Relief' – Skyline Champion Corporation (SKY) CEO Mark Yost on Q4 2022 Results – Earnings Call Transcript, Facts & Analysis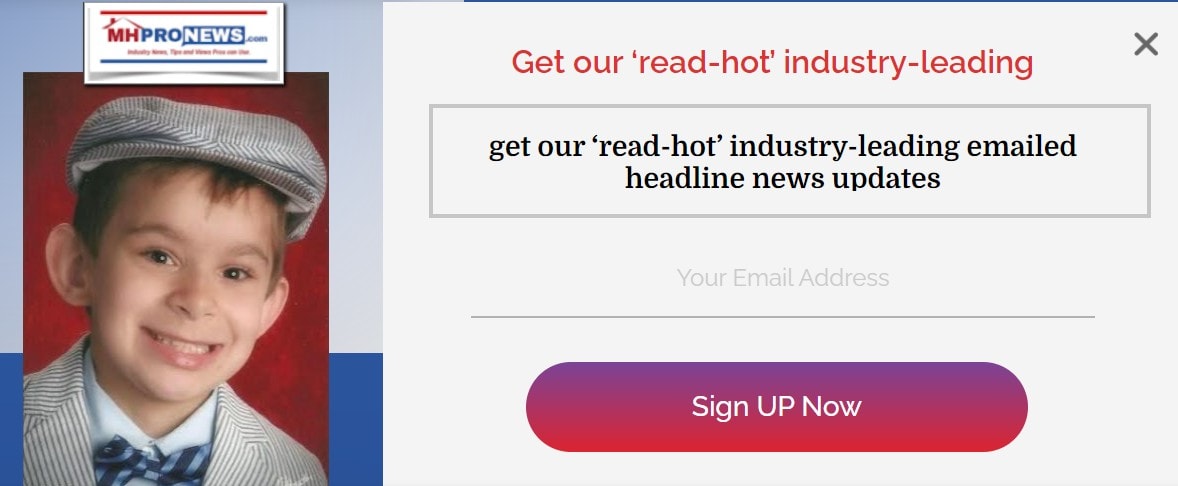 Again, our thanks to you, our sources, and sponsors and God for making and keeping us the runaway number one source for authentic "News through the lens of manufactured homes and factory-built housing" © where "We Provide, You Decide." © ## (Affordable housing, manufactured homes, reports, fact-checks, analysis, and commentary. Third-party images or content are provided under fair use guidelines for media.) (See Related Reports, further below. Text/image boxes often are hot-linked to other reports that can be access by clicking on them.)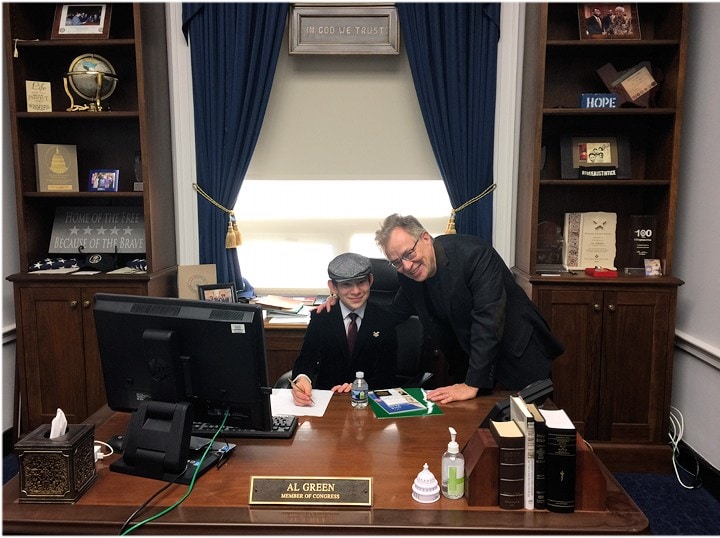 By L.A. "Tony" Kovach – for MHProNews.com.
Tony earned a journalism scholarship and earned numerous awards in history and in manufactured housing.
For example, he earned the prestigious Lottinville Award in history from the University of Oklahoma, where he studied history and business management. He's a managing member and co-founder of LifeStyle Factory Homes, LLC, the parent company to MHProNews, and MHLivingNews.com.
This article reflects the LLC's and/or the writer's position, and may or may not reflect the views of sponsors or supporters.
Connect on LinkedIn: http://www.linkedin.com/in/latonykovach
Related References:
The text/image boxes below are linked to other reports, which can be accessed by clicking on them.
The Calm Before the Next Manufactured Housing Industry Storm? New Facts and Viewpoints; plus Sunday Weekly MHVille Headlines Review 
Sandy Garrett, J.D., Chief Disciplinary Counsel TBPR.org Supreme Court of Tennessee-Tom Hodges, J.D.; How Manufactured Housing Could Achieve Higher Sales, Profits; Sunday Weekly Headlines Recap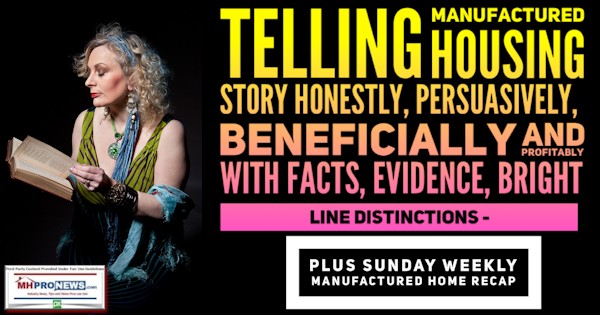 Manufactured Housing Institute's George F. Allen Drama 'Convene National Meeting' Discuss 'MHI Does Not Truly Fully Advocate for Entire Manufactured Housing Industry;' Sunday Weekly Headlines Recap
Russian Disinformation? CNN and WND Report on "World Government Summit," Joe Biden Address to Business Roundtable on "the New World Order;" plus Sunday Weekly Headlines Review
'Show Me the Man, and I'll Show You the Crime' – Lavrentiy Beria, Lessons to Recapture American Rights, Reviving Affordable Manufactured Home Performance – Viewpoint; plus Sunday Headlines Recap