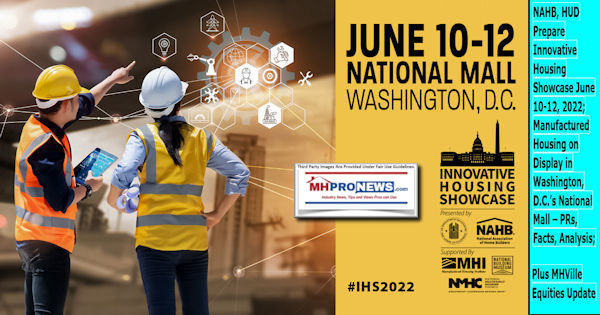 June is National Home Ownership Month, as MHProNews readers were recently reminded. On Thursday afternoon, June 9th and then June 10-12th, 2022, the Innovative Housing Showcase (IHS) will be revived after its hiatus during the proclaimed COVID19 pandemic. IHS began during the tenure of HUD Secretary Ben Carson, in June 2019. Given the change of leadership and politically charged life in Washington, D.C., perhaps it is no surprise that Dr. Carson's name is not mentioned in the HUD and National Association of Home Builders (NAHB) releases that follow.
The NAHB promotional page on their website says the following about IHS 2022. Notice what is and is not mentioned by the NAHB in their press release.
https://www.nahb.org/education-and-events/meetings/innovative-housing-showcase
Innovative Housing Showcase
June 10-12, 2022
The Innovative Housing Showcase is a three-day event featuring new building technologies and housing solutions that are making housing more innovative, resilient and affordable for American families. More than 2,500 people, including policymakers, housing industry representatives, media and the general public, are expected to attend.
The Showcase will be open to the public and free of charge.
The Showcase will include exhibitor demonstrations, entrepreneurs and leaders in the housing industry. There will be more than a dozen exhibitors, including full-sized prototype homes, displaying innovative building technologies that address affordability, resiliency and the future of housing.
Additional opportunities to participate:
The Innovative Housing Showcase is made possible thanks to the funding provided by the U.S. Department of Housing and Urban Development* and the National Association of Home Builders.
"I'm so glad that we are able to bring back the Innovative Housing Showcase after a long two years. The 2022 Showcase will more innovative and even more exciting than the 2019 event. The National Association of Home Builders is proud to partner with HUD to present the newest innovators and entrepreneurs in the affordability, resiliency, energy-efficient and forward-thinking sectors of the home building industry. You will be able to see, touch and experience the future of housing at the Innovative Housing Showcase." — Jerry Konter, 2022 Chairman of the National Association of Home Builders.
* The U.S. Department of Housing and Urban Development did not solicit and will not receive any of these funds. The National Association of Home Builders will not profit from the financial contributions made by the supporters.
Co-hosted by NAHB and the U.S. Department of Housing and Urban Development (HUD), the inaugural Innovative Housing Showcase drew more than 5,000 people June 1-5, on the National Mall in Washington, D.C.
The Showcase featured state-of-the-art building technologies and housing solutions that can make homeownership more affordable for American families, and homes more resilient during natural disasters. The 12 exhibitors included prototype homes displaying innovative building technologies that address affordability and resiliency.
The Showcase included panel discussions and on-stage interviews with Administration leaders, members of Congress, and leaders in the housing industry. ##
While the Manufactured Housing Institute (MHI) periodically touts to their members that they are part of a 'housing coalition' that they claim can benefit manufactured home industry interests, it is interesting to note that NAHB doesn't even mention manufactured housing being presented at this IHS event.
It is curious that IHS expects 2500 to attend this year, but they said that more than 5000 attended the IHS event from June 1-5, 2019. That noted, HUD's promotional video seems to focus more on 3D Printed Housing, but at least gives a nod to the manufactured homes that were featured in 2019 and will be shown again later this week.
Innovative building technologies are crucial if we're going to confront some of our nation's greatest housing challenges.

See you on June 10-12 on the National Mall for our Innovative Housing Showcase! #IHS2022 pic.twitter.com/bc42Bfddqy

— Department of Housing and Urban Development (@HUDgov) June 3, 2022
HUD provided the following schedule.
Schedule of Events
Thursday, June 9th
1:00 PM – 2:15 PM| Virtual Event on Addressing Housing Supply Shortages Through Innovative Building Technology with HUD Secretary Marcia L. Fudge and NAHB Chairman Jerry Konter
Friday, June 10th
9:00 AM| Secretary Marcia L. Fudge will welcome IHS attendees and offer remarks during the Opening Ceremony on the National Mall, open to all.
9:00 AM – 6:00 PM| The Showcase will run on the National Mall, open to all.
10:00 AM| HUD Deputy Secretary Adrianne Todman will offer remarks at and participate in "Research at HUD: Past, Present, and Future of Offsite Construction – Virtual Event." You can tune-in on HUD's YouTube.
Saturday, June 11th
9:00 AM – 6:00 PM| The Showcase will run on the National Mall, open to all.
Sunday, June 12th
9:00 AM – 6:00 PM| The Showcase will run on the National Mall, open to all. ##
HUD's press release/promo said the following.
HUD's 2022 Innovative Housing Showcase
Please join us for HUD's 2022 Innovative Housing Showcase! The Showcase is a three-day HUD event on June 10-12, 2022, on the National Mall between the Air & Space Museum and the National Gallery of Art – West Building. The theme for this year's event is "Better Building for All." The event will be open to the public and free of charge.
This year's Showcase will highlight innovative designs and technologies that have the potential to increase housing supply and lower the cost of construction and ownership. The Showcase will feature full-sized, tourable housing units. We hope to have several different housing types on display, including manufactured housing, modular housing, insulated concrete forms, and a container home, as well as live demonstrations of a 3D concrete printer.
Additionally, we hope to have participation from several other federal agencies, such as FEMA.
Please visit hud.gov/innovative_housing for more information. We hope to see you on the Mall! ##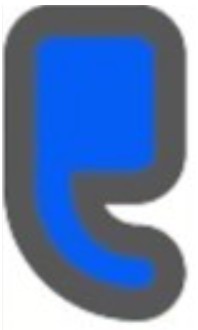 Quote from the Secretary
"To expand access to affordable housing and homeownership, we must reduce the time and cost to build new homes. Innovation in housing design and construction technology is a vital part of this effort and one that HUD has advanced since its founding. Through the Innovative Housing Showcase and its ongoing research and thought leadership, HUD is making housing more affordable, resilient, and sustainable for Americans everywhere." – Marcia L. Fudge, Secretary of HUD
Additional Information, more MHProNews Analysis and Commentary
Per HUD, the following statement was supplied by MHI CEO Lesli Gooch.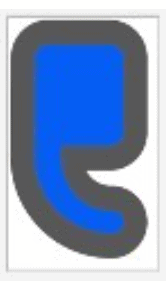 Quote from Lesli Gooch
"The Manufactured Housing Institute is pleased to once again collaborate with HUD to bring fully-furnished HUD Code homes to the National Mall as a part of HUD's Innovative Housing Showcase. We look forward to showing the nation – policymakers, the media, and the public – that quality, energy efficient, and resilient homes with modern amenities and features can be built at attainable prices. All of the homes on display are constructed to the federal residential building code, the HUD Code, which ensures quality, efficiency, and resiliency. Just as in 2019, at the end of the showcase all of the manufactured homes on display will become someone's home. Homes built with precision in the factory, in accordance with the HUD Code, can be constructed for a variety of needs, and we look forward to displaying the range of options at the showcase – from an Accessory Dwelling Unit to a CrossMod Home." – Lesli Gooch, Chief Executive Officer of the Manufactured Housing Institute
Perhaps it would be bad form for Gooch to use her provided quote to critique the Biden Administration in the say way as she did just days ago in her op-ed comments, linked below. Gooch politely pointed out that the Biden White House's recent comments in support of manufactured housing and more affordable housing were contradicted in short order the Biden DOE's manufactured housing energy rule.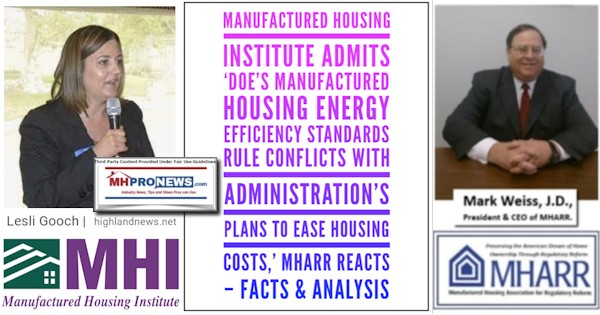 NAHB's Chairman was credited by HUD as saying the following.
Quote from Jerry Konter
"I'm so glad that we are able to bring back the Innovative Housing Showcase after a long three years. The 2022 Showcase will be more innovative and even more exciting than the 2019 event. The National Association of Home Builders is proud to collaborate with HUD to present the newest innovators and entrepreneurs in the affordability, resiliency, energy-efficient and forward-thinking sectors of the home building industry. You will be able to see, touch and experience the future of housing at the Innovative Housing Showcase." – Jerry Konter, 2022 Chairman of the National Association of Home Builders
Additionally, HUD provided the following quotation from the National Multifamily Housing Council (NMHC) association president, Doug Bibby.
Quote from Doug Bibby
"NMHC is proud to once again be a collaborator in support of the Innovative Housing Showcase. At a time of historic housing demand, it has never been more important to discuss novel solutions aimed at the housing affordability issues facing so many communities across the country. From supply chain issues, costs of materials and labor, to outdated regulatory barriers and NIMBYism, the challenges to the development of new housing are myriad. But, by working together with lawmakers at all levels of government and the private sector, we can lower the cost of housing and expand housing opportunities." – Doug Bibby, NMHC President
Neither NAHB or NMHC mentions manufactured housing by name. So much for MHI's 'housing' allies?  Meanwhile, MHI's Gooch fails to mention the federal preemption of HUD Code manufactured homes. There is no known record of Gooch or others for MHI raising the topic face-to-face with Dr. Carson in 2019.  There is a record of HUD Secretary Marcia Fudge rejecting Gooch's view that manufactured housing should be able to count on HUD for support for manufactured housing overcoming local zoning and placement barriers by using federal preemption.  Besides the obvious – and arguably, embarrassing – disconnects between MHI's prior or recent remarks, Secretary Fudge has a similar problem of self-contradictory remarks. She told Congressional representatives about 11 months ago that "Until we start to address this (zoning placement) issue, we are going to be perpetually in this kind of situation." That comment was captured on CSPAN video.  But for the purposes of this event, Fudge is playing the role of cheerleader. She claims HUD is making more housing available through IHS and other efforts.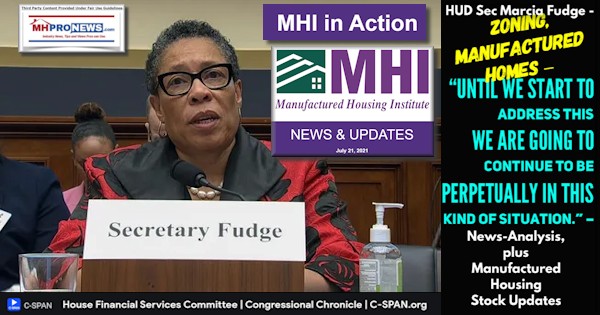 MHI member Skyline Champion (SKY) announced that they will provide two of the HUD Code manufactured homes for this year's IHS. Per their Champion division media release via Berkshire Hathaway owned BusinessWire: "WASHINGTON–(BUSINESS WIRE)–Champion Homes is exhibiting two manufactured homes at this year's Homes on the Hill Showcase by the Manufactured Housing Institute (MHI). Taking place June 10-12, the Innovative Housing Showcase is returning to Washington, D.C. The event will display the value of manufactured homes to lawmakers and consumers. Champion Homes will exhibit two HUD-code homes on the National Mall – the award-winning Odyssey model, and an accessory dwelling unit (ADU)."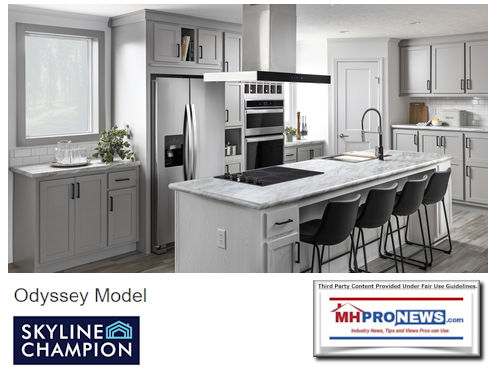 HUD's Policy Development and Research (PD&R) is involved in IHS 2022. MHProNews has previously pointed out the severe disconnect between remarks made by HUD PD&R researchers Pamela Blumenthal and Regina Gray's on 9.7.2021 about decades of posturing on housing by public officials.
To the points made by Blumenthal and Gray, the Biden White House touted manufactured housing some 18 times in their recently announced housing plan. But within days of that plan's announcement, MHI's CEO Gooch admitted that the new Department of Energy (DOE) published manufactured housing energy rule contradicts the Biden pledge to make housing more affordable and accessible.
Further, as was previously mentioned, despite Secretary Fudge's polite words toward manufactured housing, she vigorously pushed back on the notion that HUD would use its legal resources to facilitate the placement of HUD Code manufactured homes were local zoning and placement barriers kept that from occurring. This despite a letter from Democratic lawmakers that asserted that HUD had the authority to overcome local zoning barriers when it involved HUD-regulated manufactured housing. The now late William Wade "Bill" Matchneer, J.D., told MHProNews that for years, HUD's office of General Counsel "would not enforce" HUD's "enhanced preemption" authority.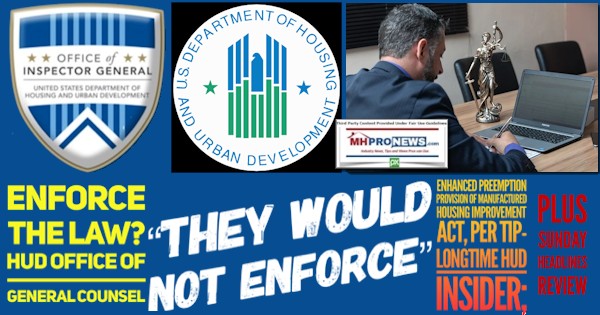 So, manufactured housing independent producers – one of those who are not a 'big three' producer – find themselves in the vexing scenario that MHI asserts a legal right, but will not push for it in a robust public fashion when the opportunity arises. The pull quote by Gooch above is an example of that: why didn't Gooch say something like: 'The Innovative Housing Showcase gives public officials an opportunity to see why Congress gave HUD enhanced preemption authority to overcome local zoning and placement barriers when it comes to HUD Code manufactured homes.' MHARR offered to team up at the state level with an MHI affiliate to engage in legal action to get "enhanced preemption" enforced.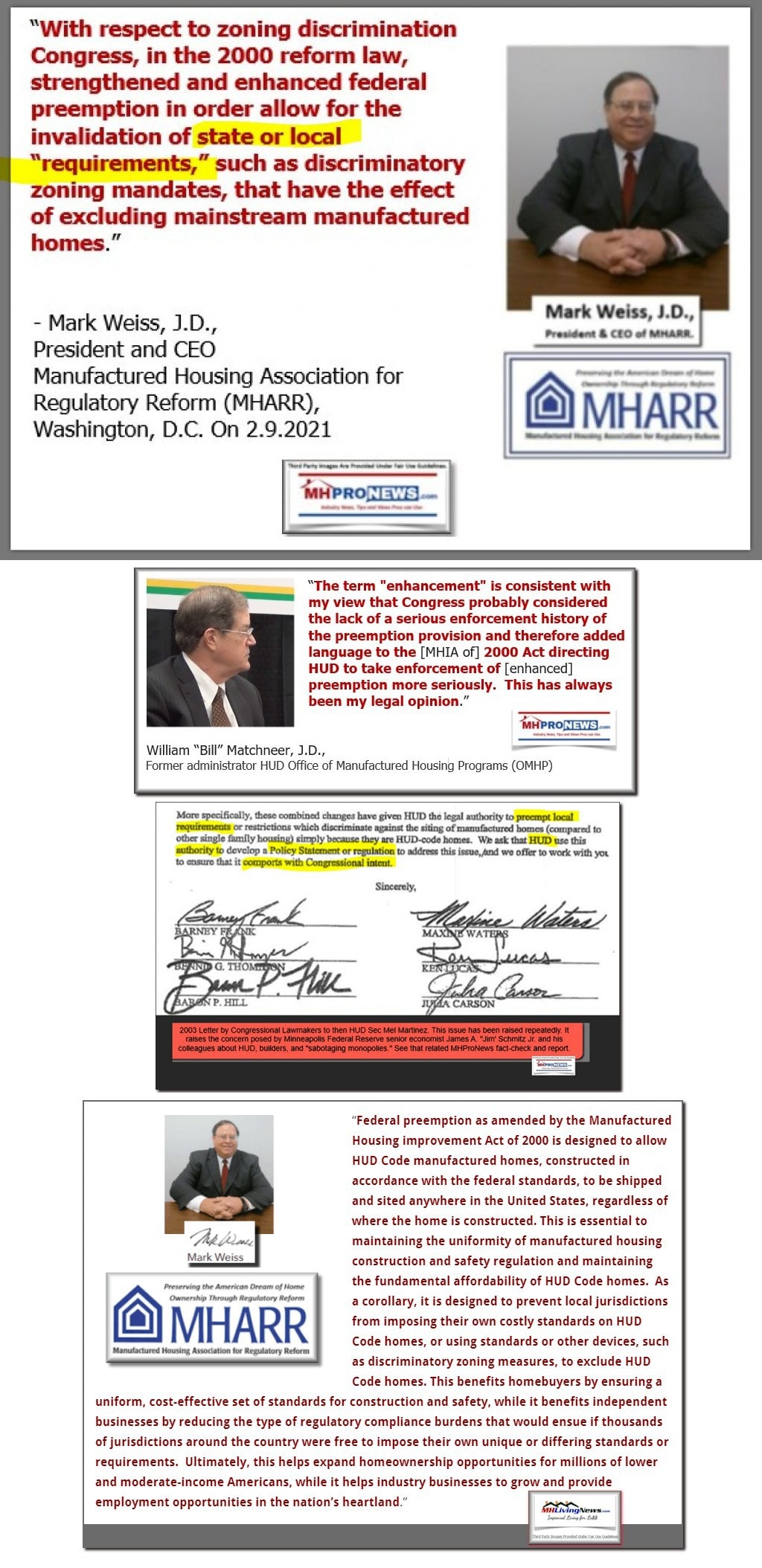 But MHARR later reported that not a single state association accepted their offer.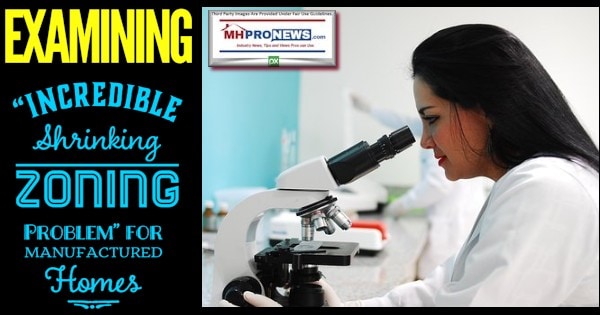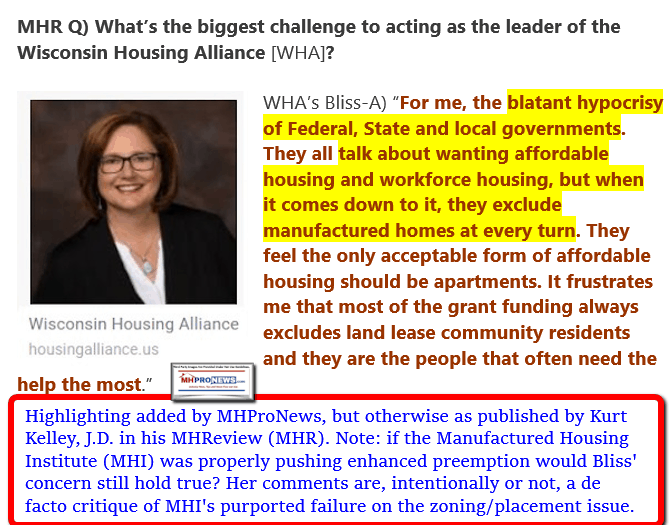 In testimony to Congress, Cavco Industries (CVCO) engineer and corporate officer Manuel "Manny" Santana complained that "HUD has failed" manufactured housing by failing to enforce "enhanced preemption" under the Manufactured Housing Improvement Act of 2000 (MHIA).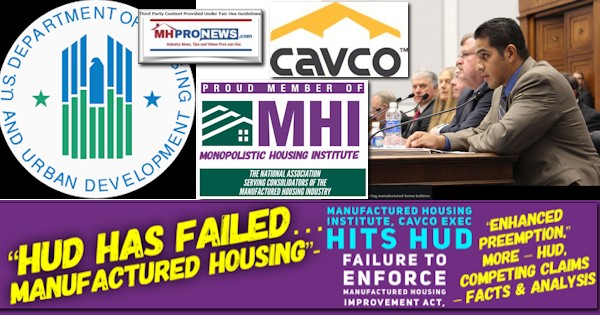 Despite such complaints, MHI's 'big three' continues to posture rather than act. Who says? Former MHI VP turned MHARR founding president and CEO, Danny Ghorbani. Ghorbani is now a MHARR senior adviser. He has ripped the large manufacturers and MHI for feckless photo ops that produce no measurable results.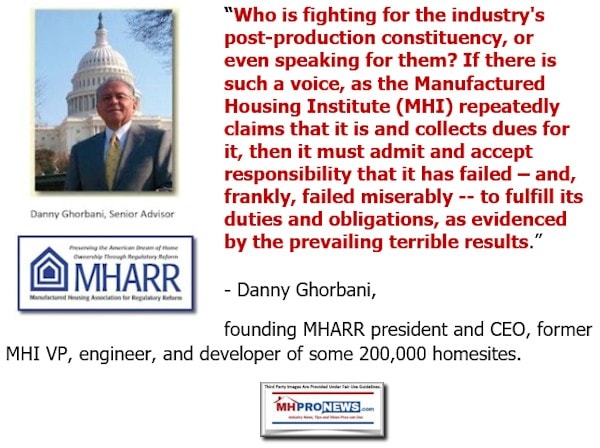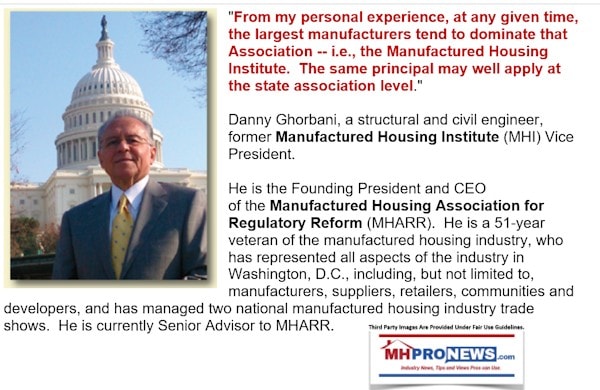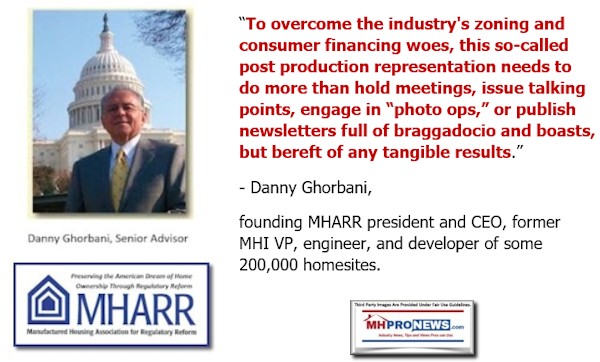 Samuel Strommen with Knudson Law, after examining and citing the evidence, said he believes there is a case for antitrust action. He specifically named MHI, Clayton Homes, Skyline Champion, and Cavco Industries as being involved in a scheme to manipulate the manufactured housing market by failing to be effective advocates for the industry at large.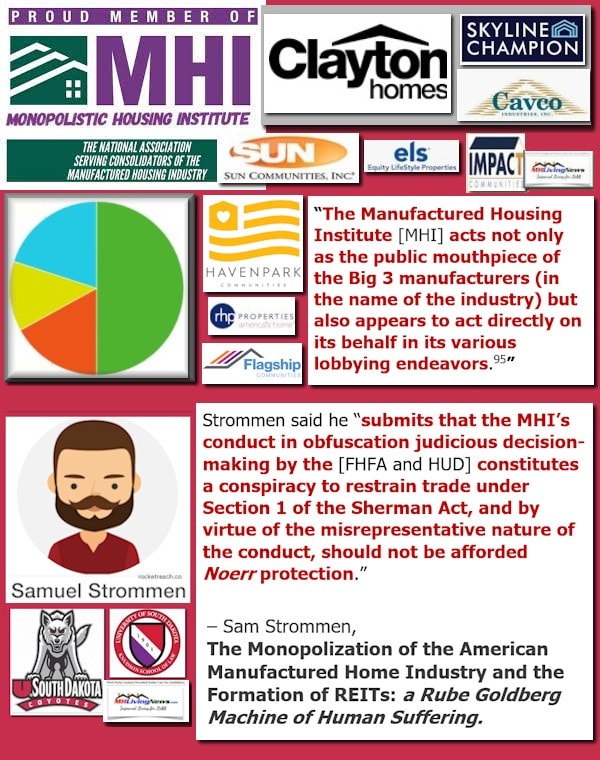 The evidence has seemingly boxed MHI and their dominating brands in. They can claim they want good existing laws enforced, but they have for years declined to invest in litigation that could cause HUD and/or other public officials to enforce the MHIA's preemption authority. Instead, they continue to mouth polite words without matching those words with forceful action. The drum beat for a new association to supplant MHI, if they persist in ignoring the obvious, continues. Prior reports on those topics are linked below.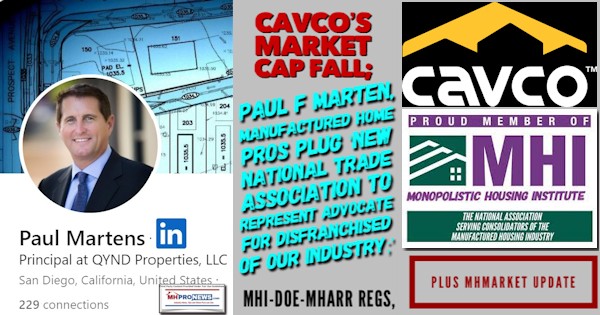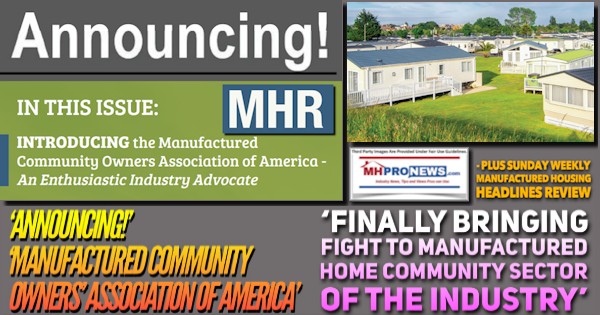 See the related reports linked above and below to learn more.
How Baby Formula Shortage Crisis Is a Warning for Manufactured Housing Professionals, Affordable Housing Requirements, Those Who Need Low-Cost Manufactured Homes – Facts, Comparisons, Analysis; plus MHMarket Updates
MHI Claims 'Momentum' in D.C. – HousingWire, MHInsider Showcase Manufactured Housing Institute CEO Lesli Gooch Op-Ed on DOE Energy Rule Sans Critique, Fact Check, Viewpoints; plus MHMarket Update
Next up is our daily business news recap of yesterday evening's market report, related left-right headlines, and manufactured housing connected equities.
The Business Daily Manufactured Home Industry Connected Stock Market Updates.  Plus, Market Moving Left leaning CNN and Right-leaning (Newsmax) Headlines Snapshot. While the layout of this daily business report has been evolving over time, several elements of the basic concepts used previously are still the same. For instance. The headlines that follow below can be reviewed at a glance to save time while providing insights across the left-right media divide. Additionally, those headlines often provide clues as to possible 'market-moving' news items.
Market Indicator Closing Summaries – Yahoo Finance Closing Tickers on MHProNews…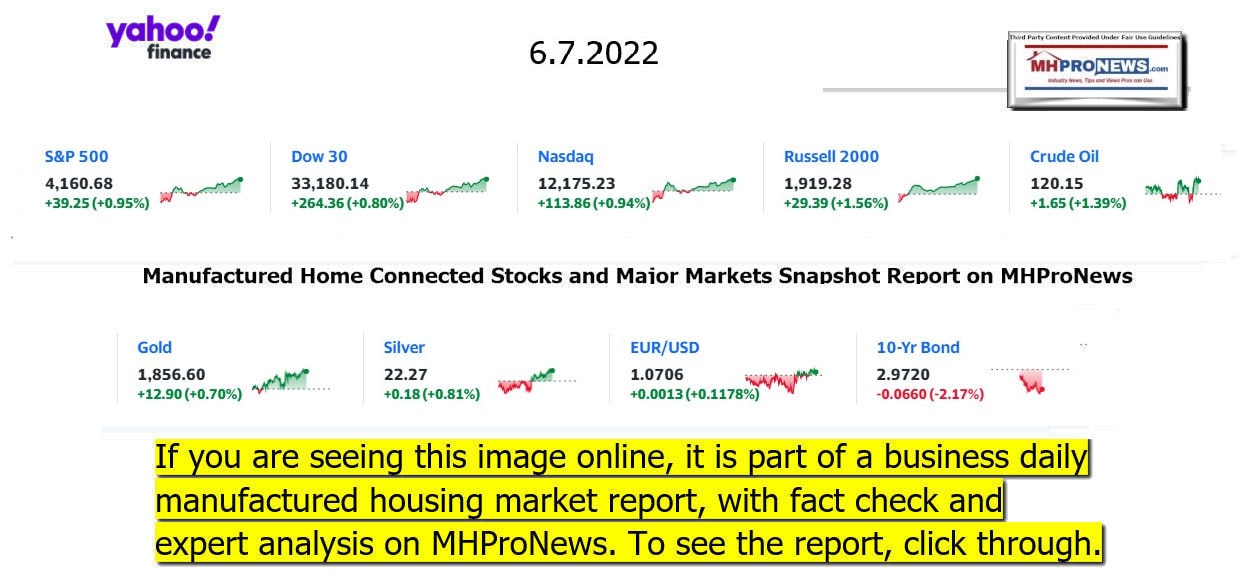 Headlines from left-of-center CNN Business – from the evening of 6.7.2022
What's in your wallet
A shopper holds groceries while waiting to checkout inside a grocery store in San Francisco, California, U.S., on Monday, May 2, 2022.
Wages are rising at their fastest pace in decades. Here's why we don't feel flush
The stock market could soon see a massive change to how it functions
Why $4.47 gas in Mississippi hurts more than $6.37 gas in California
Target is ramping up discounts. Here's why
Kohl's puts up a for-sale sign
Goldman Sachs predicts $140 oil as gas prices spike near $5 a gallon
World Bank says recession will be 'hard to avoid' for many countries
'Uninvestable' China could make a comeback
Opinion: How the US can stop relying on other countries for energy and fight climate change
New EU rule will require all phones and electronics to use a standard charger
At-home abortion pill startups gain interest and funding as laws increasingly target access
Burger King has a 'Pride Whopper' with 'two equal buns'
Tom Cruise plays Capt. Pete "Maverick" Mitchell in Top Gun: Maverick from Paramount Pictures, Skydance and Jerry Bruckheimer Films.
Paramount Studios sued over 'Top Gun' copyright
Johnny Depp and Amber Heard.
How a fake juror in Depp vs. Heard trial went viral on TikTok
See Taco Bell's new floating restaurant that delivers tacos from the sky
AROUND THE WORLD
Priyanka Chopra blasts 'shameful' Indian body spray ad
Ukraine war threatens Iran's last economic lifeline
Google and Russia's delicate dance
Amazon is closing its Kindle store in China
'Chicken-rice crisis' as Singapore's national dish hit by Malaysian export ban
CRYPTO
Former OpenSea employee hit with first insider trading charges related to NFTs
You will soon be able to use Bitcoin to buy Gucci
Crypto: The future of money or the biggest scam?
Bitcoin's carbon footprint is growing. Here's why.
$1 billion has been lost in cryptocurrency scams since 2021, FTC warns
Headlines from right-of-center Newsmax 6.7.2022
Poll: Majority of Americans Say a Depression Lies Ahead
Signs advertise sales and discounts at the Kmart in Avenel, N.J., back in April. Desperate and final sales seem increasingly common across the American retail landscape. (AP)
Russian Invasion of Ukraine
Ukrainian Sniper Allegedly Takes Out Putin's Private 'Executioner'
Ukrainian Forces Baffled by Some Potent Weapons From West
Ukraine's Zelenskyy 'Very Happy' About UK PM Johnson's Political Survival
US Treasury Bans All Buying of Russian Debt, Equity
US Seizes Russian Superyacht in Fiji
Shirt Off Zelenskyy's Back Nets $100K at Charity Event
Zelenskyy: Russia, Putin Benefit Most by Protracted War
Russia Puts Sanctions on 61 US Nationals
Zelenskyy Visits Troops on Eastern Front to Boost Morale
Macron Draws New Wave of Criticism Over Russia Comments
Report: Pro-Russian Troops Fire Thermobaric Missiles
Russia Vows to Take More of Ukraine If West Provides Long-Range Missiles
More Russian Invasion of Ukraine
Newsmax TV
Hudson: Dems, WH Have No Plan on Inflation
Blackburn: Americans Rejecting Biden's Economy Victory Lap | video
Davidson: Bill Would Let Schools Arm Teachers, Staff | video
Andy Biggs: Jan. 6 Show Trial a Mere 'Distraction' | video
Indiana AG Rokita: Lawsuit Seeks Damages Over Border Policy | video
Donalds: Gun Laws 'Never Work Out' for Americans | video
Fitzgerald to Newsmax: Dems Have a 'Hodgepodge' of Gun Bills | video
Cammack: "Limousine Liberals' Led to Baby Formula Shortage | video
More Newsmax TV
Newsfront
Newsmax Covers Primaries in 7 States
Newsmax will provide coverage of the primary elections taking place across seven states on Tuesday, with analysis from political experts and insiders. California, Iowa, Mississippi, Montana, New Jersey, New Mexico and South Dakota all hold primaries on June 7; the contests…… [Full Story]
Tech, Energy Drive Wall Street Gains
S. stocks ended higher on Tuesday along with Apple and other [Full Story]
FDA Advisers Recommend Authorization of Novavax COVID Vaccine
Advisers to the U.S. Food and Drug Administration on Tuesday voted to [Full Story]
Chief Justice Roberts Sees Himself as More Gatekeeper Than Jurist
The leak of a draft Supreme Court opinion that appears to show the [Full Story] | Platinum Article
Report: Roughly 40K Ukrainian Civilians Killed or Wounded by Russian Troops
Approximately 40,000 Ukrainian civilians have been killed or wounded [Full Story]
Colorado Paper Endorses Boebert: 'Nationally Relevant'
The Gazette newspaper of Colorado Springs has endorsed Rep. Lauren [Full Story]
South Korean Response to North Korea's Missile Blitz a 'Welcome Change'
North Korea ratcheted up its already-provocative 2022 behavior on [Full Story] | Platinum Article
'Diminished' Feinstein Better Than a Junior Senator, Former Staffer Says
Despite the apparent significant cognitive decline in 88-year-old [Full Story]
Rasmussen Poll: Majority of Americans Saying Depression Ahead
A majority of Americans said they believe the U.S. is headed for [Full Story]
New Bill Would Let Puerto Ricans Decide on Statehood
A group of lawmakers is looking to give Puerto Ricans the opportunity [Full Story]
Tech Companies Lobby Congress to Fix Green Card Backlog
Congress and Democrat presidential administrations have been debating [Full Story]
US Army Activates Alaskan 11th Airborne Division as 'Artic Fighting Force'
The United States Army on Monday activated the new 11thAirborne [Full Story]
FTC Probes Pharmacies' Impact on Drug Prices
The U.S. Federal Trade Commission has opened a probe into how big [Full Story]
Arizona Woman Sentenced for Casting Deceased Mother's Ballot in 2020 Election
An Arizona woman was sentenced Monday for illegally casting an early [Full Story]
Many NIH Grant Recipients Failed to Disclose Foreign Support: HHS
More than two-thirds of the National Institutes of Health's grant [Full Story]
Faculty Union Worried by DeSantis' Plans for Higher Education
As Florida Gov. Ron DeSantis and GOP state lawmakers lookto shake [Full Story]
Jamal Khashoggi's Widow Wants to Meet Biden Before Saudi Arabia Trip
Hanan Elatr, the widow of journalist Jamal Khashoggi, told the [Full Story]
Thousands of Border Agents Face Possible COVID-19 Vaccine Showdown
Potentially thousands of Border Patrol agents who have refused the [Full Story]
Florida Mother Charged with Manslaughter After Toddler Shoots, Kills Father
An Orlando, Florida, mother is facing a manslaughter charge after her [Full Story]
Two Arrested in Connection to Philly Mass Shooting
Two people were arrested in connection with themass shooting Saturday [Full Story]
Pentagon Hires New AI Chief to Modernize and Compete
In an effort to beef up digital technology and AI, the Pentagon has [Full Story]
McConaughey Meets With Lawmakers Over Gun Safety
Actor Matthew McConaughey this week met with legislators to discuss [Full Story]
Schumer Encourages Democrats to Keep Talking Gun Reform With GOP
Senate Majority Leader Chuck Schumer, D-N.Y., said he encouraged [Full Story]
World Bank Cuts Global Growth Outlook to 2.9 Percent
The World Bank has sharply downgraded its outlook for the global [Full Story]
US Cities Struggle to Crack Down on Gun Violence
While lawmakers on Capitol Hill discuss tougher gun control [Full Story]
American Woman to Plead Guilty to Leading Islamic State Battalion
An American woman is set to plead guilty Tuesday to leading an [Full Story]
Texan Republicans Strive to Arm School Employees but Districts Show Little Interest
Despite being on the books for almost a decade, a Texas law allowing [Full Story]
US Trade Deficit Narrows Sharply in April
The U.S. trade deficit narrowed sharply in April as imports declined, [Full Story]
New CNN Boss Weighs Ousting Too-Partisan Hosts in Policy Shift
CNN talent who can't adjust to being less partisan while the network [Full Story]
Iranian Army Commander Threatens Israeli Cities if Enemy Makes 'Any Mistake': Tasnim
Iran will raze the cities of Tel Aviv and Haifa should its enemy [Full Story]
VP Harris Announces Migration Funds After Mexico Snubs America's Summit
Vice President Kamala Harris on Tuesday announced another $1.9 [Full Story]
More Newsfront
Finance
Twitter Gears up for Most Ambitious Quarter of User Growth
Twitter is gearing up for its most ambitious quarter of user growth, leaders of the social media company's consumer products division told staff in an internal meeting on Tuesday that was heard by Reuters…. [Full Story]
Musk's Blockbuster Twitter Deal Likely to Succeed
Biden's Plan to Eliminate China Tariffs 'Plain Wrong'
EU to Require Universal Phone Charging
Secretary Yellen: 'Transitory' Wrong Word to Describe Inflation
More Finance
Health
People With Diabetes Four Times More Likely to Develop Long COVID
Diabetes increases the odds that a COVID-19 infection will be severe, and folks with diabetes may be up to four times more likely to develop long-lasting symptoms, new research suggests. "Though more data is needed, some early studies suggest that diabetes may be a risk…… [Full Story]
Cancer Disappears in All Rectal Cancer Patients Taking Experimental Drug
Adding Just 10 Minutes of Exercise Daily Boosts Longevity
Veterans at Increased Risk for Deadly Skin Cancers
Two Studies Predict Which Cancer Patients Can Skip Treatment
MHProNews has pioneered in our profession several reporting elements that keep our regular and attentive readers as arguably the best informed in the manufactured housing industry. Among the items shared after 'every business day' (when markets are open) is our left-right headline recap summary. At a glance in two to three minutes, key 'market moving' news items are covered from left-of-center CNN Business and right-of-center Newsmax. "We Provide, You Decide." © Additionally, MHProNews provides expert commentary and analysis on the issues that others can't or won't cover that help explain why manufactured housing has been underperforming during the Berkshire era while an affordable housing crisis and hundreds of thousands of homeless in America rages on. These are "Industry News, Tips, and Views Pros Can Use" © features and others made and kept us the runaway #1 in manufactured housing trade publisher for a dozen years and counting.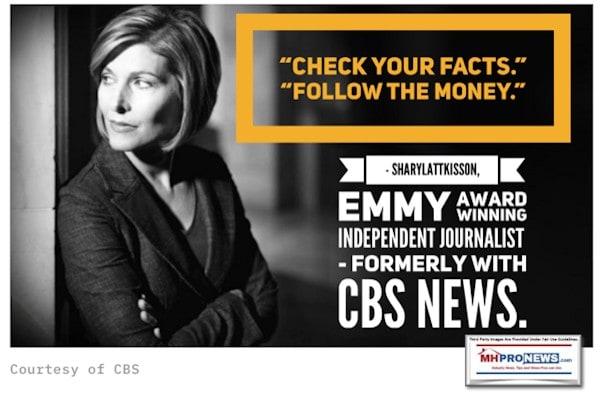 Manufactured Housing Industry Investments Connected Equities Closing Tickers
Some of these firms invest in manufactured housing, or are otherwise connected, but may do other forms of investing or business activities too.
NOTE: The chart below includes the Canadian stock, ECN, which purchased Triad Financial Services, a manufactured home industry lender
NOTE: Drew changed its name and trading symbol at the end of 2016 to Lippert (LCII).
NOTE: Deer Valley was largely taken private, say company insiders in a message to MHProNews on 12.15.2020, but there are still some outstanding shares of  the stock from the days when it was a publicly traded firm.  Thus, there is still periodic activity on DVLY.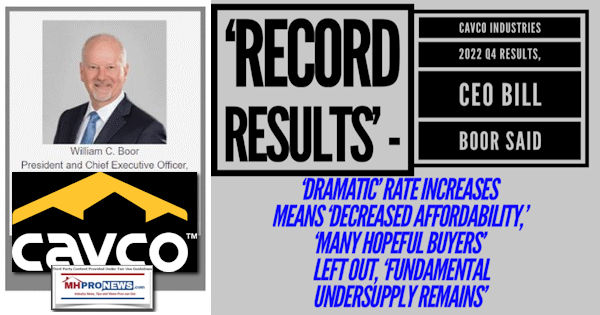 'Better Quality Manufactured Home Buyers' 'More Regulatory Relief' – Skyline Champion Corporation (SKY) CEO Mark Yost on Q4 2022 Results – Earnings Call Transcript, Facts & Analysis
Manufactured Home Communities (a.k.a. 'Mobile Home Parks' – SIC) – Exploring UMH Properties; Fellow Manufactured Housing Institute Member Yes! Communities Suits and Settlements; plus MH Markets Updates
'Announcing!' 'Manufactured Community Owners' Association of America' 'Finally Bringing Fight To Manufactured Home Community Sector of the Industry' – plus Sunday Weekly Manufactured Housing Headlines Review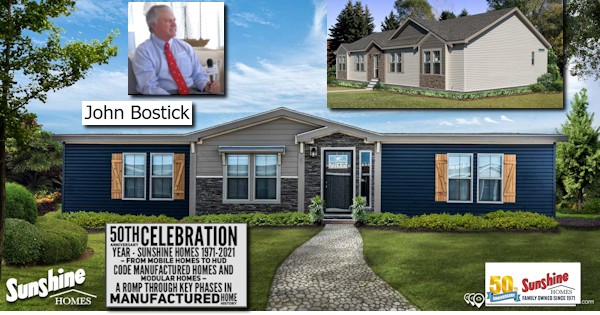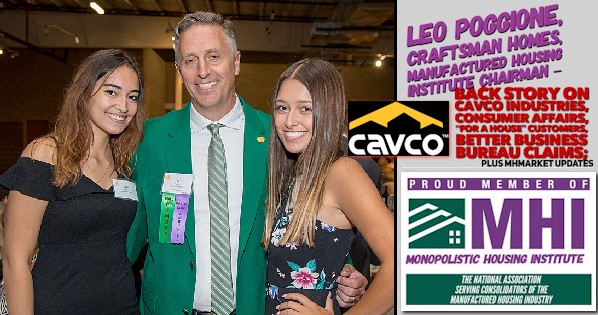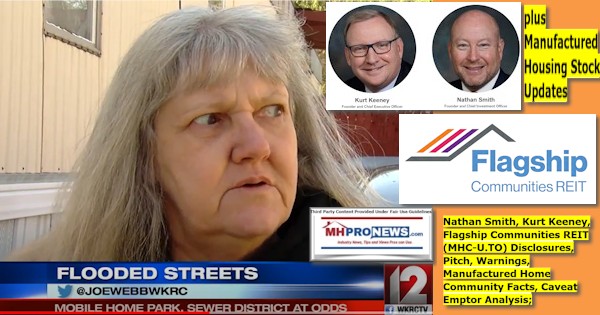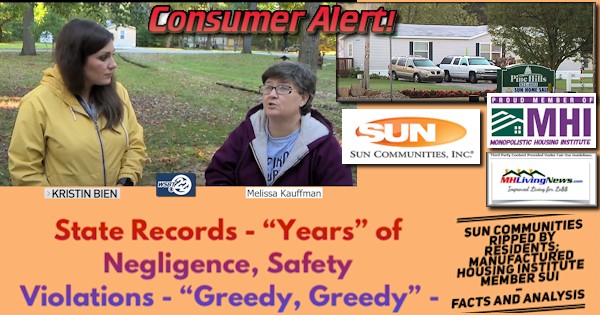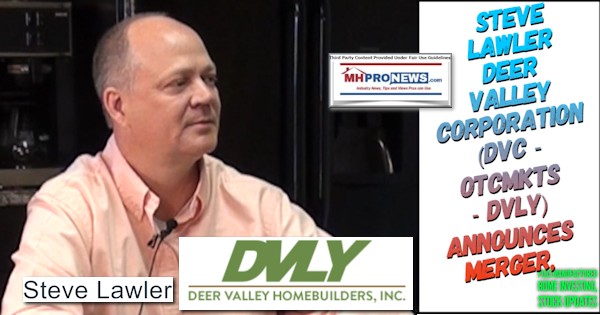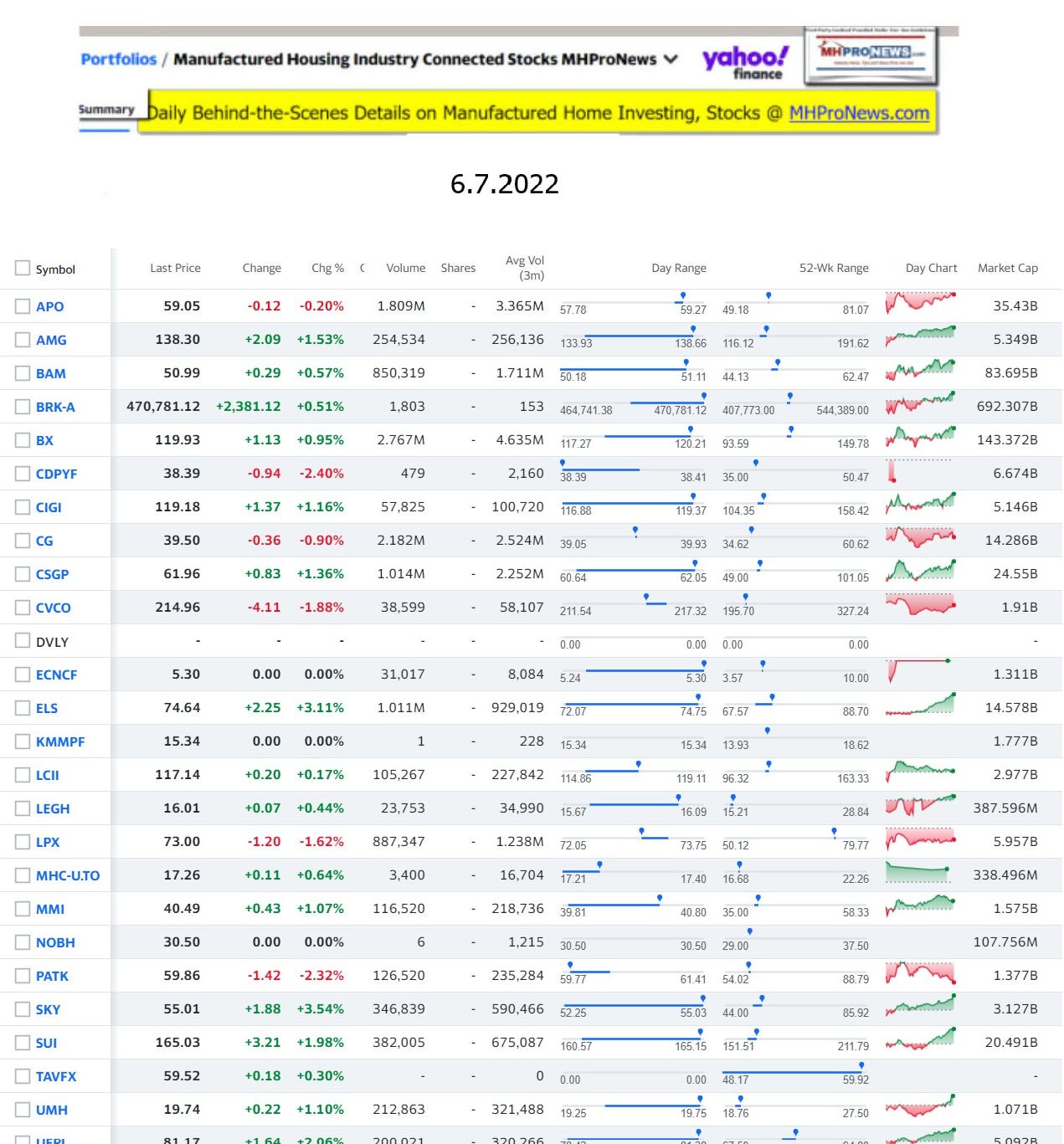 2022

…

Berkshire Hathaway is the parent company to Clayton Homes, 21st Mortgage, Vanderbilt Mortgage and other factory-built housing industry suppliers.


·

LCI Industries, Patrick, UFPI, and LP each are suppliers to the manufactured housing industry, among others.




·

AMG, CG, and TAVFX have investments in manufactured housing related businesses.

For

insights from third-parties and clients about our publisher

, click here.


Enjoy these 'blast from the past' comments.

MHProNews. MHProNews – previously a.k.a. MHMSM.com – has celebrated our 11th year of publishing and have completed over a dozen years of serving the industry as the runaway most-read trade media.
Sample Kudos over the years…
It is now 12+ years and counting…
Learn more about our evolutionary journey as the industry's leading trade media, at the report linked below.
· For expert manufactured housing business development or other professional services, click here.
· To sign up in seconds for our industry leading emailed headline news updates, click here.

Disclosure. MHProNews holds no positions in the stocks in this report.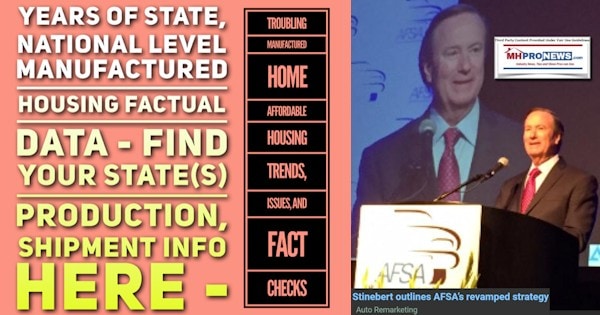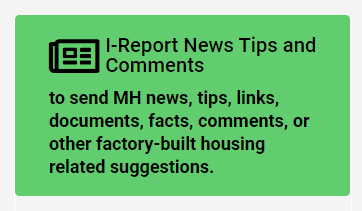 That's a wrap on this installment of "News Through the Lens of Manufactured Homes and Factory-Built Housing" © where "We Provide, You Decide." © (Affordable housing, manufactured homes, stock, investing, data, metrics, reports, fact-checks, analysis, and commentary. Third-party images or content are provided under fair use guidelines for media.) (See Related Reports, further below. Text/image boxes often are hot-linked to other reports that can be access by clicking on them.)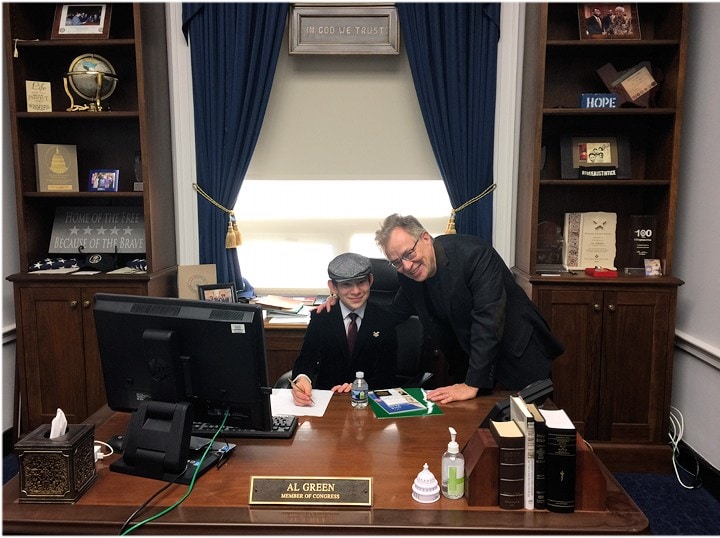 By L.A. "Tony" Kovach – for MHProNews.
Tony earned a journalism scholarship along with numerous awards in history. There have been several awards and honors and also recognition in manufactured housing. For example, he earned the prestigious Lottinville Award in history from the University of Oklahoma, where he studied history and business management. He's a managing member and co-founder of LifeStyle Factory Homes, LLC, the parent company to MHProNews, and MHLivingNews.com. This article reflects the LLC's and/or the writer's position and may or may not reflect the views of sponsors or supporters.