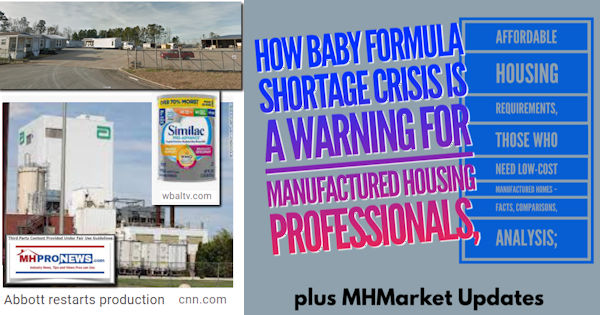 Manufactured homes and baby formula are obviously two distinctive products. Both industries feature federal regulation, more on that and the possible takeaways for manufactured housing industry professionals follow further below. But to grasp the reasons why manufactured housing pros, advocates,  and others should be concerned, facts and insights about the baby formula crisis are warranted. Per the CDC, "Although most infants born in 2017 started breastfeeding (84.1%), only 58.3% of infants were breastfeeding at 6 months…" Per the BBC, "Some 3.6 million babies were born in the US in 2020." So, hundreds of thousands of the youngest Americans are impacted by the infant formula crisis.
A Monday 6.6.2022 report on ZeroHedge alleges that the entire crisis may have been avoidable. More on that shortly, but first, "In 2022, the United States experienced a severe shortage of infant formula as a result of the 2021–2022 global supply chain crisis compounded by a large scale product recall,[1][2] import restrictions,[3] and market concentration.[4]" So says left-leaning Wikipedia. "Unlike other food products, infant formula often does not have an available and acceptable substitute as a source of nutrition for those who rely on it.[5][6]"
Wikipedia said the following about the market concentration issue.
"Market concentration
Ninety percent of the formula in United States is made by just four companies, including Abbott Nutrition. Abbott manufactures 43% of US infant formula.[26] Transportation Secretary Pete Buttigieg alleged that the industry's "enormous market concentration" may be exacerbating the problem. Senator Tammy Duckworth (D-IL) has also urged the FTC to study whether market consolidation in the infant formula industry caused the shortage.[4] According to Claire Kelloway of the Open Markets Institute, manufacturers operate a relatively small number of formula factories to increase efficiency and to reduce cost. But this creates lots of risk if a plant is closed, as happened with the Sturgis plant. FDA Commissioner Robert Califf acknowledged that the market concentration in the industry deserves more scrutiny.[29] David Davis, a professor of economics at South Dakota State University, has alleged that WIC (Special Supplemental Nutrition Program for Women, Infants, and Children) contracts help create monopolies that make it hard for other brands to break into the market. Davis stated that without WIC contracts, no player will be able to enter the industry. Davis stated that this kind of market concentration gives little flexibility if things go wrong, as one single plant will have a big impact on the industry.[30]"
Compare and Contrast
Keep in mind that in manufactured housing, some 80 percent of the industry is currently concentrated in the hands of just 3 firms. Clayton Homes (BRK), Skyline Champion (SKY), and Cavco Industries (CVCO) are all Manufactured Housing Institute (MHI) members.
In 1998, the Manufactured Home Merchandiser Magazine's June 1999 issue reported that there were 372,843 new HUD Code manufactured homes shipped that year. "The Top 25" HUD Code manufactured housing builders "accounted for 92.4 percent of that number…" The "first 10 companies listed made 77.7 percent of the homes shipped in 1998, versus 81.4 percent in 1997."
So, when there was over 300 percent more manufactured home production, and more diversity of manufactured housing producers, the concentration of manufactured home production among the top 10 brands declined 3.7 percent in a year.
On July 9, 2021 the Biden White House issued a fact sheet in conjunction with an "Executive Order on Promoting Competition in the American Economy." It said in part that "In over 75% of U.S. industries, a smaller number of large companies now control more of the business than they did twenty years ago. This is true across healthcare, financial services, agriculture and more. That lack of competition drives up prices for consumers."
Holds those points in mind. Yes, industry concentration is occurring in other professions, not just manufactured housing. The baby formula industry is apparently one such profession. Some quotes are found in the bullets below from ZeroHedge.
"Abbott Nutrition announced it restarted production of infant formula at its Sturgis, Michigan plant on Saturday."
"The shutdown turned a preexisting shortage—fueled by supply chain problems and hoarding—into an all-out empty-shelf crisis, prompting the waiving of import regulations and restrictions, and a military airlift of formula from Europe. As of May 22, 73% of baby formula products were out of stock."
"However, a detailed look at the FDA investigation suggests the three-month shutdown was unnecessary, as the FDA investigation failed to produce any evidence linking Abbott's Sturgis facility or its formula to the illnesses and deaths."
"The four infected infants consumed four different types of Abbott formula made over the course of almost a year; the illnesses took place over several months in three different states. The bacteria that sickened the infants…is a commonly-occurring microbe found naturally in the environment…"
"In all four cases, the state, FDA, and/or CDC tested samples of the Abbott formula that was used by the child. In all four cases, all unopened containers tested negative," according to a summaryof the case Abbott posted on May 11.
… "If federal legislators really want to prevent future shortages, the answer is less government, not more."  
Reporter: Why didn't you move quicker on the baby formula shortage?

Biden: "I don't think anyone anticipated the impact of the shutdown of Abbott facility."

Reporter: "Didn't the CEOs just tell you they understood it would have a very big impact?"

Biden:"They did but I didn't" pic.twitter.com/ei2e1N5mkY

— Greg Price (@greg_price11) June 1, 2022
Let's recap. Federal officials created the baby formula crisis. Of course, they want to use it as an excuse to spend more money and hire more people. But quite likely federal policies, per the various reports cited above, caused this contraction of the baby formula industry.
While they are apples and oranges, this baby formula fiasco is somewhat akin to Joe Biden signing an executive order on day 1 shutting down the Keystone XL Pipeline. Coupled with steps to restrict federal leases, of course domestic and North American crude supplies are down and part of the economics 101 reasons why fuel prices are hitting new record highs for the past 3 weeks.
Now, how do those baby formula or oil/gas examples relate to manufactured housing?
Manufactured housing is also federally regulated, as was noted before.
Just as giant Abbott was effectively forced to close their baby formula factory due to (erroneous actions by) federal regulators, manufactured home producers should ponder the notion that something similar could happen to one or more of them.
Per Gov.info: Under 24 CFR 3282.204 is the following section: "Under 3282.204(b): "[A]fter the initial factory inspection … the IPIA shall issue the certification report as described in 3282.362(b)(2)." After certification, if that status is lost for whatever reason, then a facility can be "de"-certified or what would be called factory "decertification."
In the case in the headlines, Abbott was one of the big 4 in the baby formula industry. So, it should not be thought that even a larger brand could be hit by this process.
The DOE Angle
With the clock started on the Department of Energy implementation of their damaging energy rule, this hypothetical scenario is even more feasible.
But what about the possibility that political and/or corporate influences could trigger a potential de-certification?
ZeroHedge's comment cited above is apt food for thought: "If federal legislators really want to prevent future shortages, the answer is less government, not more."  
The Manufactured Housing Institute (MHI) has arguably attempted to do this. While they attempted to do so for years under the guise of negotiated rule making, after MHProNews exposed their apparent history of duplicity of attempting to collude with federal officials and other 'energy interests,' they since became rather 'in your face' about the fact that they don't want to kill the measure, they merely seek to modify it with their own plan. Note the date on this MHI letter, obtained from a DOE source, was from the Obama-Biden term in office. Fast forward to 2022, when Biden-Harris occupy – rightly or wrongly – the White House, POTUS and VP posts.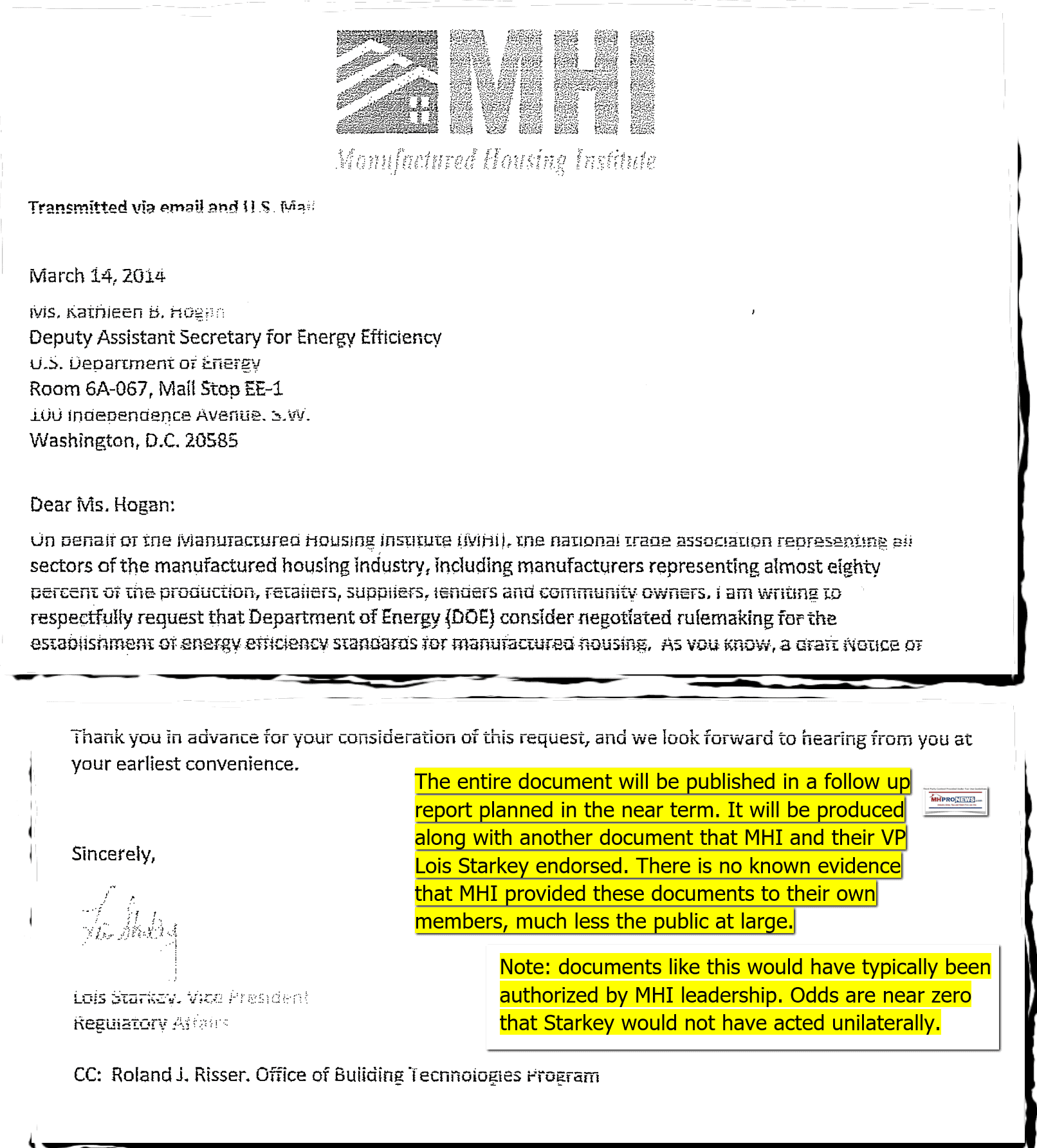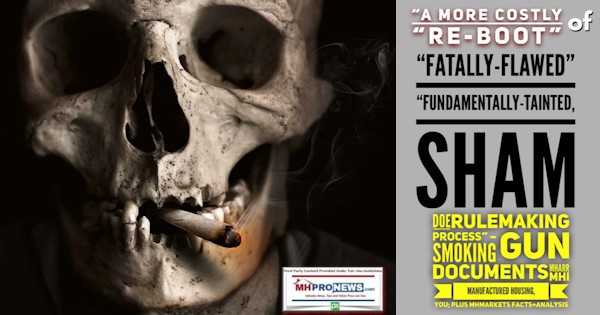 MHI's own comments letter bluntly stated their proposed replacement for the DOE plan.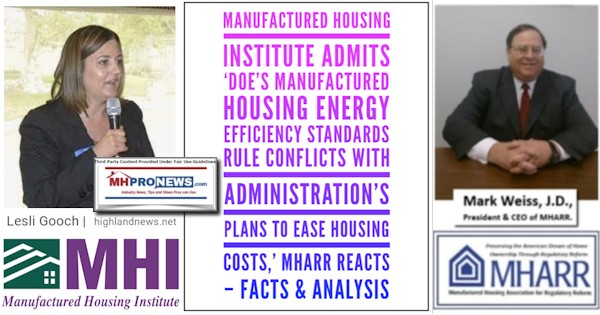 See the Sunday report below for more and watch for a planned report that is likely to be published this week.
'Show Me the Man, and I'll Show You the Crime' – Lavrentiy Beria, Lessons to Recapture American Rights, Reviving Affordable Manufactured Home Performance – Viewpoint; plus Sunday Headlines Recap
Next up is our daily business news recap of yesterday evening's market report, related left-right headlines, and manufactured housing connected equities.
The Business Daily Manufactured Home Industry Connected Stock Market Updates.  Plus, Market Moving Left leaning CNN and Right-leaning (Newsmax) Headlines Snapshot. While the layout of this daily business report has been evolving over time, several elements of the basic concepts used previously are still the same. For instance. The headlines that follow below can be reviewed at a glance to save time while providing insights across the left-right media divide. Additionally, those headlines often provide clues as to possible 'market-moving' news items.
Market Indicator Closing Summaries – Yahoo Finance Closing Tickers on MHProNews…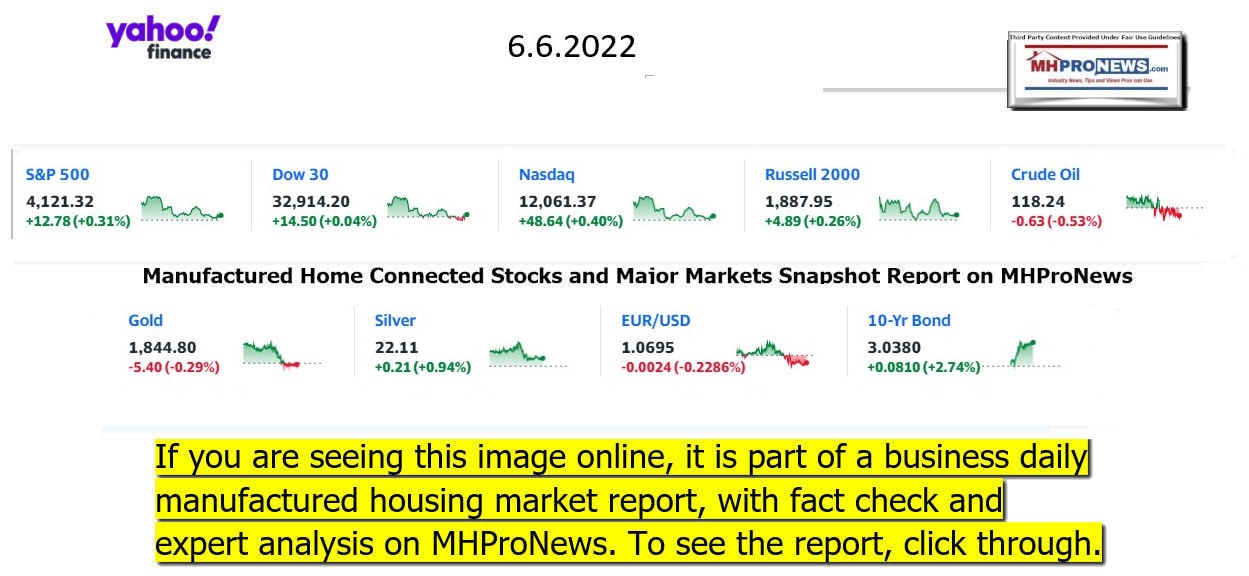 Headlines from left-of-center CNN Business – from the evening of 6.6.2022
Big changes for the iPhone
iOS 16 new lock screen.
Apple unveils iOS 16 which will let users edit iMessages and improve the lock screen
Elon Musk pulls back on job cuts plan — sort of
Two more states hit $5 a gallon gas prices
Stocks are itching for a turnaround. This won't help
It's been a rough year for social media stocks. Blame TikTok
Dear Gen Z: Here's how to survive your first bear market
Analysis: Britain's economy is in a bad place. Removing Boris Johnson might help
JetBlue increases offer for Spirit Airlines as bidding war heats up
Opinion: This is where entry-level jobs are growing the fastest
Did you retire during the pandemic, but then decide to head back to work?
See what this amusement park is doing to combat staff shortages
Jeep Wrangler tips over again in IIHS crash test
Priyanka Chopra blasts 'shameful' Indian body spray ad promoting rape culture
Advertising department brainstorming at modern office boardroom behind closed doors, view through the glass wall. Diverse staff led by ceo discussing new project sharing ideas thoughts and sales pitch
The world's biggest four-day work week pilot begins
Tesla and SpaceX Chief Executive Officer Elon Musk speaks at the SATELLITE Conference and Exhibition in Washington, on March 9, 2020.
Elon Musk threatens to walk away from Twitter deal
Exclusive: Wendy's is finally selling this 'highly anticipated' Frosty flavor
SUMMER TRAVEL
Travelers queue up at the north security checkpoint in the main terminal of Denver International Airport, Thursday, May 26, 2022, in Denver.
Why you're going to hate traveling for the rest of the summer
Gas prices hit yet another record high
After two years of losses, airlines expect record revenue
Boeing needs to get its 's*** together,' Ryanair CEO says
Airfares are going up. Blame full planes
COFFEE GIANT
Schultz will raise wages again — but not for unionized workers
Starbucks is reopening in Shanghai
US labor board sues Starbucks
CEO suspends Starbucks' share buyback program
Starbucks is leaving Russia for good
Headlines from right-of-center Newsmax 6.6.2022
It Could Become the Largest Migrant Caravan Ever. It's Headed Toward the US.
At left, a migrant holding a U.S. flag walks in front of National Guard members in Tapachula, Chiapas state, Mexico, as he takes part in a caravan of Central and South Americans heading toward the border with the United States on Monday. At right, more are joining the caravan by the hour. (Getty Images)
Russian Invasion of Ukraine
DOJ Authorizes Seizure of 2 Jets of Russian Oligarch Abramovich
Death of Another Russian General in Ukraine Signals Lack of Lower Officers: Report
Elon Musk: 15K Starlink Internet Kits Sent to Ukraine During Invasion
Russian Missiles Strike Kyiv, Shattering Sense of Calm
UK's Johnson Confirms New Aid Package in Phone Call: Zelenskyy
Russian State Media; Russian General Killed in Eastern Ukraine
Bolton: Putin Closer to 'Objectives' in Ukraine
Russians Shell Ancient Orthodox Church in East Ukraine
Putin's Russian Pundit: 'Nuclear War Is Coming'
More Russian Invasion of Ukraine
Newsmax TV
Fitzgerald: A Dem 'Hodgepodge' of Gun Bills | video
Cammack: "Limousine Liberals' Led to Baby Formula Shortage | video
Dershowitz: Hiring Producer Shows Jan. 6 Panel Partisanship | video
Andrew Giuliani: Poll Numbers Climbing With Grassroots Focus | video
Ryan Zinke: Country 'Worth Fighting For' | video
Van Drew: Biden's Gun Control Law Plea 'Fake' | video
Biggs: Lying to the FBI 'No Big Deal' in Sussmann Trial
More Newsmax TV
Newsfront
UK's Boris Johnson Poised to Win No-Confidence Vote
British Prime Minister Boris Johnson looked on course to win a no-confidence vote on Monday.According to a Reuters tally, he has already racked up support from at least 160 British lawmakers who've publicly indicated their backing for him.A total of 180 votes would be…… [Full Story]
Judge: Constitution 'Does Not Require a Pain-Free Execution'
An Arizona judge on Sunday ruled that the U.S. Constitution "does not [Full Story]
Potentially Largest Migrant Caravan Ever Aiming for Southern Border
What could become the largest migrant caravan ever to approach the [Full Story]
Biden Hasn't Given a Mainstream Media Interview in More Than 100 Days
Despite vowing to create the most transparent modern administration, [Full Story] | Platinum Article
Manchin: Raising Age Minimum for Buying High-Powered Rifles 'Makes Sense'
Joe Manchin, D-W.Va., has signaled his support for raising the [Full Story]
DeSantis Warns 'Woke' Companies, Slashes MLB Facility Funds
Corporations are learning that it doesn't pay to go "woke" by mixing [Full Story] | Platinum Article
'Top Gun' Heirs Sue Paramount Over 'Top Gun: Maverick'
The family of the author whose article inspired the 1986 Tom Cruise [Full Story]
Dershowitz to Newsmax: Hiring Producer Shows Jan. 6 Panel Partisanship
The decision by the House panel investigating the Jan. 6 actions at [Full Story] | video
CDC Data: US Wasted 82-Plus Million COVID Vaccine Doses During Pandemic Period
The United States wasted more than 82 million COVID vaccine doses [Full Story]
NY Gov. Signs Gun Control Package into Law
In the first measures to be approved by any state following the wave [Full Story]
Supreme Court Rejects Appeal by St. Louis Couple Who Pointed Guns at Protesters
The U.S. Supreme Court on Monday declined to hear an appeal from the [Full Story]
Biden Touts Improved Numbers, While Social Security and Medicare Stumble
As President Joe Biden emphasizes the positives, new reports from the [Full Story]
At least 160 British lawmakers from Prime Minister Boris Johnson's [Full Story]
Related
British Prime Minister Johnson to Face No-Confidence Vote
Elon Musk-Backed Caruso, Rep. Bass Appear Headed to Runoff in LA Mayor's Race
Billionaire Rick Caruso, recently endorsed by Elon Musk, appeared to [Full Story]
US to Get 36,000 More Monkeypox Vaccine Doses This Week
The Department of Health and Human Services (HHS) said on Monday it [Full Story]
Pro-Abortion Protester Locks Himself to US Supreme Court Fence
An abortion rights protester on Monday chained himself to a perimeter [Full Story]
Last 'Band of Brothers' Survivor Honored by National WW2 Museum
If there's one thing that former U.S. Army Private First Class [Full Story]
NFL Hires First Transgender Cheerleader
The National Football League hired its first openly transgender [Full Story]
Pelosi Discloses More Apple, Microsoft Trades
S. House Speaker Nancy Pelosi disclosed new stock market trades on [Full Story]
Usage Frequency Key to 'Red-Flag' Laws: Report
Reviewed court records in 19 states already implementing "red-flag" [Full Story]
Steve Scully Hired by SiriusXM to Host Political Show
Longtime political journalist Steve Scully has been hired by Sirius [Full Story]
Supreme Court Rules Medicaid Can Recoup Payments for Future Care
The Supreme Court ruled in favor of Florida in a case where the state [Full Story]
Twitter Fires Back at Musk: Deal Is On at 'Agreed Price and Terms'
While Elon Musk is seeking to press Twitter for information on its [Full Story]
Texas A&M Says Kyle Rittenhouse Is Not Attending
While Kyle Rittenhouse said he is going to go to college at Texas [Full Story]
Supreme Court Seeks Biden Views on WhatsApp 'Pegasus' Spyware Dispute
The U.S. Supreme Court on Monday asked President Joe Biden's [Full Story]
Biden Waives Solar-Panel Tariffs, Invokes Defense Production Act
President Joe Biden on Monday invoked the Defense Production Act to [Full Story]
TV Network Executive Producing Jan. 6 Panel's Prime-Time Hearing
House Speaker Nancy Pelosi's partisan Jan. 6 select committee has [Full Story]
Musk Threatens to Drop $44B Twitter Deal If Data Is Not Provided
Elon Musk warned he may walk away from his $44 billion deal to [Full Story]
Death of Another Russian General in Ukraine Signals Lack of Lower Officers: Report
The death of another Russian general in the war in Ukraine is a sign [Full Story]
Poll: Americans Disheartened About Economy, National Unity
Americans appear to be more negative about the economy than at any [Full Story]
Trump Issues Free Concealed Carry Holster for All Supporters, Claim Yours Now!
More Newsfront
Finance
Amazon Stock Split May Draw Retail Traders in Tough Market
Amazon's stock split may provide some solace to shareholders who have seen the e-commerce giant's shares battered this year.Amazon shares were up 3.1% to $126.17 in afternoon trading after the 20-for-1 split, announced earlier this year but which took effect Monday…. [Full Story]
UN: Climate, War Fuel Looming Food Crises
Kremlin 'Fully Assaulting' Media Freedom: US State Dept
Russia Sanctions US Treasury Secretary, Defense Execs
Americans Skimp on Tips
More Finance
Health
CDC: Long COVID-19 Could be Deadly
A new analysis suggests that people who suffer from long COVID-19 may be at an increased risk for death. As part of a research program to determine how long-term effects of COVID-19 affect mortality rates, the Centers for Disease Control and Prevention (CDC) is examining…… [Full Story]
Study Finds Strong Links Between Depression and Crohn's, Colitis
Studies: Liquid Biopsy Identifies Who Can Skip Chemo, Tylenol Interferes With Cancer Drugs
Two New Drugs Show Promise Against Advanced Breast Cancer
People With Diabetes Four Times More Likely to Develop Long COVID
MHProNews has pioneered in our profession several reporting elements that keep our regular and attentive readers as arguably the best informed in the manufactured housing industry. Among the items shared after 'every business day' (when markets are open) is our left-right headline recap summary. At a glance in two to three minutes, key 'market moving' news items are covered from left-of-center CNN Business and right-of-center Newsmax. "We Provide, You Decide." © Additionally, MHProNews provides expert commentary and analysis on the issues that others can't or won't cover that help explain why manufactured housing has been underperforming during the Berkshire era while an affordable housing crisis and hundreds of thousands of homeless in America rages on. These are "Industry News, Tips, and Views Pros Can Use" © features and others made and kept us the runaway #1 in manufactured housing trade publisher for a dozen years and counting.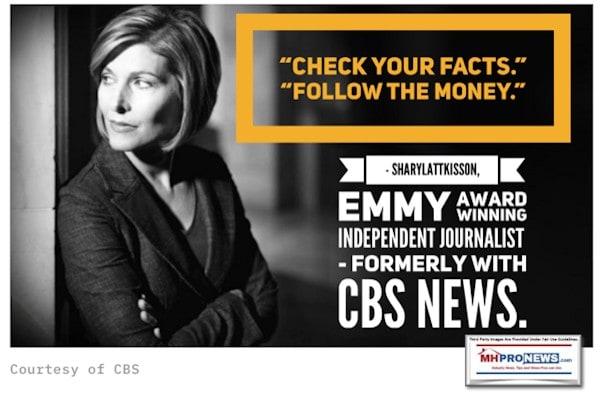 Manufactured Housing Industry Investments Connected Equities Closing Tickers
Some of these firms invest in manufactured housing, or are otherwise connected, but may do other forms of investing or business activities too.
NOTE: The chart below includes the Canadian stock, ECN, which purchased Triad Financial Services, a manufactured home industry lender
NOTE: Drew changed its name and trading symbol at the end of 2016 to Lippert (LCII).
NOTE: Deer Valley was largely taken private, say company insiders in a message to MHProNews on 12.15.2020, but there are still some outstanding shares of  the stock from the days when it was a publicly traded firm.  Thus, there is still periodic activity on DVLY.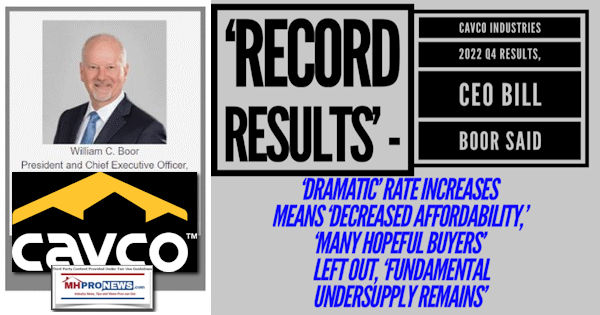 Manufactured Home Communities (a.k.a. 'Mobile Home Parks' – SIC) – Exploring UMH Properties; Fellow Manufactured Housing Institute Member Yes! Communities Suits and Settlements; plus MH Markets Updates
'Announcing!' 'Manufactured Community Owners' Association of America' 'Finally Bringing Fight To Manufactured Home Community Sector of the Industry' – plus Sunday Weekly Manufactured Housing Headlines Review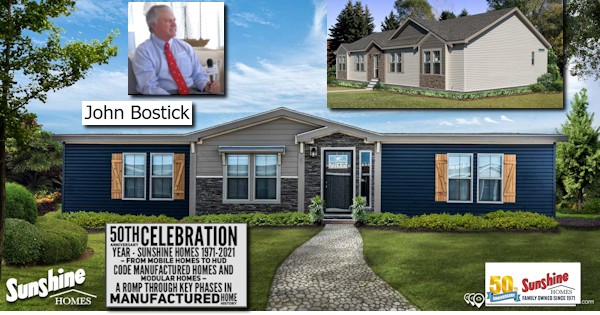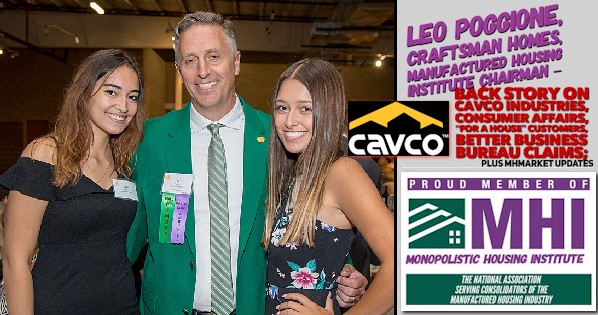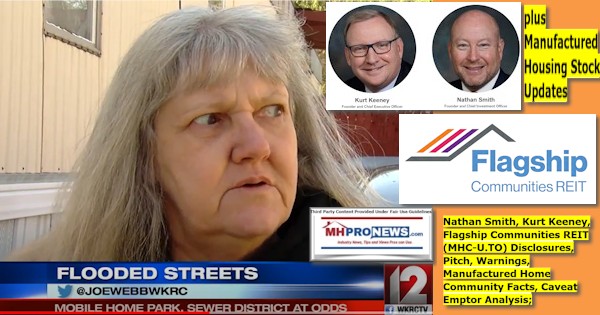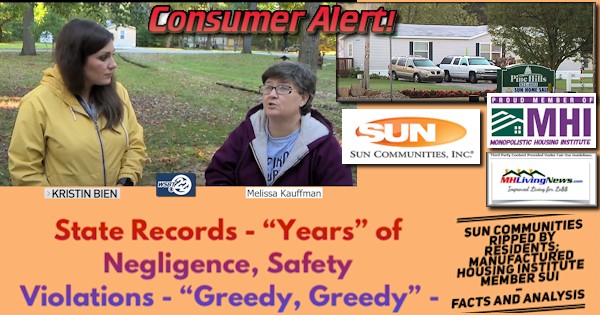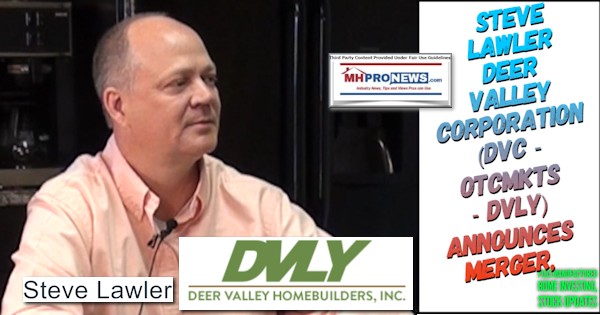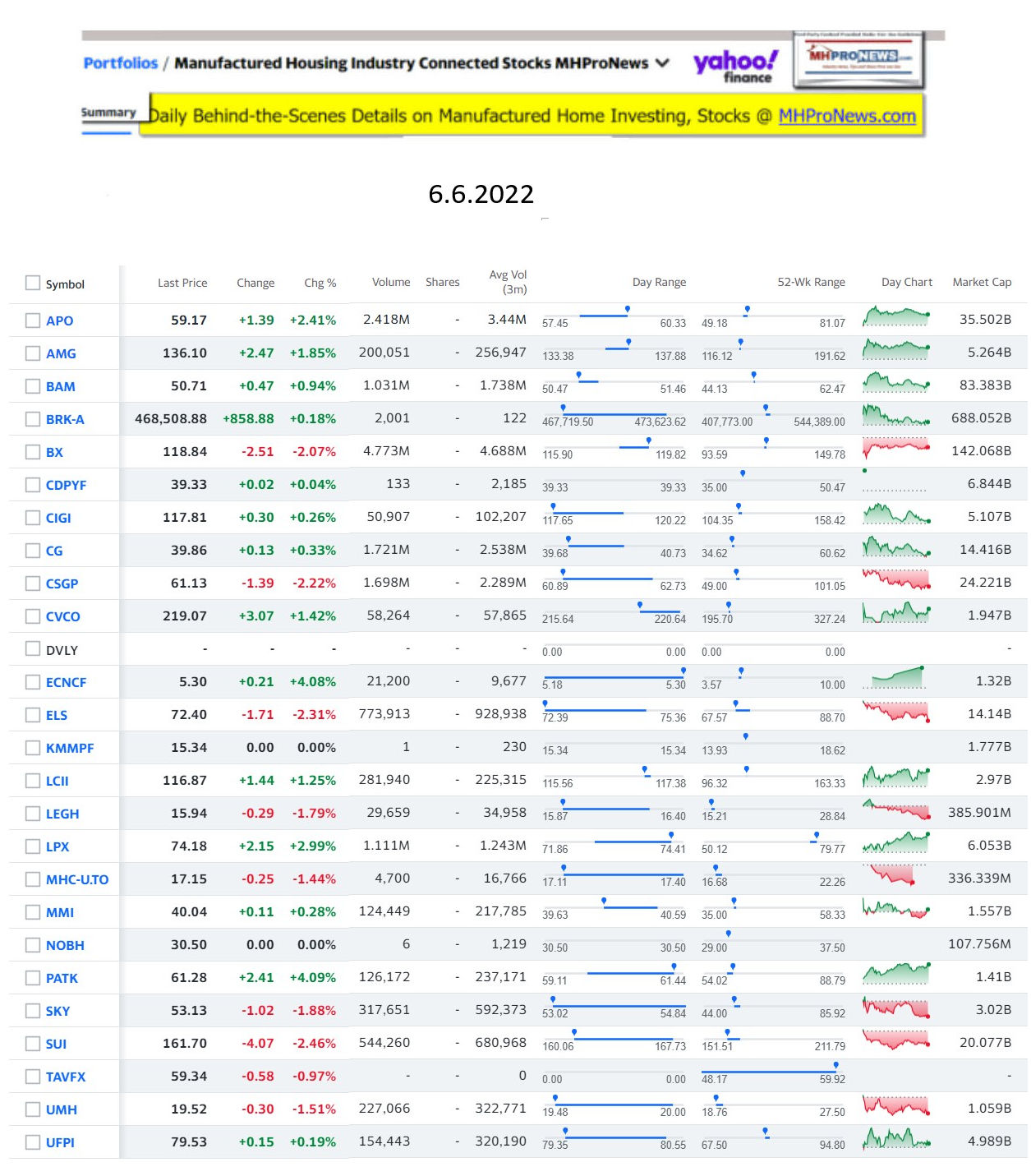 2022

…

Berkshire Hathaway is the parent company to Clayton Homes, 21st Mortgage, Vanderbilt Mortgage and other factory-built housing industry suppliers.


·

LCI Industries, Patrick, UFPI, and LP each are suppliers to the manufactured housing industry, among others.




·

AMG, CG, and TAVFX have investments in manufactured housing related businesses.

For

insights from third-parties and clients about our publisher

, click here.


Enjoy these 'blast from the past' comments.

MHProNews. MHProNews – previously a.k.a. MHMSM.com – has celebrated our 11th year of publishing and have completed over a dozen years of serving the industry as the runaway most-read trade media.
Sample Kudos over the years…
It is now 12+ years and counting…
Learn more about our evolutionary journey as the industry's leading trade media, at the report linked below.
· For expert manufactured housing business development or other professional services, click here.
· To sign up in seconds for our industry leading emailed headline news updates, click here.

Disclosure. MHProNews holds no positions in the stocks in this report.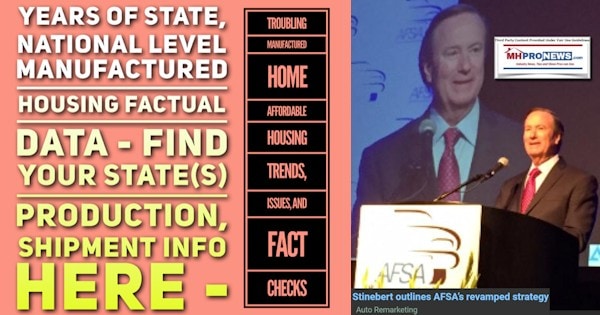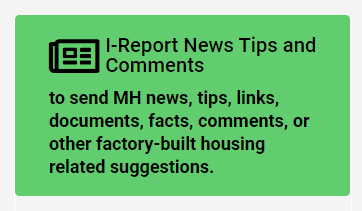 That's a wrap on this installment of "News Through the Lens of Manufactured Homes and Factory-Built Housing" © where "We Provide, You Decide." © (Affordable housing, manufactured homes, stock, investing, data, metrics, reports, fact-checks, analysis, and commentary. Third-party images or content are provided under fair use guidelines for media.) (See Related Reports, further below. Text/image boxes often are hot-linked to other reports that can be access by clicking on them.)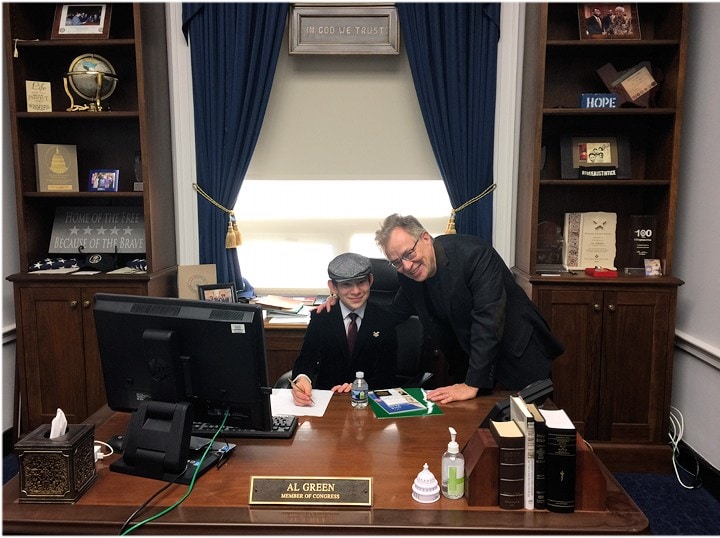 By L.A. "Tony" Kovach – for MHProNews.
Tony earned a journalism scholarship along with numerous awards in history. There have been several awards and honors and also recognition in manufactured housing. For example, he earned the prestigious Lottinville Award in history from the University of Oklahoma, where he studied history and business management. He's a managing member and co-founder of LifeStyle Factory Homes, LLC, the parent company to MHProNews, and MHLivingNews.com. This article reflects the LLC's and/or the writer's position and may or may not reflect the views of sponsors or supporters.