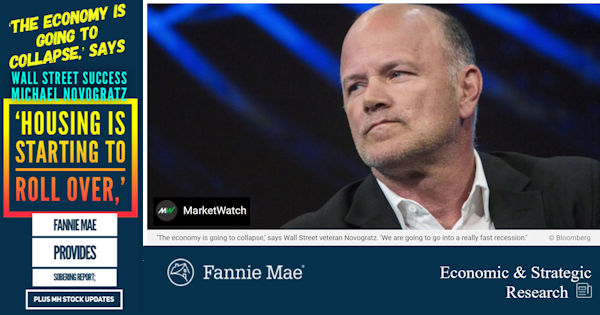 Word Hippo says that other words (synonyms) for "roll over" are "capsize" or "overturn." According to MarketWatch and MSN on 6.16.2022, "Veteran investor and bitcoin bull Michael Novogratz doesn't have a rosy outlook on the economy, which he described as headed for a substantial downturn, with the likelihood of a "fast recession" on the horizon."  Per left-leaning Wikipedia, Novogratz has "a net worth of $2.3 billion." MarketWatch said that his forecasts have been accurate before. More from Novogratz below will be followed by a 6.16.2022 press release from Fannie Mae to MHProNews and others in media. Our Daily Business News on MHProNews left-right headline recap and manufactured home connected market report will follow those two items and related analysis.
According to MarketWatch, are the following four takeaways.
Veteran investor and bitcoin bull Michael Novogratz doesn't have a rosy outlook on the economy, which he described as headed for a substantial downturn, with the likelihood of a "fast recession" on the horizon. "Housing is starting to roll over," he said. "Inventories have exploded."
"There are layoffs in multiple industries, and the Fed is stuck," he said, with a position of having to "hike [interest rates] until inflation rolls over." It was the largest increase in the central bank's policy rate since November 1994.
Before the Fed announced its decision, Novogratz speculated — accurately, it turned out — that the central bank would lift interest rates by 75 basis points and that the market would rally on that news. He also predicted that stocks will sell off in the coming days.
"They are hiking into the popping of a bubble," Novogratz said…
Before diving into the Fannie Mae media release, let's note that some are saying that their predicted 2023 recession is either already here or is going to strike the U.S. in 2022. One reason MHProNews sources from several platforms is to get a more complete and accurate sense about controversial issues that often have contradictory claims from differing sources.
That said, the following is per Fannie Mae.

Elevated Inflation, Higher Interest Rates Expected to Take Toll on Consumer Spending
Housing Predicted to Drag on Growth Through 2023 as Financial Conditions Tighten
WASHINGTON, DC – June 16, 2022 – The compounding effects of elevated inflation and higher interest rates are expected to further weigh on economic growth and home sales as the year progresses, with full-year 2022 growth now forecast at a slightly reduced 1.2 percent and expectations of a late-2023 modest economic contraction unchanged, according to the June 2022 commentary from the Fannie Mae (FNMA/OTCQB) Economic and Strategic Research (ESR) Group. While consumers' resilience to the predicted financial stress remains an open question, the ESR Group now forecasts personal consumption growth to slow from 4.2 percent in Q2 2022 to 1.9 percent and 1.3 percent, respectively, in Q3 2022 and Q4 2022. Residential fixed investment, driven in part by an even further reduced home sales forecast, is projected to decline 8.6 percent in 2022 and 6.5 percent in 2023 – the largest percentage declines among the major GDP components.
Substantially higher mortgage rates are now the housing market's primary constraint. The ESR Group expects total home sales to fall 13.5 percent in 2022 – down even further from its 11.1 percent projected decline last month – and, correspondingly, for mortgage originations to move downward to $2.6 trillion in 2022 and $2.2 trillion in 2023. Refinance origination activity, in particular, continues to slow, as evidenced by Fannie Mae's new Refinance Application-Level Index, with only an estimated 2 percent of outstanding mortgages having at least a 50-basis-point incentive to refinance.
"The market's expectations of the necessary Federal Reserve response to persistent broad-based inflation continue to adjust," said Doug Duncan, Fannie Mae Senior Vice President and Chief Economist. "Tightening financial conditions are slowing economic activity, and consumers are drawing down savings and increasingly relying on credit cards as they seek to maintain current levels of consumption."
"The significant, sudden rise in interest rates is beginning to be felt widely as employment growth slows and stock market valuations fall," Duncan said. "Nowhere is this more evident than in housing affordability measures, with the prospective monthly payment on a typical new mortgage climbing dramatically. As a result, both new and existing home sales continue to slow, while refinance activity has fallen substantially, with what's left largely consisting of equity extraction."
Duncan continued: "Our view continues to be that the magnitude of response required of monetary and fiscal tightening to return inflation to the Federal Reserve's target will likely result in a recession, which we currently expect will be modest and occur next year. Notably, the recent market response to continued heightened inflation suggests that the predicted recession could occur sooner and be deeper than our current baseline forecast." ##
Additional Information, More MHProNews Analysis and Commentary in Brief
As longer term manufactured housing professionals may recall, in the 1980s, when interest rates were increasing, untold thousands of consumers turned to manufactured homes because they were effectively 'priced out' of conventional housing. Restated, while rising rates are not 'good news,' while vexing and obviously harmful to many, they don't have to be a three alarm or bigger fire analogy for manufactured housing.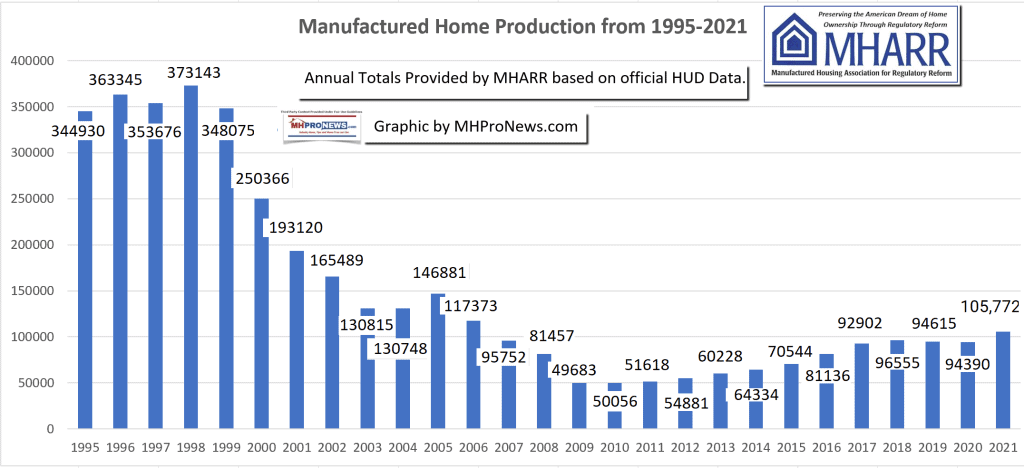 On our MHLivingNews sister site, the prior report linked below made it clear that mortgage applications are slowing. It is a given that when financing applications slow, the sale of housing slowing will follow.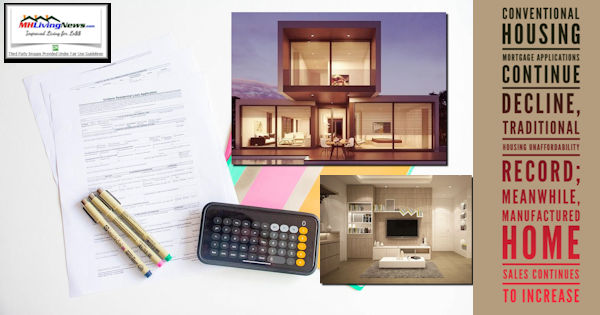 Some 6 week ago, MHLivingNews flashed the following alert to readers that housing was heading into choppy waters. There have been other examples before that one on MHProNews.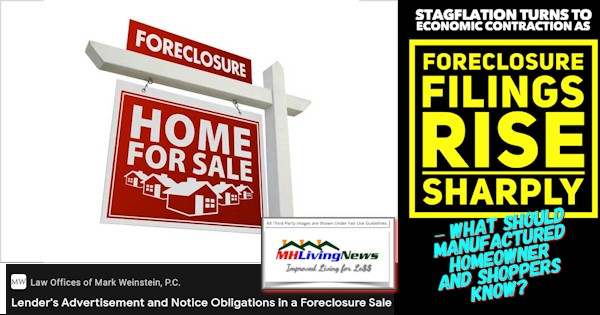 MHProNews cited NAR and AEI's Housing Center for previously for facts that pointed to a mainstream housing slowdown.
NAR's Yun – '55 Percent Increased Payment Cost' YoY Same Home, Housing Sales Dip Continues – Yun Fingers Biden – May 2022 Housing, Economic, Forecasts Data Pros Need; Plus MHMarket Update
Tobias Peter – American Enterprise Institute Housing Center – Insights on Concerns Over Housing Bubble and Related New Data; plus Sunday Weekly Headlines Review
Despite the fact that manufactured housing isn't necessarily harmed historically by rising interest rates, insights from Cavco Industries and Skyline Champion each indicate signals from street 'retail channels' that a slowdown in manufactured housing is also underway.
'Record Results' – Cavco Industries 2022 Q4 Results, CEO Bill Boor Said 'Dramatic' Rate Increases Means 'Decreased Affordability,' 'Many Hopeful Buyers' Left Out, 'Fundamental Undersupply Remains'  
'Better Quality Manufactured Home Buyers' 'More Regulatory Relief' – Skyline Champion Corporation (SKY) CEO Mark Yost on Q4 2022 Results – Earnings Call Transcript, Facts & Analysis
The silver lining reported by both of those firms is that communities have filled the gap for producers of HUD Code manufactured housing.
That said, there are reasons why the arguably ongoing multi-year failure of the Manufactured Housing Institute (MHI) to do what they claim and promise could increasingly spell trouble for the industry's independents, including retailers and producers, in the foreseeable future.
Communities, especially the larger ones, have turned post-Dodd Frank increasingly to renting housing instead of selling new HUD Code manufactured homes. But renting single or multiple sectional manufactured housing is not an option for most independent retailers. Wholesale shipments of manufactured homes destined for rental or retail sale work about the same for a producer of manufactured housing.
But not so for the 'street retailer.'  Even producers mathematically face a potential wall. At some point, the vacancies that developed in the early 2000s in land-lease communities will eventually be effectively filled. While there may be replacements of older units for newer ones, those totals would be more nominal.  Nor are there enough greenfield developments for new manufactured home land lease communities to make the difference needed by many manufactured housing factories to count on that possible channel to replace those units that have been a significant part of their production in the last decade or so.  Indeed, community closures are outpacing new site developments and have been for most of the 21st century.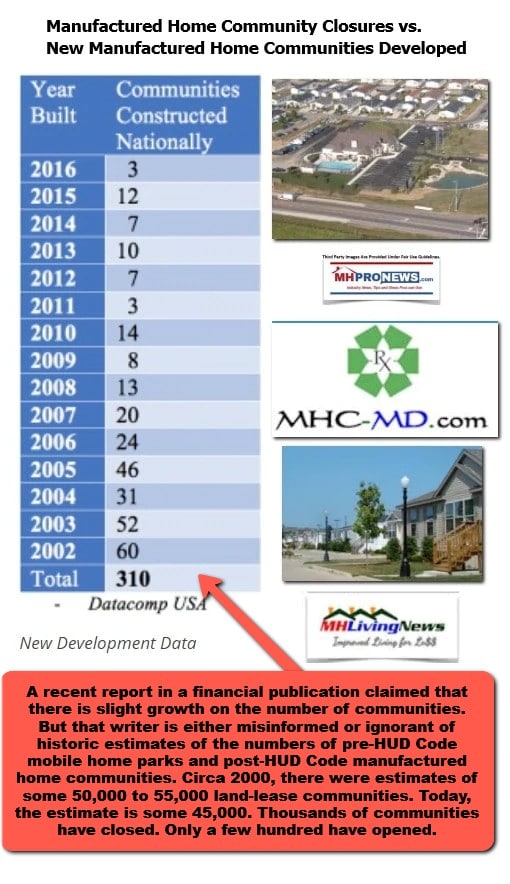 As an outcome of several converging factors, independent community operators are finding themselves caught in an inflationary environment where they are effectively declining in income.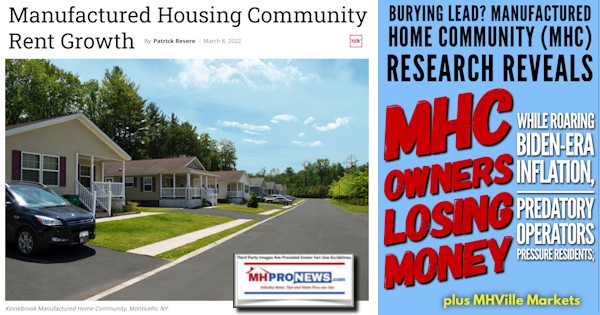 The implication of these various trends means that the need to curtail the harmful effects of regulatory and image related issues is perhaps as great or greater than ever.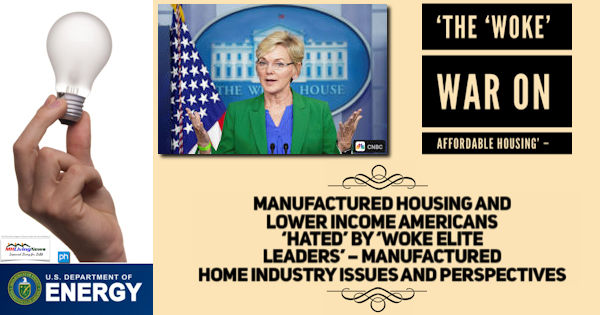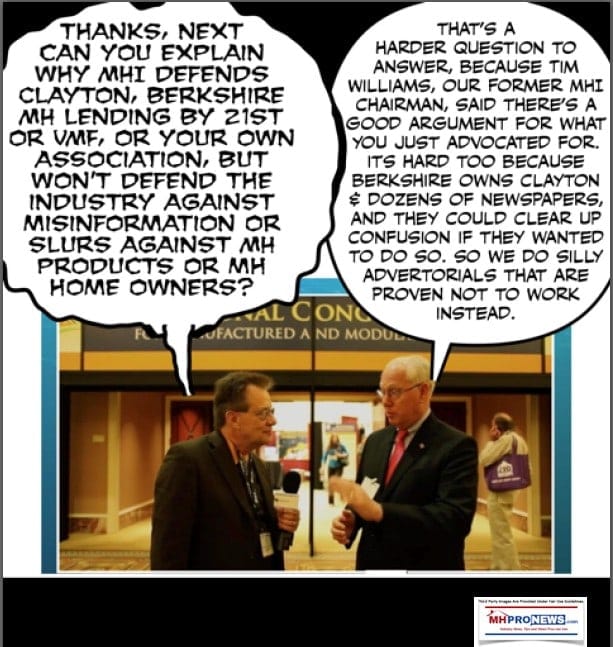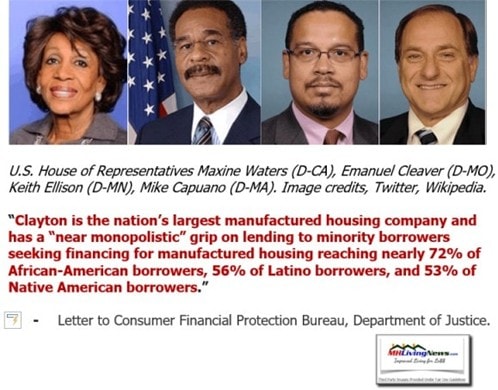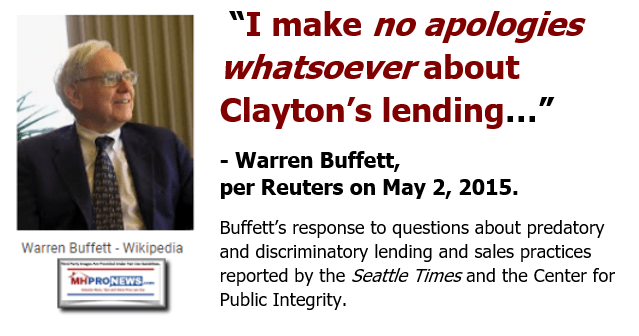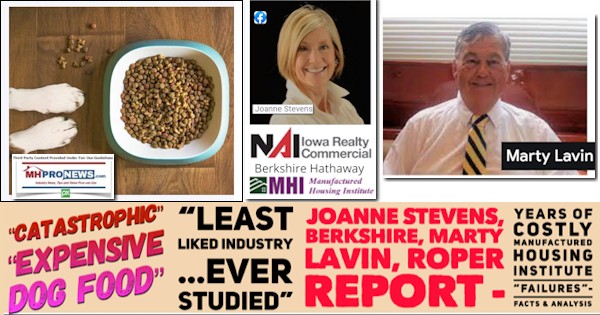 So, in what world does MHI exist? How could they have recently made the serious claim that there is "momentum" for manufactured housing? Aren't they reading and viewing the same news sources that informed industry professionals do to understand the headwinds that lie ahead? Or does MHI think that industry professionals have no memory of their seemingly bizarre claims?
MHI Claims 'Momentum' in D.C. – HousingWire, MHInsider Showcase Manufactured Housing Institute CEO Lesli Gooch Op-Ed on DOE Energy Rule Sans Critique, Fact Check, Viewpoints; plus MHMarket Update
With consumers and small businesses alike rebelling against the obvious trends, how could MHI board, corporate, and staff leaders think that industry pros think that thousands are missing these facts? Answer: industry pros DON'T miss these facts, especially those who flock to MHProNews for objective evidence-driven reports and analysis that make MHI's claims look foolish, deceptive, or worse.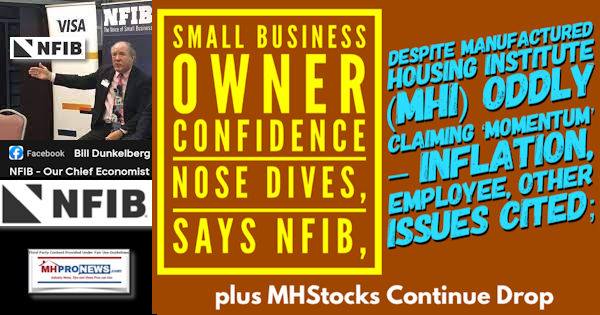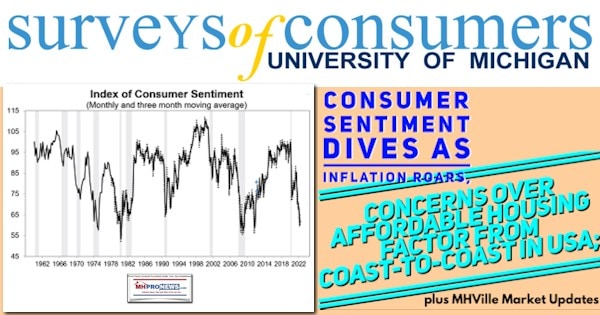 A planned report with fresh additional insights will continue to round out the above factual and evidence-based outline, analysis, and commentary.
Stay tuned for more from your source for "Intelligence for your MHLife." ©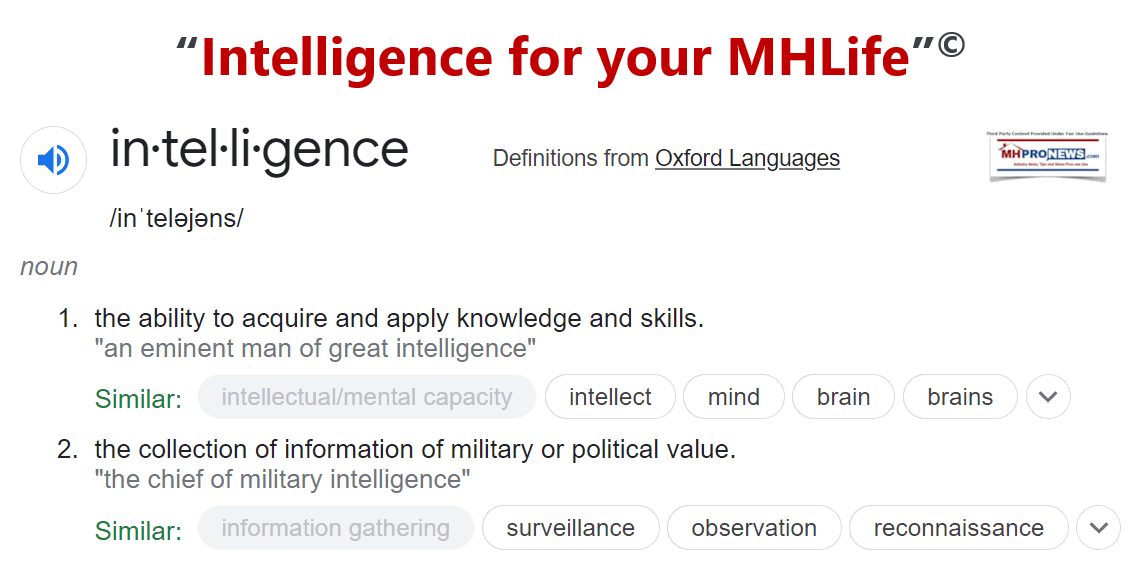 Next up is our daily business news recap of yesterday evening's market report, related left-right headlines, and manufactured housing connected equities.
The Business Daily Manufactured Home Industry Connected Stock Market Updates.  Plus, Market Moving Left leaning CNN and Right-leaning (Newsmax) Headlines Snapshot. While the layout of this daily business report has been evolving over time, several elements of the basic concepts used previously are still the same. For instance. The headlines that follow below can be reviewed at a glance to save time while providing insights across the left-right media divide. Additionally, those headlines often provide clues as to possible 'market-moving' news items.
Market Indicator Closing Summaries – Yahoo Finance Closing Tickers on MHProNews…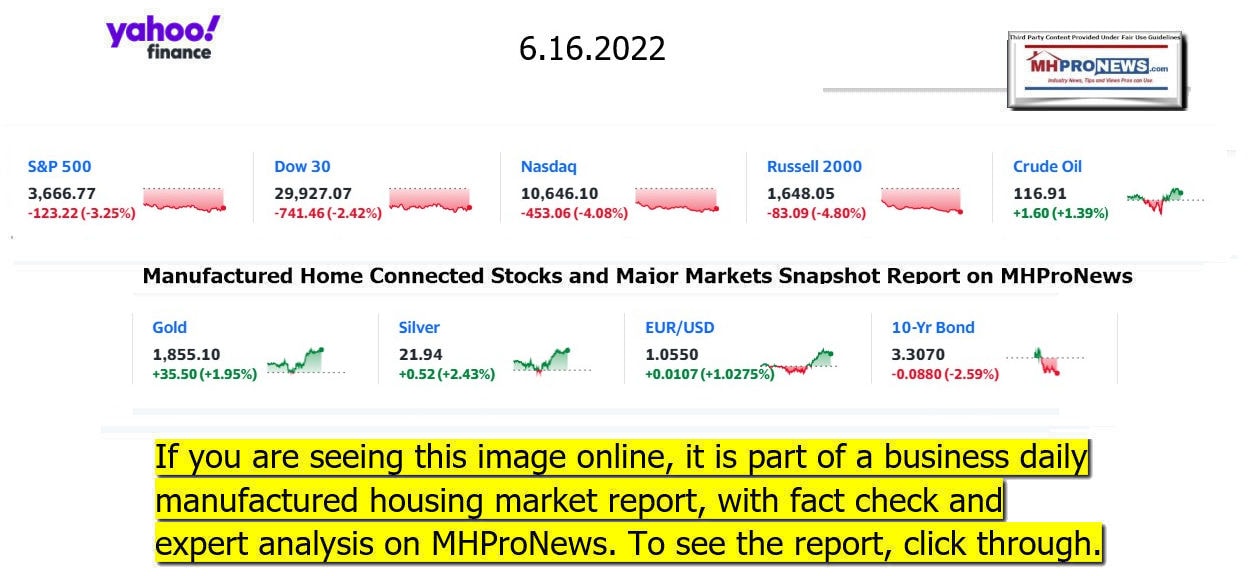 Headlines from left-of-center CNN Business – from the evening of 6.16.2022
One way to cut demand
Drivers pump gasoline into vehicles as the price of regular gas reaches above $5.89 a gallon and premium fuel is priced over six dollars per gallon at a station outside a Costco Wholesale Corp. store on June 14, 2022 in Hawthorne, California.
The best cure for high gas prices could be — high gas prices
LIVE UPDATES Dow falls to its lowest level in a year
How to recession proof your portfolio
Here's how the Fed's rate hike will impact you
Walgreens Boots Alliance CEO: 'I took pay cuts' to advance career
Revlon files for bankruptcy
Shopping in stores is back and thriving. Here's why
Lego will start building its bricks in the United States
Elon Musk addresses layoffs, remote work and 'free speech' during his first meeting with Twitter employees
Mortgage rates hit 5.78%, the biggest weekly jump since 1987
Amazon announces 2022 Prime Day dates
Europe is making it much harder for Russia to ship oil anywhere
WWE boss Vince McMahon reportedly paid $3 million in hush money to cover up affair
USA Today removes 23 stories after probe finds reporter apparently 'fabricated' quotes
WASHINGTON, DC – NOVEMBER 30: Federal Reserve Board Chairman Jerome Powell testifies during a hearing before Senate Banking, Housing and Urban Affairs Committee on Capitol Hill November 30, 2021 in Washington, DC. The committee held a hearing on "CARES (Coronavirus Aid, Relief, and Economic Security) Act Oversight of Treasury and the Federal Reserve: Building a Resilient Economy."
Opinion: The Fed's latest rate hike will be a disaster for the economy
Contractors work on the roof of a house under construction in the Stillpointe subdivision in Sumter, South Carolina, U.S., on Tuesday, July 6, 2021.
One more sign the housing market is cooling off
A customer carries a dog next to a Petco Animal Supplies Inc. shopping bag outside a store in New York, U.S., on Wednesday, Sept. 9, 2020.
Petco is launching stores for a new group of customers: cows, goats and horses
CRYPTO
This photograph taken on April 26, 2021 in Paris shows a physical imitation of the Bitcoin crypto currency.
Here's why crypto experts are shrugging off the bitcoin crash
Bill Gates says crypto and NFTs are a sham
Bitcoin has crashed more than 30% this week
Coinbase lays off 18% of its workforce
$1 billion has been lost in cryptocurrency scams since 2021, FTC warns
BUSINESS OF SPACE
SpinLaunch's suborbital accelerator in New Mexico
SpinLaunch wants to radically redesign rocketry. Will its tech work?
Going to space left William Shatner 'weeping' with grief
Watch what it's like aboard a Blue Origin flight
Journey through space with NASA's Voyager
SpaceX gets key environmental approval for Mars rocket — if it complies with some terms
Headlines from right-of-center Newsmax 6.16.2022
GOP Senators Press DOJ to Charge Protesters Outside Justices' Homes
Twelve Republican senators have fired off a letter to Attorney General Merrick Garland demanding to know why the Justice Department has not enforced a law that criminalizes "the parading or picketing in front of the homes of judges with the intent to influence pending litigation." [Full Story]
Russian Invasion of Ukraine
Macron: France Will Continue to Aid Ukraine
Rep Adam Smith: Give Ukraine Long-Range Missiles
UK Sanctions Head of Russian Orthodox Church
EU Leaders Bring 'Message of Unity' to Ukraine
Russian Spy Caught Seeking War Crimes Court Internship
Germany to Deliver Multiple Rocket Launchers by August
2 US Veterans From Alabama Reported Missing in Ukraine
Defense Secretary Urges Allies to 'Redouble Military Aid' to Ukraine
More Russian Invasion of Ukraine
Newsmax TV
McCaul: Iran Could Have Nuclear Bomb Within a Year | video
Babin: Mayra Flores' Win in Texas a 'Huge Deal' | video
Ben Carson: Use 'Common Sense' on Kids' COVID Shots | video
Rosendale: Jan. 6 Hearings Worst 'Reality TV' in Years | video
Eric Trump: Father Is GOP Midterms 'Quarterback' | video
Taiwan Foreign Minister: China Preps for War, 'Very Threatening' | video
Thune: Google 'Biased' in Spamming GOP Email | video
More Newsmax TV
Newsfront
Watch Trump 'Faith' Speech Live 1PM ET Friday on Newsmax!
Newsmax will provide live coverage of former President Donald Trump's address to the Faith and Freedom Coalition's Road to Majority Policy Conference on Friday at 1 p.m. ET…. [Full Story]
Podcast Star Joe Rogan Reveals He Now Has 'Concealed Carry' Gun Permit
Podcasting star, presumed gun owner, and mixed martial arts TV [Full Story]
GOP Senators Want DOJ to Stop Protesters Outside SCOTUS Homes
Twelve Republican senators have fired off a letter to Attorney [Full Story]
Kate Steinle's Killer Ordered Deported Again as New Caravan Approaches Border
As a caravan containing as many as 15,000 migrants makes its way [Full Story] | Platinum Article
Buffalo Supermarket Gunman in Court on Hate Crime Counts
The white man who killed 10 Black people at a Buffalo supermarket [Full Story]
Newsmax Hosts NY Republican Governor Debate In Rochester
Newsmax announced today it will hold and televise a live New York [Full Story]
Iran Preparing to Test Launch Solid-Fuel Satellite Carrier Rocket
Iran is preparing to conduct the second of three total test launches [Full Story]
Astronaut Charlie Duke Talks Walking on the Moon, 'Walking With God'
If Charlie Duke, the 10th and youngest of the dozen men to walk on [Full Story] | Platinum Article
Maine Prosecutor Loses Primary to Soros-Backed Challenger
A prosecutor in Maine lost in a Democratic primary this week to a [Full Story]
Dem Corrine Brown Running for Congress Again After Serving Time
Former Rep. Corrine Brown, D-Fla., who pleaded guilty in May to one [Full Story]
Mother Arrested for Leaving Baby to Freeze to Death 36 Years Ago
For 36 years, investigators have sought to find the person [Full Story]
Atlantic Writer: Biden 'Too Old' to Run Again
President Joe Biden will be too old to run for reelection in 2024, a [Full Story]
Biden: Tone Down Rhetoric Supporting Ukraine
When the Secretaries of Defense and State publicly said the Biden [Full Story]
Quinnipiac Poll: Abbott Leads O'Rourke by 5 Points in Texas Race for Governor
Almost half 48% of Texas voters favor incumbent Gov. Greg Abbott, a [Full Story]
New York Judge: Yeshiva University Not Religious, Must Approve LGBT Group
A state judge ruled that the New York City's Yeshiva University was a [Full Story]
Boebert Takes Action Against Democrat PAC for Spreading 'False' Allegations
A lawyer representing Rep. Lauren Boebert, R-Colo., sent a letter [Full Story]
Netherlands Nabs Russian Spy Seeking War Crimes Court Internship
The Dutch intelligence service said Thursday it had uncovered a [Full Story]
US Housing Starts Drop to 13-Month Low, Building Permits Fall
S. homebuilding fell to a 13-month low in May and permits tumbled, [Full Story]
Senators Pessimistic About Iran Nuclear Deal After Classified Briefing
Members of the Senate Foreign Relations Committee expressed [Full Story]
Disney Delays Moving 2,000 Employees to Florida Amid DeSantis Dispute
The Walt Disney Co. has delayed relocating nearly 2,000 employees to [Full Story]
Fewer Americans Apply for Jobless Aid Last Week
Fewer Americans applied for unemployment benefits last week as the [Full Story]
WH Studying Executive Actions to Counter Potential SCOTUS Abortion Decision
White House aides are looking at possible executive actions President [Full Story]
Reagan Shooter John Hinckley's Sold-Out Concert Canceled by Venue
John Hinckley Jr.'s sold-out Brooklyn music concert was canceled by [Full Story]
Flooding Shuts Crucial Baby Formula Plant Days After Reopening
Abbott Laboratories said late Wednesday it has stopped production of [Full Story]
Ginni Thomas' Emails Next Up for Jan. 6 Hearings
Sources "involved" with the House Jan. 6 Select Committee told The [Full Story]
Musk to Tell Twitter Staff He Still Intends to Close Deal
Elon Musk is expected to confirm his desire to own Twitter Inc when [Full Story]
Small Gun Makers Boom as US Demand Soars
Tony Hook flipped through cell phone pictures of finished work by his [Full Story]
Migrant US Border Crossings Rise for 4th Straight Month
S. border authorities stopped migrants more often on the southern [Full Story]
Ghislaine Maxwell Says She Should Get Less Than 20 Years for Sex Abuse Conviction
Ghislaine Maxwell should spend fewer, and perhaps far fewer, than 20 [Full Story]
US-Led Coalition Detains ISIS Leader in Syria
The U.S.-led coalition said it had detained a senior Islamic State [Full Story]
Kim Kardashian Accused of Damaging Marilyn Monroe Dress at Met Gala
The private museum that owns an iconic dress worn by Marilyn Monroe [Full Story]
More Newsfront
Finance
US Housing Starts Drop to 13-Month Low, Building Permits Fall
S. homebuilding fell to a 13-month low in May and permits tumbled, suggesting the housing market was cooling as surging mortgage rates reduce affordability for many first-time homebuyers…. [Full Story]
Wall St Back in Free Fall After 1-Day Reprieve
Revlon, Beauty Icon in Crowded Market, Files for Bankruptcy
Trevor Gerszt: Shoulda, Woulda, Coulda: Why the Fed Is Behind the Curve
Michael Busler: Fed Raises Rates by 75 bps. Brace for Stagflation + Recession.
Health
FDA Advisers Recommend Moderna, Pfizer COVID Vaccines for Kids Under 5
Advisers to the U.S Food and Drug Administration on Wednesday unanimously recommended the agency authorize COVID-19 vaccines from Moderna Inc and Pfizer Inc/BioNTech SE for millions of the youngest American children. The committee's recommendation is an important step toward…… [Full Story]
Previous Infection With Omicron Does Not Protect Against Reinfection
Beer is Beneficial to a Man's (Beer) Gut
New Test Accurately Assesses Immunity to COVID-19
Nearly 400 Crashes Tied to Self-Driving, Driver-Assist Technologies Since Last Summer
MHProNews has pioneered in our profession several reporting elements that keep our regular and attentive readers as arguably the best informed in the manufactured housing industry. Among the items shared after 'every business day' (when markets are open) is our left-right headline recap summary. At a glance in two to three minutes, key 'market moving' news items are covered from left-of-center CNN Business and right-of-center Newsmax. "We Provide, You Decide." © Additionally, MHProNews provides expert commentary and analysis on the issues that others can't or won't cover that help explain why manufactured housing has been underperforming during the Berkshire era while an affordable housing crisis and hundreds of thousands of homeless in America rages on. These are "Industry News, Tips, and Views Pros Can Use" © features and others made and kept us the runaway #1 in manufactured housing trade publisher for a dozen years and counting.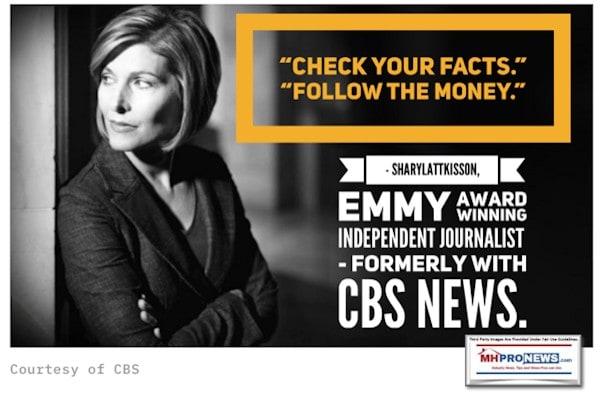 Manufactured Housing Industry Investments Connected Equities Closing Tickers
Some of these firms invest in manufactured housing, or are otherwise connected, but may do other forms of investing or business activities too.
NOTE: The chart below includes the Canadian stock, ECN, which purchased Triad Financial Services, a manufactured home industry lender
NOTE: Drew changed its name and trading symbol at the end of 2016 to Lippert (LCII).
NOTE: Deer Valley was largely taken private, say company insiders in a message to MHProNews on 12.15.2020, but there are still some outstanding shares of  the stock from the days when it was a publicly traded firm.  Thus, there is still periodic activity on DVLY.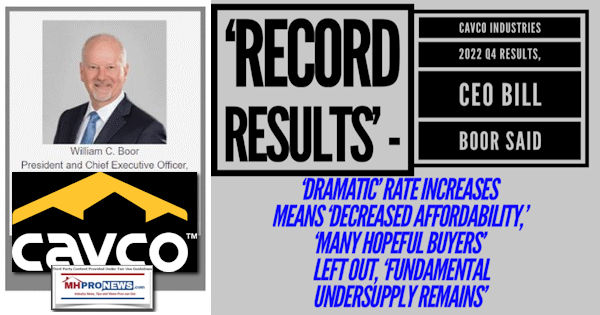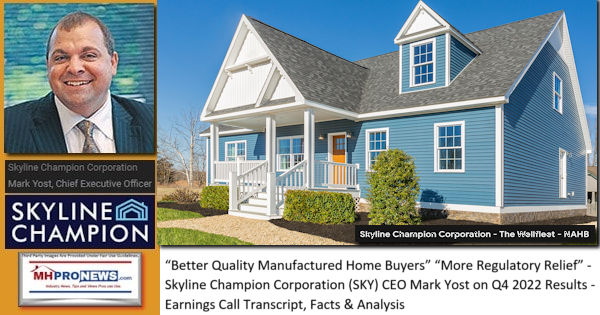 Manufactured Home Communities (a.k.a. 'Mobile Home Parks' – SIC) – Exploring UMH Properties; Fellow Manufactured Housing Institute Member Yes! Communities Suits and Settlements; plus MH Markets Updates
'Announcing!' 'Manufactured Community Owners' Association of America' 'Finally Bringing Fight To Manufactured Home Community Sector of the Industry' – plus Sunday Weekly Manufactured Housing Headlines Review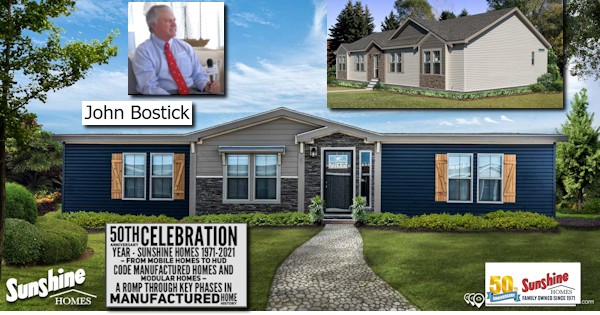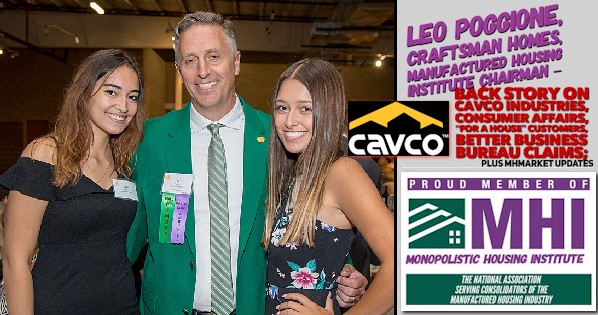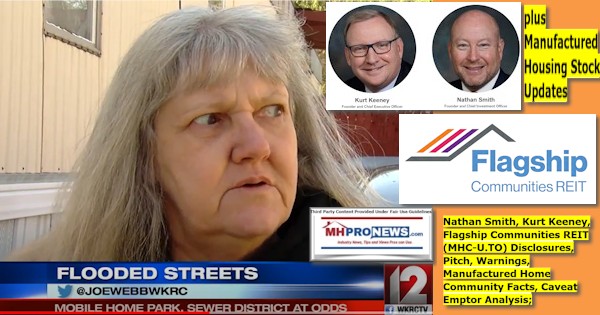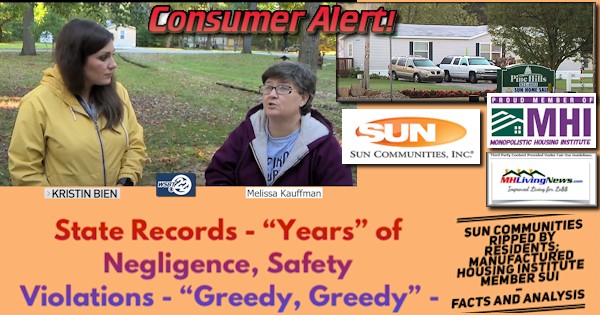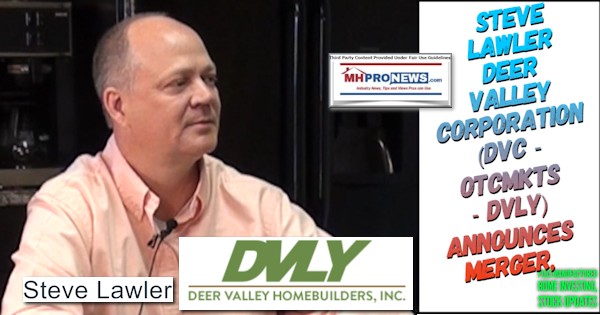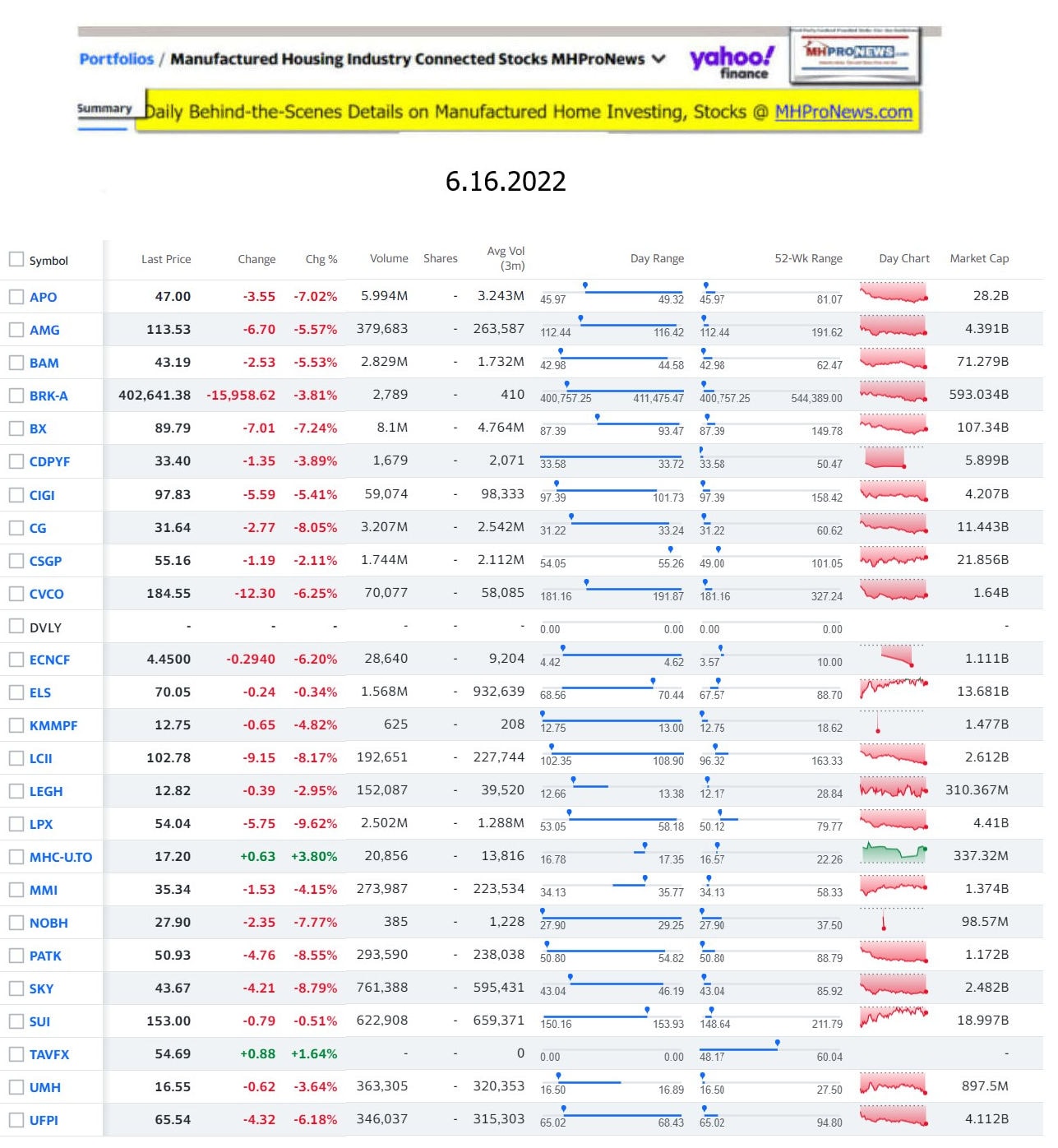 2022

…

Berkshire Hathaway is the parent company to Clayton Homes, 21st Mortgage, Vanderbilt Mortgage and other factory-built housing industry suppliers.


·

LCI Industries, Patrick, UFPI, and LP each are suppliers to the manufactured housing industry, among others.




·

AMG, CG, and TAVFX have investments in manufactured housing related businesses.

For

insights from third-parties and clients about our publisher

, click here.


Enjoy these 'blast from the past' comments.

MHProNews. MHProNews – previously a.k.a. MHMSM.com – has celebrated our 11th year of publishing and have completed over a dozen years of serving the industry as the runaway most-read trade media.
Sample Kudos over the years…
It is now 12+ years and counting…
Learn more about our evolutionary journey as the industry's leading trade media, at the report linked below.
· For expert manufactured housing business development or other professional services, click here.
· To sign up in seconds for our industry leading emailed headline news updates, click here.

Disclosure. MHProNews holds no positions in the stocks in this report.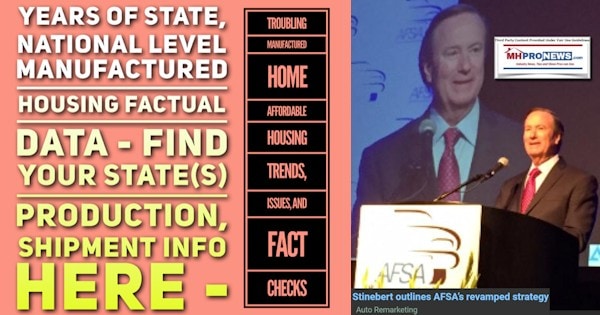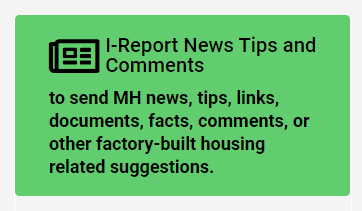 That's a wrap on this installment of "News Through the Lens of Manufactured Homes and Factory-Built Housing" © where "We Provide, You Decide." © (Affordable housing, manufactured homes, stock, investing, data, metrics, reports, fact-checks, analysis, and commentary. Third-party images or content are provided under fair use guidelines for media.) (See Related Reports, further below. Text/image boxes often are hot-linked to other reports that can be access by clicking on them.)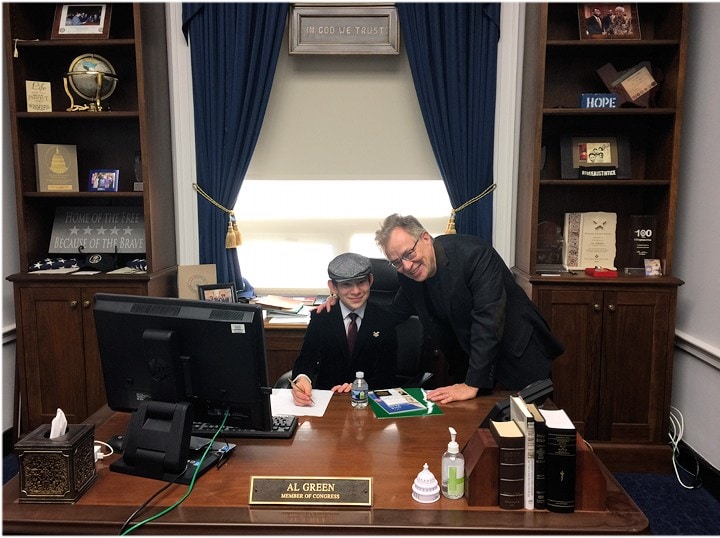 By L.A. "Tony" Kovach – for MHProNews.
Tony earned a journalism scholarship along with numerous awards in history. There have been several awards and honors and also recognition in manufactured housing. For example, he earned the prestigious Lottinville Award in history from the University of Oklahoma, where he studied history and business management. He's a managing member and co-founder of LifeStyle Factory Homes, LLC, the parent company to MHProNews, and MHLivingNews.com. This article reflects the LLC's and/or the writer's position and may or may not reflect the views of sponsors or supporters.