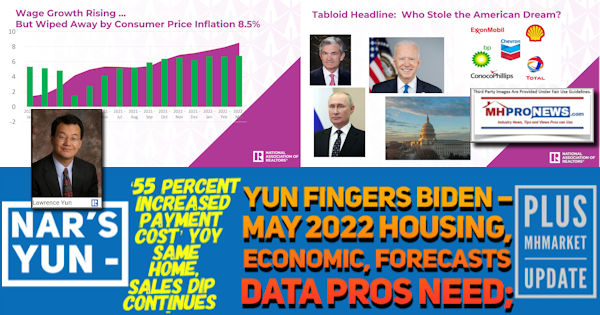 In the National Association of Realtors (NAR) Chief Economist Lawrence Yun, Ph.D., PowerPoint Presentation found further below, he used a same home comparison cost, interest, and monthly payment in 2022 vs. 2021. "Monthly Mortgage Payment for Same House … One year ago vs. Now" stated Yun's presentation, "$400,000 Loan" one year ago today is about a $480,000 Loan. Mortgage Rate Principal + interest 3% rate is a monthly payment of about $1686 1 year ago. Today that "480K house at a Mortgage Rate Principal + interest of 5.1%" is a monthly payment of $2606. Yun's bottom line is that there is a "55% [monthly] cost increase in the American Dream." Yun's entire presentation dated May 4, 2022 for a NAR housing meeting is posted further below. It follows the May housing data in the NAR news release, posted below. An MHProNews analysis in brief will follow the NAR's latest stats and Dr. Yun's PowerPoint.
Existing-Home Sales Retract 2.4% in April
May 19, 2022
Key Highlights
Existing-home sales fell for the third straight month to a seasonally adjusted annual rate of 5.61 million. Sales were down 2.4% from the prior month and 5.9% from one year ago.
With slower demand, the inventory of unsold existing homes climbed to 1.03 million by the end of April, or the equivalent of 2.2 months of the monthly sales pace.
The median existing-home sales price increased at a slower year-over-year pace of 14.8% to $391,200.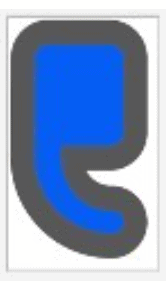 WASHINGTON (May 19, 2022) – Existing-home sales recorded a third straight month of declines, slipping slightly in April, according to the National Association of Realtors®. Month-over-month sales were split amongst the four major U.S. regions, with two areas posting gains and the other two experiencing waning in April. Year-over-year sales struggled, as each of the four regions reported dips.
Total existing-home sales,1 https://www.nar.realtor/existing-home-sales, completed transactions that include single-family homes, townhomes, condominiums and co-ops, slid 2.4% from March to a seasonally adjusted annual rate of 5.61 million in April. Year-over-year, sales dropped 5.9% (5.96 million in April 2021).
"Higher home prices and sharply higher mortgage rates have reduced buyer activity," said Lawrence Yun, NAR's chief economist. "It looks like more declines are imminent in the upcoming months, and we'll likely return to the pre-pandemic home sales activity after the remarkable surge over the past two years."
Total housing inventory2 at the end of April amounted to 1,030,000 units, up 10.8% from March and down 10.4% from one year ago (1.15 million). Unsold inventory sits at a 2.2-month supply at the current sales pace, up from 1.9 months in March and down from 2.3 months in April 2021.
"Housing supply has started to improve, albeit at an extremely sluggish pace," said Yun.
He also noted the rare state of the current marketplace.
"The market is quite unusual as sales are coming down, but listed homes are still selling swiftly, and home prices are much higher than a year ago," said Yun.
"Moreover, an increasing number of buyers with short tenure expectations could opt for 5-year adjustable-rate mortgages, thereby assuring fixed payments over five years because of the rate reset," he added. "The cash buyers, not impacted by mortgage rate changes, remain elevated."
The median existing-home price3 for all housing types in April was $391,200, up 14.8% from April 2021 ($340,700), as prices increased in each region. This marks 122 consecutive months of year-over-year increases, the longest-running streak on record.
Properties typically remained on the market for 17 days in April, equal to both the number of days in March 2022 and in April 2021. Eighty-eight percent of homes sold in April 2022 were on the market for less than a month.
First-time buyers were responsible for 28% of sales in April, down from 30% in March and from 31% in April 2021. NAR's 2021 Profile of Home Buyers and Sellers – released in late 20214 – reported that the annual share of first-time buyers was 34%.
All-cash sales accounted for 26% of transactions in April, down from 28% in March and up from the 25% recorded in April 2021.
Individual investors or second-home buyers, who make up many cash sales, purchased 17% of homes in April, down from 18% in March and equal to 17% in April 2021.
Distressed sales5 – foreclosures and short sales – represented less than 1% of sales in April, equal to the percentage seen in March and down from 2% in April 2021.
According to Freddie Mac, the average commitment rate for a 30-year, conventional, fixed-rate mortgage was 4.98% in April, up from 4.17% in March. The average commitment rate(link is external) across all of 2021 was 2.96%.
Realtor.com®'s Market Trends Report(link is external) in April shows that the largest year-over-year median list price growth occurred in Miami (+38.3%), Las Vegas (+32.6%), and Orlando (+30.7%). Austin reported the highest growth in the share of homes that had their prices reduced compared to last year (+6.8 percentage points), followed by Las Vegas (+5.3 percentage points) and Sacramento (+4.7 percentage points).
Single-family and Condo/Co-op Sales
Single-family home sales decreased to a seasonally adjusted annual rate of 4.99 million in April, down 2.5% from 5.12 million in March and down 4.8% from one year ago. The median existing single-family home price was $397,600 in April, up 14.8% from April 2021.
Existing condominium and co-op sales were recorded at a seasonally adjusted annual rate of 620,000 units in April, down 1.6% from March and down 13.9% from one year ago. The median existing condo price was $340,000 in April, an annual increase of 13.1%.
"As we find ourselves in the midst of a massive housing shortage, NAR continues to work with leaders across the private and public sectors to help close this deficit," said NAR President Leslie Rouda Smith, a Realtor® from Plano, Texas, and a broker associate at Dave Perry-Miller Real Estate in Dallas. "As the nation's largest real estate association, we are urging policymakers to enact zoning reforms, homebuilder incentives, and other necessary regulations to help correct this situation."
Regional Breakdown
Existing-home sales in the Northeast rose 1.5% in April, reaching an annual rate of 670,000, a 10.7% drop from April 2021. The median price in the Northeast was $412,100, up 8.1% from one year ago.
Existing-home sales in the Midwest grew 3.1% from the prior month to an annual rate of 1,310,000 in April, a 1.5% slide from April 2021. The median price in the Midwest was $282,000, an 8.7% increase from one year ago.
Existing-home sales in the South fell 4.6% in April, posting an annual rate of 2,490,000, which represents a decrease of 5.7% from one year ago. The median price in the South was $352,100, a 22.2% climb from one year prior. For the eighth consecutive month, the South recorded the highest pace of price appreciation in comparison to the other three regions. Additionally, the South is the only region to report year-over-year double-digit price gains.
Existing-home sales in the West dipped 5.8% compared to the previous month, registering an annual rate of 1,140,000 in April, down 8.1% from one year ago. The median price in the West was $523,000, up 4.3% from April 2021.
The National Association of Realtors® is America's largest trade association, representing more than 1.5 million members involved in all aspects of the residential and commercial real estate industries.
# # #
1 Existing-home sales, which include single-family, townhomes, condominiums and co-ops, are based on transaction closings from Multiple Listing Services. Changes in sales trends outside of MLSs are not captured in the monthly series. NAR benchmarks home sales periodically using other sources to assess overall home sales trends, including sales not reported by MLSs.
Existing-home sales, based on closings, differ from the U.S. Census Bureau's series on new single-family home sales, which are based on contracts or the acceptance of a deposit. Because of these differences, it is not uncommon for each series to move in different directions in the same month. In addition, existing-home sales, which account for more than 90% of total home sales, are based on a much larger data sample – about 40% of multiple listing service data each month – and typically are not subject to large prior-month revisions.
The annual rate for a particular month represents what the total number of actual sales for a year would be if the relative pace for that month were maintained for 12 consecutive months. Seasonally adjusted annual rates are used in reporting monthly data to factor out seasonal variations in resale activity. For example, home sales volume is normally higher in the summer than in the winter, primarily because of differences in the weather and family buying patterns. However, seasonal factors cannot compensate for abnormal weather patterns.
Single-family data collection began monthly in 1968, while condo data collection began quarterly in 1981; the series were combined in 1999 when monthly collection of condo data began. Prior to this period, single-family homes accounted for more than nine out of 10 purchases. Historic comparisons for total home sales prior to 1999 are based on monthly single-family sales, combined with the corresponding quarterly sales rate for condos.
2 Total inventory and month's supply data are available back through 1999, while single-family inventory and month's supply are available back to 1982 (prior to 1999, single-family sales accounted for more than 90% of transactions and condos were measured only on a quarterly basis).
3 The median price is where half sold for more and half sold for less; medians are more typical of market conditions than average prices, which are skewed higher by a relatively small share of upper-end transactions. The only valid comparisons for median prices are with the same period a year earlier due to seasonality in buying patterns. Month-to-month comparisons do not compensate for seasonal changes, especially for the timing of family buying patterns. Changes in the composition of sales can distort median price data. Year-ago median and mean prices sometimes are revised in an automated process if additional data is received.
The national median condo/co-op price often is higher than the median single-family home price because condos are concentrated in higher-cost housing markets. However, in a given area, single-family homes typically sell for more than condos as seen in NAR's quarterly metro area price reports.
4 Survey results represent owner-occupants and differ from separately reported monthly findings from NAR's REALTORS® Confidence Index, which include all types of buyers. Investors are under-represented in the annual study because survey questionnaires are mailed to the addresses of the property purchased and generally are not returned by absentee owners. Results include both new and existing homes.
5 Distressed sales (foreclosures and short sales), days on market, first-time buyers, all-cash transactions and investors are from a monthly survey for the NAR's REALTORS® Confidence Index, posted at nar.realtor.
In April 2022, pending home sales were down nationally 3.9% month-over-month. The breakdown by region is shown in their latest infographic, below.
Yun NAR PowerPoint.  Click the link below to open the power point in a new tab.
2022-realtors-legislative-meetings-residential-economic-issues-and-trends-forum-lawrence-yun-presentation-slides-05-04-2022
Additional Information, More MHProNews Analysis and Commentary in Brief
Almost every Yun slide has useful data. Slide 26, for example, shows that existing housing inventory is still at historic lows. Slide 34 reveals a projection for a sales dip in total existing housing sales units.
The facts presented all point to significant opportunities for manufactured housing. But as usual, these opportunities are arguably mitigated by the abject failure of the Manufactured Housing Institute (MHI) to get good existing laws enforced. The fact that MHI is touting a bill to fight the pending DOE rule is laughable for reasons the reports linked below detail.
For any organization, there are – or should be – metrics for performance. MHI admits:
The Manufactured Housing Improvement Act of 2000 (MHIA or 2000 Reform Law) is not being fully and properly implemented. Quite so, but then are they looking in the mirror as to the cause of that failure of implementation? With housing inventory at a low ebb, this is an opportunity for manufactured housing to 'catch up' with conventional housing. But zoning and placement barriers – which have been addressed by the MHIA – are a barrier to more sales. MHI can't have it both ways. Over 2 decades later, MHI is still talking instead of taking HUD and/or local jurisdictions to court.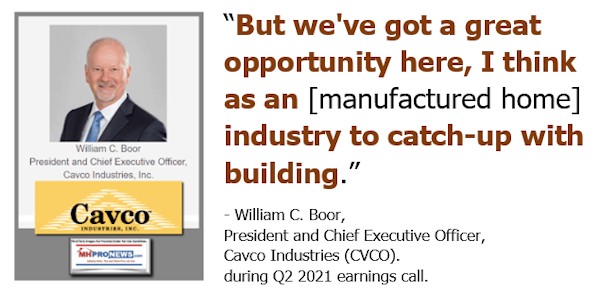 MHI admits that FHFA and the GSEs have not properly implemented the Duty to Serve (DTS) manufactured housing lending. They admit that Ginnie Mae on FHA Title I loans is still slowed by the problematic 10/10 rule that limits the number of participating companies. Doug Ryan – affordable housing guru at Prosperity Now, and a supporter of HUD Code manufactured homes – has publicly said – in the words that follow – that MHI is failing to get lower cost lending as a benefit to Clayton Homes and their affilated lending.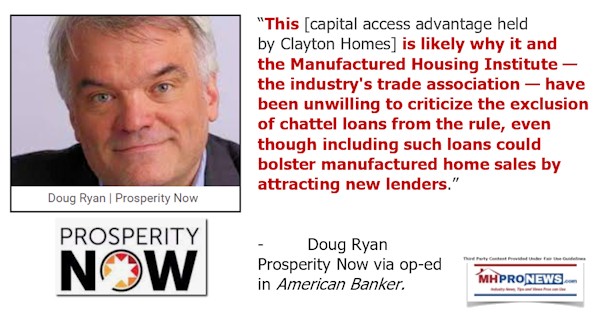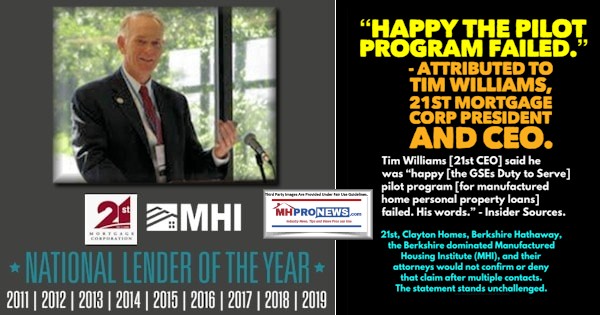 The reality that several 'new national post-production association' notions have been publicly advanced in recent weeks is therefore no surprise.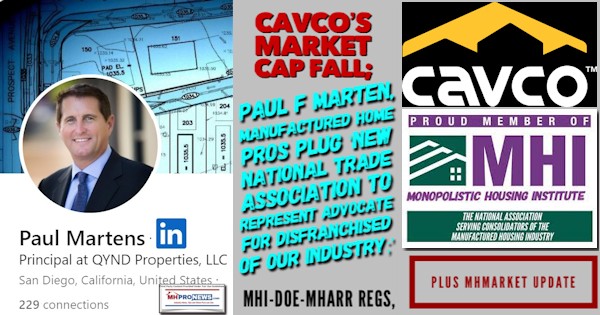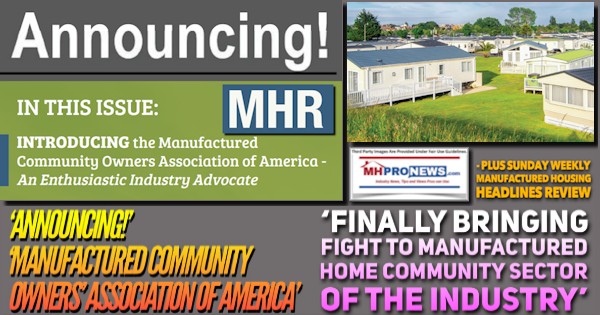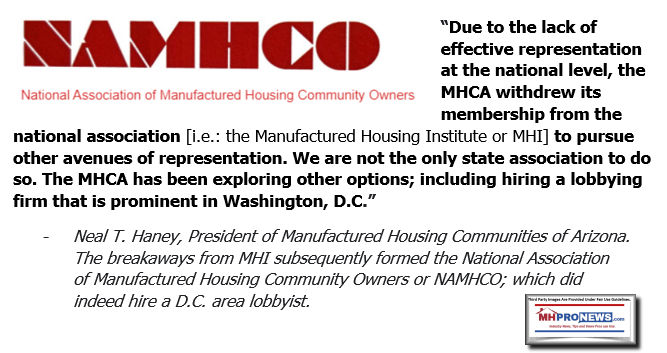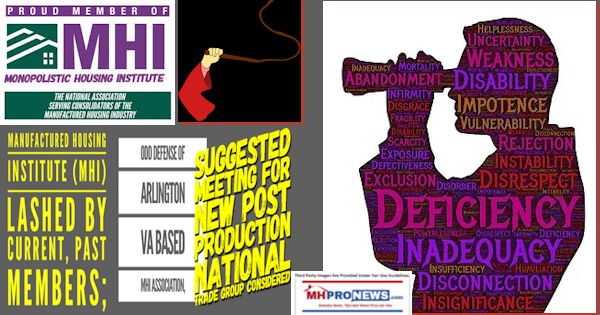 Manufactured housing has been inching up steadily since the COVID19 fueled surge. New data should be out late next week. Stay tuned.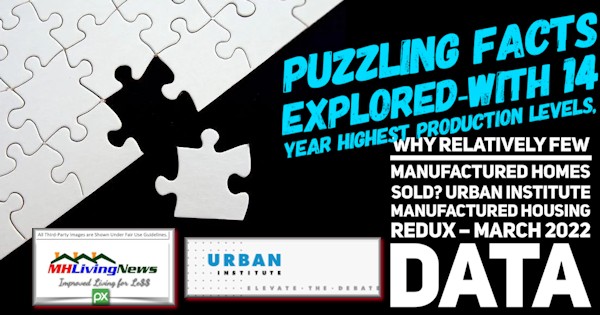 Next up is our daily business news recap of yesterday evening's market report, related left-right headlines, and manufactured housing connected equities.
The Business Daily Manufactured Home Industry Connected Stock Market Updates.  Plus, Market Moving Left leaning CNN and Right-leaning (Newsmax) Headlines Snapshot. While the layout of this daily business report has been evolving over time, several elements of the basic concepts used previously are still the same. For instance. The headlines that follow below can be reviewed at a glance to save time while providing insights across the left-right media divide. Additionally, those headlines often provide clues as to possible 'market-moving' news items.
Market Indicator Closing Summaries – Yahoo Finance Closing Tickers on MHProNews…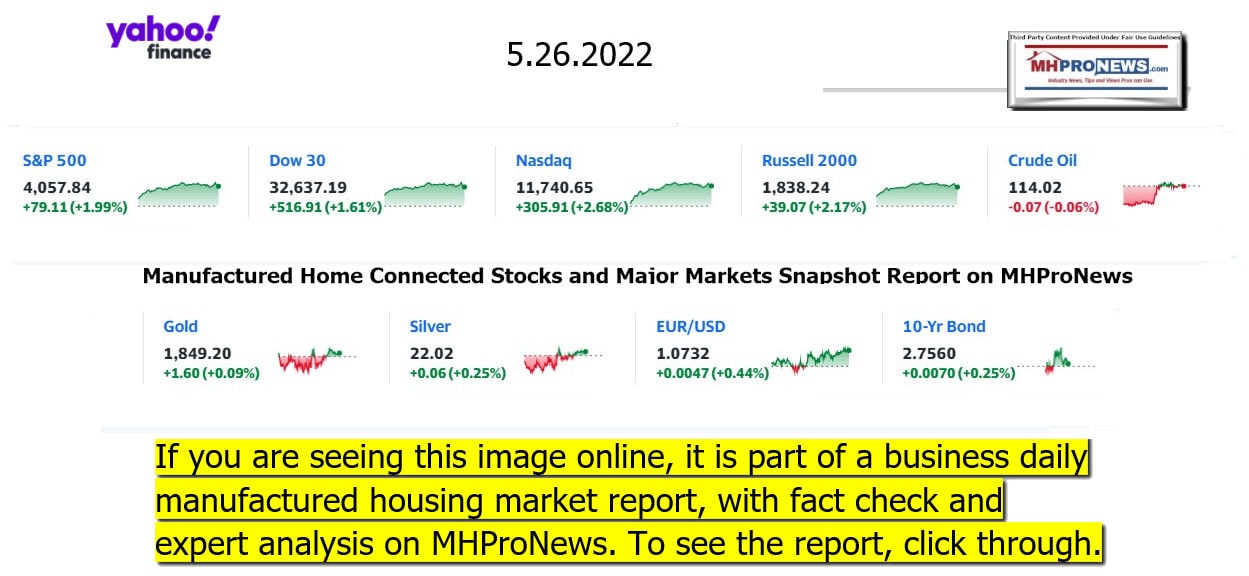 Headlines from left-of-center CNN Business – from the evening of 5.26.2022
Selling 'SexyBack'
Justin Timberlake attends the Los Angeles Premiere FYC Event for Hulu's "Candy" at El Capitan Theatre on May 09, 2022 in Los Angeles, California.
Justin Timberlake sells his entire music catalog to a company backed by Blackstone
'I wouldn't trust them.' Energy Secretary blasts Russia for 'weaponizing' energy
Wealthy shoppers are splurging at Macy's. Low-income shoppers are pulling back at Walmart
Crypto is dead. Long live crypto
Bitcoin is imploding. But you wouldn't know it from checking out F1 races
Mortgage rates fall slightly, but offer little relief to buyers
UK hits oil and gas companies with $6 billion windfall tax
Opinion: It's time to prepare for a recession
Chipmaker Broadcom to buy cloud services firm VMware in $61 billion deal
PR stunt or show of strength? Russia slashes interest rates
Jimmy Kimmel becomes emotional after Texas shooting: 'These are our children'
New car sales forecast to plummet 20.9% in May, as supply remains low
Energy secretary: Biden 'obsessed' with lowering 'outrageous' gas prices
Which Tom Cruise film has made the most at the ticket booth?
A general view of the Astora underground natural gas storage facility on May 12, 2022 in Rehden, Germany. Russia has announced sanctions against dozens of western energy companies, including Gazprom Germania, of which Astora is a subsidiary. The German government runs Gazprom Germania as a trust after expropriating the company from Russian gas giant Gazprom following Russia's military invasion of Ukraine. Among conditions of Russia's sanctions is the requirement that western companies may not store Russian gas. The Rehden facility is Germany's biggest natural gas storage site. Germany is seeking to reduce its dependence on Russian energy imports of oil and gas as quickly as possible.
The West united against Russia. Will its nerve hold as prices soar?
A worker wearing a protective mask removes rotisserie chicken from skewers inside a Costco store in San Francisco, California, U.S., on Wednesday, March 3, 2021.
What rotisserie chicken prices say about stores' inflation strategy
Val Kilmer was once one of Hollywood's biggest stars. 'Top Gun: Maverick' could be his last role
CAREER CHANGES
These 'boomerang' employees went back to their old jobs. They tell us why
The dos and don'ts of the modern resume
Got a job offer? Now it's time to negotiate
The job hunt can be exhausting. Here's how to cope
The job market is on fire, but new grads still need to network
TECH
Meta to share more details with researchers about political ad targeting
Google's new Street View camera looks weirdly cute
Samsung plans to create 80,000 new jobs
Canada to ban Huawei, ZTE 5G equipment
She thought a dark moment in her past was forgotten. Then she scanned her face online
Headlines from right-of-center Newsmax 5.26.2022
Bad Time for Politics, Beto: Conservatives Livid Over O'Rourke's Uvalde Stunt
Democrat Beto O'Rourke, who is running for governor against incumbent Greg Abbott in 2022, interrupts a news conference headed by Abbott in Uvalde, Texas, on Wednesday. After he was pressed to leave the premises immediately he held a press event outside,deriding Abbott for the state's gun policies and urging policy actions to help prevent the next school shooting. (AP)
Bad Time for Politics, Beto: Conservatives Livid Over O'Rourke's Uvalde Stunt
One commentator had this to say to a Twitter user who defended O'Rourke's interruption of the governor's news conference on Tuesday's mass shooting: "You're applauding Beto O'Rourke exploiting the murder of children for his political campaign." [Full Story]
Related Stories
Texas Gunman Faced No Obstacles to Entering School Where He Killed 21
US Education Chief Seeks Action to Prevent School Shootings
Texas AG Paxton to Newsmax: Armed Teachers Could Be Deterrent
Texas Massacre Survivor: Gunman Said, 'It's Time to Die!'
Daughter and Her Best Friends 'Are All Gone Now,' Dad Says
Police Face Questions Over Delays in Storming Texas School
Rubio Slams NBA for Politicizing Texas Elementary School Shooting
Russian Invasion of Ukraine
Russian Onslaught Targets Ukrainian Hospitals
Russia Shells More Than 40 Towns in Donbas Push
Ukraine Says War in East at 'Maximum Intensity'
Putin: West Won't Succeed in Cutting Russia Off
Albania Offers Ex-Soviet Built Naval Base to NATO
On Nuclear Brink in Ukraine, US Intelligence Is Blind platinum
Turkey in Talks With Russia, Ukraine Over Grain-Export Corridor
Kremlin: West Is to Blame Ukraine Grain Export Problems
Zelenskyy: Russian 'Desire to Fight' Remains, Ukraine Needs 'Total Help'
More Russian Invasion of Ukraine
Newsmax TV
RNC Chair McDaniel: Put Politics Aside For Now After Shootings | video
2017 School Shooting Survivor: Time to Arm Teachers If They Wish | video
Burgess: Bill to Help Identify Dangerous Students Stalled in Senate | video
Blackburn: Biden Admin Could Curb Gas Prices | video
Ex-Trump WH Lawyer Schultz: No Need for RNC Intervention in Pa. Ballot Count | video
Tenney: Mental Health Real Issue in Shootings, Not Gun Laws | video
Van Susteren: Bringing a 'Legal Lens' to the Stories That Matter | video
Dan Bishop: Dems Showing No 'Moderate Change' on Guns
More Newsmax TV
Newsfront
US Confirms 9 Monkeypox Cases in Seven States
The U.S. Centers for Diseases Control and Prevention (CDC) on Thursday said it had identified nine monkeypox cases in seven U.S. states as of Wednesday. Cases were confirmed in Massachusetts, Florida, Utah, Washington, California, Virginia and New York, the CDC told…… [Full Story]
Related Stories
WHO: COVID-19 Cases Mostly Drop, Except for the Americas
Roche Develops Test Kits to Detect Monkeypox Virus
Husband of Teacher Killed in Uvalde Mass Shooting Reportedly Dies of Heart Attack
Joe Garcia, the husband of one of the school teachers killed in [Full Story]
Texas Gunman Faced No Obstacles to Entering School Where He Killed 21
The gunman who killed 19 children and two teachers at a South Texas [Full Story]
Maligned Border Patrol Praised for 'Pure Heroism' During Texas School Shooting
Despite a fraught couple of years during which they've been [Full Story] | Platinum Article
Daughter and Her Best Friends 'Are All Gone Now,' Dad Says
UVALDE, Texas (AP) – Jacklyn Cazares hadn't yet reached her 10th [Full Story]
US Education Chief Seeks Action to Prevent School Shootings
Education Secretary Miguel Cardona said Thursday that he's ashamed [Full Story]
USDA Proposes New 'Transparency' Rules for Meat, Poultry Processing Companies
The Agriculture Department (USDA) might soon require poultry companies [Full Story]
On Nuclear Brink in Ukraine, US Intelligence Is Blind
Washington and the world are holding their collective breath waiting [Full Story] | Platinum Article
Georgia Gov. Kemp: Voters Will Understand Who Is Being Truthful
Georgia Gov. Brian Kemp says he believes voters in the state [Full Story]
Conservatives Livid Over Beto's Stunt
Conservatives reacted in outrage over Democrat Beto O'Rourke [Full Story]
House Republicans' Momentum Growing Before Midterm Elections
A nonpartisan handicapping service has the Republican Party gaining [Full Story]
Blinken: US to Leverage Russia-Ukraine Bloc Against China
Secretary of State Antony Blinken said Thursday the Biden [Full Story]
Senate GOP Blocks Domestic Terrorism Bill
Senate Republicans on Thursday prevented legislation to establish [Full Story]
AOC Keen to Ditch Her Tesla After Twitter Tiff With Elon Musk
Alexandria Ocasio-Cortez, D-N.Y., is keen to ditch her Tesla [Full Story]
FBI: US Mass Shootings on Upward Trend
The Texas elementary school shooting that resulted in 21 deaths [Full Story]
Fighter Jets Cost New 'Top Gun' Movie as Much as $11,374 per Hour
Tom Cruise's "Top Gun: Maverick" paid as much as $11,374 an hour to [Full Story]
'Goodfellas' Actor Ray Liotta, 67, Dies During Film Shoot
Actor Ray Liotta, 67, the star of the 1990 blockbuster crime film [Full Story]
Fed Vice Chair Brainard Says Central Bank Can Exist With Stablecoins
Federal Reserve Vice Chairwoman Lael Brainard will tell lawmakers [Full Story]
Marquette Poll: Abortion 'Most Important' to 40 Percent
Nearly 40% of Americans say abortion is "one of the most important [Full Story]
Rubio Slams NBA for Politicizing Texas Elementary School Shooting
Marco Rubio, R-Fla., on Wednesday slammed the NBA for [Full Story]
Lack of Training Prevents US From Filling Critical Jobs
The U.S. has fallen behind other wealthy countries in developing its [Full Story]
WSJ Rips Obama for Tweets After Texas Shooting
The Wall Street Journal is blasting former President Barack Obama for [Full Story]
Gun-Control Measures Face Uphill Battle in Senate
Senate Majority Leader Chuck Schumer, D-N.Y., is looking for [Full Story]
Pending Home Sales Dive to 2-Year Low
Contracts to buy U.S. previously owned homes dropped to a two-year [Full Story]
Kevin Spacey Charged in UK with 4 Counts of Sexual Assault
British prosecutors said Thursday they have charged actor Kevin [Full Story]
WHO: COVID-19 Cases Mostly Drop, Except for the Americas
The number of new coronavirus cases and deaths are still falling [Full Story]
UK's Johnson Salutes 'Elizabeth the Great' Ahead of Queen's Platinum Jubilee
Prime Minister Boris Johnson and other British political leaders paid [Full Story]
State GOP Group Announces Plan to Bolster Online Fundraising
The Republican State Leadership Committee is launching a new effort [Full Story]
Poll: 88 Percent Favor Background Checks on All Gun Sales
Eighty-eight percent of American voters strongly or somewhat support [Full Story]
Biden to Host K-Pop Stars BTS, Discuss Anti-Asian Hate Crimes
K-pop superstars BTS will head to the White House next week to [Full Story]
Miami Heat Urge Fans to 'Make Change at Ballot Box' for Gun Reform
The NBA's Miami Heat encouraged fans to call their senators and "make [Full Story]
New Military Grade Telescope Lets You See for Miles
Starscope
More Newsfront
Finance
Big Tech Ad Revenue Growth to Taper as Pandemic Bubble Pops
After unprecedented revenue growth last year, digital platforms including Alphabet Inc., Meta Platforms Inc., Snap Inc. and Twitter Inc. now face a sobering reality as pandemic-driven advertising trends dissipate, according to an analyst report on Thursday…. [Full Story]
Meta Working on Instagram Access Issues
US Proposes Offshore Wind Auction for 5 Areas off California
Wall St Jumps on Upbeat Retail Guidance, Easing Fed Fears
Ringo Starr Joins 'Far Out' NFT Craze
More Finance
Health
Study: Limiting TV to Less Than One Hour Daily Lowers Risk for Heart Disease
It's tempting to binge-watch TV shows, and it might be hard to get off the couch after just one or two episodes. But it could be worth it. Researchers calculated that if people committed to watching just under an hour of TV a day, 11% of coronary heart disease cases could be…… [Full Story]
US Confirms Nine Monkeypox Cases in Seven States
Signs You Have The Same Harmful Eye Condition as Bono
4 Surprising Symptoms of COVID-19
Lidocaine Infusions Effective Against Tough-to-Treat Migraines
MHProNews has pioneered in our profession several reporting elements that keep our regular and attentive readers as arguably the best informed in the manufactured housing industry. Among the items shared after 'every business day' (when markets are open) is our left-right headline recap summary. At a glance in two to three minutes, key 'market moving' news items are covered from left-of-center CNN Business and right-of-center Newsmax. "We Provide, You Decide." © Additionally, MHProNews provides expert commentary and analysis on the issues that others can't or won't cover that help explain why manufactured housing has been underperforming during the Berkshire era while an affordable housing crisis and hundreds of thousands of homeless in America rages on. These are "Industry News, Tips, and Views Pros Can Use" © features and others made and kept us the runaway #1 in manufactured housing trade publisher for a dozen years and counting.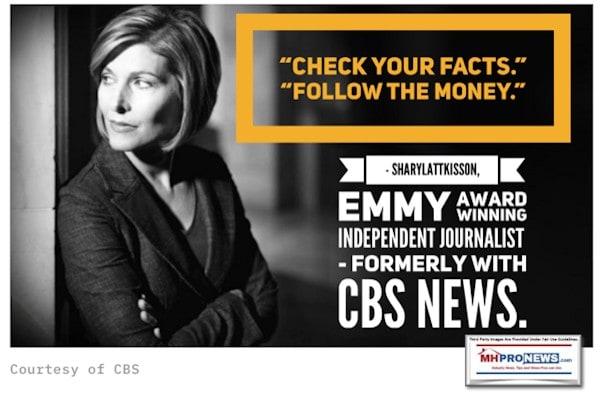 Manufactured Housing Industry Investments Connected Equities Closing Tickers
Some of these firms invest in manufactured housing, or are otherwise connected, but may do other forms of investing or business activities too.
NOTE: The chart below includes the Canadian stock, ECN, which purchased Triad Financial Services, a manufactured home industry lender
NOTE: Drew changed its name and trading symbol at the end of 2016 to Lippert (LCII).
NOTE: Deer Valley was largely taken private, say company insiders in a message to MHProNews on 12.15.2020, but there are still some outstanding shares of  the stock from the days when it was a publicly traded firm.  Thus, there is still periodic activity on DVLY.
Manufactured Home Communities (a.k.a. 'Mobile Home Parks' – SIC) – Exploring UMH Properties; Fellow Manufactured Housing Institute Member Yes! Communities Suits and Settlements; plus MH Markets Updates
'Announcing!' 'Manufactured Community Owners' Association of America' 'Finally Bringing Fight To Manufactured Home Community Sector of the Industry' – plus Sunday Weekly Manufactured Housing Headlines Review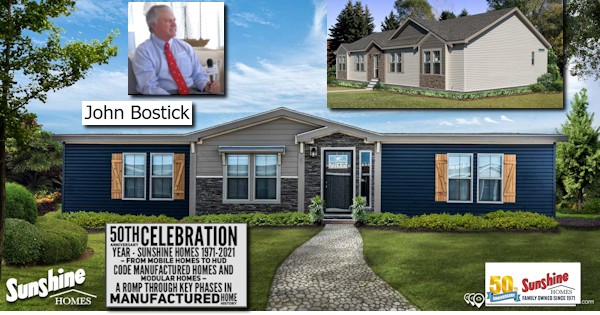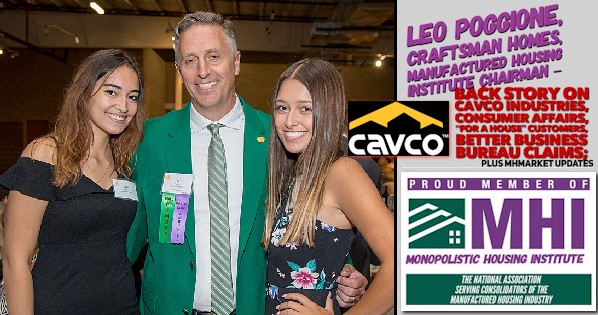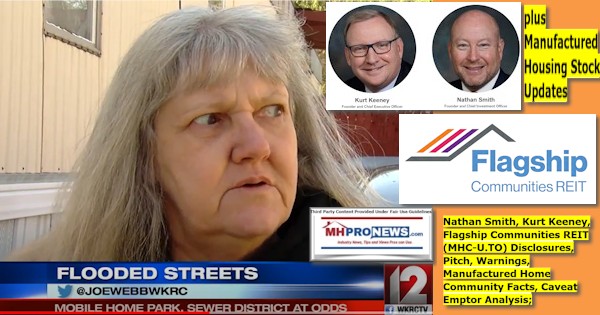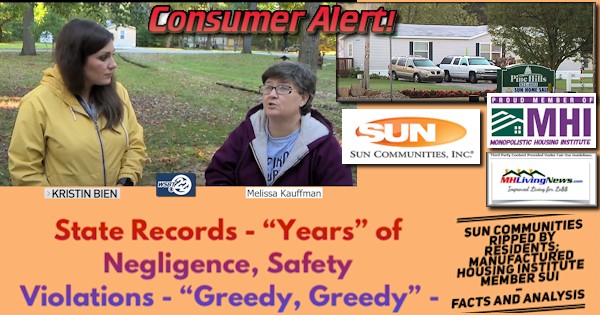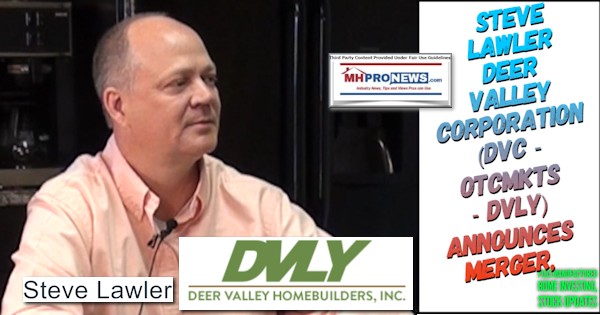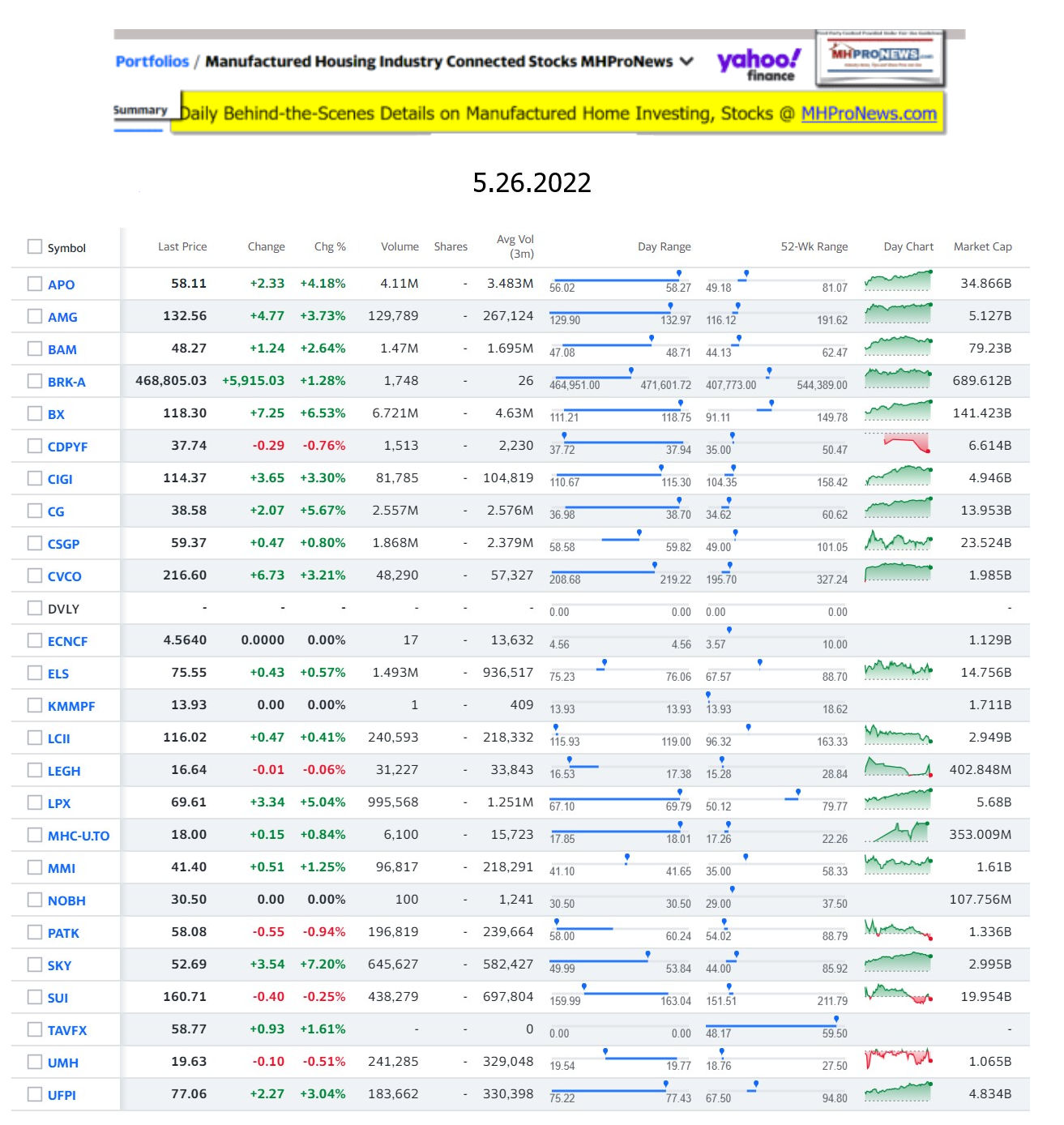 2022

…

Berkshire Hathaway is the parent company to Clayton Homes, 21st Mortgage, Vanderbilt Mortgage and other factory-built housing industry suppliers.


·

LCI Industries, Patrick, UFPI, and LP each are suppliers to the manufactured housing industry, among others.




·

AMG, CG, and TAVFX have investments in manufactured housing related businesses.

For

insights from third-parties and clients about our publisher

, click here.


Enjoy these 'blast from the past' comments.

MHProNews. MHProNews – previously a.k.a. MHMSM.com – has celebrated our 11th year of publishing and have completed over a dozen years of serving the industry as the runaway most-read trade media.
Sample Kudos over the years…
It is now 12+ years and counting…
Learn more about our evolutionary journey as the industry's leading trade media, at the report linked below.
· For expert manufactured housing business development or other professional services, click here.
· To sign up in seconds for our industry leading emailed headline news updates, click here.

Disclosure. MHProNews holds no positions in the stocks in this report.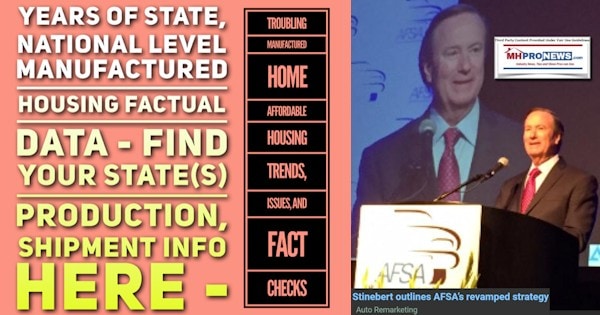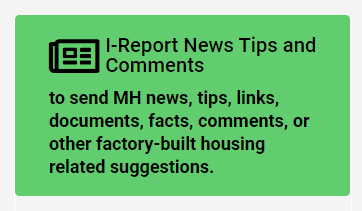 That's a wrap on this installment of "News Through the Lens of Manufactured Homes and Factory-Built Housing" © where "We Provide, You Decide." © (Affordable housing, manufactured homes, stock, investing, data, metrics, reports, fact-checks, analysis, and commentary. Third-party images or content are provided under fair use guidelines for media.) (See Related Reports, further below. Text/image boxes often are hot-linked to other reports that can be access by clicking on them.)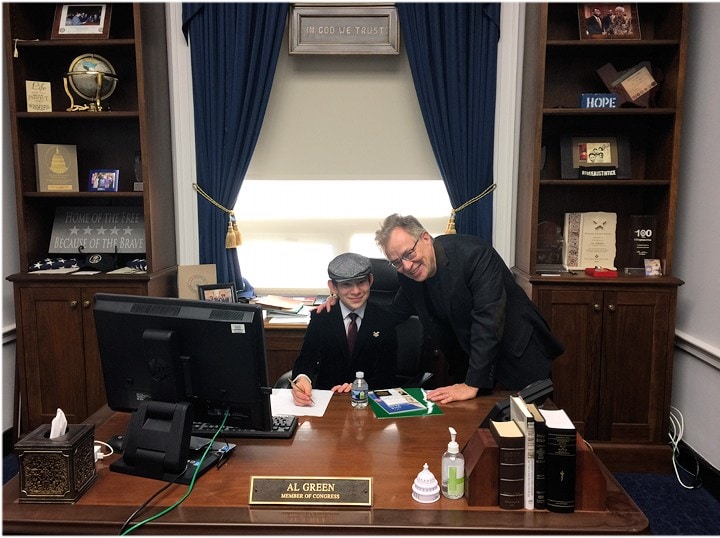 By L.A. "Tony" Kovach – for MHProNews.
Tony earned a journalism scholarship along with numerous awards in history. There have been several awards and honors and also recognition in manufactured housing. For example, he earned the prestigious Lottinville Award in history from the University of Oklahoma, where he studied history and business management. He's a managing member and co-founder of LifeStyle Factory Homes, LLC, the parent company to MHProNews, and MHLivingNews.com. This article reflects the LLC's and/or the writer's position and may or may not reflect the views of sponsors or supporters.