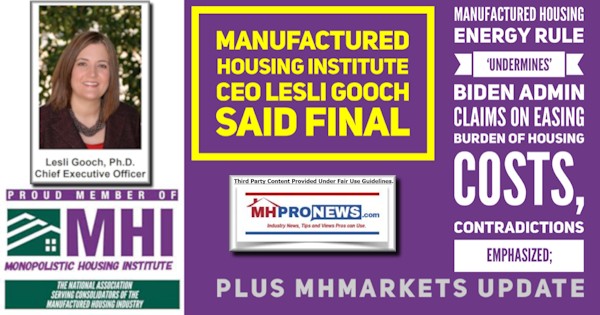 A Manufactured Housing Institute (MHI) connected source provided MHProNews with the following items the controversial Arlington, VA based trade association provided to their members on 5.25.2022. As a disclosure, citing or quoting MHI should not be considered as an endorsement of the association. Their statements below is as published. Note too that the link first link below has been connected to a download of the Biden White House statement that has been highlighted by MHProNews to reflect the 18 apparent references to manufactured homes, manufactured housing, manufactured home communities, builders, and financing. The MHI statements will be unpacked and critiqued following their quoted release. MHARR's recent statement on the DOE final rule is linked below too.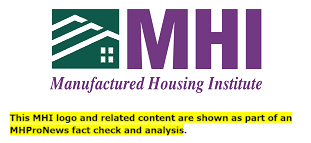 DOE's Final Rule Conflicts with Administration's Plans to Ease Housing Costs
The Department of Energy (DOE) released on May 18 its final rule for manufactured housing energy efficiency standards, the details of which MHI continues to review. The final rule is still not cost-effective and will hurt the affordability of today's manufactured homes. Because it does not take into consideration current manufactured home construction methods and transportation requirements, as well as potential testing and compliance costs, the final rule continues to underestimate price increases and annual mortgage cost increases, as well as the number of potential manufactured homebuyers who will no longer qualify for a mortgage. MHI CEO Lesli Gooch issued the following statement in response to the rule:
"The final manufactured housing energy rule that DOE released on Wednesday undermines the Administration's Plan announced on Monday to 'Ease the Burden of Housing Costs.' Manufactured housing is by far THE most affordable homeownership option in America – and the industry is currently building quality affordable homes that are already energy efficient and resilient. Instead, the significant cost increases to actual manufactured homebuyers far exceed the speculative energy savings the rule claims will take place.
 Under the 2000 Manufactured Housing Act, these standards should not become effective until approved by HUD and incorporated into the HUD Code. MHI's top priority now is to persuade HUD to instead adopt MHI's more balanced proposal, which improves energy efficiency without causing great harm to manufactured housing affordability. This approach would better support the Administration's goal of "closing the housing supply gap in five years."
 MHI has been extensively engaging with the White House, the Department of Energy, HUD, and Congress about the DOE rules, and MHI submitted a detailed proposal that achieves the statutory objectives of EISA of properly balancing energy efficiency and homeownership affordability.
TAKE ACTION NOW!
To date, almost 500 industry professionals have called on their House Representatives to cosponsor, H.R. 7651, "The Manufactured Housing Affordability and Energy Efficiency Act" introduced by Representatives David Kustoff (R-TN) and John Bucshon (R-IN), which ensures the Department of Energy's (DOE) final rule on new manufactured housing energy efficiency standards does not harm manufactured homeownership affordability.
This legislation requires that before any new DOE energy standards can become effective or be enforced: (1) DOE must fully consult with HUD, (2) DOE must document that the rule is cost-effective based on the impact of homebuyer price and cost increases, (3) the standards must fully take into consideration manufactured housing construction methods and transportation requirements, and (4) the standards must be adopted by HUD as part of the HUD Code.
It is critical that your Representatives hear from all sectors of the manufactured housing industry about cosponsoring this bill. … ##
Additional Information, More MHProNews Analysis and Commentary
MHI's CEO Gooch quote above is a mish-mash of accurate, inaccurate, misleading and mistaken thinking. More on that shortly, but first a look at the second part of the MHI emailed message to members.
Something similar can be said about the MHI "Take Action Now." For longer-term manufactured housing professionals, it should be recalled that Nathan Smith, prior MHI Chairman and still a prominent MHI board member and publicly-traded corporate leader, pledged that MHI would pivot from being a reactive to a pro-active trade group. That's obviously not what the proposed bill – H.R. 7651, "The Manufactured Housing Affordability and Energy Efficiency Act" – reflects. It might be compared to what occurred with the Preserving Access to Manufactured Housing Act, which MHI pushed for years and was never enacted.
H.R. 7651 is flawed on several tactical and strategic levels. For instance:
Start with the point that MHI has no Democrat as a cosponsor.
MHI has yet to announce a Senate companion bill.
To the Smith pledge of not reacting too late, this bill was only introduced on May 3, 2022, per GovTrack.
It is an election year, which makes the odds slim. To illustrate, per GovTrack and Skopos Labs says the prognosis is: "1% chance of being enacted according to Skopos Labs."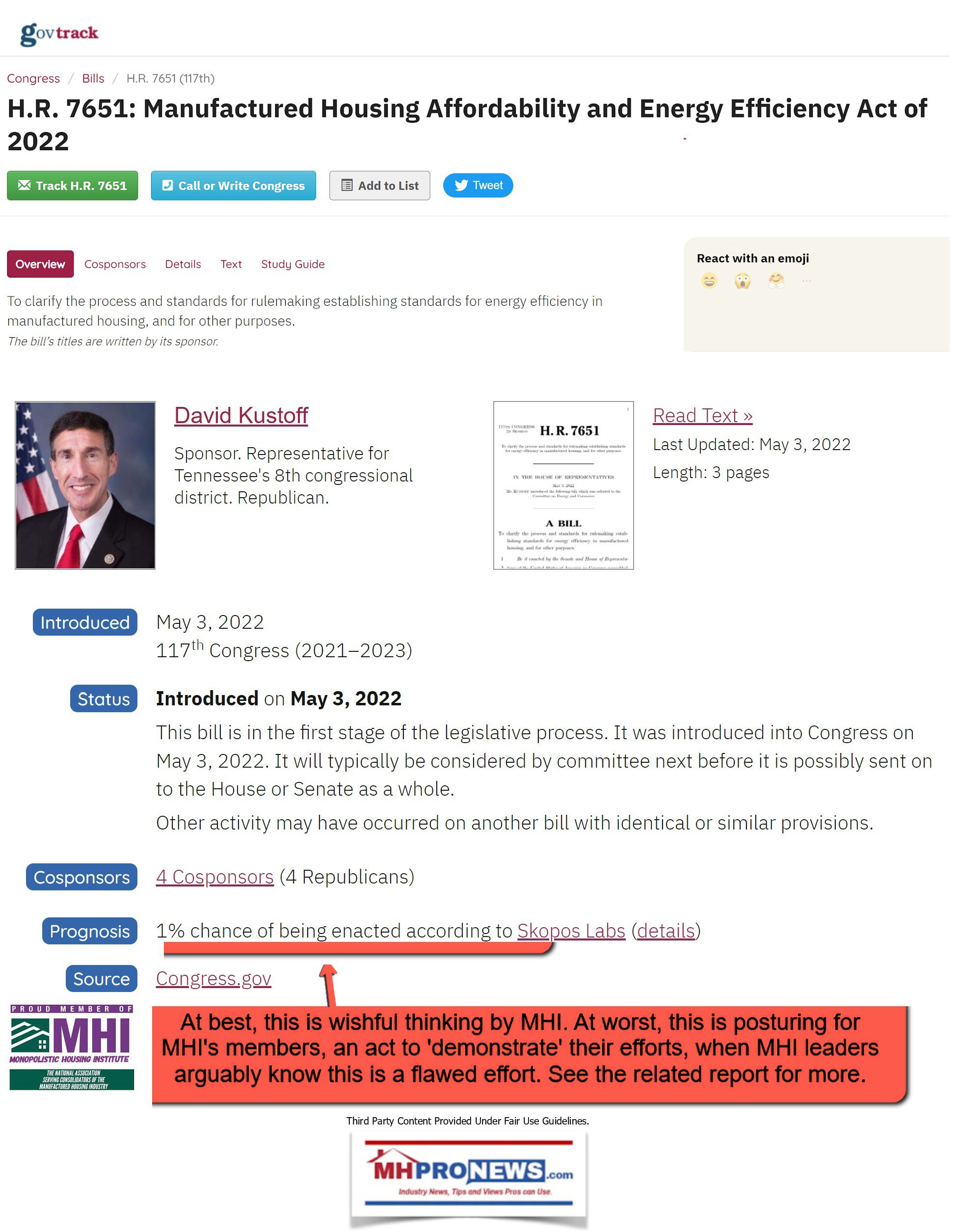 5. This is a head-fake at best or meaningless posturing at worst. If MHI got a million emails instead of their some 500 claimed, it would still be nearly meaningless.
6. While other points could be made, MHI and informed manufactured housing industry professionals ought to know better than most that good laws are often not properly implemented. Even if by some miracle this law were enacted, there is no guarantee that it would do what MHI hopes.
The above points begs the question: why hasn't MHI used their attorneys to legally engage to stop the DOE energy rule, along side MHARR? After all, MHARR and their efforts have for years on this issue been the only national manufactured housing industry trade association that has produced meaningful delays in the DOE energy rule steamroller?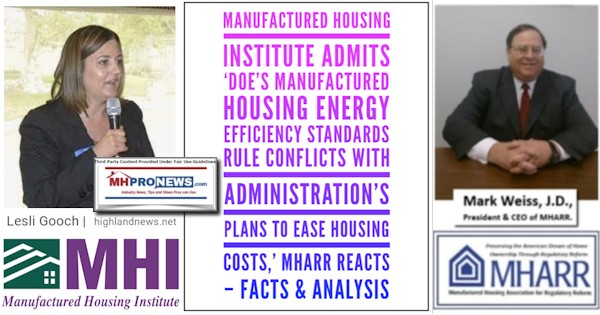 MHI's own email claims that their CEO Gooch said: "Instead, the significant cost increases to actual manufactured homebuyers far exceed the speculative energy savings the [DOE manufactured housing final] rule claims will take place." This is a significant admission. MHI can't have it both ways. If they are saying that this is harmful in its present form, then it is incumbent upon MHI to act in a fashion that makes sense. This bill, as the analysis above demonstrates, does not fit that bill.
That begs the question: is MHI just posturing? Are they claiming to want to avoid this rule, or do they actually want it to go into effect?
Why Seemingly Deceptive MHI Emails – Like the Messages Above – Matters
According to RICOAct: "Mail and Wire Fraud · The extensive use of RICO in the civil context is almost solely attributable to the inclusion of mail and wire fraud as predicate acts." What that means is that if MHI is found to be using the U.S. Mail or "the wires" – which can include the internet, email, telephony, fax, etc. – in a fraudulent or deceptive fashion, it opens MHI and/or MHI team members up to possible RICO charges. Oxford Languages notes that fraud is "wrongful or criminal deception intended to result in financial or personal gain." RICOAct features the professional thoughts of Jeffrey Ernest Grell – Attorney at Law.
Related, MHI has yet to refute the evidence-based analysis below. Note that there is no meaningful change since MHI's President and CEO Richard "Dick" Jennison left and Gooch became the trade group's CEO.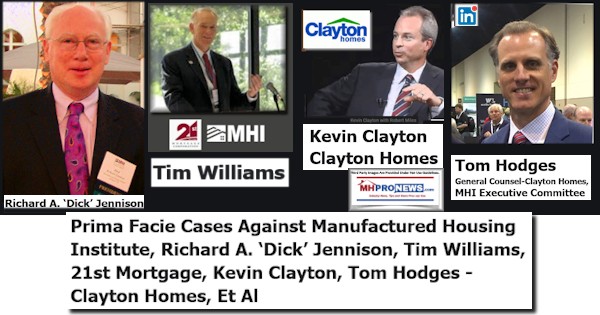 RICO and antitrust discussion involving manufactured housing have probed both by third researchers and by actual litigation. Examples are linked below.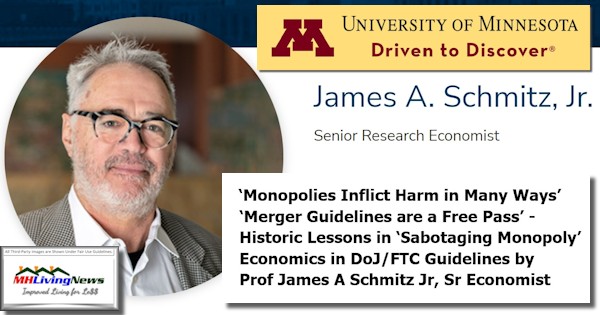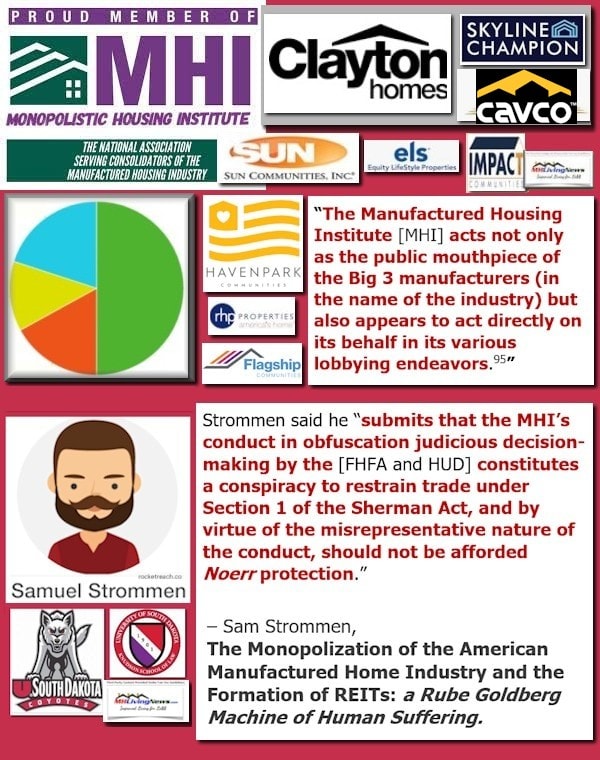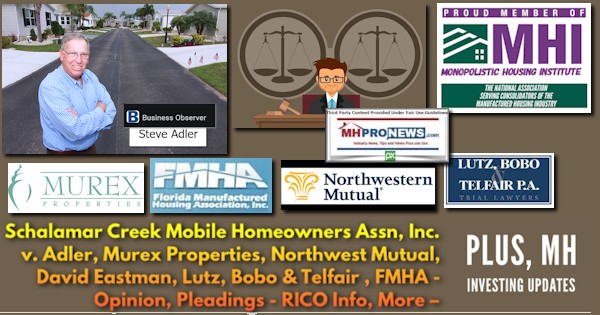 Additionally, lawmakers have raised antitrust related issues with respect to manufactured housing.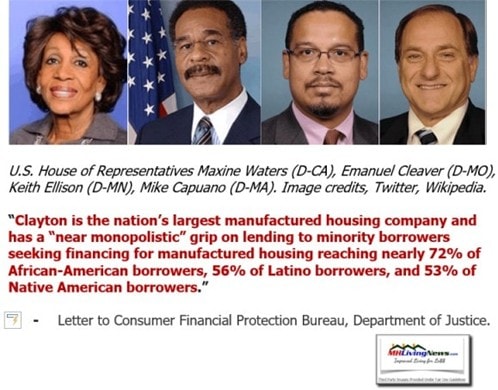 It was noted that MHI's statements on DOE are a mish-mash of accurate, inaccurate, and apparently flawed information. Besides mislabeled the Manufactured Housing Improvement Act of 2000 (MHIA) as the 2000 Manufactured Housing Act, MHI has ironically shown their hand yet again. They aren't trying to 'stop' the DOE plan. They want their own plan that MHARR's Weiss previously ripped as a lifeline to DOE. As MHI's email asserted was part of Gooch's statement:
2000 Manufactured Housing Act [sic], these standards should not become effective until approved by HUD and incorporated into the HUD Code. 
That is a reason to litigate, not to turn to HUD which also apparently represents the Biden Administration agenda.


2. "MHI's top priority now is to persuade HUD to instead adopt MHI's more balanced proposal, which improves energy efficiency without causing great harm to manufactured housing affordability." – MHI CEO Gooch. MHI has in an almost slapstick comedy or Keystone Kops fashion confirmed once again the prior report and analysis published on the MHProNews Masthead, linked below.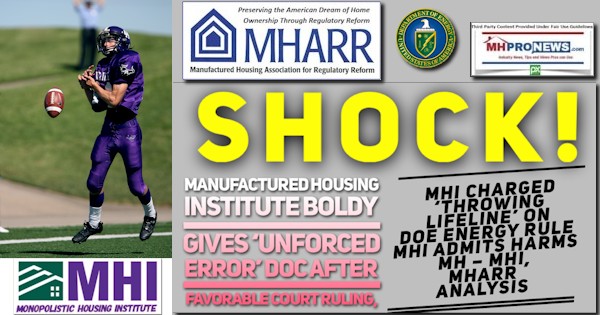 For those who wonder why MHI might be slyly posturing and pressing for their own energy standards, recall Carol Roth's keen observation about regulations impact on smaller businesses.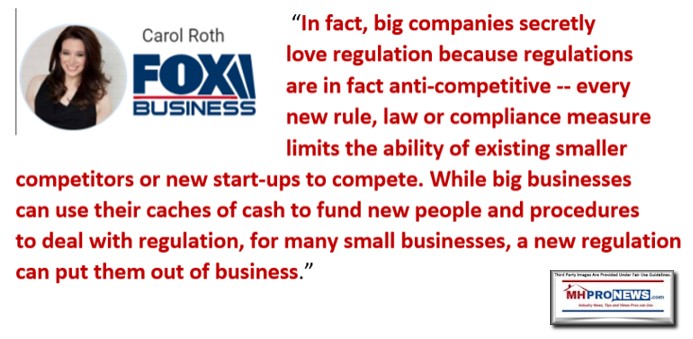 Keep in mind too that Warren Buffett donor supported legal action during the Trump Administration is a contributing factor to genesis of this current state of play.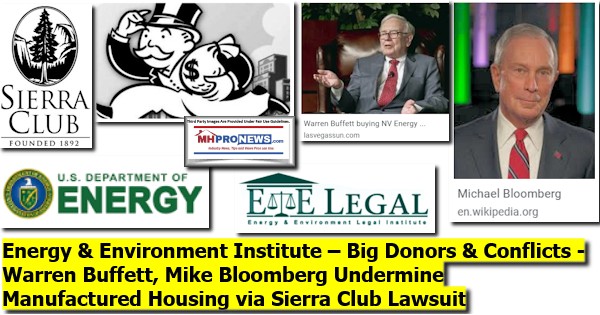 Other reports related to these DOE and their manufactured housing energy rule related issues are linked above and below.
'Reprehensible' 'Deception' 'Distortion' 'Misdirection' by DOE to Advance 'Flawed' Manufactured Home Energy Rule' – Scathing Manufactured Housing Assoc for Regulatory Reform Response; plus MH Stocks
Biden White House Postures Support for More Manufactured Housing, But Biden Era DOE, Other Fed Moves Poised to Limit HUD Code Manufactured Home Sales; plus Sunday Weekly Headlines Review
Next up is our daily business news recap of yesterday evening's market report, related left-right headlines, and manufactured housing connected equities.
The Business Daily Manufactured Home Industry Connected Stock Market Updates.  Plus, Market Moving Left leaning CNN and Right-leaning (Newsmax) Headlines Snapshot. While the layout of this daily business report has been evolving over time, several elements of the basic concepts used previously are still the same. For instance. The headlines that follow below can be reviewed at a glance to save time while providing insights across the left-right media divide. Additionally, those headlines often provide clues as to possible 'market-moving' news items.
Market Indicator Closing Summaries – Yahoo Finance Closing Tickers on MHProNews…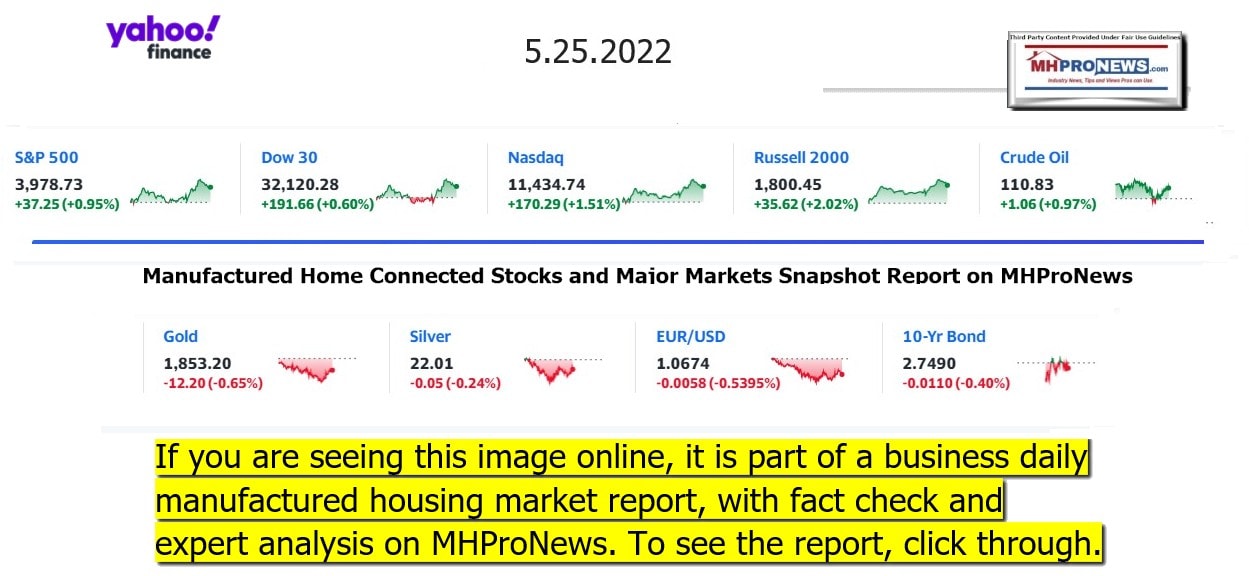 Headlines from left-of-center CNN Business – from the evening of 5.25.2022
A plea to Big Tech
Mykhailo Fedorov, Ukraine's Vice Prime Minister and Minister of Digital Transformation at the World Economic Forum Annual Meeting 2022 in Davos-Klosters, Switzerland, on May 23.
Ukraine has a message for Cloudflare and SAP: Get out of Russia now
Biden is 'obsessed' with lowering 'outrageous' gas prices, but there isn't much more he can do, says Energy Secretary
Bitcoin is imploding. But you wouldn't know it looking at Formula 1 races
Twitter holds shareholder meeting amid uncertainty of Elon Musk deal
Is the summer vacation boom over before it even began?
Opinion: The US solar panel industry is on the verge of collapsing. Here's how to prevent it
Wendy's puts up the 'for sale' sign as costs rise
'Lunchflation' is real. Returning to the office is costing us a fortune
Opinion: Texas' new social media law affects all of us
Google should limit location data collection to protect abortion seekers, US lawmakers say
Yeezy Gap postpones Balenciaga launch after Texas school shooting
Oreo and Ritz are giving away free cookie-cracker sandwiches
Boeing's Starliner capsule on its way home from test mission
Google's Street View is 15 years old. See the new camera it's rolling out
Federal Reserve Board Chair Jerome Powell pauses while speaking during a news conference at the Federal Reserve, Wednesday, May 4, 2022 in Washington.
Brace for more rate hikes: Fed signals several half-percentage point hikes to come
A customer views a vehicle for sale at a car dealership in Richmond, California, U.S., on Thursday, July 1, 2021.
New car sales forecast to plummet 20.9% in May, as supply remains low
Society 'may not survive' Putin's war, says billionaire George Soros
SOARING PRICES
Jeff Bezos accuses Biden of 'misdirection' over inflation
War-fueled food inflation will cause social unrest, UN official says
UK inflation hits 40-year high of 9%
Inflation, explained: Why prices keep going up
Skipping meals. Racking up debt. Single parents are squeezed
ENERGY
Gasoline and diesel prices are displayed at a gas station in Millbrae, California, the United States, May 17, 2022. California's gas prices hit a new record high on Tuesday, with a gallon of self-serve regular gasoline costing 6.021 U.S. dollars on average.
White House may tap emergency diesel reserve to ease price spike
Bolsonaro fires Petrobras CEO who warned of diesel crisis
UK household energy bills set to rise by another 40%
Europe plans to spend billions to ditch Russia's energy
Russia is about to cut off Finland's natural gas
Headlines from right-of-center Newsmax 5.25.2022
What Happened After George Floyd? Watch 'America Burning' Tonight at 9pm ET, More Here
Teen Gunman Warned Online That He Intended to Shoot Up Texas School
The home of the suspected Uvalde, Texas, gunman, 18-year-old Salvador Ramos, is cordoned off with police tape on Tuesday. According to reports, Ramos killed 19 students and 2 adults in a mass shooting at Robb Elementary School before being fatally shot by law enforcement. (Getty Images)
Teen Gunman Warned Online That He Intended to Shoot Up Texas School
The gunman who massacred 19 children and two teachers at an elementary school in Texas had warned on social media minutes before the attack that he had shot his grandmother and going to shoot up a school, the governor said Wednesday. [Full Story]
Related Stories
Beto O'Rourke Interrupts Texas Governor's Press Conference on Shooting
Gun Makers Lose Challenge to New York Lawsuit
Trump Keeps NRA Speaking Date: Need 'Real Solutions, Real Leadership'
Texas Shooter Bought Rifles, Ammo Days After Turning 18
Victims in Texas School Shooting Killed in Single Classroom
'Hard to Think': Trump Mourns Texas School 'Massacre'
Robb Elementary Fourth Grader Killed Trying to Call 911
Russian Invasion of Ukraine
US Slaps Sanctions on Moscow-Backed Iranian Oil Smuggling Network
Turkey Makes Demands on Sweden, Finland
World Bank's Malpass: Ukraine War Could Trigger Global Recession
Russia Drives to Cut Off Key Towns in Ukraine's East
Scars of War Seem Everywhere in Ukraine After 3 Months
Ukrainian Officials Slam Kissinger's Suggestion That Land Should Be Given to Russia
Putin Hikes Russian Pensions, Plays Down Ukraine Impact on Economy
Zelenskyy Calls for Western Unity as Russia Advances
Ukraine: 6 Civilians Killed as Russia Focuses Fire in East
Saving the Children: War Closes in on Eastern Ukrainian Town
More Russian Invasion of Ukraine
Newsmax TV
Tenney: Mental Health Real Issue in Shootings, Not Gun Laws | video
Van Susteren: Bringing a 'Legal Lens' to the Stories That Matter | video
Dan Bishop: Dems Showing No 'Moderate Change' on Guns
French Hill: Sarah Sanders on Her Way to Arkansas History | video
Texas AG Paxton: Gun Control Laws Would Not Have Stopped Shooter | video
Babin: Texas Shooter Was Showing 'Pathway to Violence' | video
Tenney: Mental Health Real Issue in Shootings, Not Gun Laws | video
Kim: Oversight Needed on DHS Fentanyl Tactics | video
More Newsmax TV
Newsfront
Congressional Budget Office: Inflation to Last Into 2023
The Congressional Budget Office released an economic outlook Wednesday saying high inflation will persist into next year, likely causing the federal government to pay higher interest rates on its debt…. [Full Story]
Related Stories
Incumbents in Georgia Beat Primary Opponents Down the Ballot
Cops: 500K Fentanyl Pills Found in Arizona Traffic Stop
Two women were arrested after about 500,000 fentanyl pills were found [Full Story]
Trump Hails 100-6 Primary Endorsement Record
While the liberal media will seize on the Tuesday night victories of [Full Story]
Related
Incumbents in Georgia Beat Primary Opponents Down the Ballot
Alabama Congressional Races to Feature One Runoff in June
Rich McCormick, Vernon Jones Head to Georgia GOP Primary Runoffs
Katie Britt, Rep. Mo Brooks in Alabama Senate Runoff
Georgia Gov. Kemp Set to Face Stacey Abrams in Reelection Showdown
Sarah Sanders Wins Arkansas GOP Gubernatorial Primary
Herschel Walker Sets Up Showdown With Sen. Warnock
'America Burning' Reveals Aftermath of George Floyd's Death
As America remembers Wednesday, the second anniversary of George [Full Story]
Poll: About 40 Percent of Adults Say Adult Child Living Back Home
About 40% of parents have an adult child living with them due to rent [Full Story]
MLB 'Tagged' Yankees Star as Racist Over 'Jackie' Jab
New York Yankees third baseman Josh Donaldson is a former American [Full Story] | Platinum Article
US Will Cover Baby Formula Cost for Low-Income Families: Agriculture Dept.
The Department of Agriculture will temporarily cover the cost of baby [Full Story]
Related
FDA Chief: COVID, Mail Mix-up Delayed Action on Baby Formula
FDA: Baby Formula Whistleblower Report Didn't Reach Top Staff for Months
Abortion Activist Group Targeting Supreme Court Justices Has Maoist Links
The mysterious pro-abortion group responsible for doxxing several [Full Story] | Platinum Article
US Imposes Sanctions on Moscow-Backed Iranian Oil Smuggling Network
The United States on Wednesday imposed sanctions on what it described [Full Story]
Greta Van Susteren to Lead Newsmax Nightly Lineup
Newsmax announced today that veteran news anchor and broadcaster [Full Story]
China: Military Drills Near Taiwan After Biden's Remarks Represent 'Solemn Warning'
China confirmed that it conducted military drills near Taiwan during [Full Story]
Roche Develops Test Kits to Detect Monkeypox Virus
Roche on Wednesday said the company and its unit have developed three [Full Story]
Rubio to Introduce Bill to Stop Punishment of Service Academy Members for COVID Vaccine Refusal
Marco Rubio, R-Fla., plans to introduce a bill that would [Full Story]
Manchin Calls for 'Common-Sense' Gun Reform, But Resists Filibuster Changes
Joe Manchin, D-W.Va., embraced callsforgun reformin the United [Full Story]
NFL to Launch $5 a Month Service
The National Football League plans to create its own streaming [Full Story]
Greene: Primary Win 'a Message to Bloodsucking Establishment'
Marjorie Taylor Greene, R-Ga., this week described her victory [Full Story]
Gallup Poll: 71 Percent Say It's a Good Time to Find a Quality Job
According to a new Gallup poll, 71% of Americans believe it is a good [Full Story]
Some European Nations Consider Naval Escorts for Ukrainian Grain Shipments
Several European nations are considering sending naval vessels to [Full Story]
Putin Hikes Russian Pensions, Plays Down Ukraine Impact on Economy
President Vladimir Putin ordered 10% rises on Wednesday in pensions [Full Story]
Stop Banning Jews and Christians From Praying on the Temple Mount: Orthodox Rabbi
Beginning the evening of Saturday, May 28, and running through [Full Story]
New Zealand PM Ardern: Gun Control Swift Following Christchurch Mass Shooting
New Zealand Prime Minister Jacinda Ardern says gun control in her [Full Story]
Ukrainian Ambassador: Uvalde School Shooting 'Should Not Happen Anywhere'
In the aftermath of Tuesday'sUvalde, Texas elementary school [Full Story]
'Hard to Think': Trump Mourns Texas School Massacre
Former President Donald Trump mourned the victims of Texas elementary [Full Story]
Kessler: GW Bush Vindicated on Phonics
I was put into a year of remedial reading consisting of drill using [Full Story]
Russia Closer to Default, as US Payment License Expires
The United States pushed Russia closer to the brink of a historic [Full Story]
Musk: Declining Birthrates Indicate Italians Headed to Extinction
Elon Musk on Tuesday predicted that Italians will disappear if [Full Story]
Carter, 97, Steps Into Fray Over Road Through Alaska Refuge
Former President Jimmy Carter has gotten involved in a decades-long [Full Story]
Brittney Griner's Wife Tells ABC She Wants WNBA Star Home
Brittney Griner's wife Cherelle wants President Joe Biden to secure [Full Story]
Poll: Republicans' Approval of Supreme Court Grows; Others Disapprove
The Supreme Court's job approval rating among Republicans has grown [Full Story]
Ukraine's Zelenskyy Offers Condolences Over Texas School Shooting
Ukraine President Volodymyr Zelenskyy on Wednesday offered his [Full Story]
Vaccines, Antivirals Available to Combat Monkeypox
With cases of monkeypox inexplicably on the rise outside of Africa – [Full Story]
Trending Stories
More Newsfront
Finance
Stock, Bond Divergence Offers Hope for Battered 60/40 Portfolio
S. stocks and bonds are moving in opposite directions, a phenomenon that could bring relief for investors hoping for a blend of the two asset classes to blunt declines in their portfolios…. [Full Story]
World Bank's Malpass: Ukraine War Could Trigger Global Recession
Boeing Starliner Returns to Earth
Congressional Budget Office: Inflation to Last Into 2023
Stocks Rise After Fed Minutes Release
More Finance
Health
Study: Limiting TV to Less Than One Hour Daily Lowers Risk for Heart Disease
It's tempting to binge-watch TV shows, and it might be hard to get off the couch after just one or two episodes. But it could be worth it. Researchers calculated that if people committed to watching just under an hour of TV a day, 11% of coronary heart disease cases could be…… [Full Story]
FDA Chief: COVID, Mail Mix-up Delayed Action on Baby Formula
Cranberries Boost Memory, Slow Cognitive Decline
How to Talk to Your Children About Shootings
Prostate Cancer Increases Risk for Dangerous Blood Clots by 50 Percent
MHProNews has pioneered in our profession several reporting elements that keep our regular and attentive readers as arguably the best informed in the manufactured housing industry. Among the items shared after 'every business day' (when markets are open) is our left-right headline recap summary. At a glance in two to three minutes, key 'market moving' news items are covered from left-of-center CNN Business and right-of-center Newsmax. "We Provide, You Decide." © Additionally, MHProNews provides expert commentary and analysis on the issues that others can't or won't cover that help explain why manufactured housing has been underperforming during the Berkshire era while an affordable housing crisis and hundreds of thousands of homeless in America rages on. These are "Industry News, Tips, and Views Pros Can Use" © features and others made and kept us the runaway #1 in manufactured housing trade publisher for a dozen years and counting.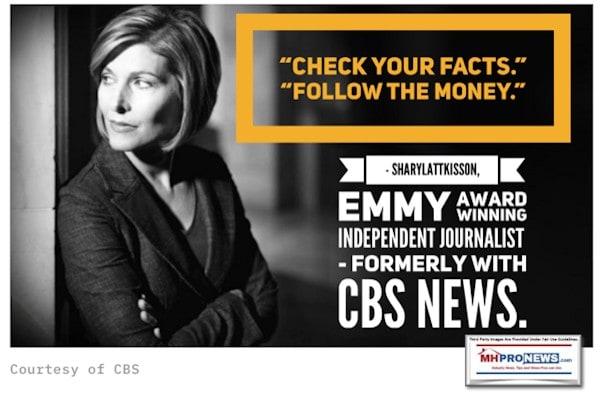 Manufactured Housing Industry Investments Connected Equities Closing Tickers
Some of these firms invest in manufactured housing, or are otherwise connected, but may do other forms of investing or business activities too.
NOTE: The chart below includes the Canadian stock, ECN, which purchased Triad Financial Services, a manufactured home industry lender
NOTE: Drew changed its name and trading symbol at the end of 2016 to Lippert (LCII).
NOTE: Deer Valley was largely taken private, say company insiders in a message to MHProNews on 12.15.2020, but there are still some outstanding shares of  the stock from the days when it was a publicly traded firm.  Thus, there is still periodic activity on DVLY.
Manufactured Home Communities (a.k.a. 'Mobile Home Parks' – SIC) – Exploring UMH Properties; Fellow Manufactured Housing Institute Member Yes! Communities Suits and Settlements; plus MH Markets Updates
'Announcing!' 'Manufactured Community Owners' Association of America' 'Finally Bringing Fight To Manufactured Home Community Sector of the Industry' – plus Sunday Weekly Manufactured Housing Headlines Review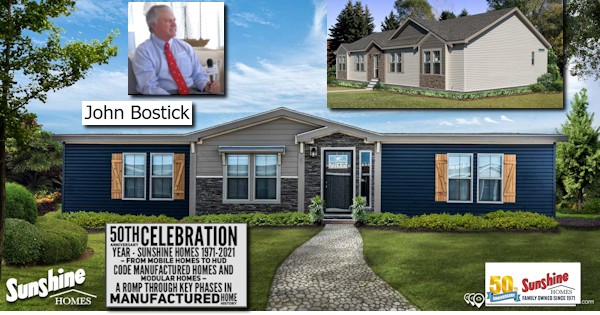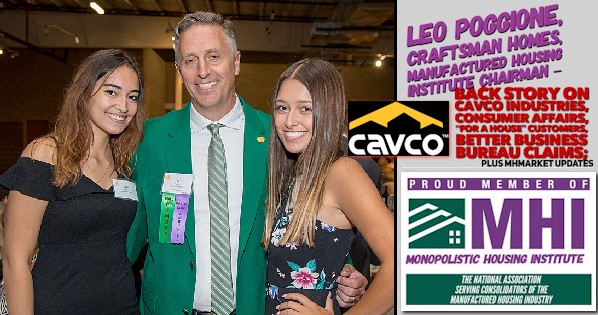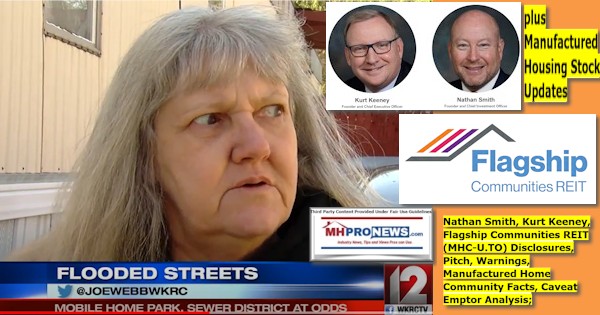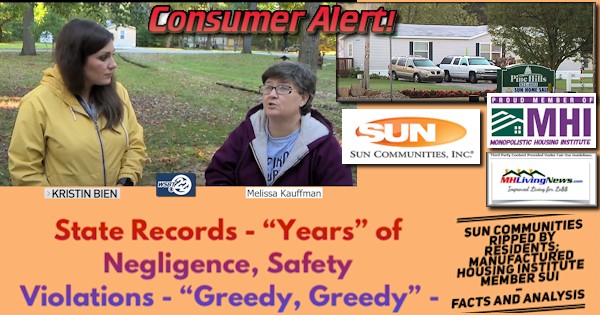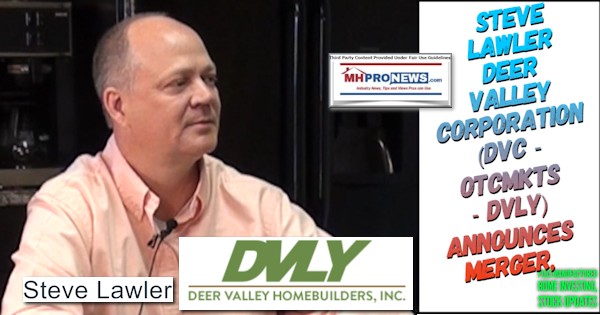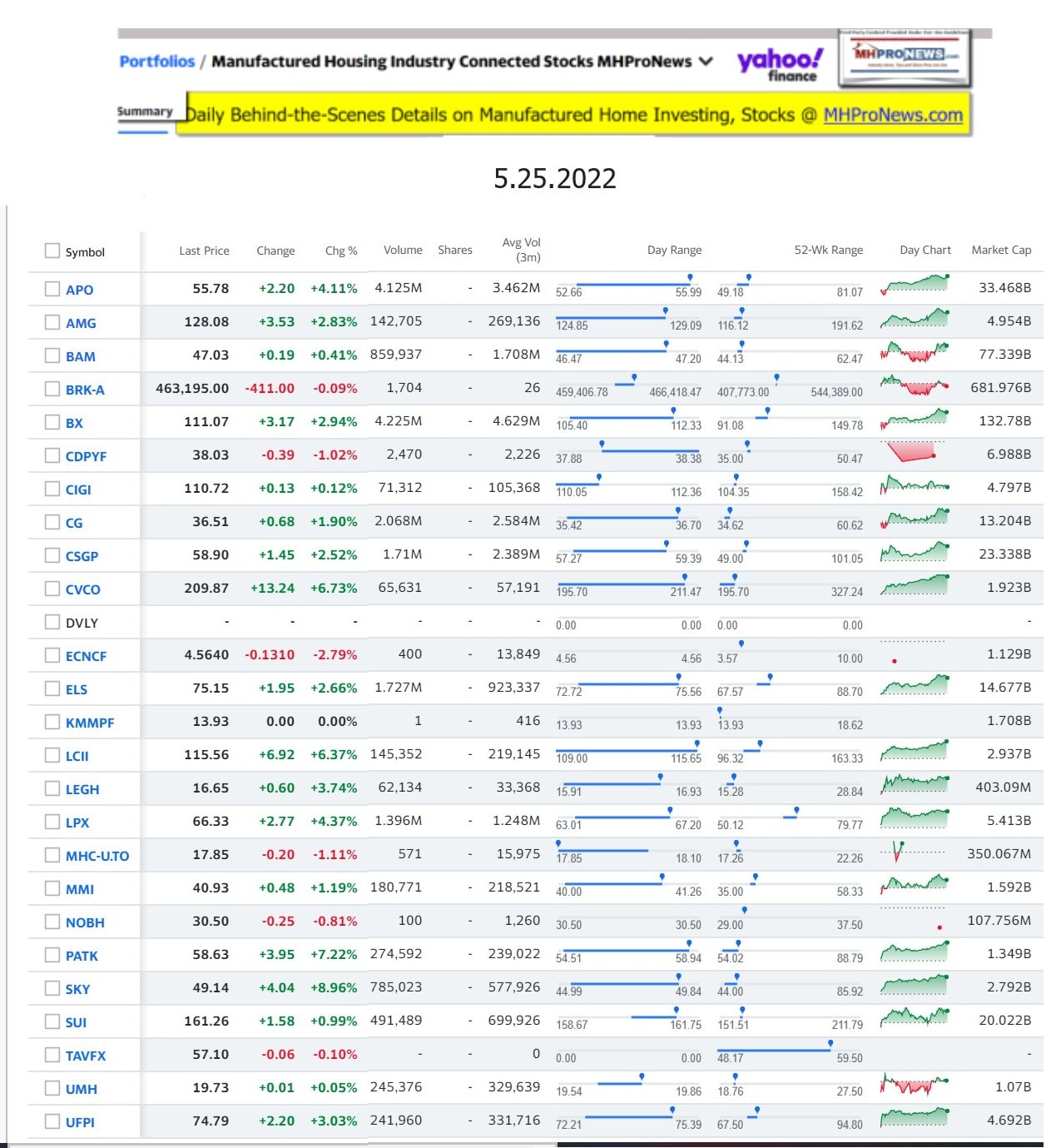 2022

…

Berkshire Hathaway is the parent company to Clayton Homes, 21st Mortgage, Vanderbilt Mortgage and other factory-built housing industry suppliers.


·

LCI Industries, Patrick, UFPI, and LP each are suppliers to the manufactured housing industry, among others.




·

AMG, CG, and TAVFX have investments in manufactured housing related businesses.

For

insights from third-parties and clients about our publisher

, click here.


Enjoy these 'blast from the past' comments.

MHProNews. MHProNews – previously a.k.a. MHMSM.com – has celebrated our 11th year of publishing and have completed over a dozen years of serving the industry as the runaway most-read trade media.
Sample Kudos over the years…
It is now 12+ years and counting…
Learn more about our evolutionary journey as the industry's leading trade media, at the report linked below.
· For expert manufactured housing business development or other professional services, click here.
· To sign up in seconds for our industry leading emailed headline news updates, click here.

Disclosure. MHProNews holds no positions in the stocks in this report.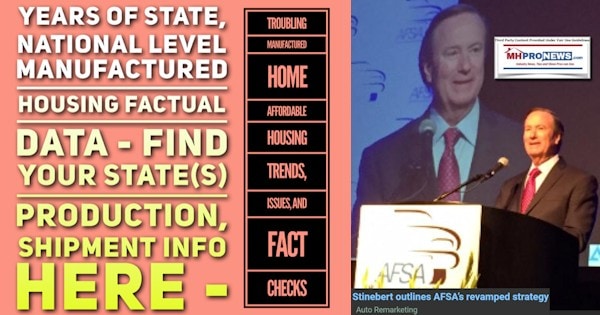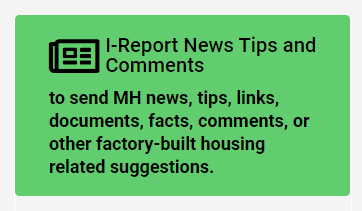 That's a wrap on this installment of "News Through the Lens of Manufactured Homes and Factory-Built Housing" © where "We Provide, You Decide." © (Affordable housing, manufactured homes, stock, investing, data, metrics, reports, fact-checks, analysis, and commentary. Third-party images or content are provided under fair use guidelines for media.) (See Related Reports, further below. Text/image boxes often are hot-linked to other reports that can be access by clicking on them.)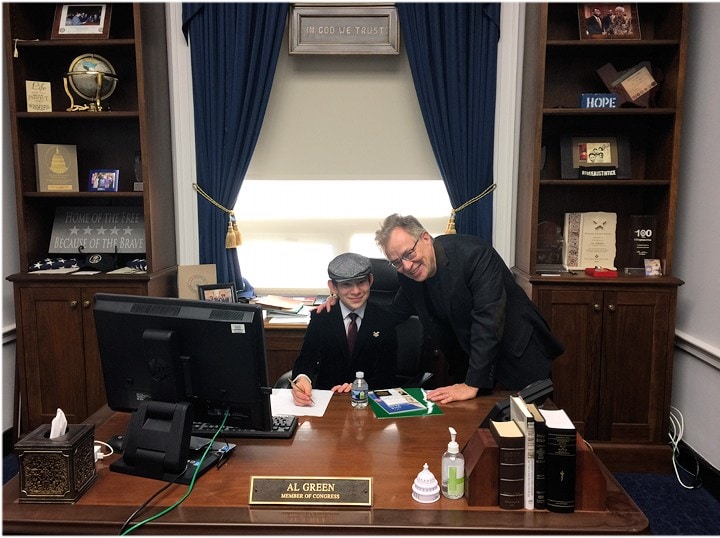 By L.A. "Tony" Kovach – for MHProNews.
Tony earned a journalism scholarship along with numerous awards in history. There have been several awards and honors and also recognition in manufactured housing. For example, he earned the prestigious Lottinville Award in history from the University of Oklahoma, where he studied history and business management. He's a managing member and co-founder of LifeStyle Factory Homes, LLC, the parent company to MHProNews, and MHLivingNews.com. This article reflects the LLC's and/or the writer's position and may or may not reflect the views of sponsors or supporters.