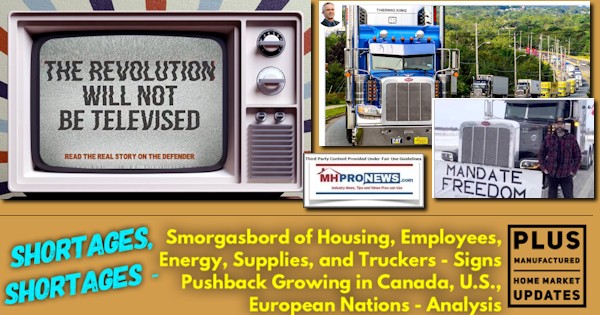 Mainstream single family (and manufactured) housing shortages and construction delays. Supply chains and truckers. Too few employees stepping forward for some 10 million job openings in the U.S. Energy and other costs rising by currency devaluation commonly dubbed as inflation. The smorgasbord of what may at first seem like disconnected topics arguably have some common denominators. One theme that could be identified is "big" vs. smaller. Another is official narratives that are crumbling under the weight of evidence to the contrary. Why are official narratives falling apart? 'The system is rigged' broadly describes some of these woes – and that rigged system usually favors the big which may mask its claims as altruistic. Because certain aspects of reality have been hyped, ignored, or otherwise spun to advance a certain agenda, the truth on a given topic may seem difficult to determine. But how is that so if 'science' is supposed to be so paramount now? Various terms like "monopoly" or market dominance seem to be increasingly heard from media and personalities on the left or right. But near the surface are also the question of bad policies that are driving these seemingly disconnected issues.
"You get more of what you encourage, and less of what you discourage." He wasn't the first to say it, but manufactured home retail and communities veteran, Marty Lavin, J.D., has made that apt and ever-timely insight with MHProNews.
To the point of that maxim, Adventure Homes' Wally Comer is among those who have blamed the Biden Administration for causing some of the issues that the manufactured home industry is suffering from. The Modular Home Builders Association Tom Hardiman went further in 2021. Hardiman accused the Biden regime of arranging political payoffs in the various bills and policies they were promoting (see these further below).
To examine those claims, consider the following.
There is on odd combination of laws, regulations, and regulatory issues.
For example, regulations slow projects and make them more costly. That has been publicly acknowledged by HUD PD&R researchers Pamela Blumenthal and Regina Gray.
On the other hand, are regulators that mysteriously fail to enforce certain laws in a fashion that benefits a few connected operations while magically harming the competitors of those insider groups.
The following smorgasbord of reports from the left, center, and right reflect clear evidence of public pushback, and some examples of that resistance working and gaining momentum. While it would be too much to say that these seemingly distinctive political camps finding common ground on everything, it is clear for those with 'the eyes to see and the ears to hear' that the basis for common ground already exists.
The first report is about a possible path to reigning in Washington, D.C. In several ways, it is a 'good news' report.
The next is some fresh conventional housing data. It begs the question: why is manufactured housing underperforming, when other housing options have been so limited? Isn't this precisely the time for manufactured housing to be allowed to shine and grow robustly?
The third is "another nation says goodbye" to their COVID19 restrictions. While some in the U.S. continue to press for a range of mandates of dubious constitutional, medical, or economic justifications, some nations in Europe are scaling back or completely eliminating COVID mandates based on — their respective views of the evidence.
The fourth is from the Defender on the pushback from people in the medical, scientific, truckers, and all other walks of life against the mandates found in the U.S. and Canada.  With that coverage plan prior to the latest markets and equities report, let's begin with a fresh look at a move toward reigning in big government.
From the Convention of the States (COS), is this message to MHProNews. COS is appealing to those who are shocked by the federal overreach on a range of issues and offers a unique and constitutionally established path to reign in big government gone awry. COS is promoting an Article V Convention of the States. Per the Convention of States website is this Article V download and the following information.
"WHAT'S A CONVENTION OF STATES ANYWAY?
Article V of the U.S. Constitution gives states the power to call a Convention of States [COS] to propose amendments. It takes 34 states to call the convention and 38 to ratify any amendments that are proposed. Our convention would only allow the states to discuss amendments that, "limit the power and jurisdiction of the federal government, impose fiscal restraints, and place term limits on federal officials." Those issues, say COS proponents, could reign in much of the problems that have plagued the marketplace because of the inherent bias by numbers in Congress that favor big business, even if they posture something quite different to their constituents."
Here is the core of COS' latest statement that was emailed to MHProNews.
BREAKING NEWS: The Nebraska legislature just passed the Convention of States Resolution calling for an Article V Convention to place limits on the runaway power of the federal government!

That makes Nebraska the 17th state to join the movement, putting us halfway to the required 34 states needed to call the convention. The Senate voted overwhelmingly in our favor — 32 YAYS – 11 NAYS.

Momentum is building.

Earlier this week, Wisconsin passed the COS Resolution, becoming state #16, and the South Dakota House passed the Resolution, moving it to the Senate for consideration.

This is our moment in history.

Empty shelves at the grocery store. Vaccine mandates stripping Americans of their freedom and livelihoods. Progressive initiatives infiltrating our schools and teaching the next generation to disdain their heritage.

We the People will not watch as the "land of the free" becomes unrecognizable. We will not stand by as our children's futures are mortgaged away by the ruling elite.

With today's historic victory in Nebraska, the following states are now officially united in this historic effort to end the tyranny of Washington, D.C.: Georgia, Alaska, Florida, Alabama, Tennessee, Indiana, Oklahoma, Louisiana, Arizona, North Dakota, Texas, Missouri, Arkansas, Utah, Mississippi, Wisconsin, and Nebraska! 

We're halfway to the finish line. Let's finish the job. … ##
Next up is the "collapse" of conventional housing sales in the latest data. Per the WND NewsCenter to MHProNews is the following.
MATTERS OF FINANCE
Pending home sales shock with 6.9% collapse
Downturn largely reflects extremely low inventory
(BREITBART) – Pending home sales defied predictions of a rebound at year-end, falling by 3.9 percent compared with a downwardly revised November estimate, data from the National Association of Realtors showed Thursday.
Compared with a year ago, pending home sales fell 6.9 percent. Sales were down by 10 percent or more in both the Northeast and the West. Sales fell in the Midwest and the South, as well.
The downturn largely reflects an extremely low supply of homes for sale, according to NAR economist Lawrence Yun. "Pending home sales faded toward the end of 2021, as a diminished housing supply offered consumers very few options," Yun said. "Mortgage rates have climbed steadily the last several weeks, which unfortunately will ultimately push aside marginal buyers."
Our third report is from the WND NewsCenter to MHProNews is the following report on European nations rolling back or ending COVID mandates, while some nations continue or are pressing for more.
WND
'We say goodbye': Another nation ends COVID restrictions
'Welcome the life we knew before'
By Art Moore
Published January 27, 2022 at 9:13pm
The latest country to announce it is eliminating most of its COVID-19 pandemic restrictions, including mask mandates, is Denmark.
Prime Minister Mette Frederiksen said Wednesday that beginning Feb. 1, mask restrictions on public transportation, in restaurants, in shops and other indoor facilities will be lifted, the Associated Press reported.
"We say goodbye to the restrictions and welcome the life we knew before," Frederiksen said. "As of Feb. 1, Denmark will be open."
Health Minister Magnus Heunicke said that while the European nation recently has had 46,000 new cases daily on average, only 40 people are in hospital intensive care units.
"We continue with a strong epidemic surveillance," Heunicke said, according to the AP. "Then we … can react quickly if necessary."
Frederiksen acknowledged it "may seem strange that we want to remove restrictions given the high infection rates," "But fewer people become seriously ill," he explained.
Last week, after the models upon which he based his policies proved to be "wildly incorrect," British Prime Minister Boris Johnson announced the lifting of COVID-19 vaccine passports, mask mandates and work-from-home guidance in England.
Regarding masks, the prime minister said the basic policy will be to "trust the judgment of the British people and no longer criminalize anyone who chooses not to wear one."
Ireland last Saturday eliminated nearly all COVID restrictions. The Netherlands has relaxed some restrictions as of Wednesday, Forbes reported. And Sweden, Norway and Finland announced this week they likely will ease restrictions in the coming days and weeks.
In France last Thursday, Le Monde reported Prime Minister Jean Castex announced a timetable for dispensing with some COVID restrictions. Among them are the mandatory wearing of masks in outdoor locations and the closing of nightclubs and stadiums. The prime minister said the government could suspend its vaccine passports if the situation regarding the pandemic improves further.
Ingvild Kjerkol, Norway's health minister, told TV2 that the Scandinavian nation can "tolerate more cases now, so then it is natural to look at easing restrictions, and that is what we are doing ."
"This means we can live with a higher infection rate in society without the health system blowing up," she said.
Meanwhile, Austria on Feb. 1 will become the first nation in the world to make it illegal to be unvaccinated. The government has ordered bars, cafes and restaurants to close at 11 p.m. And workers are advised to work from home when possible, the Associated Press reported.
ABC News reported Austrian police will begin doing routine checks of vaccination status and issue fines of up to 600 euros ($685) to people who cannot produce proof of vaccination. Pregnant women, those who can't receive the vaccine due to medical reasons and those who recovered from the virus in the last six months are exempted.
WND spoke recently with an Austrian activist who is helping lead a growing resistance to the severe COVID-related restrictions in his country. ##
The fourth report in this smorgasbord is from the left-of-center Defender. It features a recap by a medical doctor on the "Defeat the Mandates" rally in Washington, D.C. Note that estimates of the crowd size in frigid temperatures varied from some 20,000 to the figure cited below.
The Revolution Will Not Be Televised, at Least Not on Mainstream Media
Prominent scientists, doctors and public safety advocates delivered a powerful message at the "Defeat the Mandates" rally Sunday in D.C. But will it be heard?
More than 30,000 people gathered Sunday near the steps of the Lincoln Memorial in our nation's capital to protest COVID vaccine mandates.
Attendees were treated to nearly four hours of impassioned, poignant and uncensored speeches from more than 20 speakers who helped spearhead the movement for medical freedom.
Rather than attempting to summarize their commentary on the purported safety and efficacy of COVID vaccines, departures from accepted practices of informed consent around medical intervention and rapid erosion of the patient/doctor relationship from Big Pharma interference, I will instead list some pearls that might easily get overlooked but should not go forgotten.
Robert F. Kennedy, Jr., Children's Health Defense chairman and chief legal counsel, elucidated the single most important point of Pfizer's six-month trial data.
He explained that more participants died in the vaccine group compared to placebo group, and one vaccine recipient perished from COVID during this period compared to two in the placebo group — hence Pfizer can claim its product provides 100% efficacy against COVID death.
But at what cost?
Four times as many people died of cardiac arrest in the vaccine group than placebo. We can thus conclude the risk of dying from a cardiac arrest is 300% greater if you get vaccinated — a fact that goes unacknowledged by our medical authorities and legacy media.
Frontline Covid-19 Critical Care Alliance (FLCCC) spokesperson and board-certified critical care physician Dr. Pierre Kory expressed his frustration in trying to publish rigorous peer-reviewed data on the undeniable efficacy of the early COVID treatment protocol FLCCC formulated during the desperate early days of the pandemic.
This led him to emphatically conclude, "Every policy out of our agencies has been written by the pharmaceutical industry … It's a war. A war on repurposed drugs."
Dr. Robert Malone, in his typically measured fashion, reminded us that our authorities and vaccine manufacturers have nearly 100% indemnity from vaccine-related injury and that it is our job to protect our kids, not theirs.
Unfortunately, the magnitude of vaccine risks is yet unknown. Still, "If there is risk," Malone said, "there must be choice."
Steve Kirsch took the podium two hours into the program and recounted his introduction into the vaccine-hesitant sphere and described the abject refusal of any authority to answer a single one of his questions.
However, Kirsch's biggest point was not his attack on tightlipped and avoidant medical authorities.
Kirsch offered a very reasonable counterargument to the mainstream push to accept these vaccinations out of a moral obligation to our community. Do we in fact have an obligation to others that can be mandated? On what moral grounds can this be enforced?
Kirsch said:
"Nobody has the right to mandate that I must risk my life to save other people that I don't know. It's unethical and immoral. I will not voluntarily choose to deprive my kids of their father."
These points are important for every person in the world to consider, regardless of which side of the vaccine debate you are on.
Of course, these sentiments predictably resonated with those in attendance. But is that good enough? Will vaccine mandate proponents ever have the opportunity to hear this perspective?
Perhaps not.
One needs only to listen to how legacy media covered the rally. In this three-minute clip — "Anti-Vaccine Mandate Protests During Omicron Surge" — NBC News gave its viewers a glimpse of what this event signified.
The reporter said:
"Thousands rallying on the National Mall for the 'Defeat the Mandates' protest featuring some of the nation's most prominent anti-vaxxers…"
Then the camera immediately cuts to protesters complaining:
"…we tried to get a burger last night but couldn't because we didn't have a proof-of-vaccine card."
Are these really the most prominent spokespersons of the movement explaining why mandates are not just scientifically unfounded but unethical?
Another protester stated on camera he is not "anti-vax" but chooses not to get the jab because these vaccines are experimental. However, the NBC News reporters said, "That's not true, COVID vaccines are fully approved, more scrutinized than any vaccine in history…"
Of the three COVID vaccines currently authorized for emergency use, only the Pfizer Comirnaty formulation has been approved by the U.S. Food and Drug Administration.
However, that formulation has not been made available in this country. There isn't a single person in this country who has been inoculated with a fully approved COVID vaccine. (Consider yourselves fact-checked, NBC News.)
The idea COVID vaccines have been "more scrutinized than any vaccine in history" is a frank lie. The vaccine trials were rushed, poorly designed, offered no meaningful age stratification and used a participant pool that was younger and healthier than those who succumb to serious COVID.
The trials effectively ended several months after they began when the participants were unblinded and offered the vaccine, making any long-term efficacy or safety comparisons impossible.
Moreover, federal agencies responsible for scrutinizing the vaccines have done just the opposite, allowing serious, life-threatening and fatal adverse events to go unacknowledged and uninvestigated.
Despite the magnitude of expert opinion on hand, NBC News chose not to seek it. NBC did not interview one of the physicians, scientists, healthcare advocates or vaccine-injured who spoke at the rally.
A free press, dedicated to balanced reporting and an intrepid pursuit of the facts is our only guardian against tyranny. It is their job to pose difficult questions and demand answers. It is their job to give a voice to the dissenter and the whistleblower.
This is why Del Bigtree's finale was so salient. Bigtree got large reactions from the crowd when he drew upon Lincoln's words and Bible quotations, framing the issue as a struggle between good and evil and leading the crowd in a chant for freedom. His comments will likely draw criticism from mainstream pundits that continue to frame the anti-mandate movement as one that is based in ideology and not science.
But it was his admonishment of the mainstream media that will reverberate most in the weeks and months ahead.
Bigtree said:
"For those of you who are standing here quietly today, I know who you are. I know you work for The New York Times. I know you work for the Washington Post and you are here trying to support us quietly… You should have written about us. You should have told the truth!"
The revolution will not be televised. At least not on NBC News. ##
"© 1.26.2022 Children's Health Defense, Inc. This work is reproduced and distributed with the permission of Children's Health Defense, Inc. Want to learn more from Children's Health Defense? Sign up for free news and updates from Robert F. Kennedy, Jr. and the Children's Health Defense. Your donation will help to support us in our efforts.
"We are taking our fight to the doorsteps of our federal government and demanding that they cease all mandates against its people."

SIGN UP #TheDefender: https://t.co/zL66EdwTnDhttps://t.co/MCMhhREHqh

— Robert F. Kennedy Jr (@RobertKennedyJr) January 22, 2022
What the above routinely points to is an age-old challenge of those with money, power, and influence attempting to dominate the lives of most others. Who says? Warren Buffett and Charlie Munger, among others. It is BIG vs smaller. It is the 'big' that 'rig the system' in ways that routinely benefit themselves and their interests vs. that of the masses, no matter how their claims are packaged. The Nazis, socialists, and communists all had certain common features. They were authoritarians. The promised many things, but routinely failed to deliver on their promises. Nor should it be forgotten that the Nazis were National Socialists. Their system was fascism. A wedding of big business and big government over the rest of the people. Communist China, for example, could aptly be seen in good measure through that 'fascist' lens.
Additional information and analysis on the topics above are found in the following reports.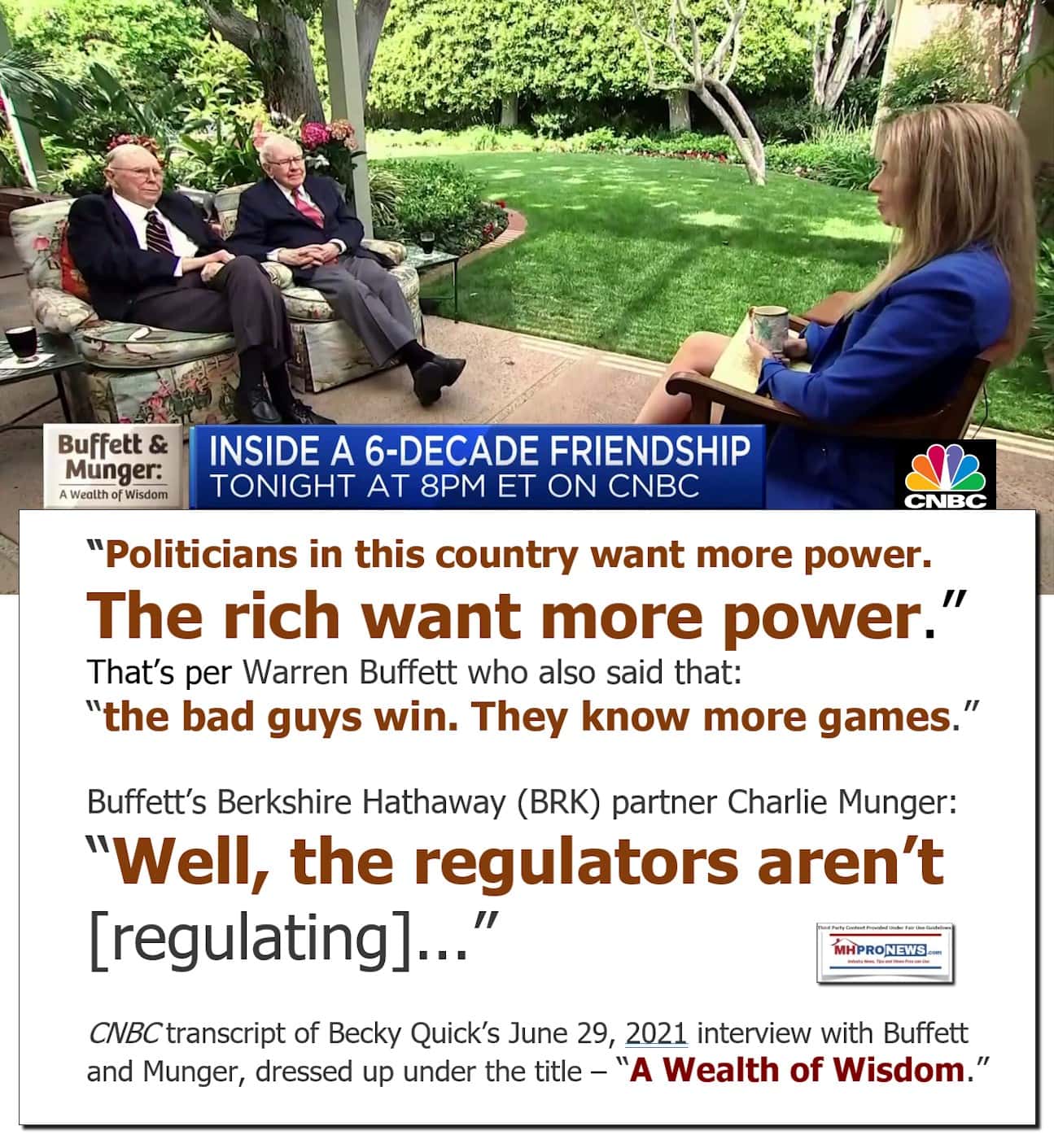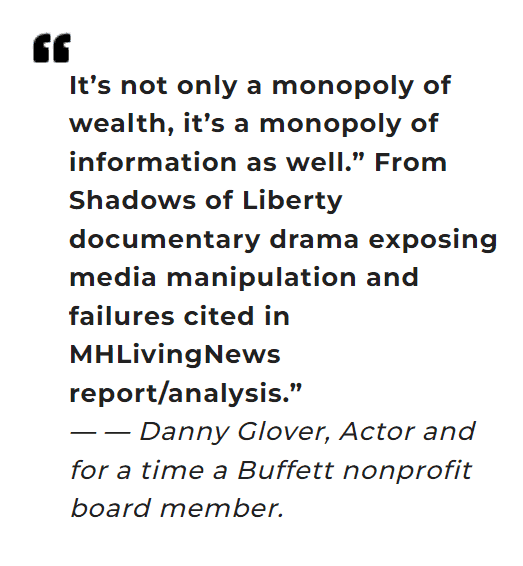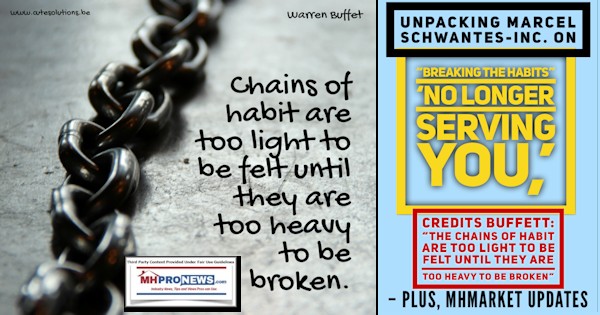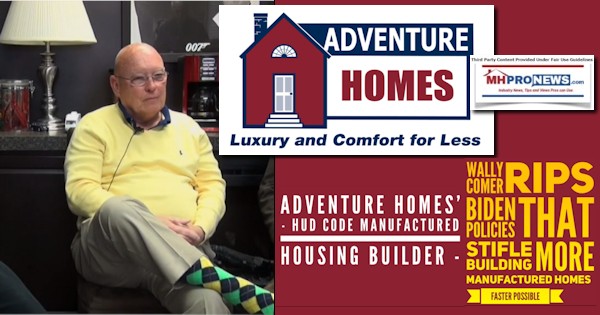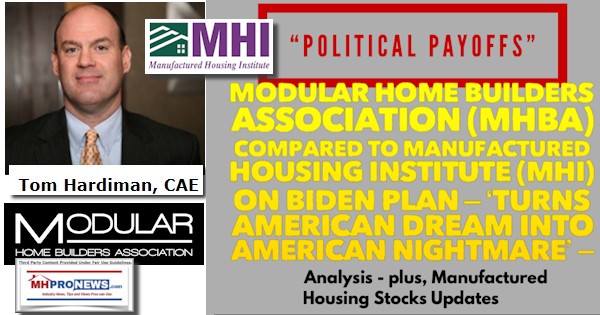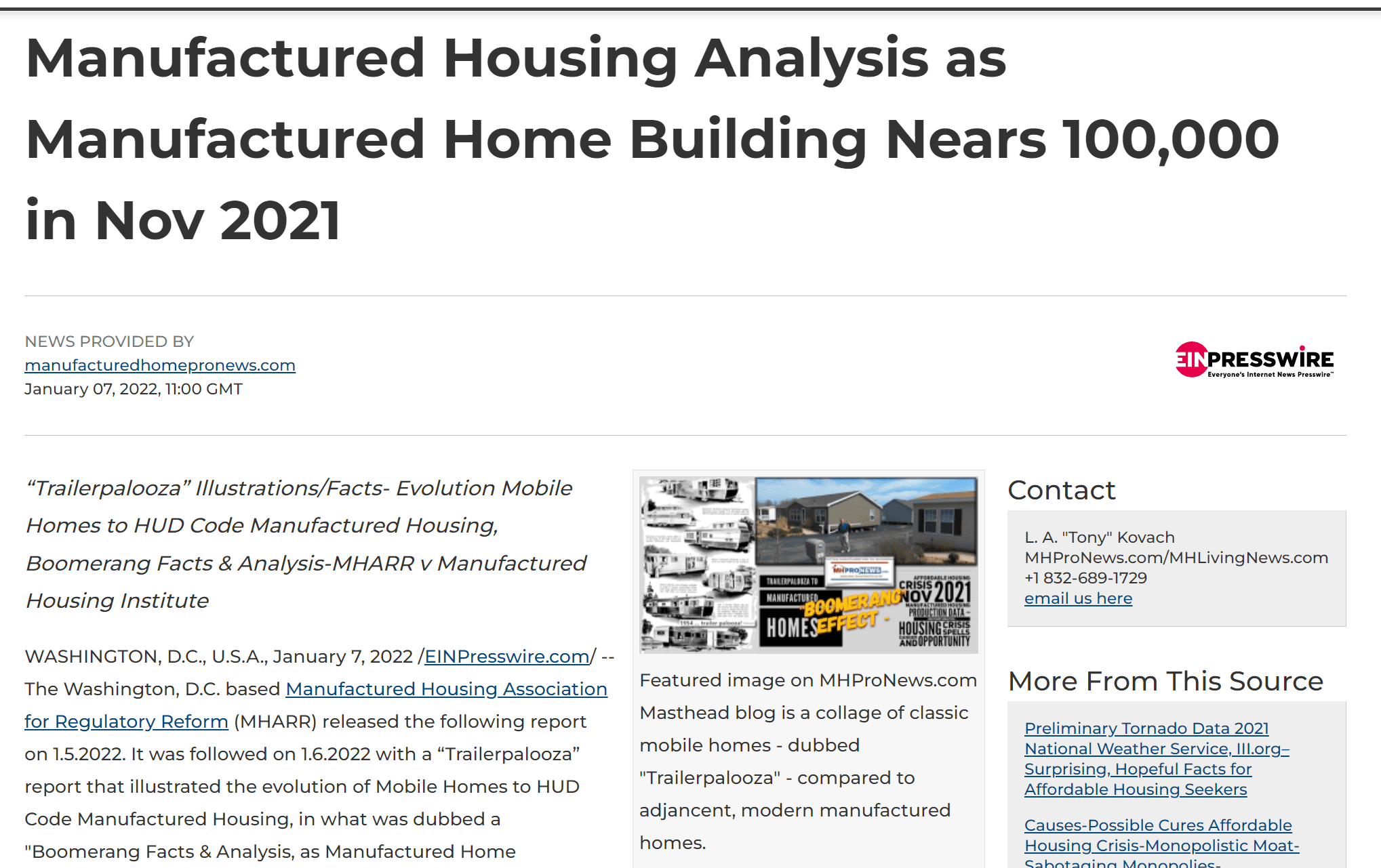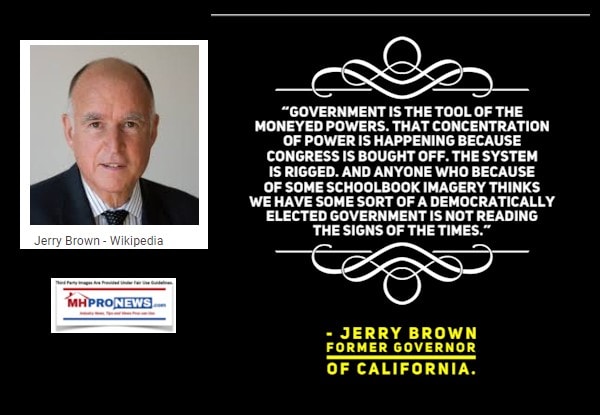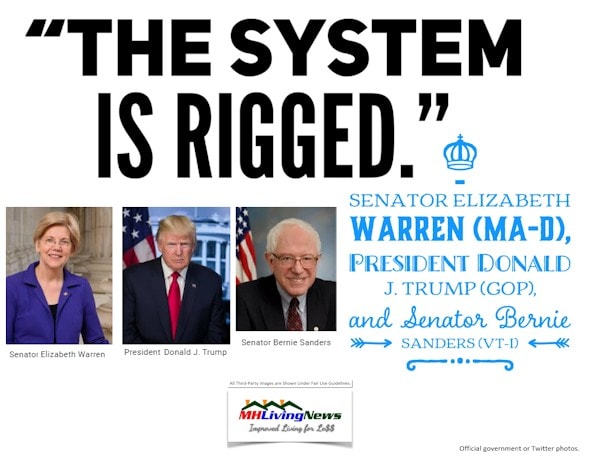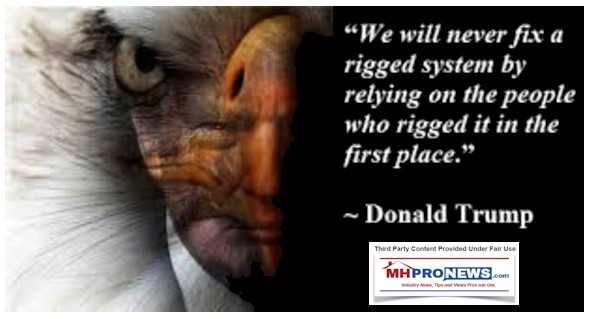 ##
Next up is our business daily recap of yesterday evening's market report, related left-right headlines, and manufactured housing connected equities.
The Business Daily Manufactured Home Industry Connected Stock Market Updates.  Plus, Market Moving Left (CNN) – Right (Newsmax) Headlines Snapshot. While the layout of this daily business report has been evolving over time, several elements of the basic concepts used previously are still the same. For instance. The headlines that follow below can be reviewed at a glance to save time while providing insights across the left-right media divide. Additionally, those headlines often provide clues as to possible 'market-moving' news items.
Market Indicator Closing Summaries – Yahoo Finance Closing Tickers on MHProNews…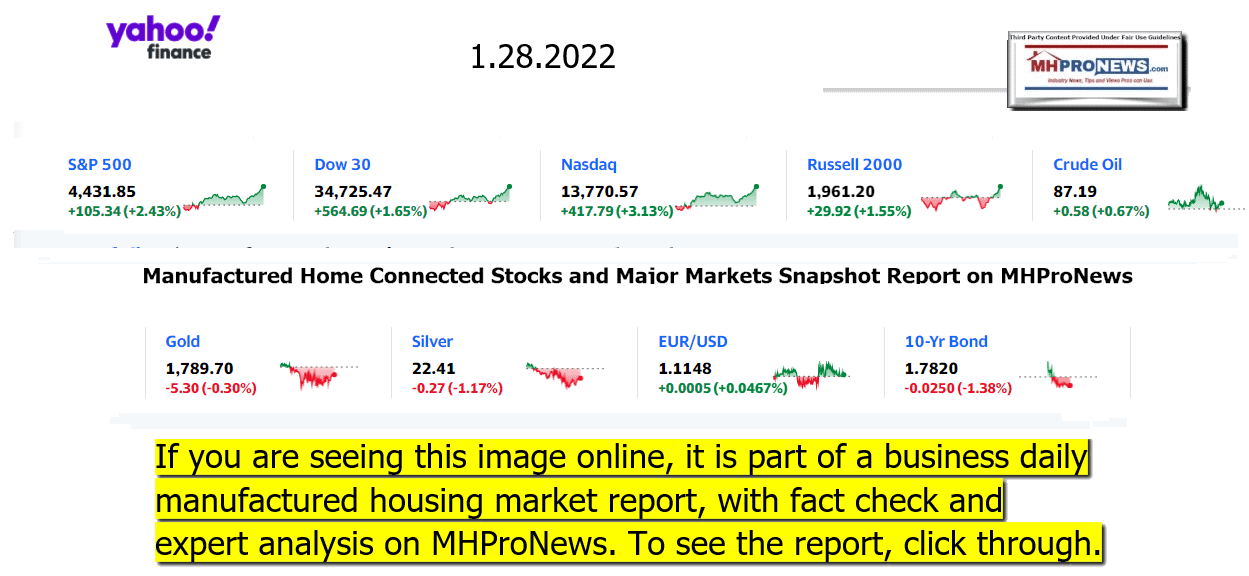 Headlines from left-of-center CNN Business – from the evening of 1.28.2022
Spooking investors
Elon Musk, founder of SpaceX and chief executive officer of Tesla Inc., arrives at the Axel Springer Award ceremony in Berlin, Germany, on Tuesday, Dec. 1, 2020.
Elon Musk took down all his competitors' stocks with these comments
Gone too far? Tech earnings raise questions about market panic
A key inflation measure rose at the fastest pace in 40 years
Natural gas futures surge as powerful winter storm looms
Good news: Paychecks are going up. Bad news: So is inflation
The US is starting to make a manufacturing comeback. Here's how to sustain it
Glossier lays off a third of its corporate staff
Workers don't know their schedules until the last minute. That's a big problem
2,000 US flights canceled for Saturday, as winter storm is set to pummel East Coast
Apple Music trolls Spotify by calling itself 'the home of Neil Young'
Elon Musk is placing a bet on robots. It could be a long time coming
These companies decided to go fully remote — permanently
Exclusive: Taco Bell favorite Mountain Dew Baja Blast is going boozy
Remember the E-Trade baby? He's coming back in a Super Bowl ad
A person shops in the dairy department of a supermarket in New York on Saturday, January 15.
ANALYSIS Americans are feeling pessimistic despite a strong economy. Here's why
Olympic sponsors paid big money for the Beijing Games. So where are all the ads?
A preschooler gets up on her toes to reach into her assigned cubby at a preschool center Monday, Oct. 25, 2021, in Mountlake Terrace, Washington.
Nobody wants to work in child care, and the whole economy is suffering
RUSSIA
A soldier of the Ukrainian army looks at the front line from his military position in Marinka. Since 2014, a war has been going on in eastern Ukraine in Donetsk and Lugansk oblasts. This territory is in dispute between Ukrainian forces and pro-Russian rebels.
UK companies told to bolster defenses against Russian cyberattacks
How Putin's $11 billion pipeline split NATO and the EU
EU considers economic warfare against Russia
Gas prices could soar if Russia invades Ukraine
Jim Acosta calls out Fox host for pro-Russia propaganda
BOOZY NEWS
Bud Light's first-ever zero-carb beer hits shelves next week
Simply Lemonade is going boozy
Coca-Cola taps into canned cocktail craze
IHOP is adding booze to the menu at some locations
Another shortage: High-end champagne
Headlines from right-of-center Newsmax – evening of 1.27.2022
McConnell Warns Biden: Don't 'Outsource' Justice Pick to 'Radical Left'
Senate Minority Leader Mitch McConnell, R-Ky., talks about the push by some Democrats to try to add seats to the Supreme Court at a press briefing back in April of last year in Washington. (AP)
President Biden has pledged to honor a campaign promise to fill the vacancy on the Supreme Court with a black female candidate, something he said is long overdue. Already, the White House has encountered pushback about skewing too 'woke' in its selection process. Sen. Joe Manchin, a Democrat who has nonetheless blocked passage of key parts of Biden's agenda, has said there will be no "rubber stamp" of the eventual nominee, even though Dems hold a slim chamber majority. [Full Story]
Ukraine Tensions Grow
US Urges China to Use Influence With Russia Over Ukraine
State Dept: Nord Stream 2 Will Not Move Forward If Russia Invades Ukraine
Russia Sees Some Room for Dialogue After US Security Response
US Offers No Concessions in Response to Russia on Ukraine
All Parties Agree on Need for Ceasefire in East Ukraine
US Embassy Urges American Citizens to Leave Ukraine Now
Ukraine Crisis Could Escalate to Nuclear Conflict platinum
Rasmussen: Just 31% Want U.S. to Defend Ukraine with Troops
Trump: Biden Risking 'World War III' With Russia
More Ukraine Tensions Grow
Newsmax TV
Rep. Comer: 'Hypocrisy' to Go 'All Out' on Ukraine's Border Crisis
Dershowitz: Biden Must Reject 'Identity Politics' in SCOTUS Pick
Rep. Brian Mast: World Sees Biden as 'Harmless' | video
Peter Navarro Fauci Has COVID 'Blood on His Hands' From 'Lie of Omission' | video
Zeldin to Newsmax: New York School Mask Mandates Are 'Child Abuse' | video
Bill O'Reilly: Trump a 'Dealmaker,' Biden 'Delegates' | video
Rep. Van Drew: Ukraine Evacuation Call Shows Biden's Weakness | video
More Newsmax TV
Newsfront
Austin Orders More Focus on Limiting Civilian Casualties
Defense Secretary Lloyd Austin on Thursday ordered his staff to quickly develop an "action plan" for improving how the Pentagon limits and responds to civilian casualties caused by American airstrikes. He called protection of civilians vital to U.S. military success and a…… [Full Story]
The S&P Ends Lower After Another Roller-Coaster Session
Wall Street gyrated wildly on Thursday, the S&P 500 once again [Full Story]
Coast Guard to Suspend Search for Migrants off Florida
The Coast Guard said Thursday that it had found four additional [Full Story]
Trump Rally Live on Newsmax This Saturday
Newsmax will cover live former President Trump's Save America Rally [Full Story]
Biden: 'Long Overdue' to Have 1st Black Woman on Supreme Court
President Joe Biden affirmed his pledge to nominate the first Black [Full Story]
Related
McConnell Warns: Don't 'Outsource' Justice Pick to 'Radical Left'
Activists Call on Boston to Apologize for Slave Ties
Massachusetts activists are calling on Boston officials to formally [Full Story]
Moderna Starts Trial of Omicron-Specific Booster Shot
Moderna Inc said on Wednesday it had started a mid-stage study, [Full Story]
Related
Omicron Subvariant Appears More Contagious, But Not More Severe
US 'Far Behind' Russia's Polar Plan for 'Arctic Silk Road,' $110 Billion Mega-Port
Even as Russia positions its troops and armor for a high-stakes [Full Story] | Platinum Article
 Story]
Rep. Cori Bush's Car Hit by Gunfire, Congresswoman Wasn't In It
The car belonging to Rep. Cori Bush, D-Mo., was hit by gunfire early [Full Story]
Catalytic Converter Thefts on Rise Nationwide
Opportunistic thieves are taking advantage of law enforcement [Full Story] | Platinum Article
Tennessee School Board Bans Pulitzer Prize-Winning Holocaust Book
A Tennessee school board recently voted unanimously to ban a Pulitzer [Full Story]
'Wendy Bell Common Sense' to Debut Saturday on Newsmax
Newsmax Media Inc. announced Wednesday that 21-time Emmy Award winner [Full Story]
Michigan School Shooting Suspect to Pursue Insanity Defense
The teenager charged with killing four students at Michigan high [Full Story]
World Remembers Holocaust as Antisemitism Rises in Pandemic
[Full Story]
Navy's Pacific Preparedness Called Into Question After Multiple 'Mishaps'
As tensions between China and Taiwan continue simmering in the [Full Story] | Platinum Article
Two More Ashli Babbitt Shooting Witnesses Identified
Two men sought by Ashli Babbitt's family after witnessing her [Full Story]
"Freedom Convoy" Heads to Ottawa to Protest COVID-19 Vaccine Mandates
A group of Canadian truckers is making its way to the nation's [Full Story]
Dolly Parton Dismisses Rumors She Insured Her Breasts: 'It's Not True'
Dolly Parton is clearing up speculation that she had her breasts [Full Story]
House Oversight Republicans Renew Call to Probe Afghanistan Troops Withdrawal
Republican lawmakers have renewed calls for an investigation into [Full Story]
Judge: Trump Lawyer Must Vet 1,500 Pages of Records Daily for Jan. 6 Panel
A federal judge Wednesday night ruled that former President Donald [Full Story]
Amid a Hiring Surge, Amazon Pushes to Legalize Marijuana
In an unlikely turn of events, Amazon is using its influence within [Full Story]
Kamala Harris Heads to Honduras for Presidential Inauguration
Vice President Kamala Harris traveled to Honduras on Thursday to [Full Story]
Minnie Mouse will be trading her iconic red polka dot dress for a [Full Story]
Women 33% of 5.4M First-Time Gun Buyers in 2021
Americans among various demographic groups became first-time gun [Full Story]
McConnell Focused on GOP Retaking Senate, Not Differences With Trump
Senate Minority Leader Mitch McConnell, R-Ky., so far has refused to [Full Story]
US Weekly Jobless Claims Fall for the First Time in a Month
Fewer Americans applied for unemployment benefits last week following [Full Story]
Most Americans Think COVID Will Never Go Away: Poll
Early in the pandemic, Ryan Wilson was careful to take precautions – [Full Story]
US Finally Threatens Putin: Invade Ukraine and We'll Close Nord Stream 2
The U.S. State Department is vowing to block the Nord Stream 2 [Full Story]
China Demands US Halt Olympics 'Interference'
China is demanding the U.S. end "interference" in the Beijing Winter [Full Story]
Oklahoma Prepares to Execute Man for 2001 Hotel Slayings
Oklahoma prepared to execute a man on Thursday for the brutal [Full Story]
Neil Young Removes Music From Spotify After Joe Rogan Ultimatum
Neil Young began removing his music from Spotify on Wednesday after [Full Story]
More Newsfront
Finance
Retail Investors Kept Buying Billions Worth of Stocks on Fed Day
Retail investors bought a net of $1.66 billion in equities on Wednesday when a hawkish U.S. Federal Reserve outcome triggered wild gyrations on Wall Street, data from Vanda Research showed on Thursday. That was the highest figure since a peak on Nov. 30, 2021…. [Full Story]
Morgan Stanley Sees US Debt-to-GDP Ratio Down 7 Percentage Points in 2022
Tesla Sinks After Supply Chain Warning, Hitting Other EV Makers
Nigel Green: Fed Must Not Fail on Inflation Again With Too Many Hikes
Google Bumps Up Vacation Days, Parental Leaves
More Finance
Health
The 'Stealth' Version of Omicron Has Hit the US
Scientists and health officials around the world are keeping their eyes on a descendant of the omicron variant that has been found in at least 40 countries, including the United States. This version of the coronavirus, which scientists call BA.2, is widely considered…… [Full Story]
How COVID Testing, Isolation Will Work at Olympics
Booster Shot Cuts Omicron Death Risk by 95 Percent: UK Study
Vitamin D Supplements Reduced Risk of Developing Autoimmune Disease: Study
More Berries, Red Wine in Diet Might Slow Parkinson's Progression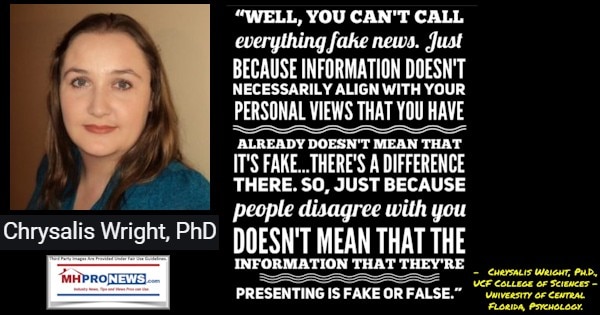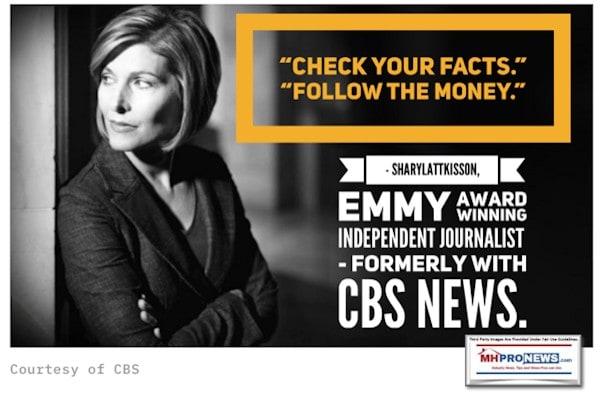 Manufactured Housing Industry Investments Connected Equities Closing Tickers
Some of these firms invest in manufactured housing, or are otherwise connected, but may do other forms of investing or business activities too.
NOTE: The chart below includes the Canadian stock, ECN, which purchased Triad Financial Services, a manufactured home industry lender
NOTE: Drew changed its name and trading symbol at the end of 2016 to Lippert (LCII).
NOTE: Deer Valley was largely taken private, say company insiders in a message to MHProNews on 12.15.2020, but there are still some outstanding shares of  the stock from the days when it was a publicly traded firm.  Thus, there is still periodic activity on DVLY.
Clayton-21st Storm Watch – Sinatra's Summer Wind Blows Early? – Manufactured Housing Moat Breach – Manufactured Home Values Increasing Faster than Site-Built – Case for Something New in 2022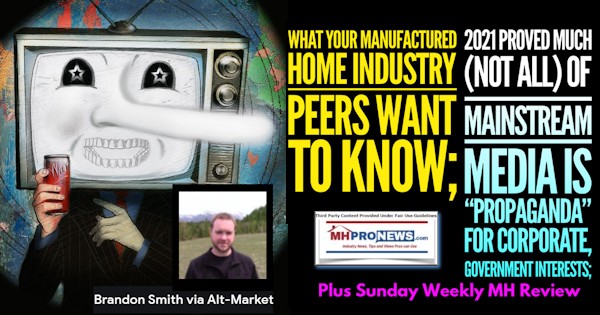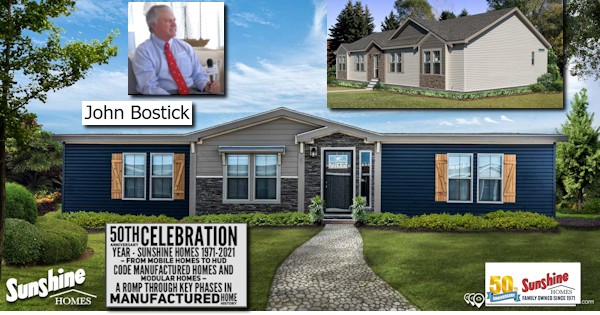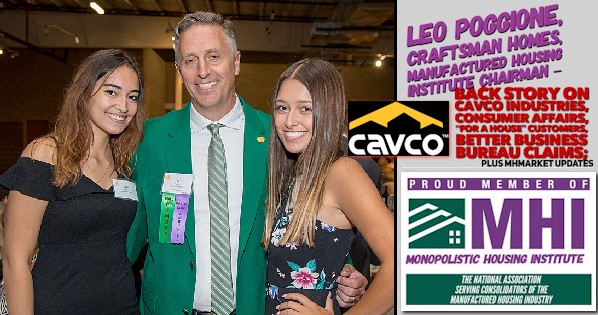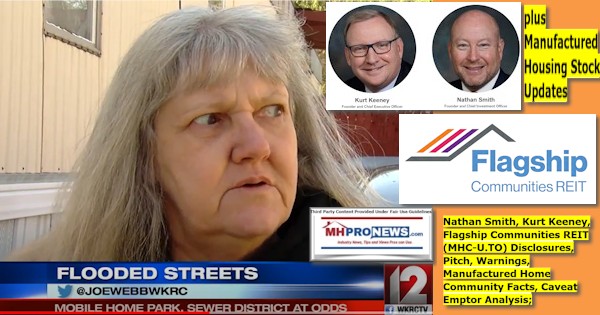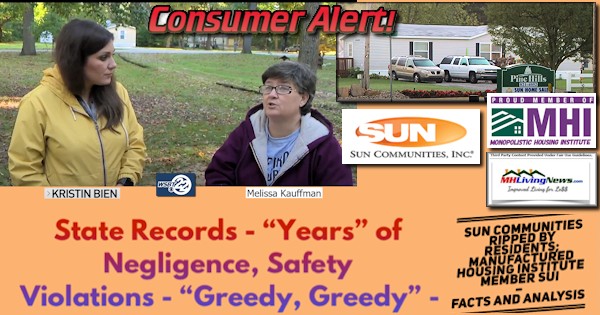 In cases such as Apollo, Berkshire Hathaway, Blackstone or others, manufactured housing may only be part of their corporate interests. Note: depending on your browser or device, many images in this report can be clicked to expand. Click the image and follow the prompts. To return to this page, use your back key, escape or follow the prompts.

https://www.manufacturedhomepronews.com/steve-lawler-deer-valley-corporation-dvc-otcmkts-dvly-announces-merger-plus-manufactured-home-investing-stock-updates/

https://www.manufacturedhomepronews.com/nobility-homes-financial-position-very-strong-sales-strong-but-challenges-including-lending-and-others-examined-plus-manufactured-housing-stocks-update/

2022 dawns

…

Berkshire Hathaway is the parent company to Clayton Homes, 21st Mortgage, Vanderbilt Mortgage and other factory built housing industry suppliers.


·

LCI Industries, Patrick, UFPI, and LP each are suppliers to the manufactured housing industry, among others.




·

AMG, CG, and TAVFX have investments in manufactured housing related businesses.

For

insights from third-parties and clients about our publisher

, click here.


Enjoy these 'blast from the past' comments.

MHProNews. MHProNews – previously a.k.a. MHMSM.com – has celebrated our 11th year of publishing, and is starting our 12th year of serving the industry as the runaway most-read trade media.
Sample Kudos over the years…
It is now 11+ years and counting…
Learn more about our evolutionary journey as the industry's leading trade media, at the report linked below.
· For expert manufactured housing business development or other professional services, click here.
· To sign up in seconds for our industry leading emailed headline news updates, click here.

Disclosure. MHProNews holds no positions in the stocks in this report.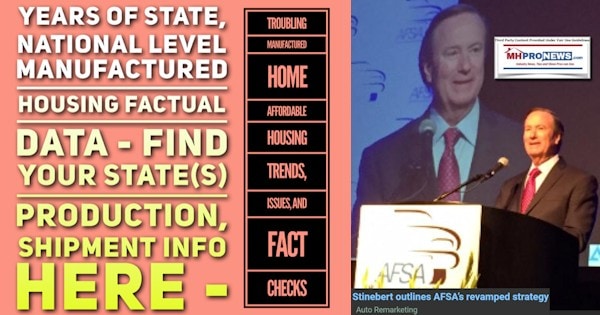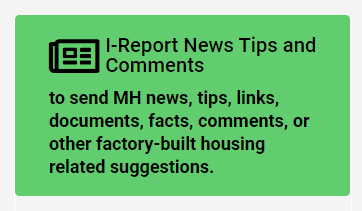 That's a wrap on this installment of "News Through the Lens of Manufactured Homes and Factory-Built Housing" © where "We Provide, You Decide." © (Affordable housing, manufactured homes, stock, investing, data, metrics, reports, fact-checks, analysis, and commentary. Third-party images or content are provided under fair use guidelines for media.) (See Related Reports, further below. Text/image boxes often are hot-linked to other reports that can be access by clicking on them.)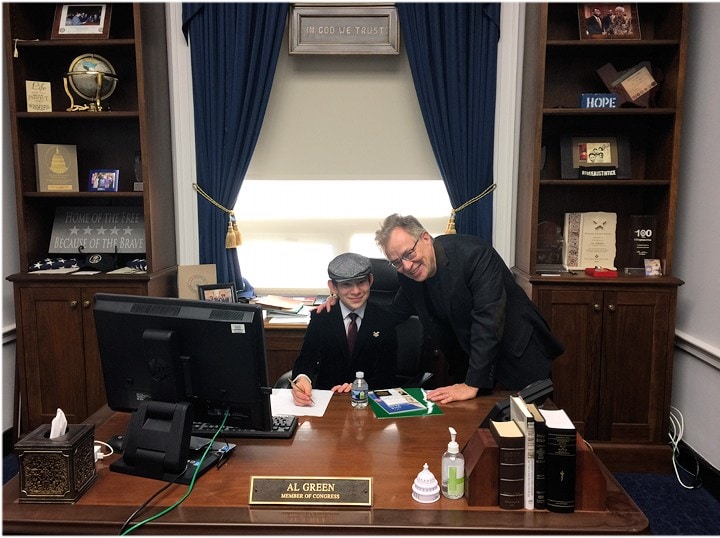 By L.A. "Tony" Kovach – for MHProNews.
Tony earned a journalism scholarship along with numerous awards in history. There have been several awards and honors and also recognition in manufactured housing. For example, he earned the prestigious Lottinville Award in history from the University of Oklahoma, where he studied history and business management. He's a managing member and co-founder of LifeStyle Factory Homes, LLC, the parent company to MHProNews, and MHLivingNews.com. This article reflects the LLC's and/or the writer's position and may or may not reflect the views of sponsors or supporters.