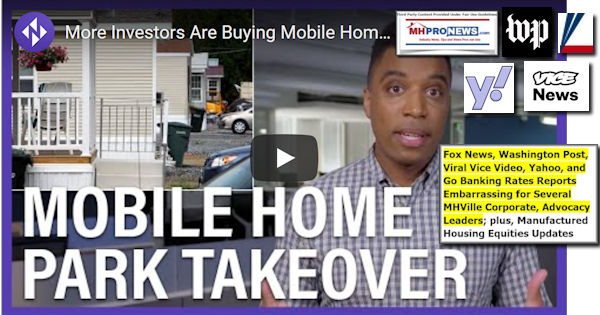 Uncomfortable facts, vexing evidence, or competing claims regarding manufactured housing related issues are found in recent news reports by Fox Business, the Washington Post, Vice, Yahoo, and Go Banking Rates, among others. Some of that third-party media content will be provided below as part of this MHProNews fact check and analysis that will also follow the money trail and possible motivations for seemingly odd behaviors from the view of outsiders looking in. While some manufactured home industry professionals are in denial, perhaps because others are posturing or preening and the industry's self-proclaimed leaders have built up a reliable 'amen' corner, the growing number of evidence-supported reports and analysis that highlight the problems that follow can't be ignored.
Perhaps due in part to fact checks and analysis like this one that follows, reports on MHProNews are not ignored inside or beyond the manufactured home industry.
Our routinely reliable sources tell us that top executives and managers of major publicly traded brands in manufactured housing corporations carefully follow our MHProNews and MHLivingNews reports.
Numbers of nonprofits do too. Public officials in Washington, D.C. and at the state level are readers too – but why would they be if the reports, analysis, and commentary were wide of the mark of reality? What's occurred and is still occurring in manufactured housing is corruption at an epic scale. If not for the examples of major 21st century scandals such as Enron, Madoff, WorldCom, or Theranos – to name but a few beyond the mind-boggling corruption involving the 2008 housing/financial crisis – someone could simply dismiss our reports as mere conspiracy theories by some nuts that own some specializes trade publications. But this trade publication was praised too often and for too long by some of the very people and their firms who MHProNews are now publicly calling out for their apparently corrupt scheme to steadily monopolize in an oligopoly fashion the modern marvel that is manufactured housing.
Newsy on May 17, 2022 said the following on the YouTube page that include the video posted below. Terminology errors [SIC] in their and other reports that follow are in the original. Several factual errors, extreme examples, or inaccurate inferences follow. For instance, while millions of manufactured homes are found in land-lease communities, Prosperity Now said in 2019 that: "Most manufactured homes are placed on privately owned land, rather than in land-lease communities, or "parks," where homeowners rent their home site. Between 1995 and 2017, only 31% of all new manufactured homes were installed in manufactured home communities (2017 HUD Manufactured Housing Survey)."

In a 5.21.2021 report, Fannie Mae said: "As the housing affordability crisis has deepened, manufactured housing is garnering more interest as an important source of affordable housing, particularly among rural and low-income households." … "The median annual household income of manufactured home residents who own their homes is about $35,000, half of the median annual income of site-built homeowners. Over one-quarter of manufactured home owners earn less than $20,000 annually and two-thirds earn less than $50,000 annually. By contrast, about a third of site-built homeowners earn less than $50,000 annually." More from that Fannie Mae report will follow the various headline media accounts.
Mobile homes [SIC] — one of America's more affordable housing options — is now a target of investors. More than 22 million Americans live in them, but policy experts say they could face up to a 70% rent increase depending on the investor, giving most residents no choice but to find a new home.
Among the reader comments posted on that video was this from Phoebe Davis: "If we don't have affordable housing, we will not have economic security. This includes teachers, policemen, firefighters and state workers. This is not just about low wage earners. The real concern is half of the country makes $35,000 or less. This is scary." To Davis' point: "Fifty percent of the U.S. workforce earned less than $35,000 in 2019, according to the Social Security Administration's (SSA) annual wage statistics," in a post dated 10.15.2020. A series of mainstream reports follows, sans some of the visual content, provided under fair use guidelines to compare contradictions with other sources and facts.  First up will be Fox Business' report, posted at this link here.
Note that Fox's reporter declined comment on factual or terminological concerns about this report.
Among the factual errors in what follows from Fox Business:
The common estimated number of Americans living in pre-HUD Code mobile homes and post-HUD Code manufactured homes are 22 million, not 20 million.
The writer and editor added the word "National" to the actual title of the Arlington, VA based Manufactured Housing Institute (MHI).
"Manufactured housing, even though the houses are affordable, if you can't afford to pay the rent then it's really not a deal," Nelson said. – that implies that manufactured homes are on rented or leased land, which is often not the case. Additionally, while the pattern of corporate ownership is 'accelerating,' smaller portfolios or mom and pop owned communities are still common.
There is no mention of the Manufactured Housing Improvement Act (MHIA) of 2000, a.k.a. the 2000 Reform Law, which was presumed to deal with the problem of local zoning and placement barriers.
There are no known MHI responses to this or the other following reports, despite former MHI chairman Tim Williams' common sense statement, quoted below.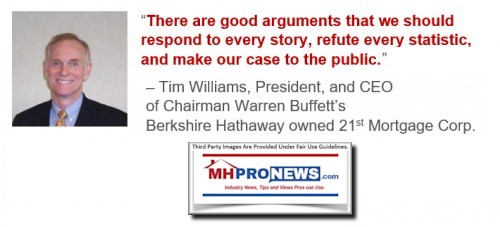 Mobile home rent increases skyrocketing as corporations take ownership
'The homeless groups are climbing. We gotta find a way to stop it,' Natividad Seefeld, a manufactured home resident, says.
By Mills Hayes | Published June 10, 2022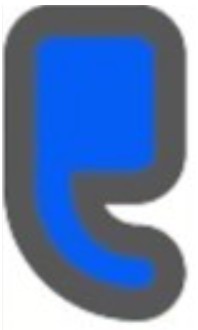 Rent in the U.S. is up over 20% according to rent.com. Mobile or manufactured homes have historically been one of America's most affordable housing options, but now investors are buying mobile home parks and jacking up the rent.  
Federal data shows about 20 million Americans — 6% of the population — live in manufactured homes. In Minnesota, 80% of them are considered low-income residents.
Natividad Seefeld calls Park Plaza Cooperative home, something she's grateful for now more than ever.  
"I spend a lot of time crying. Three of my friends right now are homeless in their vehicles," Seefeld said. She's taking care of a friend's dog because the dog is not allowed in nearby shelters.
Six states across the country — most recently Colorado in 2020 — have passed operation to purchase laws that have resulted in more resident-owned and nonprofit-owned parks.  
Seefeld lives in a resident-owned community where rent is just $520. Rent has barely budged since 2018. There was a $6 increase that was approved by residents to build a community center that doubles as a storm shelter. But parks owned by out-of-state companies are a different story.
"When I moved in, rent was around $694 a month, and now it's 840, and it's been four years," said Trevor Nelson, who lives in a park in Lake Elmo owned by an out-of-state company. He's also the president of All Parks Alliance for Change, a nonprofit that advocates for Minnesota's 180,000 manufactured home park residents.
"Manufactured housing, even though the houses are affordable, if you can't afford to pay the rent then it's really not a deal," Nelson said.
The cost of manufactured housing has increased too. The average sales price for a manufactured home has risen nearly 50% in the past two years, from $82,000 to $123,000. The cost of renting land for manufactured housing typically rises 4-6% per year.
Dave Anderson with Minnesota's All Parks Alliance for Change says out-of-state investor buyers see that land as profit.
Trevor Nelson, president of All Parks Alliance for Change, said corporate-owned manufactured home parks are increasing rent by $30-$40 a month every year.  
"Something has to be done about the rents. People are getting priced out," Anderson said. "There's no justification for the increase in rent. Other than just pure greed and profit."
Out-of-state buyers scooped up more than 80% of all home sites on the market in Minnesota in 2021.
"It's a big worry what's going to happen to manufactured housing," Seefeld said. "If we continue to see outside buyers come in, they come in, they get rid of amenities, they raise up the rent, they add on service fees and it just it's so different. Or maybe they come in and everything is great. You know, we only hear about the bad stuff."
RENT PRICES SURGE NATIONWIDE IN MAY, TEXAS CITY HIT HARDEST
Seefeld said people should keep in mind there are probably some good commercially-owned parks too, but changing over to a cooperative allows residents to control their finances, land and grants.
All Parks Alliance for Change says there are some laws working against manufactured homes being accepted. Some cities prohibit a manufactured home from being placed on a private lot. Others set up regulations that a site-built home could meet but a manufactured home could not.
The homes can be classified as personal property instead of real property. Owners get a title instead of a deed, which means you get a personal property loan instead of a traditional mortgage.
OTP laws could help prevent parks from closing, according to All Parks Alliance for Change. In the last ten years, Minnesota has lost over 1,000 manufactured home sites to permanent closures.  
"It's harder to get financing to buy the homes," Anderson said. "The communities — our neighborhoods — they're not treated the same as other neighborhoods. The zoning for the homes and the communities often says, and especially in the larger cities often says, 'Well, you can have a manufactured home, but you can't have it on a personal lot. You have to have it in the park, and the park can't be where the other residential areas are.'"
State trade associations say that many of these mom-and-pop-owned parks are in poor condition, and they sell to larger companies that come in and do renovations. When they come in, it's a matter of making these changes or shutting down the park entirely, forcing families to find another place to live.
While many residents are being priced out, the National Manufactured Housing Institute says most residents living in professionally managed communities are happy. They say over 55% of residents agree rent payments are below average or competitive to similar area offerings.  ##
Some pull quotes from the Washington Post:
'We're all afraid': "Massive rent increases hit mobile homes" 2022/06/06 Surging home prices and rents are cascading down to the country's mobile home parks…
As one of several examples why MHI's claim that legislation might fix the looming, costly DOE energy rule is flawed is this headline from the Washington Post:
On 01.21.2022  "After decades, Biden plans to make mobile homes greener…" "For the first time since 1994, the government must update energy-efficiency standards for manufactured houses."
That statement ignores the point that incremental upgrades to manufactured home energy efficiency have been voluntarily made by producers and suppliers since that date.
Per Go Banking Rate and Yahoo News is this item.
Mobile Home Dwellers Face Tripled Land Rent as Surging Housing Market and Inflation Rage On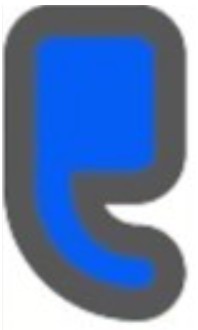 As home prices keep rising in 2022, a large percentage of the American public continue choosing different housing options. Mortgage rates are already high and expected to increase, which should raise demand and spur more people to move to rental homes, apartments and one of the most affordable housing choices — mobile homes.
The Washington Post reported inflation, as well as home and rental prices, are heavily impacting costs at mobile home parks, a housing sector already rife with high demand, low inventory and increasing interest by corporate investors.
With today's market leaning too heavily in favor of sellers for prices to drop anytime soon, times are hard for people already compromised financially and living in mobile or manufactured houses because they have no other choice.
The New York Times reported that about 22 million Americans reside in manufactured homes, according to national trade organization Manufactured Housing Institute. Per Fannie Mae, manufactured housing accounts for 6.3% of the nation's housing units.
Already overpriced out of house and apartment rentals, many mobile homeowners have seen their monthly lot fees increase by at least 10-25% in 2022, according to those asked by The Washington Post. Others say that their rents have doubled or even tripled.
Those thinking about buying a manufactured or mobile home might have second thoughts, too. In the U.S., census stats show that average sales price for manufactured homes increased by 50% — from $82,900 to $123,200 — during the pandemic. The Post stated significantly less of a hike (22%) in new home prices in that period, as federal data indicated.
However, while all home sales and rental prices are tracked by a number of governing industry bodies, there seems to be less trust in what dictates appropriate land or lot rent charges and how much a private landowner can demand from mobile or manufactured homeowners. Few municipalities and states have rules governing rent increases or evictions at mobile home parks, leaving lot renters with little recourse against mobile housing corporations.
Despite the feeling of stability and sense of accomplishment that come with owning a manufactured or mobile home, many cannot afford the land rent to enjoy it. Manufactured-housing operators are buying up parks all across the country and upping rents dramatically along the way.
According to the market research firm Real Capital Analytics, as of June 2021, institutional investors account for 23% of the manufactured housing purchases over the past two year, up from 13% the two years previous.
According to The Post, there is also a concerning and growing trend by corporate owners to buy mobile home parks, then dismantle them in favor of building money-making investments like condo towers, resorts and wedding venues. This, in turn, leaves many with a mobile or manufactured home, but no land to put it on. ##
Next up is this Vice News video that has gone viral. While the headline speaks of renters, it has a considerable focus on manufactured homes, and includes several segments that specifically interview Frank Rolfe. It mentions Rolfe's and other Manufactured Housing Institute (MHI) member firms, even if they are not clearly identified as MHI members. Posted on 5.24.2022, the video entitled "Renters In America Are Running Out Of Options" has had some 2,327,906 views circa 2.06 PM ET on 6.17.2022. That 2.3 million views totally dwarfs all of the known MHI posted video content several times over. Put differently, this mostly 'bad news' view by Vice has had more reach – and thus impact – than all MHI videos combined, no matter how slick or feel good those might be to their clearly limited numbers of followers.
The sheer total tends to support the statement made by loyal MHI member and MHVillage Co-President, Darren Krolewski about bad news regarding manufactured housing outweighing in the public mind the good news about manufactured homes. His precise statement, and that of others, are related in the linked report below.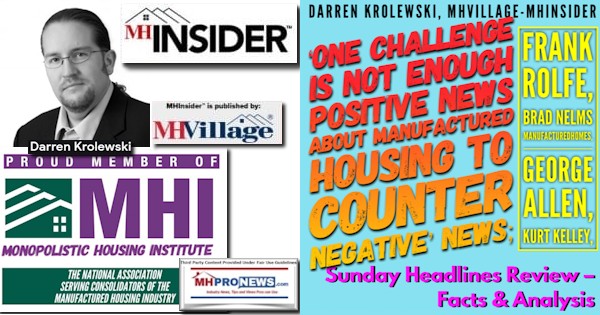 Per Vice News' viral video YouTube page: "The need for affordable housing continues to grow in urban centers. The traditional form of affordable housing for suburban and rural areas, mobile homes, have become overrun with speculation, pricing people out through a new type of landlord – private equity." That statement amplifies what HBO's John Oliver said in his video that has achieved over 9 million views since it was posted on the theme of "Mobile Homes" in April 2019. That video also featured Rolfe, Warren Buffett, Clayton Homes, and several MHI member brands.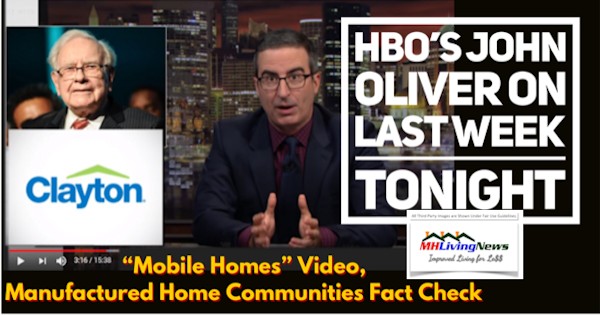 Each of these examples begs the question: in what sense is the Manufactured Housing Institute (MHI) 'enforcing' it's so-called code of ethical conduct? Or is that 'ethical conduct' standard merely a window-dressing document, meant to offer the illusion of good behavior, when in fact MHI is offering its so-called good name as cover for firms that others have repeatedly called or revealed to be predatory?
Additional Information from Fannie Mae's 2021 Research by Tanya Zahalak Senior Multifamily Economist May 15, 2020
 "Manufactured Housing: A Source of Affordable Housing
Factory-built manufactured homes meeting the HUD Code standard have substantially lower all-in monthly housing costs than site-built homes."  Consider that statement with respect to the widely decried result from the Department of Energy (DOE) energy rule.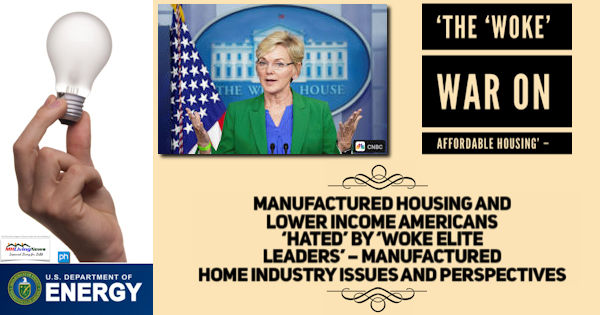 Zahalak's conclusion to her report for Fannie Mae continued as possible. "As a result, it is important to preserve this source of unsubsidized housing for lower- income residents. In addition, factory-built manufactured housing is an affordable option for buyers desiring a new home. Notwithstanding a likely short-term decline in manufacturing from the impact of COVID-19, if the industry is able to increase the shipments of manufactured homes to the 30-year long-term annual average of 185,000 units, manufactured housing could meaningfully increase the nation's housing supply. However, this would entail other wide-ranging changes. Changes that may be needed to reach this level of manufactured housing supply include local zoning changes, further innovations in the manufactured housing construction process, changes in the titling process, improved access to affordable financing, and even likely increasing the number of manufactured housing servicers."
Their projections for new manufactured home shipments post-COVID190 proved too low. The actual production and shipments of new manufactured homes are as follows.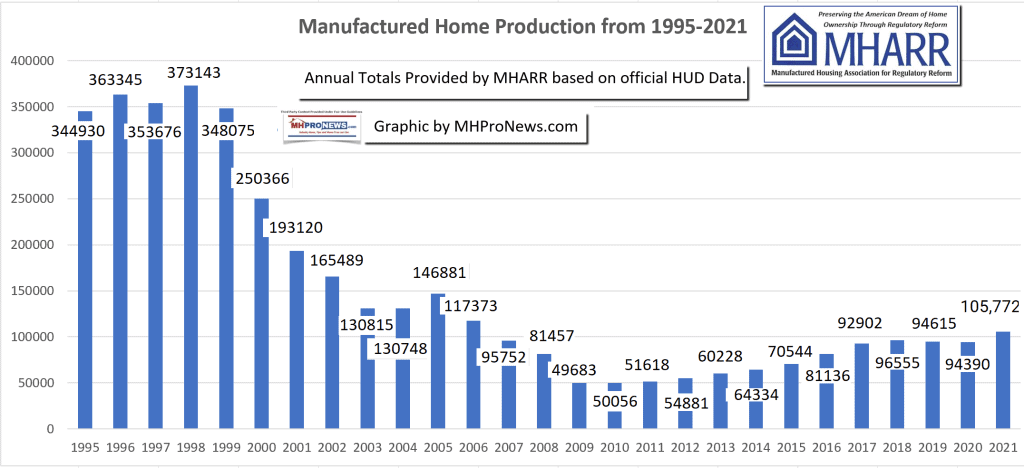 Earlier in Zahalak's report for Fannie Mae, was this statement.
"Local Zoning Has Not Kept Pace with Innovations
Some local zoning barriers for manufactured homes are rooted in a preference for municipalities wanting to maintain certain aesthetics that are typical of traditional, site-built homes. Recent innovative designs have made some manufactured homes conforming to the HUD Code visually indistinguishable from site-built homes. These types of manufactured homes may have high-pitched roofs, front porches, and decorative windows and trims. In addition, a recent report from the Federal Housing Finance Agency suggests that manufactured homes affixed to land may appreciate at rates similar to site-built homes, better enabling low- and middle-income families to realize the potential wealth-building benefits of homeownership. Despite this progress, not all state and local regulations have kept up with recent developments."
Zahalak's Fannie Mae report noted the following trend.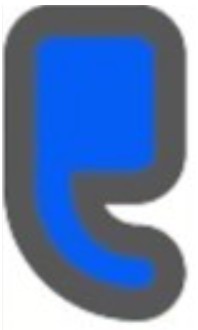 Shipments Growing More Concentrated
Nevertheless, certain states are more favorably disposed to manufactured homes. With the exception of California and Michigan, these states are predominantly located in the south. Texas generally receives the largest share, accounting for about a fifth of new home shipments annually. In fact, shipments to favorably disposed states have grown more concentrated. The top 10 states accounted for 62% of annual shipments in 2018, up from 54% just six years prior. Only one state in the top ten, Louisiana, saw a decline in shipments, to 5.0% in 2018 from 7.4% six years prior."
Apparently with no sense of irony on her part, Zahalak's report said the following.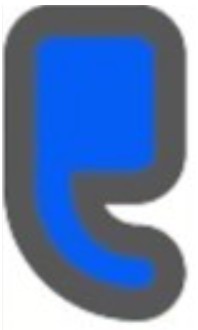 Chattel Financing Can be More Expensive
In general, lenders consider chattel – or "home only" – lending to be riskier since the loan is only secured by the home, whereas a conventional loan is secured by both the land and the home. Data collected under the Home Mortgage Disclosure Act (HMDA) in 2018 suggests that interest rates charged for loans secured only by a manufactured home are higher on average than for a conventional mortgage loan. In 2018, the average interest rate for loans backed only by the manufactured home was 8.5%, compared to 4.7% for loans on site-built single-family homes and 5.4% on loans secured by both the manufactured home and the land on which the home is located. In addition, loan terms are generally 20 years instead of the typical 30 years for fixed-rate mortgages, which increases the monthly payment. Certain chattel financing products may have fewer consumer protections than mortgage loans. Even so, some consumers prefer chattel lending because transaction costs for chattel lending are the time to close the loan is generally faster for chattel."
What makes that ironic is that Fannie Mae and Freddie Mac have successfully resisted the implementation of the Congressionally mandated Duty to Serve (DTS) Manufactured Housing enacted as party of the 2008 Housing and Economic Recovery Act (HERA). See the report linked below that features the Manufactured Housing Association for Regulatory Reform (MHARR) President and CEO, Mark Weiss, calling out the hypocrisy of Freddie Mac (and by extension, Fannie Mae too) for their part in failing to follow Congressionally imposed mandates.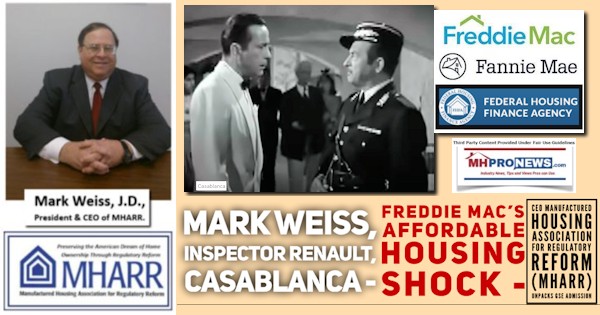 Back to Zahalak's narrative for Fannie Mae about manufactured homes:
"Manufactured housing refers to housing built in a factory after June 15, 1976 and constructed in accordance with the U.S. Department of Housing and Urban Development's Manufactured Home Construction and Safety Standards code (HUD Code), which sets minimum standards for size and quality of construction. Factory-built manufactured homes that meet these standards post a HUD label and are subject to federal regulations that supersede local building regulations. Homes built before this date are considered mobile homes and are typically of a lesser quality construction.
It is important to note that recreational vehicles, park trailers, and park model homes are built to different standards and are not considered manufactured homes. In addition, although modular homes are often built in the same facilities as manufactured homes, they are not considered manufactured housing under the formal definition because they are built to local standards in the state where the home will ultimately be located, rather than to HUD standards."
As additional support for the above are the following definitions.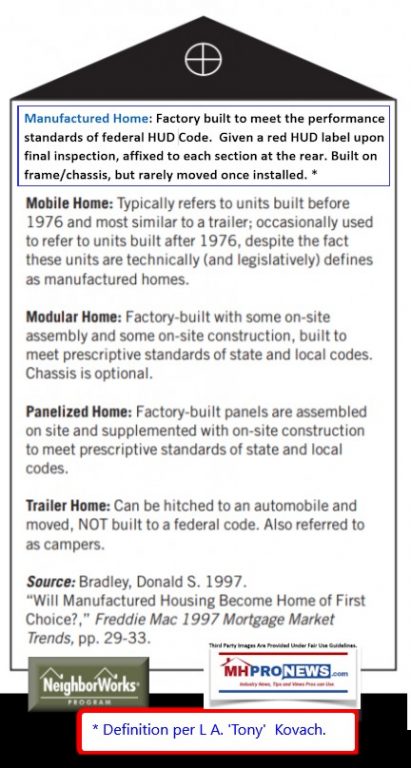 Much of the evidence and factual insights that Zahalak's narrative for Fannie Mae, reflected in these graphical data-points shown below, are reasons why manufactured housing ought to be soaring in the affordable housing crisis.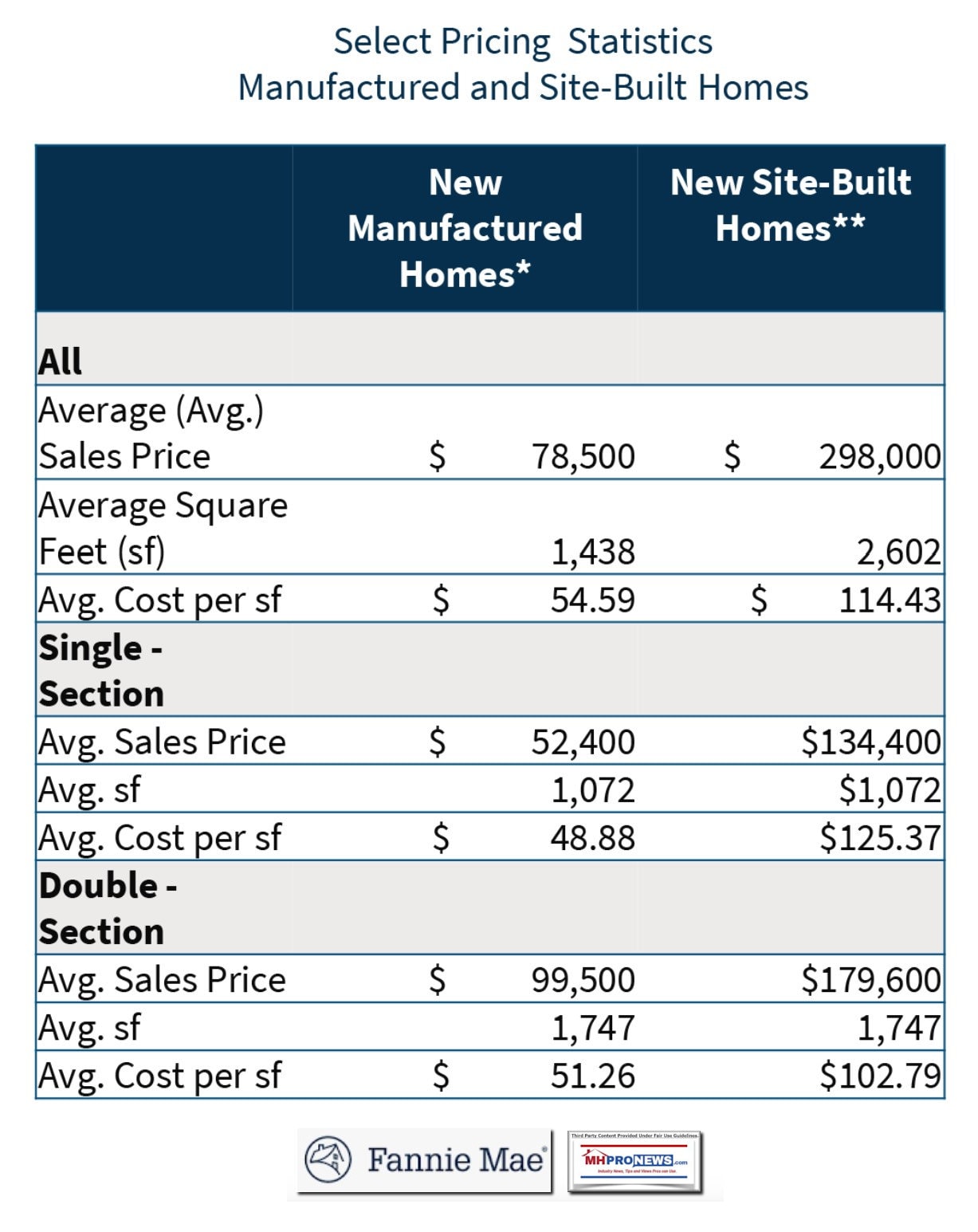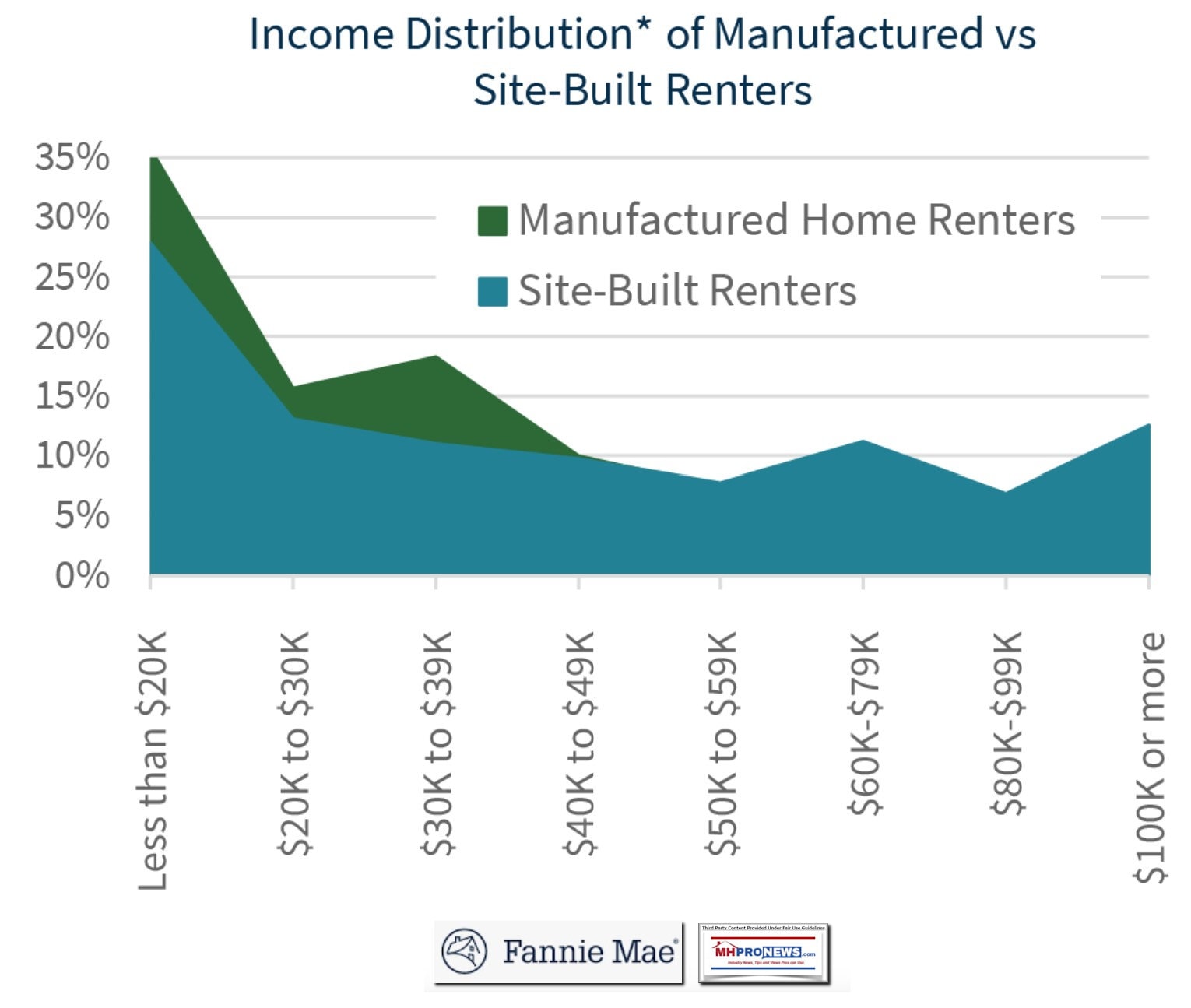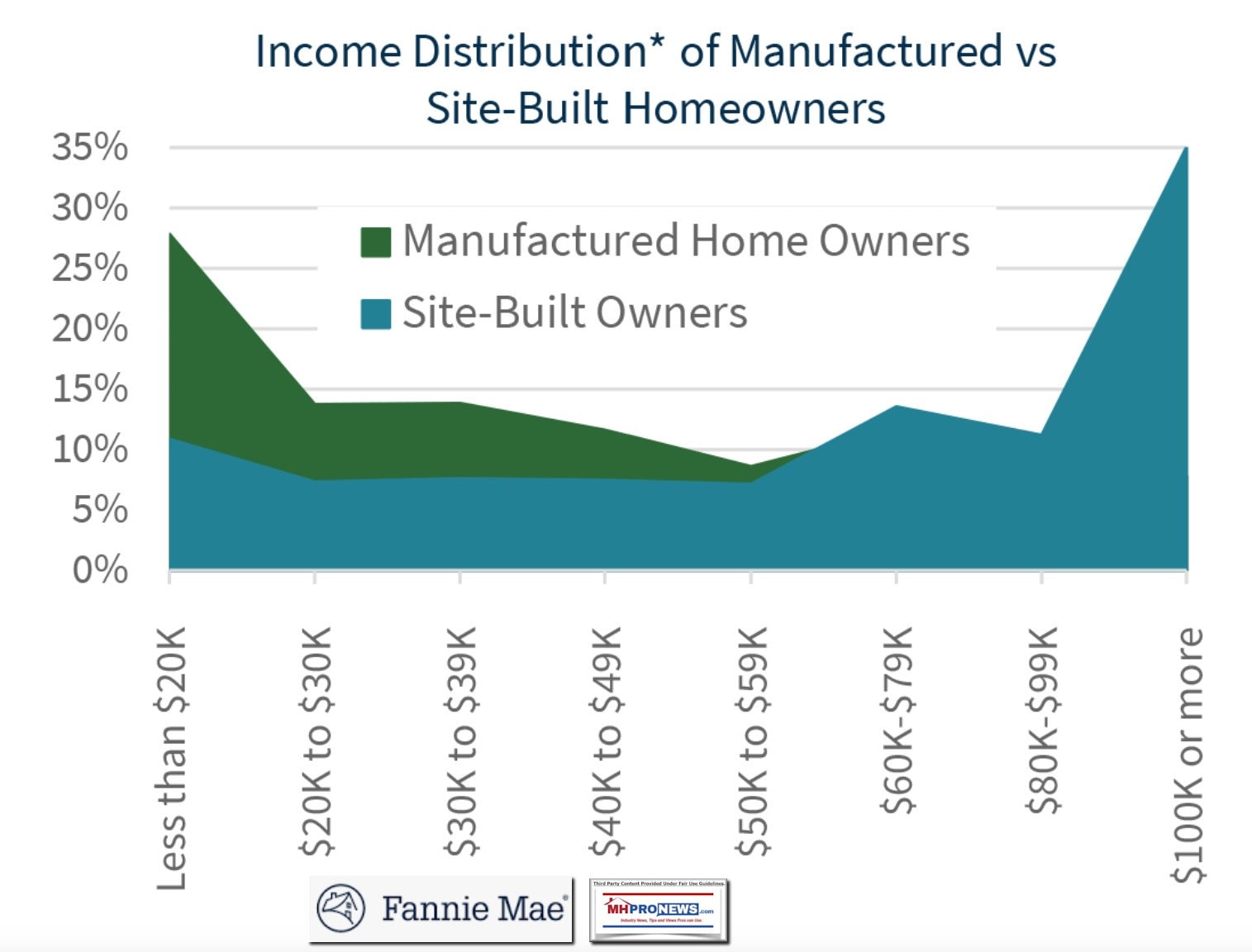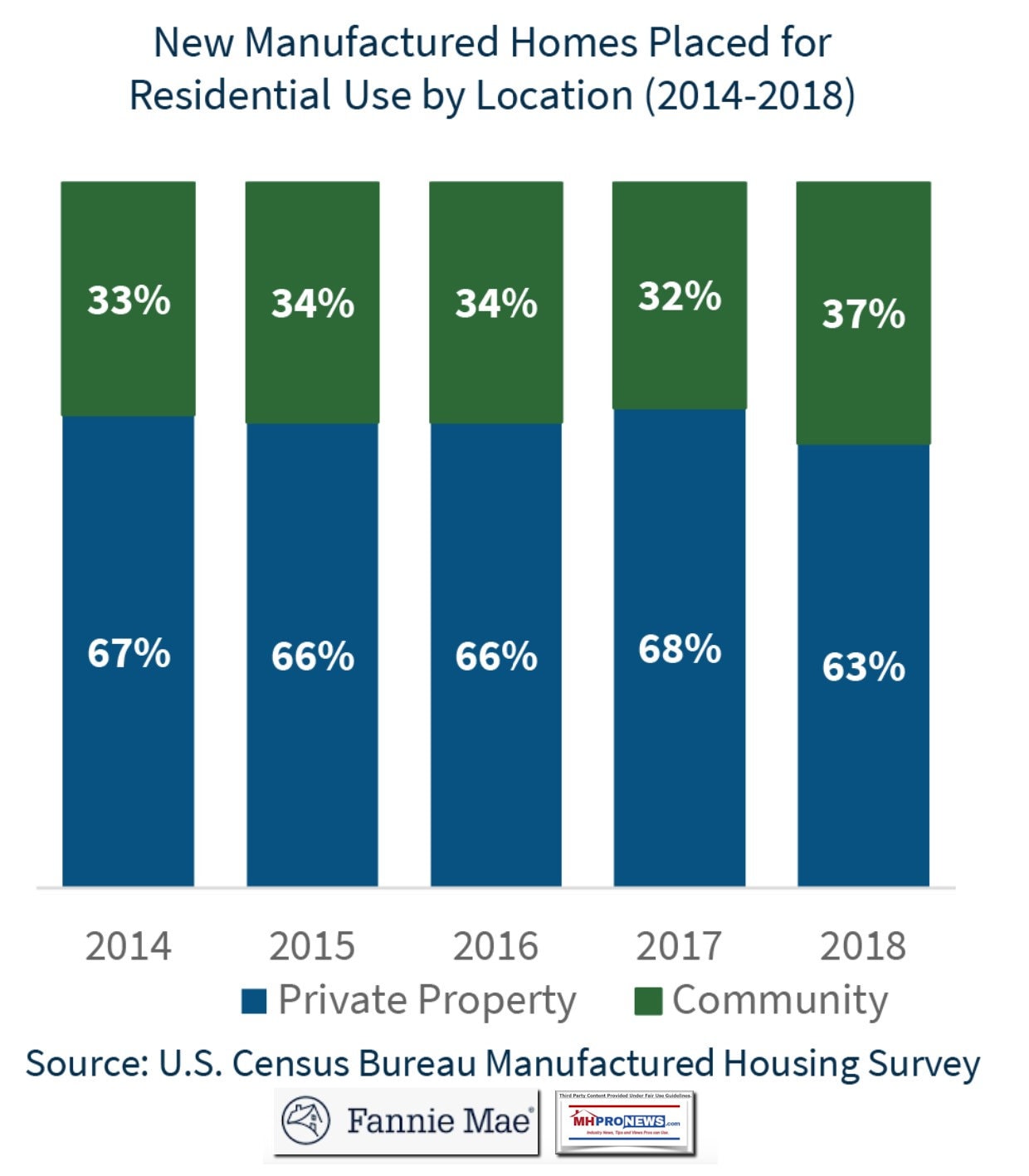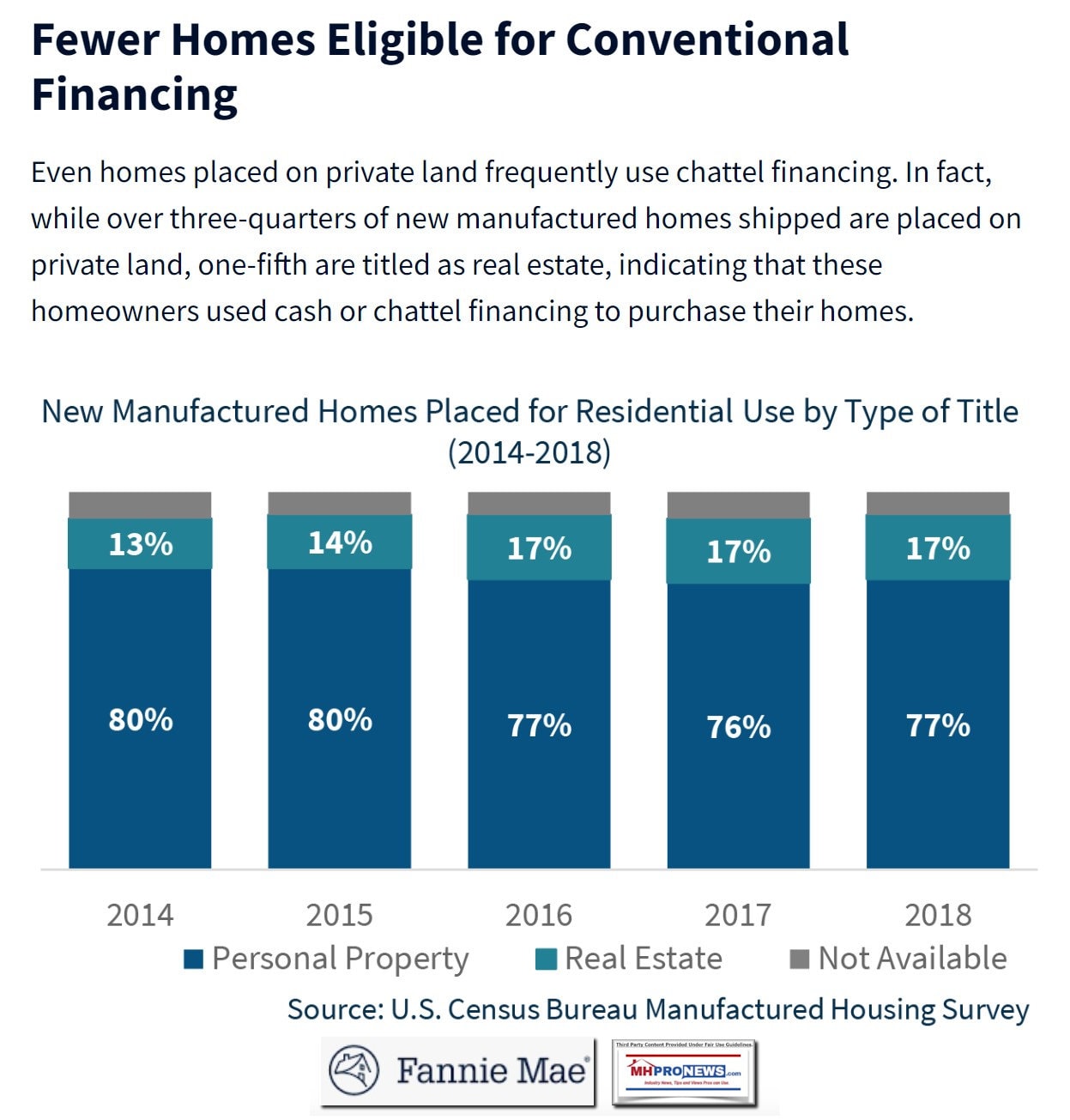 Yet, despite this potentially impressive array of data, Congressional mandates enacted in a widely bipartisan manner that were meant to support manufactured housing are going unfulfilled. Such points that follow are rarely mentioned in mainstream media accounts.
For instance, the MHIA's "enhanced preemption" provision is alluded to, but not specified by Zahalak.
Or Fannie's and Freddie's respective failures to implement manufactured home chattel lending to fulfill their DTS mandates. That failure is amply documented by third party research, such as that by the Consumer Financial Protection Bureau (CFPB) or the Urban Institute (see linked items below).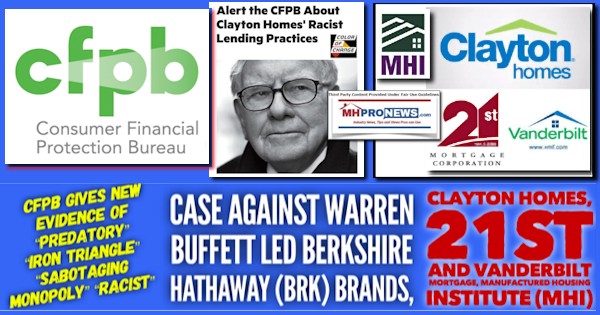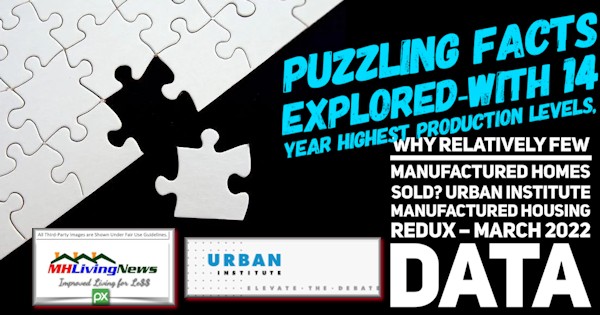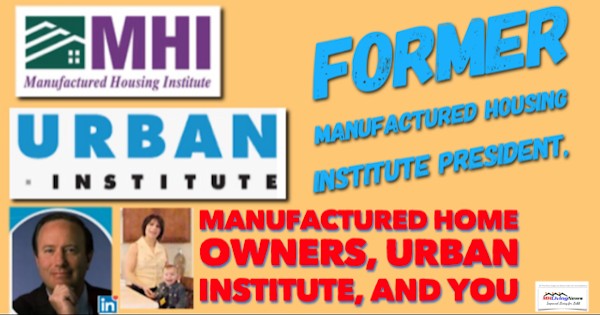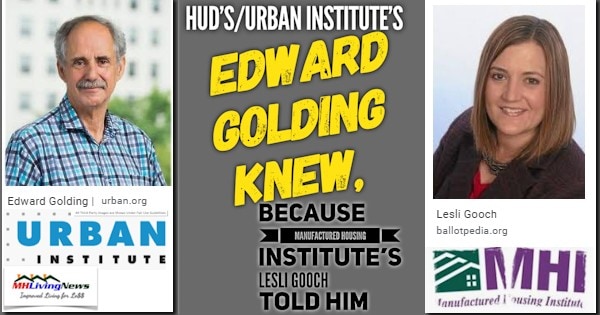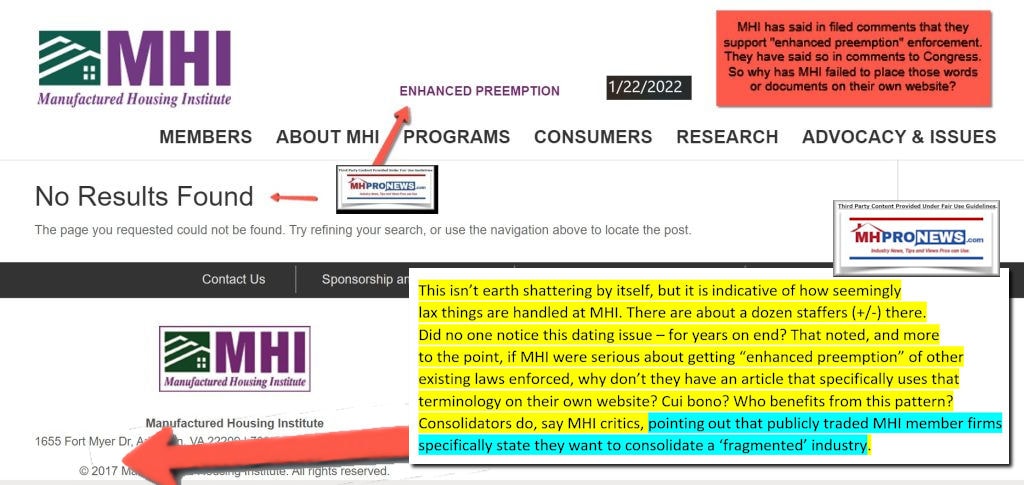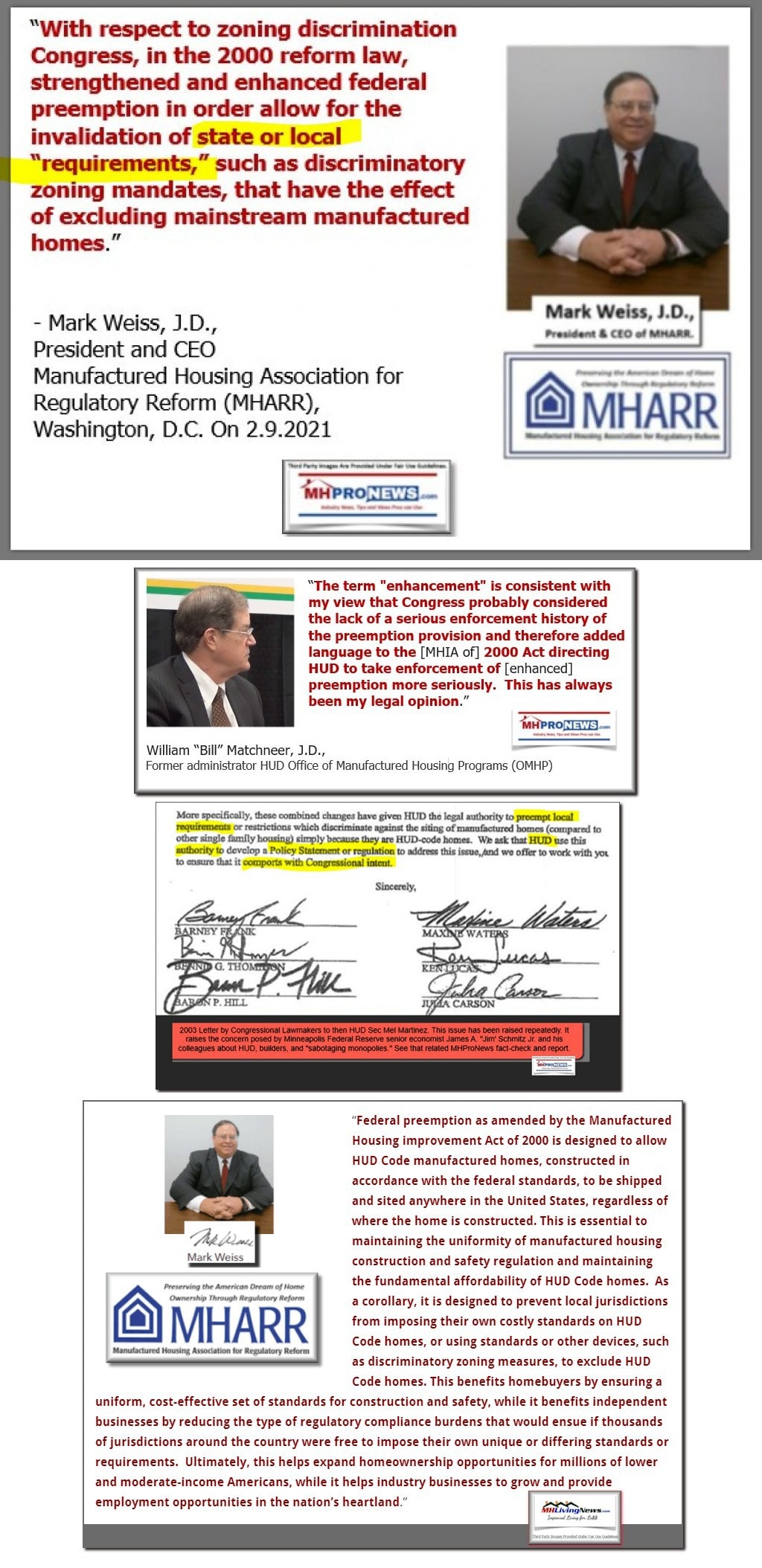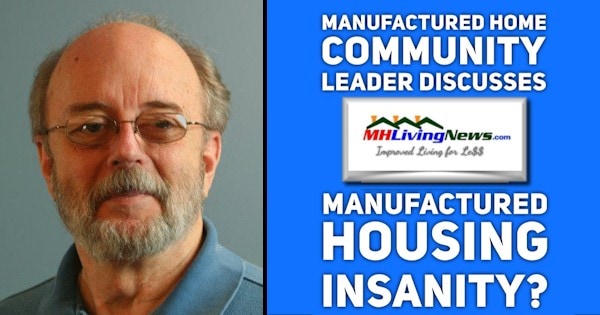 Despite the posturing by MHI and their outside attorneys, they don't defend the association's so-called 'good name' when they are confronted by facts. Reports such as the ones linked below illustrate the accuracy of that claim.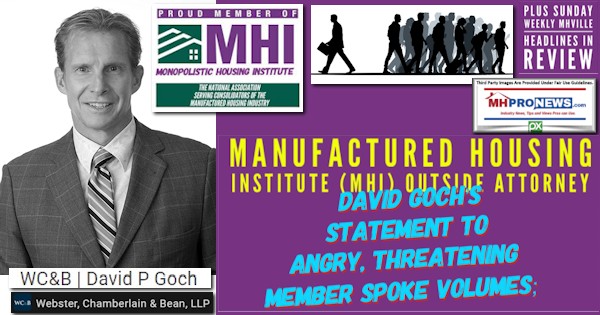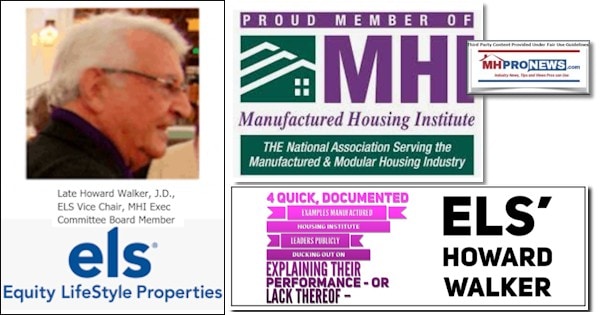 The fact that breakaway efforts and discussion of creating a new post-production representation for manufactured housing has been ongoing for years is further evidence that MHI is failing at their claimed mission.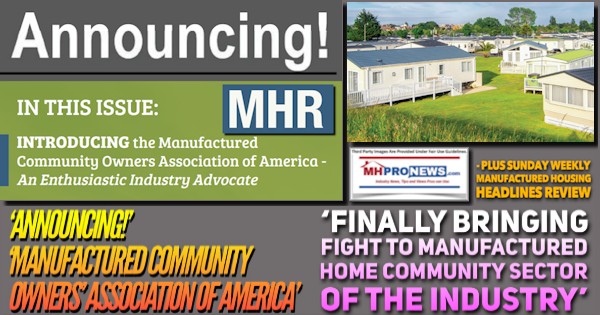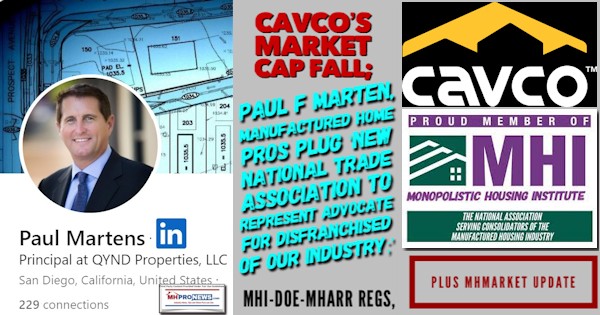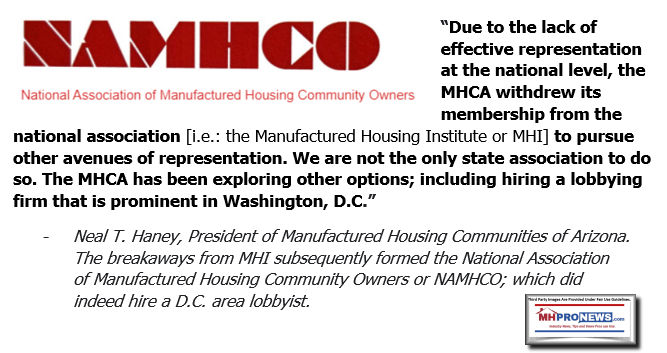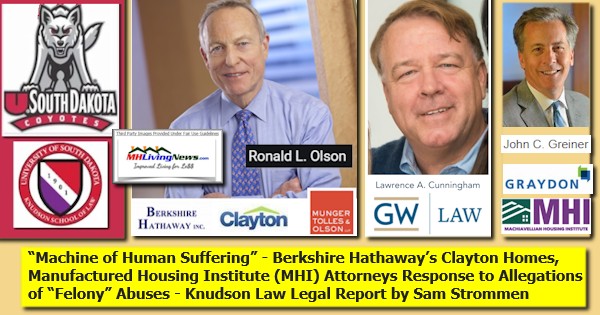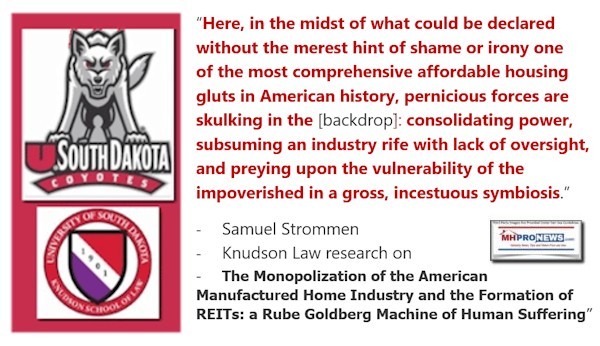 Why doesn't mainstream media press MHI and their corporate leaders to account by revealing these facts and such evidence?  And in the face of such evidence, isn't MHI's posturing a bad joke on those who might actually trust or believe them?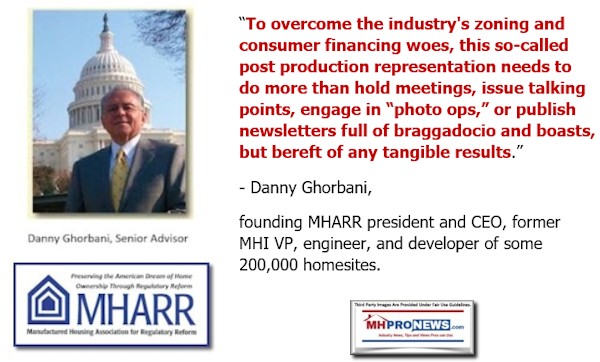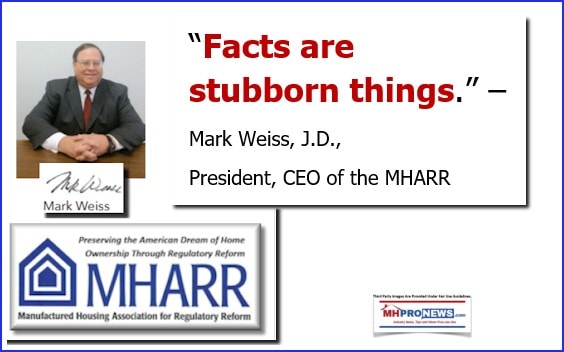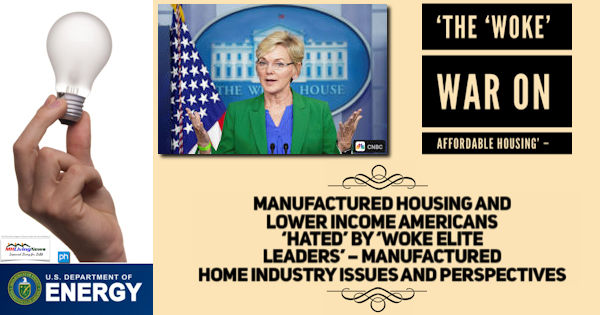 Next up is our daily business news recap of yesterday evening's market report, related left-right headlines, and manufactured housing connected equities.
The Business Daily Manufactured Home Industry Connected Stock Market Updates.  Plus, Market Moving Left leaning CNN and Right-leaning (Newsmax) Headlines Snapshot. While the layout of this daily business report has been evolving over time, several elements of the basic concepts used previously are still the same. For instance. The headlines that follow below can be reviewed at a glance to save time while providing insights across the left-right media divide. Additionally, those headlines often provide clues as to possible 'market-moving' news items.
Market Indicator Closing Summaries – Yahoo Finance Closing Tickers on MHProNews…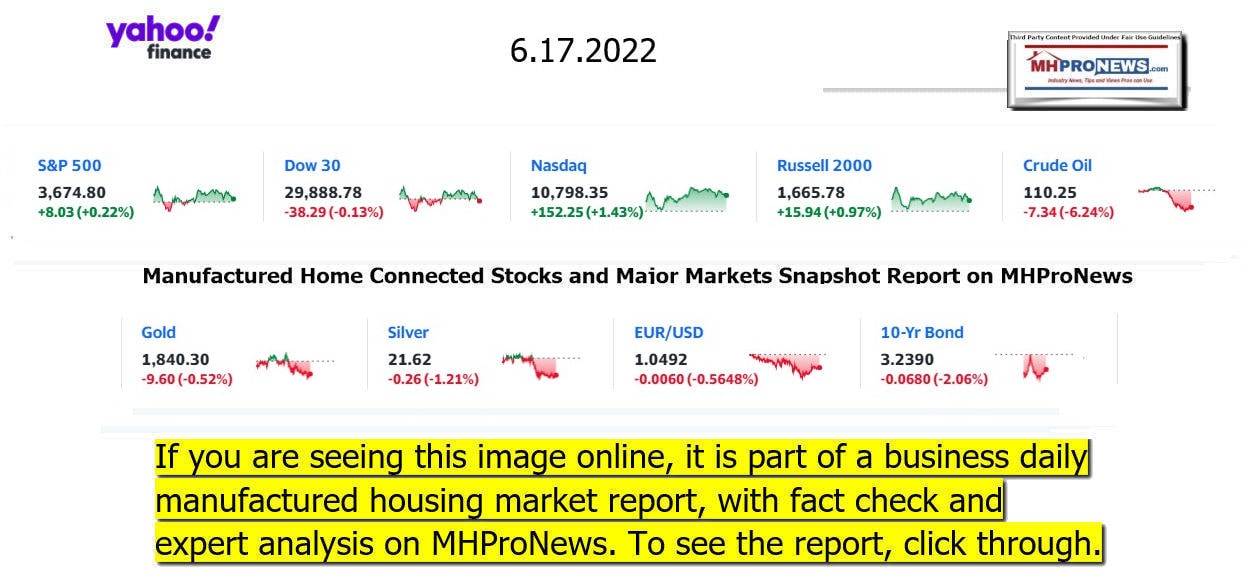 Headlines from left-of-center CNN Business – from the evening of 6.17.2022
Crypto crumbles
An overall view of TD Garden during Game Six of the 2022 NBA Finals between the Golden State Warriors and the Boston Celtics on June 16, 2022 in Boston, Massachusetts.
The NBA raked in over a billion dollars in crypto ads this season, but the industry tanked anyway
TikTok moves US users' data to Oracle servers to address security concerns
Here's what the Fed rate hike means for your salary
A spate of layoffs is fueling recession anxiety
Chipmakers brace for more trouble as Russia limits exports of rare gases
What the mortgage rate spike means for first-time home buyers
Opinion: The Fed's latest rate hike will be a disaster for the economy
Analysis: Stocks won't be satisfied until the Fed beats them into submission
Walgreens Boots Alliance CEO: 'I took pay cuts' to advance career
These renters were hit hardest by the pandemic and they're still struggling
As landmark antitrust legislation looms, Big Tech CEOs visits Congress
How to make the most of your time with the boss
SpaceX CEO Elon Musk provides an update on the development of the Starship spacecraft and Super Heavy rocket at the company's Launch facility in Boca Chica, south Texas, on February 10.
SpaceX fires at least five for letter criticizing Elon Musk
Contractors work on the roof of a house under construction in the Stillpointe subdivision in Sumter, South Carolina, U.S., on Tuesday, July 6, 2021.
One more sign the housing market is cooling off
ENERGY
Fuel prices at a Shell station in Menlo Park, California, US, on Thursday, June 9, 2022.
Why the price you pay at the pump always ends in 9/10 of a cent
Triple whammy for EU gas supplies sends prices soaring
Europe is making it harder for Russia to ship oil
3 reasons high oil prices are here to stay
Big Oil has 'perverse' incentives to price gouge
WEEKEND READS
Stephanie Elam and Rosalind Brewer
Walgreens Boots Alliance CEO: 'I took steps down to get up'
End of an era: Microsoft retires Internet Explorer
Men want pearls and they're not afraid to wear them
Russia is 'hemorrhaging' millionaires
America's workers gained power during Covid. A volatile economy will put that to the test
EAST RUTHERFORD, NJ – FEBRUARY 16: Vince McMahon attends a press conference to announce that WWE Wrestlemania 29 will be held at MetLife Stadium in 2013 at MetLife Stadium on February 16, 2012 in East Rutherford, New Jersey.
Vince McMahon steps down as WWE CEO following hush money allegations
Headlines from right-of-center Newsmax 6.17.2022
Trump in Nashville: 'We Don't Worship Govt, We Worship God'
Calling freedoms of speech and religion the most important liberties of all, Trump denounced the "merciless assault from the radical left". He was addressing he Faith and Freedom Coalition's Road to Majority Policy Conference in Nashville on Friday. [Full Story]
Related Stories
Trump: 'Would Anybody Like Me to Run for President?'
Trump: 'I Never Called Mike Pence a Wimp'; He's 'No Thomas Jefferson'
Russian Invasion of Ukraine
Britain's Boris Johnson Meets Zelenskyy in Kyiv
Russia's Gazprom Signs Deal for China Pipeline
Putin: No Objection to Ukraine Joining EU
Lavrov: Russia 'Did Not Invade Ukraine'
Leaders of France, Germany, Italy, Romania Pledge Arms and EU Path for Ukraine
Cyberattack Delays Putin Speech
Ukraine Scraps Visa-Free Travel for Russians
EU Backs Ukraine's Membership Bid as War Brings Huge Shift
More Russian Invasion of Ukraine
Newsmax TV
Devin Nunes: Truth Social Bans No One, Not Even Calif. Gov. Newsom
Devin Nunes: Truth Social Bans No One, Not Even Calif. Gov. Newsom | video
Kelly Tshibaka: Murkowski Betraying Alaska on Guns | video
Texas Rep. Harrison: HHS Should Be Able to Define What a Woman Is | video
Bentz: Oregon's Drug Decriminalization Making Matters Worse | video
Devin Nunes: Truth Social Bans No One, Not Even Newsom | video
Donald Trump Jr.: Biden Has United America … Against WH
Sullivan: US Must Continue to Support Taiwan | video
More Newsmax TV
Newsfront
Police: 3rd Victim in Alabama Church Shooting Dies
The third victim of a church shooting in Alabama has died, police said Friday.The 84-year-old woman died at a hospital a day after a gunman opened fire with a handgun Thursday at St. Stephen's Episcopal Church in the Birmingham suburb of Vestavia Hills, the police…… [Full Story]
Slack Bans Conservative FAIR Immigration Reform Group
Slack, the company behind the popular communications application of [Full Story]
Donald Trump: 'We Don't Worship Govt; We Worship God'
Donald Trump delivered a speech to the the Faith and Freedom [Full Story] | video
USA TODAY Poll: President Biden's Approval Rating Hits Tenure Low at 39 Percent
President Joe Biden's approval ratings keep sinking to new lows. On [Full Story]
Frank Luntz: 'Absolute Explosion on Inflation' in Under Two Weeks
Republican pollster Frank Luntz told CNBC on Friday that the U.S. is [Full Story]
Newsmax Hosts N.Y. Republican Governor Debate In Rochester
Newsmax announced today it will hold and televise a live New York [Full Story]
Americans Concerned About EU Tech 'Overhauls' Worry US is Next
The European Union's recent massive overhaul of its digital landscape [Full Story] | Platinum Article
White House: Florida Doctors Can Order Under-5 COVID Shots
Florida doctors will be able to directly order COVID-19 vaccines for [Full Story]
Google Billionaire Sergey Brin Files for Divorce
Google co-founder Sergey Brin, worth $93 billion, has filed for [Full Story]
Analyst: Gas Prices Could Drop to $4.75 in 2 Weeks
Gas prices could fall to as low as $4.75 a gallon by July 4, Patrick [Full Story]
Former NASCAR Driver Clint Bowyer Involved in Deadly Crash
An investigation is complete after a deadly crash involving former [Full Story]
NYC Mayor Touts Drag Storytellers in Libraries, Public Schools
New York City Mayor Eric Adams is touting a program that sends drag [Full Story]
Putin: No Objection to Ukraine Joining EU
President Vladimir Putin told Russia's showpiece investment [Full Story]
Ex-NYC Teacher: Elite Private Schools Telling Kids the System Must Be Destroyed
A former New York City public school teacher is claiming that elite [Full Story]
Fauci, Rand Paul Spar Again at Senate Hearing
Rand Paul, R-Ky., and Dr. Anthony Fauci on Thursday engaged in [Full Story]
Senate Armed Services Committee Advances 2023 Defense Bill
The Senate Armed Services Committee sent to the full chamber its [Full Story]
Ex-Trump Adviser Navarro Pleads Not Guilty to Contempt of Congress Charges
Former Republican President Donald Trump's adviser Peter Navarro [Full Story]
FDA Authorizes 1st COVID-19 Shots for Infants, Preschoolers
S. regulators on Friday authorized the first COVID-19 shots for [Full Story]
WWE CEO Vince McMahon Steps Down Amid Misconduct Probe
WWE Inc. said Friday it launched an investigation into alleged [Full Story]
Biden Team Again Considers Gas Rebate Cards
Senior White House aides are again looking at whether rebate cards [Full Story]
As Abortion Ruling Nears, US Supreme Court Erects Barricades to the Public
Encircled by an ominous security fence and off-limits to the public [Full Story]
UK Gives Go-Ahead to US Extradition of WikiLeaks' Founder Julian Assange
British interior minister Priti Patel on Friday approved the [Full Story]
Golden State Warriors Win 4th NBA Championship in 8 Years
The Golden State Warriors cemented their place as one of the NBA's [Full Story]
Musk Offers Billion-User Vision for Twitter
Elon Musk is pitching a vision to Twitter staff of a one-billion-user [Full Story]
Conservative Change Lurking in Canada, the Great White North
Conservative Change Lurking in Canada, the Great White North
Six candidates will compete in the Conservative Party of Canada's [Full Story]
NY Post Endorses Lee Zeldin
The New York Post made a bold call in a gubernatorial endorsement for [Full Story]
Devin Nunes Welcomes Dem Gov. Newsom to Truth Social
Making strange bedfellows Thursday, Trump Media and Technology Group [Full Story]
Police: 1 Dead, 2 Hurt in Alabama Church Shooting
A shooting at a church in a suburb of one of Alabama's major cities [Full Story]
Report: Jan. 6 Panel Blocking DOJ on 1,000 Witness Transcripts
The Department of Justice asserts that the House Jan. 6 Select [Full Story]
US Energy Chief to Discuss Record Pump Prices With Refiners Next Week
US Energy Chief to Discuss Record Pump Prices With Refiners Next Week
Energy Secretary Jennifer Granholm called an emergency meeting with [Full Story]
5 Former Fraternity Members Sentenced in Hazing Death
Three former fraternity members were sentenced Thursday to jail terms [Full Story]
Finance
Russia's Gazprom Signs Deal for China Pipeline
Russia on Thursday cut flows to Europe's most important natural gas pipeline for the second straight day as leaders of the continent's three biggest economies visited Kyiv in a sign of support for Ukraine…. [Full Story]
Revlon Borrows $375M in Bankruptcy to Shore up Supply Chain
Bidding Tops $12.3M for Warren Buffett Charity Lunch
Verizon, AT&T to Delay Some 5G Until Mid 2023
Peter Reagan: 3 Ways Historic Inflation Has Changed Everything
Health
FDA Authorizes 1st COVID-19 Shots for Infants, Preschoolers
S. regulators on Friday authorized the first COVID-19 shots for infants and preschoolers, paving the way for vaccinations to begin next week…. [Full Story]
Boomers Sicker Than Parents Were at Same Age
A Deadly Heat Wave Has Hit the US: How to Protect Yourself
Previous Infection With Omicron Does Not Protect Against Reinfection
Beer is Beneficial to a Man's (Beer) Gut
MHProNews has pioneered in our profession several reporting elements that keep our regular and attentive readers as arguably the best informed in the manufactured housing industry. Among the items shared after 'every business day' (when markets are open) is our left-right headline recap summary. At a glance in two to three minutes, key 'market moving' news items are covered from left-of-center CNN Business and right-of-center Newsmax. "We Provide, You Decide." © Additionally, MHProNews provides expert commentary and analysis on the issues that others can't or won't cover that help explain why manufactured housing has been underperforming during the Berkshire era while an affordable housing crisis and hundreds of thousands of homeless in America rages on. These are "Industry News, Tips, and Views Pros Can Use" © features and others made and kept us the runaway #1 in manufactured housing trade publisher for a dozen years and counting.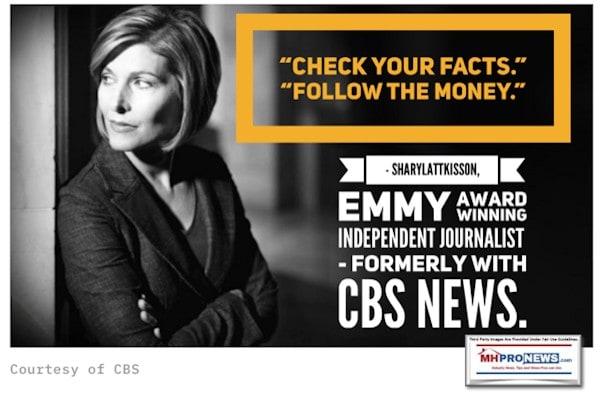 Manufactured Housing Industry Investments Connected Equities Closing Tickers
Some of these firms invest in manufactured housing, or are otherwise connected, but may do other forms of investing or business activities too.
NOTE: The chart below includes the Canadian stock, ECN, which purchased Triad Financial Services, a manufactured home industry lender
NOTE: Drew changed its name and trading symbol at the end of 2016 to Lippert (LCII).
NOTE: Deer Valley was largely taken private, say company insiders in a message to MHProNews on 12.15.2020, but there are still some outstanding shares of  the stock from the days when it was a publicly traded firm.  Thus, there is still periodic activity on DVLY.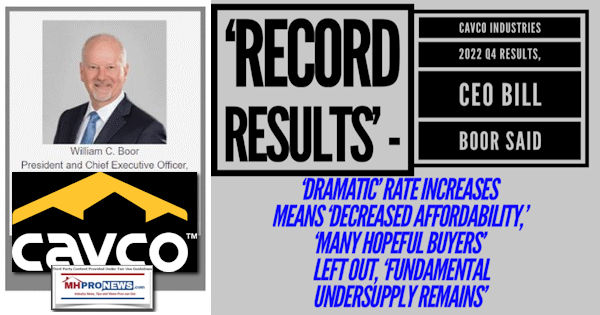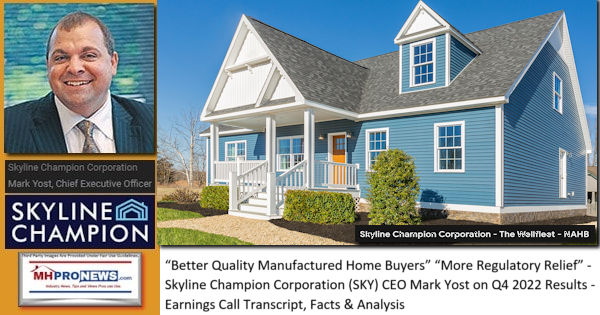 Manufactured Home Communities (a.k.a. 'Mobile Home Parks' – SIC) – Exploring UMH Properties; Fellow Manufactured Housing Institute Member Yes! Communities Suits and Settlements; plus MH Markets Updates
'Announcing!' 'Manufactured Community Owners' Association of America' 'Finally Bringing Fight To Manufactured Home Community Sector of the Industry' – plus Sunday Weekly Manufactured Housing Headlines Review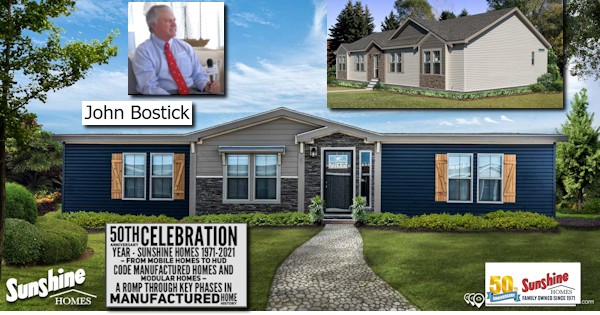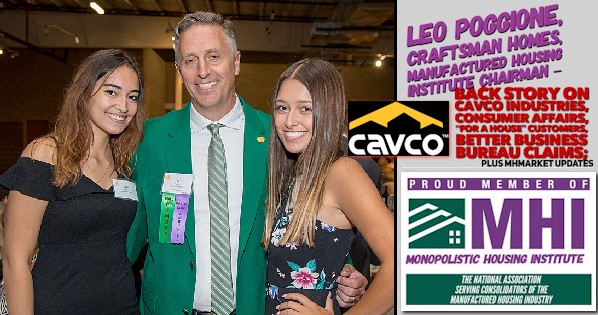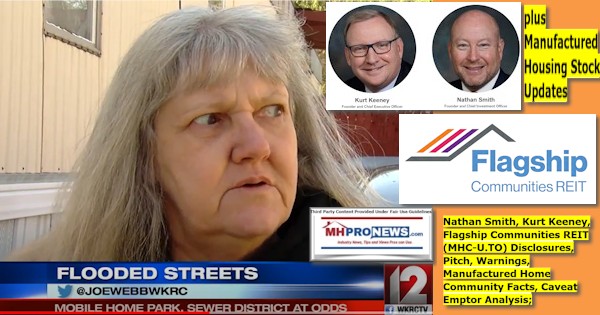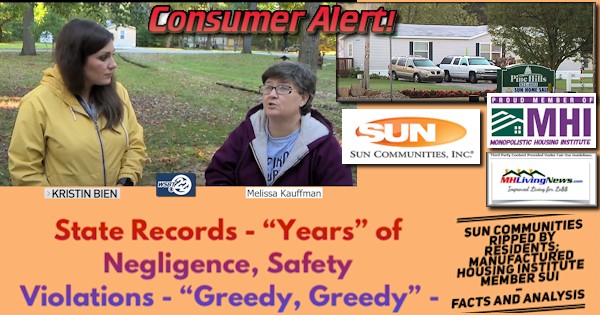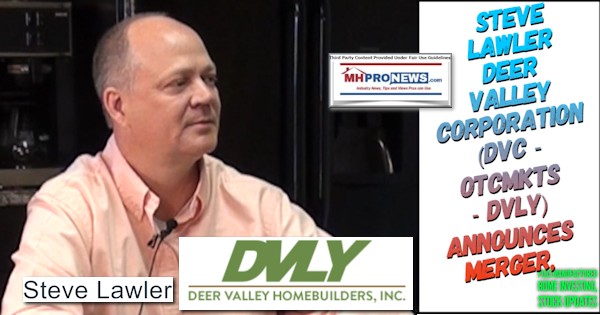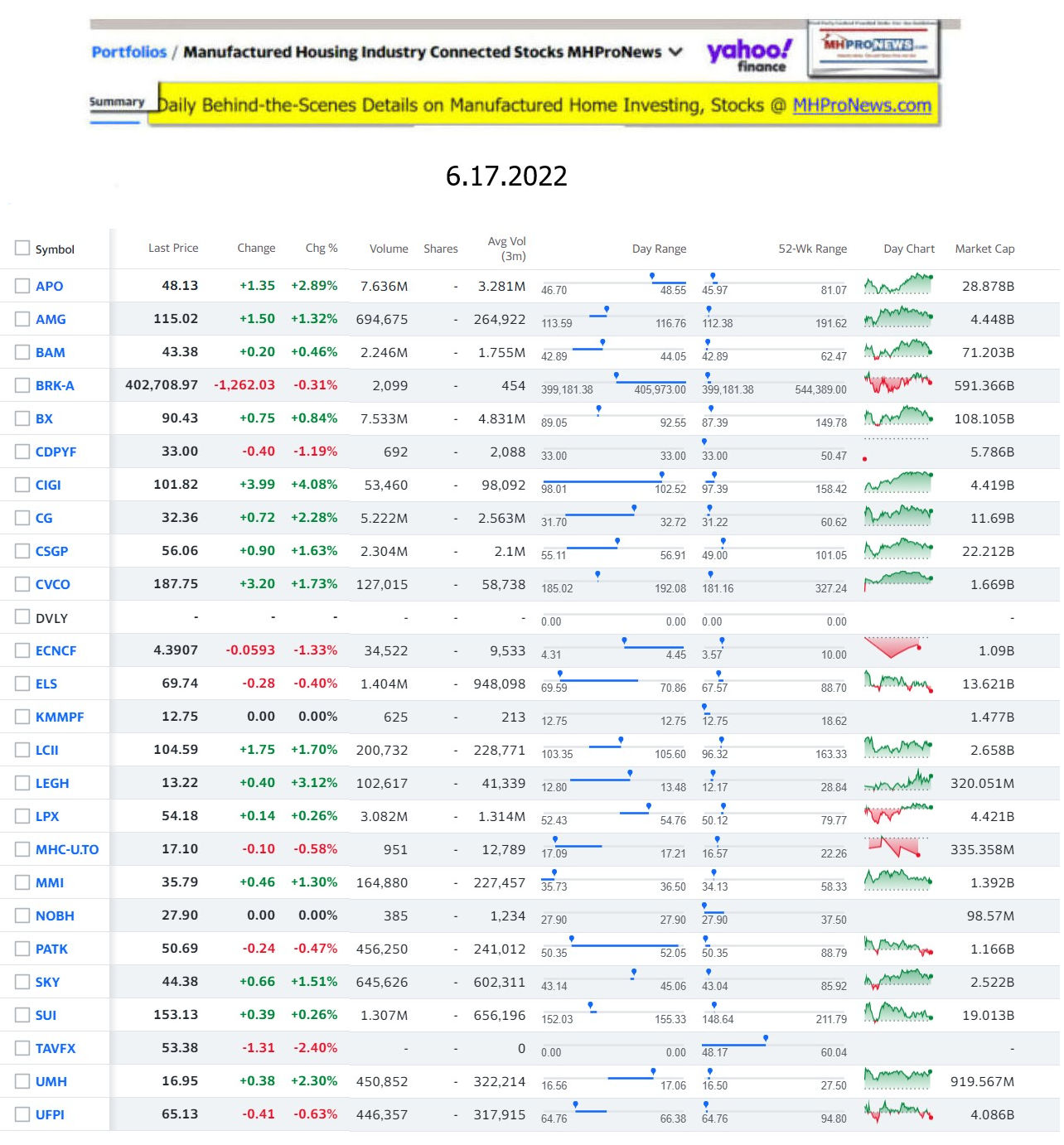 2022

…

Berkshire Hathaway is the parent company to Clayton Homes, 21st Mortgage, Vanderbilt Mortgage and other factory-built housing industry suppliers.


·

LCI Industries, Patrick, UFPI, and LP each are suppliers to the manufactured housing industry, among others.




·

AMG, CG, and TAVFX have investments in manufactured housing related businesses.

For

insights from third-parties and clients about our publisher

, click here.


Enjoy these 'blast from the past' comments.

MHProNews. MHProNews – previously a.k.a. MHMSM.com – has celebrated our 11th year of publishing and have completed over a dozen years of serving the industry as the runaway most-read trade media.
Sample Kudos over the years…
It is now 12+ years and counting…
Learn more about our evolutionary journey as the industry's leading trade media, at the report linked below.
· For expert manufactured housing business development or other professional services, click here.
· To sign up in seconds for our industry leading emailed headline news updates, click here.

Disclosure. MHProNews holds no positions in the stocks in this report.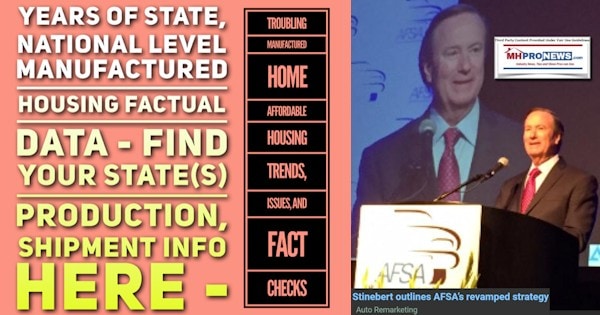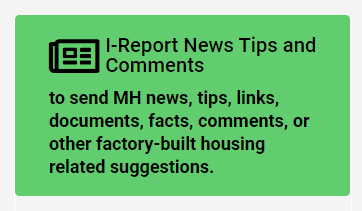 That's a wrap on this installment of "News Through the Lens of Manufactured Homes and Factory-Built Housing" © where "We Provide, You Decide." © (Affordable housing, manufactured homes, stock, investing, data, metrics, reports, fact-checks, analysis, and commentary. Third-party images or content are provided under fair use guidelines for media.) (See Related Reports, further below. Text/image boxes often are hot-linked to other reports that can be access by clicking on them.)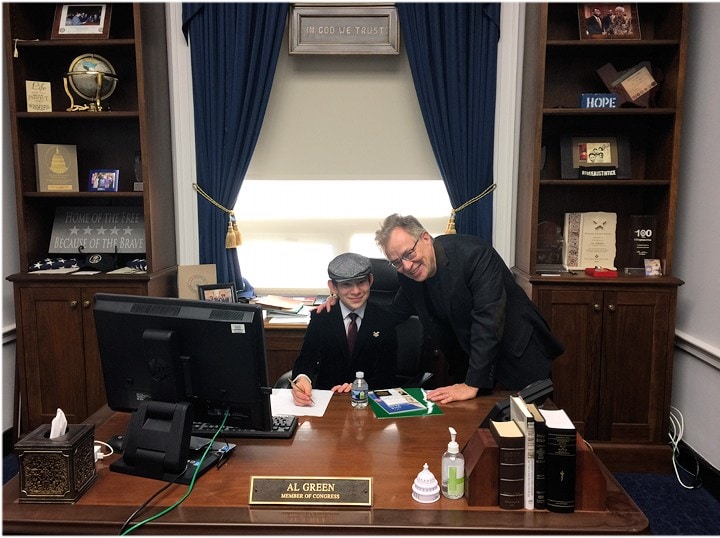 By L.A. "Tony" Kovach – for MHProNews.
Tony earned a journalism scholarship along with numerous awards in history. There have been several awards and honors and also recognition in manufactured housing. For example, he earned the prestigious Lottinville Award in history from the University of Oklahoma, where he studied history and business management. He's a managing member and co-founder of LifeStyle Factory Homes, LLC, the parent company to MHProNews, and MHLivingNews.com. This article reflects the LLC's and/or the writer's position and may or may not reflect the views of sponsors or supporters.