"The rapid pace of HPA [Home Price Appreciation] eased to 13.7%, down from March 2022's record pace of 17.2%. Of the 10 fastest HPA metros, 8 were in Florida (Cape Coral, North Port, Miami, Orlando, Palm Bay, Tampa, Jacksonville and Deltona) with the other 2 also in the southeast (Myrtle Beach and Nashville). These metros will continue to benefit from the arbitrage opportunity related to inter-metro price differences, enhanced by the work from home economy." So said Edward "Ed" Pinto, J.D., Director of the American Enterprise Institute (AEI) Housing Center.
"Home prices in July increased a stunning 30% in Cape Coral, but that may be sustainable due to a massive supply-demand imbalance, at least over the near term. Cape Coral is still relatively affordable compared to many other Florida and California markets. The median Cape Coral home sold in July for about 25% the cost of the median home sold that month in San Jose." – Tobias Peter.
Per the AEI Housing Center website: "Tobias Peter is a research fellow and the assistant director of the American Enterprise Institute's Housing Center, where he focuses on housing risk and mortgage markets. Working closely with the director of the AEI Housing Center, Mr. Peter has coauthored a variety of reports on housing policy, specifically on the impact of federal policy on housing demand and homeownership, housing finance risks, and first-time home buyers. He has testified before Congress, and his pieces have been published in policy journals and in the popular press, including in The Wall Street Journal, American Banker, and Business Insider." MHProNews has previously highlighted some of Peter's testimony to Congress, such as this sobering statement here below.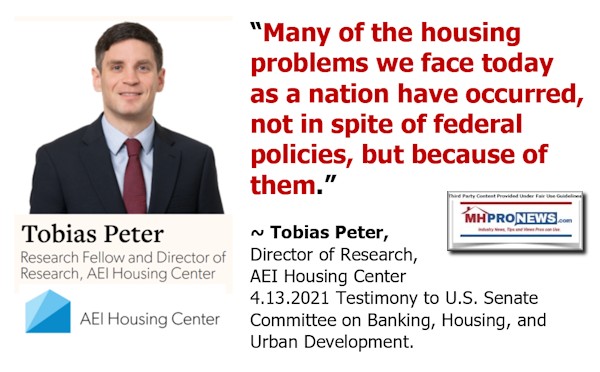 More specifically, Peter said this as part of the cause-effect dynamics at play in U.S. housing policy.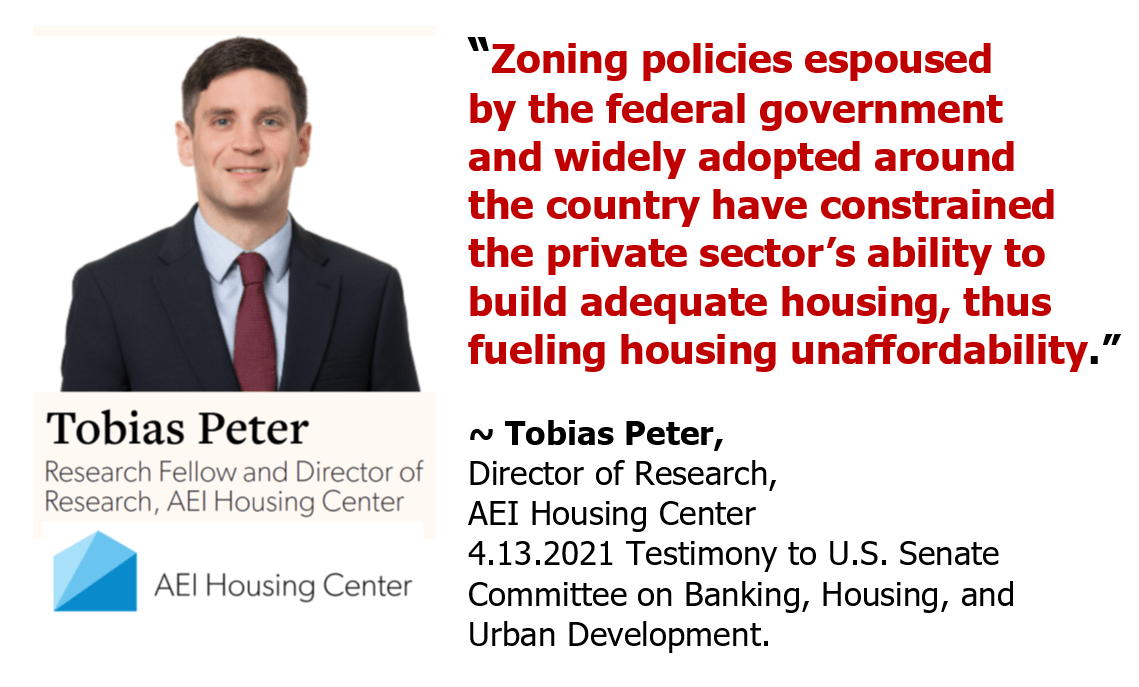 Peter said this as part of the cause-effect dynamics at play in U.S. housing policy. More on that in the additional information, analysis and commentary segment of this report, which follows the data/graphics from AEI, shown below.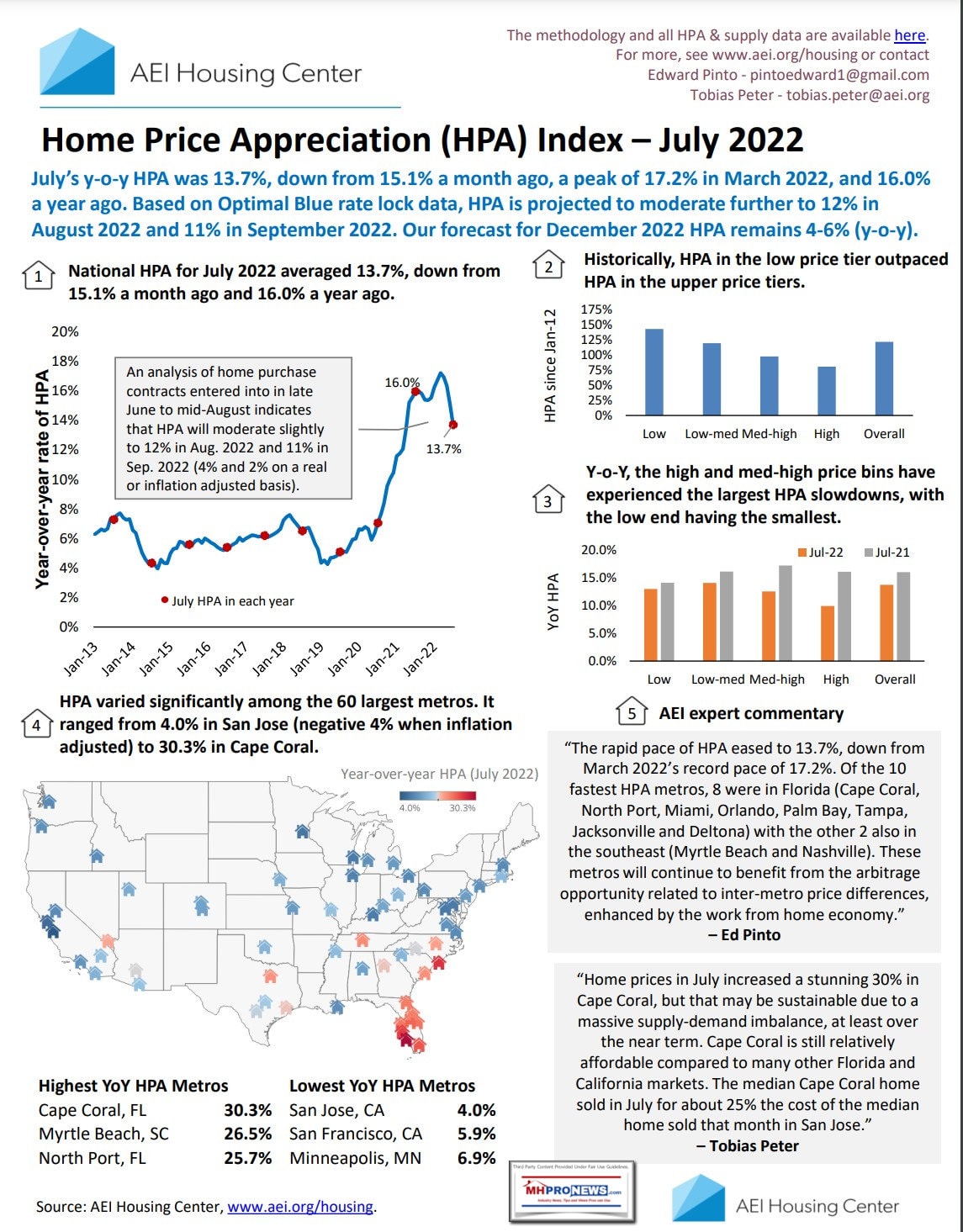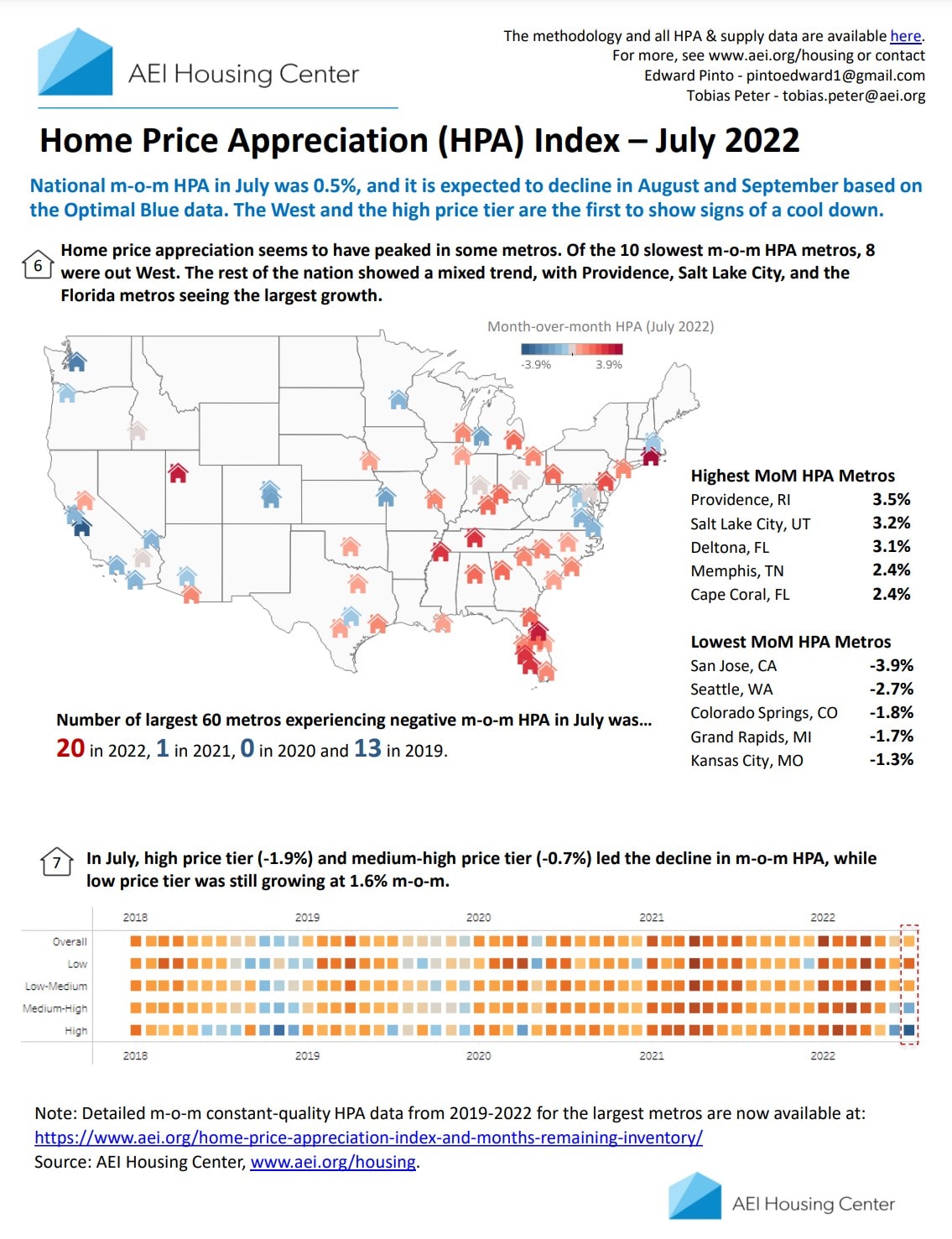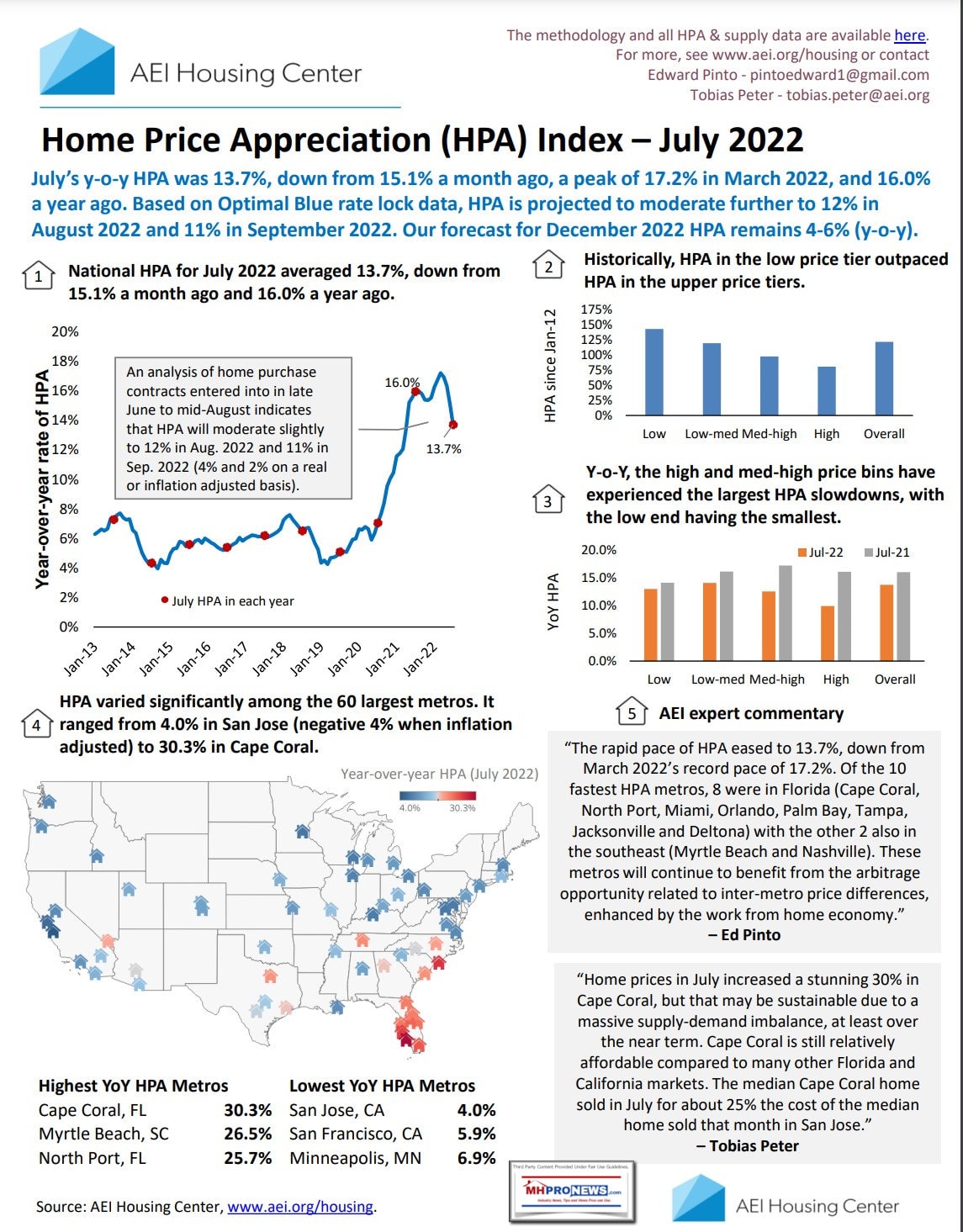 Additional Information with More MHProNews Analysis and Commentary in Brief
MHProNews has been highlighting the pernicious nature of zoning policies, citing both major national manufactured housing trade associations in the U.S., along with commentary from several manufactured housing state associations too. While some are essentially 'sold' on the supposed benefits to themselves of NIMBY policies (Not In My Back Yard, or policies that work to restrict more housing especially more affordable housing, such as manufactured homes), over time, the ultimate outcome of such policies is to drive housing costs to levels that can lead to homelessness for the working class who can't afford and/or find a decent dwelling. While the narrative is pushed that tent-dwellers are drug addicts or alcoholics, a closer look reveals that a significant part of that population have a job and are not addicts or drinkers – at least not when they become 'homeless.' Some may, out of despair of having a more conventional form of residence that they can afford, turn to drinking or drugs. Put differently, NIMBY policies, policies that limit affordable housing can be seen as directly contributing to the rise of tents, living in cars, older RVs, or cardboard boxes, etc.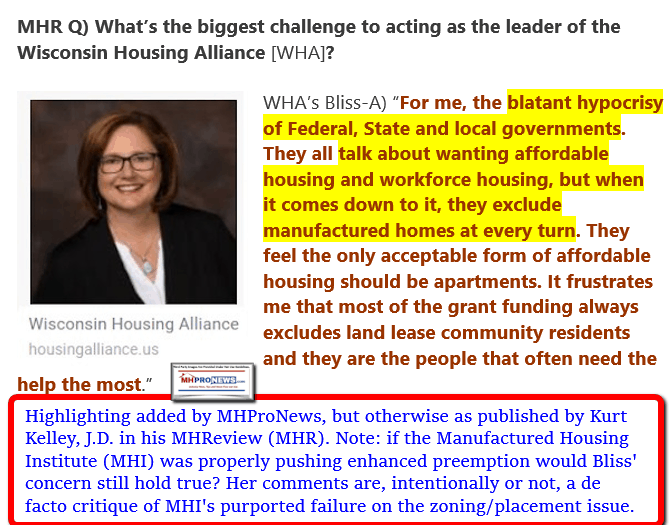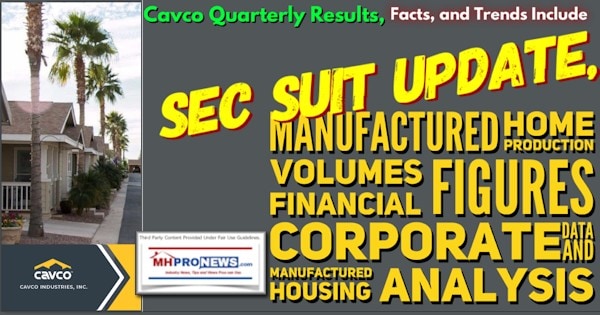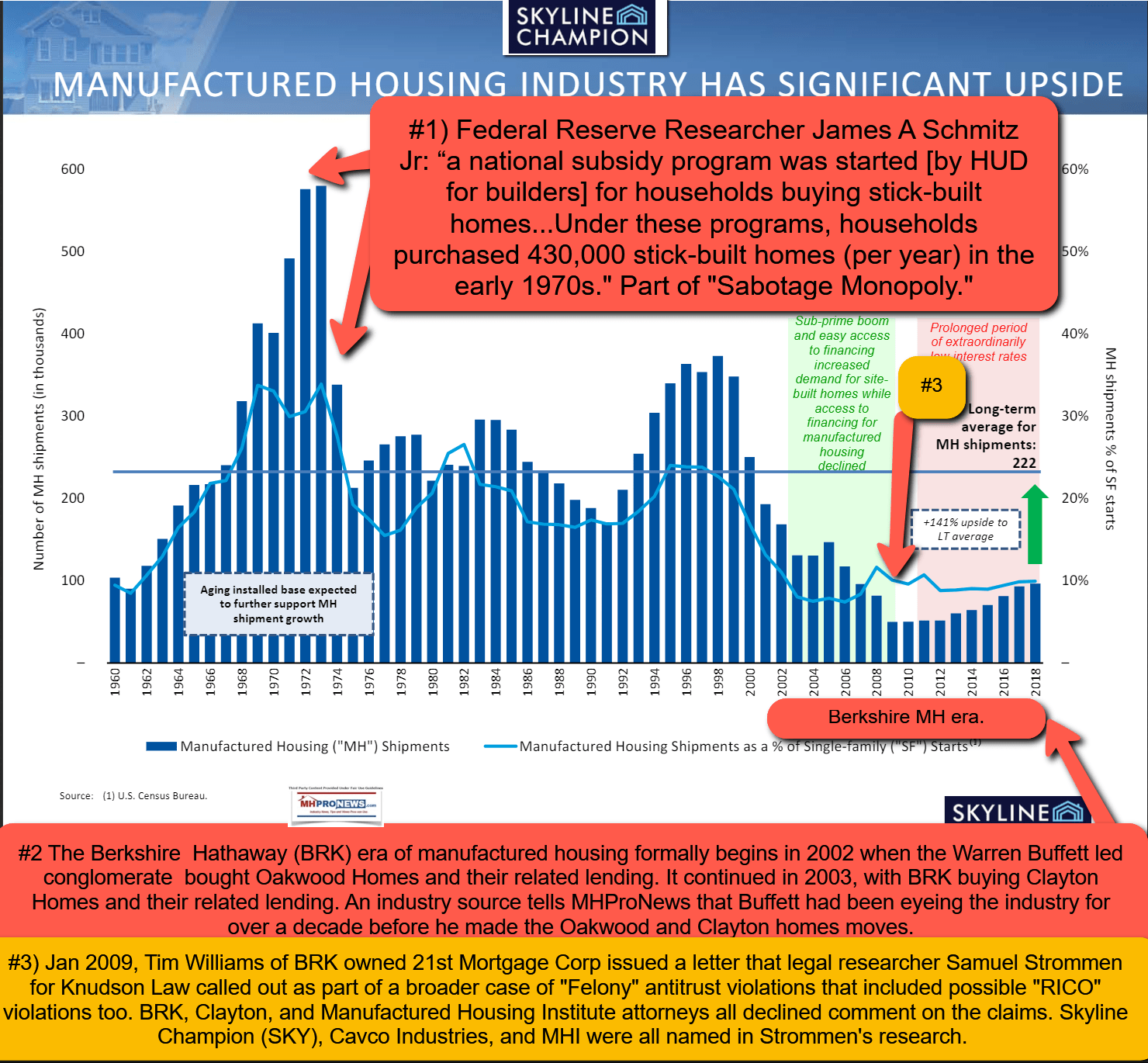 When the various facts, evidence, and applied common sense are grasped, MHI and its cheerleaders are therefor in the awkward position of correctly complaining about something that they in fact have some ability to influence. MHI, Bliss, Cavco, or others in that orbit are not mere innocent bystanders. They are paid to make sure that manufactured housing interests are 'protected and promoted' through education and if necessary, legal efforts. Others are suing to get their rights enforced. Why not MHI, Cavco, the WHA, etc.? MHI and its backers can't have it both ways.
'Depriving People of Their Rights, Property Until Their Children Wake Up Homeless on the Continent Their Fathers Conquered' – Shocking Case Illuminates U.S. Tragedies; plus Sunday Weekly Recap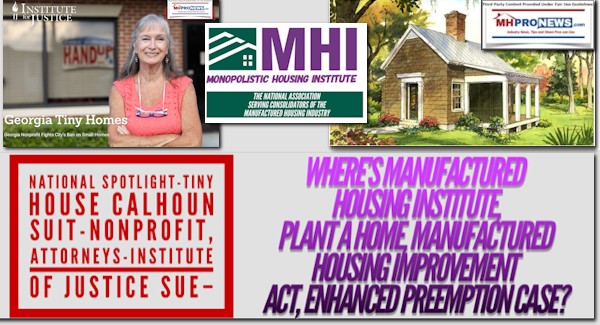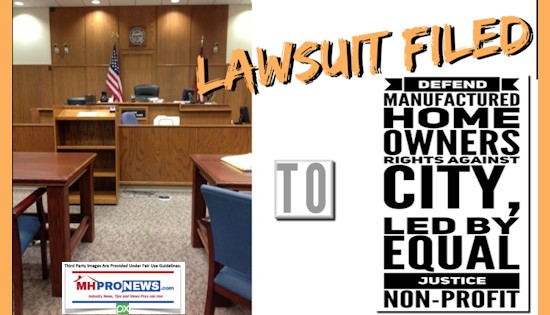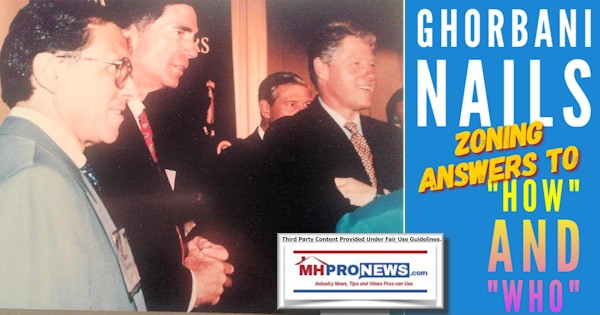 MHI's smaller national de facto rival, the Manufactured Housing Association for Regulatory Reform (MHARR) has increasingly pressed its claim that MHI has long been part of the problem rather than part of the solution. The logic – as well as the evidence – in support of that contention is compelling. In response to those claims and concerns, MHI's response has been to duck the issues publicly at meetings. Nor will they directly address the question(s) when asked.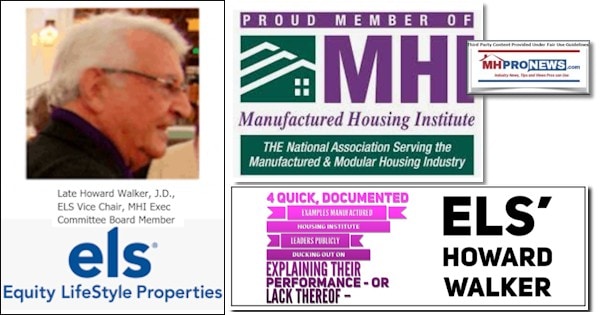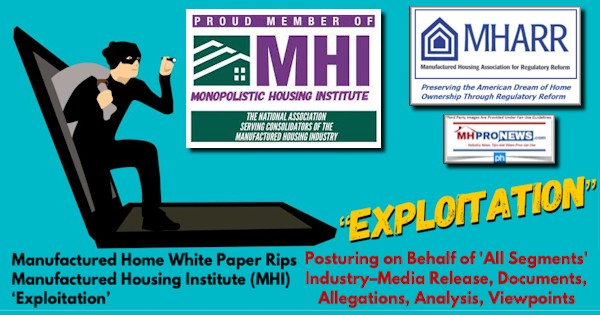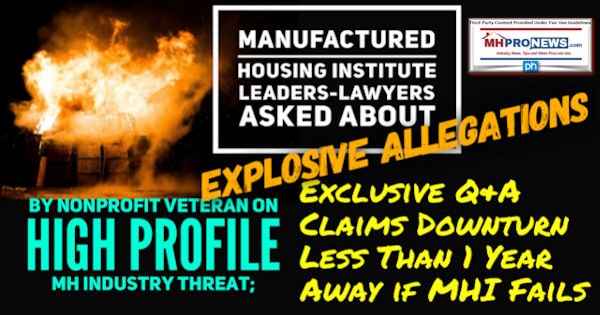 Indeed, when the statements and complaints by MHI members and 'leaders' are objectively and factually considered, the nearly inescapable conclusion is that MHI is posturing without doing. Nor is this true only on zoning/placement or important issues such as housing finance. It is true even on the increasingly evident pattern that MHI members are often the source of problematic news, in apparent violation of the MHI/NCC Code of Ethical Conduct.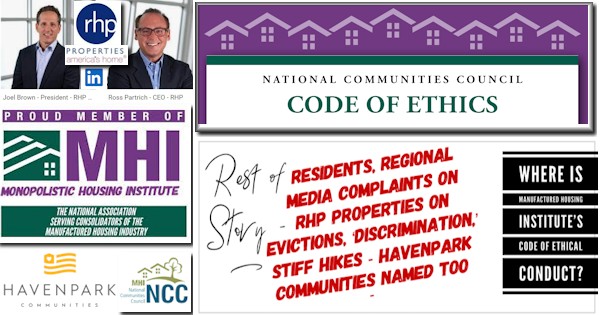 What explains the possible motivation for MHI's dominating members to say one thing, but fail to do what the laws and common sense say ought to occur? Namely, sue for the enforcement of the industry's rights and defense, which happens to align with the interests of millions of affordable housing seekers? The sobering conclusion is this. Consolidation is the result of this vexing pattern. When the outcomes are observed, it isn't just the conventional homebuilders that are 'to blame' for this pattern. MHI itself is part of that pattern, because they posture and preen without doing what their independent members paid them to do. The fact that MHI won't debate that is evidence that they know they would lose the debate where it had. See the related reports to learn more.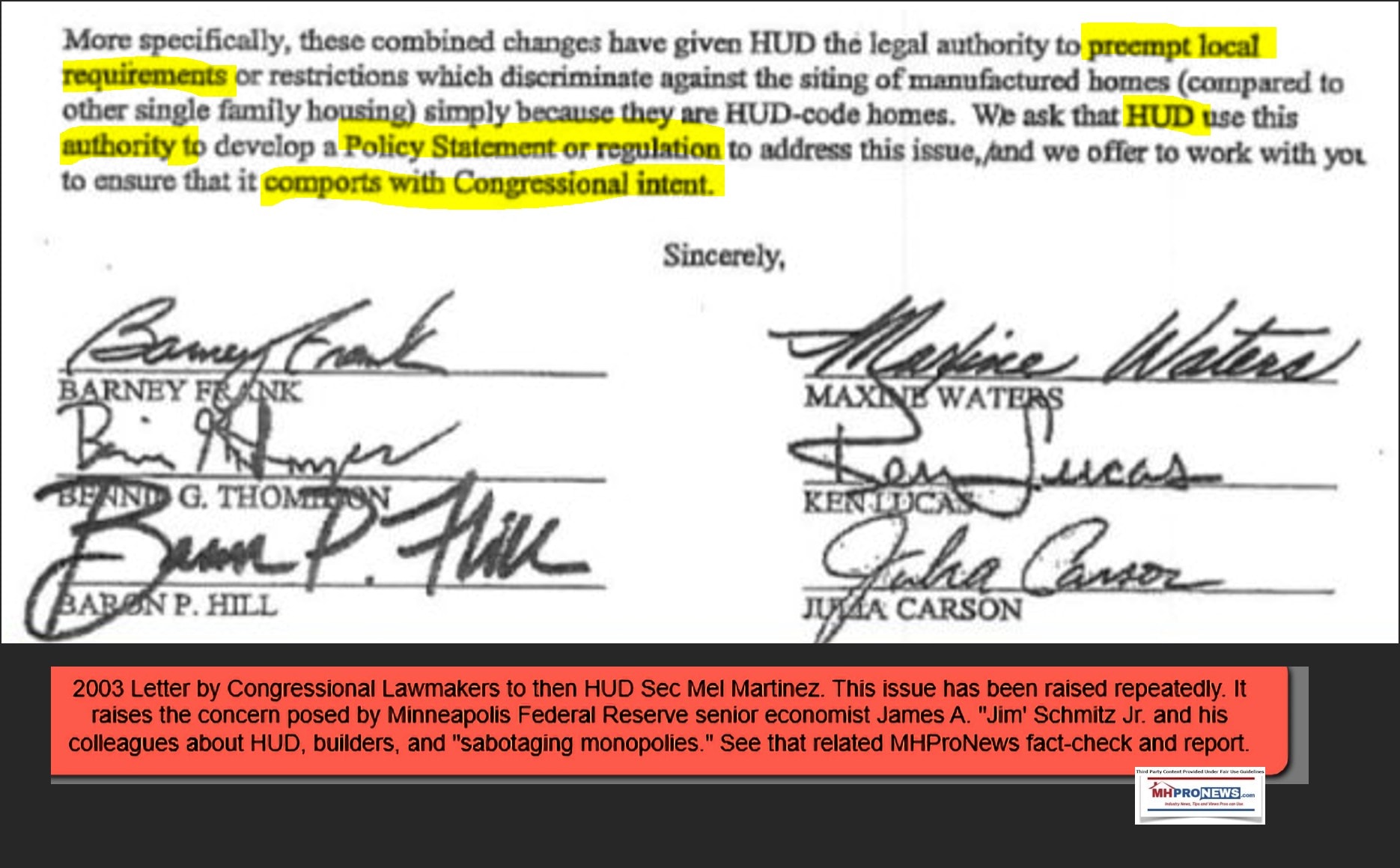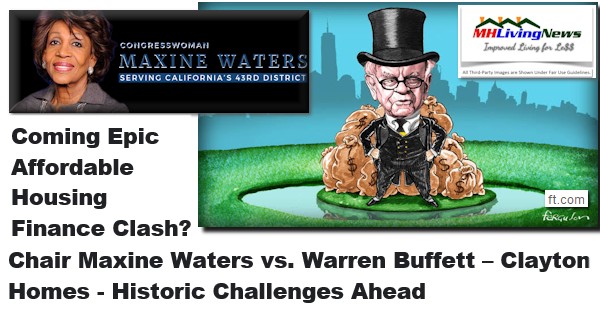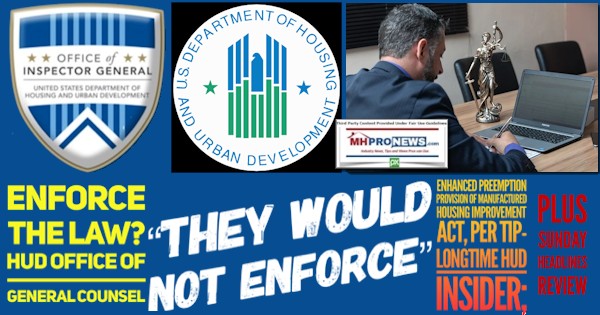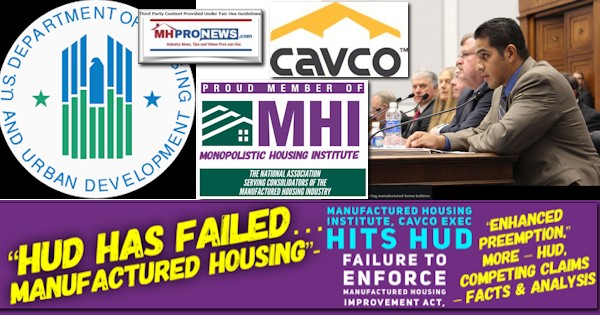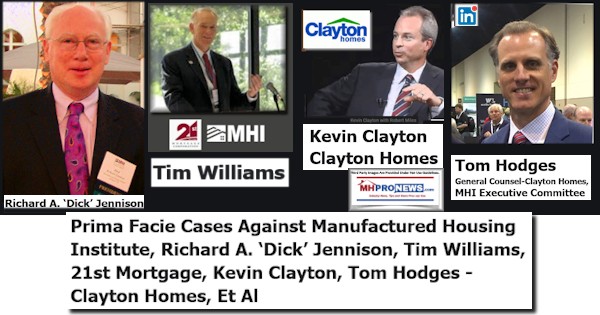 "Home Prices May Experience Unsustainable Growth" – AEI Housing Center Director Edward Pinto and Research Director Tobias Peter
In conclusion for this section of today's report, what AEI's Housing Center has spotlighted fits the statements and concerns raised by prior HUD Secretary Ben Carson. He promised a 'new era of cooperation with manufactured housing.' That remark implies that previously, HUD was not cooperating with the industry. Carson seemed to seek the advancement of the industry, and tried to persuade locals to embrace manufactured homes. More affordable housing supply would have cut the driving factors such as the HPA that Pinto and Peter are measuring in the report above.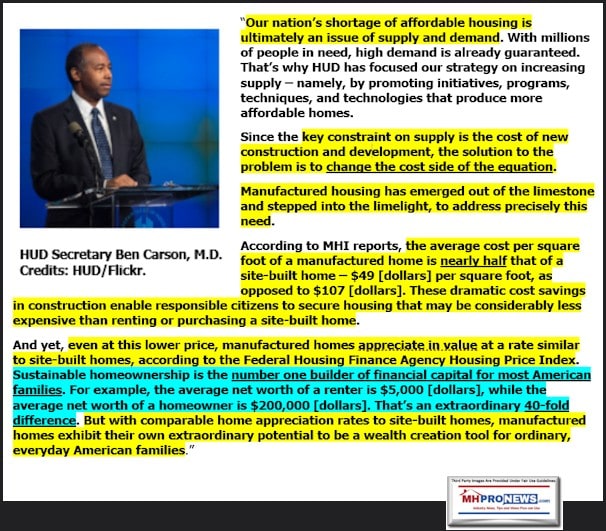 But despite Carson's thoughtful words, his successor secretary at HUD, Marcia Fudge, has spoken well of manufactured housing, but has quite deliberately said in a video recorded statement that she would not enforce the MHIA's so-called "enhanced preemption" authority. That demonstrates the vicious cycle of pleasant-sounding words that are followed by problematic behaviors. See that video and the transcript of Fudge's comments in the report below.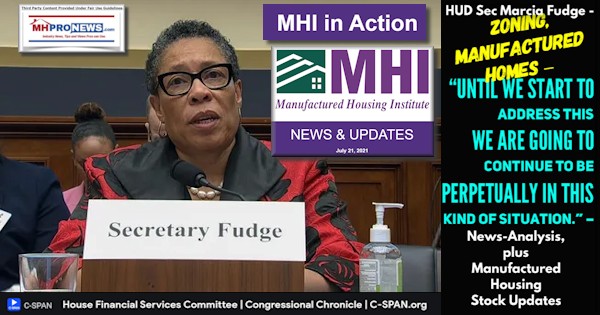 MHI – where are your leaders going to hide? It should be noted that MHI monitors this publication, and reliable sources tell and have provided evidence to MHProNews that so too does MHI's dominating members. They know this fact- and evidence-pattern. They too read MHARR statements and/or MHProNews reports and analysis, such as this one. They apparently seek to duck responsibility because by continuing to posture and palter without actually doing what logic and their written commitments to members demands.
Perhaps they think they can get away with it. Perhaps for a time, that has been done successfully. But even federal officials can, when sufficient outcry occurs, be promoted to act in enforcing federal laws that could even result in prison time, plus stiff fines. See the related reports linked below.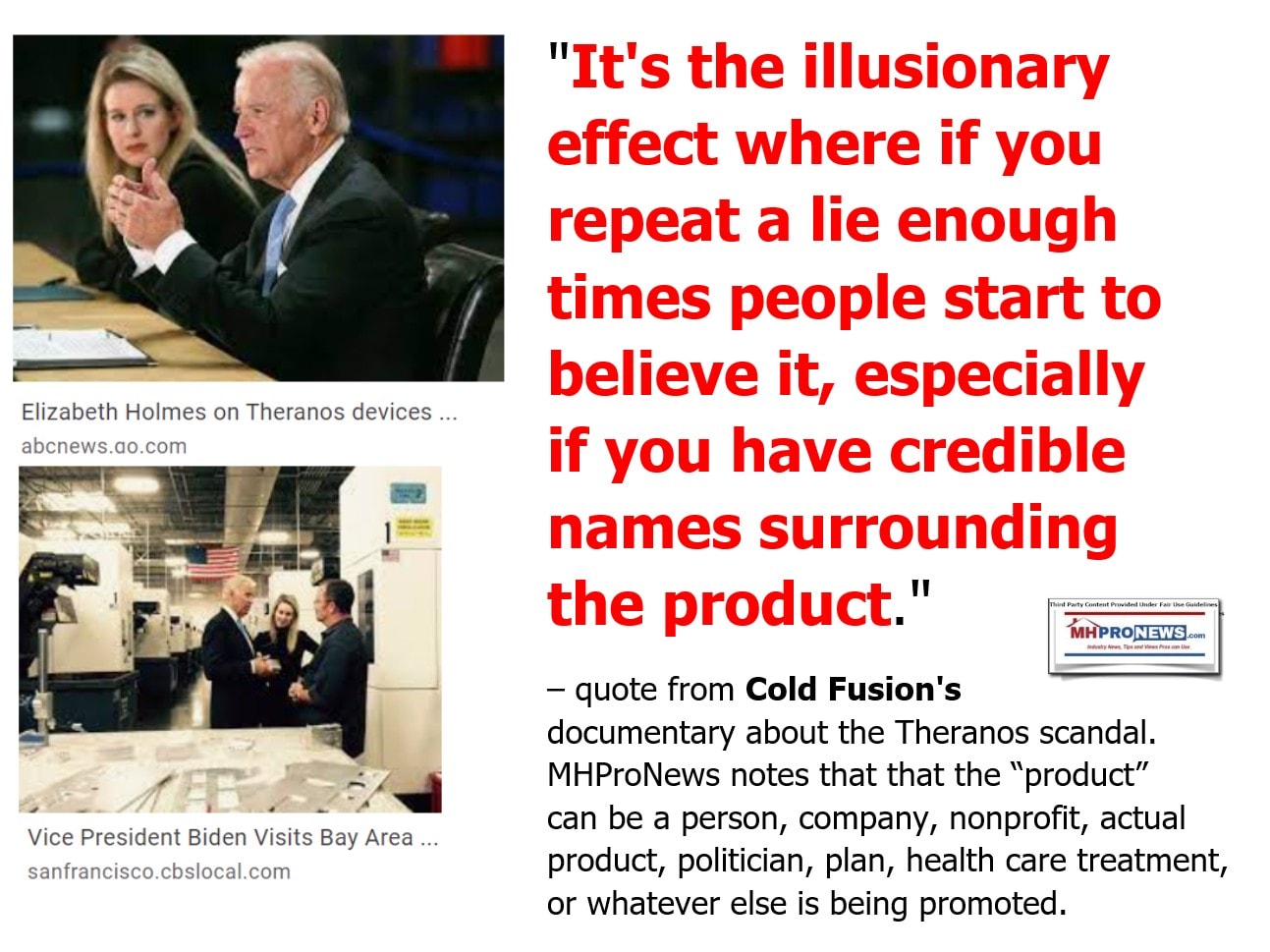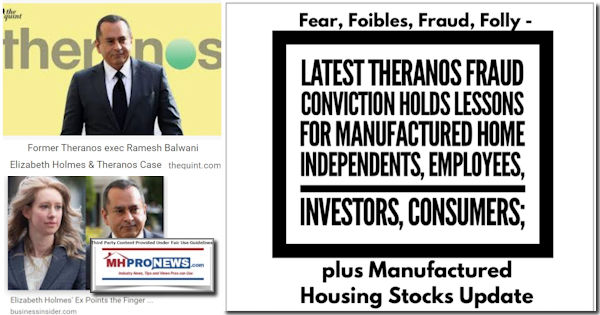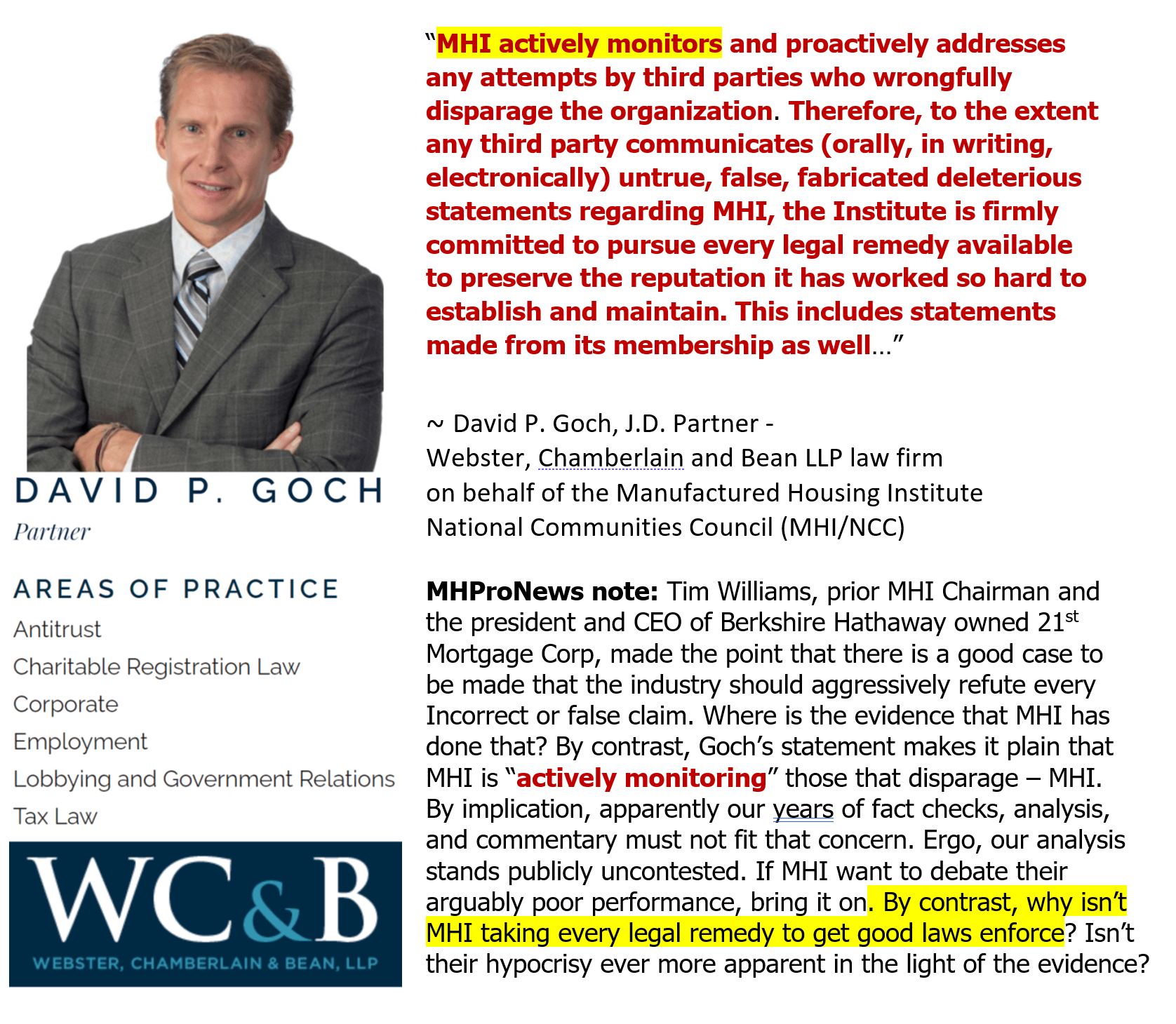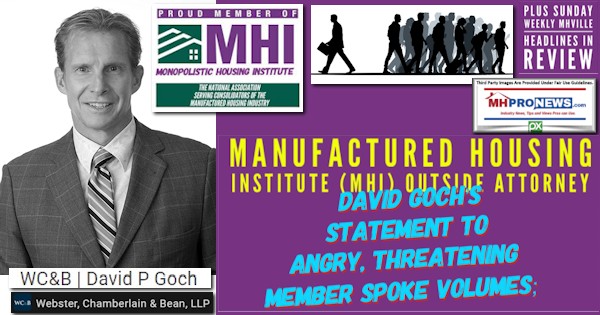 Follow the Money Trail in Manufactured Housing, Recent Nonprofit Research Reports on MHVille Shed Light on Manufactured Housing Industry Potential and Woes; plus Sunday Weekly Headlines Recap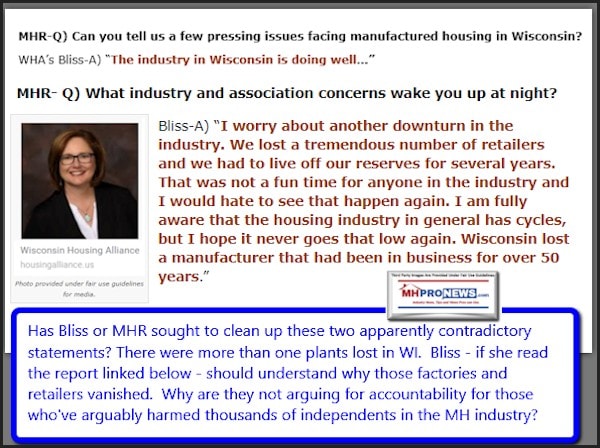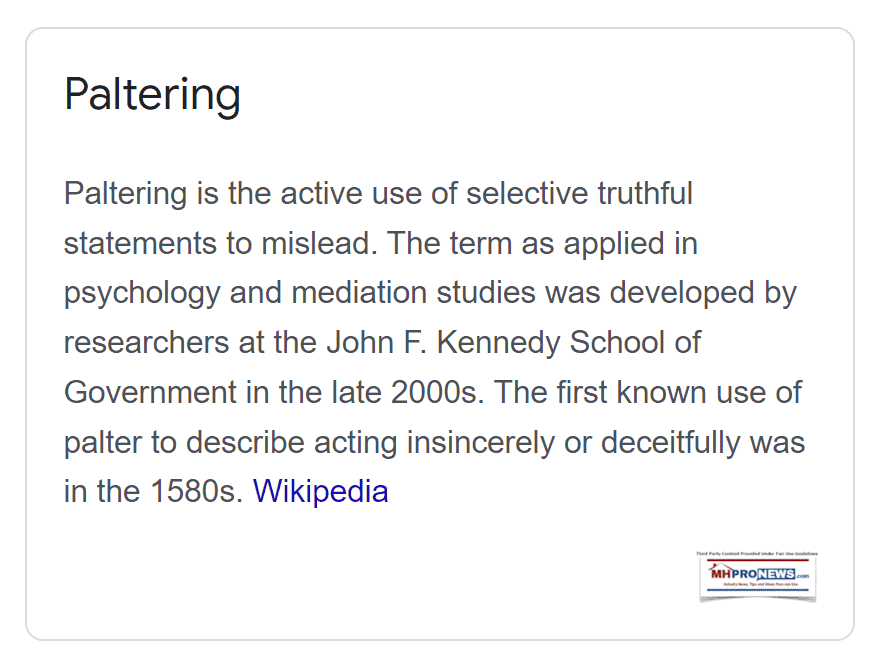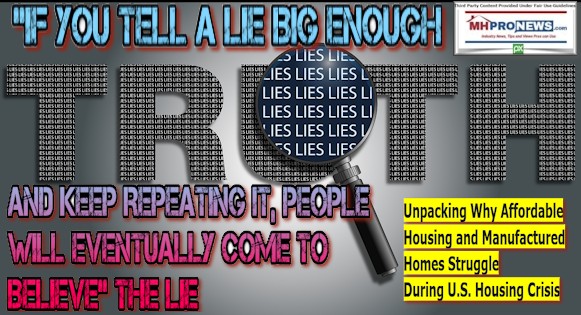 Wall Street, Henry Kissinger, New American Revolution, Reactions, and Mixed Results – Facts, Evidence, Analysis, Viewpoints -MHVille Impacts, plus Sunday Weekly Headlines Recap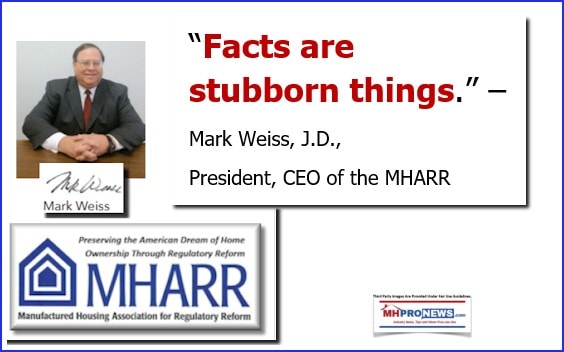 Next up is our daily business news recap of yesterday evening's market report, related left-right headlines, and manufactured housing connected equities.
The Business Daily Manufactured Home Industry Connected Stock Market Updates.  Plus, Market Moving Left leaning CNN and Right-leaning (Newsmax) Headlines Snapshot. While the layout of this daily business report has been evolving over time, several elements of the basic concepts used previously are still the same. For instance. The headlines that follow below can be reviewed at a glance to save time while providing insights across the left-right media divide. Additionally, those headlines often provide clues as to possible 'market-moving' news items.
Market Indicator Closing Summaries – Yahoo Finance Closing Tickers on MHProNews…
Headlines from left-of-center CNN Business – from the evening of 8.22.2022
Stocks tumble
FILE – Pedestrians walk past the New York Stock Exchange on July 8, 2022, in New York.
Dow falls more than 600 points on fears of another big Fed rate hike
72% of economists expect a US recession by the middle of next year
Bed Bath & Beyond shares tank on reports that suppliers have halted product shipments
Ford cutting 3,000 corporate jobs as part of its shift to EVs
Twitter warns employees that their bonuses could be halved this year
Tesla raises price of feature it calls 'full self-driving' to $15,000
Mexico City becomes 'work from home' haven for US expats, but locals are getting priced out
Chinese censors change ending of latest 'Minions' movie
Opinion: Corporate greed isn't to blame for high inflation
Why the world's second largest movie theater chain may be filing for bankruptcy
How has inflation changed your eating habits? We want to know
Journey through space with NASA's Voyager
Tired businessman working late on laptop while sitting at illuminated desk in office
Quiet quitting is the latest workplace trend, but it doesn't mean what you think
A Georgia jury awarded the family of a couple killed when the roof of their F-250 pickup collapsed during a rollover accident $1.7 billion in punitive damages.
Ford hit with $1.7 billion verdict for F-series pickup roof collapse that killed couple
Elon Musk subpoenas former Twitter CEO Jack Dorsey as legal battle heats up
MARKETS
SILVER SCREEN
LONDON, ENGLAND – AUGUST 09: COVID-19 notices at a Cineworld cinema in Leicester Square on August 9, 2020 in London, England. Masks were previously required in shops, but starting August 8 the UK government required face coverings to be worn in museums, galleries, cinemas and places of worship across England. (Photo by Hollie Adams/Getty Images)
The struggle of movie theaters in an increasingly streaming world
World's second biggest movie theater chain is in trouble
Why Jaws and E.T. are back in theaters
The meme stock craze is back: AMC soars
Why movie theaters show so few films now
THE NEW WORKPLACE
Pedestrians in the financial district of San Francisco, California, U.S., on Monday, May 9, 2022. From Wall Street to Silicon Valley, companies fearful of losing talent are tweaking or scrapping dictates around how often workers need to be at their desks.
Employers who want workers in the office more often may be in for a fight
Here's why your pay raise may not make a difference
Why these 'unretirees' went back to work
Returning to the office is costing us a fortune
These 'boomerang' employees went back to their old jobs
WHAT TO WATCH
This luxury car maker is switching to hybrids, but offers one last gas-powered stunner
Pandemic-era bike boom goes bust
Hackers look for vulnerabilities in voting machines at DEF CON 2022
Misinformation, not machines, biggest election vulnerability, hackers say
DeLorean is back with its first prototype in 40 years
LONDON, ENGLAND – AUGUST 09: COVID-19 notices at a Cineworld cinema in Leicester Square on August 9, 2020 in London, England. Masks were previously required in shops, but starting August 8 the UK government required face coverings to be worn in museums, galleries, cinemas and places of worship across England. (Photo by Hollie Adams/Getty Images)
The struggle of movie theatres in an increasingly streaming world
SUCCESS
A single-family home for sale in Potomac, Maryland, USA, on April 14, 2022.
Mortgage rates drop amid signs that inflation may have finally peaked
A "for sale" sign hangs in front of a home on June 21, 2022 in Miami, Florida.
Home sales fell for the sixth month in a row, but prices kept rising
Golden bitcoin, conceptual image for crypto currency
Lose big on crypto? Here's how to reduce the sting
An air traveler uses a credit card to pay for items January 28, 2022 at a retail shop in John F. Kennedy International Airport in New York City.
More Americans are relying on credit cards. That could be very costly
TECH
Elon Musk subpoenas former Twitter CEO Jack Dorsey as legal battle heats up
Twitter headquarters in San Francisco, California, U.S., on Thursday, April 21, 2022.
Twitter warns employees that their bonuses could be halved this year
FILE PHOTO: Facebook Chief Operating Officer Sheryl Sandberg testifies before a Senate Intelligence Committee hearing on foreign influence operations on social media platforms on Capitol Hill in Washington, U.S., September 5, 2018. REUTERS/Joshua Roberts/File Photo
Meta COO Sheryl Sandberg has tied the knot
They built their businesses on Instagram. Then the platform changed
MEDIA
Pedestrians pass in front of a Regal Cinemas movie theater at sunset in New York, U.S., on Tuesday, Oct. 6, 2020. More than 7,000 movie screens will be dark in the U.S. this weekend as the Regal theater chain said it will shut down all 536 locations on Thursday. Photographer: Amir Hamja/Bloomberg via Getty Images
Why the world's second largest movie theater chain may be filing for bankruptcy
Carl Bernstein appears on CNN's Reliable Sources on Sunday, August 21.
'Reliable Sources': Why defending the press is essential to defending democracy
See Brian Stelter's message on final 'Reliable Sources' show
Why Jaws and E.T. are back in theaters
Headlines from right-of-center Newsmax 8.22.2022
McConnell: Republicans Have '50-50′ Chance of Recapturing Senate
Senate Republican leader Mitch McConnell on Monday gave his own party a 50-50 chance of taking control of the Senate in the November midterm elections, and predicted that the chamber will remain closely divided whatever the outcome. [Full Story]
Raid on Trump's Mar-a-Lago
'Gang of 8' Leaders Request Access to Documents Seized in Trump Raid
FBI's Mar-a-Lago Search Boosting Trump's Numbers
NH GOP Gov Calls Biden, Garland 'Morons' on FBI Raid
The 10 Biggest FBI Blunders of the Last Decade platinum
Kushner: Trump Drives 'Enemies so Crazy' They Falter
Dershowitz: 'Speed Is of the Essence' on Affidavit | video
Blackburn: Americans Fear 'They Can Do It to Me'
Attorney: Trump Focus on Attorney-Client Privilege | video
Dan Crenshaw: FBI Search 'Automatically Political'
Alan Dershowitz: Govt Will 'Cherry-Pick' Redactions | video
Newsmax TV
Kash Patel: Trump Raid Over Docs Linked to Russia Probe | video
Former NYC Commish: Migrant Kids Will Strain Schools | video
Missouri AG: Fauci 'Cleared His Calendar' for GOP in '23 | video
Blakeman: No-Bail Laws Brought NY Crime Epidemic | video
Tenney: Nobody Wants to Hear About Biden | video
Dick Morris: Dems Give Up on GOP Primary Challenge | video
Grover Norquist: Inflation Act Continuation of Biden Lies | video
Cliff Bentz: FBI 'Throwing Gasoline on Political Fire' | video
RNC's Dennard: Cheney Now 'Irrelevant' in Midterms | video
Newsfront
Gallup: Record Number of Americans Say They're 'Suffering' Under Biden
A record percentage of Americans say they are suffering, a new Gallup poll found…. [Full Story]
Atlanta Police Warn Active Shooter at Large in Midtown
Atlanta police say three people were shot in the city's Midtown [Full Story]
Who Killed Alexander Dugin's Daughter?
The daughter of a prominent Russian extremist aligned closely with [Full Story]
Related
Ukraine: 9,000 of Its Troops Killed Since Russia Began War
Russia Fires More Rockets at Areas Near Endangered Nuclear Plant
On Ukraine's Front Line, a Fight to Save Premature Babies
'Time Stopped': Ukrainians Long to Go Home as War Drags On
Republicans Up Hispanic Voter Outreach in Down-Ballot Races
The Republican State Leadership Committee has launched its first [Full Story]
Forbes: Cowboys Reach $8B in Value, Highest in Sports
The Dallas Cowboys are worth $8 billion, according to Forbes' 25th [Full Story]
Newsmax to Host New Hampshire GOP Senate Debate at Saint Anselm
Newsmax is hosting a live New Hampshire Republican Primary Debate at [Full Story]
Vogue Praises Progressive Justice Jackson After Snubbing Barrett
Conservative critics are blasting Vogue's latest lefty-fawning [Full Story] | Platinum Article
Musk Subpoenas Former Twitter CEO and Friend Jack Dorsey
Tesla CEO Elon Musk has subpoenaed his friend and former Twitter CEO [Full Story]
Florida Christian School Head Won't 'Cower' to Threats Amid Trans Policy Backlash
A Florida Christian school administrator has received death threats [Full Story]
The 10 Biggest FBI Blunders of the Last Decade
Despite a spate of recent editorials, TV commentaries, and Justice [Full Story] | Platinum Article
NYC Mayor Adams' Patronage at Midtown Eatery Under Scrutiny
The New York Times has been tracking the recent nighttime exploits of [Full Story]
AAA Says to Not Buy These Cars No Matter What
Ben & Jerry's Loses Bid to Halt Sales in West Bank
A U.S. judge on Monday rejected Ben & Jerry's attempt to stop its [Full Story]
Former Treasury Chief: Biden Should End Student Loan Payment Freeze
Former Treasury Secretary Larry Summers cautioned the Biden [Full Story]
Diabetes Freedom
Algorithmic Redistricting Used to Dispute Legislative Maps
Multiple lawsuits over redistricting of maps due to alleged [Full Story]
McConnell: Republicans Have '50-50′ Chance of Recapturing Senate
Senate Republican leader Mitch McConnell on Monday gave his own party [Full Story]
Teachers in Ohio's Largest School District On Strike as School Gears Up
Days before the beginning of the new school year, teachers at Ohio's [Full Story]
Anthony Fauci Announces He's Retiring in December
Anthony Fauci said on Monday he would step down from his [Full Story]
Gingrich: Liz Cheney Thinks She's 'Moral Judge' Over Trump Supporters
Former House Speaker Newt Gingrich scolded Rep. Liz Cheney, R-Wyo., [Full Story]
In Sign of Support, US Bombers Fly over Dubrovnik, Balkans
A pair of U.S. Air Force B52 strategic bombers on Monday flew low [Full Story]
Video Report: Israel, Cyprus Strike Major Defense Agreement
"Wake Up America" correspondent Daniel Cohen has the latest on Cyprus [Full Story] | video
Ford Cuts 3,000 Jobs as it Pivots to a Software Future
Ford Motor Co. said it will cut a total of 3,000 salaried and [Full Story]
Poll: Most Say Student Debt Forgiveness Will Worsen Inflation
While many student loan borrowers are hoping the Education Department [Full Story]
Pfizer Asks FDA to Authorize Omicron Vaccine
Pfizer Inc and partner BioNTech said on Monday they had completed a [Full Story]
Lapid to Macron: Israel Not Bound by Iran Deal
Israel objects to a return to the Iran nuclear deal and if one is [Full Story]
IRS Could Change Way Americans File Taxes
The federal government filling out Americans' tax forms is one [Full Story]
New Poll Has Tight Race for Oz, Mastriano
Both GOP gubernatorial-nominee Doug Mastriano and GOP Sen.-nominee [Full Story]
Iran Says US Delaying Revival of 2015 Deal, Prisoner Swap Is Unrelated
Iran accused the United States on Monday of procrastinating in [Full Story]
Pro-life Groups Push for Fetal Personhood
Following the Supreme Court's decision that overturned Roe v. Wade, [Full Story]
Jill Biden Rejoins President After Negative COVID-19 Tests
First lady Jill Biden left COVID-19 isolation on Sunday after twice [Full Story]
LA Cracking Down on Street Takeovers
The Los Angeles Police Department has vowed to increase enforcement [Full Story]
More Newsfront
Finance
Forbes: Cowboys Reach $8B in Value, Highest in Sports
The Dallas Cowboys are worth $8 billion, according to Forbes' 25th Annual NFL Team Valuations released Monday.This is the 14th straight year the team has topped the list, and it is worth more than any other sports franchise, Forbes said…. [Full Story]
US Business Equipment Borrowing Rises 2%
Buffett Not Expected to Acquire Occidental
GE Workers in Alabama Seek Union
Icahn Wants McDonald's Director Out in Board Shift
Health
Fauci to Step Down as Biden's Chief Medical Adviser, NIAID Head
Anthony Fauci said on Monday he would step down from his positions as director of the National Institute of Allergy and Infectious Diseases and as chief medical adviser to U.S. President Joe Biden in December. He would also step down as chief of the NIAID Laboratory of…… [Full Story]
Study: Electrical Brain Stimulation Boosted Memory in Seniors
How COVID-19 Has Changed What We Hear
Moderna Supplying 12 Million Doses of Omicron-Targeted COVID Shot to Canada
How the US is Preparing to Negotiate Medicare Drug Prices
MHProNews has pioneered in our profession several reporting elements that keep our regular and attentive readers as arguably the best informed in the manufactured housing industry. Among the items shared after 'every business day' (when markets are open) is our left-right headline recap summary. At a glance in two to three minutes, key 'market moving' news items are covered from left-of-center CNN Business and right-of-center Newsmax. "We Provide, You Decide." © Additionally, MHProNews provides expert commentary and analysis on the issues that others can't or won't cover that help explain why manufactured housing has been underperforming during the Berkshire era while an affordable housing crisis and hundreds of thousands of homeless in America rages on. These are "Industry News, Tips, and Views Pros Can Use" © features and others made and kept us the runaway #1 in manufactured housing trade publisher for a dozen years and counting.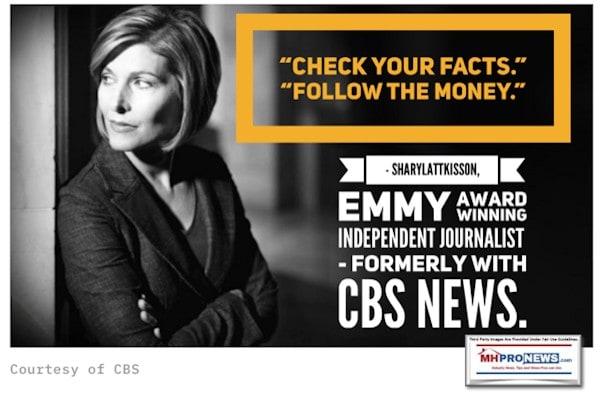 Manufactured Housing Industry Investments Connected Equities Closing Tickers
Some of these firms invest in manufactured housing, or are otherwise connected, but may do other forms of investing or business activities too.
NOTE: The chart below includes the Canadian stock, ECN, which purchased Triad Financial Services, a manufactured home industry lender
NOTE: Drew changed its name and trading symbol at the end of 2016 to Lippert (LCII).
NOTE: Deer Valley was largely taken private, say company insiders in a message to MHProNews on 12.15.2020, but there are still some outstanding shares of  the stock from the days when it was a publicly traded firm.  Thus, there is still periodic activity on DVLY.
'Blackrock Weaponizing ESG'– State AGs Probe MHCommunities Owner, Private Equity Giant Blackrock on Possible Antitrust, Securities, Fiduciary Violations, See AGs' Document; plus MHStocks Update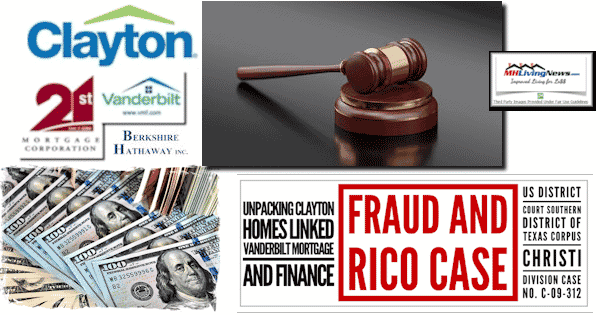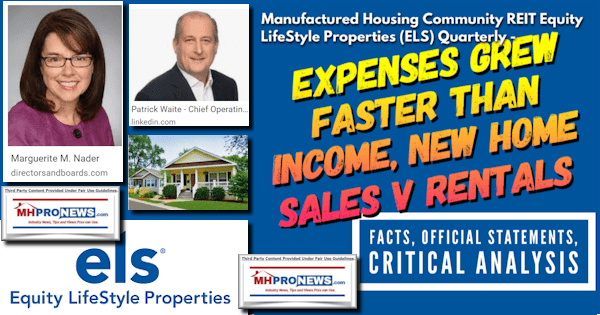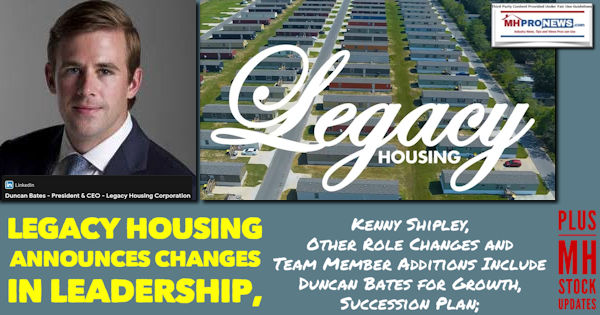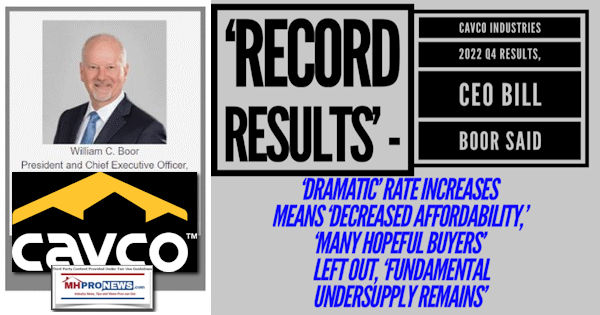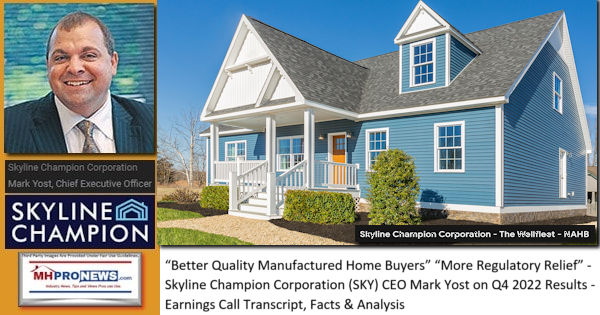 Manufactured Home Communities (a.k.a. 'Mobile Home Parks' – SIC) – Exploring UMH Properties; Fellow Manufactured Housing Institute Member Yes! Communities Suits and Settlements; plus MH Markets Updates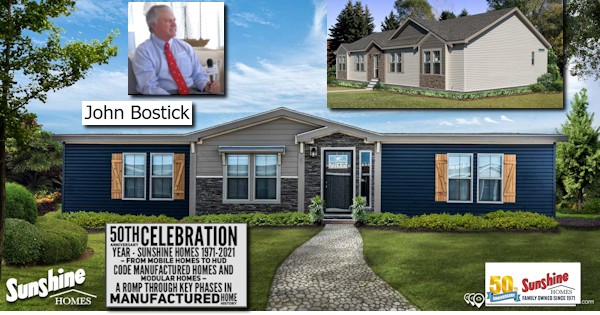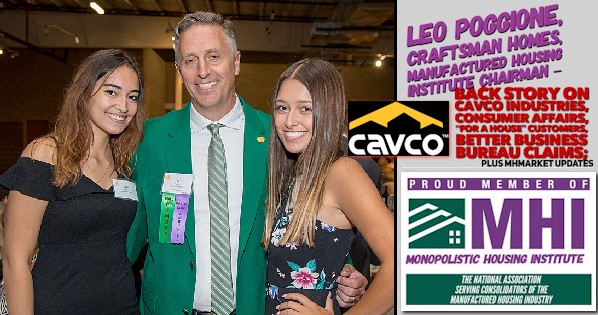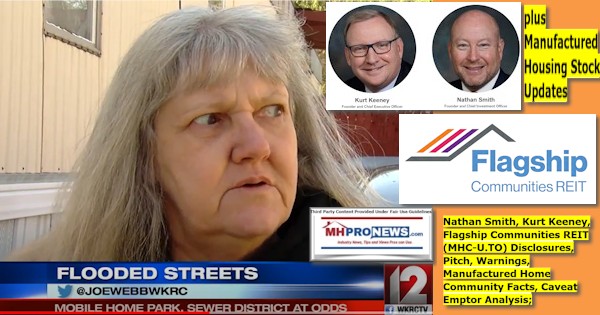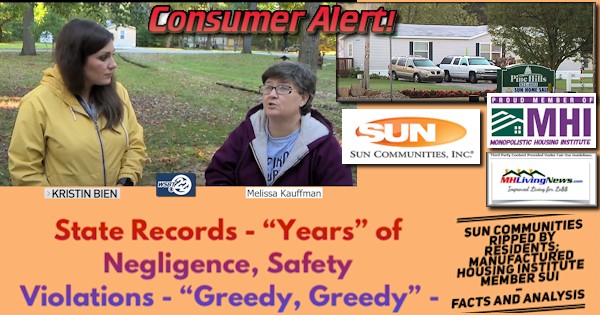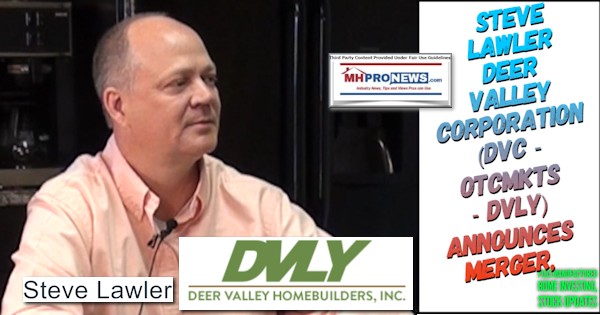 2022

…

Berkshire Hathaway is the parent company to Clayton Homes, 21st Mortgage, Vanderbilt Mortgage and other factory-built housing industry suppliers.


·

LCI Industries, Patrick, UFPI, and LP each are suppliers to the manufactured housing industry, among others.




·

AMG, CG, and TAVFX have investments in manufactured housing related businesses.

For

insights from third-parties and clients about our publisher

, click here.


Enjoy these 'blast from the past' comments.

MHProNews. MHProNews – previously a.k.a. MHMSM.com – has celebrated our 11th year of publishing and have completed over a dozen years of serving the industry as the runaway most-read trade media.
Sample Kudos over the years…
It is now 12+ years and counting…
Learn more about our evolutionary journey as the industry's leading trade media, at the report linked below.
· For expert manufactured housing business development or other professional services, click here.
· To sign up in seconds for our industry leading emailed headline news updates, click here.

Disclosure. MHProNews holds no positions in the stocks in this report.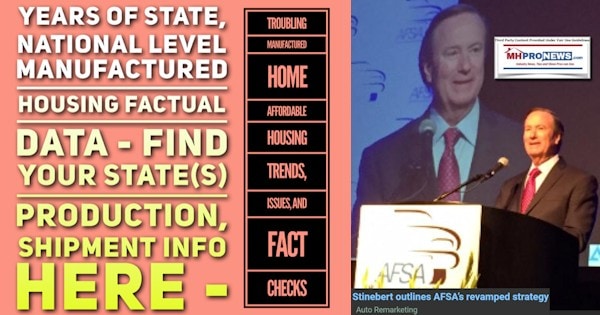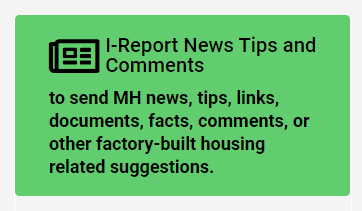 That's a wrap on this installment of "News Through the Lens of Manufactured Homes and Factory-Built Housing" © where "We Provide, You Decide." © (Affordable housing, manufactured homes, stock, investing, data, metrics, reports, fact-checks, analysis, and commentary. Third-party images or content are provided under fair use guidelines for media.) (See Related Reports, further below. Text/image boxes often are hot-linked to other reports that can be access by clicking on them.)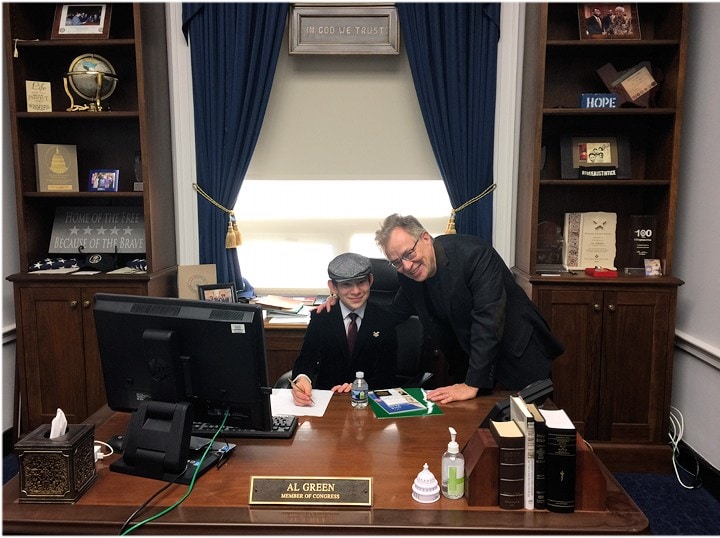 By L.A. "Tony" Kovach – for MHProNews.
Tony earned a journalism scholarship along with numerous awards in history. There have been several awards and honors and also recognition in manufactured housing. For example, he earned the prestigious Lottinville Award in history from the University of Oklahoma, where he studied history and business management. He's a managing member and co-founder of LifeStyle Factory Homes, LLC, the parent company to MHProNews, and MHLivingNews.com. This article reflects the LLC's and/or the writer's position and may or may not reflect the views of sponsors or supporters.
Triad Financial Services Q2-2022 FINANCIAL RESULTS, per ECN Capital – Several Bright Spots in Manufactured Home Market Highlighted, Including Communities, Retail, Land-Home, Floor; MHStocks Update
Cavco Quarterly Results, Facts, and Trends Include SEC Suit Update, Manufactured Home Production Volumes, Financial Figures, Corporate Data and Manufactured Housing Analysis