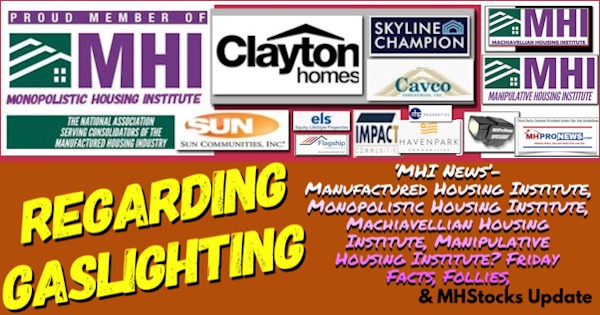 Stating the obvious can be a potent method for bringing clarity to an issue. When finding housing under $200,000 has become quote – "a myth" – manufactured housing ought to be soaring to all time highs. Was that mentioned by the Manufactured Housing Institute (MHI) in their latest emailed "news" dated Wednesday, November 30, 2022? No. Did MHI announce the long awaited national educational and image building campaign that has been discussed for over 17 years? No. Did MHI announce the launch of litigation to stop the approaching Department of Energy (DOE) manufactured housing energy standards that MHI claims they want to stop? See for yourself what MHI did and didn't say in their 11.30.2022 emailed news update that follows. Their 'news' will be briefly unpacked by a focused fact check and analysis of the Monopolistic Housing Institute, err, Machiavellian Housing Institute, oops, Manipulative Housing Institute or what they prefer being called, the Manufactured Housing Institute (ugh).
The Daily Business News on MHProNews left-right headlines recap and MHVille market report on industry connected equities makes up the third and final segment of today's post.
As someone ponders the following, recall that earlier this year a media probe was conducted on this question: how much might manufactured housing stocks drop if a serious antitrust effort were launched? It is relevant in this context and ICYMI or to refresh a reader's recall, that report and analysis is linked below. The headline mention in this report on gaslighting is connected to the second linked report below.
How Much Could Manufactured Home Stocks Drop if DOJ/FTC Hits a Firm on Antitrust? Facebook/Meta Gives Clues, JD Supra on Antitrust Enforcement Trends; Plus Manufactured Housing Market Updates
Gaslighting and Oligarch Top the List, What Research Can Reveal to Manufactured Housing Industry Pros, Affordable Housing Advocates, Investors, All Truth-Seekers; plus MHVille REITs, Stocks Update
Against that evidence-based backdrop, is the following according to MHI (Monopolistic Housing Institute, Machiavellian Housing Institute, Manipulative Housing Institute, or Manufactured Housing Institute – take your pick) are the following 'news' items. Note that their most recent 'news' item in their latest email is dated 11.17.2022, almost two weeks old (yawn, how long does it take a dozen or so MHI staffers to actually assemble this puny 'news' list?). Are they partying at MHI? What are they doing with all of their MHI time?
Highlighting in the MHI 11.30.2022 'news' that is in yellow or aqua below are added by MHProNews. Those may get special attention in what follows.  As a reminder, quoting MHI should not be misconstrued as MHProNews in any way endorsing MHI.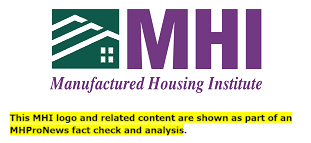 Manufactured Housing Consensus Committee Forwards Energy Standard Updates to HUD – Rejects Wholesale Adoption of Department of Energy Rule
On November 17, the Manufactured Housing Consensus Committee (MHCC) completed its second week of meetings regarding the incorporation of the Department of Energy's (DOE) manufactured housing energy conservation standards (Energy Rule) into the HUD Code.
By a voice vote, the MHCC forwarded to HUD its recommended HUD code revisions, which were consistent with MHI's initial proposal.
MHI is having follow-up meetings with HUD, DOE, and Members of Congress to share the outcome of the meeting as evidence that the DOE standard must be incorporated into the HUD Code before it is implemented and enforced.
FHA Releases Annual Updates, Including for the Office of Manufactured Housing
The Federal Housing Administration (FHA) recently released its Annual Management Report for fiscal year 2022. This report highlights the mission, objectives, and performance of programs across FHA and summarizes the accomplishments of those programs over the prior fiscal year. As part of this report, FHA provides an overview of the activities and accomplishments of the Office of Manufactured Housing Programs (OMHP).
Of note, the report called attention to CrossMod® homes as an example of modern and innovative developments in manufactured housing. The report tied these new innovations to the HUD Code updates finalized in July 2021, observing that these "HUD Code updates allow for the design and production of more innovative and modern manufactured homes." Further, the report highlights some of the features of CrossMod® homes, noting that "these homes combine innovative and efficient methods used in factory-built construction yet are indistinguishable from site-built homes and include higher roof pitches, permanent and lower profile foundations, energy efficient features, garages or carports, and porches."
In mid-November FHA also released its Annual Report to Congress on the FHA Mutual Mortgage Insurance Fund (MMIF), an accounting of the financial condition of the FHA single family loan program. In its report, FHA announced that its capital ratio increased from 8.03% to 11.11% – which is now over 5.5 times its statutory minimum ratio of 2%. However, despite this strong financial showing, FHA does not appear to be poised to reduce FHA annual premiums, at least until the FY2023 budget process is completed. The report included a section on manufactured home loans with a chart showing that 3.23 percent of FHA Title II forward mortgages were for mortgages on manufactured homes secured by real estate, compared to 1.38 percent for the rest of the mortgage market.
 In October, after years of strong advocacy efforts by MHI with the Administration and Congress, FHA published a proposed rule to update the Indexing Methodology for Title I Manufactured Home Loan Limits. FHA's Title I program is designed to provide financing for personal property loans (also called chattel) on manufactured homes. However, the program needs significant updating, and in 2021 only insured financing for five personal property loans.
FHFA Announces Increases in Conforming
Loan Limit Values for 2023
Yesterday, the Federal Housing Finance Agency (FHFA) announced increases in the conforming loan limit values (CLLs) for mortgages to be acquired by Fannie Mae and Freddie Mac in 2023. The Housing and Economic Recovery Act requires that baseline CLL values be adjusted annually to account for changes in the average price of a home in the U.S. Across most of the U.S. the 2023 CLL value for one-unit properties will be $726,200. This represents an increase of $79,000 from 2022; in high-cost areas of the country, the new ceiling loan limit for one-unit properties will be $1,089,300. These increases for 2023 are the result of rising home prices throughout the U.S. and mark the first time that Fannie Mae and Freddie Mac will be backstopping mortgages in excess of a million dollars. MHI will continue advocating for Fannie Mae and Freddie Mac to do more for manufactured housing financing, pursuant to their Duty to Serve the manufactured housing market.
MHI Supports Mortgage Insurance Tax Deduction Permanency
On Thursday, November 17, MHI joined with leading housing associations, including the National Association of Realtors and the Mortgage Bankers Association, to urge the Committee on Ways and Means to include H.R. 6109, the Middle Class Mortgage Insurance Premium Act of 2021, in any final 2022 tax package. This bipartisan legislation makes the mortgage insurance premium tax deduction permanent and increases its income phaseout. For millions of borrowers, including those buying manufactured homes, mortgage insurance helps bridge the down payment gap for buyers lacking a 20 percent down payment or those with less than perfect credit, and supports access to affordable and sustainable homeownership for American families. Click here to read the letter to the Senate Committee on Finance and here for the letter submitted to the House Committee on Ways and Means.
Flagship Communities Announces Opening of a New After-School Program Building
Flagship Communities Real Estate Investment Trust announced the opening of a new after-school building in their Grandin Pointe community in Evansville, Indiana. At 2,000 square feet, the new building includes a full-service kitchen for snack and meal preparation and a laundry room to facilitate cleanup. Additionally, new furniture and supplies have been provided allowing programming to begin immediately. Many other social and meal programs are also facilitated through the school program. Flagship's total contribution includes an investment of over $100,000 for the new building, furniture and school and kitchen supplies, utilities and provides broadband access for students to access their tablets. The new building can support community services for up to 70 children. See additional news coverage here.
MHI Mourns Loss of Brad Morgan
With great sadness, MHI mourns the loss of Brad Morgan on November 24, 2022. As part owner of Midwest Homes in Minerva, OH, Brad was a former MHI national representative and longtime Ohio MHA Board member. He will be missed by many. Click here to read his obituary. … ##
… other items in the 11.30.2022 MHI 'news' included plugs for MHI profit centers in 'education' and 'meetings.' Those need not be dignified in the slightest by showing them on this MHProNews periodic Friday Follies post. That said, it is folly to think that MHI can 'teach' the industry anything about growing the industry when their obviously failed CrossMods initiative, among other MHI 'efforts,' turned out to be such a DUD that landed with a THUD.
LOL Funny, If MHI's Report Weren't So Pathetic – Additional Information with More MHProNews Analysis and Commentary in Brief
In reverse order from MHI's 'news' are the following observations.
A) For years, MHProNews would periodically report the loss of some industry professional, so, MHI apparently decided it was a good idea to follow that lead, perhaps to burnish their tarnished image? That said, the loss of Brad Morgan may be the only actual news among their items above.
B) The Flagship Communities item by MHI is perhaps a case of putting lipstick on a pig. MHProNews recently unpacked the facts behind Flagship. Perhaps Nathan Smith, a past MHI chair who is still active with several MHI/NCC/PAC activities, likely didn't value the facts revealed below, so it was time to 'gaslight.' So, so, sorry that Smith and his colleagues feelings may have been bruised, but far more important are the points that Flagship's residents should be properly treated, and that current or potential Flagship investors realize legally problematic areas in their manufactured home community consolidation scheme.
Flagship Communities – Hypocrisy, MHIndustry Corruption? 'Fragmented Industry with High Barriers to Entry and Imbalanced Supply and Demand Dynamics;' Plus Sunday MHVille Weekly Headlines Review
C) "MHI Supports Mortgage Insurance Tax Deduction Permanency" is an example of MHI providing more benefits to their 'housing coalition partners' on an issue that is more important for conventional housing than it is for the majority of manufacutred home customers in recent years. Note too that this MHI 'news' item is also some 2 weeks old. That noted, where is that housing coalition letter asking HUD to properly enforce the Manufactured Housing Improvement Act (MHIA) of 2000's "enhanced preemption" provision? Is MHI just lazy? Or is MHI just engaging in a slow-motion con game designed to keep the manufactured housing industry underperforming so consolidators poach and profit which explains why they posture efforts that don't get pro-manufactured housing existing federal laws enforced?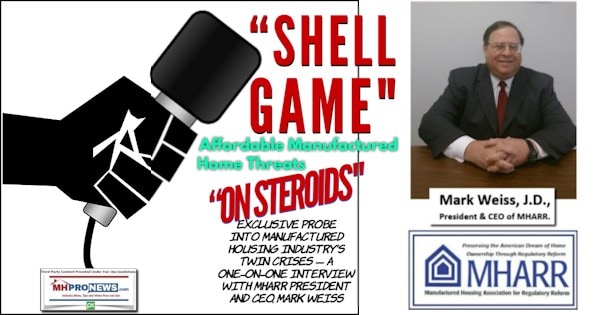 D) Might be the oddly funniest example of MHI news. "FHFA Announces Increases in Conforming Loan Limit Values for 2023" ends with this line. MHI ends the item by mentioning a point that MHProNews, as well as the Manufactured Housing Association for Regulatory Reform (MHARR), has brought up several times in recent years. "MHI will continue advocating for Fannie Mae and Freddie Mac to do more for manufactured housing financing, pursuant to their Duty to Serve [DTS] the manufactured housing market." That's backhanded admission that MHI is not doing their job successfully. MHI claims to want to FHFA, Fannie Mae, and Freddie Mac to act on DTS. In this case MHI ironically demonstrated the points made in the reports linked below.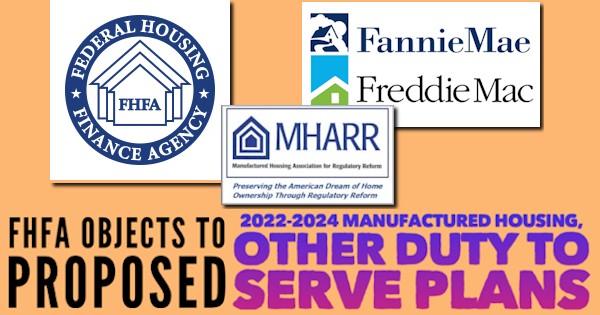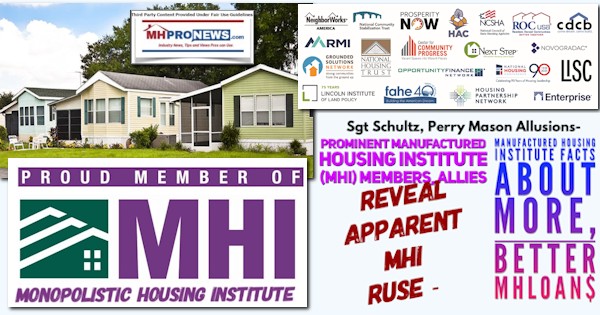 E) MHI again admits in their closing line just how pathetic and ineffective their self-proclaimed 'advocacy' is in practical terms. Under "FHA Releases Annual Updates, Including for the Office of Manufactured Housing" they end their item with this admission: "However, the program needs significant updating, and in 2021 only insured financing for five personal property loans." Under MHI's self-proclaimed 'leadership' on behalf of the post-production "all segments" of manufactured housing, the FHA Title I' program did a whopping 5 loans, per their own admission. It's colossal embarrassment now hiding in plain sight. Equally embarrassing, but perhaps foreboding, is their ongoing attempt to tout the market-failed Clayton-backed CrossModTM Homes program. Note MHI doesn't mention the total numbers of CrossMods sold to date. Why not? Perhaps because they are so embarrassingly low that it belied their own so-called research from the timeframe when MHI made it sound like this was going to be a hot ticket. Apparently consumers would rather by a residential style manufactured home than a far more costly CrossMod?  Let's not forget to mention the folly of linking HUD comments uncritically by MHI. If you can't trust MHI, why should someone trust HUD reports to Congress?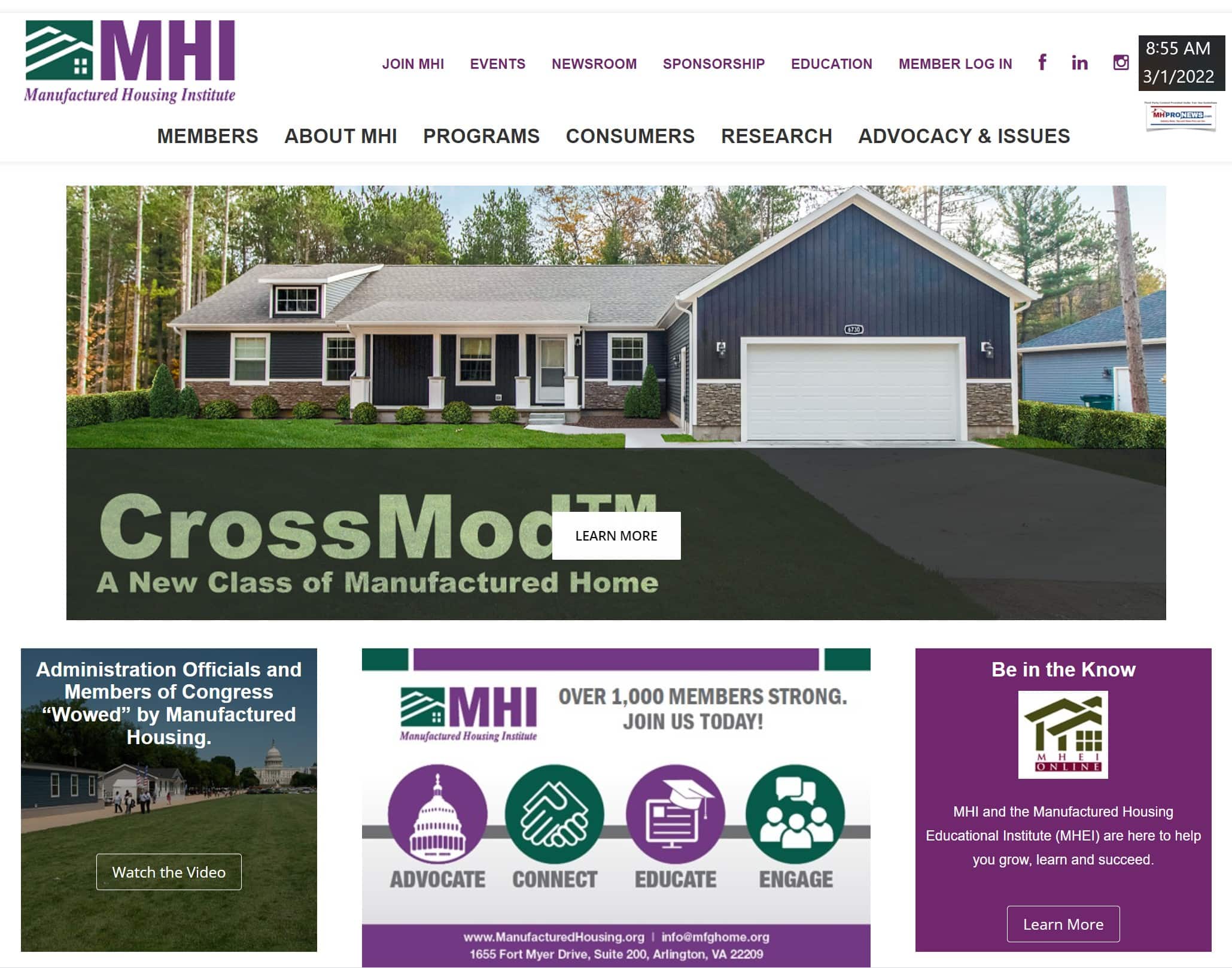 Manufactured Housing Institute (MHI) 'News' Odd Admission-Claims to Members-CrossMods, HR 7651 Manufactured Housing Affordability and Energy Efficiency Act; plus Sunday Weekly MH-Headlines Recap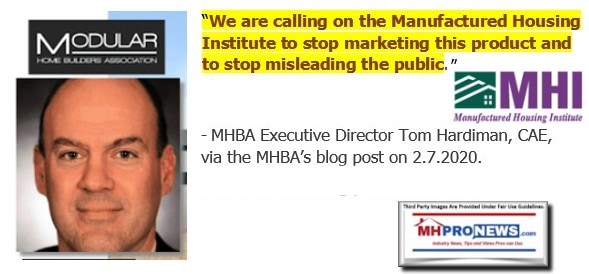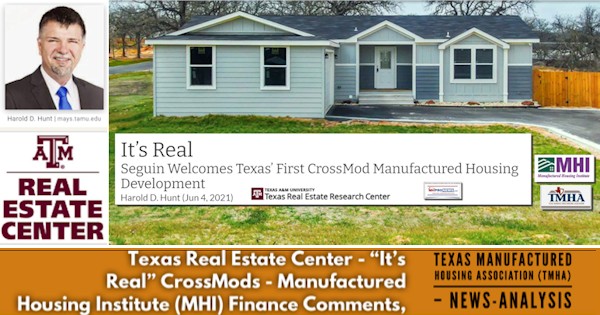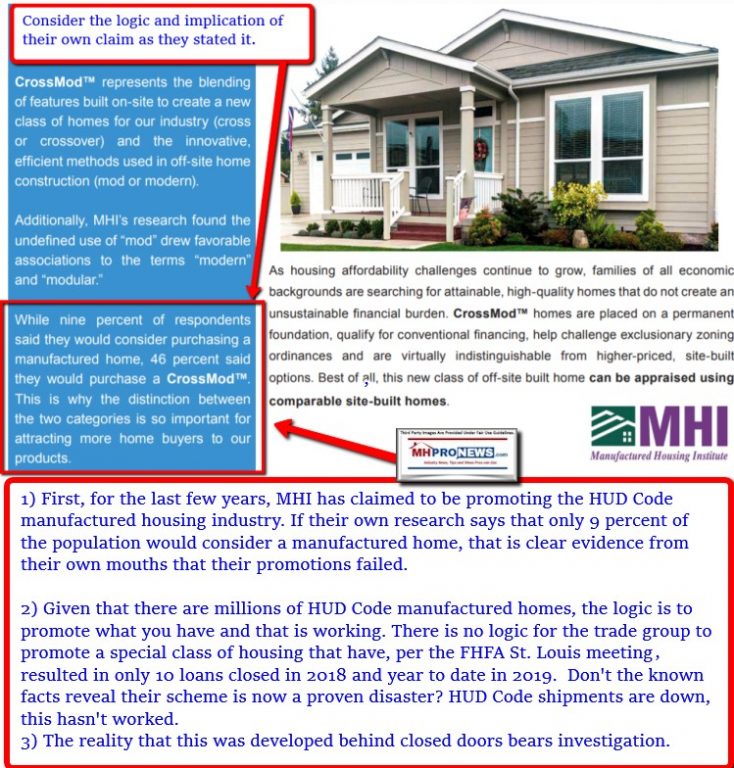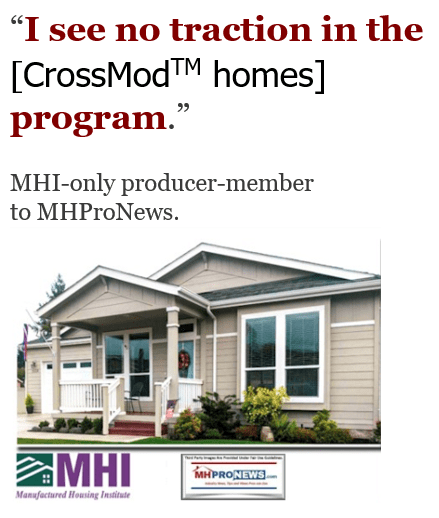 F) We did this in reverse order so that the "F" would be used for MHI's first item, the approaching DOE energy rule. Because that F is the grade the Machiavellian Housing Institute should get for their so-called advocacy. MHI's program appears to be straight out of George Orwell's fictional dystopian novel 1984, where war is peace, freedom is slavery, and ignorance is strength. Even their phrasing belies MHI's actual desire for this rule, perhaps precisely because it will dampen mainstream manufactured housing sales. One must look at who owns what in MHI's world. Buffett's Berkshire owns far more interests in conventional housing than it does in manufactured housing. Ditto some of the other private equity giants involved in manufactured homes and in conventional housing.
There you have it. Reading MHI news can be mildly amusing to the properly informed. It can be entertaining to imagine how much MHI staffers drink to get through their day as they posture and pretend to be advocating for "all segments" of manufactured housing.
It can even be enlightening to read MHI 'news' as a case study in gaslighting, con jobs, and good old-fashioned propaganda.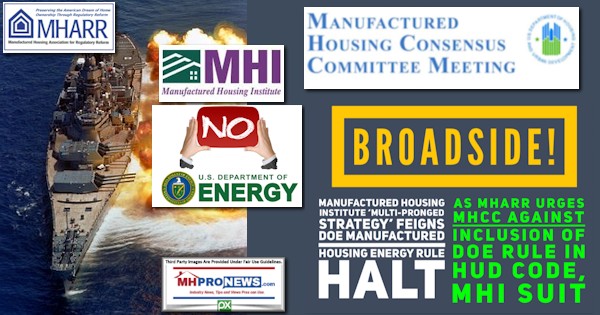 MHI's New Research, Stockholm Syndrome, Chains of Habit, Defining Insanity, You Can't Make This Stuff Up = Manufactured Housing's Wacky Wednesday; plus MHVille REITs, Stocks Update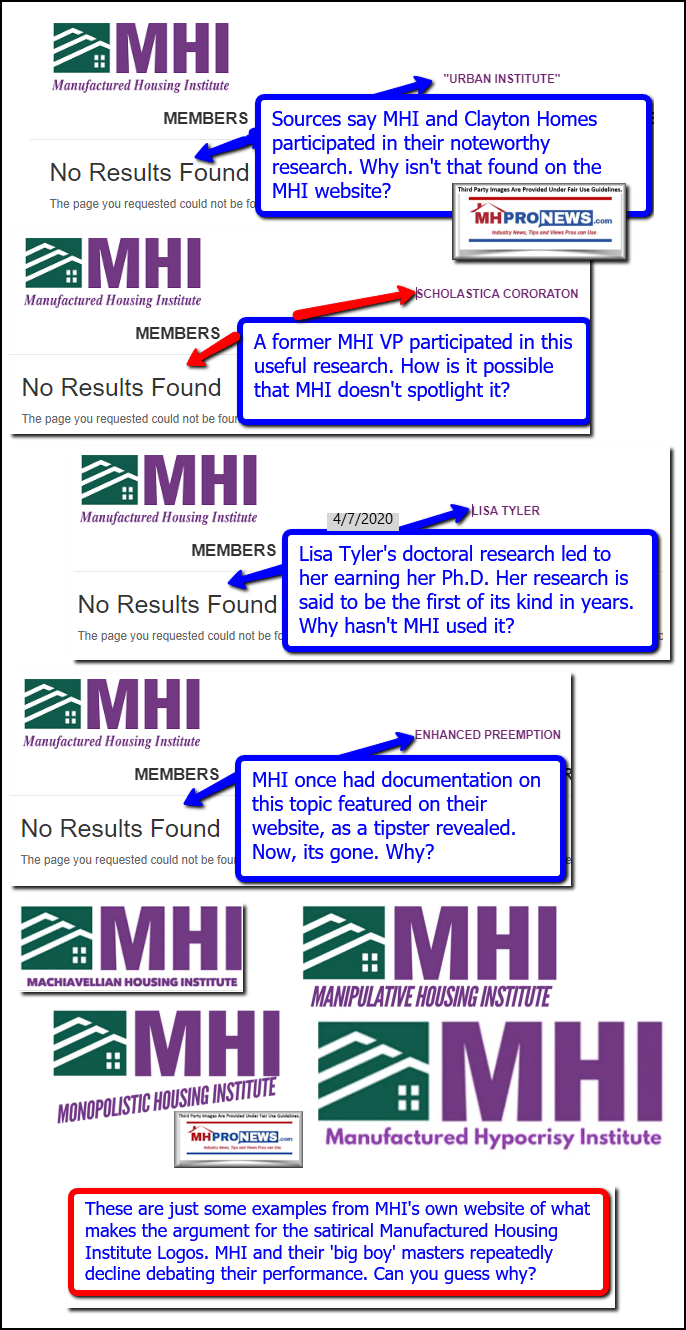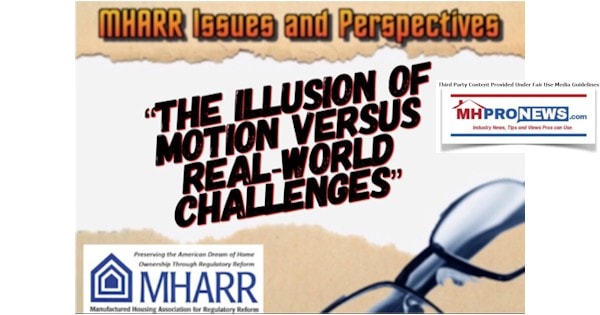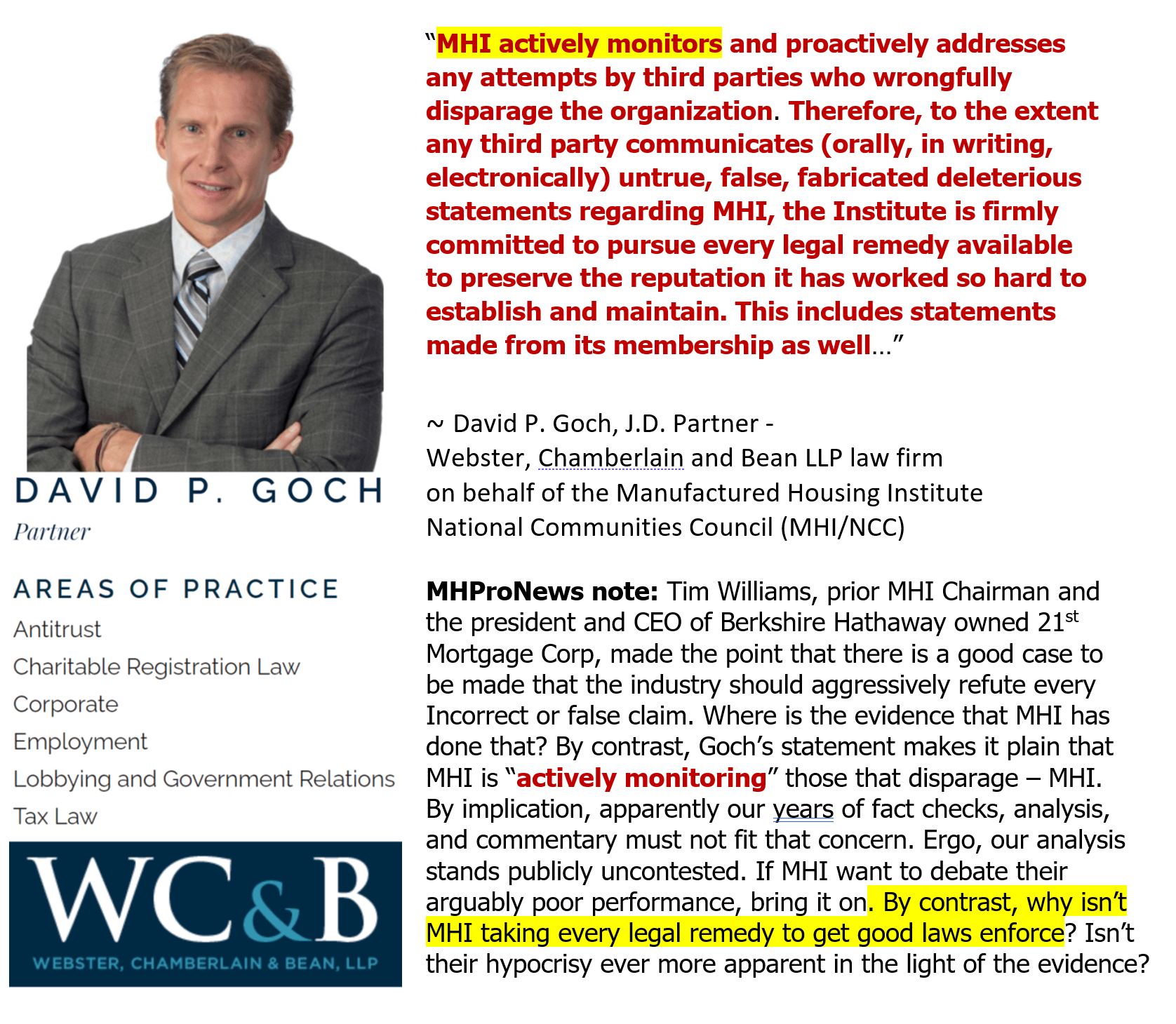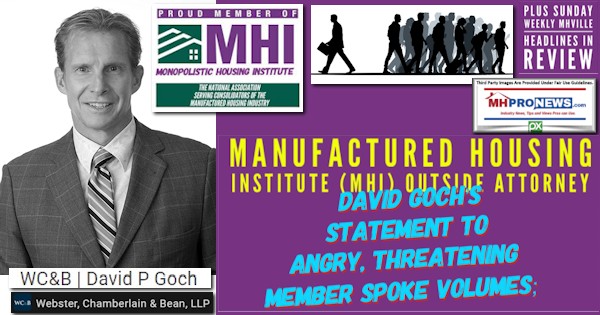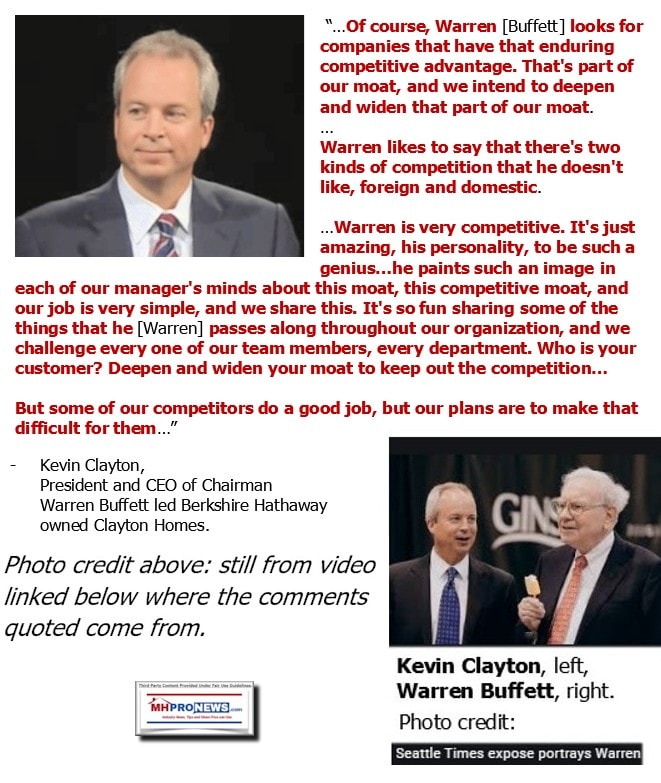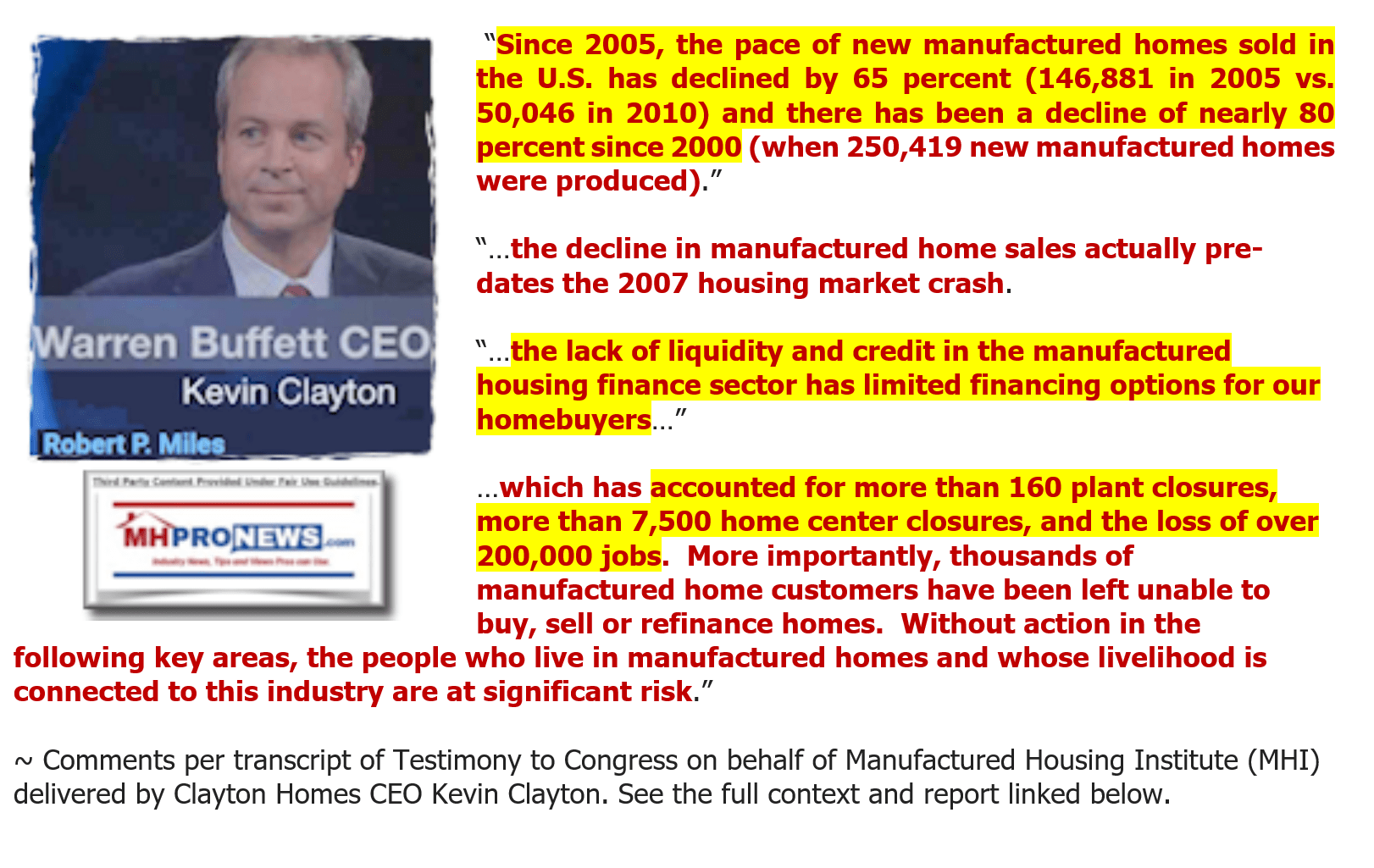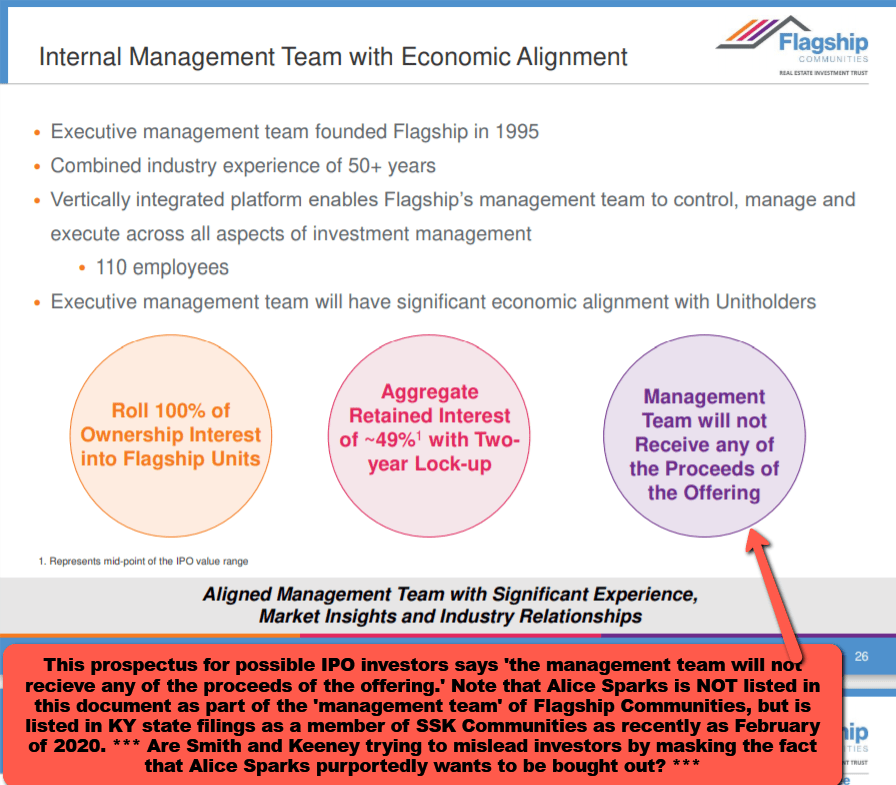 But other than the R.I.P above, reading much of 'MHI news' as if it were serious 'news' generated from a dozen or so MHI staffers who must be either dupped themselves and/or who are laughing every day at those who seriously buy their (pronounce this as if it were a French word) garbage would obviously be folly.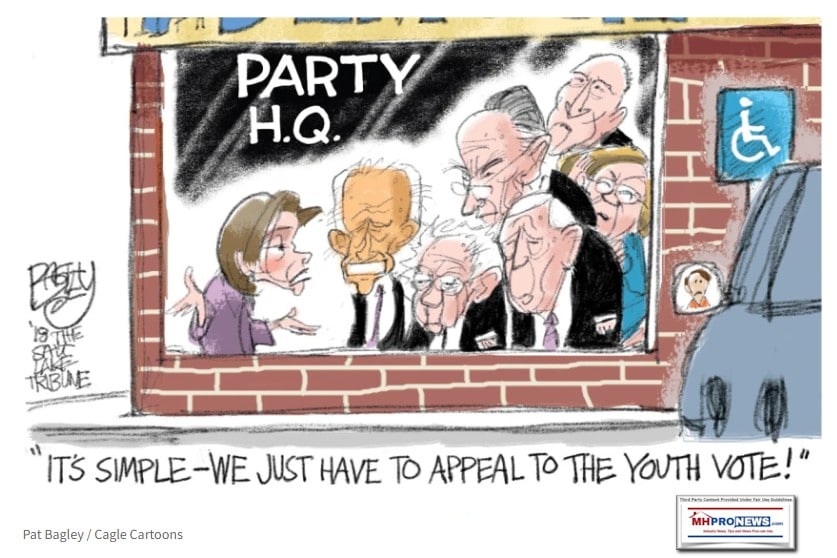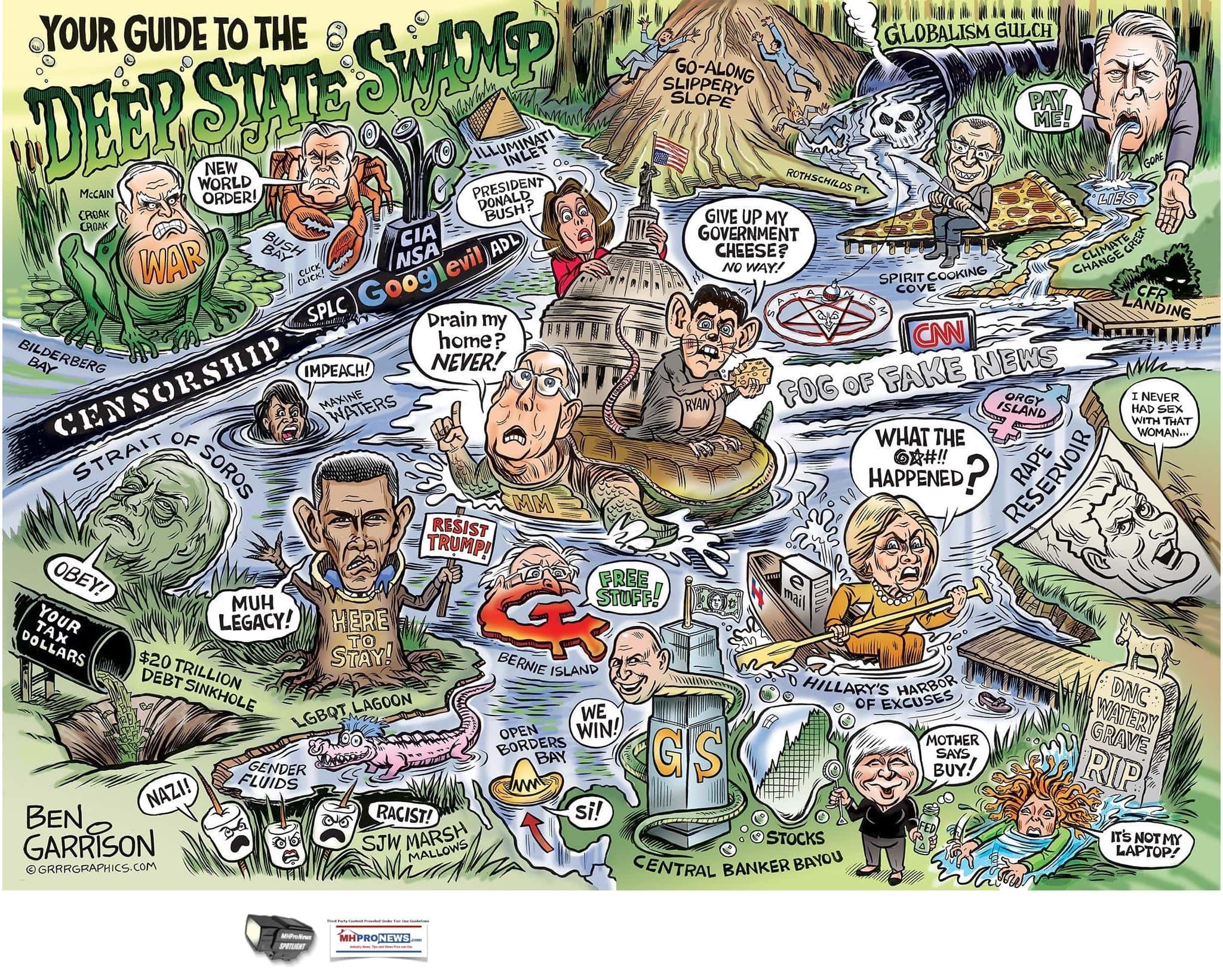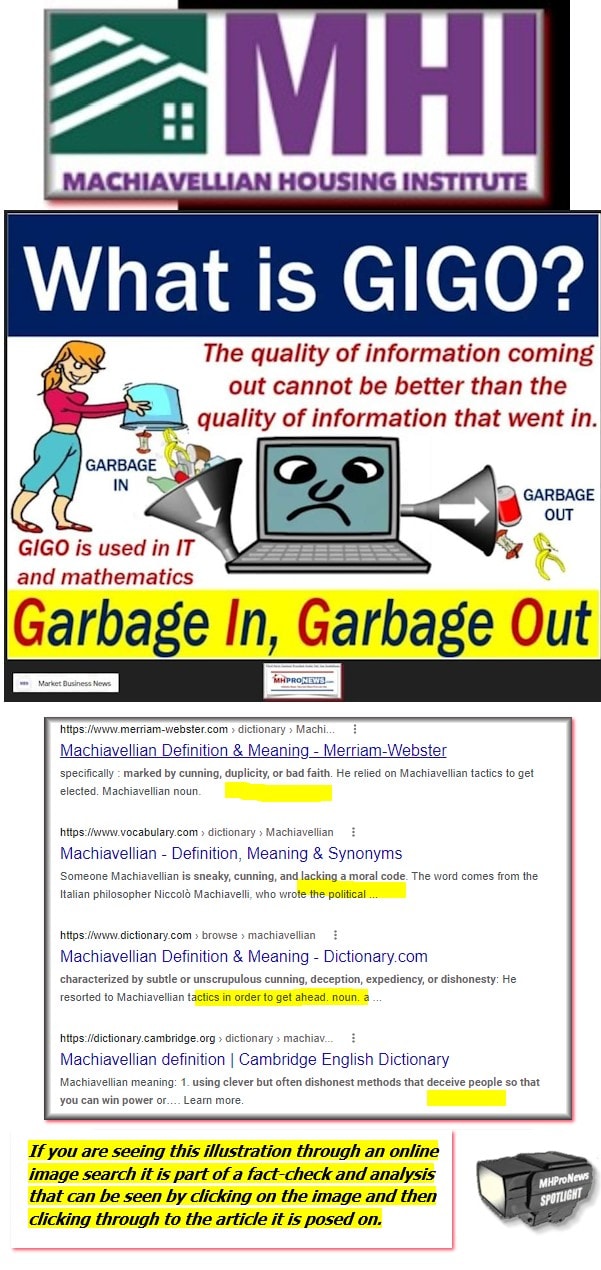 Will 2023 bring investigations by public officials into MHI's and their corporate masters' various activities? Stay tuned…
...that's a wrap for this installment of Friday Follies in MHVille.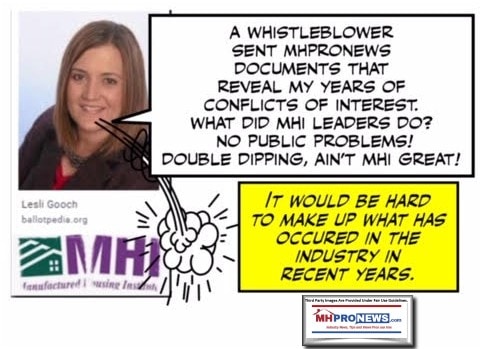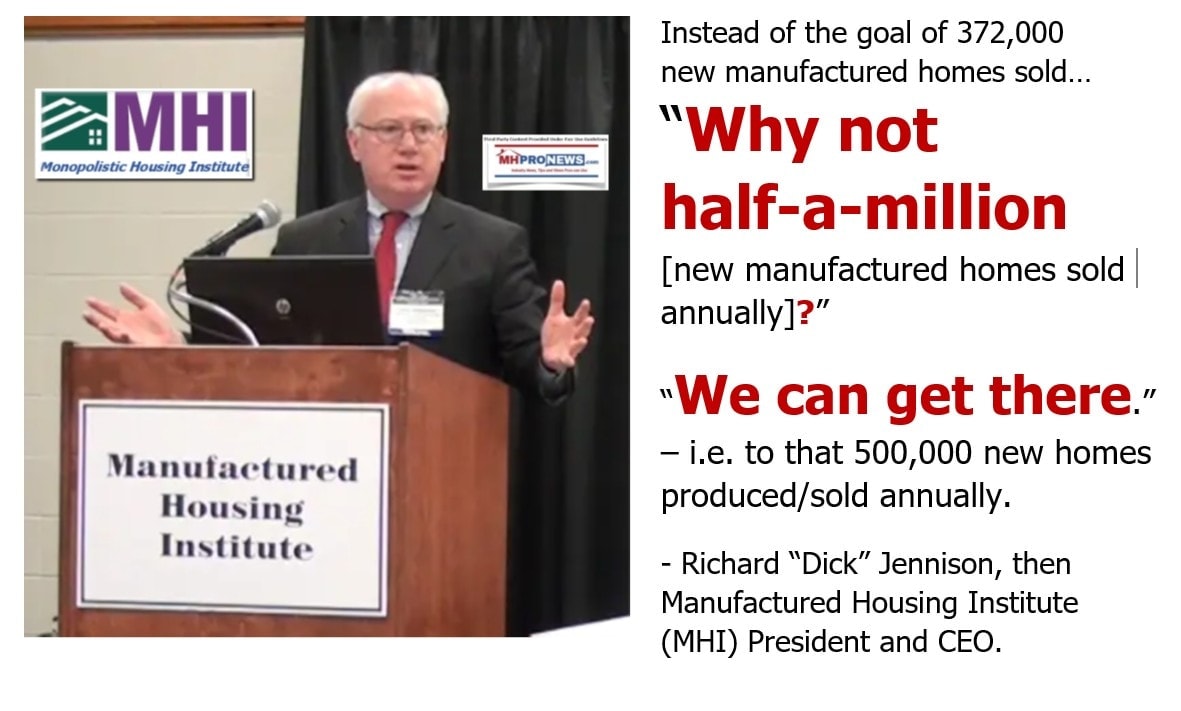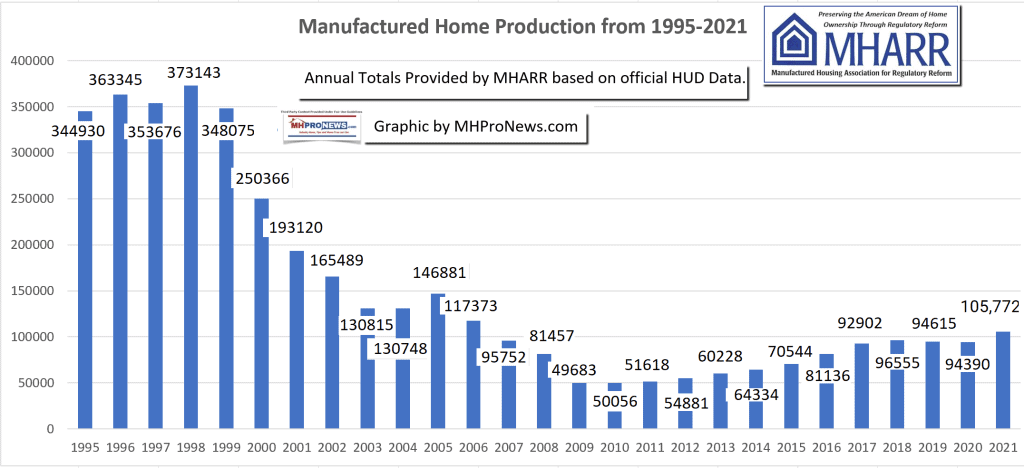 Manufactured Home Production Growth Continues in September 2022, per Manufactured Housing Association for Regulatory Reform-Added Facts, Analysis, plus MHVille REITs, MH Connected Stocks Update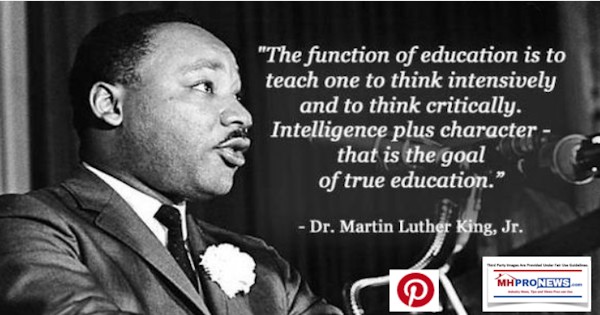 Daily Business News on MHProNews Markets Segment
The modifications of our prior Daily Business News on MHProNews recap of the recap of yesterday evening's market report are provided below. It still includes our signature left (CNN Business) and right (Newsmax) 'market moving' headlines. The macro market moves graphics will provide context and comparisons for those invested in or tracking manufactured housing connected equities.
In minutes a day readers can get a good sense of significant or major events while keeping up with the trends that are impacting manufactured housing connected investing.
Reminder: several of the graphics on MHProNews can be opened into a larger size. For instance: click the image and follow the prompts in your browser or device to OPEN In a New Window. Then, in several browsers/devices you can click the image and increase the size. Use the 'x out' (close window) escape or back key to return.
Headlines from left-of-center CNN Business – from the evening of 12.1.2022
Prices at the pump plunge
A gasoline nozzle pumps gas into a vehicle in Los Angeles, California on August 23, 2022. – US shoppers are facing increasingly high prices on everyday goods and services as inflation continues to surge with high prices for groceries, gasoline and housing.
US gas is cheaper now than it was before Russia invaded Ukraine
Why Mark Zandi says the US economy will narrowly avoid a recession
Sam Bankman-Fried says he 'got a little cocky' before FTX collapsed
Powell revives hopes of a Fed pivot. That's a bad thing
The Fed's favorite inflation measure cooled in October
Mortgage rates fall for the third week in a row as inflation fears ease
This discount chain is lowering prices
What to expect from Friday's jobs report
Railroad workers aren't the only Americans without paid sick days
Pepsi wants you to drink soda mixed with milk
Yellen to Colbert: 'I practiced and I practiced' signature for US currency
Binance still has big growth plans despite crypto market meltdown
Content by The Ascent
It's official: now avoid credit card interest into 2024
Elon Musk vs. Tim Cook, Sam Bankman-Fried's media apology tour, and why shopping on Amazon is getting worse
A "Drive-Thru" lane at a McDonald's Corp. fast food restaurant in Louisville, Kentucky, U.S., on Wednesday, Oct. 20, 2021.
McDonald's is testing a drive-thru of the future
To make money, don't fall prey to these 4 investing biases
MARKETS
HOUSING
Bank of America CEO predicts two years of pain in the housing market
Mortgage giants raise loan limits to a record level
Mortgage rates fall for the second week in a row
It's a terrible time to buy a house
This company will make your home greener for free
GROCERIES
A shopper visits Albertsons at 3901 Crenshaw Blvd on Friday, Oct. 14, 2022 in Los Angeles, CA.
There's a big problem with the Kroger-Albertsons supermarket merger
Here's what's getting more expensive at the grocery store
Wealthier shoppers turn to Walmart for groceries
Why grocers stop selling your favorite food
This food favorite is getting cheaper
WHAT TO WATCH
A deepfaked Mark Zuckerberg thank Congress for tech legislation inaction
Watch 'The Monopoly Man' transform into deepfaked Mark Zuckerberg
A traveler walks along a moving walkway between terminals at Logan International Airport in Boston, the day before Thanksgiving, Wednesday, Nov. 23, 2022.
Trivago CEO: Travel costs are up. Here's how vacationers are reacting
Richard Branson on the risk of starting a new airline in the '70s
Bank of America CEO predicts 'mild recession' next year
Watch 'The View' hosts scramble to turn off phone's ring tone live on air
SUCCESS
Residential homes in Teaneck, New Jersey, US, on Thursday, Nov. 24, 2022.
Mortgage rates fall for the third week in a row as inflation fears ease
To make money, avoid these common mistakes
A worker walks along tracks at a BNSF rail yard Sept. 14, 2022, in Kansas City.
Railroad workers aren't the only Americans without paid sick days
Aerial drone view of American suburban neighborhood at daytime. Establishing shot of America's Residential single family houses pattern, trees, street
Mortgage giants raise loan limits to a record level for 2023
TECH
Elon Musk, founder and chief engineer of SpaceX speaks at the 2020 Satellite Conference and Exhibition March 9, 2020 in Washington, DC. Musk answered a range of questions relating to SpaceX projects during his appearance at the conference.
Elon Musk's Neuralink shows brain implant prototype and robotic surgeon during recruiting event
Bret Taylor, co-chief executive officer of SalesForce.com Inc., at the Viva Technology Conference in Paris, France, on Wednesday, June 15, 2022. The conference, also known as VivaTech, runs though to June 18. Photographer: Nathan Laine/Bloomberg
Salesforce Co-CEO Bret Taylor steps down, leaving Marc Benioff alone at the top
Twitter must comply with Europe's platform rules, EU digital chief warns Musk in virtual meeting
Amazon CEO Andy Jassy speaks during the New York Times DealBook Summit in the Appel Room at the Jazz At Lincoln Center on November 30, 2022 in New York City. The New York Times held its first in person DealBook Summit since the start of the coronavirus (COVID-19) pandemic with speakers from the worlds of financial services, technology, consumer goods, private investment, venture capital, banking, media, public relations, policy, government, and academia.
Amazon CEO explains thinking behind layoffs as unionized warehouse workers protest outside
MEDIA
Malcolm Gladwell: Paul Simon more historically relevant than The Rolling Stones
People walk by the world headquarters for CNN on March 15, 2022 in Atlanta, Georgia.
CNN begins layoffs amid economic uncertainty, cost-cutting pressures from parent company
Drake gifts DJ Khaled four 'amazing' toilet bowls
Disney Executive Chairman Bob Iger attends the Exclusive 100-Minute Sneak Peek of Peter Jackson's The Beatles: Get Back at El Capitan Theatre on November 18, 2021 in Hollywood, California.
Bob Iger's biggest challenge at Disney: Finding the next Bob Iger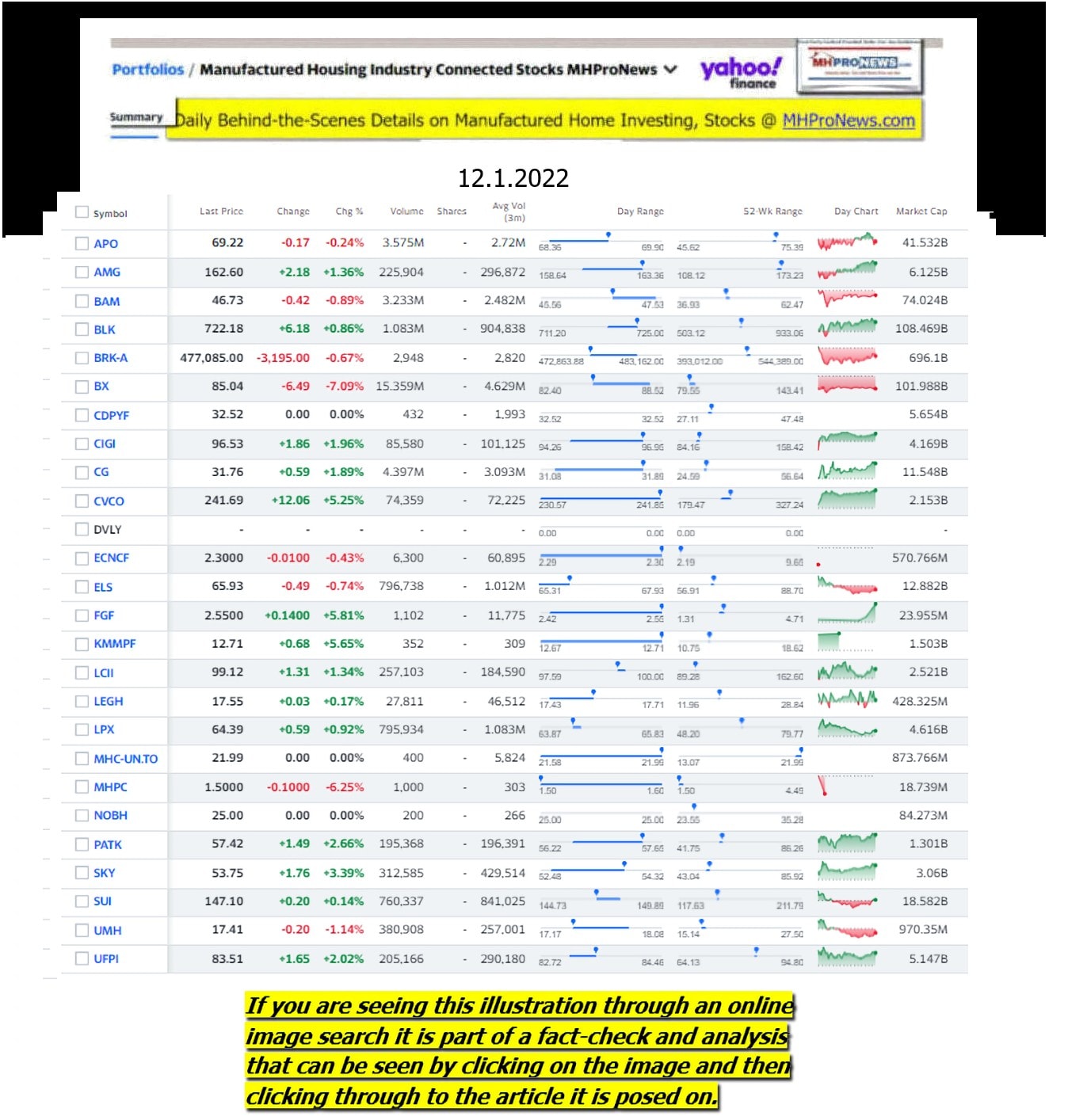 Headlines from right-of-center Newsmax 12.1.2022   
Supreme Court Justices Keep Student Loan Cancellation Blocked for Now
Lewandowski: McCarthy Will Be Next House Speaker
Texas AG Paxton: FedEx, UPS Gun Policy 'Suspicious' | video
Johnson: Biden Should 'Laud' Chinese Protesters | video
Tuberville: FTX Founder 'Skirted the Rules' | video
Blaine Holt: Israel's Not Going to Change Its Policy on Ukraine | video
RNC's Alvarez: Must Elect Walker to Keep 50-50 Senate | video
Meuser: Vote to Stop Potential Rail Strike Was Needed | video
Newsfront
Senate OKs Bill to Avert Rail Strike; Next Stop Is Biden
The Senate voted Thursday on legislation to help avert a potentially costly rail strike later this month. … [Full Story]
Ye Praises Nazi, Hitler, in Infowars Interview
Ye, the rapper and artist formerly known as Kanye West, on Thursday [Full Story]
Wall Street Ends Mixed in an Uneven Start for December
Stocks ended mixed after an uneven day of trading and bond yields [Full Story]
China's Draconian Lockdowns Are 'Complete Chaos,' American Says
For American expat Sarah Boss, the scariest part of lockdown life in [Full Story] | Platinum Article
Related
Johnson to Newsmax: Biden Should 'Laud' Chinese Protesters |video
China Set to Loosen COVID Curbs After Week of Historic Protests
Ukraine: Russia Test Flying Nuclear-Capable Bombers Near Border
Russian bombers with nuclear capabilities reportedly have been seen [Full Story]
Zelenskyy: Israel Must Stop Balancing Between Russia, Ukraine
Ukraine's President Volodymyr Zelenskyy said he wants Israel to stop [Full Story]
Related
Blaine Holt to Newsmax: Israel's Not Going to Change Its Policy on Ukraine |video
Security Meeting Overshadowed by Russia's War, Ban on Lavrov
Russia's Lavrov: US, NATO Directly Involved in Ukraine Conflict
EU Seeks UN-Backed Tribunal to Probe Russian War Crimes
Video Report: Pope Riles With Comments on Ukraine War, Ethnic Minorities
Ukraine Presses NATO: Past Denial a 'Strategic Mistake'
Census Data: Same-Sex Households Now Top a Million
There were about 1.2 million same-sex households in the U.S. in 2021, [Full Story]
December Watch: Holidays, Tea, Yachts
'Tis the season to get into the holiday spirit. If the prospect of a [Full Story] | Platinum Article
Will Pence Shift to Senate Race?
Hours after the news broke on Wednesday night that Republican Sen. [Full Story]
Biden: We Can 'Tweak' Inflation Act to Include European Countries
President Joe Biden said that new laws that give incentives for [Full Story]
Justices Keep Student Loan Cancellation Blocked for Now
The Supreme Court on Thursday said the Biden administration program [Full Story]
Emerson Poll: Sen. Warnock, Herschel Walker Virtually Tied
Despite a huge edge in fundraising reportedly close to a 3-to-1 [Full Story]
Twitter Offers Advertisers Incentives Up to $1 Million
Twitter Inc. is offering advertisers incentives to increase their [Full Story]
Biden Admits Climate Law Has 'Glitches' After Macron Criticism
President Joe Biden on Thursday acknowledged "glitches" in America's [Full Story]
Related
Biden Greets Macron Amid Trade Dispute
Video Report: US Officials Respond to Reported Death of ISIS Leader
On Thursday's "Wake Up America," Newsmax's Daniel Cohen reports on [Full Story] | video
Ruddy: What Really Happened on Election Day 2022
Demographics mean pure and simple that Republicans need to offer [Full Story]
Tesla's Image Takes a Hit After Musk's Twitter Purchase
Tesla's brand image has taken a hit following Elon Musk's purchase of [Full Story]
CNN Reportedly Duped by Comedian as 'Herschel Walker Supporter'
CNN has reportedly been caught using a liberal comedian propagandist [Full Story] | video
IRS Watchdog: Comey, McCabe Audits Were Random
An IRS watchdog said Thursday that it "did not identify misconduct" [Full Story]
Biden's Counterterrorism Strategy Scrutinized
In a new report, the country's largest civil rights organization says [Full Story]
Video Report: Gov. Ron DeSantis' Prospects Grow
On Thursday's "National Report," Newsmax Miami correspondentLeonardo [Full Story] | video
Grassley, Durbin: How Is DHS Curbing Sexual Misconduct in Its Ranks?
Chuck Grassley, R-Iowa, and Dick Durbin, D-Ill., are urging the [Full Story]
Sex Offender Border Arrests Up Under Biden
Sex offender encounters at the southern border have spiked under [Full Story]
Mortgage Rates Dip 3rd Week in a Row
The average long-term U.S. mortgage rate ticked down for the third [Full Story]
Do You Have What it Takes to be NYC's 'Bloodthirsty' Rat Czar?
New York City is looking for a rat czar – someone to fight back [Full Story]
Abortion Could Determine Ga. Runoff: NBC News
The mainstream media is reporting that Tuesday's U.S. Senate runoff [Full Story]
Defense Scours Docs for Words That Stigmatize Mental Health
Defense Department leaders are being instructed to "scour through all [Full Story]
Terrorism Advisory Issued as Jan. 6 Anniversary Nears
The Department of Homeland Security warned of possible violence as [Full Story]
Netflix Chief Calls Musk 'The Bravest Person on the Planet'
Lauding Elon Musk's $44 billion purchase of social media giant [Full Story]
Poll: DeSantis Leads Biden Among Ga. Voters in 2024 Matchup
Florida Gov. Ron DeSantis would defeat President Joe Biden in a [Full Story]
Appeals Court Rejects Biden's Bid to Revive Student Debt Plan
A federal appeals court on Wednesday declined to put on hold a Texas [Full Story]
Finance
Inflation May be Peaking, But Its Decline in Doubt
With central banks ratcheting up their response to a global inflation shock, debate is shifting from when they'll win the war to whether faster rising prices are here to stay in a supply-constrained world…. [Full Story]
Senate OKs Bill to Avert Rail Strike; Next Stop Is Biden's Desk
Amazon Wants to Widen Appeal of Cashier-less Tech
Chicago Fed Names Ex-Obama Adviser Goolsbee as President
Peter Morici: Fed's Actual Target Rate is 6@, Higher Than It Will Admit
More Finance
Health
Alzheimer's Drug Slows Cognitive Decline in Trial, May Cause Serious Side Effects
An experimental Alzheimer's drug from Eisai and Biogen slowed cognitive decline in a closely watched trial but may carry a risk of serious side effects for certain patients, according to detailed data presented on Tuesday. The drug, lecanemab, was associated with a dangerous… [Full Story]
Manufacturer of Enfamil Formula Expects Shortage Until Spring
Take Steps Now to Combat the Winter Blues
CDC to Expand Wastewater Testing for Poliovirus
Two Veterinary Meds Show Promise Against Bed Bugs
====================================
NOTE 1: The 3rd chart above includes the Canadian stock, ECN, which purchased Triad Financial Services, a manufactured home industry finance lender
NOTE 2: Drew changed its name and trading symbol at the end of 2016 to Lippert (LCII).
NOTE 3: Deer Valley was largely taken private, say company insiders in a message to MHProNews on 12.15.2020, but there are still some outstanding shares of the stock from the days when it was a publicly traded firm.  Thus, there is still periodic activity on DVLY.
Note 4: some recent or related reports to the equities named above follow.
'Changes Will Benefit Customers,' Boost Sales-Legacy Homes CEO Duncan Bates – LEGH 'Delivered 22.5% Return on Equity in 1 Yr' – Corp Q3 2022 Insights, Analysis; plus MHVille REITs, Stocks Update  
'No Assurance Inflation Will Not Affect Our Future Profitability Financial Position'=Cavco Industries 10-Q, Solitaire Deal, More CVCO Data; Supreme Court Ruled-SEC Regs on False-Omitted Remarks
Skyline Champion Provides Quarterly Results, Adding Retail Centers, Improved Delivery Times-CEO Mark Yost Says 'Can Outperform Conventional Housing' Explored; Plus MHVille REITs, Stocks Update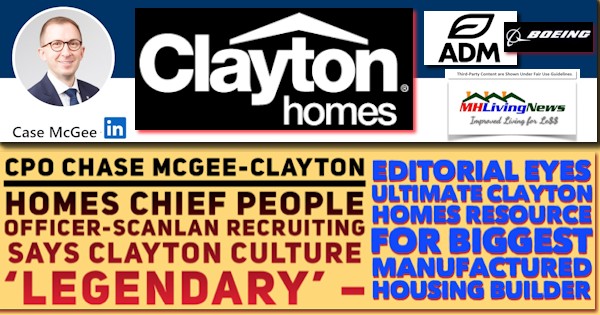 Triad Financial Services Q2-2022 FINANCIAL RESULTS, per ECN Capital – Several Bright Spots in Manufactured Home Market Highlighted, Including Communities, Retail, Land-Home, Floor; MHStocks Update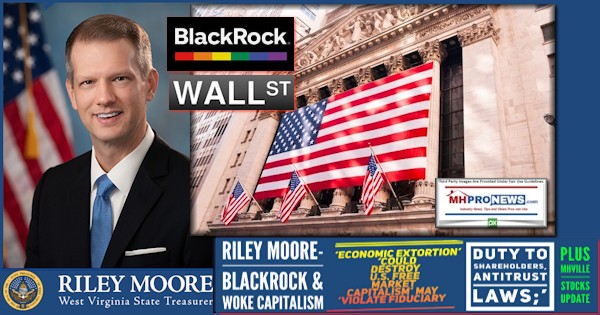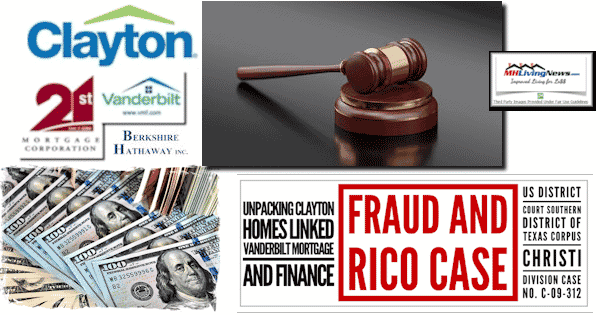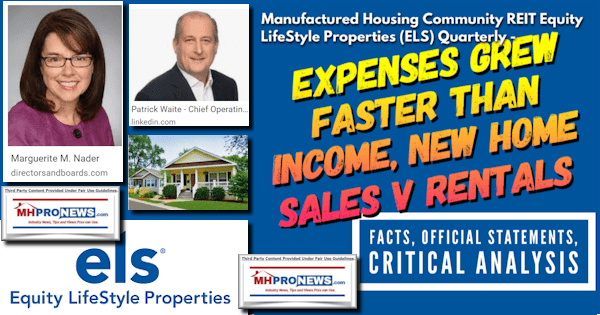 Manufactured Home Communities (a.k.a. 'Mobile Home Parks' – SIC) – Exploring UMH Properties; Fellow Manufactured Housing Institute Member Yes! Communities Suits and Settlements; plus MH Markets Updates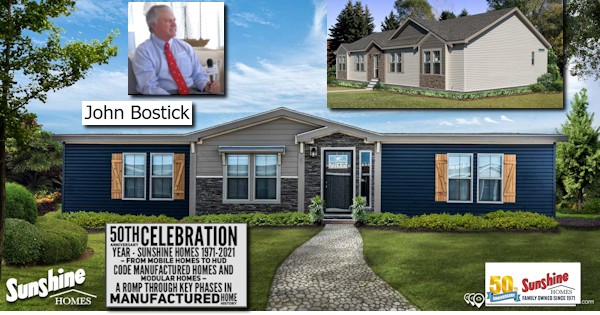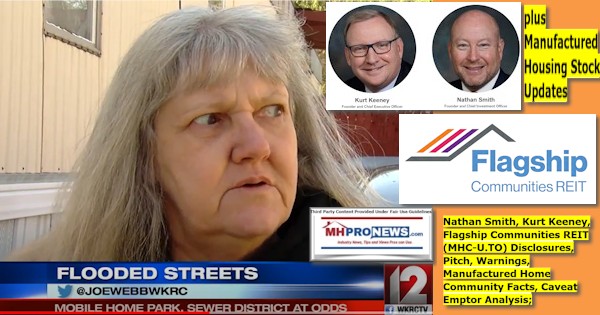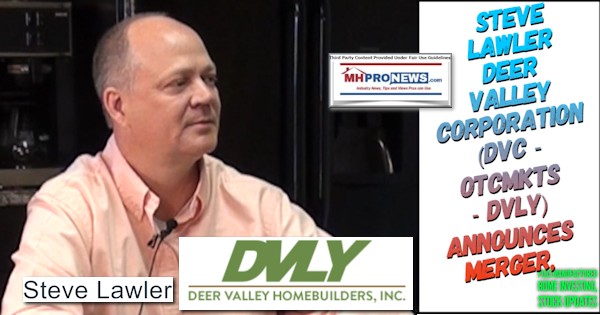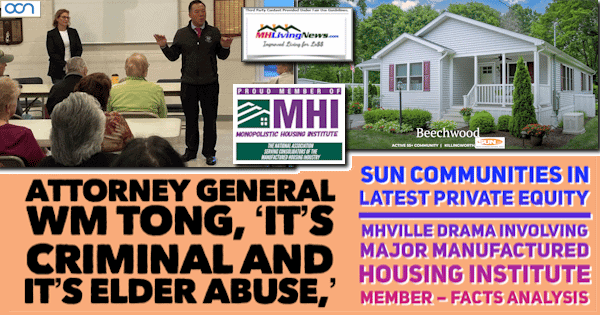 2022 …Berkshire Hathaway is the parent company to Clayton Homes, 21st Mortgage, Vanderbilt Mortgage and other factory-built housing industry suppliers.
· LCI Industries, Patrick, UFPI, and LP each are suppliers to the manufactured housing industry, among others.
· AMG, CG, and TAVFX have investments in manufactured housing related businesses. For insights from third-parties and clients about our publisher, click here.
Disclosure. MHProNews holds no positions in the stocks in this report.
· For expert manufactured housing business development or other professional services, click here.
· To sign up in seconds for our industry leading emailed headline news updates, click here.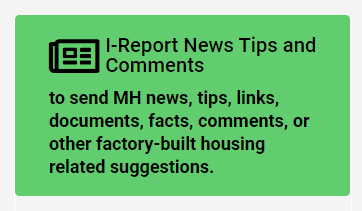 That's a wrap on this installment of "News Through the Lens of Manufactured Homes and Factory-Built Housing" © where "We Provide, You Decide." © (Affordable housing, manufactured homes, stock, investing, data, metrics, reports, fact-checks, analysis, and commentary. Third-party images or content are provided under fair use guidelines for media.) (See Related Reports, further below. Text/image boxes often are hot-linked to other reports that can be access by clicking on them.)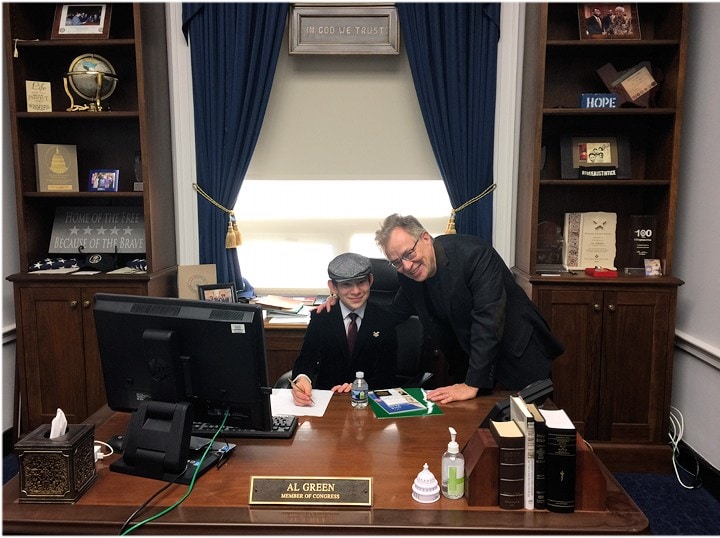 By L.A. "Tony" Kovach – for MHProNews.
Tony earned a journalism scholarship along with numerous awards in history. There have been several awards and honors and also recognition in manufactured housing. For example, he earned the prestigious Lottinville Award in history from the University of Oklahoma, where he studied history and business management. He's a managing member and co-founder of LifeStyle Factory Homes, LLC, the parent company to MHProNews, and MHLivingNews.com. This article reflects the LLC's and/or the writer's position and may or may not reflect the views of sponsors or supporters.
Manufactured Home Production Growth Continues in September 2022, per Manufactured Housing Association for Regulatory Reform-Added Facts, Analysis, plus MHVille REITs, MH Connected Stocks Update
Consumers 'Fears for the Future'-Mortgage Payments Surge Since 2021, Buyers Get Priced Out–Conventional Housing Woes are Manufactured Home Pro Opportunities; plus MHVille REITs, Stocks Update