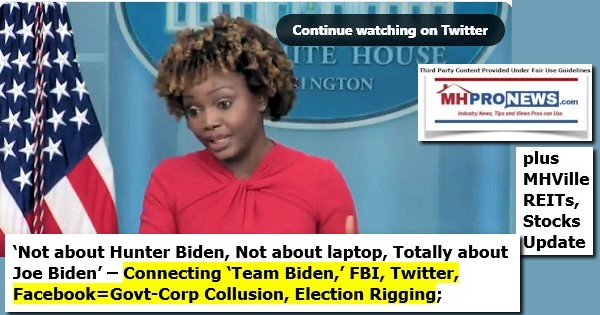 Most 'news' is to a significant degree backward looking. History matters in national, local, professional or industry – including manufactured home industry (a.k.a. MHVille) – related issues. There are issues that have little or no relationship with collusions or conspiracies. But there are some issues where the facts and known evidence strongly indicate conspiracies and collusion occurred and may have done so in a fashion that immorally and/or illegally benefits a few while harming the many. One may recall that left-leaning Time's Molly Ball wrote an article thousands of words in length that Philanthropy Daily and a host of other media weighed in on. Why? Because as Philanthropy Daily (PD) expressed it on 2.6.2021, "Molly Ball's lengthy article in the most-recent edition of Time, which purports to tell "The Secret History of the Shadow Campaign That Saved the 2020 Election," is sure to reverberate for a long time. By its own terms, it touts "a well-funded cabal of powerful people" who engaged in a "conspiracy" to affect the election."
Per PD's Michael E. Hartmann,

Ball reports that earlier last year, "[i]n his apartment in the D.C. suburbs," the AFL-CIO's Mike Podhorzer
began working from his laptop at his kitchen table, holding back-to-back Zoom meetings for hours a day with his network of contacts across the progressive universe: the labor movement; the institutional left, like Planned Parenthood and Greenpeace; resistance groups like Indivisible and MoveOn; progressive data geeks and strategists, representatives of donors and foundations, state-level grassroots organizers, racial-justice activists and others. (Emphasis supplied.)
That's a big blue tent. Some big business groups joined in later, as Ball tells it."
Hartmann went on to say under the caption of "Real Questions" "Zooming in on real questions that Ball's piece does raise: Who were the donors and foundations in these meetings? For what exactly was Podhorzer seeking their support? And what exactly were the philanthropies considering supporting? For what purpose? To what effect?" Some of that by Hartmann may have been a rhetorical device, because the "effect" is apparent – Joseph R. "Joe" Biden is in the White House instead of deposed 45th President Donald J. Trump. The so-called Twitter Files adds depth to what is known, evidenced, or was suspected and confirmed by the Matt Taibbi-Elon Musk revelations.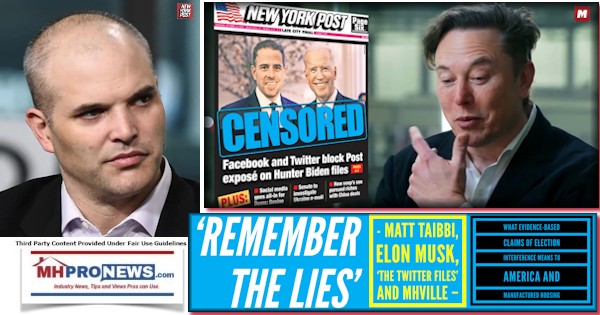 Third-party research indicates that the censorship of that news by itself changed the course of the election.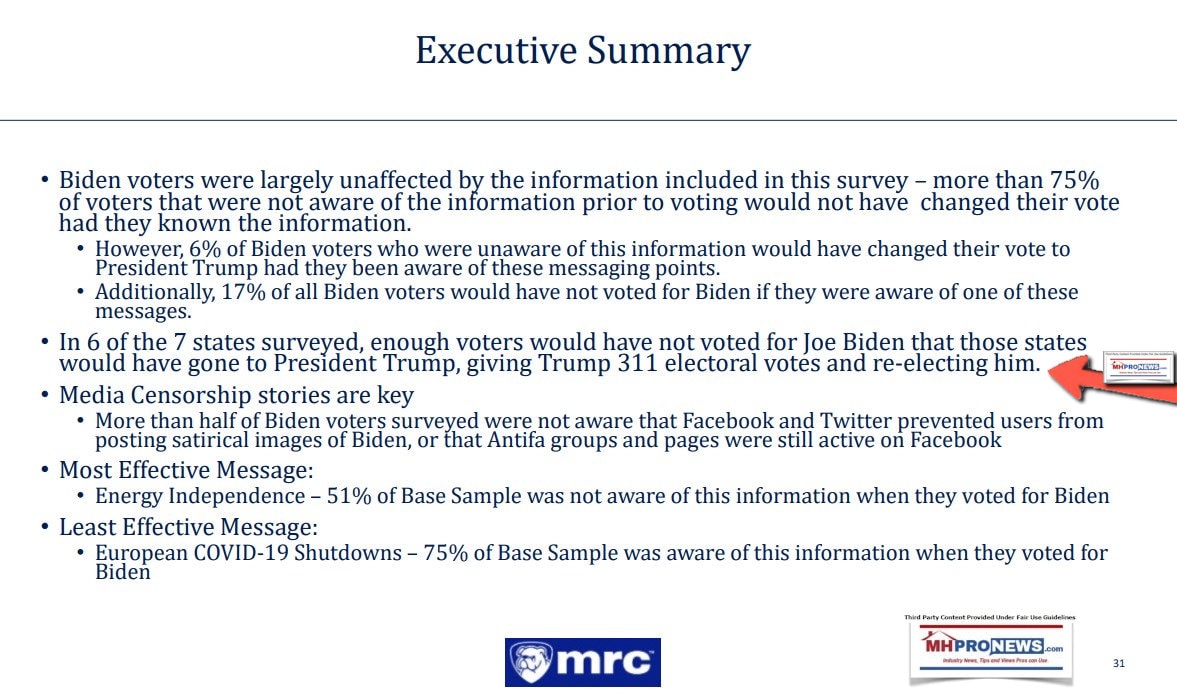 Thus, to say that this issue impacts every person, business, including housing and manufactured housing is obvious. Home ownership was on the rise under President Trump's time in office. Per CNN and others in media that are reliably pro-Democratic and pro-Biden media outlets, housing has broadly slumped in recent months under the weight of Biden-Democratic inflation's impacts. Democratic House Majority Whip James "Jim" Clyburn (SC-D) frankly said that Democrats knew they were voting for spending that would result in inflation. From that fact and others, several conclusions and impacts flow. CNN and NAR frankly noted that first time homebuyers, which includes numbers of manufactured home buyers, has fallen to an all-time low. USA Today, which like CNN is left-leaning, described the frustration of affordable housing seekers who think they are losing out on their opportunity to get their part of the American Dream.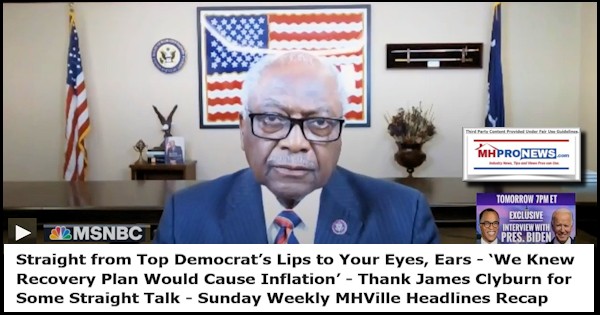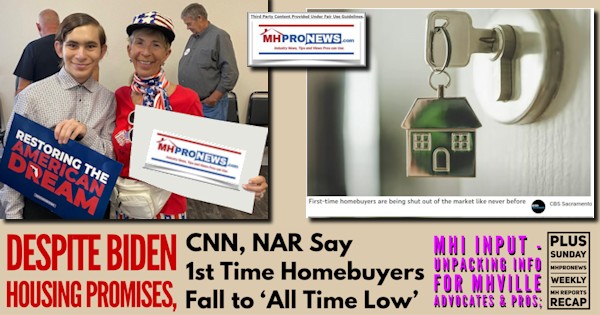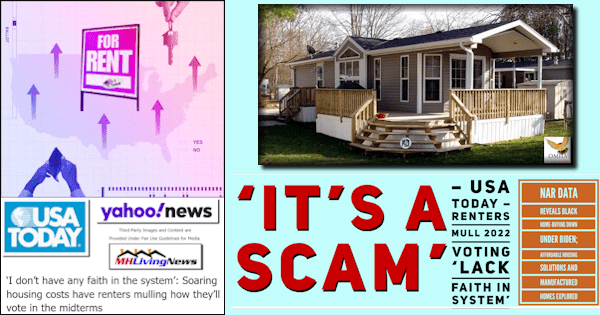 With that 600-word backdrop, the latest from the WND Newscenter to MHProNews that connects more dots in this troubling case of what has been described as election rigging by corporate interests is below. It will be followed by additional information with more MHProNews analysis, commentary plus our Daily Business News recap of the Manufactured Housing markets report.
MONEY POLITICS U.S. WND NEWS CENTER WORLD
WND
FBI 'meetings' led to Twitter's censorship of Hunter laptop story
Bureau told Big Tech giants to expect 'hack-and-leak operations' by 'state actors'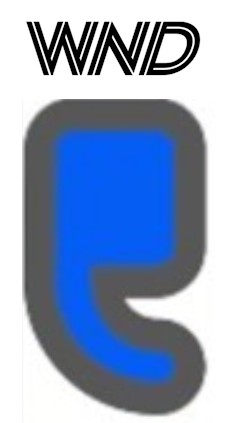 By Art Moore Published December 5, 2022 at 3:16pm
Twitter's censorship of the New York Post's scoop about the Biden family influence-peddling business weeks before the 2020 election came after the FBI warned the social media giant during weekly meetings to expect "hack-and-leak operations" by "state actors" involving Hunter Biden.
That's according to a sworn declaration by Twitter's former head of site integrity, Yoel Roth, the New York Post's Miranda Devine reported.
On Friday evening, Twitter's new owner, Elon Musk, began releasing internal communications documenting the company's suppression of the Post's blockbuster stories before the 2020 election presenting evidence from a laptop abandoned by Hunter Biden that the Democratic Party's presidential candidate was covering up his family's sale of access to the White House to the likes of Chinese Communist Party companies, and Russian and Ukrainian oligarchs.
Internal communications between Twitter officials show the Biden White House had a direct line to the social media giant to remove information it didn't like.
In her report late Sunday night, Devine pointed to the testimony last Tuesday of FBI Supervisory Special Agent Elvis Chan in a lawsuit against the Biden administration brought by Republican attorneys. Chan said he organized weekly meetings with Twitter and Facebook in San Francisco for as many as seven Washington-based FBI agents in the run-up to the 2020 presidential election.
Twitter's Roth was testifying in a separate lawsuit in which the Tea Party Patriots Foundation claimed the censorship of the Post was an "in­ kind" campaign contribution to then-presidential candidate Joe Biden's campaign.
"I was told in these meetings that the intelligence community expected that individuals associated with political campaigns would be subject to hacking attacks and that material obtained through those hacking attacks would likely be disseminated over social media platforms, including Twitter," said Roth in a Dec. 21, 2020, declaration to the Federal Election Commission.
"I also learned in these meetings that there were rumors that a hack-and-leak operation would involve Hunter Biden."
It was Twitter's policy of banning "hacked materials" that was cited Oct. 14, 2020, when it locked the Post's account for two weeks and censored the reports of evidence that Joe Biden was lying about his knowledge of the family influence-peddling business.
Facebook also was warned by the FBI to be prepared for a "dump" of "Russian propaganda," Meta CEO Mark Zuckerberg told podcast host Joe Rogan in August. Facebook joined Twitter in censoring the Post's stories.
Devine reported the FBI was aware of the upcoming Post stories because the bureau was spying on Trump's then-lawyer Rudy Giuliani's online cloud. The FBI's pretext was that it was investigating alleged foreign agent registration violations. But the probe was disbanded this year.
The FBI, through the warrant to spy on Giuliani, had access to emails in August 2020 from the owner of the computer repair shop where Hunter Biden abandoned his laptop in April 2019, John Paul Mac Isaac.
Mac Isaac had come to the FBI in the fall of 2019, expressing concern that the laptop contained matters of national security. He pointed to evidence of payments to the Biden family from Ukraine and China.
Two FBI agents came to Mac Isaac's door with a subpoena on Dec. 9, 2019, and took the laptop and a copy of the hard drive. Since then, bureau whistleblowers have told congressional Republicans that officials in the FBI's Washington Field Office buried derogatory information prior to the 2020 election that had been discovered in the investigation.
Musk weighed in on the findings Saturday in a Q&A on Twitter.
"If Twitter is doing one team's bidding before an election, shutting down dissenting voices on a pivotal election, that is the very definition of election interference," he said.
"Frankly Twitter was acting like an arm of the Democratic National Committee. It was absurd."
Here are other significant revelations from the release of internal communications that began Friday:
Twitter's CEO at the time, Jack Dorsey, was left out of the loop in the decision to suppress the New York Post's stories.
The move to censor the stories was led by Vijaya Gadde, Twitter's head of legal, policy and trust, who previously was responsible for decisions to ban the accounts of conservative figures and who fiercely opposed Musk's takeover.
Many Twitter insiders questioned the stated rationale that the New York Post's stories violated the company's "hacked materials" policy.
A former Twitter employee told Taibbi: "Hacking was the excuse, but within a few hours, pretty much everyone realized that wasn't going to hold. But no one had the guts to reverse it. They just freelanced it."
Members of Twitter's communications and policy teams were concerned about the decision and the implications for the company's relationship with Capitol Hill.
Democratic Rep. Ro Khanna of California warned the decision had been met with a "huge backlash" on Capitol Hill.
Accusing of violating Twitter's "hacked materials" policy for sharing the story, the company locked then-White House press secretary Kayleigh McEnany out of her account three weeks before the 2020 election. Trump campaign staffer Mike Hahn fired off a message to Twitter demanding her account be unlocked. "At least pretend to care for the next 20 days," he wrote.
At the White House on Monday, press secretary Karine Jean-Pierre was asked, in light of the "Twitter files," if the decision by Twitter to censor the Post's revelations about Joe Biden and his family business before the 2020 election was appropriate.
She accused Musk of "haphazardly" pushing a "distraction that is full of old news."
See Jean-Pierre's remarks:
Karine Jean-Pierre calls Twitter's censorship of the @nypost story on the Biden family's corrupt foreign business dealings "old news" and "a distraction" pic.twitter.com/YP8zQn1ubx

— RNC Research (@RNCResearch) December 5, 2022
In a recent in-depth video interview with WND, Seamus Bruner, who along with Peter Schweizer uncovered evidence of the Biden family's business long before the New York Post stories, breaks down the evidence as House Republicans prepare to investigate.
"This is not about Hunter Biden. This is not about a laptop," Bruner told WND. "This is totally about Joe Biden."
On Friday night, the top Republican on the House Oversight Committee, Rep. James Comer, R-Ky. – who has said the committee's focus in the "laptop" probe is Joe Biden – told Fox News guest host Jason Chaffetz that every Twitter staff member who suppressed the story will be brought before Congress to testify.
See the interview with Comer:
See a montage created by "War Room" showing the claim by media, Joe Biden and others that the Hunter Biden laptop was part of a Russian disinformation ploy:
BANNON MONTAGE: Remember the lies pic.twitter.com/e6GHSwFojM

— Jack Posobiec 🇺🇸 (@JackPosobiec) December 3, 2022
See how the media's narrative evolved from "Russian disinformation" to authenticating the messages on the laptop, long after the 2020 election:
What happened: pic.twitter.com/O66PJZvVXd

— Matt Orfalea (@0rf) December 2, 2022
Actor James Woods discussed with Fox News host Tucker Carlson the fresh revelation Friday night that Twitter removed his tweets at the direction of the Democratic National Committee.
Woods, informing Carlson he plans to sue the DNC, had a message for "Joe Biden, and all those rats who worked with you and the DNC."
"I am not afraid of you, and I am coming for you."
See the interview with Wood:
'Battle for the future of civilization'
Earlier this week, amid Musk's measures to protect free speech on Twitter, including the elimination of its COVID "misinformation policy," the White House promised to keep "a close eye" on the social media platform. ##
Additional Information with More MHProNews Analysis and Commentary
Yahoo News said on 2.10.2021: "Writing a column in Time magazine entitled, "The Secret History of the Shadow Campaign That Saved the 2020 Election," Molly Ball would like to convince you that, if you're worried about a conspiracy run by a wealthy, invisible cabal to rig the election against Donald Trump, you're right."
If "secret history" and "shadow campaign" aren't vaguely sinister-sounding enough for you, consider how Ball frames her story:

It was all very, very strange," Trump said on Dec. 2. "Within days after the election, we witnessed an orchestrated effort to anoint the winner, even while many key states were still being counted." In a way, Trump was right. There was a conspiracy unfolding behind the scenes, one that both curtailed the protests and coordinated the resistance from CEOs.
This is the inside story of the conspiracy to save the 2020 election, based on access to the group's inner workings, never-before-seen documents and interviews with dozens of those involved from across the political spectrum. . . . The participants want the secret history of the 2020 election told, even though it sounds like a paranoid fever dream — a well-funded cabal of powerful people, ranging across industries and ideologies, working together behind the scenes to influence perceptions, change rules and laws, steer media coverage and control the flow of information."
WND's reporter Art Moore had this to say about that Ball-Time article.

A massive, coordinated effort by the left that pushed mail-in voting and other measures that have become associated with claims by the right of election fraud is the subject of an in-depth report published by Time magazine.
Time's Molly Ball describes it as a "conspiracy" between "left-wing activists and business titans. But she insists the objective of the "extraordinary shadow effort" was only to "protect" the 2020 presidential election from anticipated claims of fraud by Trump.
In "The Secret History of the Shadow Campaign That Saved the 2020 Election," she writes that the "handshake between business and labor was just one component of a vast, cross-partisan campaign to protect the election – an extraordinary shadow effort dedicated not to winning the vote but to ensuring it would be free and fair, credible and uncorrupted."
Ball writes that the effort "touched every aspect of the election":
"They got states to change voting systems and laws and helped secure hundreds of millions in public and private funding.
"They fended off voter-suppression lawsuits, recruited armies of poll workers and got millions of people to vote by mail for the first time.
"They successfully pressured social media companies to take a harder line against disinformation and used data-driven strategies to fight viral smears.
"They executed national public-awareness campaigns that helped Americans understand how the vote count would unfold over days or weeks, preventing Trump's conspiracy theories and false claims of victory from getting more traction.
"After Election Day, they monitored every pressure point to ensure that Trump could not overturn the result."
Time says the participants want "the secret history of the 2020 election told," even though "it sounds like a paranoid fever dream – a well-funded cabal of powerful people, ranging across industries and ideologies, working together behind the scenes to influence perceptions, change rules and laws, steer media coverage and control the flow of information."
The participants insisted they were not "rigging the election; they were fortifying it."
"And they believe the public needs to understand the system's fragility in order to ensure that democracy in America endures," Ball writes.
Leader of the pack
The leader of the "democracy campaigners" was Mike Podhorzer, a senior adviser to the president of the powerful AFL-CIO labor union, which endorsed Joe Biden.
Podhorzer worked his network of progressive contacts in the labor movement along with institutional giants such as Planned Parenthood and Greenpeace, resistance groups such as Indivisible and MoveOn, tech experts, donors, foundations, grassroots organizers and racial-justice activists.
Significantly, the coalition pushed Congress to fund vote-by-mail and persuaded Facebook CEO Mark Zuckerberg to contribute $400 million to "election administration funding." WND reported Zuckerberg targeted Democratic strongholds such as Detroit and Atlanta in key swing states, "causing havoc, confusion and lawlessness" that tipped the outcome in Joe Biden's favor, contends a report by the Amistad Project of the Thomas More Society.
Ball writes that the coalition used a "nameless, secret project" to combat "disinformation" on social media. It sought to "pressure platforms to enforce their rules, both by removing content or accounts that spread disinformation."
Certainly, social-media censorship of President Trump and conservative voices became a major issue in the 2020 campaign and its aftermath. Twitter's suppression of bombshell New York Times stories revealing evidence that Joe Biden personally profited from his son Hunter's influence-peddling possibly affected the outcome of the election, according to a survey.
Time's Ball writes that the shadow campaign also worked "to harness" for the election the "momentum" from the violent reaction to the death of George Floyd "without allowing it to be co-opted by politicians."
She says the U.S. Chamber of Commerce joined in an unlikely alliance with the AFL-CIO and some Republicans to thwart claims by Trump of election fraud. And the coalition engaged in a behind-the-scenes effort to mobilize unrest on the streets if Trump were to win. ##
To sum up, before and after the election, there were billions spent, some of it legally, but some of it not in efforts to shape public opinion, manipulate election laws, and create an end result which 'declared' that Joe Biden rather than President Trump should be the occupant of the White House.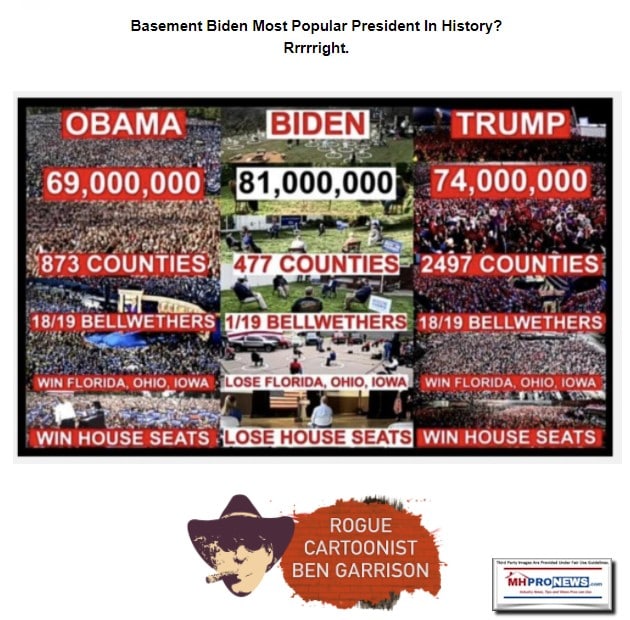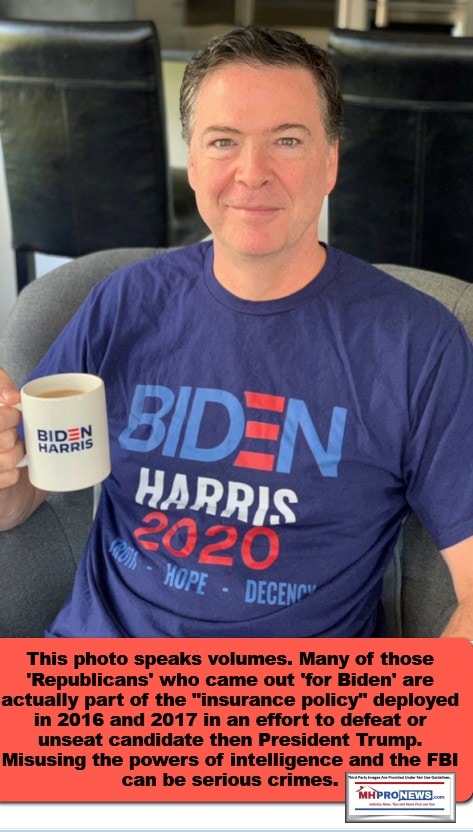 MHProNews has reported for some years about the third-party research and insider remarks about "the Iron Triangle," the "Revolving Door," and how regulated entities magically get benefits over their smaller rivals. The "crony capitalist" or Tammany Hall-style of corrupt collusion between public officials and private interests dates back to generations of in parts of the U.S. It has involved at various times "Establishment" politicians of both major parties.
Thinking people ought to ask, why were so many big businesses, big media, big tech, and big philantro-capitalists opposed to President Trump's re-election? Isn't the answer obvious? Didn't they oppose him because they were afraid that he would make good on ending a "rigged system" that those 'special interests' didn't want to see ended?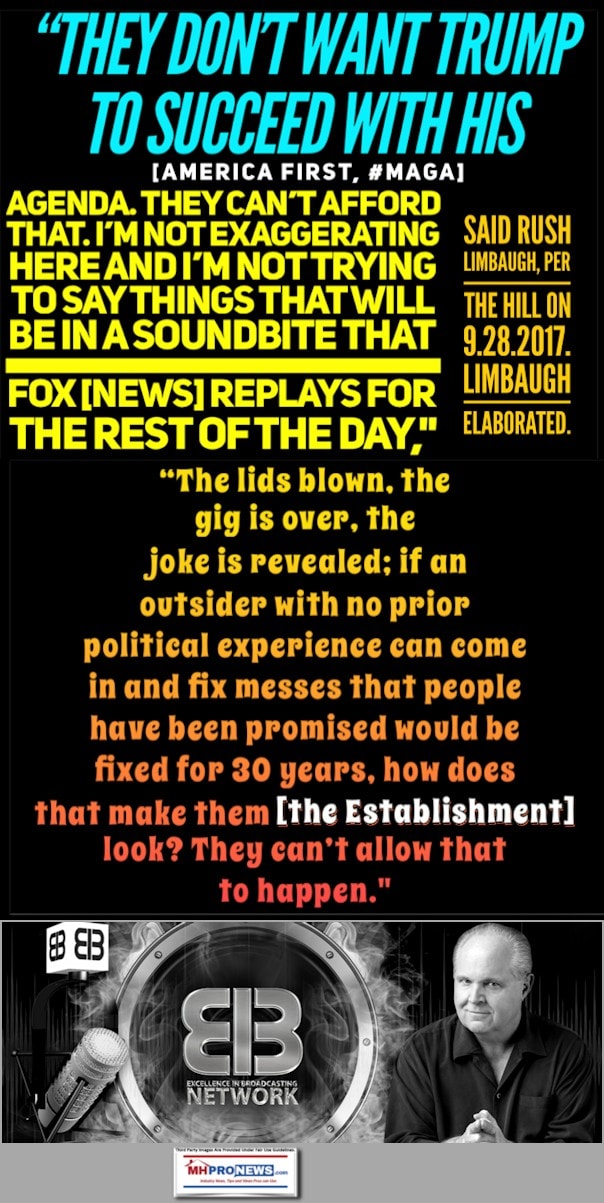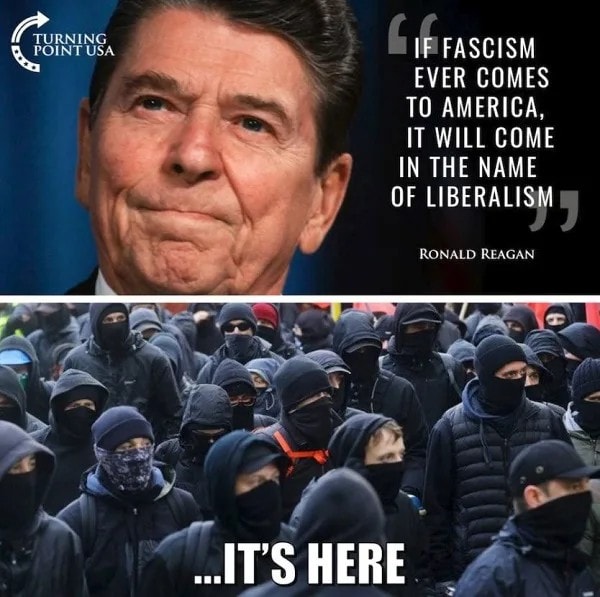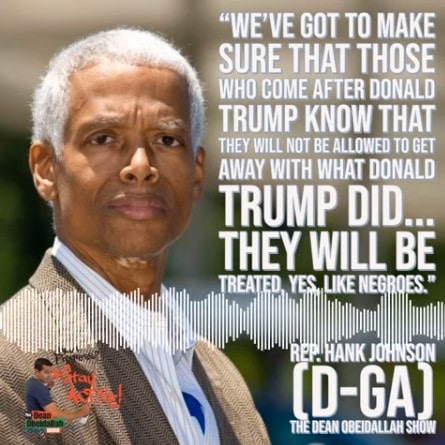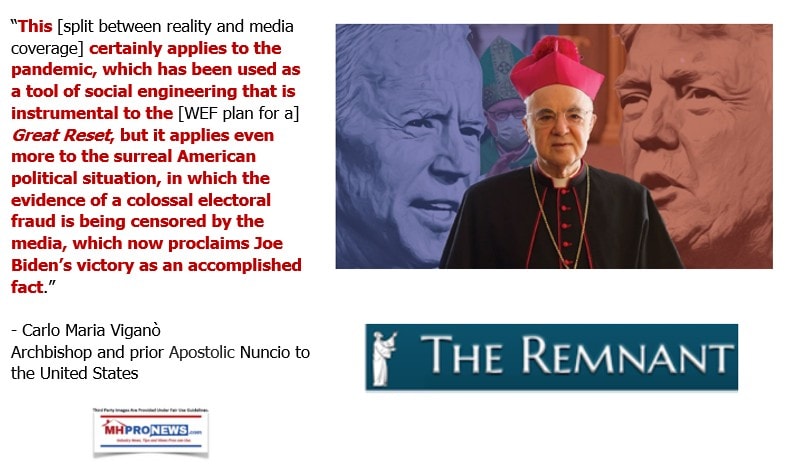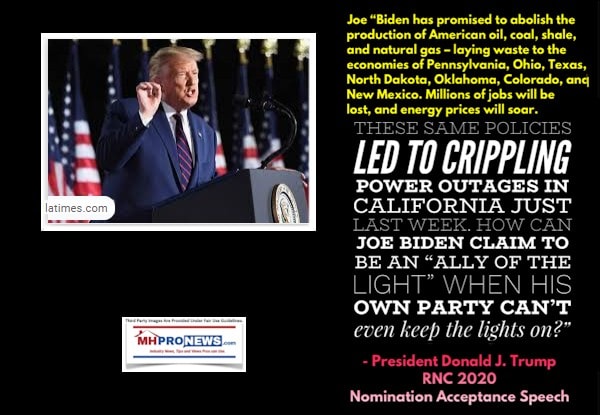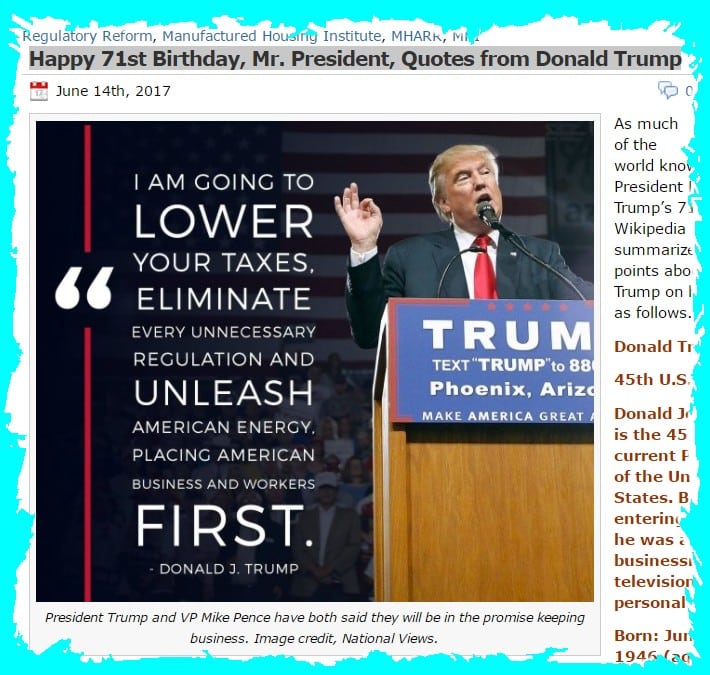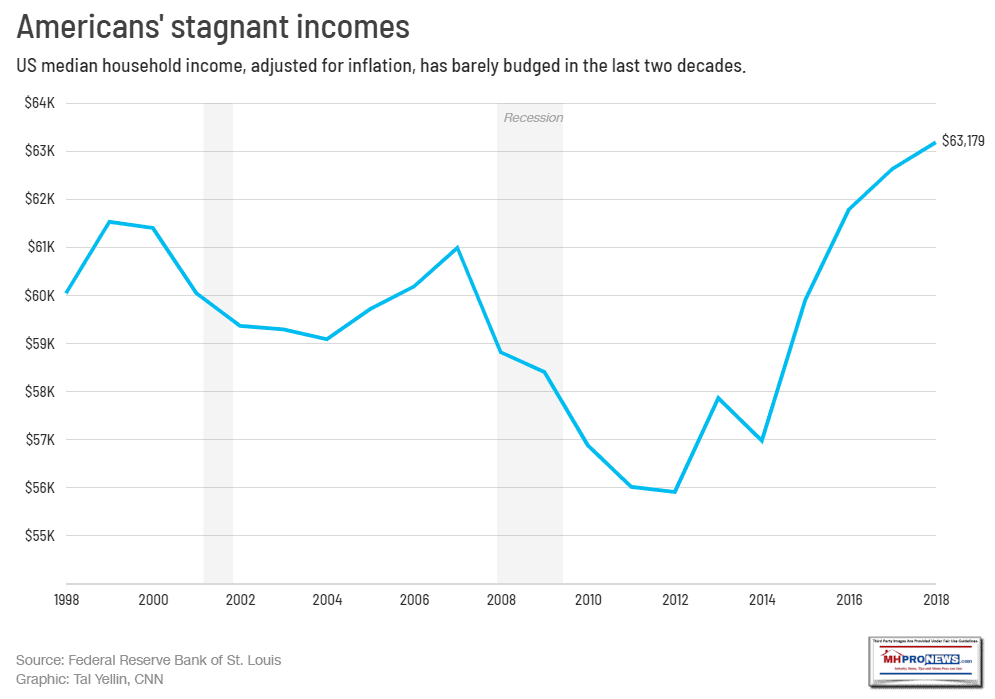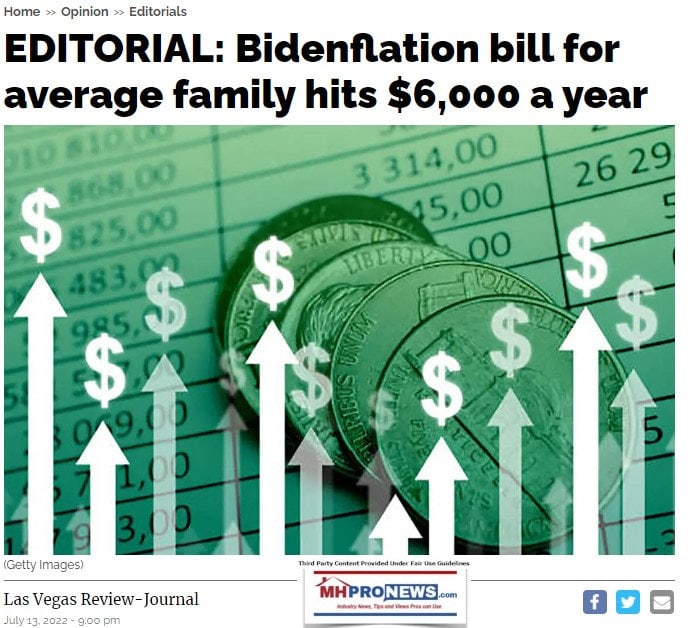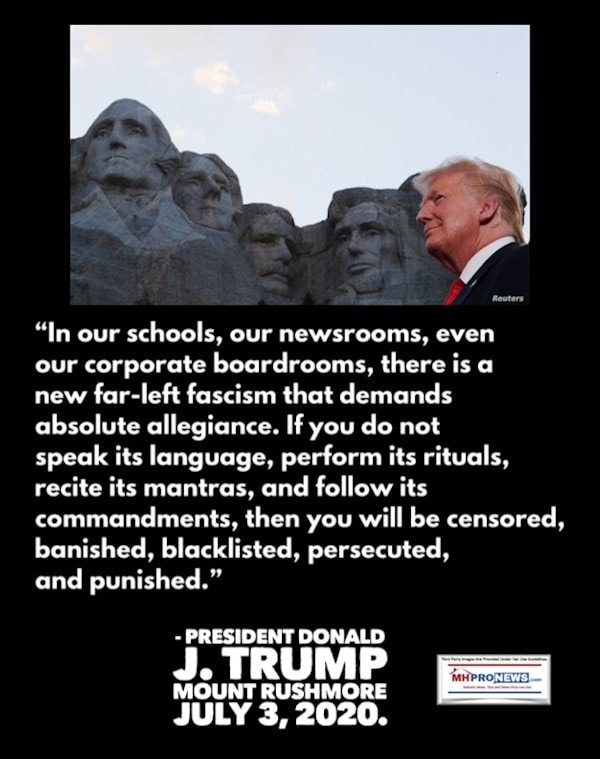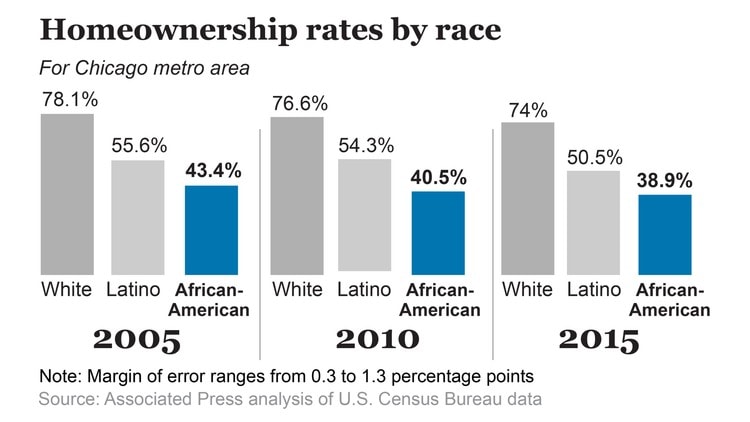 Gaslighting and Oligarch Top the List, What Research Can Reveal to Manufactured Housing Industry Pros, Affordable Housing Advocates, Investors, All Truth-Seekers; plus MHVille REITs, Stocks Update
One could go on and on with such examples. But those are more than sufficient to make these points. Despite the awkward phrasing of deposed President Trump on Truth Social of the implications of these revelations from the Twitter Files and how this fits the broader historic picture in the U.S., what ought to be clear is that most Americans are worse off as a result. Those who have benefited the most were routinely those leftist-supporting billionaire "oligarchs" and their big corporate, big media, big tech/social media, philanthro-feudalism interests. These are apparently in the same circle that Time's Molly Ball and the Civic Alliance members constituted.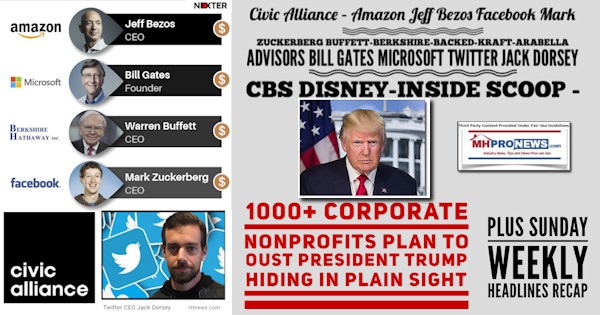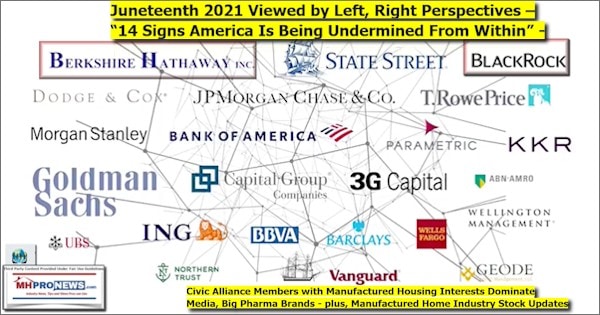 Some GOP governors, attorneys general, and state treasurers are beginning to connect these dots. They are in some cases taking meaningful action, as is evidenced in the report linked below.
Riley Moore-Blackrock & Woke Capitalism 'Economic Extortion' 'Could Destroy U.S. Free Market Capitalism' May 'Violate Fiduciary Duty to Shareholders, Antitrust Laws;' Plus MHVille Stocks Update
Which brings us back to the remarks made by Donald Trump Jr, son of the deposed 45th President, to MHProNews at the AMAC annual convention earlier this year. Trump Jr flatly said that in his view antitrust action was the #2 or #3 issue of importance facing the country.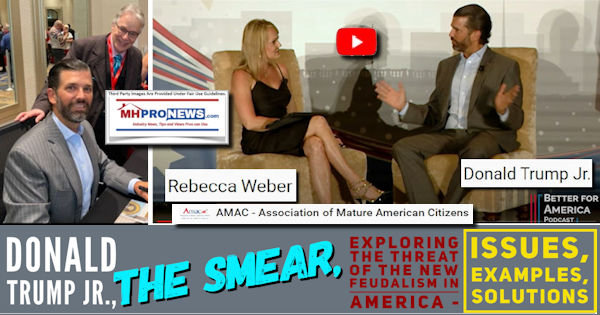 When the root cause of much of the nation's ills are abuses of the system by billionaires and their corporate-nonprofit interests, it should be obvious that only by breaking that economic grip on the political and media processes in our Republic can in a pragmatic sense right the ship of state. To avoid the contemporary forms of feudalism that has subtly supplanted and then masked its own rise the will must be mustered to cut off the funding of those schemes. Antitrust, RICO, Hobbs Act and other existing federal/state laws could be deployed by people of good will to correct the course by strict law enforcement. ###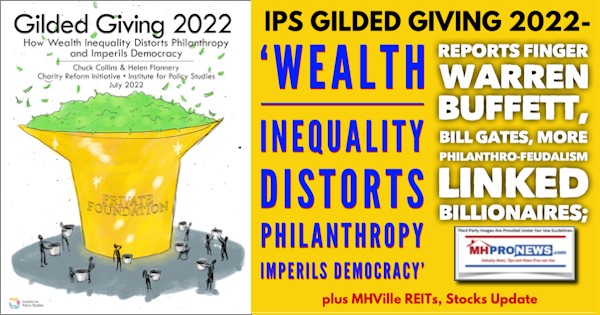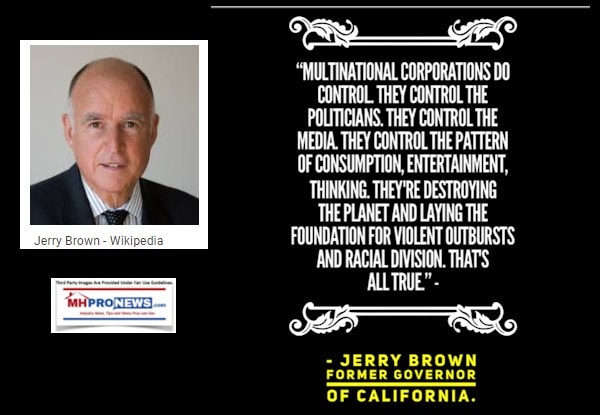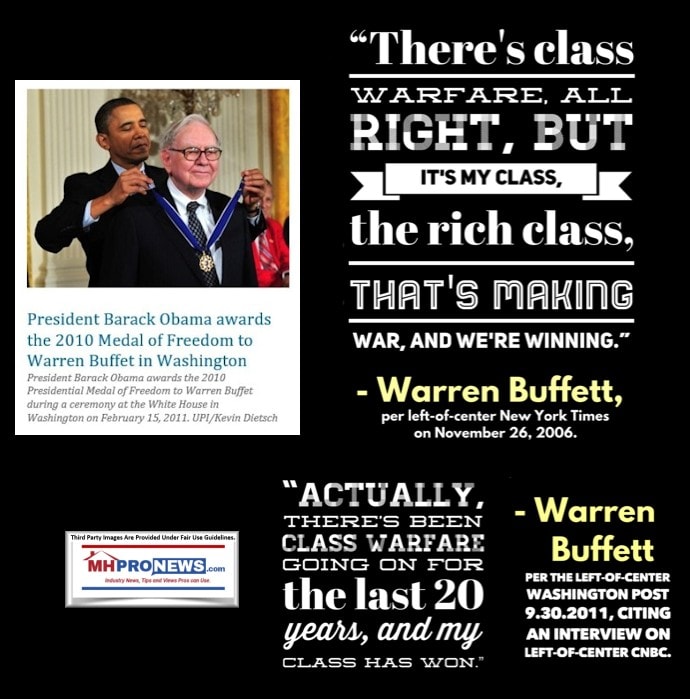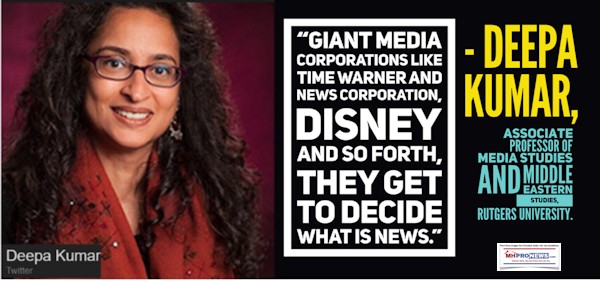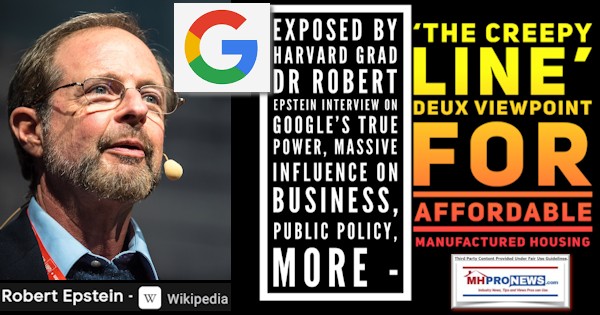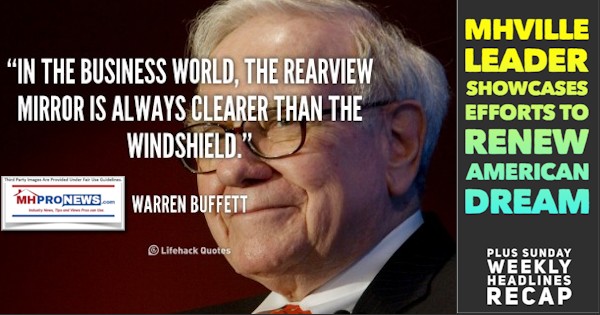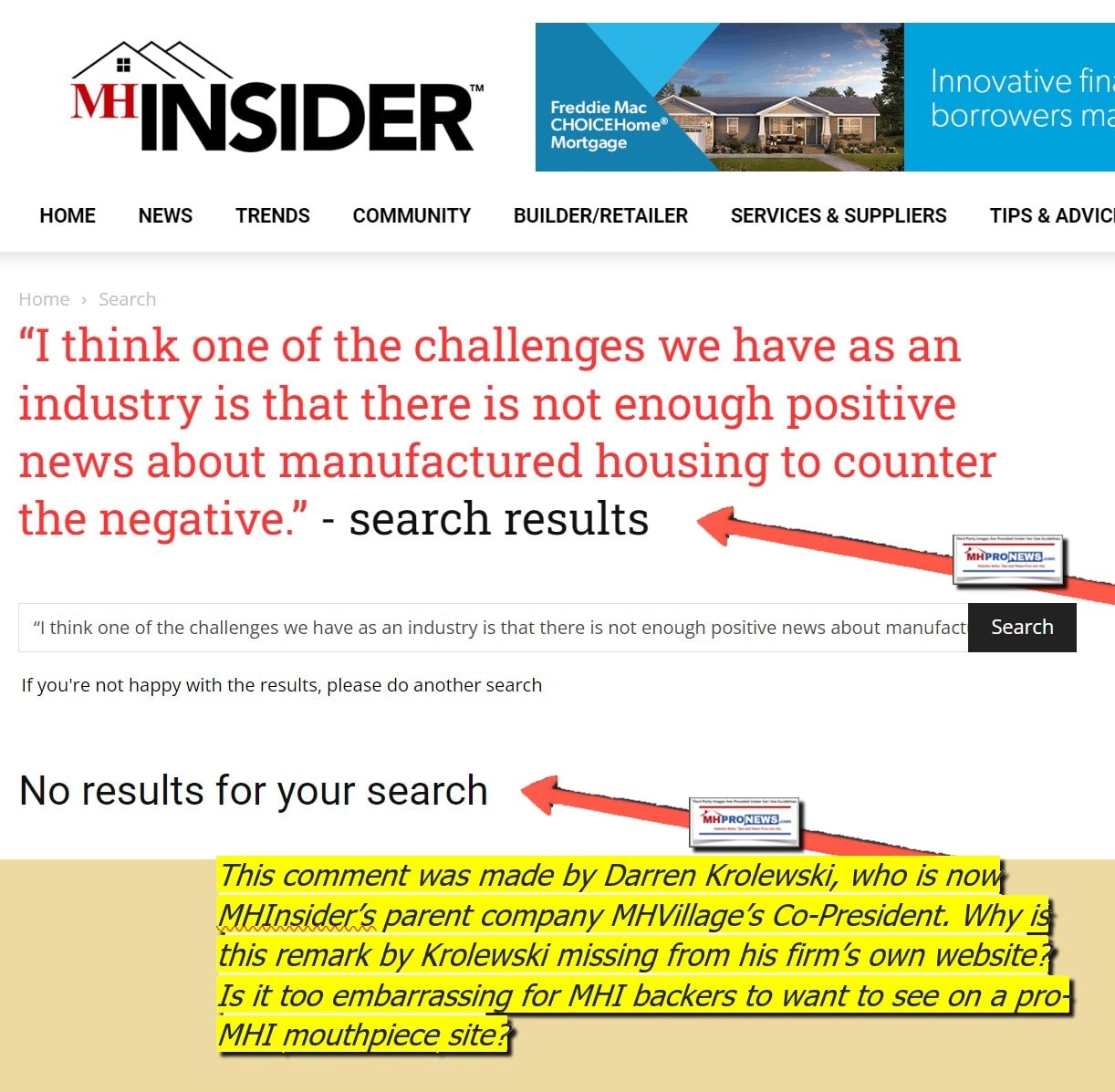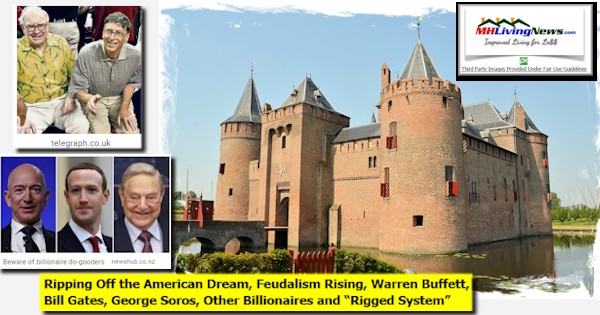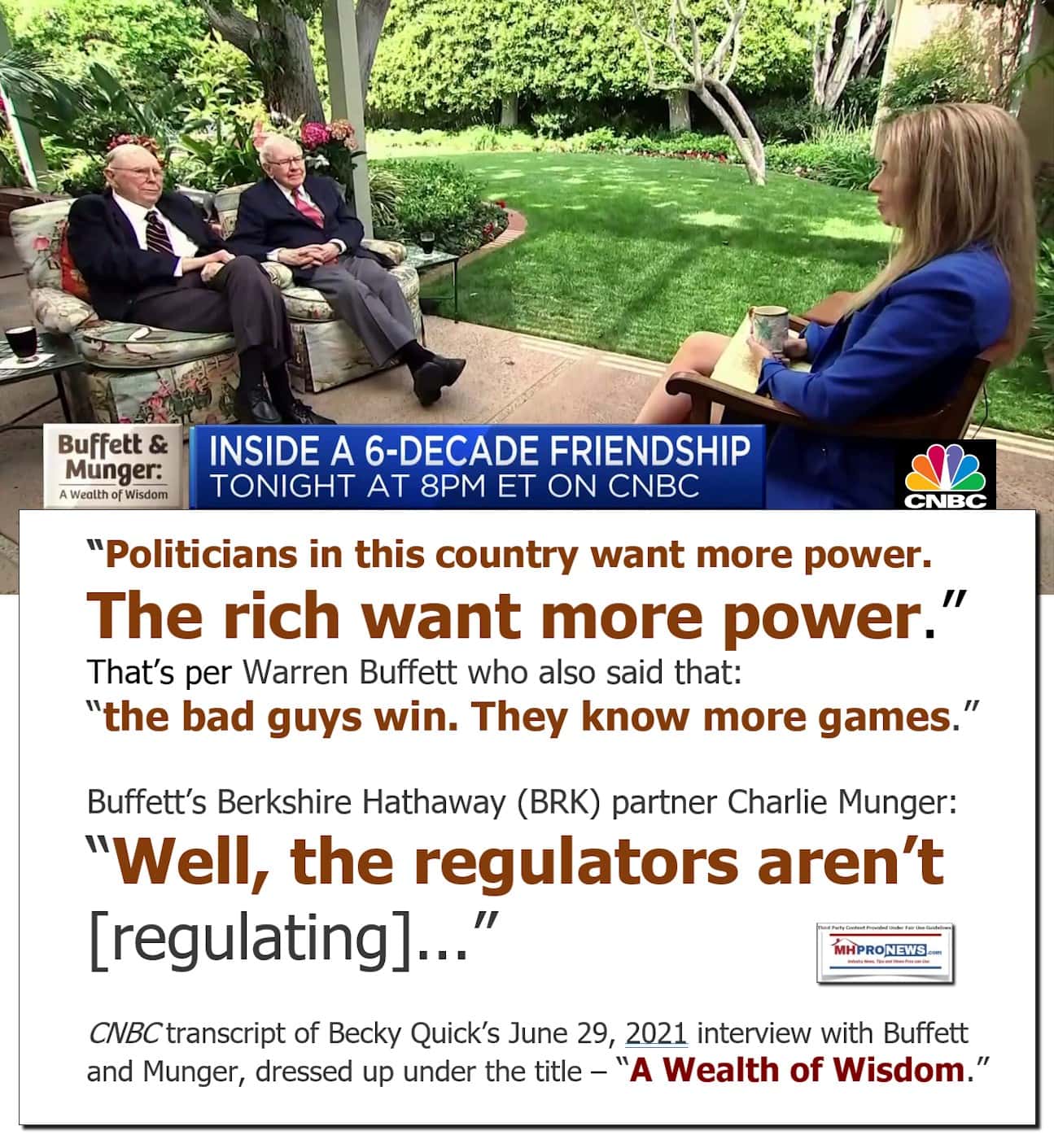 There are voices that span the left-center-right political divide that have had the courage to expose wrongdoing. People of faith, people of good will, must be willing to act too.
Journalist Rebecca Strong's Report Warns Small Number of Corporate Media, Big Tech, Investor Funds Dominate News- How It Impacts Businesses, Every American; plus MHVille Market Update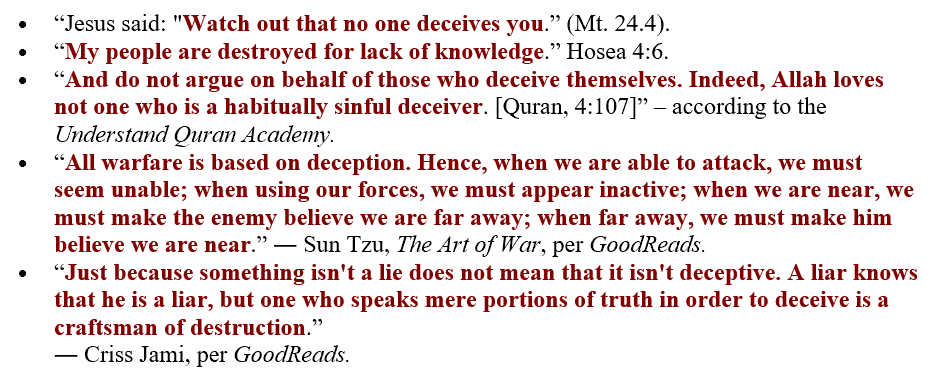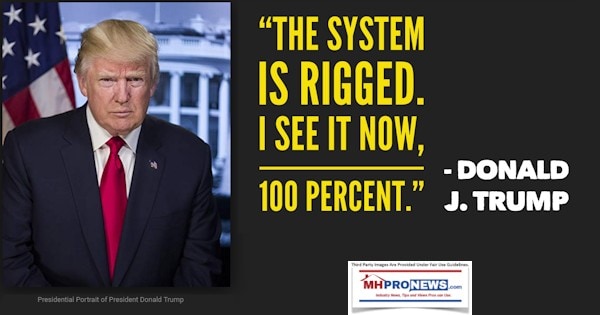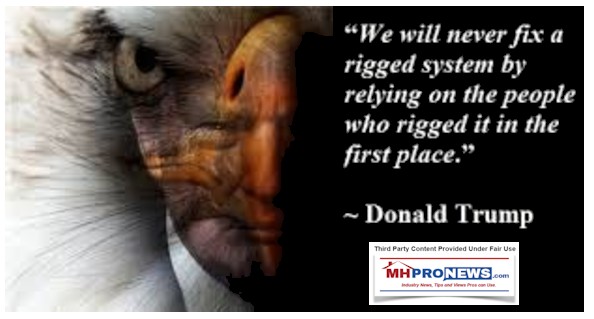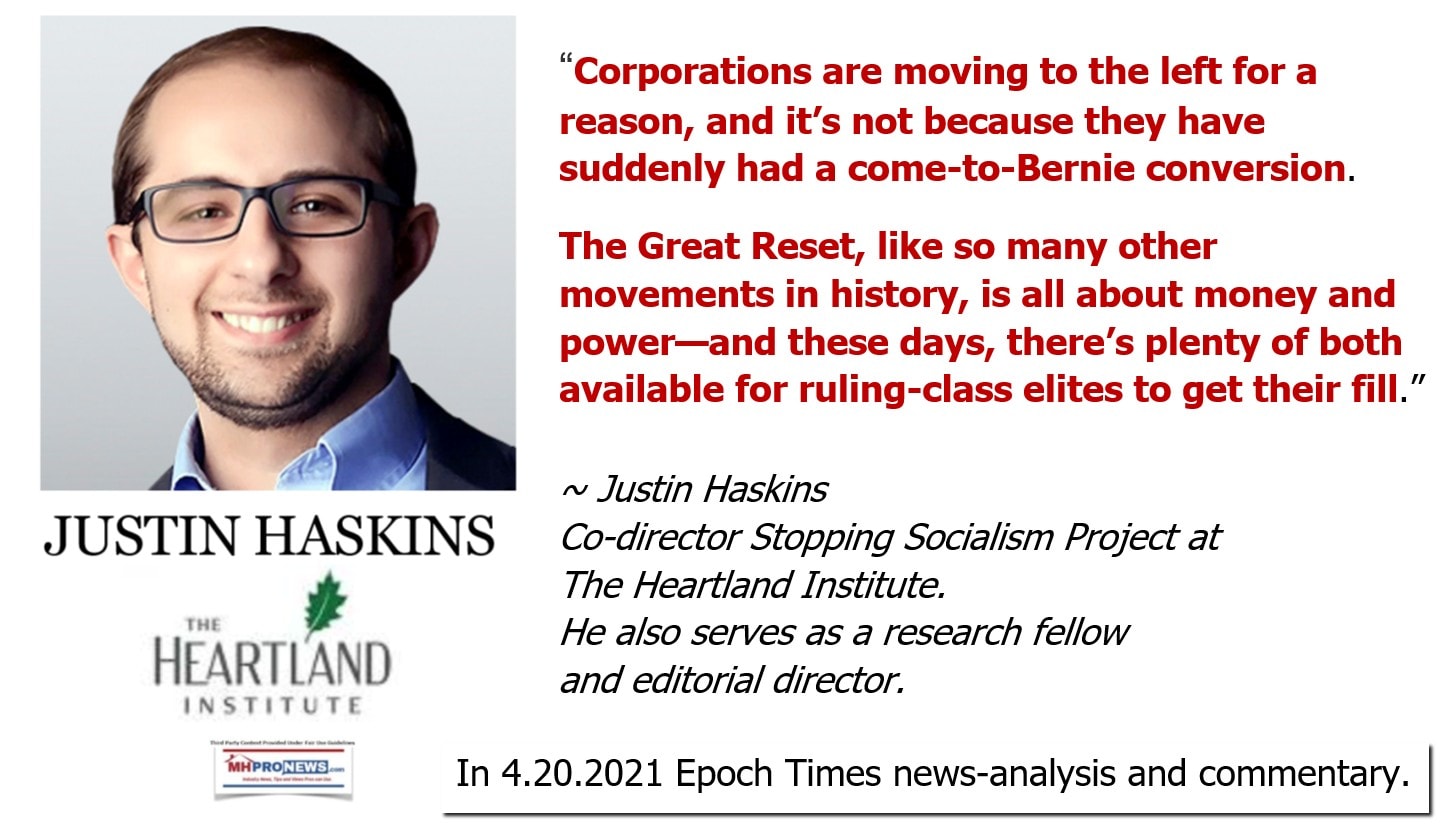 Daily Business News on MHProNews Markets Segment
The modifications of our prior Daily Business News on MHProNews recap of the recap of yesterday evening's market report are provided below. It still includes our signature left (CNN Business) and right (Newsmax) 'market moving' headlines. The macro market moves graphics will provide context and comparisons for those invested in or tracking manufactured housing connected equities.
In minutes a day readers can get a good sense of significant or major events while keeping up with the trends that are impacting manufactured housing connected investing.
Reminder: several of the graphics on MHProNews can be opened into a larger size. For instance: click the image and follow the prompts in your browser or device to OPEN In a New Window. Then, in several browsers/devices you can click the image and increase the size. Use the 'x out' (close window) escape or back key to return.
Headlines from left-of-center CNN Business – from the evening of 12.5.2022
Looming battle
The US Capitol in Washington, DC, on December 4, 2022.
The likely debt ceiling fight could be the messiest since 2011, Goldman Sachs says
Nike cuts ties with Kyrie Irving
Jay Powell's dream of the 90s is dead
UK recession could turn into a 'lost decade'
Hertz settles lawsuits over hundreds of alleged false arrests
Delta, pilots reach labor deal with 34% pay hike
DOJ antitrust regulators should look at Apple, Google's handling of TikTok, says FCC commissioner
The clean energy company turning city blocks greener
Indonesia wants to make an OPEC for this coveted metal
Foxconn says it's restoring production at the world's largest iPhone factory
The surprising group that flooded stores over the holiday shopping weekend
Taylor Swift fans sue Ticketmaster for violating antitrust laws
Is the worst over for bitcoin and the rest of crypto?
'GMA3' anchors Amy Robach and T.J. Holmes taken off the air following report of romantic relationship
Have you noticed shopping on Amazon has gotten worse? Here's why
A general view shows the oil refinery of the Lukoil company in Volgograd, Russia April 22, 2022. Picture taken April 22, 2022. Picture taken with a drone. REUTERS/REUTERS PHOTOGRAPHER
The West just scrambled the oil market. What happens next is up to Russia
People walk past the Uniqlo retail store located along Fifth Avenue in New York, NY, October 27, 2022. Some retailers are already offering discounts as holiday shopping is predicted to start early.
Self-checkout annoys customers and helps shoplifters. Stores are adding it anyway
This AI chatbot is dominating social media with its frighteningly good essays
MARKETS
ENERGY
Oil production by Tatneft at the Romashkinskoye field. Genre photography. 27.07.2022 Russia, Tatarstan, Almetyevsk
Europe agrees to cap the price of Russian oil at $60 a barrel
US gas prices down 6% in a month
Qatar signs deal to supply gas to China for 27 years
Russia threatens to cut supply of gas through Ukraine
Why the energy transition is so tough for Africa
BOOZE NEWS
Cans of Budweiser beer featuring the FIFA World Cup logo are displayed in Doha on November 18, 2022 ahead of the Qatar 2022 World Cup football tournament. The sale of alcohol in Qatar is strictly regulated.
What Budweiser will do with the beer it can't sell at the World Cup
Why 2022 is the year of the espresso martini
The only beer Budweiser can sell at the World Cup
Busch debuts non-alcoholic 'Turkey Brew' for dogs
Fred Franzia, creator of 'Two Buck Chuck,' has died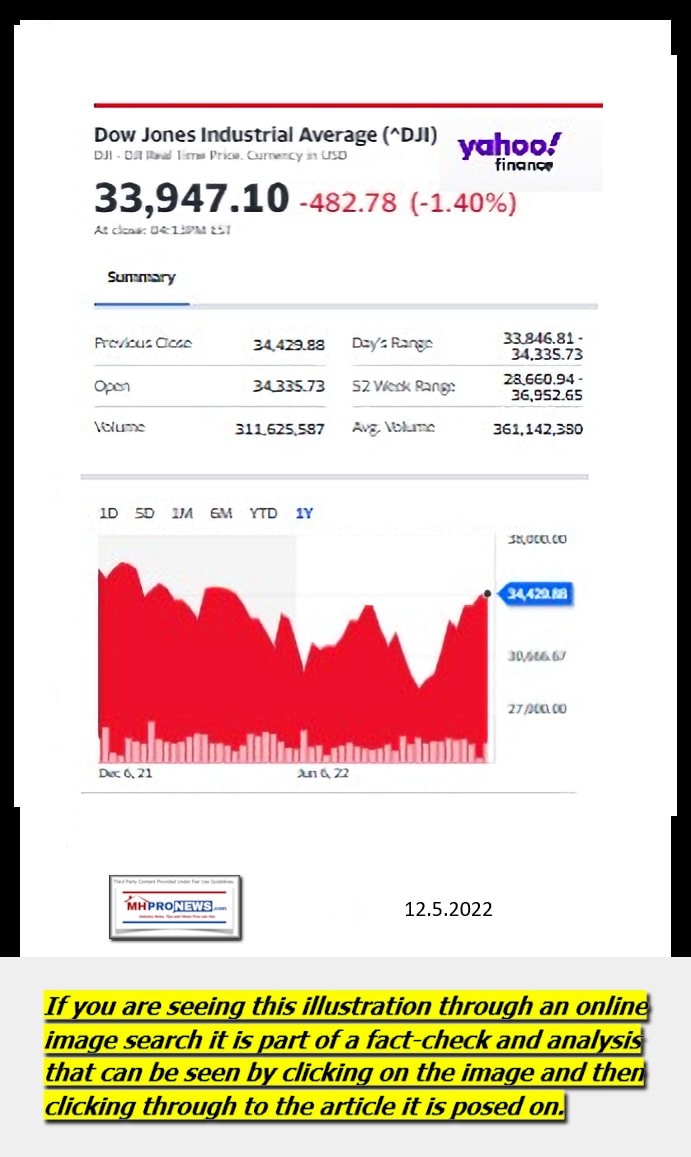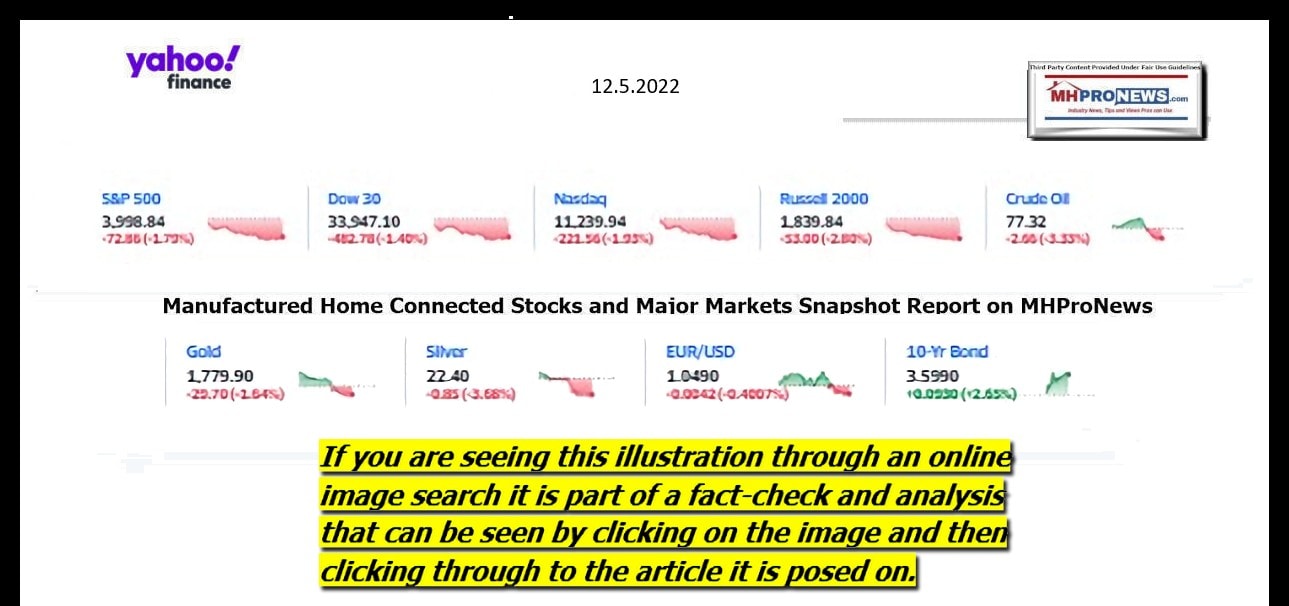 Headlines from right-of-center Newsmax 12.5.2022   
Crucial Georgia Runoff Sets Records for Early Voting
Early voting for Tuesday's Georgia U.S. Senate runoff set daily records three times, ABC News reported. [Full Story]
Newsmax TV
Sessions: DOJ Used as Dem 'Subsidiary' | video
Hutchinson: 'Absolutely Considering' 2024 Presidential Run | video
John Paul Mac Isaac: Twitter Report Is 'Smoking Gun' for Justice | video
Blaine Holt: Deep Cold Won't Stop Russia-Ukraine Battles | video
Chad Wolf: Biden Ignoring 'Public Enemy No. 1' Cartels | video
Crenshaw: Military Readiness a Serious Concern
Dick Morris: GOP Must Play By Dems' Rules to Win | video
More Newsmax TV
Newsfront
Hungary Blocks $18 Billion Aid Package for Ukraine, Puts NATO Status at Risk
Americans who may be weary of footing the bill for Ukraine in its defense against Russia are finding no friend in Hungary…. [Full Story]
Related Stories
McCaul to Newsmax: Hungary 'Cozying Up' to China, Russia Is Dangerous
Hungary's Ties With China Raise Serious Concern
Biden 'Would Consider' Ending Military Vaccine Mandate
While Defense Secretary Lloyd Austin is adamant about keeping the [Full Story] | video
Warnock Gets Ad Boost From Soros-Backed PAC
Raphael Warnock, D-Ga., this week received a sizeable boost in [Full Story]
Putin Unleashes Missiles Across Ukraine; Drones Hit Bases Deep Inside Russia
Ukraine said Russia destroyed homes in the southeast and knocked out [Full Story]
Related
Blaine Holt to Newsmax: Deep Cold Won't Stop Russia-Ukraine Battles |video
Ukrainians Hid Orphaned Children From Russian Deportation
Report: Ukraine War Boosts Arms Sales
US Factory Orders Beat Expectations
New orders for U.S.-manufactured goods increased more than expected [Full Story]
Women More Likely Than Men to Sign Up for Their 401(k)
In 401(k) retirement plans without automatic enrollment, women are [Full Story]
Musk Vows 'More Smoking Guns' to Come in Twitter Exposé
Elon Musk is vowing more Twitter revelations to come Sunday – albeit [Full Story]
Related
Musk: I Face 'Quite Significant' Risk of Being Assassinated
Why US Airline Pilot Wages Are Outpacing Global Rises
Delta Air Lines has offered a 34% cumulative pay increase to its [Full Story]
China Protests Unlikely to Deter Xi's Aggression
Protests aimed at the Chinese Communist Party's Zero-COVID lockdown [Full Story] | Platinum Article
Related
Blinken: Zero-COVID Protests Will Be Addressed in China Meetings
New Democrat Org Chair: Spending in Future GOP Primaries Possible
New Jersey Gov. Phil Murphy,who assumed the Democratic Governors [Full Story]
Pressure on NASA, Artemis to Succeed Amid New Space Race
China's space program is on the fast track to not only compete with [Full Story] | Platinum Article
Tampa Police Chief Resigns After Off-Duty, Badge-Flashing Incident
Tampa Police Chief Mary O'Connor resigned from the force Monday after [Full Story]
Rasmussen Reports: Most Voters Say Trump Probe Politically Motivated
A majority of voters say there's a political motivation for the [Full Story]
Arizona Certifies 2022 Election Despite GOP Complaints
Arizona's top officials certified the midterm election results [Full Story]
Kyle Rittenhouse Asks If Twitter Files Will Reveal Censorship Against Him
Kyle Rittenhouse said he was hopeful that he will eventually learn if [Full Story]
Georgia Runoff Sets Early Voting Single-Day Records
Early voting for Tuesday's Georgia U.S. Senate runoff set daily [Full Story]
CDC: US Experiencing Most Flu Hospitalizations in a Decade
The United States is experiencing the highest levels of [Full Story]
Report: Border Agents' Suicides Unrelated to Border
A suicide expert hired by U.S. Customs and Border Protection recently [Full Story]
Air Force Blocks Generals from Suspicious Foreign Consulting Deals
During the war in Afghanistan, U.S. military leaders flew to [Full Story]
DHS to Again Push Back REAL ID Deadline
Marking its third pandemic-related extension, the Department of [Full Story]
Poll: Two-Thirds Support Twitter Being More Transparent
After Elon Musk acquired Twitter and transformed it into a private [Full Story]
North Carolina Power Outages May Last Days After Shootings
Tens of thousands of people braced for days without electricity in a [Full Story]
Pompeo: Biden's Green Agenda Empowers China
Former Secretary of State Mike Pompeo says the Biden administration's [Full Story]
Reporters Confront Hunter Biden About Laptop at White House Event
Reporters confronted Hunter Biden on Sunday night about Elon Musk [Full Story]
Pfizer Applies for FDA Authorization of Omicron Booster in Kids Under 5
Pfizer Inc and its German partner BioNTech SE said on Monday they [Full Story]
NKorea Fires Over 130 Artillery Rounds as Warning After SKorea-US Drills
North Korea said it fired more than 130 artillery shells into the sea [Full Story]
Lara Trump Exits Fox News
Lara Trump, former President Donald Trump's daughter-in-law, is [Full Story]
LA Bans New Oil Well, Phases Out Existing Ones
The Los Angeles City Council has voted unanimously to immediately ban [Full Story]
House GOP Drafting Bill Banning TikTok for Federal Employees
House Republicans are drafting legislation prohibiting federal [Full Story]
RNC Chair McDaniel Faces New Challenger for Post
The chairwoman of the Republican National Committee, Ronna McDaniel, [Full Story]
Sesame Street Veteran Dies at 90
One of the original actors on Sesame Street has died at age 90. The [Full Story]
Florida: Do This Instead of Buying Expensive Solar Panels
Smart Lifestyle Trends
More Newsfront
Finance
Trafalgar/COSA Survey: Two-Thirds Support Twitter Being More Transparent
After Elon Musk acquired Twitter and transformed it into a private company, he has tried to make the social media platform more transparent by welcoming back previously suspended voices…. [Full Story]
Credit Suisse Is Stable, Chairman Says
Housing Market Freezes Up, as Owners Pull Listings
More Americans Take on 2nd Job to Cope With Inflation
Slack CEO Butterfield to Depart Next Month
More Finance
Health
Shingles Increases Risk for Stroke, Heart Attack by About 30 Percent
People who've had a bout of shingles may face a heightened risk of heart attack or stroke in later years, a new, large study suggests. Anyone who ever had chickenpox can develop shingles — a painful rash that is caused by a reactivation of the virus that causes chickenpox… [Full Story]
Study: Cash Incentives Increase Effectiveness of Weight-Loss Programs
Current Monoclonal Antibody Treatments Not Effective Against New COVID Variants
Biden Administration to End Mpox Health Emergency
Flu Season Worsens as 44 States Report High Activity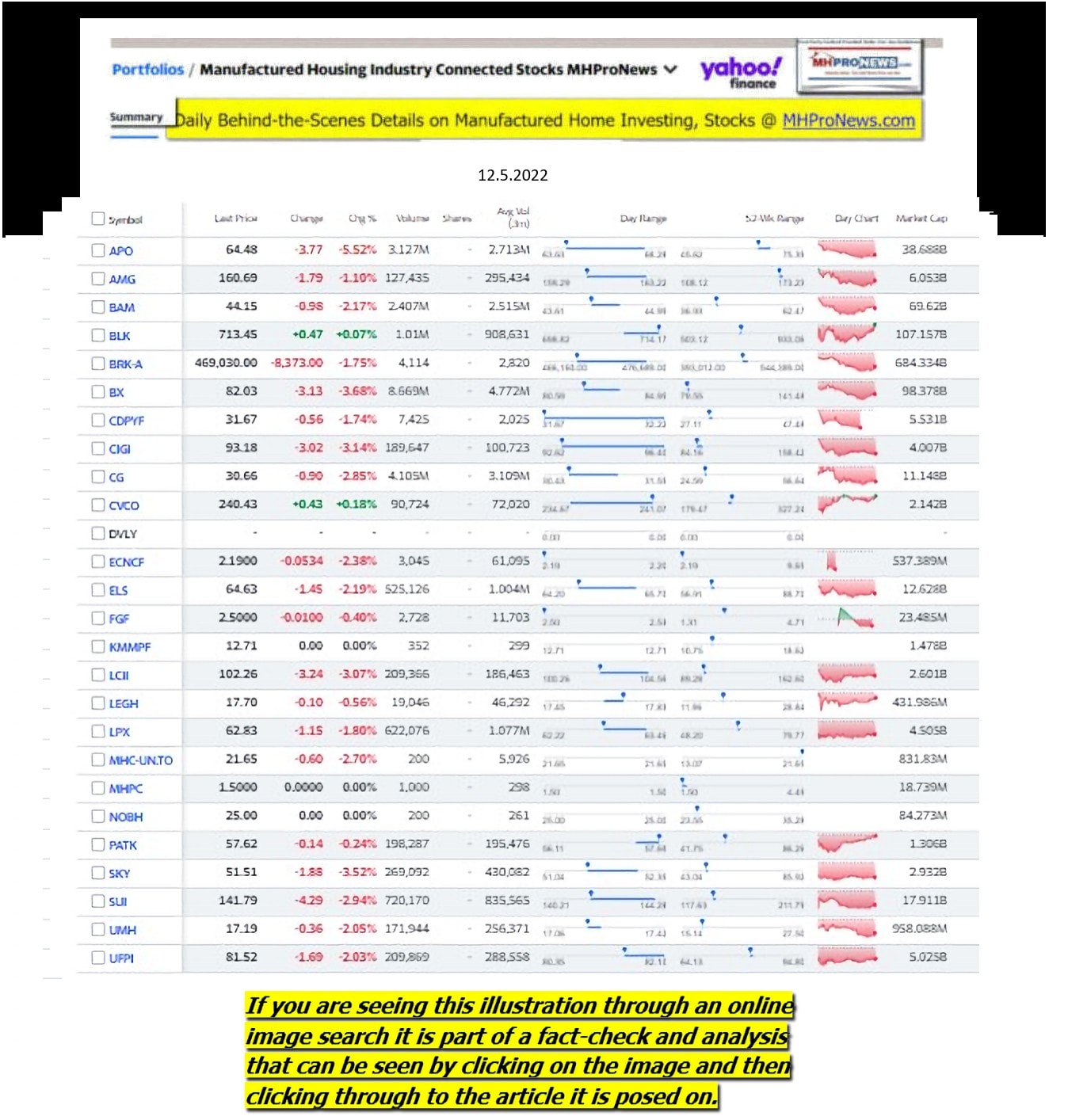 58. Warnock hypocritically flaunted Democrats' forced masking policies — despite backing them. pic.twitter.com/GFkvc08jmf

— RNC Research (@RNCResearch) December 5, 2022
46. Warnock "steered $16.4 million in federal earmarks to a project that benefited the co-owner of his controversial low-income apartment complex."https://t.co/hINVWXnpaQ

— RNC Research (@RNCResearch) December 5, 2022
63. Warnock's church belongs to a coalition that has called for the United States to "end all financing of fossil fuel production."https://t.co/vTVg8WBydw

— RNC Research (@RNCResearch) December 5, 2022
67. Warnock voted for Biden's $1.9 trillion "stimulus" legislation — the "original sin" of inflation.https://t.co/aqWI5Wbwgo

— RNC Research (@RNCResearch) December 5, 2022
Raphael Warnock responds to questions about running over his ex-wife with his car and sending "stimulus checks to convicted criminals and illegal immigrants" by blaming Republicans pic.twitter.com/yYDZhujDwD

— RNC Research (@RNCResearch) December 5, 2022
====================================
NOTE 1: The 3rd chart above includes the Canadian stock, ECN, which purchased Triad Financial Services, a manufactured home industry finance lender
NOTE 2: Drew changed its name and trading symbol at the end of 2016 to Lippert (LCII).
NOTE 3: Deer Valley was largely taken private, say company insiders in a message to MHProNews on 12.15.2020, but there are still some outstanding shares of the stock from the days when it was a publicly traded firm.  Thus, there is still periodic activity on DVLY.
Note 4: some recent or related reports to the equities named above follow.
Telling Manufactured Housing Story Honestly, Persuasively, Beneficially and Profitably with Facts, Evidence, Bright Line Distinctions – plus Sunday Weekly Manufactured Home Recap
Manufactured Housing's Next BIG Regulatory Battle That MHARR's Spotlighted and Which MHI Conveniently Ignored in Recent 'Manufactured Housing Institute News;' plus Sunday Weekly Headlines Recap
'Changes Will Benefit Customers,' Boost Sales-Legacy Homes CEO Duncan Bates – LEGH 'Delivered 22.5% Return on Equity in 1 Yr' – Corp Q3 2022 Insights, Analysis; plus MHVille REITs, Stocks Update  
'No Assurance Inflation Will Not Affect Our Future Profitability Financial Position'=Cavco Industries 10-Q, Solitaire Deal, More CVCO Data; Supreme Court Ruled-SEC Regs on False-Omitted Remarks
Skyline Champion Provides Quarterly Results, Adding Retail Centers, Improved Delivery Times-CEO Mark Yost Says 'Can Outperform Conventional Housing' Explored; Plus MHVille REITs, Stocks Update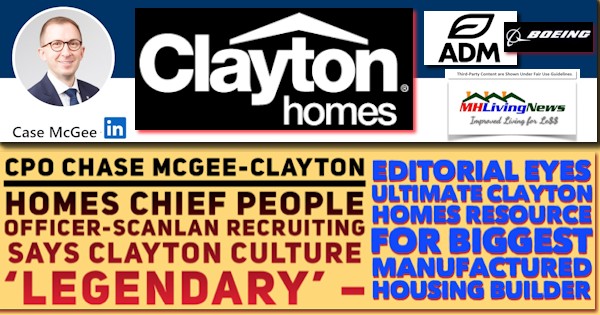 Triad Financial Services Q2-2022 FINANCIAL RESULTS, per ECN Capital – Several Bright Spots in Manufactured Home Market Highlighted, Including Communities, Retail, Land-Home, Floor; MHStocks Update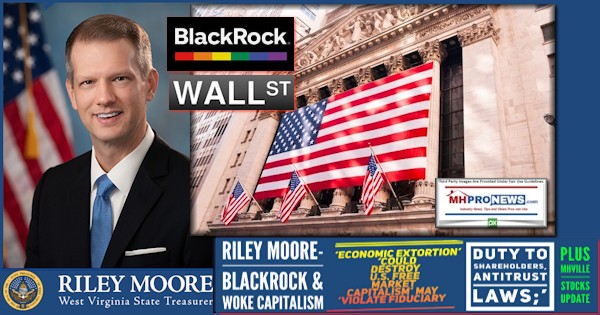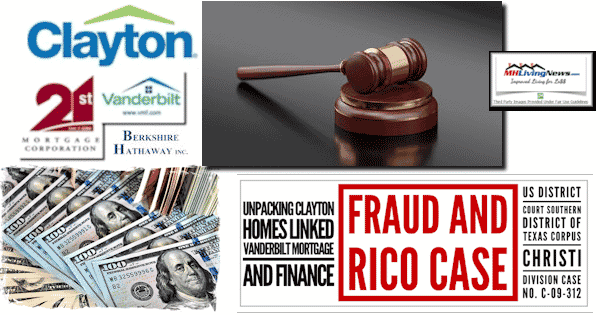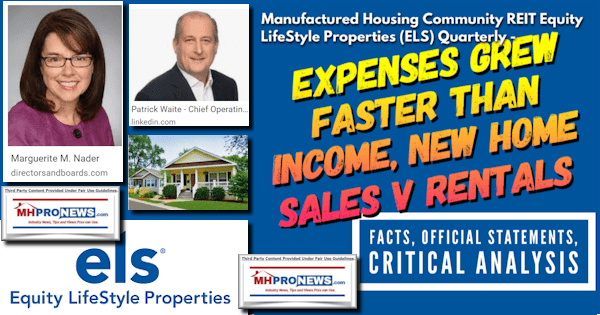 Manufactured Home Communities (a.k.a. 'Mobile Home Parks' – SIC) – Exploring UMH Properties; Fellow Manufactured Housing Institute Member Yes! Communities Suits and Settlements; plus MH Markets Updates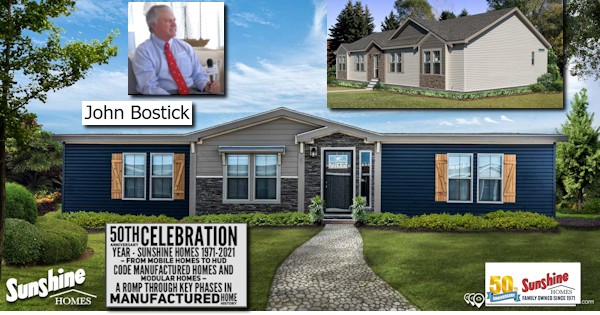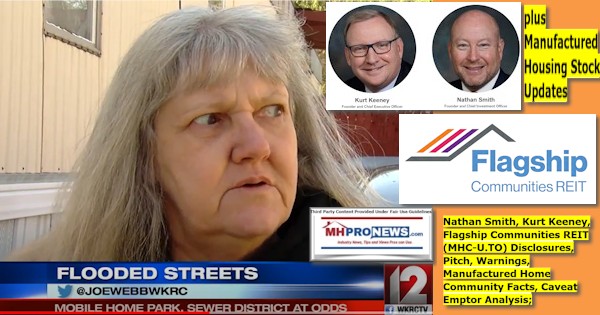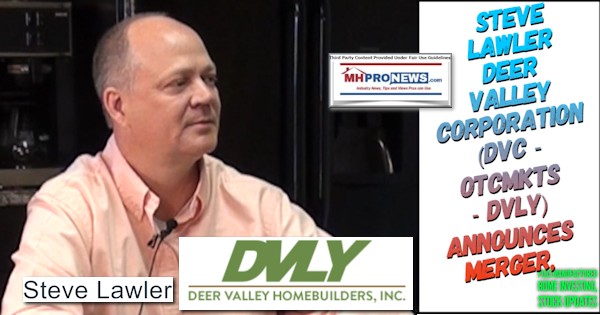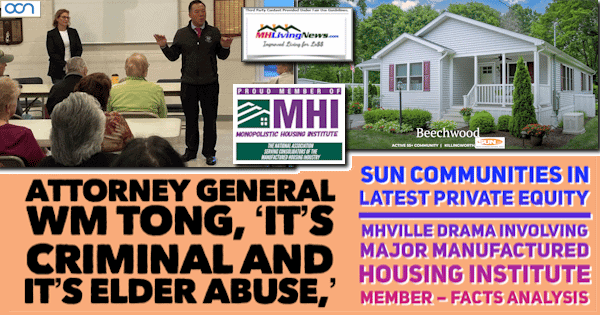 2022 …Berkshire Hathaway is the parent company to Clayton Homes, 21st Mortgage, Vanderbilt Mortgage and other factory-built housing industry suppliers.
· LCI Industries, Patrick, UFPI, and LP each are suppliers to the manufactured housing industry, among others.
· AMG, CG, and TAVFX have investments in manufactured housing related businesses. For insights from third-parties and clients about our publisher, click here.
Disclosure. MHProNews holds no positions in the stocks in this report.
· For expert manufactured housing business development or other professional services, click here.
· To sign up in seconds for our industry leading emailed headline news updates, click here.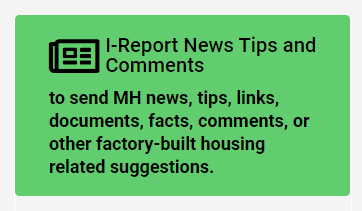 That's a wrap on this installment of "News Through the Lens of Manufactured Homes and Factory-Built Housing" © where "We Provide, You Decide." © (Affordable housing, manufactured homes, stock, investing, data, metrics, reports, fact-checks, analysis, and commentary. Third-party images or content are provided under fair use guidelines for media.) (See Related Reports, further below. Text/image boxes often are hot-linked to other reports that can be access by clicking on them.)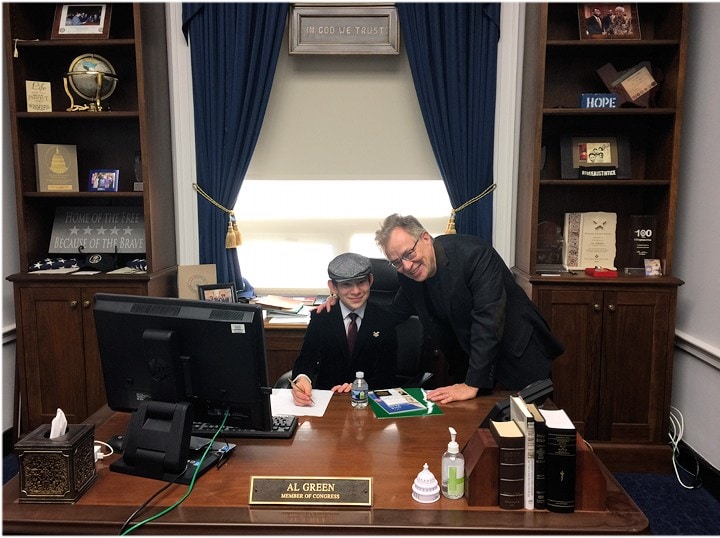 By L.A. "Tony" Kovach – for MHProNews.
Tony earned a journalism scholarship along with numerous awards in history. There have been several awards and honors and also recognition in manufactured housing. For example, he earned the prestigious Lottinville Award in history from the University of Oklahoma, where he studied history and business management. He's a managing member and co-founder of LifeStyle Factory Homes, LLC, the parent company to MHProNews, and MHLivingNews.com. This article reflects the LLC's and/or the writer's position and may or may not reflect the views of sponsors or supporters.
Manufactured Home Production Growth Continues in September 2022, per Manufactured Housing Association for Regulatory Reform-Added Facts, Analysis, plus MHVille REITs, MH Connected Stocks Update
Consumers 'Fears for the Future'-Mortgage Payments Surge Since 2021, Buyers Get Priced Out–Conventional Housing Woes are Manufactured Home Pro Opportunities; plus MHVille REITs, Stocks Update