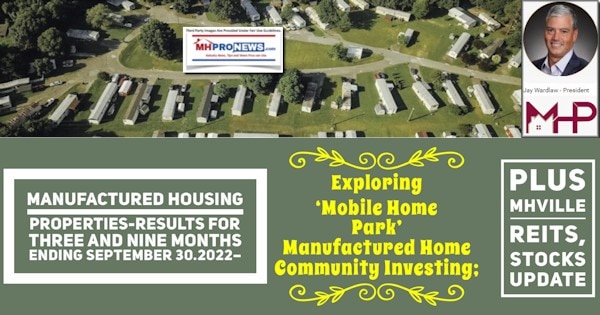 Manufactured Housing Properties Inc is among the newer arrivals to the blossoming trend of acquiring manufactured home communities, which is often misnamed by mainstream and others in media as 'mobile home park investing.' As of September 15, 2022, publicly traded Manufactured Housing Properties Inc (OTC: MHPC) states that their corporate portfolio statistics are as follows.

Current Portfolio Statistics:
50+ communities containing +2,400 home sites.(click here to view the map)
Portfolio occupancy 91%
52% of total home sites are company-owned homes being rented …##
In a post linked from their investor page to MultiHousingNews (MHN), MHPC president Jay Wardlaw said the following in response to their inquiry.

President Biden's Housing Supply Action Plan is set to expand government-backed financing options for manufactured housing investors. How do you think this capital influx will impact the sector?
Wardlaw: The Housing Supply Action Plan would have a positive impact as it will lead to greater access to funding to support growth in our sector. It will support the production and availability of manufactured housing, allowing manufacturers to modernize and expand their production lines, and helping manufacturers respond to supply chain issues. It would also assist with product design and support future loan purchase capabilities. The plan will provide incentives for land use and zoning reform that will result in new communities that can be developed to assist in the demand for housing affordability and the accessibility of these homes. …"
That remark by Wardlaw was posted on 11.14.2022 by MHN. MHProNews previously unpacked the factual and evidence-based point that the so-called Biden housing plan is demonstrably a posturing flop. Homeownership rates for first time home buyers and blacks are dropping under the current Biden-Democratic agenda.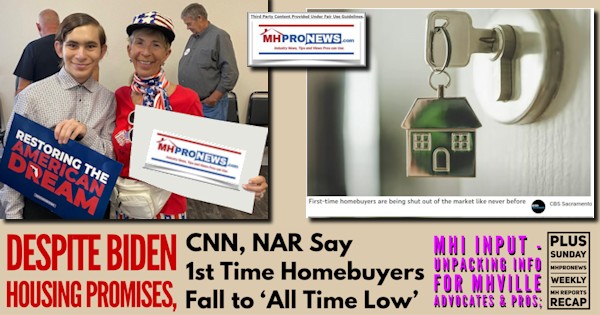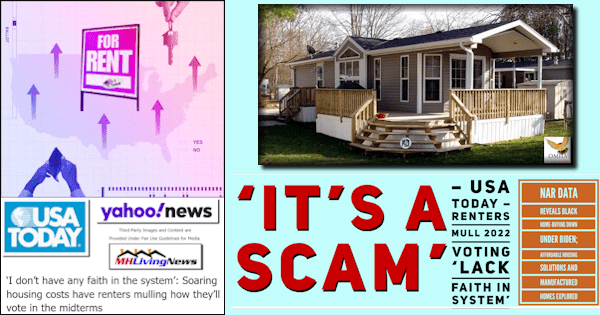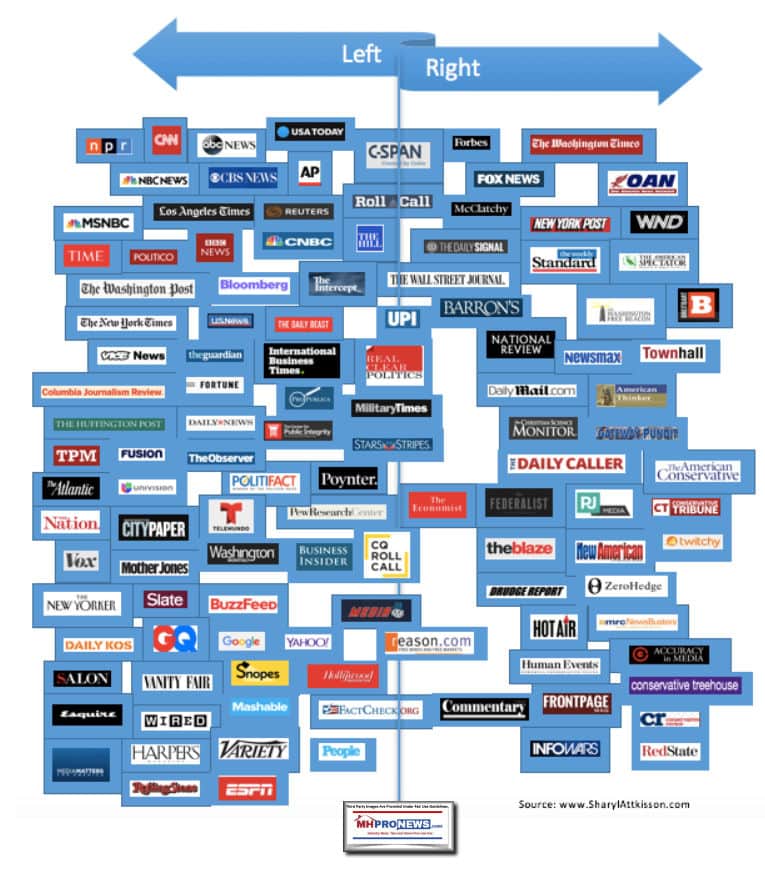 Additionally, for reasons both internal and external, manufactured housing has according to the most recent federal data available taken a year-over-year downturn in production.
Telling Manufactured Housing Story Honestly, Persuasively, Beneficially and Profitably with Facts, Evidence, Bright Line Distinctions – plus Sunday Weekly Manufactured Home Recap
More on those matters just noted and others are available further below. But next up is what MHPC disclosed on 11.16.2022 about their self-described financial results.  The third-segment of today's Daily Business News on MHProNews report is our manufactured home communities (MHCs) real estate investment trusts (REIT) and other manufactured housing connected equities plus left-right headlines updates. Notice: financial reports like this one should not be construed as an endorsement or recommendation by MHProNews. That said, such reports routinely reveal information which adds to the mosaic of facts and evidence on why manufactured housing is underperforming by historic standards.
Manufactured Housing Properties Inc. Announces Results for the Three and Nine Months Ended September 30, 2022

MANUFACTURED HOUSING PROPERTIES INC.
November 16, 2022
In this article:
Revenues and Adjusted EBITDA Increased 76% and 13%, respectively Over Prior Period For the Nine Months Ended September 30, 2022
CHARLOTTE, N.C., Nov. 16, 2022 (GLOBE NEWSWIRE) — Manufactured Housing Properties Inc. (OTC: MHPC), which acquires, owns, and operates 55 manufactured housing communities containing approximately 2,565 developed sites, today announced operating results for the quarter ended September 30, 2022.
Total revenues and adjusted EBITDA for the quarter ended September 30, 2022 were $3,716,128 and $843,799, respectively, compared to $2,259,169 and $960,687, respectively for the quarter ended September 30, 2021. Total revenues and adjusted EBITDA for the nine months ended September 30, 2022 were $10,142,521 and $2,641,304, respectively, compared to $5,764,471 and $2,346,561, respectively for the nine months ended September 30, 2021.
MHPC acquired five communities during the third quarter, consisting of 212 lots.
Jay Wardlaw, President of Manufactured Housing Properties Inc. stated, "We are pleased to produce another quarter of total revenue increases of 64% and year to date EBITDA increase of 13% which reflects the continued execution of our team and our strategic growth strategy. We are excited to continue to grow our portfolio with an additional 3 communities under contract totaling 182 lots that we anticipate acquiring by January 2023, facilitated by our ongoing $47 million preferred stock offering under Regulation A of the Securities Act."
Chelsea H. Gee, CFO of Manufactured Housing Properties Inc. added, "We had our busiest quarter to date where we refinanced most of our outstanding debt with KeyBank and Fannie Mae and added five communities to our portfolio. We secured attractive long-term, ten-year financing that gives us capital to improve our existing communities and increases available cash flow. We are focused on increasing cash flow and EBITDA by stabilizing all recently acquired communities and implementing operational efficiencies."
Reconciliation of Non-GAAP Financial Measures
Manufactured Housing Properties, Inc. presents Adjusted Earnings Before Interest, Taxes, Depreciation and Amortization (EBITDA) in addition to its Net Income (Loss) reported in accordance with accounting principles generally accepted in the United States (GAAP). Adjusted EBITDA is a non-GAAP financial measure that differs from Net Income. Non-GAAP Adjusted EBITDA excludes income tax expense, interest expense and depreciation and amortization, as well as refinancing cost which are non-recurring financing expenses. The table presented below includes a list of items excluded from Net Income (Loss) to reconcile to non-GAAP Adjusted EBITDA.
Three Months Ended
September 30,
 
 
Nine Months Ended
September 30,
 
(Unaudited)
2022
 
 
2021
 
 
2022
 
 
2021
 
Net (Loss)
$
(5,166,125
)
$
(92,871
)
$
(7,299,791
)
$
(520,691
)
Adjustments:
Depreciation & Amortization Expense
898,963
507,493
2,477,642
1,411,158
Interest Expense
1,266,956
524,022
3,272,775
1,417,376
Pref C Dividends Included in Interest Expense on P&L
239,334
22,043
570,256
22,043
Refinancing Cost
3,604,671
–
3,620,422
16,675
–
–
EBITDA
$
843,799
$
960,687
$
2,641,304
$
2,346,561
Management believes non-GAAP Adjusted EBITDA is useful to investors and other users of our financial statements in evaluating operating performance because it provides them with an additional tool to compare business performance across companies and across periods. Management also believes that non-GAAP Adjusted EBITDA is widely used by investors to measure operating performance without regard to items such as income tax expense, interest expense and depreciation and amortization, which can vary substantially from company to company depending upon, among other things, the book value of assets, capital structure and whether assets were constructed or acquired. Non-GAAP Adjusted EBITDA also allows investors and other users to assess the underlying financial performance of our income producing properties before management's decision to deploy capital. The presentation of non-GAAP Adjusted EBITDA is intended to complement, and should not be considered an alternative to, the presentation of Net Income, which is an indicator of financial performance determined in accordance with GAAP. In addition, non-GAAP Adjusted EBITDA as presented in this release may not be comparable to similarly titled measures used by other companies.
About Manufactured Housing Properties Inc.
Manufactured Housing Properties Inc. together with its affiliates, acquires, owns, and operates manufactured housing communities. The Company focuses on acquiring and operating manufactured home communities in high growth markets.
Cautionary Statement Regarding Forward-Looking Statements
Any statements contained in this press release regarding us, our expectations, beliefs, plans, objectives, assumptions or future events or performance are not historical facts and are forward-looking statements. Investors are cautioned that these forward-looking statements involve uncertainties and risks that could cause actual performance and results of operations to differ materially from those anticipated. The forward-looking statements contained herein represent our judgment as of the date of publication of this press release and we caution you not to place undue reliance on such statements. Factors that could cause actual results to differ from the forward-looking statements include those factors described in the "Risk Factor" section in our annual and quarterly reports filed with the SEC. Our company, our management and our affiliates assume no obligation to update any forward-looking statements to reflect events after the initial publication of this press release or to reflect the occurrence of subsequent events.
Regulation A Offering
An offering statement relating to our offering of Series C Cumulative Redeemable Preferred Stock has been filed with the SEC. The SEC has qualified that offering statement, which means that we may make sales of the securities described by that offering statement. It does not mean that the SEC has approved, passed upon the merits or passed upon the accuracy or completeness of the information in the offering statement. You may obtain a copy of the offering circular that is part of that offering statement through this link. You can also obtain a copy of the offering circular by contacting J.R. Thacker at Arete Wealth Management, LLC, the placement agent for the Regulation A offering, by calling (888) 690-3580, by email at jrthacker@centerstreetsecurities.com, or write to Arete Wealth Management, LLC at 2 International Plaza Suite 301, Nashville, TN 37217.
Investing in a Regulation A offering is subject to unique risks, tolerance for volatility, and potential loss of investment, that investors should be aware of prior to making an investment decision. Please carefully review the risk factors contained in the offering circular for this offering. For more information about Regulation A offerings, including the unique risks associated with these types of offerings, please click on the SEC's Investor Alert.
Neither this press release nor any of its content constitutes an offer to sell, solicitation of an offer to buy or a recommendation for any security by us or any third party. The content of press release is provided for general information purposes only and is not intended to solicit the purchase of securities or to be used as investment, legal or tax advice. A securities offering by us is only being made pursuant to the offering circular described above. The content of this press release is qualified in its entirety by such offering circular. Prospective investors are urged to consult with their own, investment, legal and tax advisors prior to making any investment. … ##
Additional Information with More MHProNews Analysis and Commentary
As relevant disclosures to investors, public officials who routinely monitor our reports, and all others peering into "MHVille" (an affectionate term for the artificially limited manufactured housing industry) are the following points. MHProNews' leadership holds no position in this or any publicly traded stock that this publication reports on. The leadership of MHProNews has over 3 decades of hands-on experience in the manufactured home profession. That includes years of record setting management in multiple manufactured housing industry sectors. That includes the management of several manufactured home communities. There have also been years of records and acclaim in 'street' retail (a.k.a.: dealers), working with factories, financial services (insurance and lending), association and advocacy, and extensive engagement with manufactured homeowners/community residents. Those decades of experience are also further supported by experiences in the RV industry, trade show marketing, insurance profession, publishing, and several award-winning history achievements during academic years, etc. Unlike some, we follow the facts, compare relevant evidence, and apply common sense (logic) to what's known. We strive NOT to play favorites in reports and analysis, like this one. Advertisers and sponsors may get more attention at times, but they also are subject to scrutiny – and they know it from experience. Some former advertisers are former perhaps in part because we exposed problematic behaviors despite their ad dollars.
With that backdrop, the following points need to be made about MHPC specifically, and the manufactured home community sector more broadly.
There are companies that use private equity (e.g.: RHP Properties, Havenpark Communities, Green Courte Partners (GCP), that are consolidating the manufactured home community (MHC) sector. There are also companies like MHPC, and larger firms like Equity LifeStyle Properties (ELS), Sun Communities (SUI), Flagship Communities (TSX: MHC.U, or FLGMF) and others that are followed which are often part of larger conglomerates or hedge funds.
MHPC and others are routinely members of the Manufactured Housing Institute (MHI), which laughably has a so-called antitrust statement and perhaps more laughably has an MHI-National Communities Council (NCC) "Code of Ethical Conduct."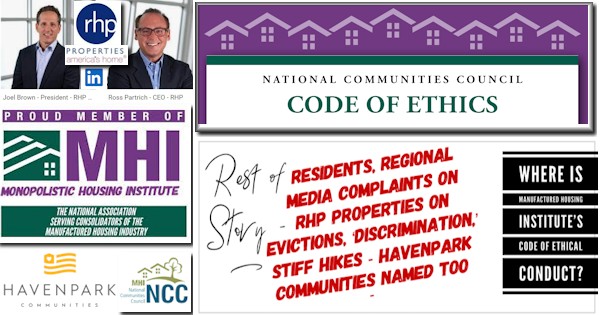 A Google News search of MHPC does not reveal any (zero) reports where that firm is accused of being among the "predatory" firms that anecdotally have increasingly dogged the reputation of the manufactured home community sector in recent years. That is evidenced by the item below, which of course could be subject to revision based on corporate behaviors and reports about their management practices. Presuming that to be so, this could be an example of a point that MHProNews periodically makes. Namely, that not every brand involved as so-called "Proud Members" of MHI is involved in predatory or other anti-consumer, or problematic behaviors to investors or employees.

That said, as an investment, the value of the stock of MHPI has fallen significantly in 2022. See the screen capture below from after the close of business on 12.6.2022. The stock it a high near $4.50 per share in April 2022 but has generally fallen since.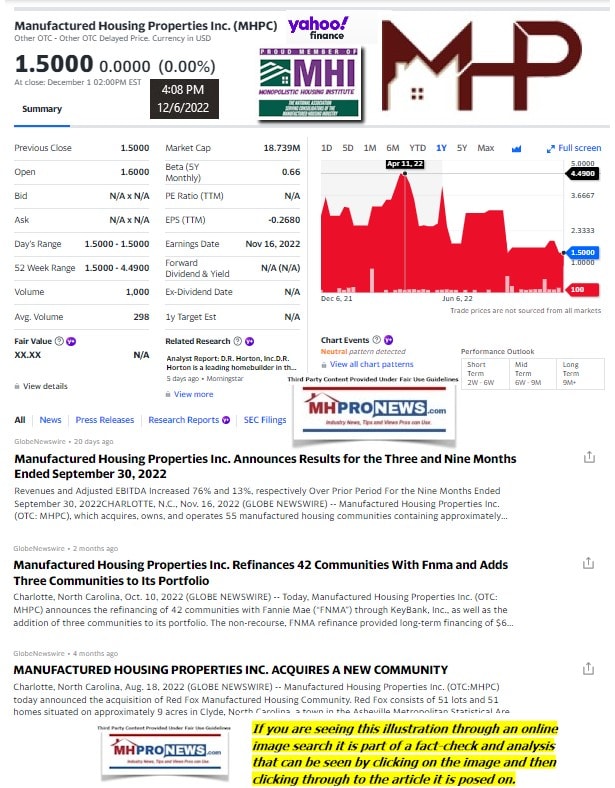 More specifically, an odd and arguably incorrect statement was made by MHPI president in his remarks to MHN that was quoted above. Specifically: "

The plan will provide incentives for land use and zoning reform that will result in new communities that can be developed to assist in the demand for housing affordability and the accessibility of these homes

." This either misplaced faith or is demonstrably incorrect. A few linked reports will provide factual and evidence-based examples that will serve to make the point.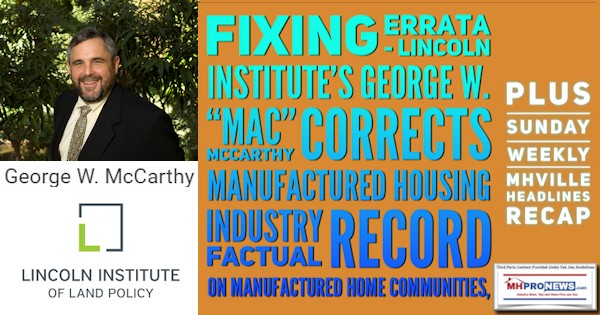 HUD Sec Marcia Fudge – Zoning, Manufactured Homes – "Until We Start to Address This We Are Going to Continue to be Perpetually in This Kind of Situation." – News-Analysis, plus Manufactured Housing Stock Updates
While several more points could be made, this report will draw towards a close by making just one more observation. MHPC appears to be following a pattern that at least per the remarks shown herein suggest they are following the UMH Properties (UMH) model. More specifically, they are buying properties and using rental units to fill those homesites. While it has 'worked' for UMH, it has also a method that has been criticized by ELS' Sam Zell quite publicly in an MHI meeting in Chicago, IL. Zell said he felt that rentals should be used in a limited fashion. Why? Perhaps because the traditional business model that makes manufactured homes such a stable source of revenue is because homeowners in those communities provide a stable resident base that is normally unmatched by apartments. That said, when rental manufactured homes become the backbone of the occupancy plan for a land-lease community, it is more of akin to a horizontal apartment complex than to a traditional owner-occupied manufactured home community.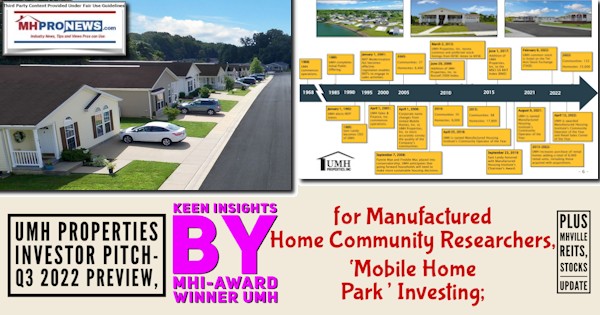 To learn more about this see the linked reports that follow.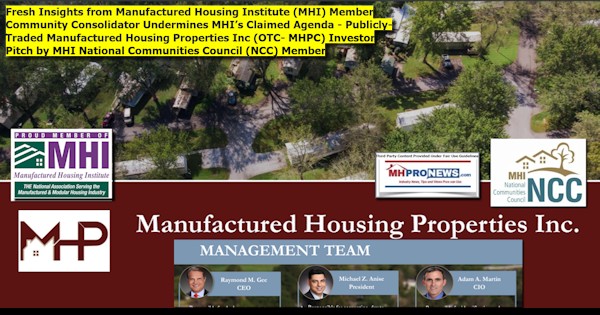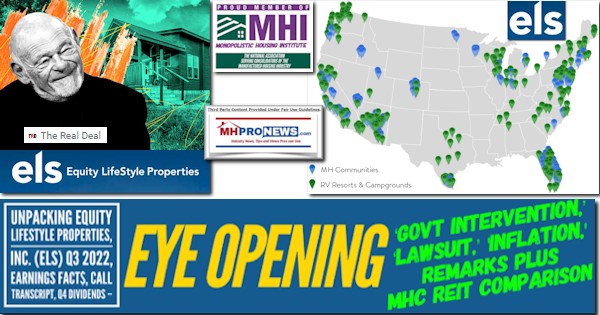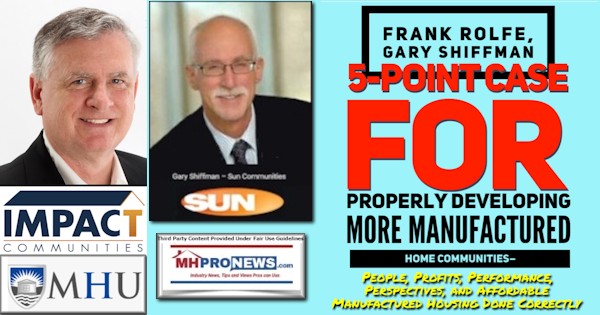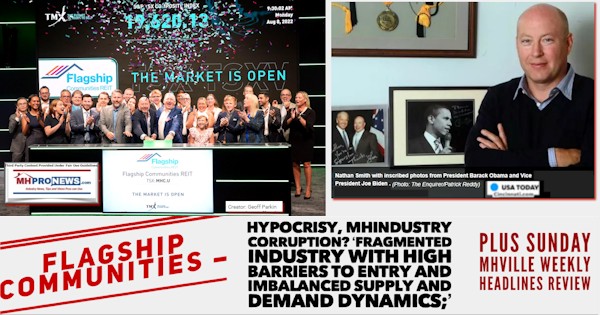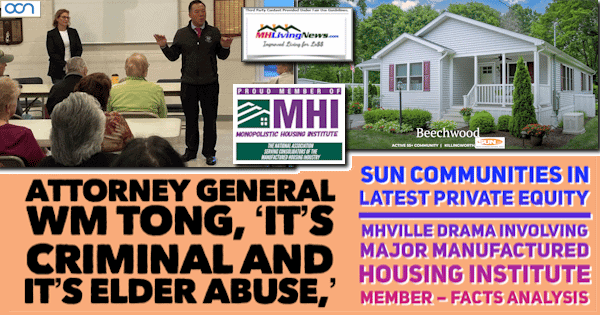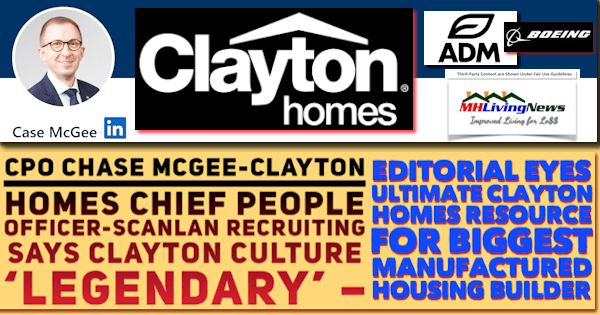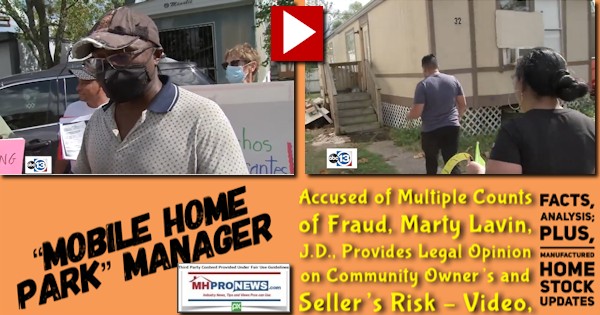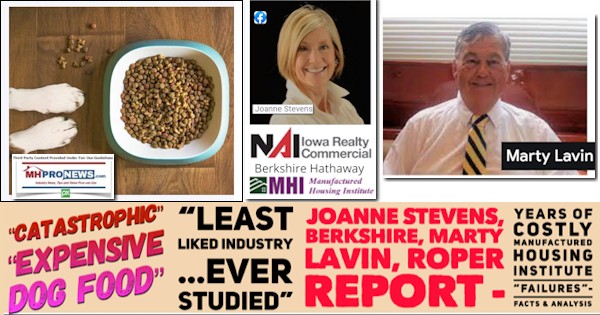 In conclusion, one must wonder at what point more plaintiffs' attorneys who are acting on behalf of residents and/or investors step up and increase the numbers of lawsuits against publicly certain traded firms.  It is arguably gaslighting, a rigged system, combined with other traits of human nature that keeps the status quo operating. But imagine: what would happen if there were more apartment closures than openings? Depending on normal market demands, limiting supply and steady demand would mean that the costs for such rental housing would tend to rise. Similarly, when the manufactured home community closures outnumber those openings will inevitably result in market imbalances over time.  That is the scenario that manufactured home communities are operating in. Unless there are changes in the business model of some of these public firms, the potential risks from regulations and legal action could well be rising for the foreseeable future.
Daily Business News on MHProNews Markets Segment
The modifications of our prior Daily Business News on MHProNews format of the recap of yesterday evening's market report are provided below. It still includes our signature left (CNN Business) and right (Newsmax) 'market moving' headlines. The macro market moves graphics will provide context and comparisons for those invested in or tracking manufactured housing connected equities.
In minutes a day readers can get a good sense of significant or major events while keeping up with the trends that are impacting manufactured housing connected investing.
Reminder: several of the graphics on MHProNews can be opened into a larger size. For instance: click the image and follow the prompts in your browser or device to OPEN In a New Window. Then, in several browsers/devices you can click the image and increase the size. Use the 'x out' (close window) escape or back key to return.
Headlines from left-of-center CNN Business – from the evening of 12.6.2022
Meme stock mania ebbs
A man talks by his phone in front of GameStop at 6th Avenue on February 25, 2021 in New York.
Shares of companies like GameStop and AMC are down sharply
WILMINGTON, CALIFORNIA – NOVEMBER 28: The Phillips 66 Los Angeles Refinery Wilmington Plant stands beyond a residential street on November 28, 2022 in Wilmington, California. Climate activists held a protest outside the refinery earlier in the day against increased oil company profits amid recent high gas prices in California. California Governor Gavin Newsom has called a special session of the Legislature for December 5th to consider a special windfall tax on oil industry profits. Phillips 66 reported a third quarter profit of $5.4 billion, 13 times more than the $402 million profit recorded for the same period last year.
US oil plunges below $75 for first time since just before Christmas
Ifeoma Ozoma, a former employee of Pinterest, Facebook and Google, at her home in Santa Fe, N.M., on March 21, 2021. Since last year, Ozoma has emerged as a central figure among tech whistle-blowers.
RISK TAKERS: This former tech worker is helping change laws for people who get laid off
Taiwan Semiconductor Manufacturing Company, Limited (TSMC), the world's most valuable semiconductor company at Hsinchu Science Park on September 16, 2022 in Hsinchu, Taiwan.
TSMC ups its Arizona chipmaking investment to $40 billion ahead of Biden's visit
A BuzzFeed News logo adorns a wall inside BuzzFeed headquarters, December 11, 2018 in New York City.
BuzzFeed slashes 12% of its workforce, citing 'worsening macroeconomic conditions'
An Apple AirTag
Women sue Apple alleging their exes used AirTags to stalk them
NEW YORK, NEW YORK – DECEMBER 06: Traders work on the floor of the New York Stock Exchange during morning trading on December 06, 2022 in New York City.
Stocks sink again as CEOs sound alarm bells about economy
'Not how you treat friends.' Biden's climate plan strains trade ties
Shein tells suppliers to end long factory days by end of the month
The last time the US faced a debt fight this bad it lost its AAA rating
Microsoft could soon have its first union
Walmart CEO: Inflation on toys, clothing and sports equipment is easing
Philadelphia is launching a plant-based cream cheese
McDonald's franchisee violated child labor laws at 13 locations, investigation finds
The world will gain enough renewable energy in 5 years to power China, says IEA
VIDEO: That TikTok voice is actually a person. This is her story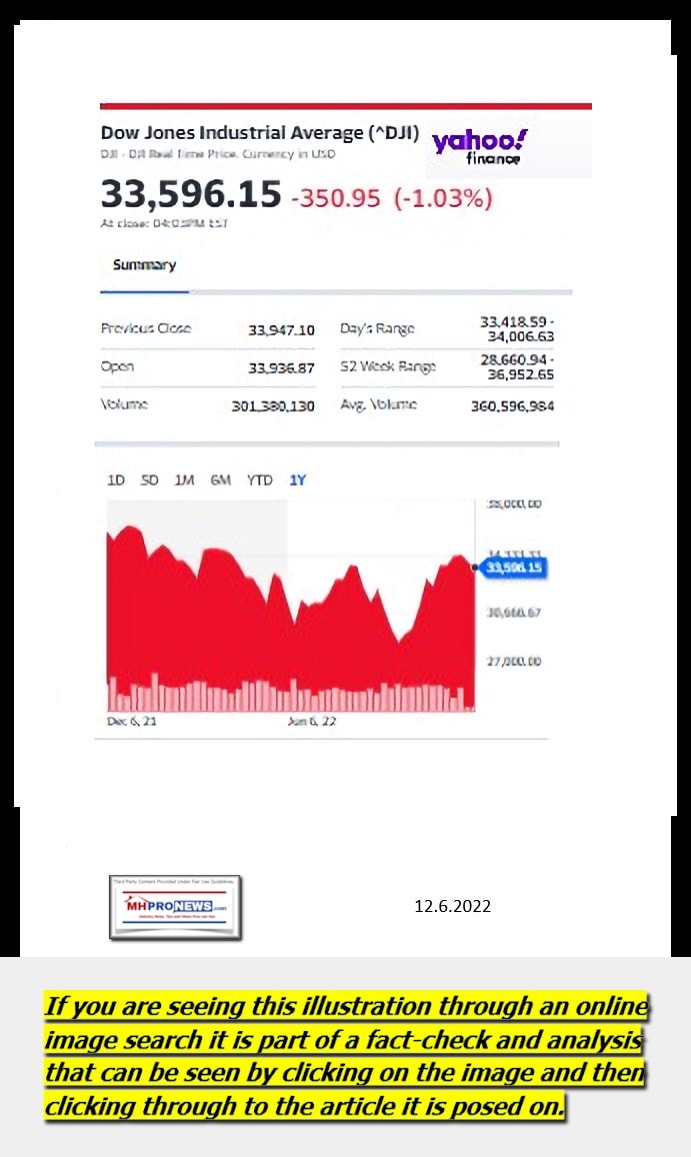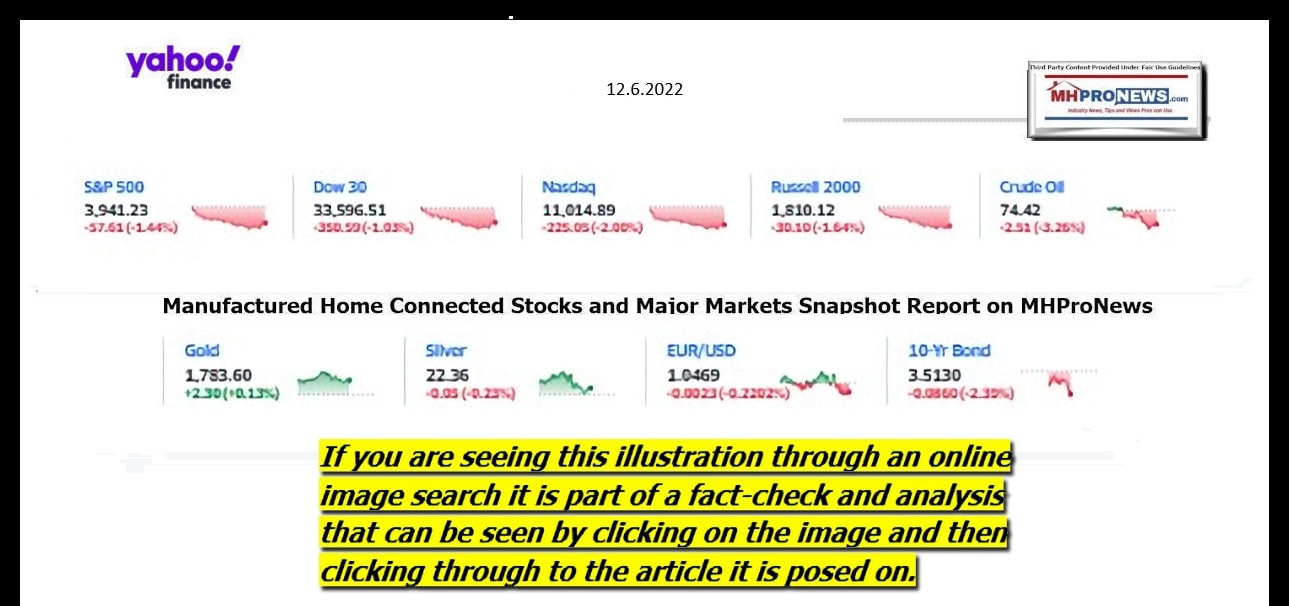 Headlines from right-of-center Newsmax 12.6.2022   
Biden Won't Visit Border on Arizona Trip; 'More Important Things Going On'
President Joe Biden waves as he boards Air Force One at Andrews Air Force Base, Maryland, on Tuesday for a trip to Arizona.
President Joe Biden says there is no need for him to visit the southern border despite the migrant situation that has existed since he took office. [Full Story]
Newsmax TV
Fallon: Twitter Exposé Shines Ugly Light on Dems, Big Tech
Mark Morgan: Border Is 'Worst Catastrophic Crisis of Our Lifetime' | video
Singer John Ford Coley: 'I Always Had a Heart for Cops' | video
Burt Jones: Herschel Walker in 'Unfortunate Situation' | video
Murphy: Need to Tie Purse Strings to Free Speech on Campus | video
Burchett: Troops Demoralized by Vaccine Mandate | video
Comer: FBI 'Darn Well' Knew Hunter's Laptop Was Real | video
Blaine Holt: Ukraine Exposing Russia's Vulnerability | video
Newsfront
US Not Enabling or Encouraging Ukraine to Strike Beyond Its Borders: Spokesman
The United States is not enabling or encouraging Ukraine to strike beyond its borders, the State Department said on Tuesday, after Ukraine demonstrated an apparent new ability to penetrate hundreds of kilometers into Russian air space with attacks on air bases. Moscow said…… [Full Story]
Related Stories
Ukraine Hits 3rd Russian Airfield With Long-Range Strikes
Zelenskyy Meets Troops Near Front Lines in East Ukraine
Russia, Ukraine Swap 60 POWs Each in Latest Exchange
Blaine Holt to Newsmax: Ukraine Exposing Russia's Vulnerability
US Secretly Altered Rocket Systems for Ukraine to Prevent Shooting into Russia
McConnell Stands Up to Big Tech, Backs Key Journalism Bill
Senate Minority Leader Mitch McConnell has signed on to call by all [Full Story]
Related
Meta May Remove News From Facebook If Bill Passes
Meta Oversight Board Calls for Overhaul of Controversial 'Cross-Check' System for VIPs
US OKs Potential Sale of M1A1 Abrams Tanks, Equipment to Poland for $3.75B
The U.S. State Department has approved a potential sale of M1A1 [Full Story]
Iranian Protests Pose No Threat to Regime, Experts Say
While the threat of detainment and even death hasn't stopped Iranian [Full Story] | Platinum Article
JFK Expert: CIA Has Proof Oswald Involved in Secret Operation
The CIA is withholding documents suggesting that Lee Harvey Oswald [Full Story]
James Woods Declares Exit From Twitter After Vowing to Sue
James Woods has announced his departure from Twitter days after [Full Story]
Did New Stealth Bomber Have Desired Impact on China?
Most Americans may not have been watching on Friday evening when the [Full Story] | Platinum Article
Related
China Blasts US Report, Reiterates 'No 1st Use' Nuke Policy
CDC Urges Vaccination, Masking as 'Tripledemic' Hits More Americans
Flu, RSV and COVID-19 are creating a perfect storm of respiratory [Full Story]
Apple Sued by Women Who Say AirTag Enables Stalkers
Apple Inc. has been sued by two women who said its AirTag devices [Full Story]
US Banks Warn of Grave Recession Risk
The biggest U.S. banks are bracing for a worsening economy next year [Full Story]
Eating Ultraprocessed Foods Linked to Increased Dementia Risk
Chips, pizza, cookies: Delicious, but a diet full of ultraprocessed [Full Story]
Drug Price Hikes Drive Revenue Up $805 Million
Price increases spread among seven of the 10 drugs in 2021 behind an [Full Story]
Always Pour Dish Soap in the Toilet Before Bed, Here's What Happens
Navy Lowering Admission Standards
The U.S. Navy is expanding its recruiting efforts by allowing the [Full Story]
Microsoft Weighs Building 'Super App'
Microsoft Corp. recently considered building a "super app" that could [Full Story]
Why Girl Toddlers Have Larger Vocabularies
Young girls tend to babble their way to bigger vocabularies earlier [Full Story]
Trump Special Counsel Smith Issues Subpoenas in Several States
Department of Justice Special Counsel Jack Smith has issued officials [Full Story]
TikTok Deal With US Delayed Over National Security Concerns
A potential agreement between TikTok and the Biden administration [Full Story]
Could Triple EV Fee to Pay for Infrastructure
Tennesseans could soon experience sticker shock when registering [Full Story]
New Black Panther Party Sending Armed Guards to Georgia Polling Centers
The New Black Panther Party will deploy armed guards at polling [Full Story]
Video Report: Warnock, Walker Battle in Georgia US Senate Runoff
Newsmax's Leonardo Feldman reports from Atlanta on the Georgia U.S. [Full Story] | video
Video Report: Biden Accuser Pushes for Investigation
Tara Reade, who accused President Joe Biden of sexual assault, [Full Story] | video
Morgan Stanley Fires About 2 Percent of Employees
Morgan Stanley fired about 2% of its employees on Tuesday, according [Full Story]
Biden Defends Not Visiting Border on Arizona Trip
President Joe Biden said there was no need for him to visit the [Full Story]
Gallup Survey: 55 Percent Feel Pain of Rising Prices
Americans are experiencing painfrom arising cost of living. [Full Story]
Democrats Scrambling to Replace Feinstein in 2024
Despite Sen. Dianne Feinstein, D-Calif., not revealing whether she [Full Story]
Remote Work Guts Downtowns, Will Cost Cities $453 Billion
More than half the downtown office space in U.S. cities remains [Full Story]
Video Report: China's Xi Visits Saudi Arabia
Chinese President Xi Jinping's visit to Saudi Arabia comes as [Full Story] | video
Fugitive Nabbed in Mexico After 9 Years on the Run
A man wanted for his involvement in an interstate drug trafficking [Full Story]
US Kicks Off First California Coast Offshore Wind Auction
The United States on Tuesday is set to kick off the first sale of [Full Story]
Lame Duck Congress Debating Business, Child, Tax Credits as Funding Deadline Looms
The lame duck Congress is taking up several budgetary issues [Full Story]
McCarthy's Budget Message to McConnell: 'Wait Until We're in Charge'
House Republican Leader Kevin McCarthy, R-Calif., wants Senate GOP [Full Story]
Finance
US Banks Warn of Recession Risk
The biggest U.S. banks are bracing for a worsening economy next year as inflation threatens consumer demand, according to executives Tuesday…. [Full Story]
George Mentz: 20 Takeaways From 'The Red Hurricane' of Election 2022
Housing Costs Show Signs of Easing
Apple Delays Self-Driving Car Launch to 2026
Wall Street Slides in Recession Worry Selloff
More Finance
Health
Eating Ultra-Processed Foods Linked to Increased Dementia Risk
Chips, pizza, cookies: Delicious, but a diet full of ultra-processed foods like these may contribute to brain deterioration, researchers report. Ultra-processed foods have lots of added and unhealthy ingredients, such as sugar, salt, fat, artificial colors and preservatives……. [Full Story]
Banning Flavored Vapes Didn't Lead Users to Quit, Says New Survey
Researchers Uncover Why Epileptic Seizures Lead to More Seizures
CDC Head: Flu Vax 'Very Good Match' for '22-'23 Strains
Self-Checkout Screens Contain Large Amounts of Sickening Bacteria, Germs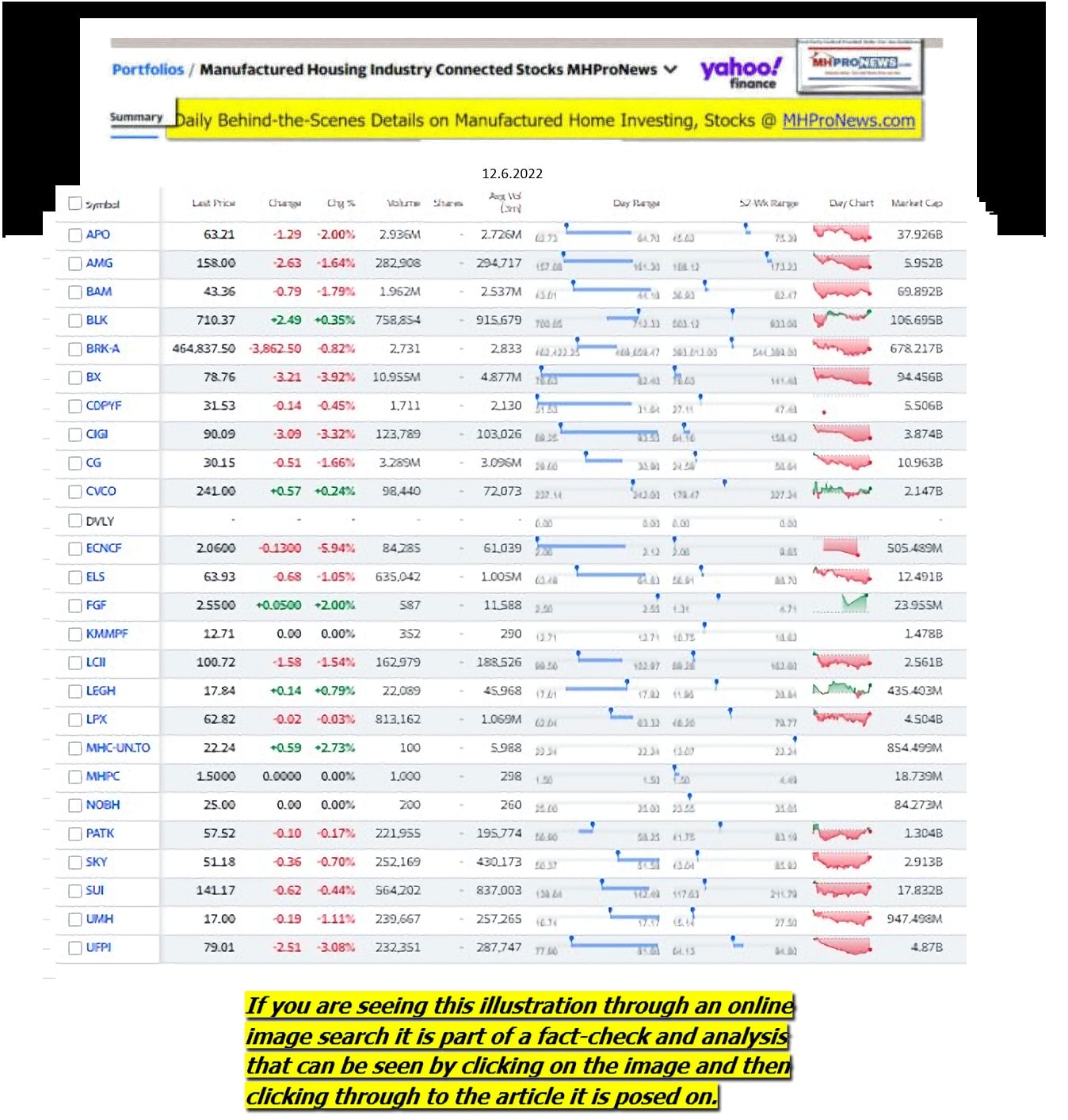 ====================================
NOTE 1: The 3rd chart above includes the Canadian stock, ECN, which purchased Triad Financial Services, a manufactured home industry finance lender
NOTE 2: Drew changed its name and trading symbol at the end of 2016 to Lippert (LCII).
NOTE 3: Deer Valley was largely taken private, say company insiders in a message to MHProNews on 12.15.2020, but there are still some outstanding shares of the stock from the days when it was a publicly traded firm.  Thus, there is still periodic activity on DVLY.
Note 4: some recent or related reports to the equities named above follow.
Telling Manufactured Housing Story Honestly, Persuasively, Beneficially and Profitably with Facts, Evidence, Bright Line Distinctions – plus Sunday Weekly Manufactured Home Recap
Manufactured Housing's Next BIG Regulatory Battle That MHARR's Spotlighted and Which MHI Conveniently Ignored in Recent 'Manufactured Housing Institute News;' plus Sunday Weekly Headlines Recap
'Changes Will Benefit Customers,' Boost Sales-Legacy Homes CEO Duncan Bates – LEGH 'Delivered 22.5% Return on Equity in 1 Yr' – Corp Q3 2022 Insights, Analysis; plus MHVille REITs, Stocks Update  
'No Assurance Inflation Will Not Affect Our Future Profitability Financial Position'=Cavco Industries 10-Q, Solitaire Deal, More CVCO Data; Supreme Court Ruled-SEC Regs on False-Omitted Remarks
Skyline Champion Provides Quarterly Results, Adding Retail Centers, Improved Delivery Times-CEO Mark Yost Says 'Can Outperform Conventional Housing' Explored; Plus MHVille REITs, Stocks Update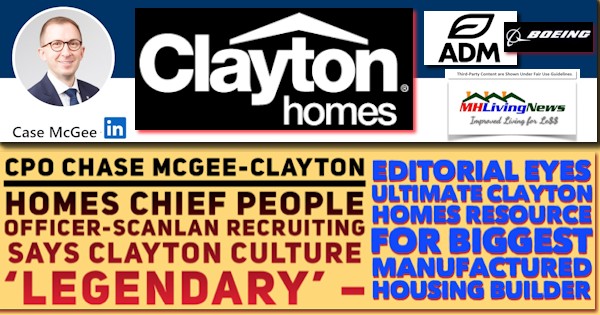 Triad Financial Services Q2-2022 FINANCIAL RESULTS, per ECN Capital – Several Bright Spots in Manufactured Home Market Highlighted, Including Communities, Retail, Land-Home, Floor; MHStocks Update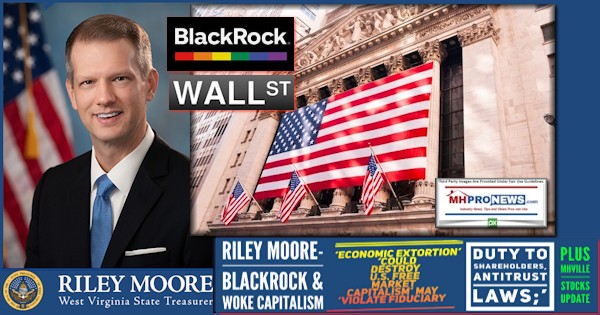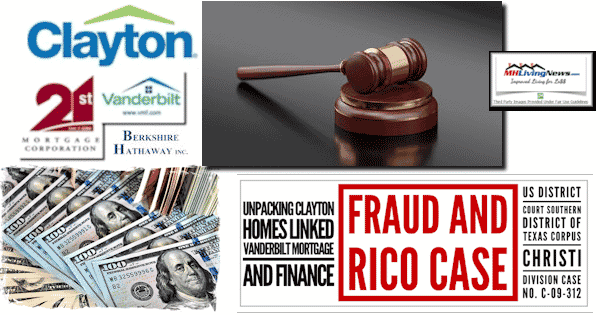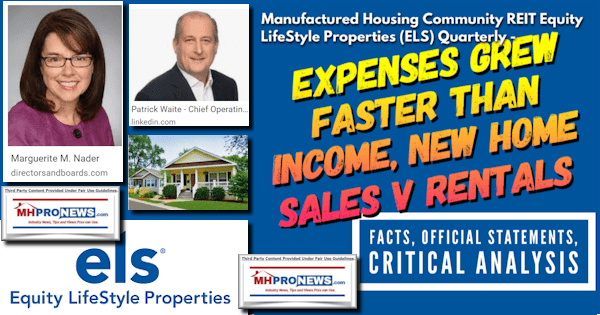 Manufactured Home Communities (a.k.a. 'Mobile Home Parks' – SIC) – Exploring UMH Properties; Fellow Manufactured Housing Institute Member Yes! Communities Suits and Settlements; plus MH Markets Updates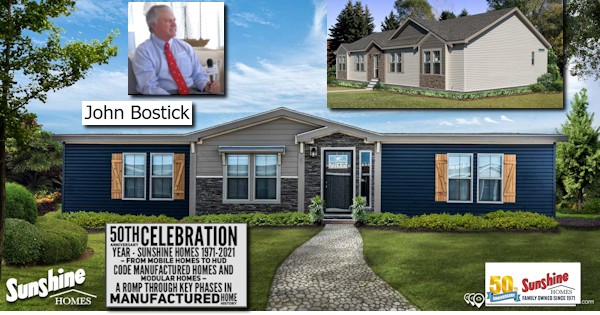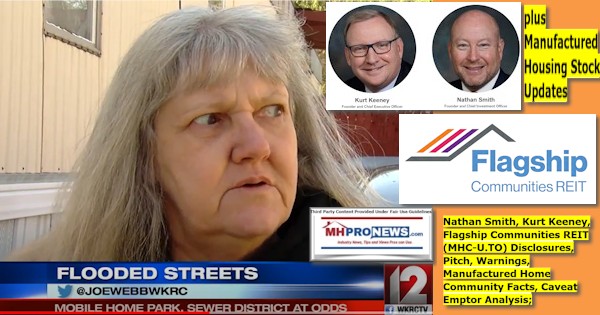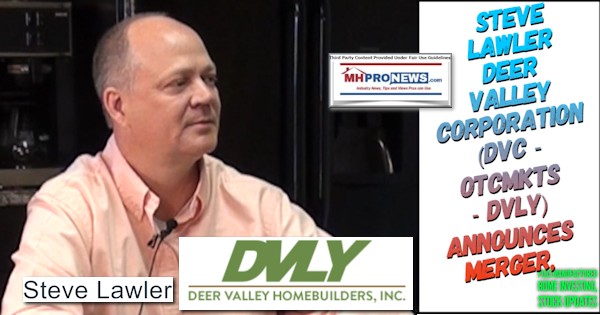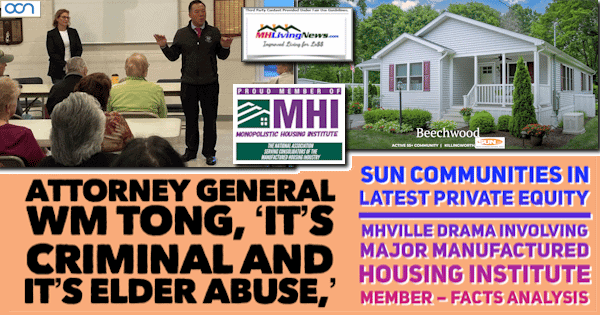 2022 …Berkshire Hathaway is the parent company to Clayton Homes, 21st Mortgage, Vanderbilt Mortgage and other factory-built housing industry suppliers.
· LCI Industries, Patrick, UFPI, and LP each are suppliers to the manufactured housing industry, among others.
· AMG, CG, and TAVFX have investments in manufactured housing related businesses. For insights from third-parties and clients about our publisher, click here.
Disclosure. MHProNews holds no positions in the stocks in this report.
· For expert manufactured housing business development or other professional services, click here.
· To sign up in seconds for our industry leading emailed headline news updates, click here.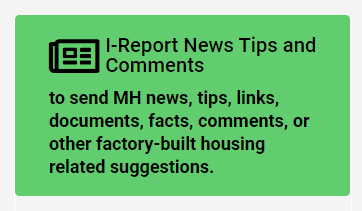 That's a wrap on this installment of "News Through the Lens of Manufactured Homes and Factory-Built Housing" © where "We Provide, You Decide." © (Affordable housing, manufactured homes, stock, investing, data, metrics, reports, fact-checks, analysis, and commentary. Third-party images or content are provided under fair use guidelines for media.) (See Related Reports, further below. Text/image boxes often are hot-linked to other reports that can be access by clicking on them.)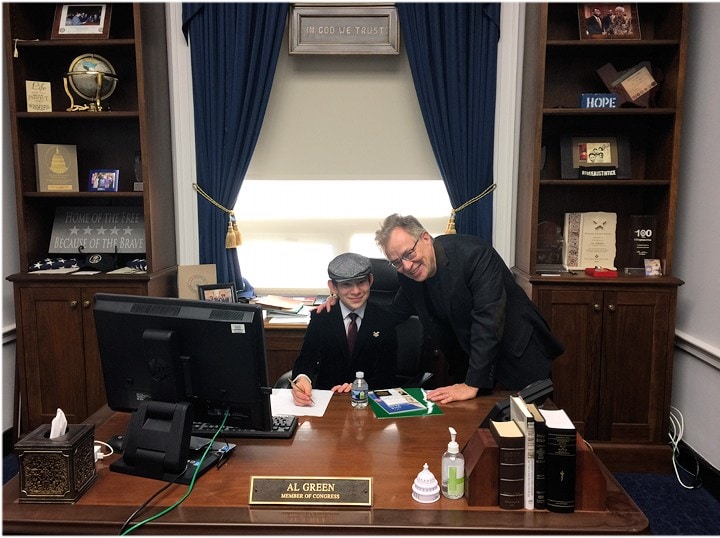 By L.A. "Tony" Kovach – for MHProNews.
Tony earned a journalism scholarship along with numerous awards in history. There have been several awards and honors and also recognition in manufactured housing. For example, he earned the prestigious Lottinville Award in history from the University of Oklahoma, where he studied history and business management. He's a managing member and co-founder of LifeStyle Factory Homes, LLC, the parent company to MHProNews, and MHLivingNews.com. This article reflects the LLC's and/or the writer's position and may or may not reflect the views of sponsors or supporters.
Manufactured Home Production Growth Continues in September 2022, per Manufactured Housing Association for Regulatory Reform-Added Facts, Analysis, plus MHVille REITs, MH Connected Stocks Update
Consumers 'Fears for the Future'-Mortgage Payments Surge Since 2021, Buyers Get Priced Out–Conventional Housing Woes are Manufactured Home Pro Opportunities; plus MHVille REITs, Stocks Update