As years of reports on this platform has systematically documented, there are several major companies, conglomerates, and so called 'nonprofit organizations' that have significant influence over the everyday and political choices that you and your neighbors are making. Among them in a larger than normal degree is Google, which Harvard University graduate and respected psychologist Dr. Robert Epstein, Ph.D. has been studying. Epstein and his fellow researchers have been peering into Google for about a decade, doing testing, recording data, and probing evidence that regulators might be expected to do, but aren't, per the insights from the video interview and related article below. MHProNews has periodically highlighted Google because it's influence over manufactured housing on several levels is significant. Without hyperbole, they are arguably pernicious for many firms and apparently deadly for others.  Recall that New York Stern University's Professor Scott Galloway names Google as one of the so-called FAANG firms that needed to be trimmed down to size through antitrust action. Google has critics among Democrats and Republicans. Google has faced antitrust action oversees, including Europe where they have been fined several times to the tunes of billions of dollars.  More on that bigger picture and the manufactured housing industry's apparent need for concern will follow the Mercola interview and provided related report, video, and transcript.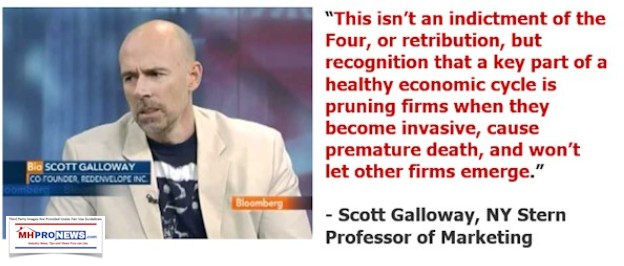 Our prescriptive additional information with more MHProNews Analysis and Commentary segment today will clarify why the issues Epstein's research has uncovered are of key concern to anyone who values authentic freedom of choice, which most manufactured housing professionals should value. Note that while the Mercola headline seems to be hyperbolic in using the term "dictator," right or wrong, the reason he has used that term can be viewed through the lens of the evidence presented by Epstein and his colleagues
Analysis by Dr. Joseph Mercola Fact Checked
STORY AT-A-GLANCE
Robert Epstein is a Harvard trained psychologist who has exposed how Google is manipulating public opinion through their search engine so they can change the results of elections and many other important areas
His research shows how Google is using new techniques of manipulation that have never existed before in human history. If this weren't bad enough, these tools are ephemeral and leave no paper trail of their devious behavior
According to Epstein's calculations in 2020, Google had the capability of shifting 15 million votes leading up to the U.S. presidential 2020 election
Because Google has become an everyday tool that's used for more than 90% of searches worldwide, as of 2020, the company had likely determined the outcomes of 25% of the national elections in the world
Search suggestions — shown in a drop-down menu when you begin to type a search term — is another powerful manipulation tool capable of turning a 50/50 split among undecided voters into a 90/10 split, with no one having the slightest idea that they've been manipulated
Robert Epstein, who received his Ph.D. in psychology from Harvard in 1981 and served as the former editor in chief at Psychology Today, is now a senior research psychologist for the American Institute of Behavioral Research and Technology, where for the last decade he has helped expose Google's manipulative and deceptive practices. In this interview, he explains what got him interested in investigating the internet search monopoly in the first place:
"In 2012, January 1st, I received some emails from Google saying my website contained malware and that they were somehow blocking access. This means I had gotten onto one of Google's blacklists.
My website did contain some malware. It was pretty easy to get rid of, but it turns out it's hard to get off of a Google blacklist. That's a big problem. I started looking at Google just a little bit differently. I wondered, first of all, why they were notifying me about this rather than some government agency or some nonprofit organization? Why was a private company notifying me?
In other words, who made Google sheriff of the internet? Second, I learned they had no customer service department, which seemed very strange, so if you have a problem with Google, then you have a problem because they don't help you solve the problem.
I learned also that although you can get onto a blacklist in a split second, it can take weeks to get off a blacklist. There have been businesses that have gotten onto their blacklists and have gone out of business while they're trying to straighten out the problem.
The thing that really caught my eye — because I've been a programmer my whole life — was I couldn't figure out how they were blocking access to my website, not just through their own products … Google.com, the search engine, or through Chrome, which is their browser, but through Safari, which is an Apple product, through Firefox, which is a browser run by Mozilla, a nonprofit organization.
How was Google blocking access through so many different means? The point is I just started to get more curious about the company, and later in 2012, I happened to be looking at a growing literature, which was about the power of search rankings to impact sales.
This was in the marketing field and it just was astonishing. In other words, if you could push yourself up one more notch in their search results, that could make the difference between success or failure for your company; it could mean a lot more income.
It turns out that this initial research was saying that people really trust those higher ranked search results. I simply asked a question. I wondered whether, if people trust those higher rank search results, I could use search results to influence people's opinions, maybe even their votes."
What Epstein discovered through his subsequent research, which began in 2013, is that yes, biased search results can indeed be used to influence public opinion and sway undecided voters. What's more, the strength of that influence was shocking. He also eventually discovered how Google is able to block website access on browsers other than their own. His findings were published in 2016 in U.S. News & World Report.1
Google's Powers Pose Serious Threats to Society
Google's powers pose three specific threats to society:
1.They're a surveillance agency with significant yet hidden surveillance powers. As noted by Epstein:
"The search engine … Google Wallet, Google Docs, Google Drive, YouTube, these are surveillance platforms. In other words, from their perspective, the value these tools have is they give them more information about you. Surveillance is what they do."
2.They're a censoring agency with the ability to restrict or block access to websites across the internet, thus deciding what people can and cannot see. They even have the ability to block access to entire countries and the internet as a whole.
The most crushing problem with this kind of internet censorship is that you don't know what you don't know. If a certain type of information is removed from search, and you don't know it should exist somewhere, you'll never go looking for it. And, when searching for information online, how would you know that certain websites or pages have been removed from the search results in the first place? The answer is, you don't.
For example, Google has been investing in DNA repositories for quite a long time, and are adding DNA information to our profiles. According to Epstein, Google has taken over the national DNA repository, but articles about that — which he has cited in his own writings — had vanished in 2020.
Some of the articles have now resurfaced, but to get a better view of what Google has been doing since at least 2011, a new search engine, Freespoke.com, is a great source for those searches.
3.They have the power to manipulate public opinion through search rankings and other means.
"To me, that's the scariest area," Epstein says, "because Google is shaping the opinions, thinking, beliefs, attitudes, purchases and votes of billions of people around the world without anyone knowing that they're doing so … and perhaps even more shocking, without leaving a paper trail for authorities to trace.
They're using new techniques of manipulation that have never existed before in human history and they are for the most part, subliminal … but they don't produce tiny shifts.
They produce enormous shifts in people's thinking, very rapidly. Some of the techniques I've discovered are among the largest behavioral effects ever discovered in the behavioral sciences."
While surveillance is Google's primary business, their revenue — which in 2022 exceeds $256 billion a year2 — comes almost exclusively from advertising. All that personal information you've provided them through their various products is sold to advertisers looking for a specific target audience.
How Google Can Shift Your Perception Without Your Knowledge
Epstein's controlled, randomized, double-blind and counterbalanced experiments have revealed a number of different ways in which Google can shift public perception. The first effect he discovered is called SEME, which stands for search engine manipulation effect. For a full description of the basic experiment used to identify this effect, please listen to the interview.
In summary, the aim of his experiment was to see whether search results biased toward a particular political candidate would be capable of shifting users' political opinion and leanings.
"I had predicted, when we first did this, that we would get a shift," Epstein says, "because … people do trust higher ranked search results, and of course we had biased the search results so that, if in that first group, someone was clicking on a high-ranking search result, that would connect them to a webpage which made one candidate look much better than the other …
I predicted we could get a shift in voting preferences of 2% to 3%. I was way off. We got … a shift of 48%, which I thought must be an error because that's crazy …
I should note that in almost all of our experiments, especially those early ones, we deliberately used undecided voters. That's the key. You can't easily push the opinions or voting preferences of people who are partisan, who are strongly committed to one party or another, but people who are undecided, those are the people who are very vulnerable. In our experiments, we always find a way to use undecided voters.
In these early experiments, the way we guaranteed that our voters were undecided was by using people from the U.S. as our participants, but the election we chose was the 2010 election for the prime minister of Australia.
They're real candidates, a real election, real search results, real webpages, and of course, because our participants were from the U.S. they were not familiar with the candidates. In fact, that's why, before they do the search, we get this almost perfect 50/50 split regarding who they're going to vote for, because they don't know these candidates. The information they're getting from the search, that, presumably, is why we get a shift."
Simple Trick Effectively Masks Search Bias
Another thing Epstein noticed was that very few seemed to realize they were seeing biased search results. In other words, the manipulation went virtually undetected.
In a second experiment, they were able to achieve a 63% shift in voter preference, and by masking the bias — simply by inserting a pro-opponent result here and there — they were able to hide the bias from almost everyone.
"In other words, we could get enormous shifts in opinions and voting preferences with no one being able to detect the bias in the search results we were showing them," Epstein says. "This is where, again, it starts to get scary. Scarier still is when we moved on to do a national study of more than 2,000 people in all 50 states."
What this large-scale investigation revealed is that the few who actually notice the bias are not protected from its effects. Curiously, they actually shift even further toward the bias, rather than away from it.
As evidenced by other studies, the pattern of clicks is a key factor that makes search bias so powerful: 50% of all search selections go to the top two items and 95% of all clicks go to the first page of search results.
"In other words, people spend most of their time clicking on and reading content that comes from high-ranking search results. If those high-ranking search results favor one candidate, that's pretty much all they see and that impacts their opinions and their voting preferences," Epstein says.
Subsequent experiments revealed that this click pattern is the result of conditioning. Most of the things people search for are simple matters such as local weather or the capital of a country. The most appropriate and correct answer is always at the very top. This conditions them to assume that the best and truest answer is always the most high-ranked listing.
Google May Have Shifted Millions of Votes in 2016 Elections
The ramifications of the search engine manipulation effect can be immense. Of course, having power to shift public opinion is one thing; actually using that power is another. So, Epstein's next target was to determine whether Google is using its power of influence or not.
"Early 2016, I set up the first-ever monitoring system, which allowed me to look over the shoulders of people as they were conducting election-related searches on Google, Bing and Yahoo in the months leading up to the 2016 presidential election. I had 95 field agents (as we call them), in 24 states.
We kept their identities secret, which took a lot of work. And this is exactly, by the way, what the Nielsen company does to generate ratings for television shows. They have several thousand families. Their identities are secret. They equip the families with special boxes, which allow Nielsen to tabulate what programs they're watching …
Inspired by the Nielsen model, we recruited our field agents, we equipped them with custom passive software. In other words, no one could detect the fact that they have the software in their computers. But that software allowed us to look over their shoulders as they conducted election related searches …
We ended up preserving 13,207 election-related searches and the nearly 100,000 webpages to which the search results linked … After the election, we rated the webpages for bias, either pro-Clinton or pro-Trump … and then we did an analysis to see whether there was any bias in the search results people were seeing.
The results we got were crystal clear, highly significant statistically … at the 0.001 level. What that says is we can be confident the bias we were seeing was real, and it didn't occur because of some random factors. We found a pro-Clinton bias in all 10 search positions on the first page of Google search results, but not on Bing or Yahoo.
That's very important. So, there was a significant pro-Clinton bias on Google. Because of the experiments I had been doing since 2013, I was also able to calculate how many votes could have been shifted with that level of bias… At bare minimum, about 2.6 million [undecided] votes would have shifted to Hillary Clinton."
On the high end, Google's biased search results may have shifted as many as 10.4 million undecided voters toward Clinton, which is no small feat — all without anyone realizing they'd been influenced, and without leaving a trace for the authorities to follow.
According to Epstein's calculations, tech companies, Google being the main one, it was possible to shift 15 million votes leading up to the 2020 election, which means they had the potential to select the next president of United States.
Google Has the Power to Determine 25% of Global Elections
Many who look at Epstein's work end up focusing on Google's ability to influence U.S. politics, but the problem is much bigger than that.
"As I explained when I testified before Congress, the reason why I'm speaking out about these issues is because, first of all, I … think it's important that we preserve democracy and preserve the free and fair election. To me, it's pretty straight forward.
But the problem is much bigger than elections or democracy or the United States. Because I calculated back in 2015 that … Google's search engine — because more than 90% of searches worldwide are conducted on Google — was determining the outcomes of upwards of 25% of the national elections in the world.
How can that be? Well, it's because a lot of elections are very close. And that's the key to understanding this. In other words, we actually looked at the win margins in national elections around the world, which tend to be very close. In that 2010 Australian election, for example, the win margin was something like 0.2% …
If the results they're getting on Google are biased toward one candidate, that shifts a lot of votes among undecided people. And it's very, very simple for them to flip an election or … rig an election … It's very, very simple for Google to do that.
They can do it deliberately, which is kind of scary. In other words, some top executives at Google could decide who they want to win an election in South Africa or the U.K. or anywhere. It could be just a rogue employee at Google who does it. You may think that's impossible … [but] it's incredibly simple …
[A] senior software engineer at Google, Shumeet Baluja, who's been at Google almost since the very beginning, published a novel that no one's ever heard of called 'The Silicon Jungle' … It's fictional, but it's about Google, and the power that individual employees at Google have to make or break any company or any individual.
It's a fantastic novel. I asked Baluja how Google let him get away with publishing it and he said, 'Well, they made me promise I would never promote it.' That's why no one's ever heard of this book."
A Dictator Unlike Anything the World Has Ever Known
Another, and even more frightening possibility, is that Google could allow its biased algorithm to favor one candidate over another without caring about which candidate is being favored.
"That's the scariest possibility," Epstein says, "because now you've got an algorithm, a computer program, which is an idiot … deciding who rules us. It's crazy."
While this sounds like it should be illegal, it's not, because there are no laws or regulations that restrict or dictate how Google must rank its search results. Courts have actually concluded that Google is simply exercising its right to free speech, even if that means destroying the businesses they demote in their search listings or black listings.
The only way to protect ourselves from this kind of hidden influence is by setting up monitoring programs such as Epstein's all over the world. "As a species, it's the only way we can protect ourselves from new types of online technologies that can be used to influence us," he says. "No dictator anywhere has ever had even a tiny fraction of the power that this company has."
Epstein is also pushing for government to make the Google search index a public commons, which would allow other companies to create competing search platforms using Google's database. While Google's search engine cannot be broken up, its monopoly would be thwarted by forcing it to hand over its index to other search platform developers.
The Influence of Search Suggestions
In 2016, Epstein also discovered the remarkable influence of search suggestions — the suggested searches shown in a drop-down menu when you begin to type a search term. This effect is now known as the search suggestion effect or SSE. Epstein explains:
"Initially the idea was they were going to save you time. That's the way they presented this new feature. They were going to anticipate, based on your history, or based on what other people are searching for, what it is you're looking for so you don't have to type the whole thing. Just click on one of the suggestions. But then it changed into something else. It changed into a tool for manipulation.
In June 2016, a small news organization … discovered that it was virtually impossible to get negative search suggestions related to Hillary Clinton, but easy to get them for other people including Donald Trump. They were very concerned about this because maybe that could influence people somehow.
So, I tried this myself, and I have a wonderful image that I preserved showing this. I typed in 'Hillary Clinton is' on Bing and on Yahoo, and I got those long lists, eight and 10 items, saying, 'Hillary Clinton is the devil. Hillary Clinton is sick' … all negative things that people were actually searching for.
How do I know that? Because we checked Google trends. Google trends shows you what people are actually searching for. Sure enough, people were actually searching for all these negative things related to Hillary Clinton. Those [were] the most popular search terms.
So, we tried it on Google and we got, 'Hillary Clinton is winning, Hillary Clinton is awesome.' Now you check those phrases on Google trends and you find no one is searching for 'Hillary Clinton is awesome.' Nobody. Not one. But that's what they're showing you in their search suggestions.
That again got my research gears running. I started doing experiments because I said, 'Wait a minute, why would they do this? What is the point?' Here's what I found in a series of experiments: Just by manipulating search suggestions, I could turn a 50/50 split among undecided voters into a 90/10 split — with no one having the slightest idea that they've been manipulated."
YouTube's Up Next Algorithm
YouTube, which is owned by Google, also has enormous influence on public opinion. According to Epstein, 70% of the videos people view on YouTube are suggested by Google's top secret Up Next algorithm, which recommends videos for you to view whenever you're watching a video.
Just like the search suggestions, this is a phenomenally effective ephemeral manipulation tool. There's no record of the videos recommended by the algorithm, yet it can take you down the proverbial rabbit hole by feeding you one video after another.
"There are documented cases now in which people have been converted to extreme Islam or to white supremacy, literally because they'd been pulled down a rabbit hole by a sequence of videos on YouTube," Epstein says.
"Think of that power. Again, it's not powerful for people who already have strong opinions. It's powerful for the people who don't, the people who are vulnerable, the people who are undecided or uncommitted. And that's a lot of people."
The Creepy Line
Most people now have Amazon Prime. If you are one of those who do, you can watch the following documentary on Prime. It is well worth your time to do so. Epstein and many other experts provide a very compelling overview of the dangers that we discuss in our interview. In my view, this is a must-watch and one to recommend to your friends and family.
A question Epstein raises is, "Who gave this private company, which is not accountable to any of us, the ability to determine what billions of people around the world will see or will not see?"
That is perhaps one of the biggest issues. Epstein and others attempt to answer this question in this documentary, "The Creepy Line," which is a direct quote from Google's executive chairman Eric Schmidt.
"Traditional media have very serious constraints placed on them, but Google, which is far more penetrating and far more effective at influencing people, has none of these constraints," Epstein says.
"There are lots of good people in ['The Creepy Line'], lots of good data, and it explains my research very clearly, which is wonderful. It explains my research better than I explain my research. 'The Creepy Line' is available on iTunes and on Amazon. I think it costs $3 or $4 to watch … If you're an Amazon Prime Member it's free [from time to time]. It's an excellent film."
Google Runs a Total Surveillance State
In his article3 "Seven Simple Steps Toward Online Privacy," Epstein outlines his recommendations for protecting your privacy while surfing the web, most of which don't cost anything.
"My first sentence is 'I have not received a targeted ad on my computer or mobile phone since 2014.' Most people are shocked by that because they're bombarded with targeted ads constantly.
More and more people are telling me that they're just having a conversation with someone, so they're not even doing anything online per se, but their phone is nearby — or they're having a conversation in their home and they have Amazon Alexa or Google Home, these personal assistants — and the next thing they know they start getting targeted ads related to what they were talking about.
This is the surveillance problem … The point is that there are ways to use the internet, tablets and mobile phones, to preserve or protect your privacy, but almost no one does that. So, the fact is that we're now being surveilled 24/7, generally speaking, with no awareness that we're even being surveilled.
Maybe some people are aware that when they do searches on Google the search history is preserved forever … But it goes so far beyond that because now we're being surveilled through personal assistants, so that when we speak, we're being [surveilled].
It goes even beyond that, because a few years ago Google bought the Nest company, which makes a smart thermostat. After they bought the company, they put microphones into the smart thermostats, and the latest versions of the smart thermostats have microphones and cameras.
Google has been issued patents in recent years, which give them, basically, ownership rights over ways of analyzing sounds that are picked up by microphones in people's homes.
They can hook you up with dentists, they can hook you up with sex therapists, with mental health services, relationship coaches, et cetera. So, there's that. Location tracking has also gotten completely out of hand. We've learned in recent months that even when you disable location tracking … on your mobile phone, you're still being tracked."
This is one of the reasons I strongly recommend that you use a VPN on your cellphone and computer, as this will prevent virtually anyone from tracking and targeting you. There are many out there but I am using the one Epstein recommends, Nord VPN, which is only about $3 per month and you can use it on up to six devices. In my view, this is a must if you seek to preserve your privacy.
How Google Tracks You Even When You're Offline
You can learn a lot about a person by tracking their movements and whereabouts. Most of us are very naïve about these things. As explained by Epstein, location tracking technology has become incredibly sophisticated and aggressive.
Android cellphones, for example, which are a Google-owned operating system, can track you even when you're not connected to the internet, whether you have geo tracking enabled or not.
"It just gets creepier and creepier," Epstein says. "Let's say you pull out your SIM card. Let's say you disconnect from your mobile service provider, so you're absolutely isolated. You're not connected to the internet. Guess what? Your phone is still tracking everything you do on that phone and it's still tracking your location."
As soon as you reconnect to the internet, all that information stored in your phone is sent to Google. So, even though you may think you've just spent the day incognito, the moment you reconnect, every step you've made is shared (provided you had your phone with you).
In terms of online tracking, it's also important to realize that Google is tracking your movements online even if you're not using their products, because most websites use Google Analytics, which tracks everything you do on that website. And, you have no way of knowing whether a website uses Google Analytics or not.
Steps to Protect Your Online Privacy
To protect your privacy, Epstein recommends taking the following steps, seven of which are outlined in "Seven Simple Steps Toward Online Privacy." The last one, Fitbit, is a more recent concern.
Use a virtual private network (VPN) such as Nord, which is only about $3 per month and can be used on up to six devices. In my view, this is a must if you seek to preserve your privacy. Epstein explains:

"When you use your mobile phone, laptop or desktop in the usual way, your identity is very easy for Google and other companies to see. They can see it via your IP address, but more and more, there are much more sophisticated ways now that they know it's you. One is called browser fingerprinting.

This is something that is so disturbing. Basically, the kind of browser you have and the way you use your browser is like a fingerprint. You use your browser in a unique way, and just by the way you type, these companies now can instantly identify you.

Brave has some protection against a browser fingerprinting, but you really need to be using a VPN. What a VPN does is it routes whatever you're doing through some other computer somewhere else. It can be anywhere in the world, and there are hundreds of companies offering VPN services. The one I like the best right now is called Nord VPN.

You download the software, install it, just like you install any software. It's incredibly easy to use. You do not have to be a techie to use Nord, and it shows you a map of the world and you basically just click on a country.

The VPN basically makes it appear as though your computer is not your computer. It basically creates a kind of fake identity for you, and that's a good thing. Now, very often I will go through Nord's computers in the United States. Sometimes you have to do that, or you can't get certain things done. PayPal doesn't like you to be in a foreign country for example."

Nord, when used on your cellphone, will also mask your identity when using apps like Google Maps.
Do not use Gmail, as every email you write is permanently stored. It becomes part of your profile and is used to build digital models of you, which allows them to make predictions about your line of thinking and every want and desire.

Many other older email systems such as AOL and Yahoo are also being used as surveillance platforms in the same way as Gmail. ProtonMail.com, which uses end-to-end encryption, is a great alternative and the basic account is free.
Don't use Google's Chrome browser, as everything you do on there is surveilled, including keystrokes and every web page you've ever visited. Brave is a great alternative that takes privacy seriously.

Brave is also faster than Chrome, and suppresses ads. It's based on Chromium, the same software infrastructure that Chrome is based on, so you can easily transfer your extensions, favorites and bookmarks.
Don't use Google as your search engine, or any extension of Google, such as Bing or Yahoo, both of which draw search results from Google. The same goes for the iPhone's personal assistant Siri, which draws all of its answers from Google.

Alternative search engines suggested by Epstein include SwissCows and Qwant. He recommends avoiding StartPage, as it was recently bought by an aggressive online marketing company, which, like Google, depends on surveillance.
Don't use an Android cellphone, for all the reasons discussed earlier.
Don't use Google Home devices in your house or apartment — These devices record everything that occurs in your home, both speech and sounds such as brushing your teeth and boiling water, even when they appear to be inactive, and send that information back to Google. Android phones are also always listening and recording, as are Google's home thermostat Nest, and Amazon's Alexa.
Clear your cache and cookies — As Epstein explains in his article:4

"Companies and hackers of all sorts are constantly installing invasive computer code on your computers and mobile devices, mainly to keep an eye on you but sometimes for more nefarious purposes.

On a mobile device, you can clear out most of this garbage by going to the settings menu of your browser, selecting the 'privacy and security' option and then clicking on the icon that clears your cache and cookies.

With most laptop and desktop browsers, holding down three keys simultaneously — CTRL, SHIFT and DEL — takes you directly to the relevant menu; I use this technique multiple times a day without even thinking about it. You can also configure the Brave and Firefox browsers to erase your cache and cookies automatically every time you close your browser."
Don't use Fitbit, as Google purchased it in 2021, a move that will provide them with all your physiological information and activity levels, in addition to everything else that Google already has on you.
– Sources and References
Video Interview Transcript LINKED HERE.

# #
#
Additional Information with More MHProNews Analysis and Commentary
Let's connect some dots after outlining some facts.
According to left-leaning Wikipedia, "Robert Epstein (born June 19, 1953) is an American psychologist, professor, author, and journalist. He earned his Ph.D. in psychology at Harvard University in 1981, was editor in chief of Psychology Today, and has held positions at several universities including Boston University, University of California, San Diego, and Harvard University. He is also the founder and director emeritus of the Cambridge Center for Behavioral Studies in Concord, MA. In 2012, he founded the American Institute for Behavioral Research and Technology (AIBRT), a nonprofit organization that conducts research to promote the well-being and functioning of people worldwide." MHLivingNews highlighted his and other work in the report linked below. The reasons why are found in our report, analysis and commentary on that related topic.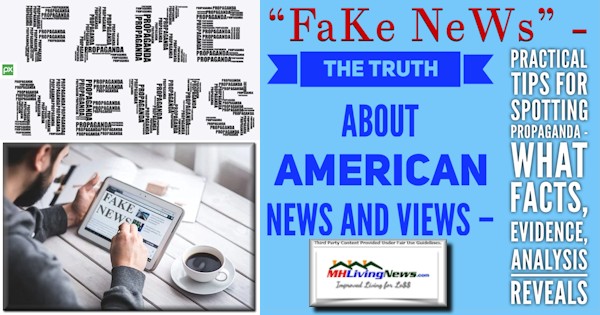 Epstein, per the left-leaning Washington Post and New York Times asserted that "Google manipulated from 2.6 million to 16 million votes for Hillary Clinton in 2016 Election! This was put out by a Clinton supporter…" meaning, Epstein. So, Epstein was not motivated by partisanship, he voted Clinton. Rather, Epstein asserts he is moved by evidence and concern for how this power of Google's could be used to shift votes and wield influence or even a measure of control over the election.  While the above was focused on Google, one must keep in mind that the Creepy Line documentary focused on Google and Facebook, not just Google.
Consider the following to see how it may apply to the emerging big picture that manufactured housing professionals are operating in.
There are legal principles that have been established that prohibit law enforcement officials to have a private party do what the Constitution prohibits for a governmental agent.
For instance, the fruit of the tainted or poisonous tree is akin to such a principle. Courts have tossed out evidence obtained illegally by a private party that was then passed onto the government Cornell University's legal website says, "The exclusionary rule prevents the government from using most evidence gathered in violation of the United States Constitution." Then recall that Facebook's Mark Zuckerberg recently set of a firestorm when he said that his firm and the FBI had essentially worked together to suppress the Hunter Biden story in advance of the 2020 election.  Note, per Zuckerberg, that they did so at the FBI's suggestion.
Whistleblowers Reveal More FBI Drama, 'FBI's Politicization' Under Trump Appointed Christopher Wray's Leadership – Vexing Details, Evidence FBI 'Deep State' Behavior; plus MHVille Markets Update
While the threat from Google to your privacy, rights, and freedom are different in some respects than that of other firms, near the core of the issue that they share with others are deemed by some informed individuals to be acting in violation of antitrust laws. Antitrust or antimonopoly is an issue so big that Donald Trump Jr said to MHProNews when asked that antitrust is the #2 or #3 issue in the USA today.
The Department of Justice posted on May 31, 2021 — "Section 242 of Title 18 makes it a crime for a person acting under color of any law to willfully deprive a person of a right or privilege."
What does that mean in practice? As evidence is mounting that Facebook and the FBI on some level worked together in 2020 to throttle a harmful story about then candidate Joe Biden's son Hunter.  That allegation implicated the former Delaware Senator and President Obama era Vice President in seemingly corrupt and illegal practices conducted overseas and domestically. In a politically neutral world, that might arguably be the subject of a federal level criminal action against those involved.  See the below.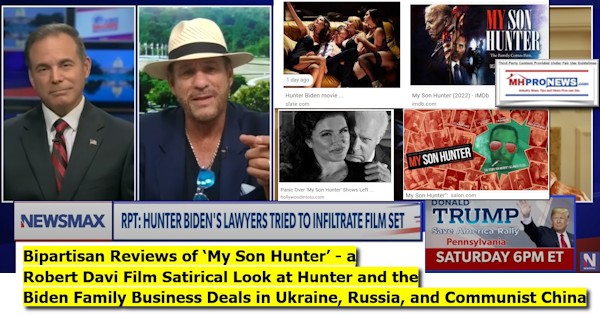 So, the insights from Mercola's interview with Epstein are of interest on several levels.
What is increasingly evident is that 'the system' is far more 'rigged' and corrupted than voices on the left and right may have thought.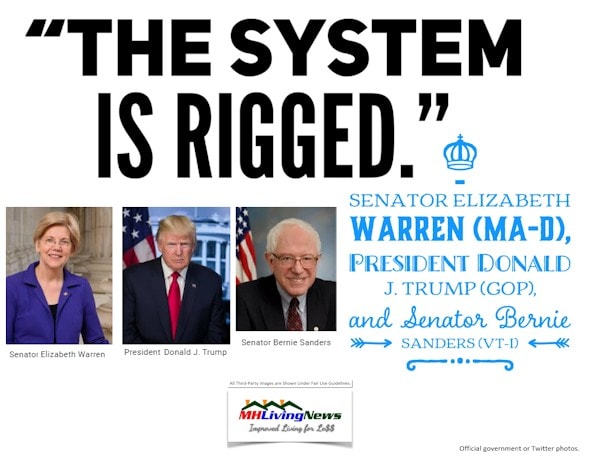 The solution is not to throw up one's hands and say it's hopeless. Mercola outlined above tips on how to limit Google influence over you. That's a useful start.
But some may be some that are ready to 'give up' at the growing evidence of just how problematic the system has become in the U.S.A. But hopelessness or giving up is surrendering. As soon as one quits, they have to a degree effectively lost.
Rather, there are a range of ways individuals can become involved that may have little to no cost beyond some well invested time.
Among those investments of time? Informing your circle of contacts about the threats to their liberties.
This is not a left vs right issue. It's a right vs wrong issue.
Voting wisely in the upcoming midterms is one obvious step that all who are eligible to vote should take. It is increasingly obvious that the PINO Biden 'led' Democrats are an example of a modern Tammany Hall on steroids. Learn more at this link below.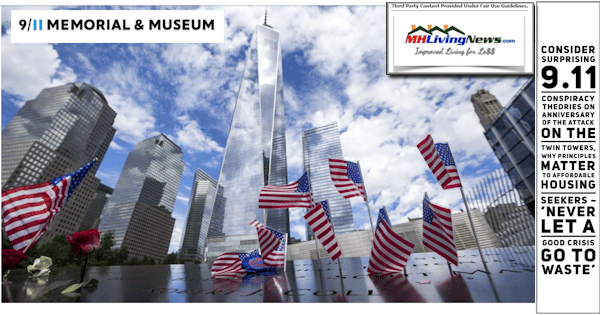 See and share the My Son Hunter movie. It's not a bad flick, using satire and now well documented facts as the bipartisan reviews below make clear. But more importantly, it's an casual way to be informative for others. The more who see it, the better, especially among swing voters.
Presuming 'America First and Americans First' type candidates win in the rapidly approaching November 2022 midterms, steps must be taken by the new Congress to reign in the abuses that have occurred. It won't be quick or easy. But public pressure is needed to get and keep those candidates true to their commitments.
My sincere thanks to @EpochTimes. They decided that their new interview with me – "Inside #BigTech's #Manipulation Machine and How to Stop It" – is so important for our #democracy & our kids that they're making it FREE for everyone. No paywall! Thx ET!https://t.co/6vnDXWsTIK pic.twitter.com/0dWh7C6kAz

— Dr. Robert Epstein (@DrREpstein) April 13, 2022
MHLivingNews illustrated in depth in the report linked below how the American Dream has been sliding away. But once the problem is broadly understood, then an effort ought to be made to  reestablish a society that honors the principles found in the Constitution and Declaration of Independence.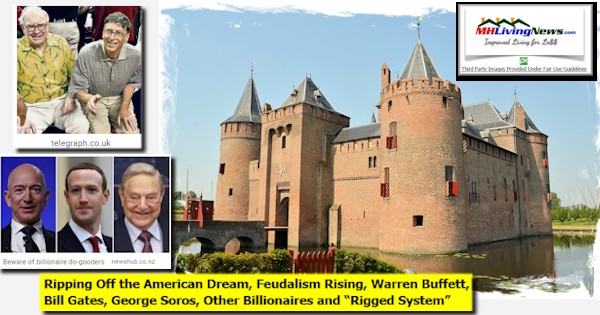 Epstein deserves credit for the courage to work steadily to expose forces far larger and more powerful than his organization's relatively modest resources.  He is thus an example for MHProNews and other people of good will to consider. There are many ways to push back, because there are more everyday people than there are of these oligarchs.
Republicans have at times in the party's history have made some bone-headed and similarly corrupt practices as many Democrats are apparently guilty of now. Whatever character or other sins might be ascribed to deposed President Trump, he has seemingly done more for people of all creeds and colors to get a legitimate shot at the American Dream. In fairness, all should acknowledge that the pre-COVID19 America was better for the working- and middle-class, retirees and others than the Biden era corruption is yielding for even their own base of constituents. See the report linked below to learn more about how the rigged system can be addressed via existing laws. ##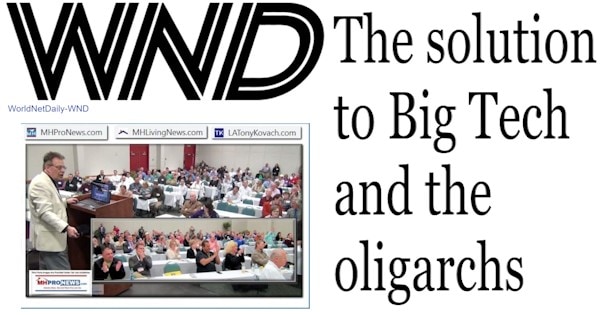 Beyond Mar-a-Lago – Recent Fed Disclosures – FBI 'Surveilling Millions' in US, CIA Does Too!? Whistleblowers-Facts Ahead of Biden-Democrat Midterms Test; plus MHVille REITs, Stocks Update
J6 – Shades of FBI in Michigan? Court Filing Reveals Numbers of Fed 'Assets' in January 6, 2021 Capitol Protest Crowd, Defense Attorney Files Motion; plus MHVille Market Updates
Who Profits? Foreign Affairs, RespStatecraft – Why Did U.S.-U.K. End Peace Deal by Russia-Ukraine? Dirty Corp-Govt Secrets of War, Lessons to MHVille, All Americans; plus Sunday Headlines Recap
Dark Money-Billionaires Buffett, Gates, Soros Funding Black Lives Matter, Antifa – Named by AG Barr in Riots, Looting – Hijacking Peaceful George Floyd Death Racial Justice Protests
MD-Attorney Marilyn Singleton Warns 'March Toward Government-Corporate Control Over Our Lives' and 'Statist-Corporate Complex' – plus Manufactured Home REITs, Stocks Update
CBS – Facebook, Google, CIA – Central Intelligence Agency Social Media Giants "Old Friends," Jim Edwards – Spy Agency Snooping, Americans, Others – New Light on Dr Robert Epstein, Peter Schweitzer Warnings – plus Manufactured Home Investing, Stock Updates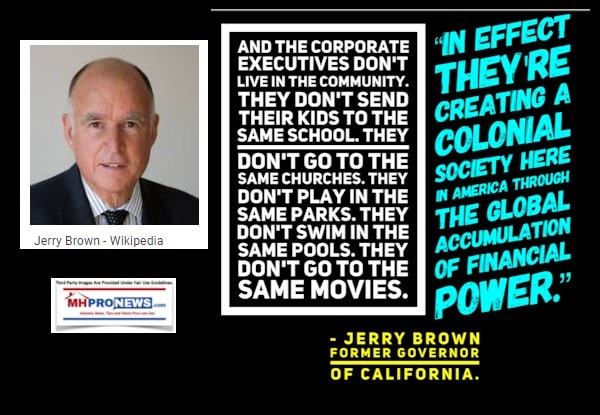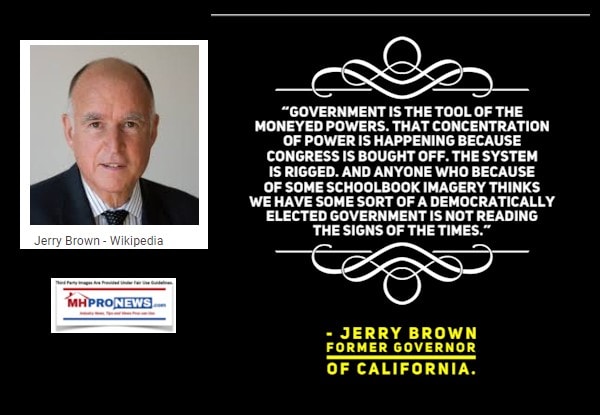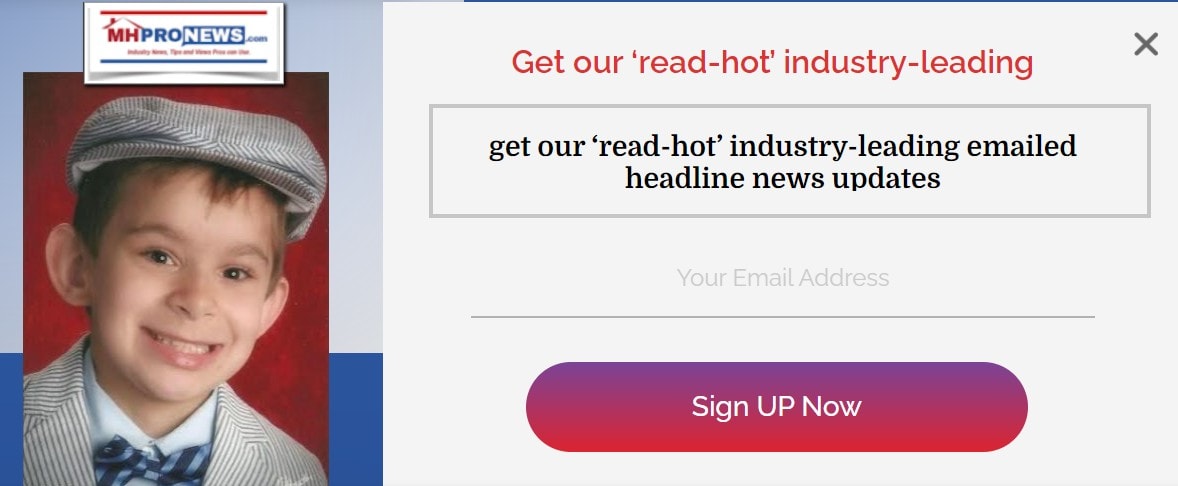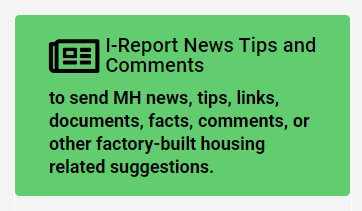 Again, our thanks to free email subscribers and all readers like you, our tipsters/sources, sponsors and God for making and keeping us the runaway number one source for authentic "News through the lens of manufactured homes and factory-built housing" © where "We Provide, You Decide." © ## (Affordable housing, manufactured homes, reports, fact-checks, analysis, and commentary. Third-party images or content are provided under fair use guidelines for media.) (See Related Reports, further below. Text/image boxes often are hot-linked to other reports that can be access by clicking on them.)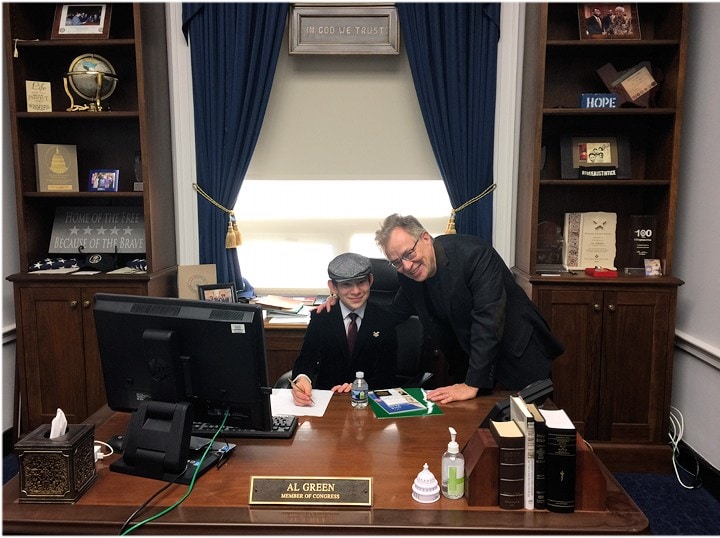 By L.A. "Tony" Kovach – for MHProNews.com.
Tony earned a journalism scholarship and earned numerous awards in history and in manufactured housing.
For example, he earned the prestigious Lottinville Award in history from the University of Oklahoma, where he studied history and business management. He's a managing member and co-founder of LifeStyle Factory Homes, LLC, the parent company to MHProNews, and MHLivingNews.com.
This article reflects the LLC's and/or the writer's position, and may or may not reflect the views of sponsors or supporters.
Connect on LinkedIn: http://www.linkedin.com/in/latonykovach
Related References:
The text/image boxes below are linked to other reports, which can be accessed by clicking on them.
'Sprawling Federal Censorship' New Civil Liberties Alliance Lawsuit Revelations 'Shock Americans,' State Attorneys General Involved in Legal Battle v Corrupt Feds; plus MHVille Market Updates
Fixing Errata – Lincoln Institute's George W. "Mac" McCarthy Corrects Manufactured Housing Industry Factual Record on Manufactured Home Communities, plus Sunday Weekly MHVille Headlines Recap
'Housing Overvalued' 'We are in a Housing Recession' – Reports by Moody's Mark Zandi, NAR's Lawrence Yun Conventional Housing Manufactured Home Concerns Probed; plus MHVille REITs, Stocks Update
Follow the Money Trail in Manufactured Housing, Recent Nonprofit Research Reports on MHVille Shed Light on Manufactured Housing Industry Potential and Woes; plus Sunday Weekly Headlines Recap
HUD Code Manufactured Housing Production Grows June 2022, per Official Data – Additional Facts, Analysis, Commentary; plus Manufactured Home Communities REITs, Manufactured Housing Stocks Update
Lawmakers Approve Affordable Home Ownership Study, Manufactured Housing Institute (MHI) Affiliate Alerts 'Predatory' Conduct by Deep Pocket Investors; plus Manufactured Home REITs, Equities Update
Feds Admit FHA Title I 'Uncompetitive' After MHARR Meeting, Ginnie Mae Asks 'Input Could Repeal 10-10 Rule' – May Yield More Manufactured Home Loans – Analysis; plus MH REITs, Equities Update
Manufactured Housing Institute (MHI) Outside Attorney David Goch's Statement to Angry, Threatening Member Speaks Volumes; plus Sunday Weekly MHVille Headlines in Review