A study of affordable housing and predatory practices by out-of-state investors that harms the interests of affordable housing seekers was provided to MHProNews by a source connected to the Manufactured Housing Association of Oklahoma (MHAO). MHAO is a Manufactured Housing Institute "state affiliate." That item is cited at length below from their Summer 2022 issue. Additionally, MHProNews has obtained from Oklahoma state Representative Mickey Dollens, D-OKC, who per his website is the Democratic Party's influential "minority whip," a statement that relates to the MHAO's alert to their members. While the announced study is state-based, and is apparently going to involve manufactured housing, it may have ramifications well beyond Oklahoma's borders. Thus the relevance of this report to manufactured housing professionals, investors, advocates, public officials and others.
From the MHAO Summer 2022 issue newsletter to their members is the following, with the red-bold headline in the original.
APPROVED—Interim Study TO ADDRESS HOMEOWNERSHIP AND THE FUTURE OF OKLAHOMA'S HOUSING MARKET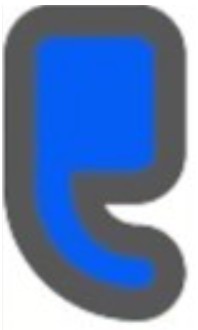 Representative Mickey Dollens – Oklahoma is 3rd in the Nation for homes owned by out-of-state corporate landlords. We're 1 of 6 states that doesn't have landlord anti-retaliations laws. We shouldn't have a housing market that favors those who don't even live here while pricing out Oklahomans.
In addition to policy proposals, I'm interested in learning whether or not there's a correlation between Oklahoma's weak tenant protection laws and predatory landlords from out-of-state who are buying up the housing market knowing they can exploit week laws to take advantage of financially vulnerable Oklahomans.
The Study will be on September 12. MHOA has been asked to participate along with State Homebuilders Association on the homeownership roadblocks in Oklahoma. ##
As a look at the above and what is shown next will reflect, the MHAO report is apparently a paraphrase of elements of Oklahoma Minority Whip Dollens' office's statement. That statement was obtained by MHProNews, which follows below. Quoting all but the closing paragraph is the following.
Tenant Rights, Homeownership Addressed in Interim Study Requests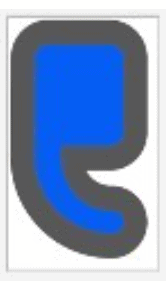 OKLAHOMA CITY – An Oklahoma state lawmaker filed two interim study requests Tuesday focused on addressing the housing needs of many Oklahomans.
One of the studies requested by Rep. Mickey Dollens, D-OKC, would examine the impact of unsafe and unhealthy renter conditions across Oklahoma, while the second study would review legislative solutions to Oklahoma's current housing crisis.
One area of concern to Dollens is Oklahoma's lack of landlord anti-retaliation laws and how that affects living conditions for renters. Anti-retaliation laws prevent landlords from retaliating against a tenant for exercising their rights. For instance, if a tenant called the health inspector for unaddressed, unhealthy living conditions, in Oklahoma, the landlord could retaliate by raising the tenant's rent with little to no protection for the renter.
"Oklahoma is one of six states that doesn't have anti-retaliation laws to protect tenants from vindictive landlords," Dollens said. "Weak tenant protection laws attract out-of-state corporate investors looking to prey on vulnerable Oklahomans."
Issues like homeownership by corporations have the potential to impact the living conditions of Oklahomans. According to the National Real Estate Association, Oklahoma is third in the nation for corporations owning homes. Additionally, many of these corporations aren't from Oklahoma.
"Oklahomans deserve a fair shot at homeownership – especially veterans and first-time home buyers," Dollens said. "Out-of-state corporate investors are gobbling up the housing market, creating an unfair playing field for everyday hardworking people who deserve the opportunity to own the American Dream, not rent it."
Each interim study request is reviewed and considered by the Speaker of the House. Decisions on interim studies are expected no later than Friday, July 29, 2022. … ##
Note that the MHAO's same Summer 2022 issue provided the following which is apparently from the MHAO.
Additional Information with More MHProNews Analysis and Commentary in Brief
Based on their own information, shown above, MHI's CEO Lesli Gooch, Ph.D., is apparently playing the role of deflecting criticism from some of the so-called predatory brands that she and MHI fail to mention are often apparently MHI members.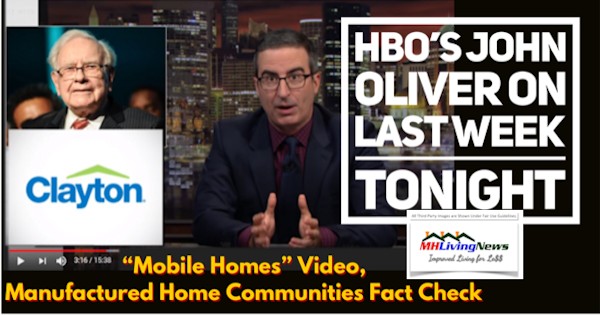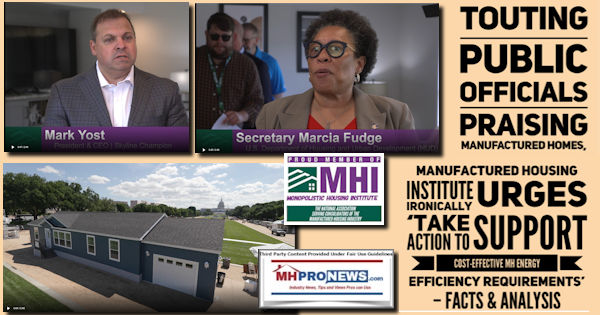 State-by-State, Regional, National Manufactured Housing Data for Production, Shipments for May 2022, Compare Manufactured Home to Conventional Housing, Other Research Reports; and MHStock Updates
One must keep in mind that sources apparently tied to those brands accused of being 'predatory' have publicly complained that MHI is not doing the job of essentially deflecting from the growing complaints. There appears to be little or no shame in the fact that the predators and the one posturing these complaints. An example of a so-called new trade association to represent those interests is found in our report, shown below.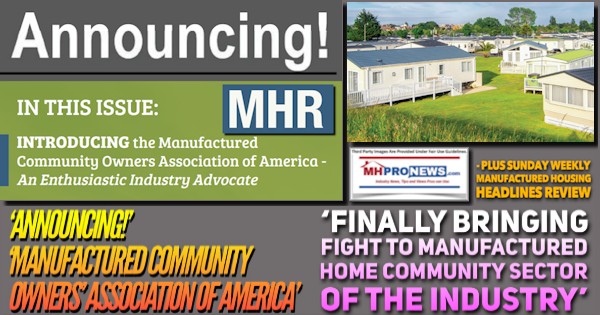 Paltering, misdirection and deception are apparently part of the pattern used to make MHI seem to be working for the interests of "all segments" of the industry, when years of reports by MHProNews/MHLivingNews reveals a different fact and evidence pattern. In support of those concerns and contentions, a new "White Paper" has been produced by a nonprofit that calls out MHI numerous times by name.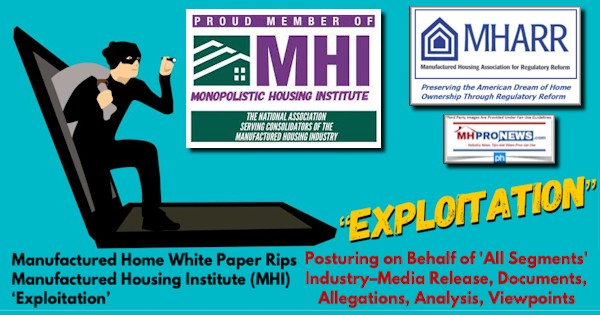 When a 'conservative' state such as Oklahoma begins a probe into these issues it is a reminder that consumer and smaller businesses' interests are often nonpartisan in nature. 'Progressive' states like Colorado and New York as well as states like North Dakota and Oklahoma are indicators that partisans across the left-right, Democratic and Republican divides may find common ground to protect resident, home seekers', and smaller business interests.
Ross Partrich, CEO of RHP Properties, Responds to Resident Complaints Reported by Mainstream Media – MHProNews Fact-Packed Exclusive – plus Manufactured Home Stocks, Markets Update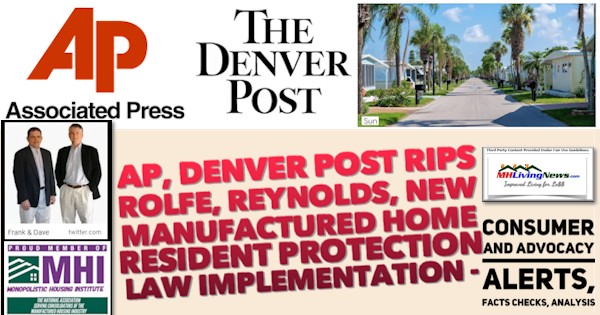 "Predatory"-MHC Curbs-New U.S. Laws, One Supported by Manufactured Housing Institute (MHI), Would Impact "Manufactured Housing Communities," "Mobile Home Parks" Nationally – U.S. House Reps Axne Khanna Official Statements, Report, Analysis
'Breaking the Law'-State Affiliate of Manufactured Housing Institute Accuses Community Operator-'They Take Advantage of Individuals in Communities, That Hurts Our Industry; Facts & Analysis
"Trailer Parks" "Feudal System"-Sheelah Kolhatkar "What Happens When Investment Firms Acquire Trailer Parks" New Yorker-Manufactured Home Pro Fact Check, Analysis
Manufactured Housing Institute 'Studies' Threat of National Rent Control, Allen Shivvies MHI, Berkshire Brands
Congresswoman Rips Frank Rolfe, Dave Reynolds, Havenpark for "Troubling," "Predatory," "Deceptive" Practices, Calls for Federal Investigations
What actually emerges from such efforts is a separate question. MHProNews and/or our MHLivingNews sister site plans to monitor and report as deemed appropriate on such developing issues.
Feds Admit FHA Title I 'Uncompetitive' After MHARR Meeting, Ginnie Mae Asks 'Input Could Repeal 10-10 Rule' – May Yield More Manufactured Home Loans – Analysis; plus MH REITs, Equities Update
Next up is our daily business news recap of yesterday evening's market report, related left-right headlines, and manufactured housing connected equities.
The Business Daily Manufactured Home Industry Connected Stock Market Updates.  Plus, Market Moving Left leaning CNN and Right-leaning (Newsmax) Headlines Snapshot. While the layout of this daily business report has been evolving over time, several elements of the basic concepts used previously are still the same. For instance. The headlines that follow below can be reviewed at a glance to save time while providing insights across the left-right media divide. Additionally, those headlines often provide clues as to possible 'market-moving' news items.
Market Indicator Closing Summaries – Yahoo Finance Closing Tickers on MHProNews…
Headlines from left-of-center CNN Business – from the evening of 7.29.2022
$2,245.62 a second
An Exxon Mobil gas station in Big Spring, Texas, US, on Tuesday, June 21, 2022. Texas crude producers are facing a sand shortage of more than 1 million tons and prices that have jumped 150%. Photographer: Matthew Busch/Bloomberg via Getty Images
Oil giant ExxonMobil records massive profit thanks to record gasoline prices
This is the strange reason why America's economy is shrinking
'Absolutely sure' US economy is not in recession, economist says
What a recession could mean for you
So are we in a recession, or not?
The Fed's preferred inflation measure set a new 40-year high in June
Workers' wages continue to climb, but not as fast as inflation
Bill Barr subpoenaed by voting tech company Smartmatic in company's defamation lawsuit against Fox News
Opinion: The types of jobs to look for (and avoid) during a recession
HOOD-winked? Investors not celebrating one year after Robinhood's IPO
Apple's profit declines nearly 11%
Why movie theaters show so few films now
How is a recession determined?
NEW YORK, UNITED STATES – 2020/08/02: View of Dawn dish soap liquid at Stop & Shop Supermarket.
Dawn produced by Procter & Gamble company who reported to investors that sale rose by 5% in 2nd quarter. The biggest jump was recorded by home care unit. Consumers are buying cleaning products during pandemic more than before as they spend more time at home. (Photo by
The owner of Tide and Dawn has a warning about the US economy
Peter Valdes took a 950-mile trip in an electric car and found electric cars don't need better batteries, America needs more chargers.
Electric cars don't need better batteries. America needs better charging networks
Great Bear Auto Repair in Flushing, Queens, NY.
It's not just food and fuel: Inflation is impacting the cost of almost everything
INFLATION
Child walking down the aisle of a shop selling 'back to school' stationery – stock photo
Tapped out families are struggling to pay for school essentials
Inflation-exhausted Americans: Let's just go out for steak
High inflation leaves little room for unexpected costs
Inflation is changing how products are packaged
A sign inflation could start easing: Walmart is slashing prices on clothing and other products
SUCCESS
These are the keys to 401(k) investing success in a falling market
Why these 'unretirees' went back to work
7 things you're wasting money on
Don't believe these 8 common credit score myths
Big pay raises expected for 2023. But here's why that extra income may not make a difference
Headlines from right-of-center Newsmax 7.29.2022
Tells Schools Not to Follow Biden's Gender Identity Rules
Russian Invasion of Ukraine
Report: Russia Smuggling Gold From Sudan to Bypass Sanctions
Russian Charged With Using US Groups to Spread Propaganda
Blinken, Russian Top Diplomat Speak About Griner, Whelan
Lebanon Doubts Ukraine Claim of Stolen Grain on Syrian Ship
Lavrov to Blinken: US Is Breaking Promises About Food Sanctions
US Sanctions 2 Russians for Malign Influence Operations
Zelenskyy Visits Port as Ukraine Prepares to Ship Out Grain
More Russian Invasion of Ukraine
Newsmax TV
Cloud: WH Playing 'Nothing to See Here' on Economy
Tenney: Latest Spending Bill Will Worsen Recession | video
Meuser: Pelosi's Taiwan Plans 'Diplomatic Incompetence' | video
Fallon: Biden, Dems Try to Spend Way Out of Recession | video
Peter Navarro: Despite Stats, 'It's a Terrible Job Market' | video
Fallon: Biden Allowing China's Xi to Dictate US | video
Andrew Yang: National Tour to Shape Platform of New Party | video
Newsfront
Biden Nominates Abortion Rights Lawyer to Circuit Court of Appeals
President Joe Biden has formally nominated Julie Rikelman, a prominent abortion rights lawyer, to serve as judge in the Massachusetts-based 1st Circuit Court of Appeals…. [Full Story]
Wall St Extends Recent Rally, Posts Strong Monthly Gains
S. stocks added to their recent rally on Friday after upbeat [Full Story]
Trump Criticizes Pelosi Over Possible Trip to Taiwan
Former President Donald Trump on Friday said that House Speaker Nancy [Full Story]
US, China in 'Test of Wills' Over Pelosi Taiwan Trip
Chinese threats surrounding a rumored upcoming trip to Taiwan by [Full Story] | Platinum Article
Chinese Propagandist Warns Pelosi's Plane Could Be Shot Down
China on Friday warned that U.S. fighter jets escorting House Speaker [Full Story]
Top 10 VP Contenders If Trump Runs in 2024
If former President Donald Trump decides to make another run for the [Full Story] | Platinum Article
Russia, Ukraine Trade Blame for Deadly Attack on POW Prison
Russia and Ukraine accused each other Friday of shelling a prison in [Full Story]
Russian Charged With Using US Groups to Spread Propaganda
A Russian operative under the supervision of one of the Kremlin's [Full Story]
'Blue to Red' Sunday on Newsmax Examines Population Shifts
The trend of population migration Democratically dominated blue [Full Story]
Blinken, Russian Top Diplomat Speak About Griner, Whelan
Secretary of State Antony Blinken spoke by phone to Russian Foreign [Full Story]
Florida Tells Schools Not to Follow Federal Gender Identity Rules
The state of Florida this week told schools that federal policies [Full Story]
Annenberg Survey: 1 in 5 Americans Concerned About Contracting Monkeypox
A new survey from the Annenberg Public Policy Center reveals that 1 [Full Story]
Video Report: Justice Alito Slams Foreign Leaders for Criticizing Roe Reversal
Supreme Court Justice Samuel Alito slammed foreign leaders including [Full Story]
Report: Russia Smuggling Gold Out of Sudan to Bypass Western Sanctions
Russia has been smuggling gold out of Sudan for the last [Full Story]
Soda Fans Sound Off as Sprite Retires Iconic Green Bottle
In a move to improve recyclability, Sprite is retiring its classic [Full Story]
Dem Rep. Dean Phillips Doesn't Want Biden to Run Again
Dean Phillips, D-Minn., said he doesnt want President Joe Biden [Full Story]
Bipartisan House Group Aims to Declare Russia a State Sponsor of Terrorism
A bipartisan group of House members has introduced a bill to [Full Story]
States Eye Mega Millions Revenue Boost
A bump in college scholarships for New Mexico students. A new bike [Full Story]
Watchdog: Department of Education Miscalculated Student Loan Spending by $311B
The Department of Education (DOE) understated the cost of the federal [Full Story]
Video Report: Multiple Tragedies Involve Migrants Trying to Reach US
It has been a deadly week for migrants trying to reach the United [Full Story] | video
McCarthy: 'I Don't Recall Talking to' Cassidy Hutchinson on Jan. 6, 2021
House Minority Leader Kevin McCarthy, R-Calif., claims that he does [Full Story]
Jon Stewart on Newsmax Slams GOP Senators for Blocking Vets Bill
Former Daily Show host Jon Stewart on Thursday cursed Senate [Full Story] | video
Trump Chides D.C. Mayor Over National Guard Request
A request by Washington, D.C., Mayor Muriel Bowser forthe National [Full Story]
Eric Trump's Golf Bag Offers Clue to Donald Trump's 2024 Plans
The answer to whether or not former President Donald Trump will make [Full Story]
China Makes Major Chip Breakthrough While Congress Debated Bill
China made significant improvements in semiconductor manufacturing [Full Story]
Navy Expedites Waterborne Drones to Close Gap With China
Facing a growing threat from China, the Navy envisions drone ships [Full Story]
Inflation Hits Record 8.9% in 19 Countries Using the Euro
Inflation in the European countries using the euro currency shot up [Full Story]
McCarthy Makes Jab at Pelosi Over Husband's Stock Trading
With reports indicating that Democrat lawmakers are planning to [Full Story]
Air Force Grounds Majority of F-35 Jets Over Ejection Concerns
The U.S. Air Force grounded nearly its entire fleet of F-35 stealth [Full Story]
Charles Barkley Staying at TNT, Declines LIV Post
NBA icon Charles Barkley on Friday said that he will remain at Turner [Full Story]
Man Sentenced to 6 Months House Arrest for Threatening Rep. Gaetz
A California man who pleaded guilty to making a death threat to Rep. [Full Story]
Finance
10 Tips to Safeguard Your Finances From the Recession Storm
Prices for gas, food and rent are soaring to levels note seen since 1981. The Federal Reserve has raised interest rates to the highest level since 2018. The U.S. economy has shrunk for two straight quarters…. [Full Story]
Chris Orestis: How Retirees Can Limit the Impact of Inflation & Recession
Lavrov to Blinken: US Is Breaking Promises About Food Sanctions
US Sanctions 2 Russians for Malign Influence Operations
Deere Plant to Move From Iowa to Mexico
More Finance
Health
Under Fire, US Officials Say Monkeypox Can Still Be Stopped
The country's monkeypox outbreak can still be stopped, U.S. health officials said Thursday, despite rising case numbers and so-far limited vaccine supplies…. [Full Story]
Rapid Loss of Smell May Precede Alzheimer's Diagnosis
Current Monkeypox Outbreak Is Showing Different Symptoms
Scientists Design Skin Patch That Transmits Ultrasound Images of Organs
Doing Chores Lowers Your Risk for Dementia
MHProNews has pioneered in our profession several reporting elements that keep our regular and attentive readers as arguably the best informed in the manufactured housing industry. Among the items shared after 'every business day' (when markets are open) is our left-right headline recap summary. At a glance in two to three minutes, key 'market moving' news items are covered from left-of-center CNN Business and right-of-center Newsmax. "We Provide, You Decide." © Additionally, MHProNews provides expert commentary and analysis on the issues that others can't or won't cover that help explain why manufactured housing has been underperforming during the Berkshire era while an affordable housing crisis and hundreds of thousands of homeless in America rages on. These are "Industry News, Tips, and Views Pros Can Use" © features and others made and kept us the runaway #1 in manufactured housing trade publisher for a dozen years and counting.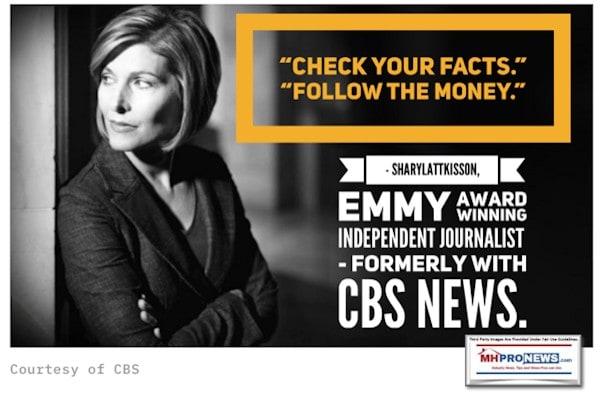 Manufactured Housing Industry Investments Connected Equities Closing Tickers
Some of these firms invest in manufactured housing, or are otherwise connected, but may do other forms of investing or business activities too.
NOTE: The chart below includes the Canadian stock, ECN, which purchased Triad Financial Services, a manufactured home industry lender
NOTE: Drew changed its name and trading symbol at the end of 2016 to Lippert (LCII).
NOTE: Deer Valley was largely taken private, say company insiders in a message to MHProNews on 12.15.2020, but there are still some outstanding shares of  the stock from the days when it was a publicly traded firm.  Thus, there is still periodic activity on DVLY.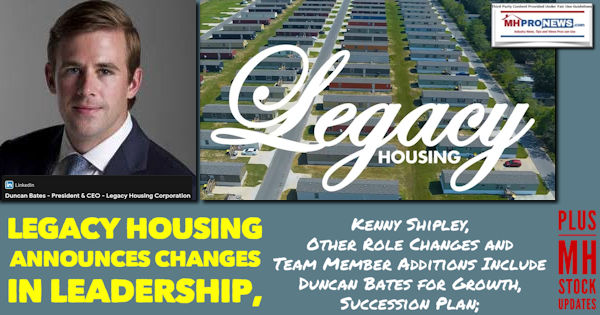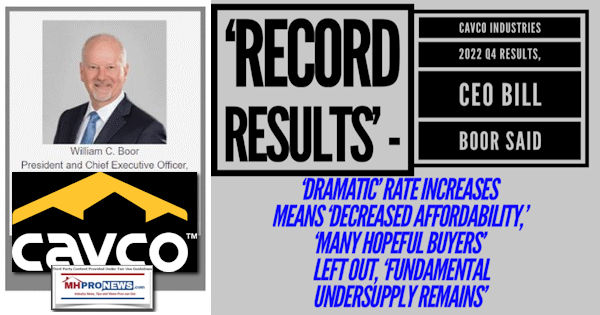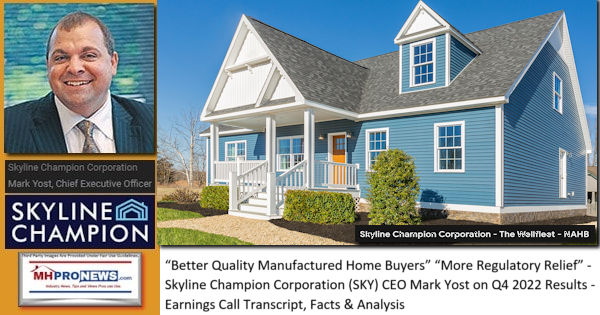 Manufactured Home Communities (a.k.a. 'Mobile Home Parks' – SIC) – Exploring UMH Properties; Fellow Manufactured Housing Institute Member Yes! Communities Suits and Settlements; plus MH Markets Updates
'Announcing!' 'Manufactured Community Owners' Association of America' 'Finally Bringing Fight To Manufactured Home Community Sector of the Industry' – plus Sunday Weekly Manufactured Housing Headlines Review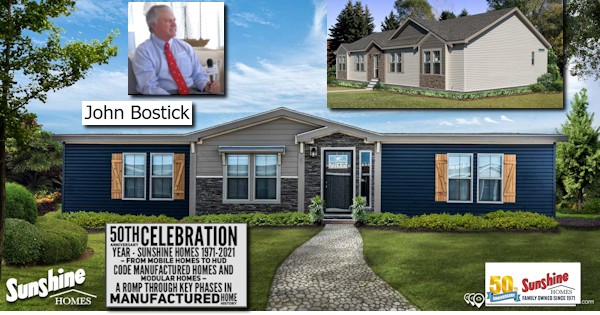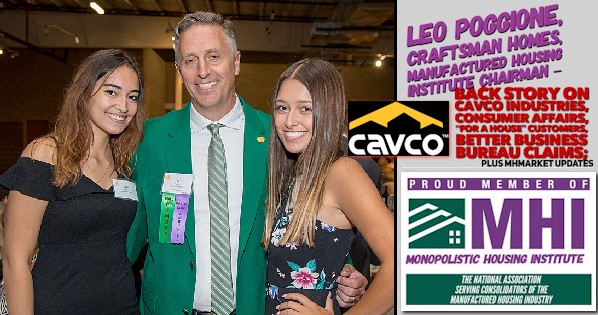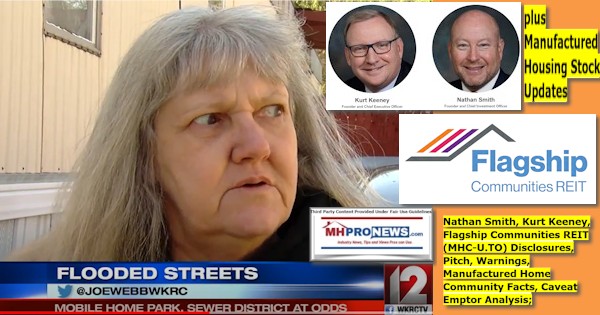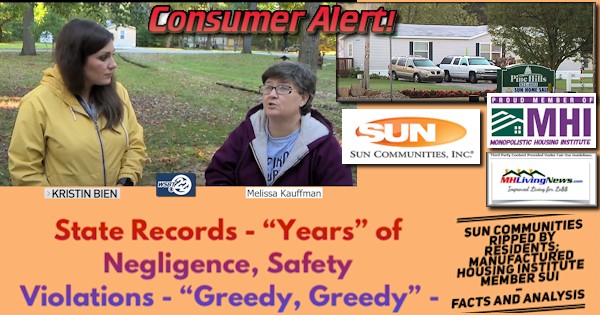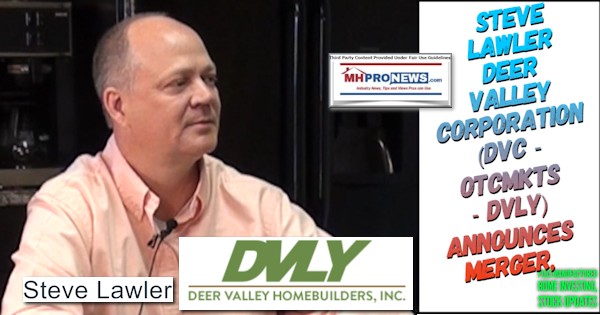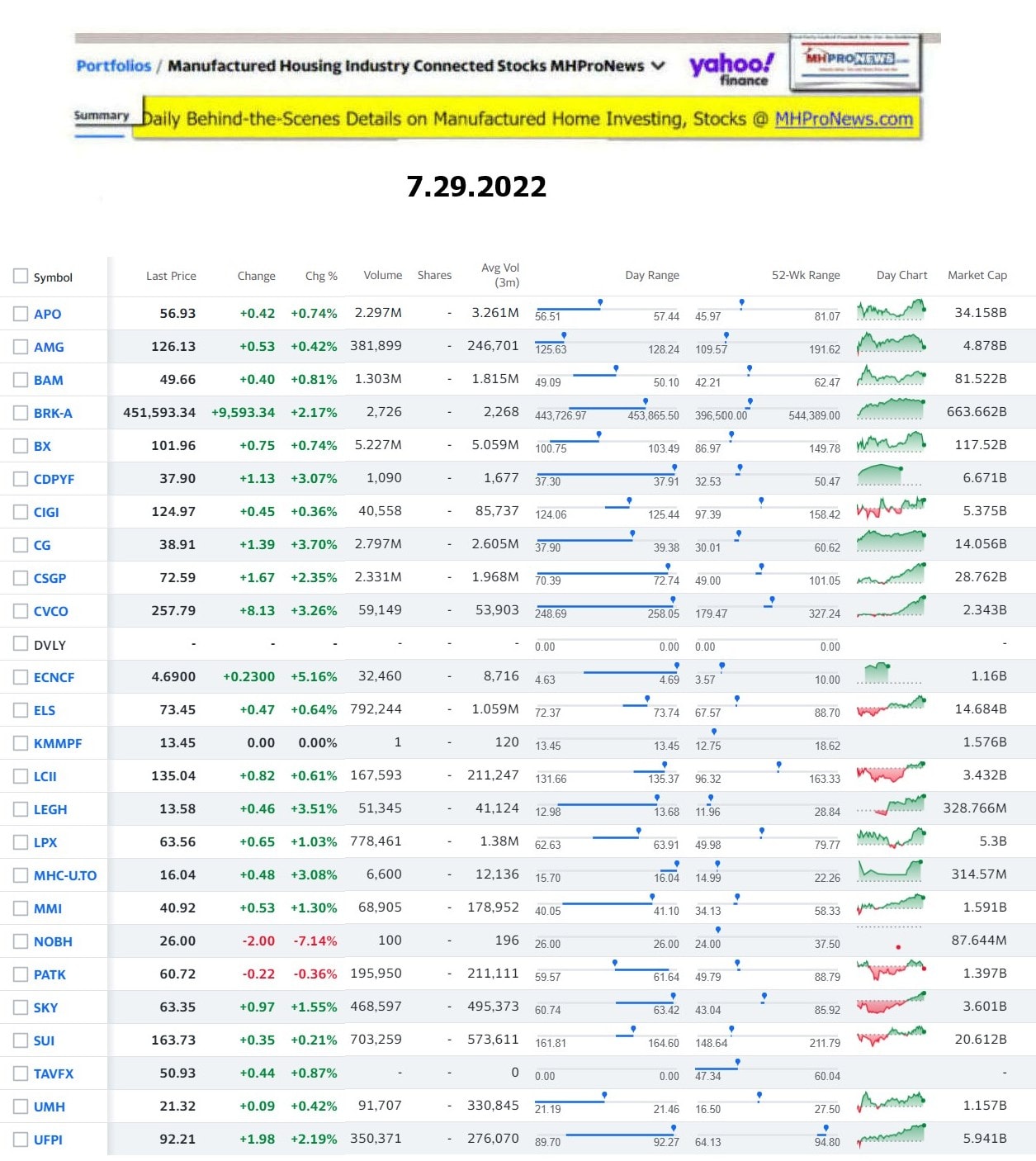 2022

…

Berkshire Hathaway is the parent company to Clayton Homes, 21st Mortgage, Vanderbilt Mortgage and other factory-built housing industry suppliers.


·

LCI Industries, Patrick, UFPI, and LP each are suppliers to the manufactured housing industry, among others.




·

AMG, CG, and TAVFX have investments in manufactured housing related businesses.

For

insights from third-parties and clients about our publisher

, click here.


Enjoy these 'blast from the past' comments.

MHProNews. MHProNews – previously a.k.a. MHMSM.com – has celebrated our 11th year of publishing and have completed over a dozen years of serving the industry as the runaway most-read trade media.
Sample Kudos over the years…
It is now 12+ years and counting…
Learn more about our evolutionary journey as the industry's leading trade media, at the report linked below.
· For expert manufactured housing business development or other professional services, click here.
· To sign up in seconds for our industry leading emailed headline news updates, click here.

Disclosure. MHProNews holds no positions in the stocks in this report.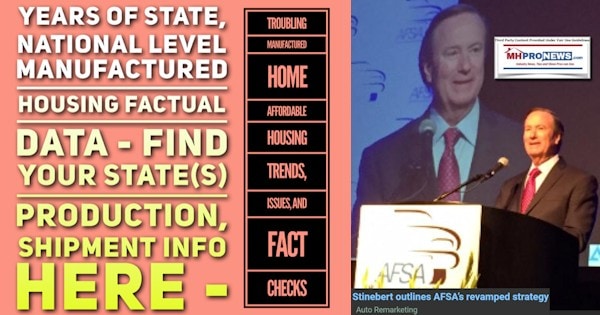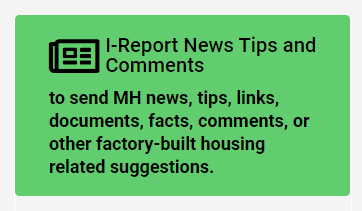 That's a wrap on this installment of "News Through the Lens of Manufactured Homes and Factory-Built Housing" © where "We Provide, You Decide." © (Affordable housing, manufactured homes, stock, investing, data, metrics, reports, fact-checks, analysis, and commentary. Third-party images or content are provided under fair use guidelines for media.) (See Related Reports, further below. Text/image boxes often are hot-linked to other reports that can be access by clicking on them.)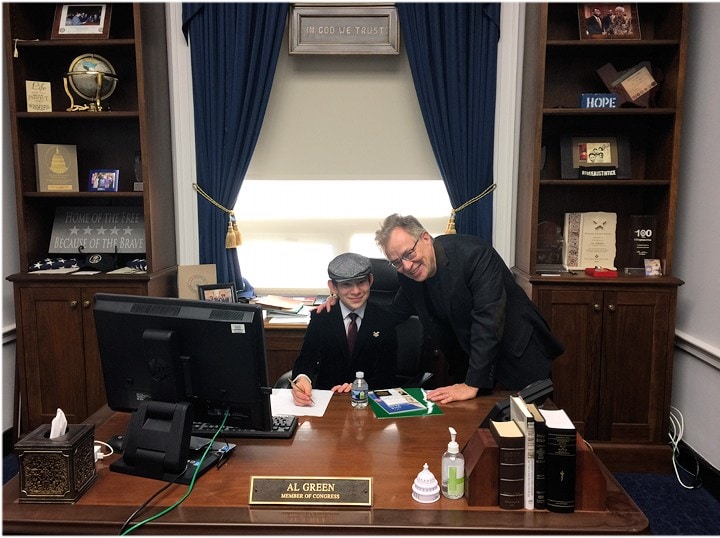 By L.A. "Tony" Kovach – for MHProNews.
Tony earned a journalism scholarship along with numerous awards in history. There have been several awards and honors and also recognition in manufactured housing. For example, he earned the prestigious Lottinville Award in history from the University of Oklahoma, where he studied history and business management. He's a managing member and co-founder of LifeStyle Factory Homes, LLC, the parent company to MHProNews, and MHLivingNews.com. This article reflects the LLC's and/or the writer's position and may or may not reflect the views of sponsors or supporters.