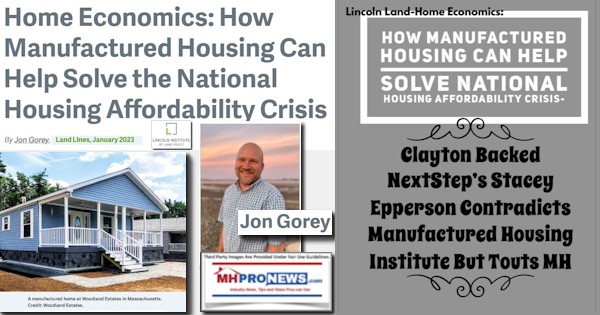 "Increasingly, the Bennetts [recent manufactured home buyers] have company—and not just of the social variety," says an article in the January 2023 issue of Land Lines, published by the Lincoln Institute of Land Policy. "Homebuyers, local officials, and even the White House are coming to the same conclusion they did: manufactured housing can make a lot of sense, for a lot of people, and in a lot of places." Their Land Lines writer Jon Gorey also stated that "While outdated misperceptions of manufactured homes linger in the popular imagination—in the form of images of hurricane-battered mobile homes or poorly maintained trailer parks—the reality is that most modern manufactured homes, built to strict federal standards that supersede local building codes, are energy efficient, made of high-quality materials, and designed to be affordable. Although many are placed in dedicated communities like Woodland Estates, about half are on privately owned land, from rural areas to suburban subdivisions." Other nonprofits, corporations, and various officials have had good things to say about manufactured housing in 2022 or 2023, as is evidenced by reports before and since their article by Gorey.
Nevertheless, despite the periodic praise and hoopla about manufactured housing by public or private officials, HUD Code manufactured home production is down in the last two months, per the latest data found in the report linked below.
50 State-by-State Manufactured Home Data for Nov 2022, New Jan 2023 HUD Code Manufactured Housing Official Statistical Report; plus MHVille Stocks, REITs, Markets Daily Update
As Gorey explains it, a "stigma" and "cultural cargo" are still attached to the manufactured home industry. Objectively, that is quite so. MHProNews explored an example of some of that "cultural cargo" in the recent movie review of "Above Suspicion," linked below.
'Above Suspicion' Trailers 'Deadly Affair-Informant Emilia Clarke & FBI Agent Jack Huston' 'True Story' Manufactured Homes, Poor White Druggies, Fraudsters, Bank Robbers-Video Clips, Analysis
"When it comes to manufactured housing, people tend to dwell on the "manufactured" part," wrote Gorey. "That modest modifier carries with it a lot of cultural cargo and historical stigma. But as the home affordability crisis worsens, spreading from coastal cities to middle America, proponents of the industry say we ought to be focused on the second half of the phrase—because manufactured housing is, well, housing." True enough. But what is missing in that commentary is the point that much of what Americans buy IS manufactured, or in the case of various foods, are 'processed' in larger centers.  Thus, the value of making the link between the clothes someone wears (routinely manufactured), the devices someone uses (manufactured), the vehicle someone drives (manufactured), the glasses or contacts millions wear (manufactured) and the logic of also having someone's home manufactured.  That logic, per HUD's Policy Development and Research (PD&R) division, was made apparent some 50 years ago (1969-1974) in projects such as Operation Breakthrough.
Todd M. Richardson HUD, Builders, NAHB, Innovative Housing Showcase, Operation Breakthrough – Systematic Aristotle Thomistic Testing – James Schmitz Claims of Sabotaging Monopolies, HUD PDR Analysis
Gorey's narrative about the factors impacting affordable manufactured housing continued.

That's one reason the Lincoln Institute now convenes the Innovations in Manufactured Homes (I'm HOME) Network, which for 20 years has been working with nonprofits, the private sector, and government agencies "to solve problems that are keeping manufactured housing from reaching its potential in the market," says Gray, who led the Duty to Serve program at the Federal Housing Finance Agency (FHFA) before joining the Lincoln Institute.
Some 22 million Americans, most of whom earn less than $40,000 a year, already live in manufactured homes, making them the largest source of unsubsidized affordable housing in the country. The Housing Supply Action Plan released by the White House in May mentions manufactured housing several times, identifying it as one of a few housing types that "directly meet identified local needs . . . [and are] not sufficiently provided by the market."
It's almost literally an off-the-shelf solution, one that can provide safe, sustainable housing for millions of Americans and help combat our affordable housing crisis." Every aspect of that may be so. But what is unmentioned is that in the Biden era, the numbers of young households buying any kind of housing has dropped to what CNN and the National Association of Realtors (NAR) described as an "all time low." Per third party research, millions of young households moved back in with their parents in 2022, with the specifics linked here. The very point made by HUD researchers Pamela Blumenthal and Regina Gray, namely, that politicos from both major parties make promises that when examined later are not kept, is essentially proven about the so-called Biden White House housing plan.
So again, despite the hype and hoopla about numerous mentions of manufactured housing in the "Housing Supply Action Plan" – the reality is disproving the hype and claims. That supports the point made by the Manufactured Housing Association for Regulatory Reform (MHARR) in late 2022, in their report and analysis linked below.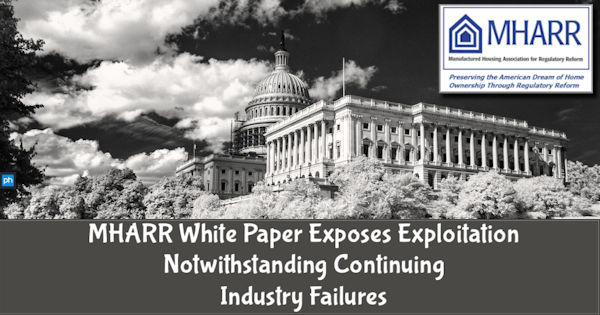 As this report and analysis will further explore and reveal, the Lincoln Institute for Land Policy Land Lines article weaves together several relatively recent insights and claims by citing various experts' and published comments, which are often made by those not associated with their organization. While the article itself is useful in various ways, it is nevertheless dependent on the accuracy, or lack thereof, of some of those underlying remarks. That point would be equally true of most any journalistic or research effort. Thus, the enduring value of separating the wheat (the demonstrable or true) from the chaff (that which is less than true or completely accurate, such as a misleading and/or inaccurate statement).
Gorey's Land Lines article continued as follows.

An Urgent Need for Affordable Housing
The United States does not have enough affordable housing for everyone who needs it. And that's partly due to "severe underbuilding" of smaller, entry-level homes, the kind that would appeal to downsizing retirees or first-time homebuyers.
From 1976 to 1979, as baby boomers were entering their twenties and thirties, the construction of entry-level, single-family houses averaged 418,000 a year, and represented more than a third of all new homes built, according to a report by government-sponsored mortgage entity Freddie Mac. In the 2010s, as a similarly sized generational cohort of millennials entered their homebuying years, U.S. builders averaged just 55,000 starter homes per year, and their share of the new construction market fell to a 50-year low of around 7 percent."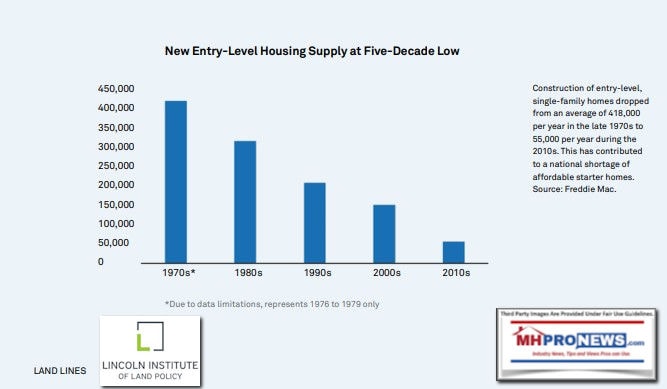 That report by the Government Sponsored Enterprise (GSE) of Freddie Mac, linked in the text above, was part of the new analysis linked below. It featured data from Bill McBride at Calculated Risk, as well as insights from other sources on why manufactured housing is underperforming during an affordable housing crisis. Short version? The data cited in Land Lines is contradicted by other sources which are named.
Calculated Risk: '1.51 Million Total Housing Completions in 2022, Including Manufactured Homes, Most Since 2007' – BUT…Facts, Insights, Analysis – plus Sunday Weekly MHVille Headlines Recap
That affordable starter home market, said Gorey, is a segment of the housing industry that "manufactured housing is well positioned to fill. New site-built homes tend to be quite large, averaging over 2,400 square feet for the past decade, but the average manufactured home is under 1,500 square feet, according to U.S. Census data.
That smaller size, coupled with lower production costs, helps manufactured homes deliver a one-two punch on pricing, says Rachel Siegel, senior officer on the home financing research team at the Pew Charitable Trusts. "Manufactured housing is a lot less expensive per square foot than a site-built home," Siegel says. "So you have two benefits there in terms of affordability." True enough.
Then comes the segment of the article that Clayton Homes supported NextStepUS.org's Stacey Epperson sounds off.
"Stacey Epperson, founder and chief executive of Next Step—a nonprofit member of the I'm HOME Network that helps families purchase high-quality, Energy Star–rated manufactured homes—says its homes can cost 20 percent less to build, per square foot, than site-built counterparts. (Editor's note: Lincoln Institute CEO George W. McCarthy is a member of the Next Step board.)
These homes are typically multi-section homes with a site-built look, Epperson says; when you factor in the array of sizes and styles available, the savings can be even greater. According to the Manufactured Housing Institute (MHI 2022), factory-built homes cost an average of $72 per square foot industrywide, compared to $143 per square foot for site-built homes.
Some of the reasons for the savings are obvious—there are no weather delays inside a factory, for example, so labor, materials, and carrying costs are all more predictable. Efficiencies of scale bring down supply costs, too. "If I'm the largest manufacturer, Clayton Homes, building 25,000 to 30,000 homes a year," Epperson says, "my purchasing power is far more than the guy in the pickup truck building 100 homes a year."
The Lincoln Institute is routinely factually oriented, as the report linked below reflects. They merit kudos for disclosing the point that George McCarthy is a member of the Next Step board.
Fixing Errata – Lincoln Institute's George W. "Mac" McCarthy Corrects Manufactured Housing Industry Factual Record on Manufactured Home Communities, plus Sunday Weekly MHVille Headlines Recap
Perhaps Epperson has either accidentally or deliberately misspoken in saying "the largest manufacturer, Clayton Homes, building 25,000 to 30,000 homes a year," because the Berkshire Hat owned brand produced roughly double that number, per Clayton's own statement.
'Announcing!' 'Manufactured Community Owners' Association of America' 'Finally Bringing Fight To Manufactured Home Community Sector of the Industry' – plus Sunday Weekly Manufactured Housing Headlines Review  
Warren Buffett's Pledge to Kevin Clayton – 'You Can Access Plenty of Capital' for Projects – Quotes, Facts, Video, Transcript, and Implications for Manufactured Housing Industry
The Land Lines article continued.

And there are other savings when it comes to materials. Compared to the dumpster full of wood trimmings and drywall scraps left over from a typical site-built home, building a house in a factory generates almost no waste. Even conscientious homebuilders squander a staggering amount of resources during construction: a new 1,600-square-foot home can generate up to 6,720 pounds of construction waste and still earn green building credits toward LEED certification. Meanwhile, Epperson says, "the waste on a Next Step home can fit into a single trash can." That's good for the environment and the homebuyer, who doesn't have to pay for all those unused materials.
The Land Lines article continued: "And there are other savings when it comes to materials. Compared to the dumpster full of wood trimmings and drywall scraps left over from a typical site-built home, building a house in a factory generates almost no waste. Even conscientious homebuilders squander a staggering amount of resources during construction: a new 1,600-square-foot home can generate up to 6,720 pounds of construction waste and still earn green building credits toward LEED certification. Meanwhile, Epperson says, "the waste on a Next Step home can fit into a single trash can." That's good for the environment and the homebuyer, who doesn't have to pay for all those unused materials."
At least two of Epperson's organization's board members/supporters signed onto a letter with the Department of Energy (DOE) that asked for the 'negotiated rule-making' that the Manufactured Housing Institute (MHI) also signed onto. Fast forward to 2022, and the rule that MHI claims they oppose is set to go into effect at the end of May, 2023 if something doesn't intervene.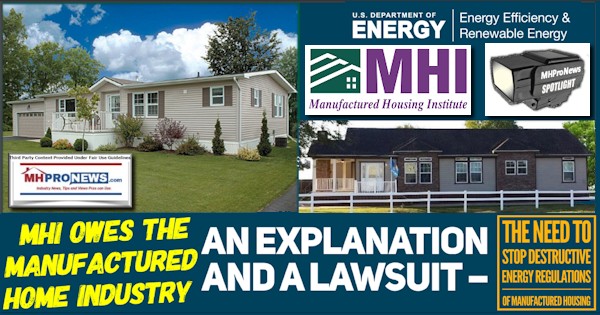 Deeper into the report, Epperson reportedly said the following.
"Next Step partnered with IKEA to conduct a survey of first-time homebuyers and found that 45 percent of millennials would be open to buying a manufactured home. "That was more than we expected," Epperson says, speculating that the attraction to tiny houses in popular culture may be shifting attitudes."
Perhaps Epperson was surprised that the results are "more than we expected" because MHI's research – apparently aimed at promoting their market failed CrossMod (R) scheme – indicated a far lower level of manufactured home acceptance. Recall the graphic below. The base graphic was produced by MHI, the analysis and commentary is by MHProNews.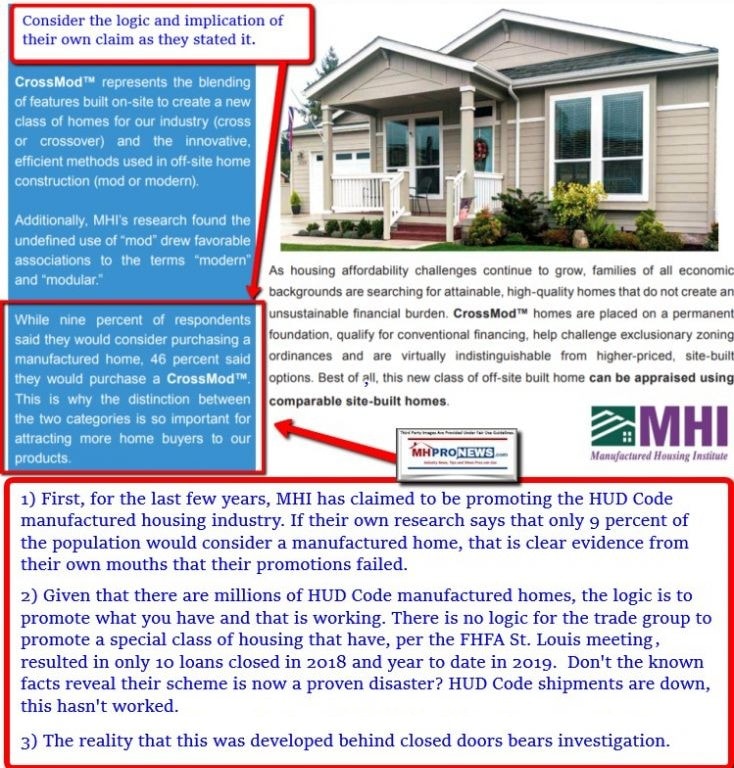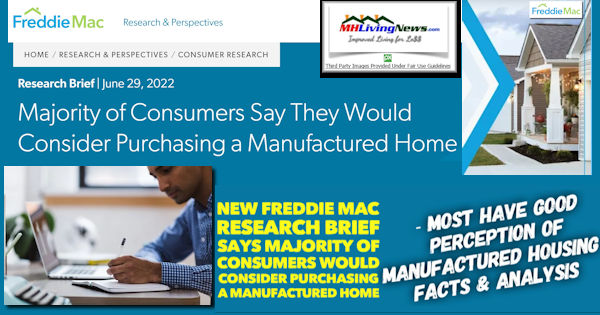 However, that enlightened perspective isn't always shared among zoning officials, nor the general population of residents they serve. "In most places, we find that the local zoning code prohibits new manufactured housing, and that's where we start from," Epperson says. Because of outdated perceptions of the industry, she says, "it takes a lot of education, and we've seen different results."
Additional Information with More MHProNews Analysis and Commentary in Brief
There is much more to the interesting report by Gorey for the Lincoln Institute's Land Lines. The full report is linked here as a downloadable PDF. MHProNews and/or MHLivingNews may well return to that document and do additional analysis, because it has several fascinating points and insights, some along the lines of what is shown herein. One point for now is that they pointed to the research published by Pew as part of their own report and analysis.
Behind the Scenes Facts, Insights, Reams of 3rd-Party Research on Manufactured Homes and 'Mobile Home' Controversies–MHLivingNews to MHI Data-MHVille 2022 in Review I; plus, MHREITs-Stocks Update
Time and again, MHProNews/MHLivingNews readers – particularly those who pay close attention to the details – are demonstrably ahead of the information curve. But common background themes are these. In no particular order of importance.
From time-to-time researchers and writers point out that modern manufactured homes are well built.
There is research and data that demonstrates that manufactured housing is more durable in windstorms than the public is generally led to believe.
Manufactured homes can and do appreciate in value, particularly so, when it is on privately owned land. They might appreciate or depreciate in a land lease, depending on how aggressive (or considerate) the owner/operator of the property may be.
The barriers to more manufactured homes include, but are not limited to, the lack of affordable financing and the problems created by zoning/placement barriers. To the first point, see the graphic from the January 2023 Land Lines report, posted below.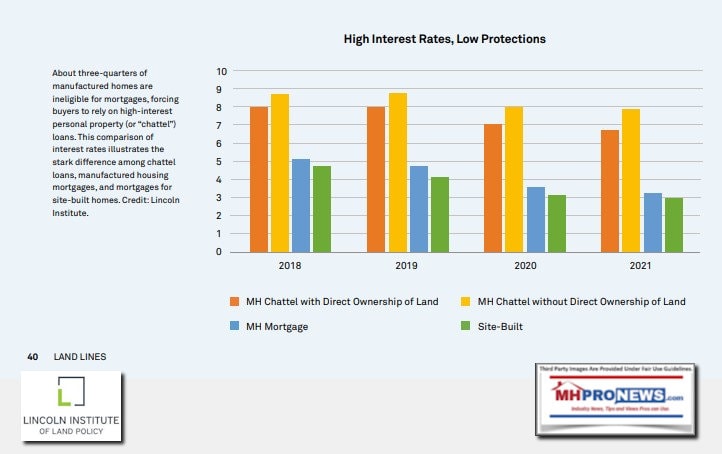 To the point about the harmful impact of zoning and placement barriers, despite that challenge, there are still – per recent Freddie Mac research – some 25 million renters would are 'mortgage ready' for a manufactured home in a manufactured home friendly jurisdiction. That's an astonishing data point, which industry professionals and investors should carefully unpack. The report linked below provides several added insights, which when coupled with this report from the Lincoln Institute, point toward tremendous opportunities.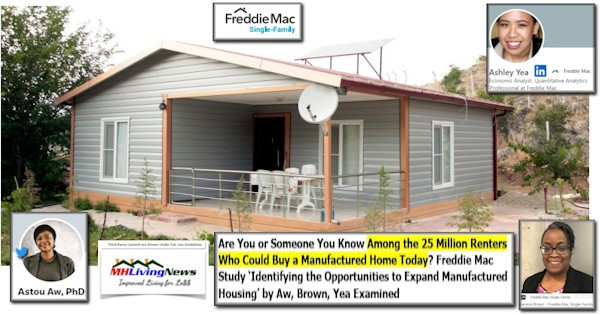 Which begs the question. Why hasn't MHI organized such third-party research on their site and then used it to build a fact-based campaign that might win potentially millions of renters and turns them into manufactured home buyers?
MHI and their leaders can't or won't answer such questions.
Over $1 Million! Manufactured Housing Institute Doc Drop! Top MHI Staff Pay Revealed. Additionally, Unpacking Evidence of Perjury, Fraud, Other Possible Federal Crimes; plus MHVille Stocks Update
After Admitted Failure, Manufactured Housing Institute Doubles Down on CrossMods® in AP Terminology Doc Acquired by MHProNews–Are MHI Leaders Sabotaging MHVille Independents? Plus MHStocks Update
'U.S. Should Break Up Monopolies' Democrat Robert Reich Guardian Plan Would Hit Clayton Homes, Skyline Champion, and Cavco Industries with Costly Antitrust Lawsuit – Statements, Facts, Analysis
Precipice – Reveals, Exposes American 'Leech Class' – Corp CEO Aims to Protect American Dream from Leeches in Key Roles – Eye Opener for Biz, Policy Leaders, More; plus MHVille Stocks, REITs Updates
Thus, the need for Congress and others to probe the issues that are holding back manufactured housing. Because Gorey and Land Lines are correct in saying that manufactured homes are poised to be a bigger part of the solution. But the fact that manufactured housing isn't ALREADY roaring, and is instead, relatively snoring, ought to (to borrow and tweak a phrase from Gorey) make the intellectually curious, well, curious.
Call for Congressional Oversight Hearings of Manufactured Home Industry Regulators Highlighted by Manufactured Housing Association for Regulatory Reform (MHARR); plus MHVille Markets Update
It is past time for public officials at the state and local level to do their jobs.  It is also time for mainstream media to look more closely at the money question. Cui bono? Who benefits from this pattern? Clearly, some in MHVille and others outside of the industry are benefiting because of the lack of affordable housing. To learn more, see the various linked reports.  Programming note: stay tuned for the planned follow up on our Freddie Mac research and on this from Lincoln Institute. ###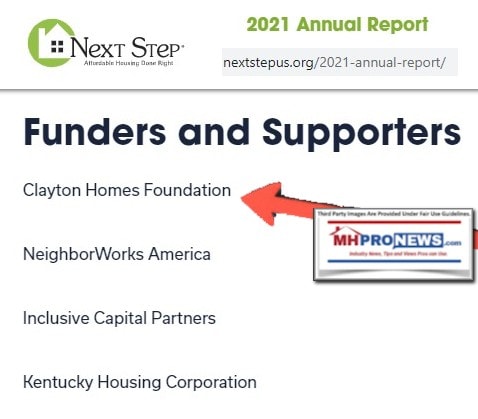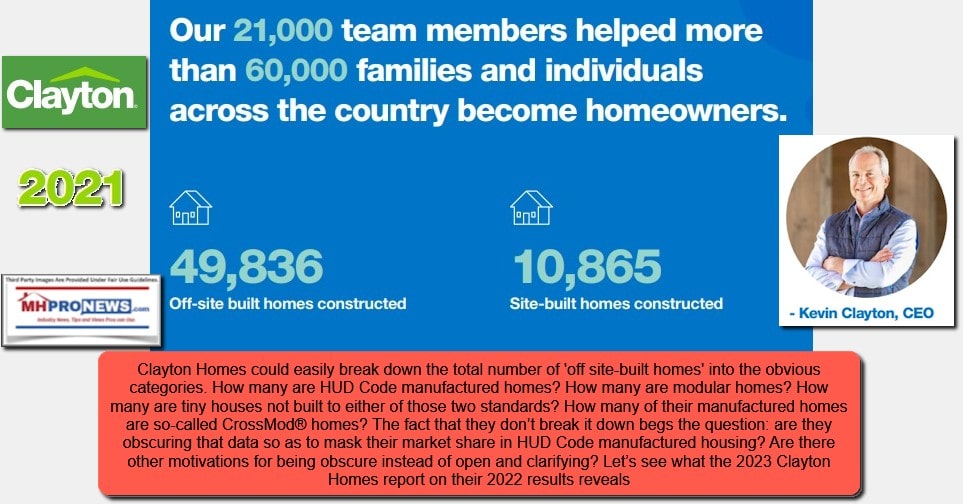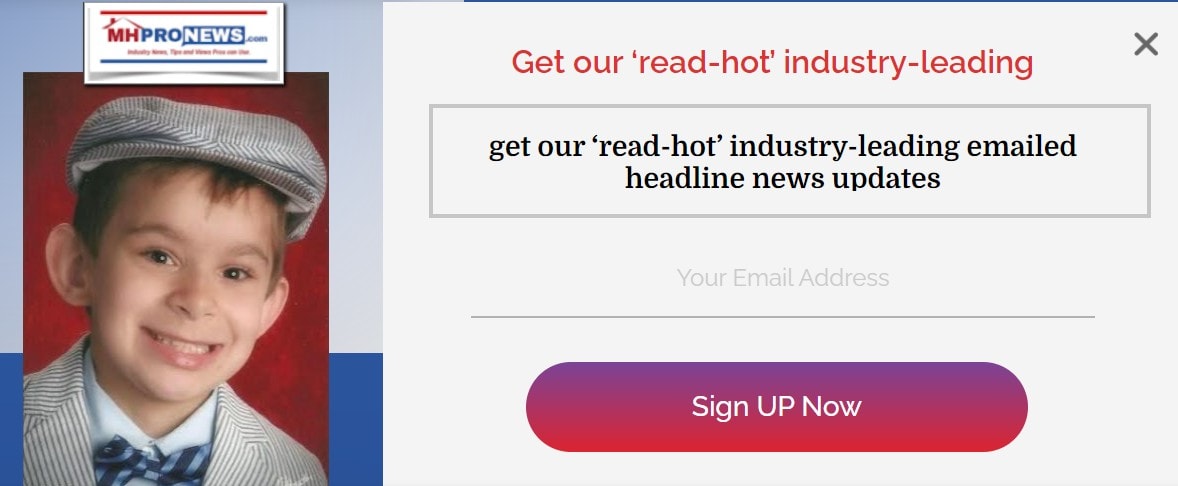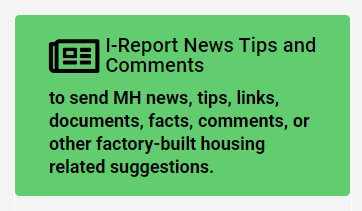 Again, our thanks to free email subscribers and all readers like you, our tipsters/sources, sponsors and God for making and keeping us the runaway number one source for authentic "News through the lens of manufactured homes and factory-built housing" © where "We Provide, You Decide." © ## (Affordable housing, manufactured homes, reports, fact-checks, analysis, and commentary. Third-party images or content are provided under fair use guidelines for media.) (See Related Reports, further below. Text/image boxes often are hot-linked to other reports that can be access by clicking on them.)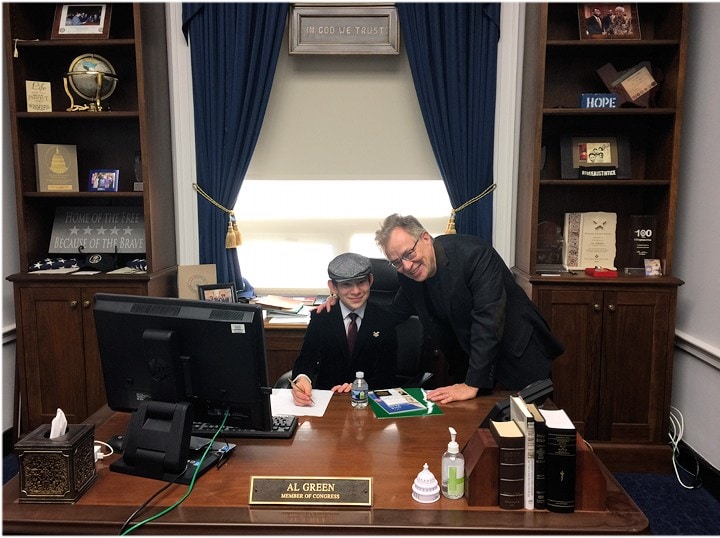 By L.A. "Tony" Kovach – for MHProNews.com.
Tony earned a journalism scholarship and earned numerous awards in history and in manufactured housing.
For example, he earned the prestigious Lottinville Award in history from the University of Oklahoma, where he studied history and business management. He's a managing member and co-founder of LifeStyle Factory Homes, LLC, the parent company to MHProNews, and MHLivingNews.com.
This article reflects the LLC's and/or the writer's position, and may or may not reflect the views of sponsors or supporters.
Connect on LinkedIn: http://www.linkedin.com/in/latonykovach
Related References:
The text/image boxes below are linked to other reports, which can be accessed by clicking on them.'
Calculated Risk: '1.51 Million Total Housing Completions in 2022, Including Manufactured Homes, Most Since 2007' – BUT…Facts, Insights, Analysis – plus Sunday Weekly MHVille Headlines Recap
Runaway #1! Manufactured Home Pros Flock to Critiques of Industry Leaders' Effectiveness, Legal, Ethical Woes-Why MHIndustry Underperforms During Affordable Housing Crisis; Sunday Weekly MHRecap
Two Best Times to Plant a Tree – Epic Lessons on Errors – Democracy, Republic, Socialism, Capitalism, Distributism, Chestertonian Principles – Why it Matters – Sunday MHVille Weekly Headlines Recap
Has the Manufactured Housing Industry Become a Target-Rich Environment for Plaintiffs' Attorneys? Facts, News & Views; plus, Sunday Weekly Manufactured Home Industry (MHVille) Headlines Recap
'In the Business World, the Rear-View Mirror is Always Clearer than the Windshield'–Warren Buffett MHVille Leader Showcases Efforts to Renew American Dream; plus Sunday Weekly Headlines Recap
Manufactured Housing's Next BIG Regulatory Battle That MHARR's Spotlighted and Which MHI Conveniently Ignored in Recent 'Manufactured Housing Institute News;' plus Sunday Weekly Headlines Recap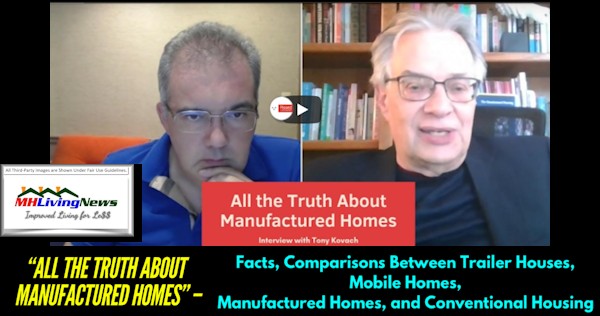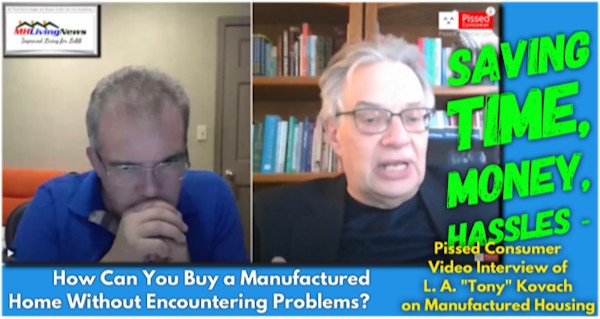 Flagship Communities – Hypocrisy, MHIndustry Corruption? 'Fragmented Industry with High Barriers to Entry and Imbalanced Supply and Demand Dynamics;' Plus Sunday MHVille Weekly Headlines Review
'Affordable Homes for Low Income Must Produce in Factory,' 'Years to Unravel Sabotage,' Grad Students Interest in Manufactured Housing, Factory-Home Solutions; plus Sunday Weekly Headlines Recap
Russian Disinformation? CNN and WND Report on "World Government Summit," Joe Biden Address to Business Roundtable on "the New World Order;" plus Sunday Weekly Headlines Review